Every Bengalurean's favorite is Nandi Hills. Yeah i cant deny it , its one of the best weekend getaways with amazing drive which will lead you to a place amidst of cloud. Its a 1.5 to 2 hours journey depending on the mode of Transport you choose. How much i like the place equally i enjoy the journey!!
For this one let me write a small comparison review of Nandi Hills in Jan 2015 and Nandi Hills in Sep 2018. All we could enjoy in 2014 was purest form of Nature and very less commercial activities like stalls, restaurants , etc, etc. It was a purest form of Bliss to stand amidst clouds and enjoy the cool breeze!! Now in Sep 2018 though the beauty of the place is admirable but the commercialization has had an very bad impact. Once we reached top it was just like any other area in a city other than certain part of the place where you can enjoy the nature!! I do not want to mention too much negative on this but yes over the time you will see more of plastic than the clouds :(
Moving on I would explain you how different it is to visit this place in different timings.
Itinerary 1: Start your journey from Bangalore at 4:45 am and reach the place by 6 am. Entry gates opens at this time and you will be welcomed by hills covered with fog. You can the visit a Temple on top of the hill. You will be completely covered with Blanket of clouds and very less visibility. Watching a sun rise here is a pure luck. I have been visiting this place for quite sometime and i have never to see one.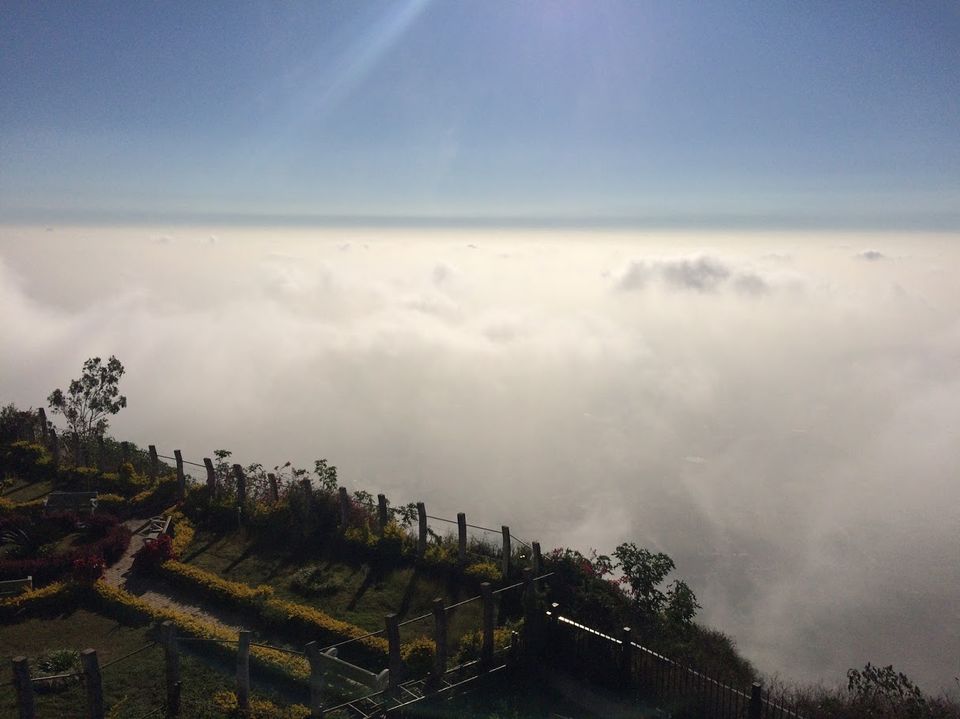 After spending couple of hours you can head back to Nandigram and Visit Bhoga Nandeeshwara temple, which is quite at the base of Nandi Hills.
It is surely a great spot for some amazing photographs, as then you head towards your return journey have a breakfast in all time famous Indian Paratha Company. Though is an average place as per me. Back in Jan 2015 this was the only option but now you have multiple options so you can chose a better one.
While heading back towards the highway you will encounter so many Grape farms. If your lucky enough you will experience to see Bunch of grapes hanging down as below :)
Itinerary 2: Okay!! Most of it here remains the same as 1. But i would explain how a change in time will help you experience a whole new Nandi Hills.
Start your journey from Bangalore at 6 and reach Nandi Hills by 8 am, en route you can have a breakfast at so many multiple options like IPC, A2B, and many South Indian restaurants. Once you reach the top of the hills you would get this time a chance to so many new places. Though you would miss a Blanket of clouds but you would get a beautiful view of Nandigram and Chikkabalapur from the hills. Its exactly looks lie an embedded chip from top but green in color.
Exactly backside of the main temple you can sit and enjoy the cloud gazing, which would not be possible in the early morning timings as the visibility will be 0 because of blanket of Cloud on the same level.
Return journey remains the same :P
En route as we had small escape for a village we ended in a Flower farm!! True Bliss!!
A experience like this can be a shorter form of rejuvenation to start your 9 to 5 for one more week. Keep looking into my trips for more Weekend getaways near Bengaluru :)
And for more Travel Pics , no am not talking about professional photography pics but yeah happy travel pics visit my Instagram.