A trip to Nandi Hills – It seems very common for most of the Bangalore based travel buffs, but for me it was first visit to Nandi Hills. Whenever I travel to new places a motorcyclist within me wakes up and reminds me the pain of not having a motorcycle. This time, sitting idle at Bangalore, the motorcyclist indulged me to go for a short trip! Having only few hours in hand, Nandi Hills looked like a perfect bike trip destination. Moreover the place was new to me, so a quick decision worked out well. After searching a few minutes over internet I booked an Avenger 220 Cruise and called up three of my friends with one having Royal Enfield Electra 350cc (having a friend as pillion makes the road trip more enjoyable). We planned to start at 3:30am. Here I must mention, Bangalore South to Nandi Hills distance is around 75 km and if you want to watch sunrise, you must start around 3:30am. We started our journey from Silk Board. At midnight when the city was engulfed into deep sleep, we were accelerating our souls, taking turns and inhaling midnight air. It took around 40 minutes to cross the whole city from south to north and we planned to stop for a while as my friend needed to refuel his bike. We stopped at a petrol bunk somewhere near airport. This refueling plan gave me a short window to go down the road and enjoy midnight weather. After 5 minutes of halt again we started moving toward Devanahalli. From Devanahalli road gets divided and one needs to take left toward Karahalli cross. I followed my friend and took left on Nandi Hills road. The road was very nice with long trees creating canopies.
Devanahalli cross was our next stop to have some snacks & tea. From there we saw large number of bikes and scooties running toward Nandi Hills. We also throttled accelerator and reached the Nandi Hills checkpost at 5:40am. From checkpost the top of the hill is 5 km more on hilly road with 5 hair pin bends. It was very nice to see huge number of co-riders travelling to Nandi Hills and this is quite common on any weekend. Sometimes it was looking like bike rally. The hill road was beautifully covered with thin clouds and mist. After taking twists and turns we reached there around 6:10am. Due to heavy visitor traffic and uphill road it took around 30 minutes to cross 5 km. The view from the top was indescribable in few words; it was a breathtaking experience to walk through the woods and penetrating the mist. After spending around 2 hrs at the top of the hill we started descending. While returning, we faced as usual heavy Bangalore traffic. By then the Sun started scorching our head. It took around 2.5 hrs to cross 75 Km, to be precise, without any halt.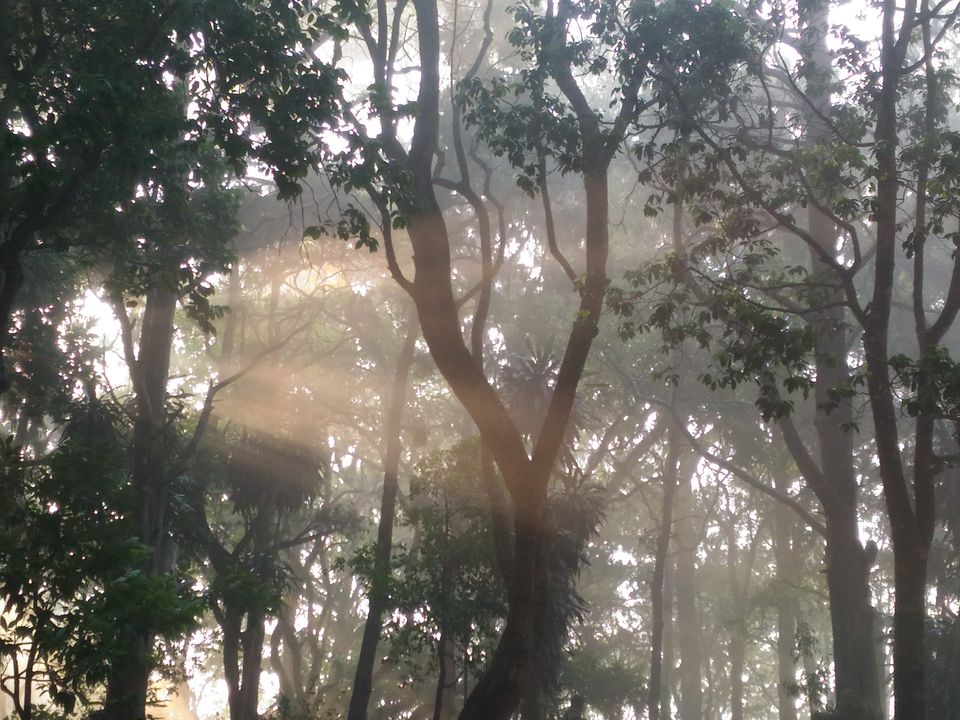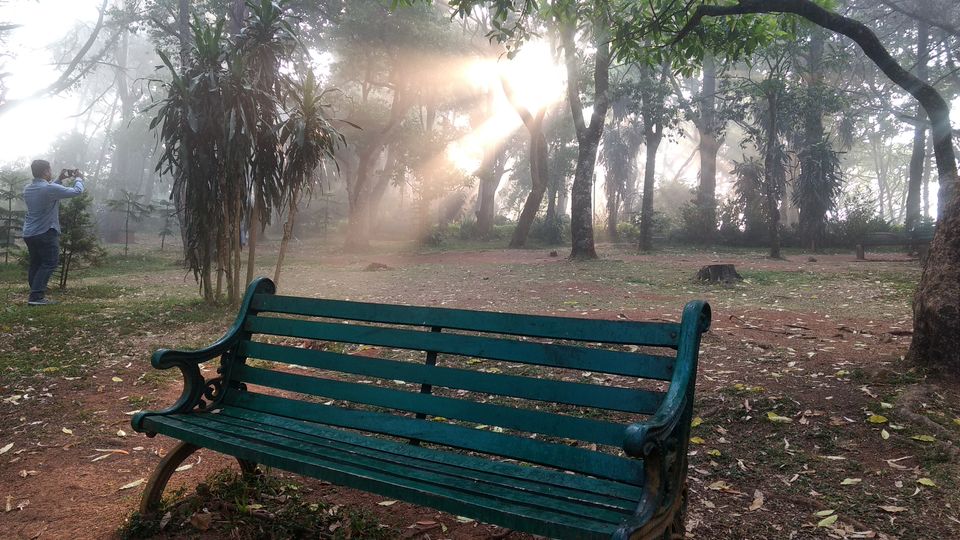 Overall the trip was so nice. Few recommendations for fellow travellers - please start your journey in advance so that you can reach Nandi Hills before sunrise considering heavy traffic in weekends on Nandi Hills road. Frankly speaking, after sunrise there is nothing much to see, your head may start boiling on a fine sunny day. I went there In the month of August and luckily it was not a rainy day. Please carry enough water and dry foods, there are food stalls at the hill top also. For the fellow bikers, a bike with 150 or more cc would be preferable. Only 5 km to ascend in the total route, so it won't be a problem for 150cc bike. Make your own way while ascending, don't follow the bike or car in front. Most of the times it happens that the car or bike gets stopped while ascending due wrong gear-clutch combination, in this situation if you follow the vehicle in front, you may get stuck. While descending please keep in mind not to put your bike on top gear or neutral and use brake as speed controller. It is better to keep your bike at 2nd or 3rd gear and descend without braking. This will surely save your brake shoes, engine braking will do the work. It may generate a bit noise from the engine but that won't affect your vehicle. According to me, this is the safest way to descend from a hill without burning your brake shoes.