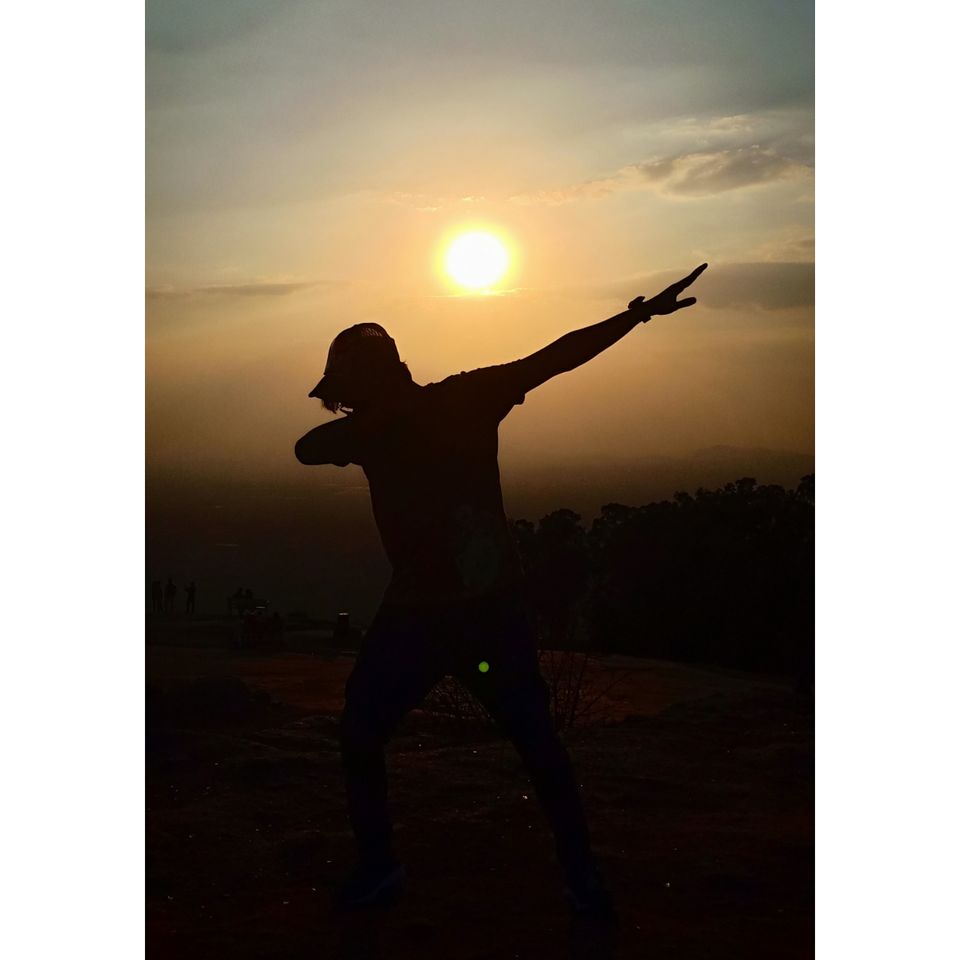 Hello Beautiful peoples ;) ✌️
Title - One Day Solo Trip to Nandi Hills From (Kormangala)Bangalore.
Distance - 70 Km (Approx)
Medium - Rented Scooty Vogo !!
Date - 9/4/2019 (Sunday)
So, It was a Sunny Sunday Morning and i was all set to do some Trekking. And being in bangalore was else can be better than Nandi Hills 🤩
I left started by Rending Scooty (Vogo, Drivezy, Bounce) that u can find easily in your Area. I left at 12 Afternoon from Kormangala towrds Devanhalli Highway (Airport Road).  Day was pleasent and not that much hot. I took me 2 hours to reach there (Considering Imfamous Traffic of Bangalore😝, Tea and Pee Break😂)
From Devanhalli the left turn that goea towards Nandi Hills was Amazing🤗, full of Grenery and Tall coconunt tress on both sides, at some patches it makes me feel like i am in Kerela 🌿.  That Zig-Zag road towards upward the hill was Amazing and can win heart of any Riders. There were lots of Group of Riders too.💥. 
As we Reach upward, there is proper parking and it will charge you 20 Rs. Per person with the Entry Ticket.
Note:-
1) Do not purchase anything Above, its 3times more costly, Worst Nimbu Pani of my life costs me there for 70Rs which didnt had a bit of sugar even.😂.   
2)If you have Water Bottle please hide it inside a bag, Monkey will come and snatch tht bottle. Irony is they open the Cap properly and Drink water too.
It will be a 5 Min walk towards the Top, which will include lots of Eye Catching Gardens well maintained😍 and Small Water Structure with Staircase.
Then at the Top we saw the thing for which Nandi Hills is Famous for.  The Scence where u can literally see Clouds below you The Sun and that Amazing Amazing Amazing Atmosphere🏞️.
One can literally sit on that rocky structure without doing Anything. That Feeling was Speechless.  I HAVE BEEN TO LOTS OF HILLS/MOUNTAINS BUT THERE WAS SOMETHING DIFFERENT AND SPECIAL WITH NANDI HILLS WHICH ONE CAN FEEL ONLY WHEN HE WILL BE THERE !!!
It was a Heaven for Photographers, one can take lots of silouhette pics that even i have taken, shared in Photos. We made lots of slo-mo videos as well.
And i left that place by 6.45 after watching the INFAMOUS SUNSET with that feeling of a Free Bird🕊️.
I left Nandi hills by 7 and Came back to My spot by 9 after doing a huge Struggle from City's traffic🤯
Highlights ::
✓Total Cost -
Snacks,Tea,Food,Water bottle 300/person.
✓Tranaport - 500/per scooty (Rent, Petrol, helmet included)
Conclusion :- Amazing Place for a one day Trip. One can go solo as well if no oneis available. Totally Safe. Cheap. But it would be cheaper if there are more people✌️
Preferble to visit for SUNRISE. 
Thanks whoever is reading this..
I appreciate ur Time..😊
Your Friend - Shubham Nagrare
Feel free to Ask any Question !!!!