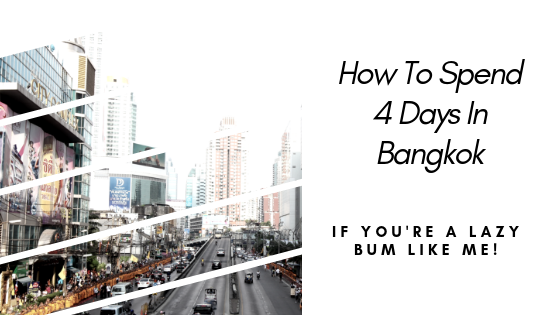 The first memory I have of Thailand is watching Leonardo Di Caprio diving off a cliff in "The Beach". (If you're a millennial, you probably haven't seen it). The more relatable one is about 10 years ago when everyone and I mean everyone realised just how cheap it was to travel to Thailand.
Names like Bangkok, Pattaya, Phuket became synonymous with bachelor and bachelorette parties and somehow I never made it to Thailand. Till now. That's right, I didn't go there for my bachelorette but I did just come back from a lazy ass trip to Bangkok and Hua Hin with my husband.
So if you're like me, who likes to sit on their ass and Netflix as much as possible and who gets tired even when shopping, this blog is for you. Over the next few minutes, I'm going to tell you about my trip and also help you plan a quick trip to Bangkok with your loved ones.
How We Came Up With A Plan
Well, it's very simple. We were sitting in the living room and I realised I was feeling mentally drained. I'd just quit my job (I no longer work at POPxo) and having gone back to working solo, things were hectic since I was still transitioning. With Srijan's work and shows, we had a 5-day window and yup, that's how we booked our tickets. Since it's visa on arrival and I hadn't been there yet, we thought why not?
9 clicks later, we'd booked our tickets.
Why Choose Bangkok?
Most of us are friends or my ex-colleagues usually stuck to the island (Ko-Chang, Phi Phi etc) which would have been great since we had limited time and we knew we'd go back (Delhi to Bangkok is 3.5 hour flight), we decided to stick to Bangkok and ending our trip on a chill note in Hua Hin.
If unlike me, you're travelling from the US, UK, Europe or Canada to Thailand, you should give it a good 10-12 days just because there is a lot to see and experience.
Bangkok Visa and Immigration
Just so you know, most tourism websites and our travel agent told us to carry about 25,000 baht with us for immigration. Apart from that, immigration in Bangkok has two queues: general and fast track. We paid 200 baht each to get our visa stamps in the fast track line but our visa fee was waived off. Even this took about an hour and by the time we came out, our luggage was off the belt! After walking some more, we took a cab to our hotel, Moevenpick in Sukhumvit Soi 15.
Hotel Review: Movenpick Sukhumvit, Bangkok
Okay, so full disclosure: we'd booked our hotels just as quickly as we'd booked our tickets. I basically headed to Booking.com and opened another window of TripAdvisor. I also looked at a few Instagram accounts but didn't find anything interesting which was surprising, even to me. On the basis of a bit of research and basic knowledge, we figured Sukhumvit was one of the main hubs of the city. But we obviously didn't know just how different every street or Soi could be. Movenpick Bangkok is on Soi 15 and because it has many hotels, it also attracts a lot of prostitutes (something I didn't know). Thankfully, this was on the main street and not directly outside the hotel but it would be unfair of me to not mention this. So if you're travelling with family or young children, do check out the Soi and then take a call.
Speaking of the hotel, Movenpick is a well-known brand, which is always comforting when heading to a new city. However, what I didn't figure out from the photos was that the hotel is split up into 3 buildings. We were in the newer building and when we first went into our room, there was something definitely off. I asked them to shift us to the old building (that was the one on the website) but since they were fully booked, they shifted us to a better room but in the new wing. This was much better but NOT what was advertised. Other than this, the stay was very comfortable. From the service to the food, Moevenpick is a standard and affordable hotel. Their pool is not very big which is why it also looks crowded with 10 people so if you're a swimmer, you need to find the right time to head to the pool for that breaststroke.
Shopping in Bangkok
We woke up the next day at noon (I know, right?) and after a brunch, headed straight to MBK mall. This was a straight-up discount mall and there was nothing fancy about it. So if you want fancy stuff like Louis Vuitton, Gucci and the likes, head to Siam Paragon. The mall is pretty big and is split up into shops, counters and they also have a couple of mall activations going on in the middle. This is also where a lot of people buy electronics from so if that's on your list, you should check it out (save some money for the top floor). Since there was nothing in particular on our list, I bought things that I saw locals wearing (a striped summer dress, caramel ankle length pants) as well as a cutout top and a white blouse from Bubba which is a wholesale brand in Thailand. I also found a brand called Pena and bought 2 trousers from there.
The other thing that you can't ignore about this mall is counterfeit or fake stuff. From LV bags to Cartier bracelets and HUDA Desert Rose Palette, there's a dupe for everything. Is that why the locals are so well dressed? It could be. Locals are almost always well dressed if not stylish. In general, I found the fabric to be a notch better than when I shop online back home.
Over the next 2 days, we also headed to Central Mall where I walked so much, I had to buy another pair of flats just to keep up with my shopping. I always check out H&M, Zara, Marks&Spencer etc when I'm in another country because they have other stock and this time, my husband accompanied me to these stores and shopped just as much as me (if not more). We also discovered that we could shop together, but separately which was just another step in our relationship. Like we enter a store together, and then we just find each other when it's time to pay the bill. Do you do that too?
After 4 hours of vigorous mall walking, Srijan, who had in his head to buy shoes, found a great deal in ECCO for these amazing maroon-hued kicks at 70% off. So, the point of this story is: you never know when you'll find a good deal in Bangkok.
We also headed to Terminal 21, which was close to our hotel. Divided into floors that represent the world's metropolitans (like Tokyo, Paris etc), there was nothing particularly great about this mall although all my Insta friends recommended it (I've seen better malls Y'all!). What I did like about the mall were the local brands we found: we got a decent jacket from AIIZ, and I got to shop from a local designer, Island Girl at 50% off. Their stuff was really unique and I hope you find similar things too.
There are an insane number of malls in Bangkok and if you like to shop, I swear, you wouldn't even know where the day went. My advice is to wear sneakers (most locals wear sneakers in the mall because they know it's power walking!), keep taking breaks and in my case, grab that Volini 'coz this ain't for the fainthearted.
Lastly, shopping is not exactly cheap. If you're Indian you will pay double, but if you're from the US or Europe, you're going to love just how affordable everything is!
Nightlife in Bangkok: Rooftop Bars, Red Light Area
Well, shopping is not all I did in Bangkok (although when I came back, I realised just how I spent), we also managed to head out every day. Here are a couple of things that you could do if you don't wanna visit the Palace. I did detailed reviews of a few places, so do check them out here...
1. Rooftop Bars like Sky Bar, Lebua or Octave Rooftop Bar, Marriott
2. Chatuchak Market, Patpong Night Market (if you're there over the weekend)
3. Soi Cowboy (Red Light Area
4. Saxophone (Live Music)
5. Asiatique Riverfront (For that local touch)
Massages In Bangkok
We actually screwed this one up. There are a lot of beautiful standalone spas but they're booked way in advance and we couldn't get an appointment. While I only got a foot massage, Srijan tried a full body Thai massage and it was good too. Of course, his massage experience was much better and relaxing at The Hilton, Hua Hin but that was, of course, expensive.
How To Get To Hua Hin
Since this was our second last day, we had enough of the city life and were craving for just that 1 day when we're sitting and looking at the view and that's exactly what we did. We took a very comfortable cab to Hua Hin but since the traffic is really bad in BKK, it took us about 3.5-4 hours on each side. You can also take a minivan, bus or flight depending on your liking and the kind of time you have on your hands.
The best part about the Hilton Hua Hin would have to be that you can see the pools and the beach from the minute you step in. A quick check in later, we went to our room which was on the eight floor. While I wasn't impressed with the ambience (the corridor was so dimly lit, it was scary), the room was really spacious with a living room and huge terrace that overlooked the beach. Thankfully, it was Kartikeya (full moon) and we enjoyed one of the best views the whole day. A dip in the pool, a walk by the beach and some chilling in the room made for a great way to end this trip.
Just before we left for Thailand, we stepped out of the hotel and had an amazing time at The Coffee Club in Hua Hin. I had the best mango margarita and salad and the place had an amazing vibe. You can just grab a book and chill there for hours on end.
I hope you enjoyed this blog and it helps you plan your impromptu lazy holiday and that you come back with a lot of shopping bags and stories to share! Have you been to Bangkok? Do share your stories in the comments' below!
Check out my trip on my Instagram Highlights here!
Follow us on Instagram: Pragati Siddhanti I Manavi Siddhanti