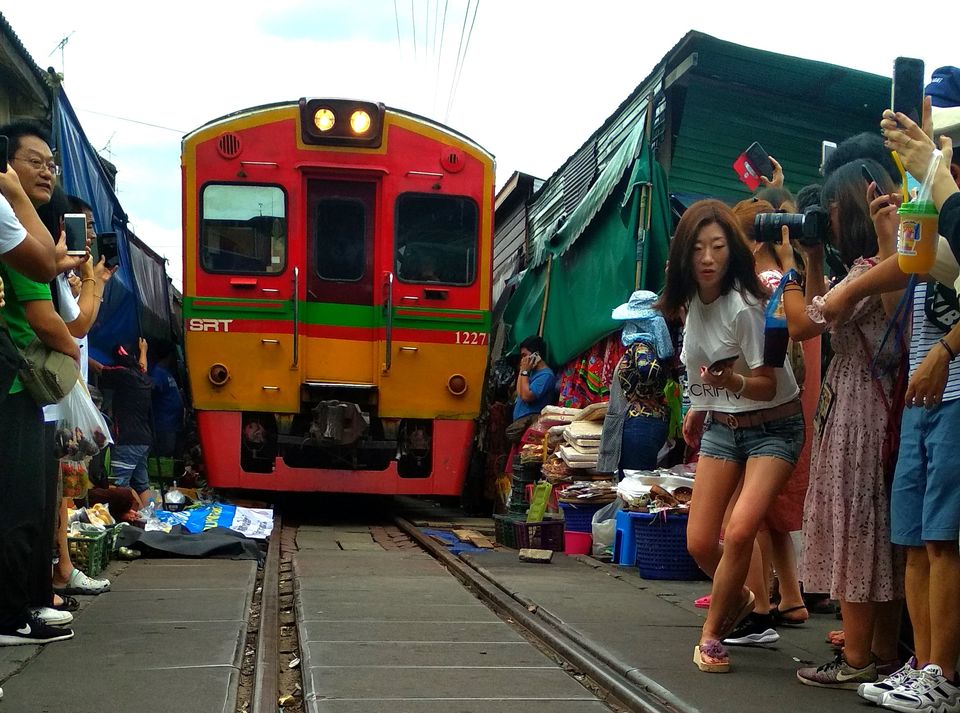 The Mae Klong Railway Market is on every Traveller's List visiting Bangkok.
Its amazing to see the arrival - departure of the train, and witness the entire market shrinking its shutters and opening the same to make way.
The conventional way to see the Mae Klong Railway Market is to come to Mae Klong Station from Sai Tai Mai (South Bus station) of Bangkok, which is ~120 THB one way by tourist van.
And to make it to Sai Tai Mai from Khao San, come to Ratchadamneon Klang Road (comes from Democracy monument), and take any bus at 'After Khok Wua Intersection' that makes to Sai Tai Mai for ~ 21 THB, then a van journey to a parking lot from where you walk to Mae Klong Railway Station.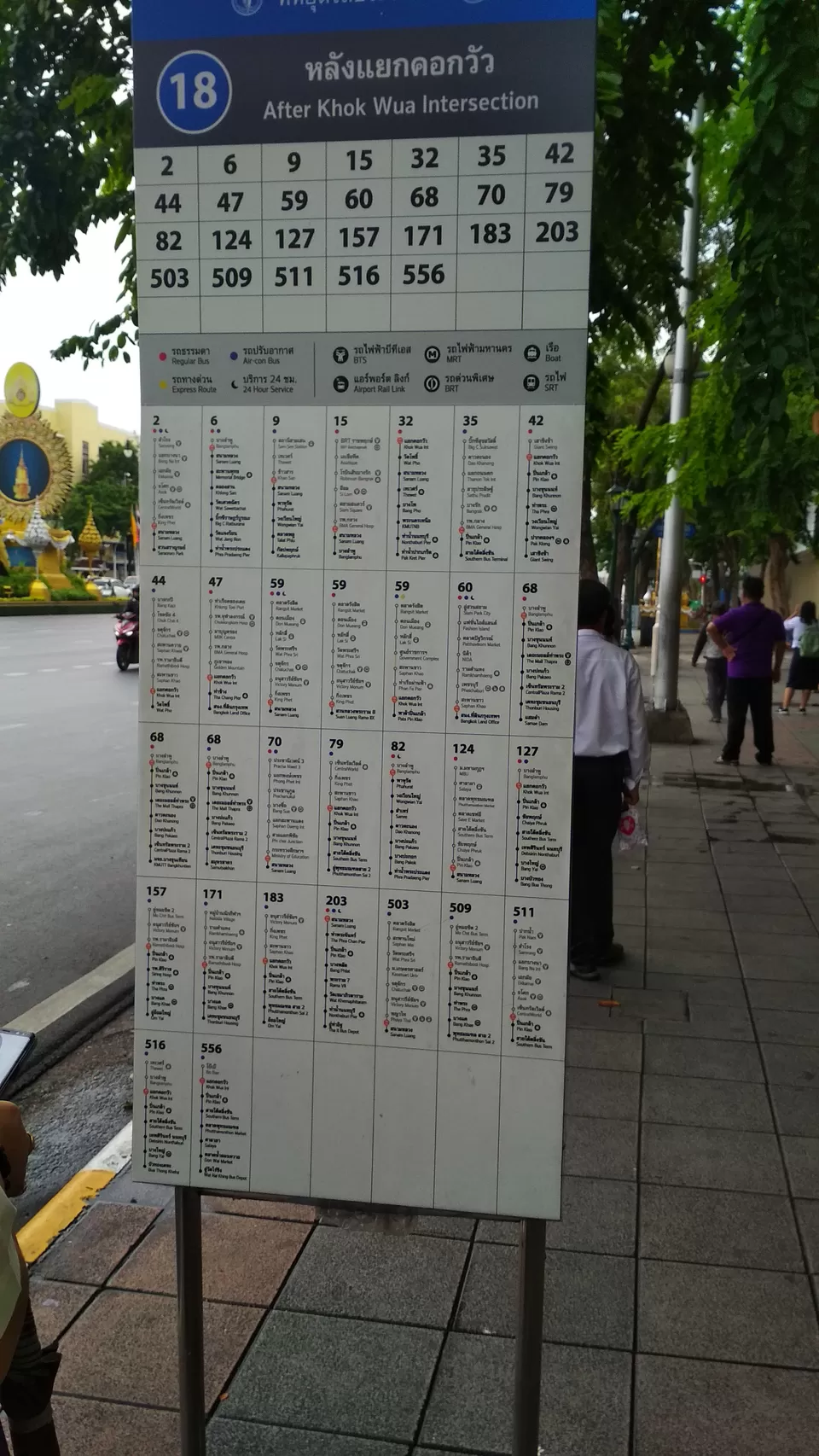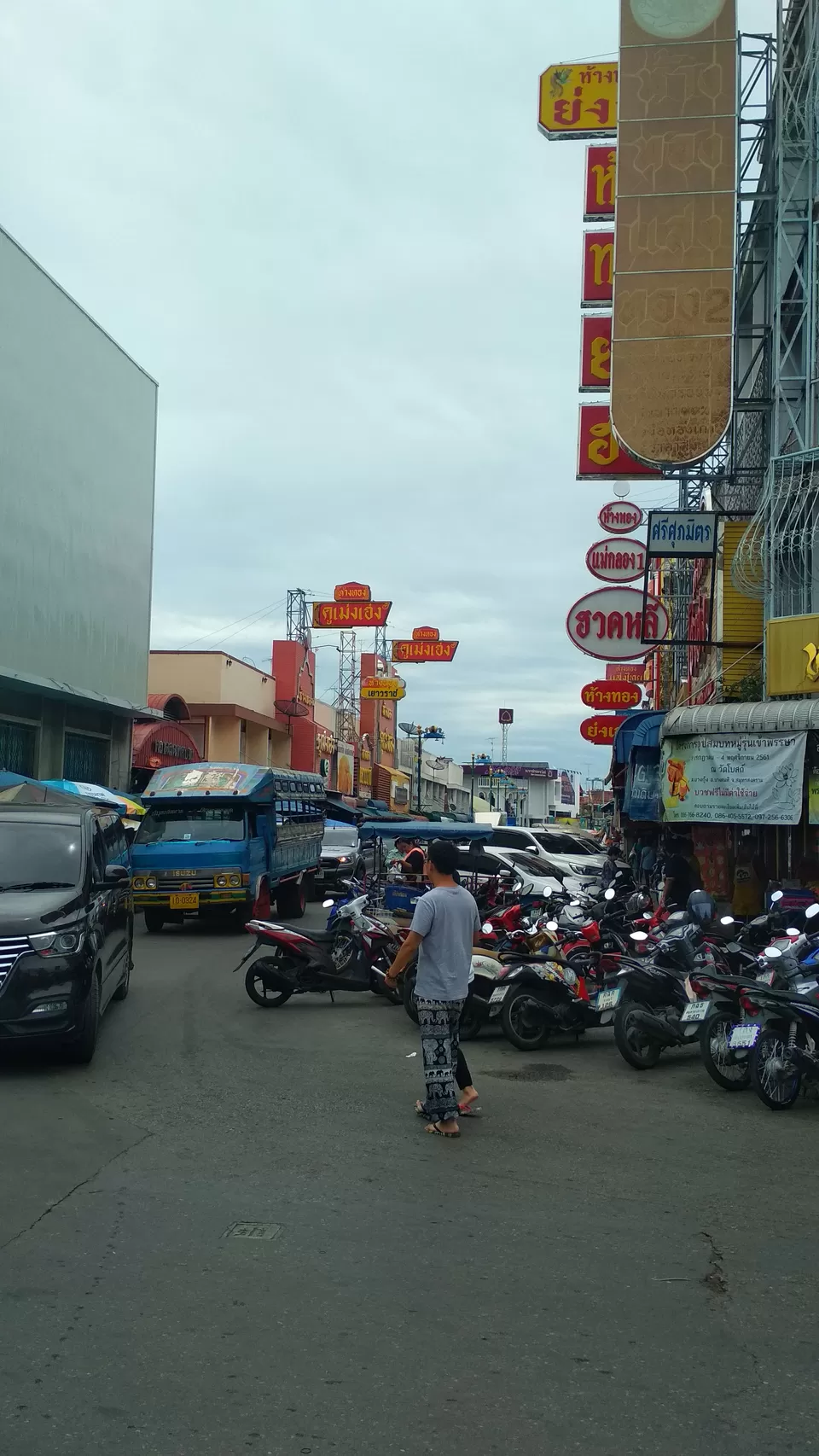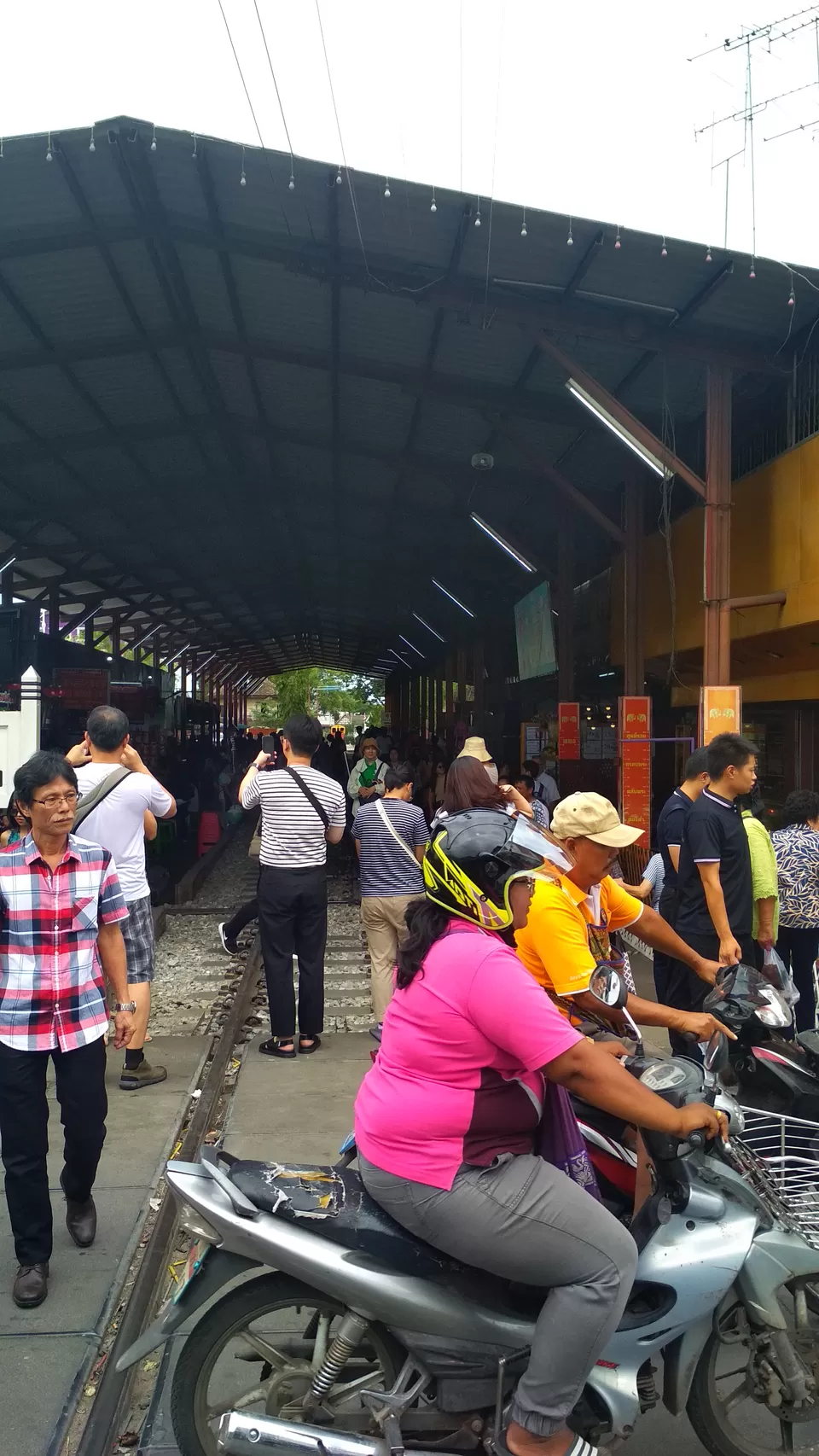 After the Mae Klong Market scene tourists normally see the Amphawa floating market.
And that's about it - The Standard Touristy way.
What if you side this, and think of switching bazaars, running as fast as possible for scheduled trains, and having swift conversations with people for suggesting over your route all the way from Mae Klong to Bangkok, that too in 20 THB !.
You'll realize, it really amazing as you read along.
Here it is.
The route is :
1) Maeklong - Ban Laem
2) Maha Chai - Wongwian Yai
Firstly, see the timetable of the trains at Mae Klong station. My advice is to take either of the First 2 trains, as you will need time to reach Bangkok. Since you might prefer not getting up early, as you are holidaying, it would be fine to take the 11:30 train.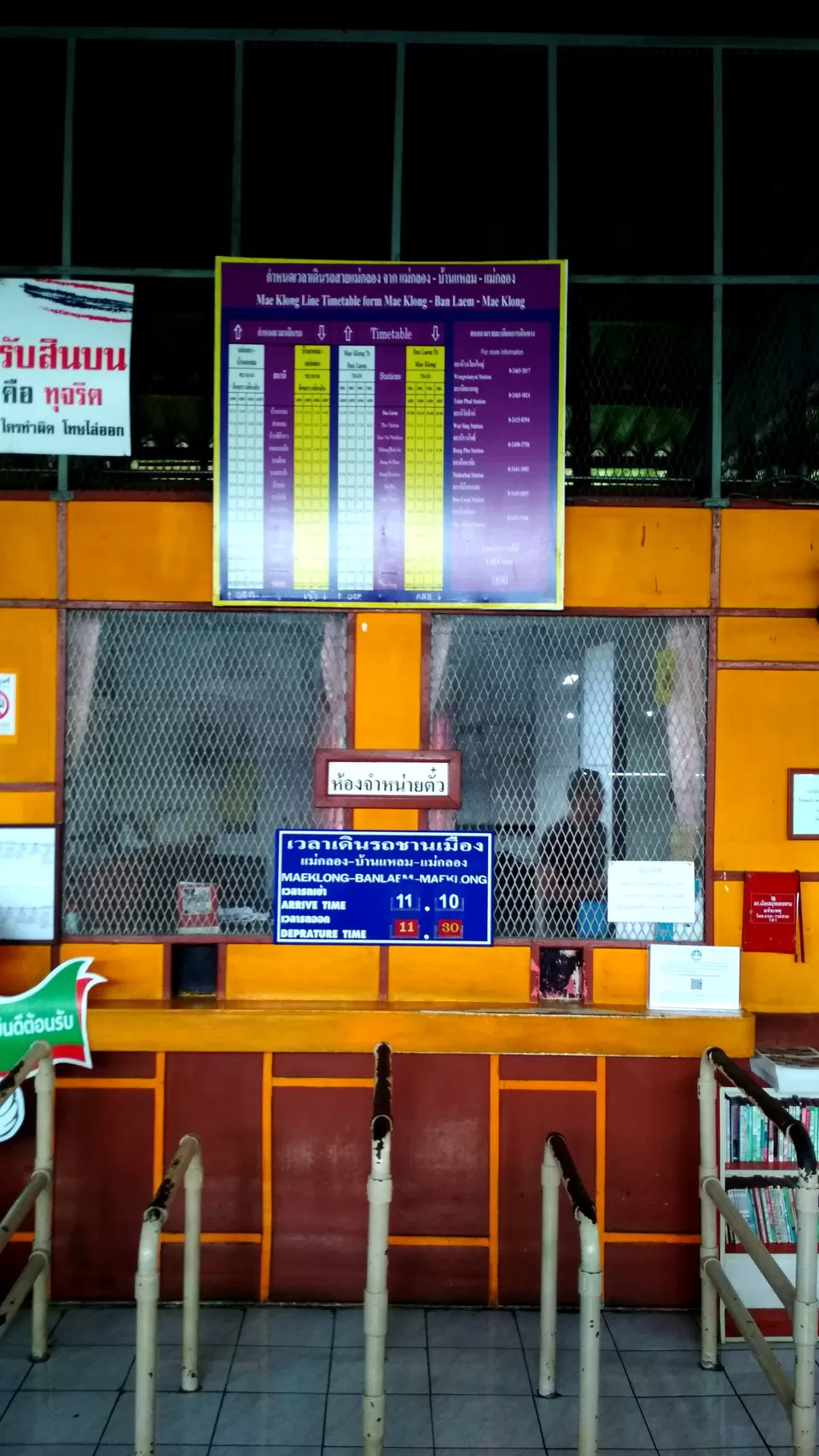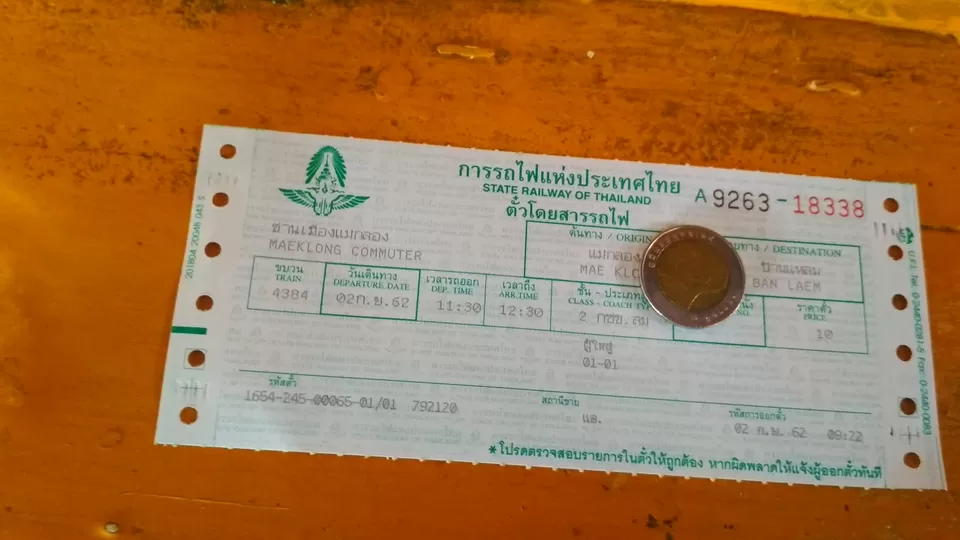 As the train arrives quite slowly like baby steps though, the railway police make way for the train, to control the crowd and avoid casualties. So far there haven't been any mishaps heard about, in spite of witnessing such a huge mass of people around.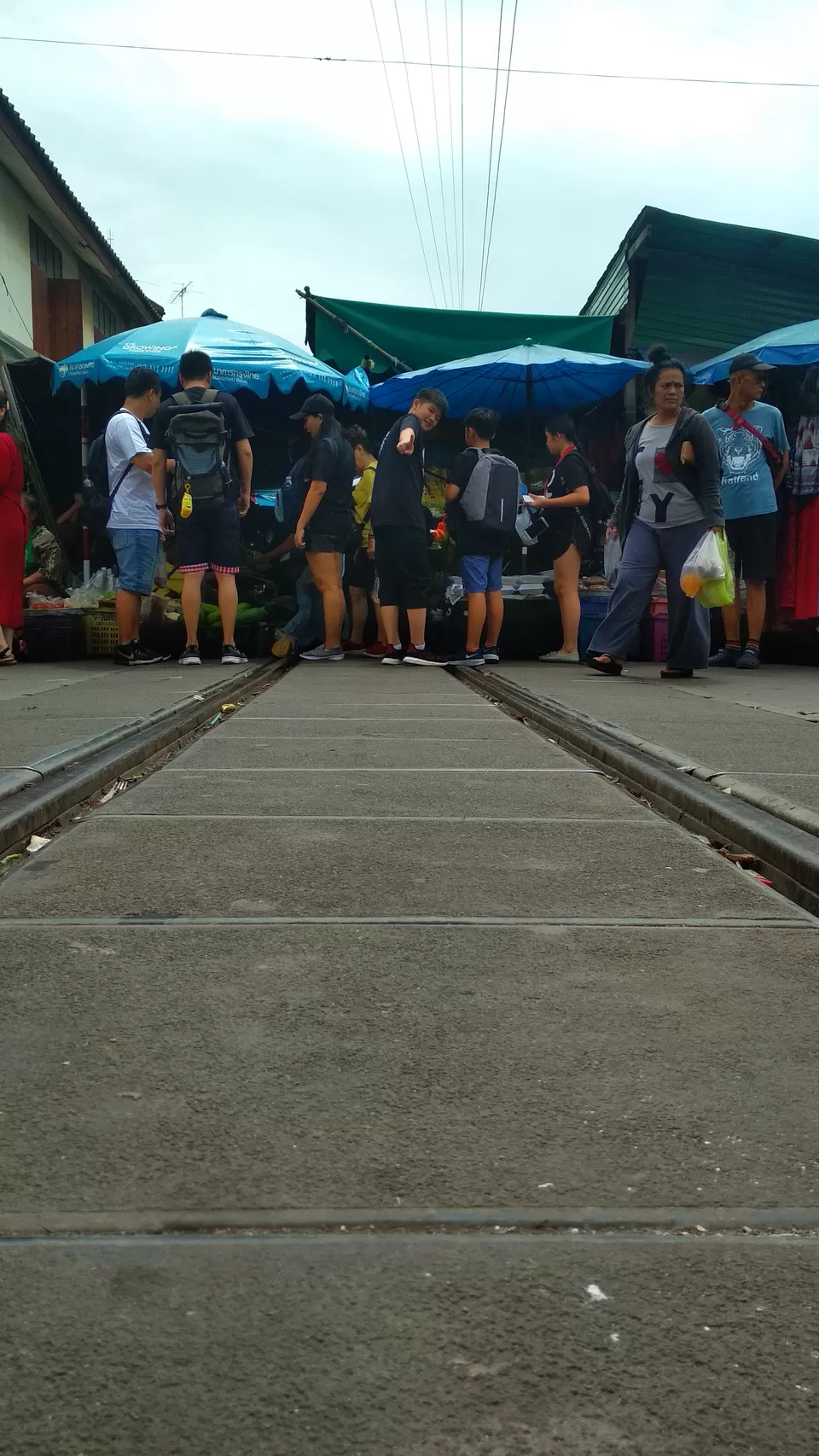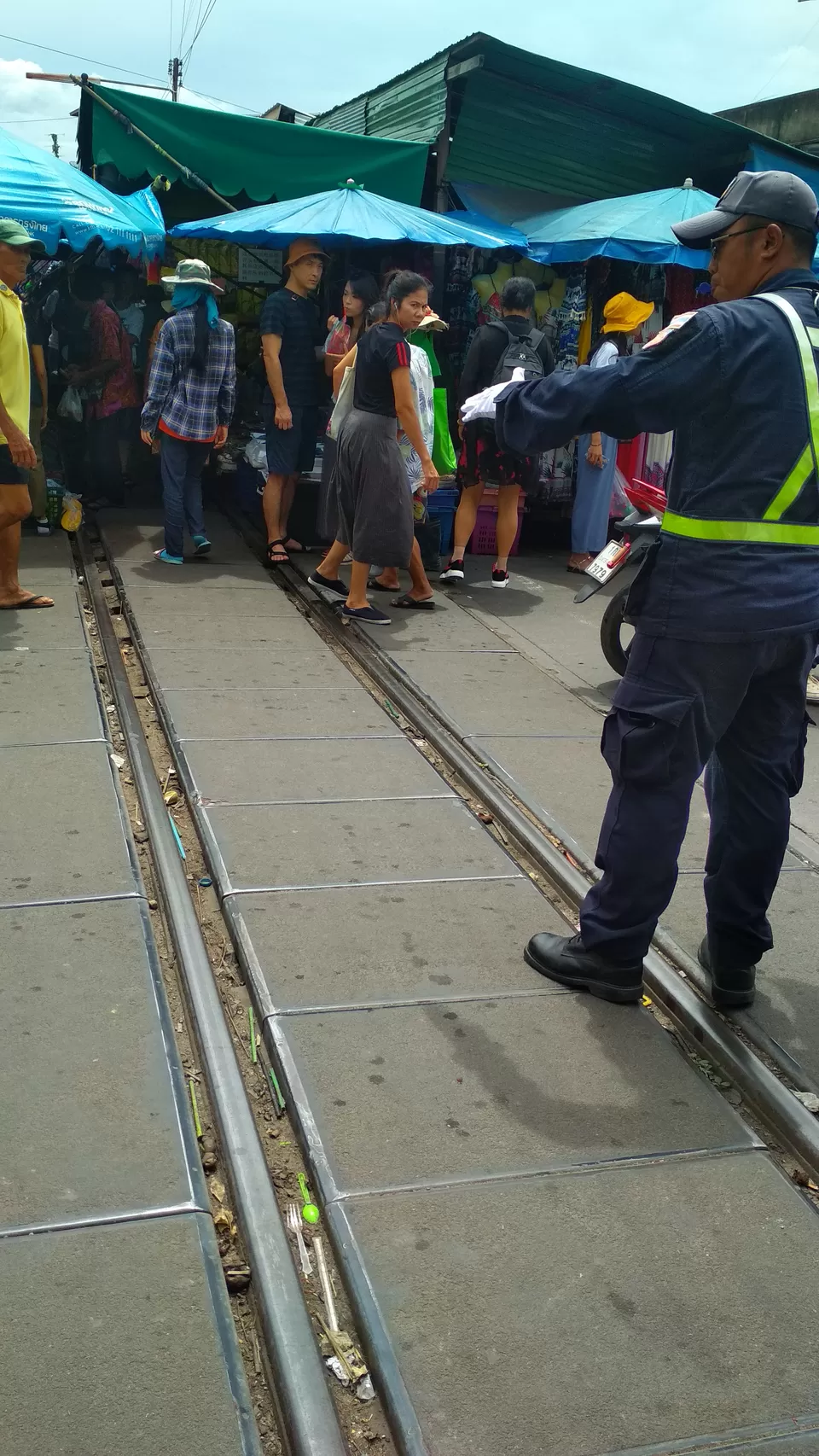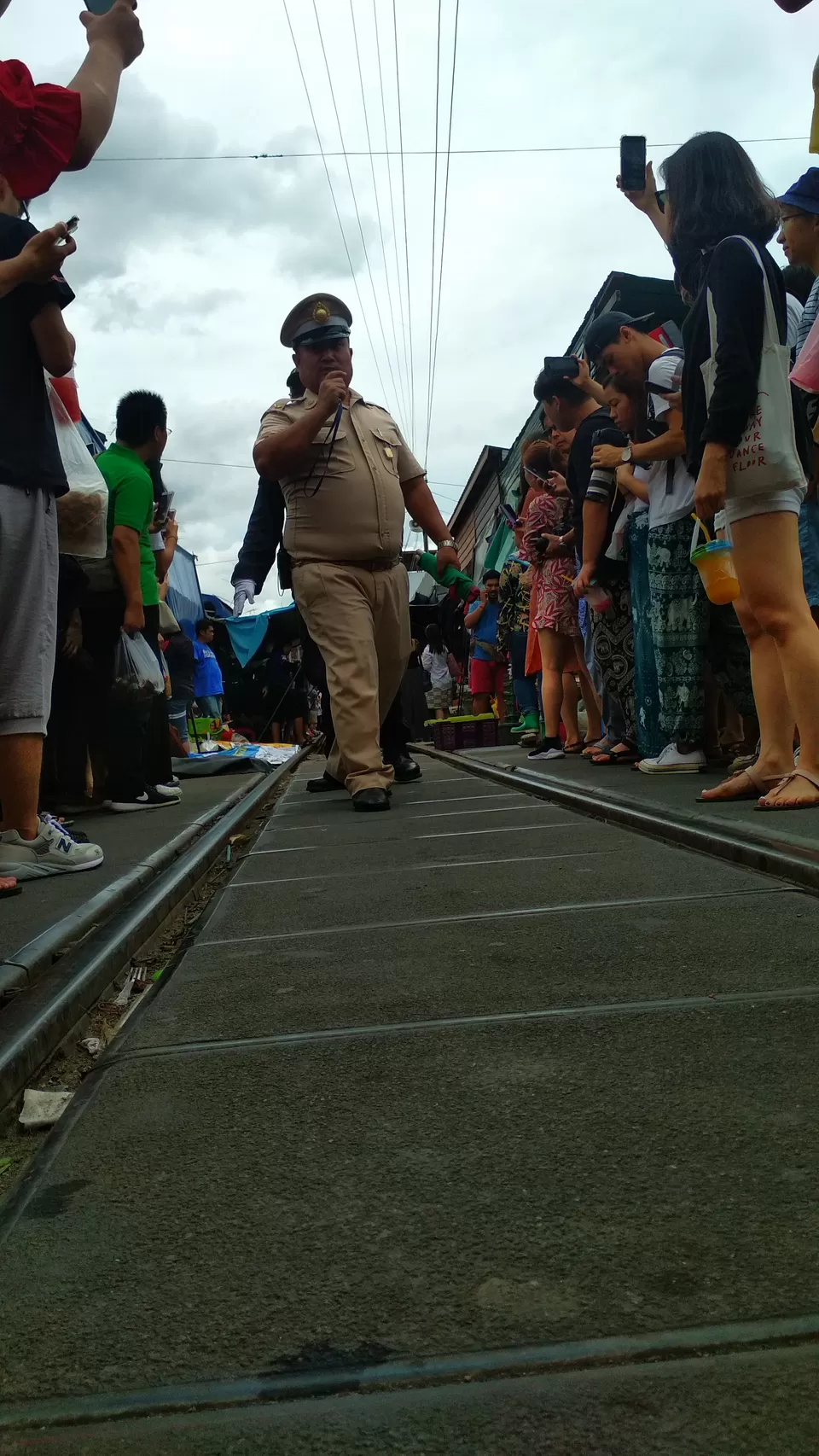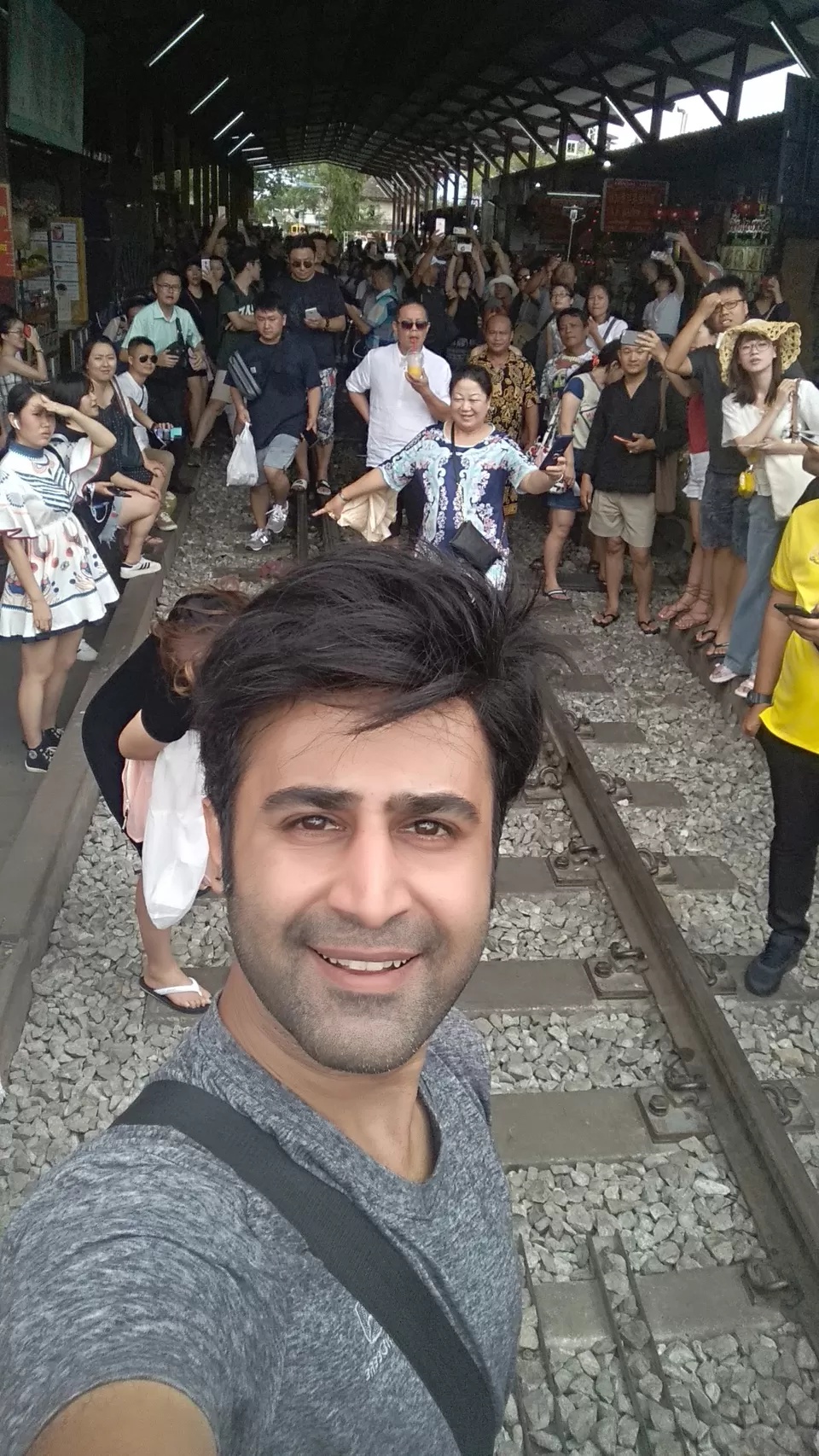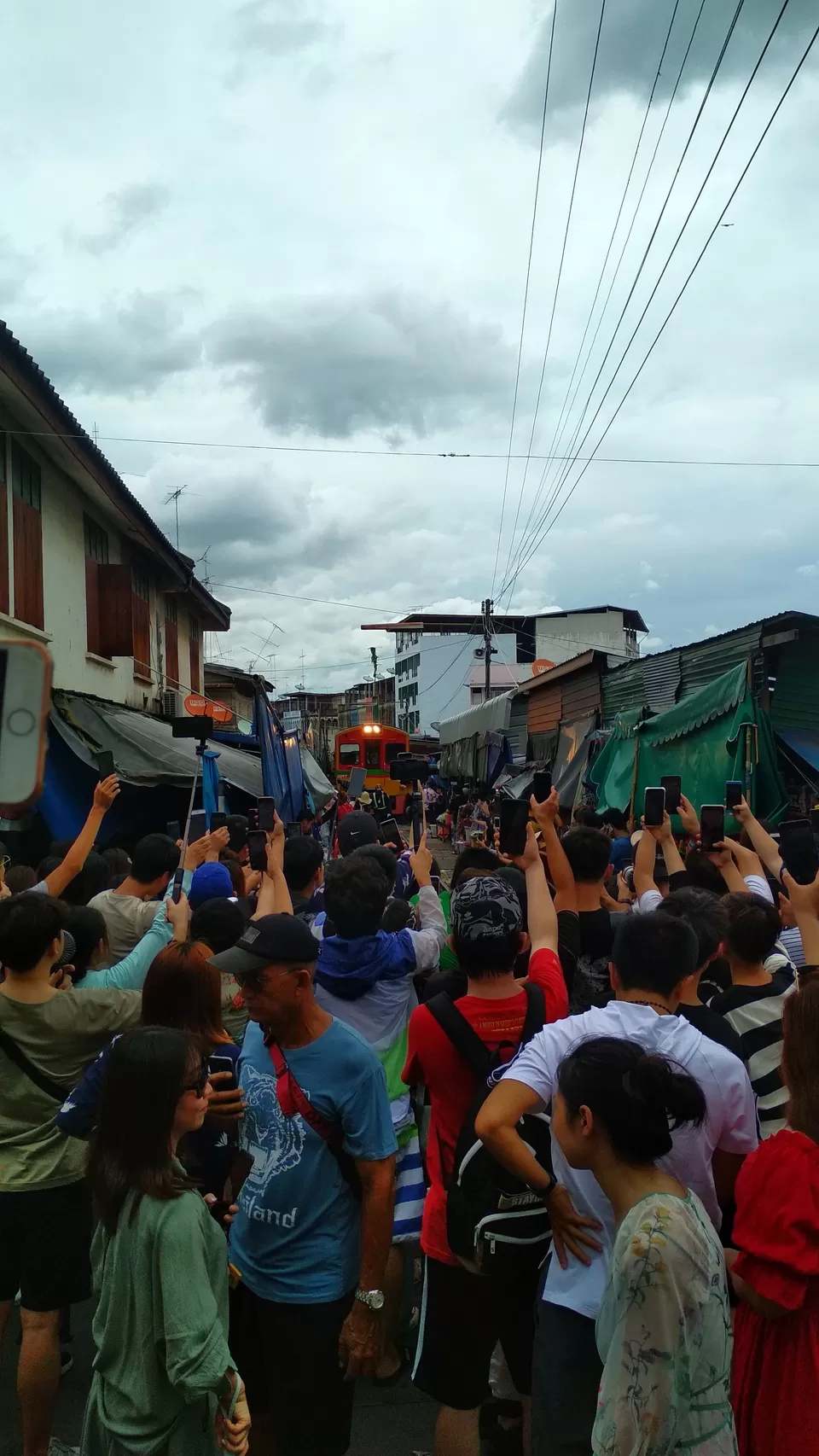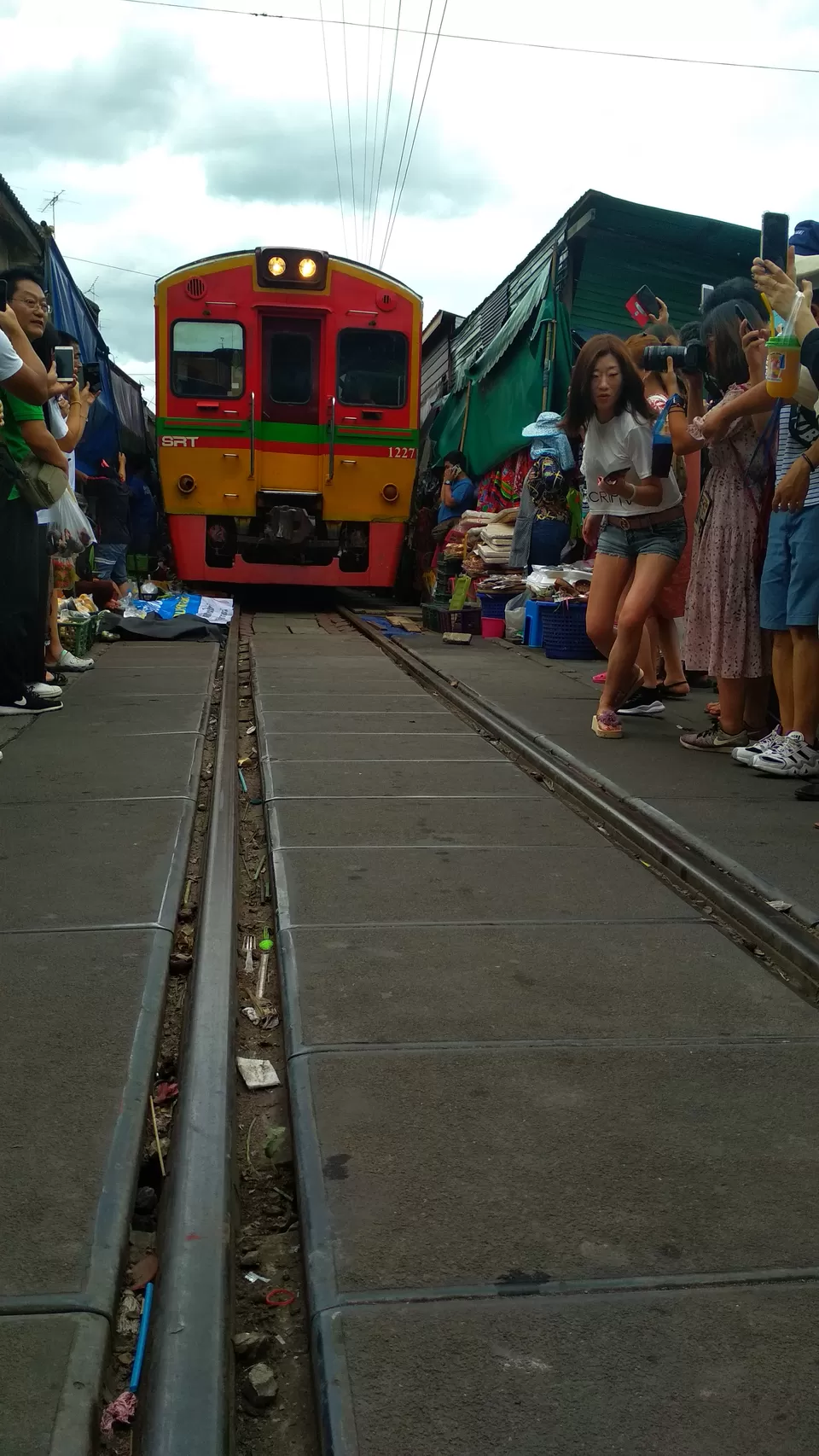 I remember I was hardly few inches before the train and so were other taking pictures in whatever manner possible.
Now, rather than walking the market, which you would have already seen around till the scheduled train arrives, take this train ride, and pass by and close to the people and shutters.
Its nice that the train helpers / guides do give some details about the journey along at the very start, and they would help you click your pictures too. That's the touch of Thailand Tourism !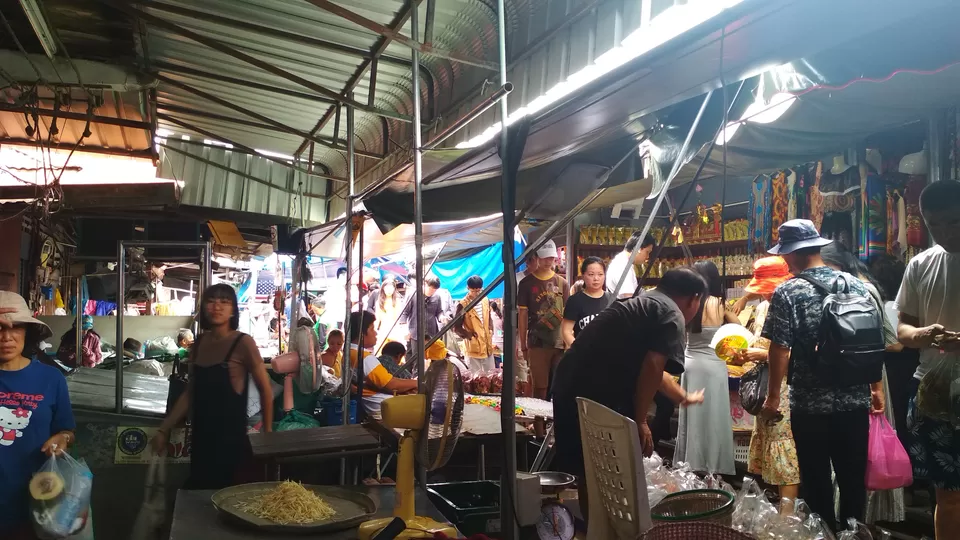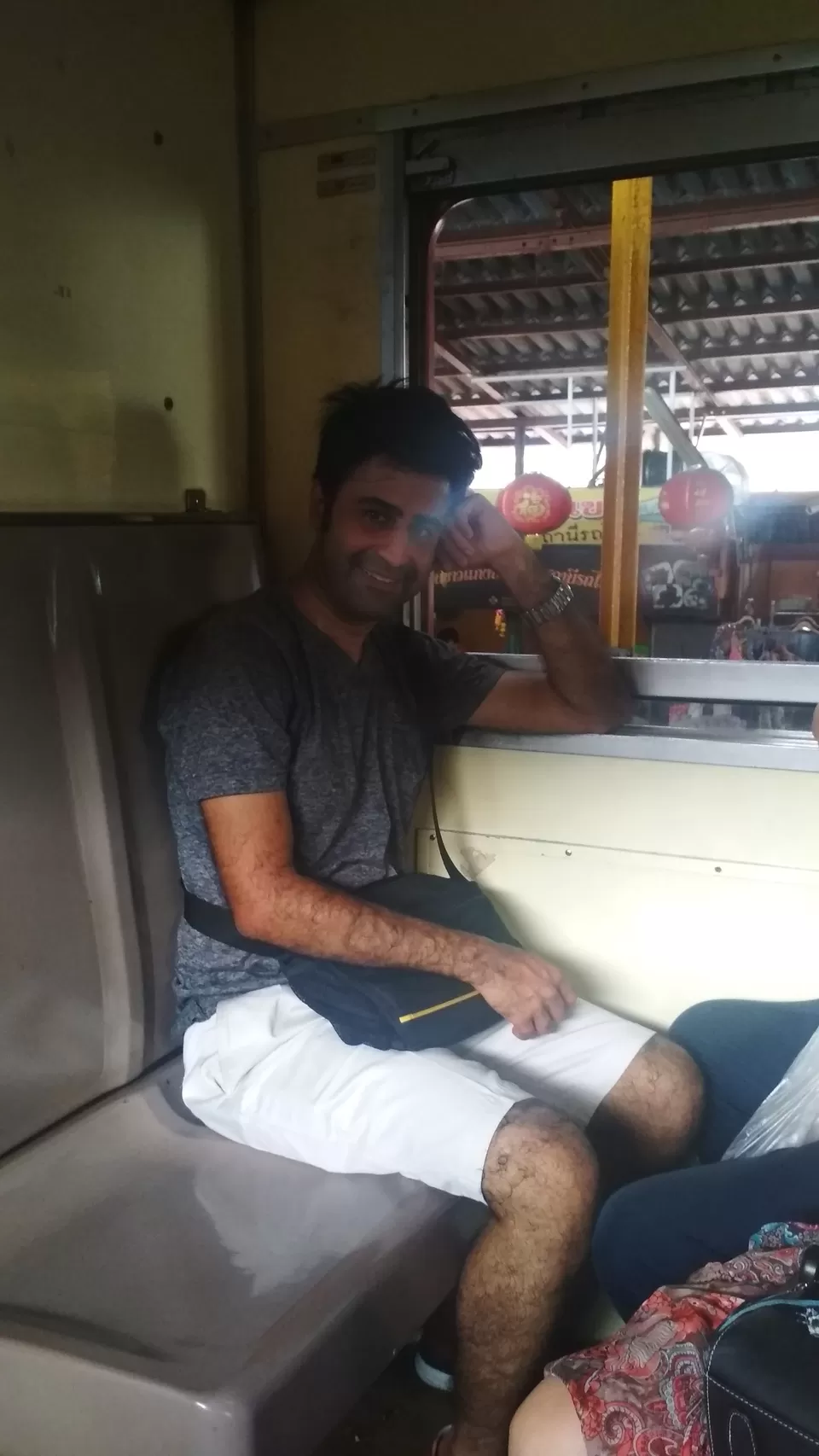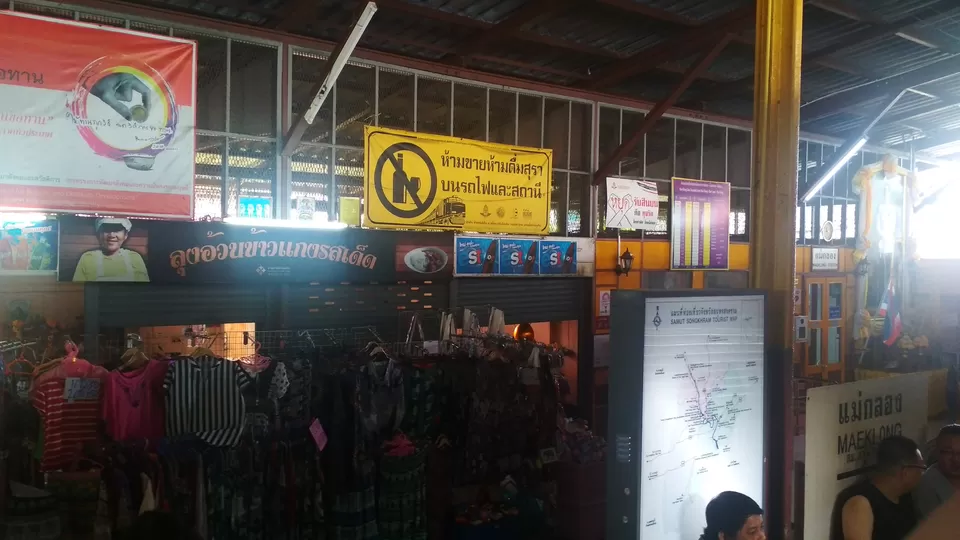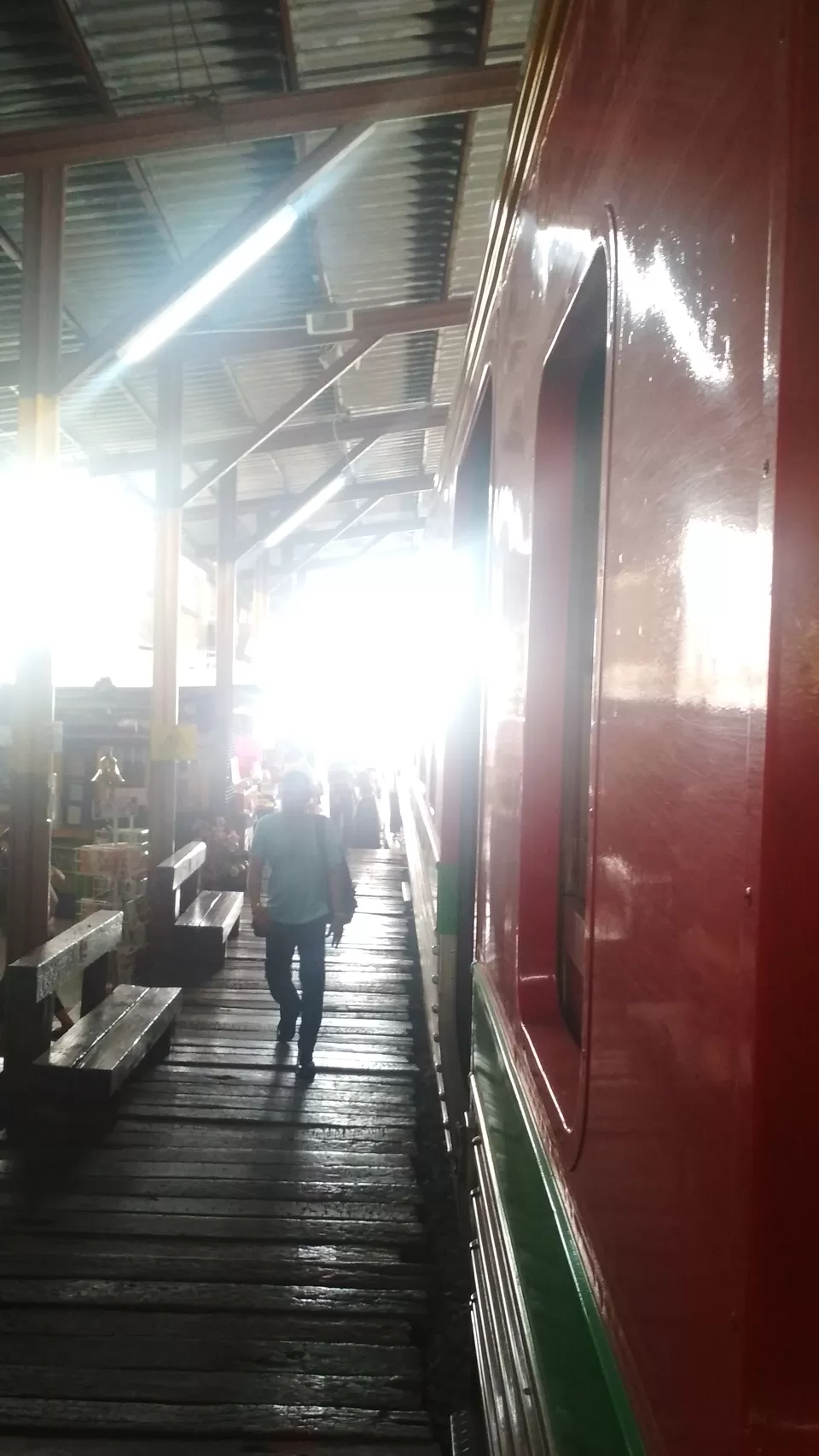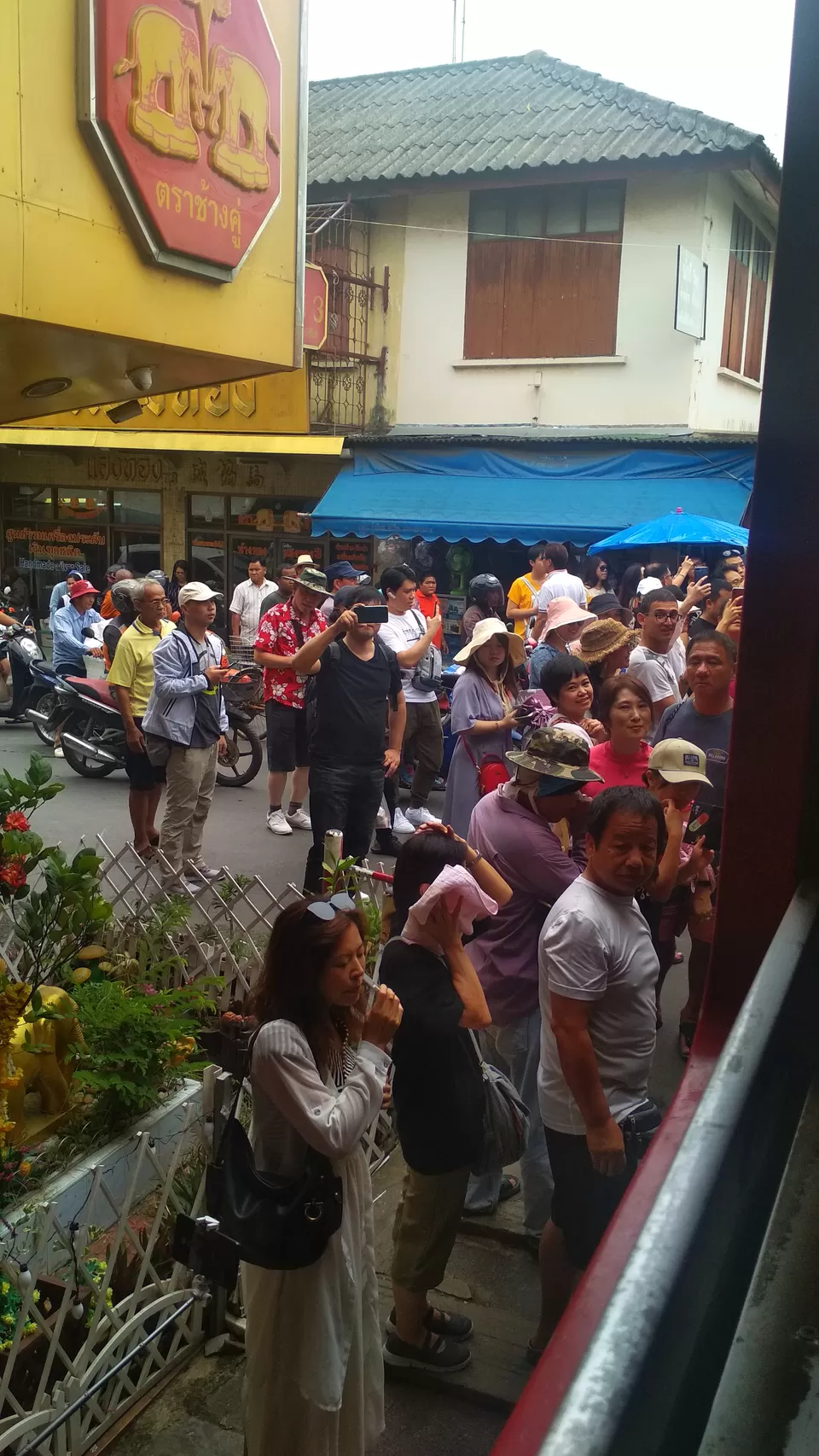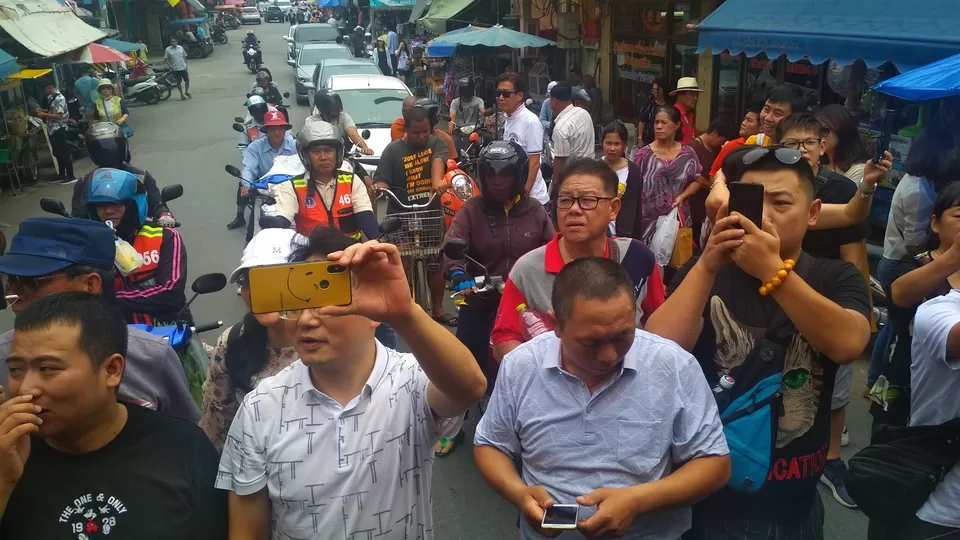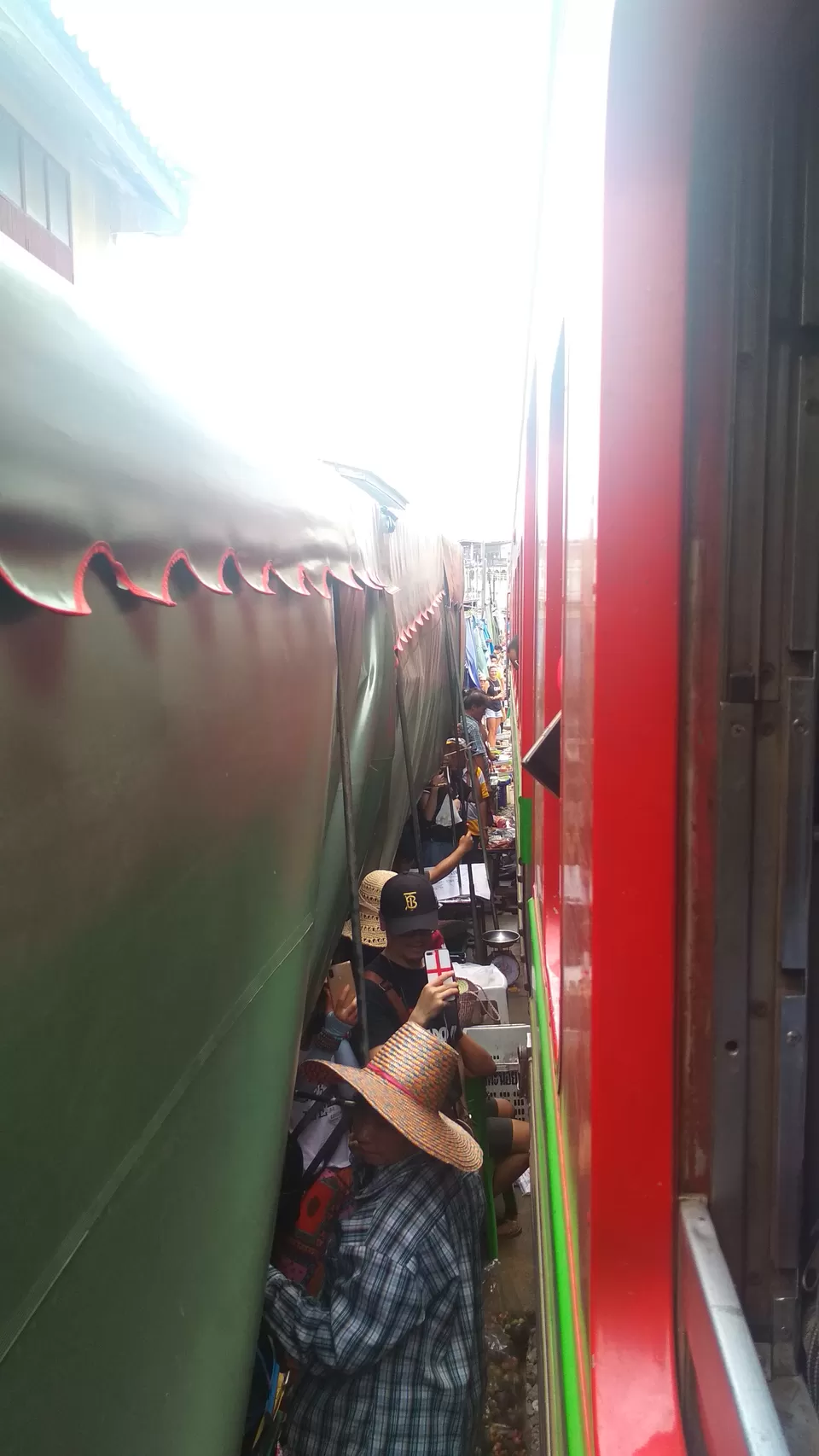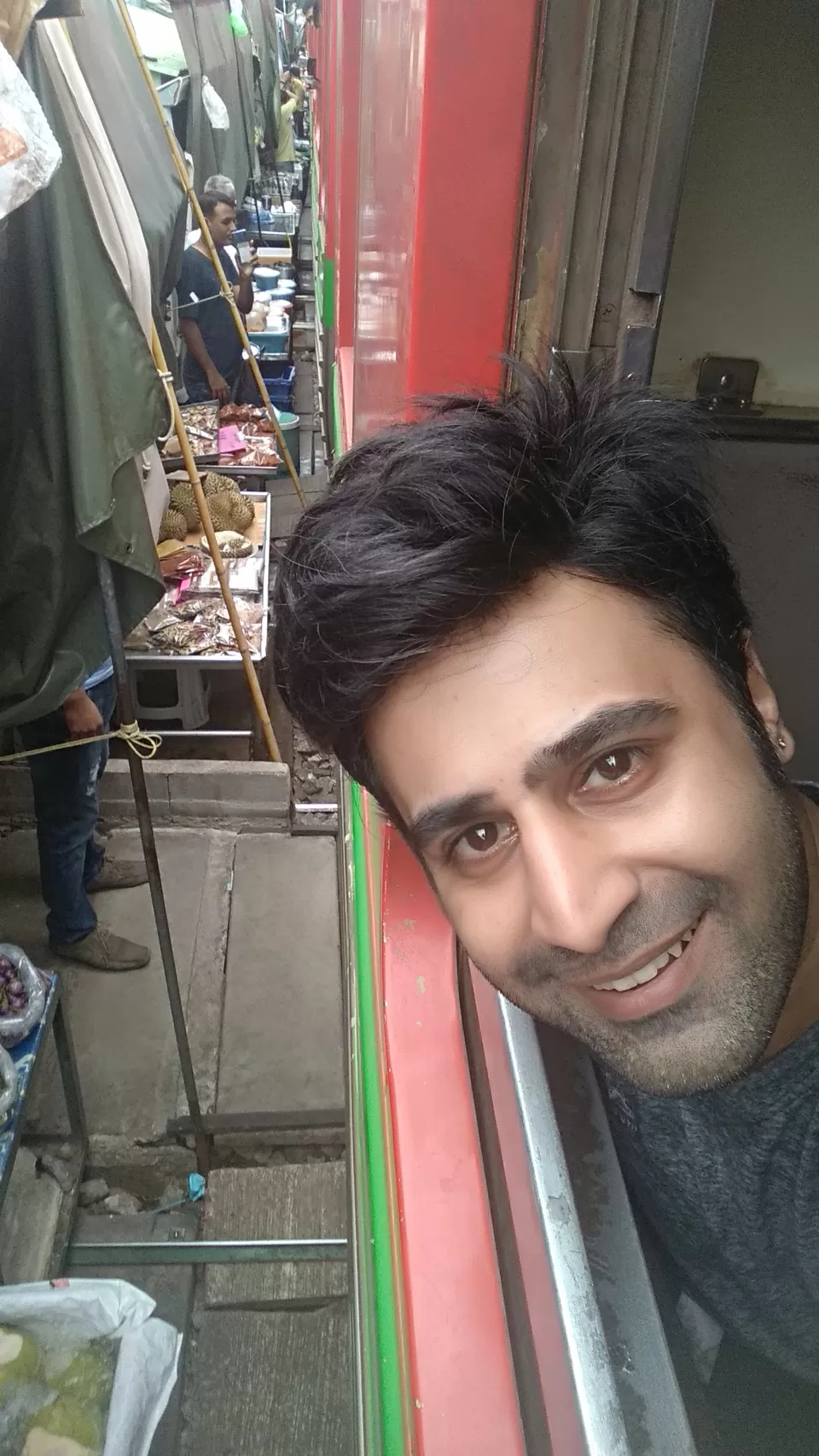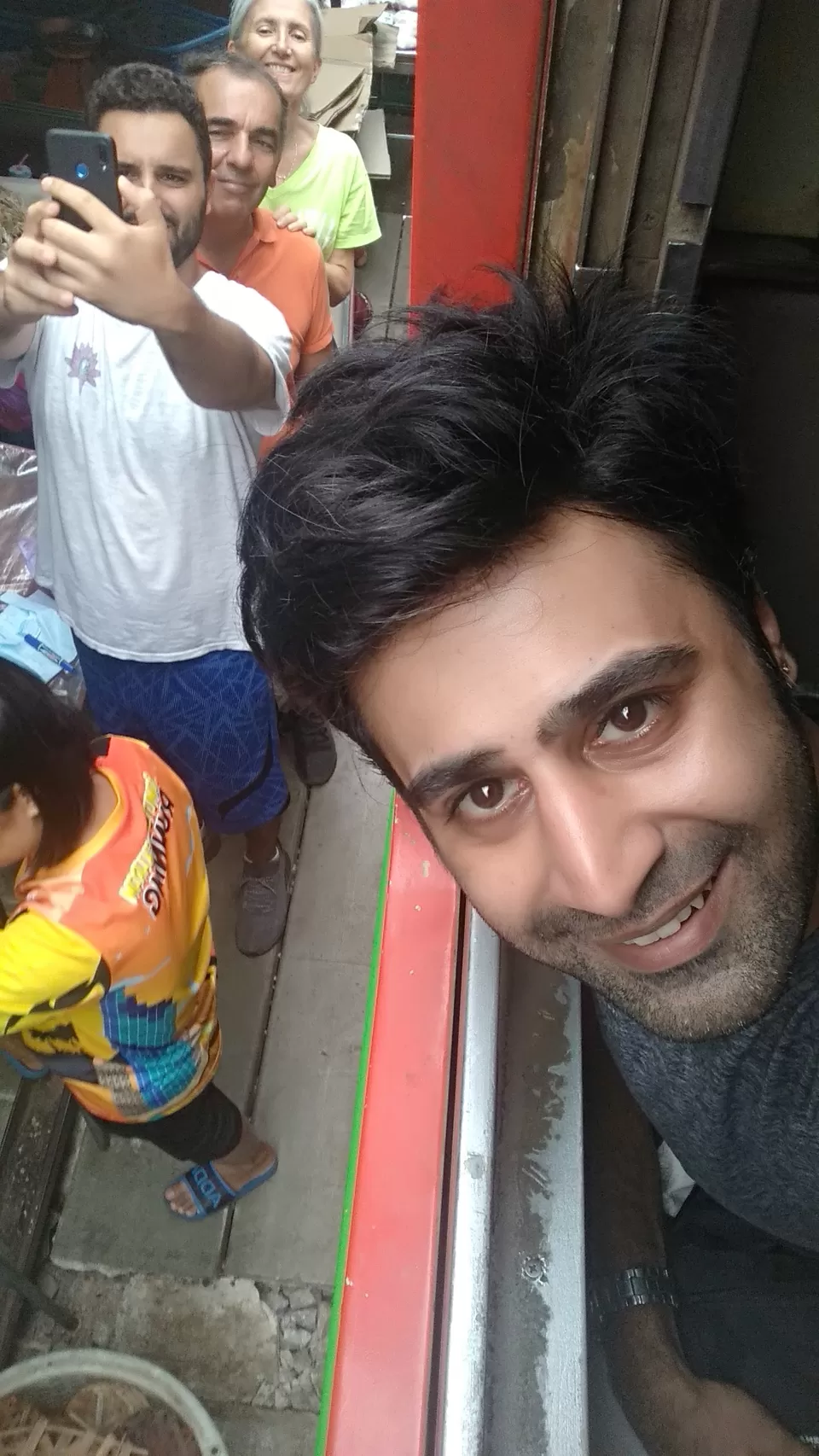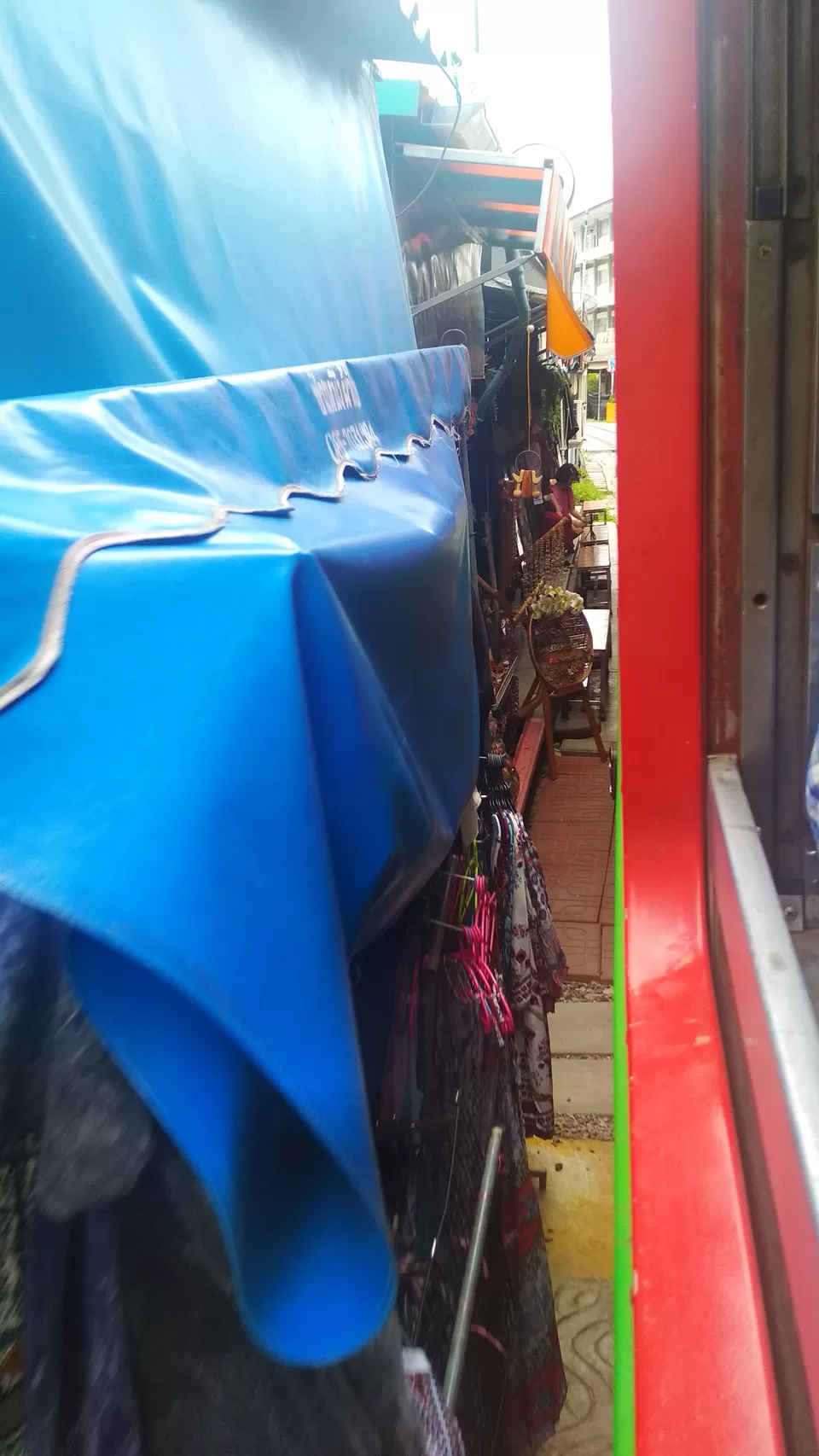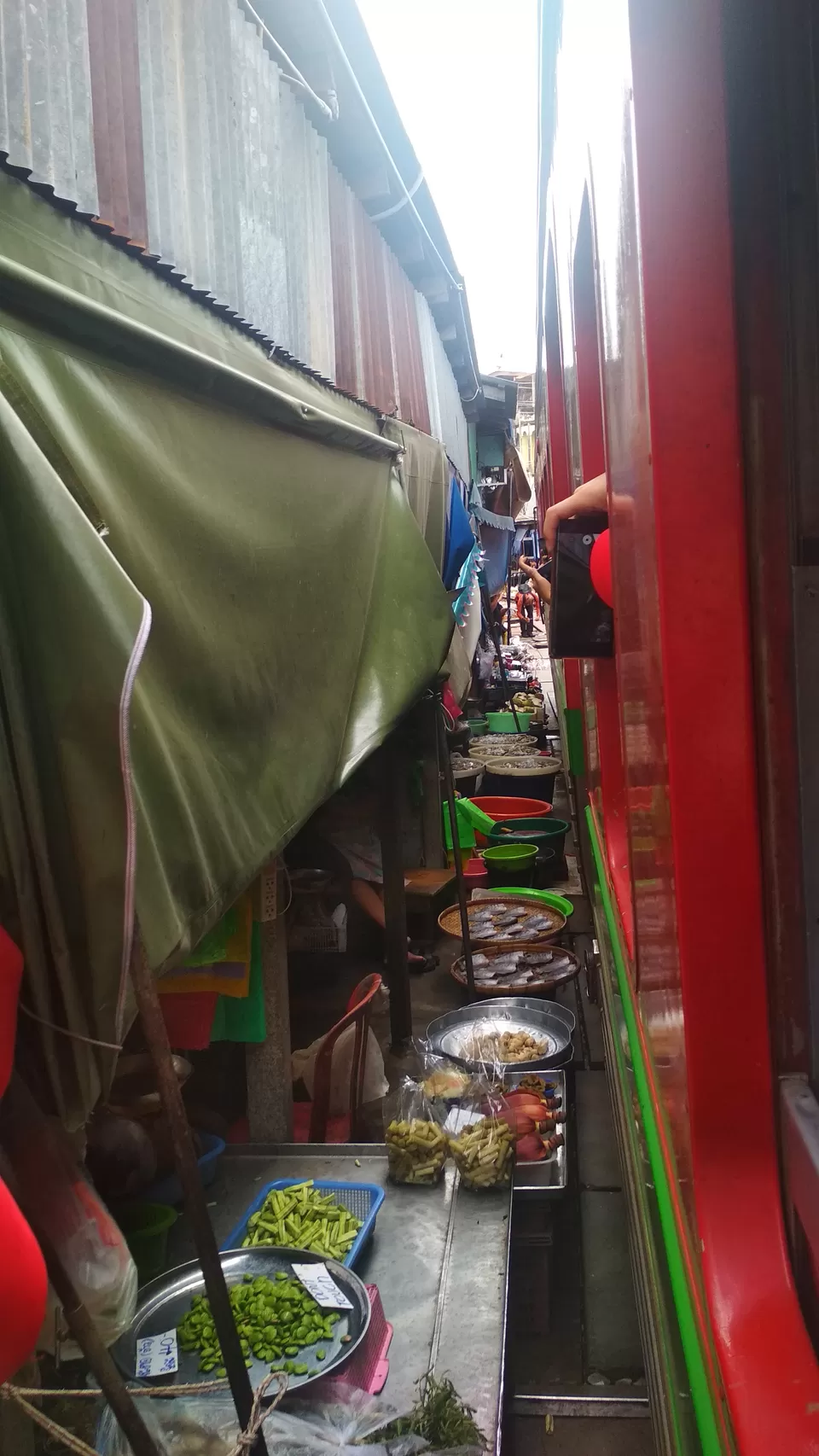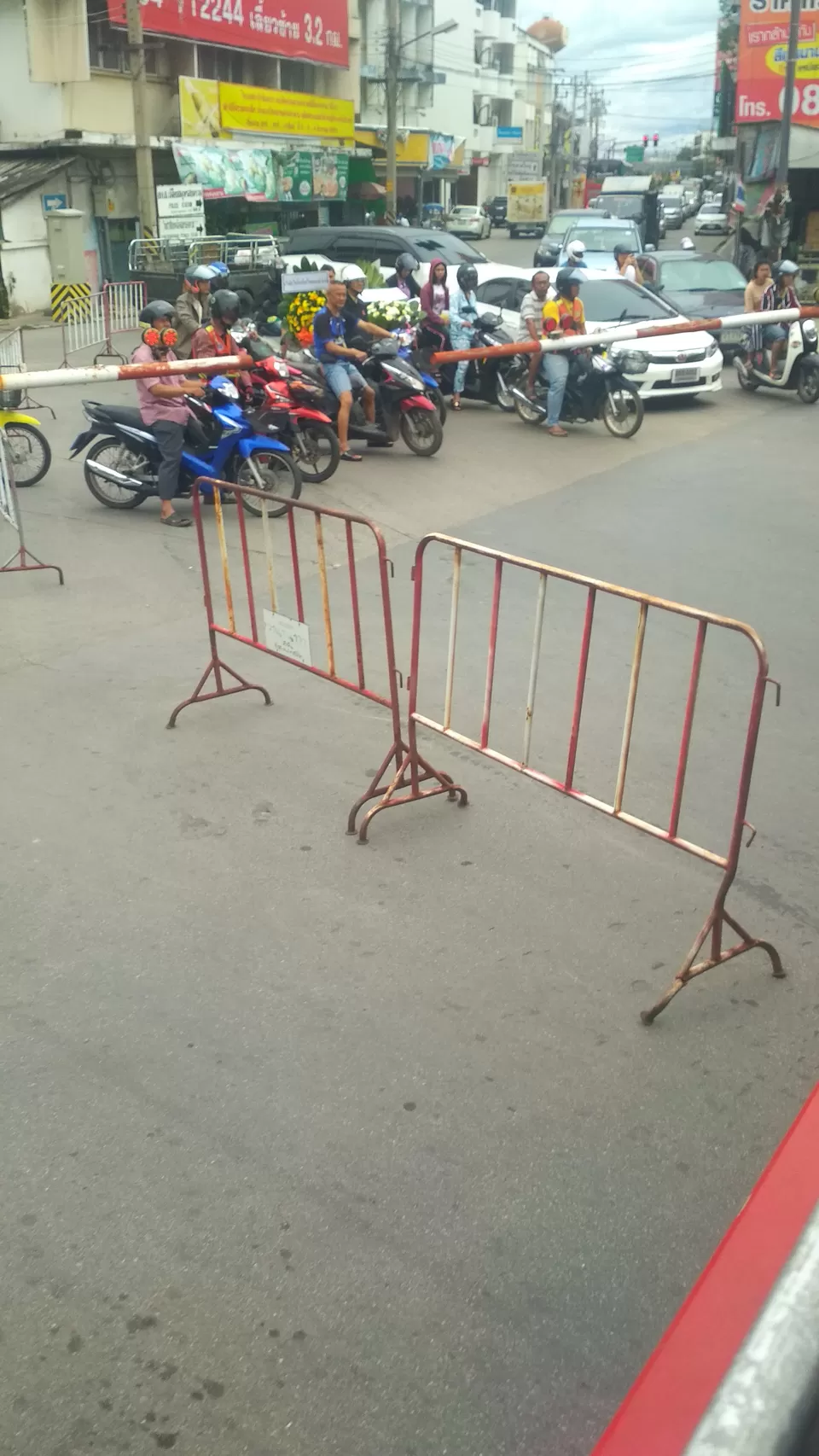 Almost all people actually alight at the very next station Lad Yai, allowing you ample place to play musical chairs.!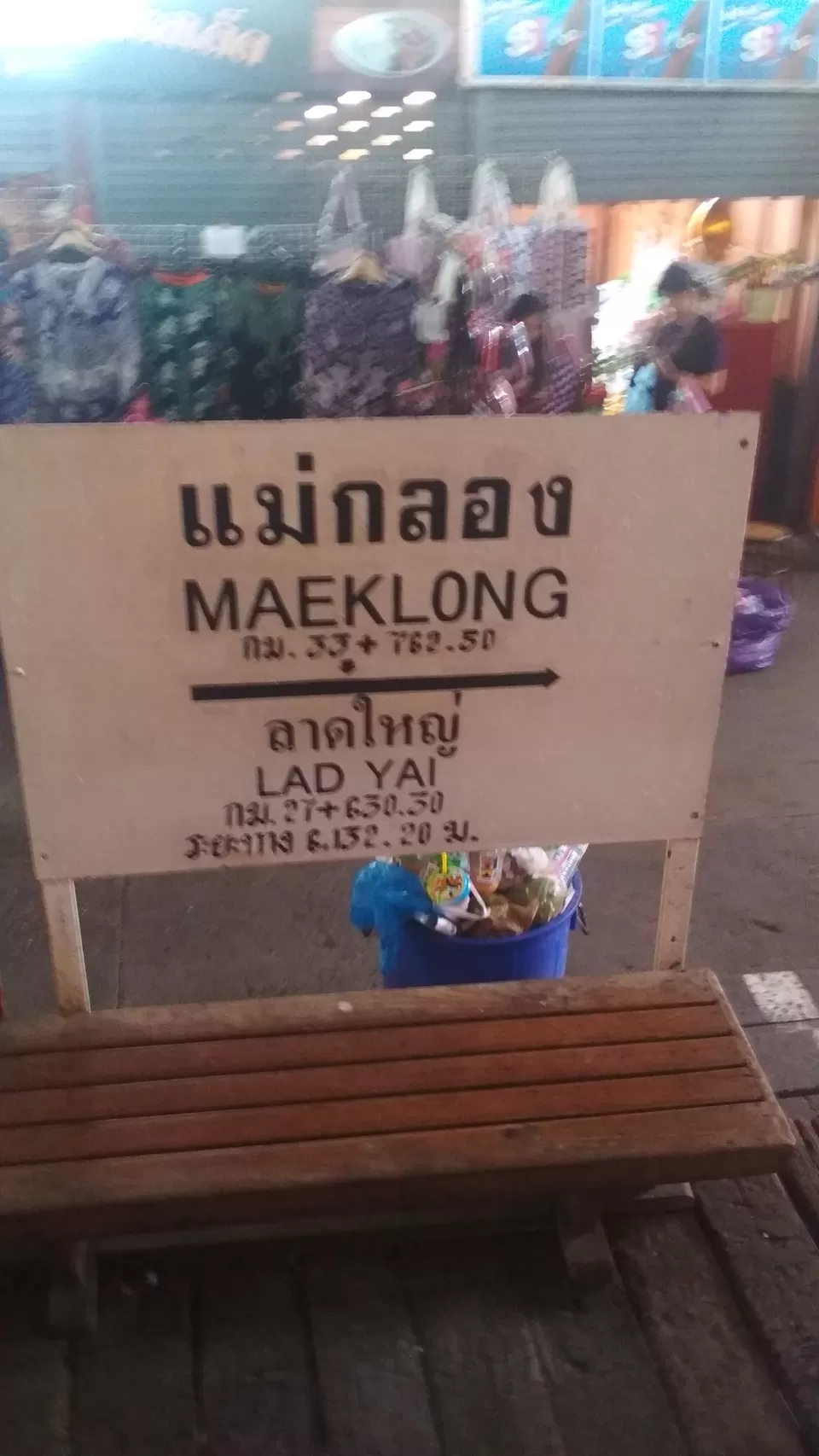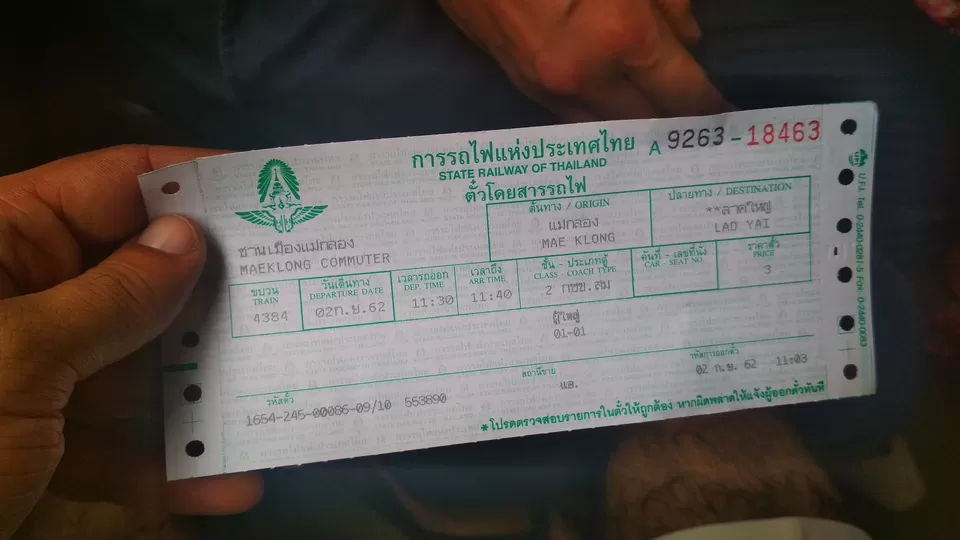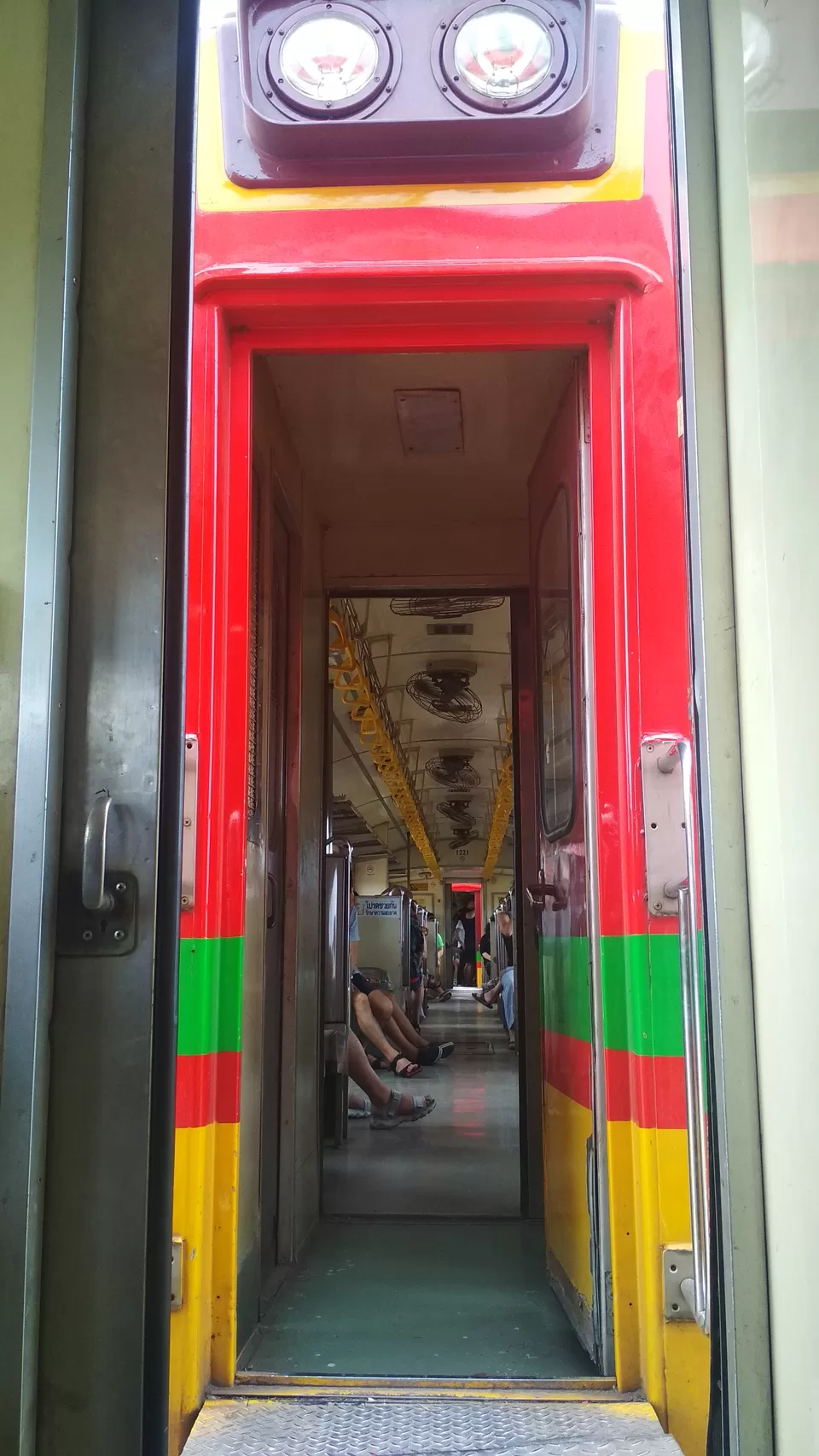 The journey is pretty pleasing with the views for a start, almost vacant old stations mostly only with signage, and you feel you own the train.
The train does run fast, however due to continuous grass sands and constant sky sights, it may seem the train is slow.
You can actually come up to the middle window at the very front of the train and feel the speed of the train.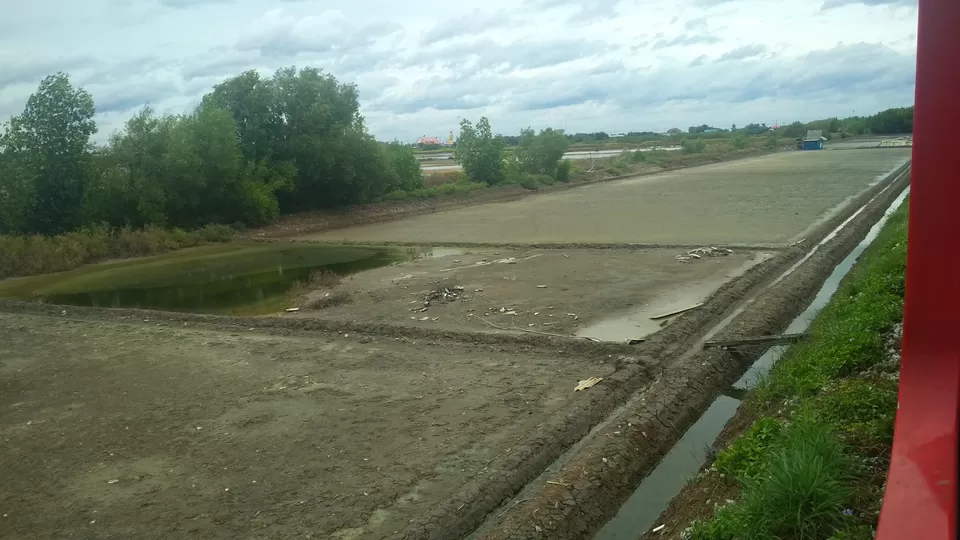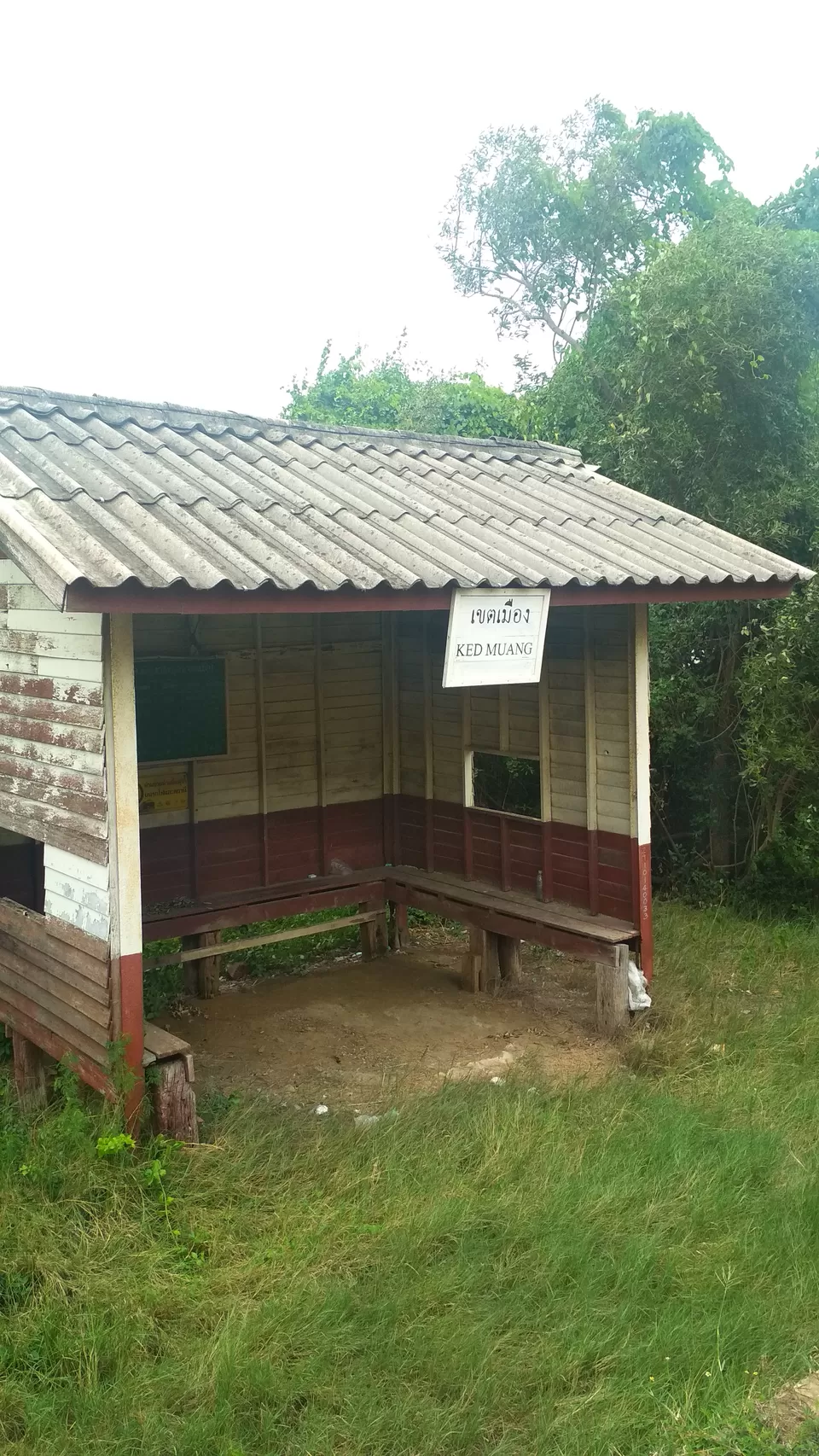 Its totally a Thai experience I say !
The destination station is Ban Laem.
You can take a picture with the Red Yellow Green train in which you were, with the tracks, etc.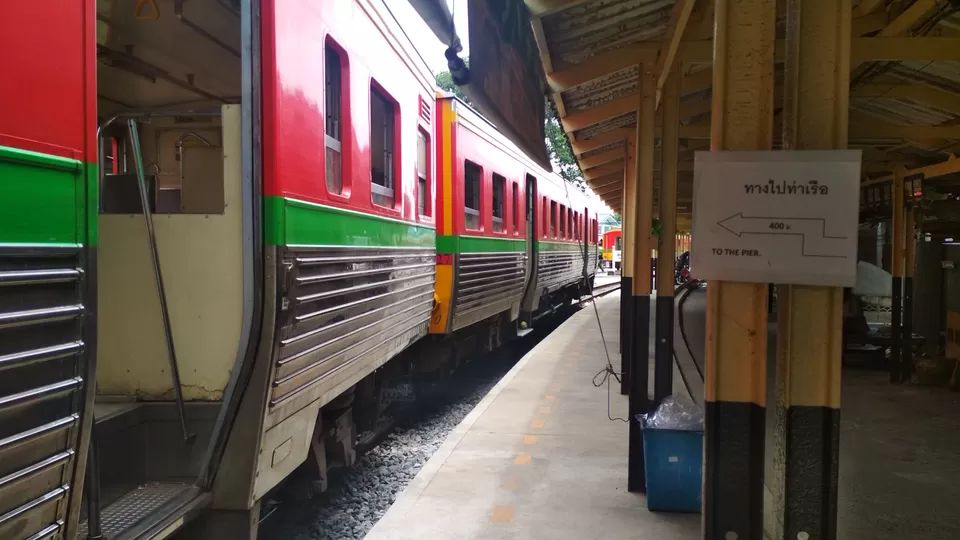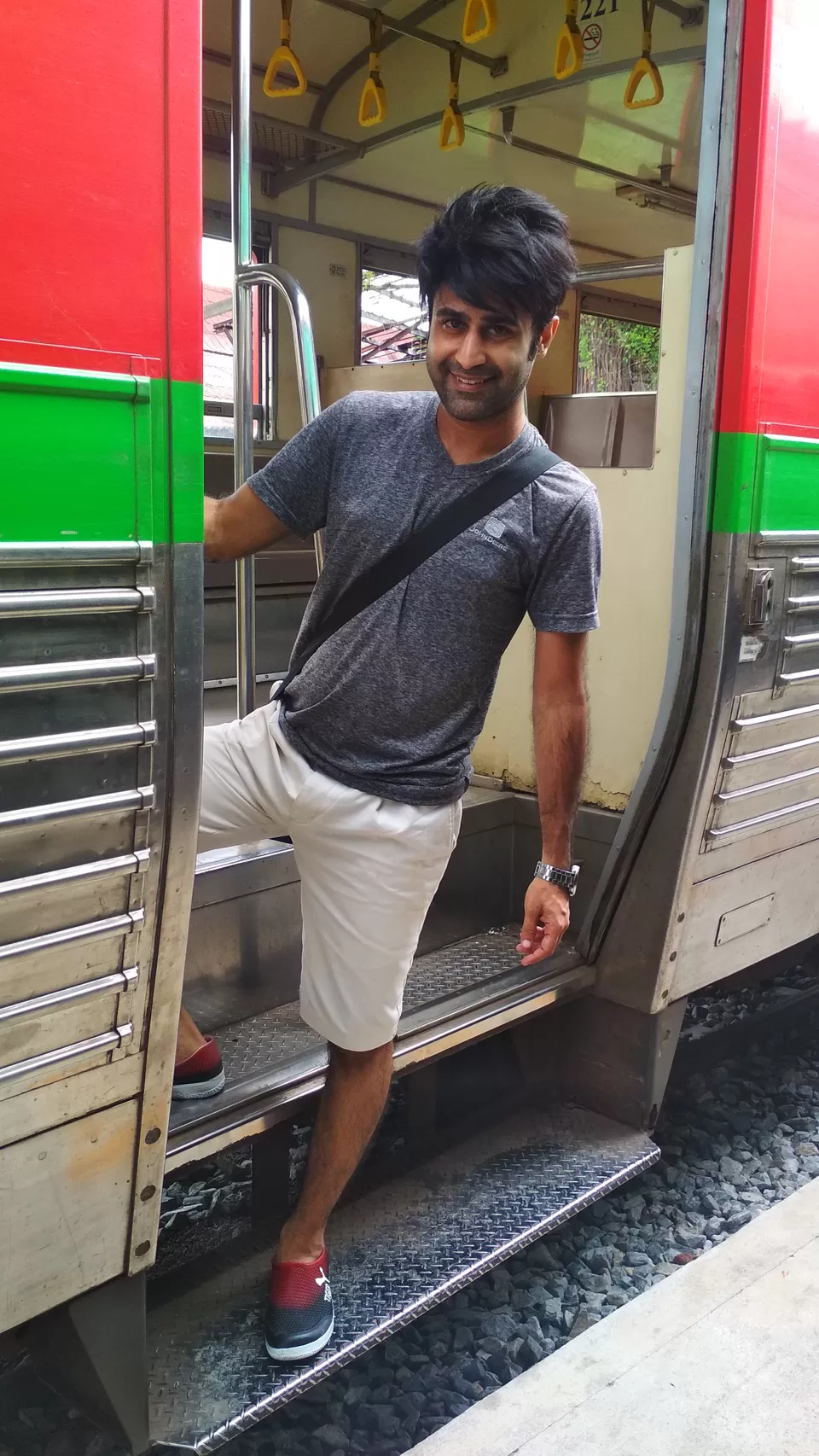 Now, this is a bit of a silent area, and you need to make it to another station to head to Bangkok. Come out from the left of the station. 2 left turns, with a bit of help from locals leads you to a jetty point. 3 THB takes you across this part of Tha Chin River to the Maha Chai area.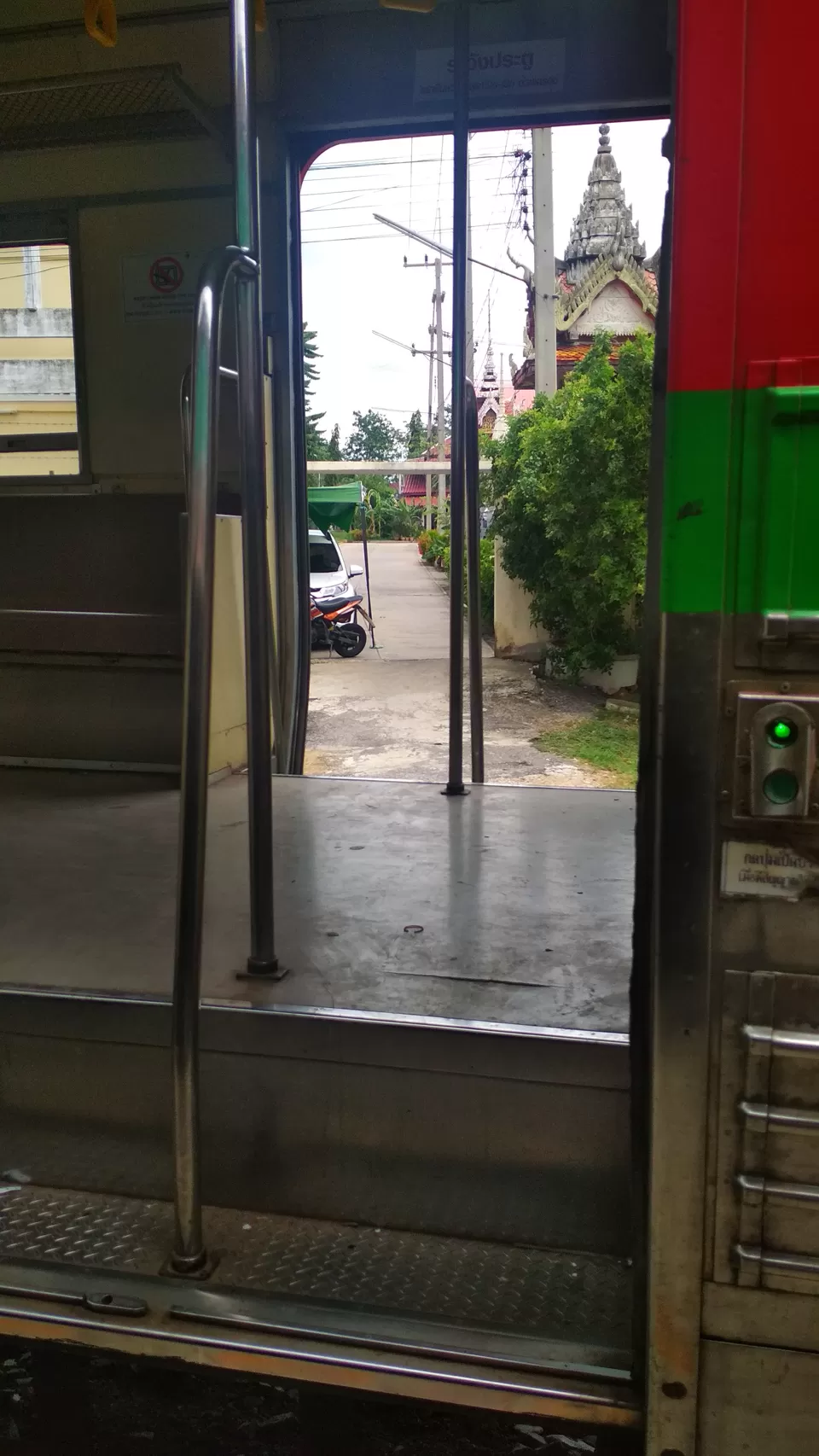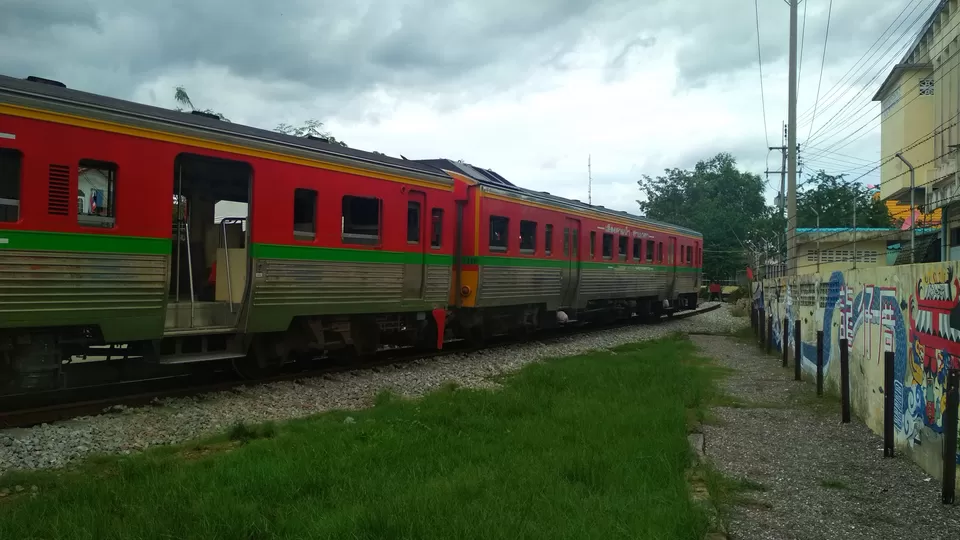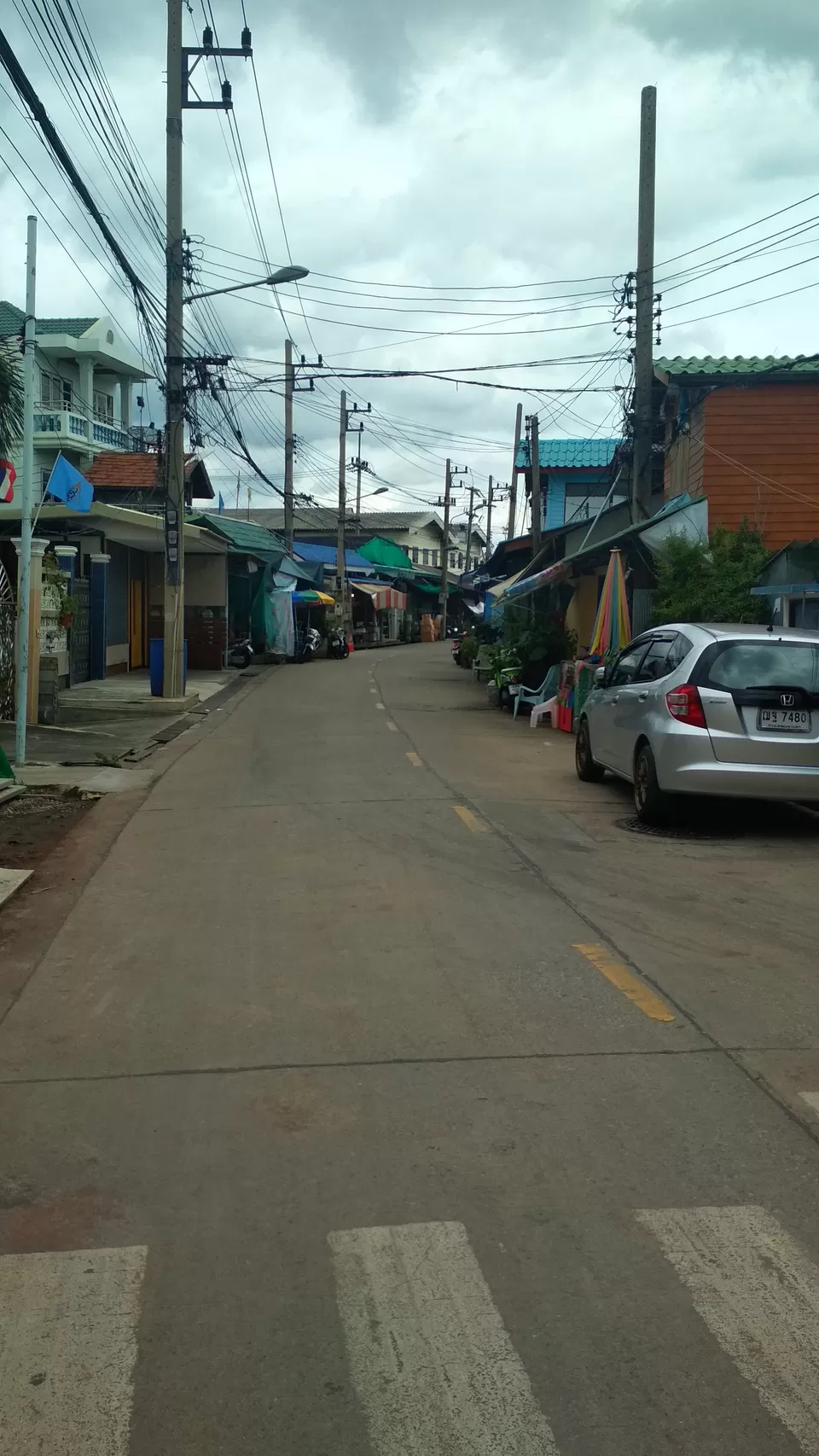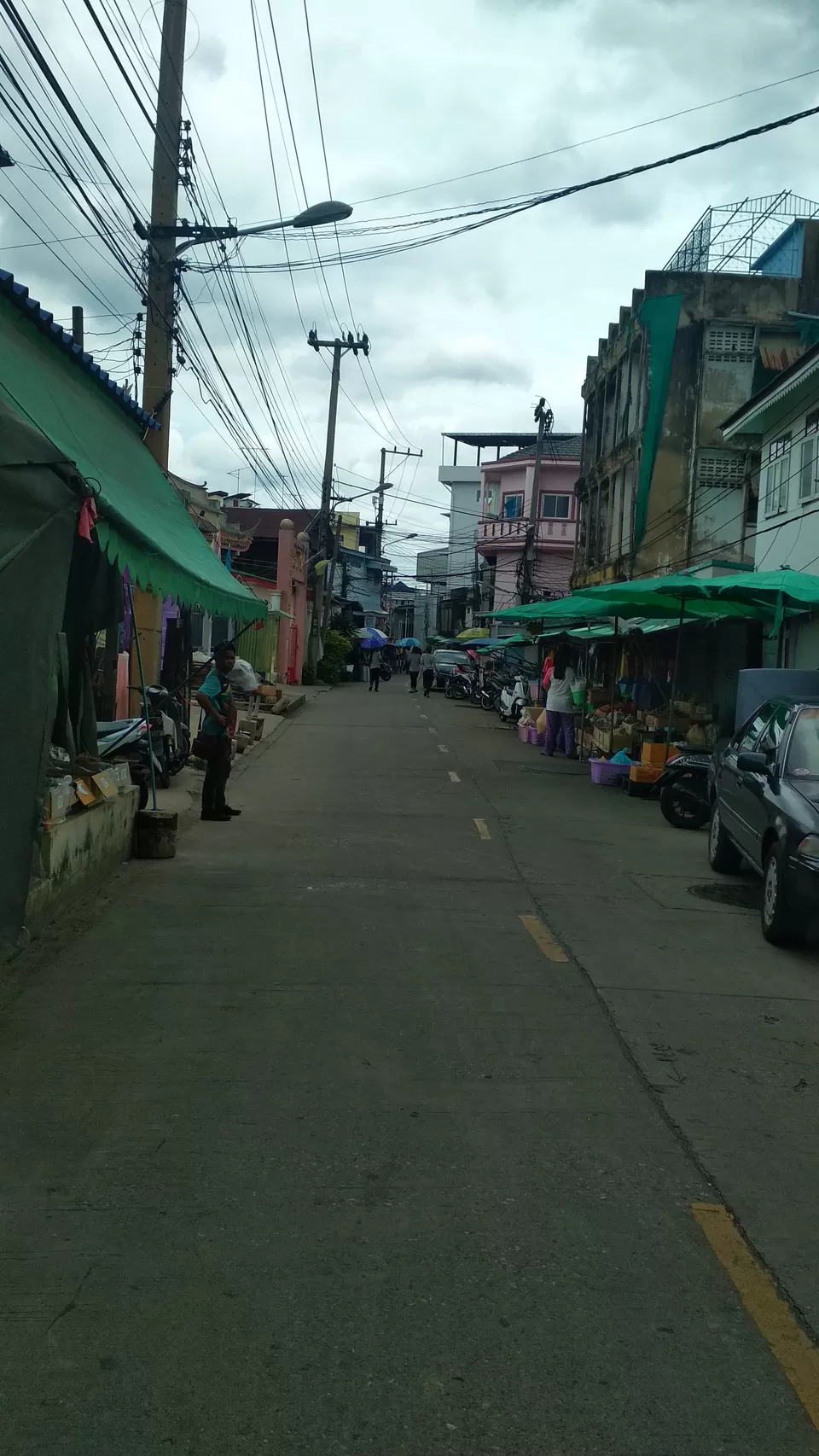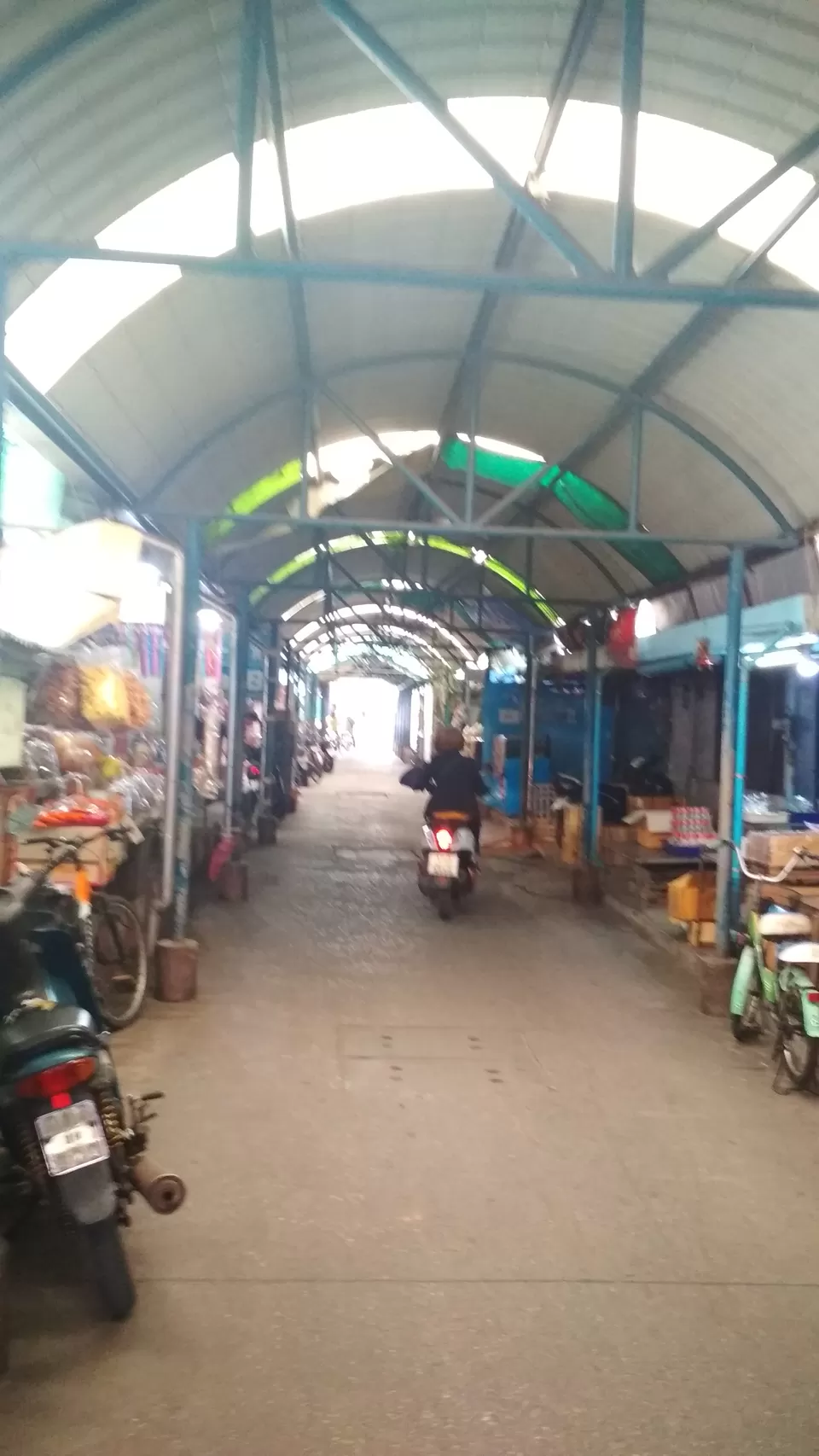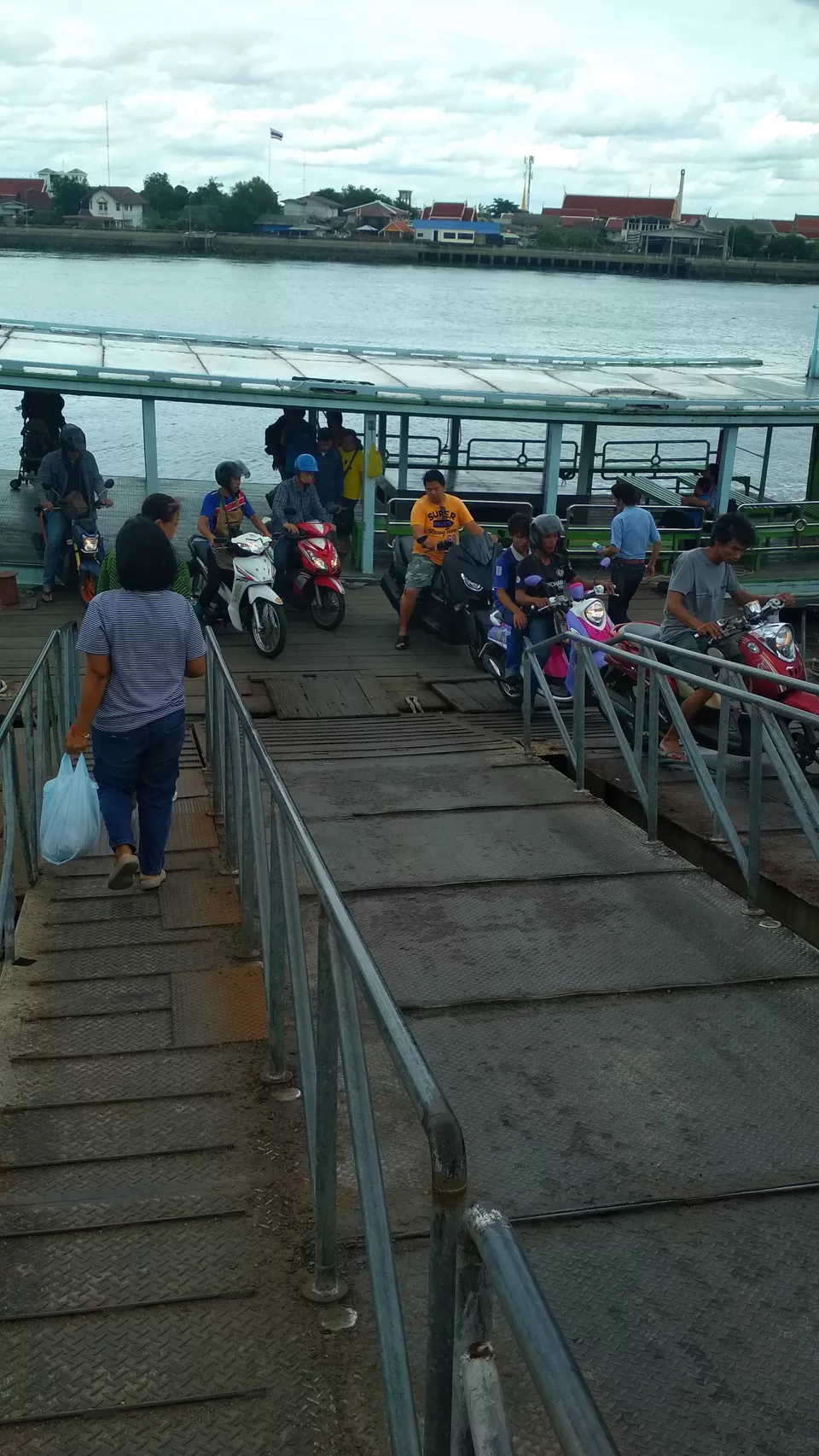 The Jetty ride lasts hardly for 5 mins, and you arrive at a local market area on your right which looks like ChinaTown (Yaowarat) of Bangkok. This is Maha Chai.
You need to proceed straight and then to your right to enter this place, again safe to ask the locals which part on the left side leads to the Maha Chai Station.
You'll be surprised to notice your footsteps are already at the station!.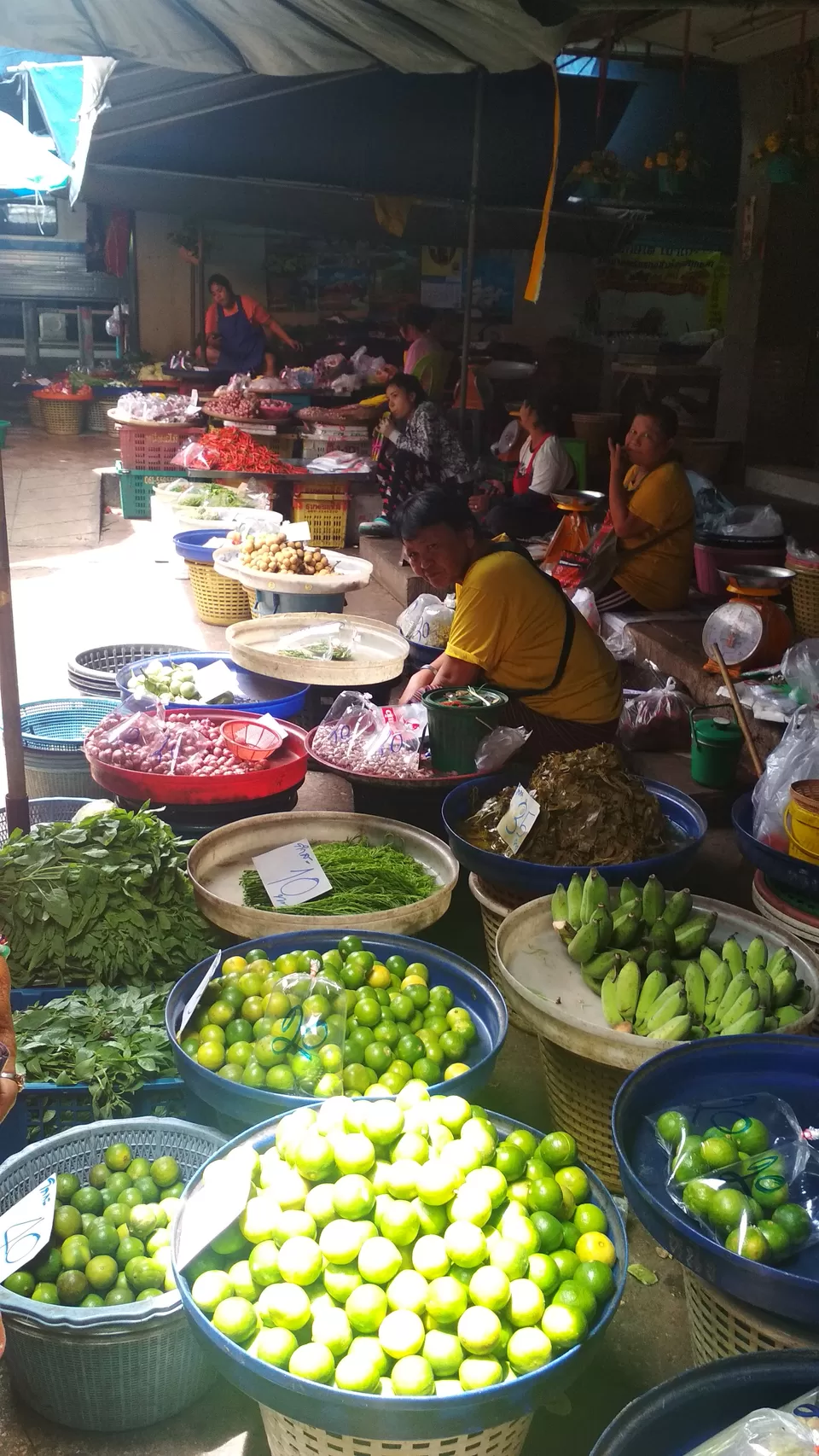 The transition from the bazaar lane to the station is unimaginable as it happens within the blink of the eye! You wont realize that the bazaar was simply 2 steps behind and gone!
This is like how they show in the movies where you have entered a different world.
Buy the train ticket to Wongwian Yai station.
This train is Orange-silver steel colored, and seems a mini bullet train, however is not. The train has more people, and the site outside also shows many locals as we head close to Bangkok.
It takes ~ 45 mins to make it. After I alighted, I wasn't sure how to make it close to any of the places where I was staying (Khao San). So I approached a shopkeeper. She was helpful enough to make a call to her Husband and make him speak with me due to language and accent issues.
This shows that if people are willing to help, there are no barriers.
After this, I thought of making it to Wat Arun, as geographically I was close to this side. The other side of Chao Phraya river was the the Wat Pho and Khao San.
However, I took a bus to Wat Pho, as the heat was more and there were shading areas there, later afternoon making to Wat Arun by ferry and back.
The Fares Tally;
Maeklong to Ban Laem : 10 THB
Maha Chai to Wongwian Yai : 10 THB
Bus from Wongwian Yai to Wat Pho : 15 THB
Ferry from Wat Pho to Wat Arun and back : 8 THB
Bus from Wat Pho to Khao San : 8 THB
Total : ~ 50 THB
All this made me feel like going through a "Mission Impossible" series ! And it was quite thrilling.
The train journey is worthwhile for the following reasons;
1) The cost is hardly ~ 60 THB compared to 200 + THB by Tourist Transport Vans.
2) The Maeklong Train takes you out of the busy tourist market area in no time.
3) The train is not very crowded as tourists make it to a nearby Ampara Floating Market.
4) You get to see a glimpse of local and village life, and parts like the mini Chinatown at Maga Chai.
5) You get to interact with Locals.
Its only if you rise early in the day you will be able to make this return train journey by afternoon, saving you the remainder to see Wat Arun, Wat Pho and Grand Palace which takes the other half of the day cut-to-cut.
Some International trips are worth, and moreover these train rides simply make it worthwhile to experience local life and makes you learn in many ways, or at the least builds up your confidence to travel.
For more travel stories, photographs and moments please visit my Instagram handle - #MissionsDontEnd