Before I touched down Bangkok this time, I wasn't really keen on writing a blog about this city. I thought, what new I can tell people about this place which hasn't been said before. Suggested by a friend, I chose to discover the city for what it's not known or not so famous. When you speak of Bangkok, majority of people think it's a place, good only for inexpensive shopping, nightlife and sex. To experience the real life of Bangkok and uncover the hidden spots, I wander through the local neighbourhood. I went behind the curtains to experience the backstage life of this city.
Sawasdeeka, a Thai word which means Hello, but it isn't just a word, it is a tradition being followed for centuries and you can actually feel the warmth and welcoming of Thai people in their way of greeting. Bangkok is the modern face of Thailand, but can't hide the traditions and values of Thai culture.
MY PERSONAL GUIDE TO THE INSIDE
Bangkok isn't a place that you will go gaga for immediately, unless you are from a lonely planet. At first I discovered this city proudly chaotic, uproarious, and loaded with people. It is elusive a vacant spot in this city. Be that as it may, after a careful watch, I admired the warmth, humbleness, and the positive spirit of this place.
Let me take you through my journey and how I discovered Bangkok: Who is Bangkok ?
BANGKOK IS COZY : Where did I sleep?
This city comfortably accommodates both, the luxury travelers and the bag packers. I stayed in a 5* during my last visit in 2017, and this time I chose to stay in a hostel so I could meet new people.
I booked a bed in the coolest hostel in the heart the city - "Here Hostel". Before that, I stayed for a night in another hostel called Luz hostel which was gorgeous indeed and extensively slick like a 5*, but at the same time very quite, good for silence lovers! I was missing the cool hostel vibe here, so I moved to the "Here Hostel". A neat and cosy bed with a private locker in the room, a rooftop lounge, a nice garden with a little bar, and a swimming pool where you immerse yourself in chat with fellow mates in the hostel. Make your evening perfect over drinks and chat in the hostel garden or hang out in the nearest shopping & party street "Khao San Market. All I want to say to my new friends I met in this coziest place - "May we meet again folks"
Now ask me how much I paid for this lovely unforgettable stay? Just $15 a night including nice continental breakfast, unlimited high speed wifi, and a common workstation with PC. You can book this hostel through booking.com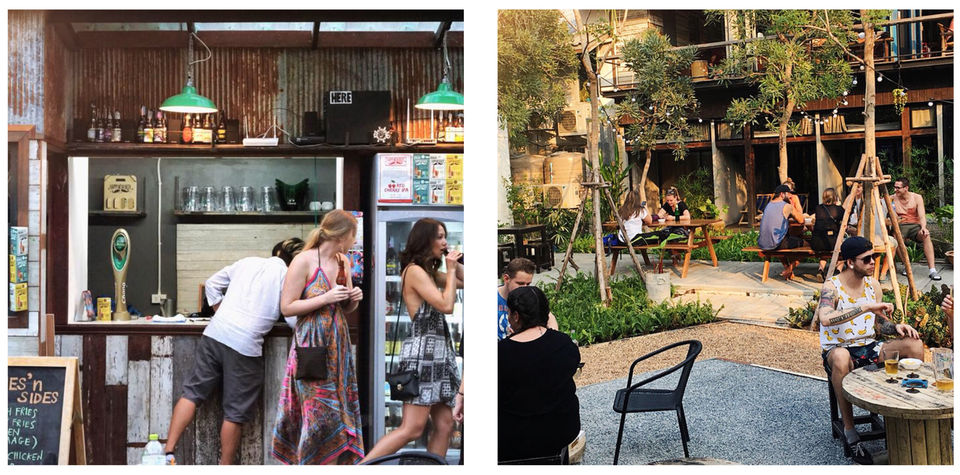 How to get there? - Get down at the Siam Sky Train Station, from there 5-minutes walk to the pier for water taxi to Khao San. Water Taxi will cost you 10 Thai Bhatt (฿) which is only 30 Cents. Get down after 3 stops and you'll reach your destination with another 5-minutes walk. Another way to reach there is by Taxi or Tuk Tuk.
Best Areas to stay in Bangkok: Siam and Silom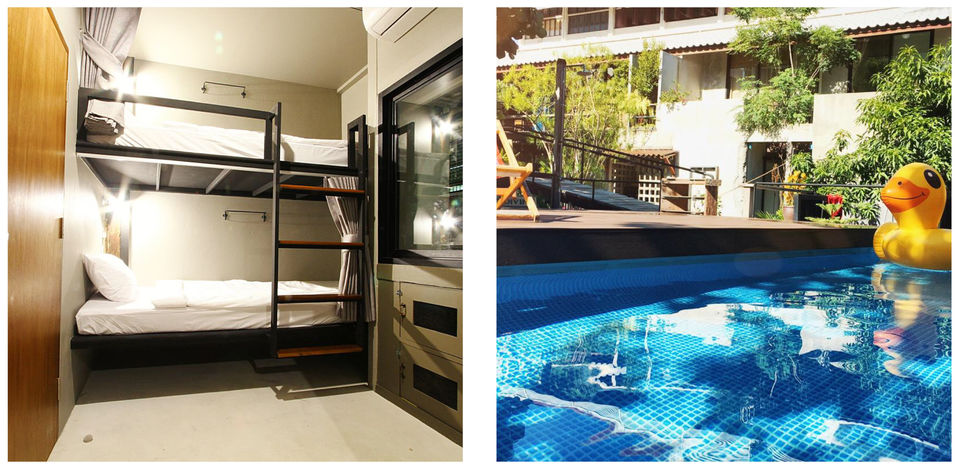 BANGKOK IS FOODIE : Where did I eat?
I am not a foodie and since food blogging in not my forte, so I won't recommend the best places to eat in Bangkok. But I would like to unleash one secret about this city, one of the main reasons why Thai people are content in their life, because nobody sleeps with hunger in this city. The city is blessed with endless food and the share to care attitude.
For food lovers & explorers, Bangkok is a real treat because of the culinary contrasts. The avenues are stacked with Thai food stalls, small Thai Cafe's, fast food chains, and multi cuisine restaurants.
Most Popular Street Food Dishes in Thai Translation:
Som Tam (ส้มตำ) – Papaya salad | Khao Pad (ข้าวผัด) – Fried Rice | Pad Thai Kung (ผัดไทยกุ้ง) – Noodles with shrimp | Khao Mun Gai (ข้าวมันไก่) - Steamed chicken on rice | Gai/Moo Bing (ไก่/หมูปิ้ง) - Grilled chicken/pork skewers | Sai Krok Issan (ไส้กรอกอีสาน) - Sour Issan sausage | Pad krapao moo (ผัดกระเพราหมู) - Stir-fried pork with basil | Pla Pao (ปลาเผา) - Fish barbecued in salt.
BANGKOK IS CONVENIENT : How did I travel?
Traveling in Bangkok could be fun or could be hectic owing to traffic.
Bangkok has numerous transport options available. On the scale of expense and speed: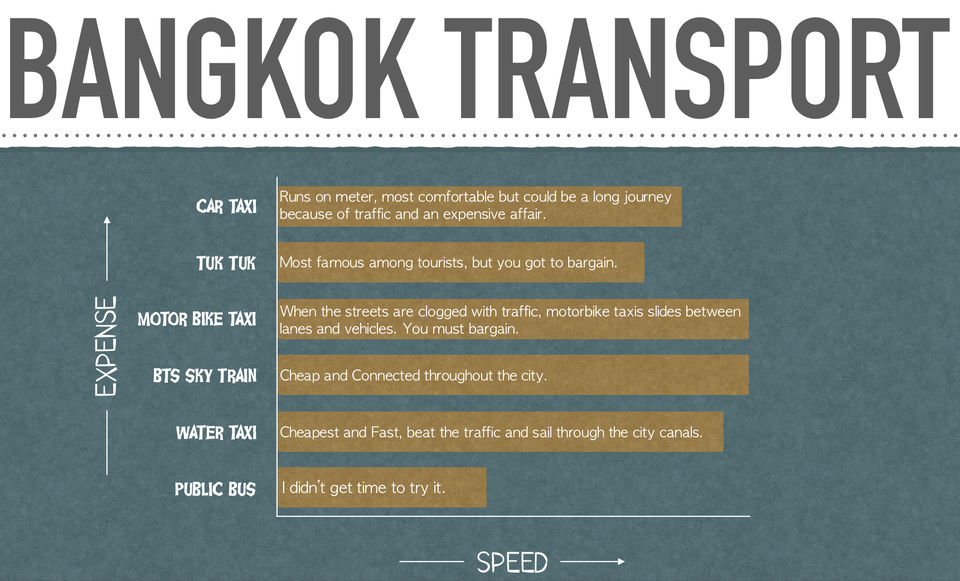 In my suggestion, stroll around the city because you never know what you may discover at the next turn.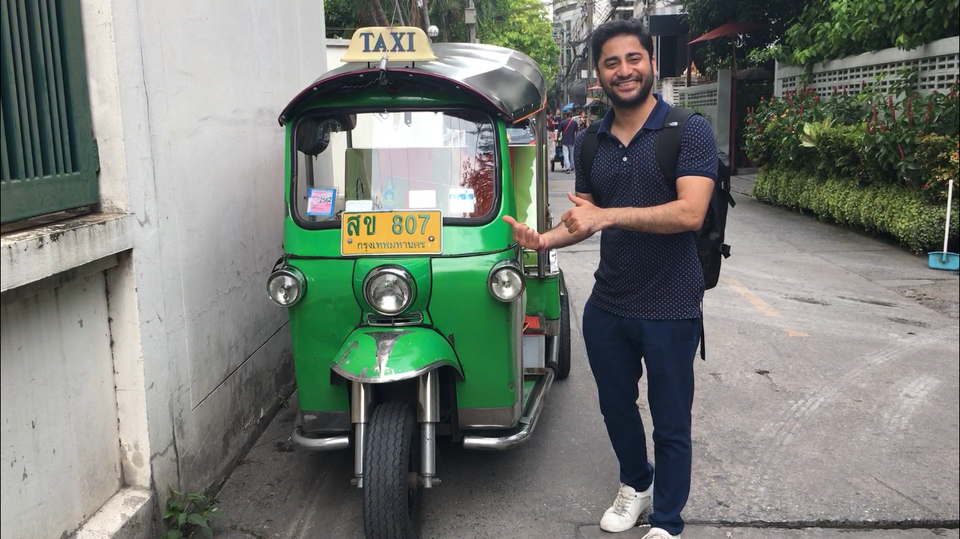 BANGKOK IS SPIRITUAL : Where did I find my peace?
Not just the land of smiles, Bangkok is also the land of temples (wats). You will find a temple (wat - thai word) at every turn in the city. Some temples are counted among major tourist attractions because of their awe-inspiring architecture, cultural significance and history. Bangkok is a modern city, but its equally traditional and intact with ancient Buddhist cultural values. Regardless the noisy streets, there is peace in the air of this city.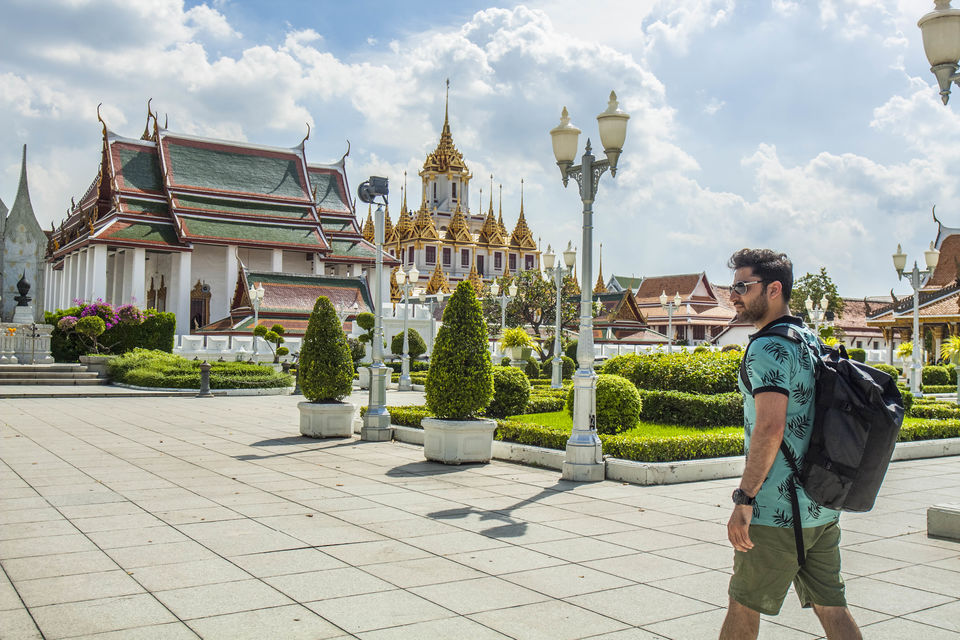 BANGKOK IS GREEN : Where did I spend my mornings?
Get a healthy dose of a green escape in the heart of the city, Lumpini Park is a haven of tranquility and fresh air - offering city inhabitants the ideal connection with nature. The park is more than half a million square metres big, and the habitat of various flora and fauna. Lumpini Park appeals to people of all ages, from wise elders practicing tai chi, sweethearts lounging and yogis meditating by the lakeside, to nine-to-five workers craving fresh air and physical exercise - and every other shade in between.
Nearest SkyTrain station: Sala Daeng.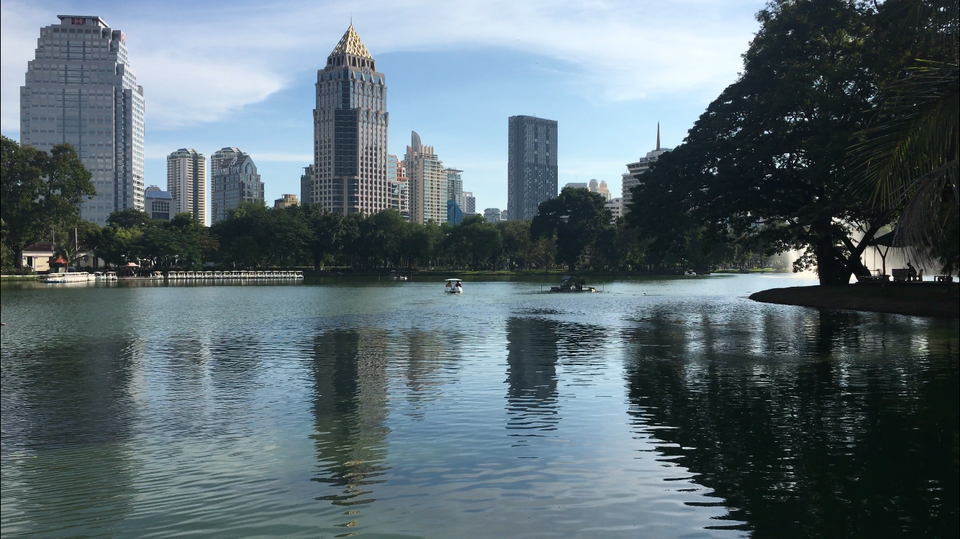 BANGKOK IS FASHION : Where did I shop?
Shopping is one of the key attractions in Bangkok. The city is famous for fashion clothing & accessories, inexpensive electronics, and branded merchandise at low price. Actually there's nothing that you can think of that is not being sold in Bangkok. It's needless to mention the famous Night Markets, as they are the essential part of the city life and a great shopping adventure for tourists.
Best Places to Shop, Until you Drop :
Khaosan Night Market - The Perfect blend of shopping, food, and nightlife. Stroll through the market while you enjoy delicious street food and live music from street clubs and roof top bars.
Chatuchak Market - With over 15,000 booths and stalls, Chatuchak Market is one of the biggest street markets in the world. Happens only on Saturday and Sunday evenings.
MBK Mall - MBK mall is packed with small independent shops, mostly Thai brands and designs, but indeed it is one of the most known shopping spots amount tourist and local Thais.
Chinatown - Great option to indulge in a more local and traditional shopping experience.
Pratunam Market - Day and night market. Mostly for clothing.
There are many more malls & markets like Asiatique Night Bazaar, Indra Market, Platinum, Said Paragon Mall, the list would be too long.
BANGKOK IS SOOTHING : Where & How did I rest my evenings?
This isn't really a hidden spot, but you might miss it if you are traveling first time in Bangkok. The most delightful sunset from the rooftop restaurants/bars sets perfectly across the Chao Phraya river with stunning view of Wat Arun. My evening spot to unwind at the dusk was the rooftop restaurant at Riva Arun Hotel located on Maharaj Road, Phraborom Maharajawang.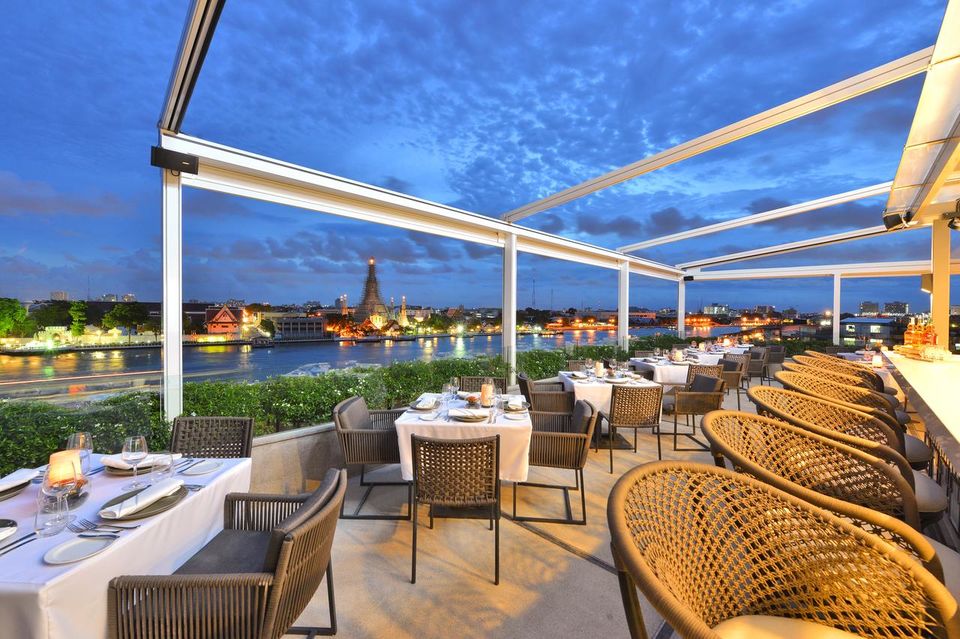 BANGKOK IS FREEDOM : Where did I party?
Lights, music, drinks, and smile, that's how they call it a night in Bangkok. Most of the cities around the world sleeps by the midnight and that's when the city of Bangkok awakes to celebrate the tourists. When I speak of freedom, it doesn't only concern the celebration, but also the accepting nature of Thai people who welcomes people from around the world in their homeland and offers the freedom to enjoy, relax, and rejuvenate themselves.
Speaking about my favorite spot to party in Bangkok is Khao San Road. At around 23:00, Khao San Road's clubs kick into life. There are several pubs and bars with live music. In this party street you'll find more of foreign faces than locals. Be welcomed with fried scorpions if you wish, try the laughing gas, get a tattoo, take a dip in the rooftop pool parties, enjoy the authentic Thai massage, grab a bucket of drink and you can make friends almost anywhere in Khao San Road.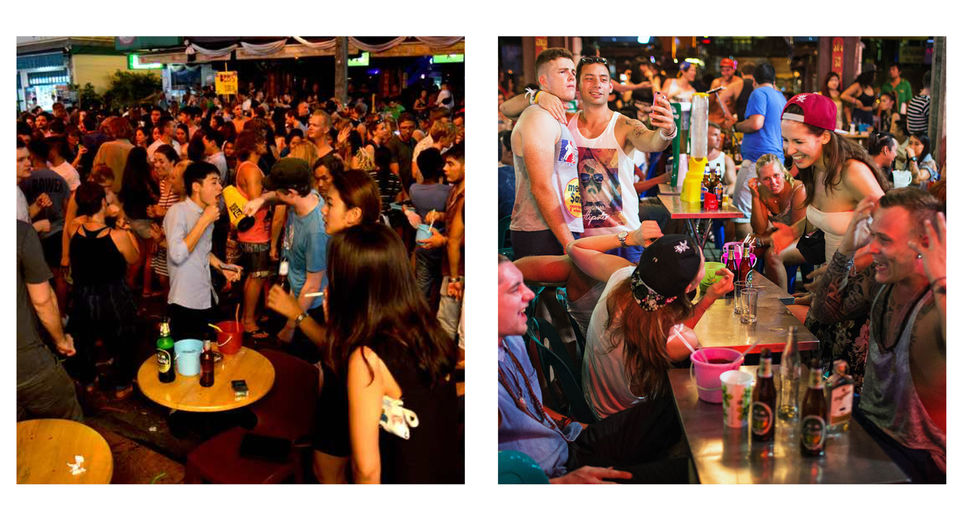 BANGKOK IS LAND OF SMILES : My Experience with Thai people
I felt welcomed at every doorstep in Bangkok. On my first day in the city, I was invited to a Thai house by the local person, whom I had met that day for the first time during my day tour. His whole family welcomed a stranger with a heartfelt warmth. After spending a few days in Bangkok I realized that this respect and care isn't offered only to the tourists, the locals treat each other with the same regard. People of Bangkok are really hard working, this city is open 24 hours. The hospitality of Bangkok is unmatchable and may spoil you for when you are back home.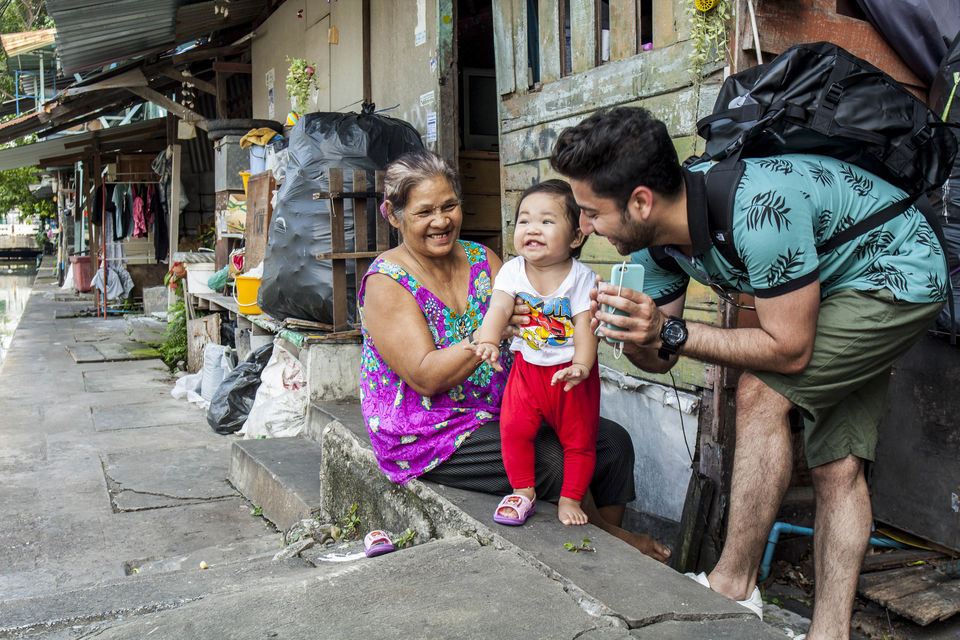 BANGKOK IS TOURISTY : 7 Unique Experiences
Wat Pho - Temple
Wat Pho is, quite possibly, one of the most famous temples in all of Thailand. This temple is often referred to as the Temple of the Reclining Buddha because of the 46-meter long, 15-meter high Buddha that sits at this temple's core. There is an entrance fee of ฿100 (about $3). It is located just south of the Royal Grand Palace, and you can spend an entire day exploring this ancient historical area.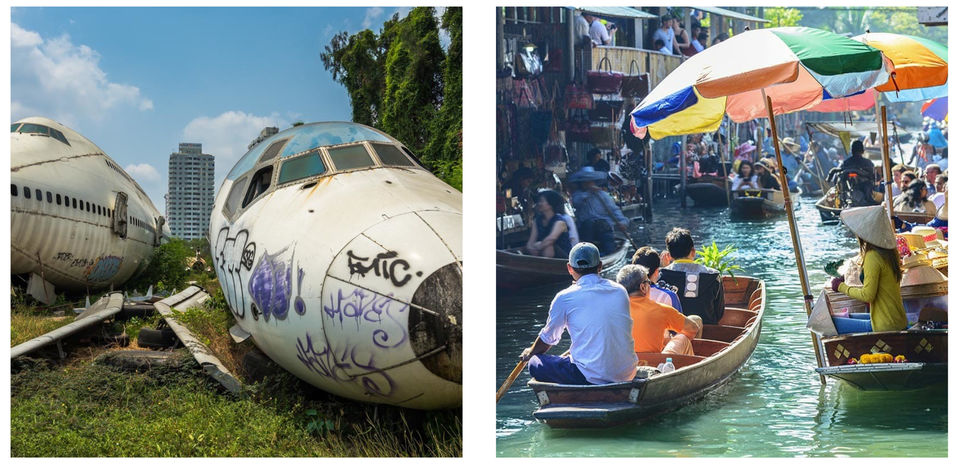 Wat Arun - Temple

Wat Arun, or Temple of the Dawn, consists of five prangs, or towers, overlooking the Chao Praya River. There is an entrance fee of ฿50 (about $1.50). Near the temple you can also take a boat ride preferably in evening to enjoy the beautiful sunset while you sail in Chao Praya River.
Muay Thai
Watch or Learn the Thai national sport Muay Thai. Experience an authentic Thai boxing class with the professional boxers. Train in various clinching techniques and many call it The Art of Eight Limbs, which commonly combines elbows, fists, knees and shins.
Thai Cooking Class
Learn how to cook traditional Thai food during a fun Bangkok cooking class. Awaken your culinary creativity, explore the world of Thai flavors, and enjoy a lot of healthy Thai food.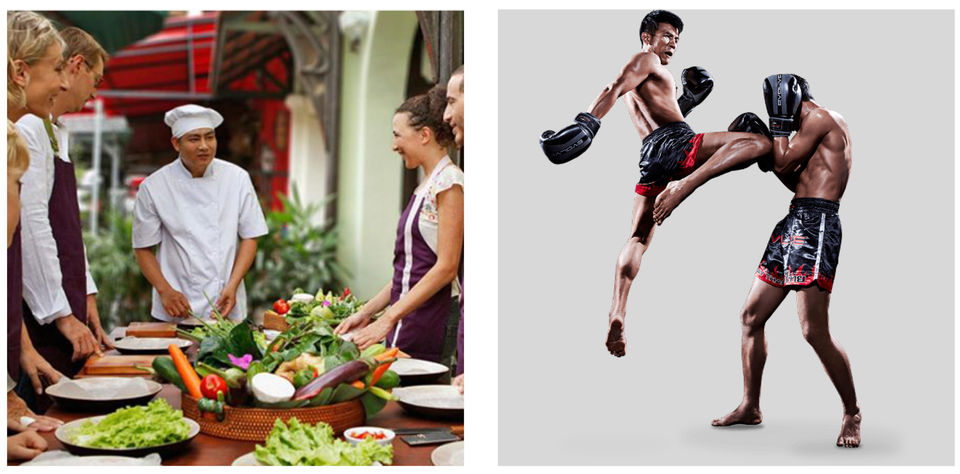 Take a Water Taxi in Bangkok

Water Taxi is a daily mode of transportation for local Thai people, but it is an amazing experience for the tourist as you sail through the city canal watching the local Thai houses on the banks. Beat the city traffic with the cheapest mode of transport in Bangkok while you experience the inside locality.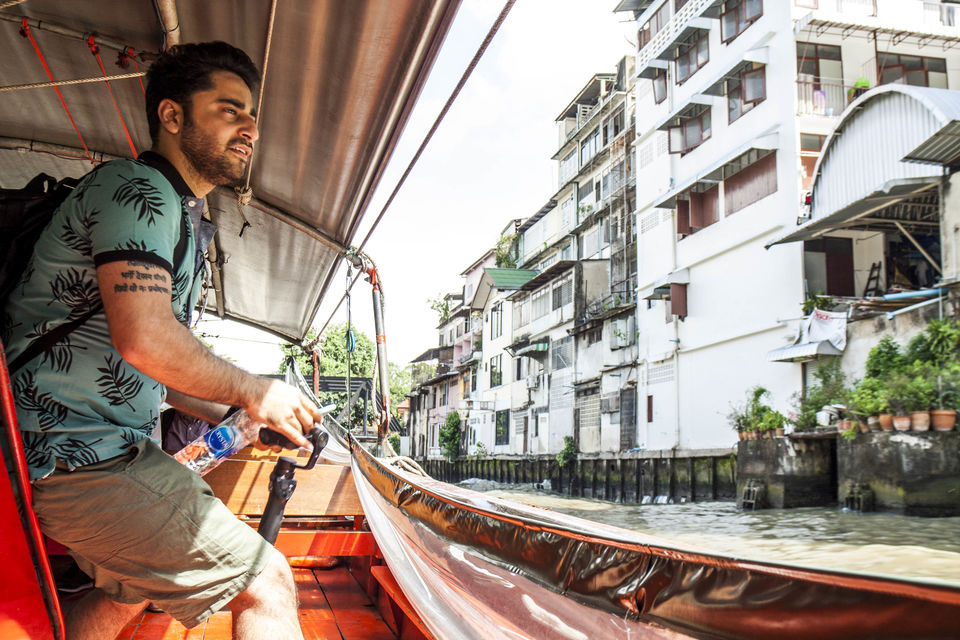 Floating market is one of the major tourist attraction and a unique experience of Thailand. A fascinating scene of boats in various sizes and local vendors selling fruits, vegetables, flowers, and local products on their boats.
5 Most Popular Floating Markets In and Around Bangkok:
Damnoen Saduak Floating Market | Amphawa Floating Market | Talin Chan Floating Market | Khlong Lat Mayom Floating Market | Bang Nam Pheung Floating Market.
Airplane Graveyard
Now this may surprise you as it did to a lot of locals in Bangkok, when I asked them about this place. I read about this place in the articles and I was curious to see it. In the heart of the city, these scraped Airplanes are parked in a yard giving shelter to a few local Thai families. Thai families that live there says its much better than living on the street. There is no fixed fee to visit this place (could be between ฿100 - ฿500) and tourists are not allowed after 5 pm.
#BANGKOKISAMAZING
and stay tuned for the Vlogs : Why is Bangkok called the Land of Smiles? | Bangkok in $20 a Day!
#TRAVELWITHGANDHARV
Last but not the least, I would like to say thanks to those people who opened my eyes to Bangkok. My Friends - Justin and Ice whom I met through Airbnb, when I booked my day tour with their company. For someone who really wants to explore Bangkok beyond the nightlife and shopping streets, meet these guys through Air Bnb: "Day adventure & must have pics of BK "(Host by Mikey).
Join me on Instagram :
Hope you enjoyed this blog. Please leave a comment and join me on my youtube channel. :)