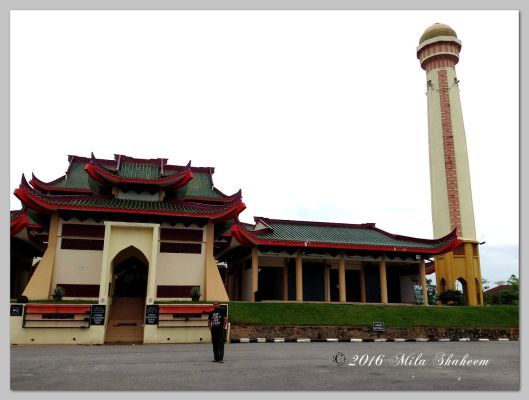 Yes... That's exactly what Shy asked me when he saw that building with a green tiled pagoda oozing every bit of a Chinese architecture. So wondering what am I talking about here?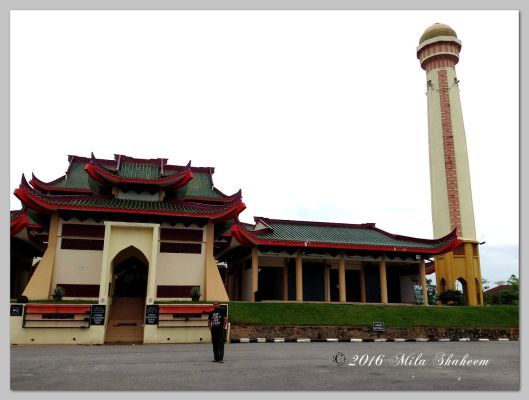 It's the Pagoda / Chinese styled Mosque - Masjid Jubli Perak Sultan Ismail Petra - located in the town of Rantau Panjang, a couple of km before you reach the Malaysia - Thailand Border crossing, in the North-eastern state of Kelantan.
If not for the minarets looming on either side of the mosque definitely you would have passed it for a Chinese temple. This mosque is unique and only one of its kind in Malaysia , a perfect amalgamation of authentic Chinese architecture with Islamic Style. The architecture of the mosque's said to be inspired from the Niujie Mosque, which was built about 1000 years ago in the Xicheng District of Beijing. (Source: Wikipedia)
Also called Masjid Beijing, with primarily Chinese architecture, the woodwork within resembles Indian architecture while the blue and turquoise tiling and carpeting in the prayer hall emanates an Uzbek - Turkic influence. These multicultural architecture is said to portray the real Malaysia which is a blend of Indian, Chinese & Malay cultures.
The mosque sits within a large walled off premises with ample car parking, a garden and couple of shops selling Islamic books, rosaries, Hijab and other trinkets. The entrance gate is also Pagoda styled. There are two entrances to the mosque, one from the front and other at the right side (mostly for the women). The minaret of the mosque has names of Prophets of Islam inscribed on it. The main complex of the mosque comprises of two floors. The main prayer hall (that can hold up to 1000 people) and few VIP rooms occupy the first floor while the second floor houses a library and hall. There is a nice and breezy veranda in between the entrance and prayer hall on the first floor.
As in other mosques, tourists are expected to dress modestly and respecting the norms of the culture. Entry to visitors are not allowed during the Prayer timings.
I was so much in love with this mosque, that I revisited with my friends and colleagues, letting them to wonder at this unique and unexpected architecture.
Tourists to Kelantan - do make a point to include this into your itinerary. The town is a mere 30-40 minutes drive from Kota Bharu and also you can indulge in the Duty Free Shopping at the border.
Have you been to this mosque? Do share your experience and thoughts.