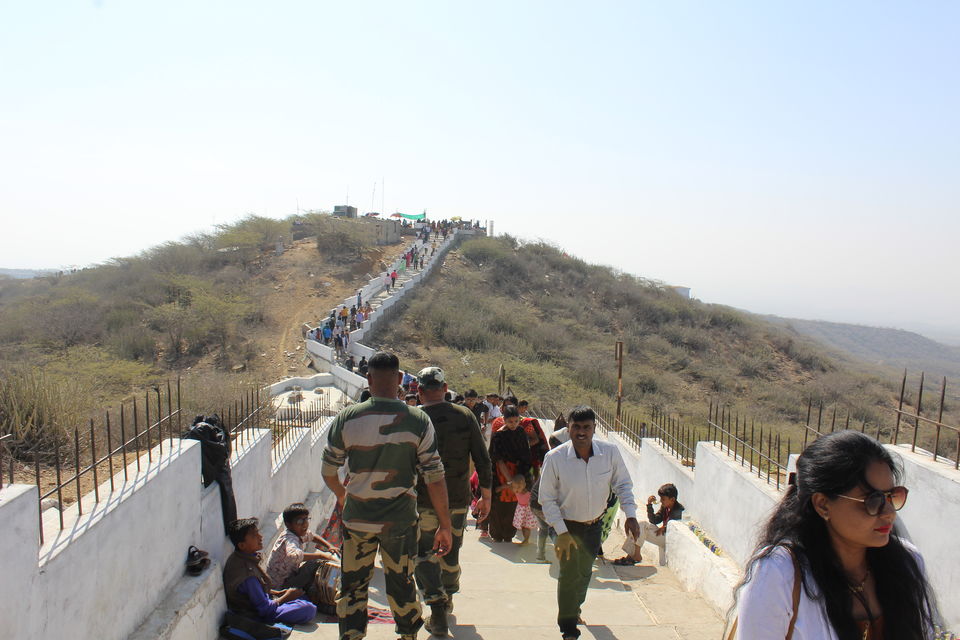 After spending almost six and a half years in Gujarat, finally I managed to visit the Rann of Kutch for the first time. They say, "Kutch nahi dekha toh kuch nahi dekha", and I feel it's appropriate to some extent. Not fully, but yes! One must visit it once in a lifetime. In my Two and a half day trip to the largest district of India - Kutch, I find it really amazing to see some magic of science. Yes! You heard it right. It is the mystic effect of Science, which makes this place more eventful.
We booked a cab started for a road trip to Bhuj at 6 am from Vadodara. It is 440 kms away. Stopping at Bhuj is a good and convenient option, by looking at the prices of Tent city in Rann Utsav, Kutch. There are several budget hotels at Bhuj; we booked one at the Anam ring road through Makemytrip. The location of the hotel was nice as the shopping and food outlets were at a walking distance. After taking multiple breaks for Breakfast and tea, it took almost 8 hours to reach at our destination hotel at Bhuj. Since we reach the hotel at 2 p.m, going to White Rann would have been a bad idea. We took a small nap and explored the Bhuj city in the evening. Bhujodi village, Bhuj Haat, Aina Mahal and Hill garden are few places we visited in the evening. Street food cannot be neglected at Bhuj, and it was good enough to fill the stomach. If you have shopping craze, visit Kutch Handicrafts at Anam Ring road.
This day was fully reserved for White Rann. But not so, I had planned to visit Kalo Dungar (Black hill), prior to visiting Rann. Started our journey at 8 am in the morning, and took a stop at Bhirandiara where the shops were selling freshly prepared hot milk cakes. Don't miss this treat! Few kilometres ahead, we found White Rann entry permit office, where one has to register their names and vehicle details before entering White desert. And of course! It is chargeable. The permit is applicable for 24 hours. We took the permit after standing in a queue for 30 mins and headed straight to Kalo Dungar.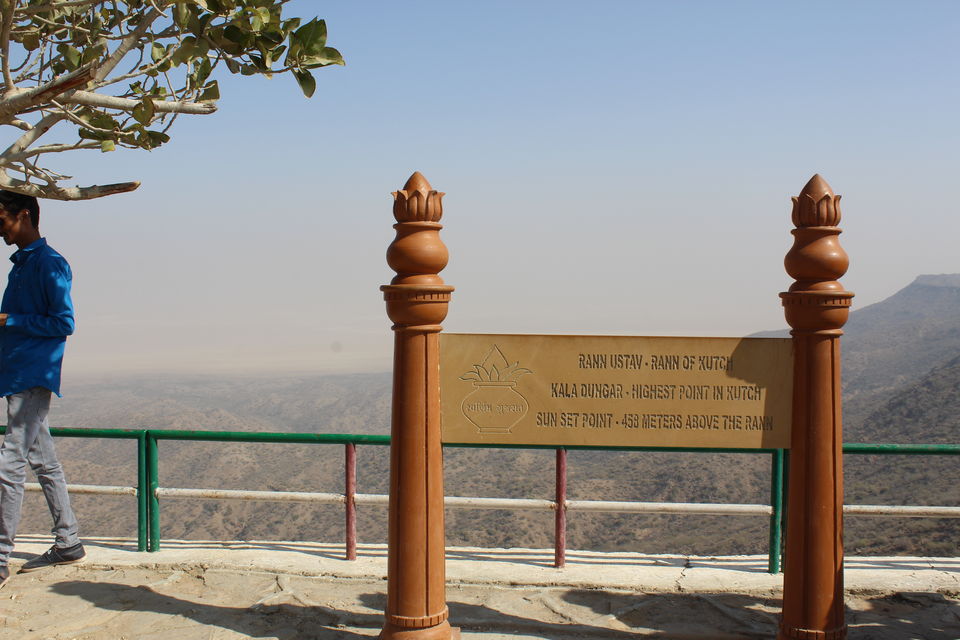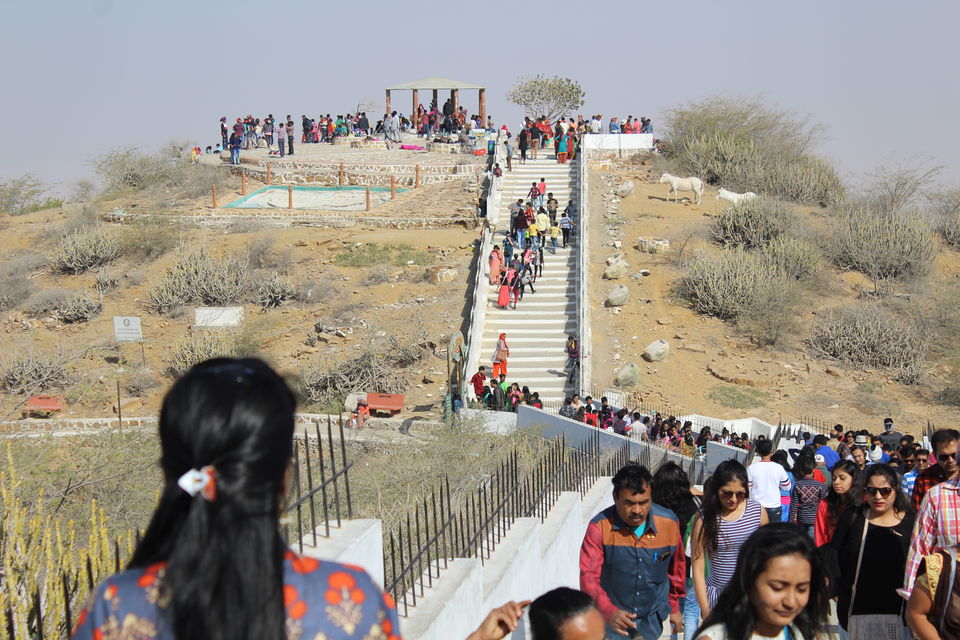 Kalo Dungar entertains you with magnetic effect on the road. Up the hill, even if you stop the car, the car runs backwards as if someone is pulling it behind. Call it for the high slope or magnetic field, but I really saw it happening with our car!!! One has to drive carefully through the hill, as the slope is quite high and I found the driving manners very inappropriate over there. The place is very fascinating. One can reach the top of the hill by taking a camel ride or by walk. The top of the hill gives you the complete aerial view of Kutch. Inside the premises you will find Dattatrey temple. (Google it for more information). It will take almost 2 hours to explore the place with complete satisfaction. Do not worry about the refreshments as there is plenty inside the premises.
Got off to a final exit from there at 2 pm and after crossing a huge traffic on the both side of the hill, we reached Rann of Kutch by 4 pm. Let me tell you, this is the most perfect time to reach there. There is BSF checkpost before the entrance, remember you have taken the permit!! There is ample car parking space at the entrance. One can take a camel cart ride to Rann which is almost 1.5 kms from the entrance. Here the majestic White Rann welcomes you. You can enjoy the scenic beauty of White Salt desert which is a gift of Science to Kutch. When salt becomes unable to precipitate, and the rate of evaporation exceeds the rate of precipitation, it results into formation of this white crystalline solid. It is an unending view of white land and you can recall some bollywood songs like Saree ke fall sa, etc. Don't make a mistake to skip the sunset, as it it truly mesmerising.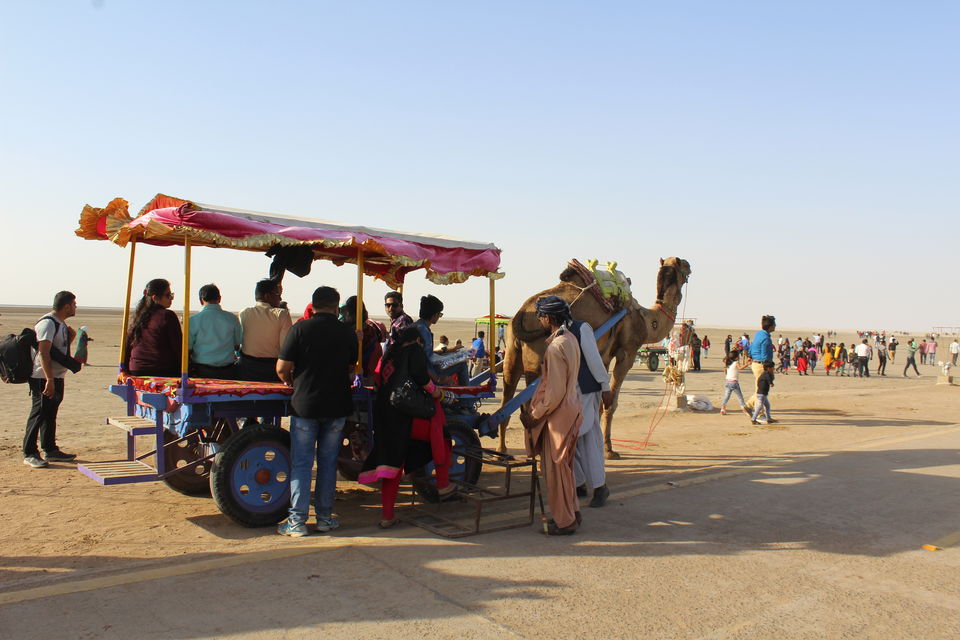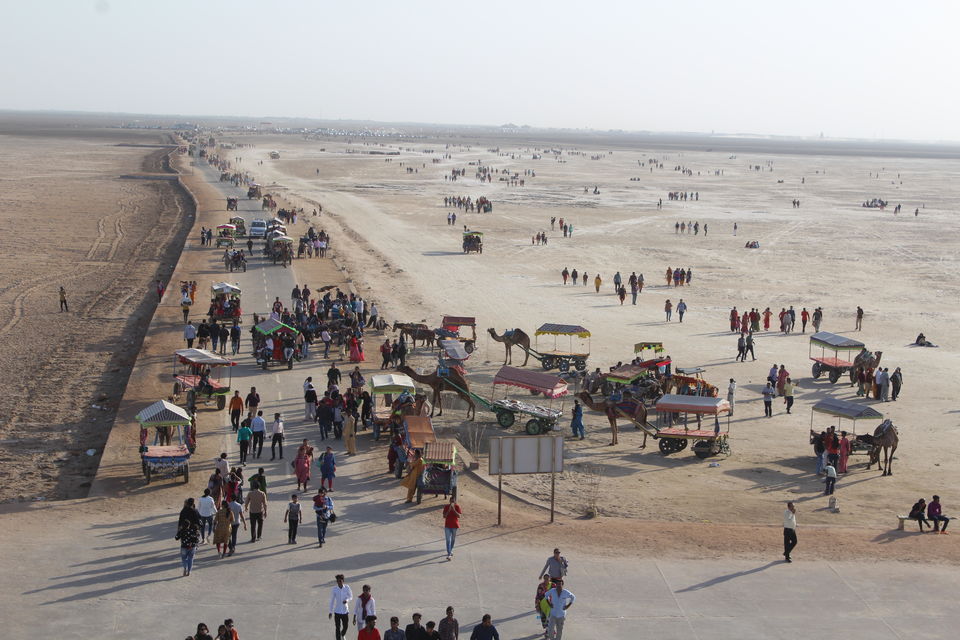 Being fortunate to visit Rann Utsav during Uttarayan (Kite flying festival), the sky was a treat to the eyes. After watching the sunset, we headed towards Bhuj. But wait!! We couldn't resist ourselves stopping at the fancy stalls at the entrance of White desert. It is Utsav time and one can see a lot of fascinating stalls there. From food to literature to art and crafts, you name it- and they have it. After roaming around the place for couple of hours, we started for Bhuj at 8. 30 pm.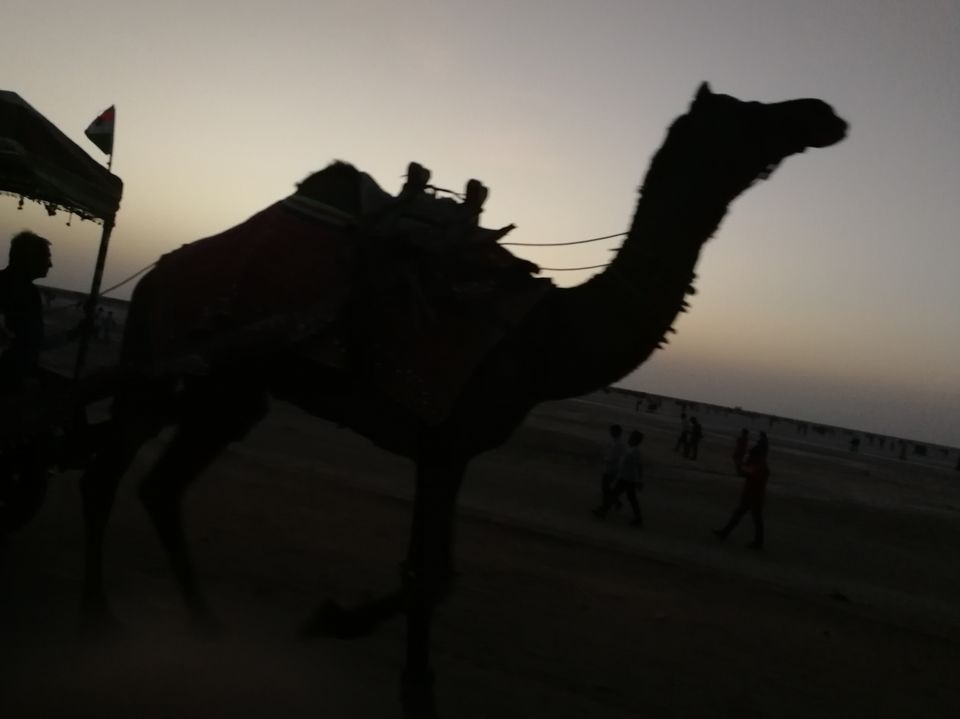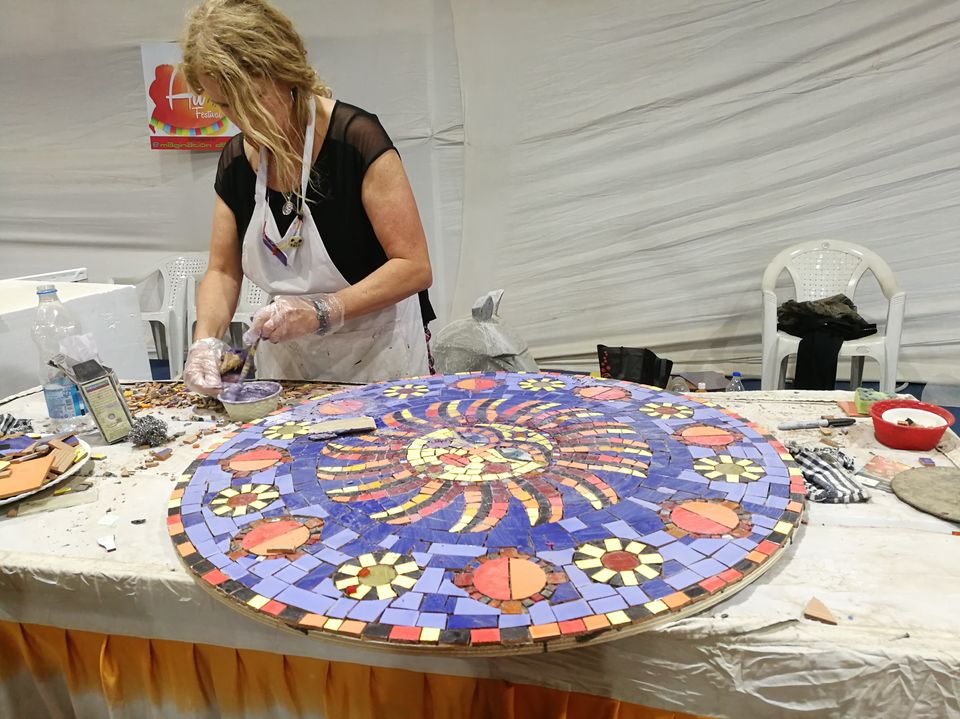 Day -3
It was kept for the final destination, Mandvi beach. We started at early morning at 8 am, and reached Mandvi in an hour and a half. The beach is quite clean. Full of vitamin Sea. One can enjoy the camel ride in the sands, or a water sport in the waters. Before getting too crowded, we left the place and headed for Vadodara. Reaching Vadodara by 8 pm, helped us to relax well after a tiring journey.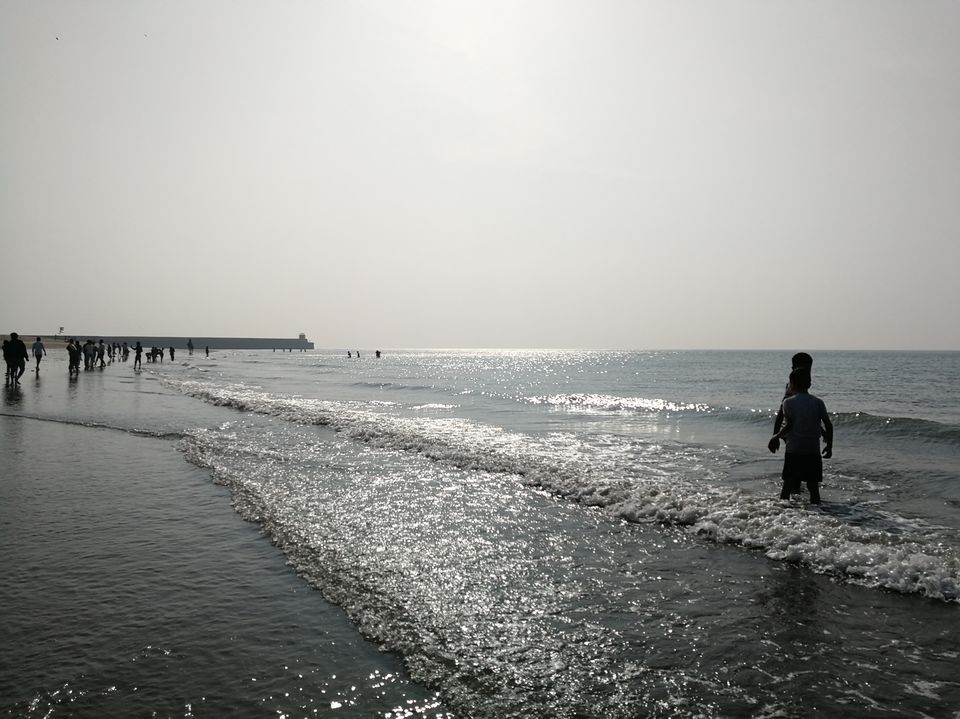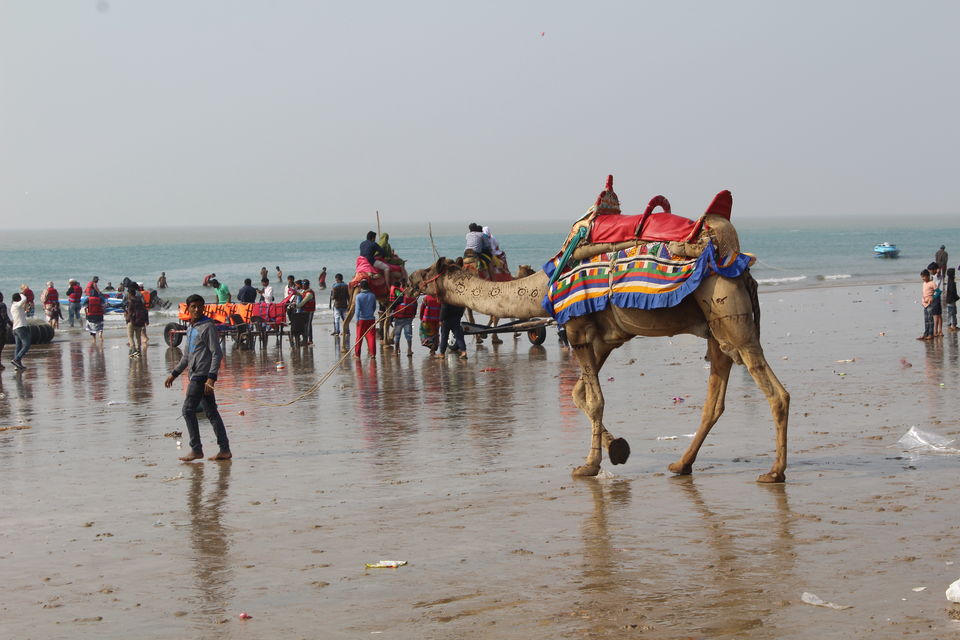 This brings an end to our memorable trip to Rann of Kutch. This place is amazing and I recommend it to everyone for an adventurous trip. But Yes! One important message! Do visit white Rann during the Rann Utsav timings (approx. 3 months in a year). The exact times can be fetched from the website.