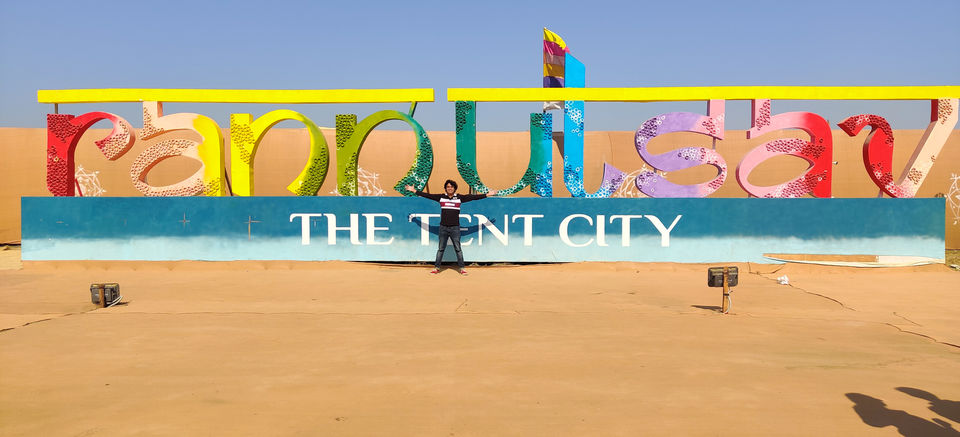 This trip was cancelled many time before …….but Sometime you have to be emotional enough …sometimes one beer is enough to hit towards ur destination …………this trip is all about this …..
This trip always to sightseer largest salt (Mithu means salt in Gujrati) dessert in Asia…..Earlier this dessert was a part of Arabian sea …due to earth quake it got separated and formed a dessert …during high tide water rushes in this dessert and maintains its saltiness …..
#Journey Begins
from Mumbai ..craving for #Kathiyawadi food / #Aundhiyo woke us early morning…. keeping our hunger oNN ……. we kick off our journey straight to the Vadodara …
why Vadodara??
It was 14 th Jan …it was Sankranti ….due to COVID-19 witnessing Kite festival at Ahmedabad was not possible as it was not happening this time …my friend from Vadodara incited us to witness Flying Kites and asked us to spend evening to celebrate Sankranti at Vadodara ..so we reached Vadodara and view in sky was amazing every gachhi ( terrace) u will see full of people flying kites ……..seeing the sky was difficult as it was fully covered with kites …..seeing these numerous kites flying all together in sky was fantastic experience ..people were playing DJ, those beats must had been making them high …..making them fly kite with more enthused…
After evening headed to Bhuj as we were so late to reach directly to the #Rann of Kutch …
Traveling Gujrat is pocket friendly at least food concerns, one can get good Gujrati thali everywhere- hot chapatis with ghee, #Kadhi Khichdi, and other vegetable curries …and can satisfy ur appetite …….we set our dinner at road side Dhabha ……..and halt at Bhuj concluded our day One!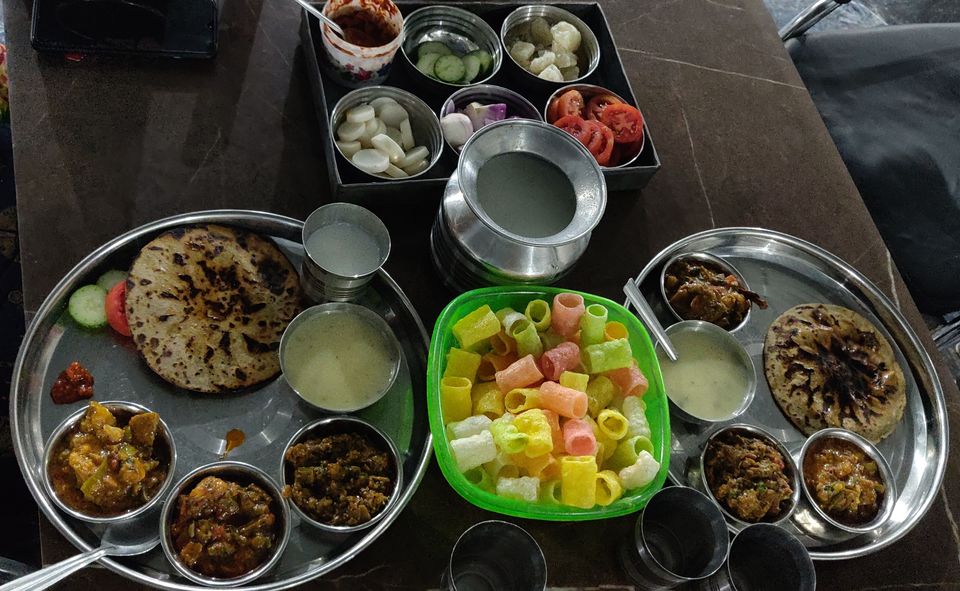 #Sun Set- At the Rann
Begins with #Jalebi Phaphda was enough to drive us to Rann of Kutch Utsav ………. after crossing of few kilometers one can witness empty and infinite field ……. one can stop vehicle and click great pictures here and we weren't exceptional….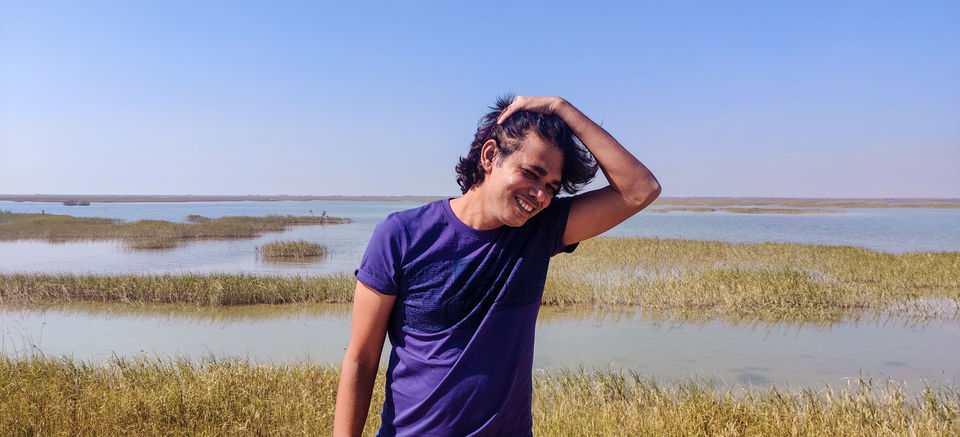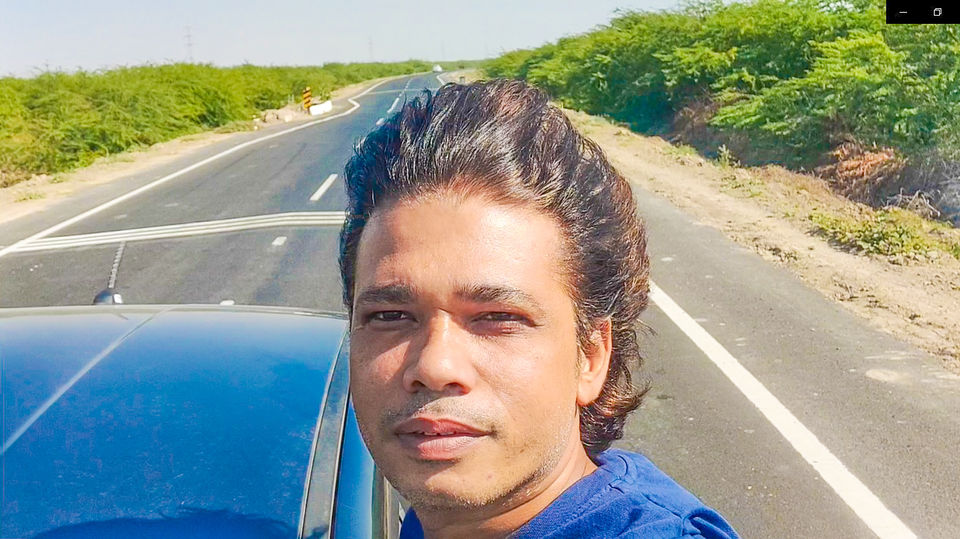 Just before 5 to 6 km before Tent house of Rann Utsav …..u will happen to see lots of Bhungas
Bhungas??
Bhungas are round huts , these are the real identity of Kutch area and they are prepared by using mud, decorated with traditional handmade design ( rangoli ), beds are covered with hand craft bedsheets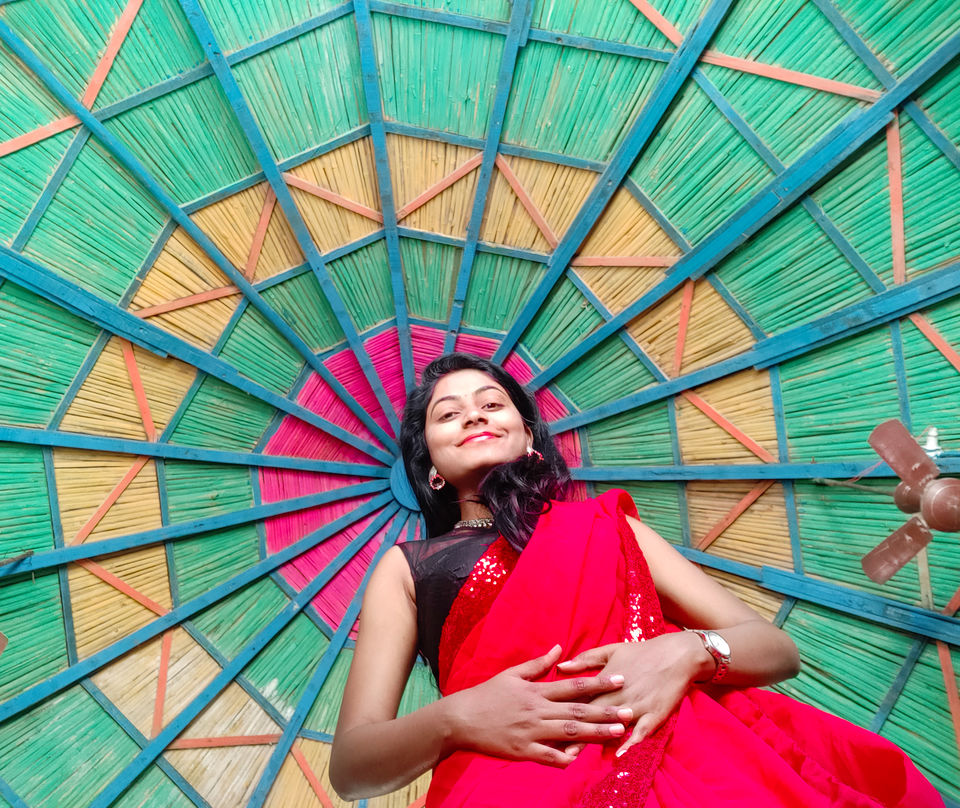 worth spending night in Bhunga and worth to experience staying over!
After finalizing accommodation at Bhunga …we headed toward Rann Utasav place ..there are some Tent house (tent city) which have been organized by state tourism and few are from pvt owners …. choice is extremely yours whether u want to stay at Traditional stay - Bhoonga or some artificial Tents ..few people may convince you to stay at Tent house, so that u can see cultural activities ( Folk music , folk Dance ) ..these activities happen at Bhugas too…and on larger scale they organized these at entry of Rann of Kutch area without any entry fee.
Viewing sun set at Rann of Kutch was the plan …..to go actual area of Rann of Kutch you have to take #Camel cart ..before that u needs to get permit which u can get online. This permit is required to enter rann area not for camel ride ……for camel ride u just have to pay money …. :-)
One thing I enjoyed in the camel ride is their local music …… and road with full of decorations on either sides ……. Once u reach, chase your eye sight, make them free and let them experience the white sand till infinity …view of horizon is mesmerizing …....one more thing, here u may feel like a mela (fair)…..huge crowd may disappoint you …but u have to find out your way…..and find your lonely place and certainly for this you have to keep walking in dessert…..don't walk so far otherwise you will be lost.
Sun Set was eye captivity never seen such clear sun downing ……
After adieu to Sun ,Headed towards Tent City there they have local shops, few places where one can click a good pic ,
local shops where one can buy handcraft material …they are good and will get in affordable price ….( Bargain is Possible )
At night with born fire & folk songs we had local Kacchi Thali and some #Kacchi Dabeli …..following chit chatting with locals, our eyes closed down to shoot up early in the next morning…….
#Sun Rise
Our early hooters (My Friends) woke up us early ..morning 6 we all were at Rann Dessert……. many people were there ….it was chilling cold …..the moment when sun starts rising, it was like rising for us only …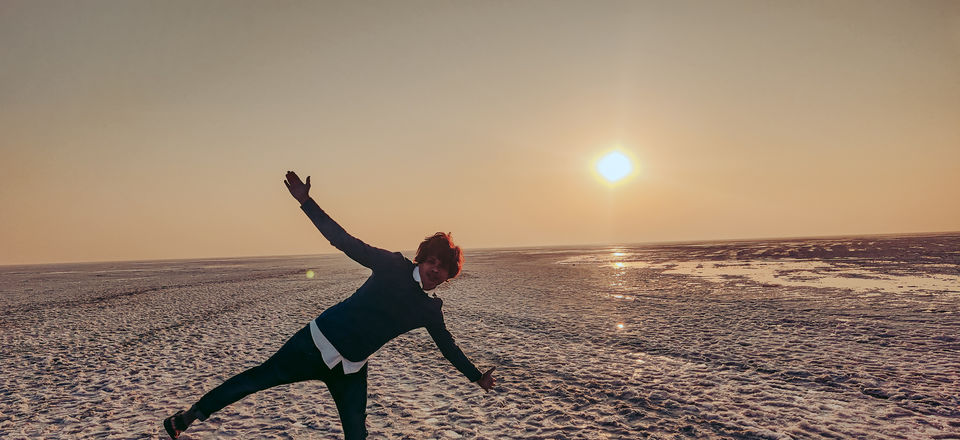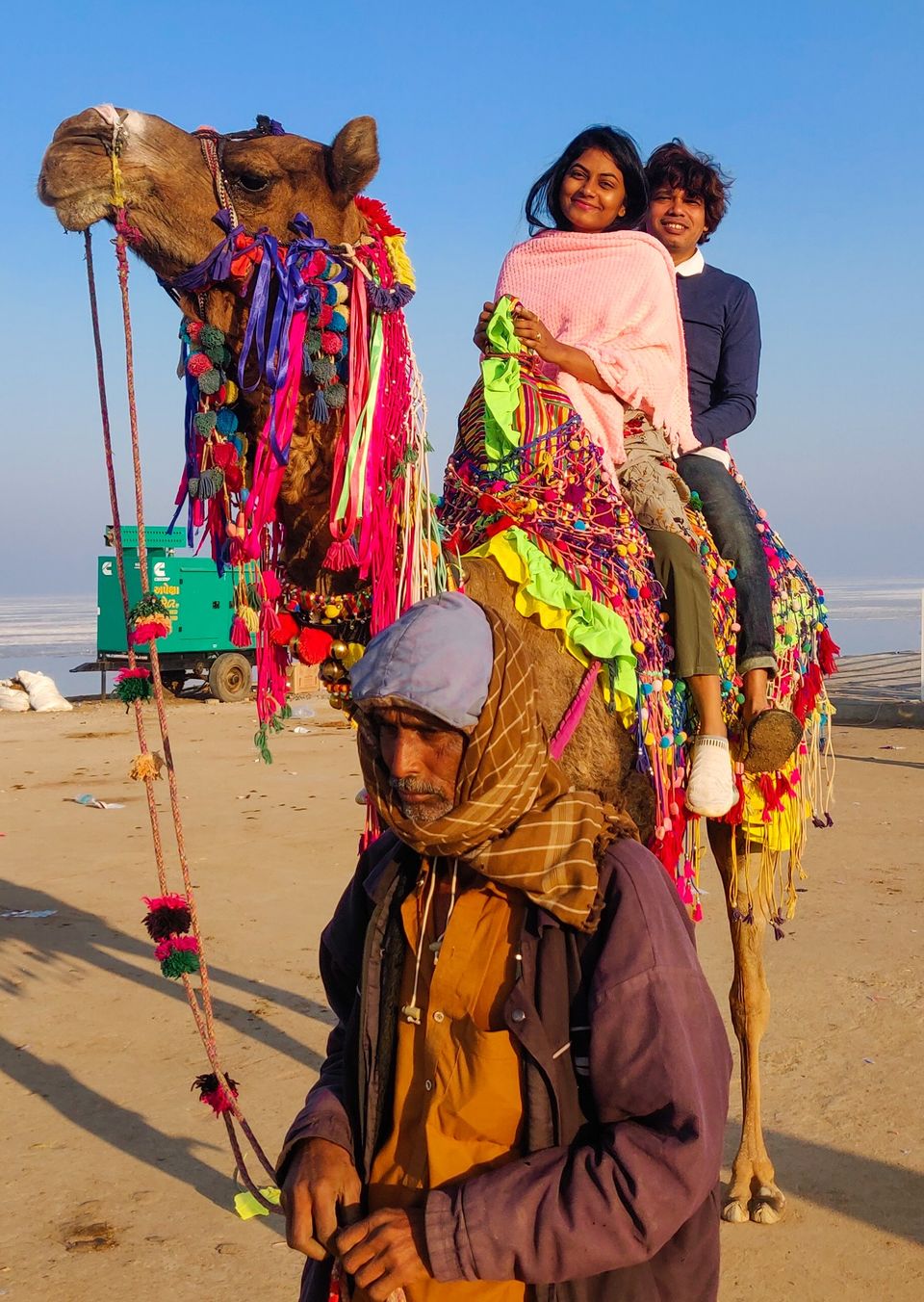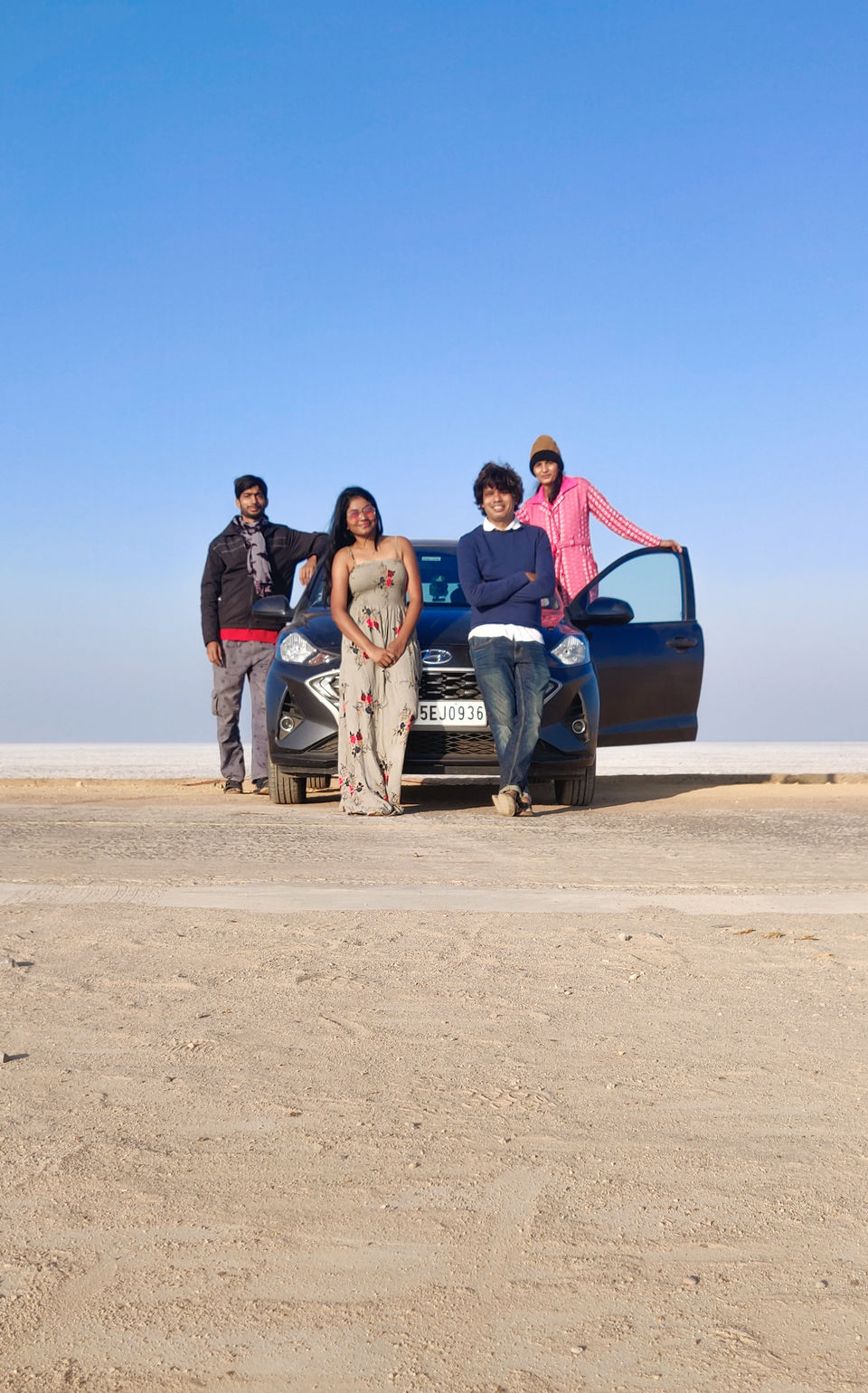 Done breakfast at Stalls near Tent City ..one Gujrati local cuisine #Khichu..made of rice was good to taste .
After checking out from Bhunga, we rushed to Motor paragliding ( para motoring ) ..bargain is surely possible …it is one of a kind …and it will offer magnificent view of #Rann area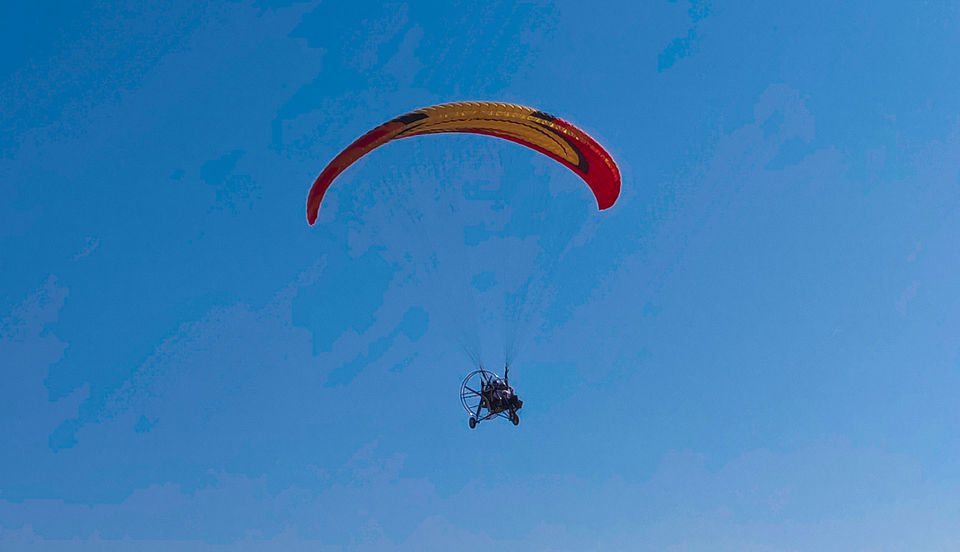 Then headed towards #Kala dungar ..the way towards #kala dungar was amazing ..u will find finest straight roads …with full of dessert view at either sides …in between anywhere u can take a halt …can click some picture with lots of 3D effect ( refer following pictures)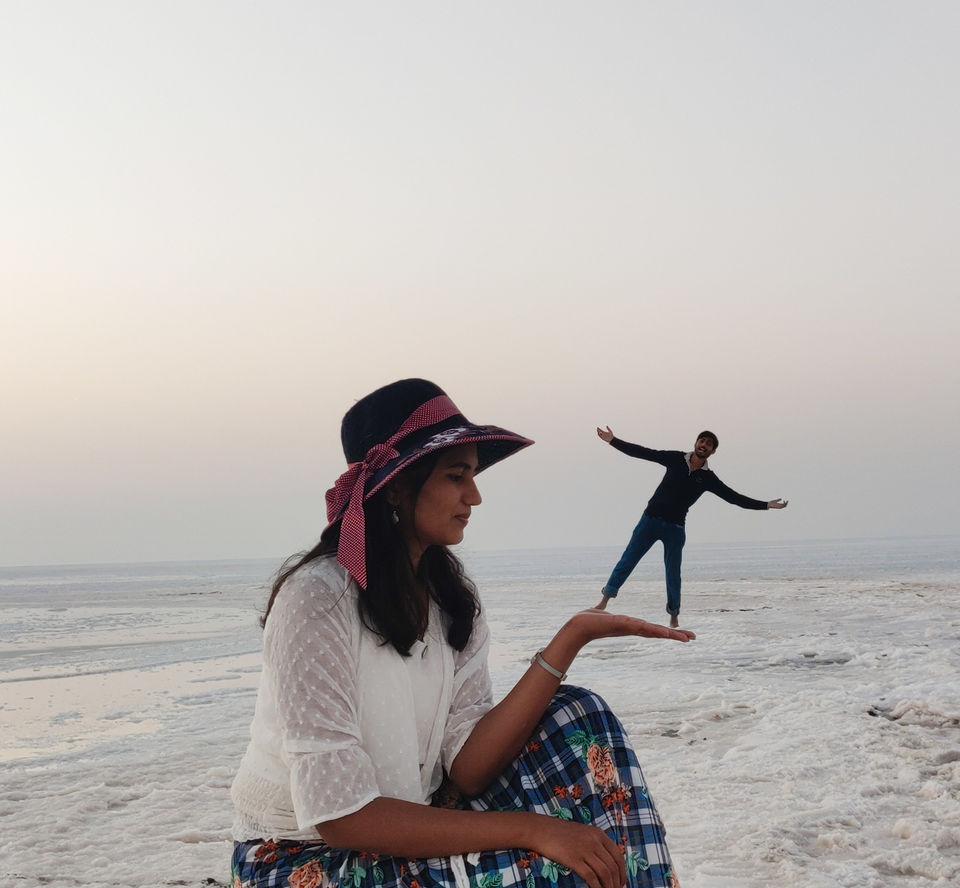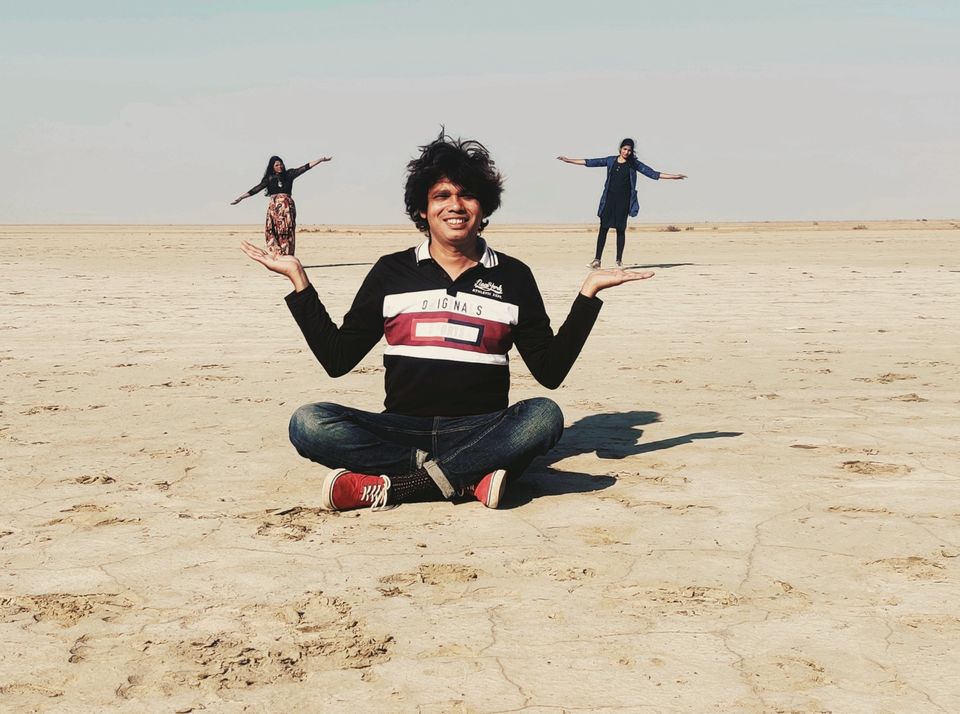 ….At #Kala dungar people say u can see Pakistan border which unfortunately we couldn't find ….You can click some good picture in #Kutchi dress with Pagadi …..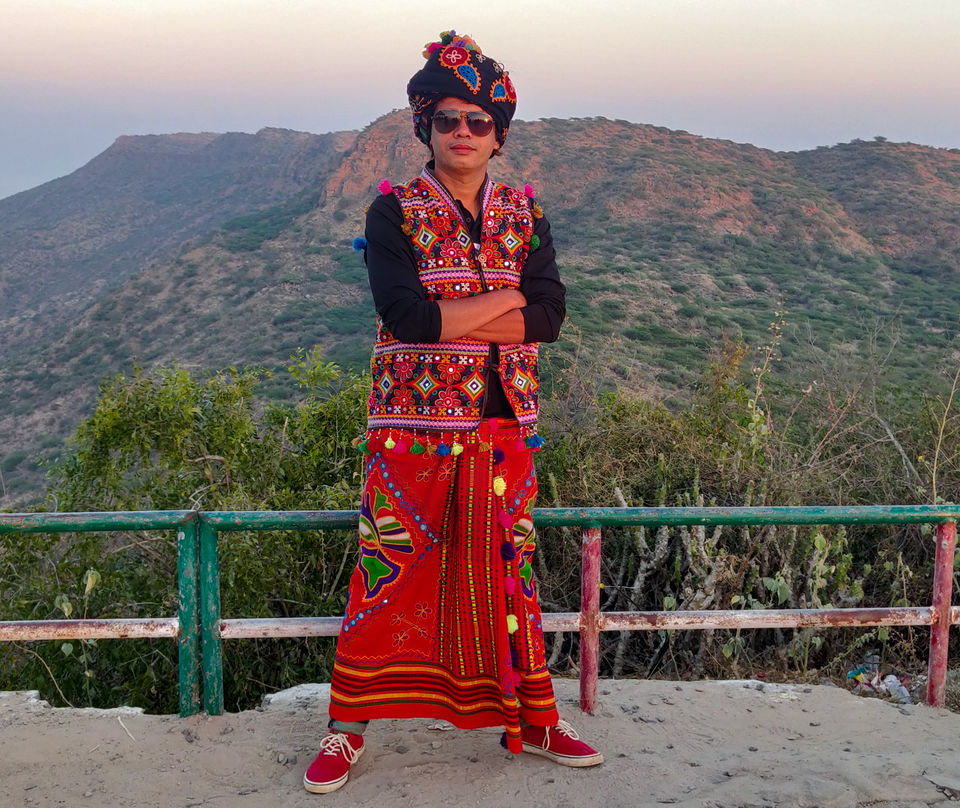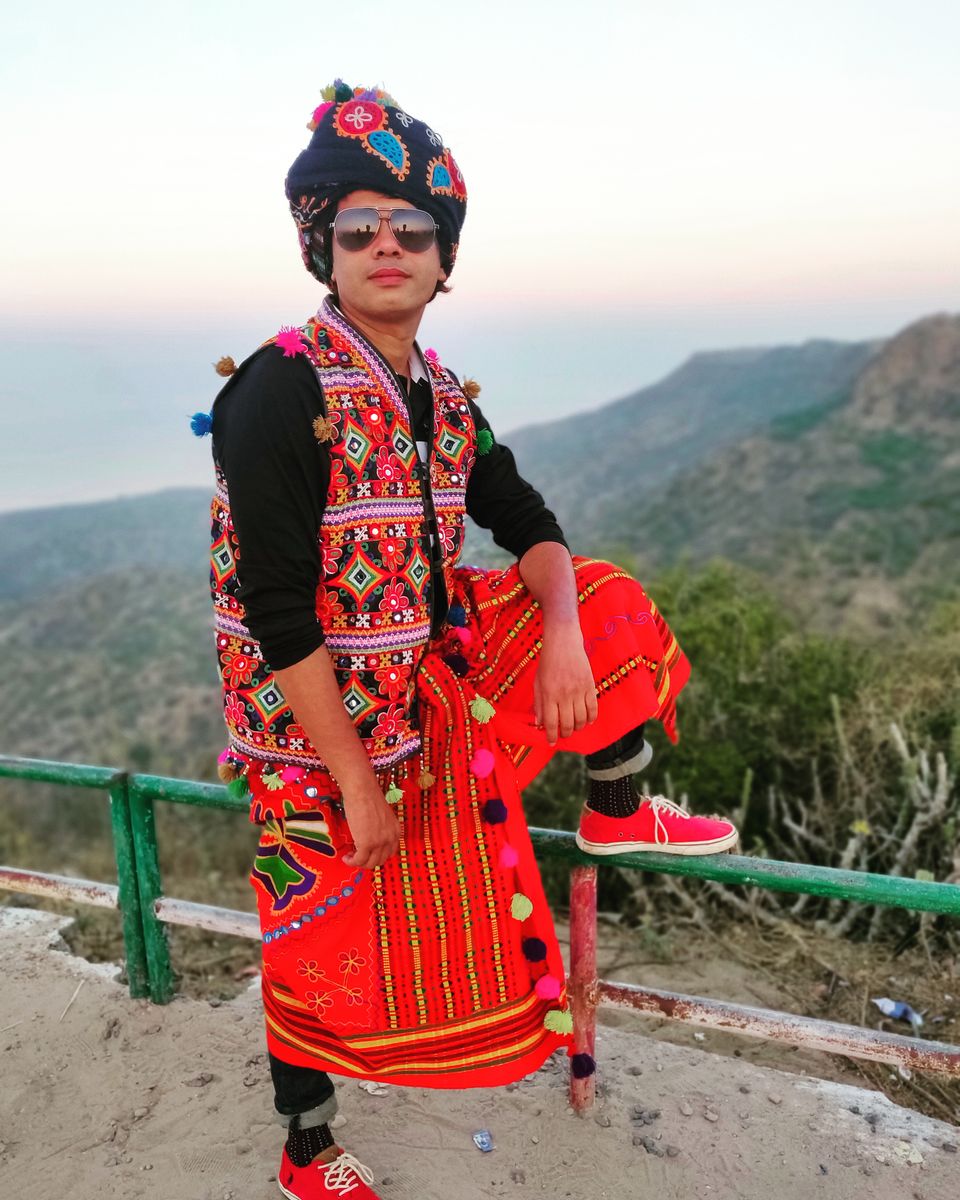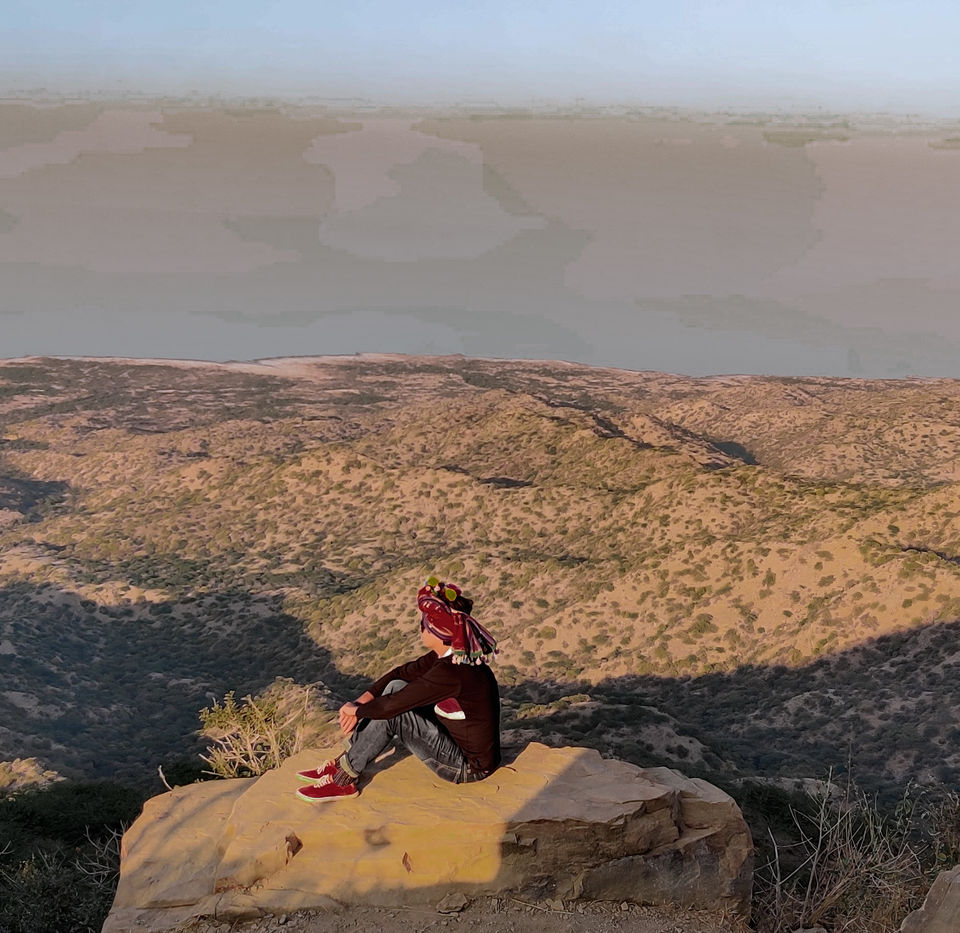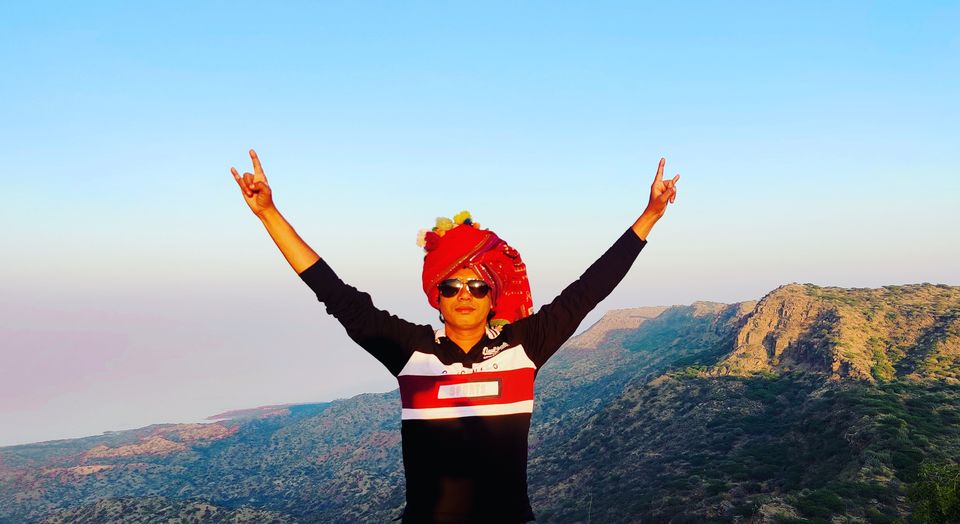 After #Kala dungar we rushed to #Mandavi …in between we had food at #Bhuj city …we all were on veg diet until this time but now we thought to break it.. somehow we found a great nonveg budget friendly restaurant in Bhuj- Name : Noorani Restaurant, after that straight to the #Mandvi and directly into bed.
Early morning on the way to #Mandvi beach went to the area where v can see the construction of Ships ..if someone who is not that technocratic can also visit this place bcz it looks fabulous ..no entry fee……it's all free …. seeing ship constructing in front of you…. One of its kind ….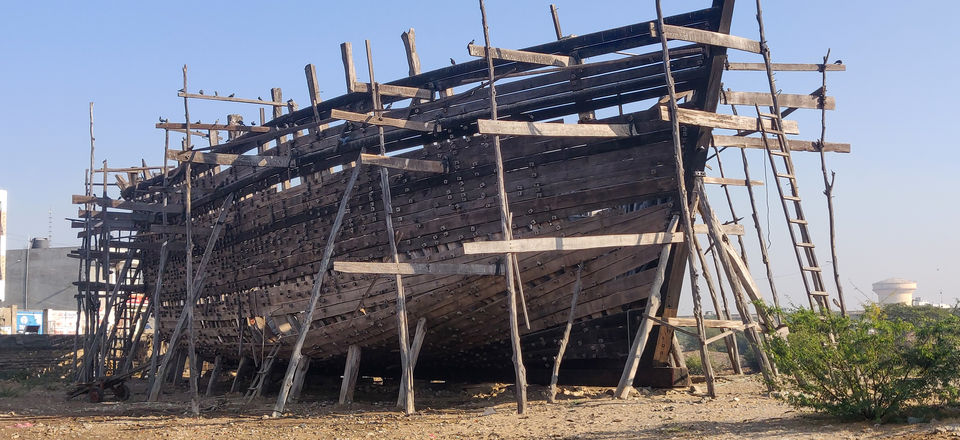 entry to the #Mandvi beach give u a feeling u had unnecessarily underrated this beach …beach is so clean … …
Best part of the beach which makes it look even beautiful, are the wind mills located on shore,
Mandvi has good place ,called Vijay Vilas Palace, one where many film shooting has been done …
In the city V found some good nonveg restaurant (Aman Restaurant) …. if u r sea food lover then my recommendation would be don't waste opportunity to eat here …one can get very pocket friendly and tasty sea food. It was so tasty we couldn't resist to take a parcel for evening too…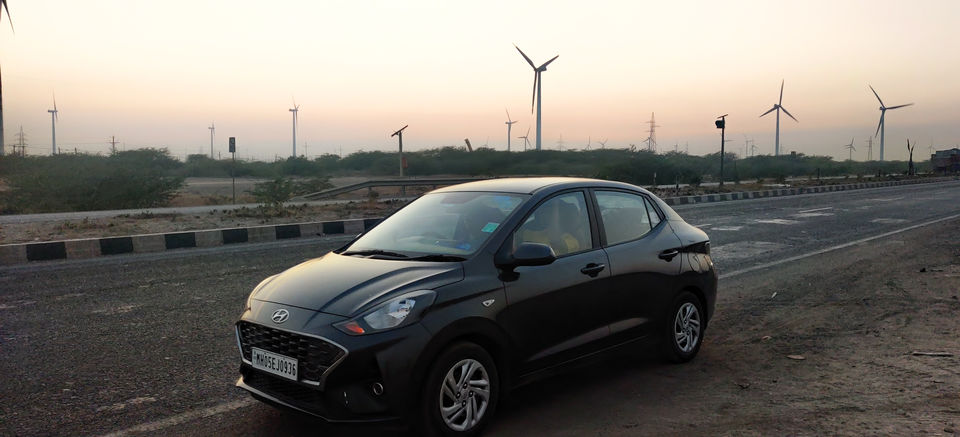 #Adieu
Back to routine …. but Wishlist was un fulfilled ….so journey in search of Khatiwada food began once again…on this way we found one authentic dish which comprise some seasonable vegetables and some jadi Buti (ayurvedically medicine) cooked in clay pot in wood fire called "ubadiyu" ……don't forget to eat, as it is damn tasty.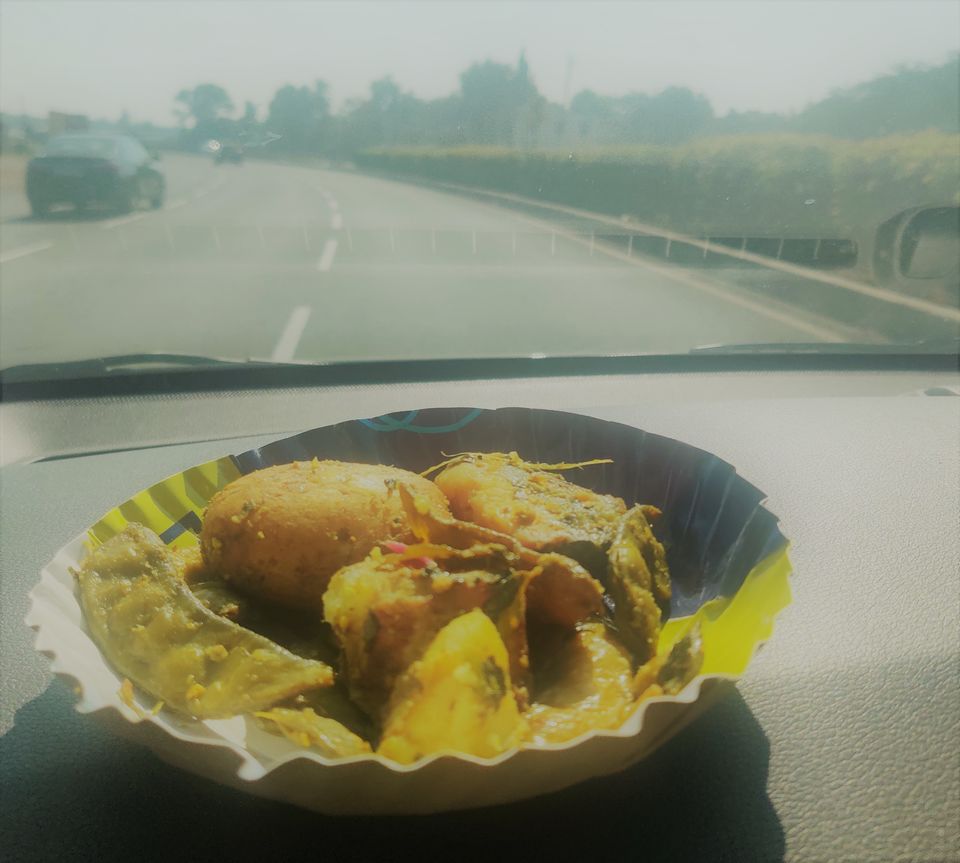 Finally, we found one place where …we got our #Kathiyawdi food ..#Aundhiyo, #Bajare ka Rotala and #Aaloo Lasuniya was good ..we packed one more plate of Aundhiyo for dinner…..reached to the Mumbai….
After completing de Tour to Rann…I remembered the famous quote: "Rann nahi dekha toh Kuch nahi dekha" ..and trust me it is not exaggerated!!