I had been planning a trip to north-east (in my mind) ever since, only God knows how long! This trip was pending for a long time cause I dint know where to start and what to cover, as I wanted to see everything! Finally I realised I couldn't do whole of north east with the kind of break I get at work, so I decided to cover one place at a time. As Bhutan was already the apple of my eye, I wanted to pay a visit to this very land of thunder dragon.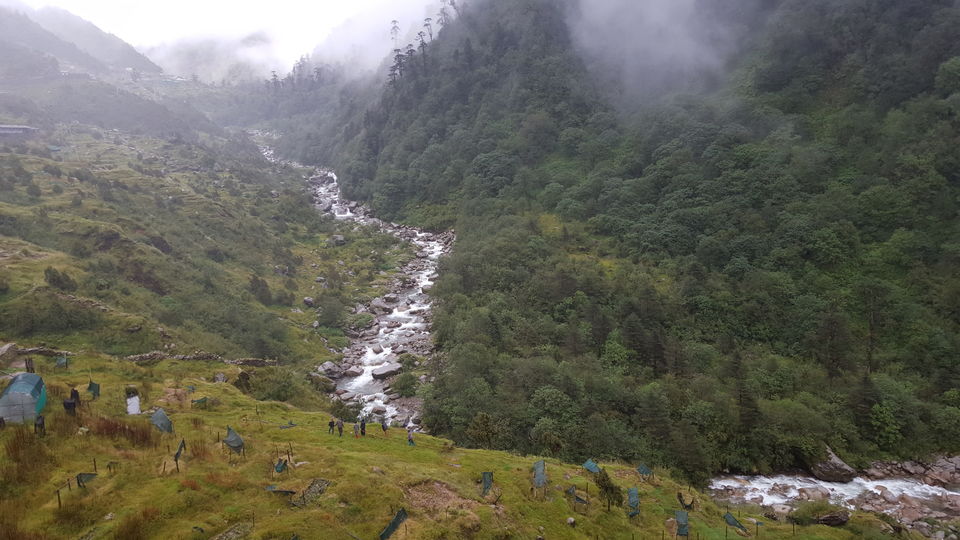 I wanted to do a road trip to Bhutan because I believe a place is best explored by road, but that's not the only reason for me to do a road trip. I do road trips because they are more fun, the best part about road trip isn't arriving at a destination; it's about all the crazy stuff that happens along the way. Thus I ventured on a road trip to Bhutan, also covering one wing of Sikkim (did east Sikkim) on the way. You can read about it in "A day in Sikkim"
Whenever I go on long trips, I normally plan beforehand to avoid last minute hiccups, especially when the place involves lot of process like permits and timings that needs to be followed. The complex excel sheet itinerary that I made for the trip might confuse the hell out of you (I myself got confused towards the end) hence I have penned down my overall itinerary in a simpler form. Hope this might be helpful for people who want to visit the place on road.
There are few things that one should keep in mind while travelling to Bhutan. The article on "Must know pointers before travelling to Bhutan" covers the different ways of reaching Bhutan, permit process, timings, dress codes et al
Now on to itinerary..
Day 1: Getting to Sikkim
Bangalore  Bagdogra via Kolkata  Gangtok
Took an early morning flight from Bangalore and reached Bagdogra with a layover of 2 hours at Kolkata. Bagdogra is the final point till where one can fly in West Bengal, post which one has to take the road to reach either Sikkim or Bhutan. From Bagdogra airport, we took a cab to Sikkim and reached Gangtok around 8pm the same day. We managed to reach Gangtok within 8 hours(Usually it takes only 4-5 hours to reach Gangtok from Bagdogra, atleast that's what Google maps tell you but the reality is the traffic from Bagdogra to Siliguri market is crazy that it takes atleast 2 hours to cross that 11 km stretch)
Day 2: East Sikkim
Gangtok  Nathula pass Baba mandir  tsongmo lake Gangtok
Second day, we covered east Sikkim. The above mentioned places were the ones we visited. A detailed story on this is covered in "A Day in Sikkim"
Day 3: Getting to Bhutan
Gangtok  Gorumara National Park  Hasimara via Jaldapara National Park Jaigaon  Phuentsholing
Before leaving Gangtok, we paid a visit to Rumtek Monastery. We then took one of the most scenic routes from Gangtok to Phuenstholing that goes through two national parks, one - Gorumara National Park near Jalpaiguri and two - Jaldapara National Park before Hasimara. Jaldapara National Park comes on the banks of river Torso and is a treat to eyes! This national park comes somewhere around 35kms before entering Bhutan. What Bandipur is to Bangloreans, this place is to Bengalis; an ideal place for a weekend trip, where people can do wildlife safaris and stay in jungle lodges.
As we were on a hunt for ATM's we couldn't halt at the place. Finally we reached Hasimara and were lucky enough to find cash in the ATM. One important note here, please draw cash either in Siliguri (if you're travelling directly from Bagdogra) or in Gangtok (for people travelling from Sikkim), never rely on the ATM's here.
Jaigaon is the last point in India before entering Bhutan. There is a 16km stretch in Jaigaon where the roads are pretty bad. It usually takes atleast 1 hour to cross this area and once you're nearing Bhutan Border, even Google navigation doesn't help; it stops navigating and only displays a preview of the country we are entering.
Phuentsholing is the entrance point of Bhutan. One doesn't need any permit to enter Phuentsholing and travellers are allowed to roam within 5kms of Phuensholing. We halted at Hotel Shelgoen in Phuentsholing for the night.
Day 4: Thimphu
Phuentsholing  Thimphu
After getting our permit from the Immigration Office in Phuentsholing, we left to Thimphu, the capital city of Bhutan. The distance between Phuentsholing and Thimphu is around 180kms. Since the drive is through the mountains and the driving speed cannot exceed 50 km/hr (as per the rules in Bhutan) it takes around 5-6 hours to reach Thimphu. The route is extremely scenic and the photographers would love to capture this through their lens. We reached Thimphu a little early than expected so we started scouting for a place to stay. We had got a beautiful guest house in the midst of an apple garden, where we halted for the night. The guest house goes by name SNB and is worth every penny.
Note: The permit issued at the Phuentsholing Immigration office is valid for 7 days and covers only Thimphu and Paro. To visit other places in Bhutan, one needs to take a permit from Thimphu Immigration Office as well.
Day 5: Thimphu sight seeing
Thimphu city is a beauty in itself. One needs to visit the place to immerse in the beauty of it. The first thing we did for the day was to go Thimphu Immigration office and get our permits to other places in Bhutan. This doesn't take much time and can be done in half an hour. Very close to the Immigration office there is row of shops that display traditional handicrafts. One can buy traditional handmade souvenirs from any of these shops. We then visited memorial chorten, Choki traditional art school,Buddha Dordenma, Kuensel Phodrang( Buddha Point), Thimphu Dzong and Changangkha Lhakhang. There are a couple of other places as well like simtokha dzong, jhomolhari trek and chagri monastery. You can include other places also in your plan depending on your interest and time.
Day 6: Punakha to Paro
Thimphu  Dochula Pass Punakha  Paro
We started early in the morning towards Punakha which is at a distance of around 80 kms from Thimphu and it takes 3 hours to reach the city. We reached Dochula Pass, enroute to Punakha. Dochula pass consists of 108 stupas and is one of the highest motorable roads in Bhutan. With all the Awwww's and the Oh My God's, which we kept saying on our way, we finally reached Punakha.
Only in Bhutan you can find male and female rivers! Amidst the Mo chu (female) and Po chu (male)river, the Punakha Dzong majestically stands, giving us an air of royal touch. This fortress is unarguably the most beautiful Dzong we had seen in the country. We were told that the best time to visit the place was during spring season, when the lilac coloured trees blossom, giving a lush sensuality to the Dzong and its surrounding.
Another must visit place in Punakha is the suspension bridge near the dzong. This is built over the Po chu river and is the longest suspension bridge in Bhutan. The view from the bridge is breath taking. After spending some quality time at the bridge we started towards Paro, which is at a distance of 130 kms from Punakha. We had to cross Thimphu to reach Paro and it took us 5-6 hours to reach Paro. We stayed at Galling resort in Paro, it is one of the best places I stayed during my travel in Bhutan. The place overlooks the river and the rooms are spacious with luxurious wooden flooring, balcony and bath tub.
Day 7: The epic Taktsang trail
Paro  Tiger Nest Monastery
All of us were super excited on this day, as we were about to visit the world famous tiger's nest monastery from G.I.Joe Retaliation. We had kept the whole day for the trek as this requires some amount of hiking involved. This is that one place which should never be missed from your bucket list when you're in Bhutan. You can read all about it in "The Epic Taktsang Trail"
Day 8: Chele la pass
Paro  Chele la pass  Haa Valley
We had started towards chele la pass from Paro. This 40 km drive to Chele la pass makes an interesting road excursion as it goes through dence forests on either side of the road. Chele la pass is the highest motorable pass in Bhutan and the weather immediately drops as we near chele la. This forms as the separator between Paro and Haa valley. Haa is located at a distance of 70 kms from Chele la pass and takes another 5 hours to reach the place. We din't head towards Haa as the weather became extremely unpredictable. We got back to Paro and stayed at Galling Resort for the night.
Day 9: Back to Phuentsholing
Paro  National Museum  Tachogang Lhakhang Bridge  Phuentsholing
We visited the national museum near Paro Dzong and then the 14th century suspension bridge at the entrance of Paro, close to the Airport. The iron chain bridge at Tachogang Lhakhang, is festooned with brightly-coloured prayer flags, with metal netting for extra support, it is quite flexible and acts a lot like a trampoline. Though it is a small bridge, one can get jittery when they walk over it.
Looking down one can clearly see the chains and the river below, flowing with gusto, clear and ice cold. Staying dry depends on the 600-year-old chains! There is also a separate bridge next to this one that is specifically for cattle to use, as crossing over an iron chain bridge is very difficult and dangerous for them.
We then continued towards Phuentsholing and stayed overnight at Hotel Sinchula.
Day 10: Getting to Bangalore
Phuentsholing  Bagdogra  Bangalore via Kolkata
I had by now considered all options of how I can settle down in Bhutan forever. With all that said and done, no matter what, I know, I had to get back home. With all the memories and a heavy heart, I left from Phuentsholing early in the morning and reached Bagdogra, to board the last flight to Bangalore at 2.30pm.
Bhutan is no ordinary country. It has its own way of casting its magic spell on us. Kadrin chhe la Bhutan for giving us such everlasting memories!
Itinerary Recommendation
If you guys are visiting Bhutan only for a week, then I would recommend you to visit Thimphu and Paro. If you are there for 10 days, then make sure you visit Thimphu, Paro, Punakha and Haa valley. For people staying more than 10 days, do visit Bumthang and Jakar as well along with the other places.
For all the information regarding my trip: total cost, stay options and transportation details are shared in "Information Colum"