Sarnath is an ancient city located at a distance of 12 km from Varanasi, Uttar Pradesh, India. Along with three other Buddhist circuits viz. Lumbini (Nepal, birthplace of Buddha), Bodhgaya (Bihar, India, place of enlightenment of Buddha), Kushinagar (Gorakhpur, Uttar Pradesh, place where Buddha left the material world), this fourth circuit is a holy abode of Buddhists worldwide as here Gautam Buddha gave his first sermon after his enlightenment. The domicile is famous for its' Buddhist Stupas and temples. The Dhameka Stupa in Sarnath is a legendary stupa as after attaining enlightenment, Buddha delivered his first preaching here in which he taught about four noble truths of 'dukkha'(incapable of satisfying), 'samudaya' (arising), 'nirodha' (confinement) and 'marga' (path leading to salvation) and lessons associated with it.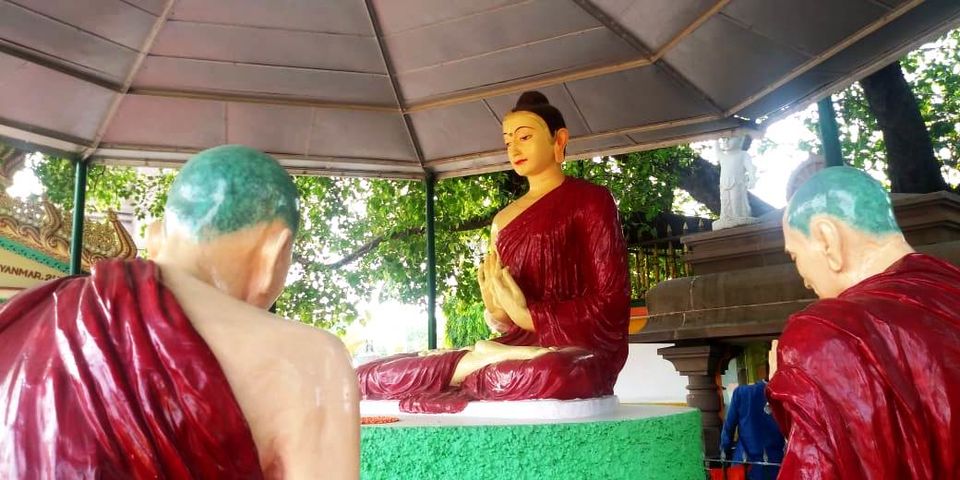 The stupa was originally built by Ashoka, the Mauryan Emperor in 249 BCE. When Chinese traveller Xuan Zang visited Sarnath in 640 AD, Sarnath swanked a 91m high stupa and 1500 monks who lived in large monasteries of the colony.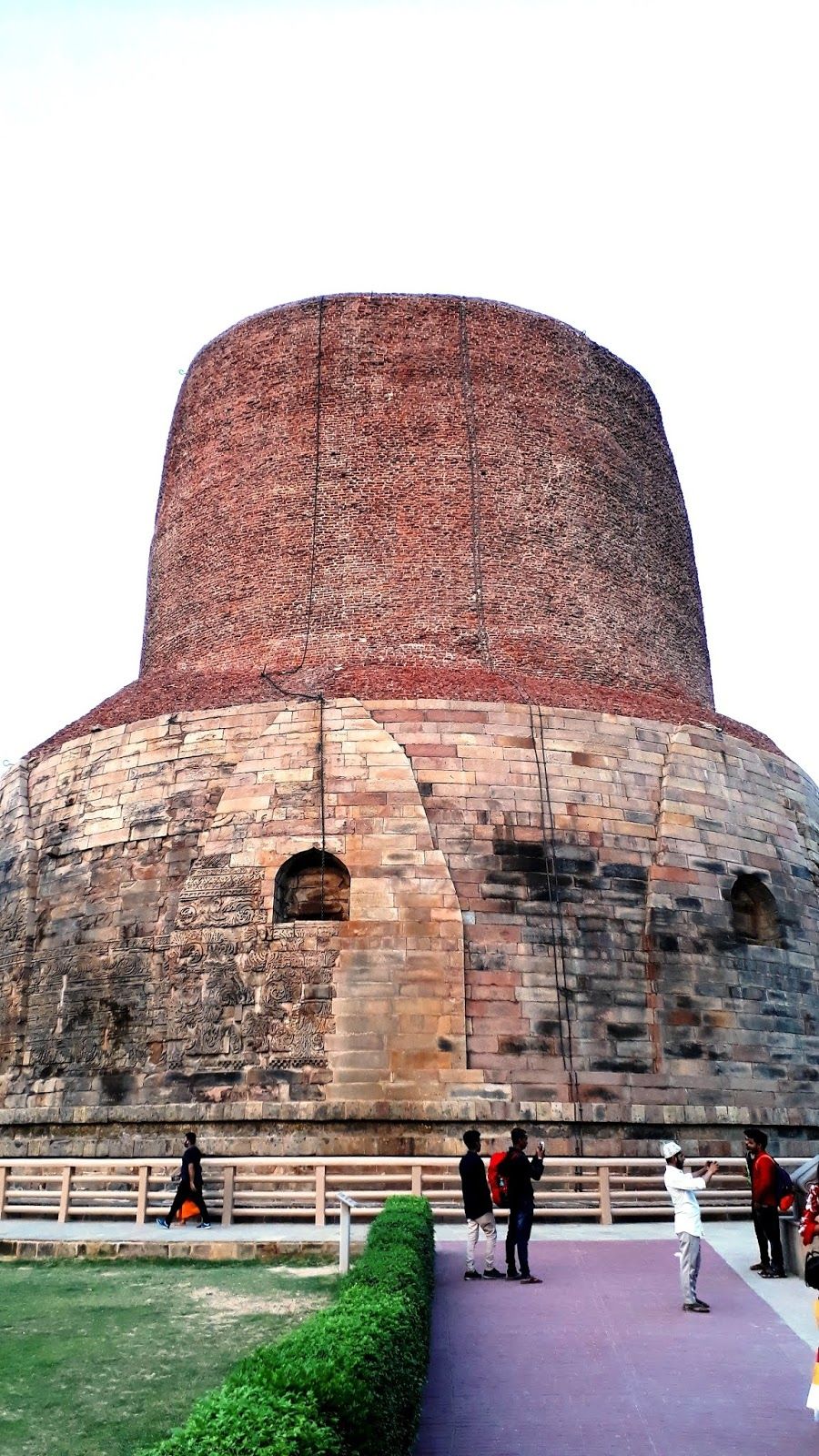 Soon after that, as Buddha left the material world, Buddhism went into decline. When Muslim invaders ruined the city in the late 12th century, Sarnath almost perished. The place became archaeologically significant when in 1798 a box containing a casket of green marble was found while repairing and renovation of the place was going on. Soon it gathered attention of the British archaeologists and the sacred sphere was rediscovered. 'Sarnath' in Sanskrit refers to 'Lord of the Deer'. The area where the stupa is located is also called Deer Park.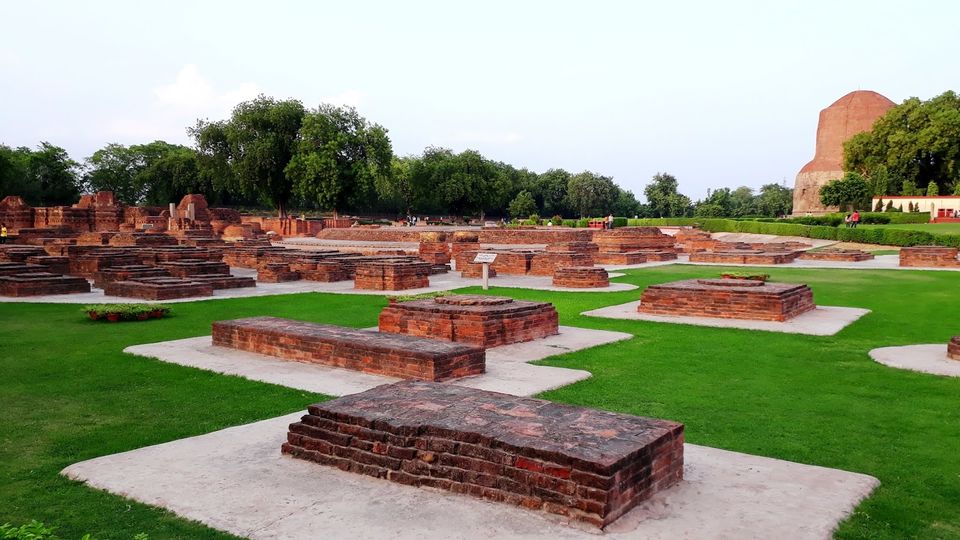 Beside Dhameka Stupa within the Deer park, lies the excavation area where numerous Buddhist remains have been found that date back to time before 12th century BC. Those artifacts are displayed in a museum just next to the unearthed area. This archaeological museum is also called Sarnath Museum and is famous for hosting various ancient and extraordinary articles. Apart from the statues of Buddha, different sculpture of Gods and Goddesses are displayed here. Amid other historical items, the Ashok Chakra (though some part of it is broken) is also being displayed in the museum. The famous Ashoka Chakra in Indian emblem is inspired from this artifact which marks the visit of Emperor Ashoka in Sarnath.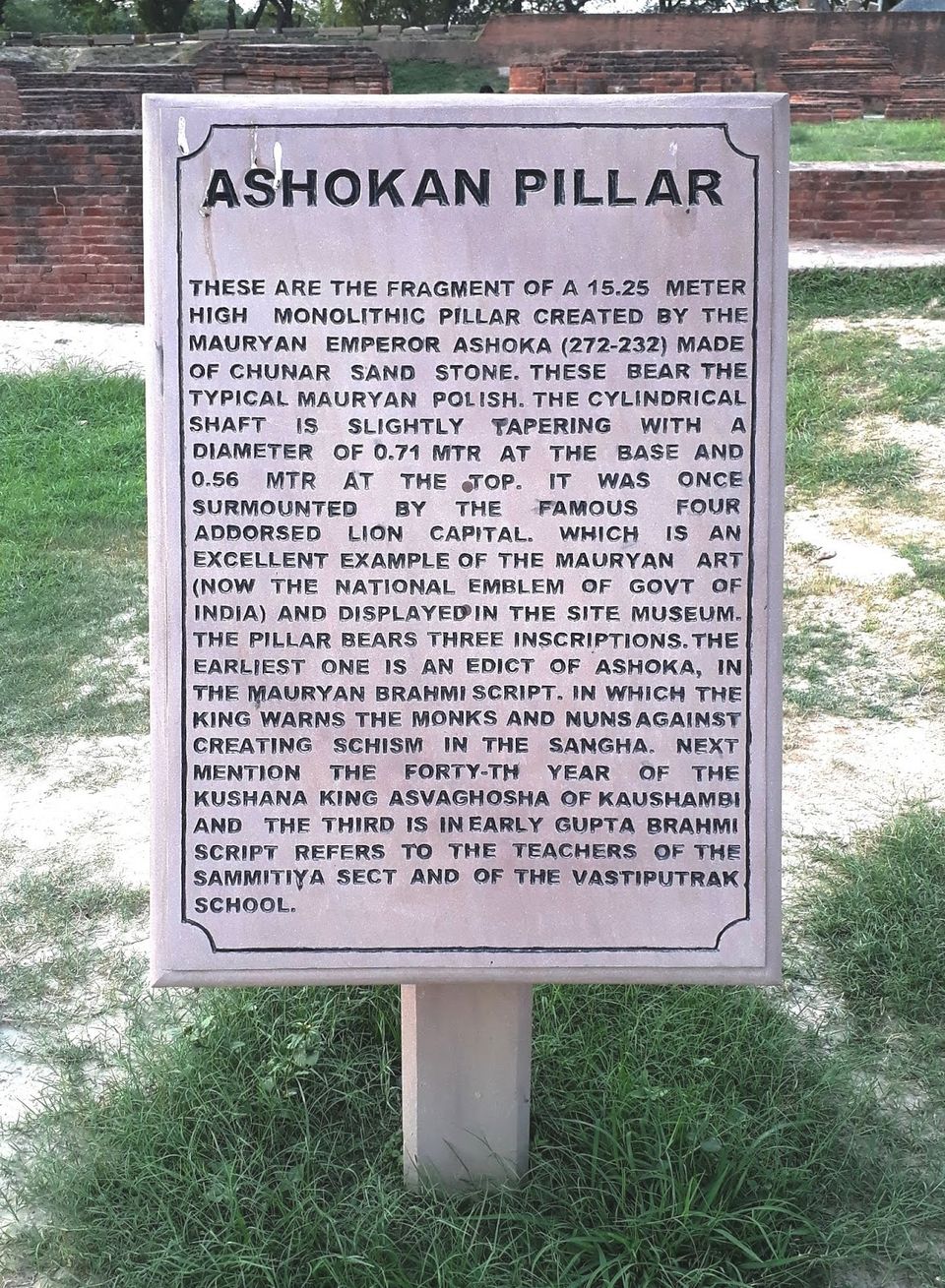 Opposite to the museum stands an 80 feet tall statue of Buddha. It is the tallest stone statue in Sarnath and was erected during Indo-Thai joint effort. In the ruins of Sarnath stands a Buddhist temple named Malugandha Kuti Vihar which bears a distinct style of Buddhist architecture.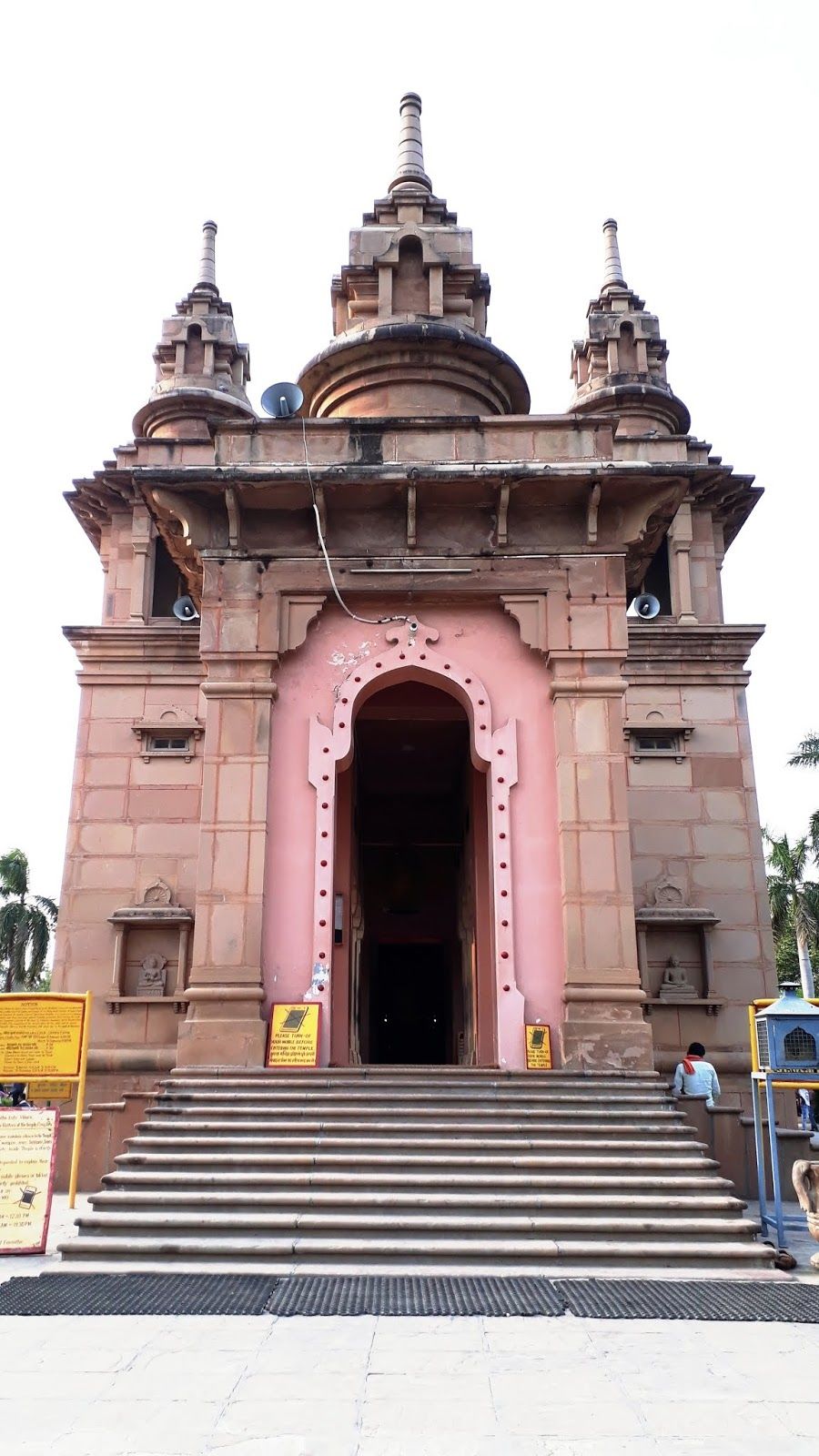 Inside the temple one can find art and cultures of Buddhism dating back to 200 BCE. The shrine walls illustrate Buddhas' life exquisitely. The huge golden statue of Buddha is seated on a marble platform inside the temple. Every year the temple celebrates Goutam Buddhas' appearance day or Buddha Purnima when Buddhist monks across the globe gather to pay homage to Buddha. Beside the temple, roots one of the segments of 'Bodhi Vriksha' under which Buddha attained enlightenment. It was planted in Sarnath by the founder of Mahabodhi Society of India in 1931, by taking a branch from the real Mahabodhi tree of Anuradhapur, Sri Lanka.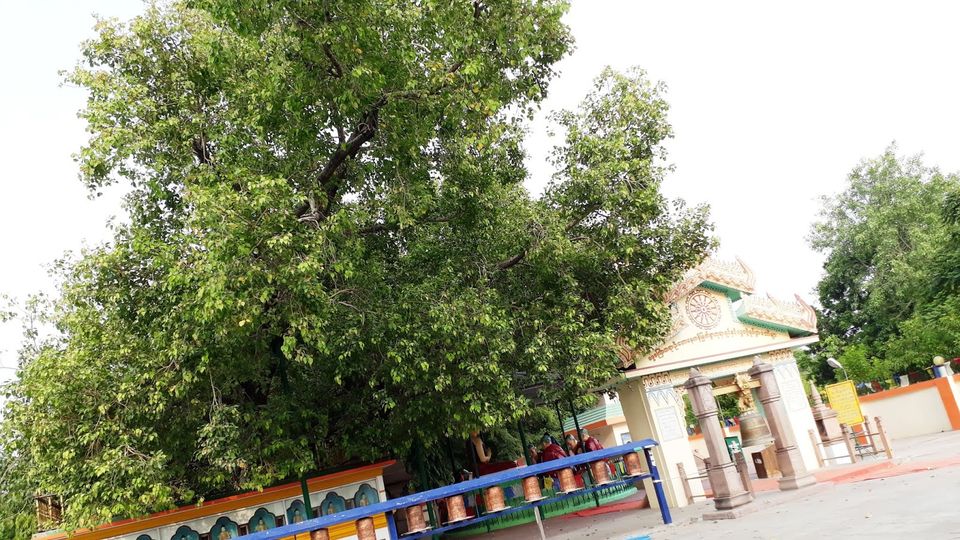 Near to the Vihar is a beautiful white Jain temple dedicated to the Jain Digambaris. The temple is at a walking distance from Dhamek Stupa. The interior of the temple depict the life of Lord Mahavir, the founder of Jainism. The temple was built in 1824 and is said to be located at the spot where Shreyanshnath, the 11th Jain Tirthankara was born. Next is Nichigai Suzan Horinji Temple, also known as Tibetan temple. The temple has a magnificent inland with a variety of adornments. The statue of Buddha is in a reclined position.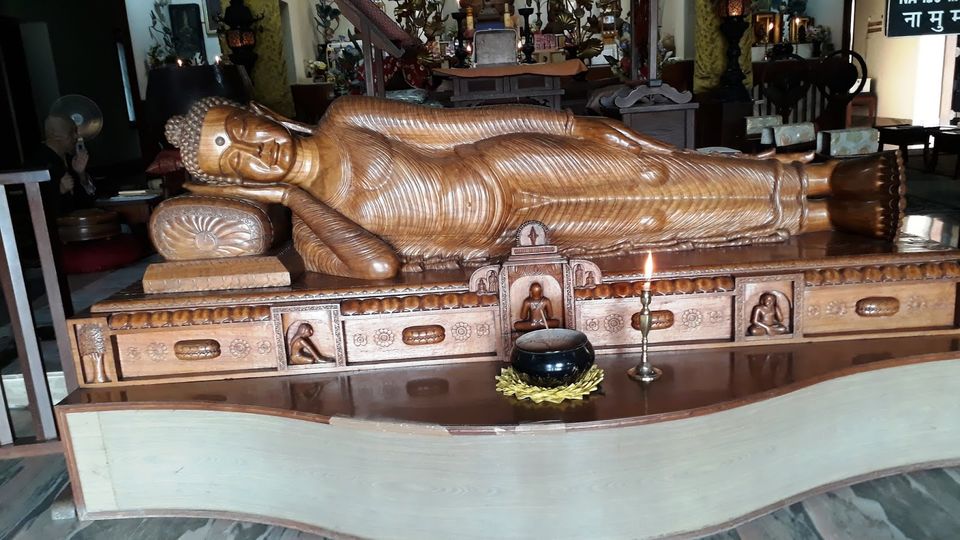 There is also a Japaneese temple beside Tibetan temple which is another point of attraction for travelers visiting Sarnath.
Before you visit Sarnath:
1. Both private and shared autos are available from Varanasi city to reach Sarnath.
2. One can hire a local guide to see around as it will be more informative and interesting.
3. Sarnath museum entry ticket cost Rs. 10. Camera and other belongings are not allowed inside. It is open till 5 in the evening.
4. Entry ticket to the excavation area is Rs. 50. Camera and other belongings are welcomed to the site.
5. Entry to all the temples and Vihar is free of cost. Those are open from sunrise to sunset.
6. Above mentioned spots can be easily covered up by walking as they are located at a stones' throw distance from each other.