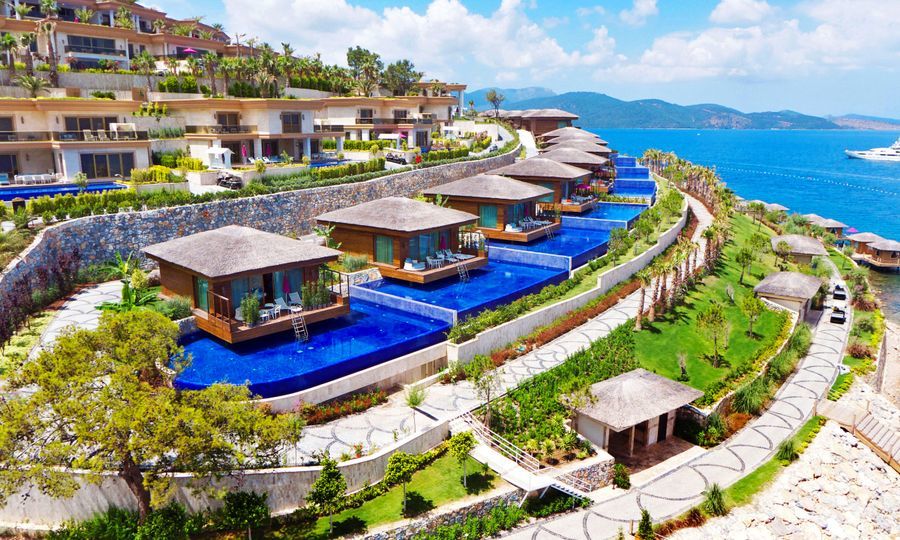 Blessed with a crystal-clear stretch of the Aegean, pretty architecture and a plethora of luxurious sleek resorts, Bordum on the western coast of Turkey is garnering a lot of attention from top travel bloggers and the media.
Many are touting it as the "next Bali" which means it is soon going to be swarming with international tourists.
It has been called in the NY Times as Turkey's San Tropez on the French Riviera and been compared to Mykonos in Greece that attracts the glitterati from Europe, America and Asia.
Condé Nast Traveler and even Bloomberg named Bodrum one of the best places to travel in 2019. In fact, Bloomberg even stated travelers skip "overdeveloped Bali in favour of Bodrum"
So, what are you waiting for?
Rush and book your tickets before the hordes of tourists get there!!!
And here's some information to keep in handy -
What To Do:
1.) The Castle of St. Peter by the sea, is at the top of every visitor's things to do in Bodrum list. It is also the venue for many cultural festivals. Among the various towers are the French Tower; English Tower, with a sculpted lion on its west wall; and the Gatineau Tower, which leads to secret dungeons.
2.) Located in the grounds of the castle, is the Underwater Museum of Archaeology. Discover shipwrecks unearthed from the seabed surrounding Turkey, for e.g.: most famous Uluburin shipwreck dating back to the Bronze age.
3.) Swimming, sunbathing, or just chilling by the many beaches like Camel Beach. Bodrum's sandy beaches with clear blue waters are perfect for beach-bummers.
4.) Drive to Turgutreis and Yalikavak that are famous for their picture-perfect sunsets and Gumbet for some major water sports.
5.) Relax MAX and unwind in the drool-worthy private villas and resorts that come with infinity pools, Jacuzzis, sprawling balconies and the works.
6.) Set sail in a traditional Turkish gulet boat. Put on the explorer's hat as you discover hidden coves, bays, islands and small coastal resorts along the ancient areas of Turkey, after all, Bodrum is a chief hub in the Turkish Riviera.
7.) One of the Seven Wonders of the early world, all that remains of the Mausoleum of Halicarnassus are ruins. The tomb was built for King Mausolus and apparently reached up to 46 meters in height. Its aesthetics so renowned that they inspired numerous monuments around the world.
Accommodations:
Bordum has seen a hot influx of upscale resorts, hotels, and villas that are making it a favourite off-beat holiday spot for the rich and the famous.