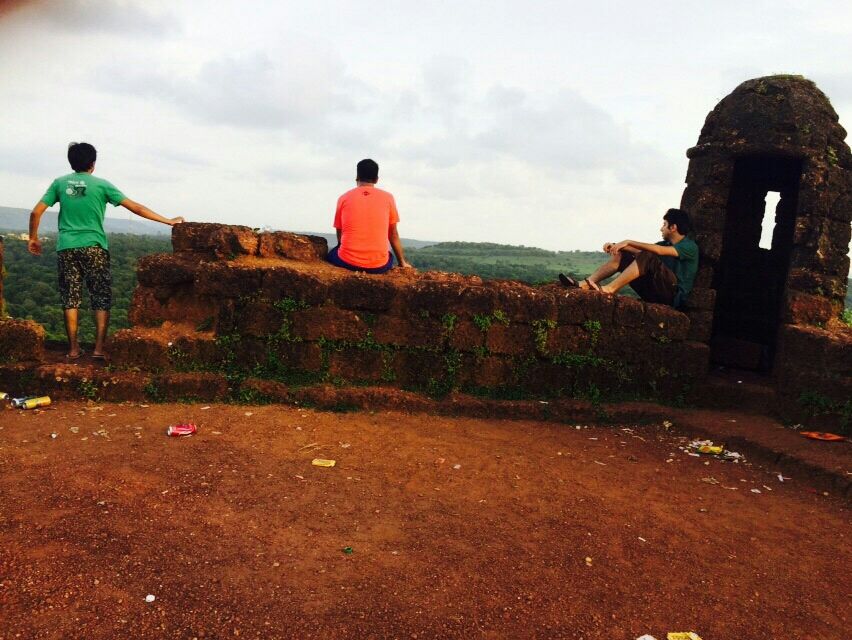 Goa in September is a trip in off season when you don't get much tourists, but it's a good time to visit Goa if you wish to explore and capture every moment in your memories.
We visited Goa on 5th september and checked in at
Sea Breeze Resort, Candolim Beach,
which is an affordable and good accommodation where you get all basic facilities. Resort is surrounded by good restaurants and is at a walking distance from Candolim beach. You can get all necessary groceries from nearby stores and get bikes on hire too from resort only.
Baga beach
is one of the most popular beaches where we can explore the fun of tides and enjoy dinner at beachside restaurants. We can try paragliding and some watersports too. Enjoying sand and salty water while playing with tides was an awesome.
Chapora Fort
is one of the best destinations in Goa where you can recreate the memories of bollywood movie Dil Chahta Hai. You can enjoy scenic beauty where you can see yourself in middle of land, sea and sky. With this scenic view and trekking experience, your journey will become awesome. Mild shower made my journey more good.
Love Passion Karma your love for parties and thrill for music will take you to new heights while dancing. You will love the ambience and music in this club and crowd is also good.
Cafe Cape Town at Baga Beach you would love cafe cape town if you wish to party with your friends at a less crowded club. Club is good and not much crowded and perfect place to enjoy drinks and dance.
Candolim Beach we visited candolim beach around 2 am and noticed very high tides which shows the versatility of sea. View was beautiful as well as terrifying for people who are scared of high tides. Watching the waves and enjoying the beach is wonderful experience at night too and should be tried but beware of cops as it is not allowed to be there after 3 :D
Enjoy the Road best thing in goa is to enjoy the road by riding your bike across different streets and watching beautiful city goa. You will see greenery all around if you're a nature lover and you will get parties if you're a party lover.
Words are less to express this journey as you will get what you want at this place. For adventure lovers, city is adventurous while for couples, it's a romantic place. For nature lovers, its scenic and beautiful while for party poppers it's a party place. If you want a trek, you will get trekking so that you can explore forests and mountains while you can go for paragliding if you wish to talk to sky. For food lovers, you have various cuisines to try while for lovers of sea, you can try to enjoy the waves.
I would advice everyone to visit the city once in off season too as it will make you on and you will get whatever you want.