Another weekend came so quickly after the long last weekend. Today I am resting finally and decided not to go out. Rather I would prefer to rerun through the last weekend in my mind and in my blog....
Last weekend was a perfect blend of visiting different places, meeting new people and making friends, relaxing for two days, tasting new foods- full package.
So far this is the best weekend I have enjoyed during this stay in Cape Town. Right now I am uploading photos in dropbox for Summy, Jane and Dev. The people whom I didn't even know before Friday and with whom right now I have already exchanged a lot of emails. I might not see them in future again as we all went apart, but we all got something to cherish; something to remember about this Cape Town trip.
Well, let me start from the beginning..
As I know the winter is approaching so fast (I can sense her breath everyday with reducing temperature and chilling wind towards the evening), this would be one of the few remaining weekends when I can really know Cape Town..See Cape Town.. relish the beauty of Cape Town. So I have done booking earlier itself for a conducted tour for Friday.
It was 6:30am in the morning on 18th April'2014. The other days I feel so bad to wake up at this time because in Cape Town even the Sun also keeps himself covered with blanket in the bed. But today is different- today is my outing day to wash away all my tiredness. So got up, prepared my breakfast, had bath and got ready by 7:30 to kick off from my home to V&A Hotel. The timing was mentioned as 8:15am to 8:45amm in the booking confirmation. So I was not sure whether the bus will come up at 8:15am or 8:45am. The bus appeared at around 8:35am. Smiling Tabe opened the door for me. Tabe is an African guy born and brought up in Cape Town. He was to be our driver as well as guide for the day. It was a small coach of Hylton Ross- a 20 seater. Only 5 people were there and among those 5 people 3 were as if from the sub-continent. Soon we started introducing each other and my idea was correct. Summy was from US though basically from Delhi, Dev is also from US but basically from Salt Lake, Kolkata and his wife is from Punjab. Apart from them Jane was from China and a pretty girl Merda from "Catalonia". "Catalonia"- the word reminds me of lot of controversy and creativity together. Barcelona, Girona, Leida, and Tarragona make the Catalonia. The region came under the control of Spain during Philip V. Then the local Catalan language got replaced by Spanish. After the democratic transition of Spain, this are has grown significantly. But the freedom is in their vision. Catalan government has already declared its intention to hold a referendum on possible independence from Spain in 2014. Well, time will only be the best person to bring the truth hidden in the future. So let us not get into the controversy. But the most important part here is the so called separatist plans were not able to really stop the progress of the region and I think all the countries have some take out of it. Lets leave the serious talks. The important thing is Spanish girls are always beautiful and so our Co-tour partner lady. :)
Coming back to Jane; probably the first Chinese I have met in my life who can speak English very fluently. So it didn't take much time to break the initial barrier and soon we all started chatting to each other.:)
When we started our journey from V & A Hotel, the weather was clear. But the moment we reached Sea Point, we encountered a completely different picture. The entire area is covered with dense fog and keep the sea aside; we cant' even see clearly the jogging arena which is not even 100 mtr away!!! We all felt sad thinking that today might be a bad day. But soon we reached to the Clifton Beach and observed that the fog is slowly on its way of vanishing.:) and while vanishing it created a beautiful hide and seek reflection of the Table Mountain which generally not so much observed. We could see table cloth covering the mountain in a moment and the next moment someone was blowing it out. It Looked like one beautiful young lady is coming out of water after bath and spreading her white gown on the table mountain to dry. The ocean is trying to kiss her again and again...
Tabe briefed us about the tour plan for the day- we would be travelling via the Atlantic Seaboard. Well, it didn't mean that we would be travelling via a boat for the entire day. Basically the adjacent coastal plains of the Atlantic Ocean is known as Atlantic Seaboard of Cape Peninsula. So we would be travelling most of the time via the route very next to the Sea Shore.
Tabe was also telling us about the history of South Africa. We came to know that during the Apartheid Period, Blacks were not allowed to enter the Sea Point region after 6pm. Only 4 provinces were regarded as Republic of South Africa and people from other parts had to get special pass to enter in these areas. We also came know the reason behind using ".za" or "ZA" in "ZAR". Republic of South Africa should have become as symbol "RSA", but it had already been taken by Russia. Then "sa" had been taken by "Saudi Arabia" and hence it is "ZA" as in German, "Za" is "Sa".
While discussing all these and enjoying the beautiful scenic drive we reached Hout Bay. Tabe told us that Hout Bay wanted earlier to be a separate country; they even started passport system under the name of Republic of Hout Bay. One person from this region even entered in Egypt with that passport !!! However Govt of South Africa was able to manage it to stay together finally. Hout Bay is mainly famous for its fishing. So anyone can get seafood cheap over here. :) We were able to see the houses near the beach is mostly covered by White sand; partially due to the Cape Doctor. Cape Doctor- the famous South Easterly wind which flows till End of March starting from September. This wind takes out all the pollutions, sand, dusts, insects from the city of Cape Town and throws them to the Ocean.
Hout Bay was our first stop. We could see lots of colourful boats and yachts were standing which made the bay look more beautiful. This is the place from where people to go for the Seal Island. We approached one of the ticket counter; initially the lady at the reception said there was no ticket left. But the moment Tabe approached, she provided ticket to all of us !! So I understood that relationship is the key here in SA as well. :)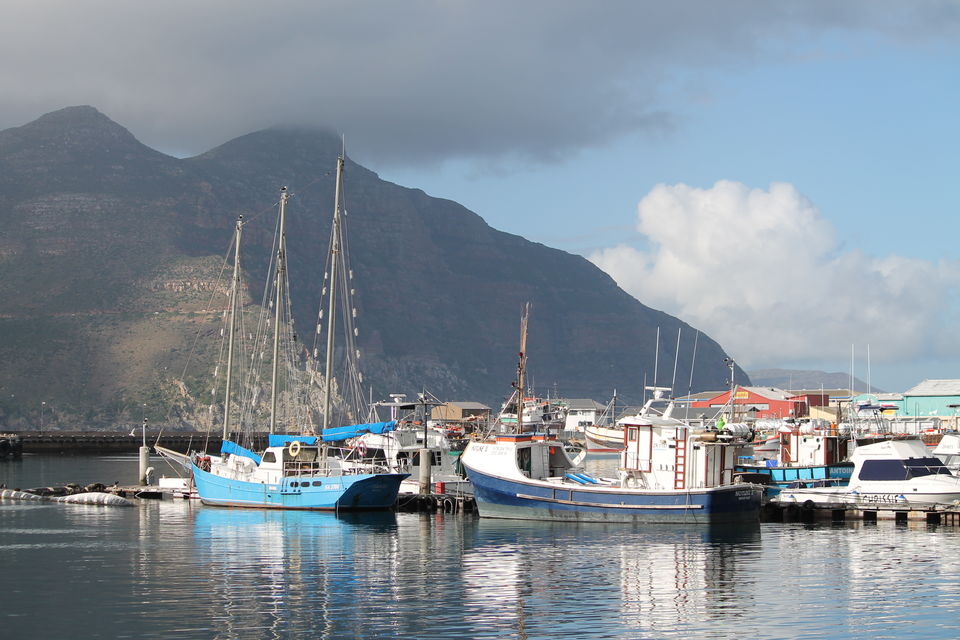 We decided to stand at the front of the Yacht. I didn't see much waves and so it was not so difficult to stand there. We started gossipping among ourselves and in between was check out the other passengers as well :) The ocean path is surrounded by the mountains and the morning sun rays were playing with the water. The black clouds are trying to make the mountains head covered- and we are on the Yacht; all together the eternal beauty of the nature kept all of us mesmerised. Well, when we were about to reach the Seal Island, I understood I guessed completely wrong about the waves of the Atlantic. It was like someone has poured all the water to our Yacht. We were going up for around 5ft with every waves and was coming down suddenly. I didn't try to stand any further and sat down holding the bars strongly. The ships was once getting turned to one side and the next moment to the other side. Slowly with those Salsa dancing waves, we reached near the Seal Island. There is no option to get down on the Island. So we could see the big joint family of Seals enjoying their day lazily on the Island. I had never seen so many Seals together. Summy asked me why Seals are called as Sea-Lions. Well, Seals are not Sea-Lions rather they are basically cousins of Sea Lions. Though they look pretty similar, there are differences among them. Sea-lions are called Sea Lions because they are as powerful as lions but stay in sea. Worth mentioning here, Seals and Sea Lions are generally good friend with humans and they rarely attack any human. They can easily be trained.
After taking lot of snaps and hearing their lazy time pass musical (!!!) shouts and inhaling the perfumes, we were again on our way back to Hout Bay. This time I sat at the beginning itself as the waves were really challenging us. Thankfully we reached the beach safe. :)
The journey began. Now we were towards our second attraction- Cape Of Good Hope.
Cape of Good Hope- the place where Portuguese explorer famous Bartholomeo Dias landed in 1488 and found out the route to travel towards East. History knows the significance of this achievement when Vasco Da Gama reached India following this route and opened a new World to European Countries- the land of opportunities- India. The name of "Good Hope" really came true as this was the first possible way to reach India completely via sea avoiding the Arabian Peninsula. But reaching to Cape of Good Hope for Bartha was not by choice but rather by chance. People says that due to a very bad ocean storm his ship came to this land. This is why initially the named it as Cape of Storm. Later the king renamed it as Cape of Good Hope as it showed the path to the East. Probably it proved again that luck always favours the people who never leave hope and keep trying.
I went back to those days and in my mind I was really surprised thinking about the never dying spirit of those people who with minimal or no technology support sailed to satisfy their addiction to adventure."Shankar" lives in lot of people in century after century. :)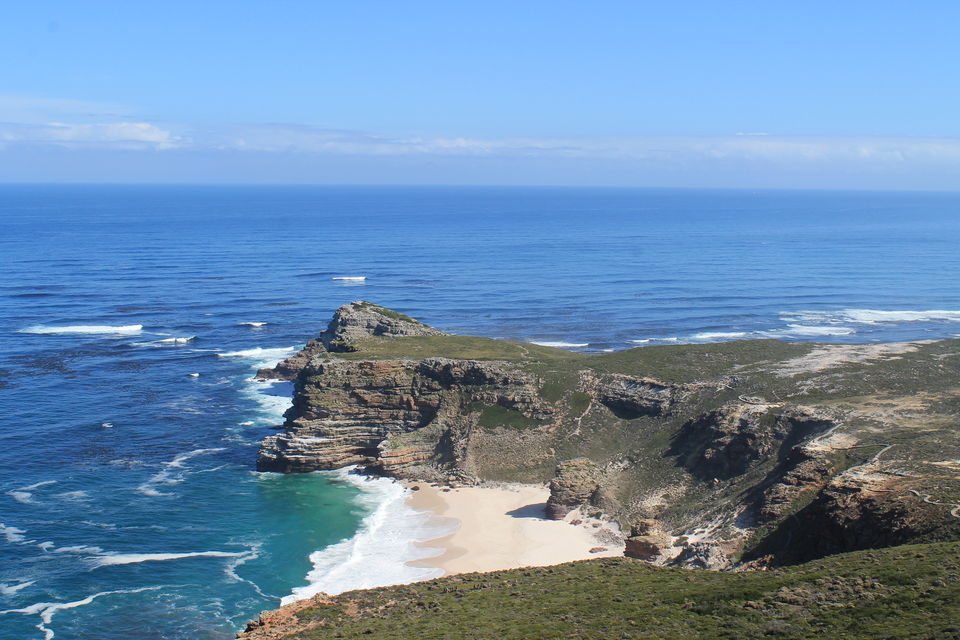 By the way, have you ever seen the map of Africa? If you look, can you see a portion like a little hook came out from the mainland? That's where the Cape Point and Cape of Good Hope situated. Cape Point is very near to Cape Of Good Hope.
Cape Point is one of the place where I wanted to come back again and again. This is the place where someone can walk down till the point where the land ends and after that its only the ocean. Standing at the last point of the land, I feel such an uncanny feeling which can never be expressed by words.
"Have you seen the Baboons?"- came back to the present age with this question from Tabe. We were almost reaching the entry gate to "Table Mountain National Park". I didn't realise when the time and distance passed while driving through the scenic path- One side of which is guarded by the Strong Sandstone Mountain and on the other side, the ocean is provoking with its beautiful waves. On top of it, the shady roads and mixed sounds of the ocean and wind took me far away from the reality. Tabe continued, "This area is full of Baboons and they never use the word, Please. So please don't try to feed them and if you see them. Please drop the food if any in your hand." Baboon is a kind of Monkey specially found in Africa and Arabian regions with dog like muzzles, heavy and powerful jaws. Tabe added, " Local people staying near the Cape Of Good Hope has to keep their windows always shut or else Baboons will have party on their own. Localities protested once against the baboons but that protest had been turned down by the Govt. as that area belongs to the South African National Park and hence the natural habitat should be the Baboons. So the localities had two options- either adjust with baboons or leave from there." well, Tabe never spoke anything in present tense or past. He always loves speaking in future tense with "Will". Tabe kept on delivering his funny speech, "I have sent out emails to the Antelopes of the region. If network works, you might see them."
There was already a big queue of cars in front of the main entrance to the Table Mountain National Park. Cape Of Good Hope and Cape Point both are inside this park. The park is famous for Fynbos. Though the direct meaning of Fynbos is Fine Bush, but here it is considered as Forest instead of bush. In summer, this area gets covered with different types of Proteas and many other unknown flowers. Well, one needs to be very cautious while touching any of these plant as some of them are poisonous. While waiting for our turn to reach the main entrance, we observed just two opposite picture of nature- one side of the mountain is full with lavish green and the other side is completely black- the outcome of wild forest fire. Forest Fire is very common in this part of Africa. But it has both good and bad effect. Bad effect is lot of trees get completely burnt converting greens to desert like area. But the good side is the trees which die in this fire provides nutrition to the seeds. since these trees can grow up quite faster, with a little rain this area will again be full of greens.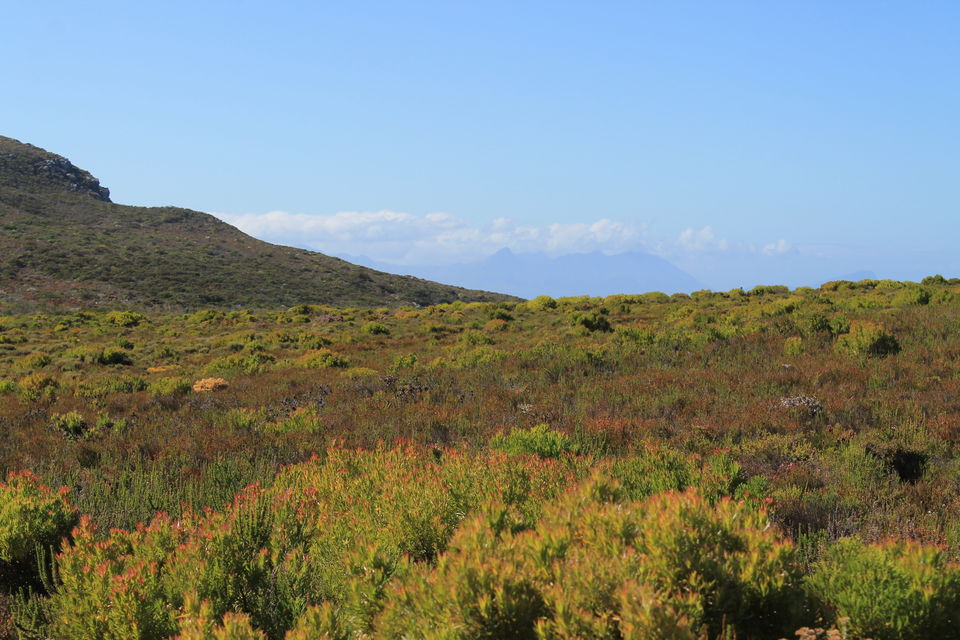 By this time, we have reached the main gate. The entrance fee of ZAR105 was included in the tour package, so we had nothing to worry. We entered the National Park. The roads inside the park was obviously narrow but well maintained. Tabe was excited suddenly and showed us the Bluebucks. He exclaimed, "Wow, they responded to my emails". The Bluebucks were lazily chewing grass as if that was the only work they can do. We also saw a few Zebras. The bluebucks are cousins of our Himalayan Nilgai.
Table also showed us the "Dias Cross" and "Gama Cross" two navigational beacons erected by the The Portuguese government to commemorate Vasco Da Gama and Bartholomeo Dias. Soon we saw a pair of Ostrich- came to know that the black one is male and the grey one is the female one. With one right turn, we reached at the "Cape of Good Hope". The ever restless waves are kissing the Rocks and rejected by the stones, they are getting scattered in white foams. We were able to see a destroyed ship at a distance. It was not possible to take it out from the ocean and hence it is still lying there. During my last short visit I came to this place, but never felt the way I was feeling this time. Might be because it was such a short visit that I didn't have time even to think. Standing on those rocks, I suddenly felt like I am waiting there to find the way to East as if one of the Portuguese sailor. I read all these in history book and those day I used to feel it was so boring. And now, when I was standing on that place; I suddenly felt the era is so Live in front of me. Thank you God, for giving me the chance to re-live the history. Thanks for giving the feeling that how the entire world was trying to find a way to reach my country. I can't really explain in words. Lot of people were busy taking snaps and chatting among themselves, but nothing was passing through me. I could only sense the music and dance of the waves.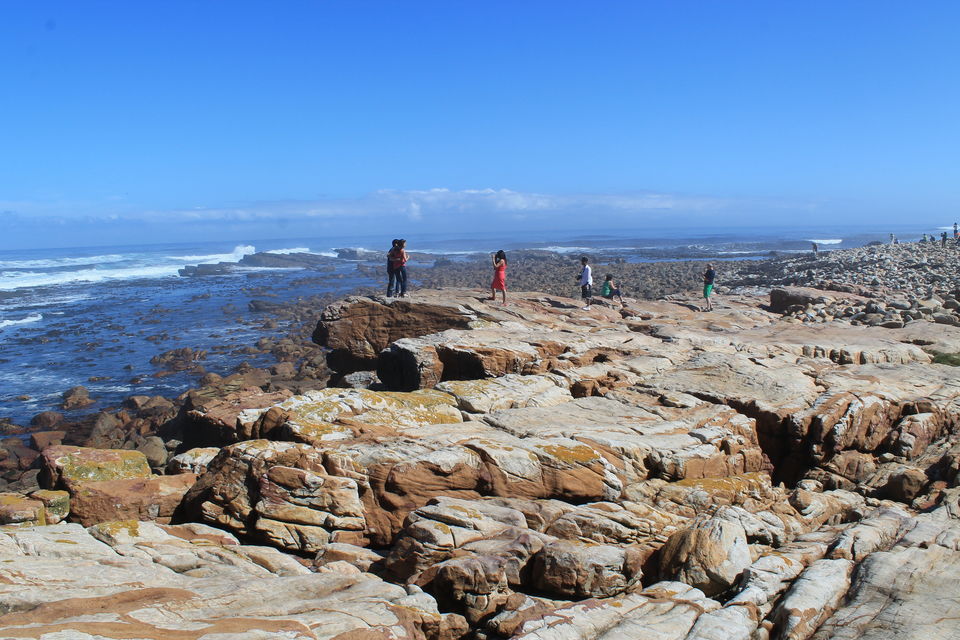 Cape of Good Hope is the most South-Western point of Africa. People often thinks that Indian ocean and Atlantic ocean meets here, but that is not true. It is Cape Agulhas which is the Southern most tip of Africa and where two oceans officially meet. But the current of these two ocean generally flows from Cape Agulhas to Cape of Good Hope. Last time when I came to Cape Town, I visited Cape Agulhas.
It was now time to go to our next view point- Cape Point.
First we woke up to the peak where the old light house is situated. But the fun is most of the time, this light house is covered by cloud or fog and as a result in ancient time lot of ships used to break colliding with the stony rocks as they were not able to see the signal from the light house!!! One can walk till the top or can take a small auto-carrier to reach near to the peak. We decided to walk. There is a direction board on the top which shows the direction to different countries.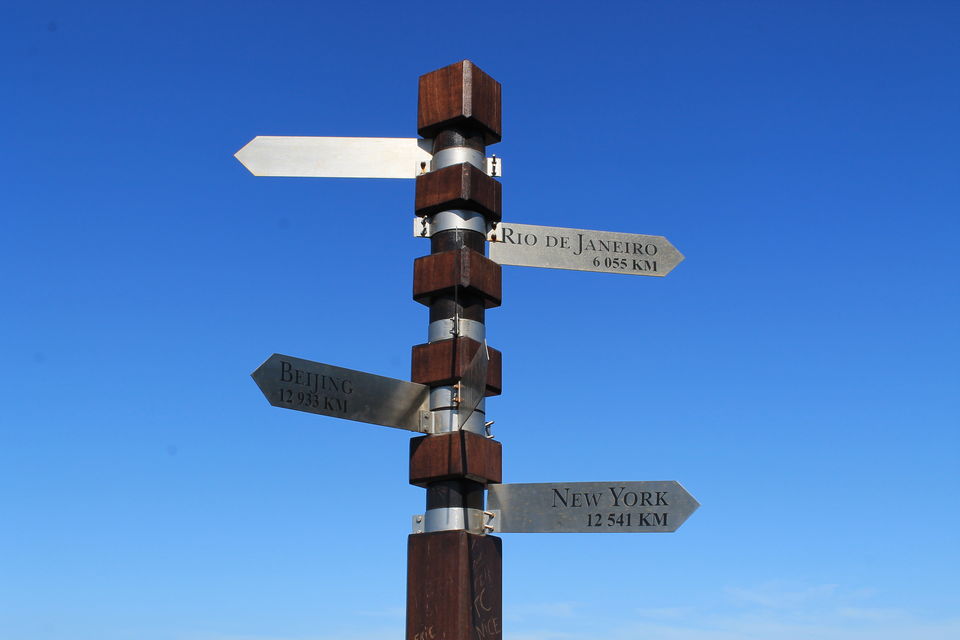 We were seeing the playful mind of the sea. The tiredness of climbing the hill went away in a moment standing in the ocean wind at the top. Then we took another walk towards the real-point of the land. It was an amazing experience. A person should never miss visiting this place if he gets a chance to come to Cape Town or South Africa.
It was around 2pm. we realised when the hungry mouse started exercise in the stomach.!!!
It was decided earlier itself that the lunch will be at Simon's Town. So we quickly started for Simon's Town. On the way, we saw the False Bay. Earlier days sailors used to get confused this as Table Bay and hence this was named as "False Bay". I also took a small day nap while reaching Simon's Town.
As I have mentioned in one of my earlier post, Simon's Town is mainly the naval base of South Africa; but the colourful houses near to the sea shore make this place very beautiful. Also this is the last coastal railway station in Cape Town. Summy and I ordered fish platter. The quality and quantity both were good in Betha's Restaurant. we sat in the balcony. The mild wind and so nice food were making us sleepy. We took rest there for some time and roamed around the town.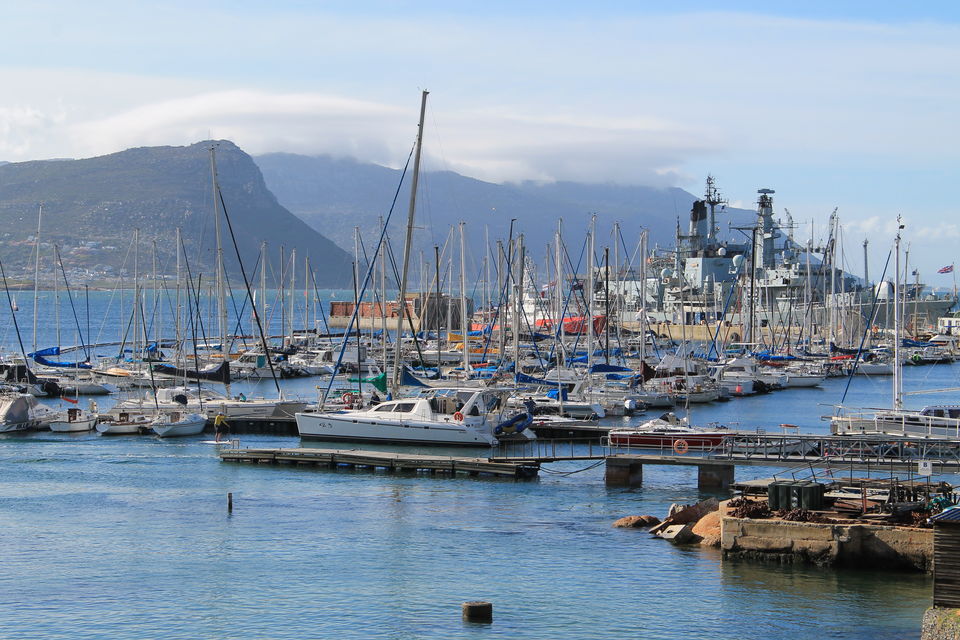 Our next stop was Boulders Beach.
The easiest way to reach Boulders Beach is to drive straight on the same road from Simon's Town- either you will see a Penguin crossing your road or you will see notice board requesting to drive slow as Penguin may cross your path !!!! Boulder's beach is famous for African Penguins. No one knows from where they came. It is heard initially two penguins came and local people used to take care of them. Then it was a big troupe of them and they made Boulders Beach as their colony. Some time these days local people really think whether they did correct by giving initial shelter as Penguins are late night party animal and they love shouting in the night!!!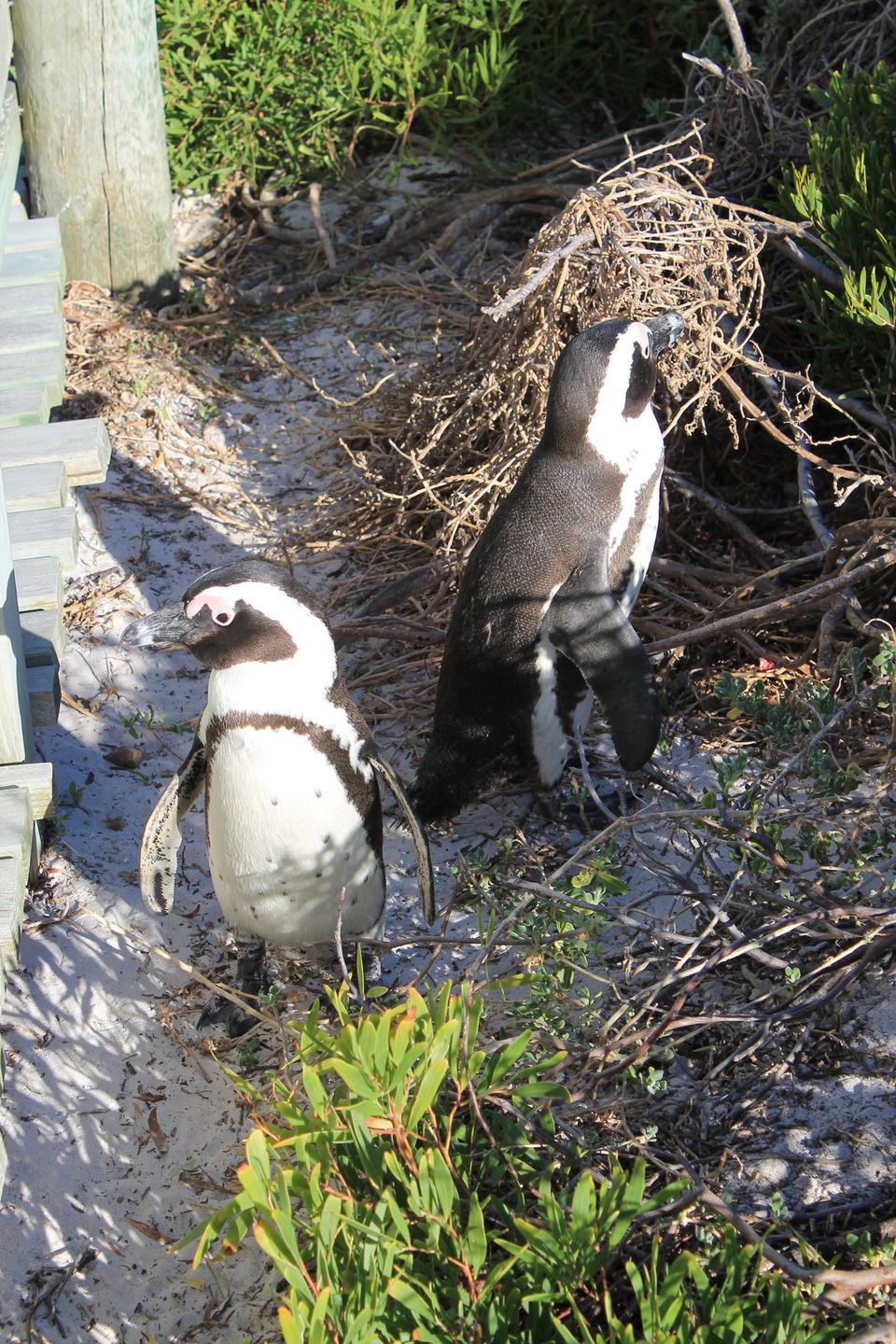 Though Boulders beach is the Penguin Colony, it is actually spread till Foxy Beach and can be best viewed from Foxy Beach platforms. Ii had never seen penguins roaming so freely without even caring about the people around them !!! It was amazing to view such a co-existance of human and penguins.
The sun was spreading his last rays for the day. It was almost 6:00pm. Now its time to return. Tabe dropped each one of us at our respective locations. We exchanged our email id and agreed to be in touch.
A memorable one day trip came to an end...
Frequent Searches Leading To This Page:-
south africa tour packages with price, south africa pilgrimage tour packages, cheap south africa tour packages, budget tours in south africa, south africa tour packages honeymoon, south africa trip packages, south africa holiday packages from india