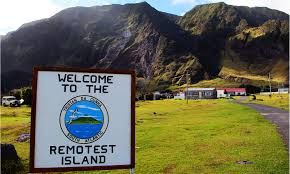 Welcome to the Remotest Island - Tristan da Cunha (UK) - Also called the Edinburgh of the Seven Seas.
Warning - This is not a typical island vacation with wi-fi, Mobile Networks, Posh Hotels, Restaurants, Bars, Chauffeur driven cars and exotic foods. Even Credit Cards are not accepted here!
NO FRILLS WHATSOEVER, JUST BASICS - NO LUXURIES WHATSOEVER!
For almost three weeks in a month it rains here and the beaches are not safe for swimming and in the middle of the island you find a volcano which can erupt any moment.
What...!?!
Still interested?
Then you sure are a die-hard traveler, and this place should be on your bucket-list.
Congrats! You are a true traveler.
What I wrote above was not discourage you to go there, but to make you aware before you go. A journey to Tristan da Cunha will be quite unlike any other holiday.
Tristan da Cunha is really enticing for the traveler because it offers something no other island destination offers - the most extreme isolation and in the remotest location - Come here and greet life!
This island is located in the South Atlantic Ocean and it is a British Overseas Territory. This island is so remote that the nearest neighbor is 1743 miles away! And mind you, reaching the Island by boat takes six to seven days from Cape Town in South Africa, which is the nearest mainland. No, no, don't think you can fly, because there is no airport in the island.
Now, to the more interesting facts about this island that would make you want to go there and see life in all its naturalness.
There are only 70 families and the total population of this island is only 262. And all the inhabitants of this island are farmers. Electricity is supplied but only through generators. There is only one narrow winding road with cottages on both the sides.
A perfect secluded hazy setting with roaming cows and potato farms adorning the place. Life here is peaceful and without any anxieties, of course only unless volcano erupts - when life simply turns into smithereens.
But why the hell should you go to such a place?
A real traveler knows the answer that life lies in the most uncommon of places and you can greet life in the least expected places.
Tristan da Cunha has a grocery store, but orders should be placed months in advance so that the goods can be loaded into fishing vessels and delivered here. There is a hospital equipped with an x-ray machine, a labor room, a dental treatment ward, and one operation theater and an emergency room and this meets most of the health issues of the population who live here. Of course, where specialized treatment is required they need to be taken to the mainland for further evaluation of their health and treatment.
Farming is the basic occupation, but apart from that these people also sell souvenirs, handicrafts and rare postage stamps online.
To reach here, you need to take note of the shipping schedule and plan the journey months in advance.
Lufthansa, KLM, Jet Airways, Air France, Kenya Airways and Emirates Airlines operate flights from Mumbai to Cape Town. From here you need to board the ship to reach this island. You can have further information about the sailing schedule of the ships on http://www.tristandc.com/shipping.php
You know something, the islanders regard the arrival of every ship as as a special occasion.
Tristan da Cunha is not an easy place to get to, but is an unforgettable experience for people fortunate enough to make it, either on scheduled ships or on expedition cruises.
Accommodation ranges from Euro 30 to Euro 40 per night depending upon the month of your travel. The Tristan da Cunha Government owns and manages its own house in Cape Town which has a variety of self catering accommodation.
You can email your booking quieries to: tdcenquiries@tdc-gov.com so that you can receive options and make a booking.
There are also options for home stay and other government as well as private guest houses here. But it is the Government that allots guest houses to all the visitors to ensure fairness.
You can't just turn up in Cape Town and jump on a ship to Tristan da Cunha. All visitors need the prior approval of the Administrator / Island Council, and should be prepared upon request to obtain a local Police Certificate in advance, to show on arrival to the authorities.
You can make excursions to Nightingale Island, climb the mountain, and enter into village life. Be aware of the importance of the seasons in regard to wildlife : you will see no Rockhopper Penguins ashore in July or Atlantic Yellow-Nosed Albatross chicks until January. You will find relevant wildlife information in the Wildlife and Conservation section of their website.
Learn about the permits and other local laws to be followed and adhered to while your stay in this island, before you decide to go to this island http://www.tristandc.com.
Be a Discoverer...Bon Voyage!
Cover Picture Credit:
https://www.google.co.in/search?q=tristan+da+cunha&rlz=1C1CHBD_enIN708IN708&source=lnms&tbm=isch&sa=X&ved=0ahUKEwiaxJSxssLWAhVLKY8KHRH0BxsQ_AUICygC&biw=1366&bih=613#imgdii=SbBCJlOm5zG-AM:&imgrc=_A6PDSA0eCgqHM: