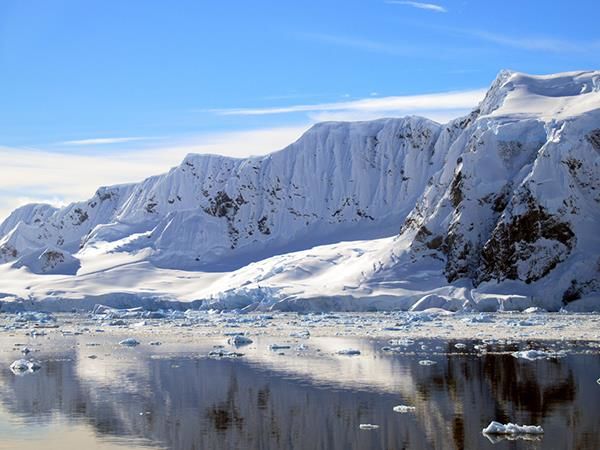 Antarctica is one place which only a few people have visited or visit because of its remoteness, harsh weather conditions and high trip expenditure. But from all the blogs, reviews I read and pictures I saw across the internet, it seems all worth it and once in a lifetime experience for sure. But planning a trip to Antarctica is not a simple task or as straight forward as it is for any other country in this world. Therefore, I have put together all the information in one place which can be referred before planning a trip to Antarctica.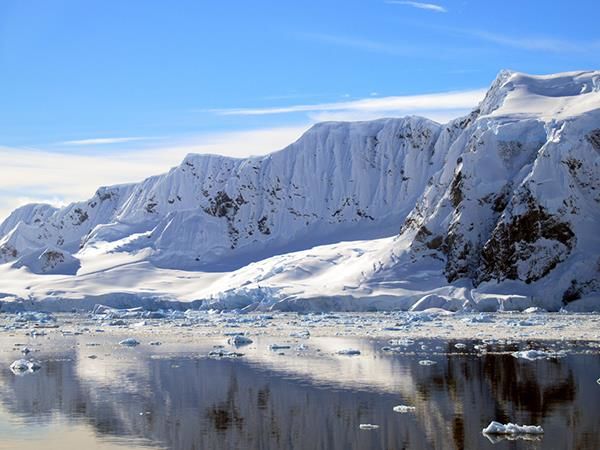 Antarctica can be reached either by ship or flight from Ushuaia (Argentina) or Punta Arenas (Chile) or New Zealand/Australia. There are various tour operators who conduct these cruises offering so many itineraries with various activities and facilities over different price ranges. Now, one has to choose the right cruise as per their requirements. There are many factors to consider before finalizing the one. Refer the following section for more details.
Choosing the right Antarctica Cruise:
1. Budget: Visiting Antarctica is not cheap. Because of its remoteness, operating cost are high. Expect to pay at least $5,500 for a basic tour – this price would mean sharing a 3-4 bed cabin with communal bathroom on a small research vessel with only 3 or 4 days of Antarctica landings out of 10-11 days of total tour. However, depending on your itinerary, package, cruise operator and accommodation, cruise prices can be upwards of $30,000 per person. For a great 2-week experience, expect to pay between $10,000 – $13,000. These prices include, all meals, accommodation and transportation around the Antarctica peninsula. If one chooses to fly down to Antarctica from Ushuaia or Punta Arenas then the cost per person will also go higher.
Post selecting your cruise operator, itinerary and accommodation, you can add additional cost of $3500-$4000 per person for flights, Insurance, Visa and other miscellaneous cost.
2. When do you want to go? Make sure to research the different periods you can go and how this will affect what you see and do. Refer section "Best time to travel"
3. What all places you want to cover on your cruise? The basic tour will touch base Antarctica Peninsula. Though it is not mandatory that all places mentioned in itinerary will be covered since a lot depends upon weather conditions. Additionally, depending on your budget and days in hand other places can be added in the trip. Refer "Places that can be covered on a trip to Antarctica".
4. Itinerary and Duration of the trip: Destinations are a major factor. Do you want to simply visit the Antarctica Peninsula, or you want to cover lesser-visited further down the Antarctica Circle or do you want to combine this with a trip to the Falkland Islands and South Georgia island? Remember, the more places you visit, the longer and more expensive your tour will be. Just to cover Antarctica Peninsula on a cruise, departing from Ushuaia, Argentina, it will take atleast 10-11 days. If you plan to fly down to Antarctica and cruise on return journey then duration will be lesser. Refer section "Itineraries".
5. Choose the right cruise ship: For the majority of your cruise you will be aboard your Antarctica ship, this means that choosing the right Antarctica cruise ship will be one of the most important decisions. The type of Antarctica ship you choose will very much depend on your budget and type of experience you're looking to book. Another important issue to consider is how well you cope with ship movement. Some Antarctica cruise ships are ice-strengthened and fully stabilized whilst some are not. People who suffer from sea sickness should definitely take this into consideration. Refer section "Cruise type" for details.
6. Accommodation: Make sure to choose the right cabin accommodation. Antarctica cruise cabins can vary dramatically from luxurious to very basic and it is important that you know what you're getting yourself into before you book. This usually means asking for photos from the tour operator you are speaking to. Refer section "Cabin Type".
7. Activities: Consider the adventure activities you want to do before deciding on which Antarctica cruise to go for. Antarctica travel itineraries can include skiing, scuba diving, kayaking, mountain climbing, camping and swimming in Deception Bay. Some cruises are specially customized for wildlife watchers and photographers. When booking your cruise to Antarctica, make sure you consult with your operator as to what activities are included on your Antarctica cruise.
8. Choose the right cruise operator: Depending upon your budget, choice of ship, accommodation, itinerary and activities you want to do on your trip, you can choose the right cruise operator. Refer section "Antarctica Cruise Operators"
9. Travel Agents: You may or may not get a better deal going direct to the ship operator but an agent can give you (theoretically) impartial advice and help in trip selection. Can also offer extra protection and guarantees and organize flights too. Some of the agents about whom I read on Tripadvisor and blogs:
• Chimu Adventures
• Explore
• Expedition Trips
• Cheeseman's Ecology Safaris
• Expedition Voyages
• Polar cruises
Places that can be covered on a trip to Antarctica: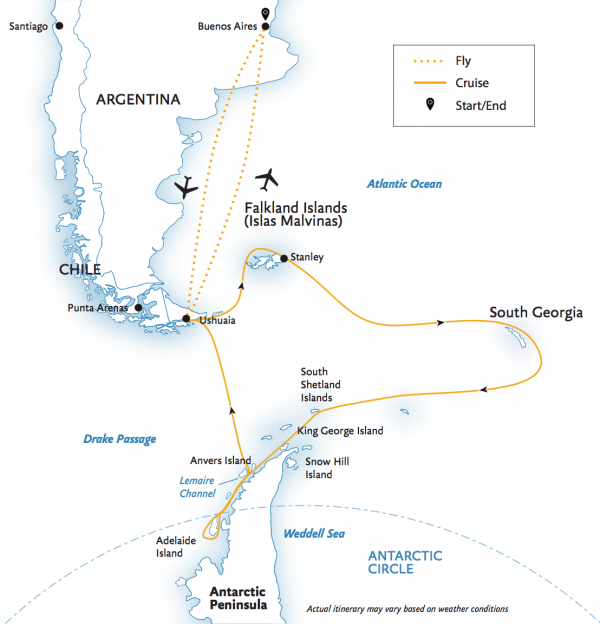 1. Antarctica Peninsula: A landscape of ice, towering glaciers and sculptured ice-bergs greets you. This is a wild and harsh land where the weather will dictate your itinerary. You'll take daily zodiac excursions and venture ashore. Following are the places which are generally covered on a basic tour to Antarctica Peninsula:
a. The Lemaire Channel: The narrow channel provide huge ice cliffs on either side and is one of the most spectacular landscapes in the region. Because of the channels location, the water is almost always calm and reflects the cliffs and glaciers. The mirrored surface allows even total amateur photographers to get some pretty epic shots! It's considered to be almost impossible to take a bad picture in the Lemaire Channel – hence the name 'Kodak Gap'. the Lemaire Channel is also one of the most famous spots to see whales.
b. Paradise Harbor (or Paradise Bay): One of the best places to see Antarctica in a zodiac! The bay is also a hot spot for wildlife as the ice-floes are a favorite lounging spot among penguins and seals.
c. Hope Bay: If you love icebergs then you'll love Hope Bay – also known as Iceberg Alley. Hope bay also boasts its own school, post office and mayor
d. Deception Island: The bay is actually a caldera of a volcano and is a popular swimming spot due to its hot spring. Deception Island also plays host to one of the largest Chin Strap Penguin colonies. Once a thriving whaling operation, the island now boasts a glimpse of an era since passed with rotting boats, old rundown buildings and decaying whale bones.
2. The Antarctic Circle: Crossing the Antarctica Circle, you venture into the wilderness of the huge continent. Here you'll see long forgotten icebergs, rare Weddell seals and pods of whales. Because these penguin colonies are so remote, they're often much larger than their northern neighbors, some being in their millions!
3. Sub- Antarctic Islands: The Antarctica via Falklands and South Georgia cruise is simply one of the best Antarctic experiences that can be had. Both islands are packed full of penguin rookeries and seal colonies. This cruise is a definite must for wildlife lovers and adventurers!
a. South Georgia: Here you will encounter more penguins and seals than you would have thought imaginable. Over a million seals will be witnessed pushing and shoving for space on the crowded beaches!
b. Falklands: The island has a lovely feel about it with its green hills, long white beaches and clear blue waters. You'll find 5 species of penguin on the Falkland islands alone!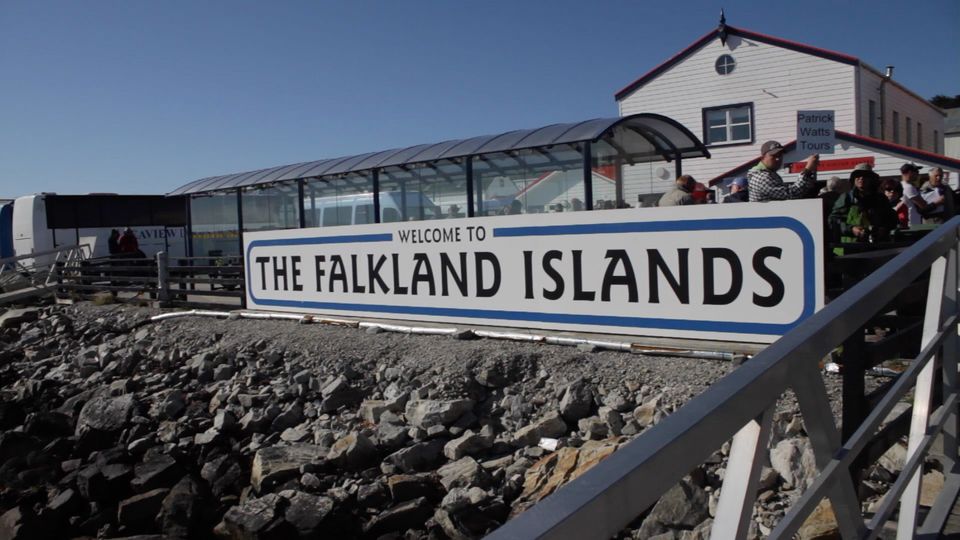 4. Ross Sea: One of the most remote areas on our planet. 800 miles from the South Pole lies the Ross Sea Ice Shelf – the largest floating body of ice on the planet! Because of its size, the shelf creates a natural barrier and weather can often be fairly hazardous because of this.
5. Weddell Sea: The Weddell Sea is a vast expanse of water to the east of the Antarctic Peninsula. The area is famous for Emperor Penguins.
6. South Shetland Islands (including King George Island): A string of islands of the North-west side of the Antarctica Peninsula, including King George Island which is often considered as the 'unofficial capital of Antarctica'. This is because more research stations are based on King George Island than any other location in Antarctica. There are 12 bases on the island, all run by national Antarctic programs worldwide. Several South Shetland Islands will always make it onto a standard peninsula cruise and the wildlife and glacier formations make it a favorite spot of tourists.
Itineraries:
Though there are many itineraries which you will come across different tour operators but I found below ones to be the most apt:
1. Classic Antarctica Cruise: By far the most popular option among travelers, the classic cruise takes its visitors across the Drake Passage, before exploring the Antarctic Peninsula. Highlights include several shore landings, swimming in Deception Bay and viewing whales, penguins, Albatross and seals. Being the cheapest option, the classic cruise is the ideal option for tourists who want a first-time taste of Antarctica and for tourists on a budget. Usually will mean 4-6 days on the peninsula and south Shetland islands, with the western side being the key region. Most often leaves and returns to Ushuaia.
Prices from: US$5,500
Trip length: 10-12 days
2. Antarctica Circle Cruise: It is the perfect option for those wishing to explore further down the continent's peninsula, past 66 degrees. The circle cruise has a similar start to that of the Classic Cruise. You begin by crossing the notorious Drake Passage before arriving at the peninsula. After exploring for several days, the circle cruise continues south taking in the western coast of Antarctica, an area that not many on earth have seen. If you love adventure, huge icebergs, and remote wilderness and want to be part of a select group of travelers, then it is the option for you.
Prices from: US$8,500
Trip length: 14 days
3. Antarctica Via Falklands and South Georgia: The Galapagos of the Antarctic region, both the Falkland Islands and South Georgia are abundant in wildlife, often displaying over a million seals and penguins on one beach, including the charismatic King Penguins. This is generally one of the more expensive cruise, but certainly one of the best.
Prices from: US$10,500
Trip length: 20-22 days
4. Weddell Sea Cruise: The Weddell Sea Cruise is a true expedition voyage. If you fancy something totally unique, then this may be the cruise for you. After crossing the Drake Passage, you begin by exploring the eastern peninsula to explore a region less traveled and then continue to western side. Better chances of tabular icebergs, different geology. Here you will take several helicopter journeys and search for the famous emperor penguins, an animal that is rarely seen, even in Antarctica.
Prices from: US$10,000
Trip length: 11 days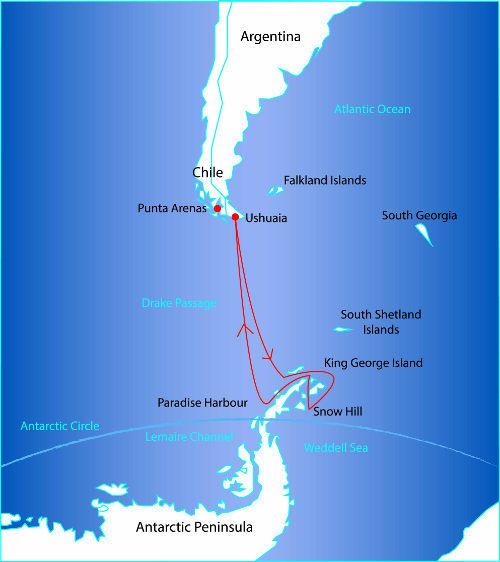 5. Ross Sea Cruise: It leaves from New. Zealand. The highlights are the Ross Sea ice shelf and the wildlife rich sub-Antarctic islands of New Zealand. Photographers will be in heaven on the Ross Sea Cruise as the itinerary not only takes in whales, seals and penguins, but you will also visit modern research camps, scientific units and rarely visited islands such as the Aucklands, Snares, Macquarie and Campbell Island. Cruise will further proceed to Antarctica Peninsula before finally arriving at Ushuaia. Itineraries for Ross sea cruise are never fixed as they are highly dependent upon unpredictable weather.
Prices from: US$23,000
Trip length: 30 days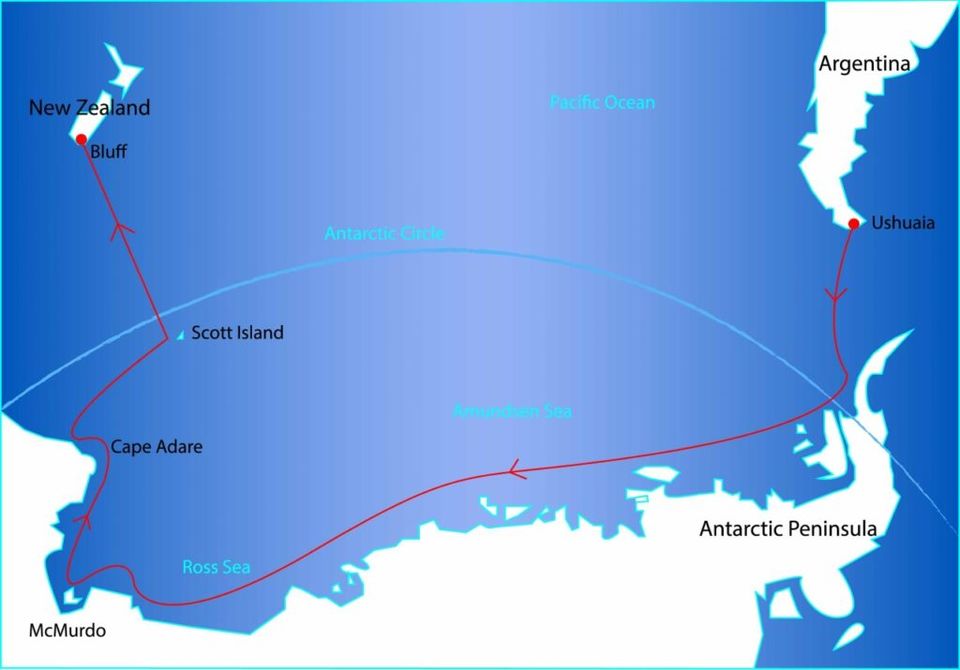 6. Antarctica Circle Cruise via Falklands and South Georgia: The Antarctica Circle Cruise via Falklands and South Georgia is one of the most in-depth Antarctica cruises that can be done. Not only do you take in the wildlife-rich islands of South Georgia and the Falklands, but you also sail much further down south along the Peninsula than most other Antarctic cruise itineraries to cross the Antarctic Circle!
Prices from: US$14,000
Trip length: 23 days
7. East Antarctica Cruise – In the Footsteps of Mawson: It leaves from New. Zealand. The journey explores one of the least visited places on earth – East Antarctica. Your cruise explores wildlife rich islands, historical huts and desolate landscapes of ice and rock. You'll visit Mawson's hut, see the only breeding area of Royal penguins and even spot an Emperor penguin or two!
Prices from: US$16,000
Trip length: 27 days (weather dependent)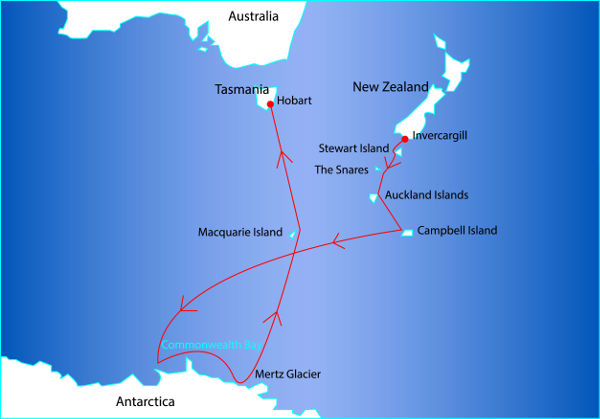 8. Antarctica Peninsula via the Chilean Fjords: It provides a fantastic mix of landscapes! On the one hand you experience the incredible harsh and stunning environment of Antarctica, on the other you experience the isolated islands, tall green mountains and quiet bays of the Chilean Fjords. The contrast is something to behold! Your trip takes off from Punta Arenas where you explore the fjords for a few days before heading across the Drake Passage to reach the Antarctic Peninsula where you make daily landings.
Prices from: US$8,500
Trip length: 15-18 days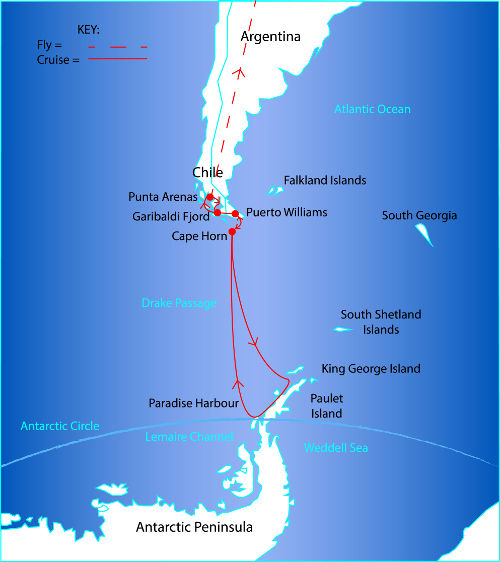 Best time to travel:
The Antarctica travel season is roughly 5 months long from late October to late March. The wildlife will vary slightly depending on when you travel, as will the length of daylight. Antarctica cruises later in the season may be less crowded (and possibly slightly cheaper), however, the later you wait the more wildlife will have already departed the continent for open sea.
October: Cruises have the advantage of seeing the beginning of the penguins courting and mating season on South Georgia and the Falkland Islands. However, further down near the Antarctica Peninsula It still be very icebound so less chance of getting south.
November: The ice will start to break up in November, creating magnificent icebergs and ice sculptures! Seals begin their courtship now and wildflowers bloom on Falkland Islands and South Georgia while Peninsula has mating penguins, nest building, lots of snow and ice and clean looking rookeries. Still very icy. Great for landscapes. Temperatures on the peninsula are usually around -5 to -10 degrees Celsius.
December – January: This is the high season for Antarctica travel. During this period temperatures on the peninsula are at their 'warmest' (5 to -5 degrees Celsius) and the days are at their longest – 20 hours of daylight. This is by far the busiest period in Antarctica and you will need to book well in advance to get your spot secured on an Antarctica cruise. December: First chicks hatching in peninsula in December. Ice receding but still may not be access to most southerly points. Jan: Chicks everywhere. Whales much more common, Rookeries beginning to look very lived in.
February – March: This is the best time to visit Antarctica for whale watching! Humpback, Sperm and Killer whales are common during this period. Sea birds are still abundant during these months and you'll also see the fledgling penguin chicks. Feb: Chicks getting bigger and whales are increasing in the bays. Very good chance to make it south of the circle. Bring Vicks to combat the rookery smell. Mar: Snow cover at a minimum.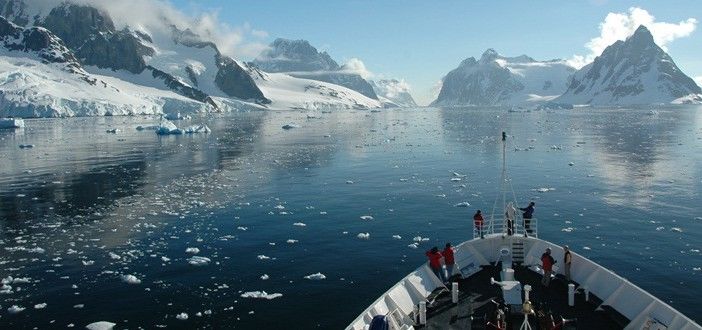 Cruise type
There is an association called The International Association of Antarctica Tour Operators (IAATO). Its Members are all committed to practicing and advocating safe and environmentally responsible travel to the Antarctic - so you might want to consider travelling with one of them.
Here is the list of IAATO approved vessels:
https://apps.iaato.org/iaato/vessel/list.xhtml
Types of Cruises:
1. Luxury Cruise Ships: bigger, more spacious and have far more facilities such as fitness centers, spa and Jacuzzi, restaurant options and large sun-decks, most expensive, more people on board and hence lesser landings as only 100 people can be ashore at one time.
2. Research Vessels: less expensive, give you a better experience as they're generally smaller which means more landings and less queues. This in turn means more wildlife viewing and photo opportunities.
3. Expedition Ships: Often quite small to give travelers the best landing experiences, packed with facilities, deck space and optional activities such as camping and kayaking, often provide full media lecture rooms, wellness centers and fully stocked libraries.
Based on ship size:
• 300+: Fewer to no landings but potentially more stable so suitable for those suffering from sea-sickness. Your crossing of Drake Passage will certainly be more comfortable on a large ship. Can't access certain spots due to size as it would take too long to get 300 people ashore, but good if you're not planning on leaving the ship frequently and just want to admire scenery. Ships with over 500 passengers cannot land anywhere. if you are on a larger ship and placed in second or third group for landings on shore then you could miss out if the weather changes and the ship has to continue along its course
• 150-300: Landings w\ill be in rotation as only 100 people are allowed to be on land at any one time so possibly less time on shore.
• 100-150: Medium expedition ship, everyone can be on shore at once due to kayakers or those who choose not to leave the ship - most common class and widest variation in luxury levels
• less than 100: Most time on land as everyone on board can be ashore at once and quicker to disembark fewer numbers of people.
Based on Ice Rating:
• icebreaker: Unless you hit rock you can power on through it
• 1a: Not an icebreaker but designed and built for polar waters and can handle ice that is 0.8m thick. It's advisable to not go for ships below 1a rating.
• 1b: Can handle polar waters well - usually a retrofitted ship with a previous life elsewhere. Can handle ice that is 0.6m thick
• 1c: Ice strengthened and handles ice of 0.4m thick
• 1d: Light ice conditions only, not an official ice class.
Detailed information about each cruise:
https://www.adventure-life.com/antarctica/ships
Whichever ship you finally decide upon, you can read their trip reports on Trip Advisor or else ask for reviews on Antarctica forum before making the final payment.
Cabin Type:
1. Basic Cabin: It is usually a triple share, but some ships offer quads
2. Twins: It sleep two people and may or may not have double beds, some will just be two beds on opposite sides of the cabin from each other - not at all a bad thing in a rough Drake crossing.
3. Deluxe: The quality of the most deluxe varies enormously between ships
Cabin facilities
• en-suite: No walking down the corridor or sharing with another cabin.
• Window: Rectangular. Glass. Hopefully you have seen a window before.
• Porthole: Round traditional ship's porthole, relatively small and mostly on lower decks. Good for making you feel like you're in a washing machine during sea crossings.
• balcony : Does what it says on the tin.
• inside cabin: No view of the outside. Will definitely reduce your chances of spotting icebergs bigger than the ship, but usually with a lower price to compensate.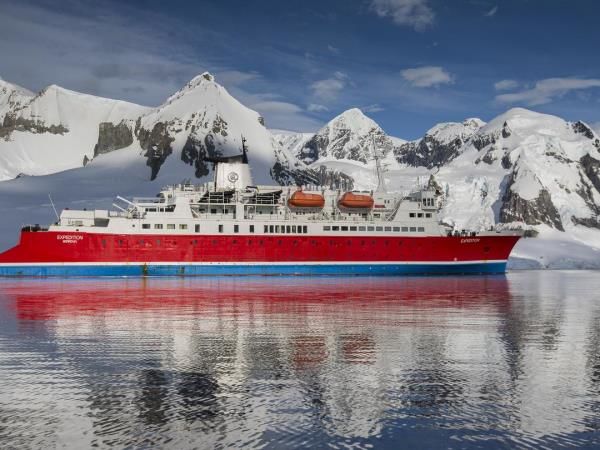 Antarctica Cruise Operators:
There are hundreds of Antarctica cruise operators all offering different itineraries across different vessels at varying prices. The first thing to make sure of is that your Antarctica cruise operator is a member of The International Association of Antarctic Tour Operators (IAATO). Some of the big names which are quite experienced in polar expeditions with good reviews in several blog and Trip Advisor are:
1. Poseidon Expeditions
2. Quark Expeditions
3. Hurtigruten
4. G-Adventures
5. Lindblad Expeditions-National Geographic Expeditions
6. The Explorer's passage
7. Silversea Cruises Limited
Some of the additional points to consider while choosing tour operator:
1. Knowing their ship: All good Antarctica cruise operators should know their ship. This means being able to tell you exactly what cabin would suit you, what vessel would suit you and what on-board activities would suit you. For example: If you often feel slightly sea sick, but still want an ocean view, your operator should know which cabin is least affected by motion but still has an ocean view.
2. Food quality and options: All operators offer something slightly different when it comes to food. Make sure your Antarctica cruise company can cater to any specific food requirements you have.
3. Lectures and Guides: When it comes to guides, a good ratio to look for is 1 guide for every 10 passengers. On-board lectures should occur at least twice a day and really good operators will usually provide on-shore talks as well. Top cruises will often provide photography experts also.
Below questions are good to ask to tour operators or travel agents:
1. Pre and post departure: Are hotels included and airport transfers? When is the latest you should arrive and earliest flight you should book home? What are luggage weight limits and how does the ship cope with lost or delayed bags?
2. What all daily activities are planned while on ship on days there are no landings?
3. Is there a wifi or any internet package on cruise? Is it included in whole trip package? If not then what is the cost?
4. Alcohol - Included as part of a package or what's the cost if not?
5. Deck access: Can you walk all the way around the ship? Is there a high 360degree observation deck? Is there an open bridge policy? Is there room for all passengers to be standing at a railing with views when a bear is sighted?
6. Meal options: Buffet or menu based meals? Can the ship cater for your dietary requirements?
7. Included items so you don't have to pack: what all items are provided in the package on cruise like parka, snow boots, toiletries, walking sticks, waterproof trousers, etc.
8. Zodiac cruising: Can everyone on board be off the ship at once for zodiac cruising? How many landings do they have generally in a day?
9. Does the ship has mud room for storage and drying of your penguin and salt coated clothing and saves space in your cabin?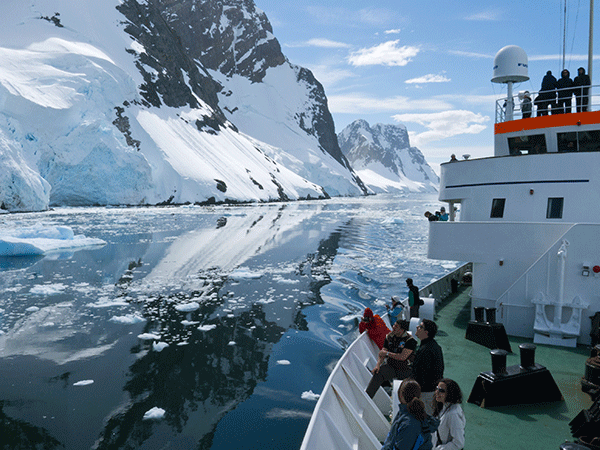 Flights
Based upon your itinerary following can be your ports of departure for Antarctica cruise. Accordingly, you have to book your flights from your city. If booking through some travel agents they will generally take care of all flight bookings as well.
Port of departure:
1. Ushuaia: Most Antarctica travel tours depart from the southern tip of South America, Ushuaia. Tierra del Fuego National Park is one of the main attractions of Ushuaia. This southernmost national park in the world is known for its stunning scenery that has everything –glaciers, forests, waterfalls, lakes and mountain peaks. You can go for several hikes inside the national park and also for the 40-minute 'End of the World' train ride into the park.
2. Punta Arenas: For travelers who plan on flying to Antarctica, the airport in Punta Arenas, Chile is the most popular option
3. New Zealand/Australia: If you plan on making a trip to the Ross region and the less-visited Eastern side of Antarctica, you will more than likely depart from the port of Invercargill / Bluff (New Zealand) and less commonly from Hobart (Australia). Please note that these trips often involve two different ports – departing from one and returning to another.
Visa
Indians need to apply in advance for a tourist visa to visit Argentina and there is no visa fee. The completed visa application is to be submitted at the Embassy of the Argentine Republic in Delhi or Mumbai. If you fulfill the eligibility criteria and have provided all the required documents, you will then need to appear for an interview. After the interview, if your visa is approved, you will be asked to collect the visa. The entire process usually takes between 10-12 days. Find more information here.
1. All letters (cover letter, itinerary, leave letter from employer etc) needs to be translated to Spanish and notarized.
2. The original copy of the cruise confirmation letter from the travel Company is needed with the seal of the company.
Jetsave is an agency which carries out the services of English to Spanish translation, notarization and application to the embassy. The entire process of Visa application cost around 6000 INR through them.
Insurance
Antarctica's notorious weather often dictates when a ship can depart. Although there is nothing anyone can do, delays are often long and can stop people from actually joining their intended cruise. It's therefore vital to purchase an Antarctica travel insurance policy that covers you for 'trip delays', 'trip interruptions' and 'trip cancellation'. Tried searching in PolicyBazar but could find any option covering trip to Antarctica. May be check with tour operators or travel agents 1st. Or else, World Nomads is a company which covers everything related to your travel to Antarctica. Check out their 'Explorer' Package.
Packing
Almost every travel tour or agent will provide you with packing list or its readily available on their websites. If you happen to forget anything then you can usually hire key gear from your operator or buy equipment from a local shop in Ushuaia before your Antarctica cruise departure.
Here is the generic list based on reviews and blog. This list is mostly focused for expedition, zodiac and onshore landings. Inside ship, it is generally hot so one can should bring normal clothes like half-sleeves t-shirts, jeans, flip-flops, stc.
1. Clothes: Layering of clothing is the solution to maintaining comfortable and safe temperatures for the body in Antarctica. Remove layers to avoid sweating when you start getting hot.
a. 1st layer: 2-3 polyester or wool/synthetic blend thermal top & bottom wear. Make sure they are not made from cotton as cotton holds moisture and is slow drying. Several pair of thin liner socks. On-board your cruise you'll be fine with just a medium weight standard socks. Bring 1 for each day or may be wash while on trip.
b. 2nd layer: 5 Fleece or long sleeve turtleneck warm shirt, 4 pair of thick wool/poly blend socks or ski-socks. Bring several pairs of outer socks, as your feet will inevitably get wet. Thy should be knee-high. 2-3 Fleece trousers and ski pants or any warm sturdy pants which can be layered between thermal pants and water, wind proof over trousers.
c. 3rd layer: wool sweater or fleece jacket, hoodies, waterproof pants (Must be able to go over your pants or fleece trousers, better if they have zipper in bottom part to adjust over your shoes). They should be Water resistant, wind resistant, sun protective, and a fleece inner material with a quick-drying polyester outer layer for warmth. Look for things with a waterproof rating/hydrostatic head of 8,000mm or more, 10,000 is better, 5,000 should be ok but could be risky
d. 4th layer: Many operators provide expedition parkas. A waterproof jacket (Gore-Tex or similar) that covers your hips. When you are on the Zodiac, your backside will get wet. you'll want a jacket on the heavy side for your trip to Antarctica as these are almost always the warmest. a winter jacket in the region of 700-950 grams is suggested. The crucial factor to look out for is a jacket with a solid water-resistant outer fabric layer like Nylon or Pertext Shield. There is also the option to get a super-warm insulation layer and get a thinner waterproof, wind-proof, sun protective outer core layer that will cost lesser.
• Incase of luxury ships, there might be formal evenings so pack a dress or 2 accordingly.
• You can buy super technical expensive fabrics and layers or just wear your normal clothes but more of them, neither is wrong, but do keep in mind how well your fabrics wick and move sweat away from your body – cotton and denim are pretty terrible at this and you can end up cold and smelling less than fresh so it's worth looking at other options.
• Cotton and denims are good only while you are on the ship attending lectures and having meals!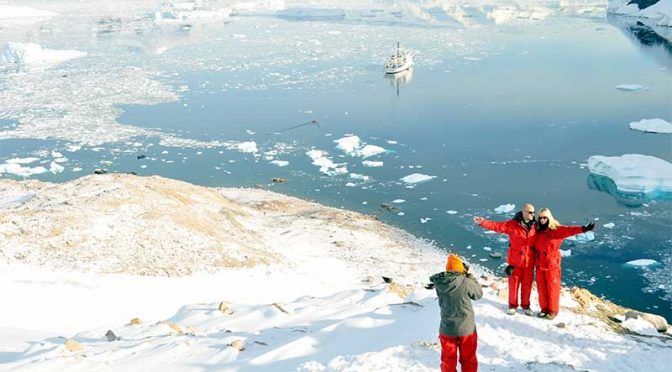 2. Footwear:
a. Lightweight walking shoes/boots are comfortable while onboard the ship
b. Many operators provide boots for zodiac landings. But incase they don't, then buy completely waterproof – gumboots, wellies, rubber boots, muckboots, whatever you call them. Boots should be big enough that you can fit in a pair of thin liner socks with thicker hiking or ski socks too. They should be of mid-calf length or higher with a strong, ridged non-skid sole. Remember that you will be wearing these boots a lot. So they must be comfortable for extended wear and walking.
3. Headgear and Gloves:
a. Many fleeces and jackets these days come with in-built hoods which is ideal for keeping wind from hitting your neck. Otherwise, invest in some good beanie and headbands
b. a synthetic balaclava or snood as it shields the face from wind and can also be wrapped up to form a hat!
c. Woolen scarves
d. Normal warm gloves for deck
e. Inner layer of gloves should provide excellent dexterity and have good wicking properties. This will be helpful in taking pictures and keep hands warm when you remove outer thick gloves or mittens. Material can be Silk or polypropylene or merino liner gloves
f. The outer gloves should be warm and waterproof
4. Other Accessories:
a. Waterproof Backpack to carry stuff along while on zodiac cruise and onshore landings. It should be light weight
b. Sunglasses with 100% UV with side protection. Polarization recommended
c. Sunglass strap or holder (often a string that goes around your neck)
d. Water Bottle: It is common for water to freeze in Antarctica when on-shore, a good way to avoid this is to insulate your water bottle in one of your spare thermal socks. Another good tip is to keep your water bottle upside down in your daypack as the water will freeze at the top end first. Or else buy thermal insulated water bottle.
e. Extra pair of prescription glasses
f. Watch, preferable waterproof
g. Powerstrip: Power points are not common on cruise ships and with the amount of electronics we now travel with, it's a great idea to bring a power strip to make the most of any power point you come across.
h. Personal medical kit: Small medical kit containing prescription medicines and over-the counter medication for basic ailments such as stomach upsets, allergies, headaches.
i. Extra camera batteries and powerbanks.
j. Extra SD cards and pen drives to share photos
k. Dry bag for transporting camera and equipment on Zodiacs. Ziploc plastic bags also work well.
l. Small Locks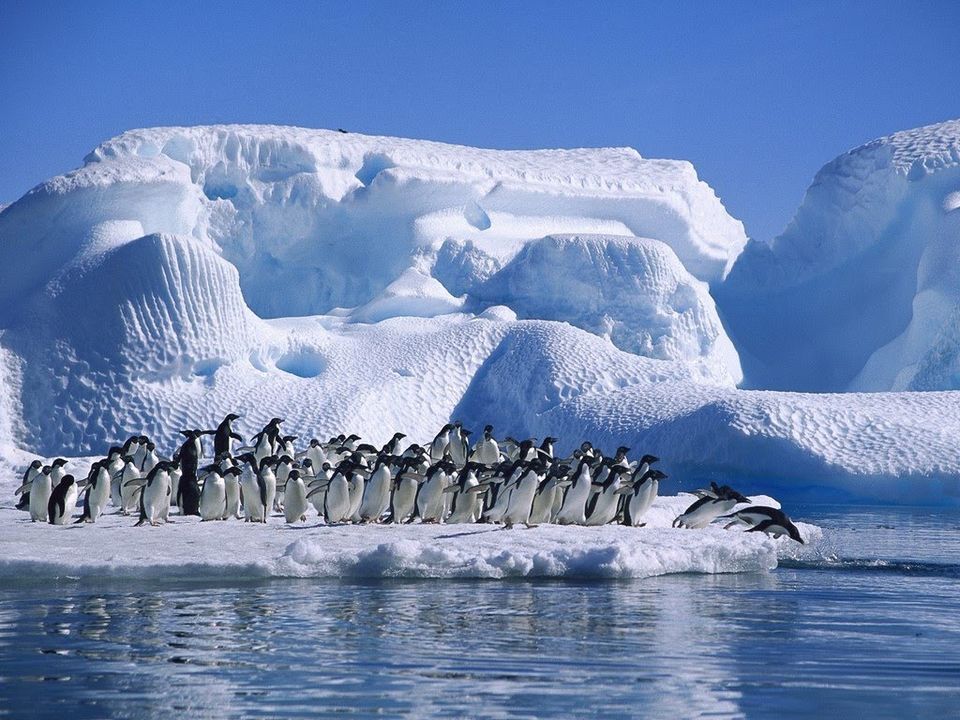 5. Personal care products
a. Moisturizer: intense moisturizer to combat dry chilly weather conditions
b. Lip Balm: with sunblock
c. Sun-block lotion: Protective sun-block lotion for your lips, hands and face. factor 50 or higher is recommended
d. other toiletries
6. Photography
a. Avid nature and wildlife photographers can follow below link for packing list on cameras and accessories:
https://theplanetd.com/camera-gear-for-antarctica/
b. cotton handkerchief: The best thing to take to keep the front of your camera lens clean and dry, it is better at absorbing moisture than the microfibre cloths.
7. Miscellaneous:
a. Cloth Pegs: A named clothes peg is handy to keep your boots together in the mudroom. If you are not allowed to dry your clothes in mudroom and also if you don't want to spend money on laundry then a few pegs and a cord will be required to keep the things hanging up in cabin.
8. Optional things which are good to have but not mandatory:
a. Binoculars: A pair of binoculars for spotting whales and seabirds from deck
b. Swim suits for polar plunge at Deception Bay
c. electrical converter with adapter plug set
Below is link to a trip report. Refer it for packing list:
https://drive.google.com/drive/folders/1w5Wr3QZ4zvOCUeP3UkzJZMMb3dr4YzAy
Top tips and Recommendations:
1. Sea-sickness: The infamous Drake Passage only has two moods: the 'Drake Shake' or the 'Drake Lake', with the latter being quite rare. Spanning 600 miles between Cape Horn and the South Shetland Islands, this unforgiving body of water is often extremely rough, able to turn even the strongest of stomachs. Travelling across the Drake Passage will take 2 days in good conditions but this is entirely weather-dependent and could be longer. Therefore,
a. Make sure that your doctor provides you with enough medicine for sea-sickness for the whole trip and remember to check the dosage requirements before you leave as sea sickness medicine often has to be taken prior to setting off.
b. Ginger is also a natural anti-emetic commonly used to prevent sea sickness. Taking a ginger supplement, drinking ginger tea or eating ginger biscuits may be effective in helping to stop the effects of sea sickness on your Antarctica cruise.
c. If you are prone to sea sickness, try to get a good night sleep before boarding your Antarctica cruise ship and make sure you are well-hydrated to avoid headaches and migraines.
d. Try to eat small meals the day before and also avoid alcohol, tobacco and greasy food throughout your Antarctica cruise.
e. Make sure your cabin is well-ventilated
f. Going onto deck to get some fresh air may also help but remember that on multi-level cruise ships, the higher up you are, the more rocking motion you will feel.
g. If you are susceptible to sea sickness, cabins on the lower decks receive less motion than the upper level cabins. Lower level cabins are usually slightly cheaper also
2. All internet is satellite based and so will be expensive, slow and with patchy coverage so even if you buy a package if weather is inclement or you're in the lee of a fjord there may be no signal. Fine for sending the occasional text based message to friends and family, and potentially updating facebook, but no good for almost anything else.
3. Reviews of Falklands: "At Stanley in The Falkands, we did the Bluff Cove excursion to see the King Penguins which I highly recommend". "People on our voyage who had booked local excursions to Bluff Cove were disappointed to realise that they could have booked on board at a cheaper price than they had arranged in advance. There were no free excursions in Stanley. But the town is very small and providing you are mobile and can walk a couple of miles you absolutely do not need to do the Hurtigruten bus tour in order to see everything. On my trip we also visited New Island and Carcass Island in the Falklands. On both there are no tours to be bought - you just go ashore and walk to the wildlife."
4. Fitness level: Hurtigruten tour operator require a 'fit-to-travel' form to be completed by a doctor within three months of travel and to be handed to the ship's doctor at check-in. No form, no trip.
5. M/V Plancius ship doesn't have much good reviews. "if you are a vegetarian and/or a passionate wildlife photographer...there are better options."
Happy Planning and traveling!
Disclaimer: Since this blog is a piece of research work and not based on my personal experience, a lot of excerpts have been copy pasted from various websites and travelogues. Some of the useful links are following:
https://www.antarcticaguide.com/
http://www.traveltothepoles.com/ant-packing.html
Image source: Google.com