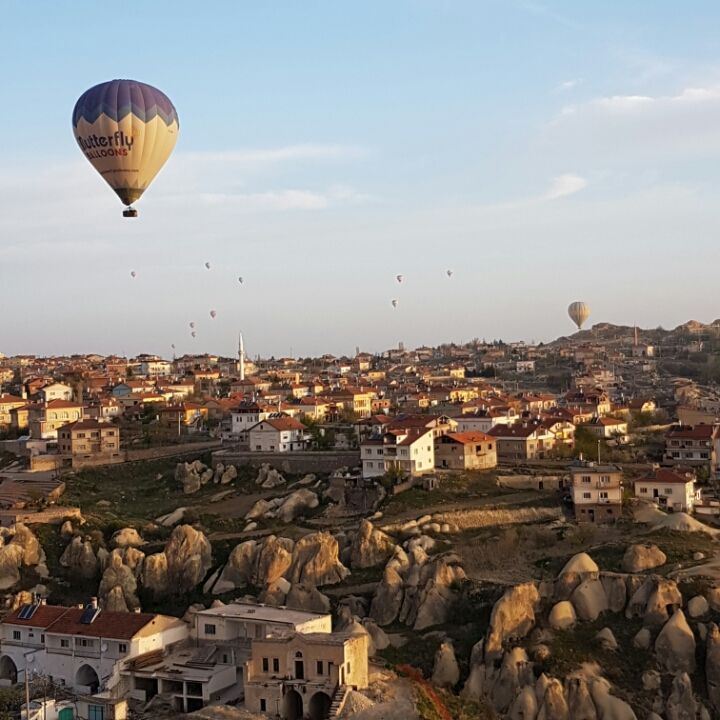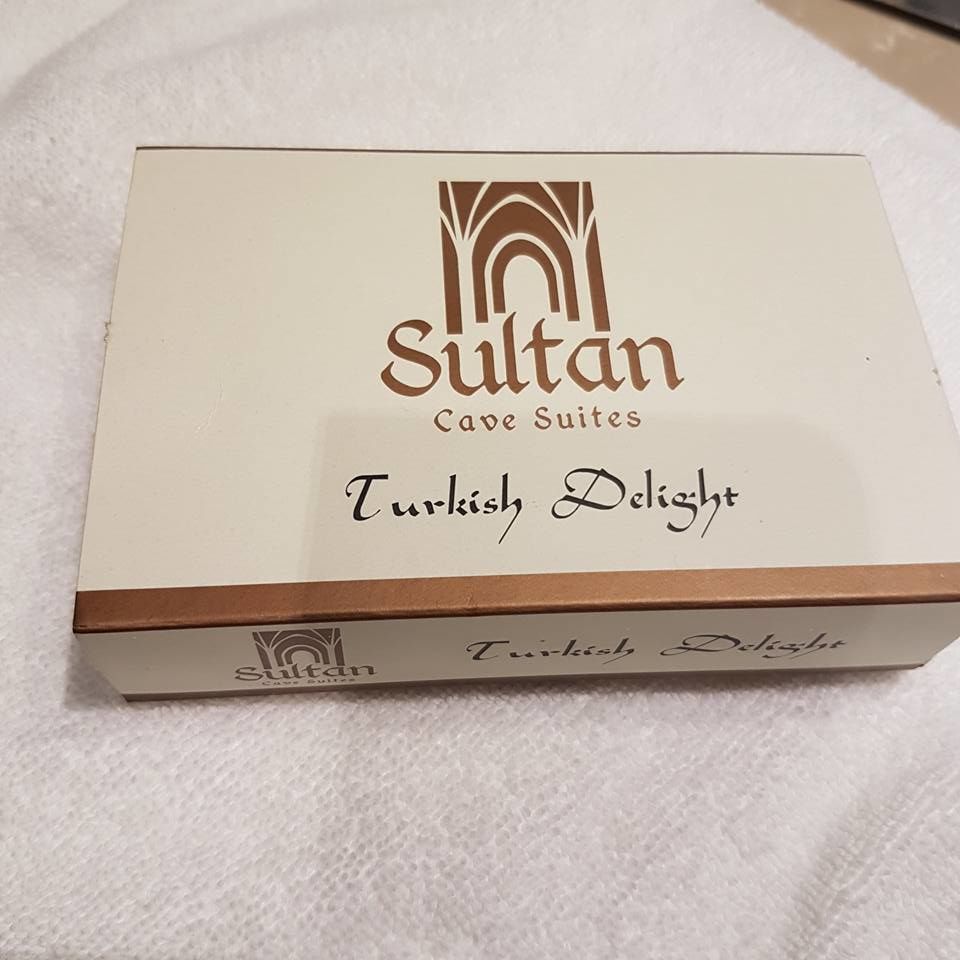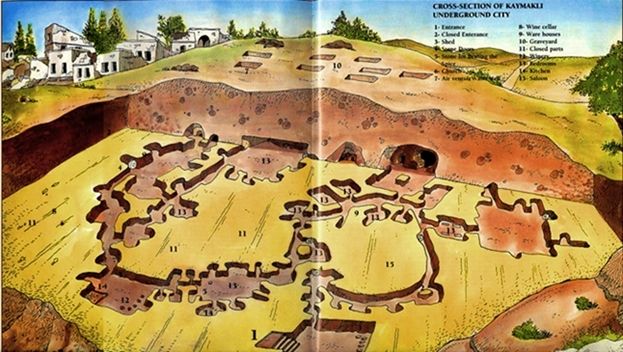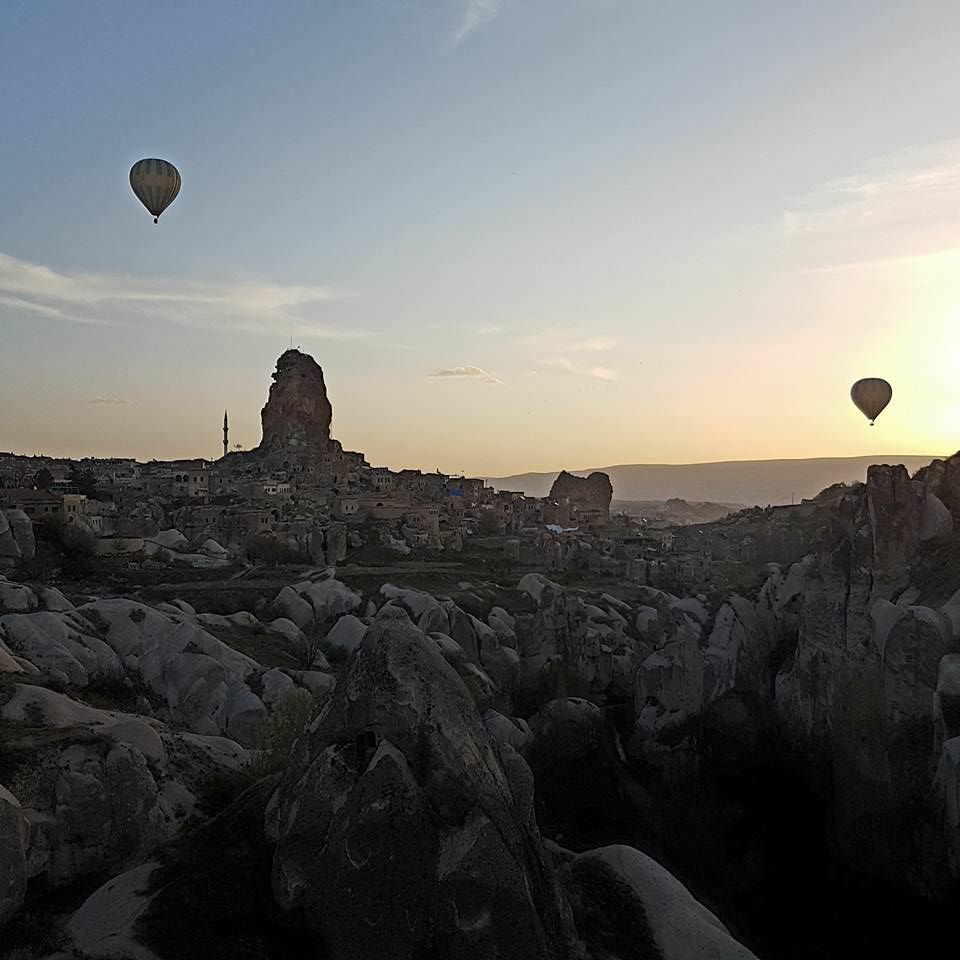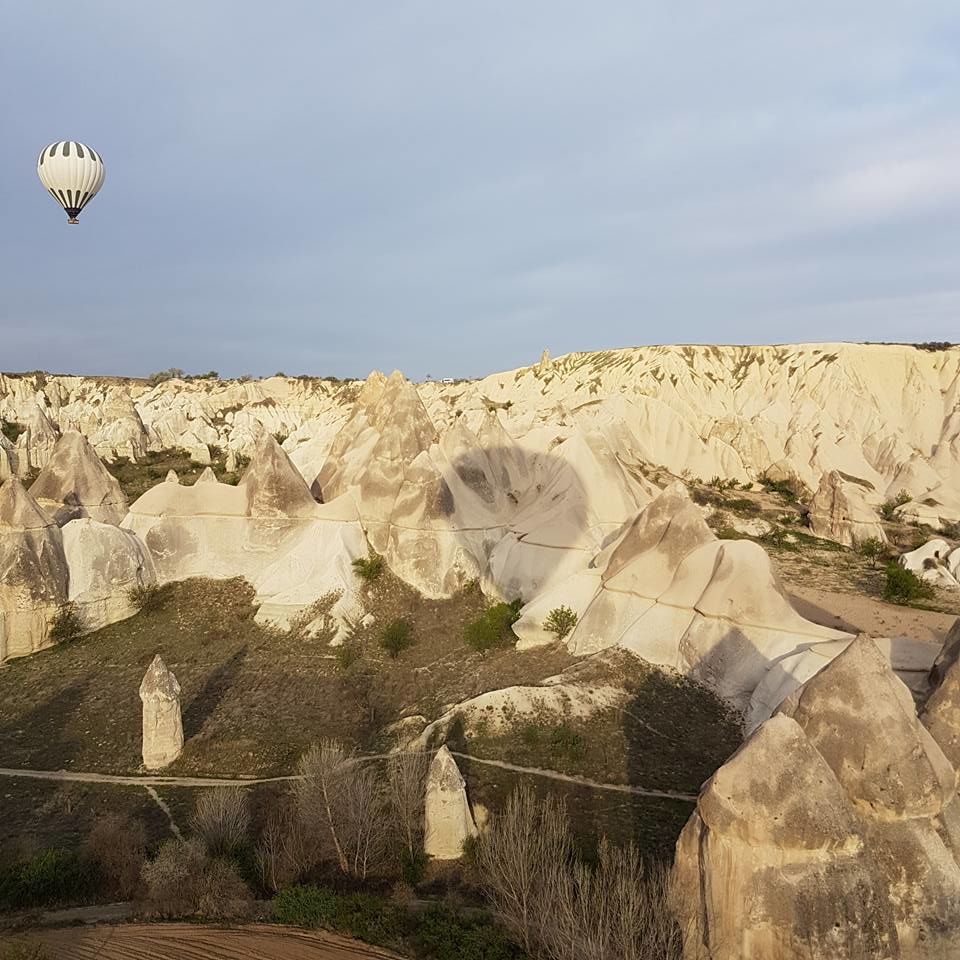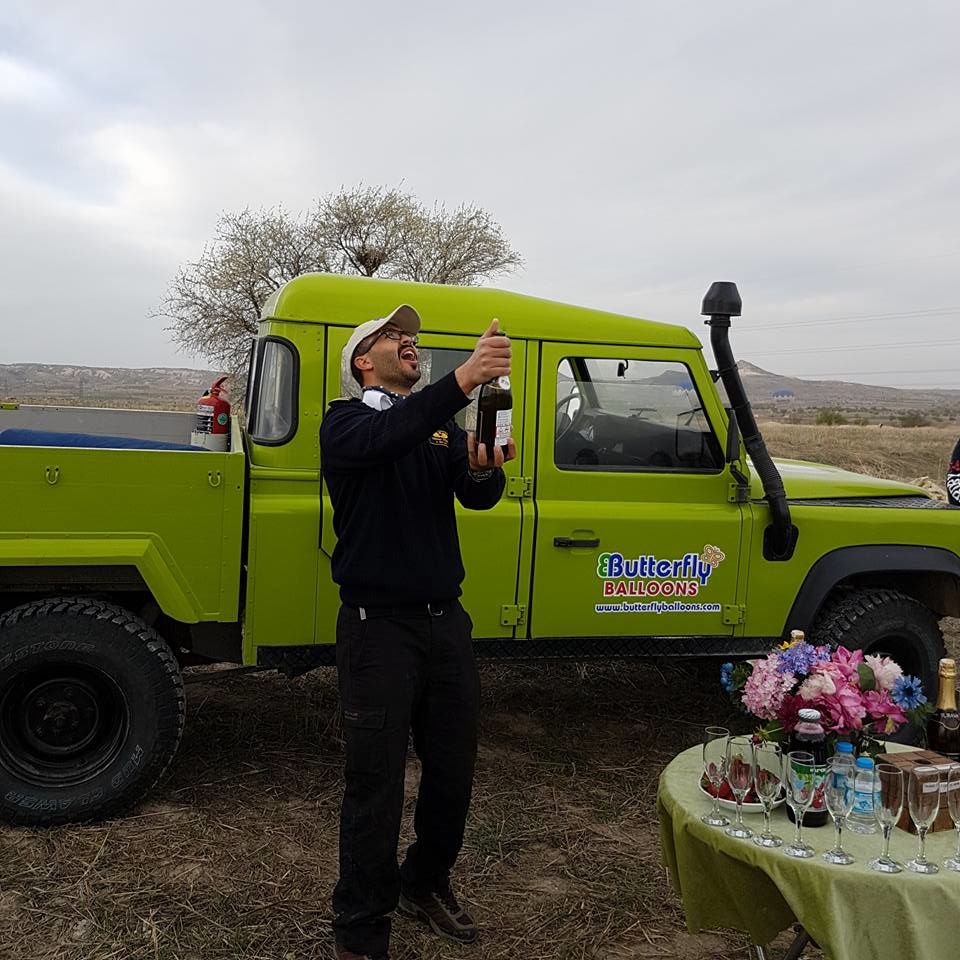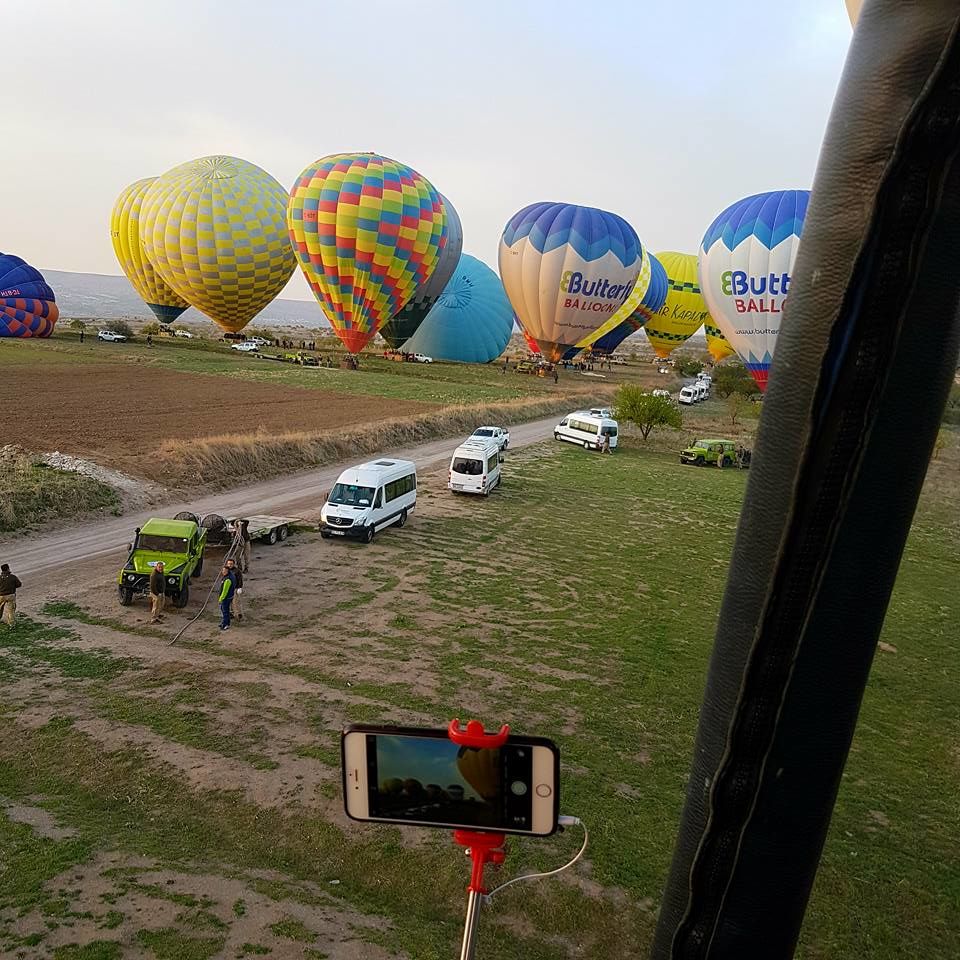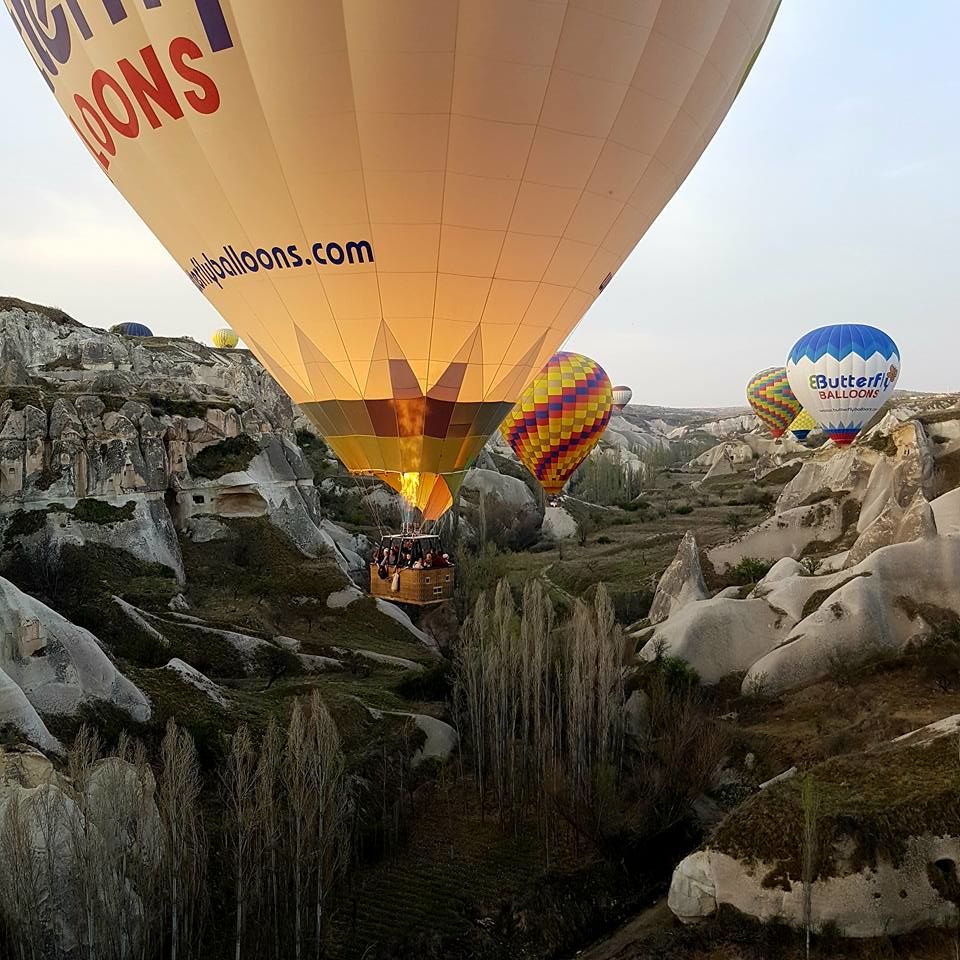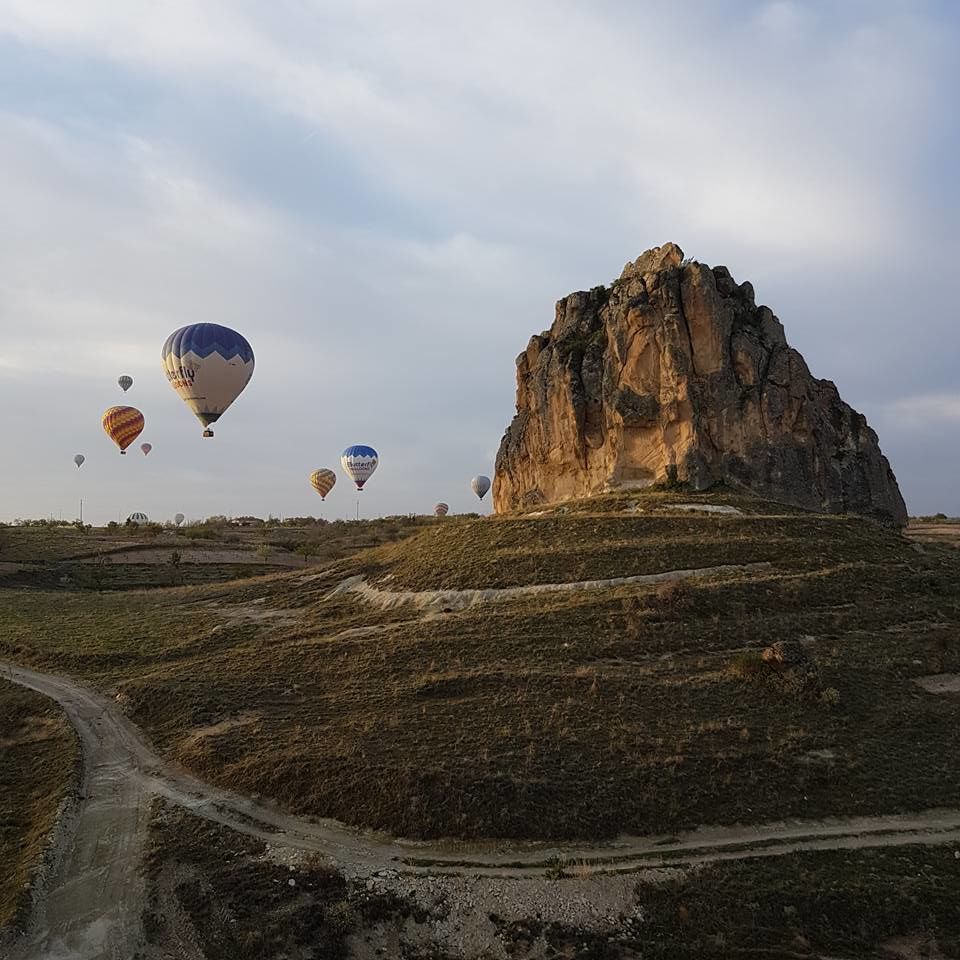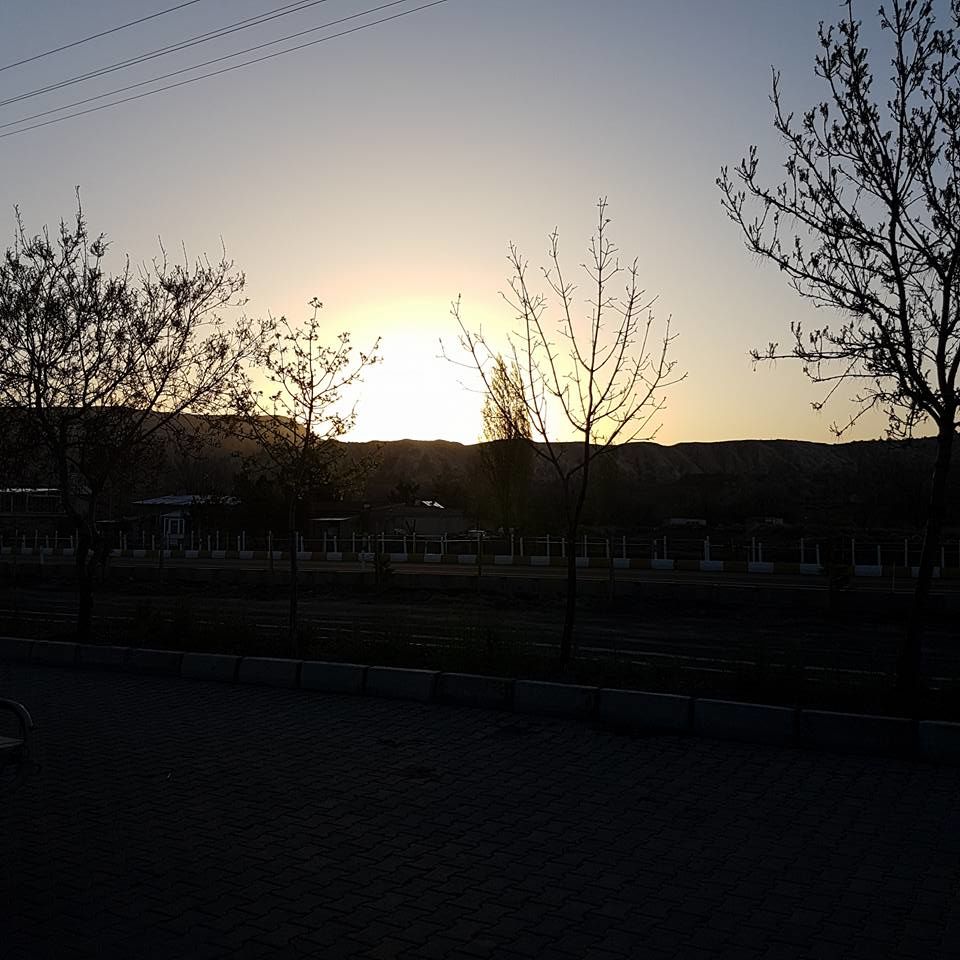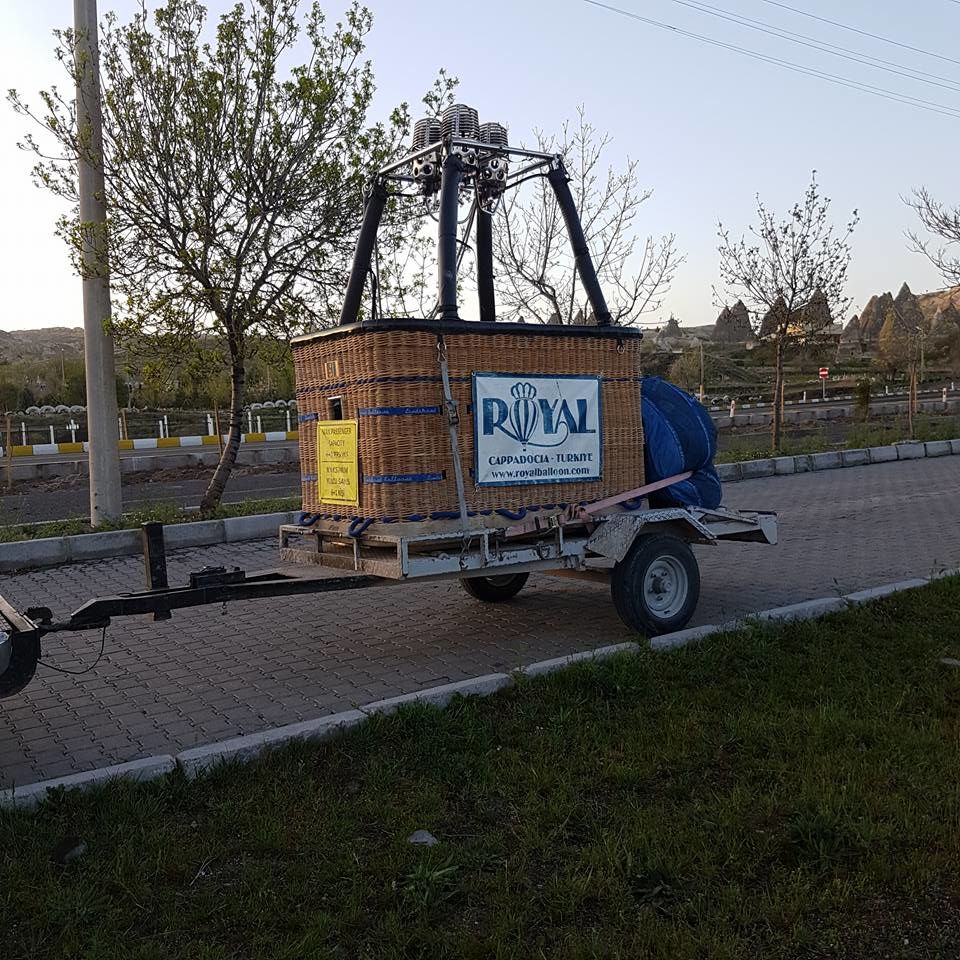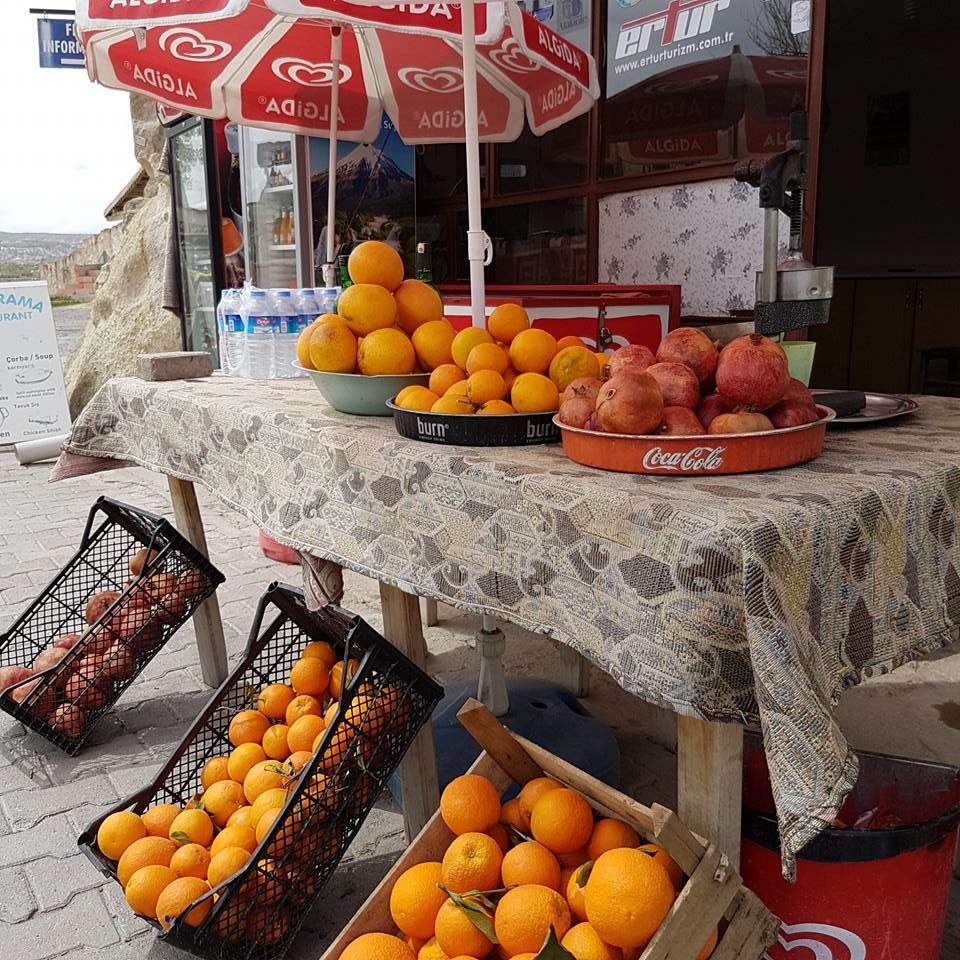 I had seen it in pictures, and it got on my bucket list. An adventure over a surreal landscape that jumps straight out of a fairytale, in a hot-air balloon over Cappadocia, and stay at one of its several hundred cave hotels it is famous for.
I was looking for fares to London, to fulfill a different agenda on my son's wish list, to witness an Arsenal game at the Emirates stadium. Turkish Airways threw up the best deal and that kind of ensured a stopover in Istanbul. Why should sons have all the fun I thought, and stretched the Turkey (stay) a bit to fit in a 2-night visit to Cappadocia. I had heard that April is about the best time of the year for ballooning there. The temperature is just right and there are minimal cancellations because of the weather. Actually, it's just about the start of the main tourist season, so, hotels are not too crowded, and rates are just about right.
Next step, research, I am one of those who can be classified as an 'informed traveler', one who believes that first-hand information is better than what one reads on the net. My cousin told me to stay at Chelebi Cave hotel Goreme, my friend suggested Kayakapi Cave hotel Urgup, the travel agent somewhere else. My cousin told me to book my balloon ride with "Royal", my friend said "Butterfly", the travel agent said either is good. How easy. For validation, there is always Tripadvisor, and so I checked. It may be common knowledge for most, but I was ignorant about the fact that Cappadocia is not a city or town, and Goreme and Urgup are not like its downtown and suburbs. Cappadocia is a fairly large region with several big and small towns, and one of them happens to be Goreme and the other Urgup. Also, it is served by two airports, Nevsehir (NEV) and Kayseri (ASR) some 85 km apart from each other. Further, there are more than 20 hot-air ballooning companies operating in the area, that launch a cumulative of some 150+ balloons each (flying permissible) day.
The hotels suggested by my well-wishers were probably the best, and despite my friend trying his utmost to convince me that Urgup was the best place to park myself, I decided to book with Sultan Cave Suites in Goreme and fly with Royal Balloons (60-minute package). My decision was based on numerous factors including pricing, safety, reviews, and response to my queries by the respective vendors. Above all, I wanted to keep the transaction as flexible as possible - just in case. There are numerous day tours that the hotels push as part of the activity list and I thought those would best be booked once there, based on eagerness, price, and time availability. I don't like being rushed into what I think are clever and expensive tourist traps. I had blocked at least 3 to 4 hotels both in Goreme and Urgup before firming my decision. It just so happened that I asked the owner of Royal Balloons to suggest the best of the lot and accordingly Goreme or Urgup. He suggested Sultan Caves as the best bet. Done, all sorted... well...
D-day minus 1 (D-Day being the balloon ride day). Flew in from Istanbul of Pegasus. (Flight check blog). Arrived at NEV at 7.20 am. The hotel had booked a shared bus shuttle that took some 30 minutes to load all passengers and 30 minutes to reach my destination, Sultan Cave Suites (SCS). I was expecting a very different landscape on the road from the airport. It was open for miles, dry, sparse vegetation, devoid of the fairy chimneys and quirks that one sees in the pictures. Well, almost until we entered Goreme. then it was another world.
The reception area was a large living room, comfortable and friendly. The latter because of the way I was welcomed in. The person manning the reception just checked my name and said, "hi! I am Hassan, welcome to Sultan Cave. I am sure you must be hungry. Why don't you finish breakfast first and then we shall complete all formalities. By then we shall have your room all clean and ready." Had I gone to the room first (assuming it was ready), I would have gone to sleep right away, having woken up at 4 am to catch the flight. The breakfast was decent, appealed more to the eye than to the tongue. But then, to be fair, I was eating for the sake of killing hunger and bit of the sleep that was wearing me.
My sleep disappeared completely. Not with the food, but with the words of Hassan, when I asked him what time does the Royal Balloon shuttle arrive in the morning to pick up guests. "You flying tomorrow? I don't think you will. As of now the possibility looks only 10%, but one never knows, the weather can improve. Check with me at 5pm, we will have more clarity, it all depends on the rain".
What the F was he talking about? It was warm, bright and sunny at 9.30am. Not a single dark cloud in sight. Not to be outdone by him, I responded, "But, I have messaged Capt. Suat of Royal last evening, and he never said anything to me about any cancellation. I would not have come had I known. It's the only reason for coming here."
Hassan gave me a smile and said "Bro, last evening was a different story. The weather pattern has changed, and it does every 6 - 8 hours over here. let me show you..." He opened up a weather site and I could see that he was not trying to play Halloween with me before time. "By the way, I must tell you, Butterfly Balloons is a sister concern, and one of the pilots is sitting in the next room. Check with him if you don't believe me."
He could see the dark clouds on my face if not outside the window. "Please don't get depressed, by evening the story could be very different. When are you leaving... I see day after, early, can you change your flight? The day after morning may be very different from tomorrow, just in case the worst happens tomorrow". I just shook my head and informed that my return seats were booked as well. "There are other things to do other than ballooning, why don't you rest and come back. We shall try and make sure that you enjoy your stay here."

My trip was already classified as a disaster and I was secretly wishing that I should have stayed in the UK a bit longer or flown back home directly from London. Cappadocia, as far as I was concerned, was a big and expensive mistake. Cancellation in April was not a normal. With that mood and a hung face, went to the room. It was simple, clean but dark (not enough natural or artificial light). A bit stuffy with the heat outside and lack of ventilation. Well, it was a cave room so what else should I have expected?
No point sulking. After an hour's rest was back at the reception where the backup plans were discussed over the unending supply of Turkish coffee, Turkish delight, and apple tea that the hotel served its guests. My son was thrilled, he had access to great WIFI (included), and was told that he could view a BPL match at the reception later in the evening. Hassan's brother Mustafa was a football addict as well. I soon learned that the management of SCS was all one big family. Then, it was time to explore the town on foot. There was nothing much to do otherwise as the next day had been kept aside as activity day. It was mid-afternoon and there was no sign of rain. The hot-air balloon called hope in me began to slowly but surely soar up.

A good Capadoccian kebab lunch at Cafe Safak, suggested by Hassan. The earthen pot kebab happens to be a speciality of this region. I thought it was more drama than taste, but wasn't bad at all. The service was excellent. Having sampled some more delights including the sticky ice cream (dondurma) that is served with even more drama than quotient, and checking rates for the bicycle, ATV, UTV, motorcycle, car and every other mode of transportation on hire, walked back to the hotel for a well-earned rest. Still no signs of any weather-related threat, the rain Gods must have decided to hold off. Chances of the balloon ride happening were looking positive.
We must have Rip Van Winkled for a couple of hours I thought. Waking up, we were in a different situation. It was quite dark and gloomy outside. My watch said 5 o'clock. Shit, had we overslept? I looked again, this time, the clock on my phone. It was five alright, but in the evening. I opened the door and could see dense dark rain clouds overhead. Not good. Went to the reception. No Hassan there. I guessed it was Mustafa sitting at the counter. I asked him how the weather could change in a couple of hours? He said, there were high winds up there blowing in rain clouds. According to him, the situation was good, 'cause if it rained, a - it would cool down the place - good for ballooning, b- the winds would be calmer. So, I still had half a chance to do what I had come here for. The hope meter was still intact after the football match. No cancellations announced by 8 pm, which was great news. Much better than the disappointment that Arsenal had drawn the match against West Ham. With a chill and drizzle still in the air, we decided to eat at the hotel's restaurant "SETEN". Turned out that it is very popular with the locals and for a very good reason.
Next morning, we were ready and waiting at 5 am, the designated pick up time. The Royal Balloon shuttle van was there on time. Excitement. By 5.15am, we were at the Royal Balloon HQ located on the outskirts of Goreme. We were welcomed by Capt. Suat. The formality of form-work ticks out of the way, we were asked to do two things. First, eat breakfast; second, keep a watch on a big screen that displayed the current weather pattern and clearance by the Turkish Aviation Authority for balloons to fly. At 6 am, the flight was showing "standby". Tension. It was made worse by having just consumed breakfast. the spread was lavish and the urge to sample everything eventually goes against the system. By 7 am the sky was devoid of clouds and we could see the several balloon carriages waiting like chariots readying up for a race. Anticipation. The final update would be released at 7.30am and I could sense the nervousness in each of the 100+ persons waiting along with me for some good news.
Nope! there was none. At 7.30am the message on the screen read "cancelled'. Unbelievable. The disappointment visible on each one's face was identical, one of disbelief. Capt. Suat made the formal announcement that the wind velocity just a 100+ feet above ground was unsuited for ballooning and the risk of accidents too high to fly. Those who were ready and willing to wait it out until the next day were marked, and those who could not, like me, were given refunds in full. The day had not started well. I told my son, that we would try and leave the same day today rather than wait for our flight tomorrow. Such was my anguish. Would I balloon again? Yes. But, certainly not in Cappadocia. Never.
We were dropped back at Sultan Cave. I could see the pilots from Butterfly Balloon parked for breakfast, discussing the cancellation this morning. "I am sorry," Hassan told me in earnestness. "Is there anything I can do to make you feel better?"
I said, with a sad smile on my face "a reason to stay back or help me get a flight this evening back to Istanbul."
"If you are willing to change flights, then why not push your departure to a later time tomorrow? I will get you an excellent deal from Butterfly that will make it worth your while." It made sense. Except, flights from NEV operated twice a day, once in the morning and then late evening. A late evening flight the next day meant having no time to enjoy Istanbul. "Why Nevsehir? Fly out of Kayseri. There is a flight every 2 hours." He checked, and yes there was a flight at 1330 hours. Perfect. Worth the risk. After all, that's what we came here for, right? Now for the deal.

Hassan called up Butterfly. I had a deal. Butterfly and Royal charge about the same price. The air ticket differential for the change of flight was discounted from my price. Oh! What a beautiful day it was turning out to be. Now, the idea was to spend it well. It was already 9 am, too late to join any of the full day explorer tours. The solution - booked a half day tour to one of the several ancient "Underground Cave Cities" in the region. I was told that after ballooning, it's an experience that is not to be missed. The tour would not start until 2pm, so with time to kill, decided to take my son for an offroading ATV (All Terrain Vehicle) experience. He had made me promise that should ballooning be cancelled then this would be our adrenaline fix.
We rented a UTV (Utility Task Vehicle) as my son at 16 is not permitted to drive on the road alone. It was an escorted hour long off road tour to visit the famed fairy chimney caves up close. Having a guide with us seemed like such a waste of money, but unlike ATV rentals, UTV rental included it in the price. Good for us, our guide Hakkan was a jovial sort, one out to impress and entertain us with his ATV skills - read stunts. It was nice to have a local tag along explaining the different shapes of the landscape as well as take our pictures. Having reached our end point, it was time for hydrating ourselves. Fresh pomegranate juice (very cheap), Turkish apple cyai, water, what more could I ask for? Time to head back, and one-third through our journey, I realised that my 5-day old expensive acquisition called smartphone was missing. Shit! I was sure I had it in my pocket when we left. If someone had picked it, then it was lost forever. If it had fallen anywhere, then finding it in a landscape that resembled the open desert came with odds that were worse than finding a needle in a haystack. Then, even if it was found, in what state would it be? Chances of someone driving over it... I stopped imagining possibilities. First the balloon cancellation, now this. What had I done to deserve this?
Hakkan told us to wait while he would head back on the route to see if he could find it. I tried calling the number, but it was switched off. I knew that Hakkan would return with bad news. Twenty minutes later, saw him riding back. My heart was beating a tad faster. Never loose hope. 'Let's go,' he said. Nothing else. My son was expecting a yelling for insisting upon the off road experience, one that proved to be a very expensive one. We reached the drop off point. Hakkan asked the car taking us back to the hotel to wait. He went up to a man took something from him and returned. It was my phone. Dirty but intact. 'You are lucky man mister. The juice vendor saw your phone drop from your pocket and sent his son after us. But we had taken a different route so he came here.' It was a beautiful day and getting better. Thanks and a generous tip to Hakkan and the boy. My son had a smile of relief on his face too. I may not have yelled at him, but the loss could have marred my mood for the rest of the trip.
A donner kebab lunch and some apple tea later, we were ready and waiting for our transport to drive us off to the famed underground city of Kaymakli. It was an interesting experience, one that was physically challenging. Claustrophobics or those with heart (related) ailments should seriously avoid it. Without a trained guide, this trip would not be half as interesting either, it is not a DIY trip by any count. The guide told the group the best "theories" behind these cave cities, but none of them have stood unchallenged. I came up with some theories of my own, but this is not the blog for it.
Back at the hotel, it was time to shower and get ready for watching a beautiful sunset and football game accompanied by some surprisingly good local wine. There is a school of historians that believes that grapes and winemaking were exported by the Anatolian-Armenian-Georgian region to the rest of the world based on evidence collected over time. Dinner had to be at Seten again, we were too tired to step out. It had been a very long day of adventure, fun, and learning. Zzzzzzzzzz....
Next morning was an early rise too. Operation "Ballooning II" was put in action. I must say that the reception, organisation, and breakfast at "Royal" was far better than the Butterfly one. But the idea was to fly and not be picky about the food et all. This time around, we sat in the minivans... ones headed to the balloons. We were told that the window of opportunity was available for only a couple of hours as wind velocity was expected to pick up again. Drama.

It was a sight to behold. Silhouettes of fabric expanding, taking shape, the blast of flames, wobbly giants threatening to fly. Awestruck, that's what I was. We were asked to jump into the gondola baskets, a total of 16 per balloon. The Captain of our airship gave us the take-off and landing instructions. MORE DRAMA, I thought, to heighten the adrenaline rush, the excitement. Soon we were climbing, an armada of some 100 balloons rising together in an unstructured formation that made photography a delight. We went up above ground and then dropped into a canyon, scraped a tree top (intentionally) and counted some underwear drying (outside someone's home) intentionally too. Dogs, sheep, cats, and horses got a scare as we flew over them with the sound of the Captain flaring the flame inside the balloons belly to keep us aloft. The landscape changing from forest to village to fairyland in the area that is known as the Goreme national park. Quite spectacular seen from the top. Everything that I thought I would experience emotionally, true.

The first 30 minutes, all fun. Then the novelty kind of tapered and realisation set in that I was surrounded by a horde of "selfie" monsters armed with their famed sticks and gadgets. Does no one use a proper camera anymore? Well, everyone entitled to their own fun I suppose. Below, I could see the convoy of buses and pickup trucks towing the basket carriages chasing us on our route. Finally, it was time to land. The Captain told us to get into the landing brace position, and the basket fell with a thud. Before it could tip over and we dragged on the ground by the lesser powered gently deflating balloon that was still prone to airlift -the ground crew had attacked the basket and balloon to neutralize any such incident. Instructions are never for drama, not in an aircraft, certainly not in a balloon. Later, I heard that one of the balloons had drifted off some 25 kms towards Nevsehir airport as it got caught up in high wind currents and could not descend safely elsewhere. I also learned that we had accomplished a nice run of some 15kms thanks to some good winds. There are days when an hour up there could mean just 1 km of travel, and others when the balloon can land right on its designated carriage. No two experiences are the same for the pilot. I did conclude that the money spent was every bit worth it.

A champagne and certificate ceremony followed with more photo ops. The feeling was akin to have completed a religious pilgrimage - months of preparation, completed in an hour. One more off my bucket list, it was time to go home, even if the route was via Istanbul.
This post was originally published on 'Trip It'.