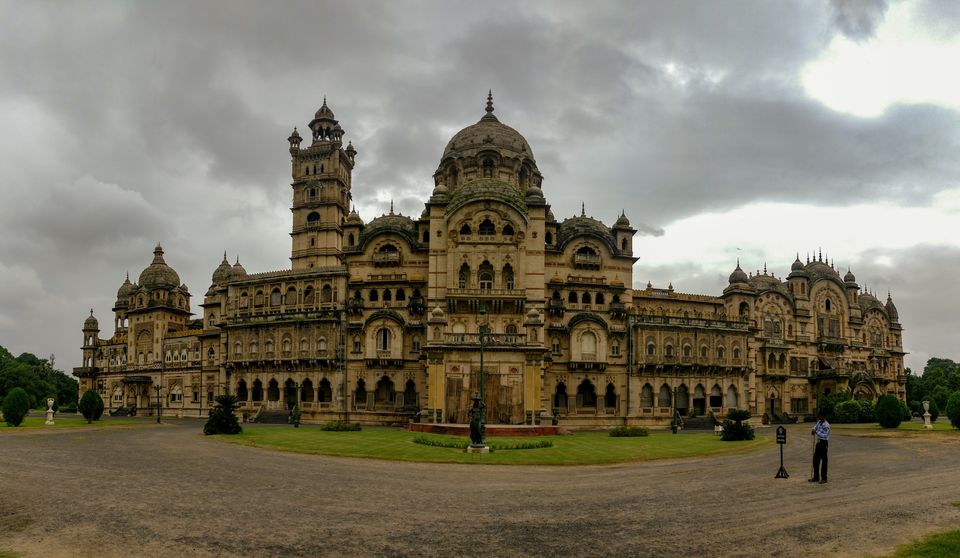 First weekend of September was planned for Vadodara trip with my friend Chaitrali – a travel enthusiast. We boarded Vadodara express from Mumbai Central railway station on Friday (7th Sep 2018) at 11.40pm. Night journey is always preferred as you wake up directly to your destination! So next morning at around 6am we were in VADODARA!
Our hotel was already booked and was approximately one kilometre away from the station. So we put on the location on our maps and headed to our hotel. Hotel GRG. We had booked it through goibibo for a mere Rs. 500. Kept our luggage at reception area, freshened up and booked a cab for site seeing for Rs. 2600 for whole day. Plan was to go to Pavagadh and Champaner. From the city Pavagadh is about an hour journey.
Pavagadh hill station was built on the volcanic cone. This is what the name Pavagadh indicates (Pavagadh means fire-hill). Post reaching Pavagadh, we were both happy and sad. Happy because the climate was great- foggy and drizzling and sad because that restricted us to see the beautiful scenery from 762 meters up hill. There are 2 ways through which you can go up to visit the Kali Mata temple situated at the top of the hill. You can either go by cable car or climb up some 2000 steps to reach to the top. Since it was last Saturday of Shravan (holy month in India), devotees had come in immense numbers to pay visit. We went up through cable car and came down through steps with the hope that we will witness the beautiful scenery from top.
Parking- Rs 70
Cable car- Rs 116
Next stop was Champaner- a historical city in the state of Gujarat. Champaner is part of the Champaner Pavagadh Archaeological Park which was declared a part of UNESCO world heritage site in 2004. It is nearby Pavagadh and a Must visit place I would say!
We visited Saher ki masjid first. Saher ki Masjid was a private mosque for royal family and nobles of the Gujarat sultanate. First look and you will be like "Wow! What a structure!" Once you enter the masjid you will be even more amazed as it has numerous pillars and it looks simply amazing. We spent some time looking around the beautiful work carved on the walls.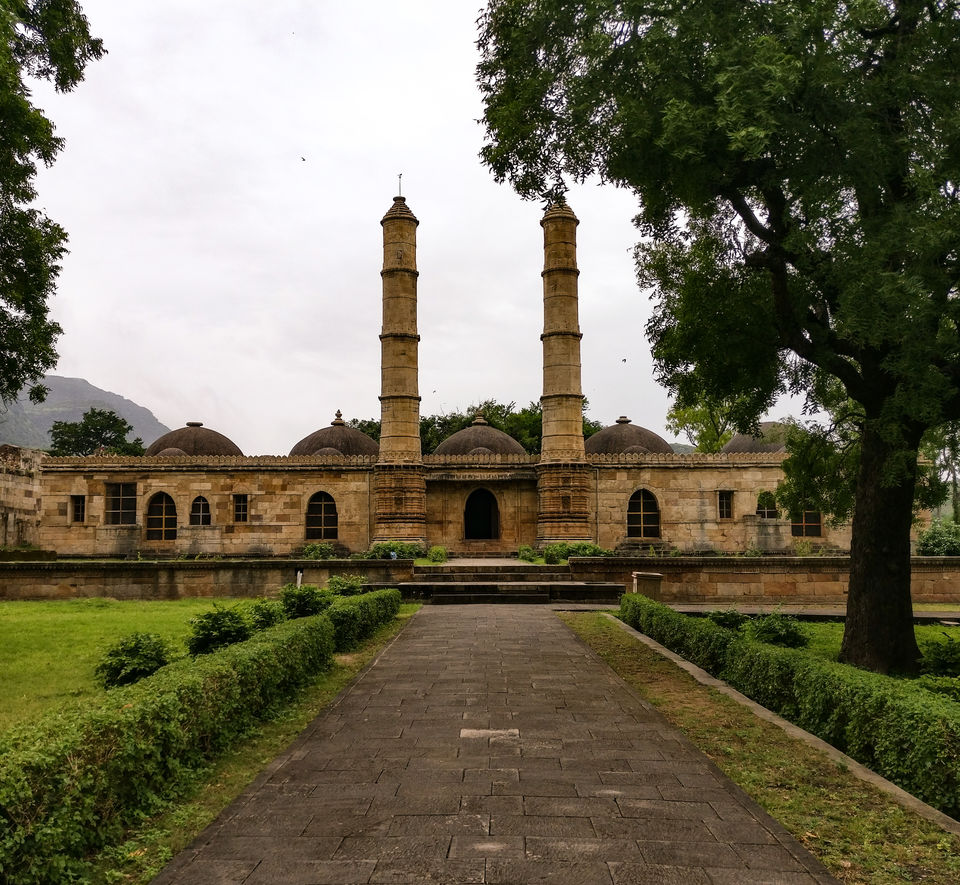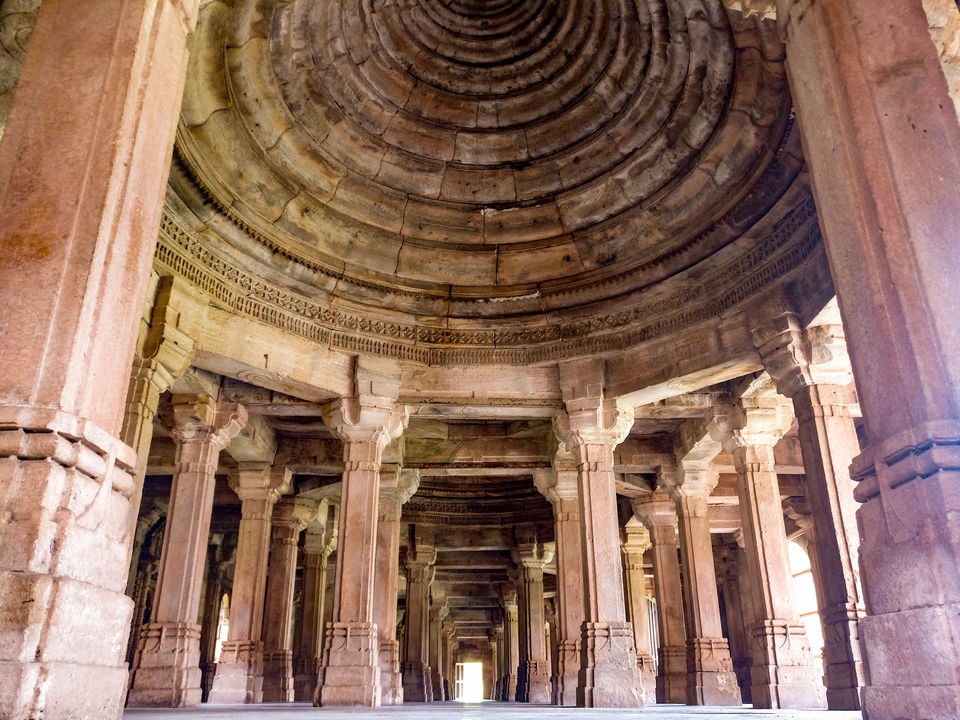 Next halt was Jami Masjid. Another beautiful structure. The wall carvings are beautifully done with minute details. The monument has some very majestic artwork on its symmetric pillars and all this has been conserved very well.
Saher ki masjid and Jami masjid- Rs 40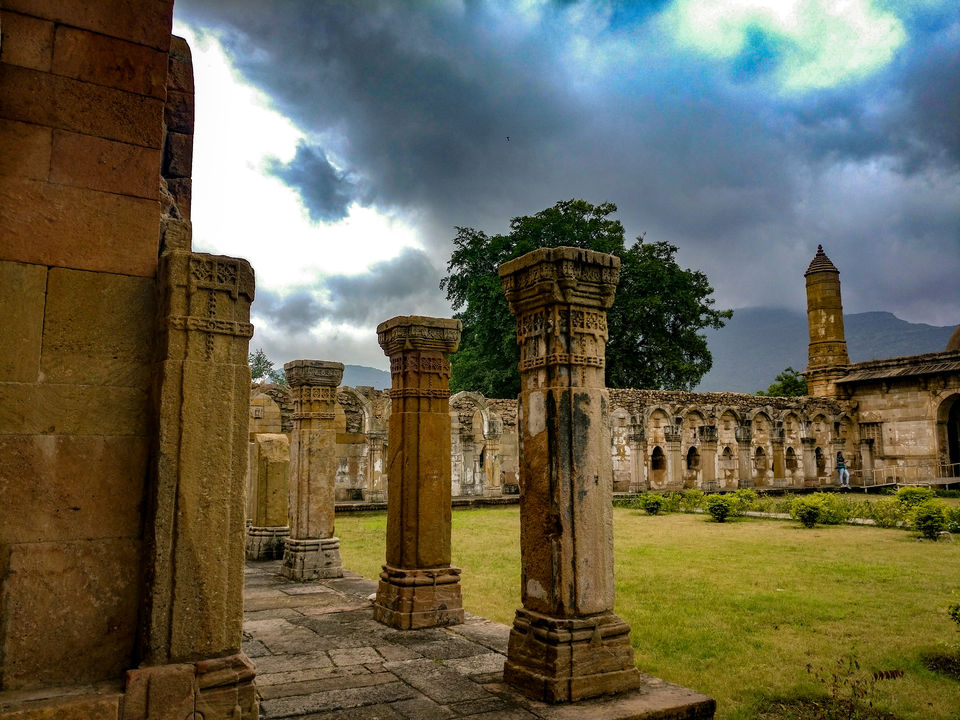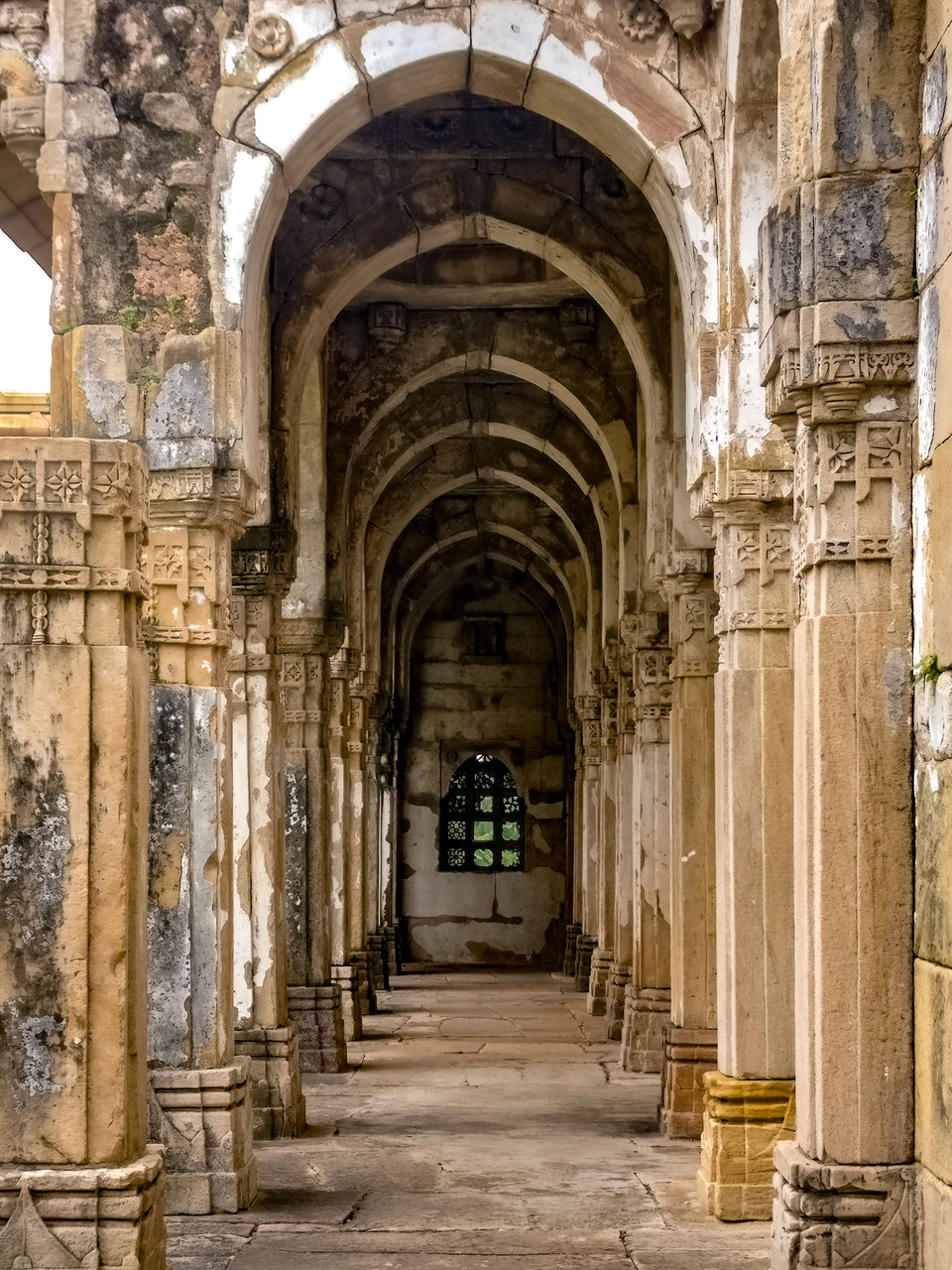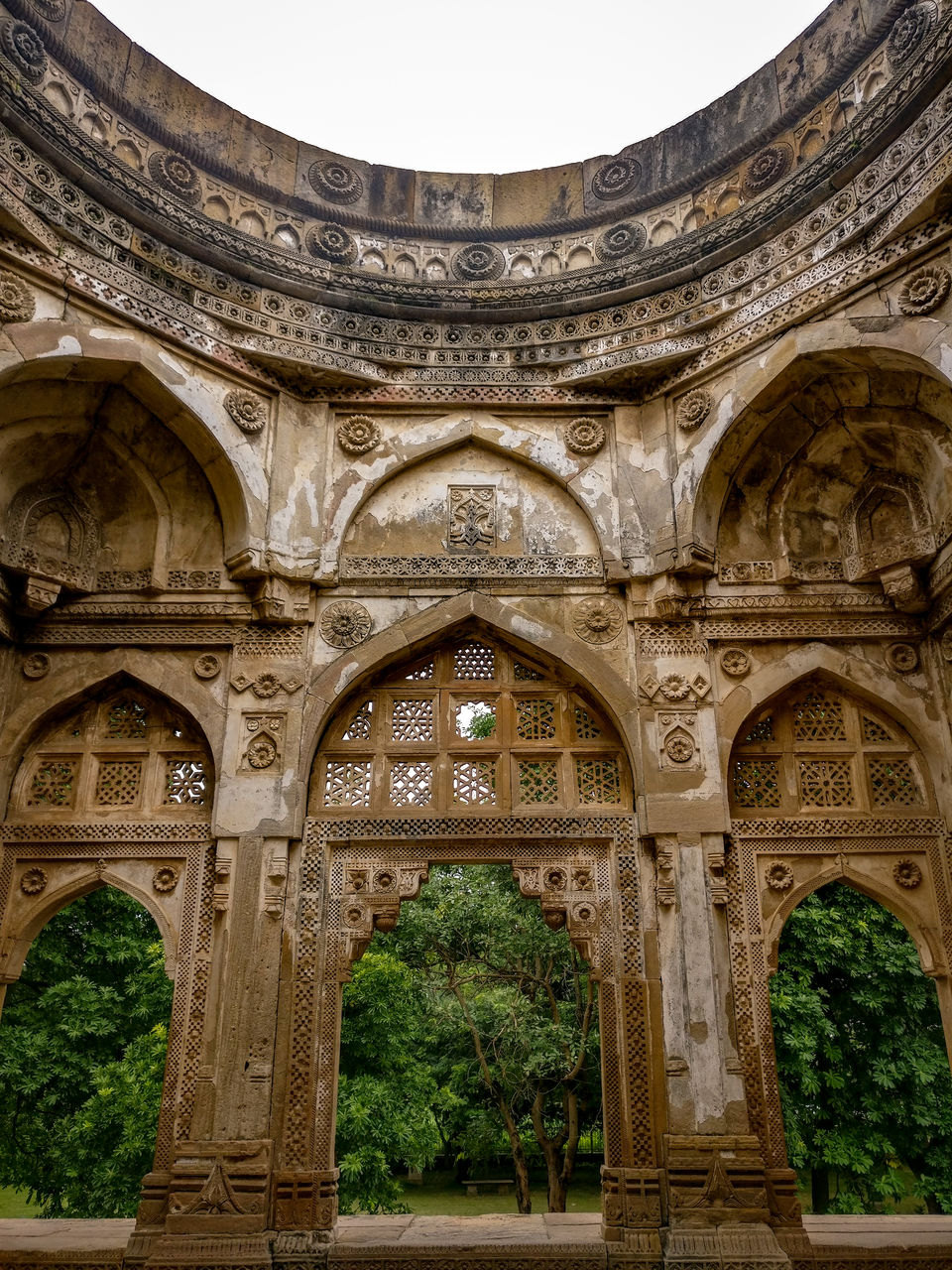 We then decided to go to Kevda masjid and Nagina masjid. Inquiring about it we came to know that they are approximately a kilometre walk from Jami masjid. So off we went. You have to walk as it's a small trail into the jungle. We were lucky enough to see a peacock while on the way! Not many people come to visit Kevda and Nagina masjid due to accessibility. You will only find one watchman guarding the monument. Kevda Masjid is constructed amid a lot of greenery and open spaces, which is not the most common thing in Islam. It is worth giving a visit, due to the highly unusual location of the monument. Clicked few photos and went further inside to see Nagina masjid.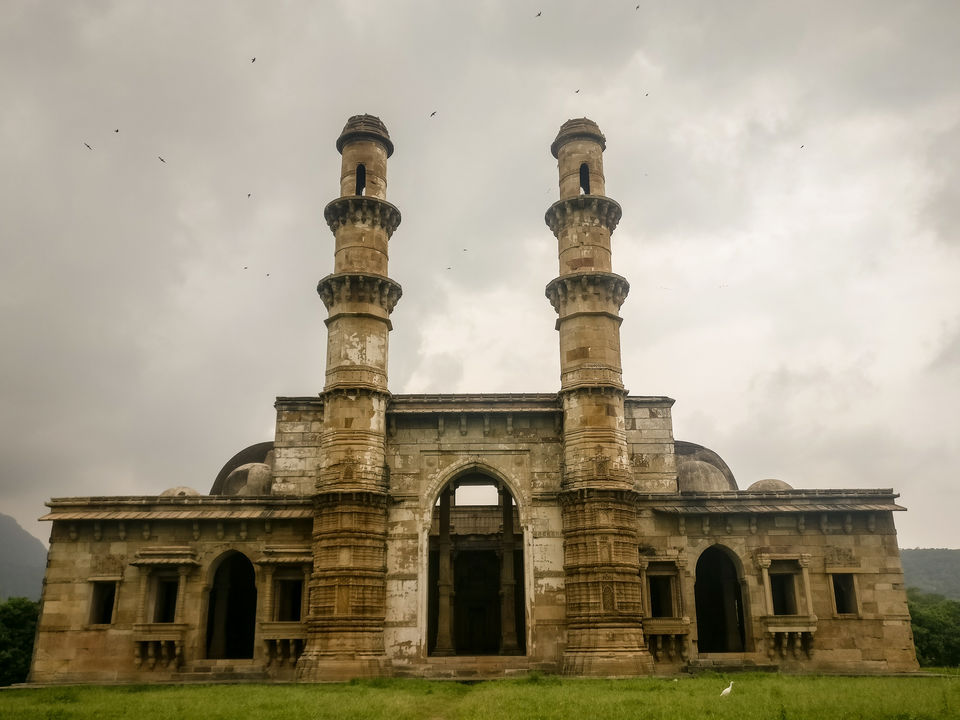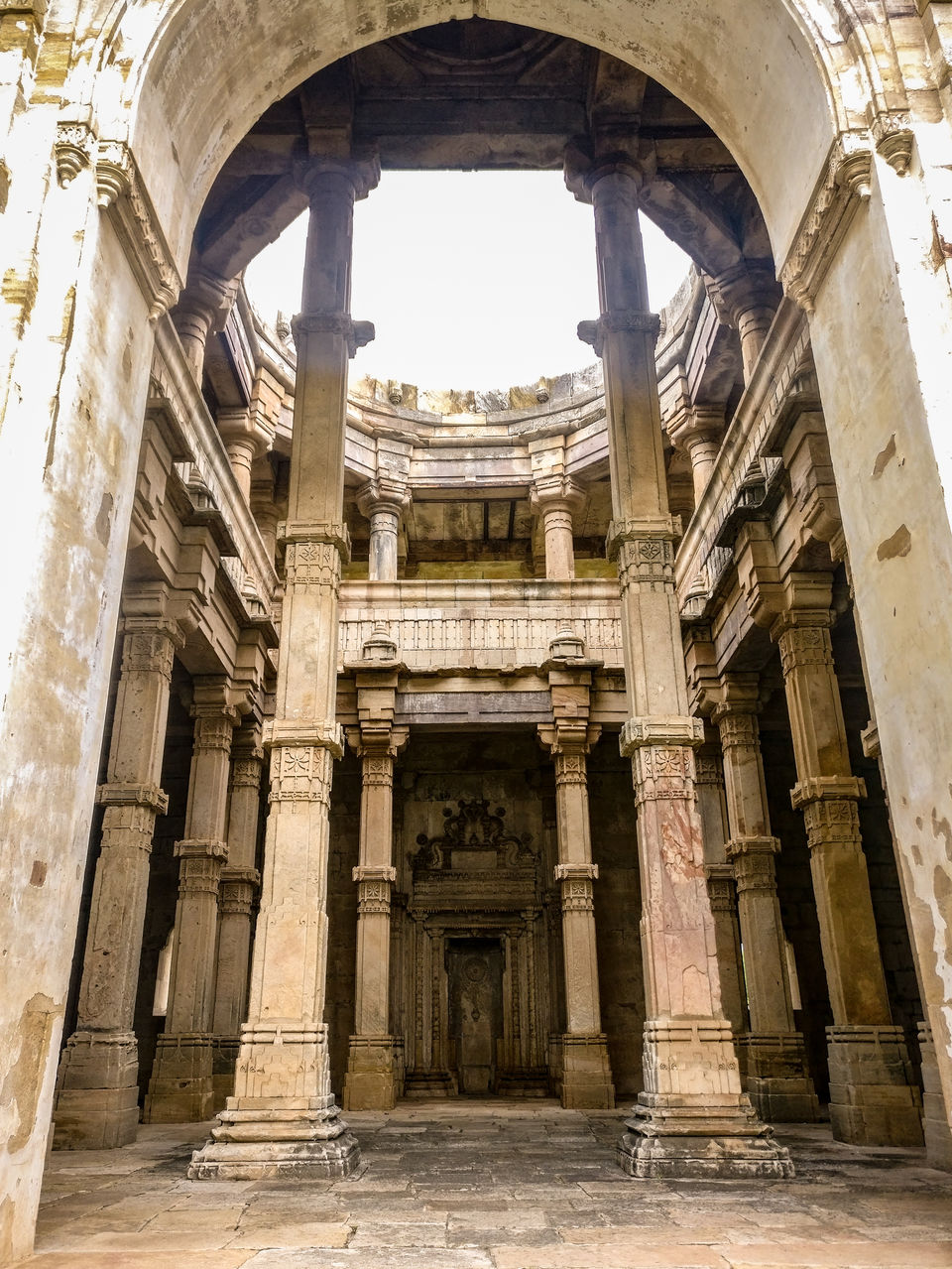 Nagina Masjid is a large monument built on a high-rise platform with a large open courtyard in front. Nagina Masjid is also known as the Jewel mosque because Nagina translates to jewel in English and is constructed in pure white marble. Explored for a while and walked backed hoping to spot a peacock again.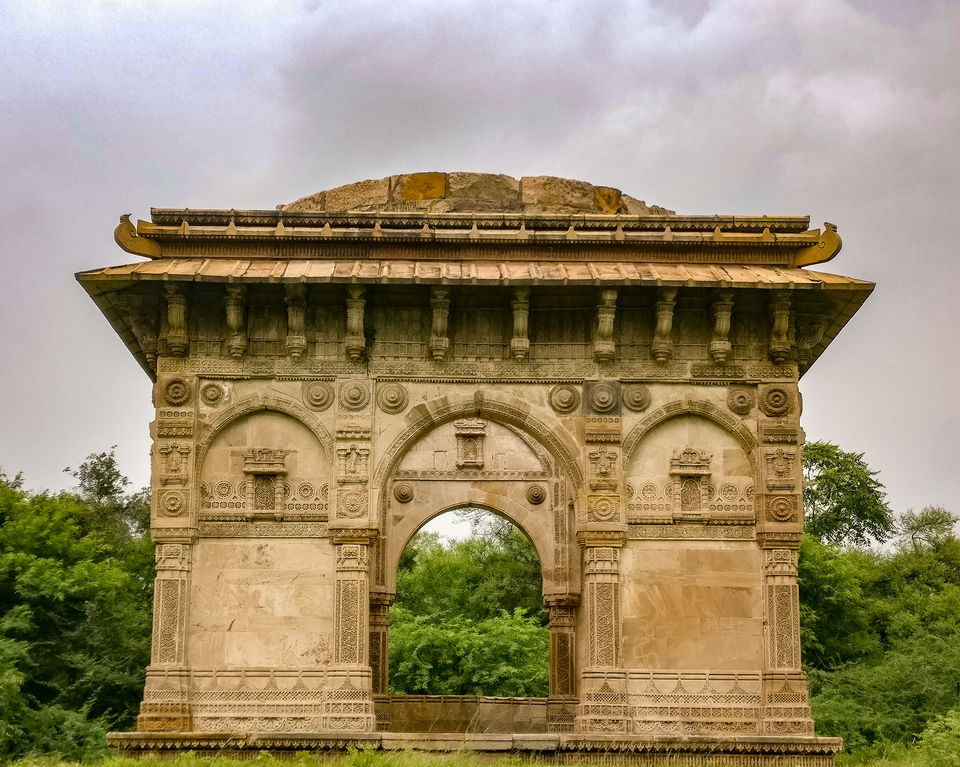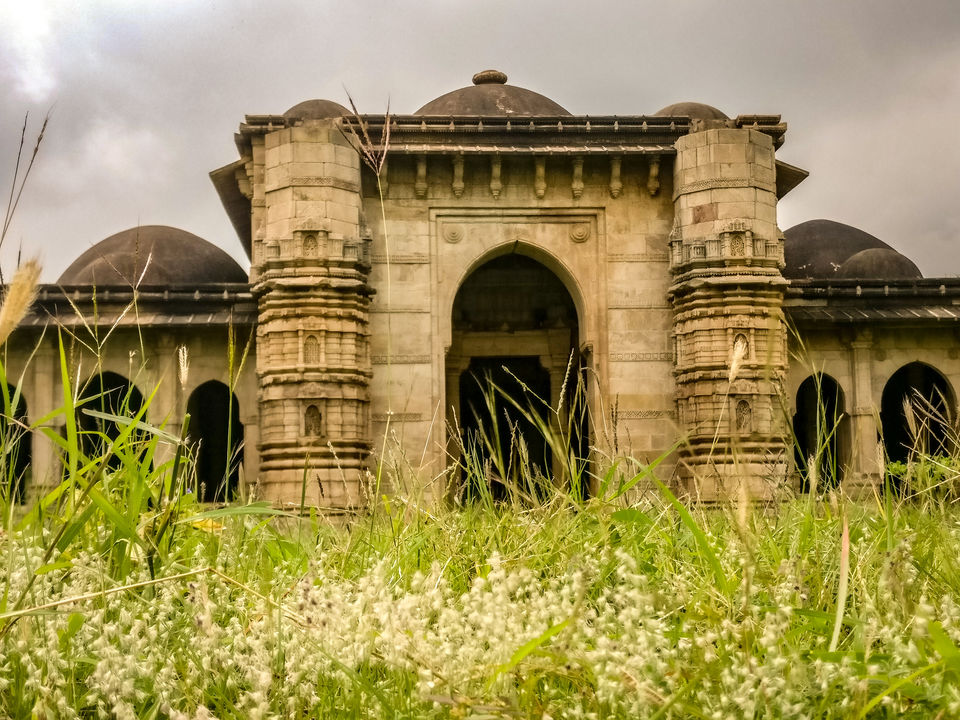 Next we went to Kabutar Khana on the banks of Bada Talao. It is an Okay place and not that great sightseeing place. We then further went to see Ek Minar Ki Masjid. There is just one pillar standing tall surrounding by nothing. Next stop was helical stepwell. A circular kind of stepwell which has a 1.2m-wide staircase that spirals down along the wall of the well shaft, making it quite unusual in design among stepwells of the region.
We started our journey back to city. On the way had lunch at hotel Sarvottam.
Post reaching city, we decided to visit EME temple or Dakshinamurty Temple. It is run by Indian Army Authorities, and incorporates holy symbols of all religions in one place as they do not have separate places of worship for different faiths. The five main religions in India are represented by different symbols in the structure and design of EME Temple.
The 'Kalash' on the top of the dome symbolizes Hinduism.
The 'Dome' stands for Islam.
The 'Tower' represents Christianity.
The 'Golden-structure' above the tower represents Buddhism.
The 'Entrance' of the temple stands for Jainism.
Timing: 6.30 a.m. to 8.30 p.m. It is open on all weekdays except on Sunday.
This place is maintained by the Indian Army, so you need to show a valid identity proof preferably an Aadhar card at the gate.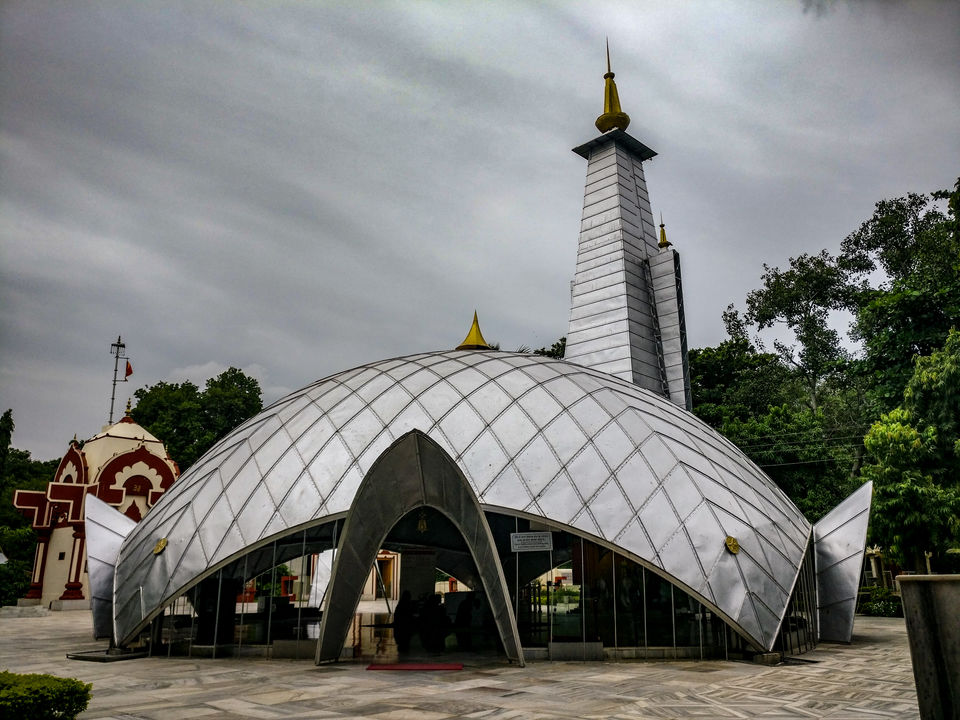 Next Stop was Qutubuddin Tomb. The Tomb is famously known as Hazira Maqbara, which contains the Graves of Qutb-ud-din Muhammad Khan who was the tutor of Salim, son and successor of Akbar, and also that of his son Naurang Khan who held important offices in Gujarat under Akbar. The tomb is built on High Octagonal Platform with Smaller Gates on the Cardial Directions & Five Arches on Each Side.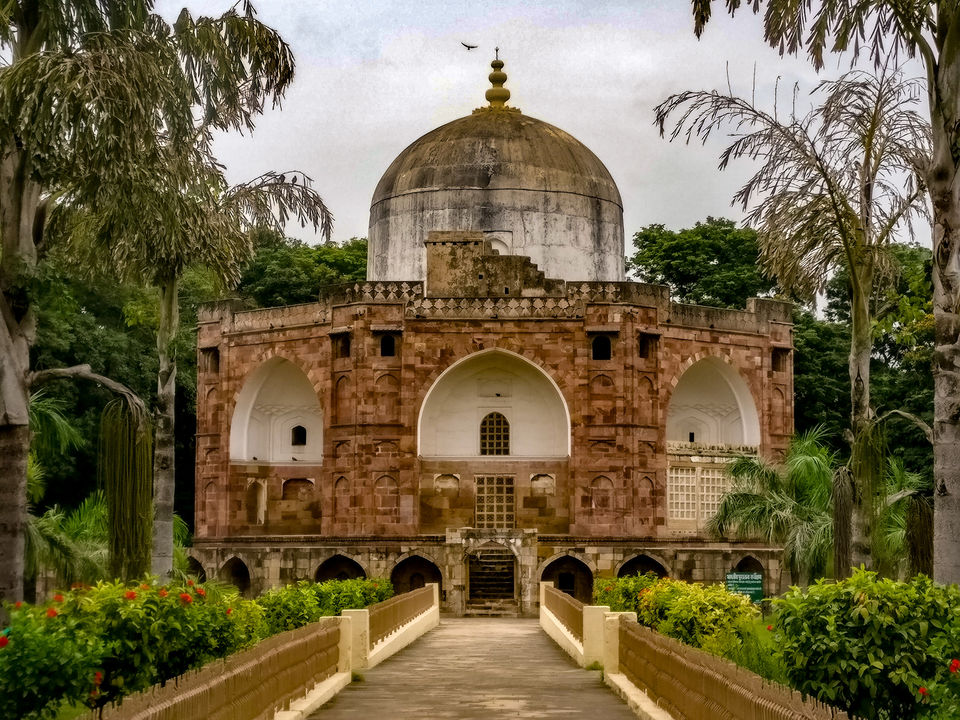 Then we went to hotel, had a small nap and went out for shopping. We did not find local shops, so we din't shop but we did visit the famous Jagdish Farshanwala and took Bhakarwadi from there. On the next day we were going to visit one of the iconic palace of India- Laxmi Vilas Palace.
Next morning we got up early since we wanted to reach the Laxmi Vilas Palace as soon as it open gates for public viewing. The good part is that they give you an audio device wherein all the history and all details are given about the Palace. It is huge and most beautiful palace I have ever been to. The Laxmi Vilas Palace was built by Maharaja Sayajirao Gaekwad III in Year 1890. It is four times the size of Buckingham Palace. Also it has 178 rooms which was built just for 2 people. The artwork inside the palace is also marvellous. It remains the residence of the Royal Family. The Palace is surrounded by golf course and you can hear the peacocks scream now and then. We also witnessed a peacock fan out its feathers. It was a beautiful sight! There is a museum but since we were short of time we couldn't visit.
Time: 10 AM to 4:30 PM. Closed on Monday and Public Holiday
Tickets: Rs 225 (Indian citizen) & Rs 400 (Foreign nationals)
Takes around 2hours to explore the whole place.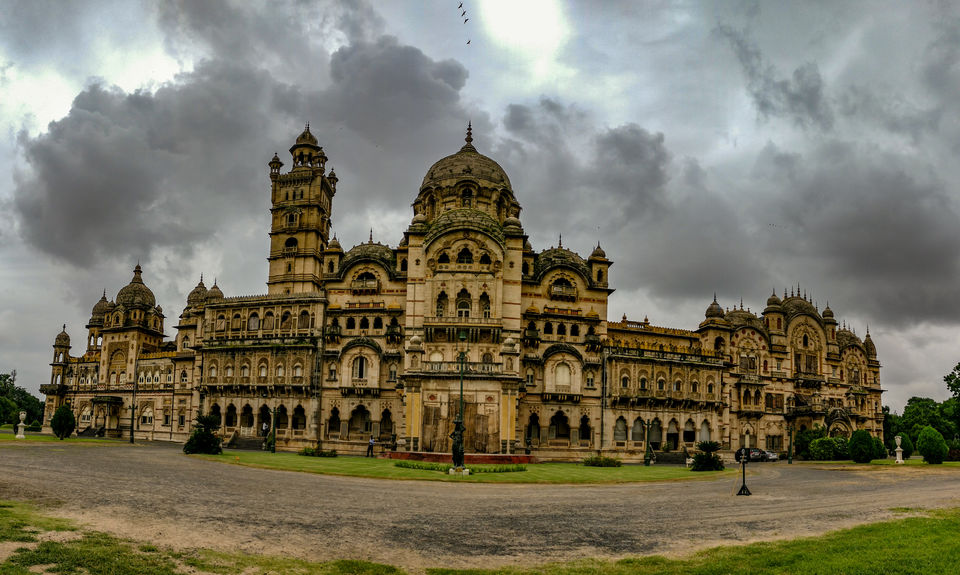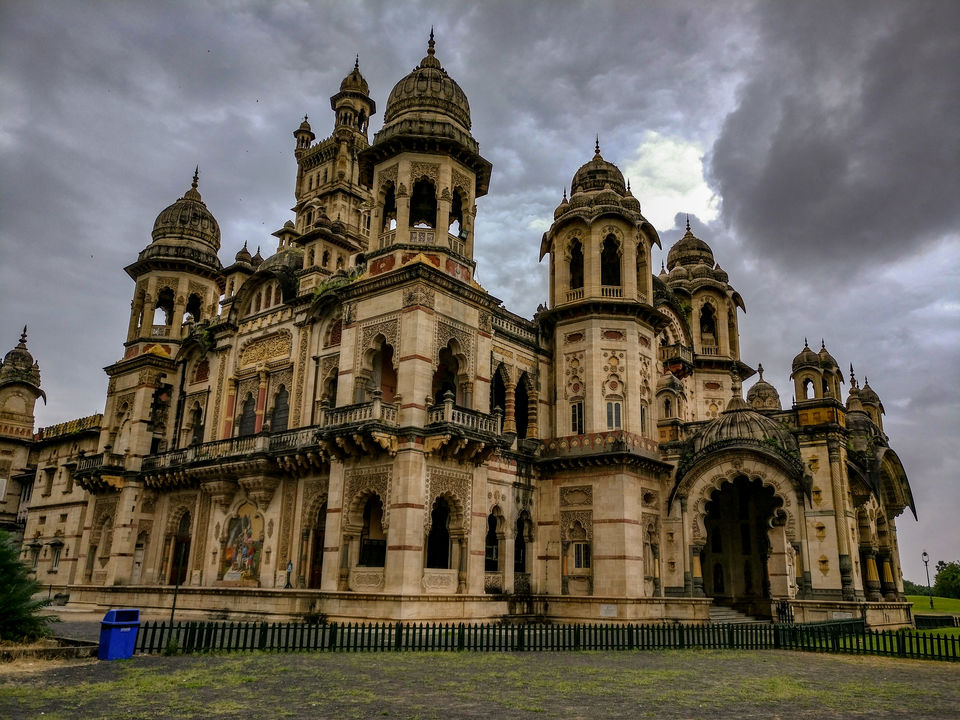 It was time for our train. At 12 pm we boarded our train, Swaraj express and came back with happy memories.
Instagram Link: https://www.instagram.com/iamniyu23/