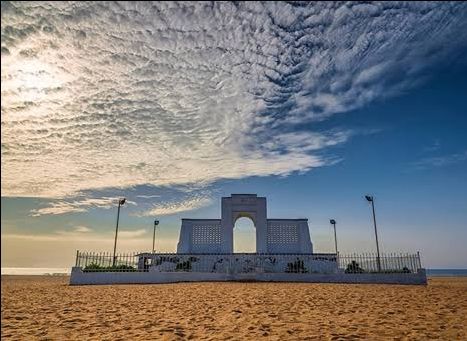 We completed our OFC appointment at U.S Biometrics at around 4.30pm in the evening and untill next morning we were free.  So I decided to take my family to a nearby tourist location.I definitely didn't want to go to Marina beach as I had heard that it's crowded and polluted , I googled the places and found that 'Astalakshmi temple' in Besanth Nagar was one among the highly rated temple/place which was also located on the shorelines of Elliot's beach.
We reached the temple in a Ola mini cab which charged us around 200/- from U.S Biometric centre. This kovil/temple is dedicated to the goddess Lakshmi, and her eight primary forms – the Astalakshmi – the giver of all eight forms of wealth, namely, offspring, success, prosperity, wealth, courage, bravery, food, and knowledge. 
We spent a memorable 30min at the temple and another 30min at the beach which was at a foot distance from the temple. Then savoured Mylapore coffee in a nearby coffee shop before returning to Oyo 7224 Krishna Prasad Hotel at Valluvar Kottam.
So if you are going to Chennai for US biometric and consulate appointment and if you have a couple of hours free time then you can think of visiting this place.