In February this year I was in the Chennai Express from Mumbai for a trip to Pondicherry. The plan had been impulsive but all my friends and I had managed to get confirmed tickets at the last minute.
In the train, a lady in her mid-40s, Prema, occupied the berth in front of us. When we woke up in the morning, we heard her talking on the phone and realised it's her birthday. She was on her way home in Chennai after meeting her son at his hostel and was disappointed that her entire birthday would be spent alone in the train. I had bought a chocolate bar cake the previous day for the train journey and we decided we would ask her to cut the cake.
As the train passed through an area of huge boulders and windmills somewhere in Andhra Pradesh, we opened the small cake packet, borrowed a plastic spoon from another co-passenger to be used as a knife, and put the cake in front of the lady for cutting. She was taken by surprise as we sang the birthday song and with a huge smile on her face, cut the cake, overwhelmed.
The cake had eggs and she couldn't eat it. But the smile on her face couldn't hide her exhilaration.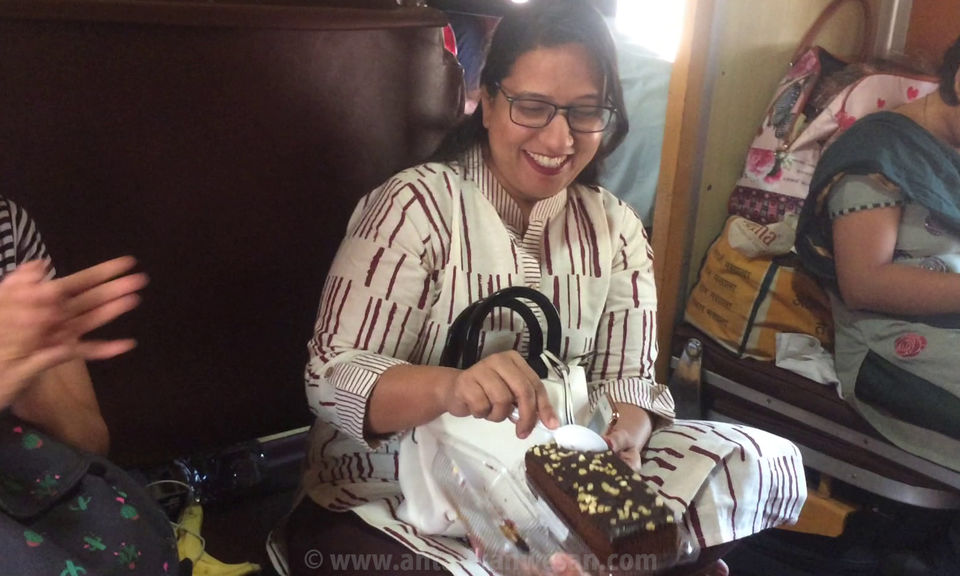 Just before we were to reach Chennai in the evening, she told us that she had lost her mom a few months back. She showed us a poem she had written for her the previous night when she was deeply missing her.
"I was so disappointed that I was not with my family today and that my mom is no longer with us, but the way you guys surprised me, did the cake cutting in the train, and the fact that we don't know each other at all, I don't think I can ever forget this. It just made me believe that it's my mom's way of blessing me today. Thank you so much," she told us.
The three of us sat there with absolutely no idea what to say and just smiled at her. What had been just a crazy idea we had impulsively discussed for a random stranger probably meant a lot more than that for Prema.
'I might write about this experience on my blog sometime. Do give it a read if you like,' I told her and handed over my card.
Travel may not pay us monetarily like a regular workplace, but it does give us crazy stories to tell and sometimes knowingly or not, we become a reason of joy for others. And perhaps, train travel gives the best opportunities for tales like these.
This story was originally published at 'on second thoughts'.