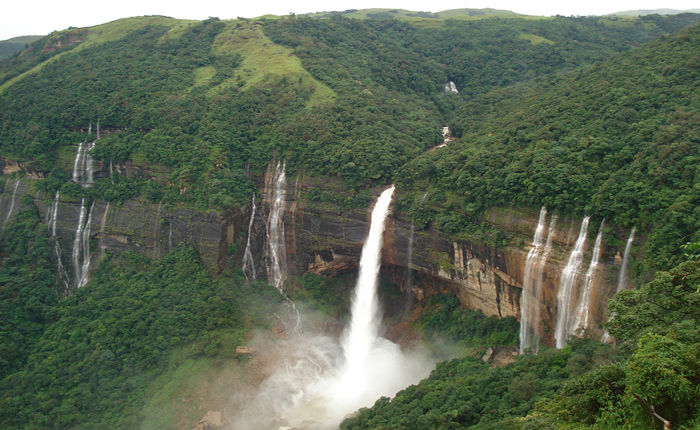 After moving forward from here, there was 'Seven Sisters Fall'. The rocks have gone far and far and many water from above can drop water. There was no drop of water at this time.
Further Thangkharang Park is there. Half a kilometer away from Main Road But this is the forest department's park. Located right above that part of the Plateau, from which the slope of the southern slopes begins and this shield goes to the Bangladesh border. The atmosphere was foggy, otherwise the grounds of Bangladesh could also be seen from here. The Kherenm waterfall is also seen in the west of this park. But like all other waterfalls, there was only one or two drop water. But its geographical location and its openness were telling that it would be one of the most beautiful waterpuffs of Meghalaya in the rainy days.
The road also goes down from the shore of Kherem, which will take us some time later.
It was a matter of general tourism. Today, as much as we go, all the passengers who come to Cherrapunji roam around. Now we take you away, away from tourism towards a place you have not even imagined.
Now no one will ask me how I came to know.
So when you go from Cherrapunji to Mosmai, you find the distances of Shelala and Bholaganj written in place. Bholanganj is about 45 kilometers south of Cherrapunji. Mesamai caves are at an altitude of 1200 meters. After this the slope starts to descend from the plateau and landscapes change completely. We are on one side, several hundred feet tall vertical rocks and one side, deep valley But there are many villages here too. Moving forward- When we pass under the Kherem Falls, we are 500 meters above sea level.
This road is bad since the masamai, which continues to worsen even further. There is a thirah near the village of Mavelong. The direct road turns slightly to Bholaganj and a road turns right to Bholaganj, which is small. I had already thought that this little road has to go. The mind was sitting many days before that it was to catch the road to the right from Mavelong.
But here I made a mistake. Forgot to see the geography of this small road. It forgets to see how high it passes.
But the mistake is realized later on. I was already in the mind that we have to go through the small road, then we turned right. At this time we were about 450 meters above sea level. Bholaganj is located below 100 meters.
Now it faced a huge climb and after 3-4 kilometers we reached the height of 750 meters. Here's a crossroads. A road goes straight to Cherrapunji, goes to Thirteen from where the path to the double root bridge begins, a road goes towards the monsoon, which we had just visited and one is Bholaganj. We turned to Bholaganj. I expected that after this place we will get unloaded and we will gradually reach Bholaganj, descending and descending.
But still the climb continued and we reached more than 900 meters. Now the atmosphere was realized, then the severity of the situation started to feel. If the torna began to descend from that point, then till now we were at 600 meters and the equation was something else. But now the equation was something else. Bholaganj was only 10 kilometers away and we were standing at 900 meters above it. That is, we have to descend 900 meters below 10 kilometers. This ratio is also very good in pedestrians. There will be hard on motorcycles too.
If the road was ripe, then gradually it would fall; But small stones on the road were only stones. When the new road is made in the ground and stones are stacked on it, will you fall or survive by running a motorcycle on it? But here was a very fast slope. On such slopes where there is abundance of stone or gravel, the next break should never be used. And the last break will take place, when one leg will rise from the ground and reach the break. At almost zero speed, both legs were kept on the ground. Even with the clutch and gear, the engine was started, and the bike started to be difficult to handle.
After all, stand your hands. We have come up to about 800 meters only. There is a similar slope further. Rather than under 500 meters, there is a much sloping slope.
"Now it will not happen to me." The motorcycle turned aside and began to take breath. It seemed as though I was driving a motorcycle instead of a motorcycle.
"Yeah, okay. If reached, then there will be problem in climbing. "Dipti said.
"No, there will be no problem in climbing. First, put in the gear and sit comfortably. Do not make a balance in climbing, you become yourself. "
"But why are we going there? Nobody else except us. "