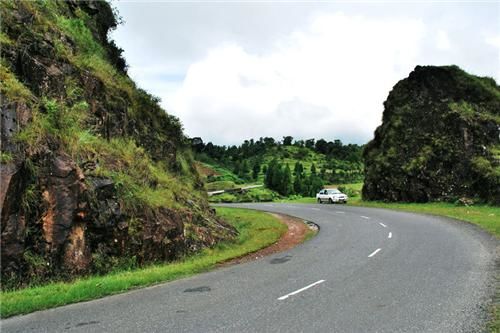 By the night, our intent was to reach Cherrapunji. By the way, Cherrapunji is about 80 kilometers away from here, but we intend to go a long way. After two kilometers of crossing the Dauki bridge, this main road goes straight and one road goes away, which gets revived and gets further into this main road. Mavalinong village near Rivi, which is considered as the cleanest village in Asia. There are also some sights nearby. Looking at them, we will go to Cherrapunji.
So this way of Rivaye goes right along the Bangladesh border. The path is on the mountain, but the mountain ends at twenty-thirty meters and the ground starts. The ground is completely in Bangladesh and the mountain is in India. That is, we were running only twenty-thirty meters from the international border.
Here, there is a slight downstream Songrampuri waterfall right down the road. Since waterfall is on the border, Bangladeshi people come here here. This waterfall is counted in major pockets of Bangladesh.
Going a little further, got Borhil Falls. At the same time, a drop of water was dripping, but at the time of monsoon it would seem tremendous. Even if the lower end of this phase is in Bangladesh, then Bangladeshi passengers also come down very well.
What a wonderful experience would be! The upper end of the fall in India and the lower extremity in Bangladesh. We got the excuse to get into the monsoon
In this way a few passers may come and fall, which will definitely be coming from Mavelinong. Seeing them, our enthusiasm also increased. Otherwise it seemed that there would be a missing village and the villagers would expel us.
There was a parking two kilometers before Mavelinong and it was written - Living Route Bridge I.e. bridge of roots of live trees It seems to be looking at Even more carts were standing. There were also many shops. Significantly, this place is not in the tourist map, although some travelers have started going on now. Most of the passengers were from Meghalaya. We found the passengers of Meghalaya everywhere. They roam a lot. Two-three Bengali people also met. Some foreigners also met. You may not know about this place. We did not even have to. We were just roaming freely in this unknown area of ​​Meghalaya.
This is part of the Noah's village. The house is clean and clean lanes from them. Bamboo clutches in front of every house. No rubbish, no plastic. Many home also provide home-stay facilities. We started thinking about staying here.
If the streets turned towards 'Living Route Bridge' through the rugged streets, the sloping started. The distance from parking is half a kilometer. Slip of ten-ten rupees near bridge The warning was written that the stay on the bridge is forbidden. For this, two boys were sitting, whose task was to whistle when someone saw someone stop.
It was written that these two Rubber trees were planted in 1840 and their roots were woven in a planned manner in such a manner that the roots of that tree had come here and the roots of this tree went to the other side. Although the bridge was not weak, but still nobody was being allowed to stop. The water in the river was very low, so it was possible to land down in the river too.
At that time, what would they have built such bridges? Surely there will be no thought about tourism. There are many such bridges in Meghalaya.
It was about two and a half hours away and there was just one and a half hours left to hide the day. I was much impressed by this place. He also wanted to stay and wanted to grow even further. Although I rarely fall into this kind of dilemma, but today was in dilemma Stop here or go to Cherrapunji. Then left everything on time. Let the chips fall where they may.
Start motorcycle and move towards Mavelinong. After entering the village, two boys asked to stop and put a slip forward.
"what is this?"
"Entry fees."
"What is the entry fee for coming to the village?"
"Yes."
"No, we're going back."
And thus, it was also known in the most peaceful village of Asia, and the dilemma that was going on in the mind so far has ended. I do not have any problems with these pills. In the future, we were going to cut many more slips, then they knew the importance of this later. But at the moment not too bad. If the travelers are coming to the village, then collecting ten-ten, twenty-two hundred rupees from them is also appropriate for self-employment. And we were also seeing this money being used. Now the Nehruwate village was a big influence. Public Representatives will fix your roads, take remedial measures, make arrangements for electricity; But till one person can not understand the glory of cleanliness, cleanliness can not be done.
Here is a 'Balancing Rock' on the side of the road. It does not look like it from the road. The fence is laid. The counter is made. Ten to ten rupees A very large rock is placed on a small rock and is well-balanced.
And by now it was confirmed that Cherrapunji had to walk. It took time for two to five minutes.
Frequent Searches Leading To This Page:-
best time to visit meghalaya, guwahati meghalaya trip, guwahati meghalaya holiday packages, beautiful meghalaya tour, 5N/6D assam & meghalaya tour