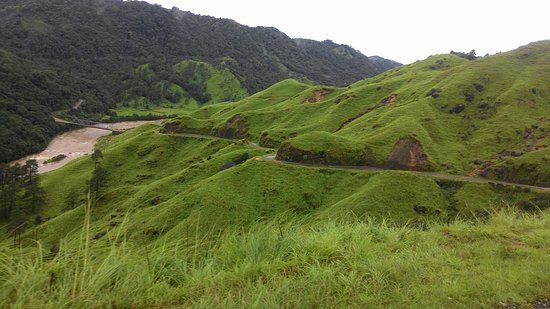 I have already told that we decided to go to Rongzeng while going to Nagothoin. If the time is enough, then you will get caught, otherwise you will get out of milking. And for sure, it was also confirmed at four o'clock in the morning to come out of Cherrapunji.
But is such a good thing ever?
Out of Cherrapunjee at eight o'clock. The loss of four hours was saying that we are no longer going to sew.
Walk on the road from Cherrapunji to Shillong road. When we came to Cherrapunji two days ago, then the road was fixed in the dark, frosting with cold. But its beauty began to appear now The road is just above the plateau, but it also passes through the banks of plateau and deep valleys. The deep valleys in the south are visible far and wide. If the weather is very clean, then the plains of Bangladesh can be seen in the south. At this time the weather was clear, but the fog remained even away.
When Shilong stayed ten to twelve kilometers, then the road to come from the mosinarram was also found. We walked towards the masrinam on the same road. So far, we had completely come to the plateau and the deep valleys had gone behind. Now we will not get the valleys all the way, we will remain on the plateau.
Walking on this road, a thirah got a distance. The direct road was going to Maasin Ram and further to Baghmara and the right road, Nagothoin and Tura. From here it was 72 kilometers and Tura 286 kilometers. Dougtowin is only in Khasi Hills, but Tura is in Garo Hills. Turned right from here
The roads of Cherrapunji and Masiran from Shilong were also fantastic, as well. It will also make them magnificent, because in Meghalaya, the highest number of passengers from all over the world passes through these roads. Yesterday we saw that there was a very bad road after Cherrapunji, because no one else could go there. Likewise, Nagothine and Tura from Shillong also go to almost non-passenger passengers. You will see in any travel forum on the internet, you will find that going to Guwahati to go to Shilong is advised. So we felt that this road will get bad now.
but that did not happen. This road is magnificent compared to any other road in Meghalaya. We did not get any reduction in this entire road till Ronggeng. There is no crater and white lines on both sides of the entire road are also there. Due to the Plateau, landscapes are also 'Amazing'.
And yes, before proceeding, let me also tell that two months ago Prime Minister Narendra Modi inaugurated this road. Expansion of the means of transportation in the North-East is in the priority of Modi and it is visible even while roaming around.
But there is a lack. Alternatives to eating and drinking are not the same. The road is just new. It must have been worse before this. This conclusion comes from the advice of going to Guwahati on the internet. Typical local ace people will come and go. So they have some small shops. We also stopped in such a shop. Was written - Fast Dude only meets on Sunday. Significantly, people of Meghalaya do 'outing' on Sunday. But today was not Sunday, so we had to work from tea here.
Here is the name of a place - Mamamam.
This road is of PWD, but the names of the places are written in both Devanagari and Roman. Devanagari is rare in Meghalaya, so it was also walking on this path.
This is the pleasure of riding on the plateau. Roads are curved, but mountains do not. When the monsoon came, the greenery filled up, but there was still no greenery.
The headquarters of the Western Khasi Hills district is Nagaothoin. Obviously it will be a very good city. Otherwise it will be a crowded town. The desire to see how such cities of Meghalaya are far from tourism. But when there was a bypass there, all the wishes of going to the city got shaken.
On the way a lot of oranges were sitting in one place. All were local villagers and they had built bamboo clutches shops on the roadside. We were hungry too, then stopped. The mistress of that shop, with twenty notes in one hand and one orange in the other hand, told the sign that an orange is twenty rupees. It was expensive, but we took 5 oranges immediately without bargaining and sat here to eat and eat.
Do not know this place is in Khasi Hills or in Garo hills, but it is only around the border of both.
Seeing us, a man ran and said something in his own language. He was also happy, but because of high speaking, we were feeling very angry. We are outsiders, this is written on our faces only. And here never comes outside. These oranges are no more, they are not sitting for people like us. The one-way trains passing through here are for the passengers. There is also Garo Hills disturbed area.
Are not we just in Garo Hills?
Is this man even from among those 'turbulent' people?
"Eat fast orange and get out of here And if only one person came, then it is good to leave without eating oranges. "I told Deepti.
But it soon became known that it is the owner of this shop and is not angry with us. Rather very happy. He did not speak Hindi and English, but he used to try to communicate with one-two words of Bengali-Assamese and one-two words of Hindi-English. When we understood that it is happy, then we also started enjoying happiness.
"Kimra ... Kemara ..." she said pointing to me with a finger.
"What is this?"
"It may have been saying that there is a hotel in their village too and the rooms also have to wait. The room, the room is saying. "
Then he pointed towards the camera and we understood that this 'room'
Drag some of his photos. He asked for the photo, so we had to explain that it can not get the photo. He had a Nokia-1100 phone, then he asked to transfer photos to this phone. Then we finally wrote her name in her diary. He wrote in Roman - M. beans.
"Khasia people would be nice ..." she said.
That is, we are in Khasi Hills right now. While walking, he said that he should stay here in return. We looked around There was a forest and there was a house somewhere in the forest. One of them will also be home. Our meeting and conversation was absolutely unexpected. Suddenly such a conversation happened. At the beginning we had even thought of running away from here. If we had a slight estimate of such an event or the evening time, then we could think of staying here. Now we had no fear of any looting.
But there was a fear of one thing in their stay here. It is that these people will be very fond of us.
Now you will think of how fearful in the great hospitality?
So, if you are vegetarian and stay away from drinking, then you must be scared of the 'great ambition' in the jungles of the northeast. Most people do not know that there is anything like vegetarianism in the outside world. And if you refuse to eat the food made by them, then it will definitely not be considered good.
Frequent Searches Leading To This Page:-
budget trip to meghalaya, trip to Meghalaya, Meghalaya Tour Package in Budget, Meghalaya affordable Tour Packages. cheap meghalaya tour packages