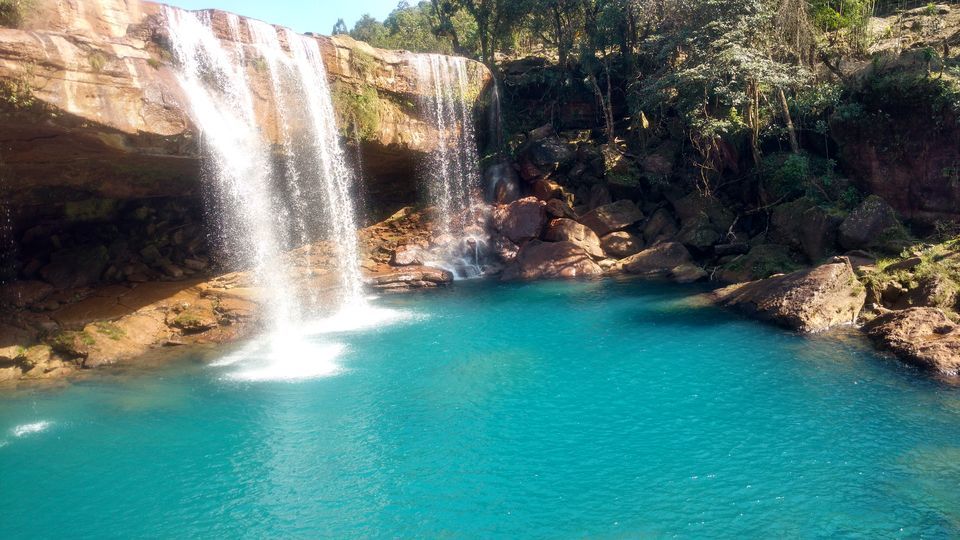 To go to Jowai, to go to Dauki, the right to turn right from the office of the District Collector, but there was a large crowd. Elections in Meghalaya had been announced and nominations were going on. In view of that, there may be crowds here. The crowd was so much that we did not show the way to the right door and we kept going straight. However, the crowd was quiet and there was no noise or noise.
Going forward, pointing towards a woman in the direction of the road - "Dookie?"
They did not listen well, but stopped I asked again - "this way goes to the dock?"
"There is no place named Dauki". He said in broken Hindi-English.
We did not know what these people call 'dauki'. After reading the English spelling I had started to pronounce 'dauki' according to my convenience.
"Left?"
"Do not know."
"Dakki?", "Ducky?", "Deckie?", "Dookie?", "Dubbike?", He uttered every possible pronunciation, but they did not understand After all, Google Maps had to resort to it. Then we came to know that we have come on the other path.
The road from Doha to Dauki is very impressive. Traffic was not there. The distance is approximately 70 kilometers. The wind was moving fast and looking straight on the face. That is wind coming from Bangladesh. This feared me that when we leave the plateau and get down, then there will be dense clouds.
And also announced - "Last 15 kilometers we will meet dense clouds."
Deepti asked - "How do you know?"
"You can see it. Will tell later. "
And it is a different matter that the whole path can not be clouded, nor the clouds of clouds.
Just before leaving Jowai, some caves appeared on the very edge of the road. had to wait. There was no one here. It might have been a quarry Soon, the Supreme Court had banned all types of mining in Meghalaya, so now nothing was happening here. We were amazed when we went inside them. Inside the ground was the whole empire. Hundreds of men could come in. When the look stopped, we turned back and turned out. At the moment, it was not safe; rain can also be sunken; But it can be made a 'tourist destination' by checking its security.
Got a bridge and stopped the motorcycle. There was a small waterfall on the right and on the left side there was a footbridge of stones on this river. There was no doubt that the bridge was very old. It was found on the internet that it was built by the Jayantiya kings and it was located on the pedestrian path from Naratyang to Jaintiaipur. The road that we were walking on parallel to this time, was the road from Doki to Jowai, i.e. from Naratyang to Jaintiaipur road. Within crossing the border in Dauki, Jayantipur is within Bangladesh.
Amalarem had a notice board before long - Kangsuriari Waterfal. Had to walk on a one kilometer raw route and the road ended. There were two shops of tea and two cars were standing. There was a way to go further.
After walking about a kilometer walk and falling down a hundred meters, slip of forty-forty rupees slipped. This place has made us happy. There were many more passengers, who were locals. External only we were.
I am unable to describe this waterfall. Whatever I write, I can not reach its beauty. The water was low, but the blue was transparent. There was a large cave behind the fall, in which sitting in front of the water falling and listening to the sound is supernatural.
Meghalaya is the state of waterfalls and caves. And if you find these two things together, then understand that the jannat is right there.