Blue coral waters? Been there!
Green foliage? Good, but abundant!
A beach covered in crazy red seaweed? Stop over!
In Panjin, China, you can get an eyeful of the awesome, gigantic spread of a bright red plant called suaeda salsa. As we look out across the world's largest wetland, Panjin Red Beach located in Dawa County in the northeast province of Liaoning, China is considered to be the largest marsh and has been developed as an eco-tourist destination since the 1984 inception of Panjin City. Here's a glimpse of how it really looks like!
When thinking of a beach, sand is perhaps the first thing that comes to mind! However, in this case with the Panjin Red Beach which is, actually, red, and not a sandy beach! The most unique feature is its reed-covered landscape in the Liaohe River Delta. It's colourful - and gets the crimson colour during peak viewing seasons (late summers into early fall).
Go for the Colours, Stay for the Birds
If you're visiting China to find this vibrant seaweed display, then you must definitely stay longer if you're a bird watcher. The Red Beach is home to more than 250 different types of birds, and you may also get lucky to spot the extremely rare red-crowned crane!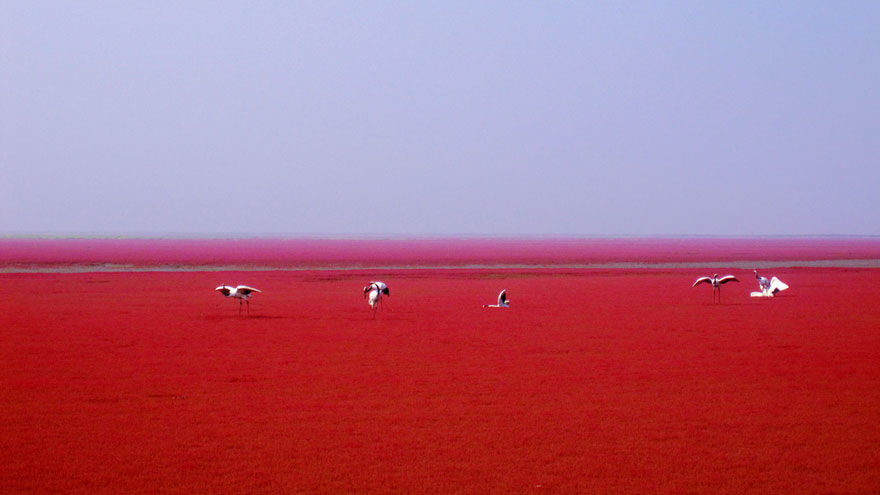 Quick facts
A jetty has been built over the red marshland to allow travellers to walk over the red beach.
Autumn is the best time to visit and is particularly popular for locals and travellers alike
As the land is very flat and densely populated with the plant, people have actually named it as the 'red carpet beach'
One of those places that is really hard to believe, plan a trip for some great photography!