Let's start with a place which is hardly known and not expensive
Being an explorer, I have always desired to find a place which is untouched, unspoiled and unexplored and to quench my craving I started browsing for such kind of places, though I soon realized during my other trips that it's a never ending thirst. Well, while searching I came across this place called '' CHOPTA" in Uttarakhand, India, totally unheard to me. It is located at an elevation of 2680 meters above sea level. Around 230 Kms away from Dehradun, Uttarakhand. The first look of this small village made me pack my bags and my journey started for my very first solo trip.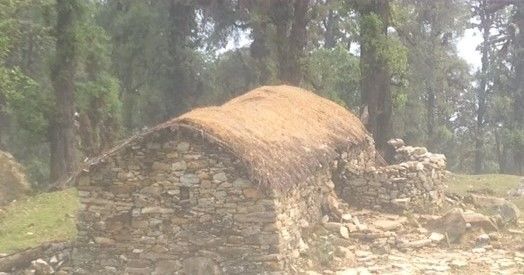 From the beginning:
May 2013
I reached Delhi and took a Volvo for Dehradun and spent a night there at my cousin's. I booked a taxi in advance for the return trip from Dehradun to Chopta to Dehradun via Rishikesh in 6000 INR. Next morning we (the driver and I) started at 6 am.
Let me stop here and share a little about my driver Vikas. He was a very decent and responsible person who took good care of me, always protected me and not forget to mention, was fun to be with. He never said no to any of my stupid demands and in fact, he helped me to live almost all of them. So, I am very thankful to him, if it was not him, my trip might not have been this amazing.
The beginning of the journey was so smooth and I was all energized. Music was loud and all the way, I was crazily singing and hopping in and out for pictures or snacking or fun things etc. I am sure Vikas at one point must have thought that I was a psycho which I am in a way ;).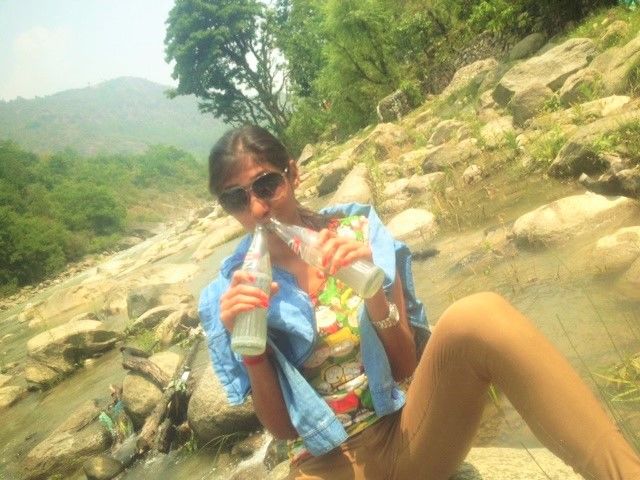 On the way, there are dhabas(small restaurants) and the roadside stalls for Maggi, cucumber, and sweet/salty lemonade soda, all my favorites.
After a few hours drive, car speed went so low because of the condition of the roads. The roads were very rough and tricky for a very long run, it literally got foggy cause of blowing dust. And the dry weather slowly started taking my energy away.
After a little more drive, we got to this place where two rivers meet and greet.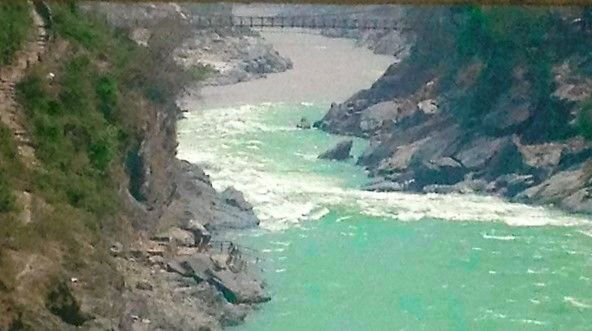 After few more kilometers, the roads got fine and the view got beautiful, but by then I had lost my energy so I quietly looked out and was mesmerized by the beauty of nature.
By the time we reached it was already 6 pm so clearly it was a 12 long hour tiring trip. We stopped close to a small hotel which Vikas recommended to me as it was decent and close to the trekking start point.
Here to mention, Chopta is a very small place, it's basically a place for camping, trekking, and nature lovers so you cannot expect luxury here, the staying options here are very less in fact. Mostly people prefer to stay in tents (less availability if not carried one), but you will get simple still clean rooms.
Chopta: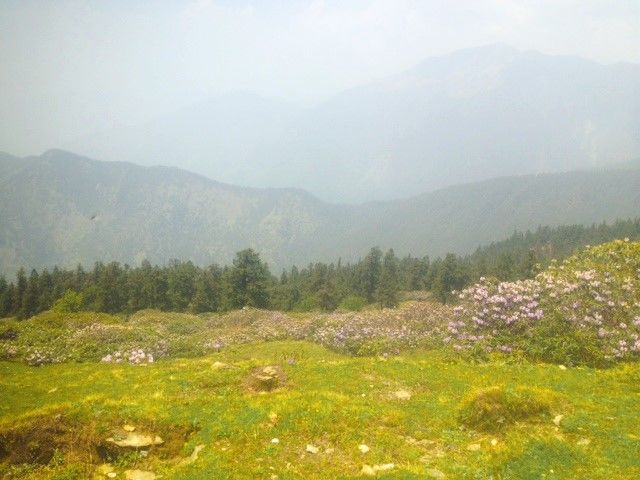 As soon as I stepped out of the cab, the whole exertion flew away, time stopped, I was charged
and at that moment I felt like life touched me and I said to myself 'I am alive'. We know about a few mini-Switzerland in India. Well, this is the one which is not so known yet.
It was a chilly May evening and wow, I didn't carry any warm clothes except a jacket and a stole since I didn't expect it to be that cold in the month of May. So basically, carry woolens, light or heavy according to the month you choose to go as it's always cold there.
The freezing breeze took me out of my immersion and I simply ran in search of a hot ginger tea. While sitting in the small restaurant and having sips of a hot tea, I interacted with the local people and I found out that there was no electricity in Chopta. In fact, they use solar system which sounded interesting to me. While interacting with them I also noticed that the phone in my shivering hands didn't have network so that's another point to note that there's no proper mobile network here.
I chose to stay in a tent as it's not a very regular thing to do and it sounded exciting.It was my first experience in the tent.
After getting freshened up, I went to have my supper, (another hobby of mine is to try local food and beverages and for Chopta there was no specific, but the regular food which was simple and yummy and you won't get non veg food here).
Later, I joined a group of people for the campfire which was quite a fun, but since I had to get up early in the morning to start the trek, I preferred not to stay for long and went for a sound sleep in my cozy yellow color tent. Now again, It's a dense forest area so it's neither advised nor preferable to wander around in the night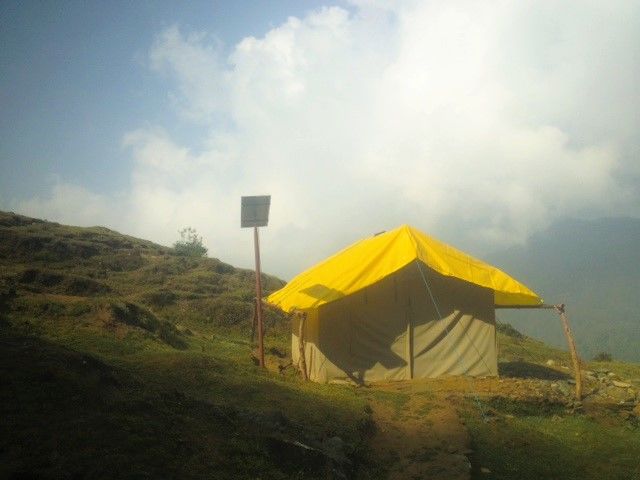 I set an alarm for 4 AM next day but the cold morning froze me and I couldn't wake up on time. I finally woke up at 6 AM out of my laziness but by 6:30AM I was already at the trekking start point. I was ready with my small backpack containing water bottle and some snacks, my iPhone, my only stole and a trekking pole. Note that without network my iPhone was just a camera to capture the moments. I was so damn excited as it was going to be my first ever trekking experience, but definitely not the last one. I always had it in mind and finally got a chance to execute.
I started trekking for Tungnath followed by Chandrashila (Moonstone). There is a paved path combined with stairs to walk, but after a while I started finding it boring, so to spice it up I changed my route a bit and chose to trek through hilly part, well, I was not the only one to do so. I enjoyed it more and my regular breaks let me see the more of Chopta
A little off the track: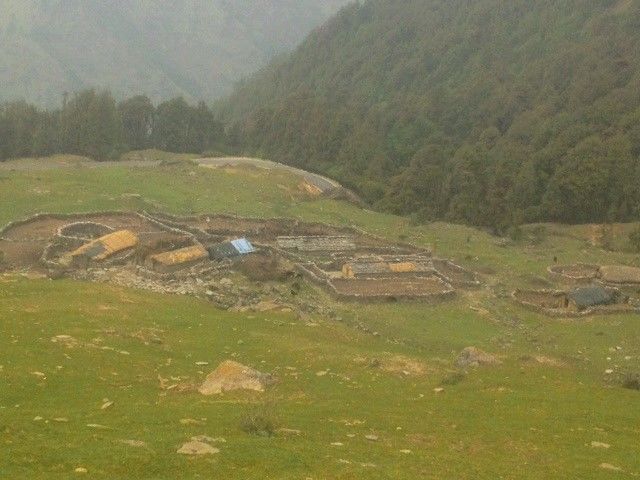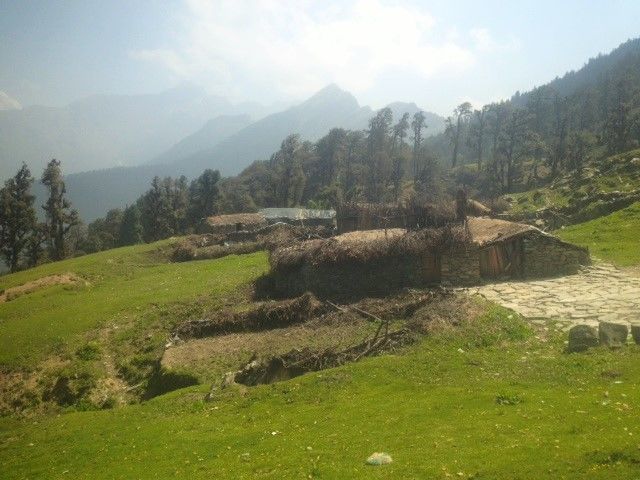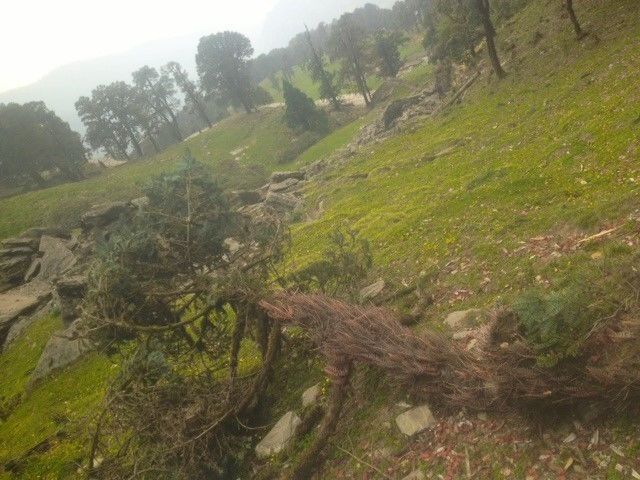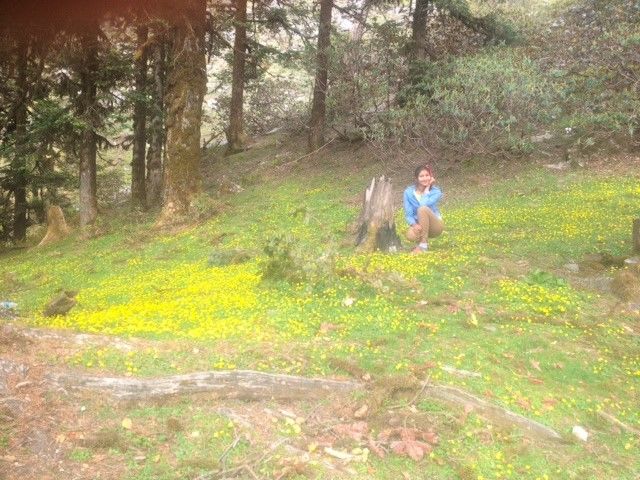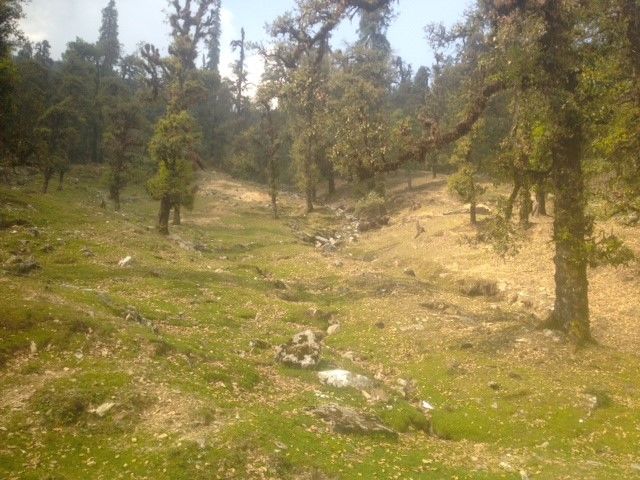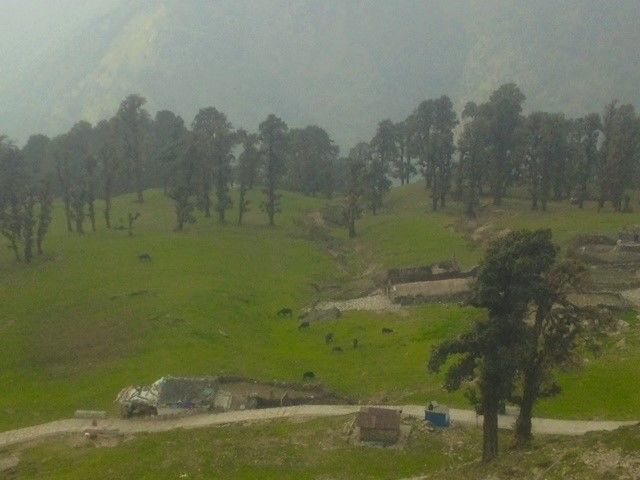 There are small shops at a regular interval where you can have tea and snacks. I like to interact and connect with people and know the local side of the place I travel to. And I must say I loved the people in Chopta, they are really sweet, very simple and down to earth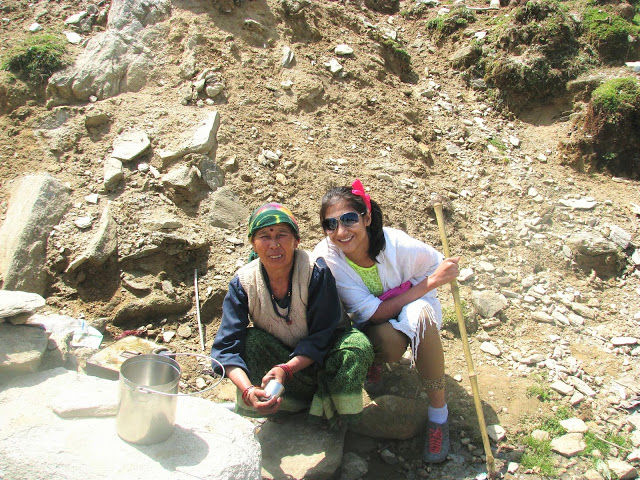 The higher I went, the lovelier the views were getting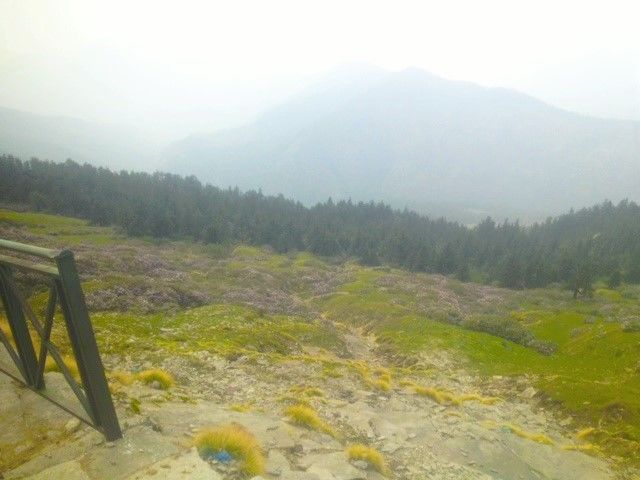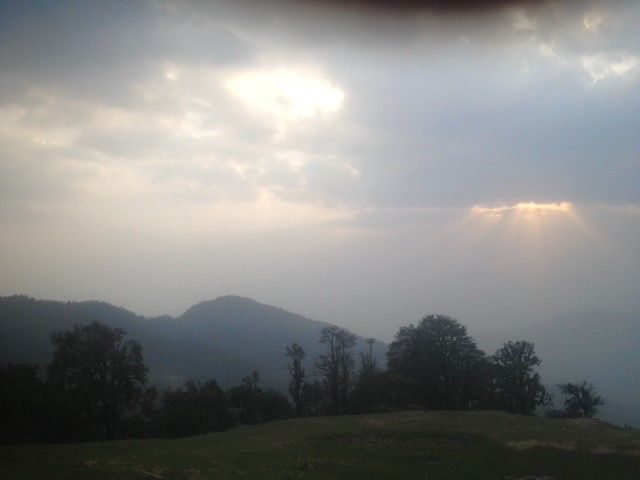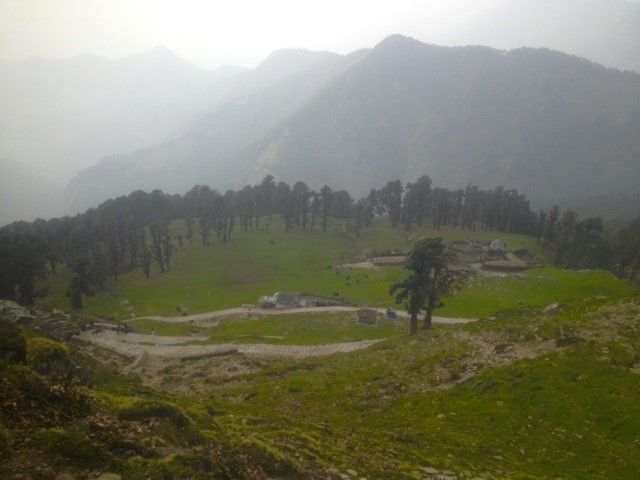 1st Point- Tungnath Temple (highest shiva temple in the world and one of the panch kedar temples)
Tungnath temple is at the height of about 3680 meters.It is believed to be 1000 years old. It was 1:00 pm when I reached the Tungnath temple and was really panting, but as I entered the temple, it worked as miracle and I got all charged and refreshed, what a spiritual place, peaceful and very positive.
It should not take you this long to reach, I took this much time because of my regular and long halts.
The weather was pleasant when I started and It already got windy, cold and cloudy before I reached Tungnath so views got disappeared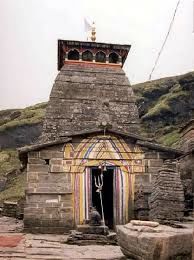 Without wasting any longer, I moved for Chandrashila as the weather was changing fast and I wanted to make it to the peak.
Total distance from the starting point till Chandrashila is around 5-6 kms, and it is around 1-1.5 Kms from Tungnath to Chandrashila. Chandrashila is located at the height of about 4000 meters. It offers 360 degrees panoramic views of the Himalayas and if the weather is clear, one can have spectacular views from here. It is believed that lord Rama meditated here after defeating Ravana also that moon god spent time here in reparation.
2nd/Peak Point -Chandrashila(Moonrock), a summit of tungnath
It's a very steep trek for Chandrashila and I reached there at around 2:30 pm when started at around 1:15 pm.
It started heavily breezing followed by rain and got colder when I was already at the peak which enforced me for immediate return. Well, for me it was a moment of fun as I like getting drenched. I had no other option anyway since I didn't carry an umbrella just like I didn't carry proper warm clothes, but still I enjoyed even though it made me shiver.
But it's an advise to carry an umbrella or a raincoat along with you cause weather here is unpredictable.
I was happy I made it to the top even though I could not stay or take pictures or enjoy the view.
Getting down was faster and without halts and the rain also stopped after a while. I got back by around 4 - 4:30PM.
I was supposed to leave for Rishikesh by no later than 6:00 Pm, but I decided to extend one more night to stay far away from the daily chaos and for the love of this place with peaceful environment, pollution free air, sweet people, greenery & meadows all around, dense forest, the climate and above all, the feel of this place was just WOW.
The next morning I had to say bye to this lovely place which let me live an enchanting experience.