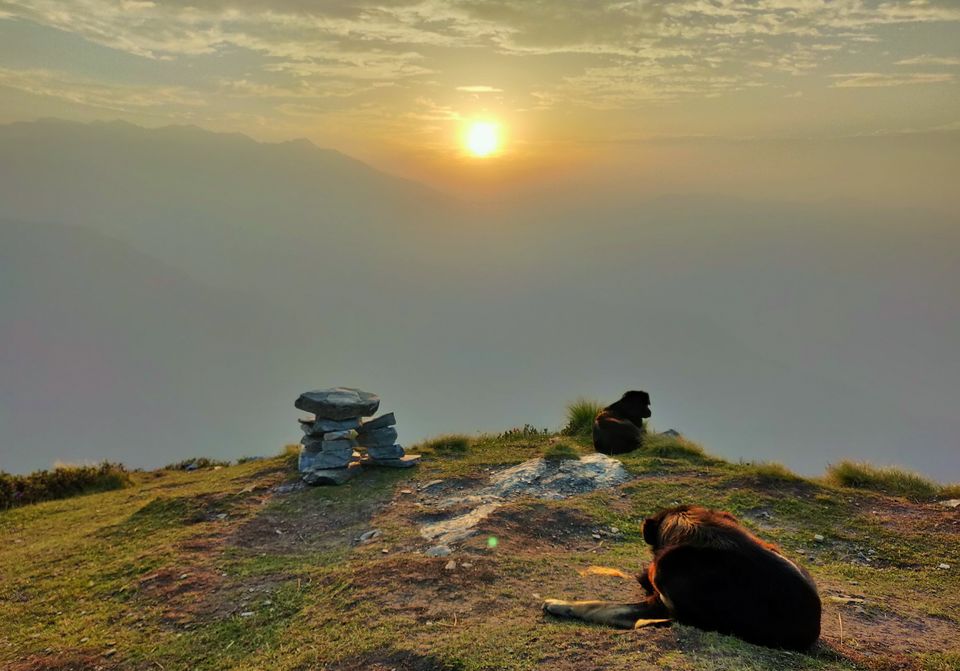 There are only a few things in life which make me sleepless at night. Fear is one of them. I am afraid of the dark. I'm also afraid of the water, but that's another story .
Tarun (my partner) told me that we'll trek in the dark so that we can reach Chandrashila peak before the sunrise. I asked him if there will be enough light for us to see the path? He said- " of course, there'll be enough moonlight. It'll be fun!" Yeah, that's him. Fun, adventure seeker, crusader of the dark!
Me? Not so much! I just follow him in the hope of coming back alive. Yes! That's how extreme my thinking is. I have a dark side which keeps imagining harsh deaths (for me!) under peculiar circumstances.
So this was going on in my head for the entire night- "What if I slip and roll down the mountain? Nobody will ever find out my body and I'll dissolve into the dark abyss. Even worse, what if he falls down? How will I save him? If I shout, how quickly will help arrive? If not, how will I live without him?"
I woke up with a heavy head and made agonistic sounds to convey that I wasn't feeling very well. He hugged me because he knows that's how I do my drama every time. That's where I gave up. Fuck you Fear, I'm gonna do this!
So, we did our morning chores and started our trek sharp at 4.15 AM. The trail is natural and it's wide enough for two people to walk side by side, but I constantly nagged him to walk ahead so that I can see him.
It was a cold morning. We were wearing two layers of clothing and still feeling numb. However, two things happened as we ascended- I started feeling a bit warmer and my fear faded away. Tarun was right, the moonlight was enough for us to see the path we were walking. The human body is fantabulous. Our eyes adjusted to whatever small light the night had to offer and I understood that there was absolutely no scope for us to fall off the mountain (in the sobriety of course!)
For me, there was nothing magnificent about Chopta to Tungnath trek. There were, of course, many great valley views, but nothing as grand as Chandrashila. When we reached the peak at 4.55 AM, it was just the two of us. The sun was coming out of its slumber and the whole sky was colored in orange-red hues. We took front row seats and sat in earnest wait for the sun to come up. It was windy, cold and we sat close to each other to stay warm. Meanwhile, we had set our phone on a stone and turned the timelapse on.
Spoiler alert: The timelapse video is on YouTube. Don't watch it if you're planning for the trek.
While we waited for the sunrise, we contemplated what kind of people leave their plastic bottles at the peak? What thoughts go in their mind when they throw a bottle mindlessly? Do they really believe that some magical broom will clean all their trash?
Though the Chandrashila peak is relatively clean, we saw some litter thrown by some 'adventure seekers' and it was depressing to see how some people treat mother nature.
By 5.15 AM, the sun was still playing hide and seek with the clouds, but there was enough sunlight for us to see the sparkling Himalayan snow-clad peaks. Meanwhile, other trekkers also joined us and our reverie was broken by some overly excited trekkers who shouted and played songs to celebrate their climb. To each their own! However, I always wonder if there's a code of conduct that we trekkers must follow. Especially, in India.
The sun was finally out by 5.30 AM in all its glory and no words can do justice to how that moment felt. It was one of the most beautiful sunrises we saw from a mountain peak. We spent some time basking in the warmth of the sun's rays and thanked our lucky stars who got us here.
And, I thanked the mountains, the sun, the birds, and mother nature for keeping me strong throughout the journey. If someone asks me to sum up my entire experience in one sentence, I would say-
"It's always hard in the beginning. So just start and it'll get easier."
Trek details
1. The Tungnath temple opens in the summers around the month of May and closes in October after Diwali because of heavy snow. The trekking is open throughout the year, though. Trek from Chopta to Tungnath is 4 KM and a fairly easy one. The Tungnath temple is one of the panch-kedars and is the highest Shiva temple in the world. Revered as a religious place, (much like Vaishno Devi), you'll find many elderly people en route (some on foot, some with mules). The trek has public toilets at 4-5 spots and you'll also get water points to refill your bottle. Humble request- please carry your own bottle and try minimizing your plastic intake. The trek route to Tungnath is fairly simple and even if it's your first trek, you can easily complete it. It's steep at some places and there are some shortcuts in between. You can choose either depending on your capacity.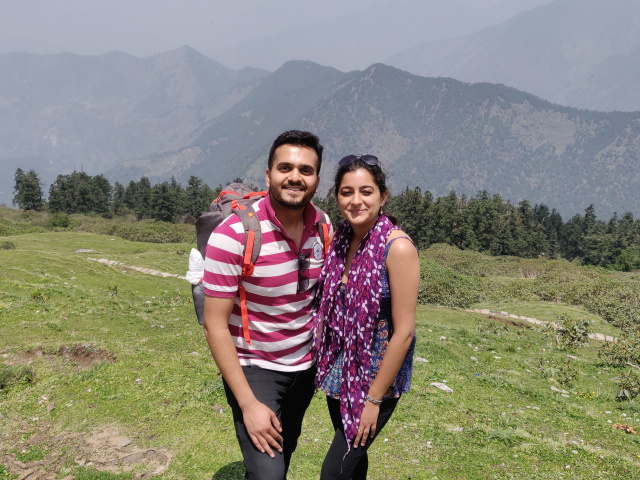 2. If you're staying in Tungnath for a night, don't miss the aarti in the temple at 7.30 PM. It's magnificent and there is nothing more peaceful than the sound of ringing bells at 3680m height. Trust me, it's truly an out of the world experience.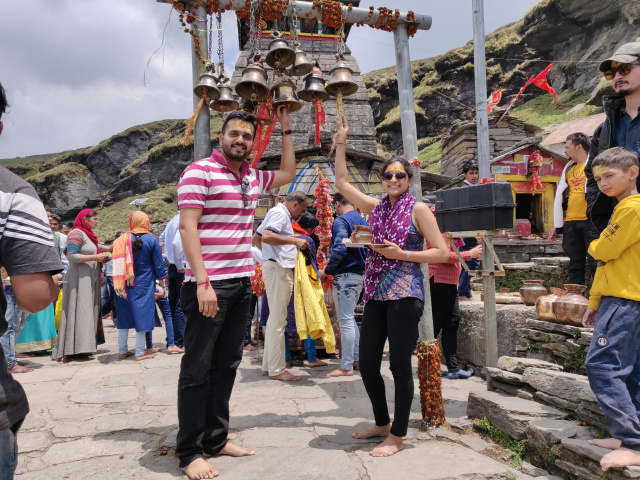 3. Photography inside the main temple is prohibited. I didn't see any boards informing that but I saw the priest asking one of the selfie enthusiasts to keep his camera back. Trek from Tungnath to Chandrashila peak is the high-point of the entire trek. Some people do the night trek from Chopta, they start as early as 2 AM from Chopta to reach Chandrashila by 5.30-6 AM. We, however, stayed a night in Tungnath. There are arrangements to book a room (no tent, though). We rented it for one night for Rs. 1000. And we didn't haggle as it's the only time these people can make money. The room was clean and comfortable.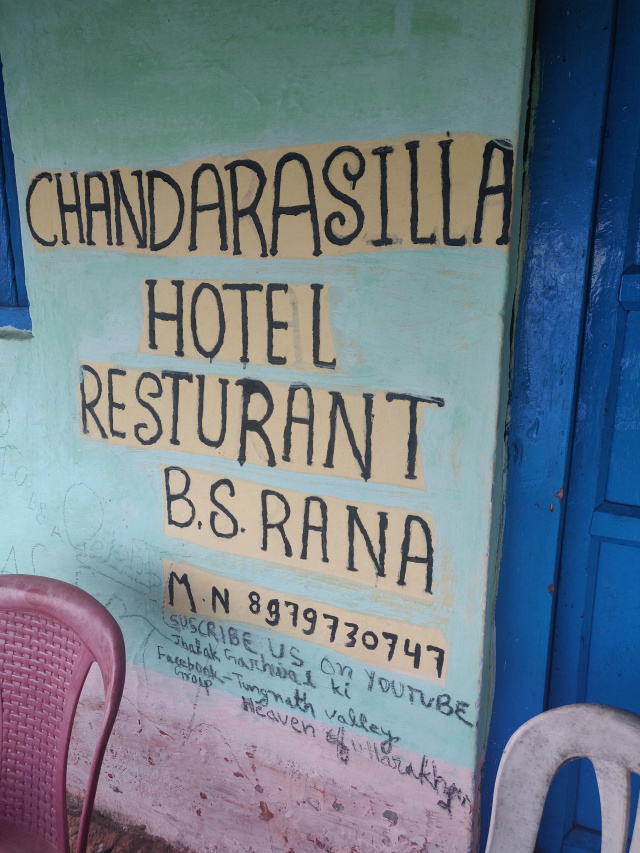 4. We woke up at 3.30 AM and left our room by 4.15 AM. The trek from Tungnath to Chandrashila is 1.5 KM but a steep one. Hence, we planned for buffer time. We didn't hire a guide, but someone told us you can hire one for Rs. 500 if you're skeptical about the trekking in the night. Carry your winter clothes for Chandrashila trek. Socks, mufflers, cap, jackets- depending on how cold you feel. The summit is at 4000 M and it's definitely cold even in summers.
That's all from my side. In case you need any help, please feel free to get in touch with me. I'll try my best to help you out.