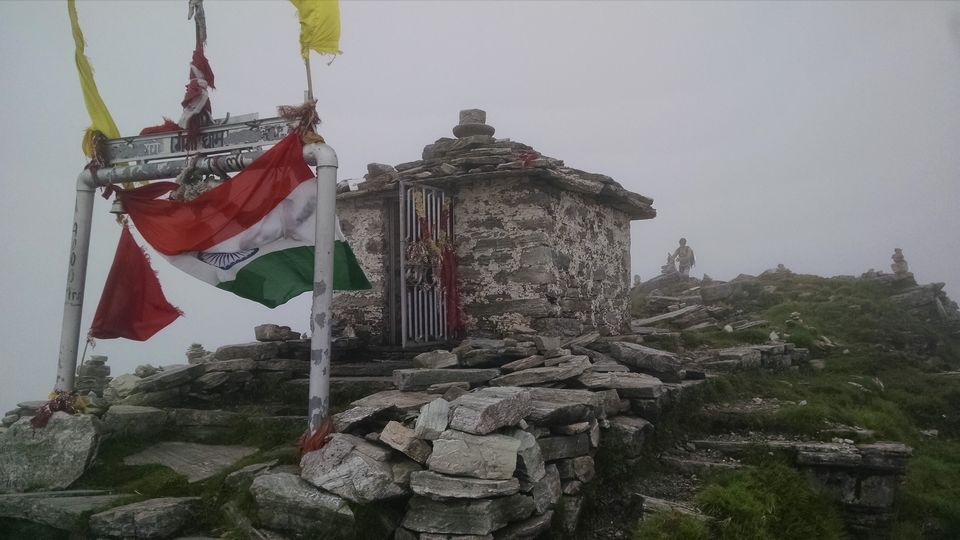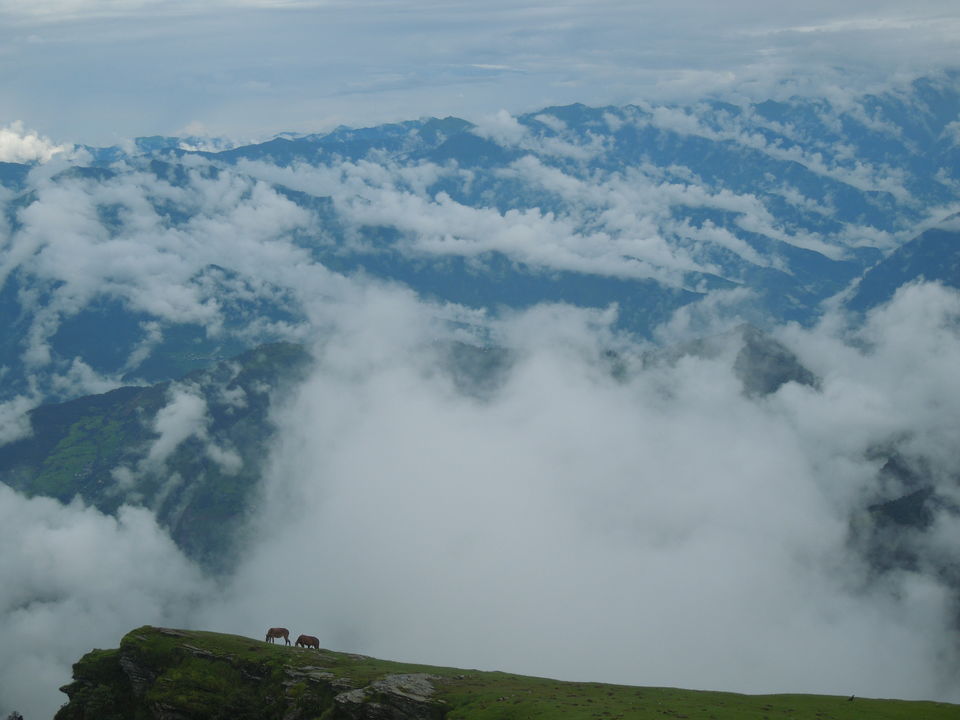 Why Chopta? I have no definite answer to that. Often I get asked if I had a particular destination in mind or not & I have the same old answer. No.
In the first week of July 2016, I had completed my first solo trek to Triund, Dharmashala. I must admit it was a mind blowing experience & it bolstered my confidence to travel farther on my own. At the time I was not coping well with my surroundings. There was an abundance of everything but something was lacking. An inner calling pushed me to break out of my comfort zone. Low on self confidence I embarked on my journey back then. I of course had contacted others to accompany me to Triund. But when all attempts failed, the explorer's revelation struck. Why not alone?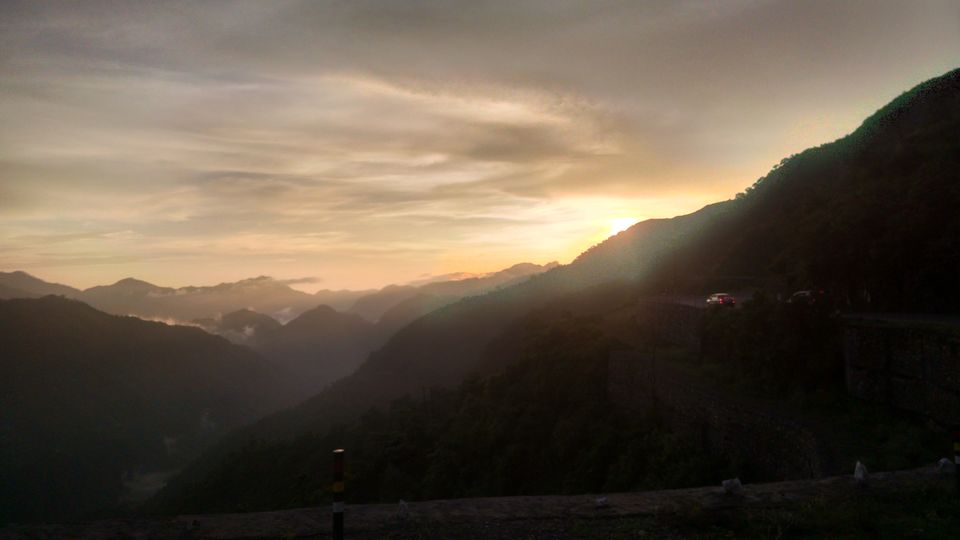 Come August, I got a call from my best bud, Gaurav. He at once asked me to embark on a vacation together. Nothing big. A 3-4 day affair. He came to my house one night (football night I guess) & we started scraping the internet.
We had a friendly argument of sorts & eventually we settled on Tungnath. Not that he or I were religious!. It could be completed easily on public transport, wouldn't hurt the wallet & the most important reason of all, it was an off-beat destination. They call it the "Mini Switzerland". And it isn't wrong as well. Google "Chopta in January" and I bet you would just end up scrolling pictures forever till your phone runs out of juice.
We however, planned this for Independence long weekend. In Monsoons.
Via RedBus we booked what we thought was a Deluxe bus to Rishikesh. But it was a compact tempo traveler. I have never been more comfortable while traveling in my life. Practically no leg space, no curtains & uncomfortable seats which couldn't be pushed back, I realized we were overpaying & were about to be traumatized for the long haul.
We started @ 10 PM from RK Ashram Marg.
At about 5.30 AM, I couldn't be dreaming about clouds just 1 feet above me. Toxic fumes! I literally shouted & the passengers evacuated. I had no faith in the air conditioning of the rickety traveler when we set out & it didn't proved me wrong. This deadly alarm clock set off in Dehradun, which meant, we had surpassed Rishikesh. No shit, the conductor didn't give a damn. No more RedBus from now on.
We hitched a ride back to Rishikesh on a shared tempo.
Route: Rishikesh > Devprayag > Srinagar > Rudraprayag > Chopta
Distance: 163 KM
Duration: ~5 hours
We covered 80% of this stretch in public buses/shared cabs but our patience ran out in the last leg, where we booked a taxi till Chopta. The supplies we purchased at Rishikesh kept our boat afloat.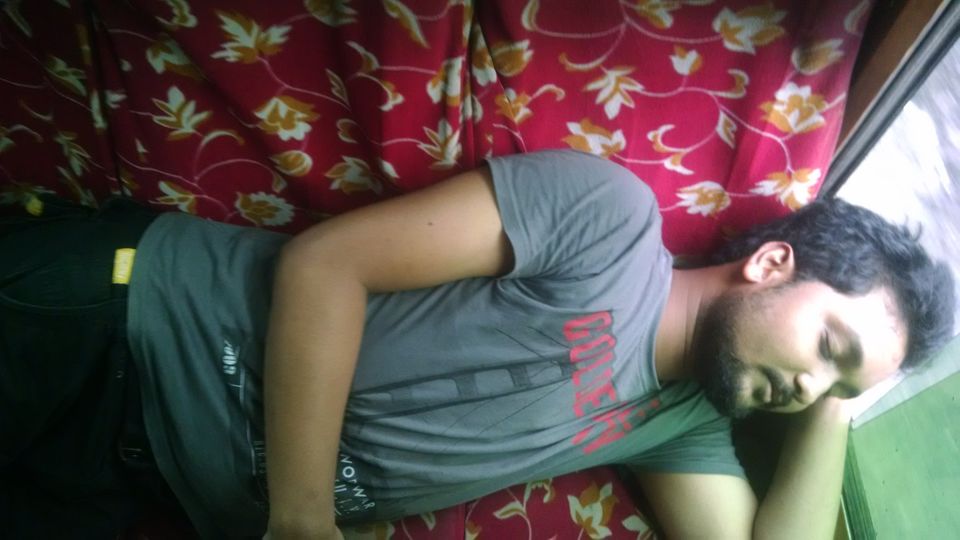 Although many small streams comprise the headwaters of the Ganges, the six longest and their five confluences are considered sacred. The six headstreams are the Alaknanda, Dhauliganga, Nandakini, Pindar, Mandakini, and Bhagirathi rivers. The five confluences, known as the Panch Prayag, are all along the Alaknanda. They are, in downstream order, Vishnuprayag, where the Dhauliganga joins the Alaknanda; Nandprayag, where the Nandakini joins; Karnaprayag, where the Pindar joins, Rudraprayag, where the Mandakini joins; and finally, Devprayag, where the Bhagirathi joins the Alaknanda to form finally, the mighty Ganges River (source: Wiki).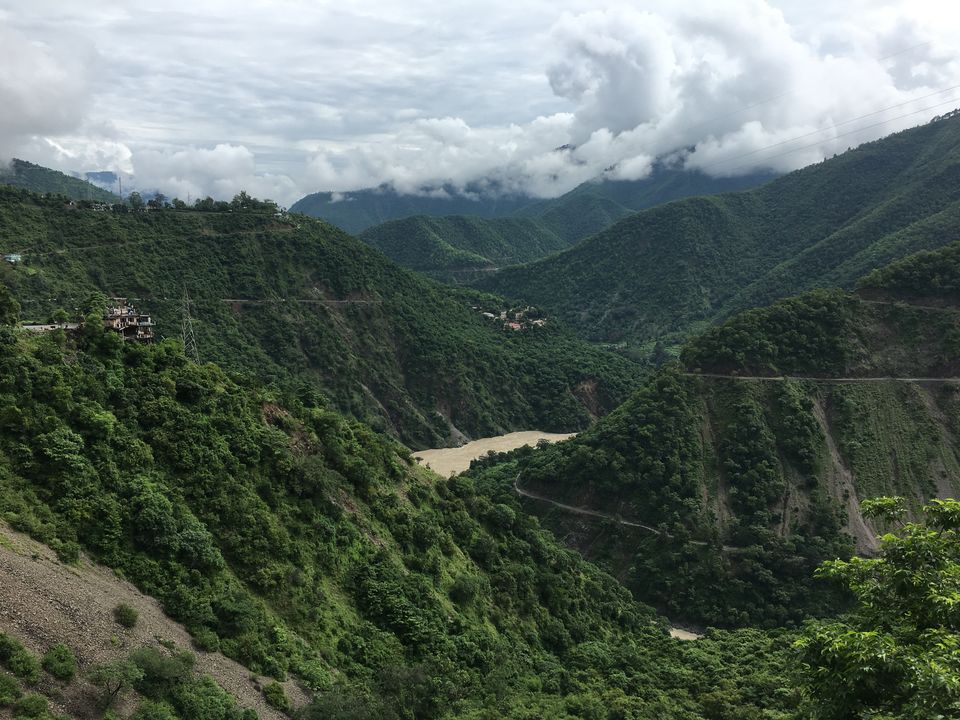 Sanyam, our mutual best friend couldn't join us on this journey. We made it a point to click in the below pose to burn him.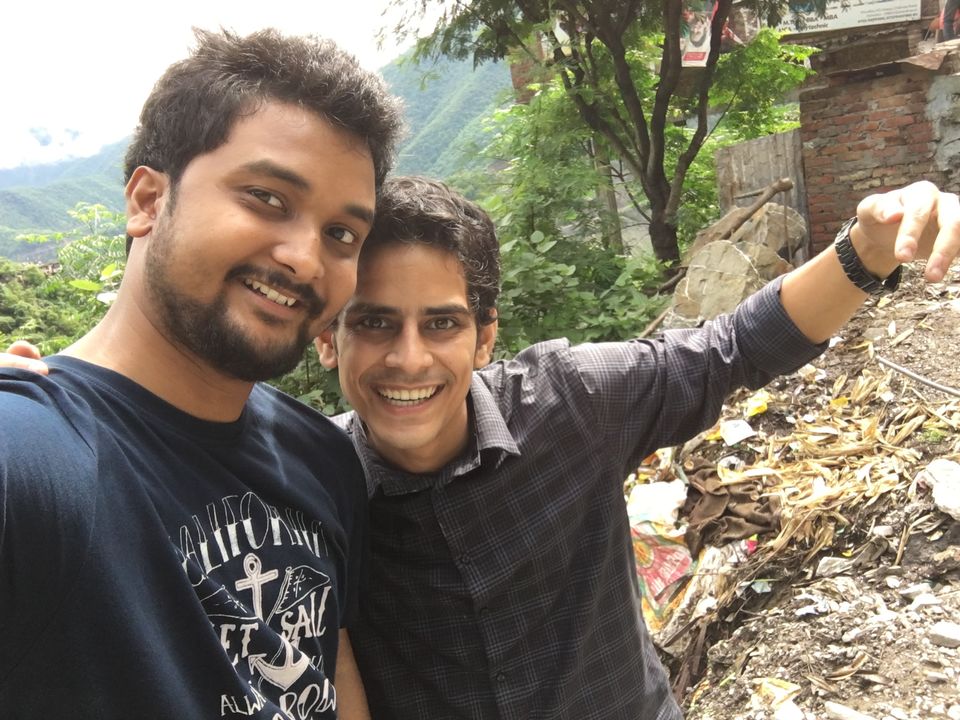 Reached Rudraprayag at 1:30 PM
Somewhere after Rudraprayag we booked our own cab (Tata Sumo) all the way till Chopta.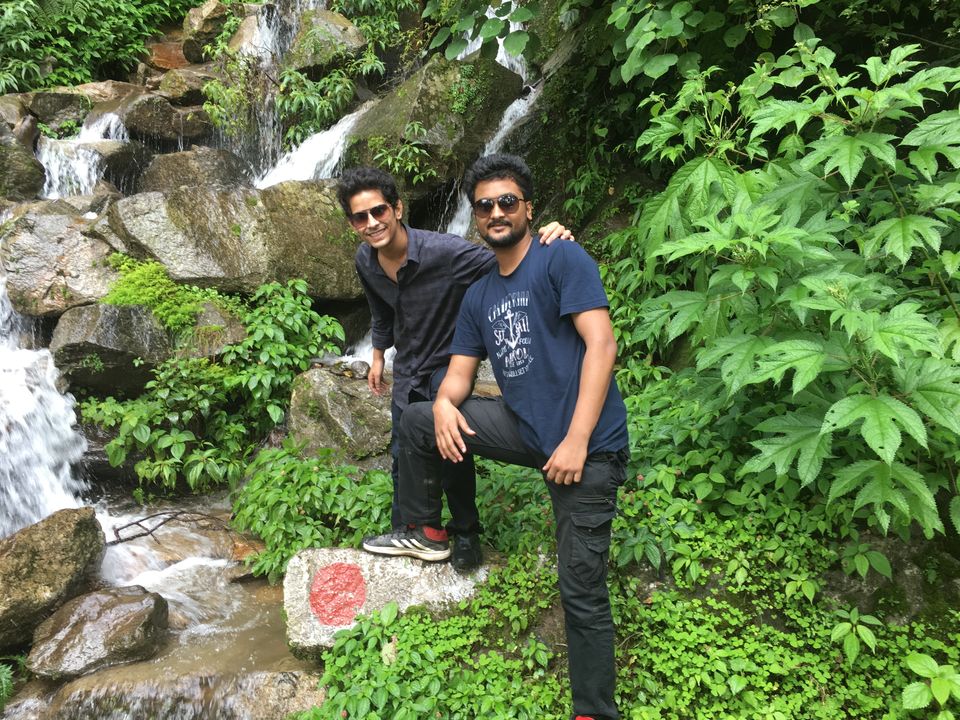 Arrived Chopta ~ 5.30 PM (12 Aug).
The small village of Chopta can be seen in the below panoramic shot.

Cost of overnight stay: Rs 300
Since it was off-season, the locals charged Rs 300 for the room. Your cellphones might start showing signs of poor reception. If you walk 20-30 meters further uphill (to the right of the picture) you might receive a stable signal; A hack, the chai-wala told us.
The day of pilgrimage!
It was drizzling and there were no signs of respite. We had tea & breakfast at about 7:40 AM & gave an hour for the rain to settle.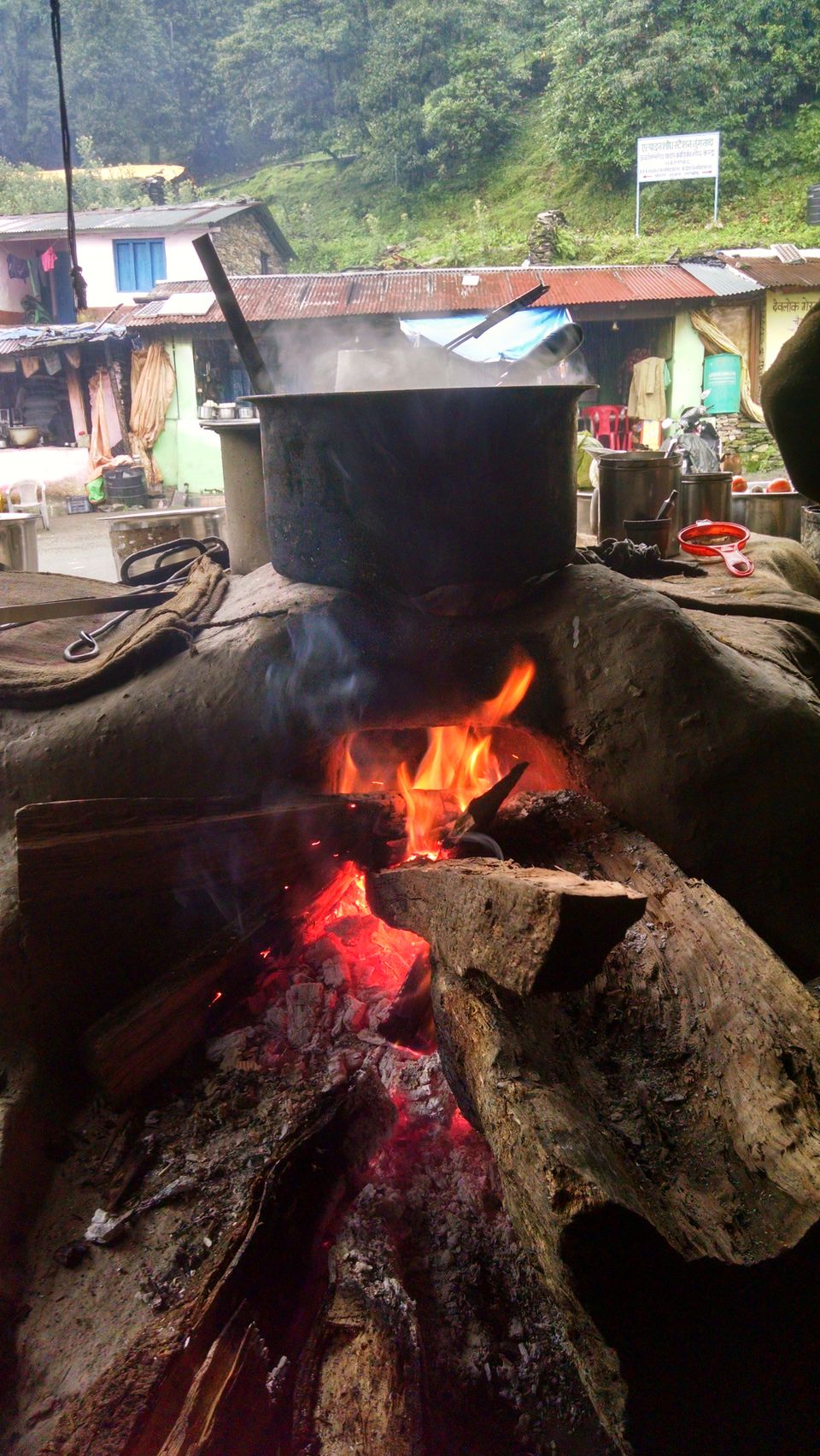 Missing our 3rd musketeer, Sanyam.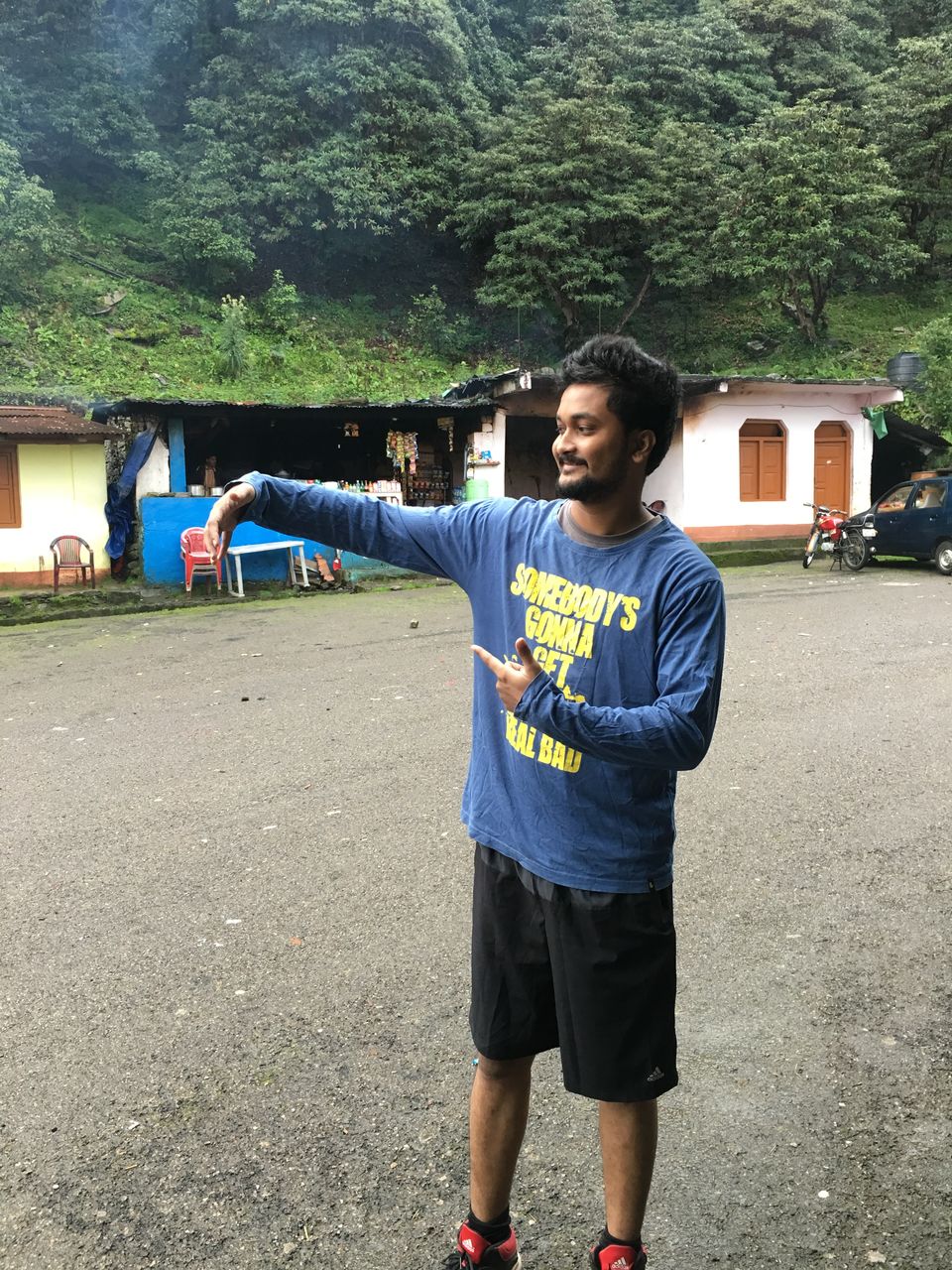 Fed biscuit crumbs to stray dogs and had a chat with the shopkeeper about the shortage of electricity which Chopta still faces. The locals here still rely on solar powered batteries/lamps.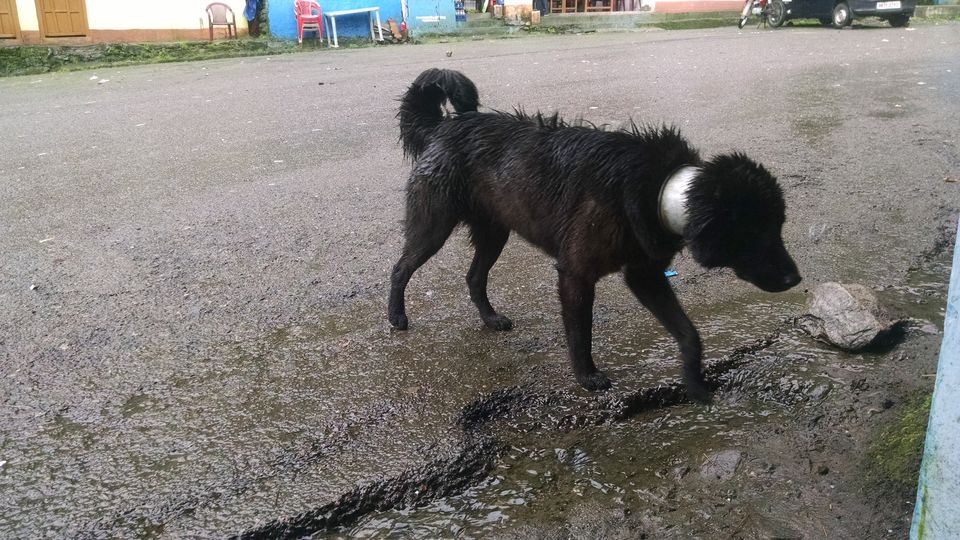 With no implication of rain slowing down, at 8:50 AM we rang the holy bell and set about on the holy trail to Tungnath.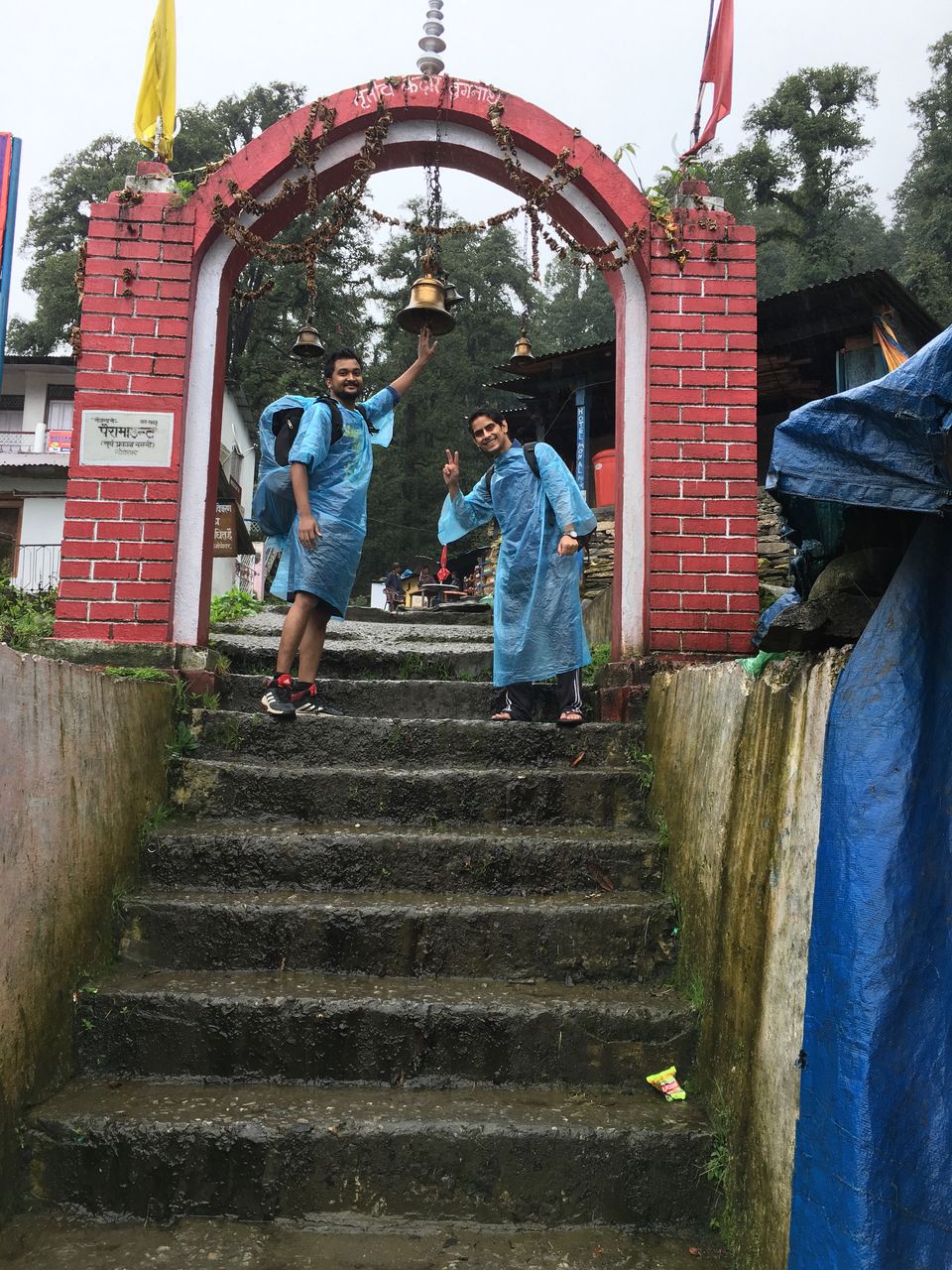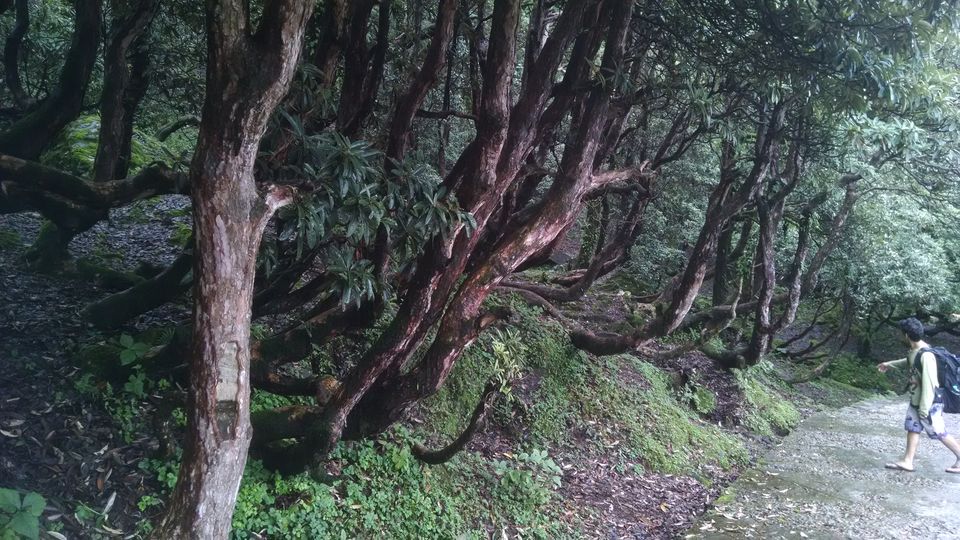 2 Smurfs on a Monsoon Trek.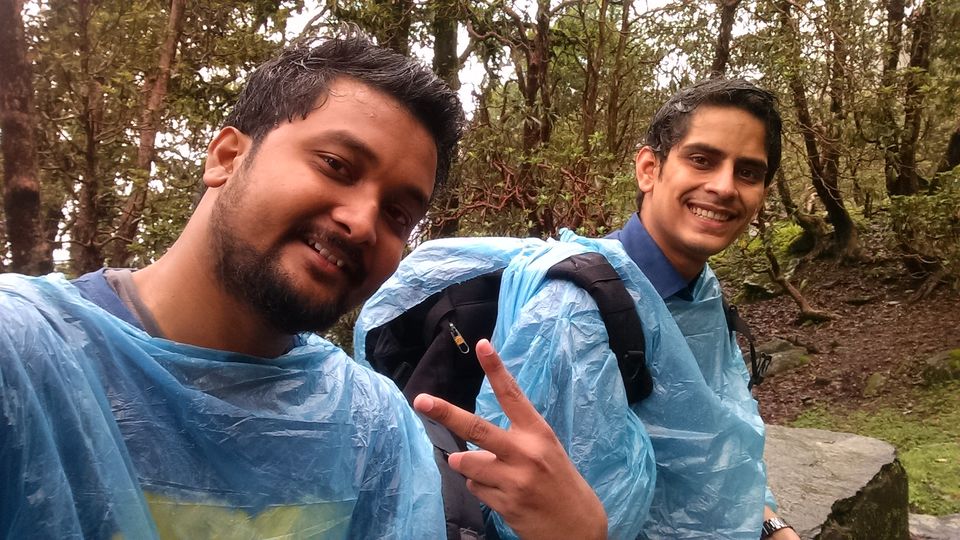 The trek being a pilgrimage as well is a paved path. The views of the meadows are incredible on either side.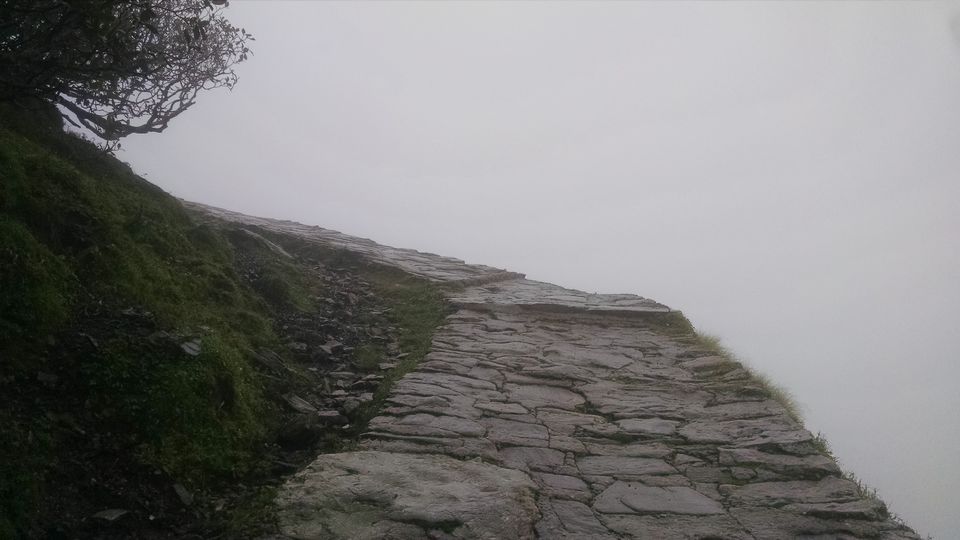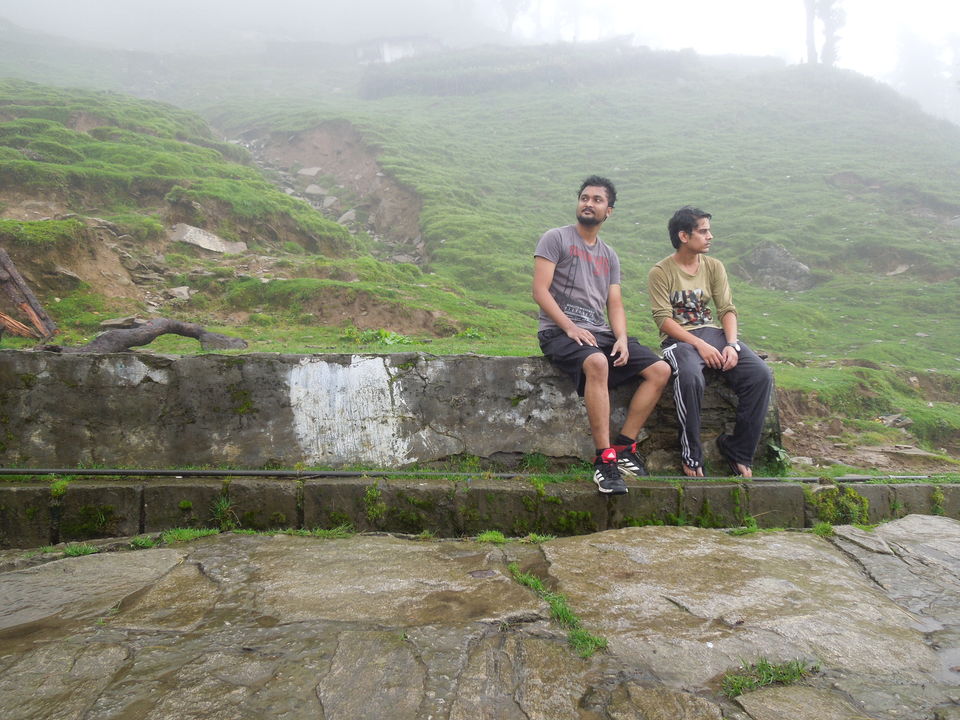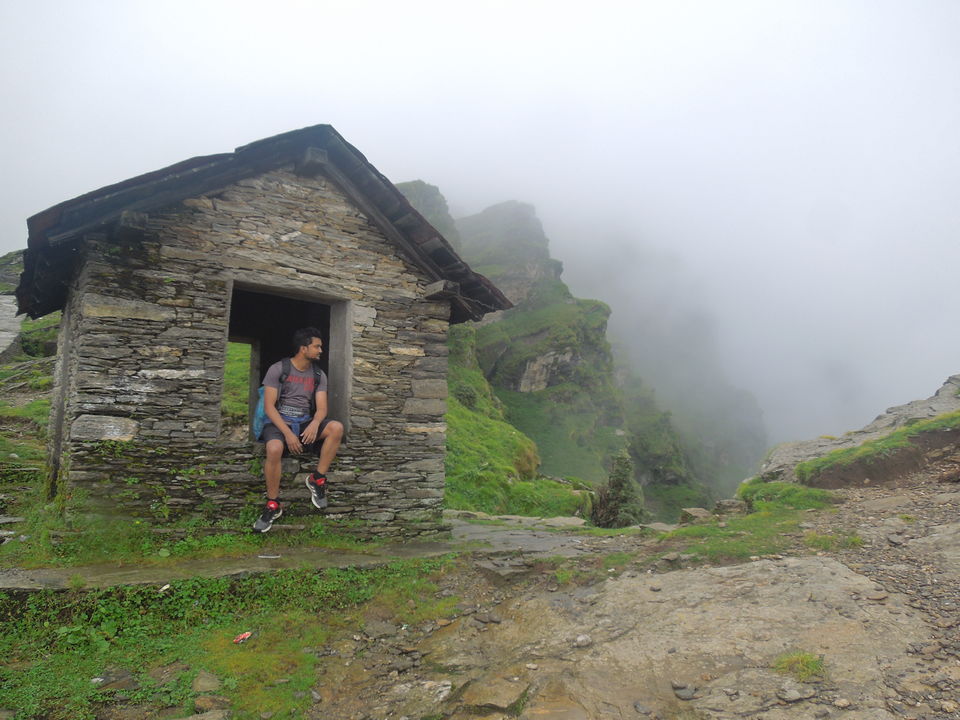 Make sure not to pass by this cute looking hut without taking a picture. I never quite understood the purpose of these. Perhaps, a lost cause?
Gaurav and I halted our journey over here. Hummed to the tracks being played on the bluetooth speaker, fed ourselves with the snacks we acquired from the last shop and etched our names on the inner walls of this abandoned hut.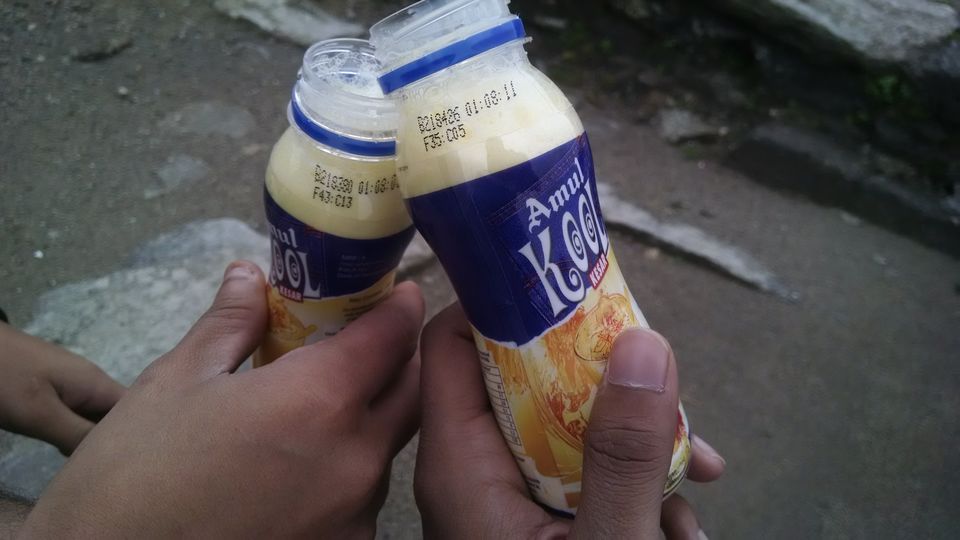 Thoroughly drenched, we took another quick pit stop at a tea stall to grab snacks & have tea.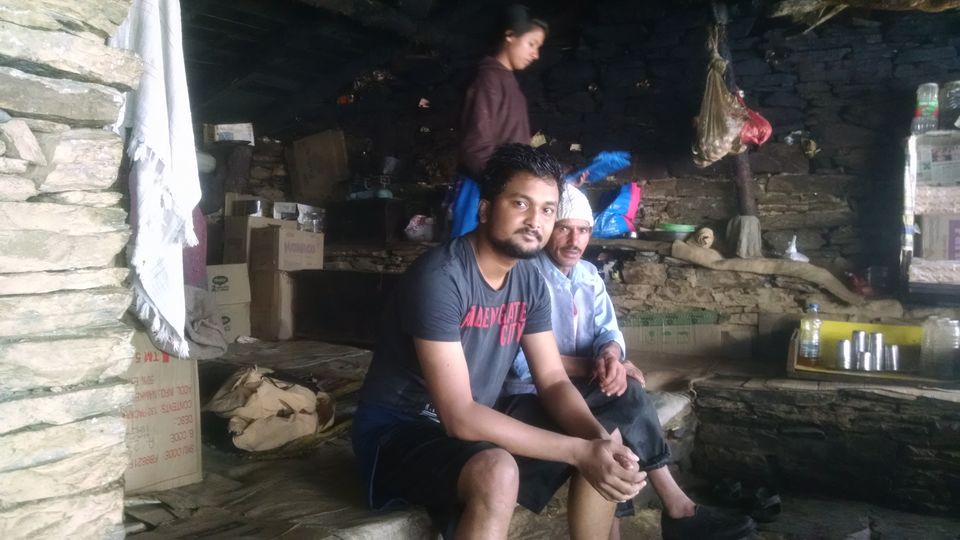 Same faces on all Himalayan villages. Everyday must be a repeat of the day before, and the one before that. I was curious about the events of their daily routines.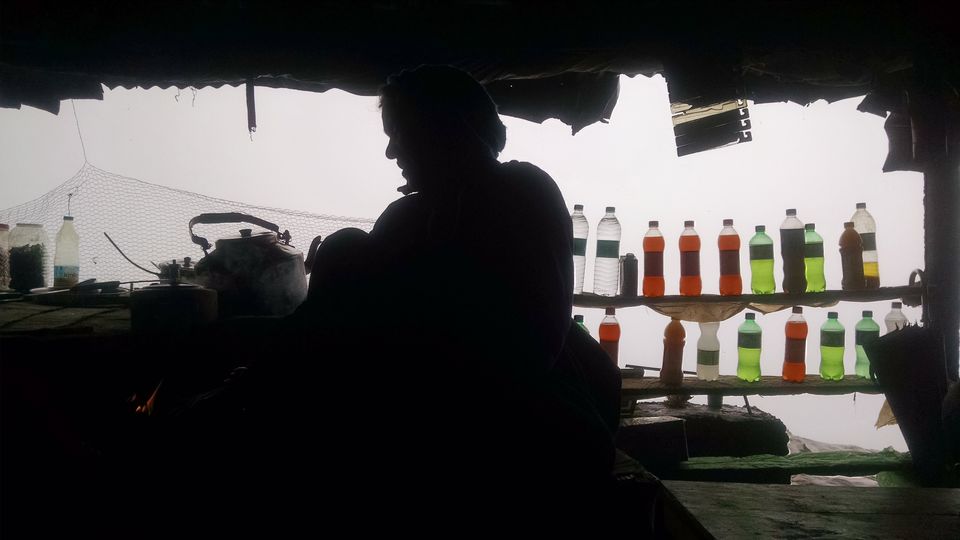 Tungnath, in visual now (12:16 PM).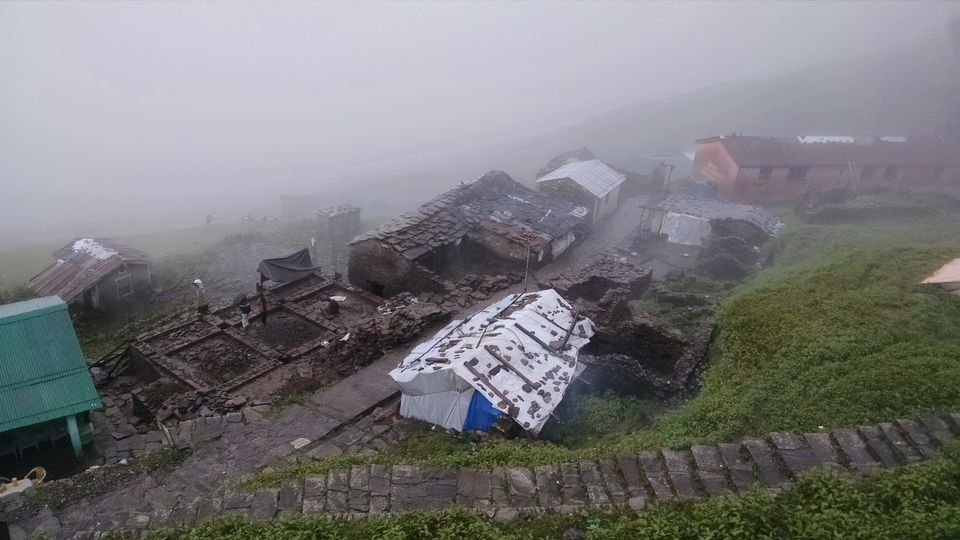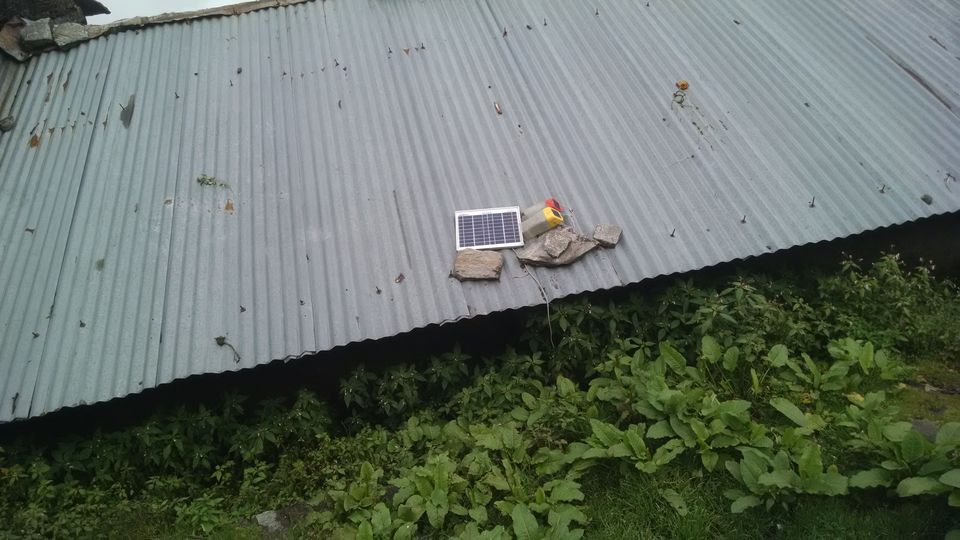 Finally, after a little over 4 hours, we reached the shrine.
Time: 1:40 PM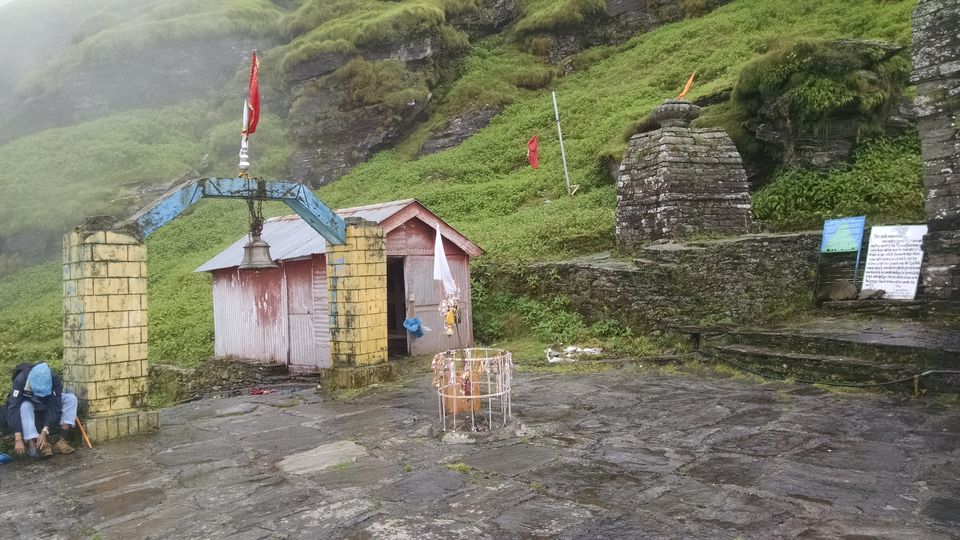 Tungnath is the highest Shiva temple in the world and is the highest of the five Panch Kedar temples located in the mountain range of Tunganath in Rudraprayag district, in the Indian state of Uttarakhand. The Tunganath (literal meaning: Lord of the peaks) mountains form the Mandakini and Alaknanda river valleys. Located at an altitude of 3,680 m (12,073 ft), and just below the peak of Chandrashila, Tungnath temple is the highest Hindu shrine dedicated to Lord Shiva. The temple is believed to be 1000 years old and is the third (Tritiya Kedar) in the pecking order of the Panch Kedars. It has a rich legend linked to the Pandavas, heroes of the Mahabharata epic. (source: Wiki)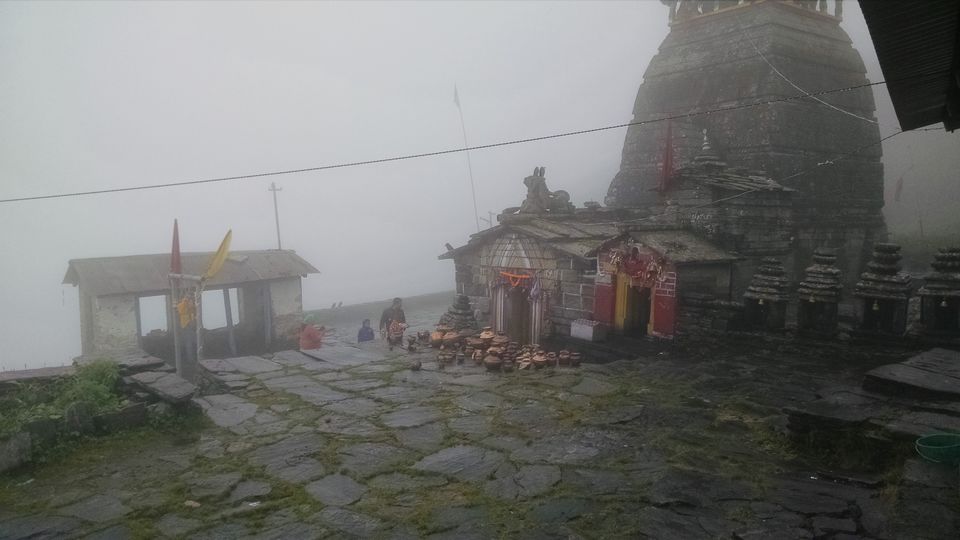 Prayed to Lord Shiva & then ventured about in the area. We decided to stay the night at Tungnath as it'd get dark by the time we climb the Chandrashila Peak.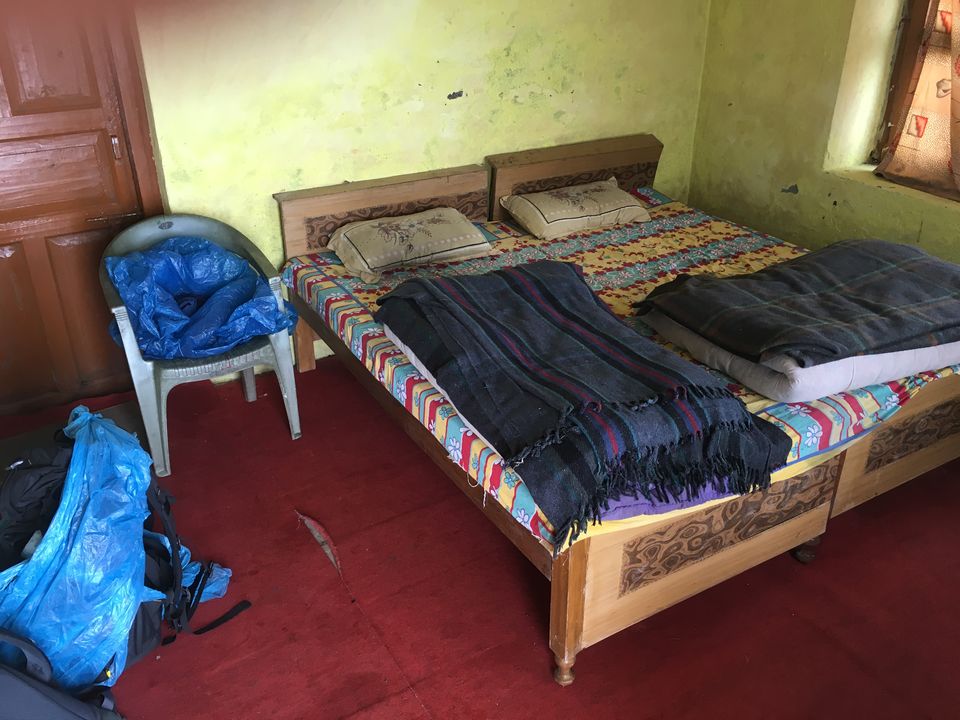 Cost of Overnight stay: Rs 200-300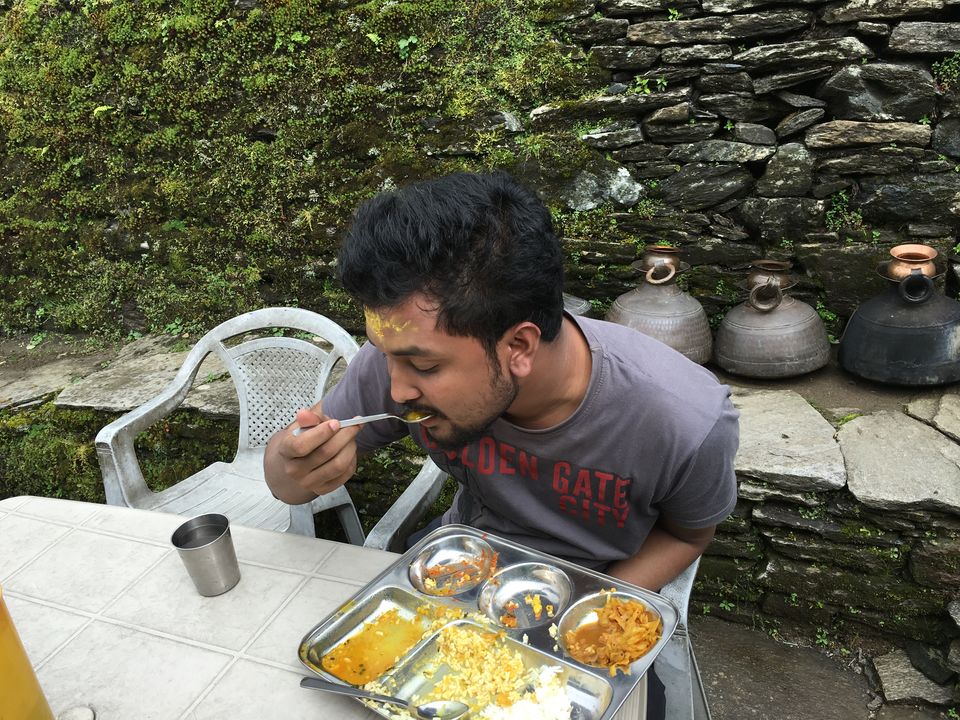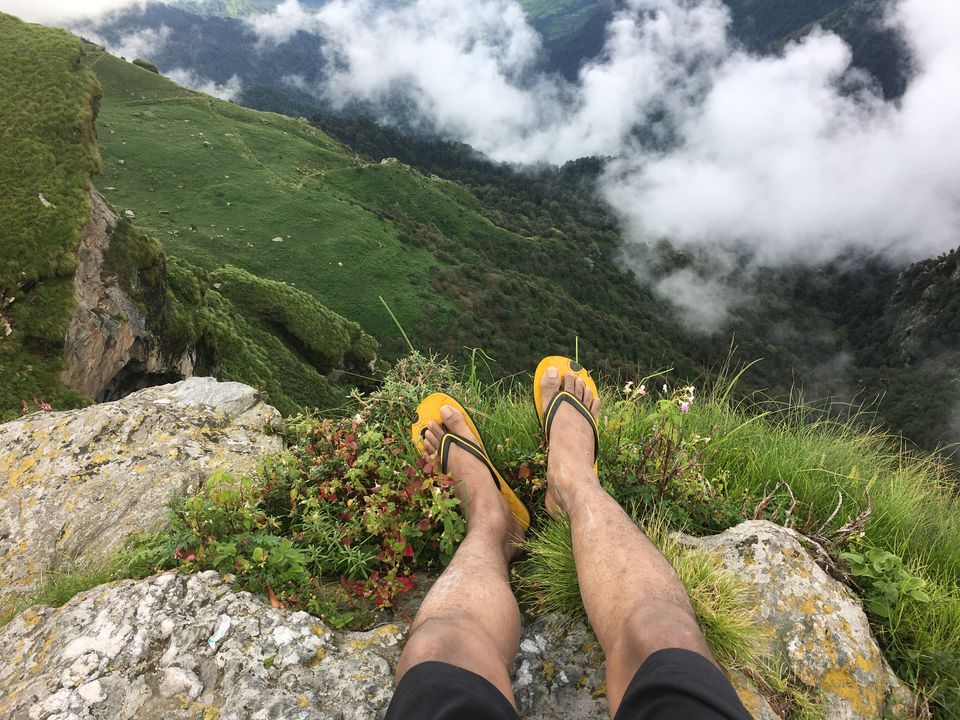 Whoaaaa! Don't look down!!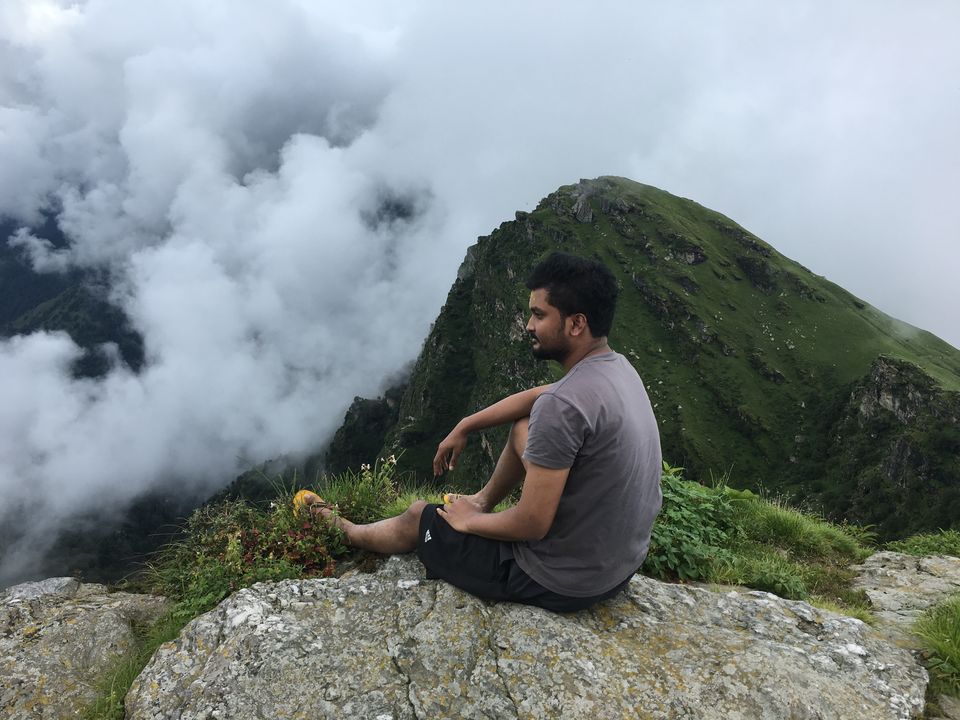 Above the clouds, amidst the clouds, the silence was captivating. This is exactly what I was looking for. Away from the hustle bustle of the city life for a while. Gaining perspective on life. There's so much to see.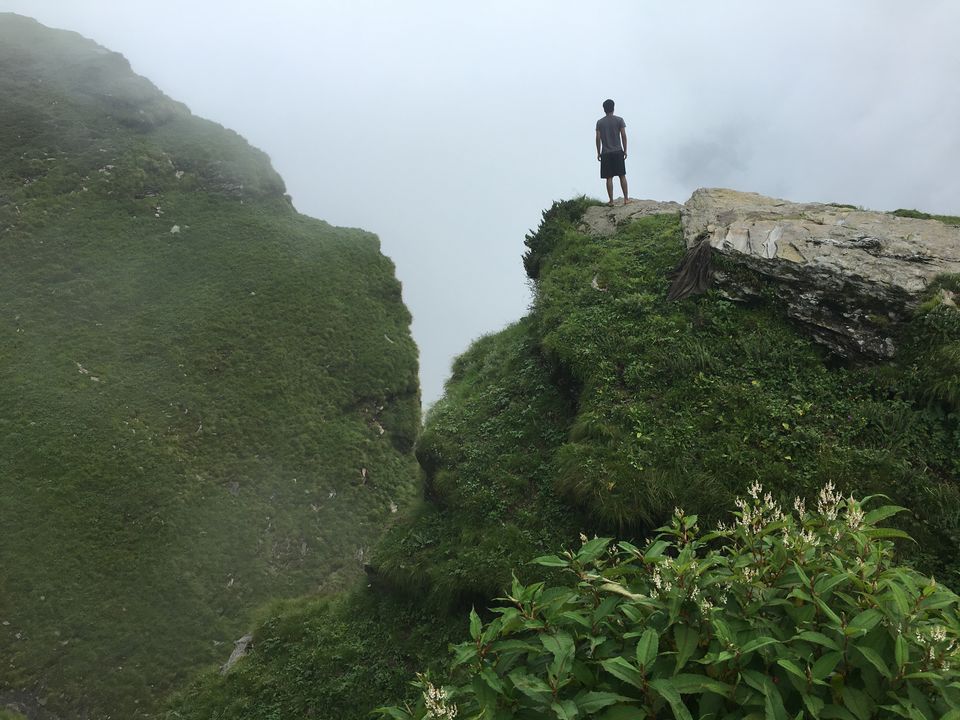 Gaurav and I with death defying stunts. "Do not try this at home" :D Yeah, like you could create this setup in your backyard?!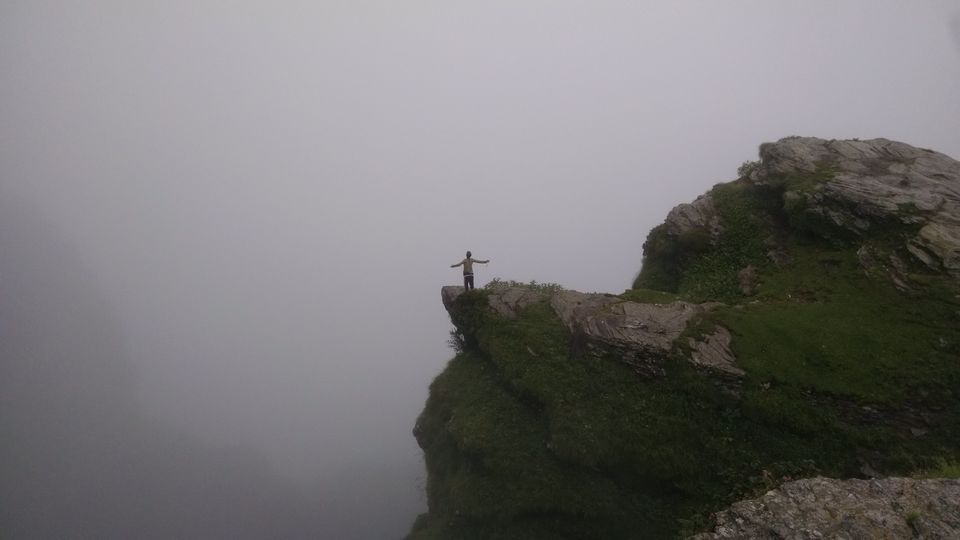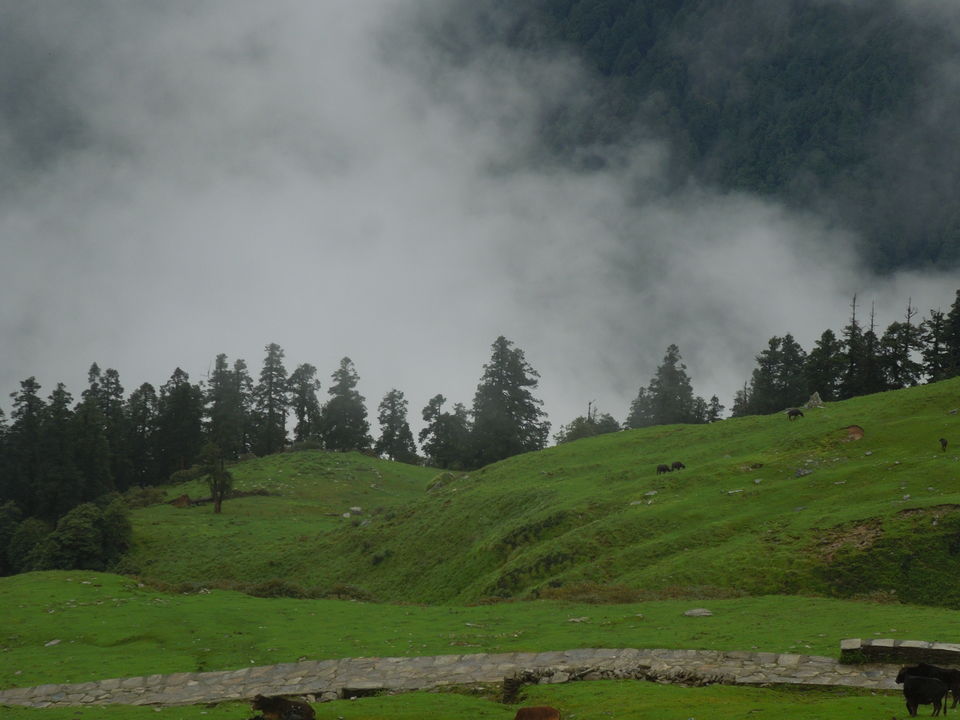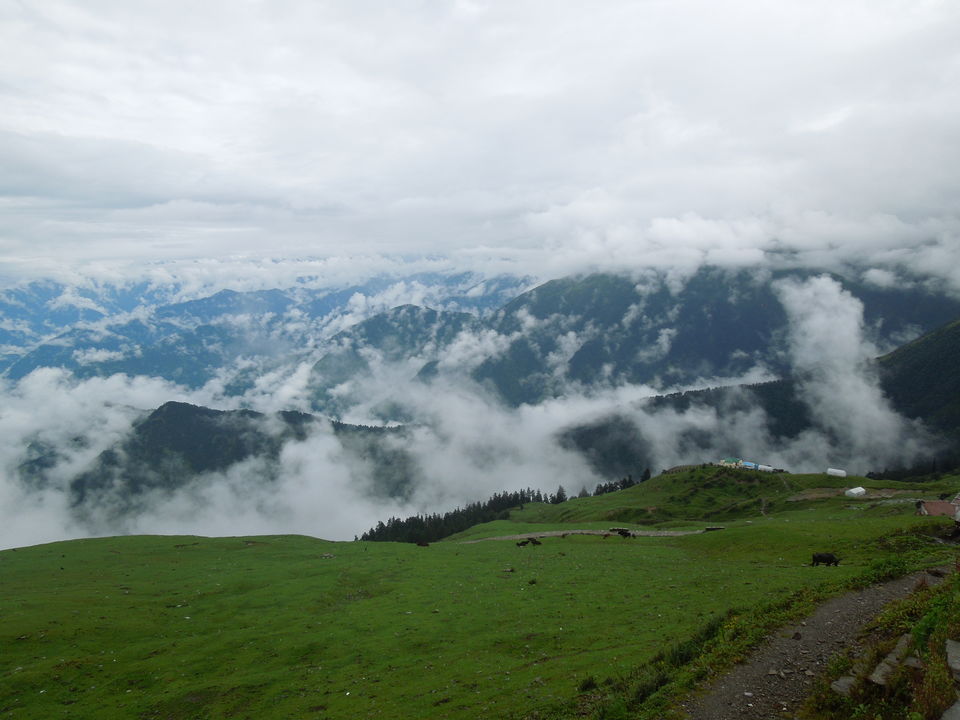 On the way to Chandrashila Peak (4090 Mts.)
With strength regained after a proper meal, we began our journey towards the Moon Rock, Chandrashila. This peak provides a spectacular view of Himalayas,especially Nandadevi, Trisul, Kedar Peak, Bandarpunch and Chaukhamba peaks.
Altitude: 4090 Mts
Trek Duration: 1 hour/1 KM from Tungnath Temple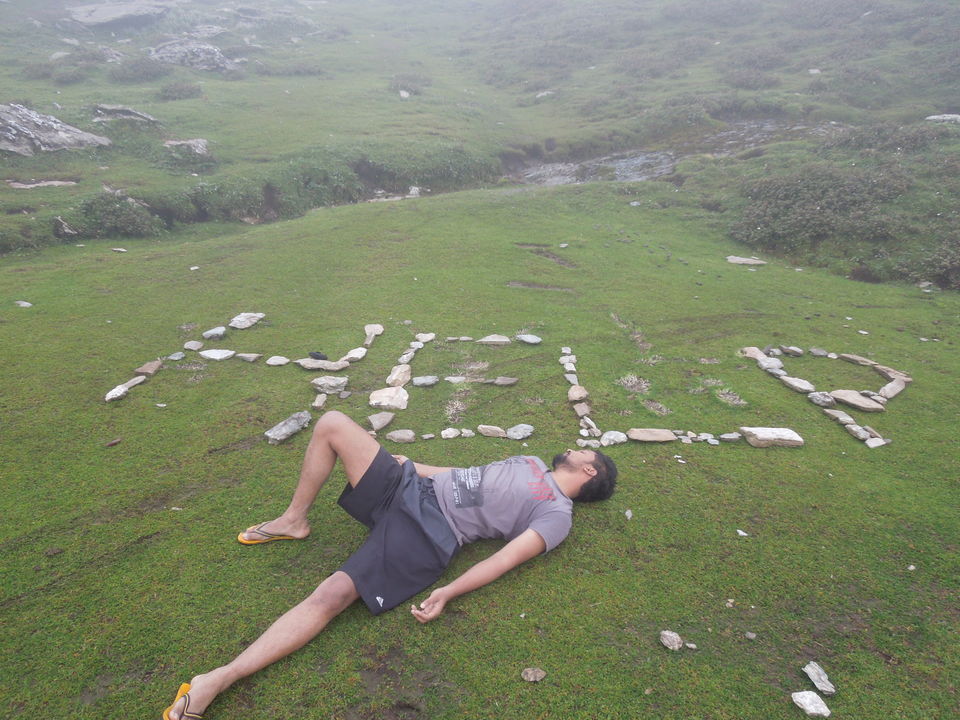 The trek wasn't a difficult one, but still one shouldn't cover it in flip-flops (my stupidity!). If you are wondering, that a chopper spotted our distress signal then you're wrong. This isn't the USA!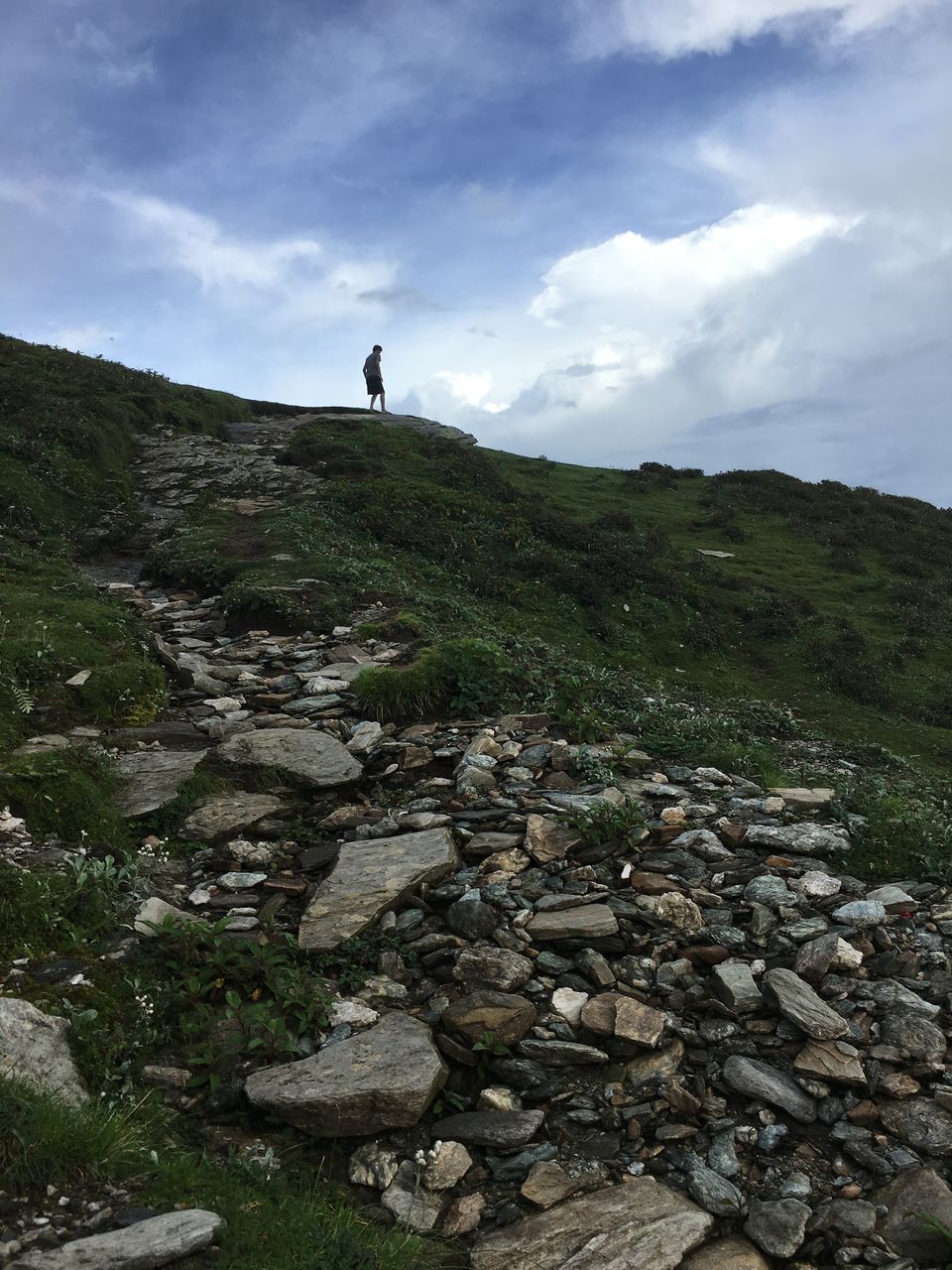 According to one of the popular legends, this is the place where Lord Rama meditated after defeating the demon-king Ravana.Another legend says that moon-god Chandra spent time here in penance.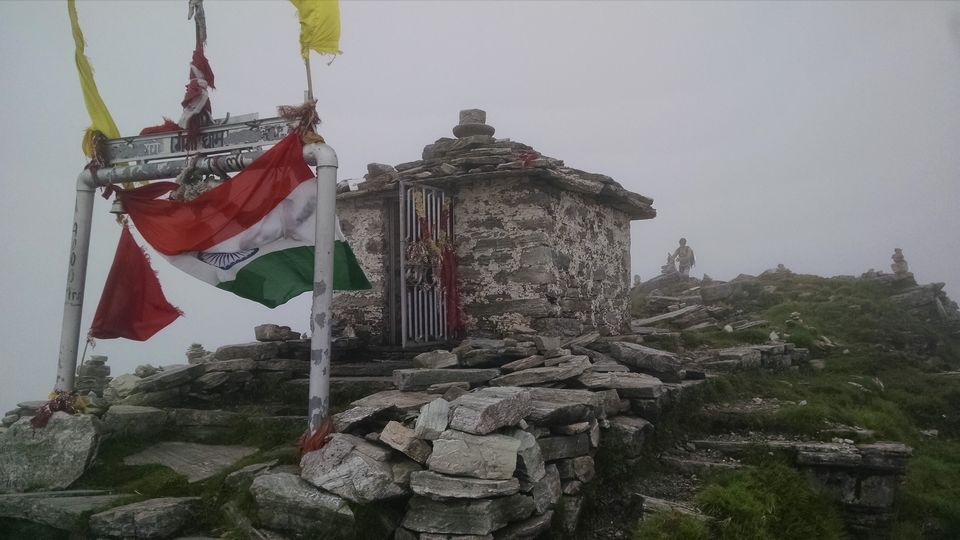 15 Aug was two days away but the patriotic spirit was high. Tricolor flag was hoisted outside the temple and we clicked a picture or two with it.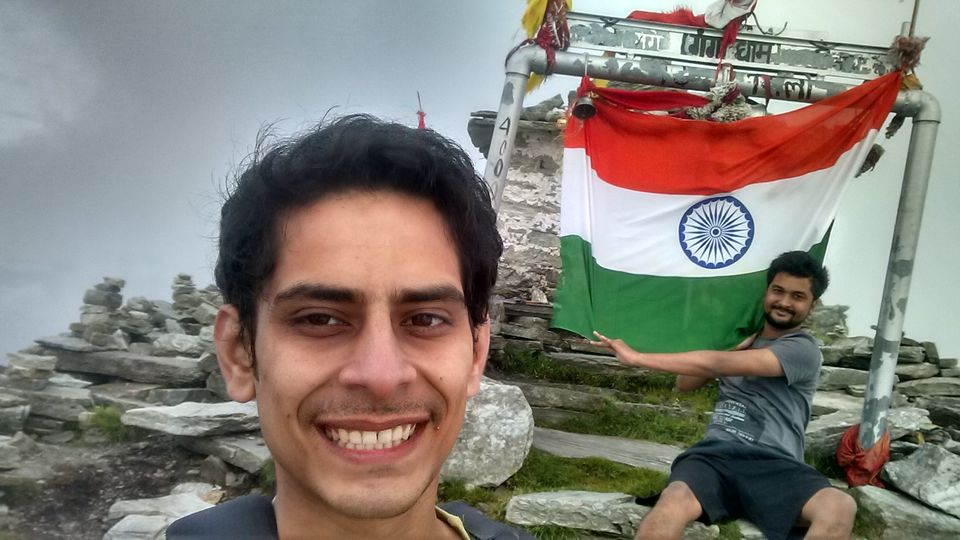 Chandrashila peak offers a 360 degree view of the Himalayas. We spent about half an hour at the summit. The views were obstructed by dense clouds all around. It was a magical feeling. For about 3-4 minutes we could get a clear view in a particular direction. We found solace in the same.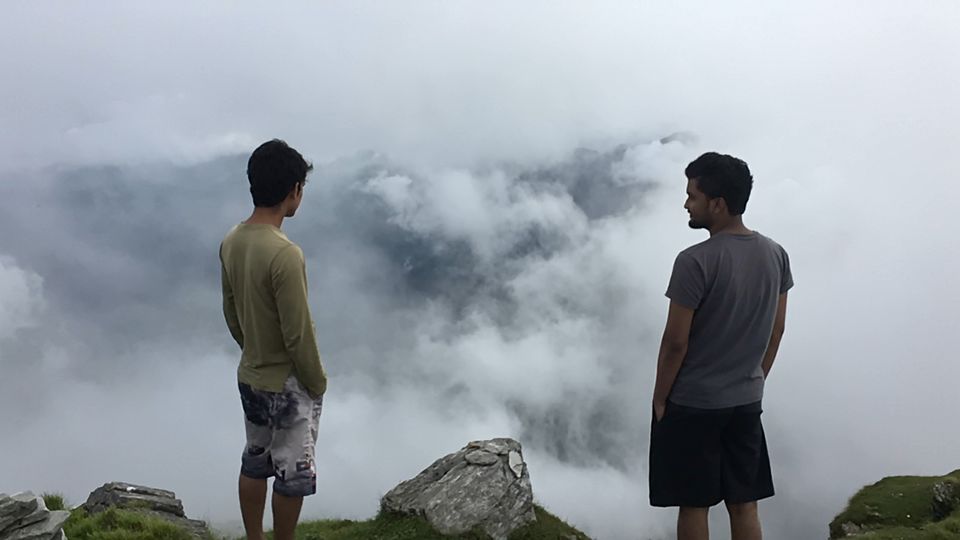 The 3rd wheel of our ride was sorely missed and we left no chance in recreating his presence. All these pictures would burn our buddy when we'd get back. I wish he'd tagged along as well, but he had important commitments at the time.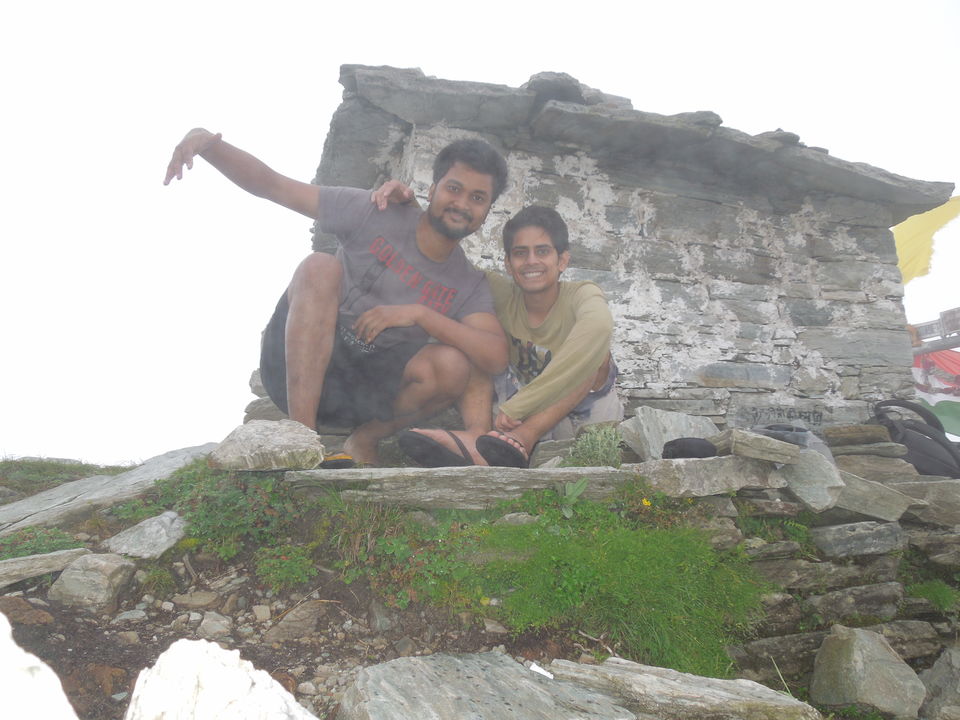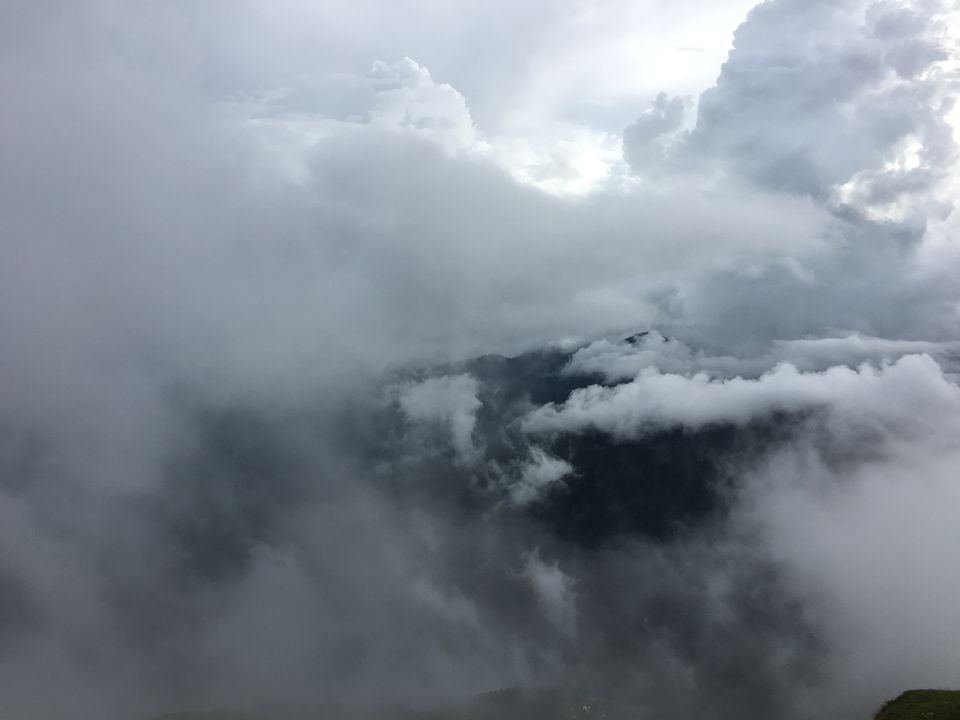 We descended faster of course and spent the night in Tungnath. I caught a mild fever as the temperature rose suddenly and I was wearing half sleeves T shirt throughout the day. It took a combiflame to calm my senses.
The next morning we began our retreat.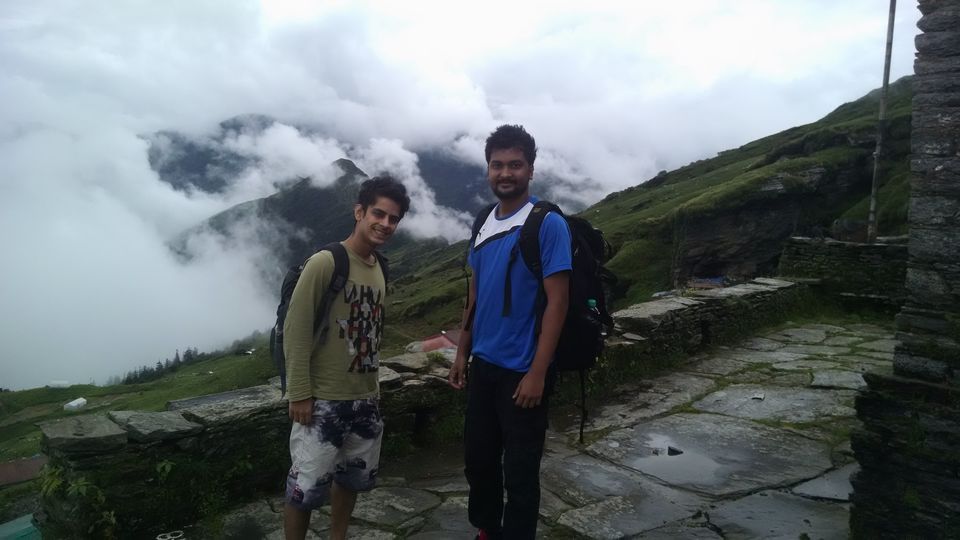 In all the places I've been to I've never come across a more peaceful ambiance. A destination which is "off beat" to its truest sense. I wish people don't ruin it and the influx of travelers doesn't increase much over time.
I hope you liked the write-up. Do visit Tungnath once in your lifetime.
Even if you are an atheist, the Himalayas will become your new Gods.