I came to Ooty for vacation and landed up in my dream home. Wonder how? Well, I am not talking about Ooty which is oozing with hotels, restaurants and most ill-mannered constructed houses on the hills. I am talking about a villa, handsomely standing on a hill looking at Nilgiris. I could never recollect all my thoughts about my dream home or let's say retirement home. I imagined it in bits and pieces. I always wanted old school wooden furniture,may be British style. A bamboo dining table, white painted. Then, I am fond of dogs and hence they were always part of the plan. A rolling chair, small garden, tiny kitchen and a bookshelf.
Here at Stumpfield's Bilberry cottage I found EVRYTHING. Things I always wanted and now things which I will wish to have. I usually have to think a lot to find right words to put my thoughts into. This time, I just had to look out and write what I see. The site itself is so beautiful that I need not even attempt to make it sound attractive.
We reached here on a Tuesday late noon and were greeted by Allegria. She looked so smart and came all the way down to parking area to meet us. Waza, on the other hand, looked a little older and a "I don't bother" kinda fellow. So, he was watching us from the garden like a boss. We waved at him but still no reaction.
By the way, Allegria is an year old German shepherd and Waza is a Labrador who is 10 years old hence a little laid back. But let me tell you these are the super friendly dogs, always there for you and looking out for you.
We sighted a housekeeping lady and she routed us to our cottage. No, there is no reception area and no locks to the cottages. I wonder if the owner locks it at all. The house was wonderful. Yes, it was a proper house and not just a fancy hotel room with a nice view. With each corner I passed, I could see that owner had put her heart and soul in decorating the place. Just not the decoration but everything done here was so thoughtful. A fireplace in the living area with wood logs kept next to it to warm up the place during night. A chair kept just next to tiny library and fireplace to spend evenings reading. Throws kept at every sitting area to just cozy you up in the chilly weather whether you are sitting on sofa or chair or in bedroom. I had read in reviews that they provide well equipped kitchen but I thought that its from appliances point of view. Here there was everything you would need, Indian spices, sugar, salt, tea powder, coffee, all kinds of crockery. I was really surprised when I saw couple woollen slippers near the carpet. Who does that for the guests? For the first hour after arriving, we were just wandering in the rooms. The paintings take your attention and you don't have to be connoisseurs to appreciate the art. Later, we got to know that these were done by owner's daughter. Even the birds painted on the walls, which are difficult to miss once you enter house. Also, I liked the way everywhere tea coasters were kept. I would just limit it's usage to dining table but here I saw them on even in living room and bed side tables. But the take away for me from this house are definitely windows. Lots and lots of old styled windows with no grills and just rectangular window panes to welcome light in the house. Even a normal corridor from bedroom to bathroom gets lightened up by having a tiny window in there.
Now this was all about the interiors, for the exterior, I just have one thing to say- that plants make everything look so gorgeous. Trees, shrubs, flowering plants, creepers, plants in every size, shape and form only enhance beauty of any man-made thing. A pile of stones looks prettier when a flowering creeper grows onto it. A plain wall catches attention with just one hanging money plant. This place is no exception to the fact. Be it vast lawn or small garden or even some randomly planted stuff in the property. It only adds to the charm of the place.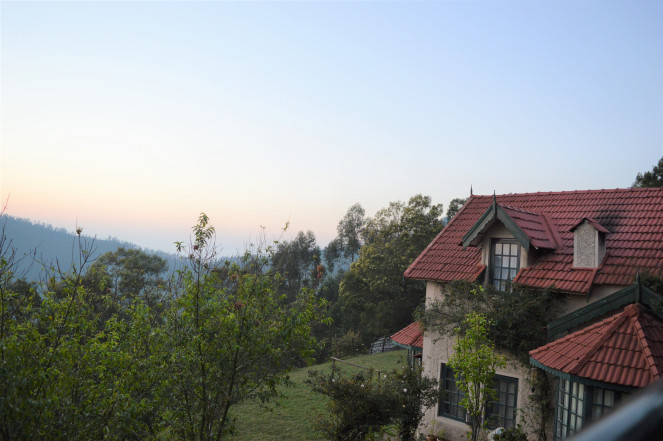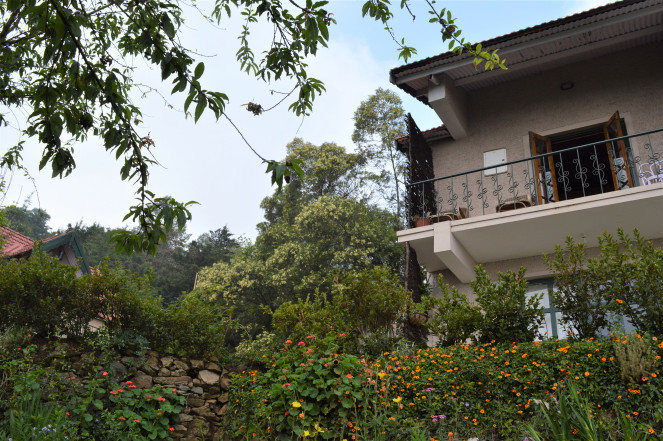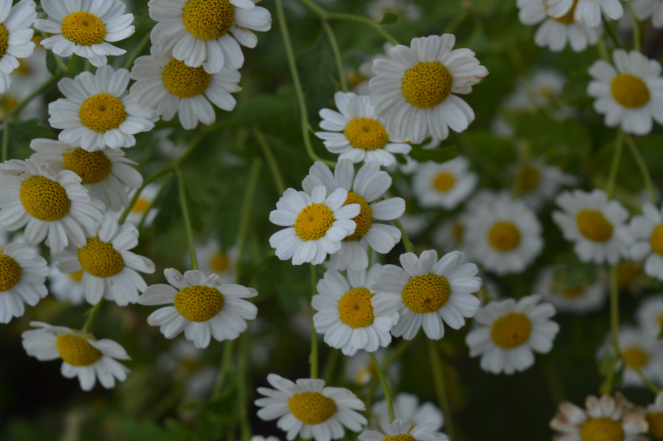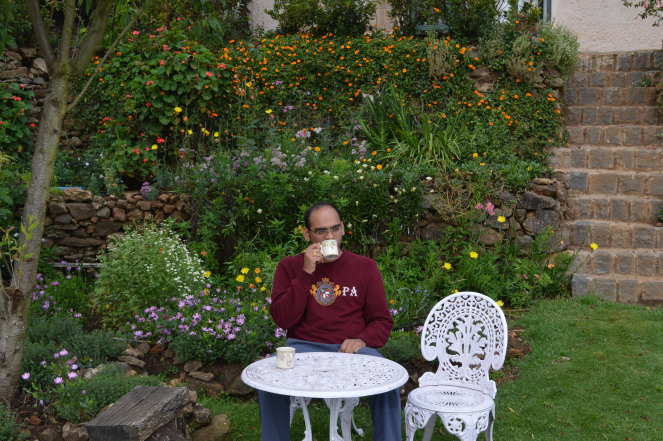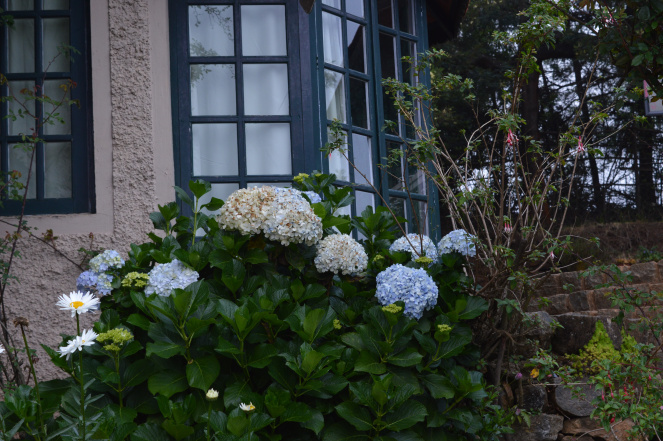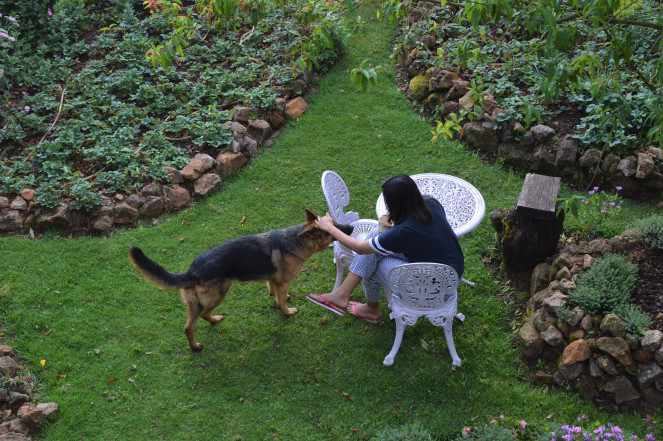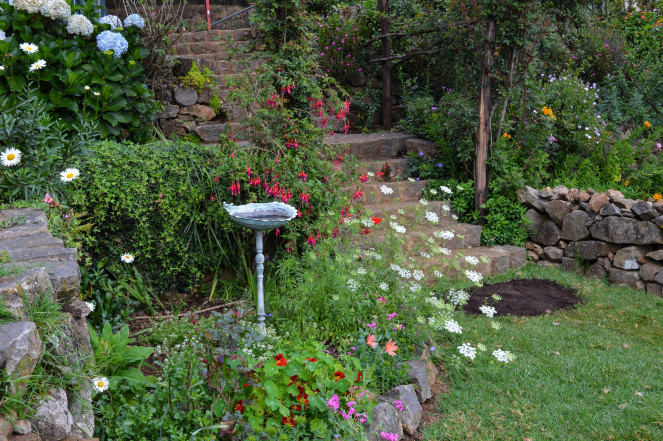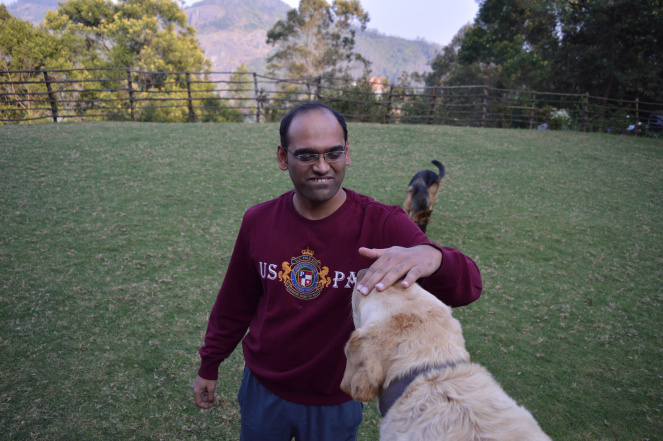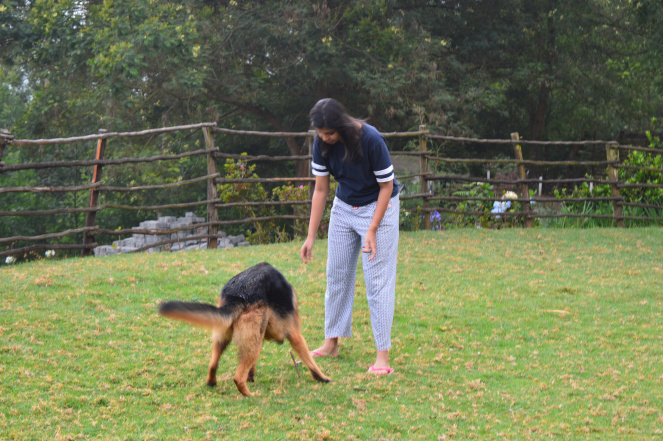 This place proved to be perfect for kind of a vacation that we were looking for. We were in no mood of exploring a hill station or even researching for the offbeat places in and around. We were looking for a place to spend some quiet time, take rest, watch movies, and basically relax. Waza and Allegria were just bonus for us. We made most of our time here by playing with them in the lawn. Evenings were spent by first lighting up the fireplace and then sitting next to it reading books, writing and occasionally chatting. I was secretly proud of myself for the fact that I can easily survive without youtube videos, wsap chats and unnecessary instagram browsing. I still have that in me. Such a life though just for 3 days, makes you realise the importance of slowing down. What really matter are these moments spent with your loved one, sitting at one place and doing absolutely nothing. Sink in what nature has to offer you. The cold breeze, chirping of birds, a rabbit camouflaging with the terrain, the colourful spring bloom and peace. Breathe in.... Breathe out!
Frankly speaking, Ooty didn't impress me much. The commercialisation takes away the charm and vibe of the city. Why don't the government or Municipal Corporation or anyone for that matter think about the beauty or the basic aesthetic sense of the town while approving any new construction? The hills which might have been covered with Nilgiris once upon a time are now stacks of unevenly, bright coloured so called modern houses. I am not against new construction coming up, maybe it's need of the time. But, why can't we think with broader perspective and for once focus on the design part of it. Think once if the new building fits into the existing landscape or are we spoiling the site. If we are cutting down 100 trees for own benefit then target to plant 10 new ones or at least create a pretty garden. Why don't we try and work towards making a pretty town? Not just part of the town but every corner of it?
For about 10-20 kms before and after Ooty, there is no site left which would make you turn and look again. Glad that the owner understood our taste and hence suggested some good places.
Newly created tea park is one such place, not very crowded and hence peaceful. Good part was it was just 500m walk from the stay and that too through woods.
We also visited a heritage hotel called King's cliff which satiated our appetite for north Indian non vegetarian food. A nice place to spend evening as well. It's little away from main town and so you might need own vehicle to come to.
Botanical garden though quite a popular place is not at all overrated. The place is very well maintained and a retreat for tree lovers. The trees are really gigantic and give a jungle like feeling. On the other hand, there are so many glasshouses which preserve different varieties of cacti, ferns, roses etc. One can easily spend half a day exploring the garden.
The pleasant surprise of the trip was Coonoor. The old styled houses are still maintained, even the new construction resembles british style villas. I so wished I could have a bungalow walk , the way we have heritage walks. Wellington, which is on the way to Coonoor from Ooty, is one other town which will take you to a different era. It's a cantonment area and hence very clean, disciplined and very beautiful.
The actual Dolphin's Nose is nothing worth the effort but the drive surely is. Do visit Cafe Diem for the view and ambiance, again, tucked into an offbeat route which we just stumbled upon and tried our luck ????
These three days were exciting and gave lot of food for thought. It again triggered the thought of starting a homestay or at least having one for the early retirement and definitely at a place like Stumpfield. Experience here proved that the dogs are going to be inevitable part of the plan. Period!
I didn't talk much about the owner because it deserves a separate post. To sum up, Mala is an extremely inspiring and sweet lady. It's not easy to run a business especially like this where you have to depend on the local staff to maintain the place, and when you don't speak their language. She manages everything alone and very efficiently. Plus she runs an NGO to rescue girls from sex trafficking. Time management- a big lesson ????
From all the vacations in karnataka we had so far, this one is right at the top!
A home away from home ❤