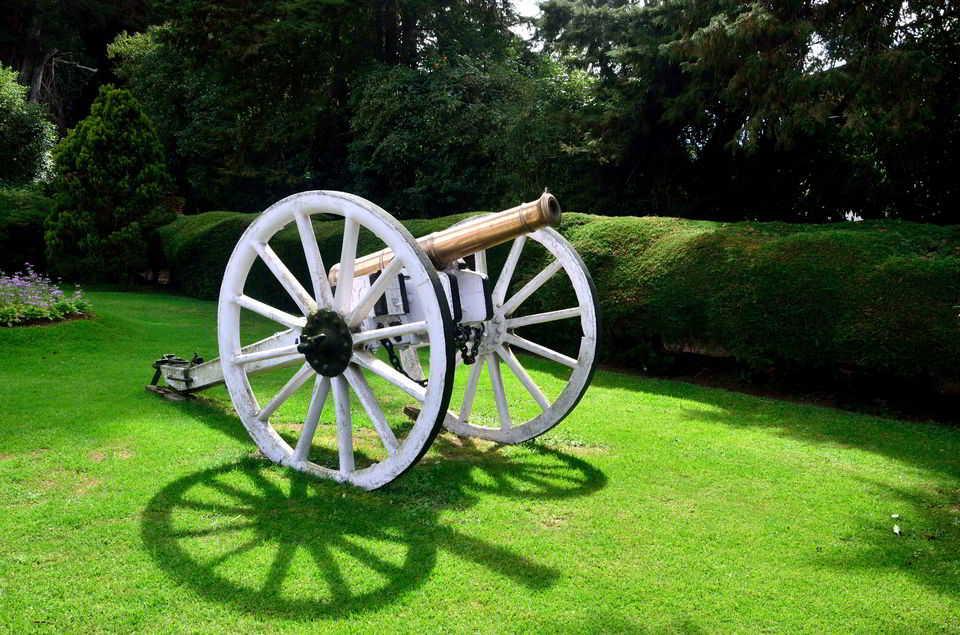 After the daylong road trip to Ooty previous day, we all woke up leisurely the next day. It was beautiful winter morning at Ooty and the rhythmic sound from church bell of nearby Sacred Heart Church woke us all up. It was a dreamy beginning of the day. After finishing the breakfast we were all set to explore Ooty.
As mentioned earlier Ooty is probably the most famous hill station in south India. It is a favorite among filmmakers for its nicely manicured gardens, lush green tea plantations and surrounding Nilgiri mountain ranges. It is believed that the name Nilgiri which is in Sanskrit language or the blue mountain in English derive this name from blue colour Kurinji shrubs which bloom roughly once in 12 years and cover the whole mountain range with its blue colour shrubs. This coupled with pleasant weather almost throughout the year presents the perfect set up to invite people here. No wonder Ooty is famous among both honeymooners and families alike. Bearing few months during the rainy season Ooty is thronged with tourists throughout the year.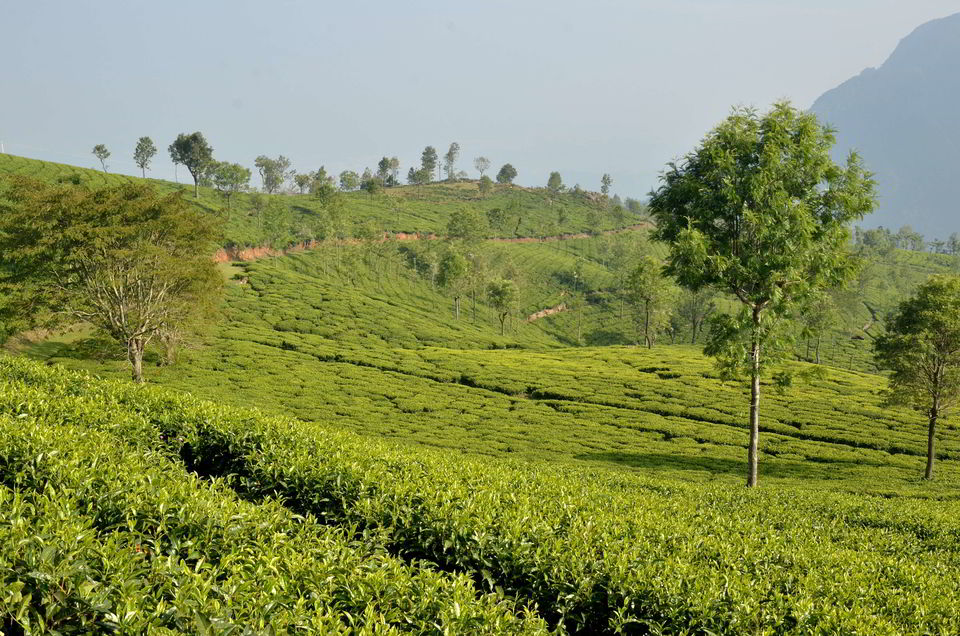 The most well known among places of interest in Ooty is the Nilgiri Mountain Railways. The Nilgiri Mountain Railway (NMR) is a 1,000 mm (3 ft 3 3⁄8 in) meter gauge railway. Built by the British in 1908 and operated by the Southern Railway. NMR is the only rack railway in India. The train was accorded the status of World Heritage by UNESCO in 2005. It is a gem in the crown of Ooty but unfortunately for us, we could not get any reservations. Our plan was to board the train at Ooty station and go up to Coonoor, another beautiful hill station in the lap of Nilgiris and spend the day at Coonoor. In fact, reservations were not available for the next full month due to Christmas and New Year holidays. All of us were sad. It was the not the ideal start of our trip. But a beautiful place like Ooty won't let you lament even for a moment. So we returned to our homestay and took the car for local sightseeing.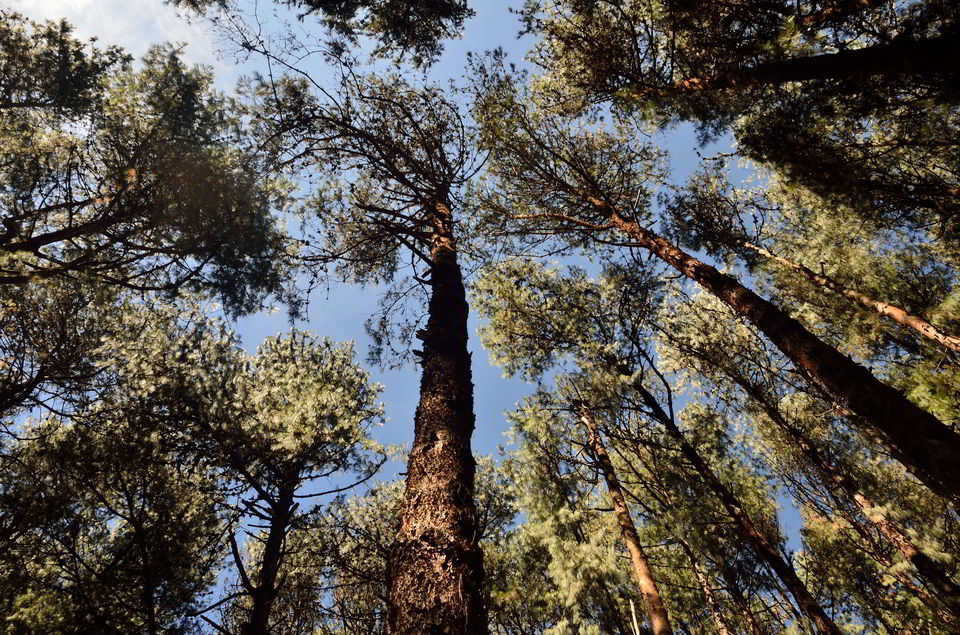 Our trip started by visiting the famous pine forests of Ooty. This forested area is situated just outside the city. The place boasts of a lake surrounded by tall pine trees. The misty winter morning and the sunlight which was eager to penetrate the forest to reach all possible corners of this forested area was just picture perfect, like straight out of a postcard. Although we reached there around 10 am but the place was abuzz with tourists. The best thing is that one can get some corner to sit here even if the place remains crowded.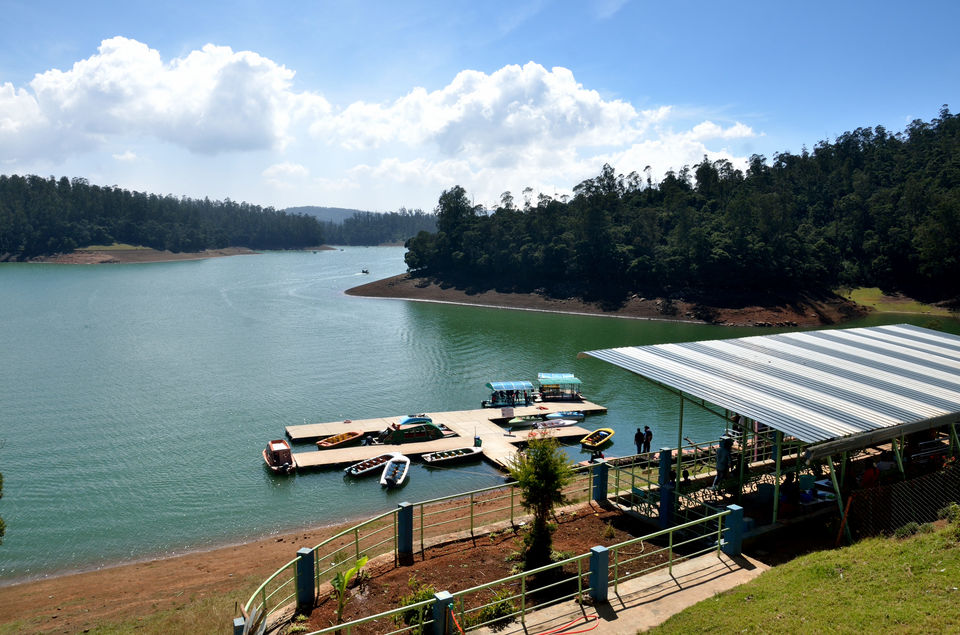 After spending some quality time there we moved ahead. Our next stop was Pykara lake. This place again is beautiful and considered as a must visit place in Ooty. Though Ooty has many water bodies in and around it but visiting all in a single day is tiresome. So after spending some time at the shooting point- a small hill which offers good views of surrounding areas, we drove towards Pykara Lake.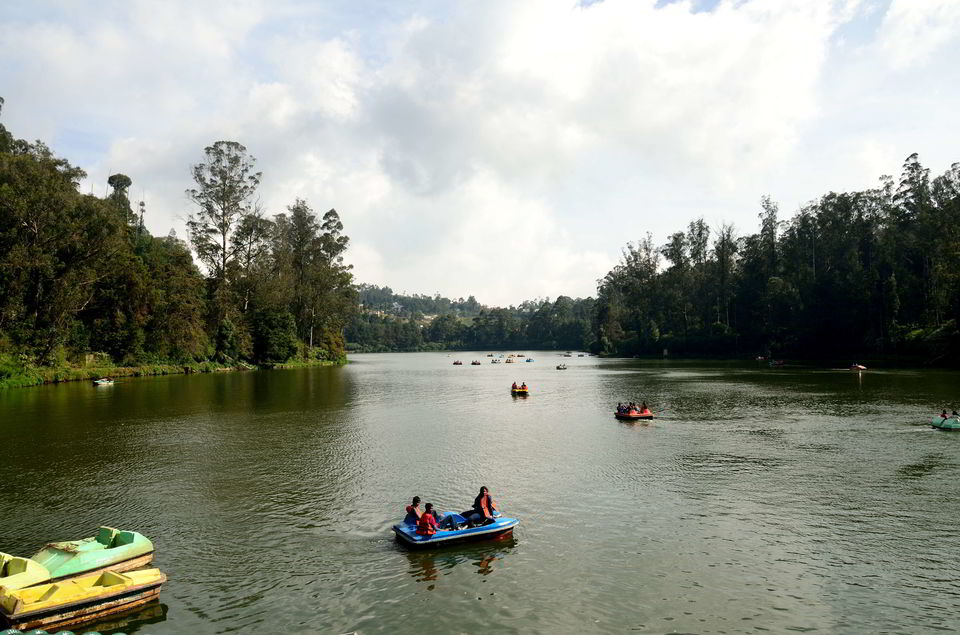 The road to Pykara Lake is picturesque and through well preserved Shola forests. The warmth provided by the lazy winter Sun was just adding to our experience. One can indulge in boat ride at the lake. The blue water of the lake with ancient Shola forest on both of its bank and a boat ride, isn't it romantic. Even though we were taking this boat ride in the afternoon but the weather was just pleasant. By the time we finished our boat ride we were very hungry. We had traditional South Indian thali consisting of local delicacies for our lunch.
After lunch, we leisurely drove to Ooty lake right in the heart of Ooty. Though this lake is small in size it also has boating facilities. There is nothing much to do so we choose to relax a bit and spend some time just by observing the activities there. This is a happening place, just outside the lake area, one can enjoy horse riding too. After spending quite some time near the lake we visited the thread garden which is situated just opposite the Ooty lake. This place is really amazing. The whole garden boasts of many plants and all this is made up of thread! Yes, very fine thread. The creator of this magnificent artificial garden is Mr. Anthony Joseph who along with a team of nearly 50 members, using around 6 Crore meters of embroidery thread of different colours created this gem in 12 years. Here one can purchase some souvenirs too. We spend some good time there wondering about the intricate works done to create each piece.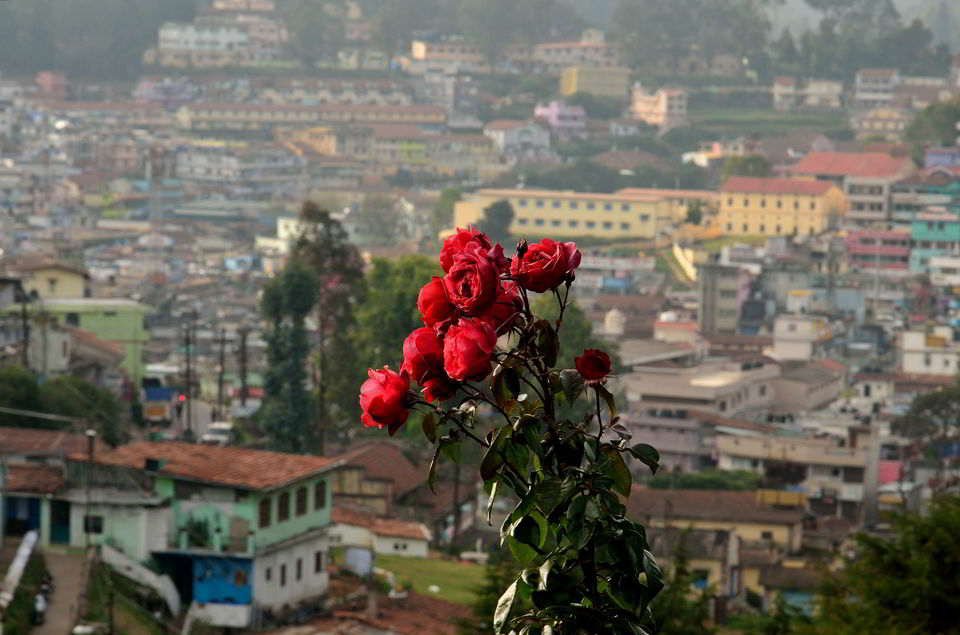 Our next stop was the beautiful rose garden, a whole manicured garden exclusively dedicated to roses! There are large varieties of rose plants but many of them did not have the bloom at that time. Though the garden was nicely taken care of and allows very good views winter is not the proper season for roses to bloom. I was told by one of the caretakers that best time to visit this garden is from August to October. We could only imagine how it might look during the season. Well, some inspiration is required to come again!
By the time we finished our visit to rose garden it was 5 pm and we decided to end our day trip at the Doddabetta Tea Museum and Factory, the highest tea factory in South India. It is a good place to visit and to see how tea leaves become the tea we finally consume. Every stage is nicely shown. Here one can also taste a cup of freshly brewed tea from the factory. The entry fee of the factory is Rs.10 per person and includes a cup of fresh tea as complementary. One can also purchase different varieties of tea available here and this makes the place very special. Some of the varieties of tea won't be easily available outside. It is a good place to visit for a tea lover or for someone who has never visited any tea factory before.
Though the places of interest in and around Ooty provide a very good opportunity to spend few days wonderfully but bearing some the place offers nothing exceptional to the visitors. The biggest USP of Ooty is its climate and winding roads through the greens. This enhances the beauty this place manifolds.One can easily fall in love with the climate and greenery of Ooty.
By the time we came back to our homestay it was already 7.30 pm and hot tea and snacks were waiting for us. Sitting by the fireplace in the drawing room and enjoying hot tea with snacks in the cold winter evening, well very few things can beat this experience!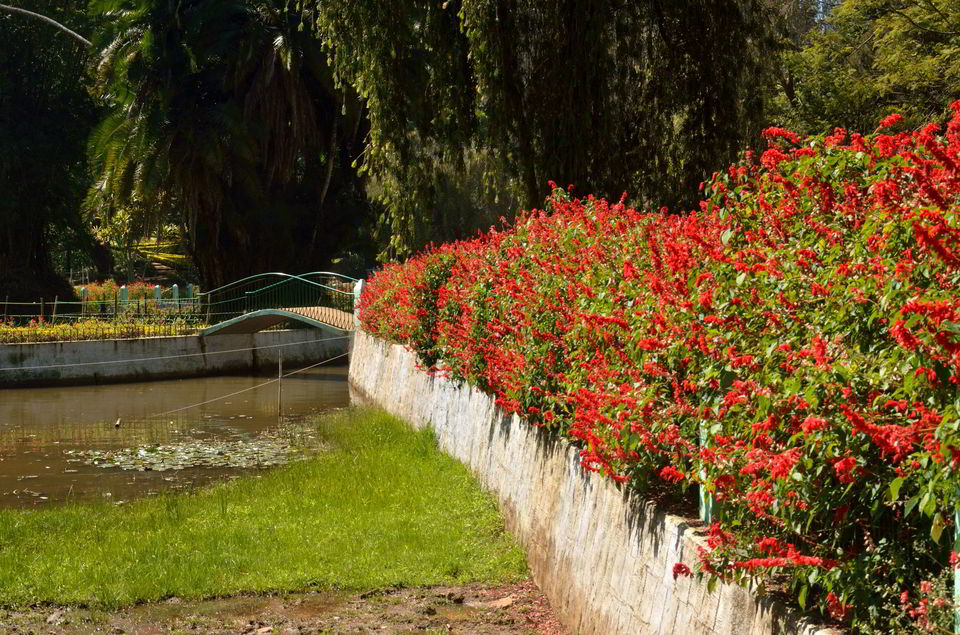 Next morning we started a little earlier as the day was scheduled for a visit to another beautiful hill town Coonoor, 21 km away from Ooty. This place is comparatively less crowded than Ooty.Our first visit for the day was to Sim's Park. It extends over an area of 12 hectares of undulating land. The upper part of the park is created around a small water body. This park boasts of a large variety of big trees and plants, some of these are very old and rare. The park was established by Dr. J.D. Sims and Major Murrey in the year 1874. It is a perfect example of preserving the local plants as well as the plants brought here from all over the world. The pleasant climate which hovers from 5 degrees in winter to 28 degrees in summer is ideal for maintaining the grandeur of this park.
Our next destination was Lamb's Rock, a viewpoint amid greenery. The approach to this road is very narrow and condition of the roads is not that good but drive to this point is through many scenic tea plantations and that certainly makes you forget the condition of the road. One point of caution is that the place is full of monkeys so one needs to be very careful of belongings carried in hand. The viewpoint is just a few hundred meters of walking distance from the parking area, if you may call it. Basically, it is the last point where vehicles can reach. On a clear day, Lamb's rock offers excellent views of the valley below. But to our luck, it was covered by the thick fog that day. So we did not go to the top and returned back. We felt little dejected. These are the common hassles one has to accept when traveling outdoors. We must be mentally ready for these situations as there will always be something that would be beyond our control. Though there is nothing much to do here one can take photographs wearing colourful rented cloths amid tea plantations with all accessories demonstrating tea plucking at one of the private tea gardens.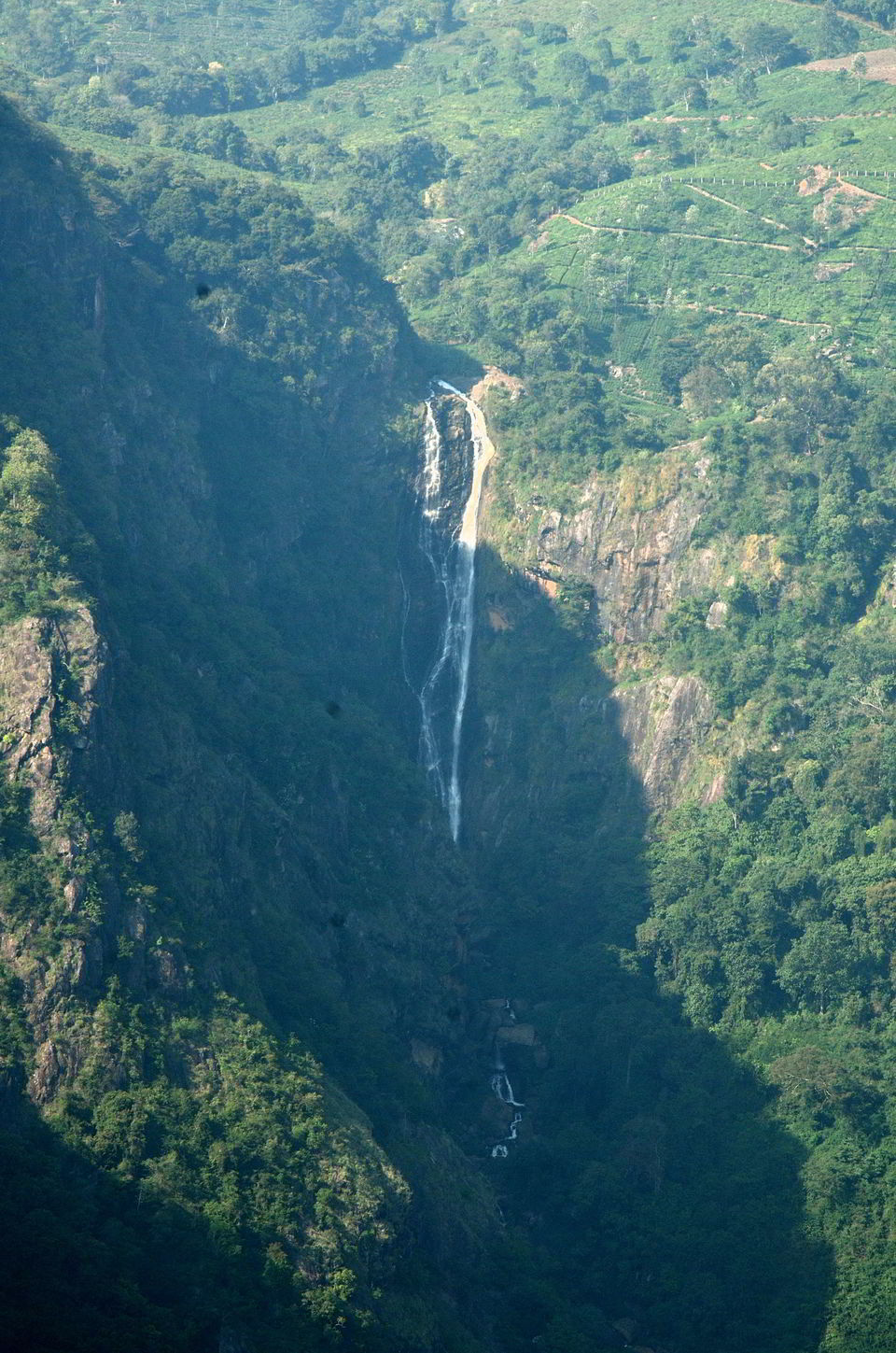 Just 5 km from Lamb's rock is Dolphin's Nose, another viewpoint and probably the best place to visit in Coonoor. This place offers great views of Nilgiri mountain ranges at one side and distant Catherine waterfall on the other, an excellent place to relax for some time amid the lush green tea plantations surrounding this place. This place is a photographer's paradise. There is greenery is everywhere. We had light lunch of hot steaming Maggi that afternoon at one of the few shops there. It was very simple yet refreshing.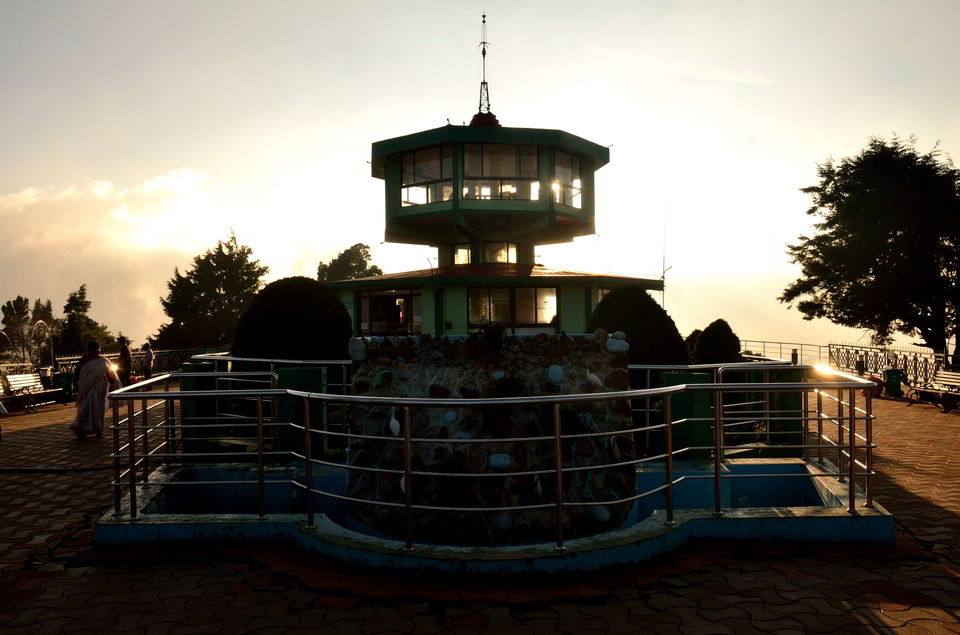 We started our return journey to Ooty from Dolphin's nose around 3 pm and our destination was highest peak of Nilgiri mountain ranges- Doddabetta peak (2,637 meters or 8,650 feet). By the time we reached at the peak it was 4.30 pm and the sun had already started preparations to say goodbye for the day. One has to climb a bit through the paved pathway to reach the top. It was very cold and windy at the top. Anyone in for ice cream! well certainly. Believe it or not, there were people relishing ice creams at the highest peak of Nilgiri mountains in the cold winter evening. We also tried the butterscotch flavored cup of ice cream right there at the top and believe me it was an experience to remember.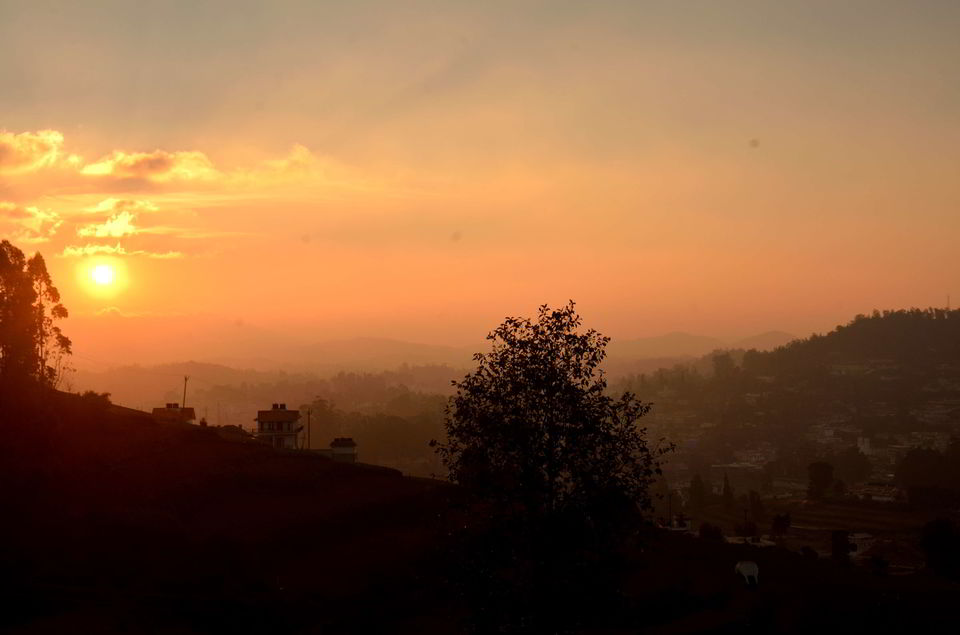 By the time we came down from the peak it was already getting dark, in winter sun sets early. We stopped at one or two places to witness the beautiful sunset before returning to our homestay. We spend some time there sipping tea and listening to Christmas carols being practiced by children at the nearby Sacred Heart church. It reminded us that the Christmas was just a week away and preparations were in full swing! After spending some time listening to the carols we ventured outside covered in woolens, to do some shopping, mostly souvenirs. There is nothing much to shop at Ooty except some quality tea, spices and medicinal oils. That evening we had our dinner outside and returned to our room around 10 pm.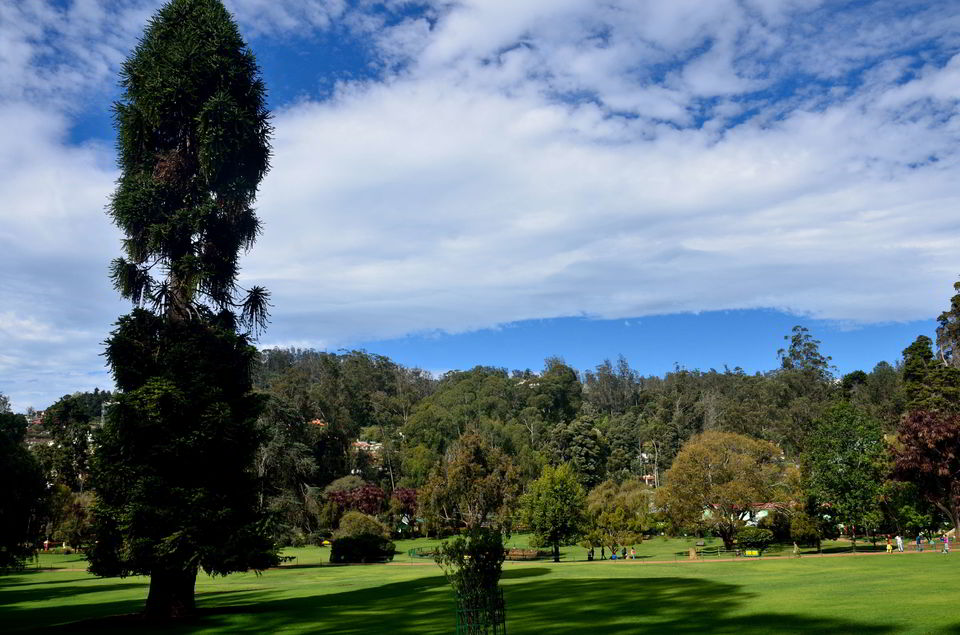 Our planning was to come back to Mangalore the next day so we finished all packing in the night itself. Next day's plan included visiting the places which we had missed so far before the start of the return journey. One such place was the Botanical garden of Ooty situated just 200 meters from our homestay and all these days we failed to visit this place since we always reached late. Situated at the heart of Ooty the Botanical Garden also boasts of a variety of old trees and plants. The Botanical Garden was established by Mr. William Graham Mclver in the year 1848. A map of India drawn by using plants of different colours is just wonderful. The silky morning sun falling on the leaves of trees at different angels was just to be seen and experienced. The two old brass cannons parked just at the entrance of the Botanical Garden were just enhancing the whole experience. The garden is maintained very nicely and is a perfect place to relax a bit but we could not spend more time there as we had to cover a long road back home. While coming back we also visited two of the beautiful Churches in Ooty, the Sacred Heart Church and the St. Stephen's Church. Though both were closed but were very photogenic. I took some shots of these beautiful buildings and by 11 am we finally started our return journey through the same route.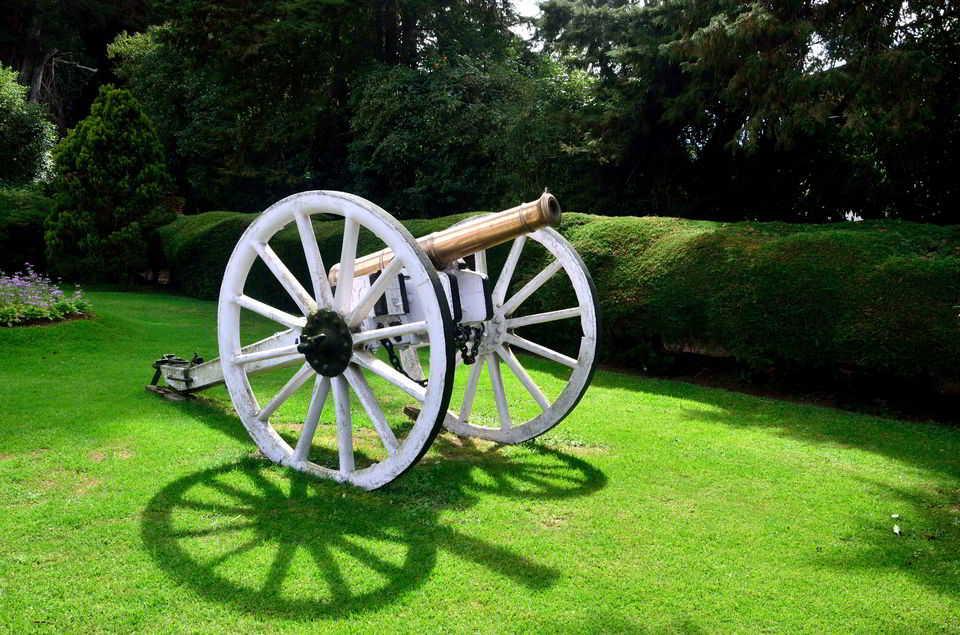 Reaching there-
By Road- Ooty is a famous hill station in south India and well connected with cities like Mysore (156 km), Coimbatore (86 km). Regular Bus services are available from these cities and a number of buses are also available from cities like Bangalore, Chennai etc.
By Rail- Nearest Railhead is Coimbatore. After reaching Coimbatore one can take the famous Nilgiri Express to Ooty. Starting from Mettupalayam this slow speed small heritage train runs on a meter gauge track and passes through breathtaking valleys. Advance reservation is absolutely necessary for this train.
By Air- The nearest airport is at Coimbatore which is 86 km from Ooty.
Stay- Ooty is very famous hill station and boosts all kinds of hotels, resorts etc suiting every budget. During peak seasons like summer and Christmas holidays, the rates are generally little higher. Coonoor is another beautiful hill station 21 km from Ooty. The place is less crowded and in many aspects, it is better than Ooty. It has lesser number of hotels than Ooty so prior hotel bookings will be of immense help.
Connectivity- Excellent 3G and 4G connectivity are available in the city area. The signal becomes little weak while traveling in the winding roads of Ooty.