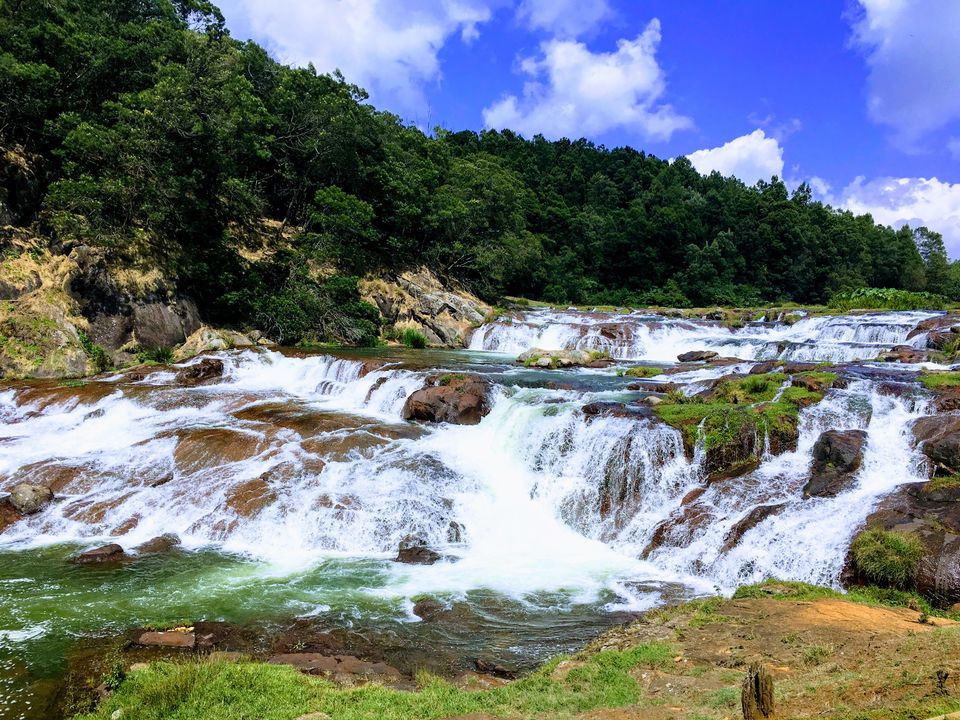 Having been to Shimla, Manali, Kodaikanal, and Coorg, I didn't have high expectations from Ooty. Enthusiasm was also tempered by numerous complaints that hill station has become too commercial and crowded. However, if you live in Bangalore as long as I have lived, you soon exhaust weekend gateways and hence Ooty it had to be. And I am glad I visited it, because I loved every minute of it. I mean, every minute except for Avalanche Lake but more on that later.
Itinerary
On 4th May 2018, we (family) took an overnight AC sleeper bus from Bangalore to Ooty (fare: 3,330/- for three) and reached Ooty at morning 8 am. We had booked Hotel Fairstay (rate: 7,000/- for 2 nights) from yatra.com and decided to check in. One thing we realized while booking that hotels in Ooty are fairly expensive for typical Indian towns. This room is decent enough -- with double bed, cupboard, large bathroom, and dressing -- but location is bit far from bus stand (5 km), nothing to eat around, and requires a kilometer walk or four-wheel drive on unpaved road from the main road. There weren't decent options in 1,000-1,500/- range in Ooty when we looked. Later we realized this to be effect of peak season. In November, for example, we could book decent room for 2,000/- too.
As I was negotiating with auto-rickshaw at bus stand for drop to hotel, we were quoted fares at the rate of 60/- per kilometer, which I began to immediately dispute, until one driver showed me government rates displayed on the bill-board showing the same. Lesson learned: auto-rickshaws in Ooty will run at 50-60/- per kilometer and you won't get them cheaper.
After checking in, freshening up, and having breakfast, we decided to walk to main road (about a kilometer) and were immediately enamored by the hillside views.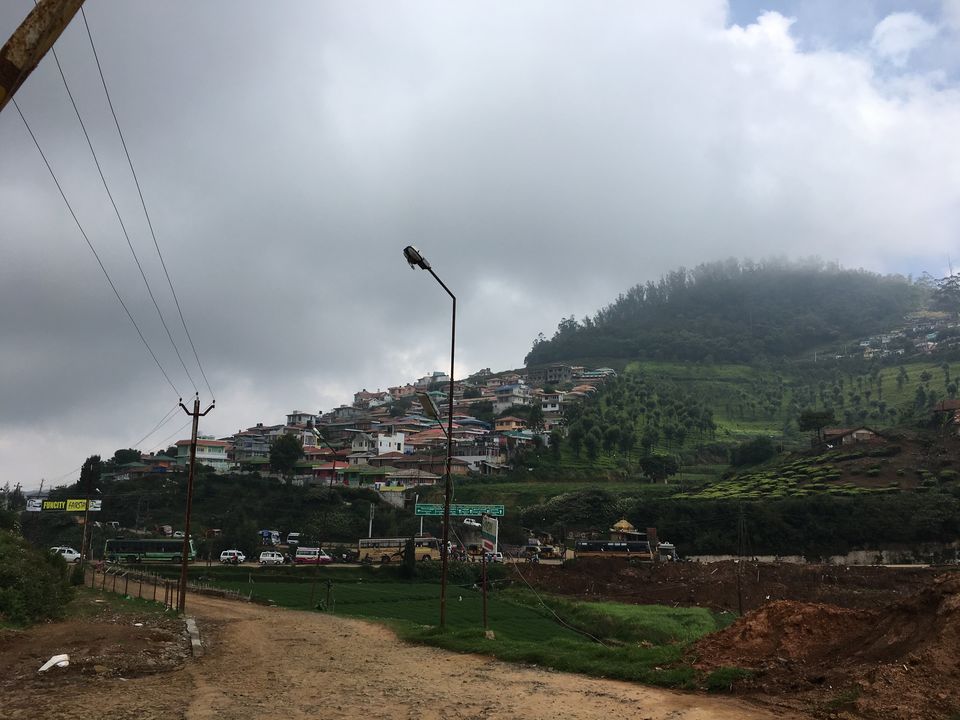 We caught one public bus from main road to Rose Garden, which required another half-km walk and climb, and were greeted by big crowd of locals! After buying ticket from counter (30/- per person) we went in and walked around. Garden is laid out in step farming fashion and whole walk, with pictures, is about 2 hour affair. Variety of roses were interesting (May is flowering season) but overall we weren't too impressed by the garden or flowers. Little sunny weather probably played spoil-sport too in the enjoyment.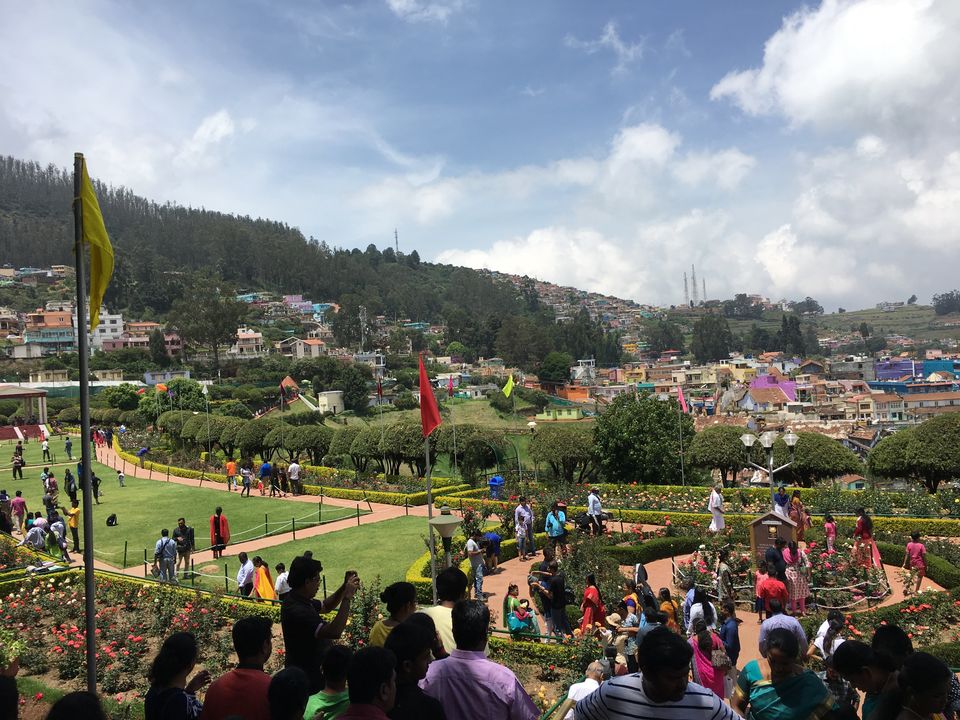 Having walked about 2 kilometer by now, we decided to hire auto-rickshaw for rest of the day. One agreed for drop to Ooty Lake via sight seeing at Tea Factory for 400/-.
Tea Museum is small 10 minute museum displaying posters on history of tea plantation in Ooty, followed by the tea factory which shows how leaves get turned into crisp tea granules (entry ticket: 10/-). This was interesting to learn. Of course, they were selling tea in the end and crowd seem to be buying a lot (we also bought, it's not good) which is how they made money primarily. Outside the tea factory there are snacks and chocolate shops.
After having lunch at A2B (very crowded, 350/- per person), we went to Ooty Lake. Lake is surrounded by park having games and amusement rides, vendors selling eatables, lawn for sitting, and has peddle boating facility. One can easily spend 2-3 hours here.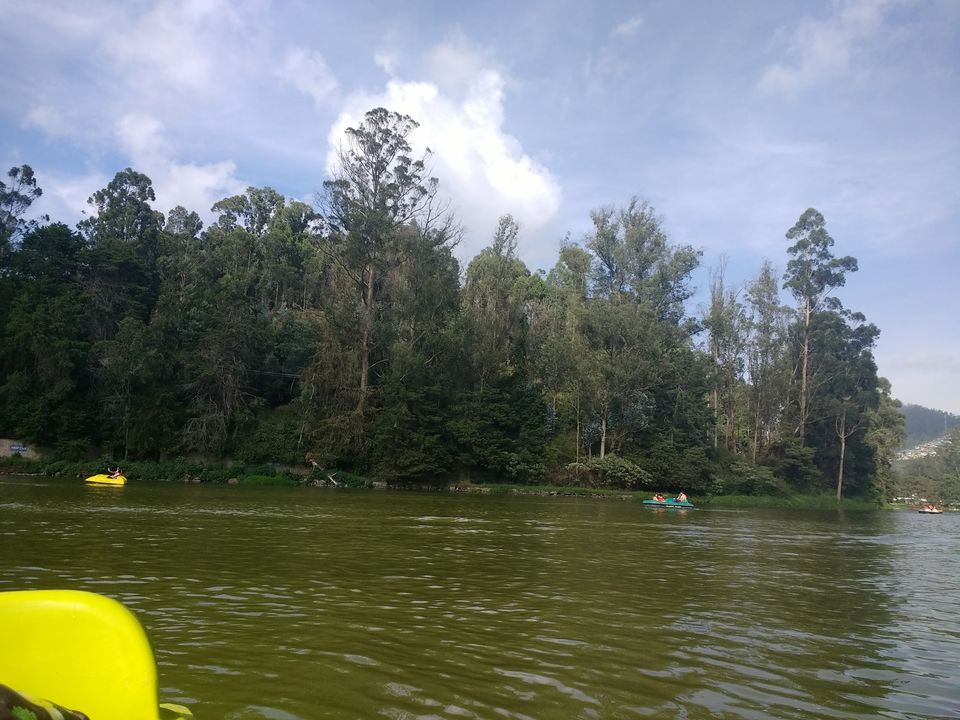 Peddle boating service has options for 2- or 4- seater boats, with government fixed rates. There are also motor boat and row boat options too. Rental system is however very unusual here worth mentioning in detail. As soon as you pay at the counter (260/- for 30 min for 4-seater; 170/- for 30 min for 2-seater) your time starts, even before you get in the boat! They take twice the amount, half for fare and half for deposit. You should be rushing to boating dock (there are multiple for multiple types), donning the life jacket (there is no help here, find one or take from de-boarding passengers, possibly elbowing with other people), and showing your payment slip to person in-charge to board when boat becomes available (may take while if all are occupied). Once you complete your trip in time (you have to monitor), you should rush out (take off life jacket) and go to refund counter. If counter-to-counter time is dot within 30 minutes, you get your half the money back, else nothing! Which means, for most people, you should just consider all money forgone and enjoy the boat ride as long as you want. After all, you have paid for 1 hour already, and they cannot ask more even if you come back in 2 hours! In fact, person in-charge doesn't even check your payment slip while returning.
After boating, we spent time playing games and sitting around, before calling it off for the day. Our hotel had simple dinner for 100/- per person. As there were no other options around, this had to be it.
Next day, we booked a taxi (SUV for 3,600/- for 8 hours, taxi will cost about 2,500/-) for Avalanche Lake (also called Upper Bhawani Lake) which is 30 km from Ooty, and under forest department care. Ride to lake was visual treat with mountainside farming and tea plantations.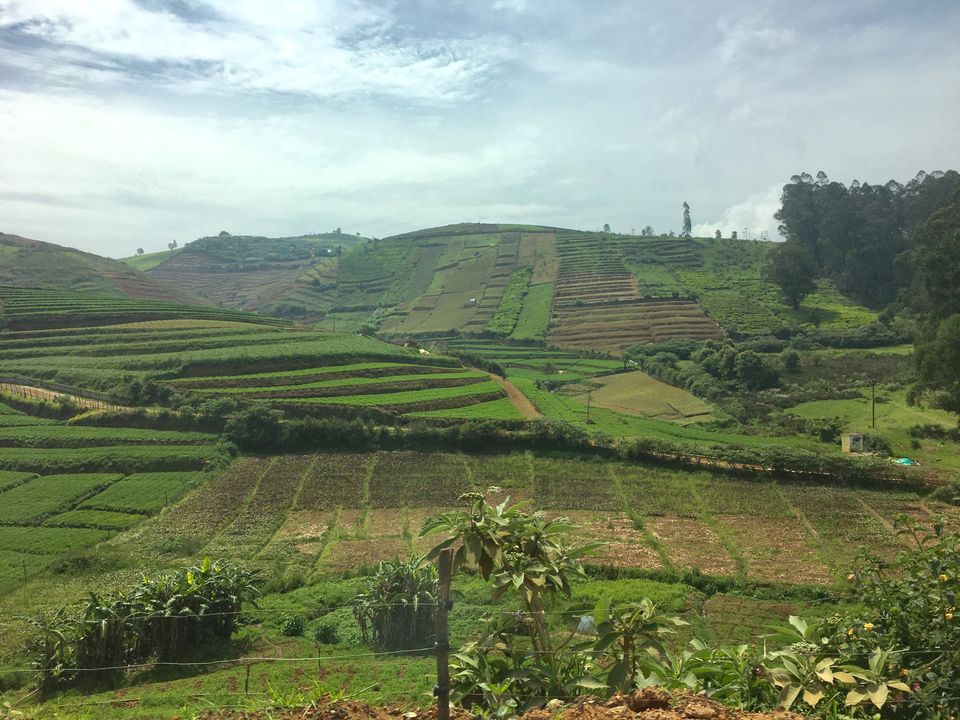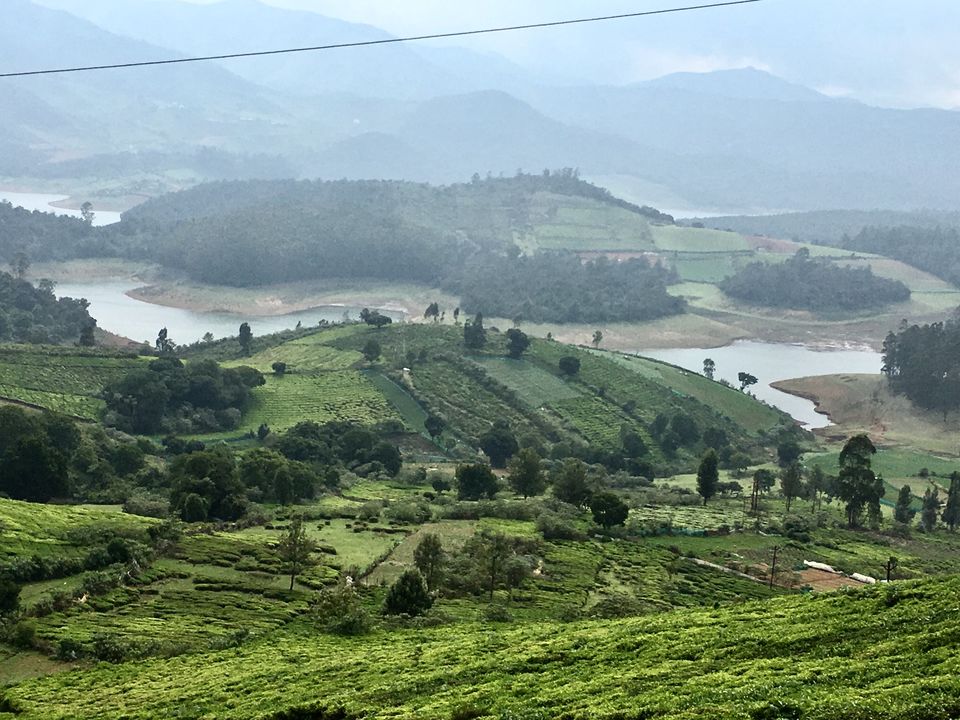 Experience at Avalanche was underwhelming though. You have two options for reaching to the lake from where your taxi parks: shared buses (150/- per person) or dedicate jeep (2,000/- for 8 persons). We reached booking counter by 10 am and waited till 1 pm and yet didn't get our number for bus ride. Whole thing is very unorganized with single counter, no queue for booking, unclear process of getting your name in waiting list, and unclear process on list moving, and only language of communication and instruction in Tamil. We saw people who came their own with driver and getting utterly frustrated. Even our driver gave up after a while. There is one small restaurant there which was very crowded. There is a restroom as well, thankfully. We whiled our time walking around the meadow and pine trees, and watching monkeys.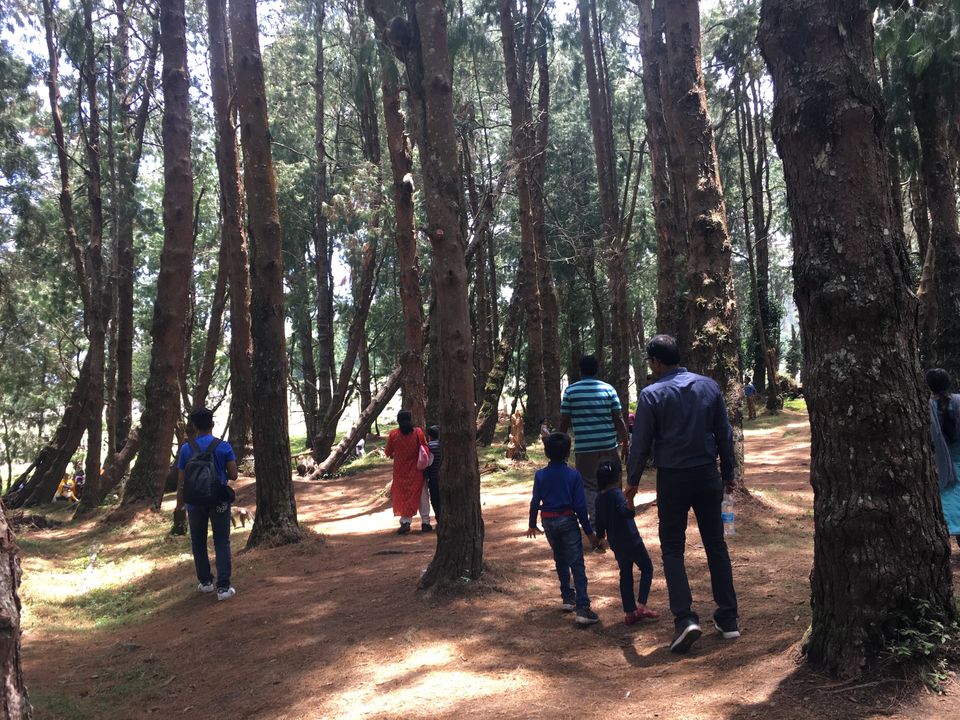 Finally, getting tired from waiting, we clubbed with another family and paid for the jeep (250/- per person). Jeep stops at two places. One is small temple beside a stream, and other is lake view point. Lake is supposed to be pristine but we saw it from so far that it was anti-climax. Jeep only stopped for 30 minutes and was in hurry! Whole trip lasted from morning 9 am to afternoon 3 pm, and this time could have been used better.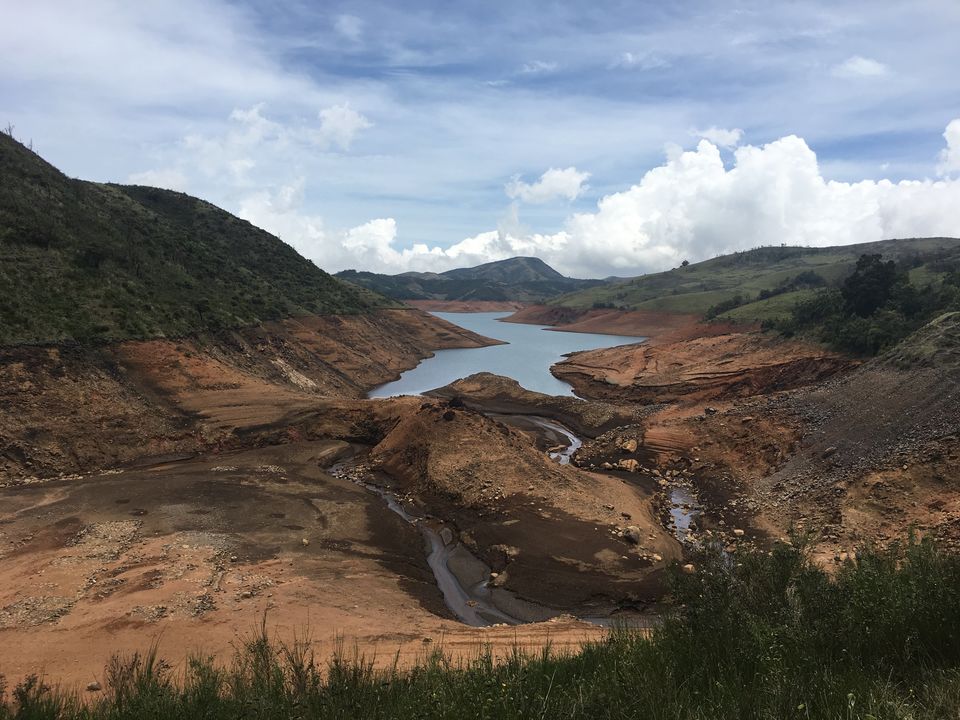 While returning from Avalanche Lake, we stopped at Western Valley Resort for lunch on the way. Resort is very picturesque and recommended if your goals is to just relax. It's far from main Ooty city though and bit pricey (estimated 5,000/- per night). Resort had lot of lush greenery, ducks and birds, old jeep and figurines which our kids enjoyed a lot.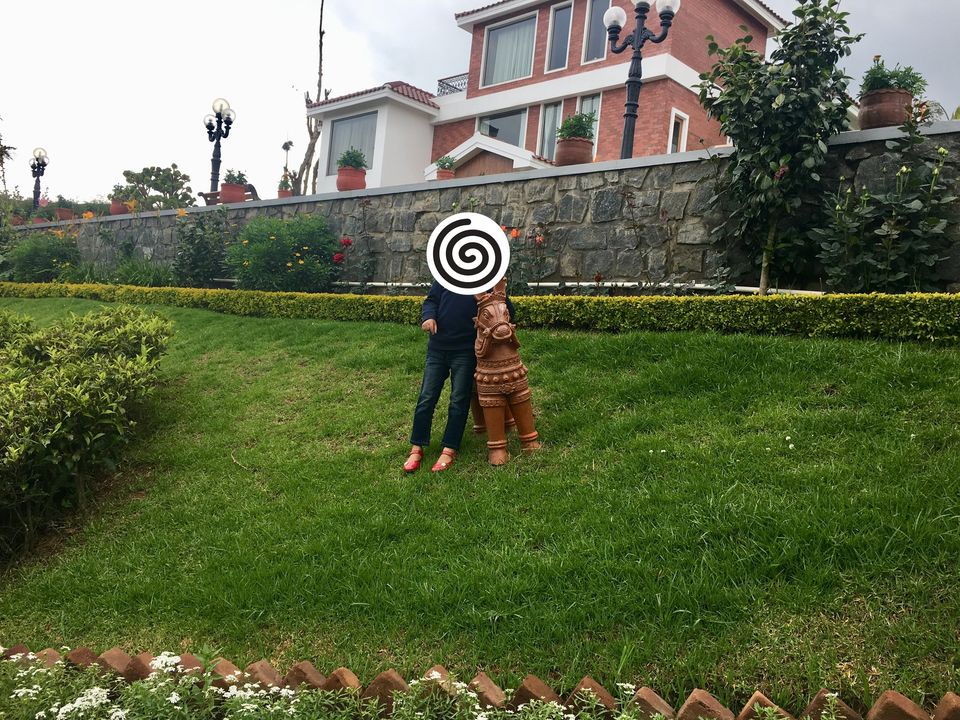 We also visited Karnataka Horticulture Garden when entering the Ooty. It's large beautiful garden -- one can sit or play around for hour or two -- though we were somewhat exhausted by then and didn't spend lot of time there.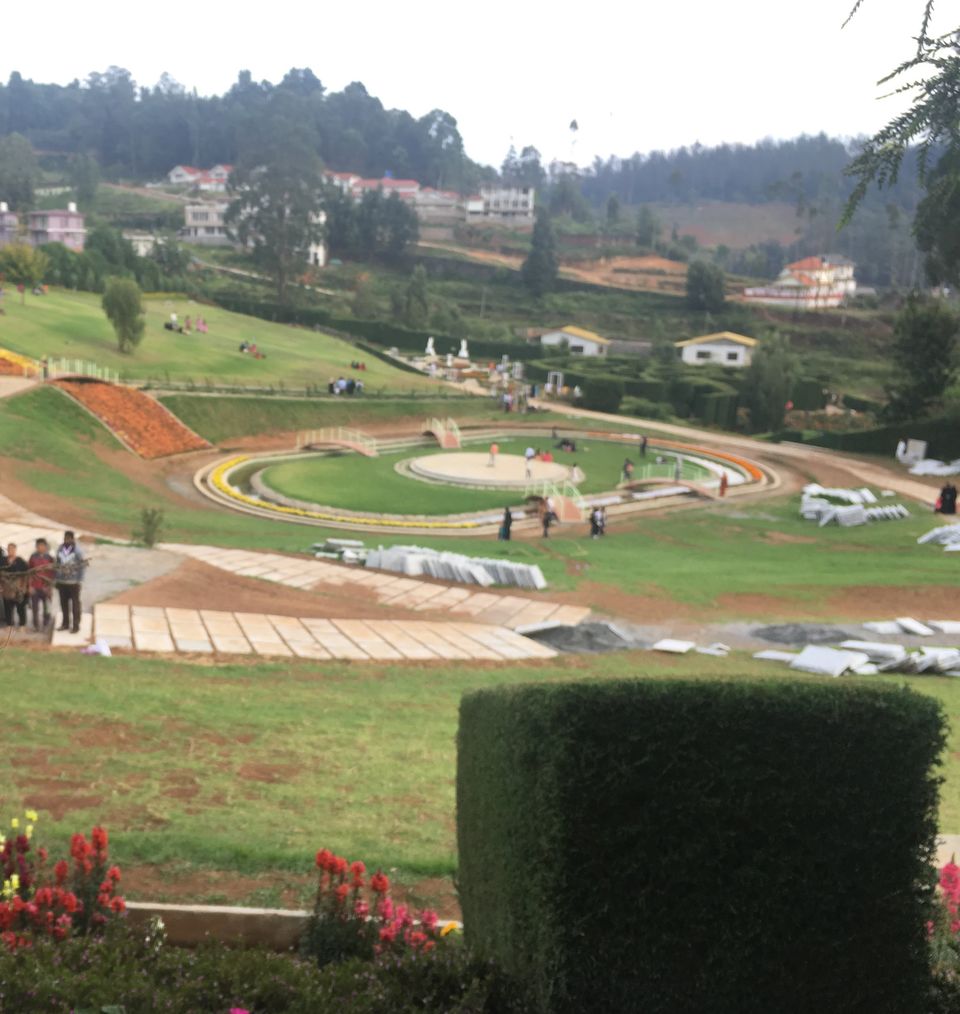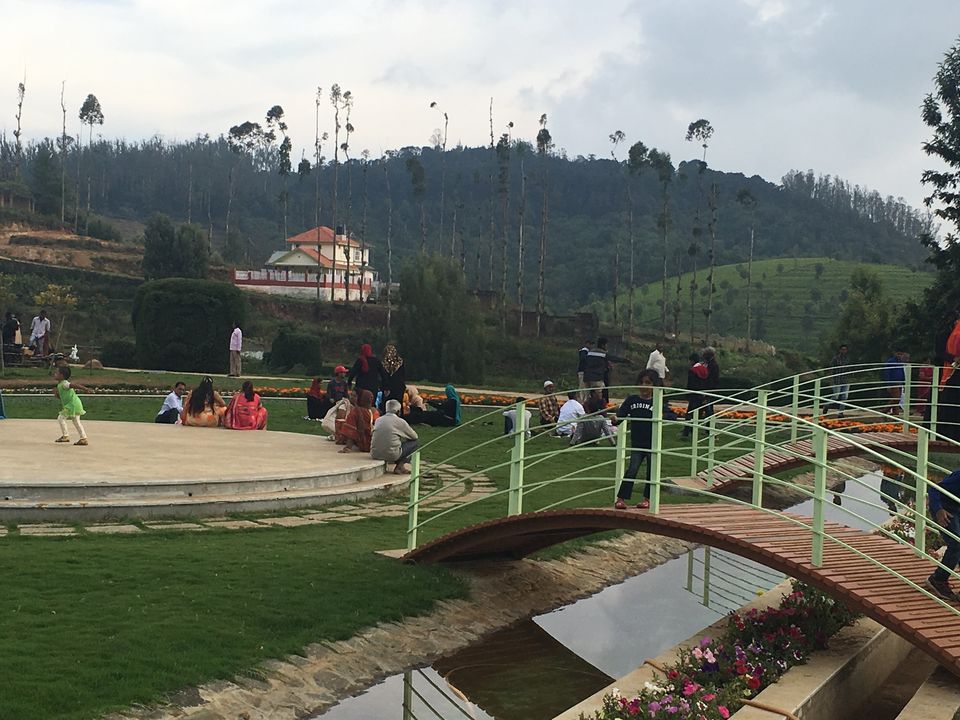 We also tried Cocoapod Chocolate Cafe which had high ratings on TripAdvisor but weren't very impressed, particularly because they had very limited menu available. Their chocolates were reasonably priced, we felt, and we did buy some.
Third, and last, day we decided to go towards Pykara, which is 30 km from Ooty. Again, we booked whole day taxi (2,000/- for 8 hours). There were few film shooting locations on the way, and first stop was Pine Forest and Lake. It's nice small area worth spending 30-90 minutes. You are advised to carry your food as there is not much all the way except snacks, fruits, corns, etc. Freshly plucked carrots are common everywhere in Ooty.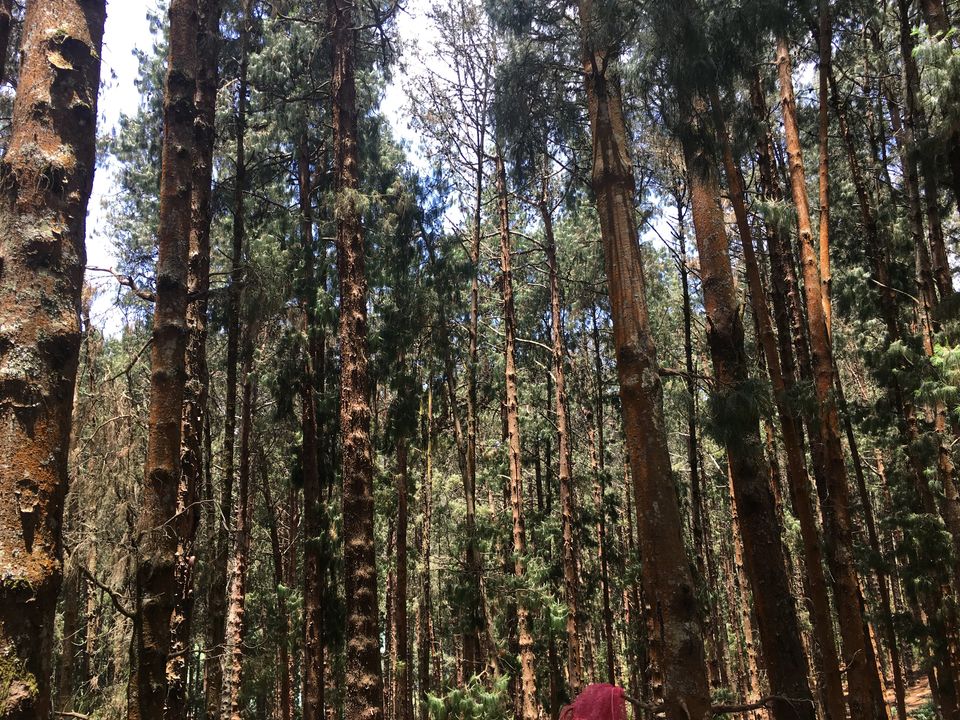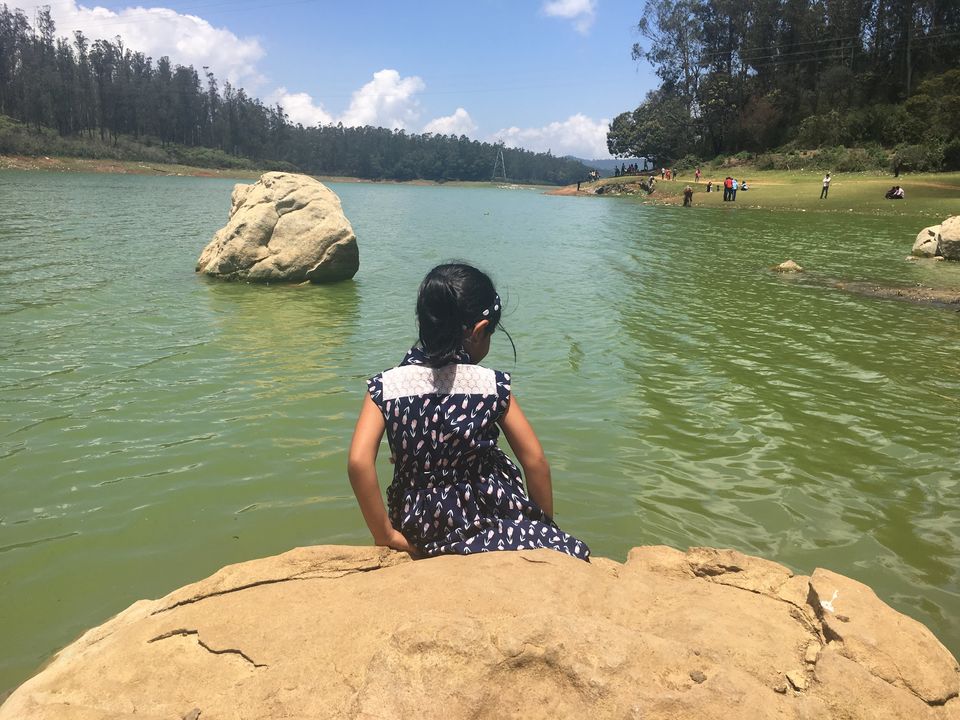 Later on, we visited Pykara Falls which were amazingly beautiful for small cascading falls. You need to walk a kilometer from the main road, or can take golf cart (wait can be 10-30 minutes) to the park which is entrance to the lake. Thereafter there are steps leading to waterfall. One cannot touch water as iron railings mark the boundary but view is fantastic.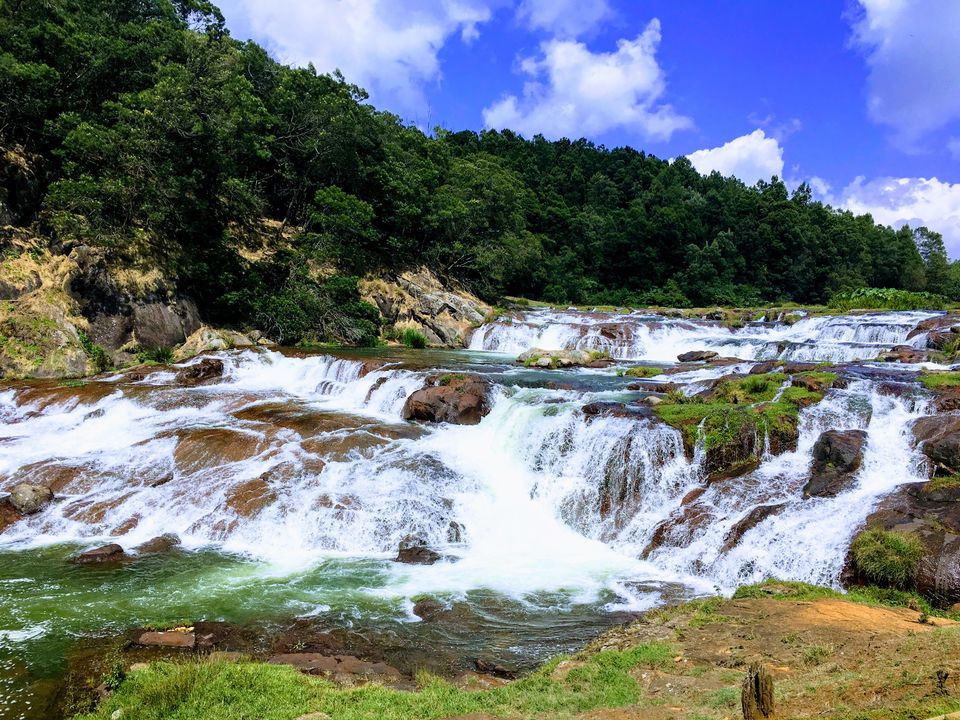 There were only handful of restaurants around which average qualify food, and most shacks were selling just chips, ice cream and soda. After having rice thaali at one of rajasthani place there (barely eatable food), we drove to Pykara Lake for boating. This lake is also under forest department care and open till 5 pm so plan to reach by 4 pm for boat ride. You can rent 8-seater motorboat for 750/- or 20-seater for 1,200/- for 20 minute ride. Usually, you can share with other groups present but you have to ask around. There is also 2-seater speed boat for 600/- for 10 minutes.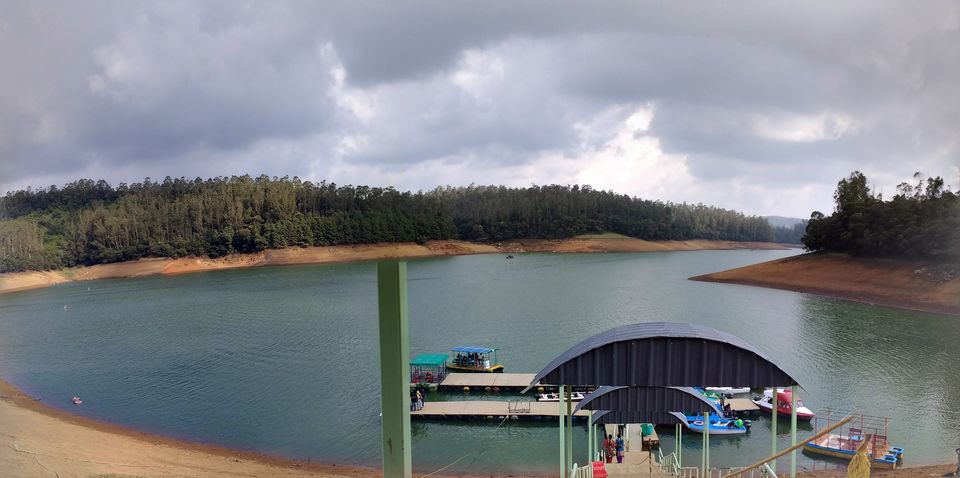 From perspective of boating experience, both Ooty Lake and Pykara Lake were underwhelming in views, but if we had to pick one, I will recommend to skip Pykara Lake.
We had some time to kill before taking our return bus, and we saw Thread Garden opposite Ooty Lake (entry fee: 30/-, camera: 50/-). It's indoor garden of about 100 meter length where realistic looking plants and flowers, hand knitted with threads, are displayed! You can also buy souvenirs there but being handicraft they tend to be expensive (1000/- for small plant) It's beautiful sight though not well captured in camera. However, you can easily skip this attraction if you want.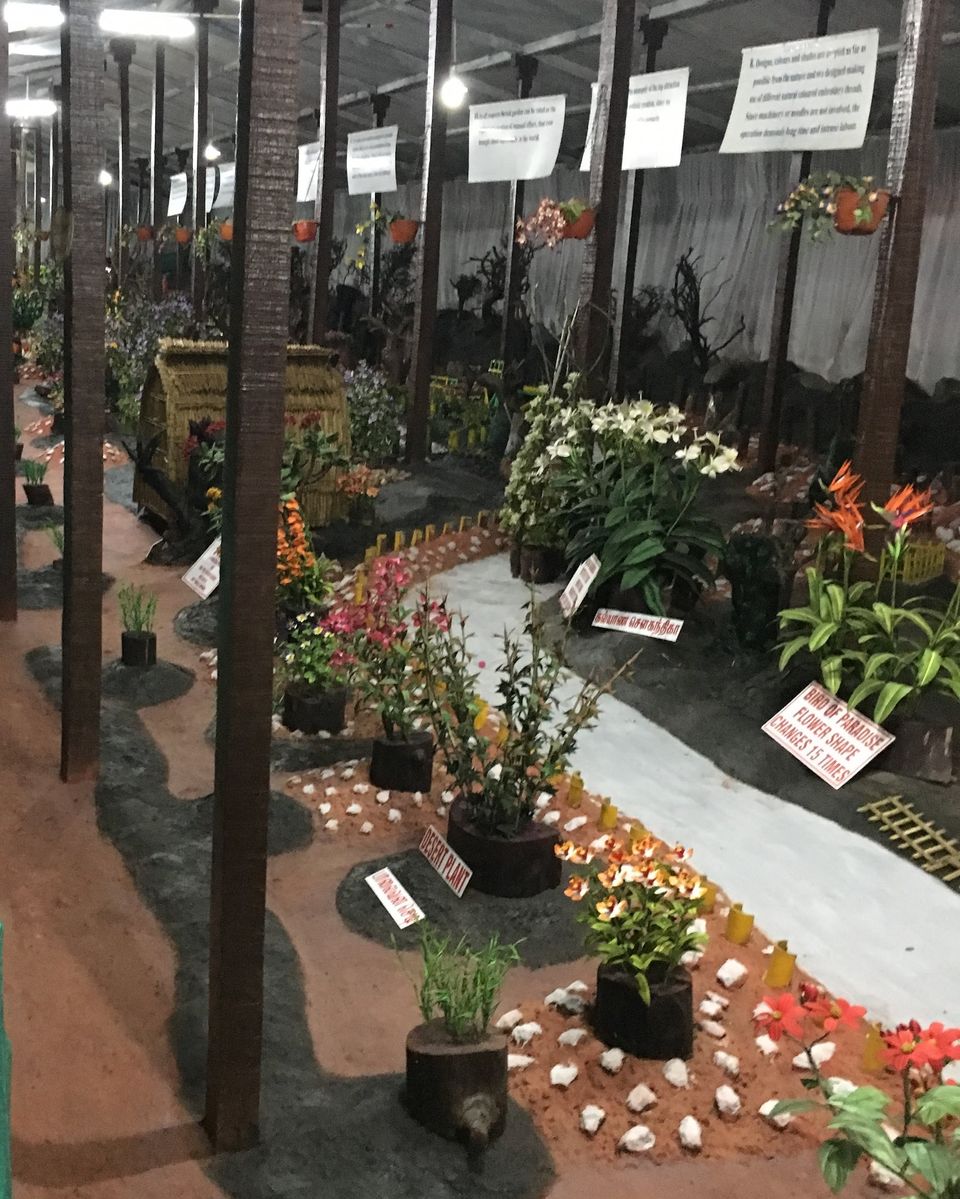 After dinner at local restaurant near bus stand, we took overnight AC sleeper bus back to Bangalore (fare: 3,042/ f0r three) to end this experience.
(Key places within Ooty are placed at this Google Maps route)
Costing
All figures in INR. 100/- means 100 Indian Rs.
For family of three, we spent overall 24,800/- for 2-nights 3-days trip to Ooty. This turns out to be approximately 11,000/- per adult on twin-sharing basis. We later found that there is taxi stand near main bus stand where taxis can be hired from. I will recommend doing that as we we hired on phone and didn't have enough opportunity to bargain down. Also, there are tourist buses which charge 100-150/- per person for day-long trip which can turn out to be even cheaper. These can also be booked on the road near taxi stand. One can also rent two-wheeler to explore at will, but do note that terrain is hilly throughout with narrow single lane roads.
Other Attractions
One big attraction which we missed, and could have been better suited instead of Avalanche Lake, is Ooty-Coonoor round trip (2-3 hours) train ride. Toy train by Nilgiri Mountain Railway on this route is famous for its breathtaking views. I've read in preparation of this trip that tickets may be limited so you may have to purchase in advance or get in queue early in the day.
Other spots you can cover are:
* Thunder World theme park, near Ooty Lake, dinosaur park + mirror room + 3D movie + 7 wonders + kids rides + horror house for 450/- adult, 370/- child, add snow world + camera museum for 550/- and 450/- respectively, about 3-4 hr event
* Botanical Garden, nature walk, 7 am - 6 pm
* Fern Hill Garden, front of Hotel Mayura Sudarshan, park, walk, play
* Cairn Hill, jungle walk, 8 km from Ooty
* Doddabetta peak, highest point, can take bus from Ooty bus stand for 10/- and walk 3 km from bus drop off
* Doddabetta Tea Park, lush tea area, children play area, 2 km walk from bus drop off
* Mudumalali National Park, 45 km, safari
* Belllikal/Bison Valley, 25 km from Ooty
* Sims Park, Coonoor, nature walk
* Dolphin's Nose view point, 10 km from Coonoor Central
* Wax world, small wax museum
* Annamalai Temple, 20 km from Ooty
Frequent Searches Leading To This Page:-
ooty tour package from kolkata, ooty tour package from kochi, ooty tour packages from kannur, ooty tour package from lucknow, ooty tour packages from mangalore