After what seemed like forever, a couple of my girlfriends and I decided to take a short break from the monotony of our daily routines and take off for a short-and-sweet vacation. Since we live in Bangalore, a number of lucrative options were at our disposal, but we finally decided to pay a visit to the verdant beauty of Coorg.
Located at a distance of 265 kilometers from Bangalore, Coorg or 'Kodagu' is a quaint hill city which is unpretentious yet endearing in its presence. Since we were in no mood to lug our belongings and ourselves on and off of buses, we decided to hire a cab for the journey. We started early in the morning of a Saturday, and had a detailed plan of dos and don'ts laid out for the weekend. Singing, sleeping and eating our time away, soon enough we reached the first destination on our checklist - Dobare Elephant Camp!
Dobare is an elephant conservatory and training camp, where you can discover the elephant lover in you. Perhaps the most famous activity offered here is the bathing of elephants, where tourists can go ahead and have this once in a lifetime experience. But before that, you need to reach the camp area, which in itself is an adventure of a kind! Dobare is structured in such a way that in order to reach the elephants, you have to make your way through precarious rocks protruding through the connecting water. In an ultimate test of balance (and failing), we finally reached the camp entrance and made our way towards the elephant bathing area.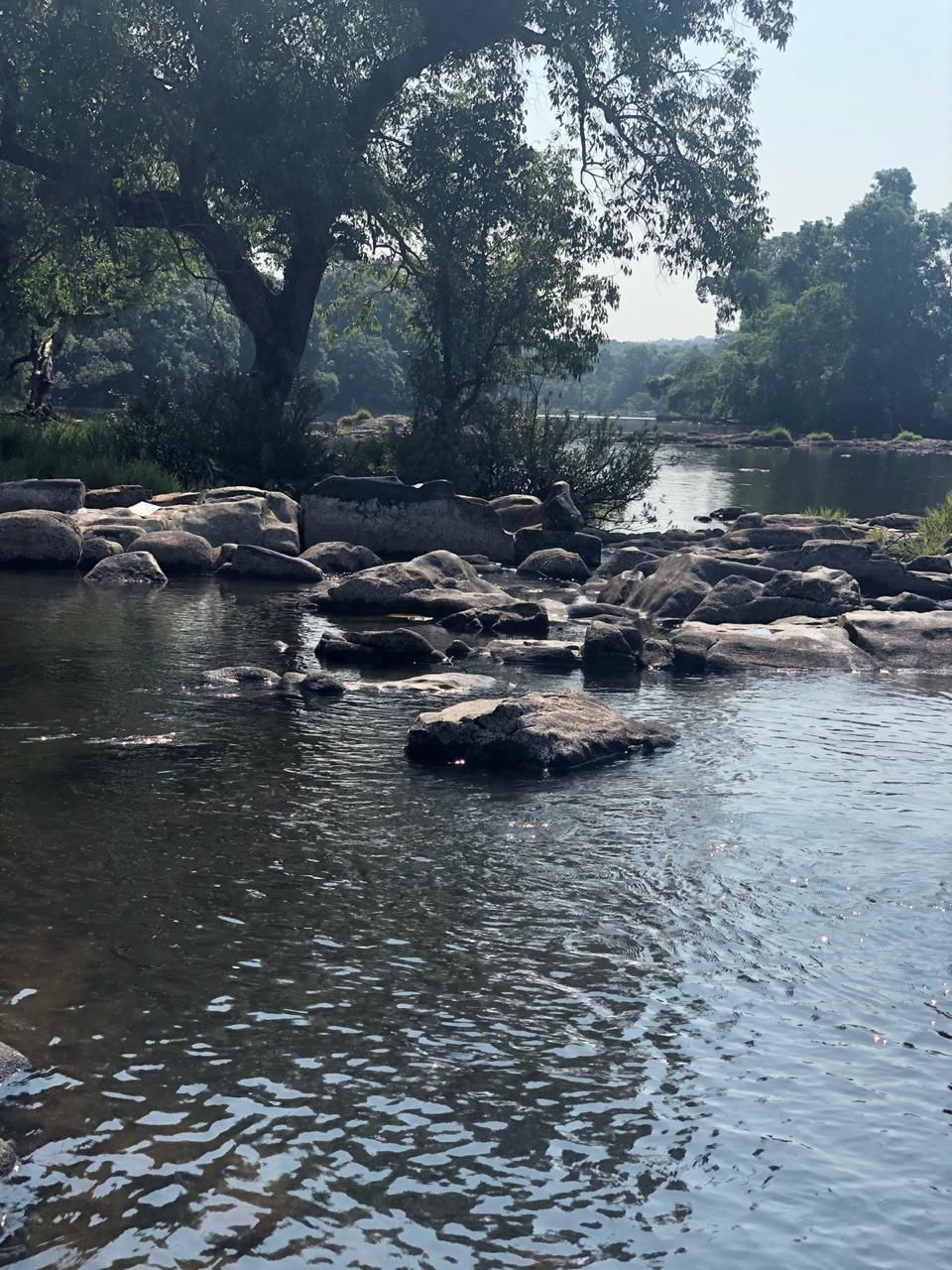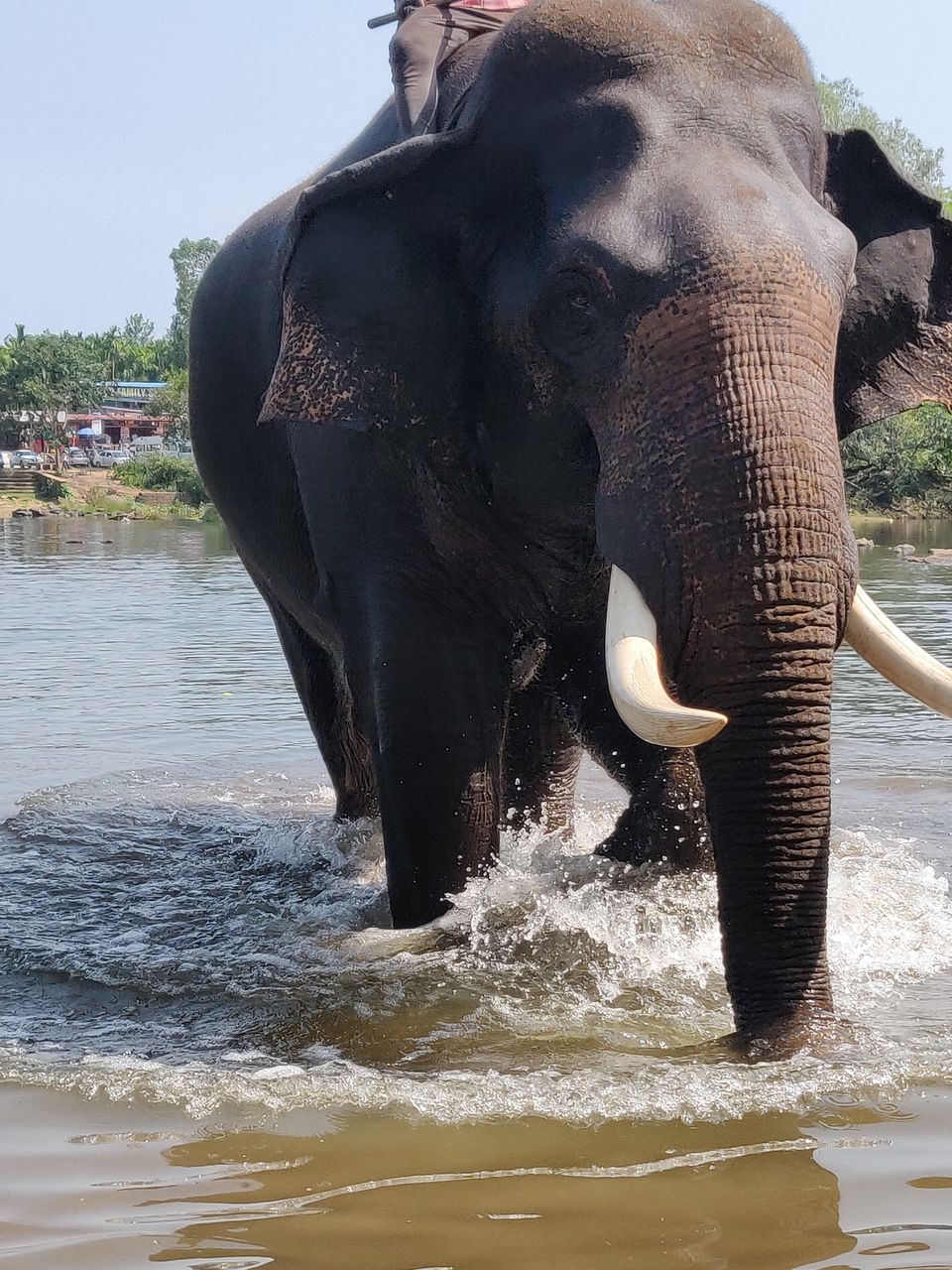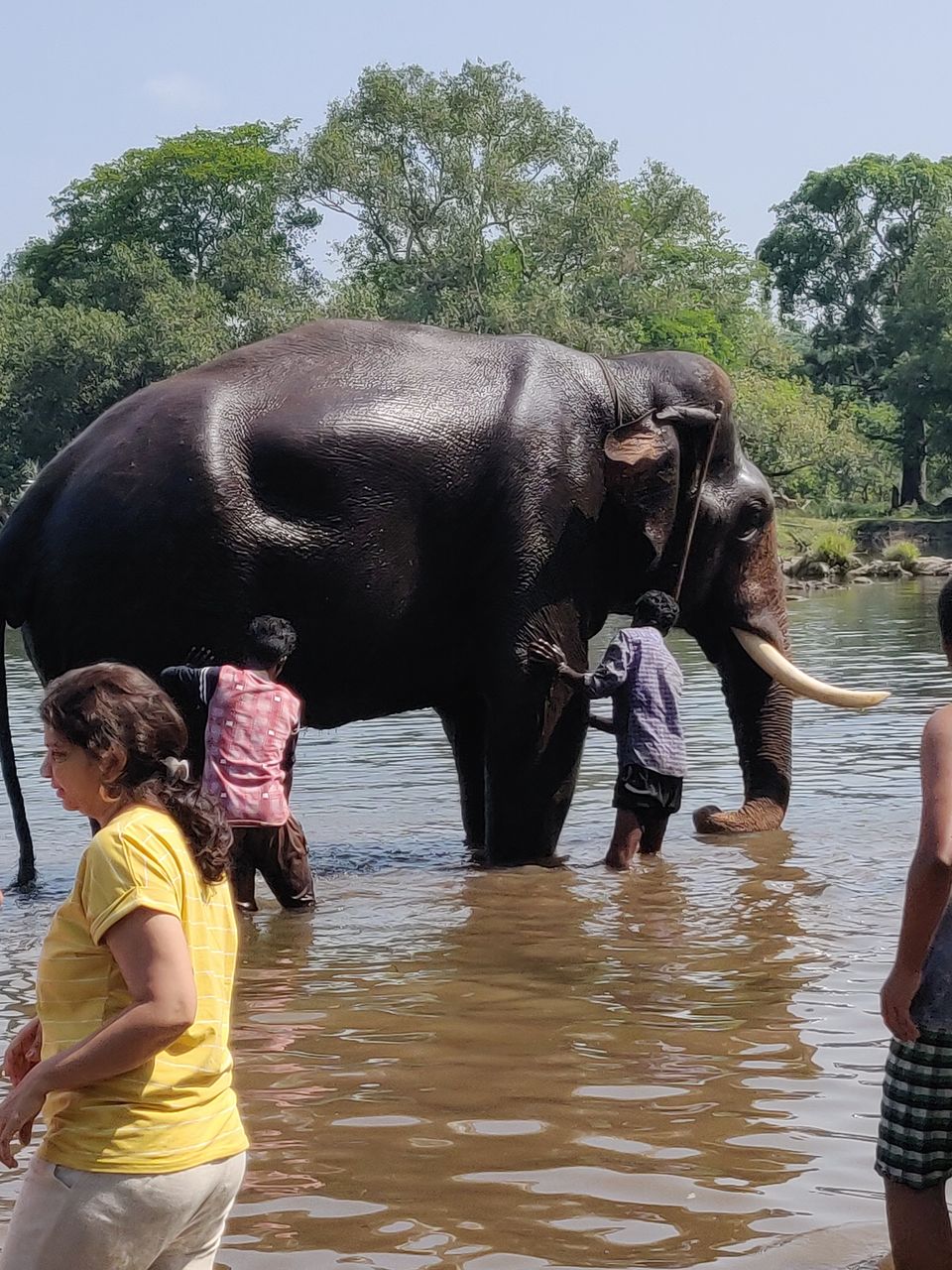 If you're as scared of dogs as I am, believe me, elephants are definitely going to make you sweat bullets! Although the elephants at Dobare were as sweet as you would expect them to be, I was still on my tippy toes to make a dash for my life as soon as danger makes even a fleeting appearance. While I was on the constant lookout, I did indulge in scrubbing some dirt off the gentle giant's back. The elephant reciprocated by filling up its trunk and spraying some water on me too! It was one of the most awe-inspiring moments of my life, as it was a not-so-subtle reminder of the enormity of nature's creations. After this rendezvous, we made our way back through the myriad edged rocks of Dubare and onward to Coorg.
At around 12 noon, we reached the resort which was our abode for the duration of our stay. The resort was a beautiful place in itself, with tiny tree houses dotting the area and pumpkin creepers lining overhead archways. Our schedule for the day was jam packed, so we took a small lunch break before heading off to one of the most famous destinations in Coorg – Abbey Falls.
The cascading waters of Abbey are located in the midst of a thicket of green forests which can be reached through a series of descending stairs. A metal fence built in between prevents people from reaching over to the water, but the view itself makes up for the journey into the jungle. Flowing through the crevices of rocky hills, the waters of Abbey Falls make a grand appearance from the midst of towering trees. The gentle breeze coupled with the soothing visual of the falls is sure to lull you into a contemplative silence. And if you are a photography enthusiast, you can steal a few snaps despite the crowd of people. After a charming stop at the falls, we headed on to find our spiritual selves at the Omkareshwar Temple.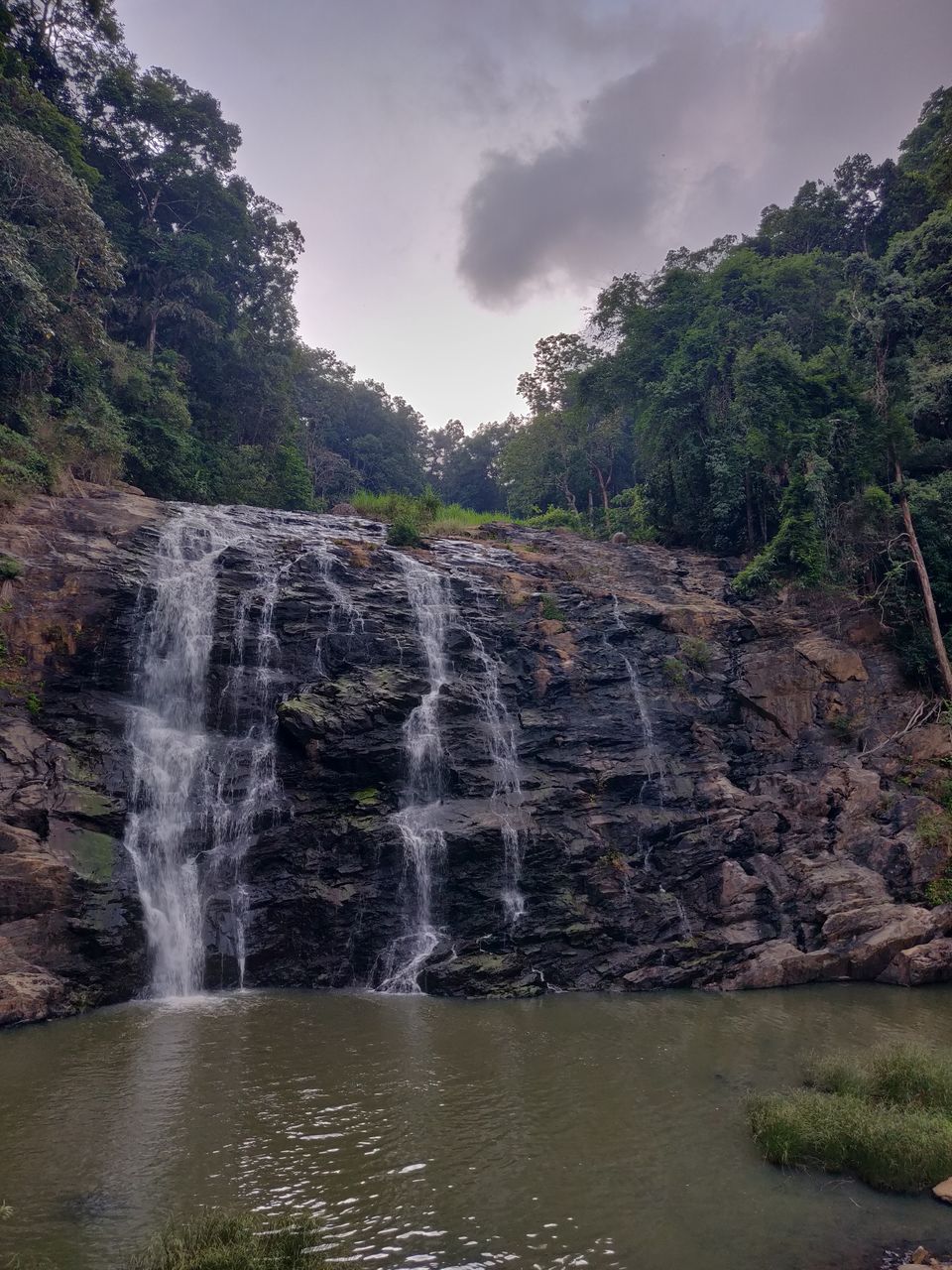 Omkareshwar Temple is an ancient sanctum dedicated to Lord Shiva. My experience at the Omkareshwar temple was like none I have been to before. The serenity at this shrine was palpable and it was only amplified by the soothing music playing in the temple compound. As if in a trance, the devotees, including us were moving around the temple in silence. The architecture of the temple was quite unique too. Although the main building was not quite different than any temple you might find in your neighbourhood, what made it different was that it was adorned with small idols of gods and goddesses. The temple premises also had a water reservoir where one can observe fish frolicking about. Maybe it was the enchanting weather, or maybe it was Divine Providence, but we had a hard time leaving the temple before we could go off to last spot on our travel itinerary.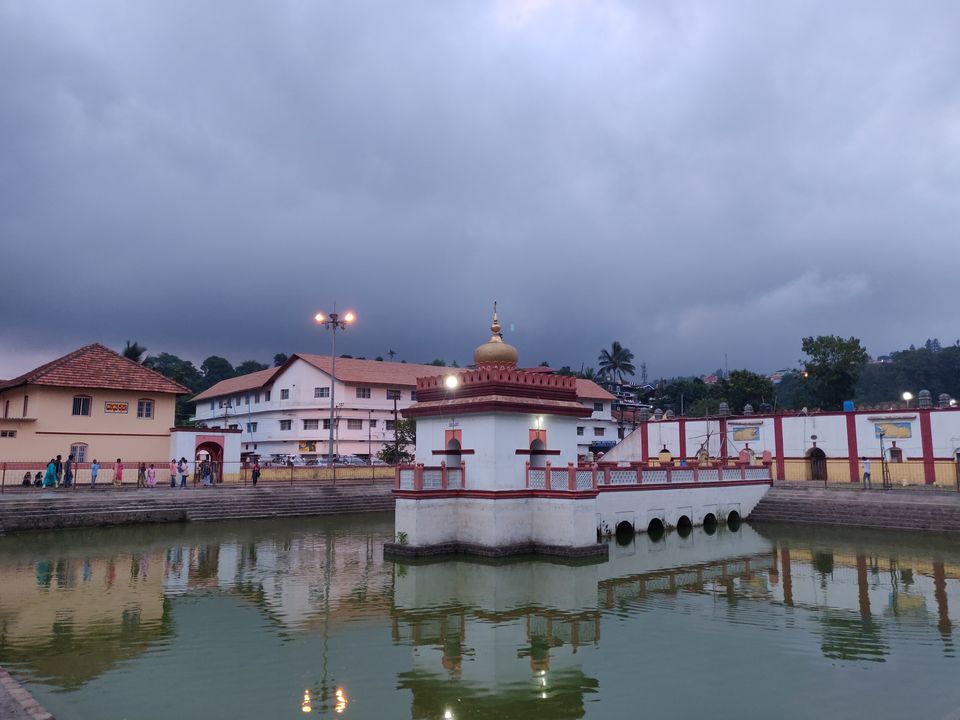 As the name suggest, Raja Seat is a scenic viewpoint from where kings and rulers peered over the lush greenery of Coorg. Located in the midst of the city, it is spread over two levels, one for the general activities involving the public and a lower open area which overlooks the valleys of Coorg. This tourist attraction has further enhanced the experience for its patrons by adding activities such as musical fountains and rides for children. Unfortunately for us, we reached the place in the later part of the evening and couldn't get a glimpse of the city from this view point, but a celebration of another kind was already underway here. People from all walks of life had taken out time from their lives to enjoy the fair-like ambience of this place. Imagine this – elegant streams of water fountains moving to the beats of Bollywood numbers while you munch on cotton candy and are laughing the evening away with your best friends! What added an air of mystique to this whole experience was the sudden appearance of misty white clouds all over the premises. At this point, we decided to go to the lower viewing area and have a look at the city through the lens of the clouds. And what a view it was! Puffy white clouds laden with water droplets surrounded us, so much so that we couldn't see two feet ahead of us - just the depth of the valley masked by infinite white. With the horizon out of sight, it was another reminder of the grandeur of Mother Nature. Soon enough it started raining and we hurried our way to our car and back to the resort.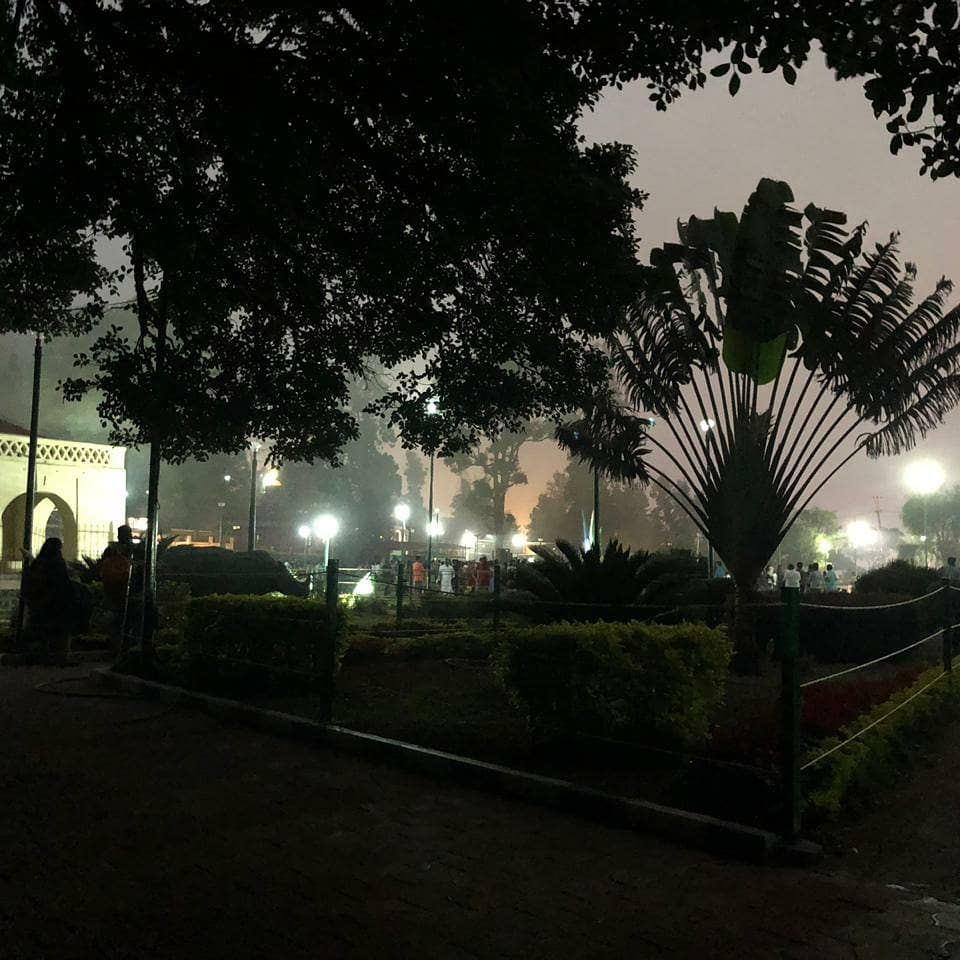 The second day of our trip was planned around trekking to the peak of Tadiandamol, which is the highest mountain of Coorg. Cheery and full of energy, we made our way to the trek with our car as far as we could, and soon enough reached the last "drinking point". As we got to talking to the locals, we learnt that the peak had been closed for trekking for a while. Bummed, we were scratching our heads on what to do next, when we decided on going uphill anyway! Sure, the peak was closed, but we could try and get as close to it as possible nonetheless! Plus the distant sound of a gurgling waterfall was invitation enough. Renewed in spirits, we shouldered our bags and made or way onward.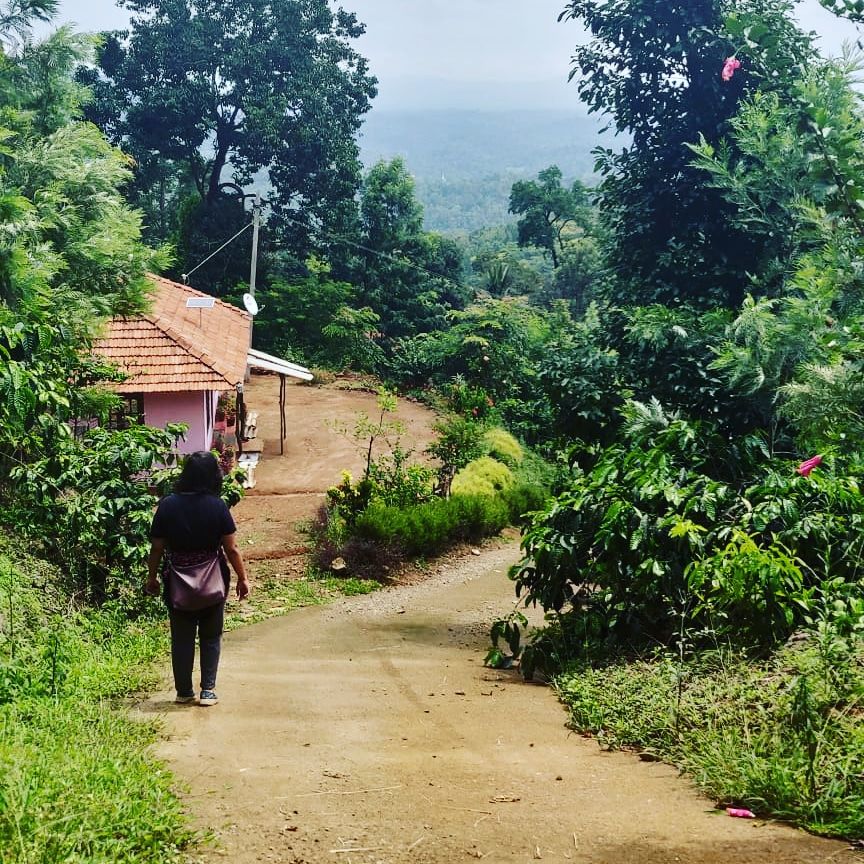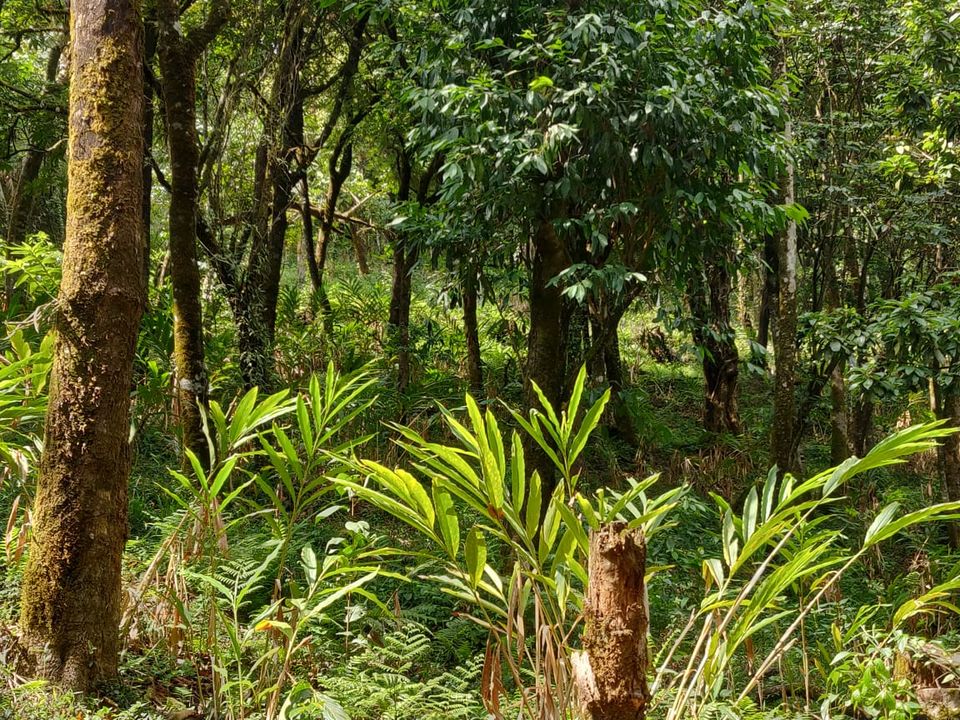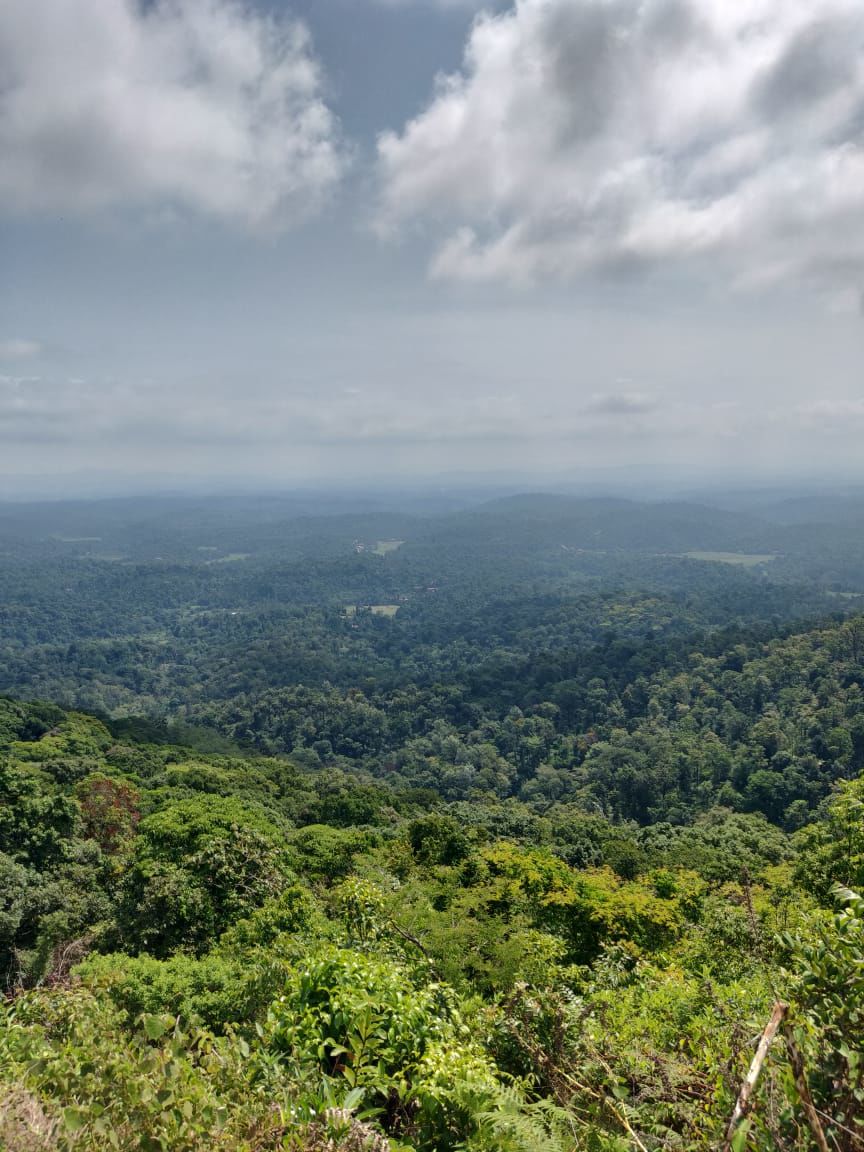 The trek of Tadiandamol is nested in the lap of lush green forest. The silence of the pathway is only pierced by the cooing of birds and chirping of insects. If you are a nature lover, you will have a gala time here. Trees laden with jackfruit and bananas are aplenty on the way, and the faint smell of tropical vegetation is a refreshing change from the polluted airs of the city. We also encountered a small stream on the way and ended up drinking some water from there too! After trekking for about 90 minutes, we reached a viewing point which overlooked a beautiful scenery of mountains. Green hills gave way to blue mountains, and you could count up to a dozen mountains with naked eyes. One unique aspect of this location was that the mountains were virtually uninhabited except for the occasional buildings. After taking in the scenery and getting as many pictures as we could, we decided to descend down and make our way to Iruppu Falls.
Iruppu Falls is a frothy shower of water that flows through the Brahmagiri Mountains and is situated in the bosom of a forest. In order to reach the main falls, you have to trek a distance of about 3 kms which is facilitated by a series of steps. Already worn out from our trek at Tadiandamol, we were very much looking forward to dipping our feet into some cold chilly water. The main shower of water can be reached by walking on a metal grate, but we decided that was too mainstream for us (no pun intended!). Once we reached the main pool, we quickly changed into our swimming gear and found a secluded spot for ourselves to relax in. The blue waters below coupled with the azure skies above made for a hedonistic experience which we enjoyed to the fullest. From playing silly water games to meditating, we did everything at Iruppu. After spending quality time at this destination, with heavy hearts we made our way back to our city, but not before one last surprise destination!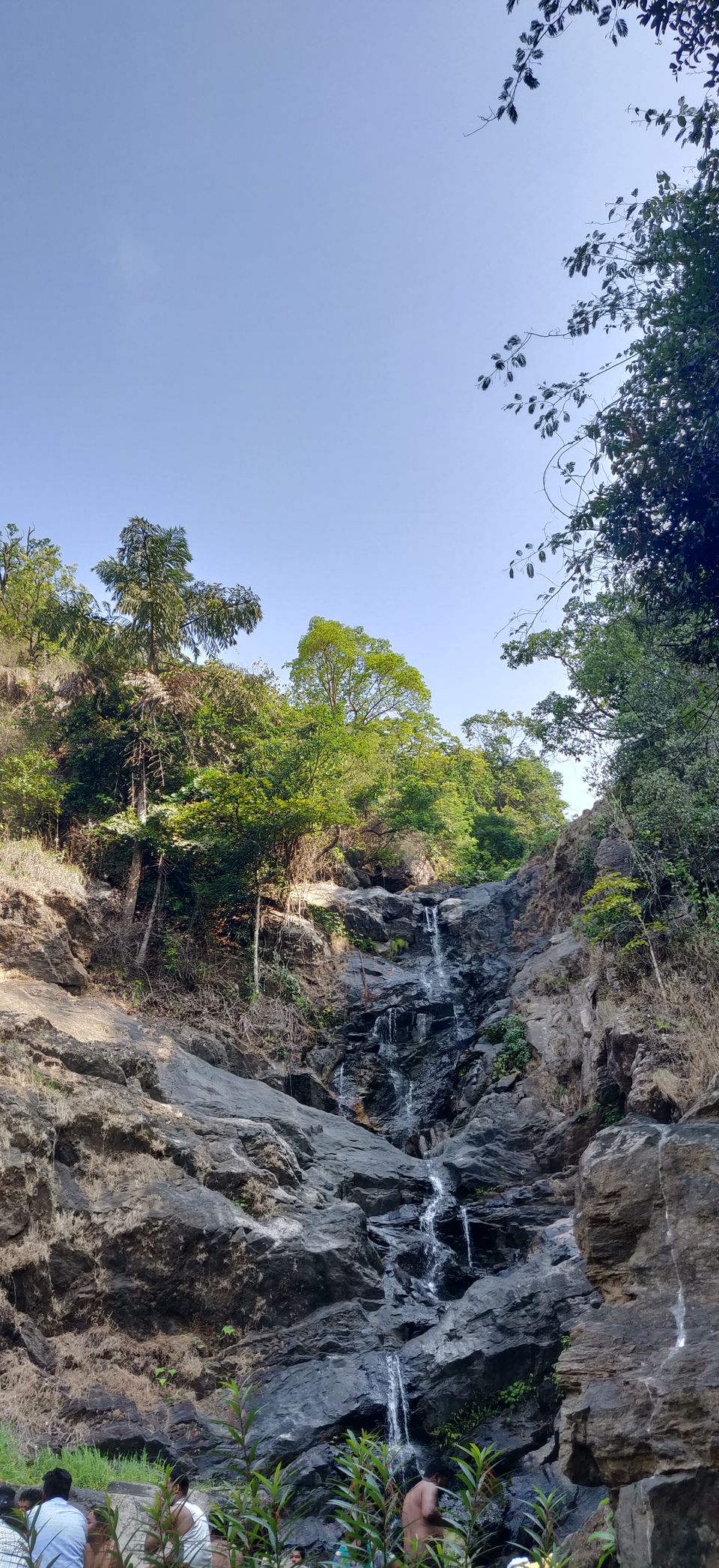 For those who have been to Coorg via road, this must be no news that you can reach the city driving via Nagarhole National Park. Our driver, as sweet as he was, agreed to take us through the same, which was a delightful surprise to us all. Sitting back in the comfort of our car, we put on our field glasses in the hopes of spotting some wildlife in their natural habitat. We were in luck, for we spotted deer chewing away at the grass, mighty elephants meandering through the jungle roads, peacocks lolling and peahens scurrying away! After a drive of another 7 hours, we finally reached back home and tired from the exploits of the weekend, went straight into the arms of sleep!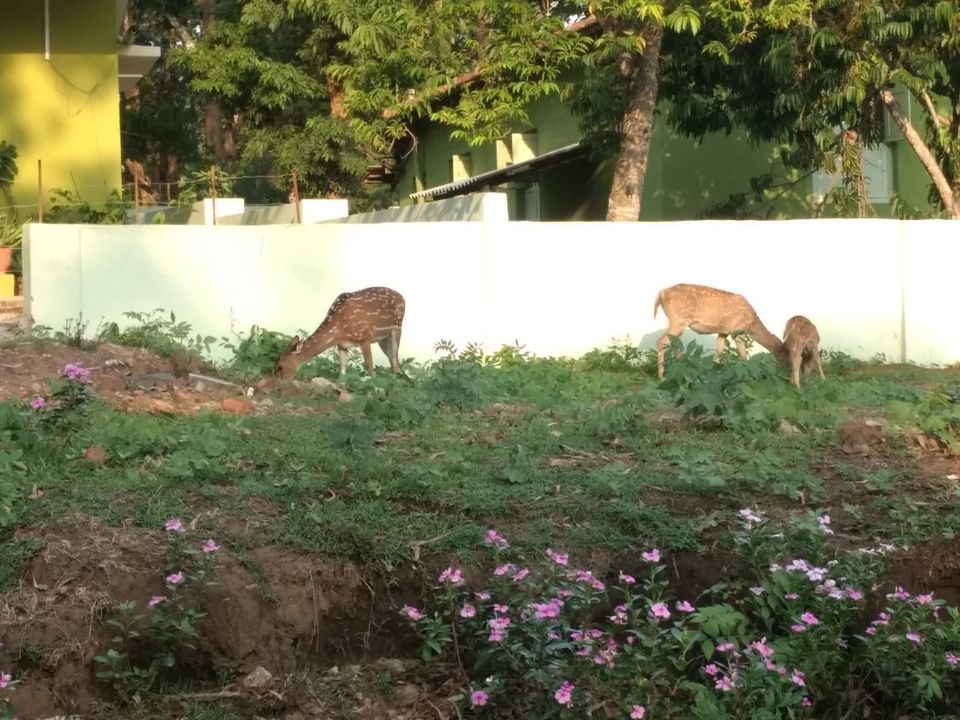 This trip to Coorg left us with amazing new experiences, beautiful sights and countless memories and if given a chance, I would do it all again!
Frequent searches leading to this page:-
coorg tour packages from mysore, coorg tour places, coorg honeymoon destinations, 2 nights 3 days bangalore itinerary, coorg packages from mangalore, coorg itinerary for 3 nights, 02 nights coorg itinerary