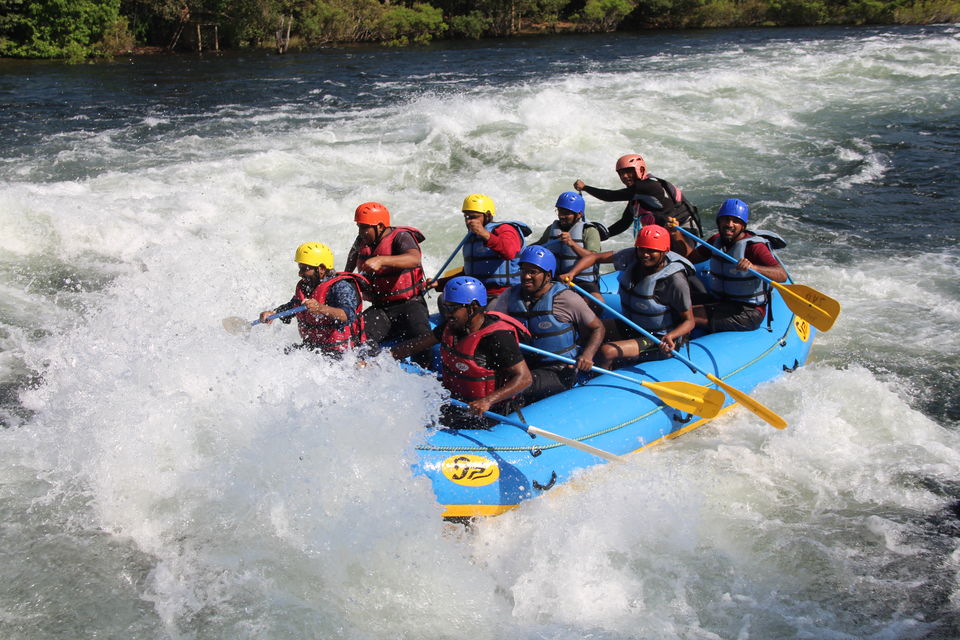 We were planning for a class trip (12 people) from NITK, Manglore and that's when we stumbled upon an article on Dandeli. That short read promised us that the surging river Kali of Dandeli will stir the adventurer in us. It also talked about lush green forests of Dandeli and its unique but powerful hosts. Also a flurry of places which we can see when we visit Dandeli. It didn't took us long to pack our bags and go for a weekend trip to Dandeli.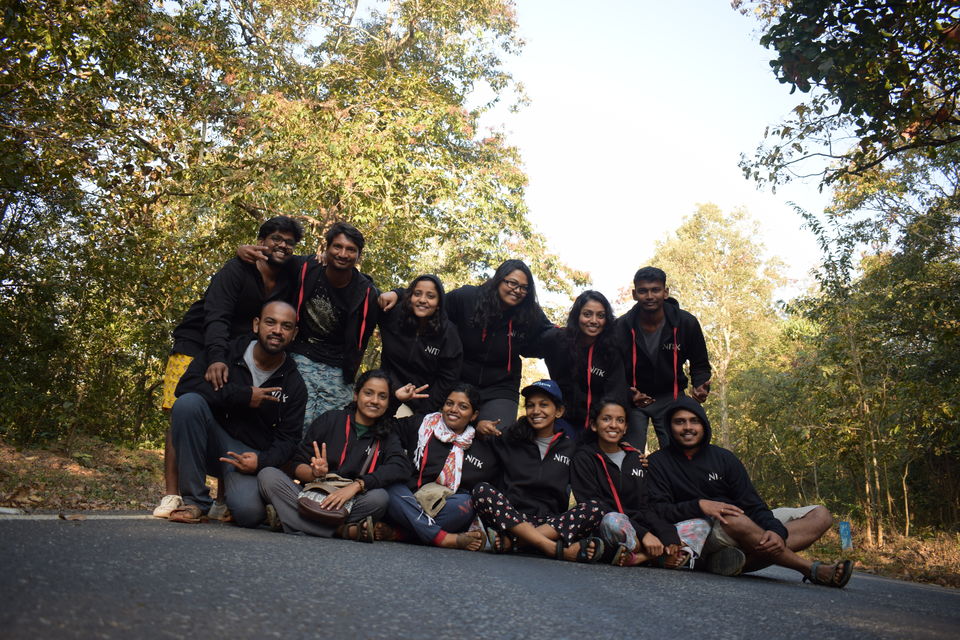 Season: September-March
We started our journey from Surathkal, Manglore around 11:05 PM in a Karnataka State road transportation bus (KSRTC) which was prior booked. (Spoiler alert: KSRTC buses are hugely unreliable. Our return bus was cancelled we were not even informed. Yikes!). As there were no direct buses we were forced to book tickets to Sirsi and then from Sirsi to Dandeli.
Bus fares: Surathkal-Sirsi: Rs.250/- per head
Sirsi-Dandeli: Rs.107/- per head
We reached Sirsi around 5:00 AM and the bus to Dandeli started at 6:00 AM from there which allowed us a nice morning tea break. We reached Dandeli by around 8:15 AM.
We had our breakfast from hotel Kalpana, opp. Dandeli bus stand. The food was quite good.
Cost: Rs.570/- per 12 people
By around 9:45 AM our transport to the pre-booked "Parampara Cottages" had arrived; a 14 seater Force Toofan jeep. We reached our stay by 10:15 AM. Apart from the complementary pick up and drop from Dandeli bus stand, Parampara cottages offered kayaking, boating and a natural jacuzzi experience too. The package also includes collection of camp site games including archery, caroms, cricket, volleyball and badminton. A light morning walk through woods and a campfire is also in there itinerary apart from buffet lunch, dinner and breakfast and the 1 night stay at tend.
Cost: Rs.1350/- per head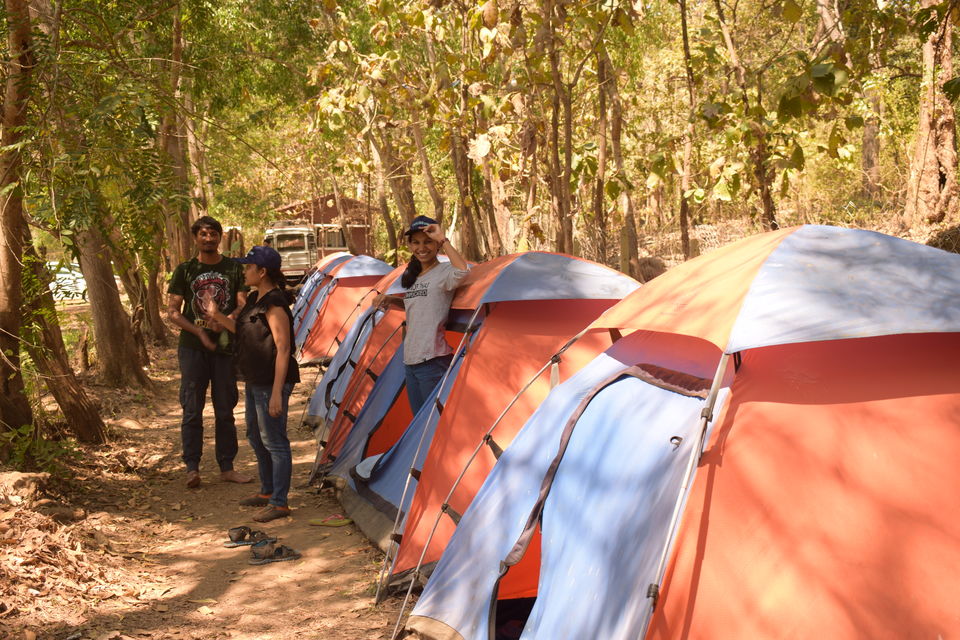 After fresh up we went on to play some of the games they offered; archery being the main attraction. Then after lunch we went for the much awaited water sports.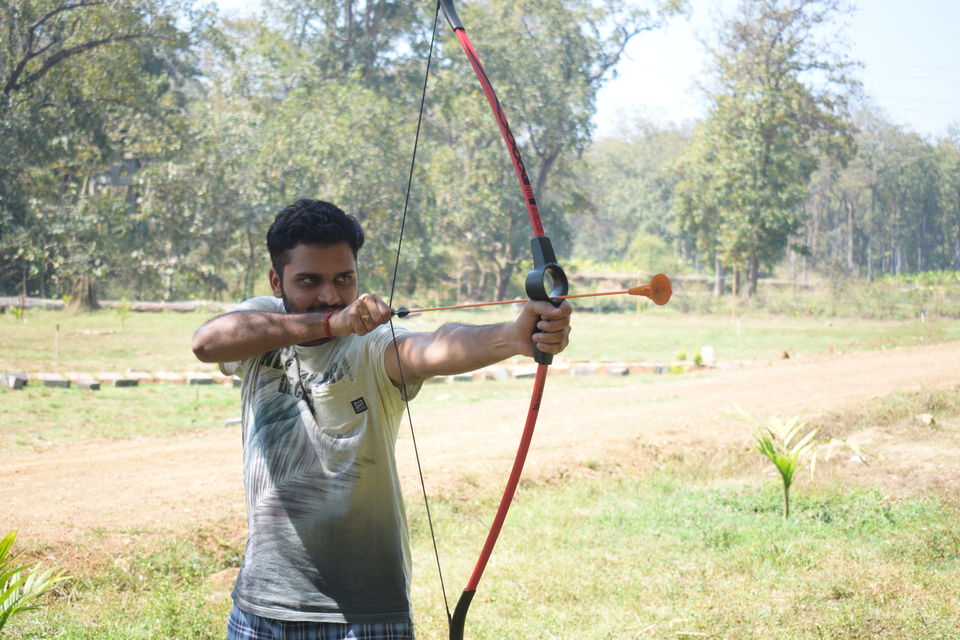 Rafting is the primary attraction of Dandeli. However that doesn't include under the Parampara cottage's package. We had a choice to do 1.5 Km rafting and 9 Km rafting. We chose the former one which cost us Rs.500/- per person. In case anyone is interested, 9 Km rafting costs Rs.1350/- additional to transportation cost of Rs.1500/- per jeep. However, if you have a student ID card the rates will come down to Rs.1000/- per head. Transportation charges remains same. An additional Rs.500/- per boat is required if you want your rafting experience to be photographed( for 1.5 Km rafting).
Water Sports
By 3:00 PM we were on ground zero. First up was rafting. We were given all the safety gear. The rafting boat's maximum capacity is only up to 8 people. So we had to split into groups of 8 and 4. Once we were on the boat our instructor gave us a briefing about rafting followed by a mock drill. Now we were ready to go.
Now this is the part where I am going to struggle for words. This is an experience that I will remember till my grave. I instantly regretted that we didn't choose 9 Km rafting. 1.5 Km circuit had only 1 rapid.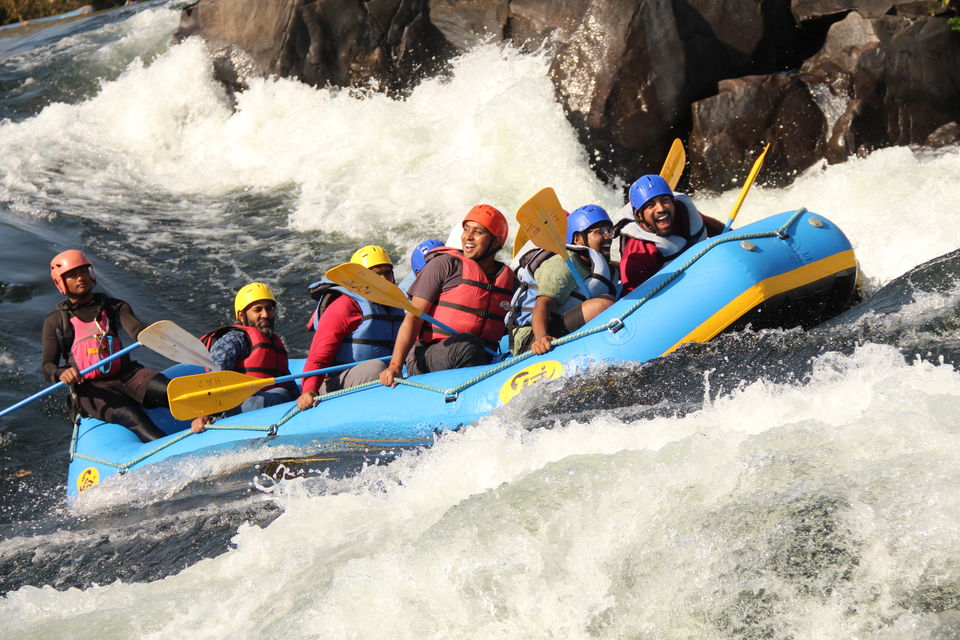 Next up is the natural jacuzzi. It was way fun than we thought it would be. Also comes under the must try category. Then we did boating followed by kayaking. Both were pleasant experiences and left us with a soothing feeling.
The water sports experiences were over and clearly I can say that it is something that I'll relish till my last breath. On our way back we saw Supa dam from afar and had a light photo session.
We reached our stay by 6:45 PM. Later dinner was served. After dinner a campfire was setup. This turned out to be a great bonding session with the warmth of the fire nearby and the magnificence of starry sky afar. The night sky here is a treat to the naked eyes. Tends were comfy and trilling to people who were new to it.
We woke up by 7:00 AM. The hotel staff told us to be ready by 7:45 AM if we wanted to go for the complementary forest walk. We passed up that opportunity and instead started walking on our own through the nearby roads. The idea was to have the morning for ourselves. Forest walk includes all the guests in the hotel which was not something we were looking forward to. The road which we walked was fairly straight and had greenery packed on its either flanks. That walk turned out to be exactly what we wanted it to be. Good bonding session and photographic session. We also had the opportunity to spot different types of hornbills and Malabar giant squirrel. It's not everyday that we pass through these marvellous creatures of nature. After that we had our breakfast.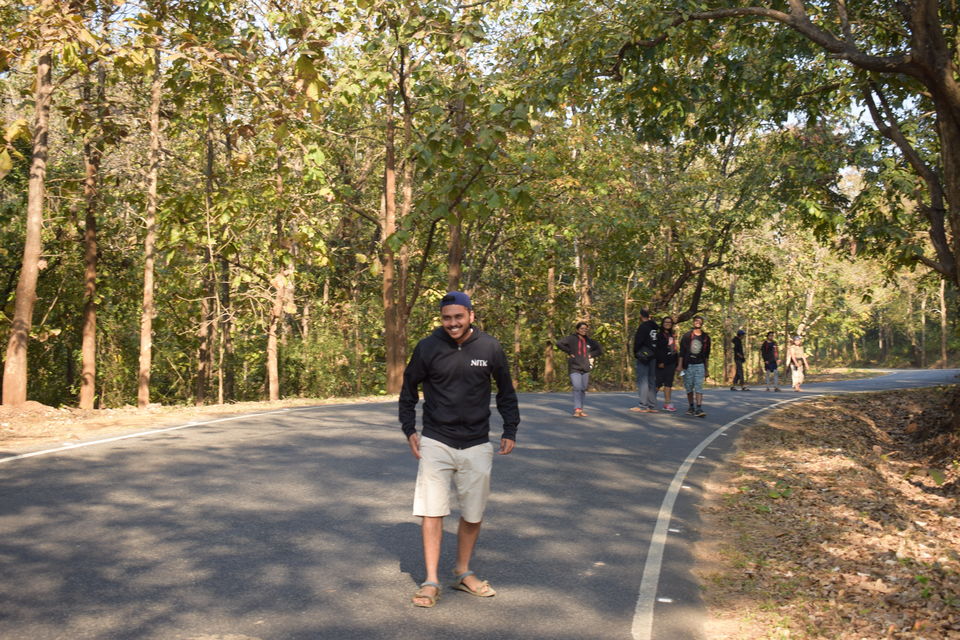 Upon our request the hotel management arranged us a 14 seater Toofan jeep which would take us to Moulangi eco-park, crocodile park, Syntheri rocks, backwaters formed by Supa dam and to Yellapur bus station from where we had booked our return tickets. The vehicle cost us around Rs.4200/-. We started from the hotel around 11:00 AM.
Moulangi Eco-park
It's situated on the banks of river Kali. The entry fee is Rs.10/- per person and Rs.20/- for vehicle. It's a nice place to spend time with friends and for photography. The scenic beauty is awesome. It is also a good place for children.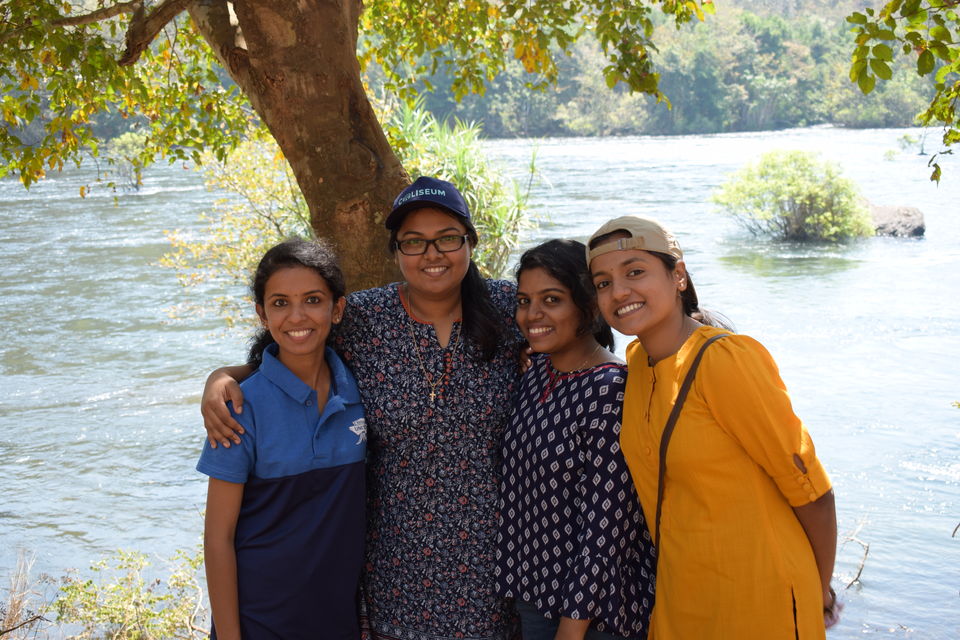 Crocodile Park
Here we can see wild crocodiles in their natural habitats. The ticket cost is Rs.25/- per person. There are many crocodiles in that particular stretch of river Kali. This park has the biggest of crocodiles which I have seen.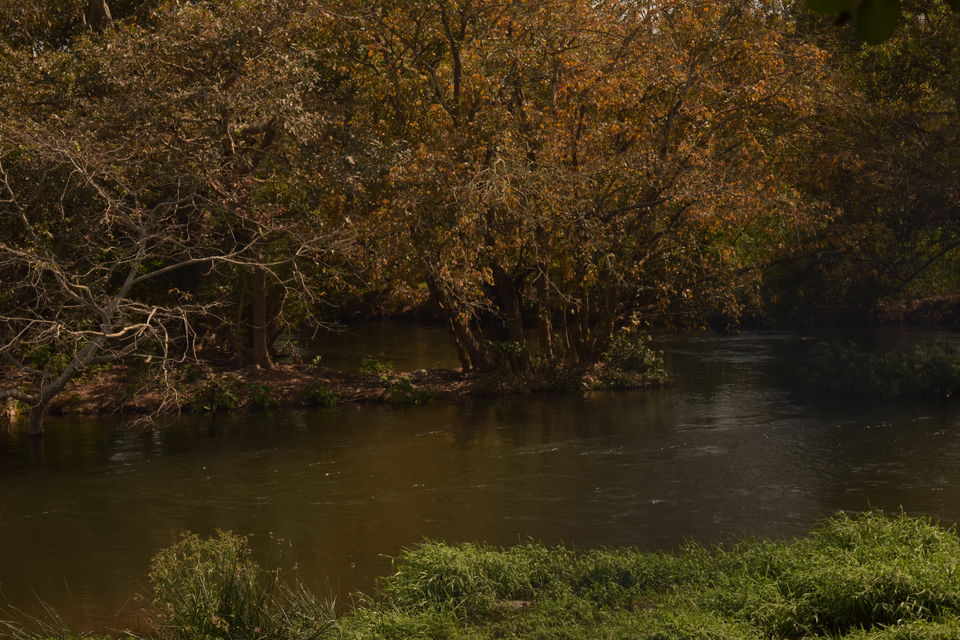 Syntheri rocks
The way to Syntheri rocks was through the thick Anshi forest region, which is home to exotic beasts such as tigers and black panthers. However spotting these require tons of luck. Our chances of seeing them were equal to a candle's chances in a thunderstorm, as summers are advised to spotting them. The afternoon time at which we passed Anshi also didn't serve our cause of spotting any significant wildlife.
Syntheri also has a fare of Rs.10/- per person and Rs.20/- for vehicle. This place is situated deep inside the Anshi forest. Syntheri rock is a monolithic granitic structure, with river Kali flowing besides it. We are not allowed to go near the river here and a handrail boundary is made at an approx. 300m from river. This place leaves people in splits. Not everybody might enjoy this place. However, it might be another story if people were allowed to go near the water.
The day's hectic schedule meant that we had to skip our lunch. Instead we had to make amends with having bread and jam for the day.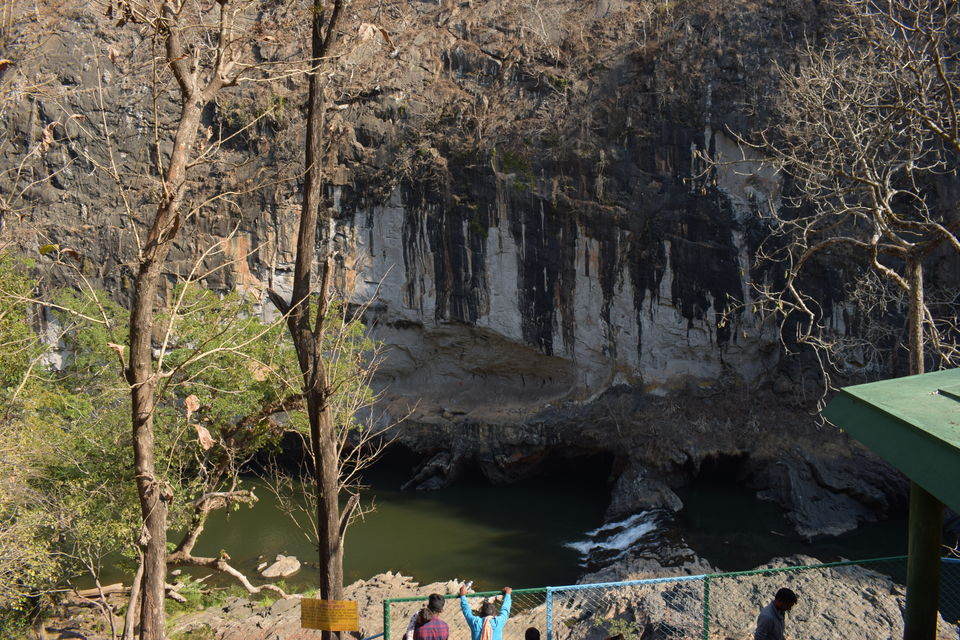 Backwaters of Supa dam
This was our last stop in Dandeli. This is quite a place for hangouts and photo session. We were the only people around that place at that time, which was a good thing. However I wouldn't be disappointed even if we missed this stop.
After that we set off to Yellapur from where we had our return tickets booked to Manglore.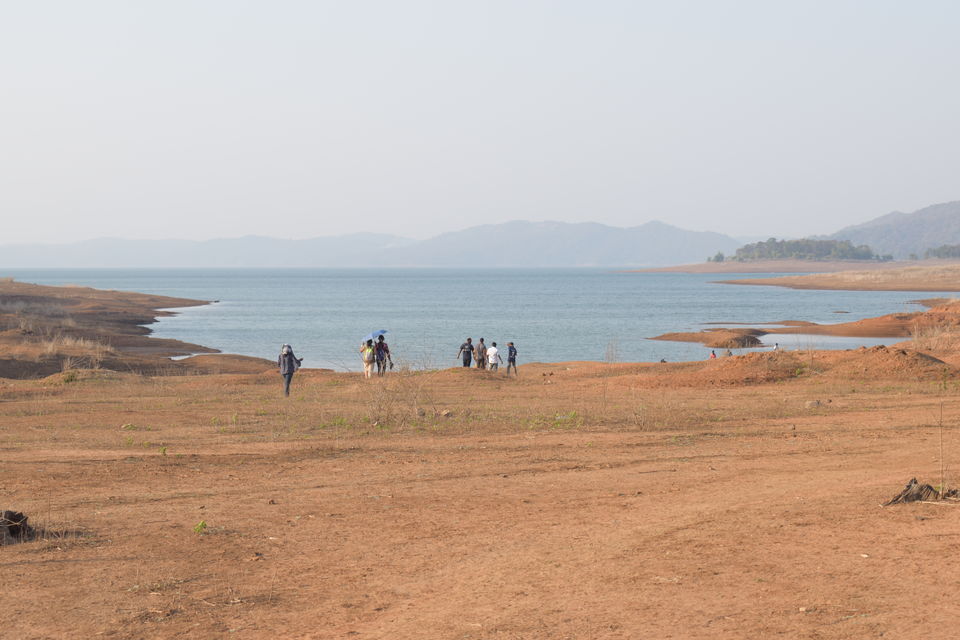 Yellapur
We had our supper from Malabar hotel, Yellapur. The food was good.
Cost: Rs.2020/- per 12 people
Our return bus time was around 11:25PM. Unfortunately for us, it got cancelled and the KSRTC people never bothered to reach out to us. The funny thing was that they even send us the reminder message for the bus earlier that day. By 11:55PM we realised that the bus got cancelled, after contacting KSRTC customer care. Fortunately we found a bus to Surathkal by 12:10AM. Incidentally, that bus happened to be a KSRTC too, but a non-reservation type. We reached back to NITK by 7:00AM that morning.
Overall, Dandeli is a must visit spot which will rattle the adventurer in you with its unique rafting experience. Words won't do justice to the amazing water sports experience which Dandeli offers. It is something that one should do and feel. The 1st day was beyond words. The 2nd day was also nice. But I would take 9Km rafting over sightseeing all day, all week.
PS: If you want to go somewhere, never take the KSRTC buses as their overall rating might even make a half a star rating service look luxurious. Even after 19 days we still haven't got the refund.