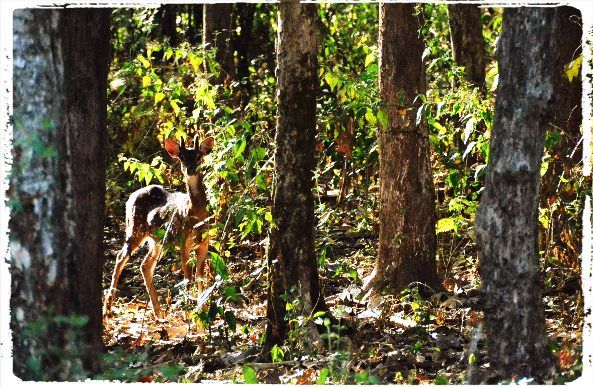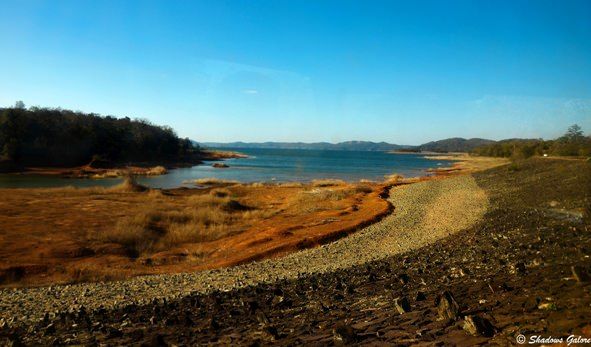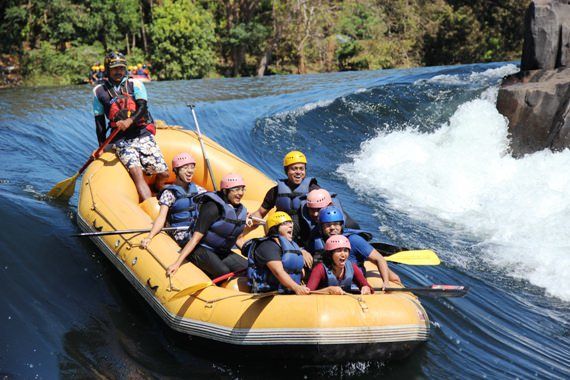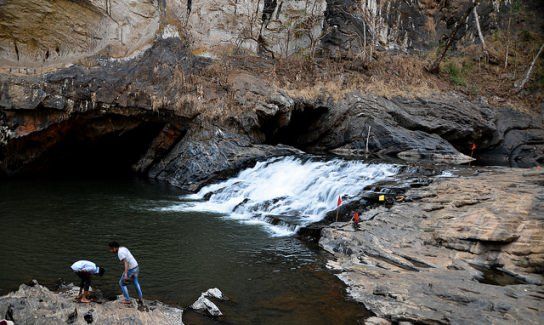 Dandeli lies in the Uttara Kannada district of Karnataka and is a part of the Western Ghats. It hosts the second largestwildlife sanctuary in Karnataka called Dandeli Wildlife Sanctuary which, along with neighbouring Anshi National Park, forms the Anshi Dandeli Tiger Reserve. Dandeli is a natural habitat of wildlife like, tigers, leopards, black panthers, elephants, bison, bear, a variety of deer, monkeys and reptiles, including exotic snakes and river crocodiles. It is a bird watcher's dream come true with nearly 300 species of birds making the forests their home.
Dandeli has moderate elevation and good forest cover, which gifts it with a pleasant climate throughout the year. However, the region receives heavy rainfall during the monsoons (from July to September). October to April is the proper time to visit and the best months are December to February. October and November the best months for bird watching and for activities like trekking as the hills look very pristine after the recent rains.
How to reach?
By Air
Belgaum (90km) is the nearest airport which is connected to Bangalore and Mumbai. Dabolim, Bangalore, Pune and Mumbai are the nearest international airports.
By Train
The nearest railway station to Dandeli is Alnavar Jn (35km) which is 35 km away. It is connected to cities like Bangalore, Hyderabad, Mumbai, Pune etc. A complete list of trains which go via Alnavar can be found here. Hubli is another important railway station nearby, which is connected to most parts of India.
By Road
Direct buses to Dandeli are available from Bangalore. Dharwad (55km) and Hubli (72km) are other two major towns for inter-state buses. Dandeli is connected to Alnavar, Dharwad and Hubli by Karnataka State Transport buses. One can also book cabs or ask the resorts for a pickup.
Go Around
Public transport in Dandeli is limited to the KSRTC Sarige buses. One needs to bring either their own vehicle, or use the ones provided by resorts and tour operators. Given the hilly terrain and sometimes treacherous roads, the latter is recommended. Moreover the rustic Jeeps with wind in the hair give a feeling which the air-conditioned cars can never dream of.
Do
Bird Watching
Dandeli Wildlife Sanctuary is home to more than 300 species of birds and is a heaven for bird watchers. So if there is a little Salim Ali in you, take out your binoculars and set out on a walk in the early mornings. Many species of Robin, Hornbills, Pigeons, Kingfisher, Woodpecker, Cuckoo, Eagle and other birds may greet you .
Hiking/ Trekking
Dandeli is a great place to go on a hike / trek in the mountain forests. One may expect to come across different species of wildlife and have a close brush with mother nature. A permission from the Forest Department is required for the treks and these are to be taken up only in the company of experienced guides.
Jungle Safari
The Jungle Safari tours are conducted by the Forest Department. An open jeep is provided with a driver and a guide. The duration of the trip is about 3-4 hours and timings are early morning and late afternoon. Though the thick forest reduces the chances of seeing wild animals, yet one can see different birds, deer, bisons, boar etc, and even a tiger if lucky. The cost per person comes to INR 500.00
White Water Rafting
White Water Rafting is a challenging activity which is conducted in the rapids of the Kali river. It is done mainly in the upper reaches of the river where the water is wild and white as it froths and foams, roaring against narrow gorges and rocky outcrops. It can be very thrilling but also slightly risky if one does not listen to the commands of the instructor. A must do for the adrenaline junkies.
The long course of rafting is 9 KM long with 8 rapids. Total cost per person comes to INR 1450.00
Kayaking
KAYAKING
is conducted in the Supa dam reservoir, which is is so huge that it looks more like a sea. There are small islands in between where you can drop anchor and relax for a while. Much earlier training is not required for this activity and though it may seem difficult to balance the narrow kayak in the beginning, you get used to it in a few minutes. Do not forget the life-jacket though!
Canoyning and Rappelling
Canyoning involves rock climbing with waterfalls added as a twist. Rappelling on the other hand is coming down the rocks rapidly with the help of the safety-rope. Both the activities are quite exciting and great for those who seek fun-filled adventure and are not shy of sweating it out in the open.