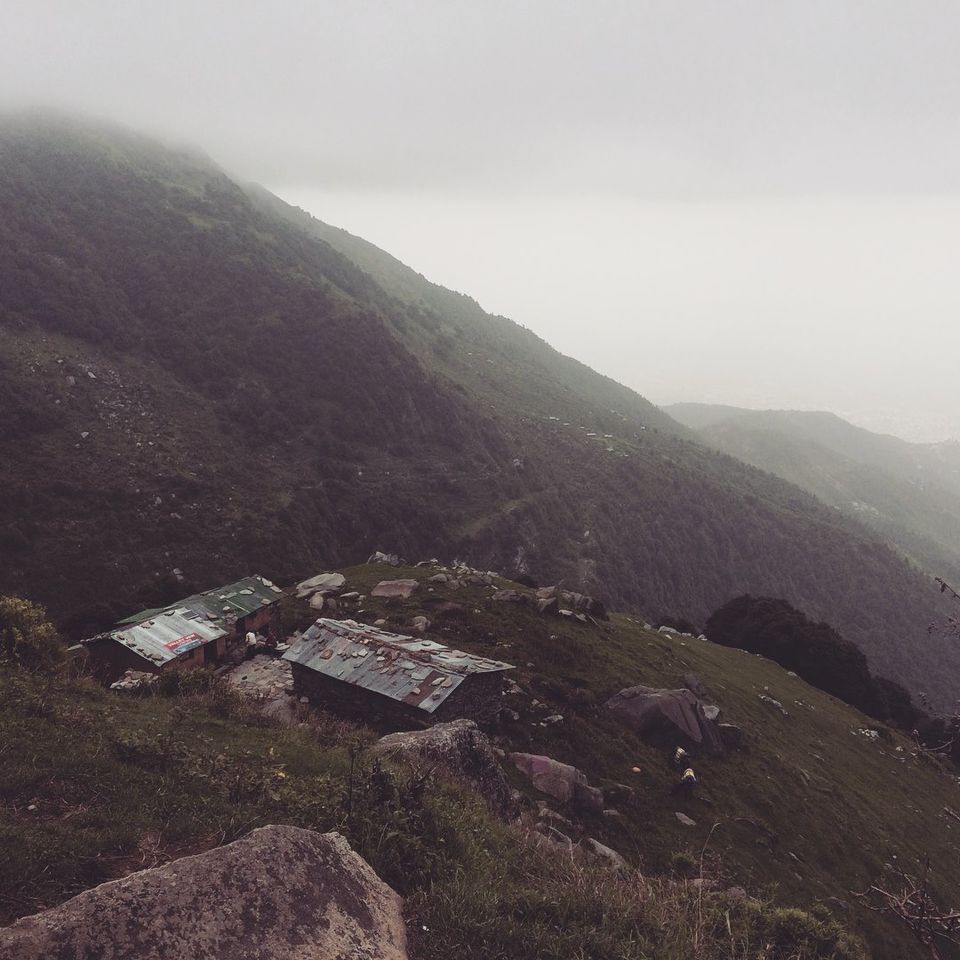 Travel, but don't look for the usual places that tourists/travelers go. Explore the roads which are less travelled, which takes an extra effort to walk on, go for steep roads, the ones which are very hard to walk on, because they are the ones to be looked for.
Don't try and fetch the usual tourists views, look for the magic in the sky, and the height in the mountains, because they are worth looking for!
So when, you achieve some of these traits in you to travel mountains, I am sure, then someday, you'll be able to become a good traveller. A traveller who just puts a little extra effort than usual to fetch the extraordinary! The rare, and the extraordinary.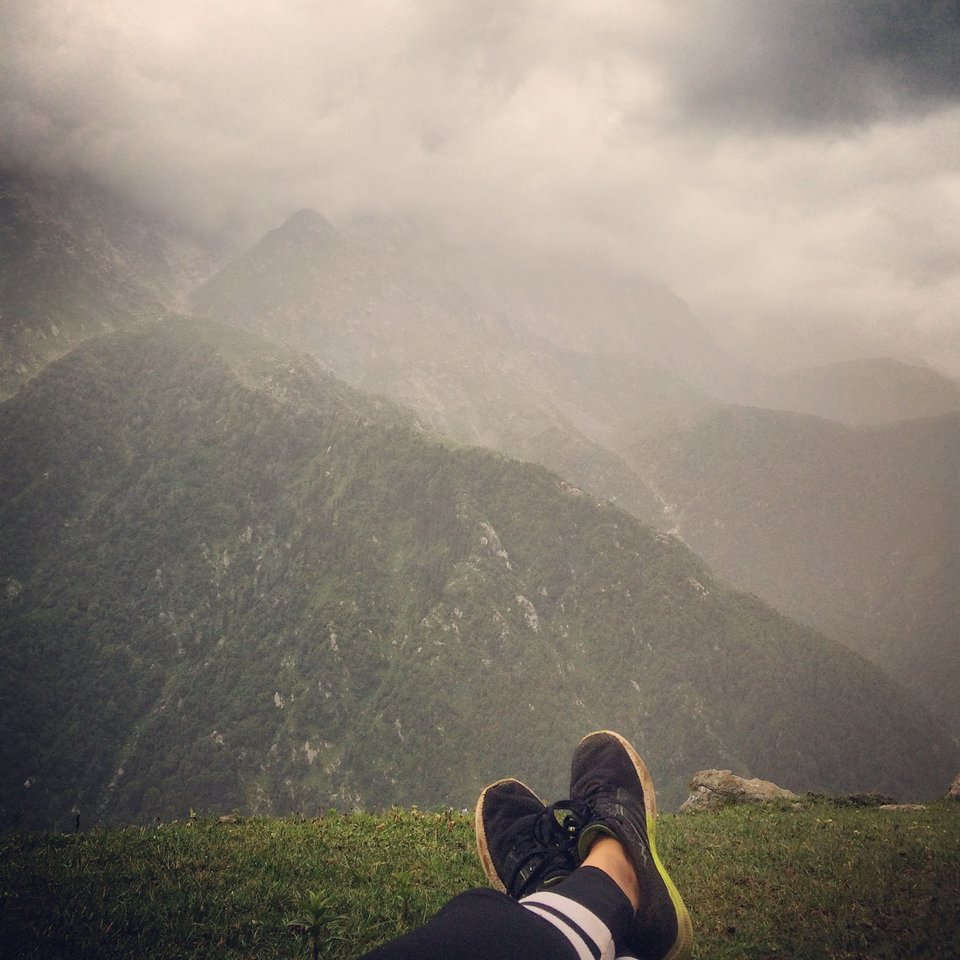 Trust me, when I say this, visiting Triund and trekking high to reach the uphill was ethereal, it was a feeling of extraordinary, it was magic, the magic that made me cry with tears of happiness and enticement. I am sure, there are many more endless beautiful places connected near to nature, but as we say 'Every place has it's own meaning', so does Triund had!
It was my first ever trekking experience, and trekking uphill to Triund top was worth it. Talking more about, Triund , it is a crown jewel situated in the foot hills of the Dhauladhar ranges and is at a height of 2,828 m. The path of Triund is connecting Mcledoganj and the beautiful lanes of Dharamkot and is not much difficult until last 2kms which is pretty steep to walk, especially for the amateur trekkers. The way to the uphill will drop you to amazing views, and true scenic beauty. After 4 kms of trek, you'll be able to catch yourself trekking in the clouds and beautiful weather. The total trek of Triund is of 7kms which will take almost 4hours on an average.
As soon, as you reach the top of Triund, you'll be able to view the breathtaking views, like I was able to fetch some.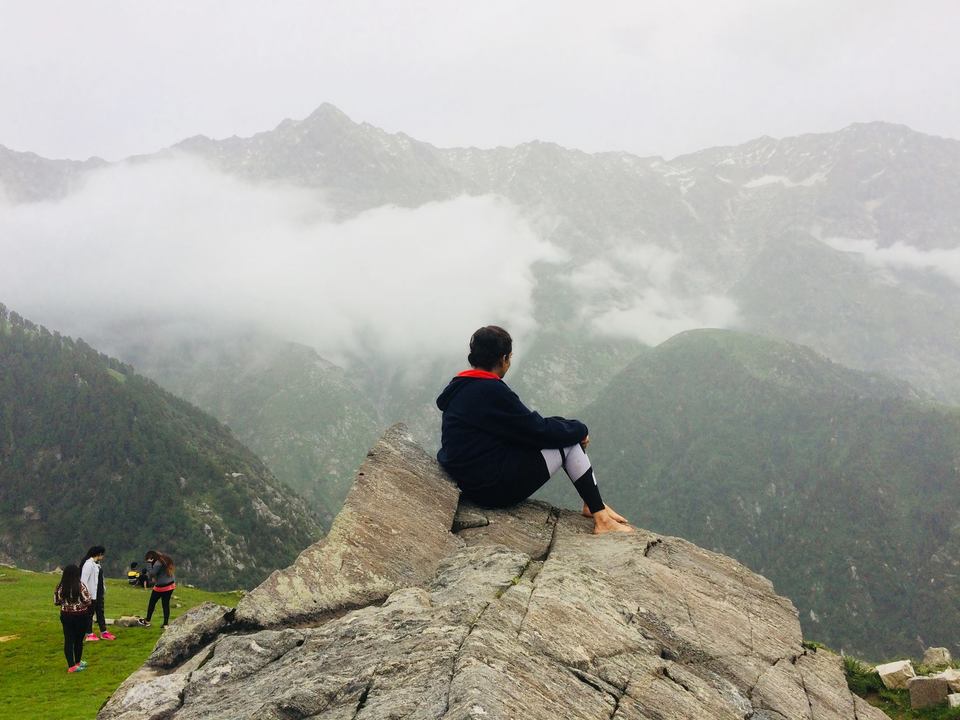 The view of the uphill might drop you into a state of silence and peace from inside to outside. It might sound you that, I am exaggerating the views, but trust me, once you reach there, you'll be overwhelmed with everything you see around.
I just couldn't control myself from looking at the ranges in front of me, I couldn't just help myself from laying down on the wet grass and just admire the scenic beauty of Dhauladar ranges around, I couldn't stop myself from taking long breaths of fresh air, because the air I breathed, is unapproachable in cities down there. I was just stuck there, giving myself an opportunity to capture as many moments as I can, because once the day is over, all I will left with will be, 'Memories'.
To your notice, make sure you're awake at the night around 1.30am-4.00am, because this is the time where you'll be able to fetch the whole galaxy of stars, yes, you heard it right! The galaxy, the whole galaxy! The shining stars and planets surrounded all over you, while you are sitting in your camps. If the weather up there is clear, and not cloudy, you'll be lucky to see a sheet of stars surrounded all over you, else even if it's cloudy, you'll be able to see much of it. Just pull up your jackets and warmers at night because it's very chilly there, the temperature drops upto 3-4Degrees, and scroll around your camps and just get the view captured in your eyes. The view, which will let you hear the sound of every breath you take, so peaceful and so tranquil, the real nature, the real beauty!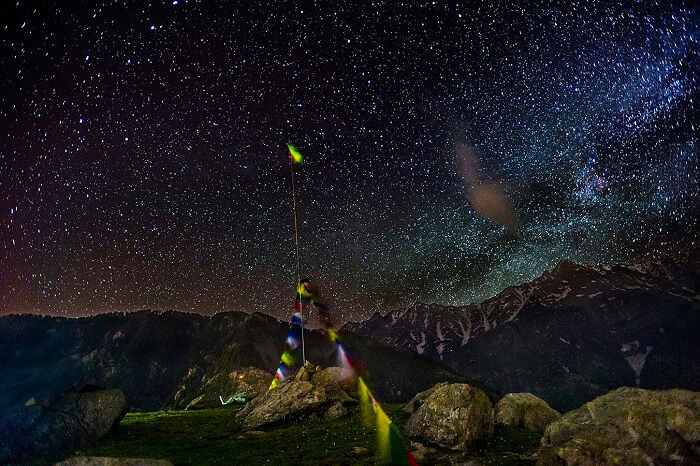 So if you're planning for a break, or you just admire nature like I do, make sure Triund is in your list. From the scenic beauty to the night spending there, you'll be awestruck to see whatever will be in front of your eyes in the trip of Triund.
Here's the way and some tips to reach and to be taken care at Triund Trek:
1) How can you reach Triund?
* Take a Volvo Bus from Delhi to Mcleodganj.
* Start your trek from Mcleodganj passing Dharamkot, which will let you reach the check post of Triund Trek.
2) Things to be taken at Triund?
* Warm clothes,Toiletres (as there are no lavish washrooms there), Torch, extra clothes, raincoat (the weather changes drastically during the trek), full-fledged trekking shoes, personal water bottle.
* Don't carry music speakers or any unauthorized asset which could lead to a problem in your trekking schedule.
* Try and return back with atleast one bottle and one plastic bag from Trek, make your Triund Trek clean, and don't litter the beautiful environment.
#LetTravel #LetsExplore #Himalays #HimachalPradesh
Frequent Searches Leading To This Page:-
bangalore to himachal pradesh tour packages, camping trips in himachal, kesari tours shimla package, himachal pradesh yatra, himachal pradesh tourism packages from chennai, himachal pradesh group tour packages