Weddings can get really hectic, especially an Indian wedding stretched over for almost 7 days. Now, honeymoon on our mind was a well deserved relaxed break that in our heads should happen immediately after we wrap up the wedding. Before we had our own business and moved to Dubai, my husband was working and living in Luxembourg. So, a flight from Mumbai to 'an exotic honeymoon destination' to Luxembourg via hours of transit at another couple of airports because there are no direct flights to Luxembourg, made us cringe.
The thought of having to take a long flight to Maldives (in the inflated month of March, i.e. peak season time) and the weather forecast for every-other place we haven't been to was either wet, too hot or too cold. We couldn't do a month long holiday due to his work ,but, a week's time was workable at the moment. Now, it kept creeping up (as our transit destination to Luxembourg), but, we conveniently kept ignoring the city. It's true DUBAI is truly underrated for worked up honeymoon travellers.
It was not our ideal destination as well, but craving a relaxed four nights, picturing being close to the sea, some fun activities to do together, good bars serving away great concoctions on the beach and well reviewed restaurants in the resort; we finalised on the ever so popular Atlantis on the Palm (also we 'honeymoon' once, a little splurge seemed like no harm at all). We had our flight transits from Dubai and Turkey all conveniently on our way to Luxembourg (we booked a night to explore Istanbul as well). My husband being an avid traveller had never traveled to Dubai before, made all the more sense to do this.
ATLANTIS, THE PALM
CHECKING IN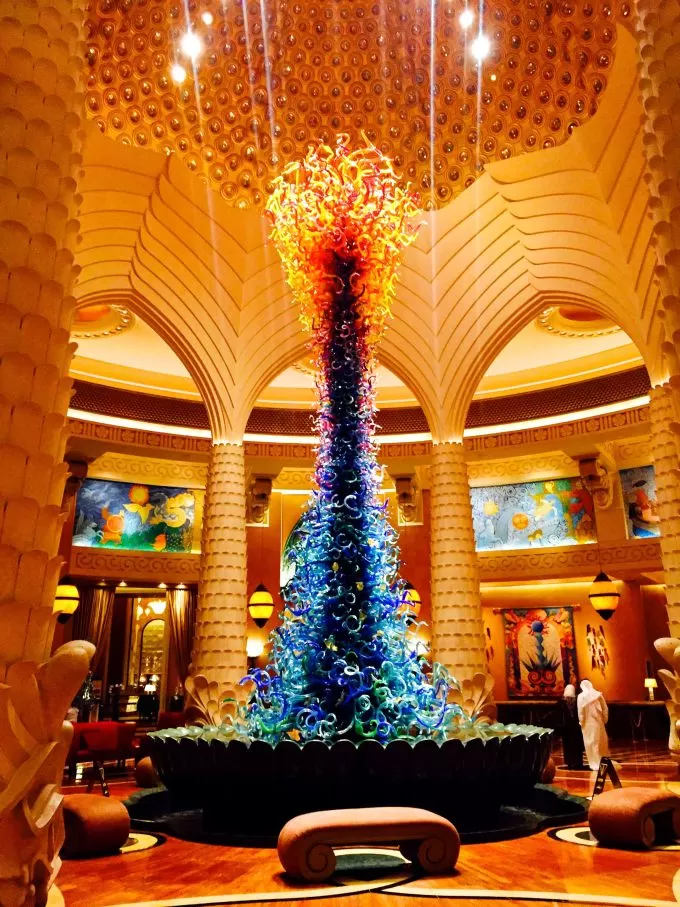 Looking forward to our four days of slowing down after all the chaos from the event filled wedding we were thrilled to be checking in to a beautiful room with a comfy bed. Given that we spoke too soon because upon reaching the hotel entrance we were welcomed with hoards of tourists at the gate. The resort's reception lobby is majestic and gorgeous. After figuring our way to the concierge's table and standing in queue for at least 15 good minutes we managed to speak to one of them and much to our disappointment we checked in.
I can't say the concierge was welcoming at all, probably because it was a busy looking day at the resort and he was extremely stressed checking everyone in. However, that was no excuse for a concierge at a 5 star resort to be any rude when we mentioned it's our honeymoon as he brushed it off saying he will figure something for us which sounded a lot like him assuming we were desperate for something special to happen (note: we had already mentioned the occasion to the resort while booking). Even worse was he gave us a room on the 4th floor! We booked the resort for their view and also paid the part. The concierge was adamant that there were no more rooms available not even a promise that he may be able to get us one later. Highly disheartened and tired from the journey we got to our room and crashed.
After waking up later in the evening and extremely disappointed with our view (after all, we basically paid an extra fee for our room view) my husband decided to have a word with the concierge and finally this sweet, sweet lady actually just heard him and immediately agreed to change our room to the 17th floor at which we sighed a relief. We packed again, checked in to our new room and my the Dubai palm view from our room at dusk was, EVERYTHING!
ROOMS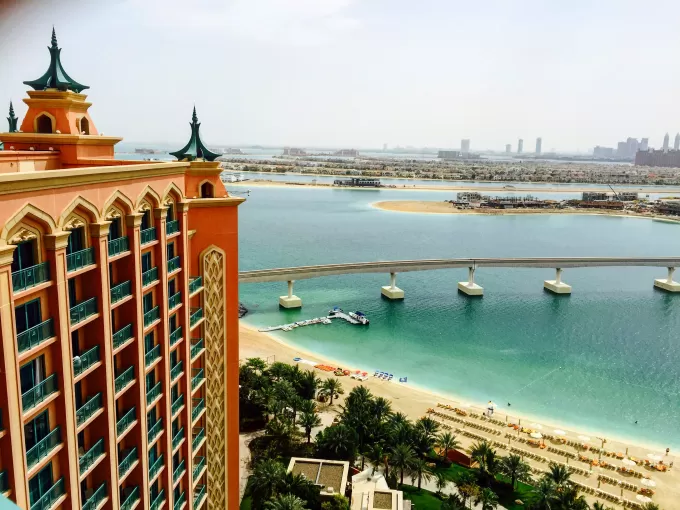 We booked their Palm Beach Deluxe Guest Rooms that mesmerised us with the amazing view of The Palm day and night. The bed was comfortable, room service was prompt and a bath tub in their aesthetically pleasing bathroom was a treat.
There were two options for these rooms; one facing The Palm and another just the blue ocean. Both the rooms are priced differently as the palm gives a change of view day and night with the glistering Dubai skyline, whereas the ocean is just endless blue during the day and completely dark at night.
The resort is also know to have more luxurious options such as the Underwater suite where the room has a floor to ceiling window looking directly into the lagoon with 65000 marine animals. So you basically pay for this ever changing and magical view from your room.
ACTIVITIES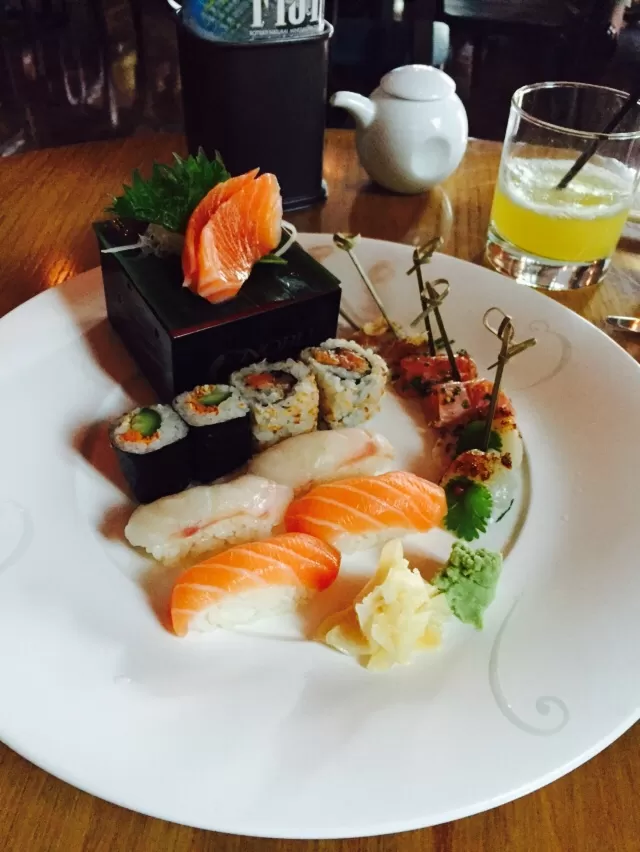 The resort we figured has a number of Michelin starred restaurants, shopping at The Avenue, multiple bars to choose from, clubs, tea rooms, huge aquarium and an amazing water park which was truly the highlight of our stay at the Atlantis. Did I not mention the massive pool, pool bar and restaurants right on the beach. Basically everything one can dream of to de-stress from all the wedding chaos. For resort guests the water park was accessible everyday through out and we finally found the time to visit the park on the last day of our stay. Our favourite meal was brunch at Nobu, Atlantis. Which costed us a bomb but was worth it in every sense. The best Japanese cuisine we have ever had and their sushi was deliciously fresh.
Other activities that we had access to for being guests at the Atlantis, The Palm were:
Adventure Waterpark: Not only does this waterpark has record breaking rides and slides, but, also lets you get personal and up close with sharks and has a private 700 meters of pristine white sand beach for you to relax at.
Dolphin Bay: To watch the dolphins perform various stunts with the divers and an opportunity to swim with them.
Sea Lion Point: A great way of coming up close and personal to sea lions.
The Lost Chambers Aquarium: A great way of experiencing the myths of the Atlantis.
Diving: Explore the under waters and get your certified diving lessons here.
STAFF SERVICE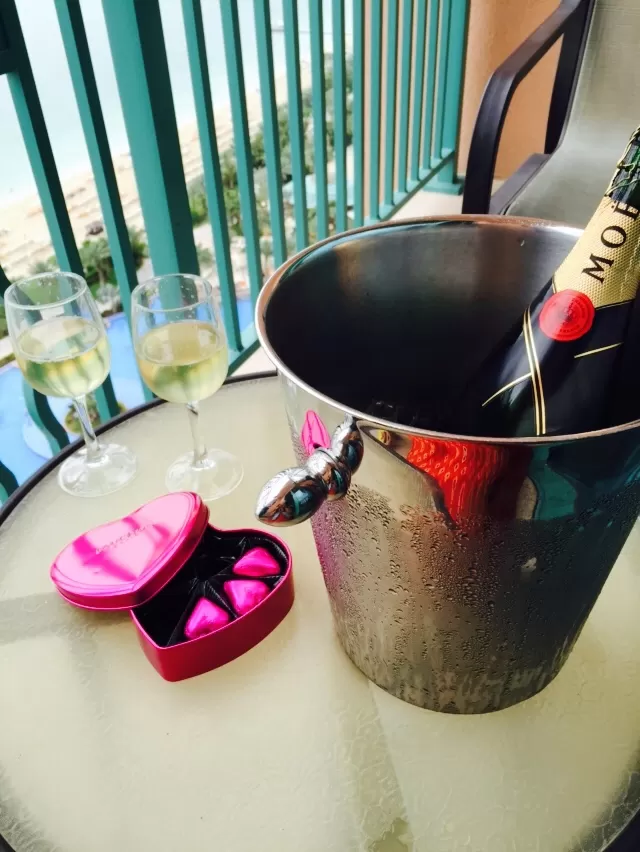 Other than the concierge checking us in we had no trouble at all. Everyone went out of their way to help us and make our stay enjoyable and comfortable. I even fell a little ill and they immediately sent a paramedic to our room and got the prescribed medicines delivered. Their poolside service was smooth and we enjoyed a number of delicious cocktails and arranged reservations for us at their many restaurants and bar.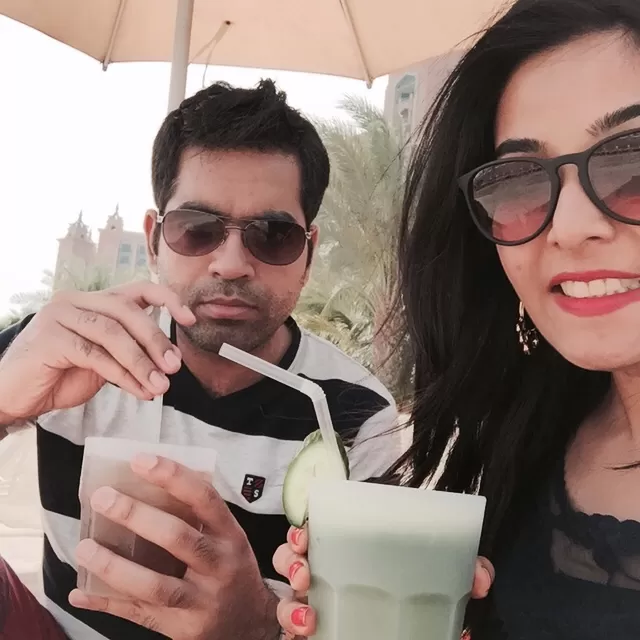 In short, we never figured how time went by lazying around in the resort, visiting Dubai city, some decent shopping and a lot of eating. Atlantis was in the end all good to us and we finally got our sane back after all our wedding chaos, right here.
Q&A
Will we be back to stay at this resort?
Not really.
Will we back for Nobu and try other restaurants?
Absolutely. We also tried oven baked pizzas at Ronda Locatelli and delicious buffet at Kaleidoscope.
We live in Dubai now, so we can't wait to try the other amazing restaurants and lounges there.
Do I recommend this hotel for Honeymooners and Families?
Honeymooners: Not exactly. Seldom privacy, as a lot of families holidaying at the resort with kids. It gets pretty noisy in the lobby and at the pool.
Families: YES! A lot of things to do for kids there. They will love it and so will you.
Was the room worth it?
The room on the 17th floor, YES! Beautiful view overlooking the glitzy Dubai skyline.
For more stories and updates on my travel exploits follow @BohemianOnTheRun on Instagram.
Visit my website to find more Travel Inspiration BohemianOnTheRun.com
Frequent searches leading to this page:-
bur dubai hotels, places to visit in dubai in november, dubai tour packages from india