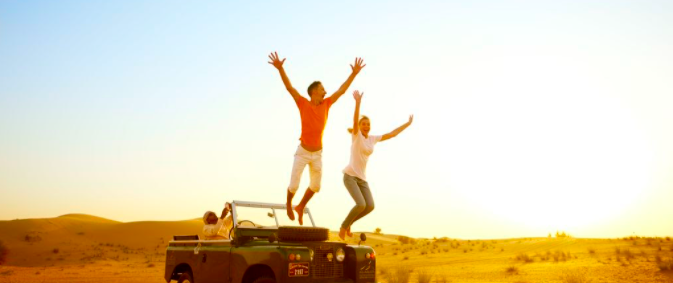 Hoots of excitement, a quickening of the pulse and eyes alight with ecstatic anticipation – if these words seem familiar to you, then you know you're an adrenaline junkie. And, if you're planning your next big adventure but are facing the age-old dilemma of which destination to pick next, look no further than Dubai. Whether you're craving the splash of a water sport, the adrenaline from a mid-air activity or seeking a snowy experience, Dubai has it all! Dubai is home to a plethora of adventure sports, so, if you are an adventurer, keep scrolling and discover your next great adventure!
1. Skydive over Palm Jumeirah
Conversations about bucket lists usually include skydiving but jumping out of an aircraft at a staggering altitude to indulge in the adrenaline high of a mid-air free fall is an achievement that one never forgets. If skydiving is something that piques your interest, scratch it off your bucket list from a height of 13,000 feet above Dubai's scenic Palm Jumeirah island. Your eyes will be treated to the city's shimmering skyline and the stunning Arabian Gulf as your body plummets at a speed of 201 km/hr.
Approximate Cost: Rs 40,000
Book On: Skydive Dubai
Best Time: All year long
2. Mountain Biking and Kayaking
Some places simply spell adventure, don't they? Such is the case of the mountain enclave of Hatta. Explorers can wander on foot or on mountain bikes across Hatta's trails and end their outing in a kayak upon the teal-hued waters. Also choose from horse riding, archery, zorbing, tube sliding and more at the Hatta Wadi Hub. Camp out under the starry sky and we promise that your visit will leave an indelible impression upon you. Hatta is Dubai's gift to adventurers because this is where the fearless thrive!
Approximate Cost: Mountain Biking: Rs 2,700; Kayaking: Rs 1,200 - Rs 2,400
Book On: Visit Hatta
Best Time: September to March
3. Sky Views Dubai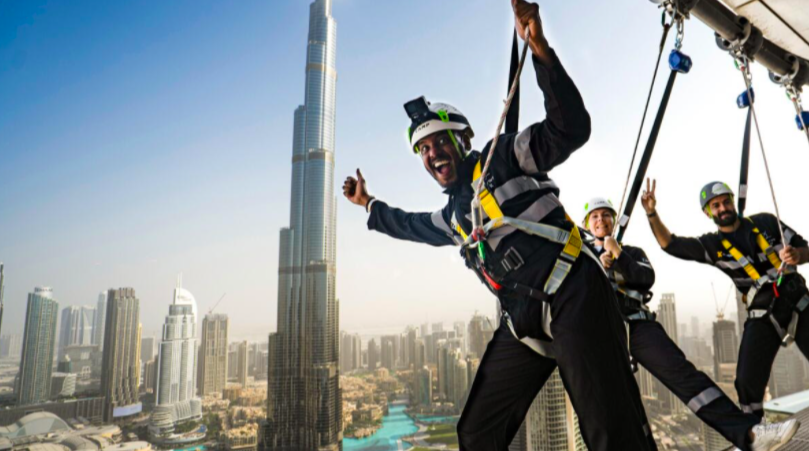 A trip to Dubai isn't complete without witnessing its architectural marvels. One trending way to do so is at Sky Views Dubai, which offers a range of new ways to capture Dubai from a bird's eye view. Perched at an altitude of 219.5m, it is located at the Address Sky View Hotel. If you dare to live life on the edge, you can sign up for the hands-free Sky Walk that has you encircling the Address Sky View Hotel on a nearly floating walkway 220 metres up in the air! After the adrenaline junkie in you is up and about, zip down from level 53 to level 52 in a 360-degree transparent glass tube. For round 3, take a glass walk between the two towers for a distinctive glimpse of Downtown Dubai at the Sky Observatory. Lastly, recount your newfound adventure with a delectable meal at Panorama 52!
Approximate Cost: Edge Walk: Rs 15,000; Observatory & Glass Slide: Rs 1,400
Book On: Sky Views Dubai
Best Time: All year long
4. Shark Diving
Are you willing to meet one of the sea's most majestic creatures? For a shark dive, you'll be accompanied by a Dive Master or a Dive Instructor as you enter the Dubai Aquarium within a cage. For an extra dose of adventure, you can even scuba dive in the aquarium! This aquarium has been lauded for its rich marine life and swanky structure. A dive here has you sharing the water with different species of sharks, stingrays and more. Click pictures to savour this once in a lifetime memory but maybe avoid asking the sharks to "say cheese"!
Approximate Cost: Rs 16,000
Book On: Dubai Aquarium
Best Time: All year long
5. Diving In The World's Deepest Pool
With a capacity as large as six Olympic-sized pools, Deep Dive Dubai is the world's deepest pool. Fanatics of aqua sports will be elated to learn that in the 196 ft-deep pool lies a sunken city for them to discover. Mood and sound lighting, arcades will further enrich your experience here. Check out Visit Dubai if you're interested in an unforgettable swim!
Approximate Cost: Rs 30,000
Book On: Deep Dive Dubai
Best Time: All year long
6. Hot Air Balloon Ride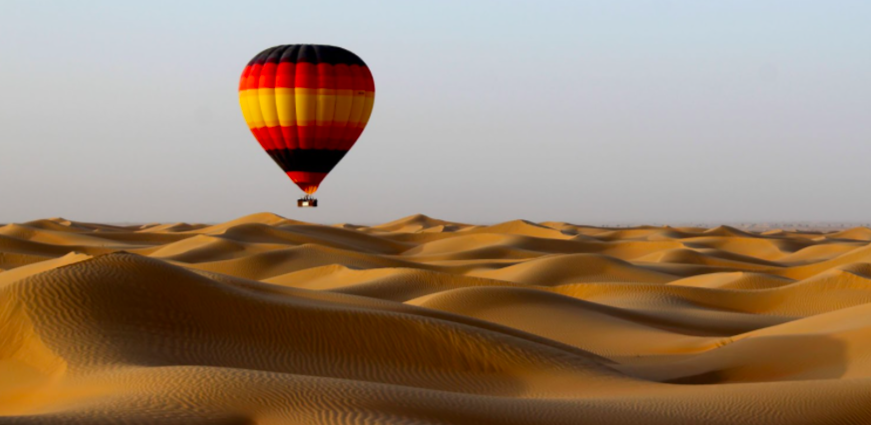 If you relish your adventures with a side of serenity, a hot air balloon ride is a must. Gaze at the city's horizon and its gargantuan dunes and even get a chance to befriend falcons. This ride is best enjoyed during the sunrise hour when you can let your eyes be mesmerized by the wildlife. Spot the wild gazelles and camels during your aerial adventure! On landing, lounge at an authentic Bedouin camp with a traditional breakfast spread.
Approximate Cost: Rs 25,000
Book On: Balloon Adventures Dubai
Best Time: January to April, September to October
7. Flyboarding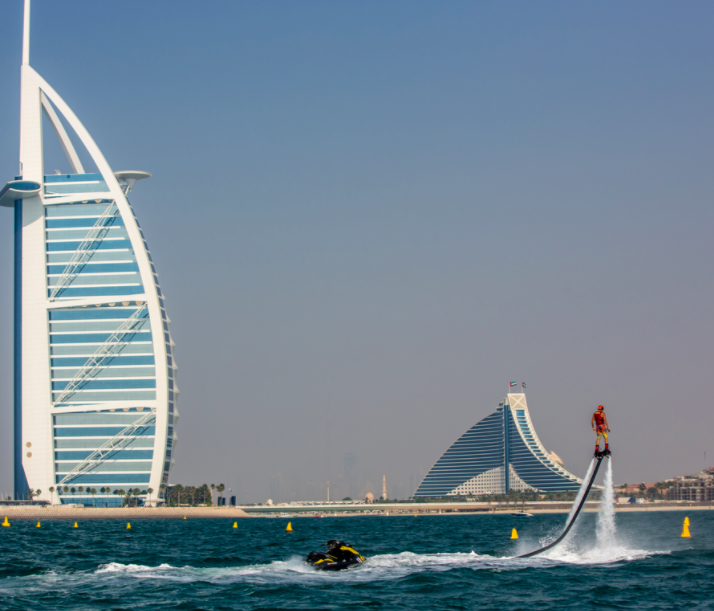 Sir Isaac Newton will scratch his beard in heaven because humans have started to defy gravity with the exciting world of flyboarding. Hover above the water atop a flyboard while two renowned landmarks of Dubai, Burj Al Arab and Burj Khalifa on the Dubai coastline and watch your escapades. So, get, set, fly!
Approximate Cost: Rs 8,000
Book On: Nemo Watersports Dubai
Best Time: All year long
8. Skiing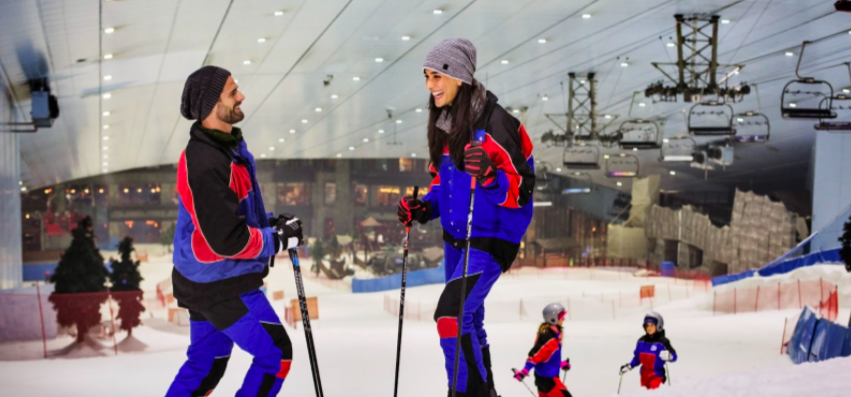 Before your eyebrows furrow over skiing being an attraction in Dubai, we must tell you that the indoor ski resort here is voted as one of the best worldwide. Ski Dubai at the Mall of Emirates has snow rides, a chairlift and even a snow cinema. Skilled ski instructors make sure that beginners can also try their hand here. Those looking for a more laidback rendezvous can head to a snow park. Lastly, the presence of penguins tucks you right into the resort's snowy charm.
Approximate Cost: Rs 5,000
Book On: Ski Dubai
Best Time: All year long
9. Wakeboarding
If skiing has you excited, then take that excitement a notch above with wakeboarding. Commonly referred to as water-skiing, the sport is equally demanding in terms of skill. With blue waves of the Arabian Gulf embracing you, the Burj Khalifa towering behind you and the wind running through your hair, this is a truly action-packed activity to indulge in Dubai.
Approximate Cost: Rs 8,000
Book On: Nemo Watersports Dubai
Best Time: All year long
10. Desert Safari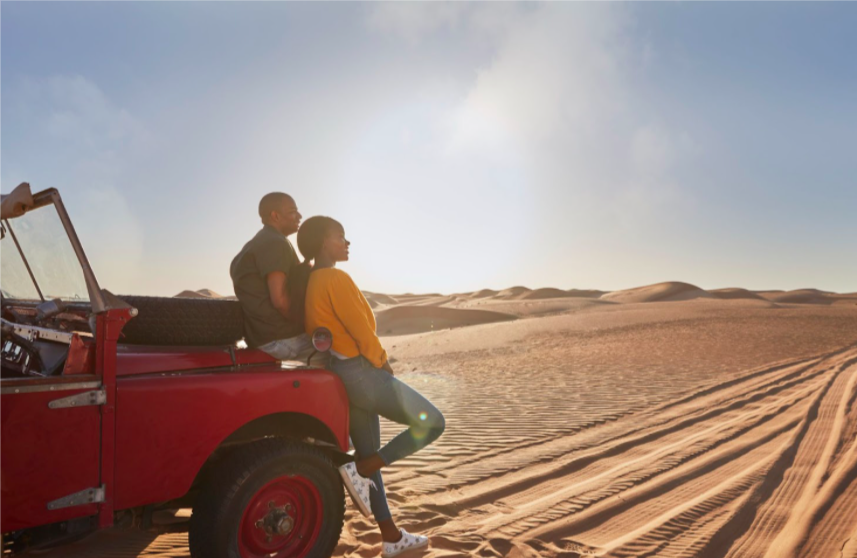 Dubai is blessed with sprawling golden dunes that are one of the highlights of a visit to the city, and there's no better way to experience them than in a desert safari. Hop into a luxurious SUV or a vintage Land Rover right out of the 1950s for a memorable high-speed drive among the captivating sand dunes! During safaris, you can also try out sandboarding or quad biking for that extra adrenaline rush.
Approximate Cost: Safari: Rs 2,000 - Rs 35,000 (subject to the choice of experience and/or inclusions opted for)
Book On: Desert Safari Dubai
Breathe in the air of a city which, from its skies to its water and to its dunes in between, is a thrill seeker's dream retreat! Go explore India's favourite emirate and unleash the inner adventurer in you through innumerable sports offered across these different terrains. For a one way ticket to an adrenaline rush, a visit to Dubai should surely be on the cards.
In association with Dubai Tourism Board.

Explore Tripoto's guide to Dubai for the best tips and recommendations for the perfect trip to Dubai!

Think we missed out on something? Tell us about it in the comments below. Or write about it here on Tripoto and earn Tripoto Credits!
Watch travel stories come to life with Tripoto on Youtube!