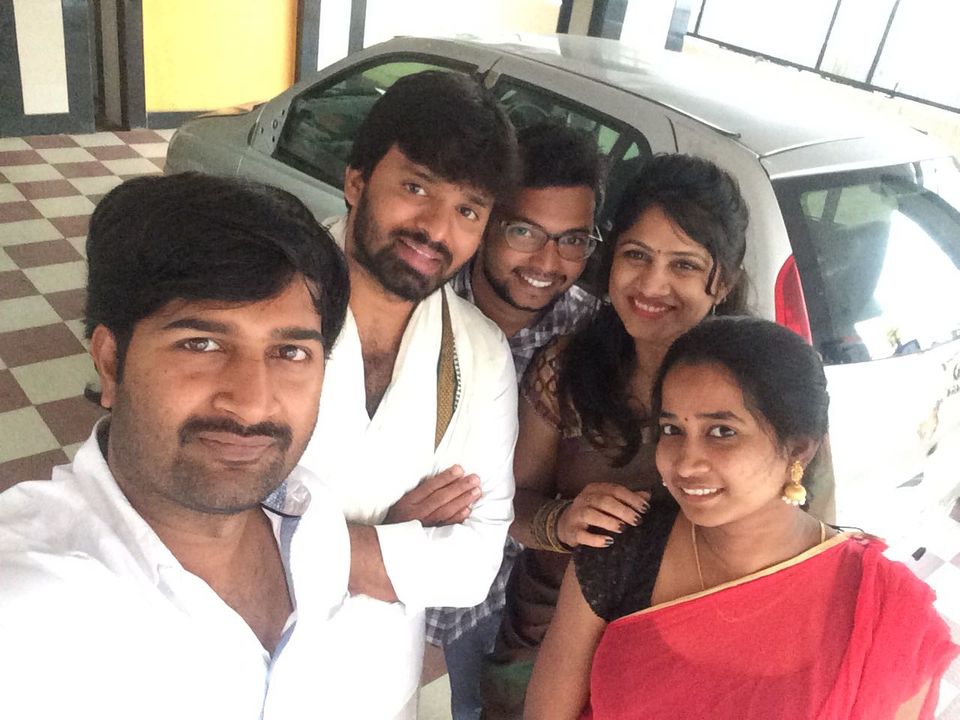 Have you ever been to shiridi? Maybe you have, but i never been there. After I started trekking, I heard that most of my teammates were going to Shiridi. It made me wonder what was so special about this place. So I thought of hitting this place. But did you think am just gonna endup visiting only Shiridi? Yep you are correct, you know me. I did some research and found out a few places near by to cover. You got it right! Those places are Shiridi, Shanisingnapur, Ajntha, Ellora, Aurangabad!!!
Group of 5. We got into the train from Hyderabad to shiridi. We reached by 7 am. From there we hired a vehicle to reach Shiridi. We reached Shiridi by 8.30 am. Checked into hotel. I realized we were late already to visit the temple.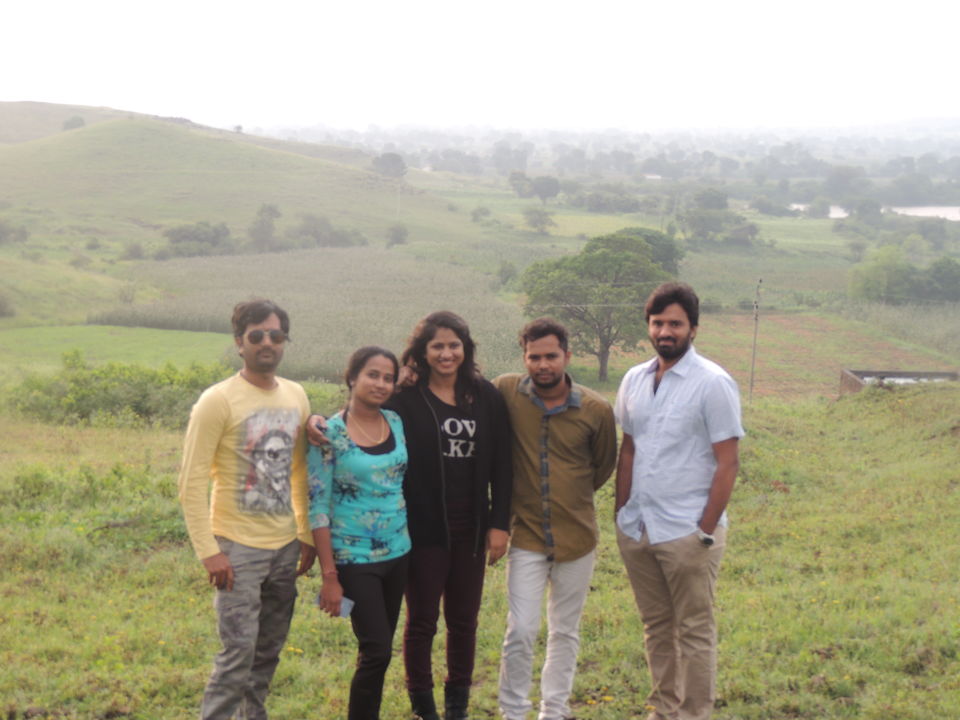 So changed our plan: 1st we will hire a vehicle to Shani Singnapur; then finish lunch; in the evening we visit Shiridi temple; then dinner and bed.
We hired a vehicle by agreeing to pay 1,000 bucks. The climate was so romantic! When I mentioned romantic it doesn't mean that I am with boyfriends or that am in a relationship. But ya I was in love! True I was in love with nature, I lost myself in thoughts about Shani temple. What made me so crazy about this journey was this temple only. It's one of the mysterious temples. Because the houses in this village have no doors. Remarkably crime and robbery never recorded in village, isn't it interesting? Ofcourse it is! I am as curious as you guys are. Its just an hour journey from Shiridi. After reaching the temple premises left our slippers and took oil to offer the god. Temple wasn't that crowded, it just took 15 min for us, the God here has no temple. After darsanam, we have started back.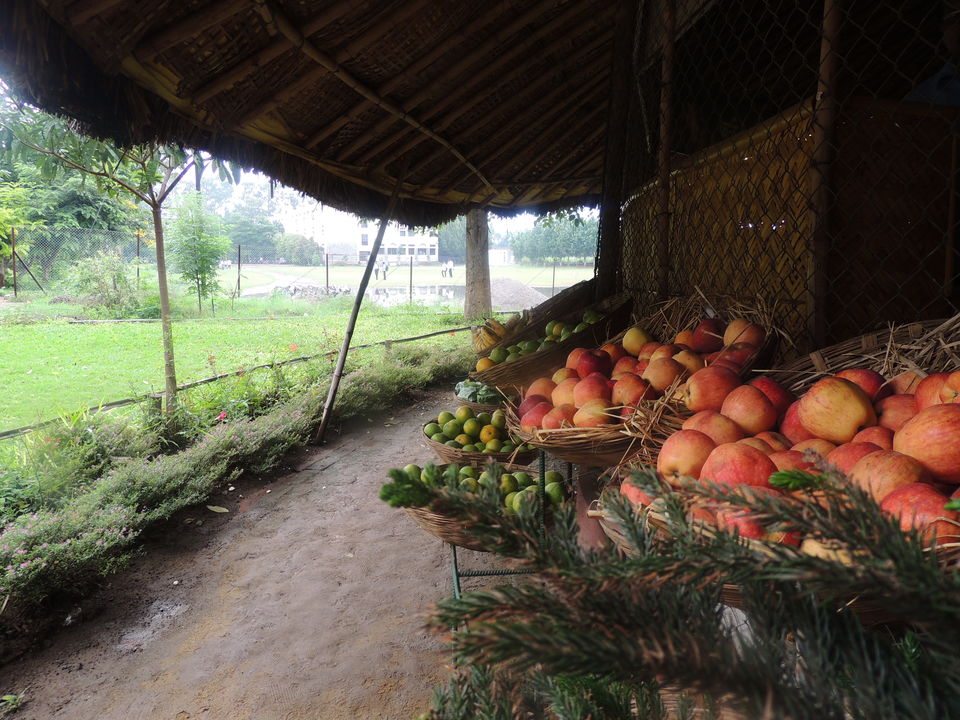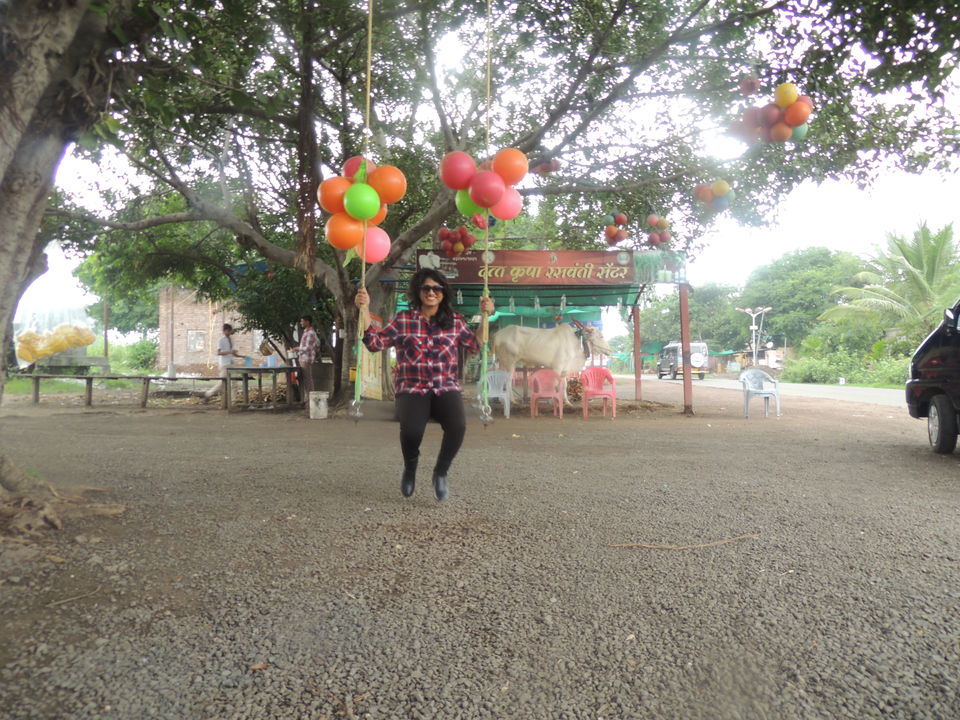 There were people making sugarcane juice in different way, there was wood that was tied with ox and it moved around to make sugarcane juice. It was decorated with balloons and there was a big swing tied on huge tree branches. While we were having sugarcane juice it started drizzling. By the time you realize its drizzling, it started raining like cats and dogs. We got into the vehicle. Guess what we did, when the climate is so beautiful and romantic what you want, hot lemon tea and some pakodi. ha ha ha. We asked our driver to stop at some place to have tea. Soon we found one hut, there was a guy making tea, we asked him to prepare lemon tea, he said i don't know what is that, we were the chefs and we made tea, not great chefs but ya one can drink without any doubt.
Reached shiridi by 2 pm. Lunch was ready at the place where we were stayed. It was completely free of charge. It was a cycle baba asramam. Food was yummy. After lunch we went to room, had some rest. Around 4 we started getting ready for Sainath darsanam. We thought of going in traditional wear, we came to this attire.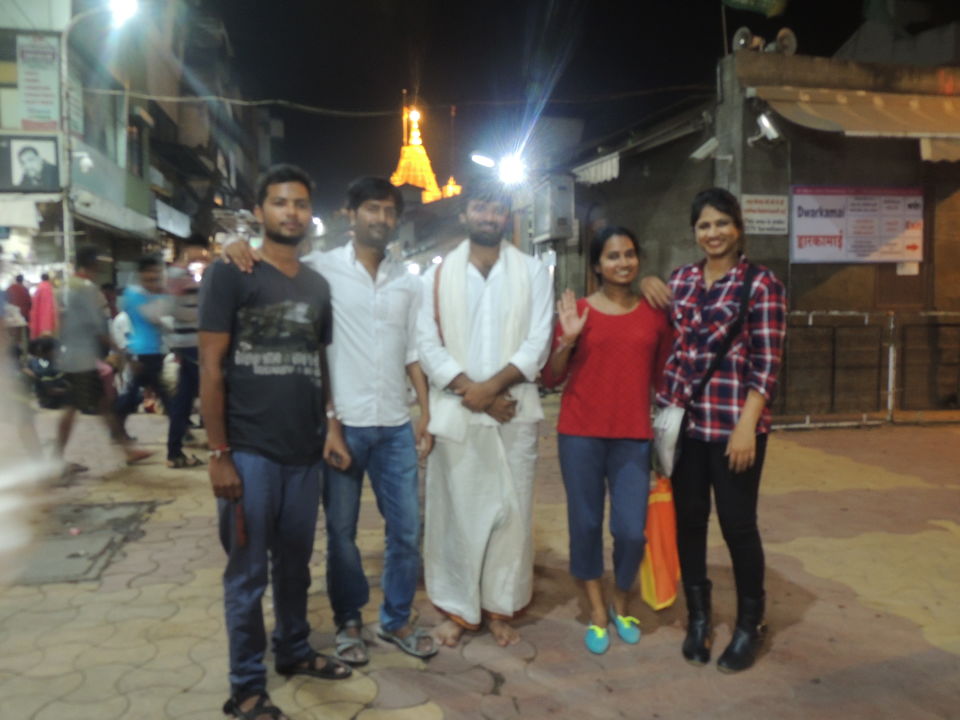 By the time we came out from the darsanam it was 8 PM. We came out and sat there outside the temple watching people. We had fruits and some street food around and did some shopping. It was an amazing evening. Its time for bed. I know it was early but we have to travel the next morning so better to have some good sleep. We have a big day ahead.
Day 2 : had started by sending Balu for bath, we woke him up around 3 am for bath he will take min 1 hour for bath, we have to wake him up around 3 to save our time, we slept for an hour. Around 4.50 am I woke up, got freshened up. By the time our vehicle was waiting for us. Around 5.30 am we came down and vacated our room and got into the car. It was Thavera, it was comfortable for 5 of us, the road in between hills and early morning, fog, fresh air, sunrise, what we need in life to stay happy. Sun was about to rise up, I thought why cant we welcome him, so we stopped at hill point. Started all the nonsense that we do always, clicking pictures, jumping, running, fighting, enjoying the nature, I know I will live every movement, but these are memorable in such movements, sun will be rising everyday, the difference is your feelings and the way you see your life is your happiness.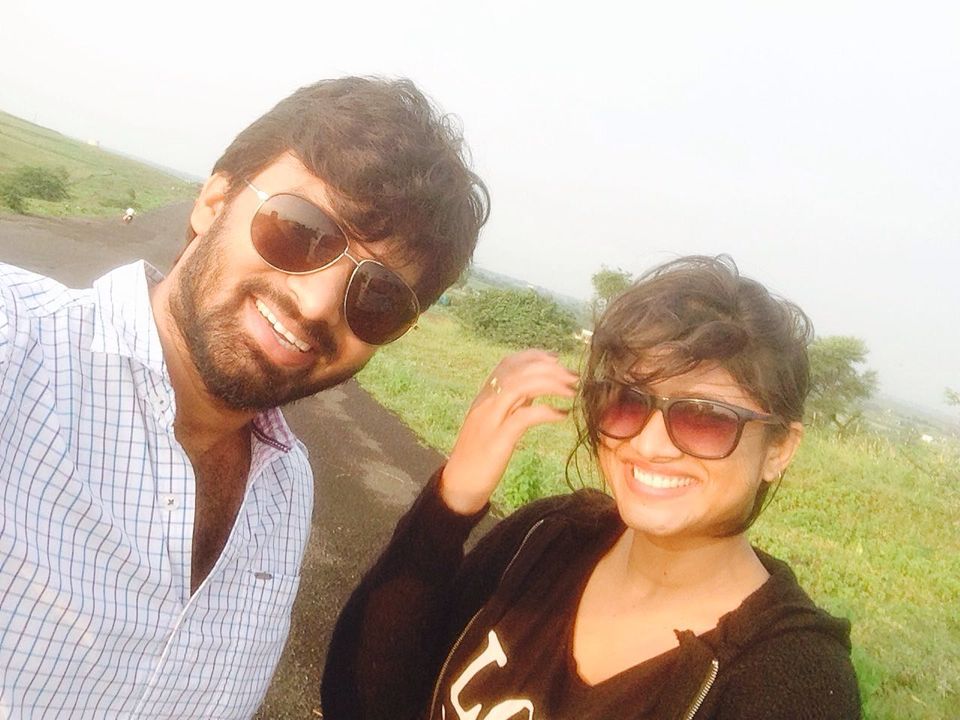 Grishneswar:
Before reaching Ellora caves we stopped at Grishneswar. This place is one of the 12 jyothirlingas, it wasn't on our list. Why to lie? We did not know that there was a jyothirlinga temple near Ellora. It was my luck maybe. I have a dream of visiting 12 jyothirlingas. Thanks to our driver, who lead us to this beautiful temple, it was built with red sand stones, and said to be the smallest temple of all jyothirlingas. After a peaceful of darsanam we started to Ellora,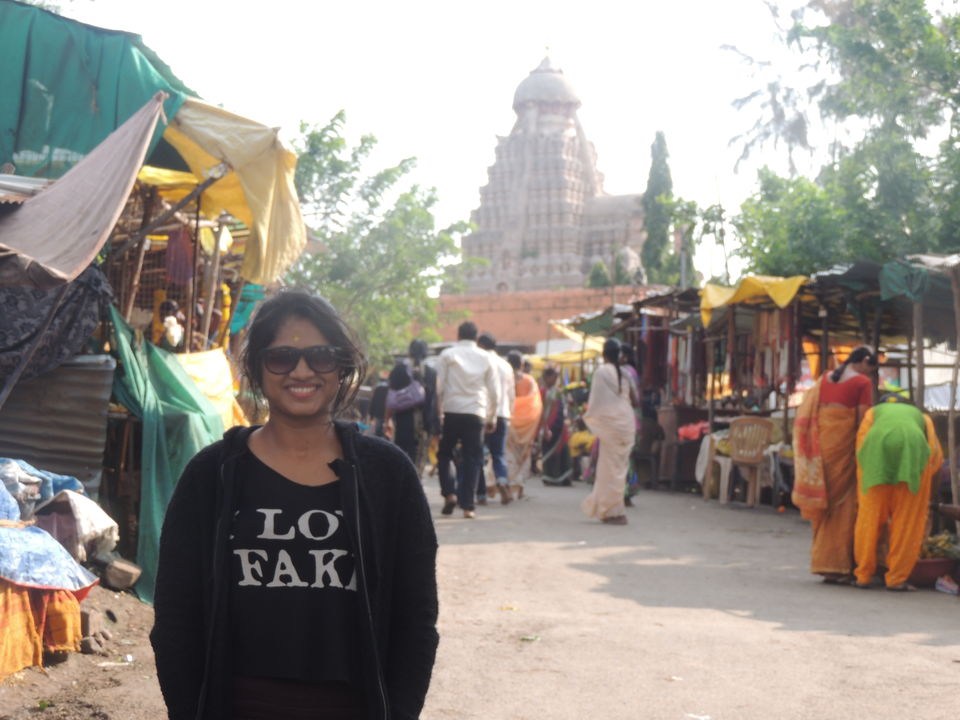 Ellora caves:
Within 15 mins we reached caves, I must say it was the most awesom-est temple I had ever seen. I don't know how many days were taken to turn this massive hill into a beautiful carvings! We started roaming around the caves and exploring the history wandering about carvings. I sat at the right corner of the temple mesmerized by the architecture of the temple. My question was that how people climbed up and carved these when there was no such technology. How many days they would have worked to make this beautiful outcome.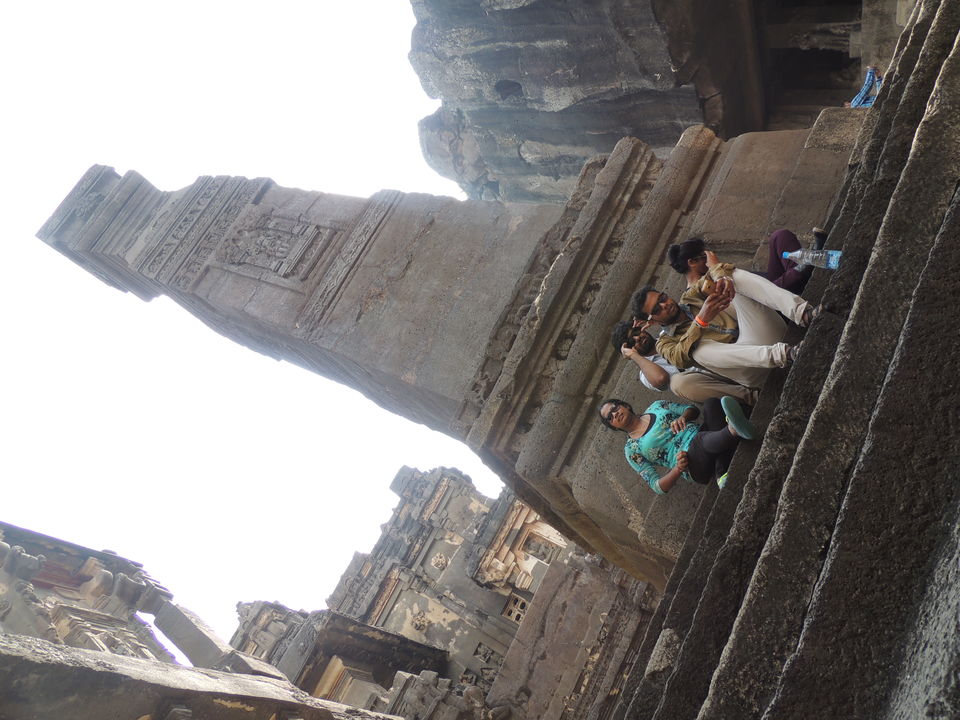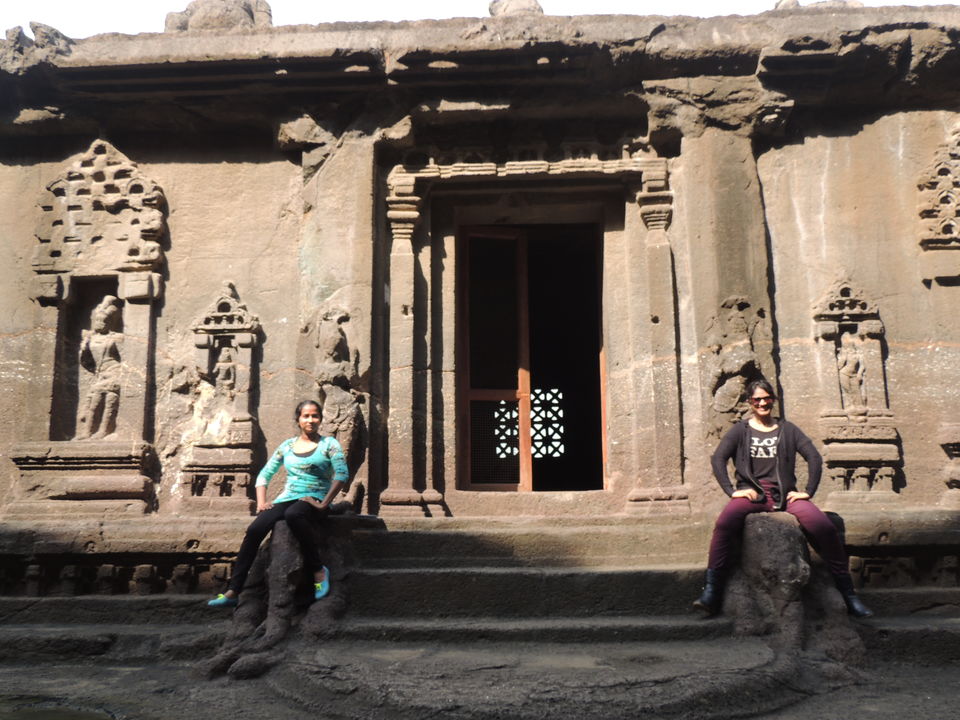 Ajantha :
Its just couple of hours journey from Ellora. We reached around 2pm, had lunch, they have food and good shopping around. We started exploring the caves. It was too sunny, we explored for a bit and started back, We reached Aurangabad.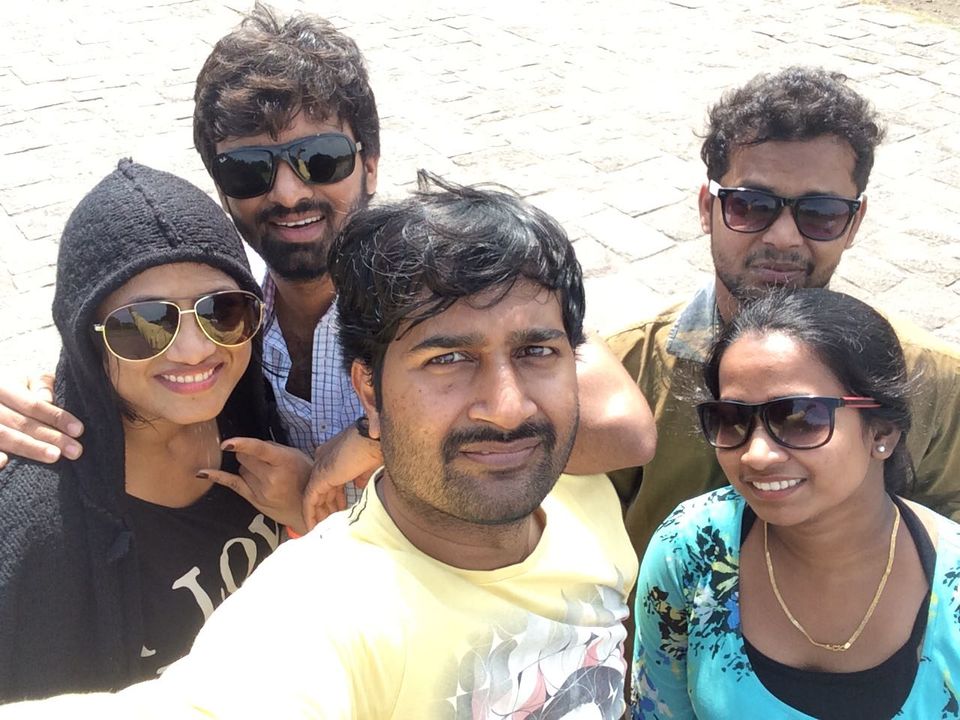 Aurangabad:
Babi ka maqbara: is also called as the mini Taj. Its a good place to visit. We reached here around 6 PM. We explored for a bit and went to a restaurant for dinner. We had to catch the train around 10 PM. We completed our dinner and went to the station.
The journey come to an end, carried loads of memories with us. Every journey is unique and it gives me lot of energy and happiness to remember.
see you soon with new story. until than take care