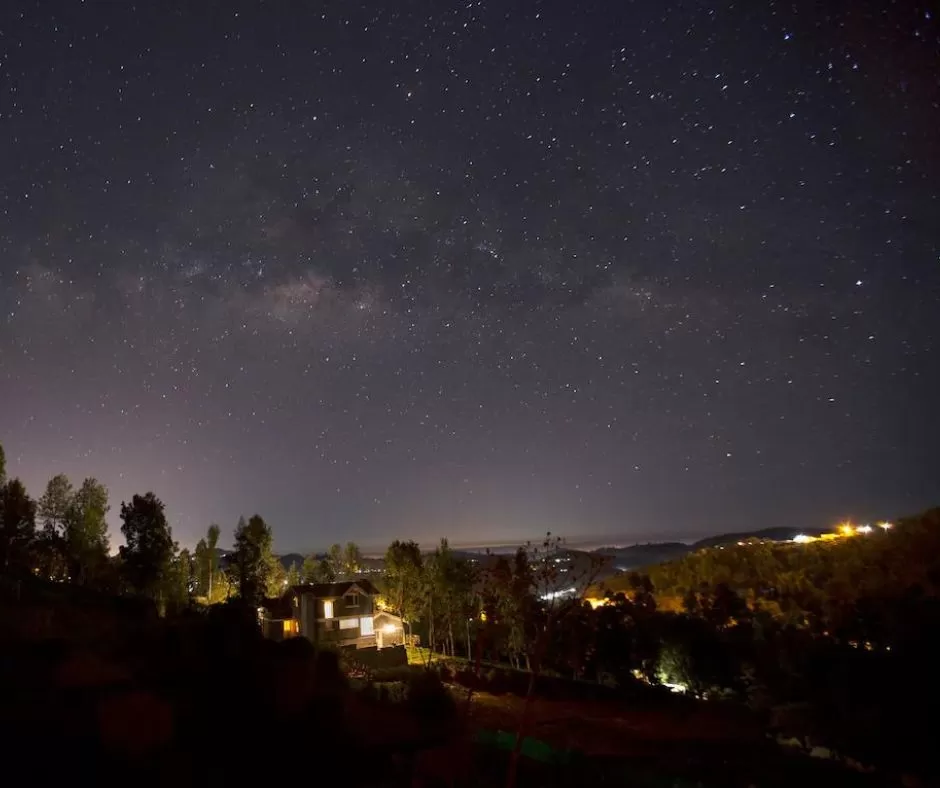 Once in a while giving oneself "distance and difference" from the "concrete routine- concrete jungle" lives we live and allowing our inner selves to change even if just a little, is what we need. Every experience that gives us something to learn makes us that much richer. Give yourself that chance by cutting off for a while from everything mainstream and indulging in this act of self love - making cottage stays your home for a few days.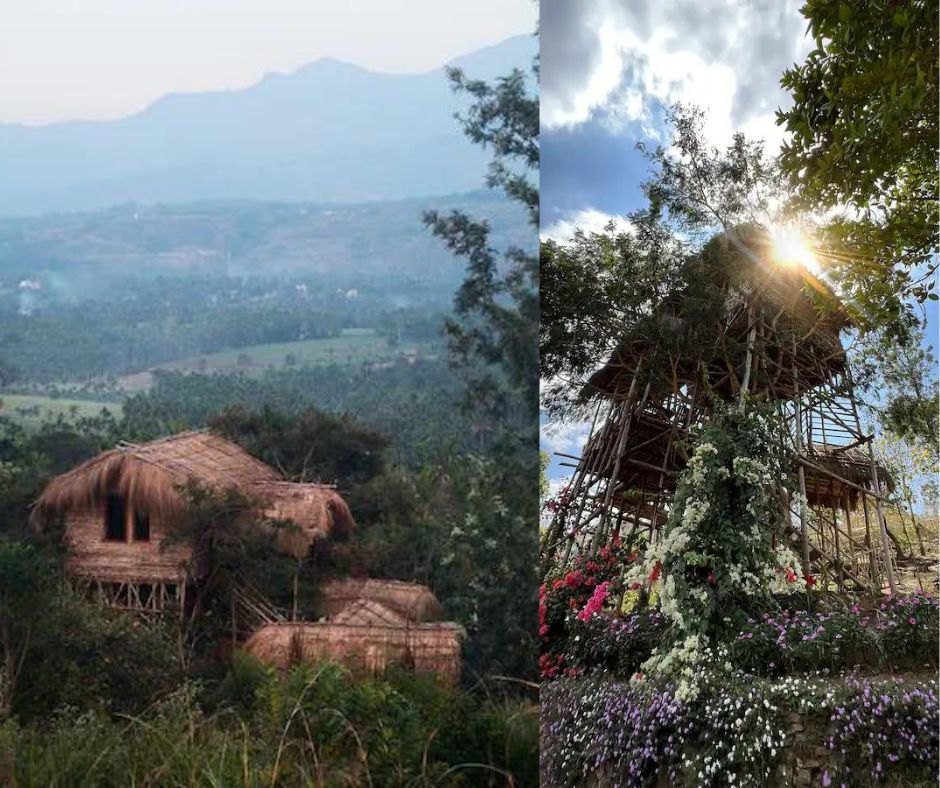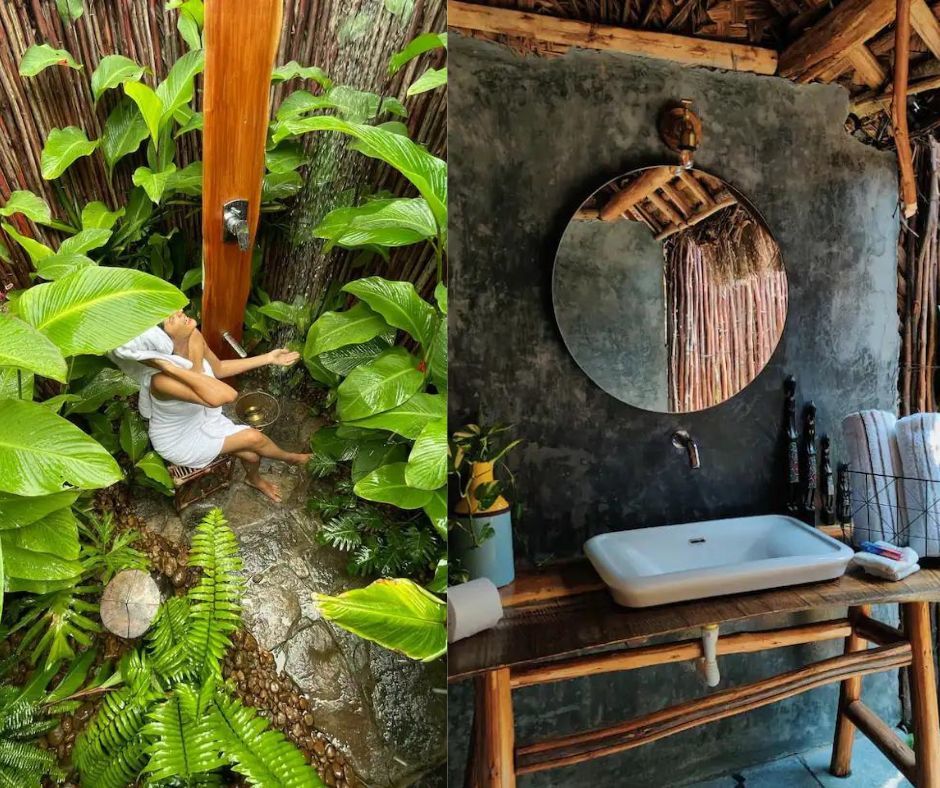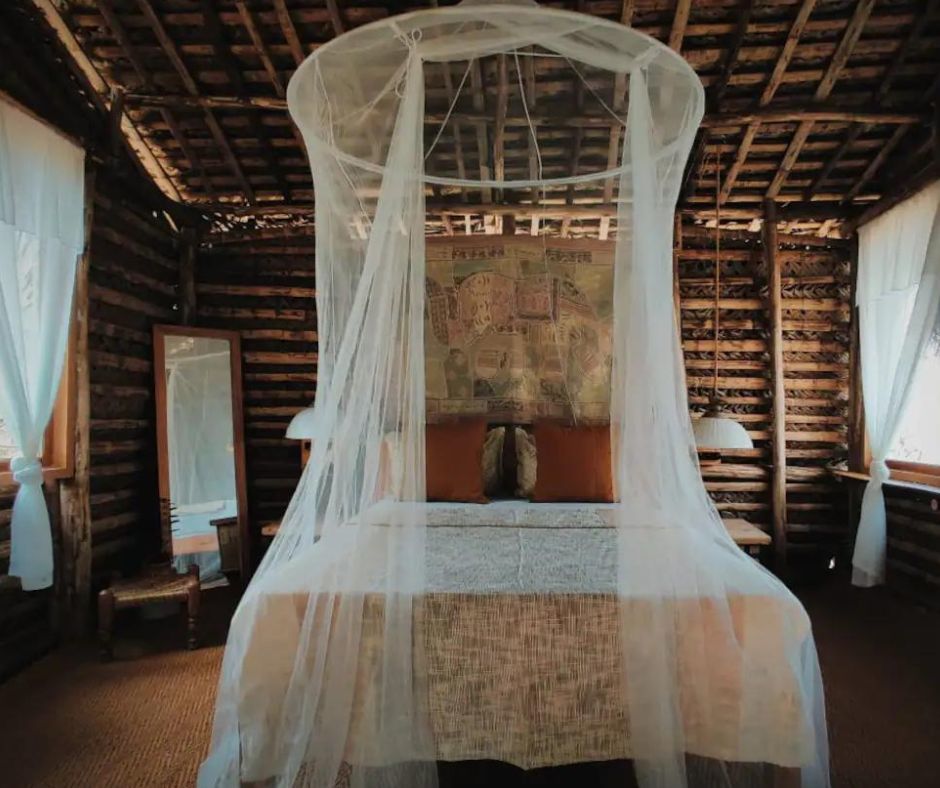 I did not know this is what I was always looking for until I found this! The tree house Marayoor offers a tree house and 4 mud cottages. Earthy and magical! This project stands for sustainable living. Taking one self out of the web of practical conveniences and staying so close to nature yet so luxuriously will definitely give us more than a few takeaways.
The treehouse has a bedroom, balcony and an open roof bathroom. The property has parking space, shared kitchen, common dining area, lounge. Holler their team for a tree top romantic dinner set up, or a BBQ & campfire night.
You will find yourself living atop a hill overlooking a valley. Not far from the Chinnar wild life sanctuary & the Sandalwood forest. Need I say more?
Cost : Rs.14,966.00 per night (2 guests, 1 bedroom, 1 bathroom)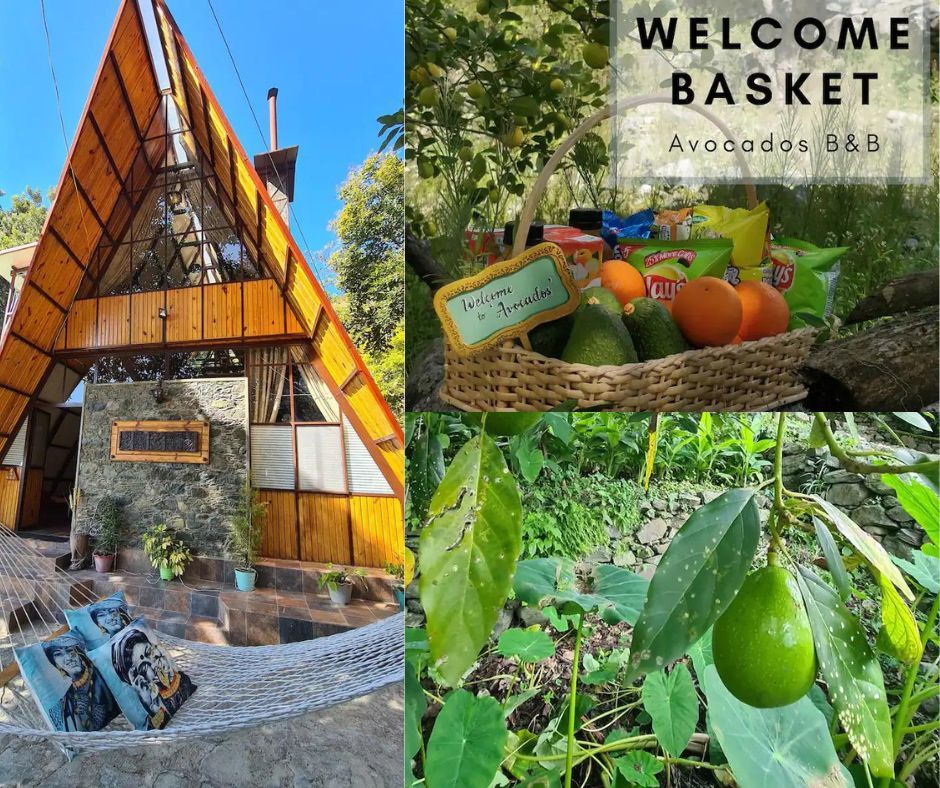 Avocados B&B is managed by a couple who received the estate from their grandparents. The structure overlooking the flower garden stands on a foundation belonging to a centuries old stable that was functional till 1947. The wood-glass-stone structure has a Kiwi plantation in the yard with avocado trees throwing their shade onto the top. This place promises you quiet and peace in the midst of a forest. Modern & earthy with original pieces of history still around in their proper places - this place gets a thumbs up from me.
What do you get when you come here? - Welcome basket for sure! In winters a complementary bundle of fire wood is also given! fancy, isn't it?
Live the slow life, let time stop, walk through the orchards pluck fruit, follow your instincts. This vintage beauty is a 2 storied lake side villa. The lower level has a kitchenette and sitting around area. A wooden staircase leads to the upper floor that has the bedroom and a balcony. Spend a long weekend away at this cozy 'A' shaped wooden villa in Bhimtal and let the simplicity of the flora and fauna encapsulate you.
Cost: Rs 8,263 per night (2 guests,1 bedroom, 1 bathroom)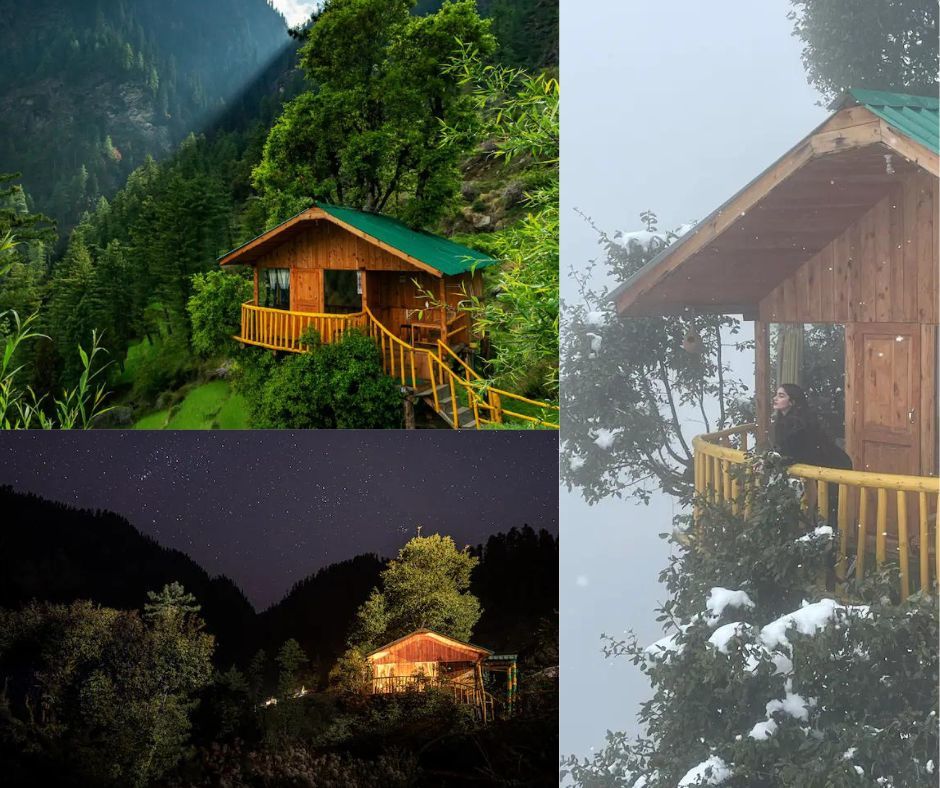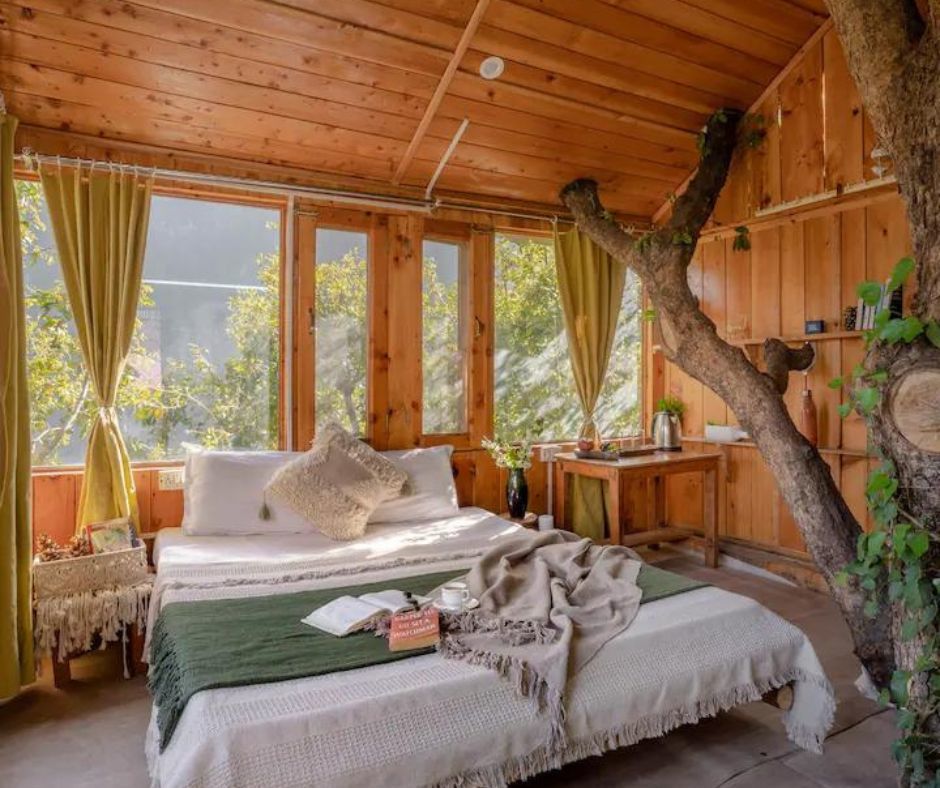 Whispers of nature's bounty. I don't know what words will do justice to this mini heaven. The price is not of the wonderfulness you see in the pictures because that is priceless, rather of the amenities that make us humans comfortable enough to be able to soak it in.
What do you get? - A tree inside!, a comfy bed and amazing boho vibes. It fits soo well!, wheat & maize fields, fruit orchards, spot flying squirrels by night, specially mentioning the beauty by dawn, dusk or by night will just undermine what the pictures already bring forth. Getting to stay in this with great Wifi, breakfast, laundry facilities, oven, toaster, coffee maker, refrigerator, a modern bathroom, a comfy double bed, writing desk. Guests have the freedom to use the common kitchen. Hike around without damaging the crops.
You are within 150 meters of quiet a few cafes. The pictures don't give it away at all, and that is why a "Big Cheers and a Big Yes!" to this pet friendly tree house cottage.
Cost : Rs. 5,999.00 per night (Houses 2 guests, 1 bedroom 1 bathroom)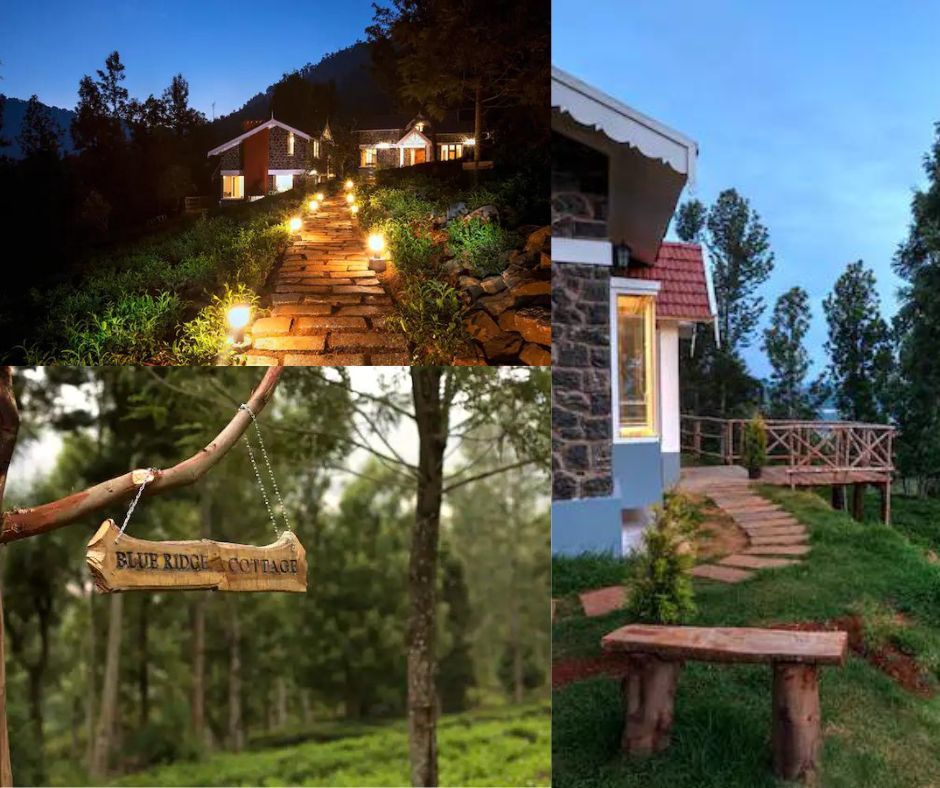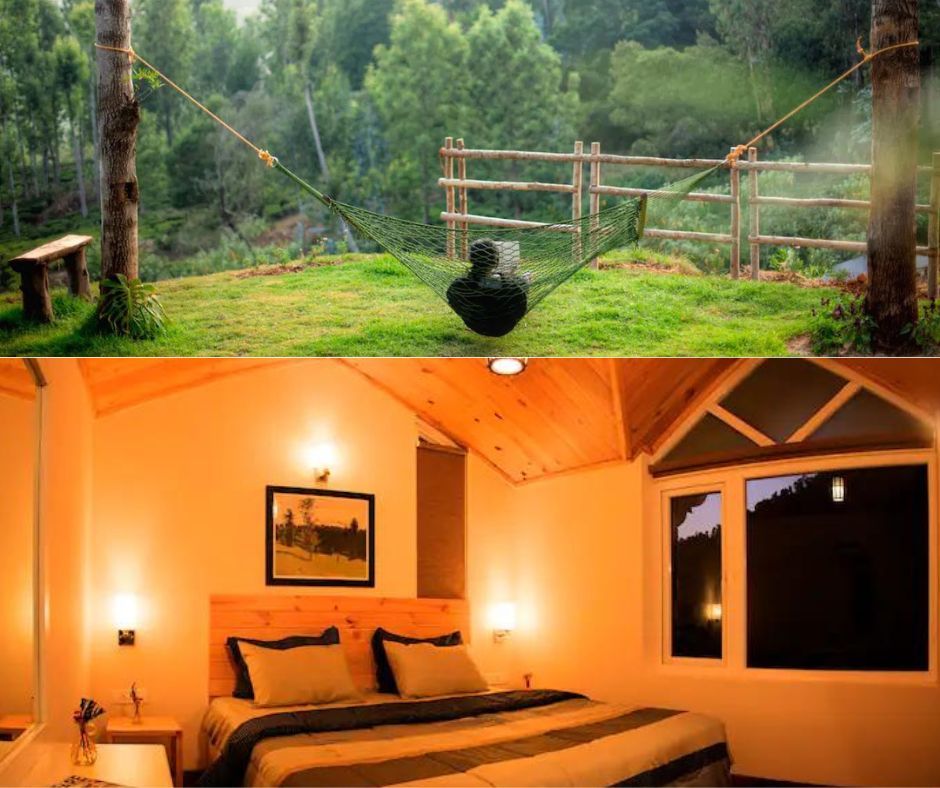 The estate has 2 cottages inspired by and themed around the 1st bungalow of the area - "Ooty Stone House" or "Kal Bangla". This property has beautifully retained the old world Colonial charm. Its' like a picture that would fit a Ruskin Bond story. Spectacular views of the nilgiri hills and the heritage trains chugging along. The description and the picture have painted a very enticing picture in my mind. I am sure one would return with a hangover of their stay in this cottage in the Nilgiris.
The cottage is built from good quality sturdy materials- solid teak beams, teak furniture. Aesthetically done this will make for a comfortable and memorable stay. Meals are provided, with the provision of an open kitchen which the guests are free to use.
Cost : Rs 7630 per night (4 guests, 2 bedrooms, 2 bathrooms)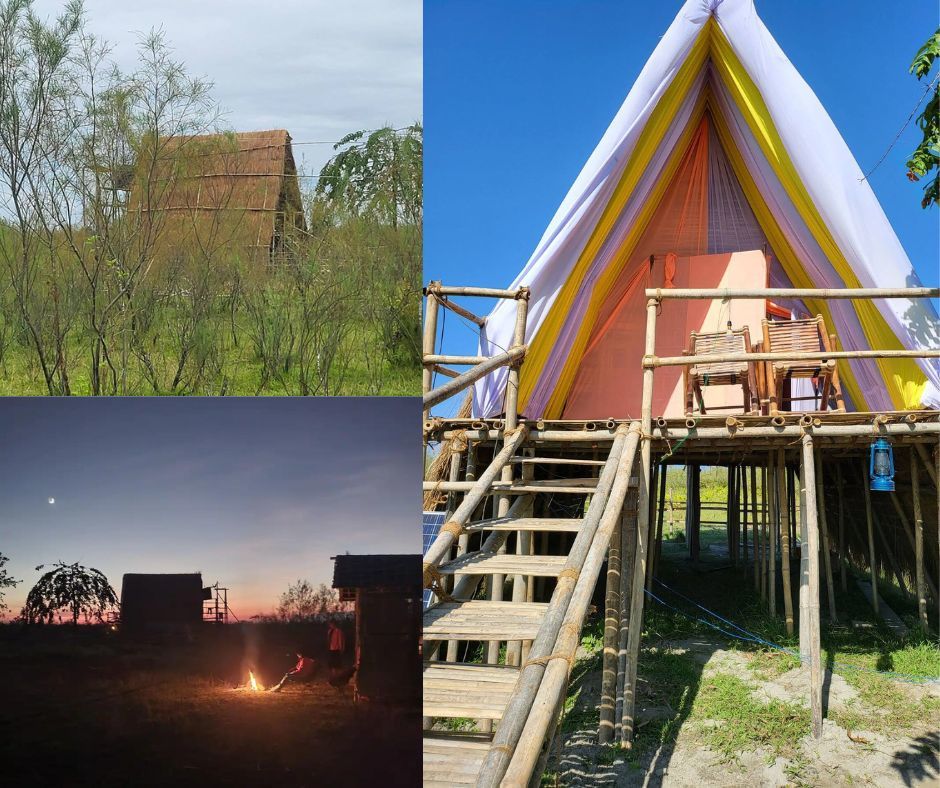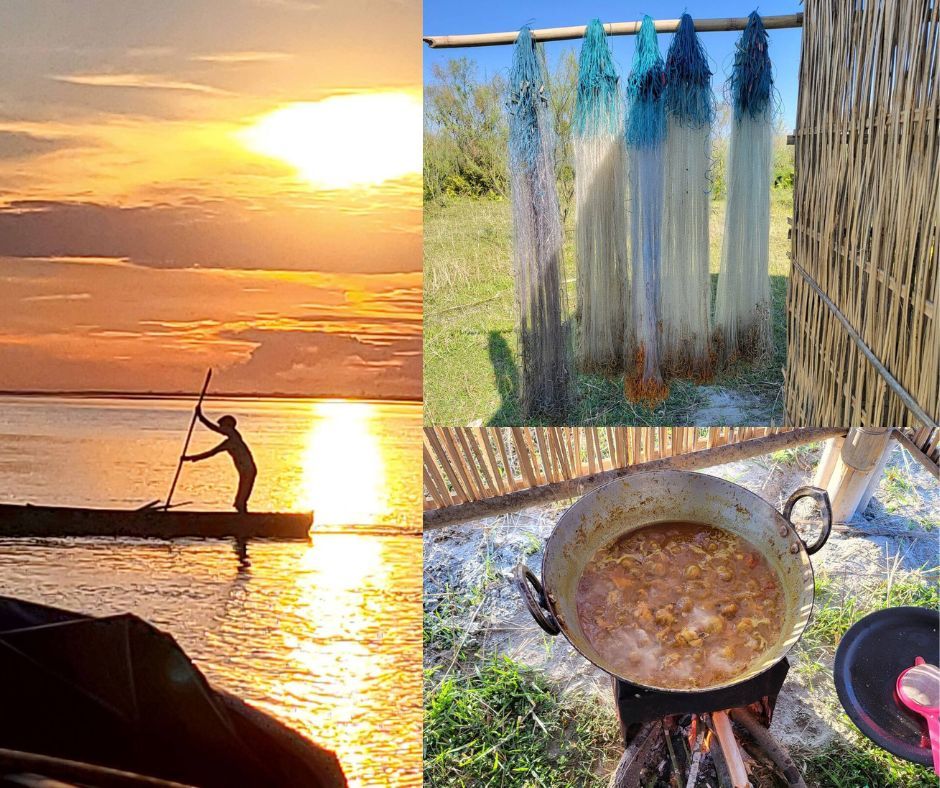 Raw, no nonsense, simple, honest, bare! There is a need in your soul and you come across these photos and the initial description of the place. After that going through the amenities is just to formalise your packing list because you have made up your mind long before that.
This bamboo hay cottage is located on an island in the mighty Brahmaputra river. Access to the cottage is through a motor boat. The other inhabitants of the island - cows, foxes, horses might pay you a curious glance. What do you see yourself doing in actual absolute wilderness where things around are so simple its almost as if when it all just began? What do you imagine yourself doing there? A detox, fitting into the surroundings or partying ? cutting a cake & having drinks that in no way could have normally been there? Well whatever is your poison!
You have yourself a 1 room cottage with views of the Brahmaputra on one side and the mountains of Arunachal on the other. Built on stilts, 4 people can be comfortable in this lil place with a big personality.
Amenities - bath, shower, western toilet, solar powered cottage, warm cozy room, evening bonfire, hospitable and welcoming staff. You may engage in fishing with the staff, hiking, cycling, boat rides. Holler the staff and they will try their best to make you comfortable.
Cost: Rs 5000 per night (4 guests, 1 bedroom, 2 beds, 1 bathroom)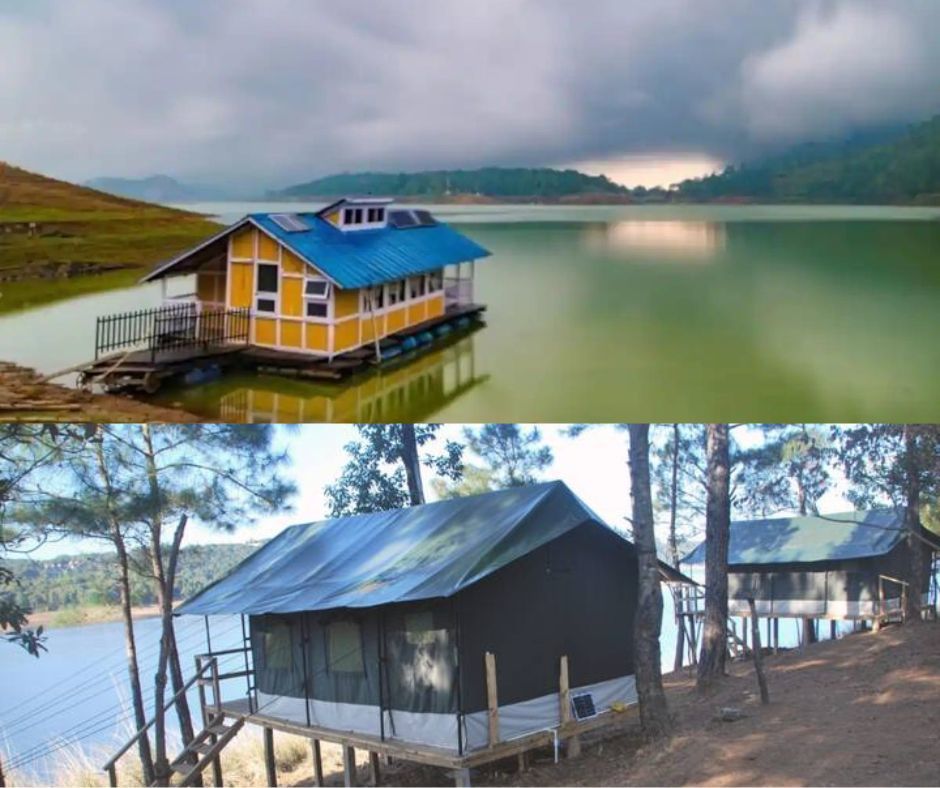 Different people love different landscapes at different times and in different moods. I laid my eyes on this one and I thought "wow! I wish we could belong to each other for ever." It was love at first sight! Sometimes a water view is not enough, you want to be in the lake. You want to be enjoying your drink on the deck and feel the soft waves playing somewhere in the stilts under the floor. This wooden boat house along with adjoining luxury tents are fully solar powered. In case of power failure the lantern is your friend.
The cabin boasts of a king sized bed, all basic amenities & most importantly caring hosts. An essential experience enjoy this magical thrilling Boat house and feel like an islander!
Cost: Rs 4000 per night (4 Guests, 1 bedroom, 1.5 bathrooms)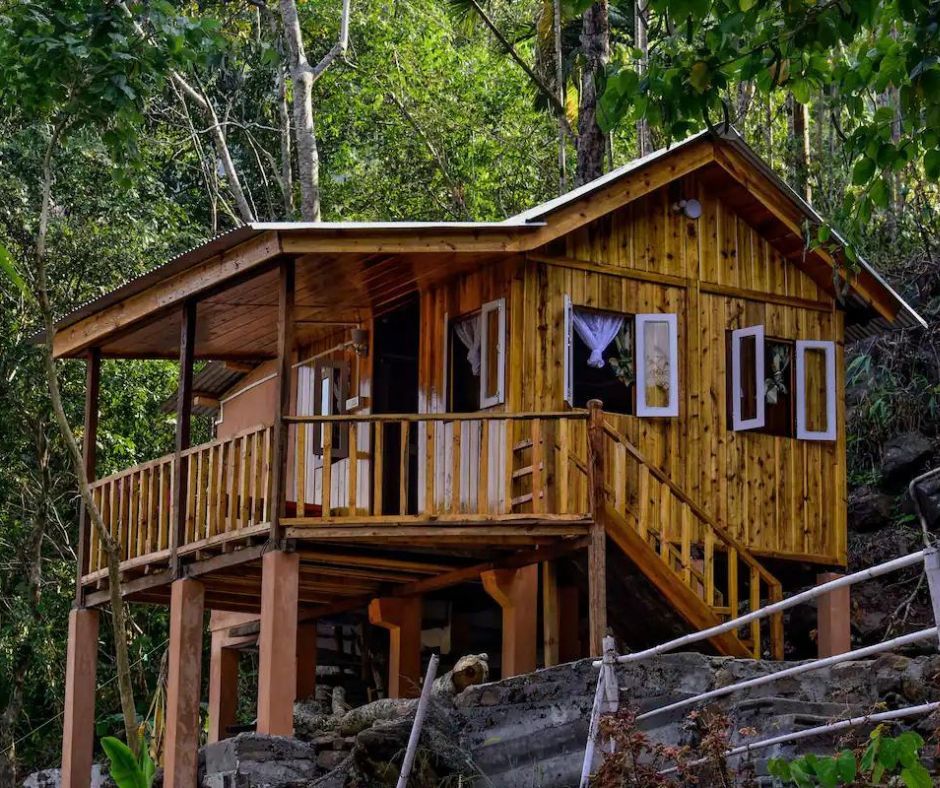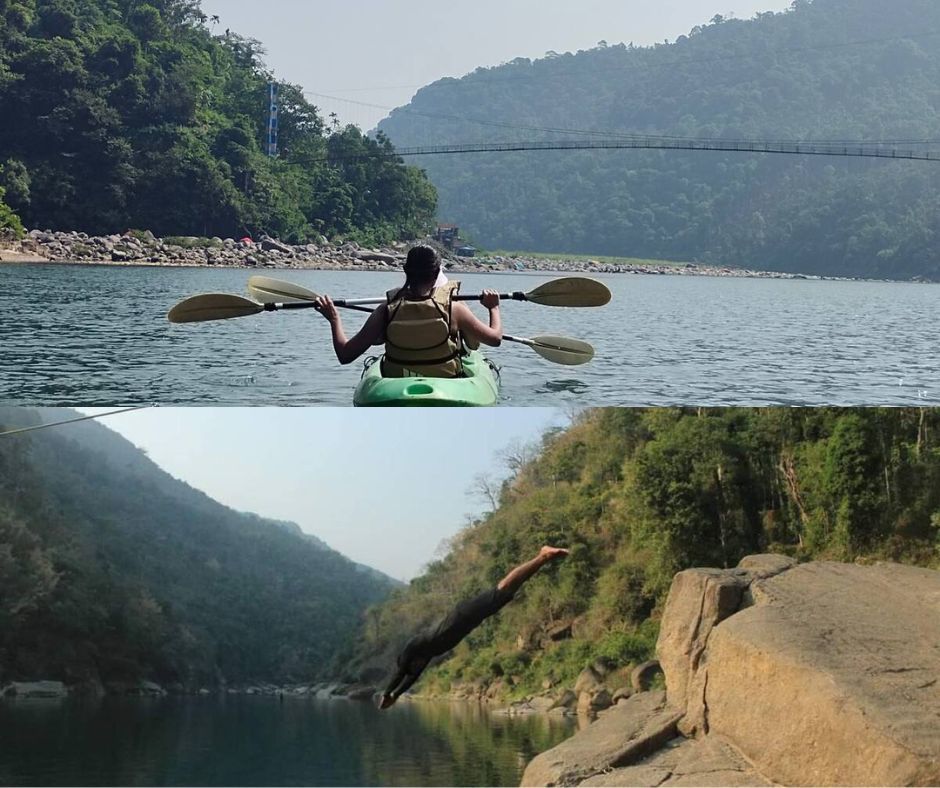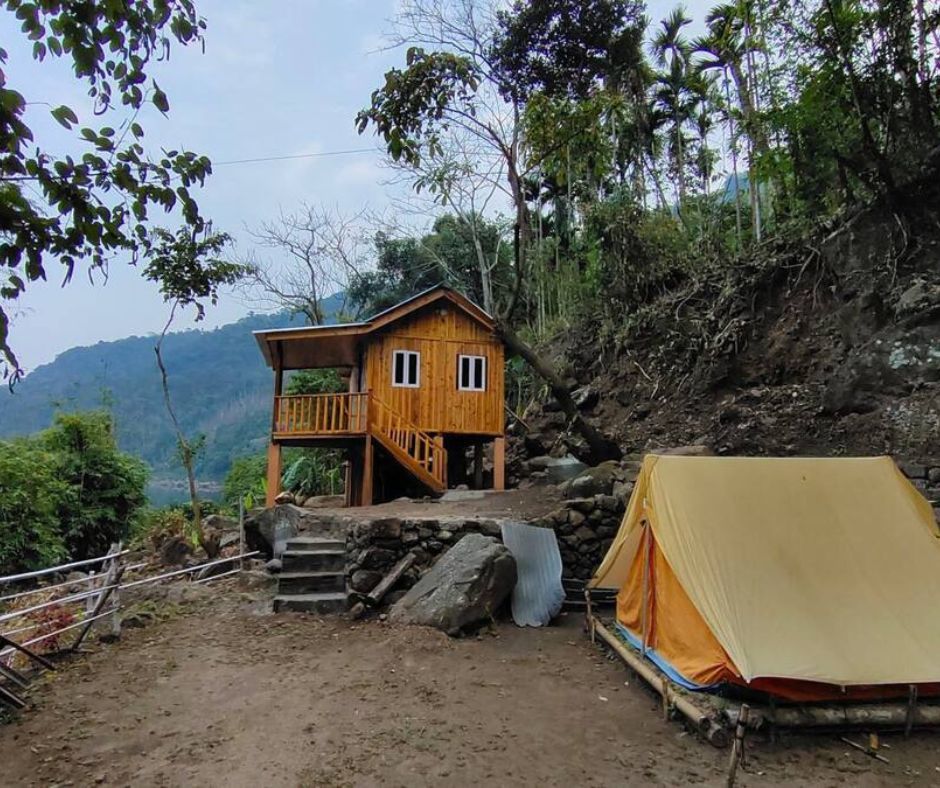 This river side cottage next to a private campsite awaits you with a team of very hospitable helpers. The cottage is located on the other side of the Umngot river. The access to the cottage is through a suspension bridge.
They offer a variety of paid adventure activities boating, kayaking, cliff jumping, snorkeling, Trekking, Ziplining, scuba diving, Canoeing, etc. Adventure by day and romanticiing by night. Star gaze silently by the bon fire. Starting from the entry point everything about this experience is wholesome.
For sure this cottage just like any other service that relies on nature's gifts expects its guests to act responsibly. What is mutually exclusive is - our fundamental right to enjoy this natural beauty and our fundamental duty to respect it.
Cost : Rs 3608 per night ( 3 guests, 1 Bedroom, Private Toilet)
8. The Granary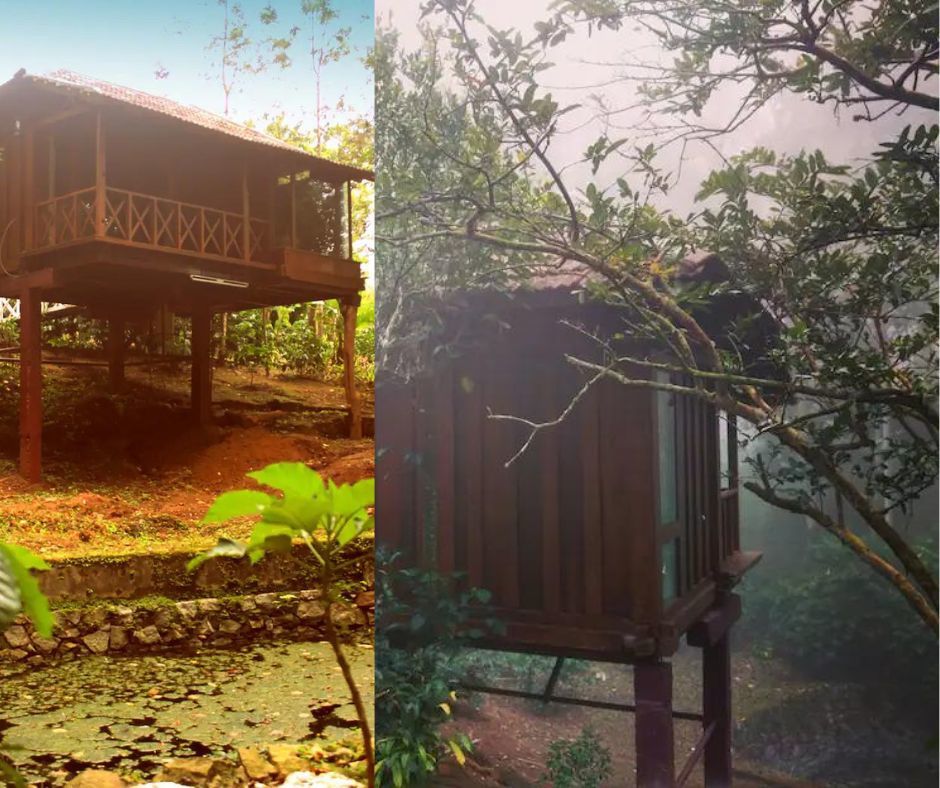 "The Granary" is a 100 yr old granary converted to this spacious, luxurious elegant cottage. It is as comfortable and as pretty as it can get without being intrusive to the environment. Amidst vast acres of coffee estate no words can do justice to what one will experience here. The possibilities are infinite. The host says his mother cooks food for the guests with home grown vegetables. The estate also has fruit trees.
As for the amenities - There is free wifi, laundry, access to garden area. There is no AC & only a ceiling fan is provided. Breakfast being included in your package other meals and extra coffee/tea can be ordered on extra charge. Experience the bounty of Coorg in the lap of nature surrounded by birdsongs.
Cost: Rs 6,300 per night (2 guests, 1 bedroom, 1 private bathroom)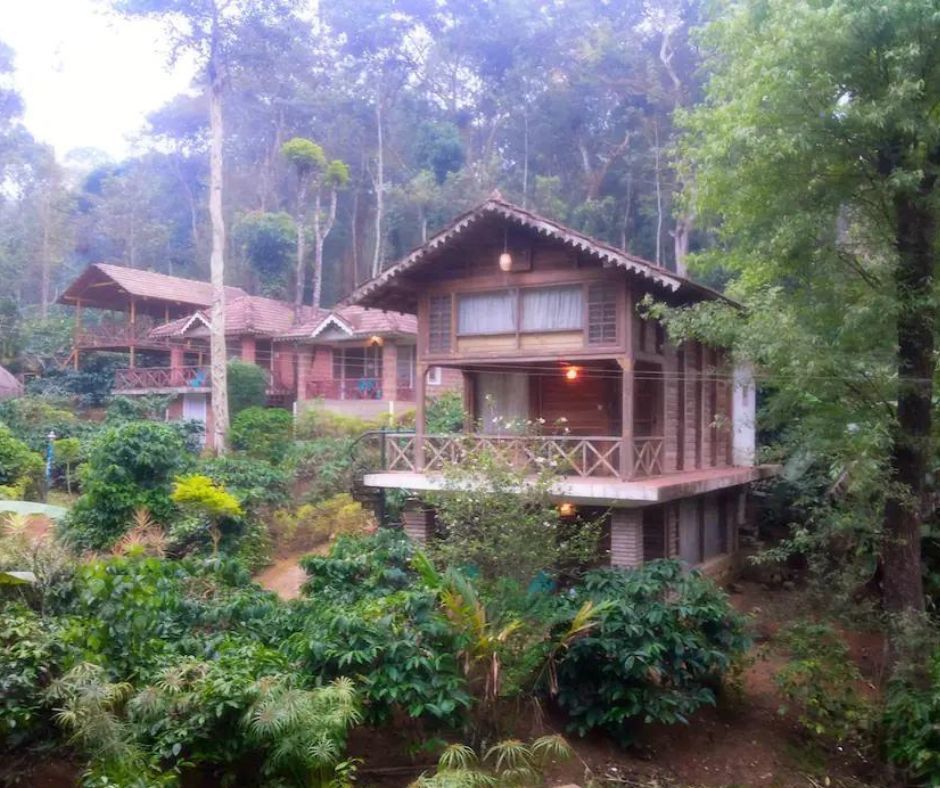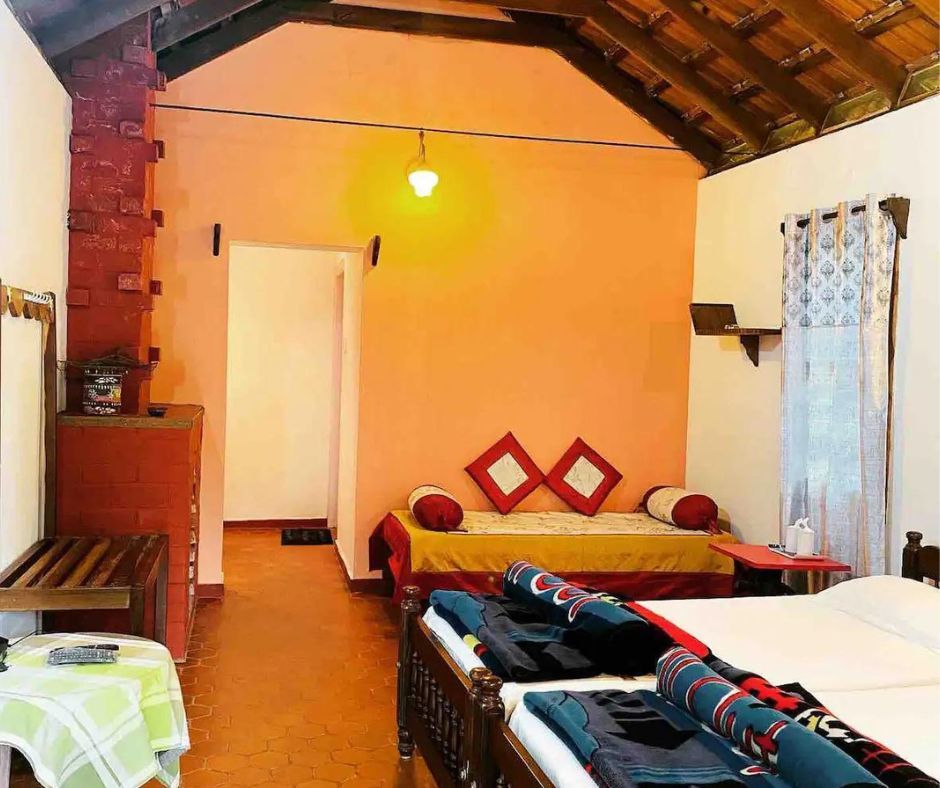 This homestay has 4 cottages. All the 4 cottages are differently constructed. They have a wooden cottage with bunkers, 2 cottages are stone cottages with an indoor fireplace and one has a glass wall with a beautiful view of natural surroundings. All cottages can comfortably host 3 people in general. In the midst of a coffee estate you will wake up to misty mornings and chirpy birds colonising the area. Breakfast is provided, small eats & meals (Veg & NV) are also available with prior notice. Alcohol and other drinks if desired are to be brought by the guests themselves.
Cost : Rs 3500 per night (3 guests, 1 bedroom, 1 bathroom, shared dining area)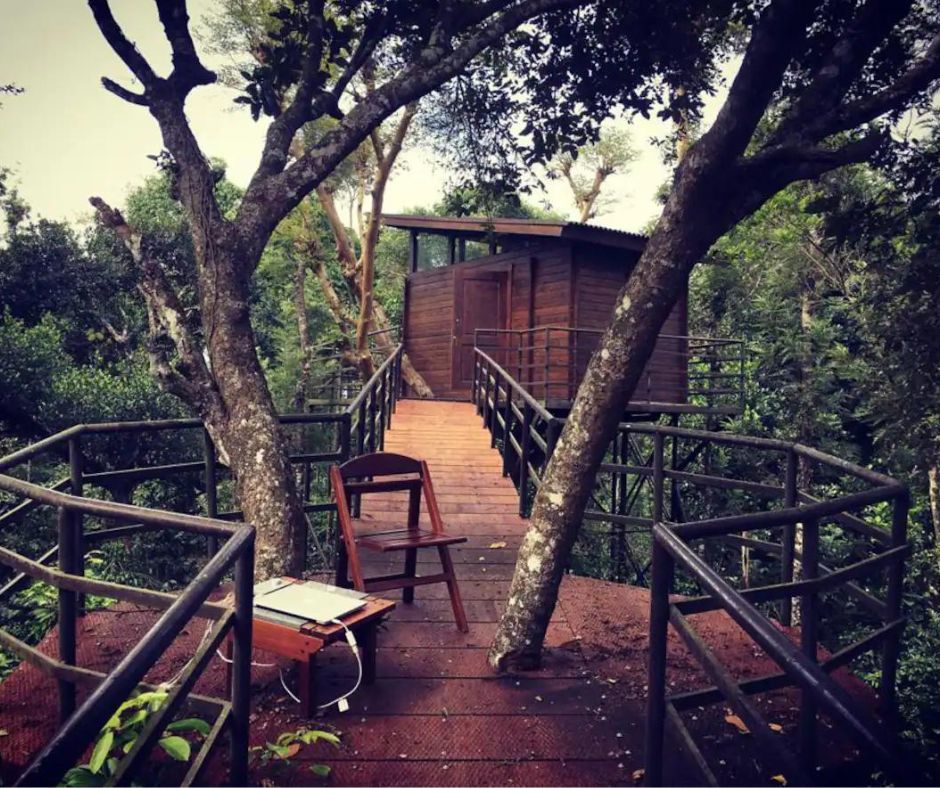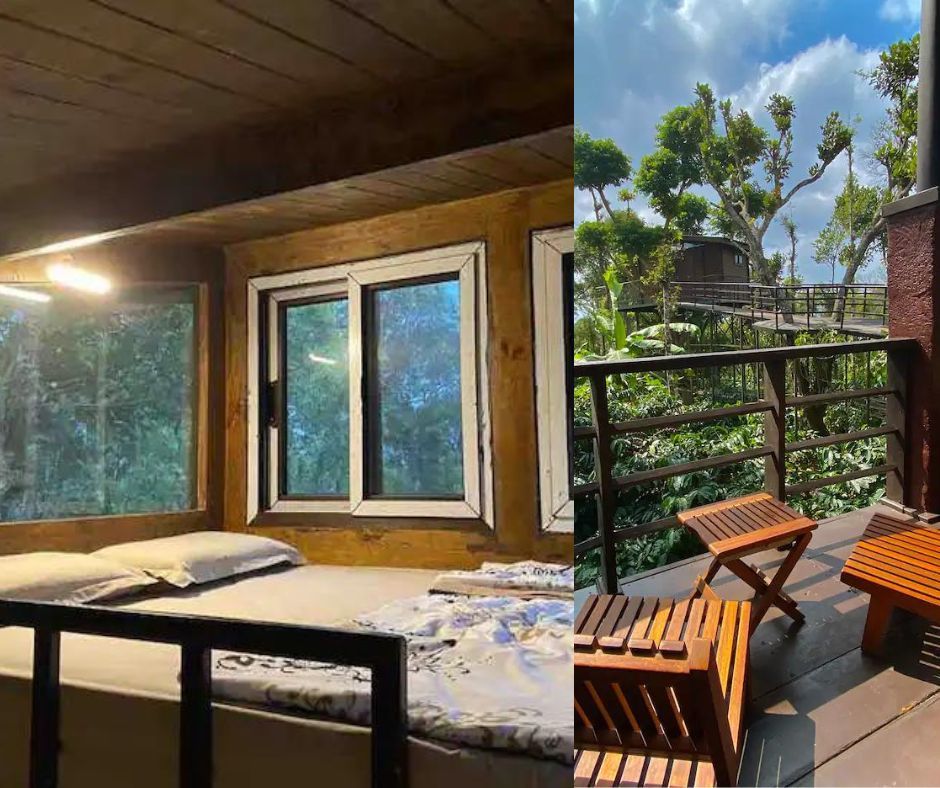 Nammakadu has 3 cottages and 1 tree house in its estate. The tree house is an island in a sea of green. The bed room is at an upper level accessed by a wooden stairway within the cozy tree house. What a dream! breakfast is included in the cost and other meals are provided on request. This pet friendly charming little nest tucked away atop a lush green herbage is everything. Imagine the deep focus, deep meditative or deeply calming sensations one can slip into at the various spots in this accommodation.
Cost : Rs 3000 per night ( 2 guests, 1 bedroom, 1 private bathroom)
Make memories not expectations, collect experiences not things. Cottages are units that will keep you as close to practical city conveniences as they can without harming the environment they are built in. When you chose to go to a cottage don't forget the basic principle of its establishment - "Jungle mein mangal with special emphasis on sustainability ".
Yes there is a team that is hosting you but as guests its incumbent upon us to not confuse a cottage experience with a 5 star hotel or resort. For all of the above properties, guests are expected to consider the hosts and support staff as a team who is working with you rather than hospitality industry staff working for you. Almost all of these cottages are either solar powered or harvesting their own food or if hot water is being provided it may be so that there are people heating it for you and delivering it to you.
As responsible citizens of this planet we are duty bound to holiday responsibly, exercise economy and judicious use of all resources to avoid wastage of electricity, water, food and any other comfort being provided to us in this natural environment.
I specially urge parents to ditch hotels and structured resorts once in a while and gift their young ones these memories instead of "Things" . They will not become what you preach them to be, but they will become what they see you do and see you be. Exposing them to this kind, accountable and participative way of recreation will have an impact far beyond comprehension.
Think we missed out on something? Tell us about it in the comments below. Or write about it here on Tripoto.