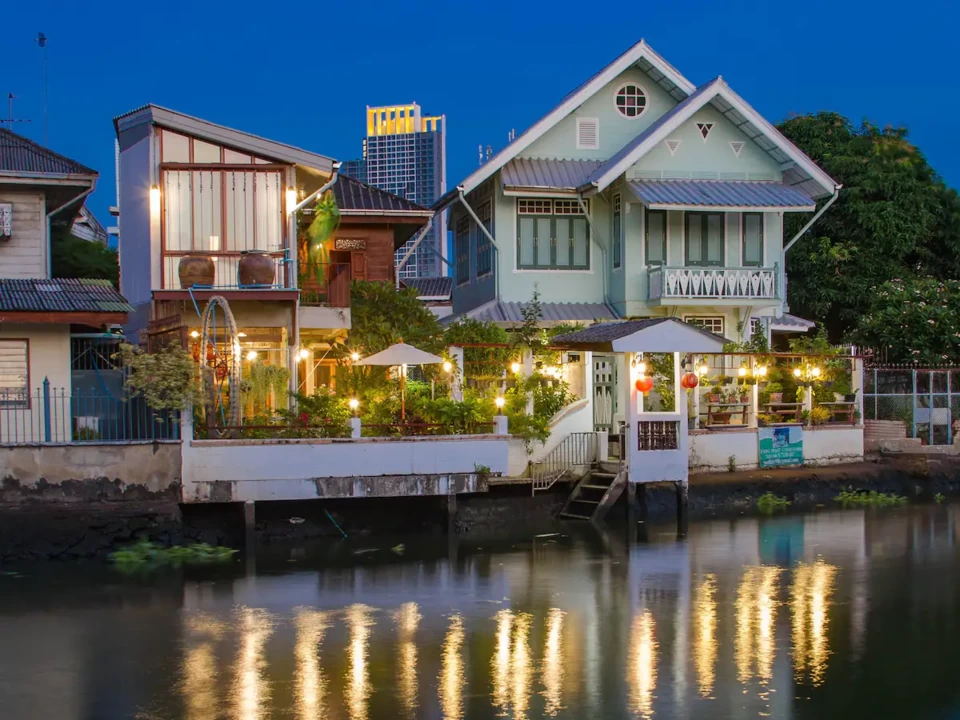 For some of us, the accommodation is just as important as our itinerary. The thought of being welcomed in a new city by a warm host and a place that appeals to our sensibilities gets us just as excited.
Although for Thailand, it doesn't really matter when is the best time to visit (the climate varies throughout the country). This country, known for its tropical beaches, opulent palaces, ornate temples representing 'The Buddha' and the beautiful coexistence of vintage rustic river side colonies with ultra modern and chique ones should definitely be on your bucket list.
Bangkok the capital of Thailand is the most populated and developed city in the country. It will tug at your heart strings because despite the modernisation it has not lost its history and traditions dating back 100s of years. It offers so much choice for different moods- The city life, clubs, historical, cultural and touristic attractions, dining & shopping experiences along side peaceful canal side communities, Buddhist temples, etc . There is something for everyone here.
Here we have compiled a list of 10 accommodations in Bangkok that will capture the essence of Thailand to make your experience of this city even more enriching. They are stunning in their own way over a large spectrum of criteria. We are sure you will find something that matches your vibe!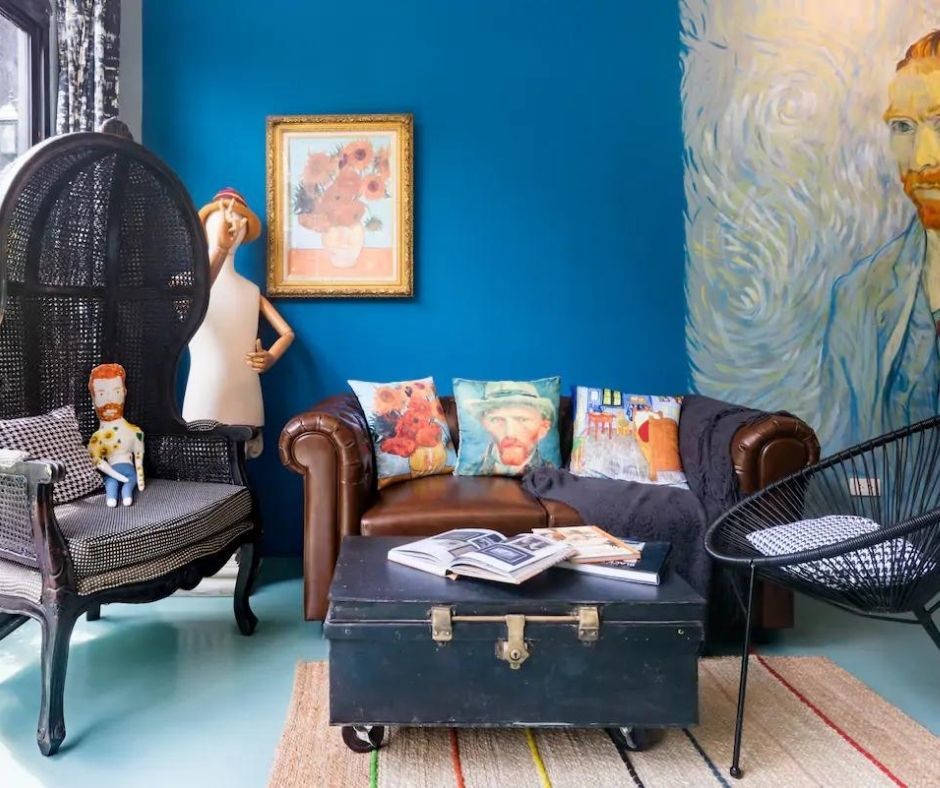 It was love at first sight with this one! If you are an artist and even if you are not this place will pique at all the right points and stimulate your brain in ways it was missing. Away from hustle and bustle of your daily life spending time in this creatively put together space will enhance your experience manifold. With so many statement pieces driving the theme of every room in this home you are sure to take back with you a few ideas.
Rustic washrooms with backdrops inspired by Freida Kahlo and Van Gough, Bedrooms themed around the Artist Andy Warhol . Every where you look is a treat for eyes. The pop of colour, the handcrafted pieces are a sure shot conversation starter.
This charmer of a house has 3 bedrooms on different floors can host 6 people. It is a pet friendly, kid friendly space with all basic amenities in place. It is located in Thonglor, the hippest district in Asia and is 32 minutes drive away from the Don Mueang International airport.
Cost : 12,000 INR for the entire house/ night (3 bedrooms on different floors can host 6 people)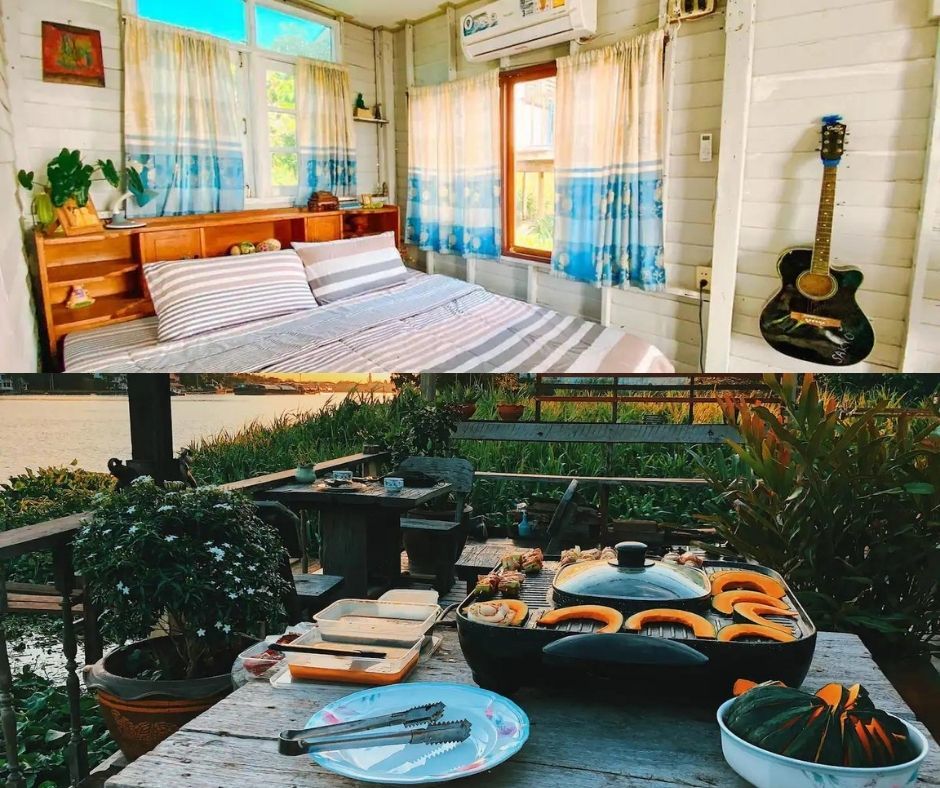 The memory of this house will stay with you for life. Living here is not just being in an accommodation, rather being in an experience. It captures the river side life of Thailand in its purest form. An old wooden house by the Chao Phraya river. Isolated from the main roads of the city and hence the noise. By nightfall you will realise you are in a dream, surrounded by the magic of Fireflies. You can even use the hosts's paddle boat and row up and down the river. Access to the main island and to Ko Kred is through the back yard which is an orchard.
A pet friendly place, you will be greeted by the hosts. Breakfast is included. Suitable for long term stays in the lap of nature. Access to the accommodation is by ferry.
Cost: 2,424 INR per night ( 1 bedroom - 1 queen bed, 1 sofa bed & a hammock)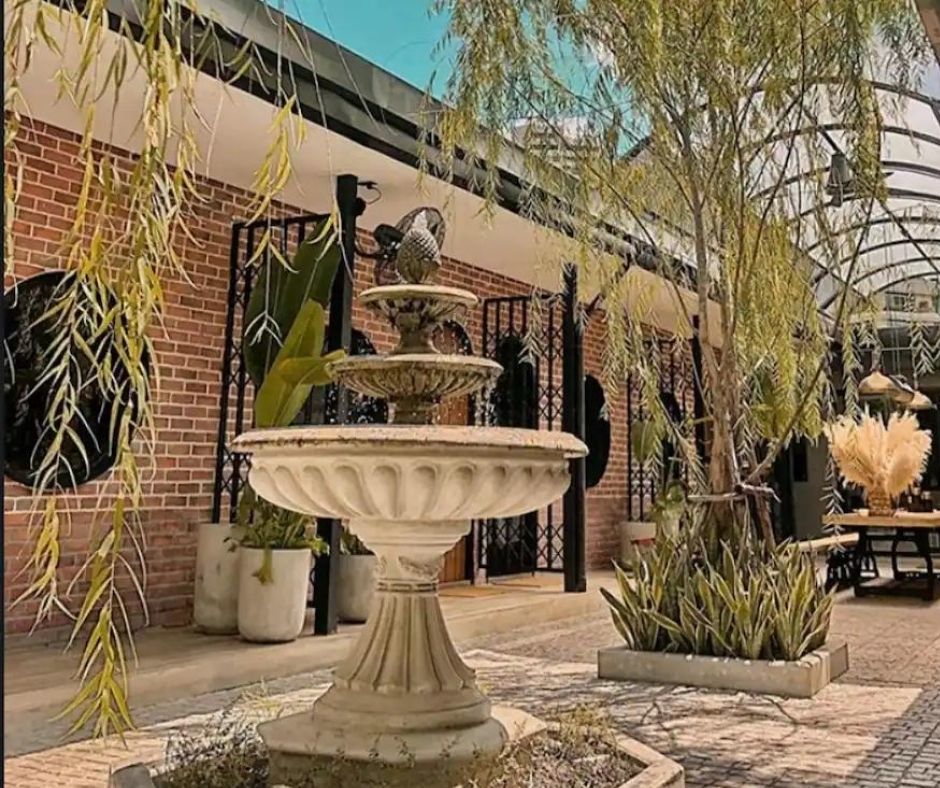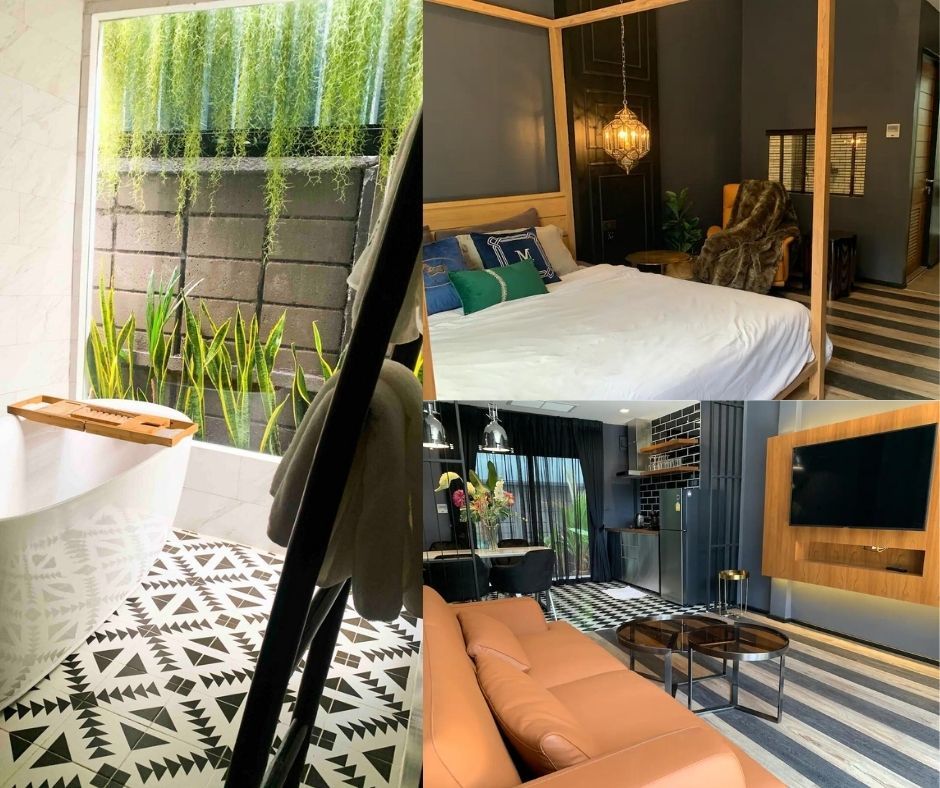 A spacious home with tastefully done interiors is just the luxury your soul needs. The classy interiors - patterned tiles, wooden flooring, dark brown furniture, ambient lighting, the elegant linen are all the work of a famous interior designer.
Stylish bathrooms overlooking the garden and kitchenette with beautiful outdoors , staying at The Matta is a steal deal. Such luxury could not be more affordable.
Strategically located 5 minutes from the Thonglor BTS station (free shuttle service provided), Dang! in the centre of the city. Most convenient location of Bangkok and yet manages to keep the occupants close to nature. These Luxurious suites are Oh so inviting!.
Cost : 9,455 INR per night (5 guests, 2 bedrooms, 2 baths)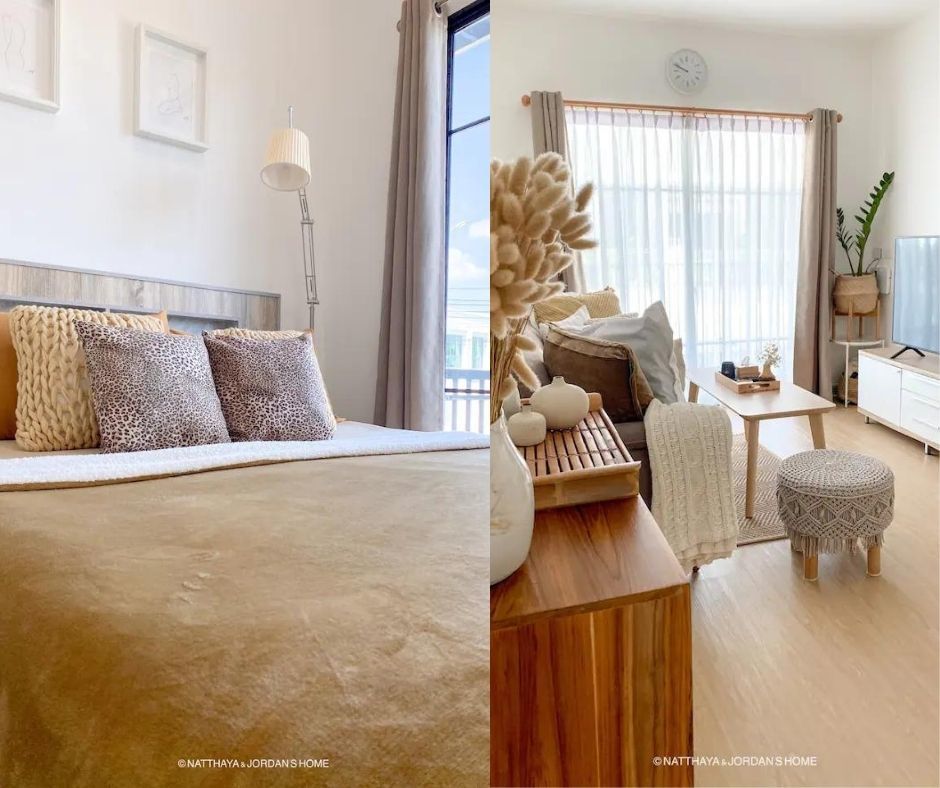 This home totally captures the Boho chic vibe without missing out on the local flavours. Pleasing to the eyes and Calm is what comes to mind when you look at images of the property. Its a house with a character -modern & beautiful. The hosts are welcoming and approachable. Just like the interiors, the house and the vicinity are clean and inviting
The house is located in a safe and quiet gated community 15 minutes drive from the international airport, also close to the train station and the night markets.
Cost : 5000 per night ( 2 story- 3 bed rooms, 2 baths, a private pool and a gym )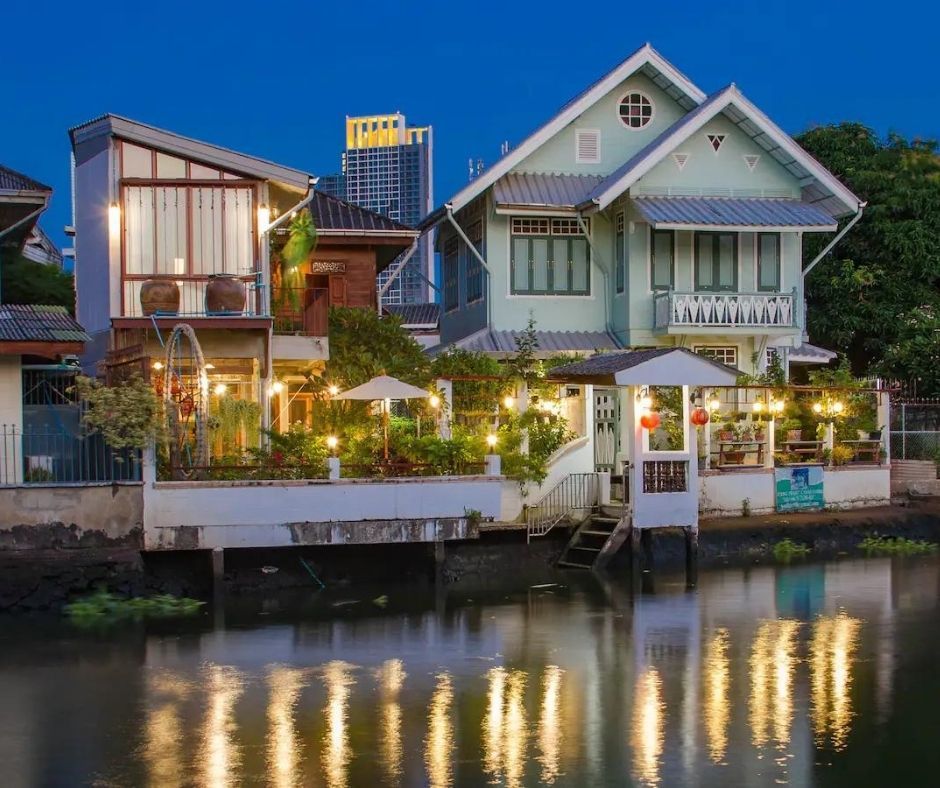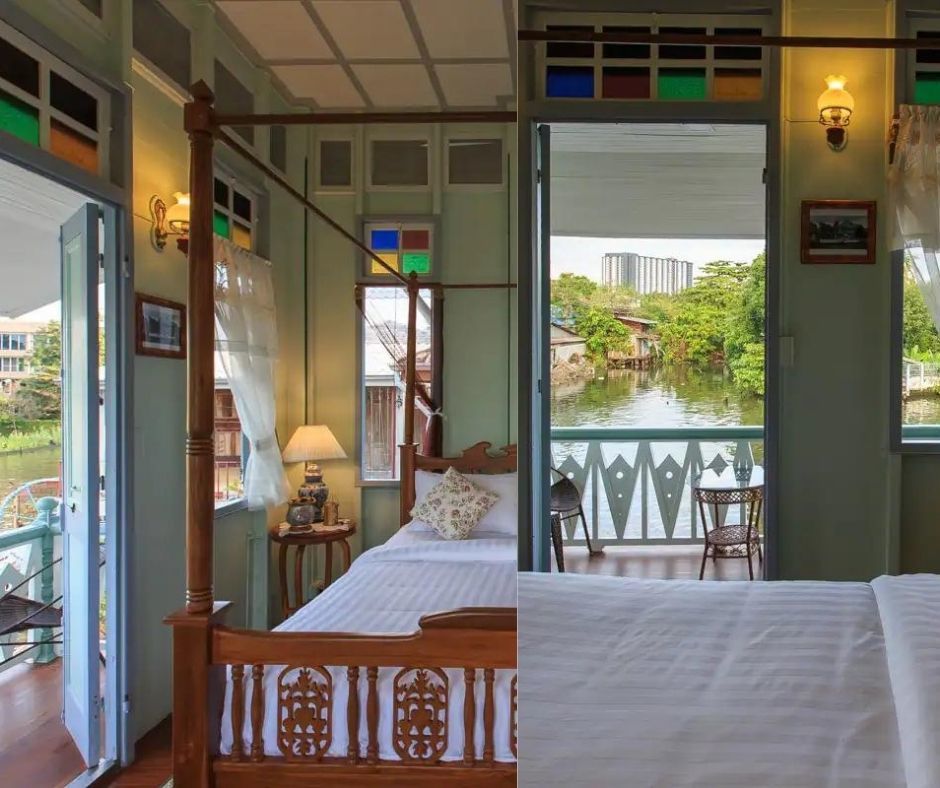 Breathtaking Antiquated wooden colonial home, by the Bangkok Yai Canal - looking like it does at dusk! Very well located in the city yet so close to nature. Waking up to that view on a 4 poster bed that is sure to transport you to a bygone era. What's not to Love ? This place has me absolutely excited! This earthy wooden house is definitely worth a try and will be your stint into the lives of local Thai people in the middle of a bustling city. Live the sounds and the sights of this environment and feel closer to the local culture. You can take a Thai food cooking class, rent a bicycle and dress up in traditional Thai Costumes at this property.
Conveniently located and easy access to the BTS train. 4 Big bedrooms, 2 cosy living rooms, and 3 charming bathrooms await your arrival!
Cost : 8,300 INR per night (suitable for 10 guests, 4 bedrooms, 3.5 baths)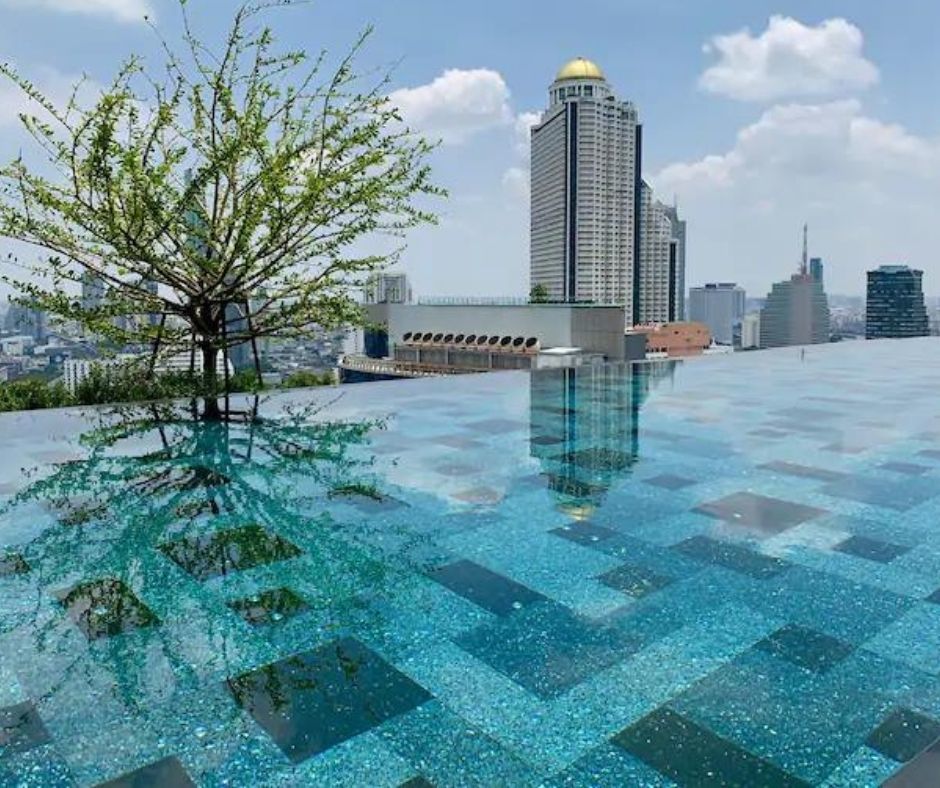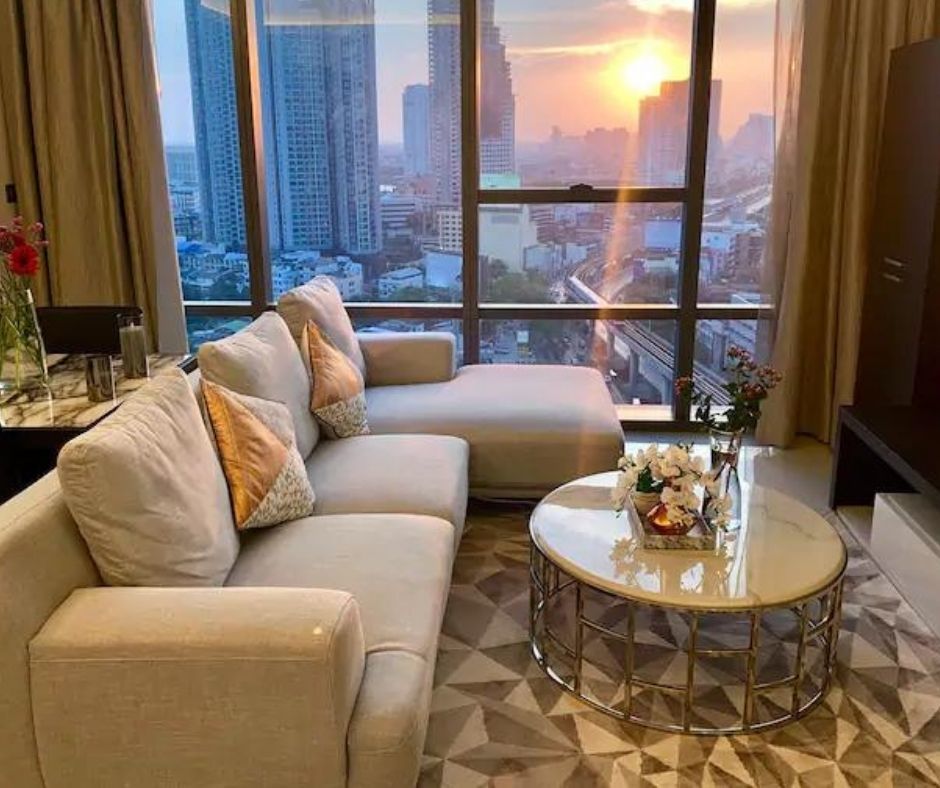 A spacious, Modern and Elegant condo with 2 private pools a gym and a private elevator. Located at the CBD area, 6 min from Siam by the BTS train. For someone who loves a city's skyline and if Architecture livens you up, you have yourself an excellent choice. With great views from all the rooms, the pools and the gym you will not be living here, rather you will be rewarding yourself!
Very conveniently located - within a 5 min walking radius you will find a train station, restaurants, bars.
Cost : 7,156 INR per night ( 1 bed room, 1 bath, can house 3 guests)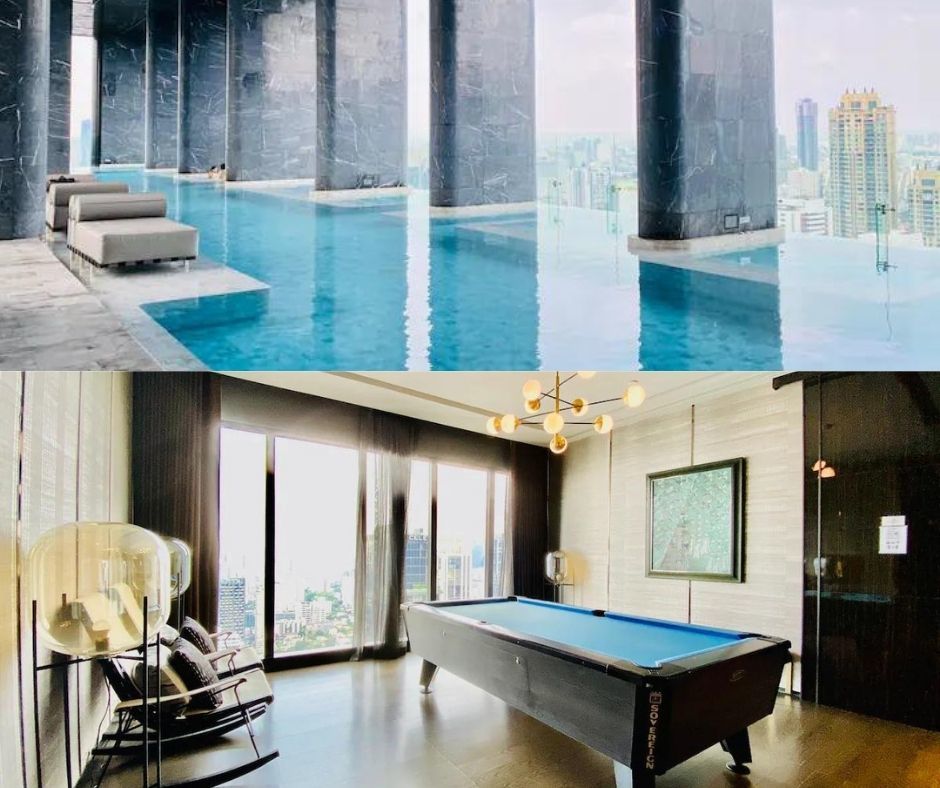 This is 7 star luxury at its affordable best! You will be pampering yourself with this one . This 1 bedroom apartment on the 42nd floor boasts of beautiful city views, modern amenities, access to gym, roof top patio, pool, club lounge. It is a 3 min walk to Terminal 21. Within a walking radius of 5-10 minutes you will find yourself in Korean Town, Sou Cowboy, Bars, restaurants, Night market, Nana Plaza, Benchakitti Park.
The hosts provide free pick up from Airport and downtown & Airport transfer at a reasonable price.
Cost: 3,680.00 INR ( 1 bedroom, 2 guests, 1 bath)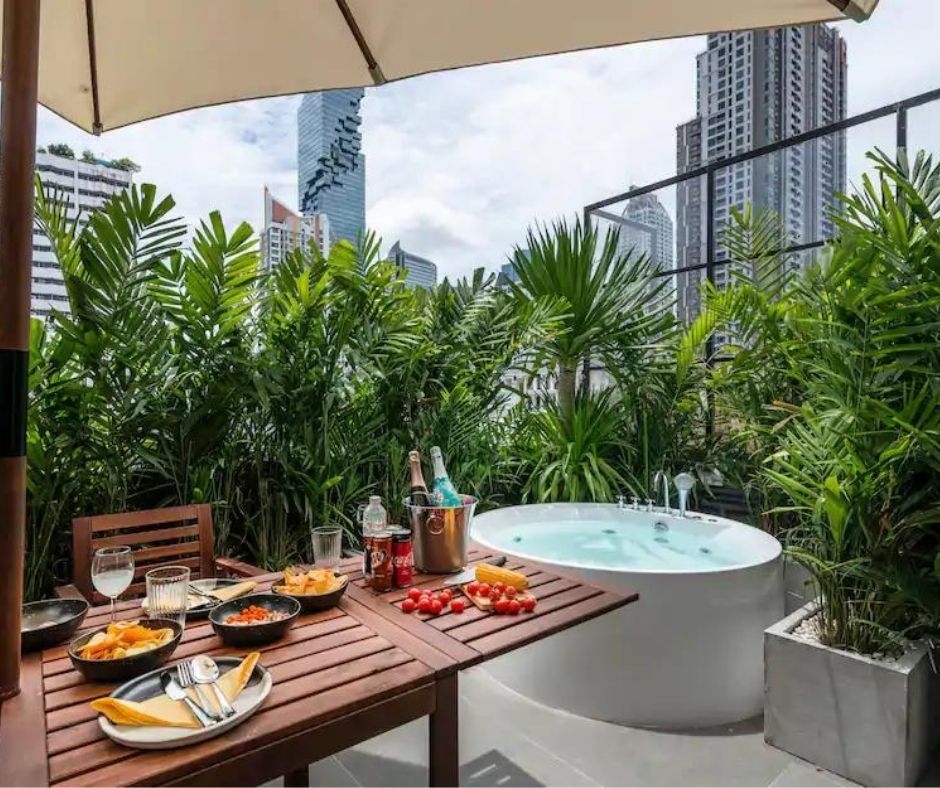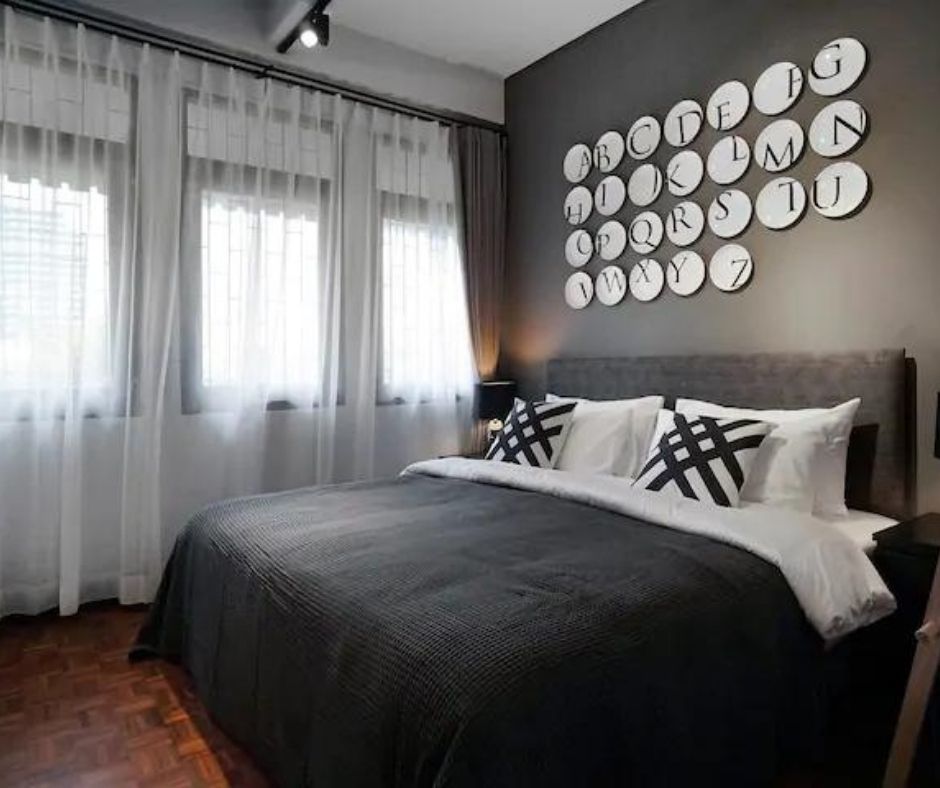 This top floor suite with rooftop outdoor furniture and an outdoor jacuzzi offer a very unique & special experience. To lay in a jacuzzi and look up to see the limitless sky can be so therapeutic.
Well located in the city. Note that the 4 floor building does not have an elevator. This aesthetic condo very much gives you the Bangkok experience with its private jacuzzi, which is definitely the chunk of the cake apart from the well thought of amenities and support present. When you book a unit you have the entire floor to yourself.
Cost :8,850 INR ( 2 bedrooms, 2 baths, 4 guests)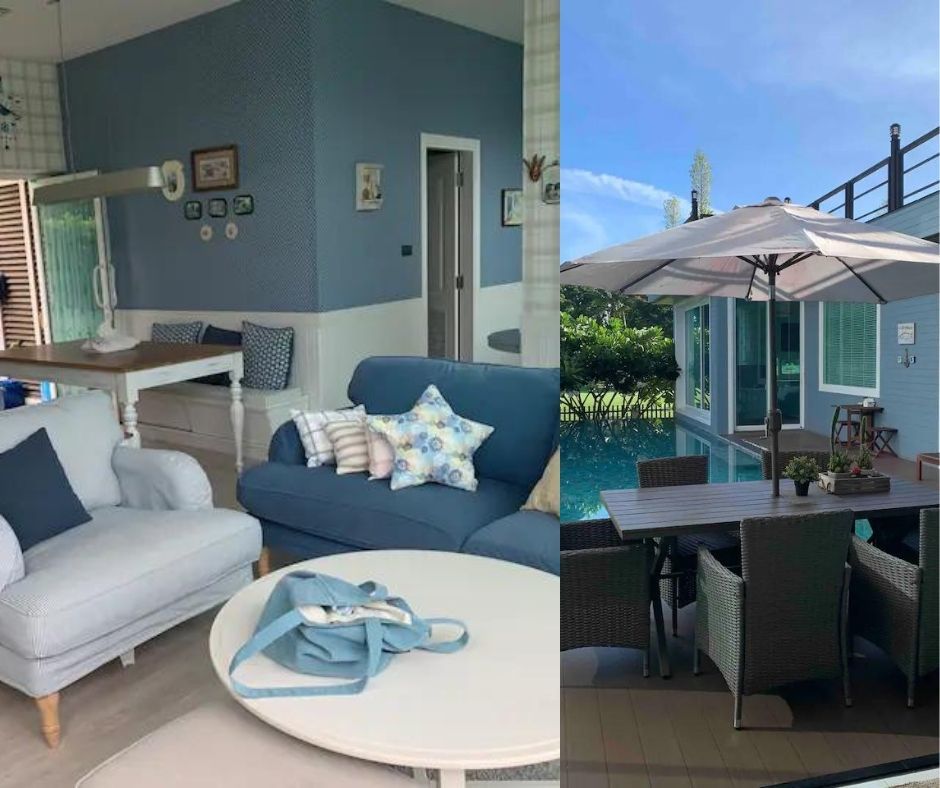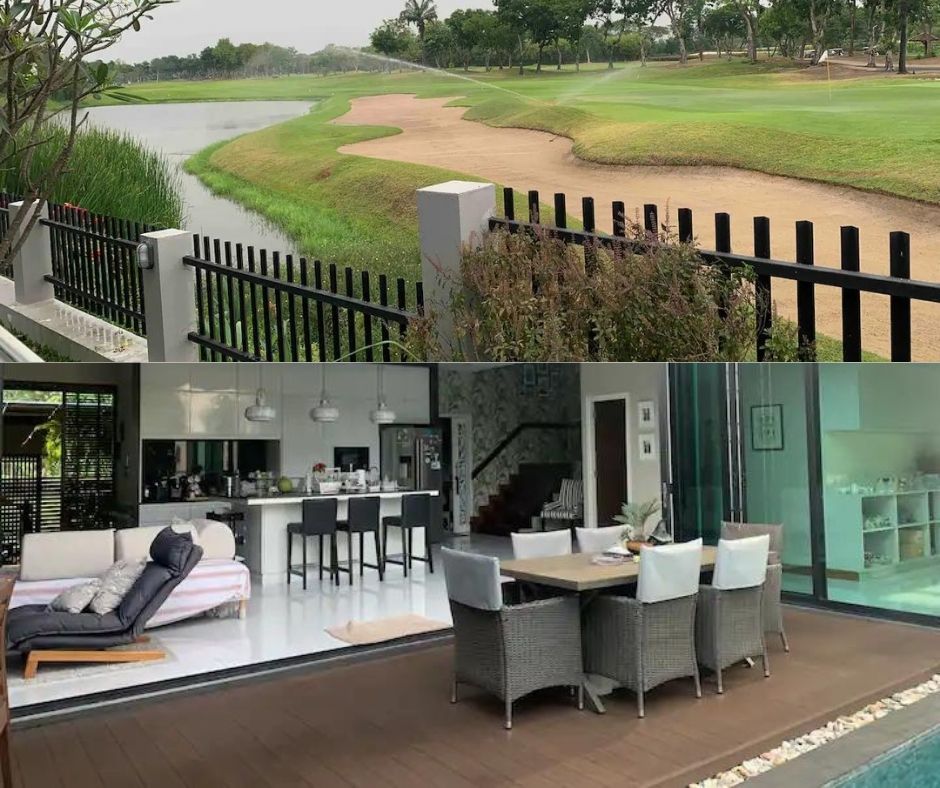 Homely and cheerful rightfully describe this place. Clean and elegant with a private pool and right next to a golf course! How lovely is that? Cute modern interiors with the quintessential Bangkok experience and a bit more, feel at home in this special place with all necessary amenities to cater to every little need of yours . Located in Khet Khlong Sam Wa, suitable for a small family you will be woken to a delicious breakfast by the kind host.
Cost : 5,533 INR per night ( 1 bedroom, 1 bath, 2 guests)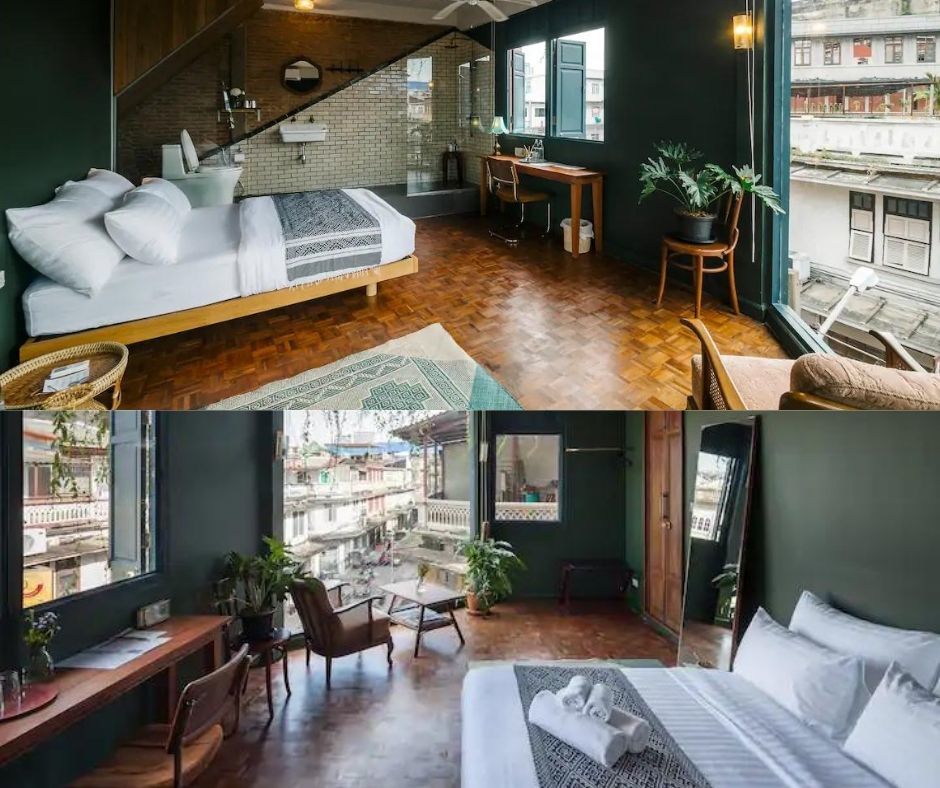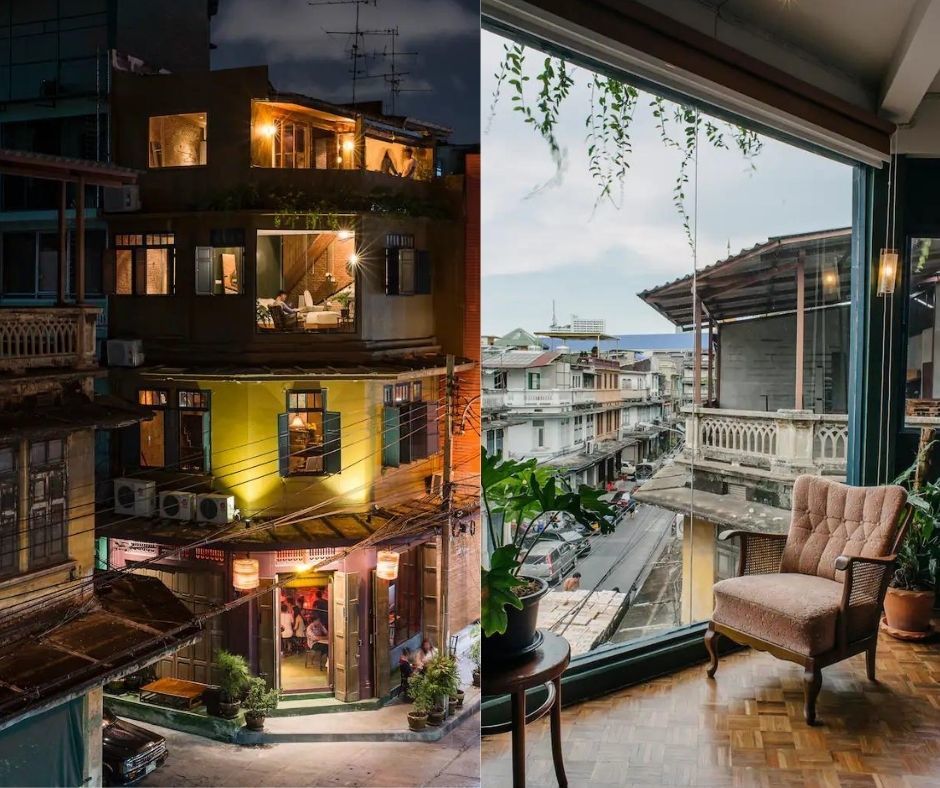 This magical building has a bar on the ground floor and the condo on the 3rd. Sitting on the couch gazing out on to the "not so special, just the usual yet intriguing to a visitor street". The more you look at the regular people walk up and down the street go about their business, the more you will want to feel part of the inside life. This quarter has that kind of a vibe. The apartment over looks the vibrant "Soi Nana" near China town. We love that the place is a refurbished form of a 40 year old Thai shop house. The building has retained the Oriental quality. So even without a pool or the frequent gym this accommodation has something special, something irreplaceable to it.
The 2nd and 3 rd floors have some common shared amenities like the TV room, the kitchen, balcony, respectively. Book this accommodation and live the Thai life in this house that carefully preserves its 40 yr old elements and yet is renovated to suit the modern taste.
Cost : 7,211 INR per night (1 bedroom, 3 guests)
Spoilt for choice, aren't you? Even if Bangkok wasn't already on your list, maybe you'll start planning things now, just to check out your favourite Airbnb and make it your home for a few days.
Think we missed out on something? Tell us about it in the comments below. Or write about it here on Tripoto.