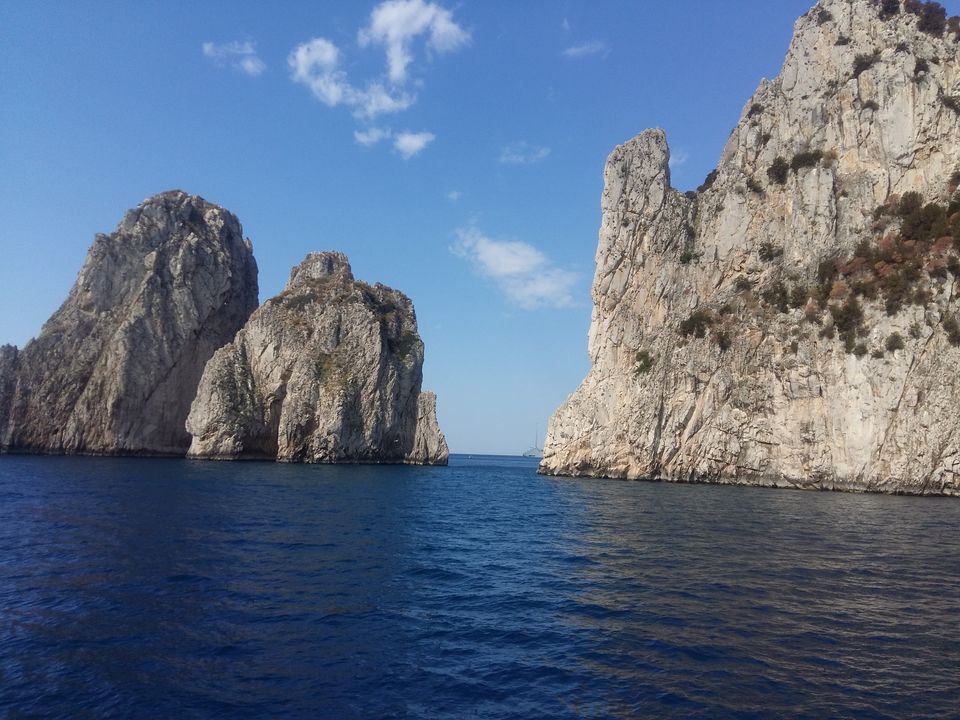 The fabled amalfi coast is one of Italy's most famous attractions. Starting from sorrento it extends upto salerno and beyond with spectacular sea views that are hard to match. For those with a penchant for history, the ruins of pompei are an added incentive. Here's a guide on how you can visit this unmissable part of Italy.
Naples and Pompei
The best way to reach naples is by train. Trenitalia and Italo both italian train networks have an excellent network between all major italian cities. We took the italo from Rome which takes just an hour to reach naples. Book ahead for cheap fares as low as 9 euros one way. Naples is essentially a gateway to the amalfi coast and nothing much to do here except eat pizza!(assuming you have had your fill of museums in rome and florence!) If you dont want to brave the crowds at Da Michele go right around the corner to pizzeria trianon a spacious place with awesome pizzas and unlimited coke or beer. You pay for the first round only. The buffalo mozarella pizza is awesome. From naples the cheapest way to reach the ruins of pompei is to take the circumvesuvania commuter train. There is no reservation required and seats are a free for all. The trains run approximately every 45 minutes and take about an hour to reach. The ruins are directly opposite the train station. Allot at least 4 to 5 hours to cover the place. There is an excellent audio visual playing at the visitors centre. Do watch it before you enter. Signage is inadequate and all in italian so its best to take a guide. Try and get there early as its all open and gets hot even in early summer. A good idea would be to get into naples a day earlier and leave for pompei the next morning.
On to Amalfi
The circumvesuvenia train runs upto sorrento from where there are regular bus and taxi services to amalfi. There is also a bus service from right outside the ruins to amalfi and its best to take that if you are staying in amalfi. The entire coast is spectacular and you can stay anywhere between sorrento to amalfi and the smaller places like atrani minori etc. If you dont have your own transportation its best to stay in sorrento or amalfi as the bus services beyond amalfi are infrequent and can get quite crowded. Amalfi is charming with many resturants and awesome gelato and the famous limoncelli !Take a bus ride along the coast from amalfi to sorrento for spectacular picture postcard views. I wouldn't recommend driving as you then have to keep your eyes on the road at all times! Amalfi is also the starting point for the walk of the gods trek (Details in another post). Capri and the unmissable blue grotto is a perfect half day trip. There are many services and you can book ferry tickets from any agent near amalfi bus stand. Its a beautiful island surrounded by turquoise blue sea and soaring limestone arches. The blue grotto is an all too short but breathtaking experience. Tickets for the grotto cost 14euros(adult) and are available outside the grotto itself. You can get there by the local bus service easily. Sometimes the grotto is closed during high tide but do check for yourself as tourist office information can be unreliable. There is a nice cable car ride for birds eye views of the island. The best time to visit would be around april /may as the weather is good and most ferry services also start around this time after winter. July and august are avoidable as the weather is hot and entire europe is on vacation and local services are stretched to breaking point. Three to four days is perfect for a trip to amalfi.