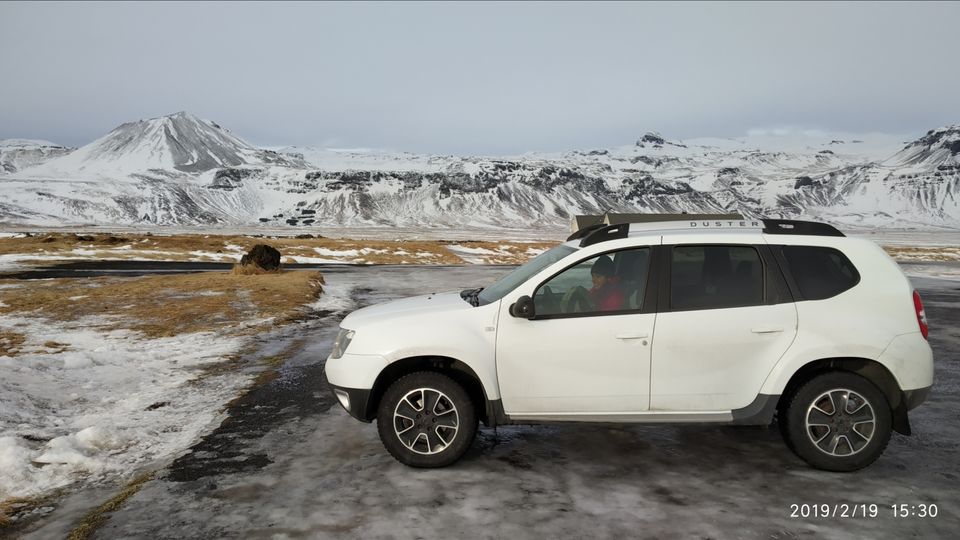 This trip to Iceland was a first for me on many levels!
Number 1- it was my honeymoon,
number 2- it was arranged solely by us,
number 3- it was a road-trip abroad in unknown and foreign lands
First time for everything right! Haha. So first things first...
A) THE PLANNING
The planning starts with 2 things-
1. Which season you want to see Iceland in?
2. If you want to do just sightseeing or see the northern lights?
Iceland in summers (may to September) offers daylight till almost midnight which also gives you more time to explore the country. There's greenery at places, the waterfalls are not frozen, driving conditions are good and restaurants are usually open till late so food won't be an issue. The downside is it is more crowded during these seasons, chances of Northern lights are less due to less night time, accomodations may be expensive and no ice caving (coz the caves are flooded)
During winters (the rest of the months) you can expect it to be less crowded, snowy ice capped mountains and even greenery in parts, more chances of seeing northern lights (though it's entirely dependent on the weather), ice caving and slightly cheaper accommodations. The downside- sun rise is very late and night falls early so daylight exploring hours are limited, driving conditions are bad at times (wet or ice covered roads), road closures are very common and restaurants in distant places may close up before their usual time.
Whichever season you want to visit in, the planning should start pretty early, say 4 to 5 months early atleast (though you can do it in lesser time too, though more stressful).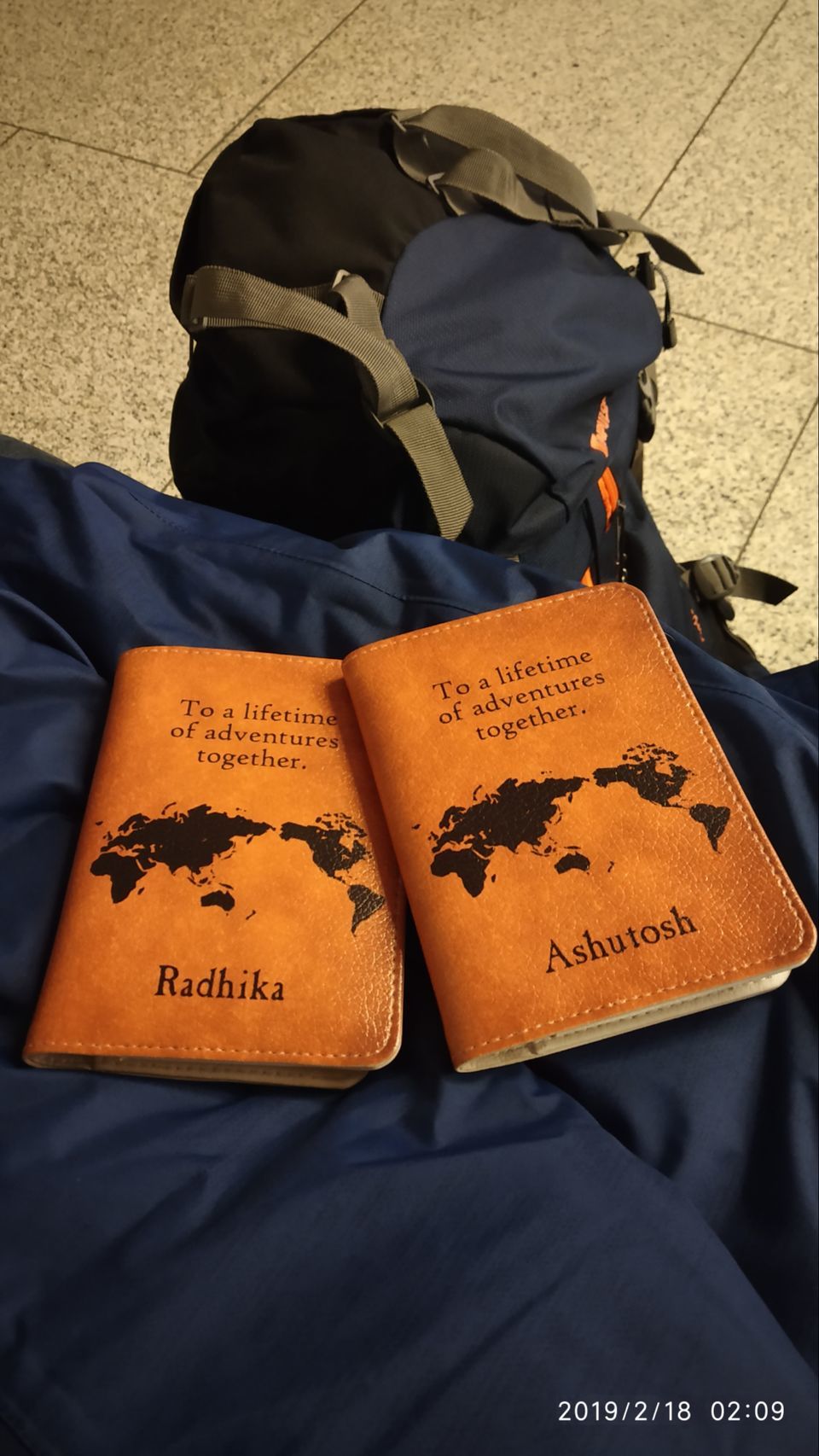 We visited in the second half of February, and our planning had started since September the previous year.
1. Decide on a tentative itinerary
We had decided to explore the snaefellesness peninsula, golden circle region and take the ring road till the vatnajokull glacier (That meant the South and West of Iceland). We had read in multiple blogs that the north and eastern parts were not safe to drive in the winter seasons. For the south and west 8 days in your itinerary are usually enough.
2. Book flight tickets
We had booked our flights from Delhi because they appeared to be a cheaper option than booking from Mumbai. Finnair operates flights from the Indian capital to the Icelandic capital, Reykjavik with a layover in Helsinki. Return flight tickets cost 38k-40k per person.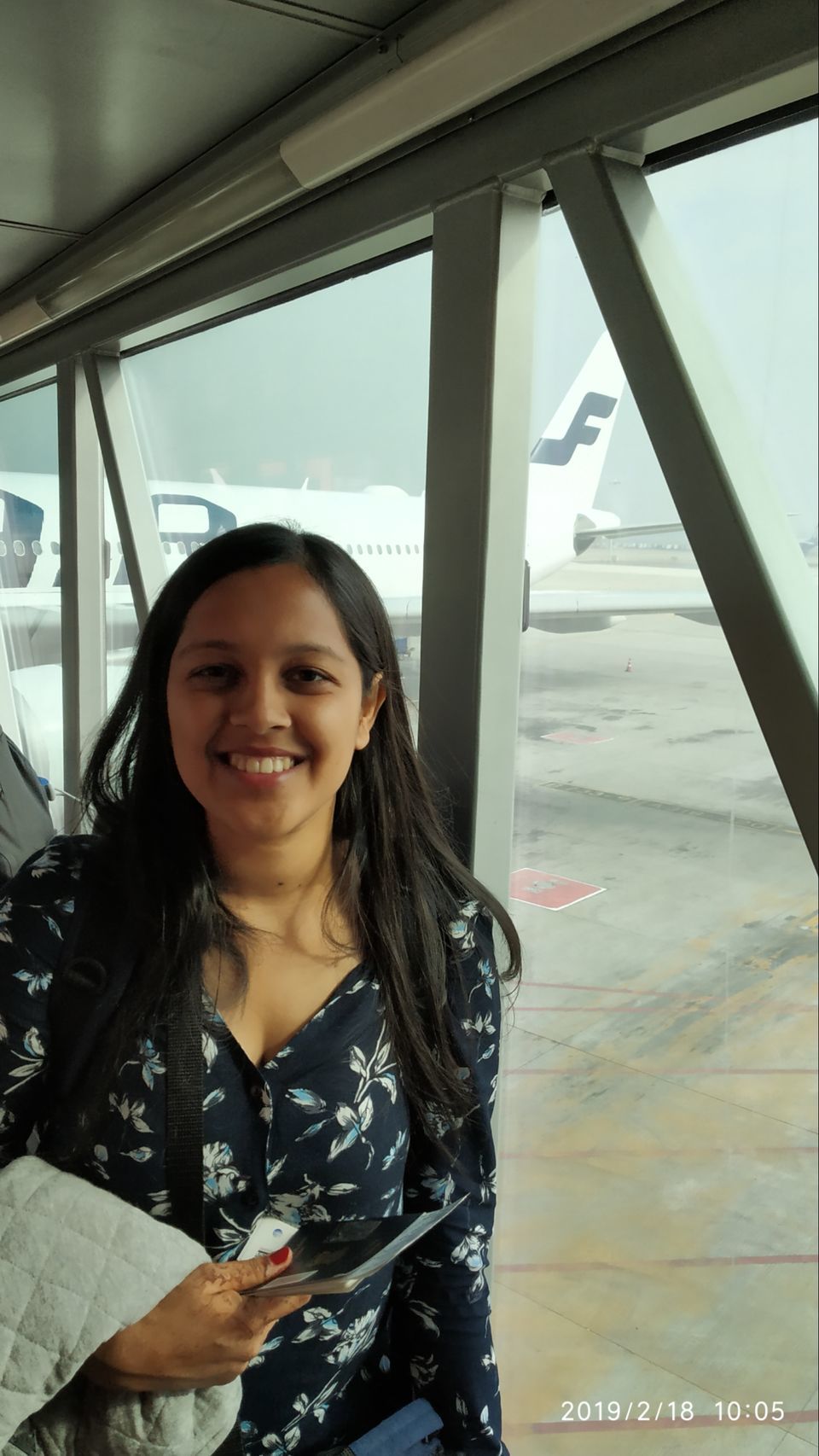 3. Book a rental car
The best way to go about Iceland is to do a road-trip. The roads there are in pretty good conditions, less traffic (pretty much non existent in the peripheral regions), and pretty easy to drive on. There are many car rental companies to choose from, but we had booked through Blue car rental. Why? Because it was the cheapest option among the lot and they do offer discounts and perks if you mail them beforehand. I'll be writing more information about the car rentals later because that's a whole other topic.
4. Book hotel accommodations according to your itinerary.
Some people might want to relax and stay in one place for more than one day and explore the surrounding region which is perfectly fine to do here. Some people just keep Reykjavik as their base and do all day tours from here.
We had decided to be on the road everyday so had to decided upon towns and accomodations in different places everyday.
Booking options to choose from are booking.com (all they need is credit card info), MakeMyTrip.com, godoproperty.com etc in addition to the tons of other options online. Compare the prices and just book it! One site which I want to mention specially is bungalo.com, especially for those looking to book cottages in the countryside.
5. Apply for Iceland visa (Schengen).
Applying for visa is totally hassle free. For an Iceland visa you have apply through the Danish embassy (as Iceland doesn't have its own thing). Just go to VFS global website, check what documents are needed, create your id, book an appointment and visit the centre. Even if you haven't done half the things on your check list of documents the staff there is more than happy to help. It takes nearly three weeks to get the visa.
Link- http://dk.vfsglobal.co.in
Once you get the visa you are all set. Time to start the next process!
B) THE SHOPPING-
Obviously Iceland is a cold country, just like the people there say- either its COLD, or its BLOODY COLD!
1. Clothing-
Shopping for warm clothes is essential- look for thermals, jackets, fleece pullovers, warm pants, mufflers, neck warmers, gloves, warm cap, woolen socks, waterproof warm shoes.
Keep in mind it can rain at any time of the time so buy jackets and gloves which are waterproof.
In case you plan to visit the many hot baths scattered over Iceland buy swimwear and quick drying towels.
One stop shop for all these things is Decathlon (The only downside is they don't have colourful jackets). Or you can try buying stuff online from Amazon too!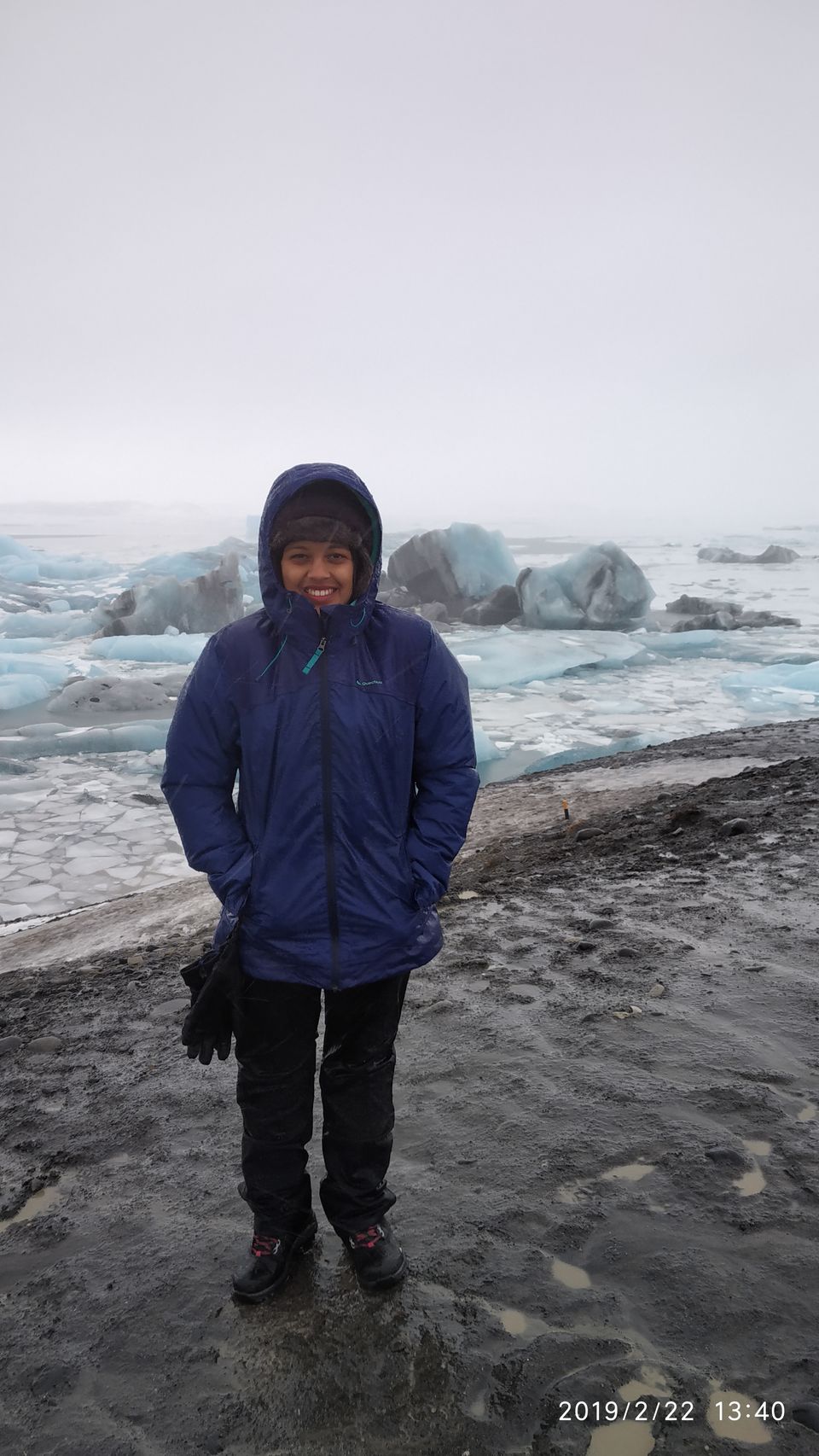 2. Accessories-
Crampons (obviously there's gonna be icy surfaces to walk on like anywhere), day backpacks, water bottle (to drink the Icelandic water anywhere on tap, it's that pure, directly from the glaciers!), your cosmetic kit which must include a moisturizer and lip balm, and hair dryer for the ladies (though a hair dryer is provided by default in almost all hotels there)
3. Electronic accessories-
The cold weather is bound to take a toll on your batteries (phone and camera both) so include a powerbank for your phone and extra batteries for that Go-pro and drone. If more DSLR photography is what you do then include batteries for that too. Camera tripod, and selfie stick are other things you might need. The most useful thing I used for this trip was the usb charging hub from tp-link, you can connect 5 usb cables to it at a time and the charging speed is pretty good for all ports (go pro charger, phone charger, power bank, portable WiFi unit, drone charger). The electric socket there is a 'type- F', So all the two pin plugs from India work just fine there!
4. Food-
Overzealous people would want to buy coffee and tea premixes, soup sachets, ramen, and other eatables from India and take them all the way to Iceland (to eat it there of course!). My opinion, don't do it. We literally carried all this stuff and ended up bringing all of it back, just like that.
There are plenty of grocery stores in Iceland, chains like Bonus, Kronan, Netto etc. You can find everything you want here at cheap prices and plus you get to try all that Icelandic stuff too (like skyr and berry jams). And they even have readymade meals which you just have to microwave and eat (for those days where you don't get breakfast, like in cottage stays)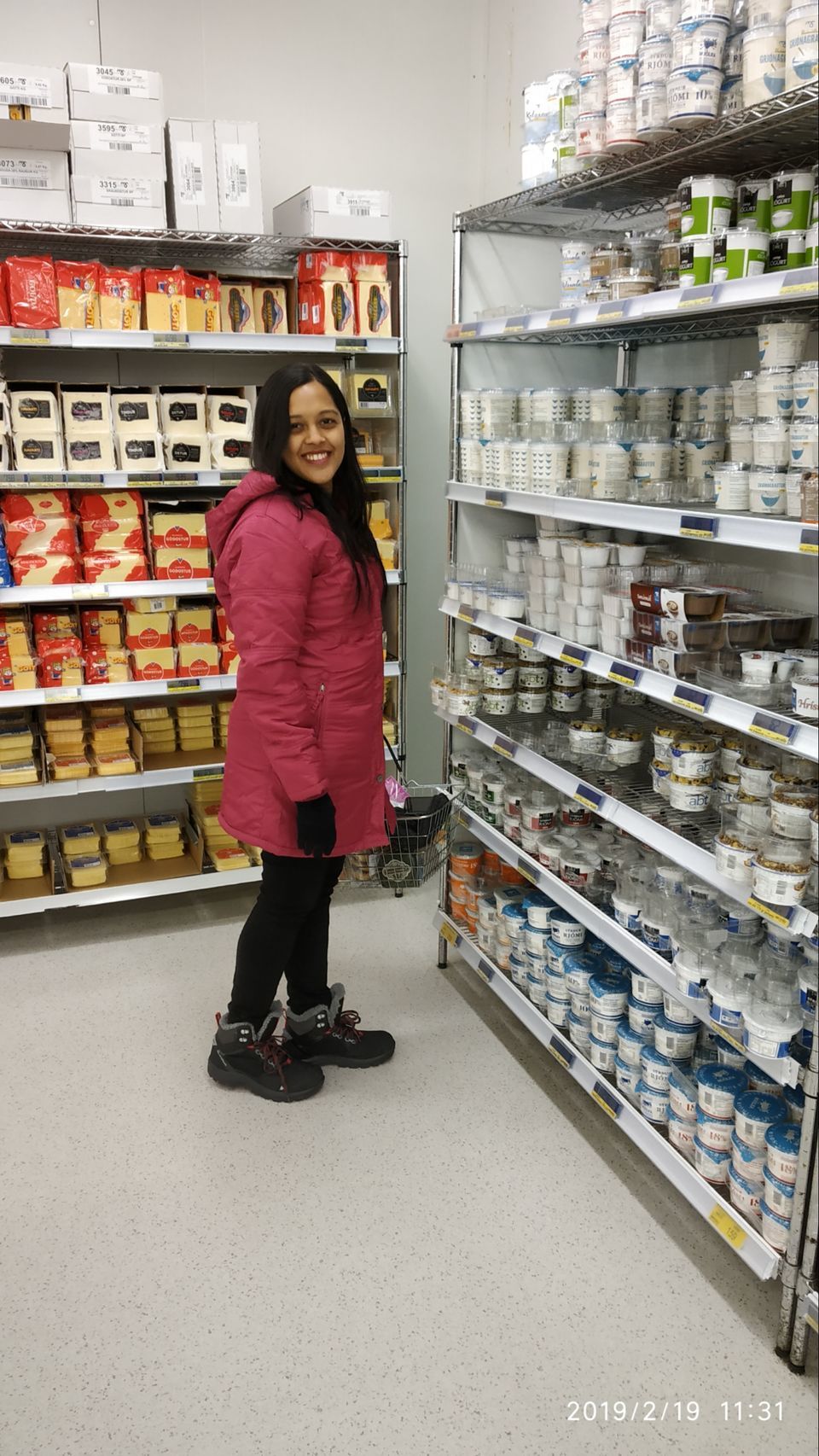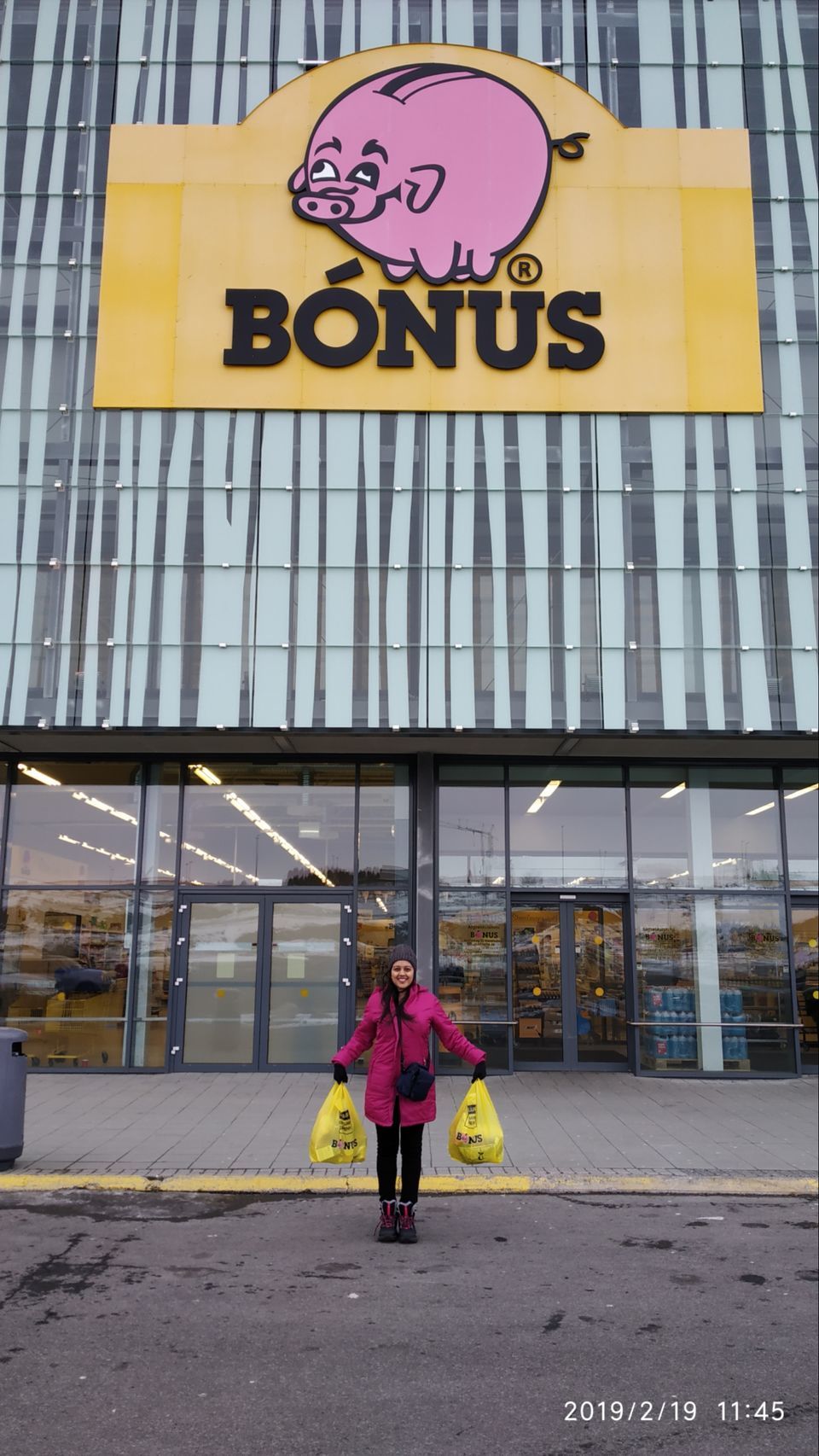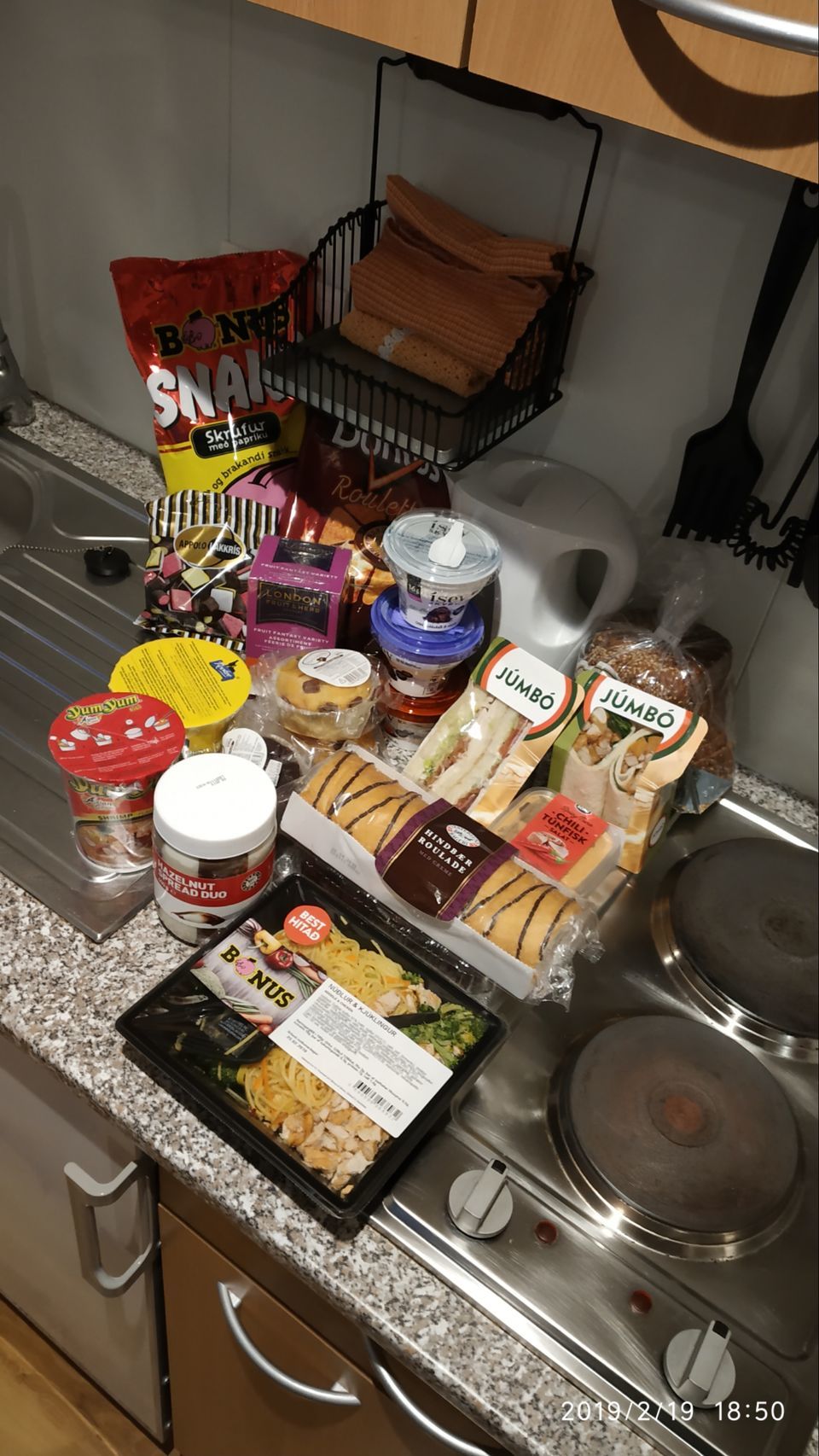 5. Alcohol-
Buy alcohol at the duty free store right next to the baggage claim area at the airport (the cheapest option). Otherwise alcohol is available in Iceland at restaurants and state run shops called Vinbudin and is on the expensive side. Though you can find lager beer at places like Kronan (6 pack of Viking lager beer 500ml for 450-500 ISK, 300 INR).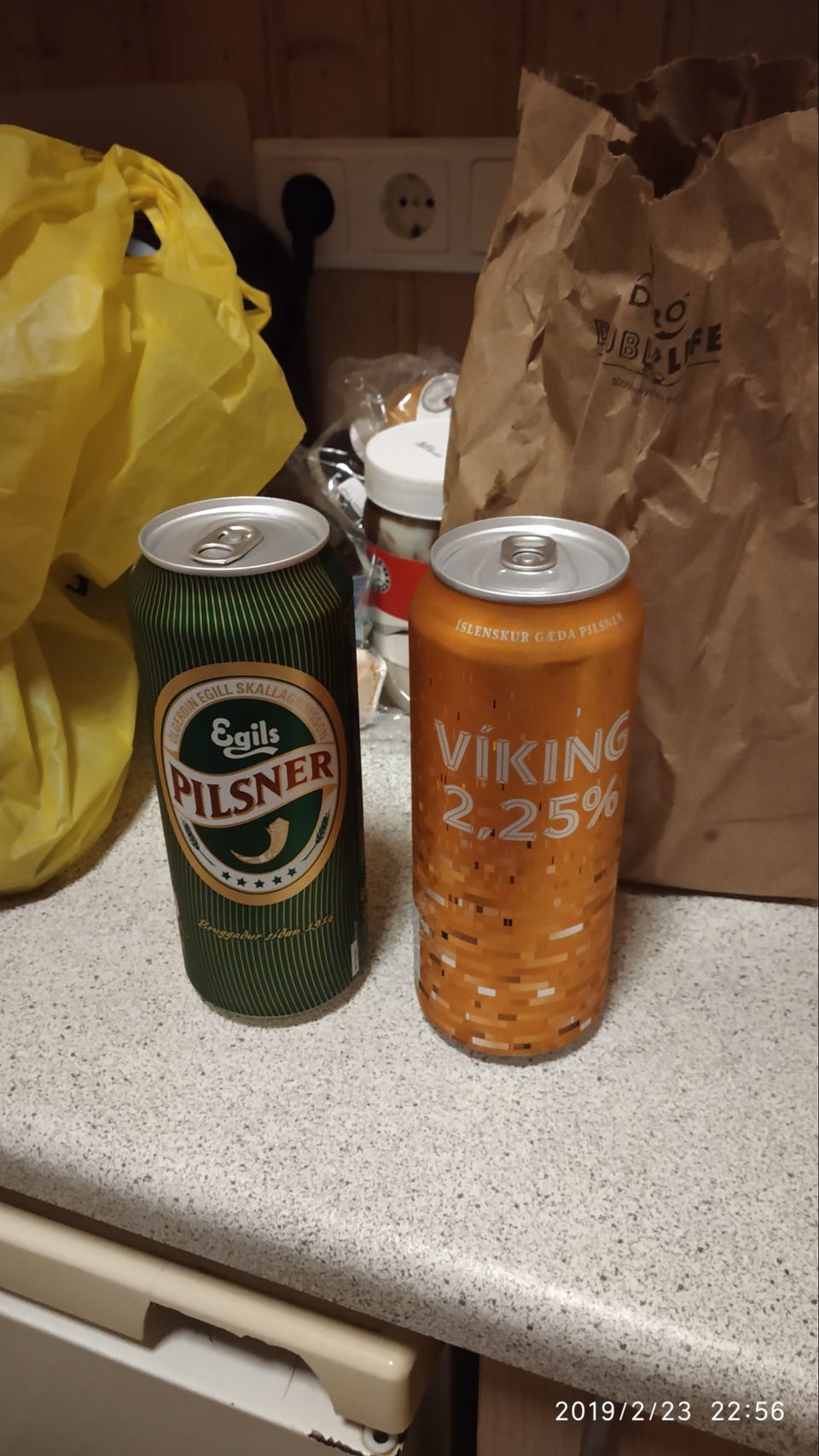 6. Packing-
Packing light is the rule. Remember this, especially the ladies, no matter what clothes you wear, all your photos are gonna show you with the same few jackets and scarves on, at all the places. So limit the amount of clothes you carry, because you are gonna get stuff back from Iceland too, keep space for that!
C) MONEY WISE!
Iceland is an expensive country. Like literally it's too expensive (an average meal for two at a fair enough restaurant will set you back by a minimum of 6000 INR without alcohol, and you'll end up complaining the food isn't that great either, haha)
Iceland is a relatively paper currency free kind of place, that means electronic means everywhere. Considering that, a forex card is your best bet to pay for all the things there. Like they have card machines for paying for your car parking and places where you have to pay to pee. A forex card which doesn't have currency conversion charges is what you need. Most banks in India don't offer the official currency of Iceland- Icelandic krona (ISK) for the usual forex cards, neither do they have the money available in cash. HDFC Bank offers Regalia ForexPlus card, where you top up the currency in USD and they have no currency conversion charges on it. But I am sure other banks offer such cards too, so opt for anyone card.
Link- HDFC bank forex cards
Still if you wish to carry some cash on you (stressing again that you won't need it), turn left when you exit the immigration area after you have collected your baggage, you should find Arion Banki there. That's the place you'll get Icelandic krona!
D) GOING CELLULAR-
You might be tempted to start international roaming on your phone before you go, or to buy a plan from matrix cellular plan and the like (I know how Indians think). No need to spend money in the range of 3k to 5k INR just for that.
Head straight to Iceland, at the airport turn right after the baggage checkout area and you'll see a grocery store there. Go to the counter and buy a prepaid sim. There are mainly three networks there- Siminn, Vodafone and Nova. Opt for Siminn, though it's slightly expensive than the other two, but provides the best network in the country. For 2900 ISK (that's 1700 INR) you get 50 mins talk time, both international and local and 5GB 4G data. That's more than enough for your time there.
Link- Siminn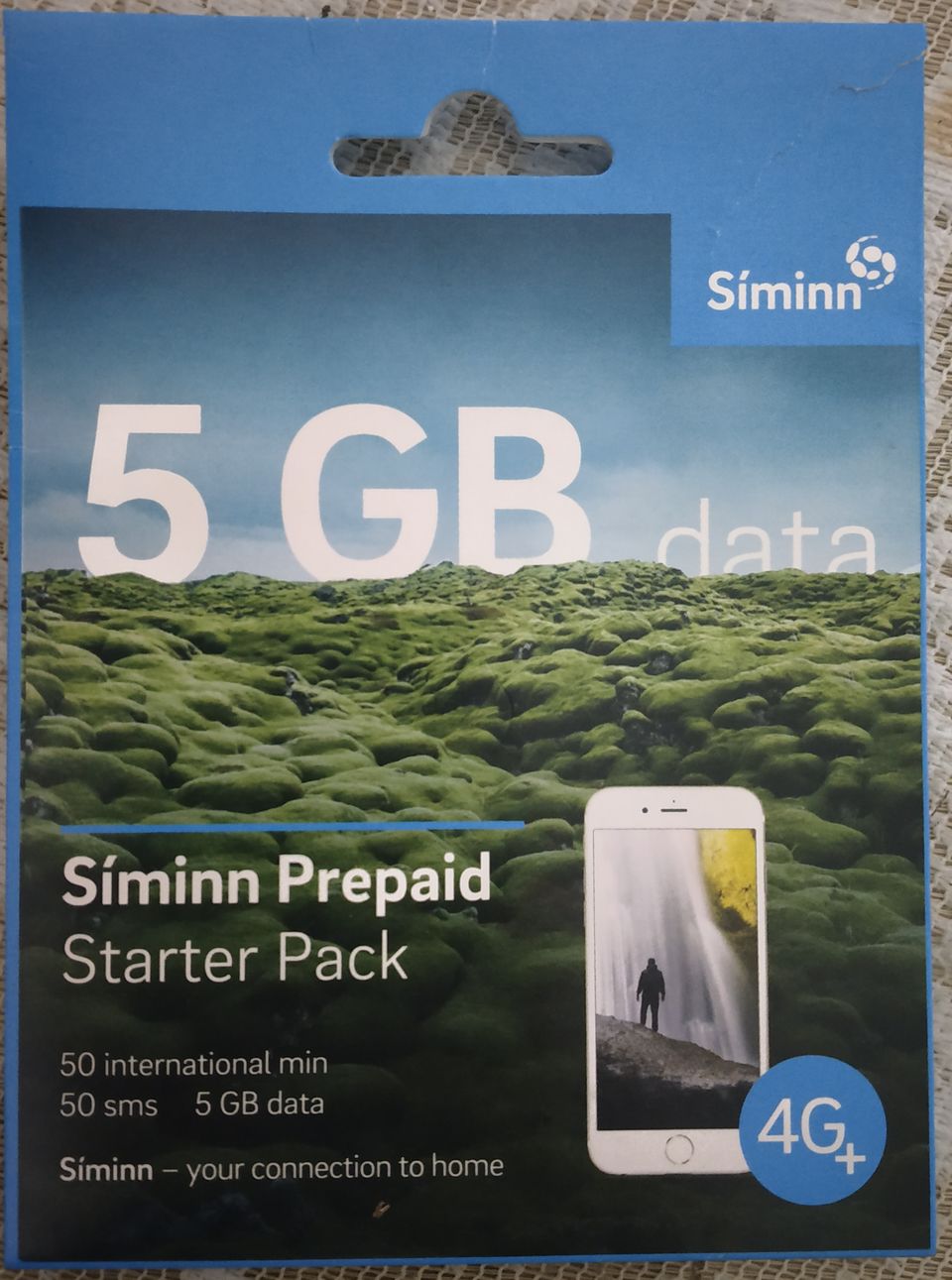 E) CAR RENTAL-
Going about Iceland is the most convenient by car. That's why it's a road trip! It gives the freedom and convenience to plan your own thing and do it at your own pace. And the transport system isn't that great to visit the far off places in the countryside.
There are many car rental options like I have previously said. I'll go into more details now about how to go about it.
1. 4WD or 2WD?
First and foremost, winter vacations call for a 4WD car. Why, if you ask me, because they are sturdy, allowed on all roads in Iceland, are great in a little snow, water and icy roads, have more space (for those extra bags) and will definitely make you feel safer. There were incidences where we saw that the wind was so strong that the car used to wobble, and we were driving a 4WD Dacia Duster there. So imagine what might happen to the more smaller cars.
2. Petrol or diesel?
There is no difference in the prices for both. So you are better off with a diesel car which will give you more mileage per litre of fuel.
3. Automatic or manual transmission?
Those accustomed to driving a manual car (almost everyone in India is) can always opt for one there. The left hand drive of the cars in Iceland was not much of a hindrance and you get accustomed to it in less than a day. I drive a right hand drive car in India, still it was pretty easy to drive around in Iceland. Those accustomed to automatic ones can opt for them but the prices are definitely steep than manual ones.
4. Booking-
Most companies take your bookings by just a mail, or by paying some advance money of your rental. You can be shameless and ask for discounts directly by mailing the company (it works). Once you have reached the airport there's a free shuttle bus there which takes you to all the car rental offices at the airport. Get on it!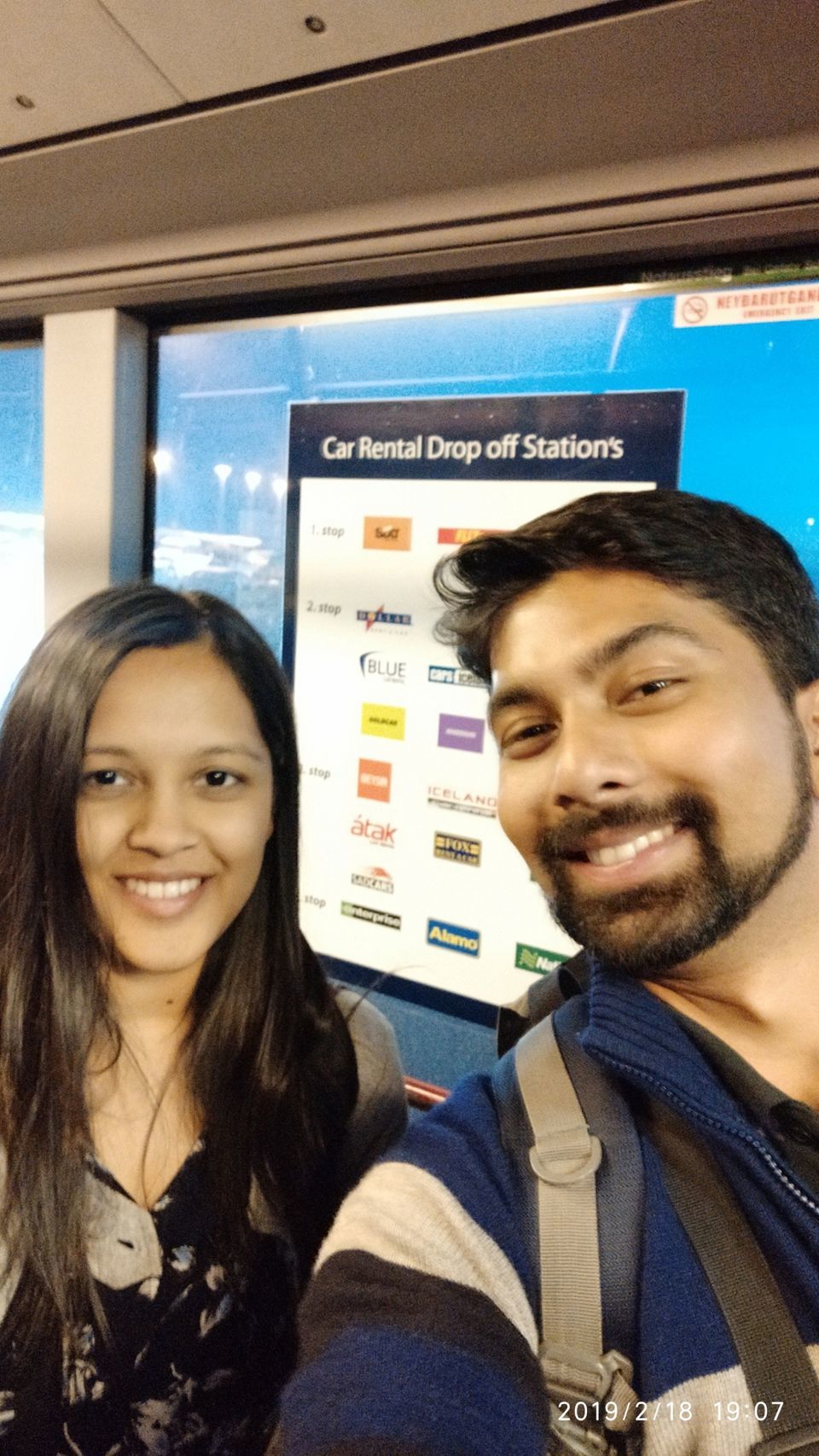 5. Insurances and waivers-
Please note the insurances included like CDW, SCDW, GP, TP, SAAP. preferably take all of them offered by the company, though SAAP is something which is a far fetched possibility, sand and ash protection. More important is the liability waiver, which I would advise everyone to opt for (costs extra money), because you just might not know what might happen to your car, your fault or other's fault, and you might end up paying a hefty amount for something as minor as a small dent. (everything in Iceland is expensive, ahem).
Despite whatever it is, be responsible and not too adventurous, to go offroading.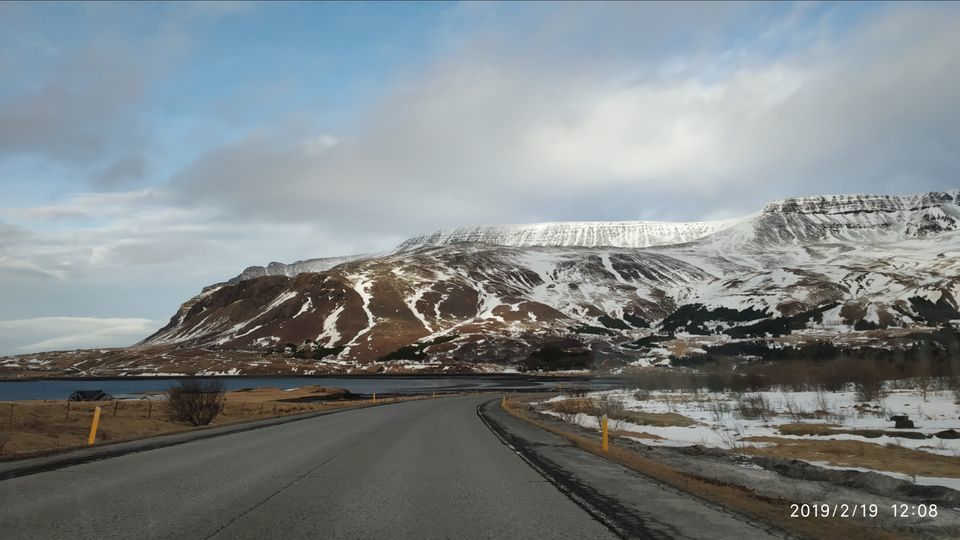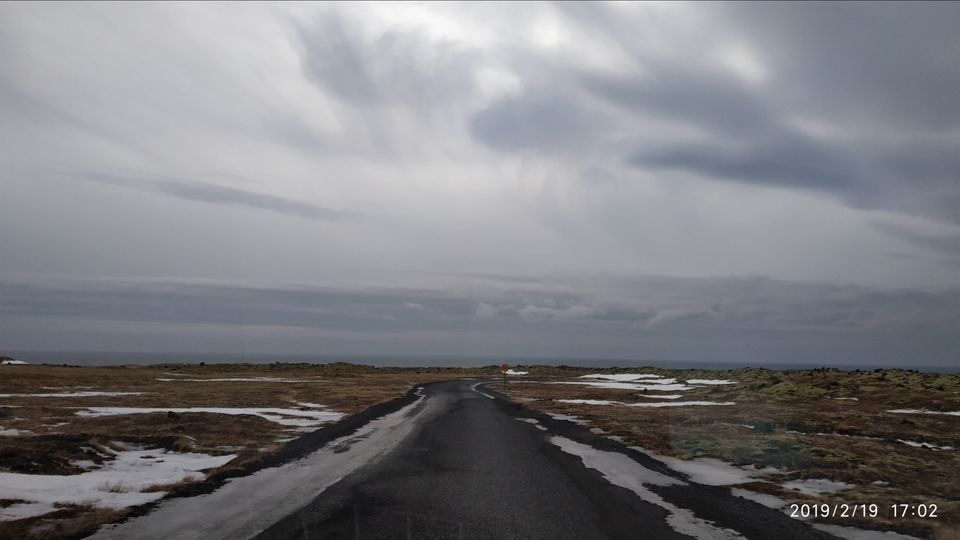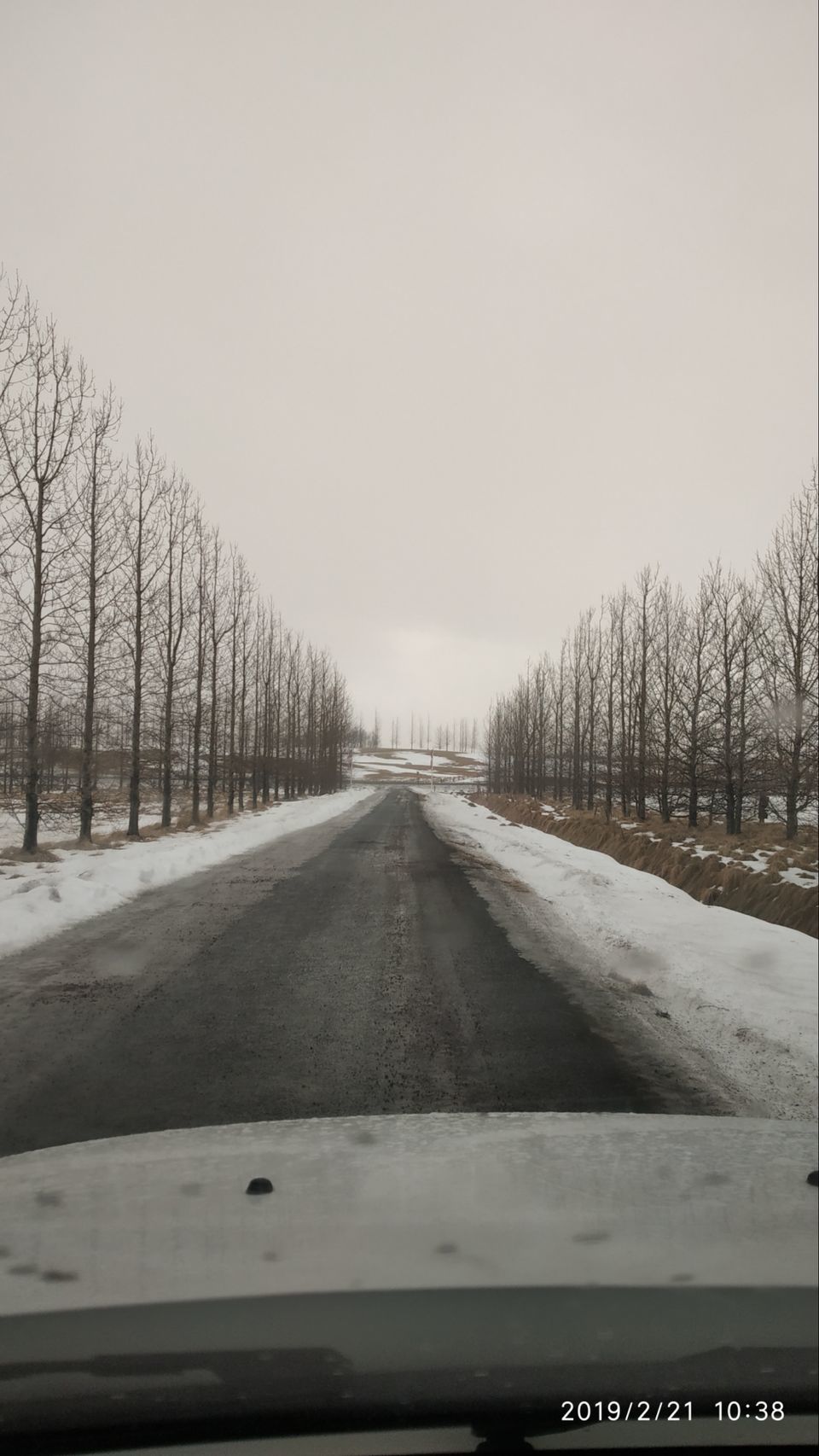 6. Addons-
Have a look at the add ons the companies offer like
a. GPS unit, so you don't get lost ok (though the inbuilt GPS in the Duster was pretty useless and we ended up using Google maps on the phone).
b. portable WiFi unit which is extremely helpful to stay connected, all the time.
c. extra driver, in case there are more than one drivers
d. Bunch of other stuff like gas canisters(to cook stuff), utensils kit(to eat stuff), foldable chairs and tables etc (though these aren't needed unless you are going camping)
7. Receiving the car-
After all this is done comes another important part. While receiving the car make sure you have understood all the terms and conditions of the car rental company before signing it and always click photos of the car when you take it in your possession (from all 4 sides, and at an angle to account for any dents on the surface)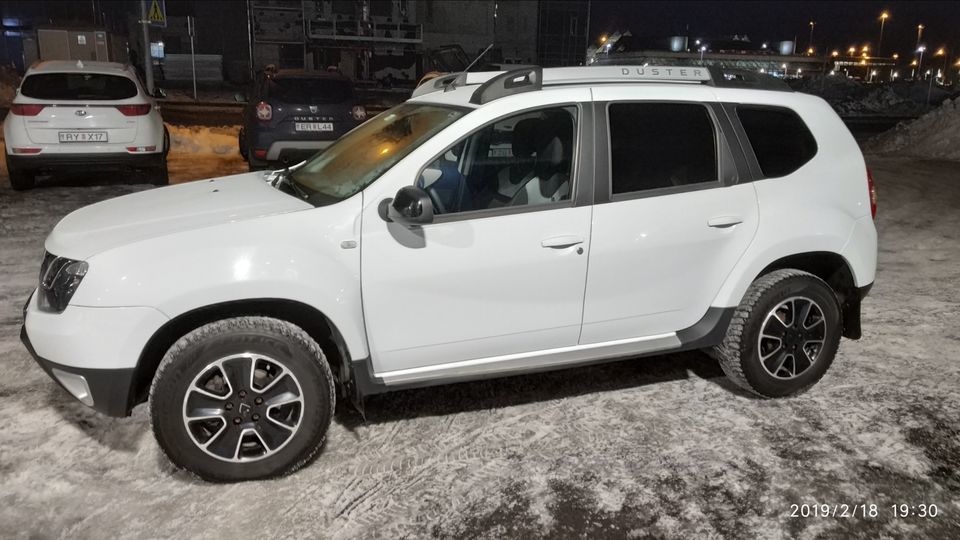 That's pretty much it. You have now arrived in ICELAND, and you are all set to enjoy the adventure of a lifetime! Godspeed...
#iceland , #roadtrip , #icelandroadtrip , #honeymoon , #adventureofalifetime , #nordic , #scandinavia , #europe , #bluecarental , #bonus , #kronan , #netto , #icelanddutyfree , #hfdcforexcard , #siminn , #makemytrip , #booking , #godoproperty , #bungalo , #daciaduster , #decathlon , #decathlonindia , #amazonshopping