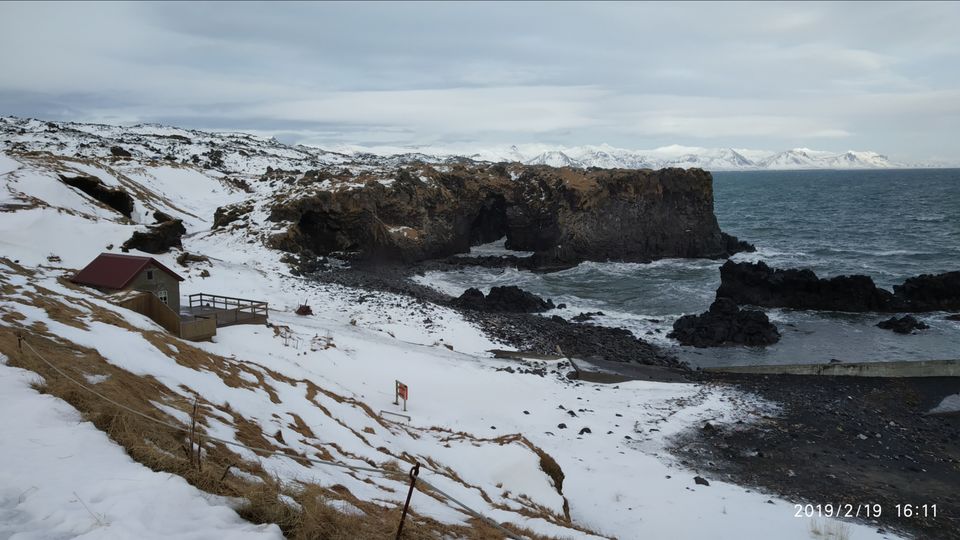 The first day in Iceland was not much of a day technically. We landed at the airport at 6 pm in the evening. It was already dark at that time (given the day light hours are gonna be from 9am to 6pm). After baggage checkout we brought the booze, got a prepaid sim card and exchanged some euros for Icelandic krona.
After that we took the shuttle to the car rentals. The moment we stepped out of the warm confines of the airport we realised what Iceland was all about. The cold. It was so cold.
We received the car and after signing the rental agreements and clearing a few doubts we started for our hotel. That's when we also realised that the inbuilt GPS on the car was pretty much useless. Driving slowly (since I was driving a left hand drive car first time in my life) and following Google maps, we finally reached our hotel (despite missing one turn, haha).
We had booked our first night at hotel Tjarna, located in Reykjanesbær, 10 mins drive from the airport. The hotel is nice, warm and comfy, pretty cheap and close to the airport. It's got a small restaurant called Tjarnagrill and a grocery store right below it. We were also pleasantly surprised to find a hindi speaking dude at the hotel reception!
We had dinner at Tjarnagrill, since we weren't in the mood to venture very far that night. Tjarnagrill has got fish and chips, sandwiches, burgers, fries and drinks. You will note the food in Iceland is expensive, so you should stop bothering about it right about now!
We were too tired from our almost 20 hours journey from Mumbai to Iceland, that we slept off right away.
*Hotel Tjarna- 80 euros
*Dinner at Tjarnagrill- 3300 ISK
*Siminn prepaid card- 2900 ISK
*Alcohol from duty free- 7200 ISK
(That was like 2 wine bottles, one big Jameson and one Icelandic vodka!)
*Finnair flights (Delhi to Reykjavik)- 40,000 INR per person
#finnair , #Tjarnagrill , #hoteltjarna , #bluecarental , #fishandchips , #siminn , #reykjanesbaer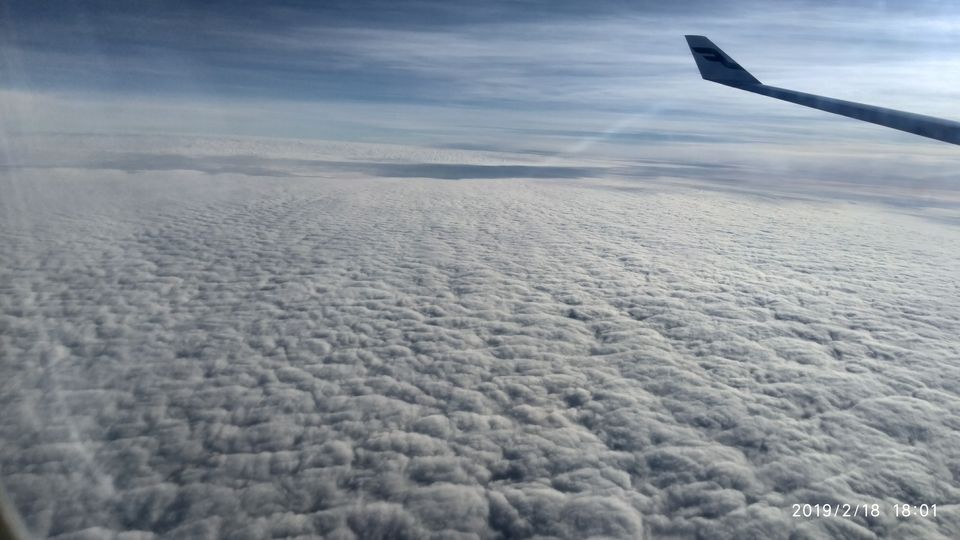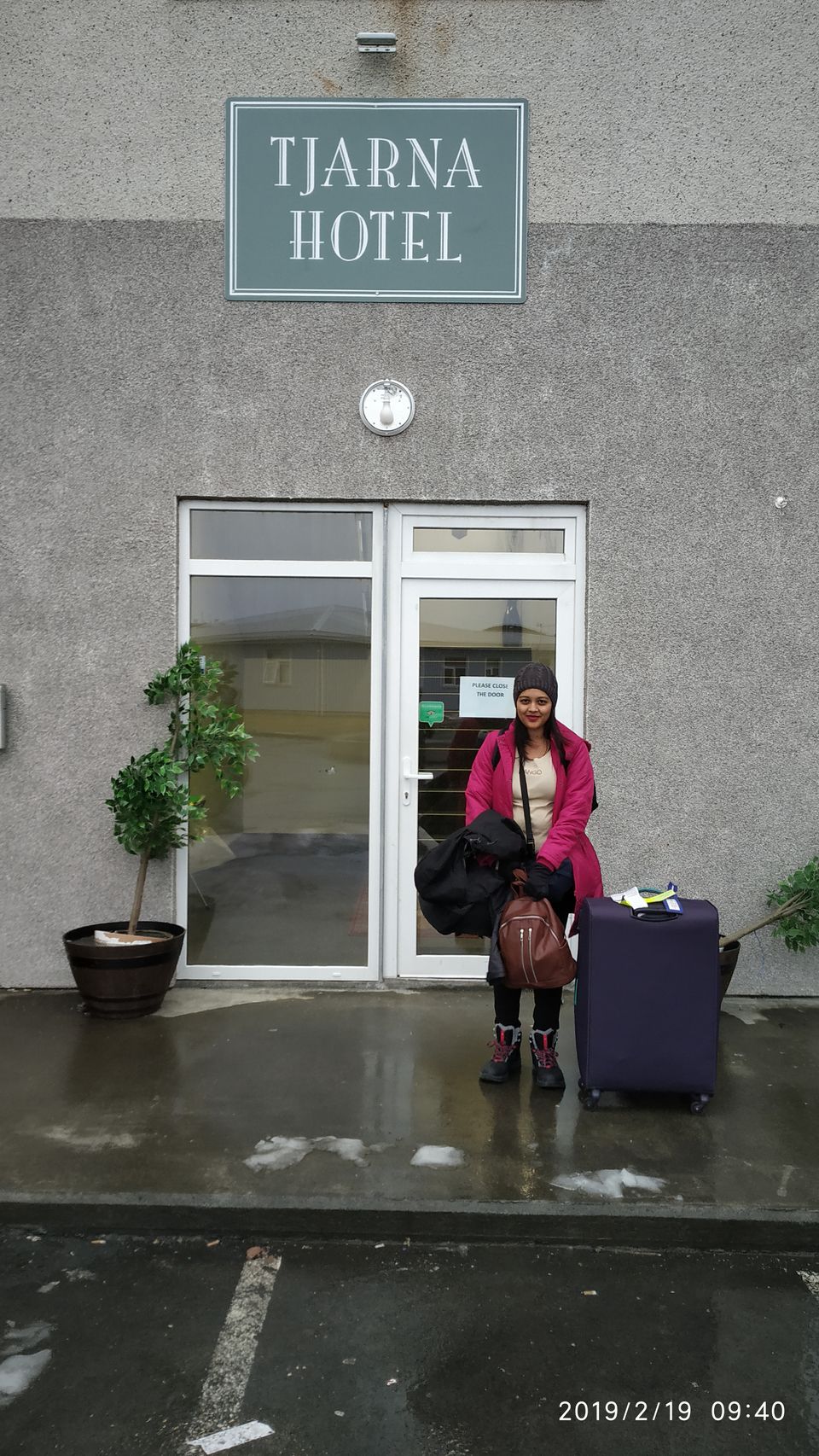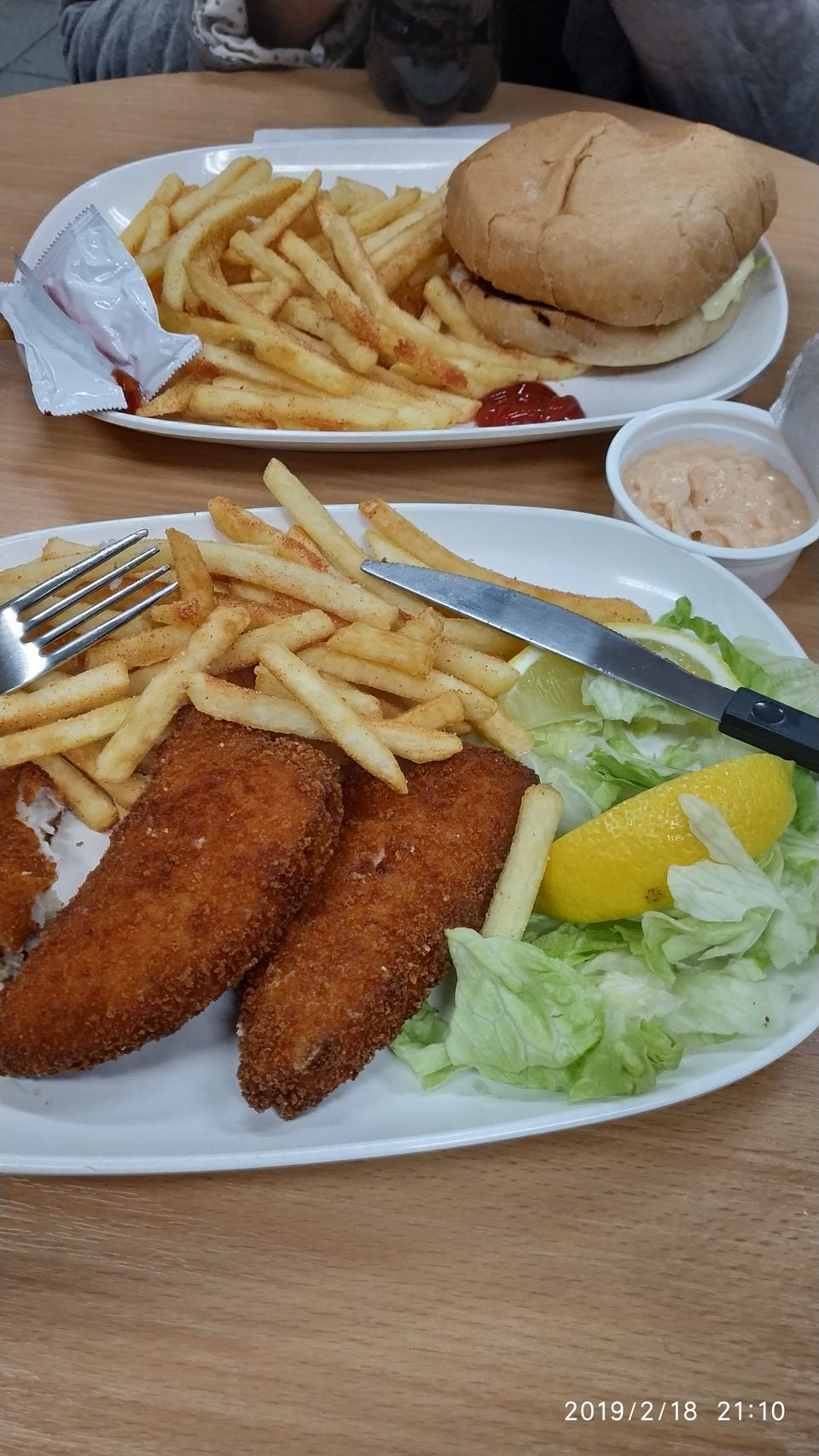 *Transport- Rental car
*Places visited- Snæfellsnes peninsula, Black Church Budir, Hellnar arch, Snæfellsjökull National Park, Djúpalónssandur beach, Kirkjufell
*Driving duration- 4 hrs 15 min / 300 kms approx
* Food- 59 Bistro bar, Grundarfjörður
We got up around 8.30 am and realised it was still pretty dark outside. Sun rise time for our trip duration was 9 am, and sunset around 6.30 pm to 7 pm. Breakfast at the hotel was what you call traditional Icelandic breakfast spread- that means different breads, cheese spread, cheese slices, cold meat cuts, jams/fruit preserves, vegetables and fruits, boiled eggs, flavoured skyr, milk, cornflakes, oats and tea or coffee.
First stop for the day was actually to visit Bonus, the chain of grocery stores in Iceland. There are many bonus stores located in Reykjavik and around, so we picked the one on the periphery of town, which was on our way to snaefellesnes. Shopping at Bonus or the other groceries stores is a very cheap option. You get to pick up all the stuff you need for the trip- picture those munchies as you laze around driving the car, or those frozen meals when there's no breakfast or dinner, or the many spreads and breads and meats! This place has got it all and more...
After the shopping we headed to the explore the Snaefellesnes peninsula. Now the peninsula itself is a small road-trip on its own. And you can start at the bottom road, take it all the way through the Snæfellsjökull national park and then come back through the upper road back towards Reykjavik, in case you are headed to the south, or you can join the ring road to explore the northern parts.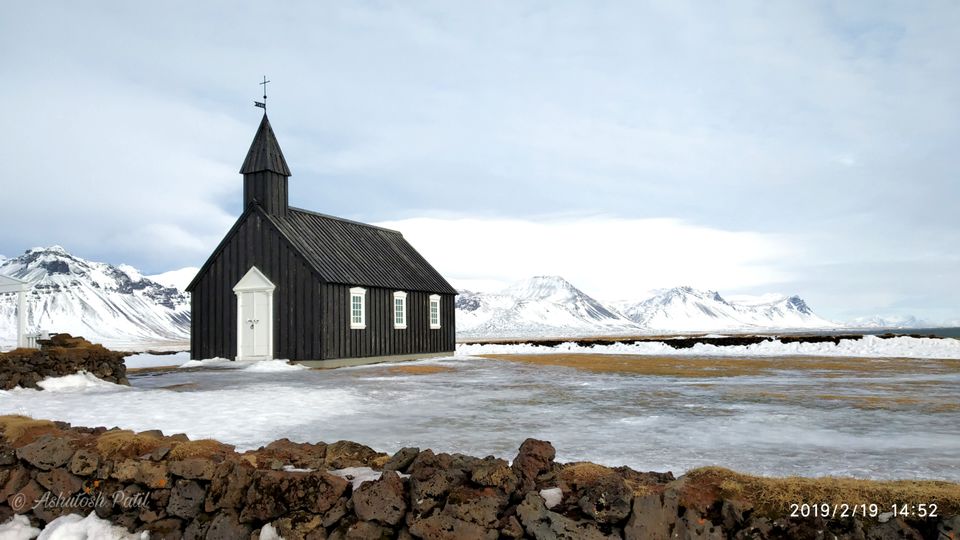 Taking the bottom road the first stop you'll encounter is the Black Church at Budir. Located in the middle of a lava field, this church was constructed way back in 1703 and reconstructed in 1987. Situated just a little off the main road, it sits on a tiny hill bordering the sea, with its very own graveyard in the back. It offers abundant views of the snow covered mountains, mossy vegetation and the blue expanse of the sea on one side. Definitely a photo-worthy spot (but then again that's true for literally every spot in Iceland).
Hellnar arch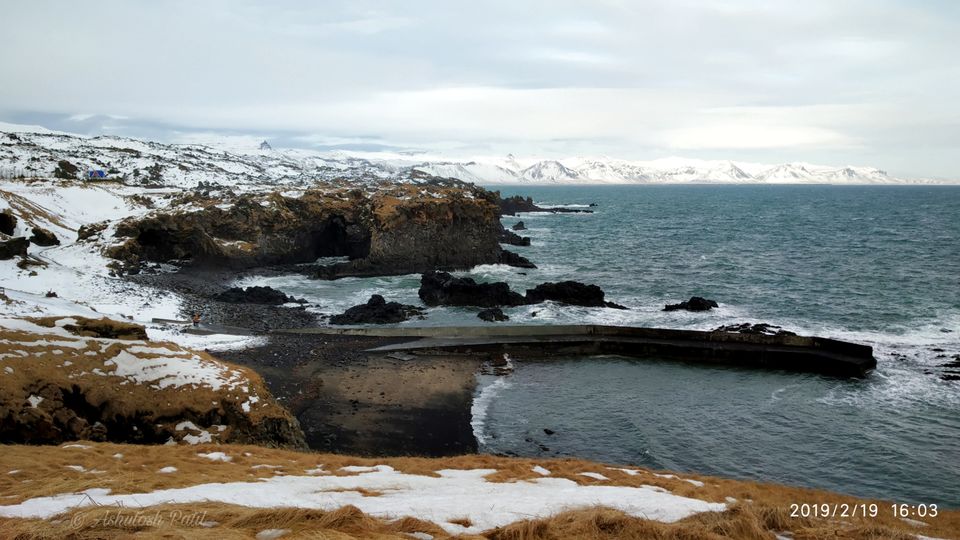 Next up was the Hellnar arch. It also goes by the name Gatklettur rock arch, located right beside the sea, at the tiny fishing village of Hellnar. The waves crashing against these volcanic cliffs are responsible for giving rise to the arches and other patterns on the rock. The area is a site for a lot of varieties of birds but a bit sparse during winter time. The walk down to the arch was covered entirely in snow, more than a feet deep atleast. So we were content admiring the sea and taking our pics from afar! But you can always make the hike, even a hike to the next village of Arnarstapi.
Snæfellsjökull national park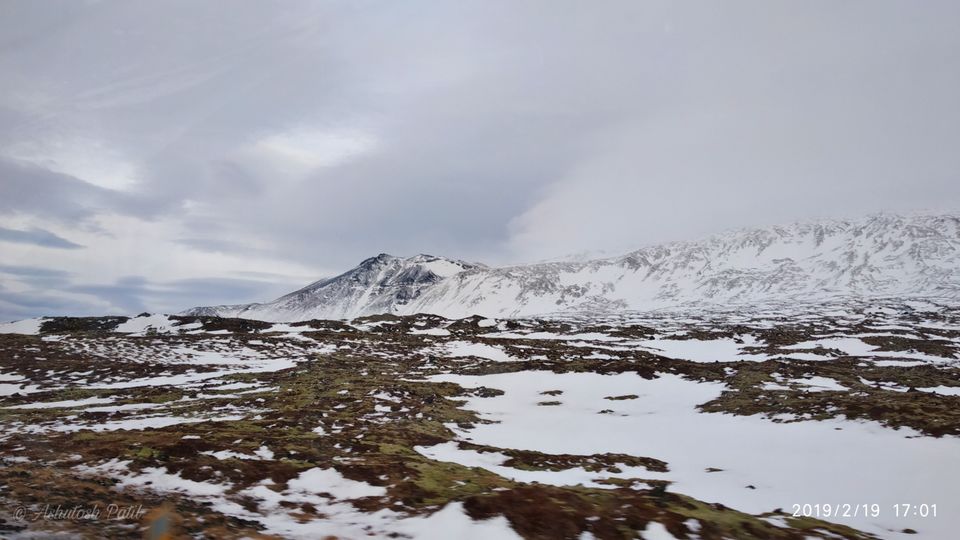 After this we entered the Snæfellsjökull national park located at the edge of the Snaefellesnes peninsula. The scenery changed with more green vegetation and s little less snow covering the region. I haven't described how the scenery changed as we having been driving the whole day. But suffice to say, it's breath-taking every single step of the way, with snow clad mountains in the distance on one side, the blue sea on the other side and the surrounding vegetation that changes colour from yellow to brown to green all the way through.
Djúpalónssandur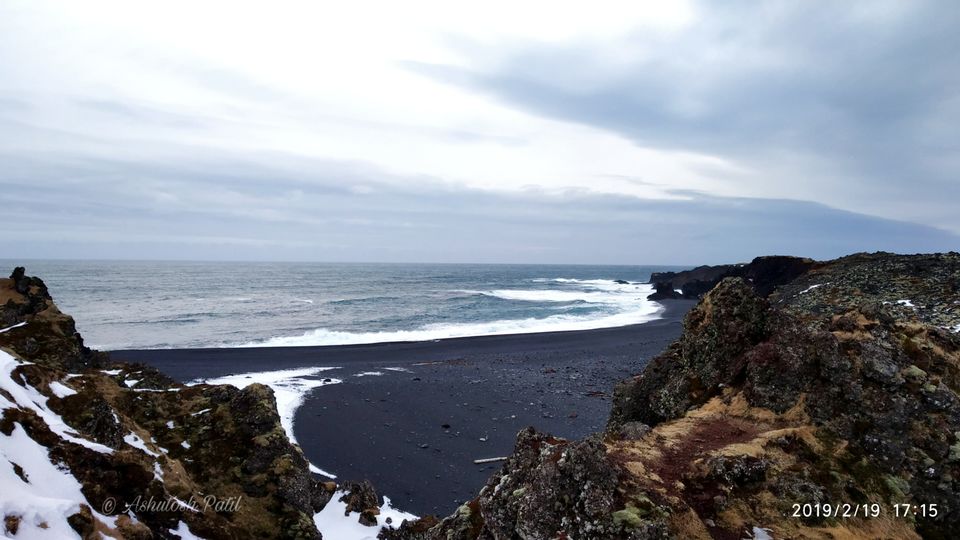 In the National park is located a beach, Djúpalónssandur black pebble beach. There is a walkway that will take you down all the way to the beach and where you can also find the attractive black pebbles in abundance. Another walkway takes you to a spot at the top of the cliff which gives you an aerial view of the whole beach and the many rocky formations scattered over it. And in case you turn around, as you walk on the path towards the beach, you will be awestruck by the sight of the beautiful Snæfellsjökull glacier covering the entirety of your visual field just behind you.
After this we continued our way through the upper road towards Grundarfjörður, where we had booked our accommodation for the night, right at the base of Mount Kirkjufell. On the way we passed the small town of Ólafsvík which can be one of the bases while you are exploring this peninsula, since it has a few hotels and eateries in town.
A worthy mention needs to go to our cottage stay for the night- Nónsteinn. It is located just 10 mins from the town of Grundarfjörður, right at the base of Mount Kirkjufell. Imagine a landscape covered in grey and white, a huge mountain looming in the background, and then picture a tiny green cottage overlooking the same... Equipped with a fully functional kitchen, a warm and cosy interior and french size windows that overlook the mountains, this cottage is highly recommended for a stay.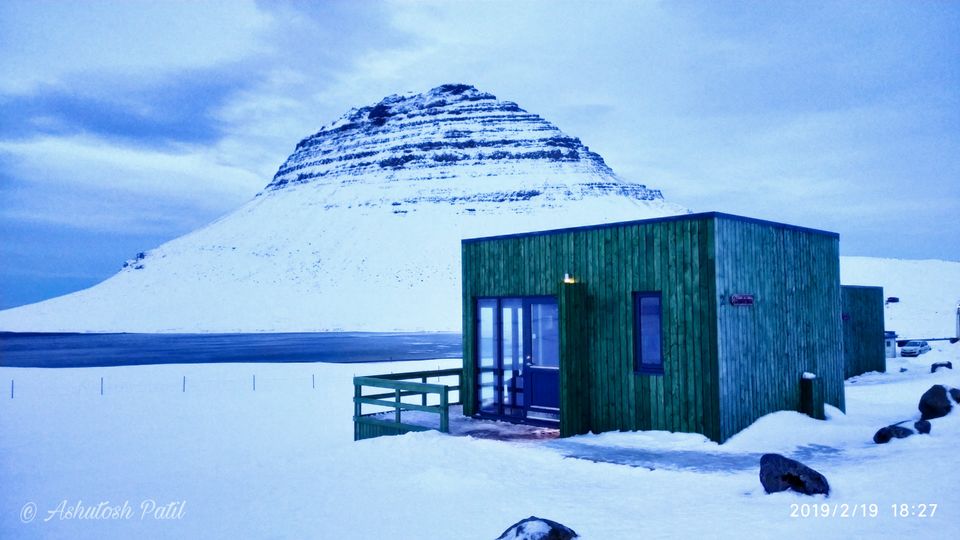 We ended up having dinner at 59 Bistro bar at Grundarfjörður- Pepperoni pizza, fried chicken, and Viking lager beer.
*Nónsteinn- 14000 ISK
*Dinner at 59 Bistro bar- 5800 ISK
*Bonus- 6000 ISK
#Snæfellsness , #snaefellsnes , #Snæfellsnesspeninsula , #Snæfellsjökull , #Snæfellsjökullnationalpark , #blackchurch , #blackchurchbudir , #Nónsteinn , #Djúpalónssandurbeach , #59bistrobar #grundarfjordur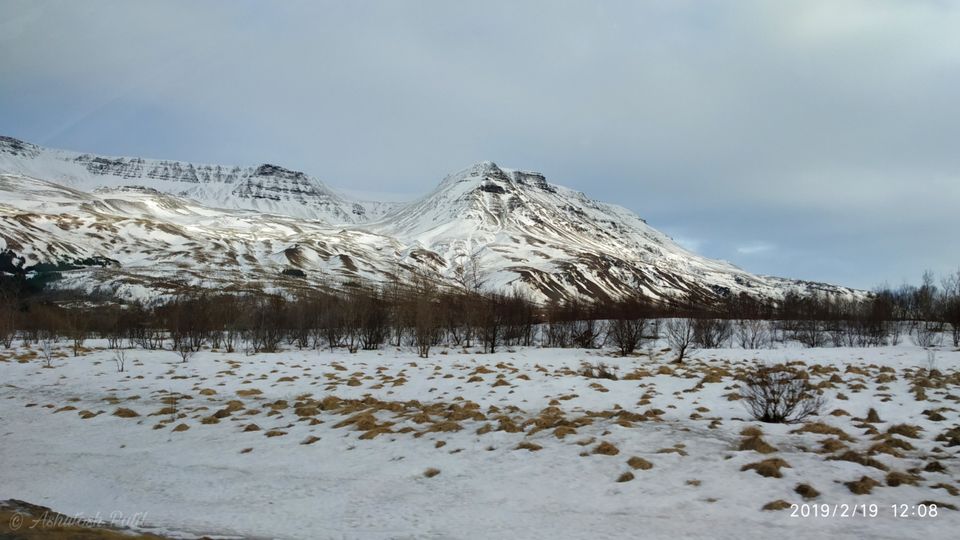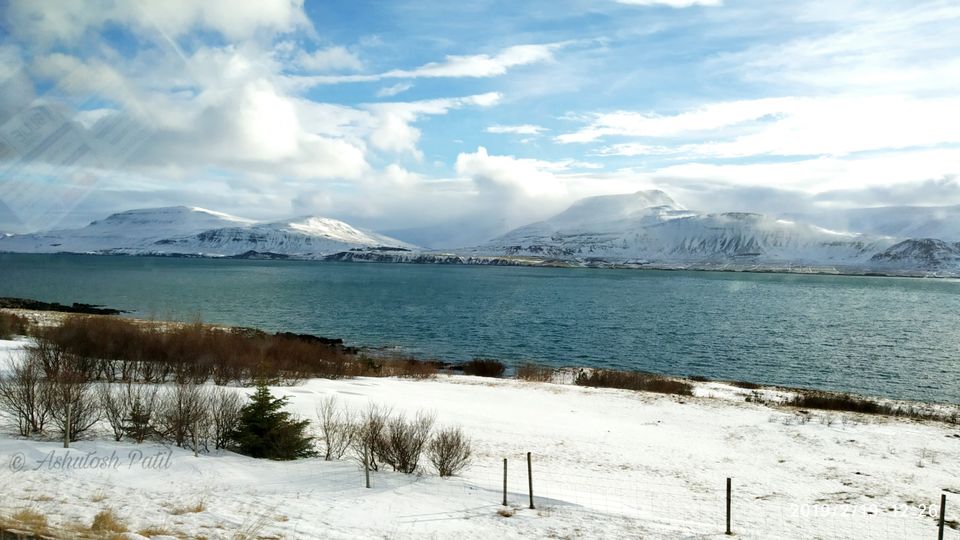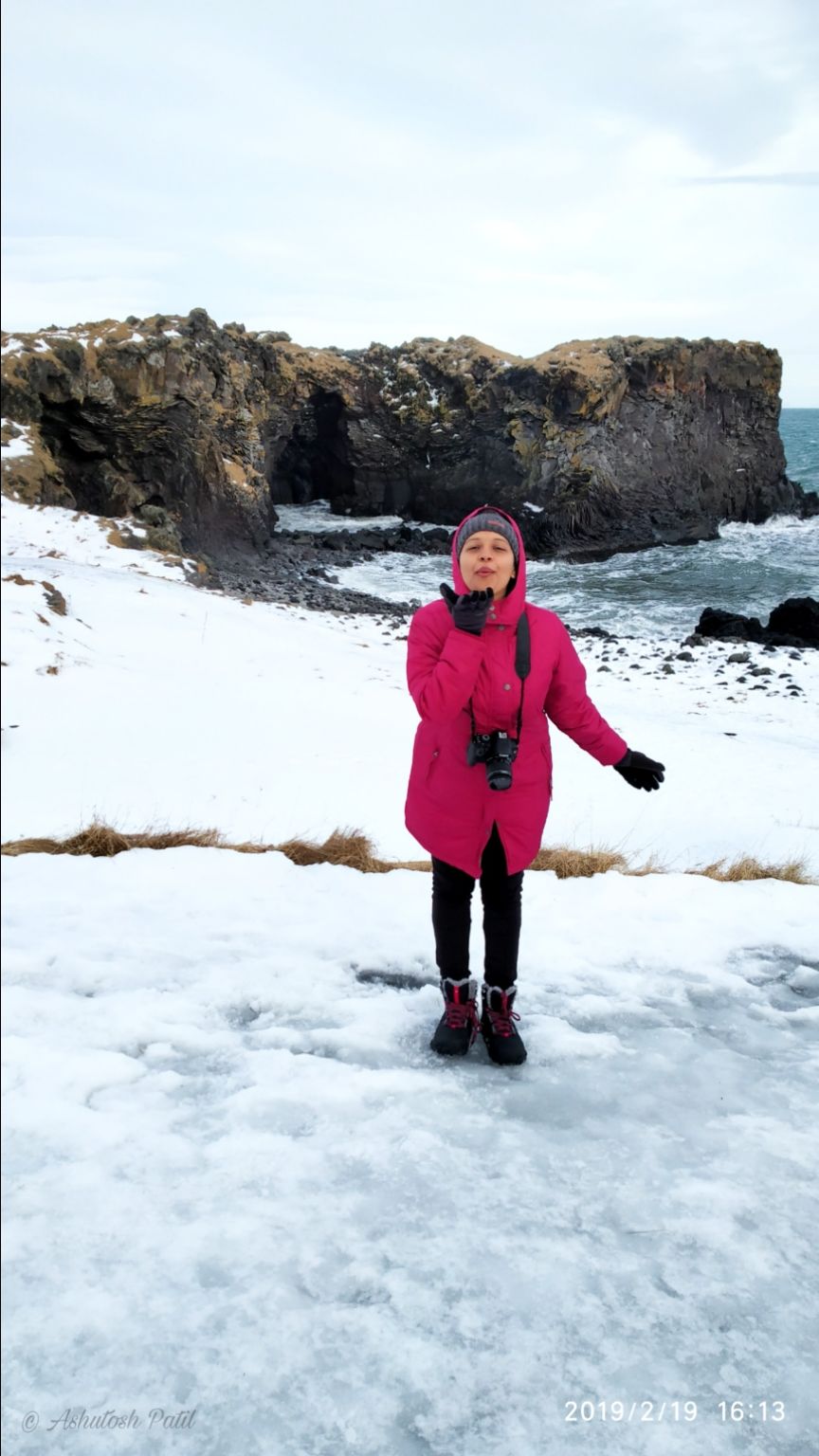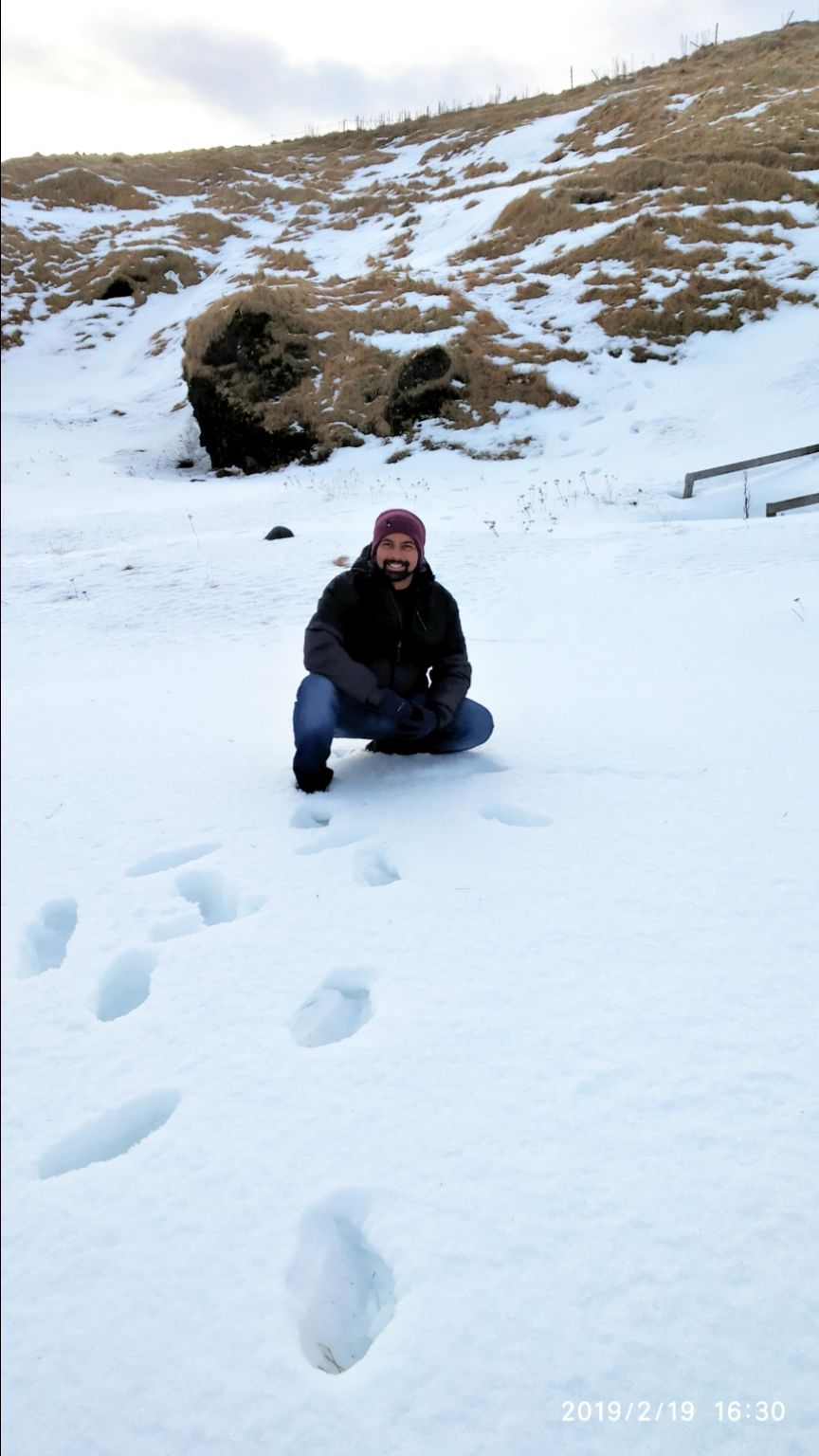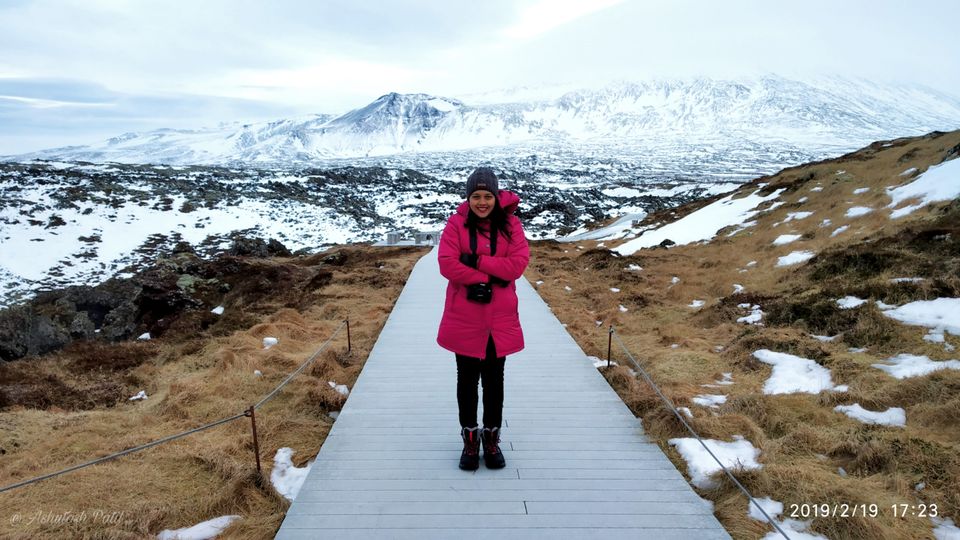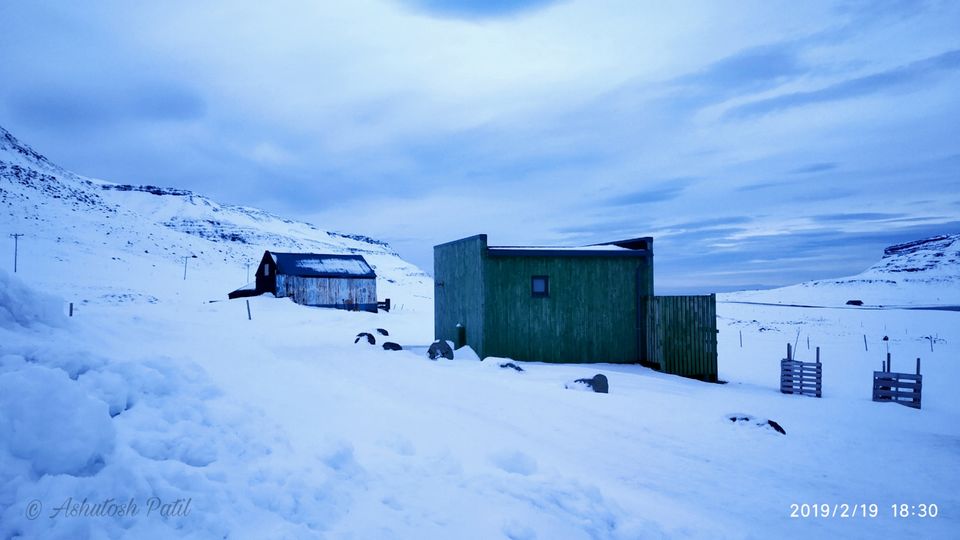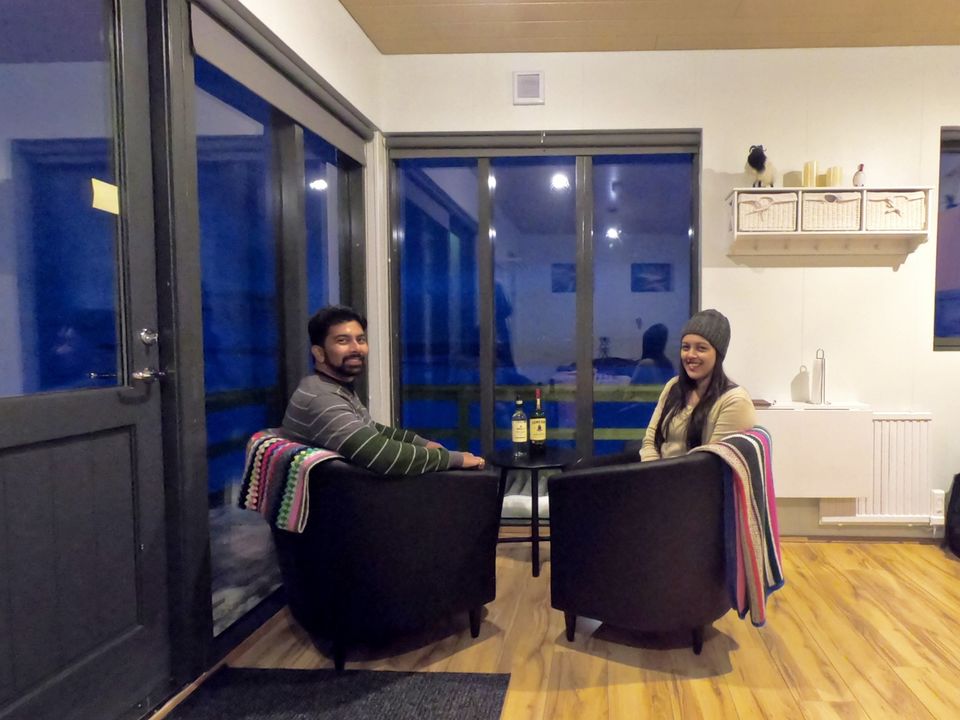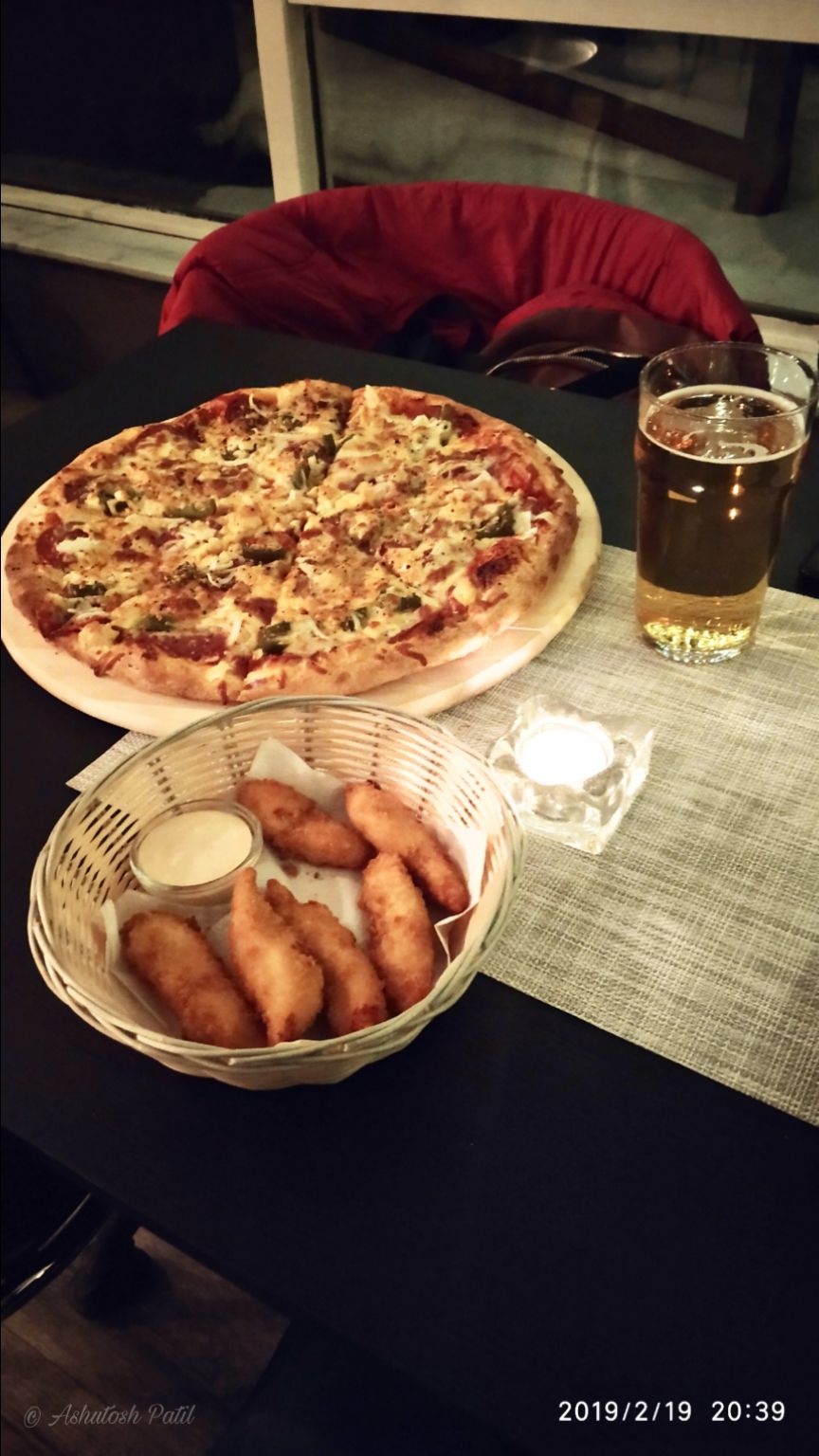 *Transport- Rental car
*Places visited- Mount Kirkjufell, Þingvellir (Thingvellir) national park, Kerid crater lake, Geysir (Strokkur), Litli geysir
*Driving duration- 4 hrs / 290 kms approx
*Food- Lindin restaurant, Laugarvatn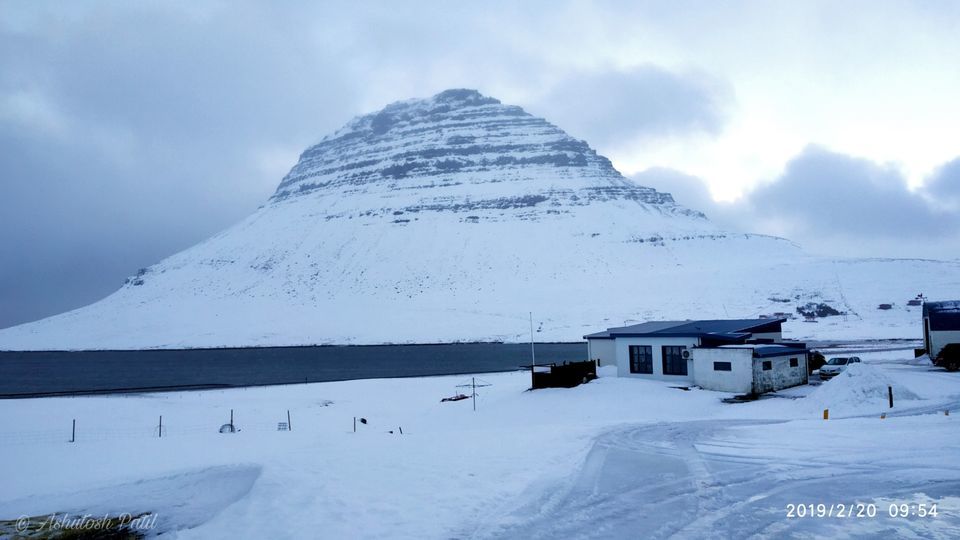 Good morning Mount Kirkjufell! If your day starts with such a view, you know it's going to be pretty awesome. Most cottage stays in Iceland don't offer the option of a breakfast, that's why they have a fully stocked kitchen. We had planned for this ahead and got ready to eat meals from Bonus along with sandwiches for breakfast. The weather around Snaefellesnes peninsula today was not great, with it being very cloudy and windy and raining. We decided to leave as soon as there was light, as we had to account for any road closures and like (use the site VEGAGERÐIN to know about weather and road closures, it a must when travelling in Iceland to plan your day and to stay safe)
After clicking a fair share of pictures of Mount Kirkjufell, obviously with our cottage stay in the foreground, we finally decided to leave for our day, with a heavy heart.
Þingvellir national park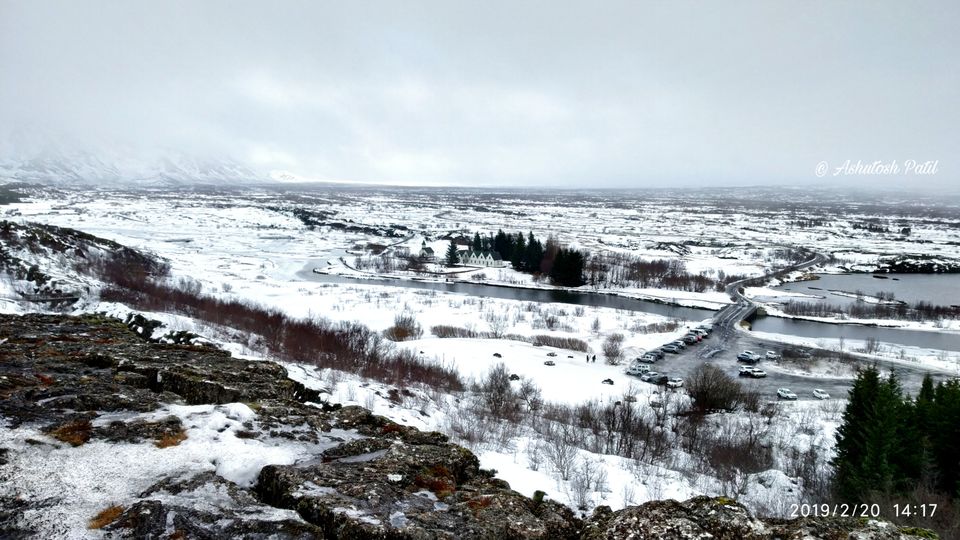 Our plan for today was to head directly towards golden circle region, with Þingvellir national park as the first stop. The scenery changes from Snaefellesnes peninsula as we headed towards golden circle were subtle yet beautiful. We even mistook a turn (in our high of the Icelandic countryside) and wasted almost half an hour to get back on our desired road. The road which detours from the ring road towards the Þingvellir national park was full of white landscape, like it was literally snow covered all around without even stones being visible, and the road was covered with slight fog and rain, in short it was beautiful as well as scary...
Þingvellir national park is a site of historical and geological importance, as well as UNESCO world heritage site and is one of the most popular tourist destinations in Iceland.
The park lies in the rift between the North American and Eurasian tectonic plates. Some tours offer snorkeling in the Silfra fissure located here. Otherwise you can just have a walk between the rift, take small detours and get great photographs, and revel in the feeling of walking between two continents. In the distance you can see some buildings (location of the original Iceland parliament), a church and a few houses. There are multiple entry points into the park here and all parking spots are paid parking, parking fees (self service) to be paid at the tourist information centre or near the washrooms.
Kerið crater lake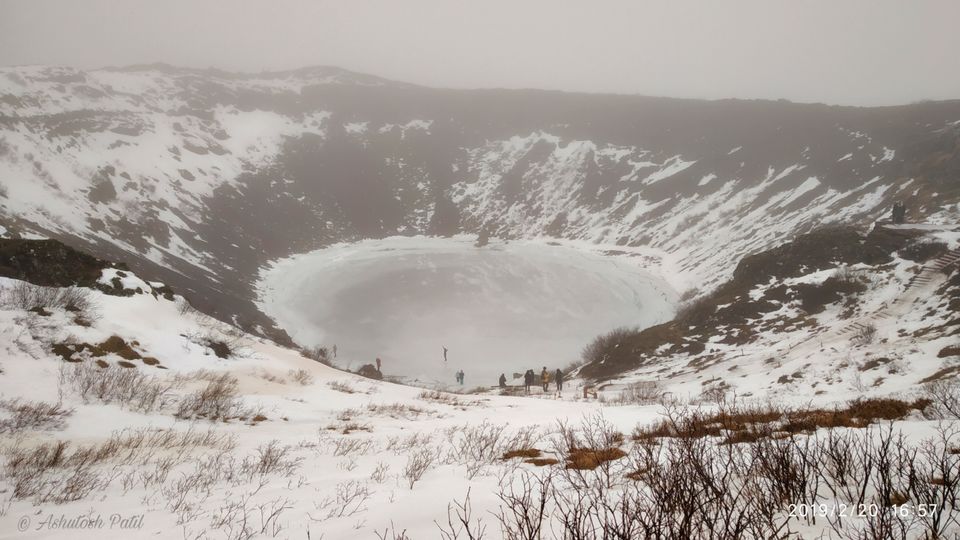 The second place we visited today was Kerið crater lake. Located right next to the road, it is a volcanic crater lake in Grímsnes area in south Iceland, a part of golden circle. It's surrounded by red volcanic rocks and involves a short hike all around the crater. In winters it is frozen and there is a gradually sloping surface from where you can descend to the side of the lake (crampons must). There is a entrance fee to view the lake and parking is free.
Geysir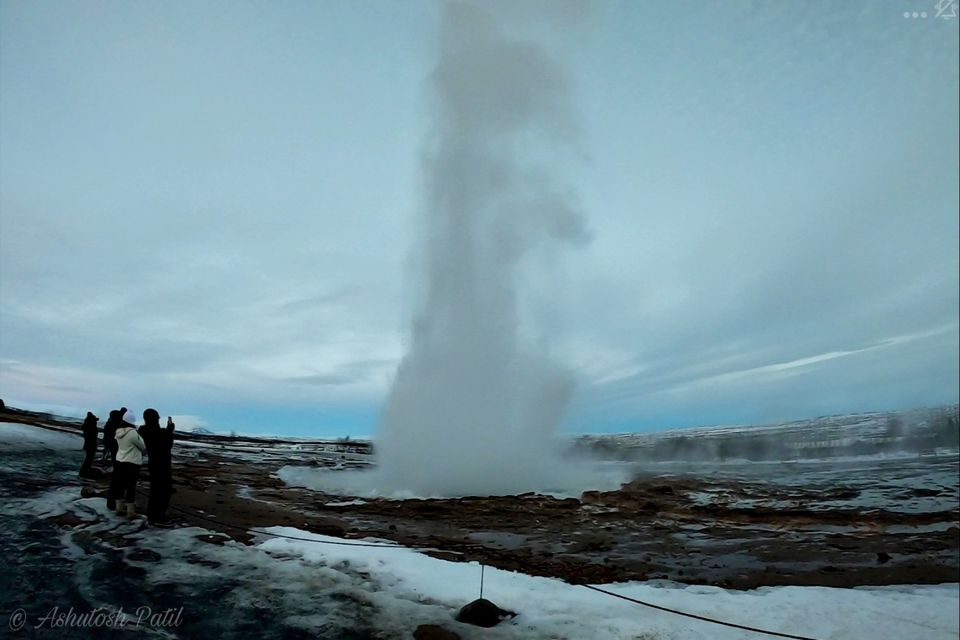 Last stop for the day was the geothermal springs region located near Laugarvatn known as Geysir. The Great Geysir (from which you get the English word- geyser), is one of the oldest geysers known and described in printed source, being active for almost 10,000 years. It is mostly dormant now. However there are other geysers in the area of which Strokkur is the most reliable one. It erupts every 6 to 10 minutes and spurts boiling water to a height of 30 mts or so. You can see tourists flogging here to capture the eruption of the geyser. There is also a small geysir named Litli geysir located nearby. The whole area is full of geothermal springs which has water with high sulfur content, so be warned of the smell of rotten eggs. No entry fee and free parking, even a few restaurants located here, but they close shop by 5pm.
We then headed back to our hotel, Uthlid cottages, located close to Geysir. Our stay for the night was a wooden cottage with a living room with a kitchen area, bedroom and a private indoor hot-tub. This area is also a camping site and Uthlid has plenty of cottages located in the area to serve the tourists. Their restaurant closes early though, especially in winters.
Dinner was at Lindin Restaurant at Laugarvatn, 15 mins drive from the hotel. Lobster Bisque and panfried Arctic char (its a fish) was on the menu for today. Pretty awesome taste and very filling portions.
*Uthlid cottages- 140 euros
*Fuel- 4550 ISK
*Parking at Þingvellir- 1000 ISK
*Kerið crater entrance fee- 800 ISK
*Dinner at Lindin- 7600 ISK
#Þingvellir , #Þingvellirnationalpark , #thingvellirnationalpark , #unescoheritagesite , #walkbetweencontinents , #silfrafissure , #kerid , #Kerið , #keridcraterlake , #geysir , #strokkur , #strokkurgeysir , #litligeysir , #uthlidcottages , #lindinrestaurant , #arcticcharpanfried , #lobsterbisque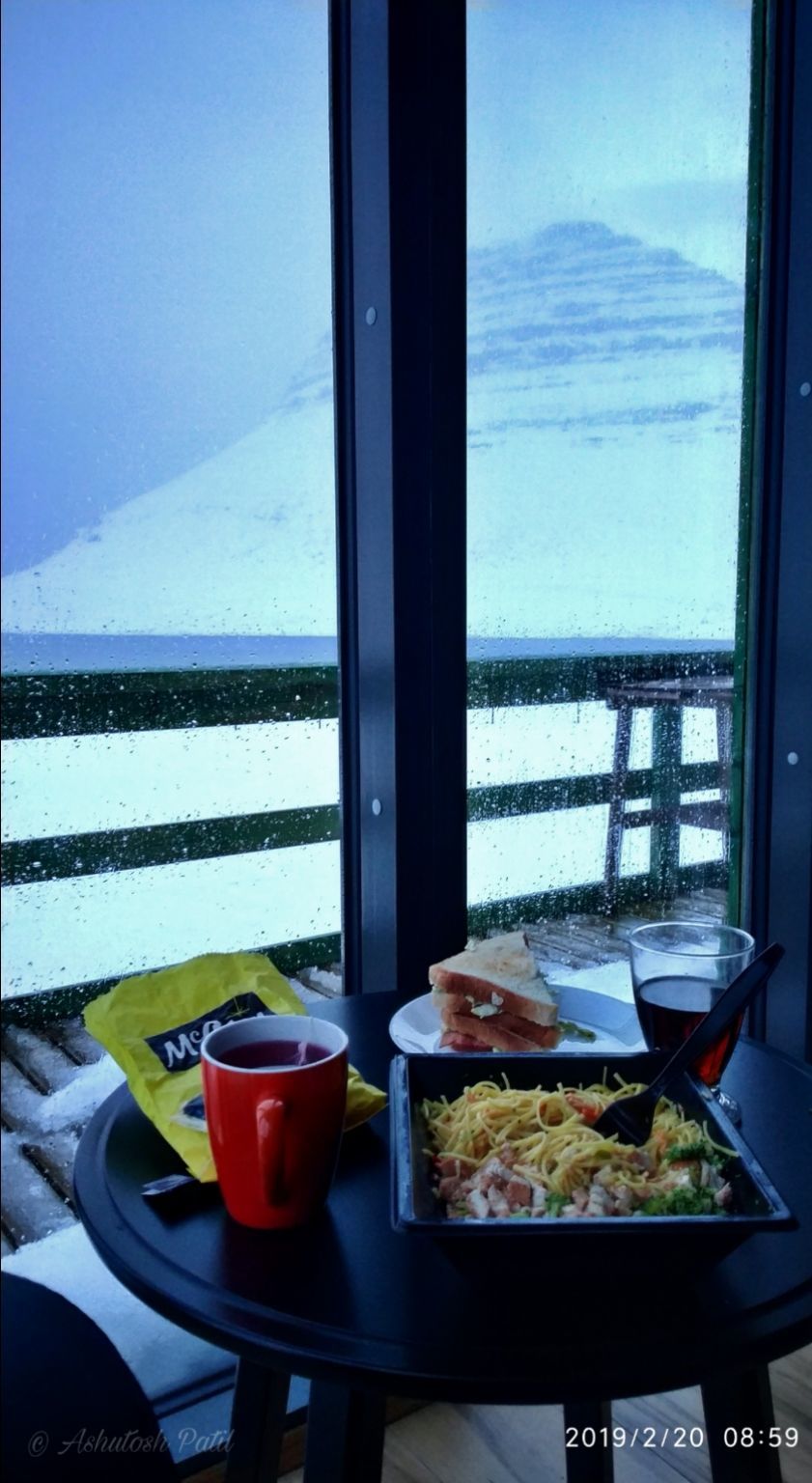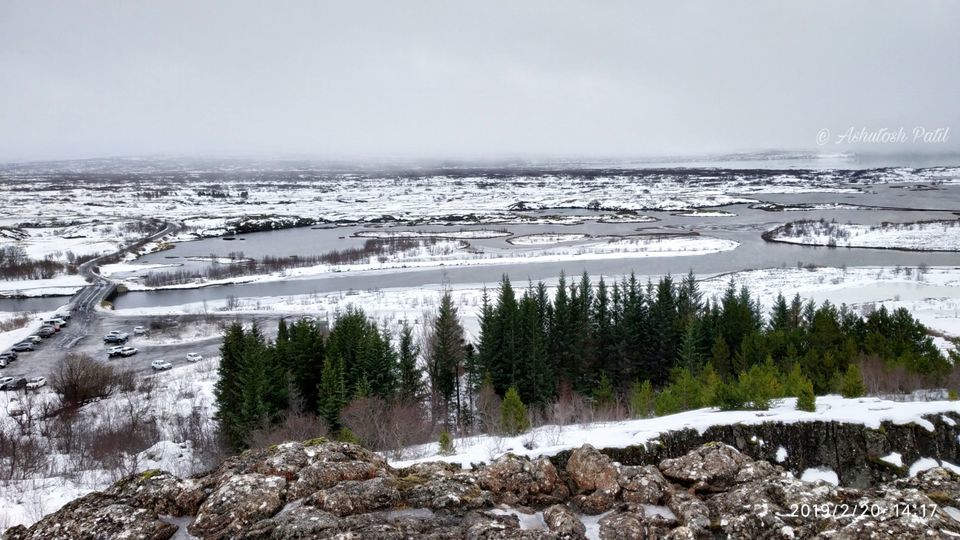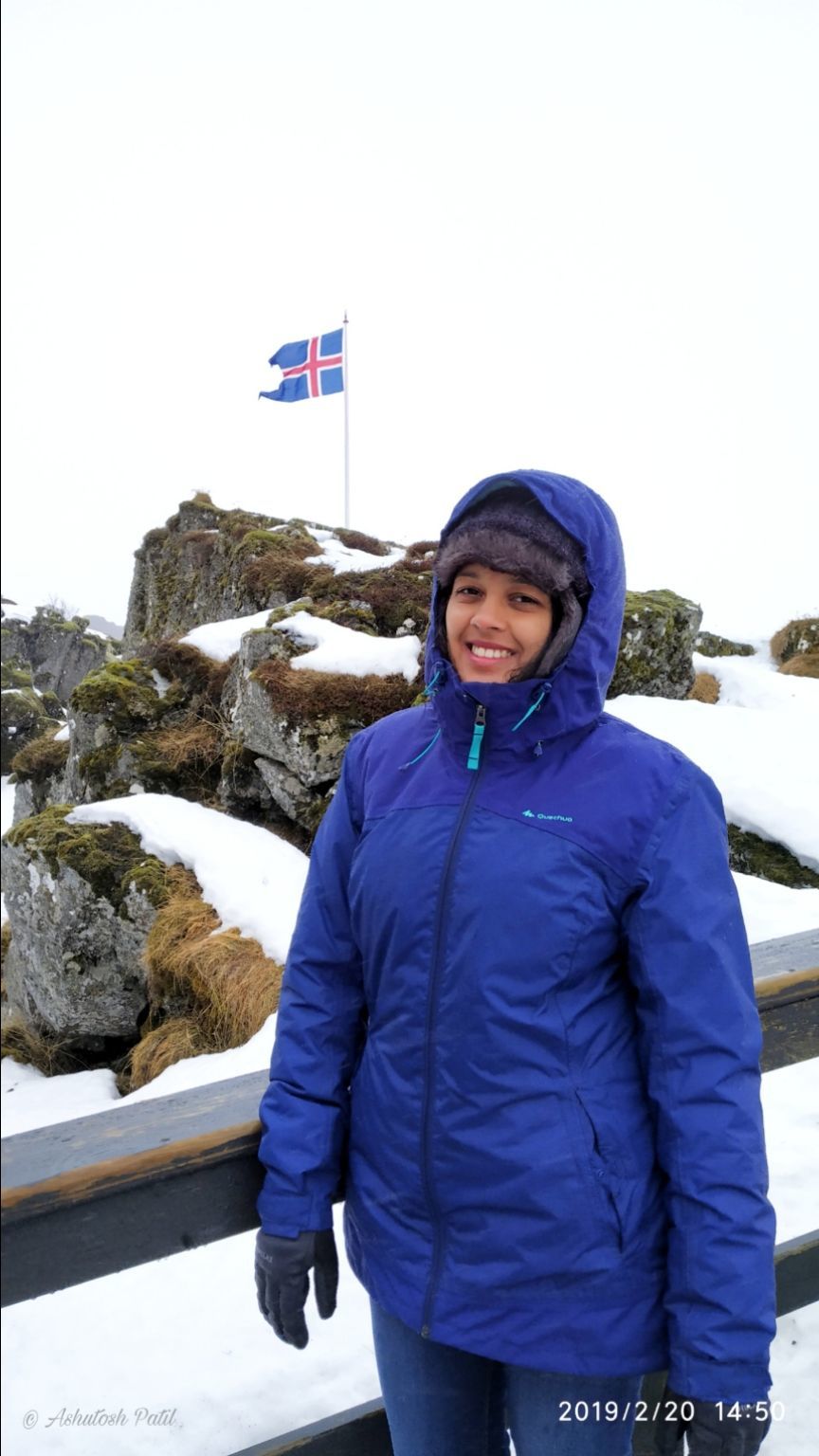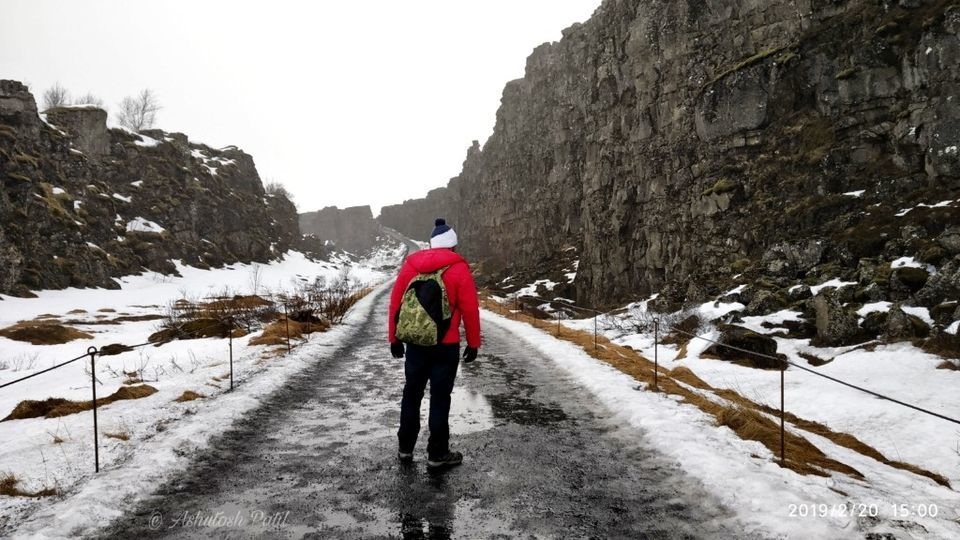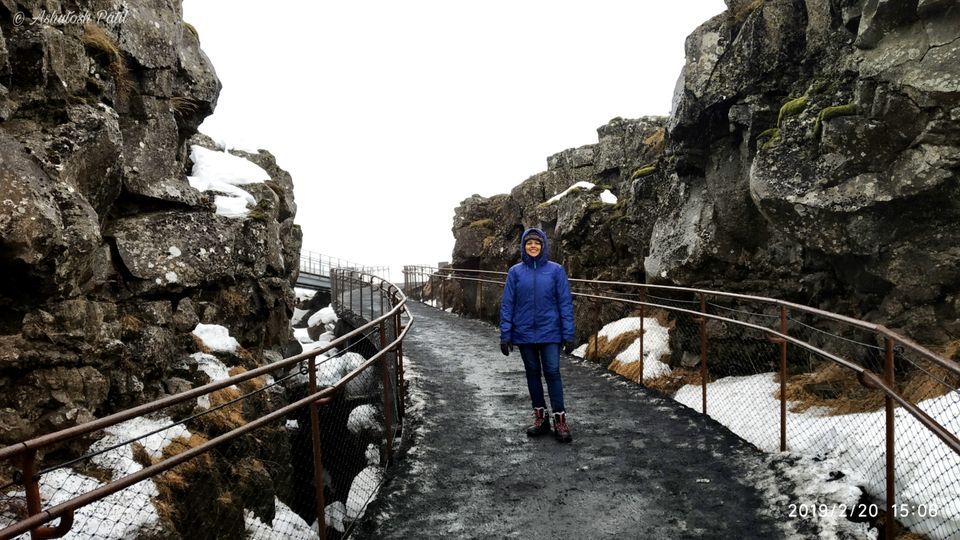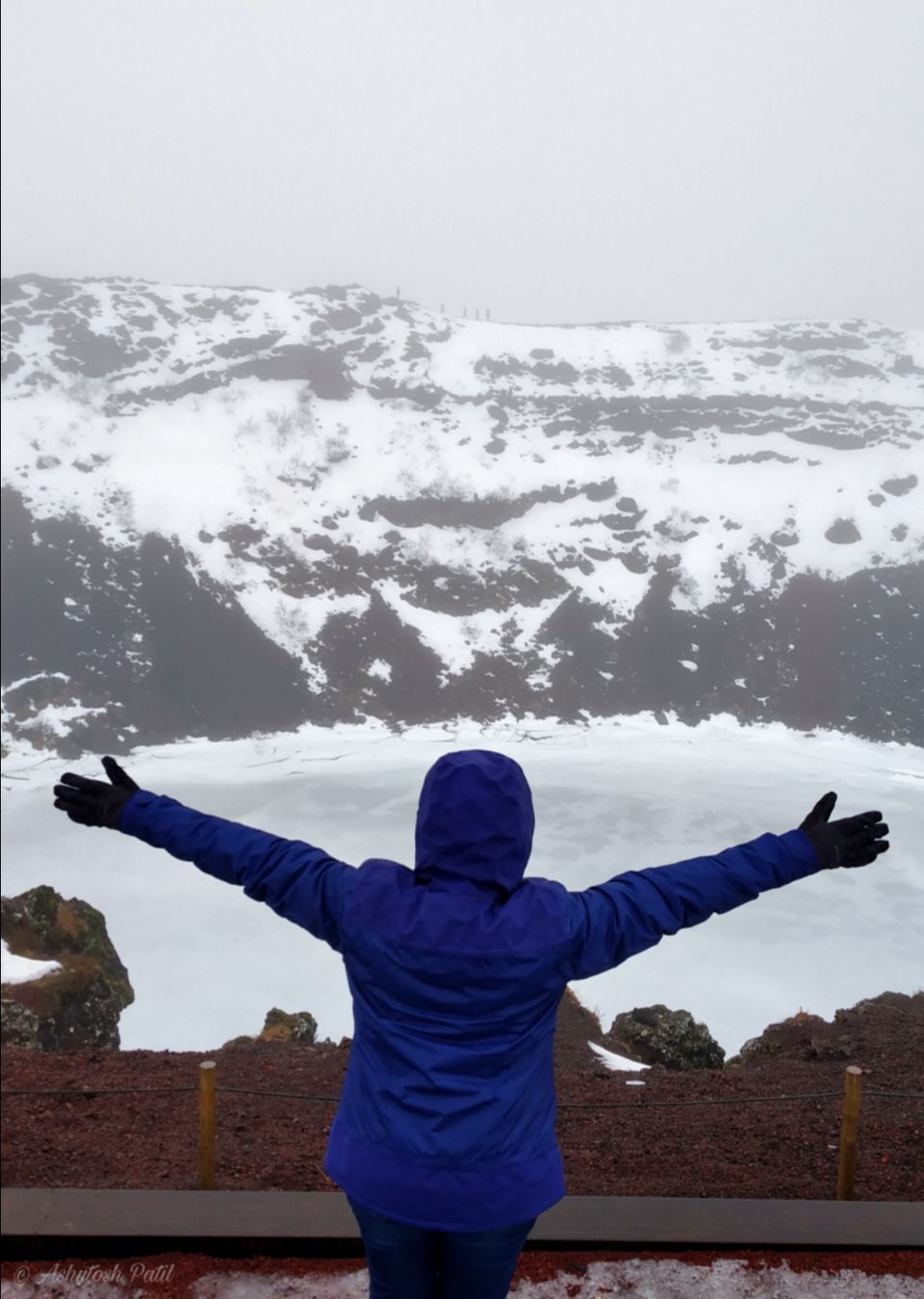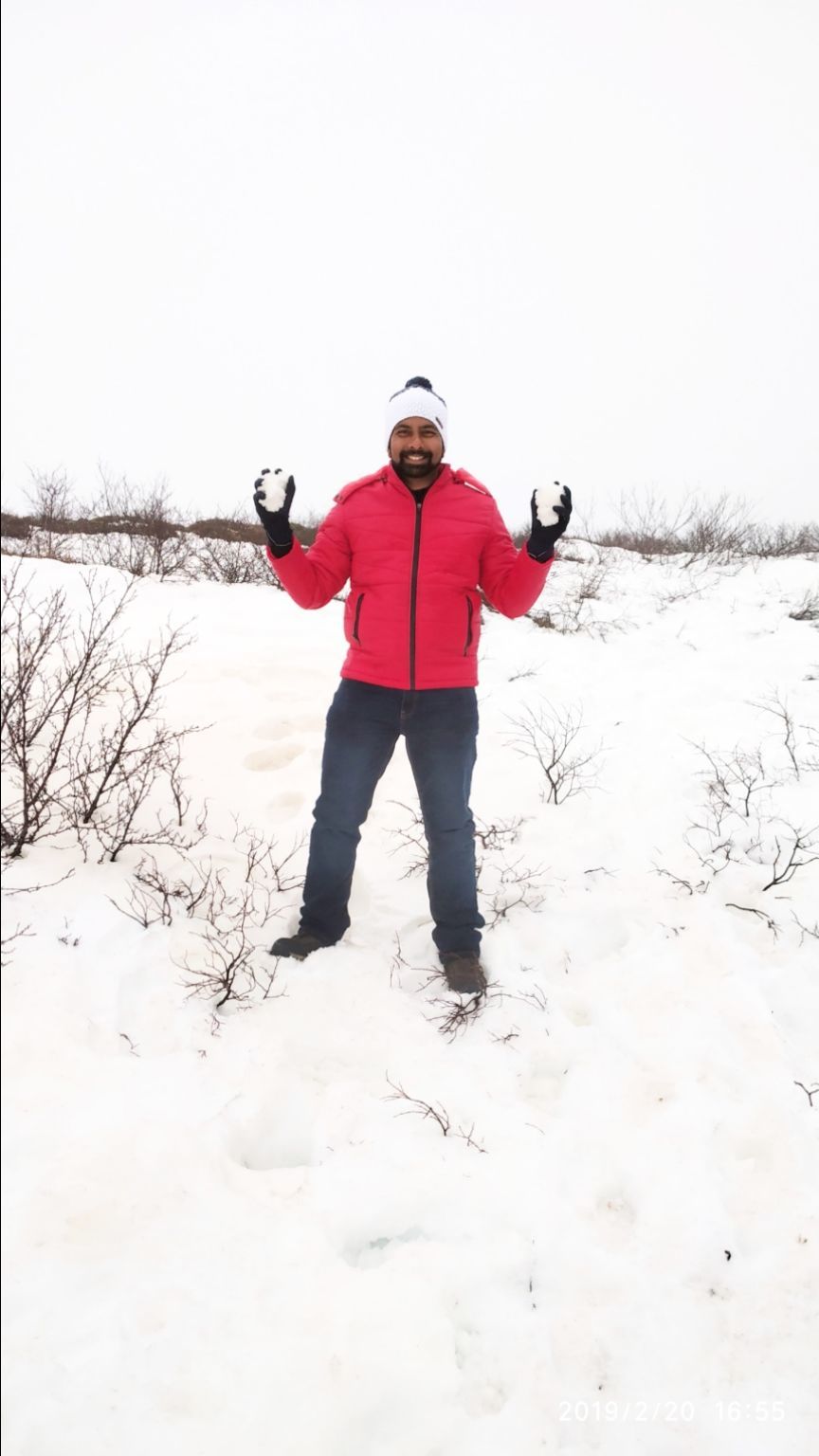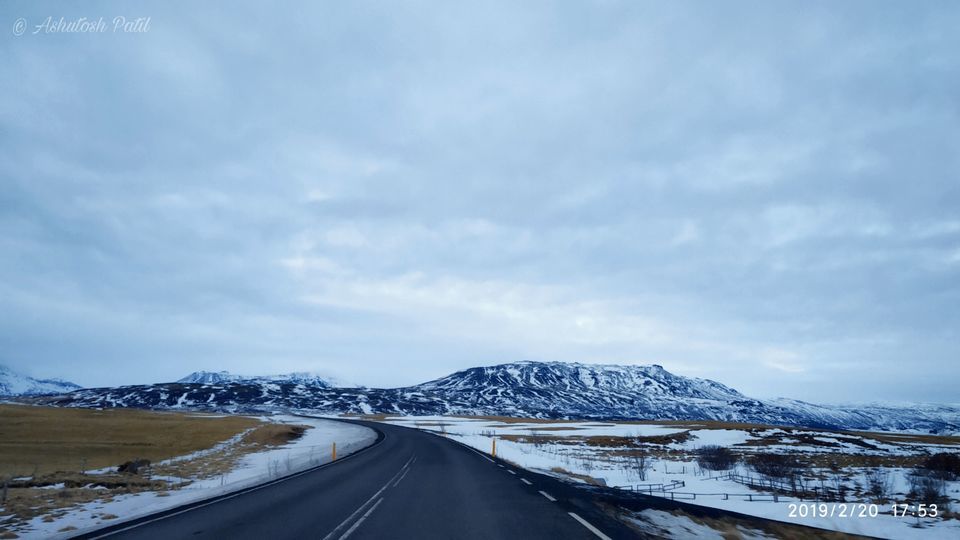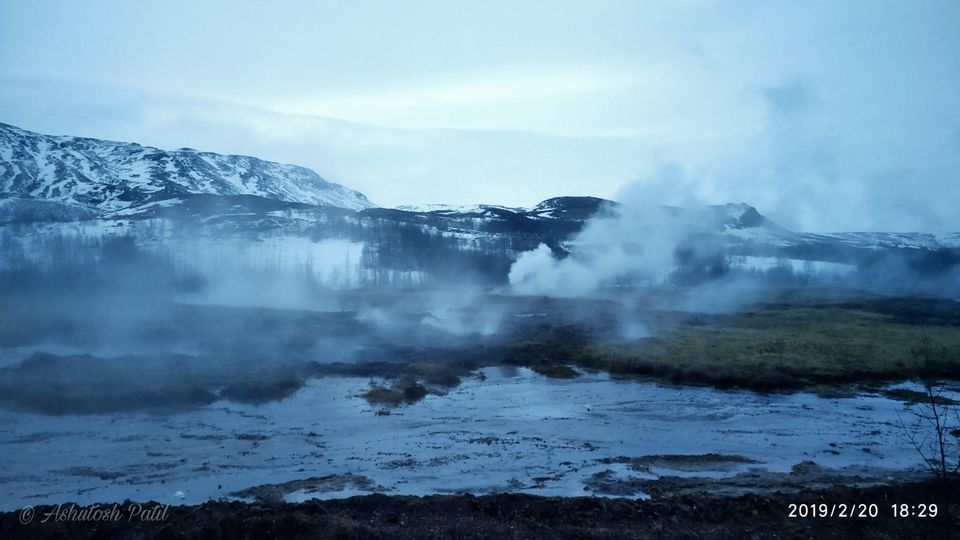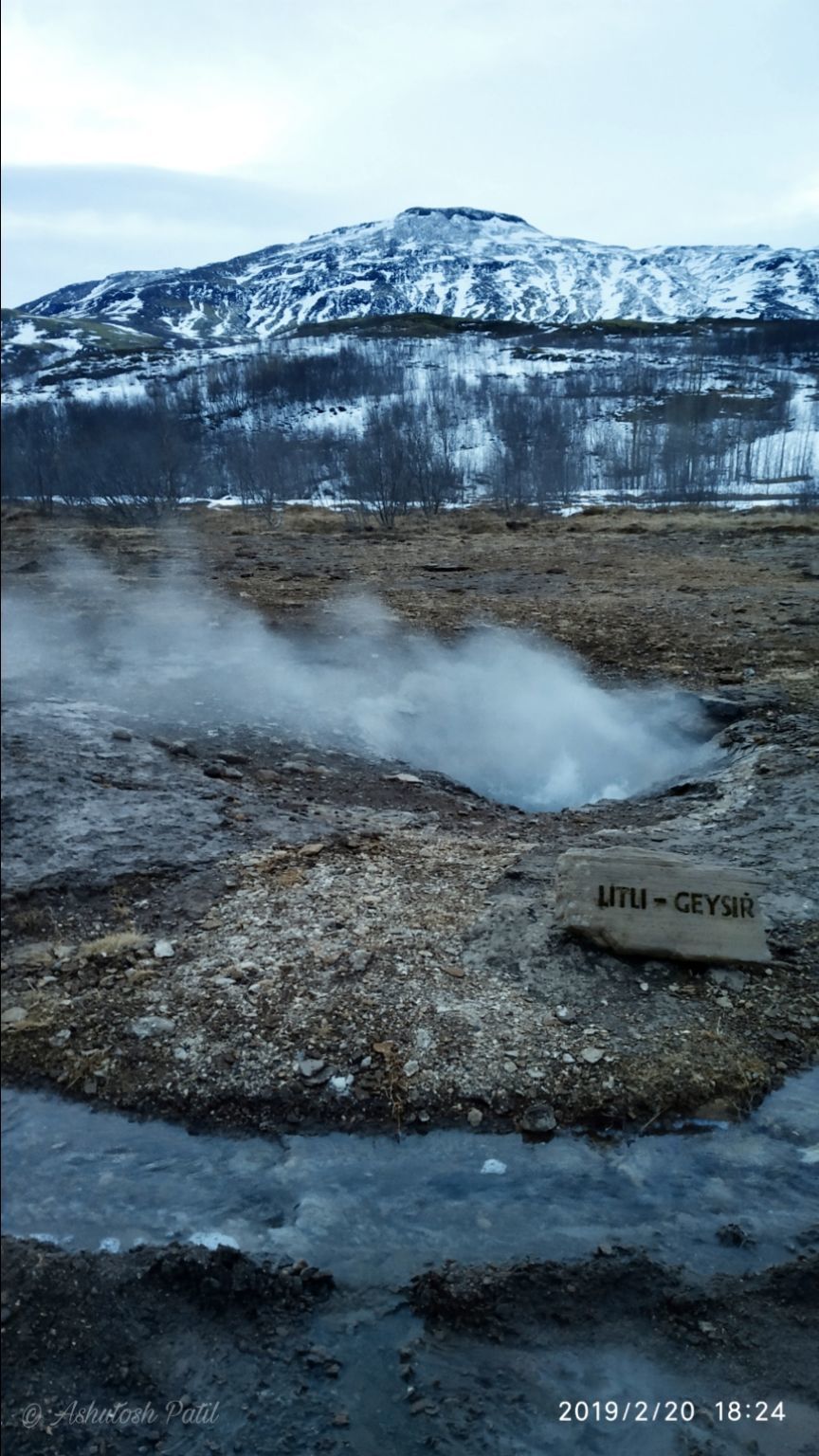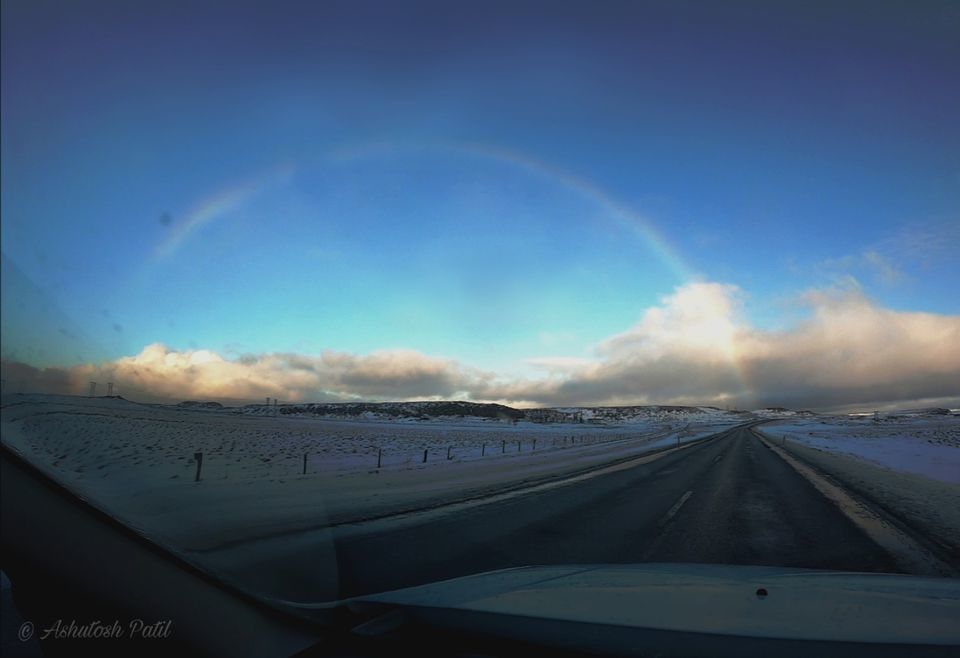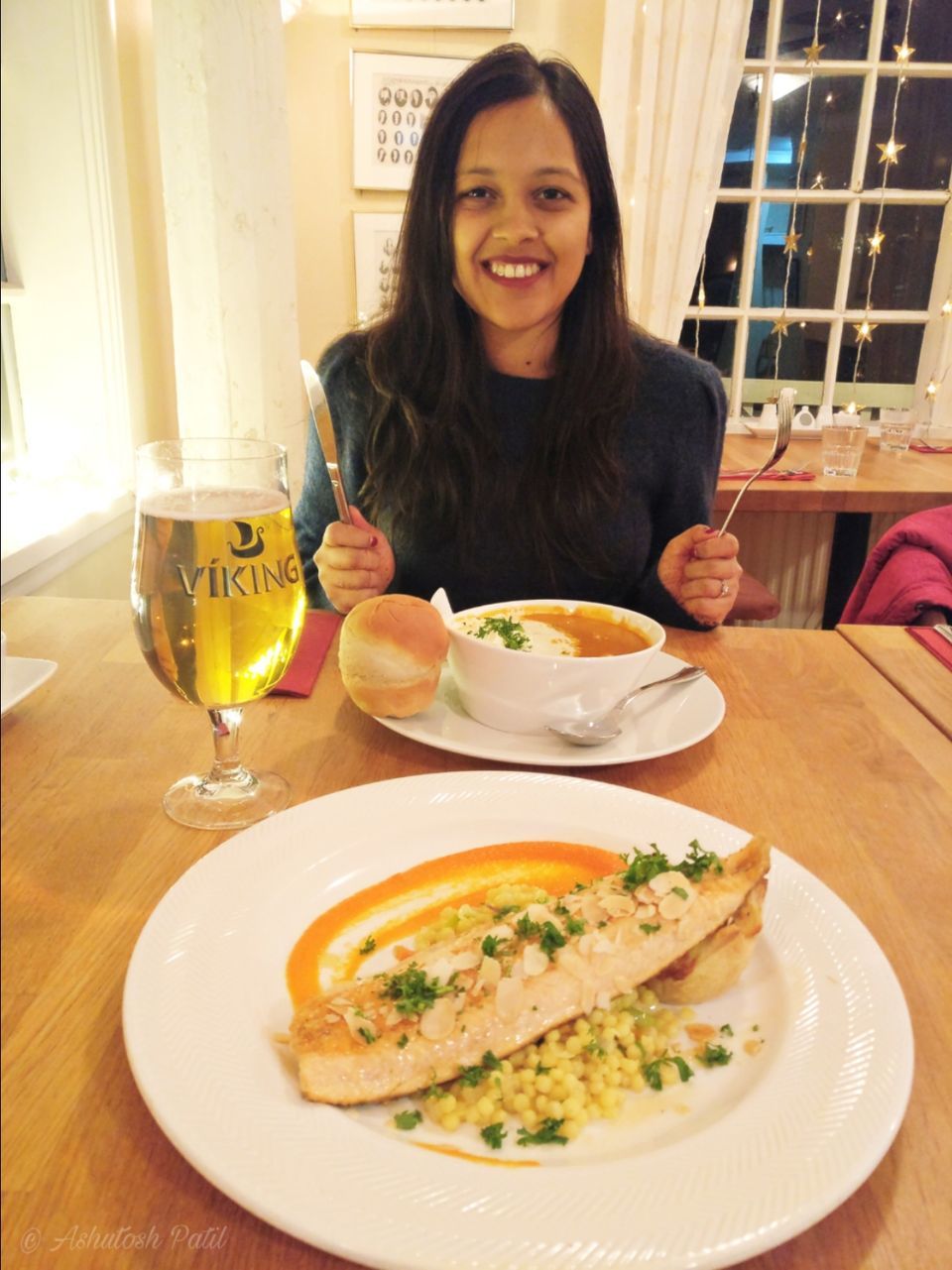 *Transport- Rental car
*Places visited- Gulfoss, Seljalandfoss, Skogafoss, Keldur turf house
*Driving duration- A hell lot- 6 hrs 15 mins / 470 kms approx
*Food- takeaway at hotel, Seljalandsfoss food truck
So I won't describe the view we had from our cottage stay, the photos will suffice for it, haha. After a good breakfast of sandwiches and tea we started out for the day of waterfalls!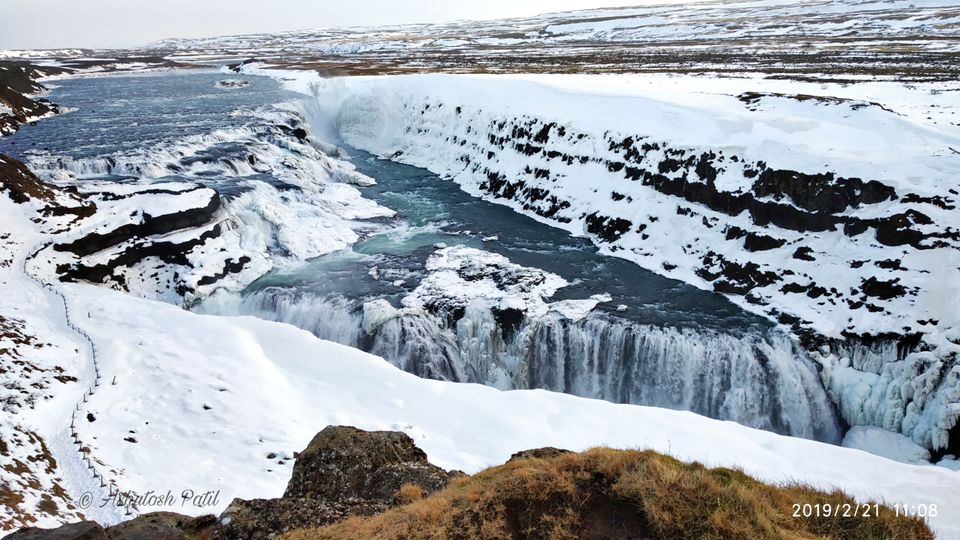 First up was Gulfoss, located close to the Geysir from previous day. The Gulfoss waterfall is situated in the canyon of the Hvítá river. The waterfall itself is two staged and is best seen from a distance. The pristine blue waters flowing amidst snow sprinkled mountains is something that you get to see again and again. We did manage to stay a little while, but it got rainy pretty fast and it was so windy that we were literally unable to walk close to the canyon. Here the parking and visitation is free but you gotta pay for using the washroom.
Keldur Turf house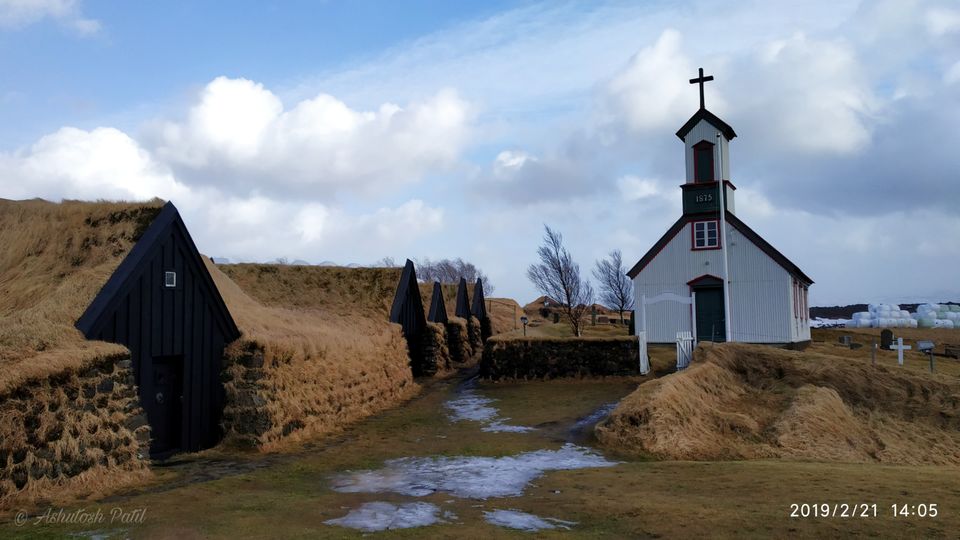 We then proceeded to get back again on the ring road and see the rest of the places. Second stop for today was Keldur Turf house. So this farm is the last of few of the original turf houses which are typical of Icelandic and Nordic countrysides. It is located almost 20 miles off the ring road and part of the road here is made of gravel, so be prepared for a bumpy ride. Keldur consists of a few turf houses, a church and a graveyard just beyond it. Part of the houses has been converted to a museum, but it's only open during summers. This location also gives a good view of Mount Hekla, which is one the Iceland's most active volcanoes.
Seljalandsfoss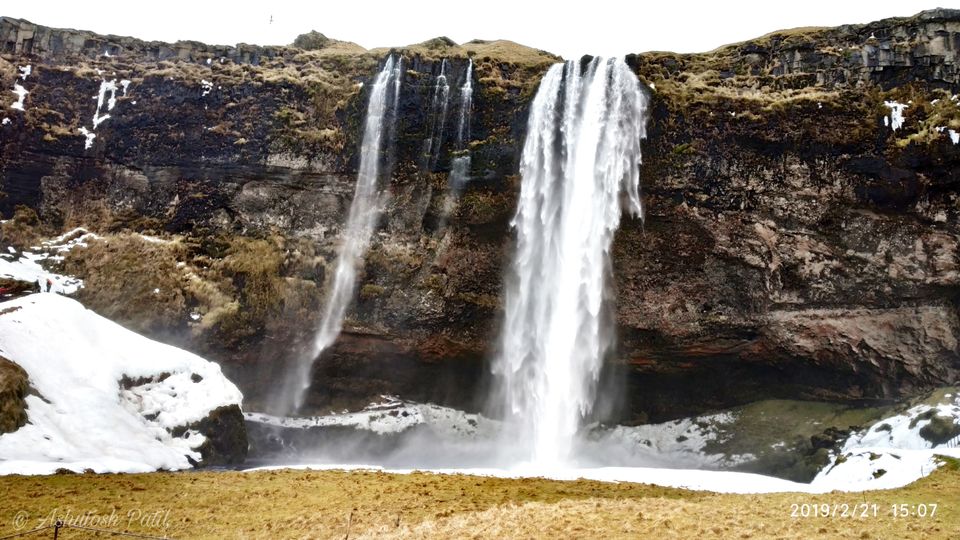 Then there was Seljalandsfoss, located right next to the ring road. It is based on the Seljalands river which originates from a glacier. This is a waterfall where it is possible get behind the waterfall (you can tons of pics like that on the internet), but that's only possible during summers and not at all recommended in winters. There are many small waterfalls adjoining the bigger Seljalandsfoss. Also you can find a souvenir shop here and a small cafe (more like a food truck)! Try the Icelandic hot dog (with everything on it) and some hot chocolate here.
Skógafoss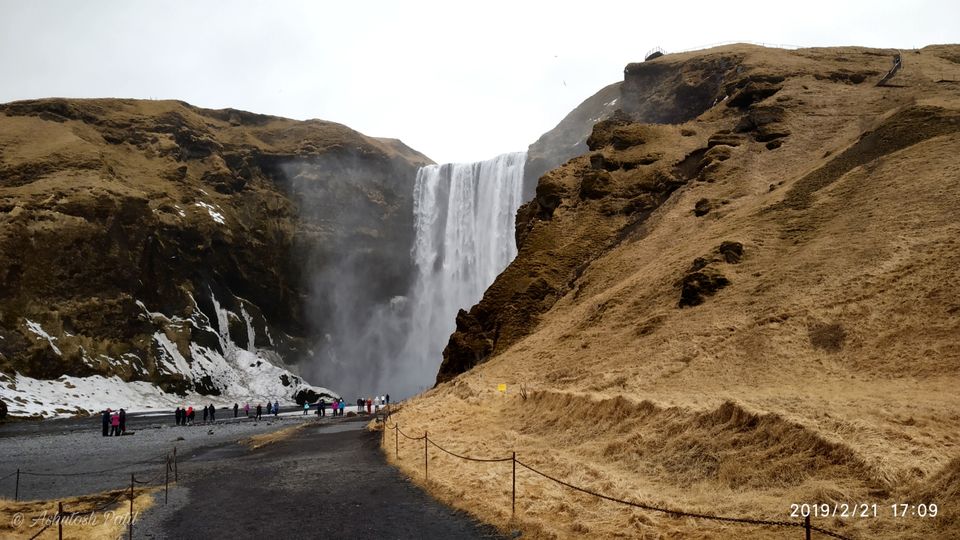 Last stop for the day was Skógafoss, which is again located next to the ring road, further from Seljalandsfoss. Based on the Skóga river this is one hell of a high and mighty waterfall. The sound of the thundering water as it plummets all the way down, can be heard for quite a distance. The area closer to the waterfall was icy yet we managed to get close enough for some good pictures. There is even a staircase to climb to the top of the waterfall here. The surrounding scenery, which was more mossy and grassy than snowy, combined with the towering waterfall felt like something out of a movie (like Jurassic Park, haha).
After the last waterfall we were to head towards the town of Hofn, which was further than Jokulsarlon glacier region. That involved a very very long drive today. The scenery shifted rapidly from vegetation to snow laden to black sand plains, literally every few miles. To make things worse after night fall, we encountered heavy rains in places and in some patches thick fog and ice, making driving a nightmare. So try not to drive at night, for your own safety .
Night stay was at Lilja guesthouse, which is a comfortable enough place to stay in and located just 40 mins ahead of Jokulsarlon glacier lagoon and car park. Though we did reach before 9pm, which was their restaurant closing time, we were in for a shock when we were told that the kitchen was closed (it being winter time, you can face early closures everywhere). So ultimately we had to make do with whatever ramen and snacks we had for the night!
*Lilja guesthouse- 135 euros
*Gulfoss- 400 ISK
*Lunch at Seljalandsfoss- 1350 ISK
*Fuel- 8000 ISK
#gulfoss , #seljalandsfoss , #seljalandsriver , #skogafoss , #skogariver , #keldur , #keldurturfhouse , #turfhouse , #mounthekla , #liljaguesthouse
So that's about it for the first 4 days and our tour of the Snaefellesnes peninsula and Golden circle region of Iceland.
The next 4 days involve places around Vatnajökull glacier, Vik and Reykjavik. Stay tuned for more.
In case you haven't gone through the planning process and some handy tips to visit Iceland, be sure to check out the first post in my series- Icy endeavours (part 1)
Also do check out our video of the whole trip on youtube - Iceland road-trip : Ashutosh & Radhika