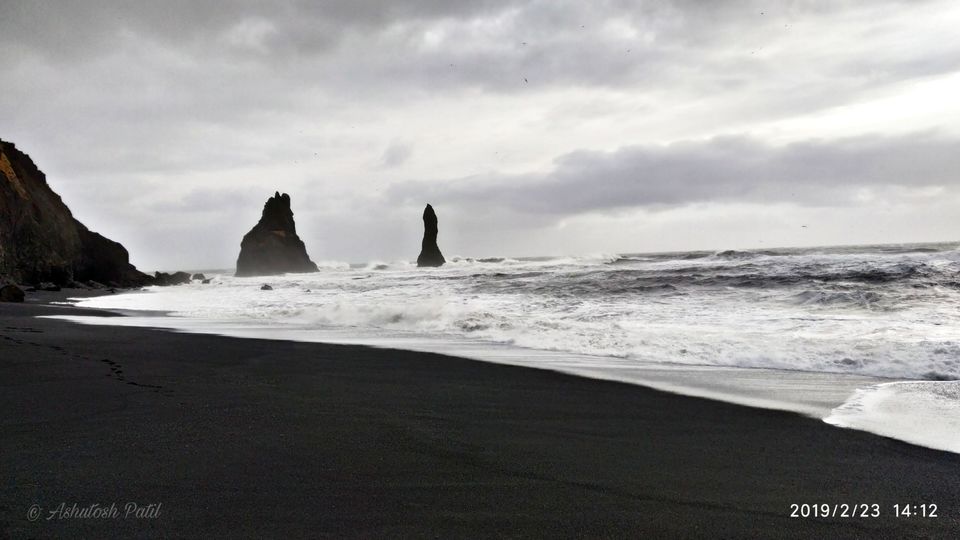 In case you haven't read the first two parts here are the links!
In continuation with the previous part, this part will deal with our travel involving the Vatnajökull glacier region, Vík, Hella and the capital of Iceland, Reykjavik.
*Transport- Rental car
*Places visited- Vatnajökull glacier, Jökulsárlón glacier lagoon, Diamond beach, Foss á Síðu
*Driving duration- 2 hrs 20 min / 180 kms approx
*Food- Glacier lagoon cafe, Systrakaffi
We had an early morning today as we had a booking for the ice caving tour starting from Jökulsárlón glacier lagoon. Lilja guesthouse is located 50 mins drive from Jökulsárlón, and after a scrumptious Icelandic breakfast we were back on track navigating through the roads towards the glacier.
Jökulsárlón glacier lagoon
This huge lagoon is located right next to the ring road, and serves as an entry point to the Vatnajökull glacier and national park. Adorned by the huge sky blue coloured ice rocks, floating in the water, the view is enticing enough to have an idea what the glacier has got to offer. This area is also the starting point of the numerous group tours to the glacier. Crampons are definitely needed here to walk, as most of the surface around this lagoon is covered in ice. And you definitely would want to get some pretty pictures up close.
Vatnajökull glacier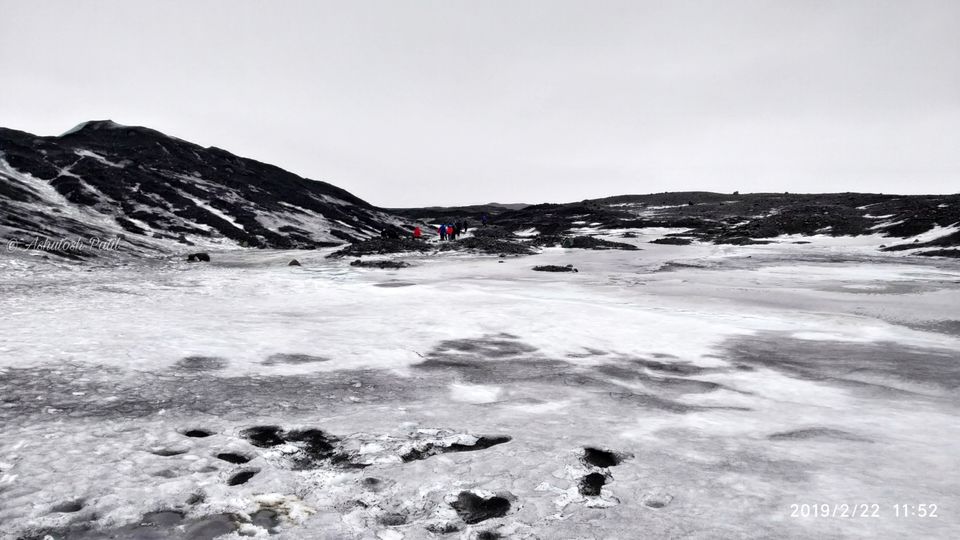 So exploring the glacier is not an easy task. Of course there's hostile terrain to deal with, and bad freezing weather obviously. But thankfully there are numerous adventure tours, which take you on the ride of your lifetime and give you glimpses of the glacier and it's unforgiving, but beautiful landscape.
We had booked our tour through Arctic adventures and selected the ice caving tour. Things to note- ice caving tours are available only during iceland winters, and even those might sometimes get cancelled, in case it rains heavily and the cave is flooded. Glacier walks are tours that operate the whole year round. There are approximately 3 to 5 cave formations in the glacier which are usually used for the tours, but they might change every year, so every trip to the ice cave might be a unique experience. There are tours every half an hour, the whole experience takes 3 to 4 hours, and you need to book in advance for the tour.
Ice caving tour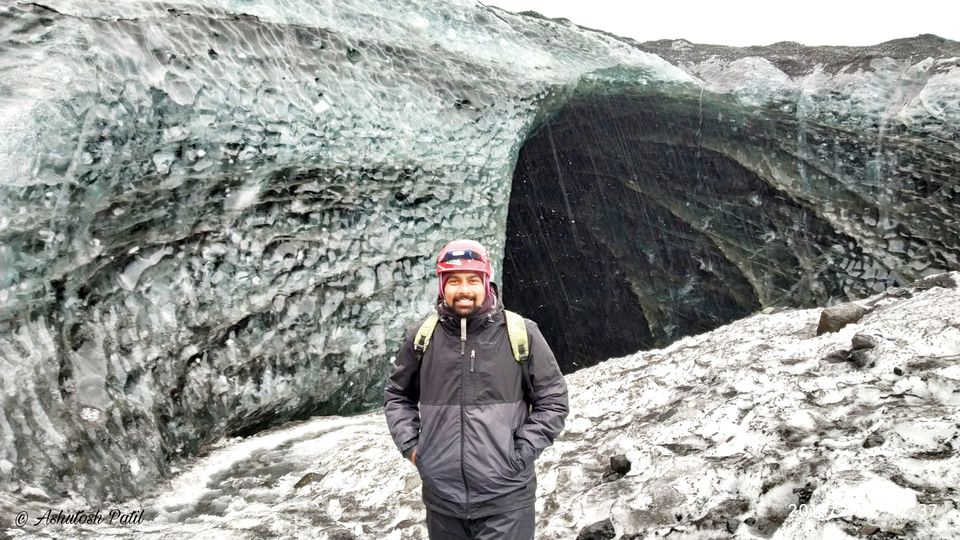 There are monster trucks/ buses which are used to navigate the glacier ice and snow covered regions. The snow can be deceptive and you never know where it's deep enough, and you might just sink in. The truck ride is bumpy throughout, till the cave. Thankfully we had a very entertaining guide with us, and we were not bored a second of the ride. When you reach the cave, you do realise it's crowded with all the tourists, who are on similar tours like yours. But I will still go out on a limb and say that getting in and walking around an ice cave is a once in a lifetime adventure. It may not be what you expect (seeing all those pretty Instagram pictures), but it won't disappoint you either. Full rain gear is a must for this, as there is water dripping from above you, and you might have to walk through puddles of water inside the cave.
Diamond beach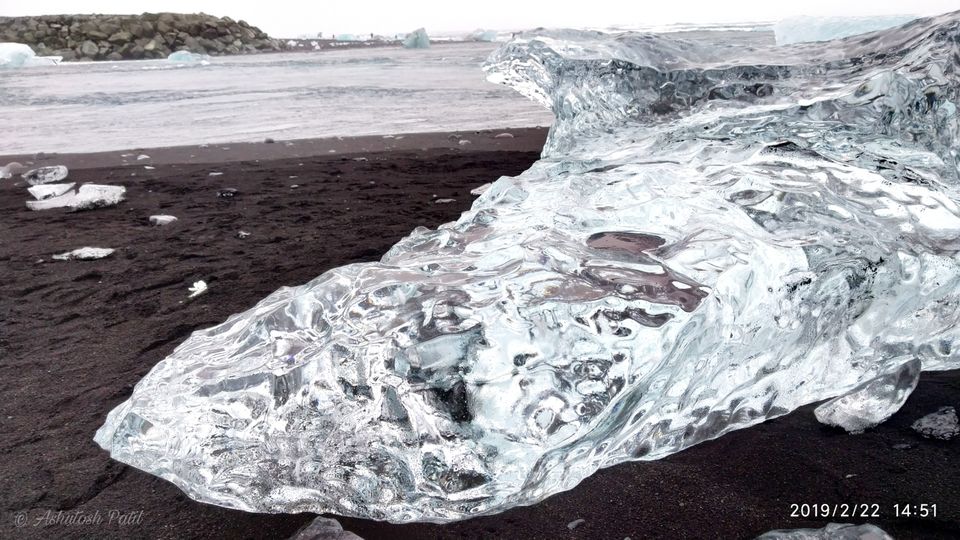 After we came back from our ice caving tour, we were soaked and tired, time for some hot chocolate. What you need to know is that Jökulsárlón cafe, located right next to the parking lot, has got it all and more! Try the hot chocolate with rum... Yum yum!
After our little drink we headed to the diamond beach which is located right opposite the glacier lagoon. The moment you step on the black sand beach and gaze at the numerous ice rocks on the shore, you feel like you are walking in a diamond field. These are rocks from the glacier, which are washed ashore, and get their shape from being in the flowing water. So be prepared to gaze at those blue reflecting, shiny patterned rocks scattered throughout the beach.
Foss á Síðu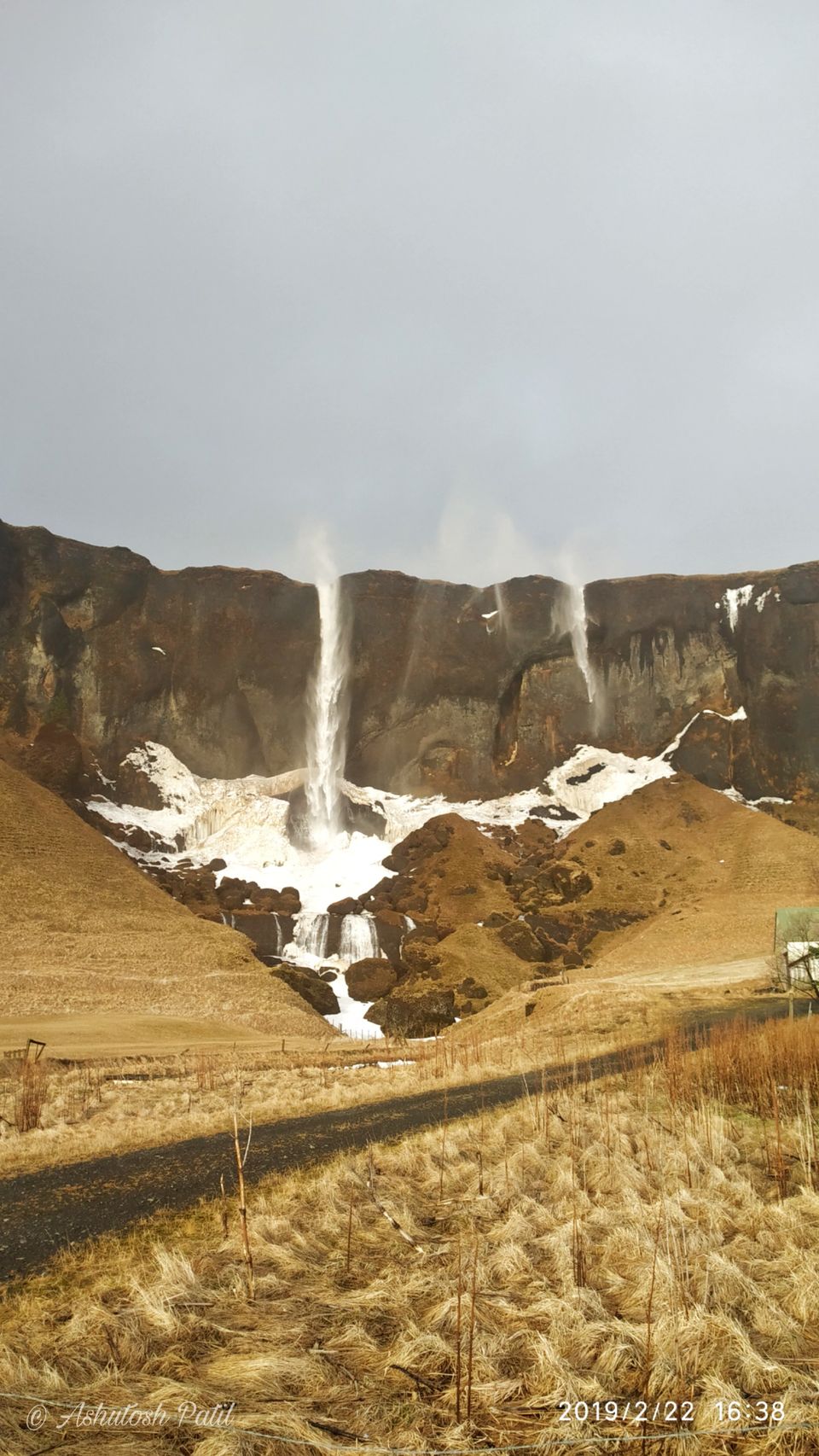 After the diamond beach, we started back towards our hotel for the day. On the way we encountered some Icelandic horses, and had to make a stop and click photos (Icelandic horses are a very rare and pure breed which you won't find anywhere else in the world). After the horses we had a stop at Foss á Síðu, waterfall at Sída. This is one of the reverse waterfalls in Iceland, located right beside the ring road and on a private property. But you can have a look at it from afar and click your photos. Worth a quick stop!
Finally we reached our hotel for the day- Hunkubakkar cottages.
The location of these cottages was breath-taking and so were the cottages. Located a little ahead of Kirkjubæjarklaustur towards Reykjavik, these cottages are nestled right amidst the mountains, scattered with snow in parts and green in parts. Lovely as hell, maroon coloured wooden cottages, contrasting against the green of the fir trees and the snow sprinkled ground, these are a must on your itinerary if you love the feeling of being amidst nature. You might find the rooms for two a little small, but they are comfy and packed with all the necessary amenities. But with the kind of surroundings you have here, you won't complain either way.
The nearest town is Kirkjubæjarklaustur, so most people flock there for dinner. We dined at Systrakaffi, which is a nice quiet place, but has got food that packs a punch. One of the best grilled Icelandic lamb I have had, accompanied by fried fish and Gull beer!
*Arctic adventures Ice caving - 40000 ISK (for two)
*Jökulsárlón cafe - 1200 ISK
*Hunkubakkar cottages - 140 euros
*Dinner at Systrakaffi - 10850 ISK
#jokulsarlonglacierlagoon , #jokulsarlon , #vatnajokullnationalpark , #vatnajokull , #vatnajokullglacier , #arcticadventures , #icecaving , #guidedtour , #diamondbeach , #hunkubakkar , #hunkubakkarcottages , #systrakaffi , #fossasidu , #kirkjubaejarklaustur , #iceland , #icelandroadtrip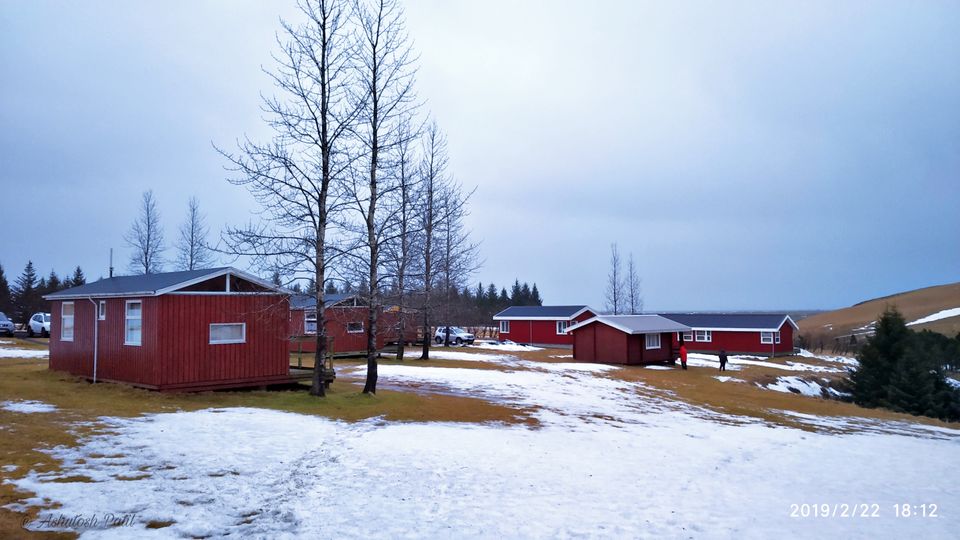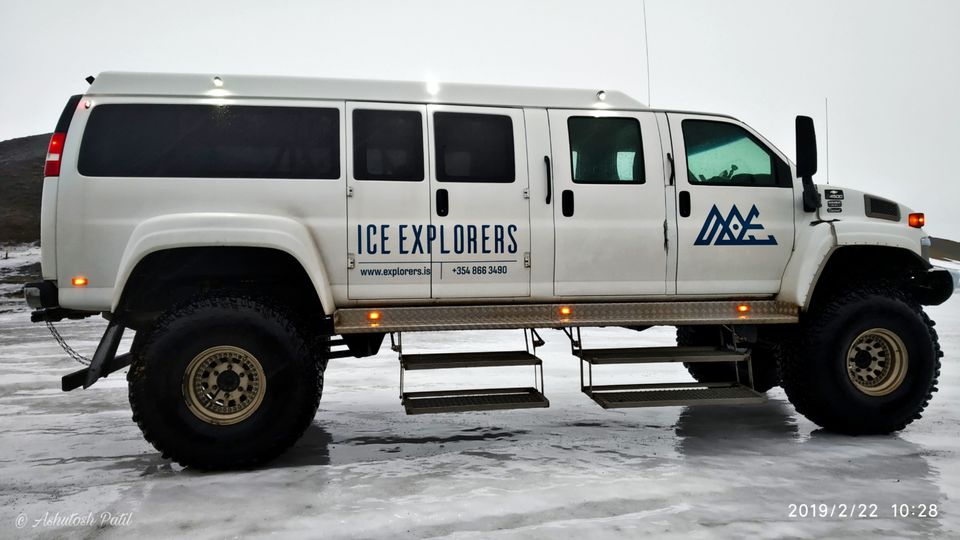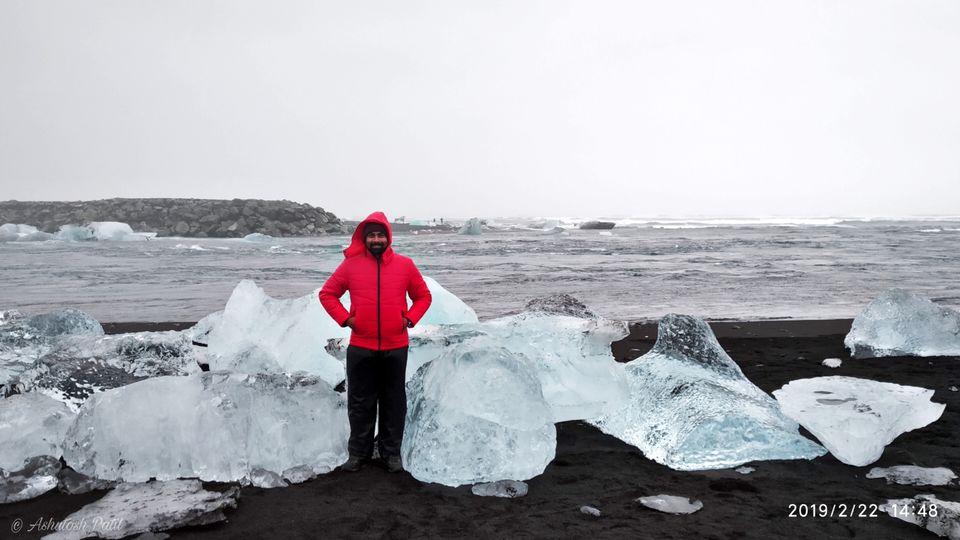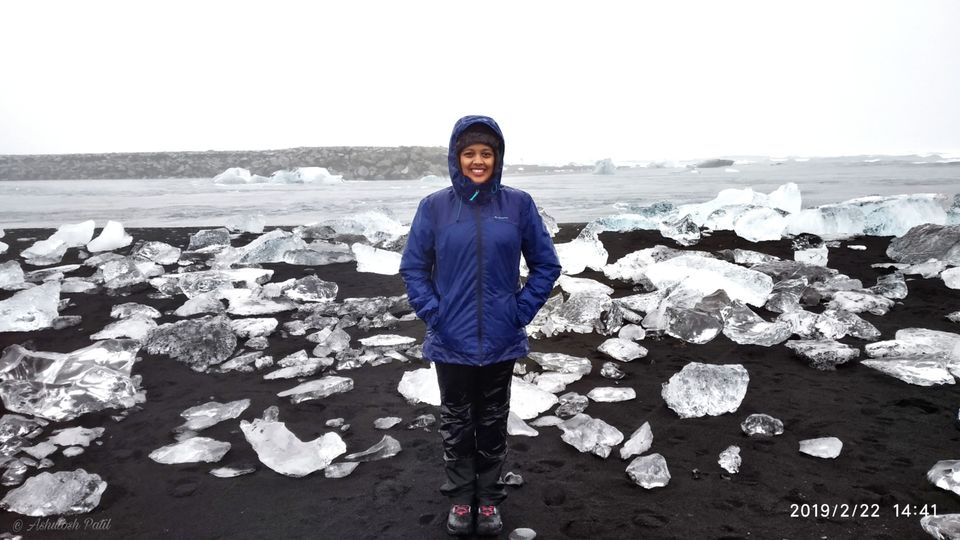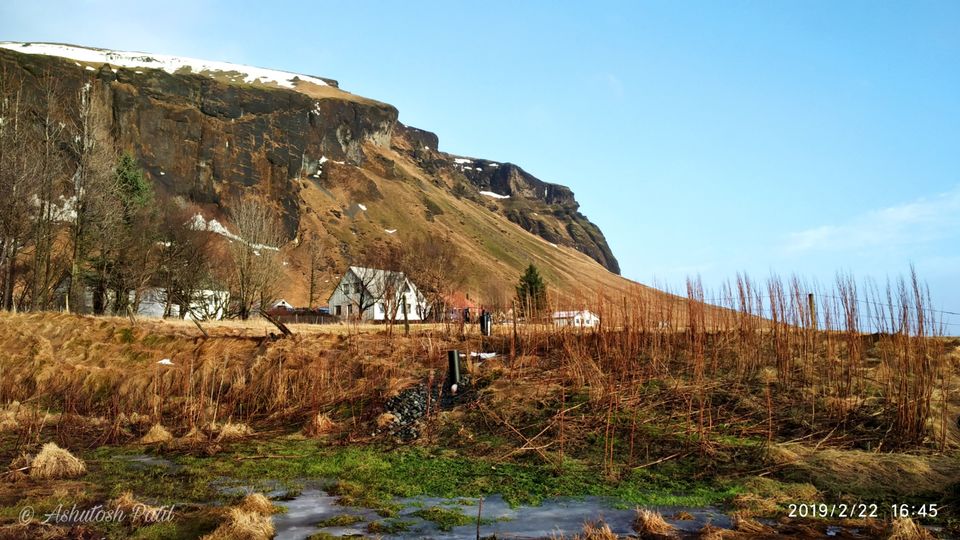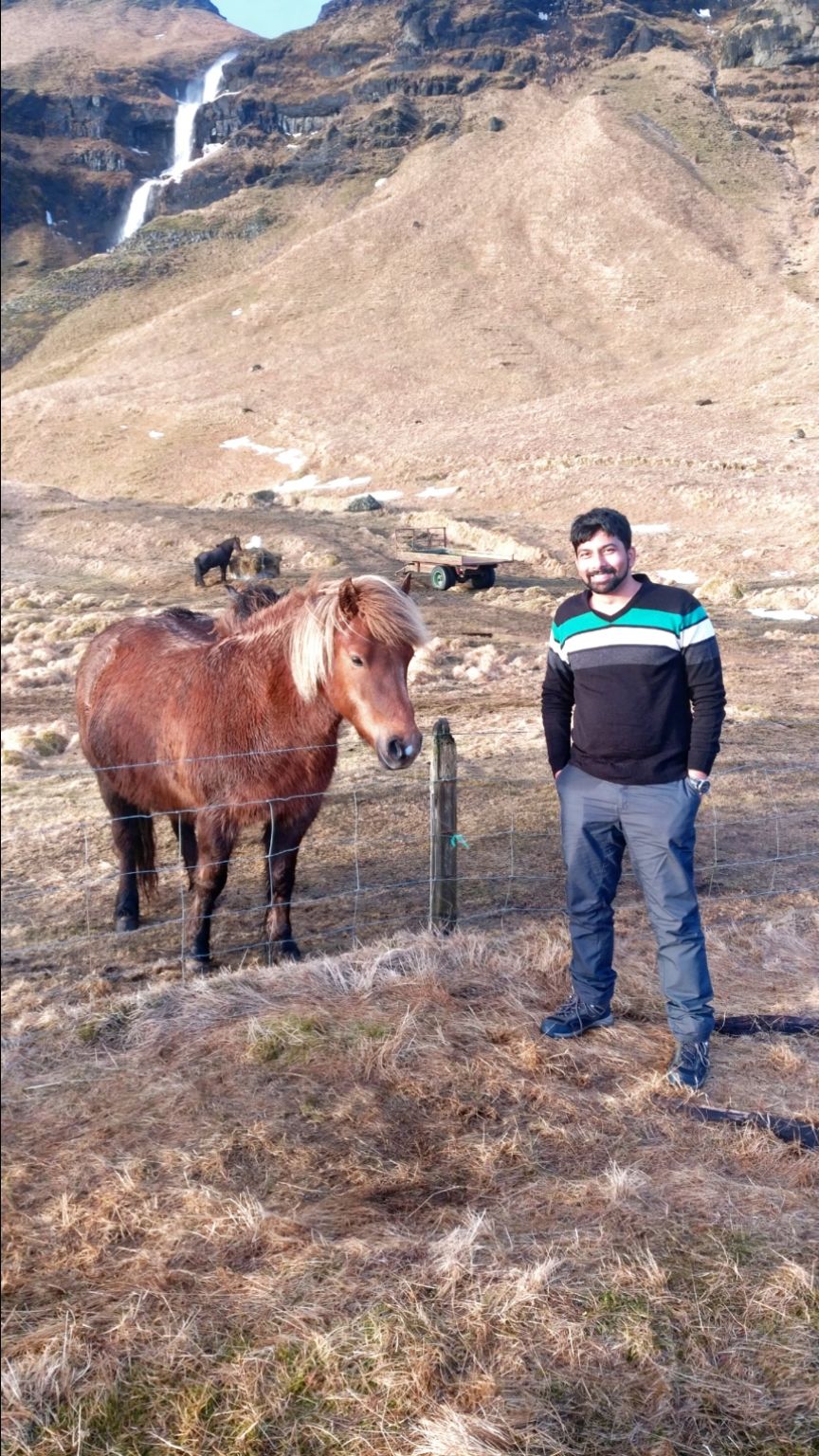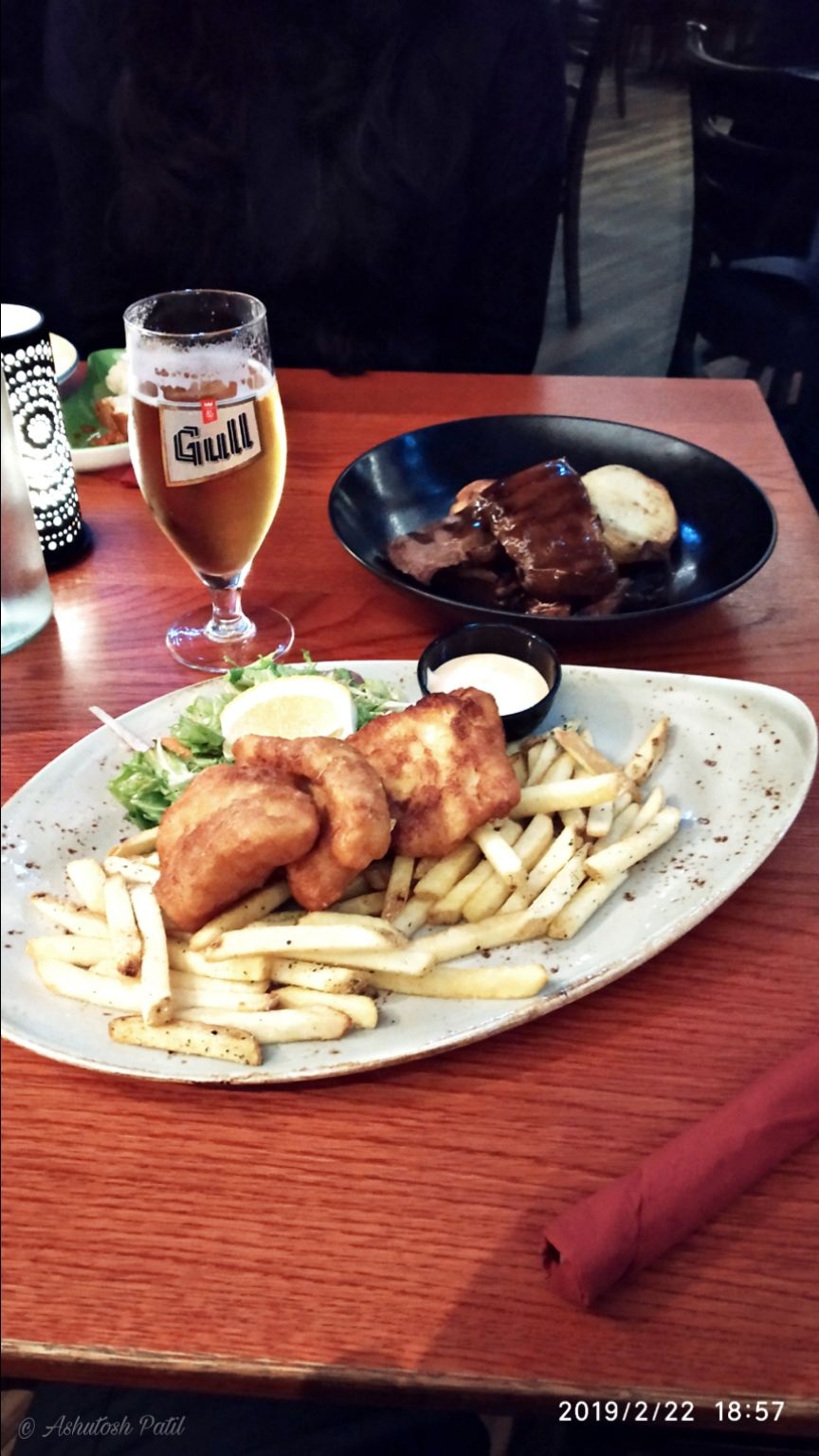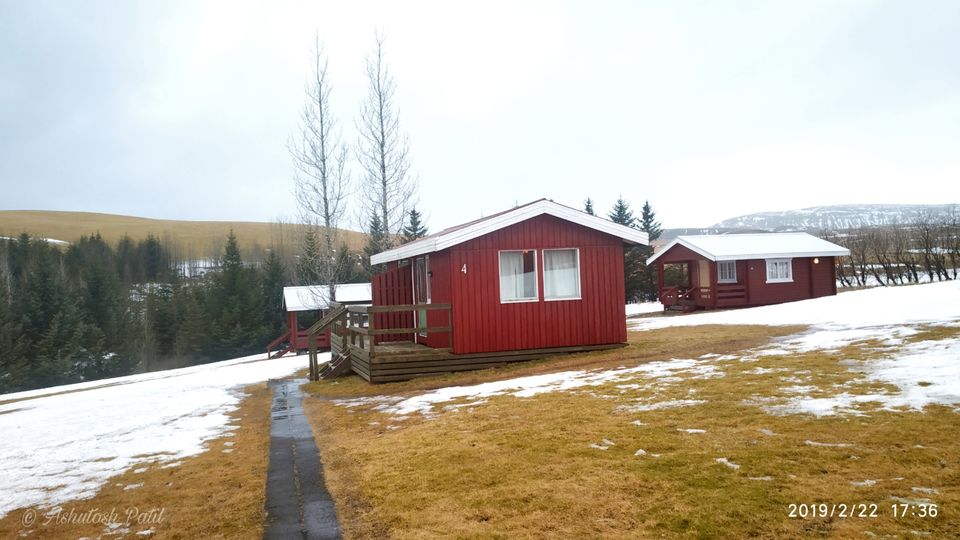 *Transport- Rental car
*Places visited- Fjaðrárgljúfur, Laufskálavarða, Reynisjfara, Reynisdrangar, Sólheimasandur plane wreck, Vík í Mýrdal Church.
*Driving duration- 2 hrs 10 min / 165 kms approx
* Food- Strond restaurant
Hunkubakkar cottages has a separate dining area for breakfasts and meals. Full glass walls on three sides, nestled right into the middle of the mountains, and here you are sipping your morning coffee, with a dash of healthy breakfast by the side. That's how it feels like here!
Fjaðrárgljúfur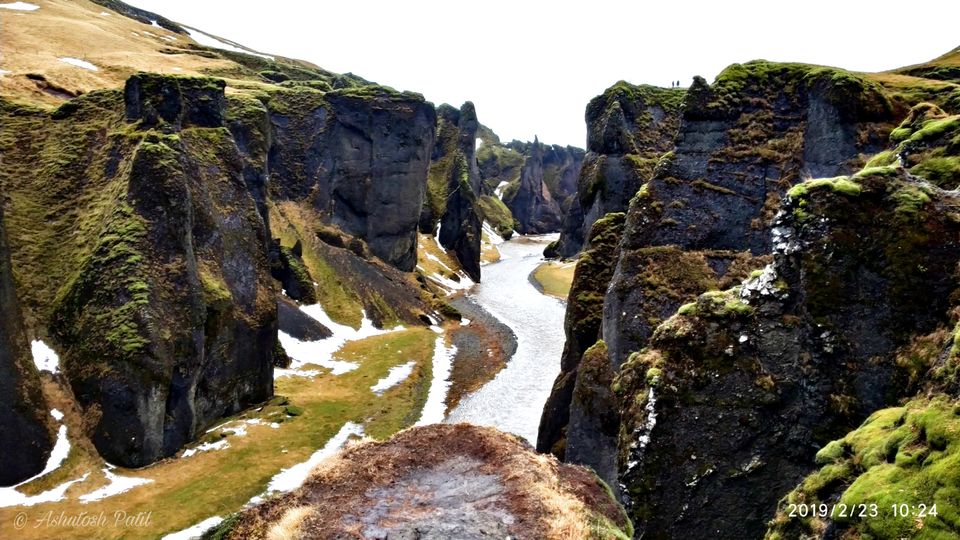 First stop for today was this canyon located just 5 mins from the cottages, called Fjaðrárgljúfur. A steep canyon, about 2kms long with the river Fjaðrá winding through it, the origin of this place dates back to the cold periods of ice age (it's that old). It involved a short hike uphill to appreciate the full beauty of this river gorge. Mind you, it was gorgeous, the serene atmosphere, the green and tan mountains, with the river cutting through them, and views as far as the eye could see, what more could you want. I definitely recommend this place as a must visit for all those traveling in this region!
Laufskálavarða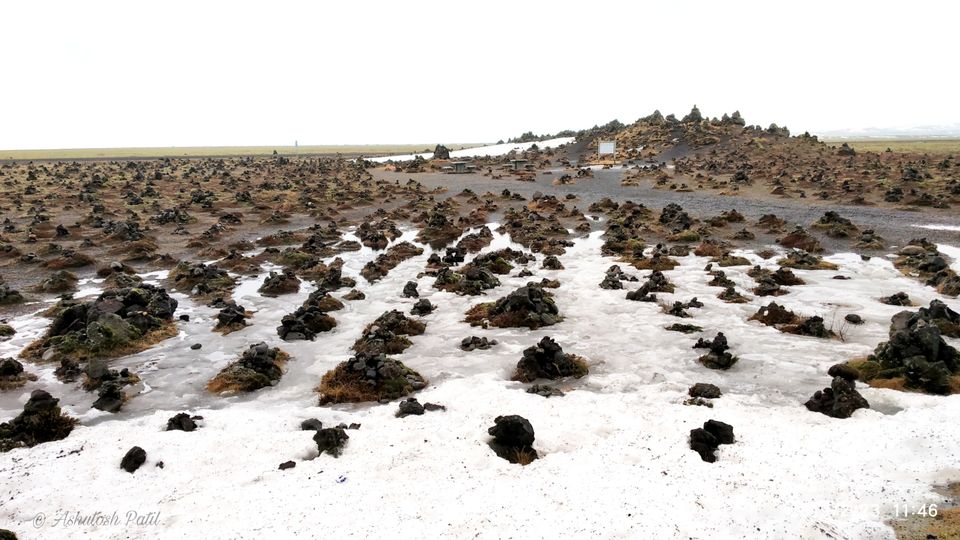 It is a lava ridge located just off the ring road 30kms from Vík, dotted with stone cairns on a small hillock. Traditionally considered to bring good luck in travel, many a travellers place small rocks in a pile at this place to further the lore.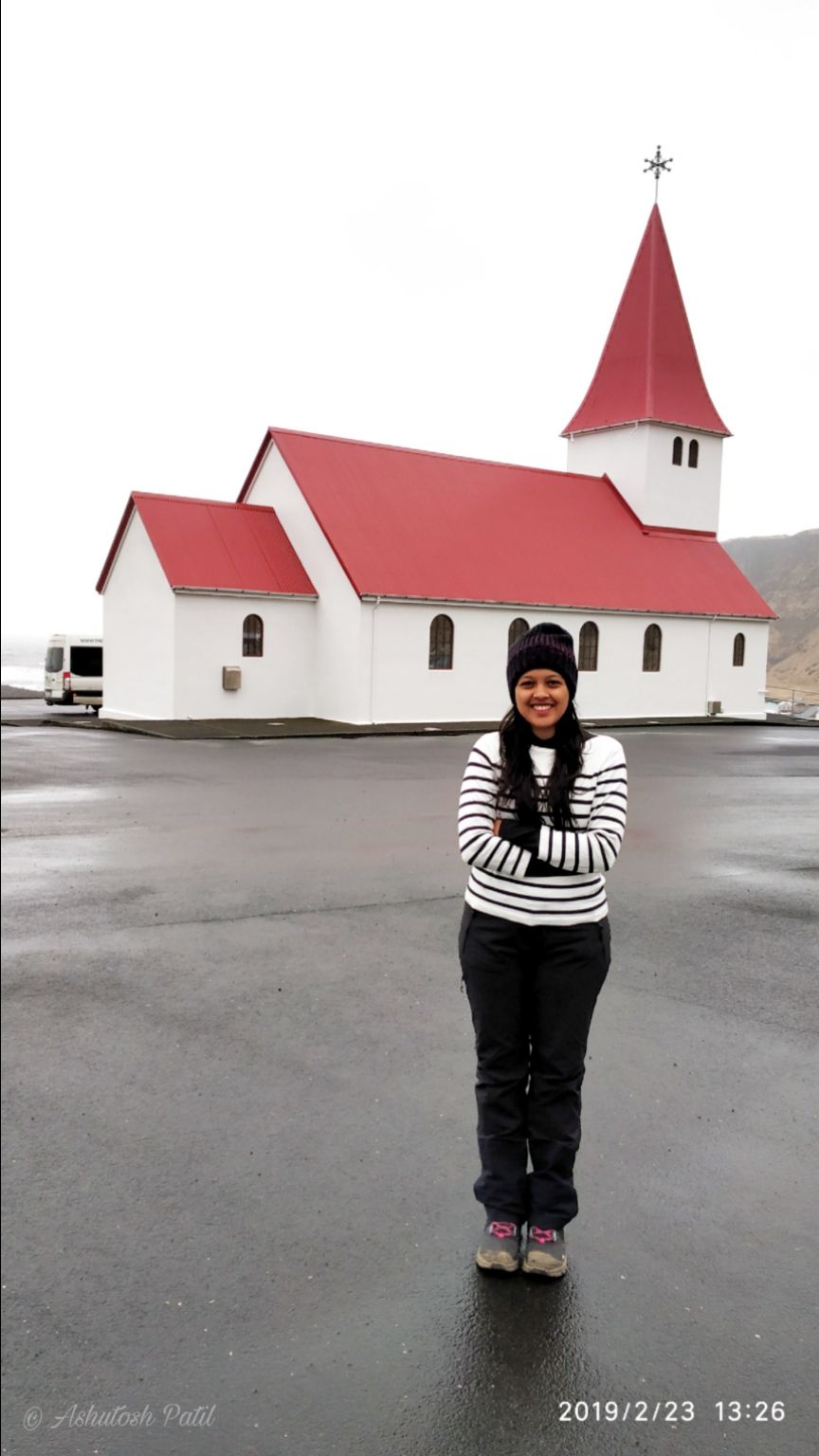 Overlooking the village of Vík stands this church atop a hill. Alas it was closed for us to go inside but the views that you have from this spot... You will definitely stop breathing for a second! In the distance you can see the black sand beach which was our next stop.
Also the town of Vík has Kronan, another department store for your needs (of course we had our stock refilled here) and there's a souvenir store called icewear too (it's too big a place to choose from the hundreds of Icelandic souvenirs).
Reynisjfara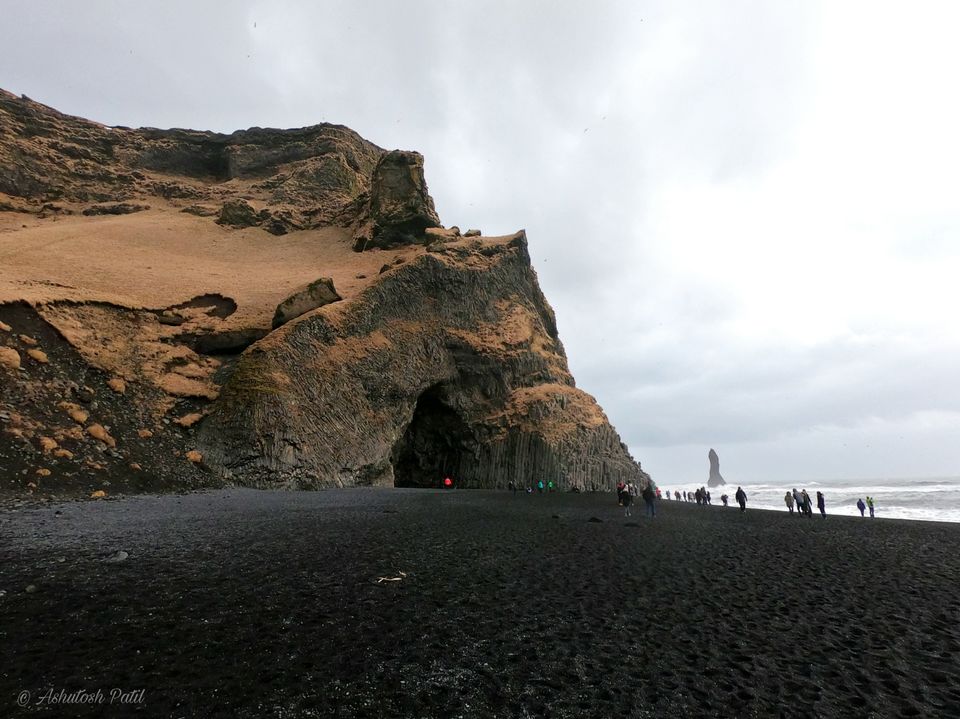 The Reynisjfara black sand beach is located a little off the ring road and is one of the most touristy place in Iceland. Reynisjfara is entirely black, thanks to the black sand derived from the volcanic activity in these regions, ages ago. It's a stark contrast from the usual silver sandy beaches that we are so accustomed to visiting. You can see basalt rock columns at this location, due to the volcanic activity again, and where you can sit, stand or sleep, just to get those pics (get your cameras out and start clicking).
Apart from this, in the distance you can see two mountain formations, jutting out into the ocean called Reynisdrangar.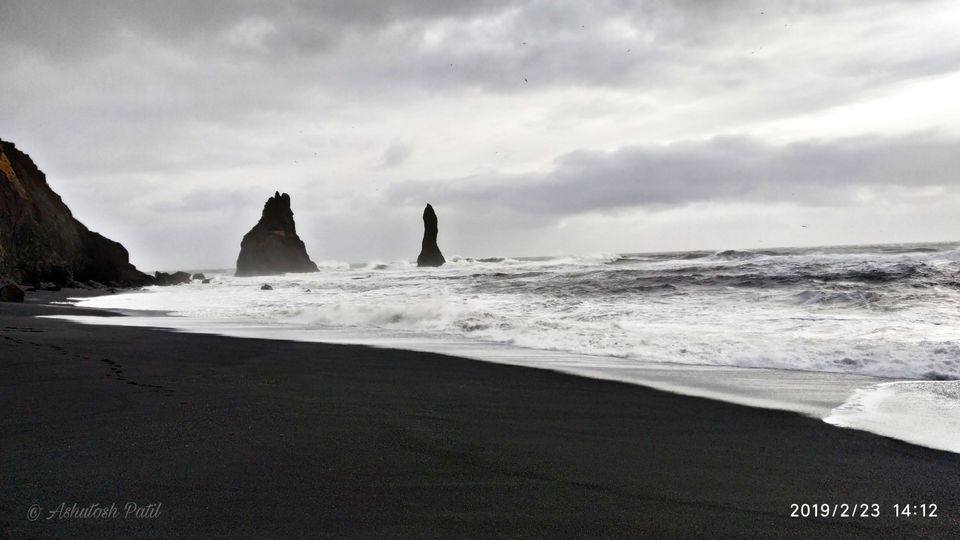 Featured in the game of thrones, legend has it that these were trolls that were once trying to steal a ship and then got caught in the sunlight and turned to stone. Do be careful of the ocean waves in this region as they are a bit unpredictable and can sneak up on you any second!
Sólheimasandur plane wreck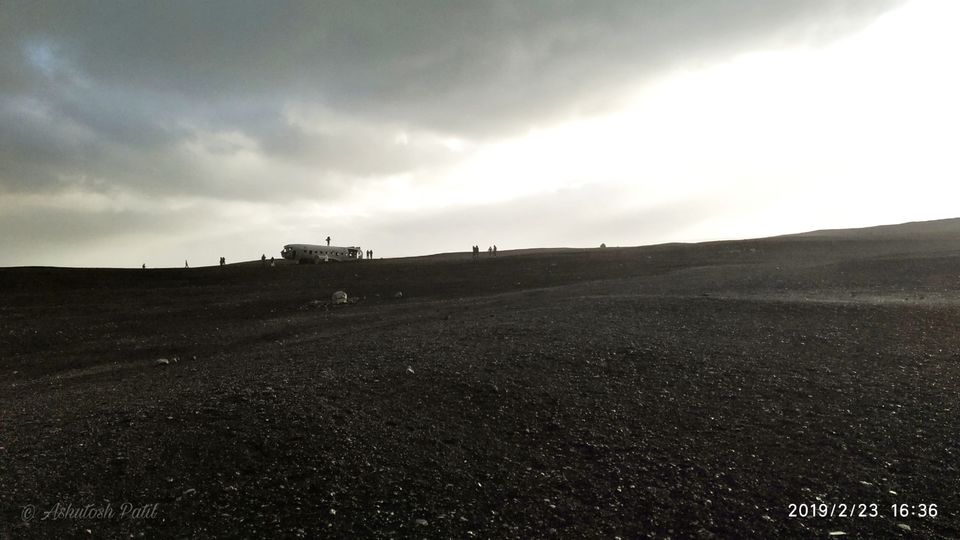 This was the last thing on our itinerary today and trust me, we didn't have the energy to do anything after this. Sólheimasandur plane wreck site is essentially a world war II DC plane that was grounded at this black sand beach at Sólheimasandur. The usable parts have been stripped have and what we are left with are the bare skeletal remains of the plane, located in the middle of nowhere. Though it's picturesque I must say, but gets too crowded with tourists in daytime and you'll be unhappy with those shots you just clicked there.
It involves a 4 mile hike from the ring road to reach the wreckage. The road is entirely flat, made of black sand and rocks, and there will be times you won't see anything as far as your field of vision. But you gotta stay in the path, marked out and don't stray from it lest you get lost. During the walk we actually walked through rains twice and sunny weather alternating with it. We even got to see a full rainbow!
After our last stop, and the very long walk back, we headed straight for our cottage in Hella.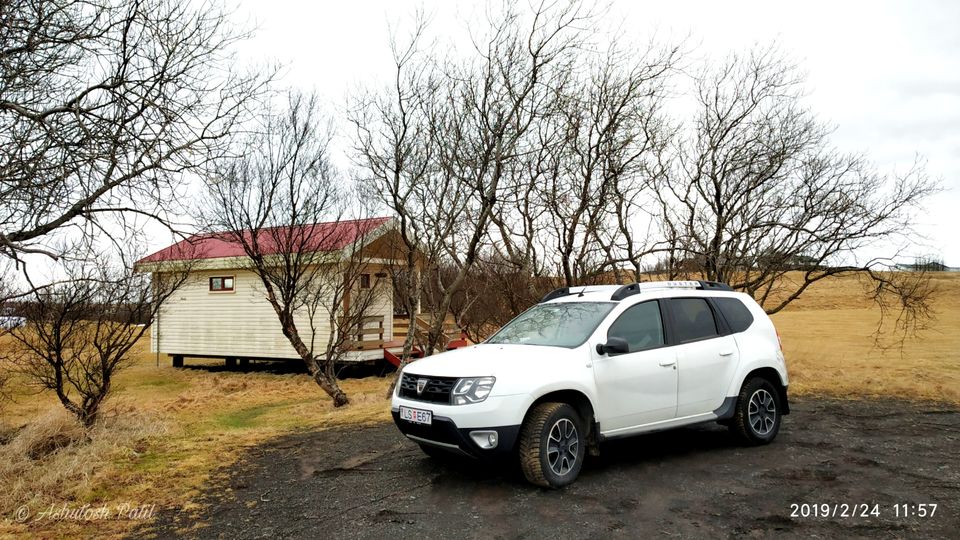 Rettarsel was it's name, a group of three cottages placed at a distance, just outside the town of Hella. Well equipped with a full stocked kitchen, 4 beds, dining table and a sofa, we immediately loved this place. Cherry on the cake- an outdoor private hot-tub, to soak in, relax and enjoy some wine!
We had dinner at Strond restaurant located literally in the middle nowhere just outside of Hella. There aren't many dining options in Hella and this one appeared to be the more fine dining type one. Two different varieties of Viking beer, smoked cod carpaccio and roasted trout constituted our dinner. And of course I did try the Icelandic dish, Hakarl with brennivin schnapps (which is fermented shark meat). It wasn't god awful, but I don't have any idea why people consider it a delicacy here either!
*Fuel - 4950 ISK
*Kronan - 3100 ISK
*Souvenirs from icewear - 9000 ISK
*Dinner at Strond restaurant - 8300 ISK
*Rettarsel - 15000 ISK
#reynisjfara , #blacksandbeach , #basaltrockcolumns , #reynisdrangar , #gameofthrones , #vik , #vikchurch , #solheimasandur , #solheimasandurplanewreck , #laufskalavarda , #rettarsel , #hella , #strondrestaurant , #smokedcodcarpaccio , #roastedtrout , #hakarl , #brennivin , #Fjaðrárgljúfur , #rivergorge , #kronan , #icewear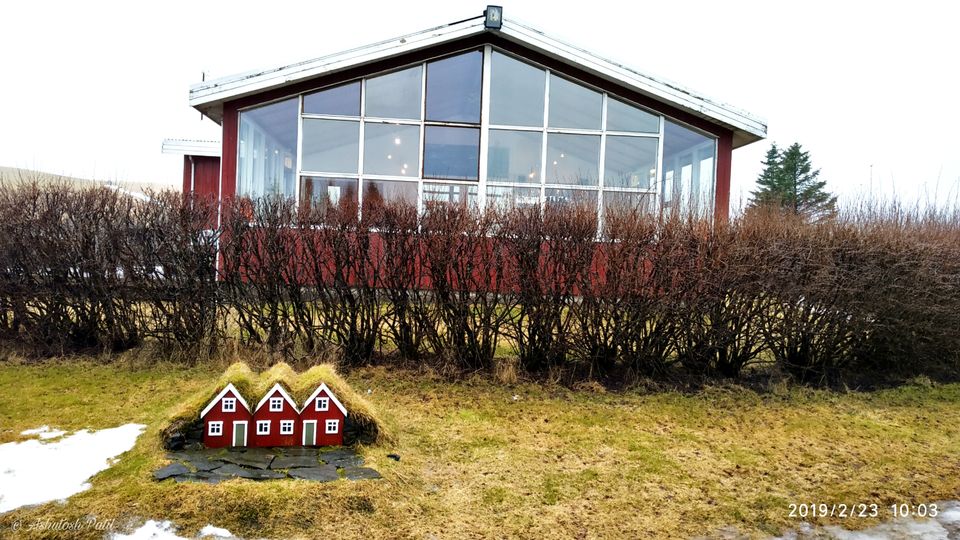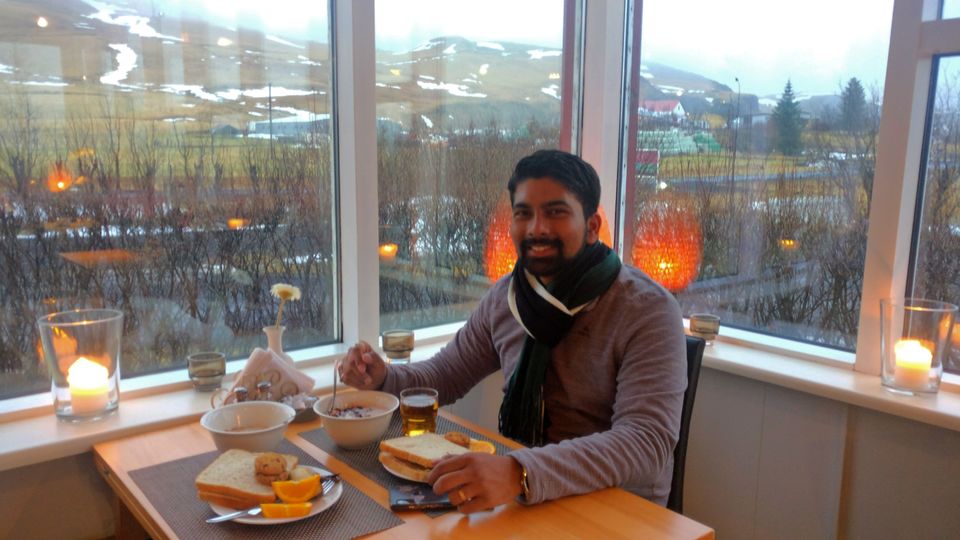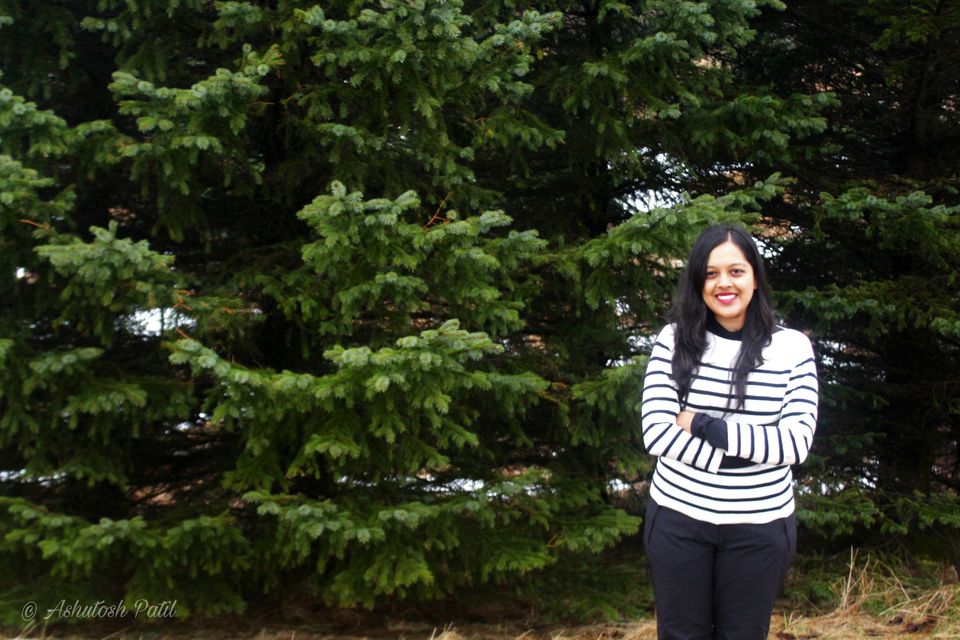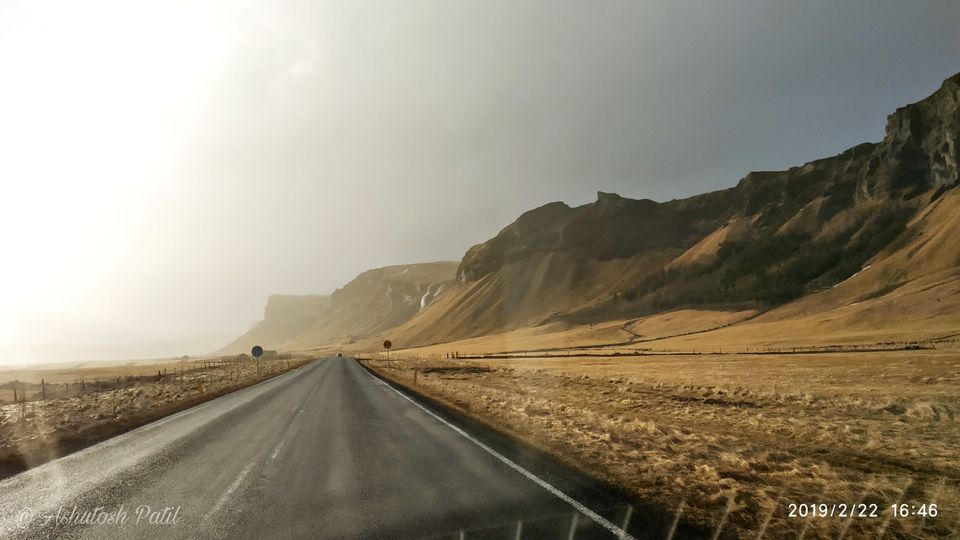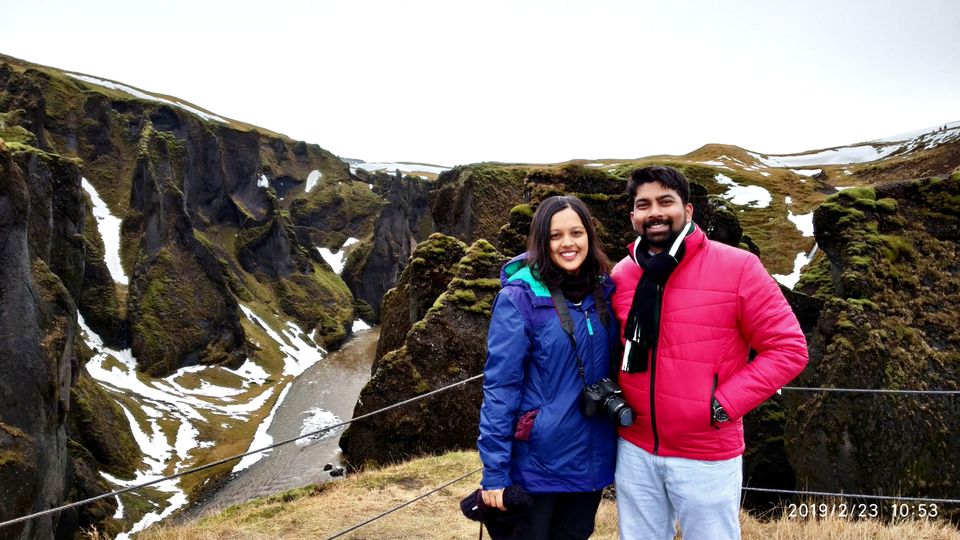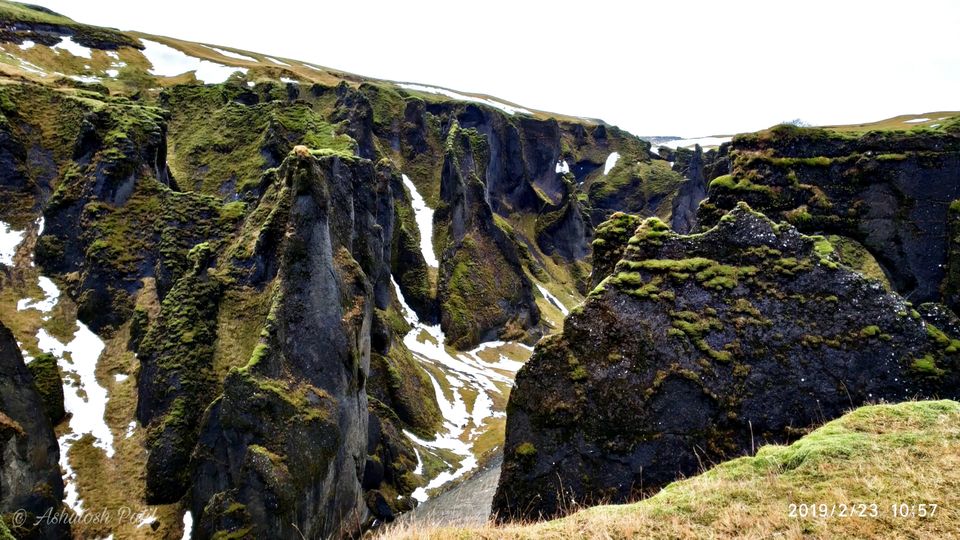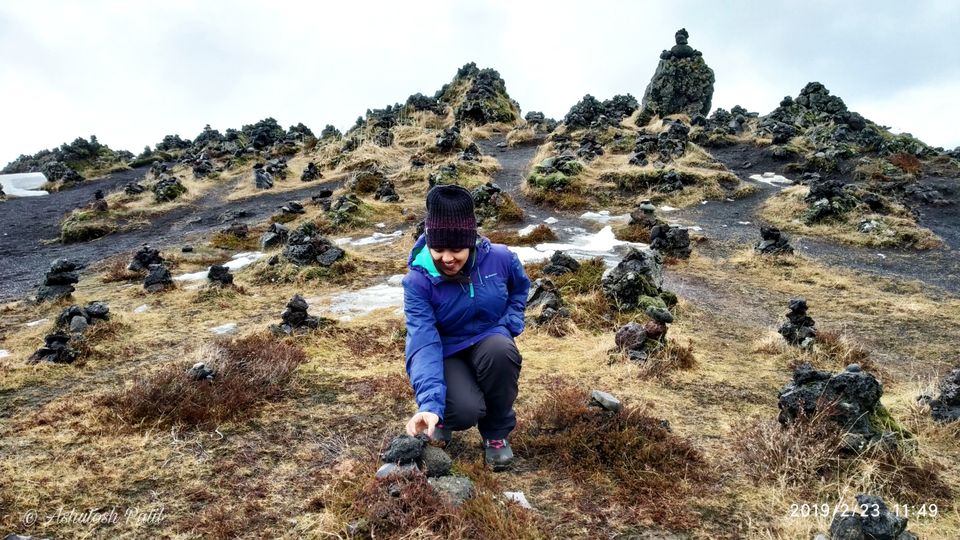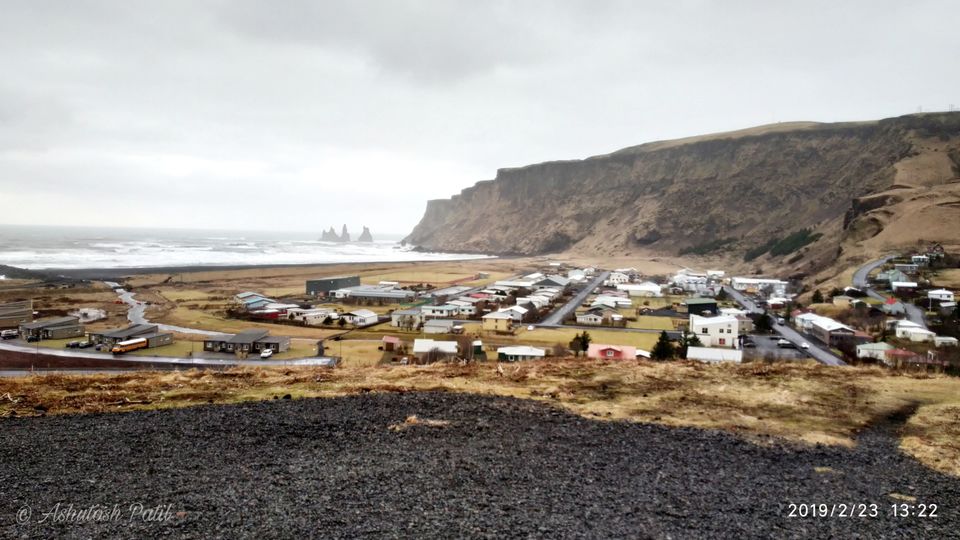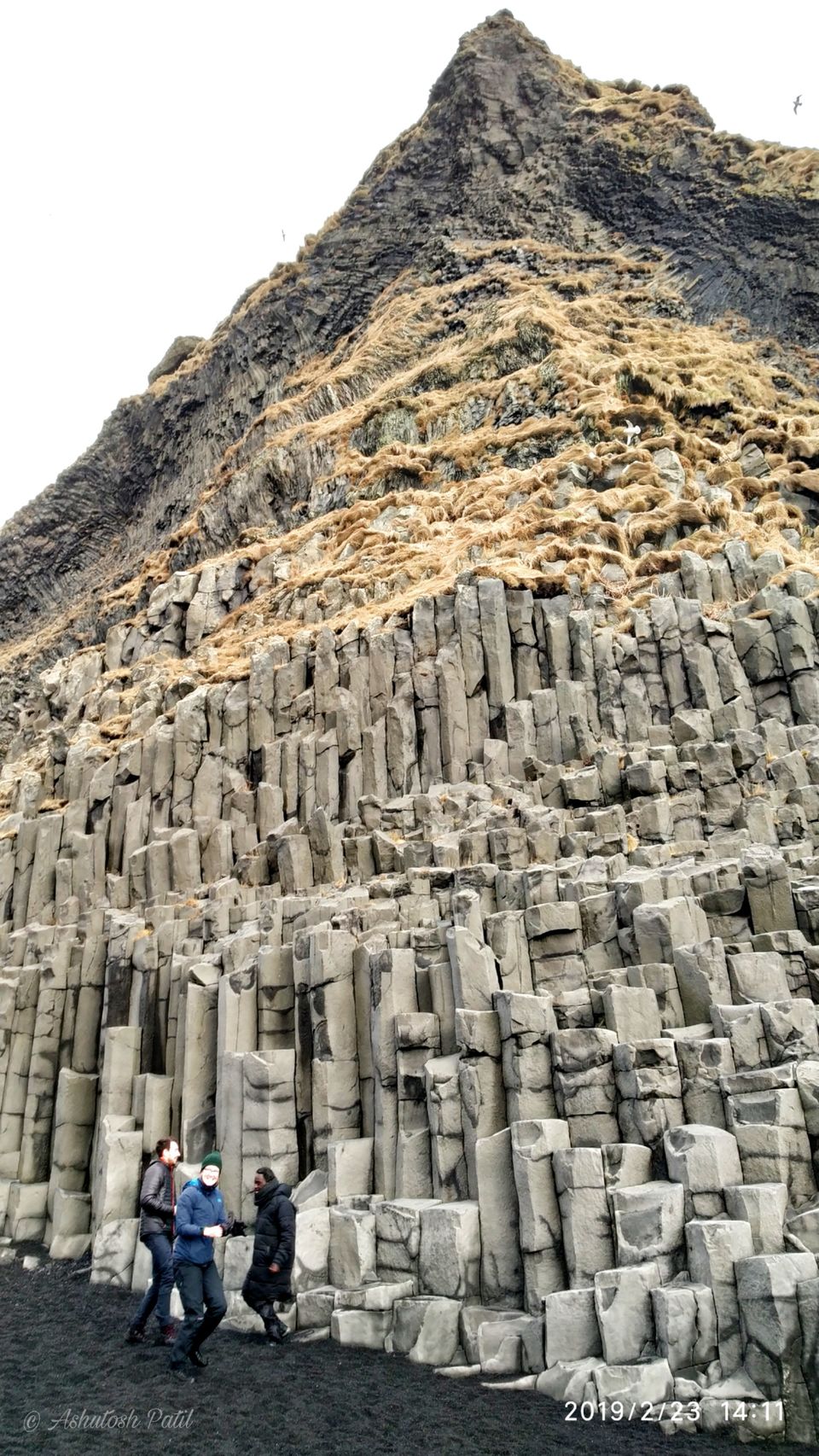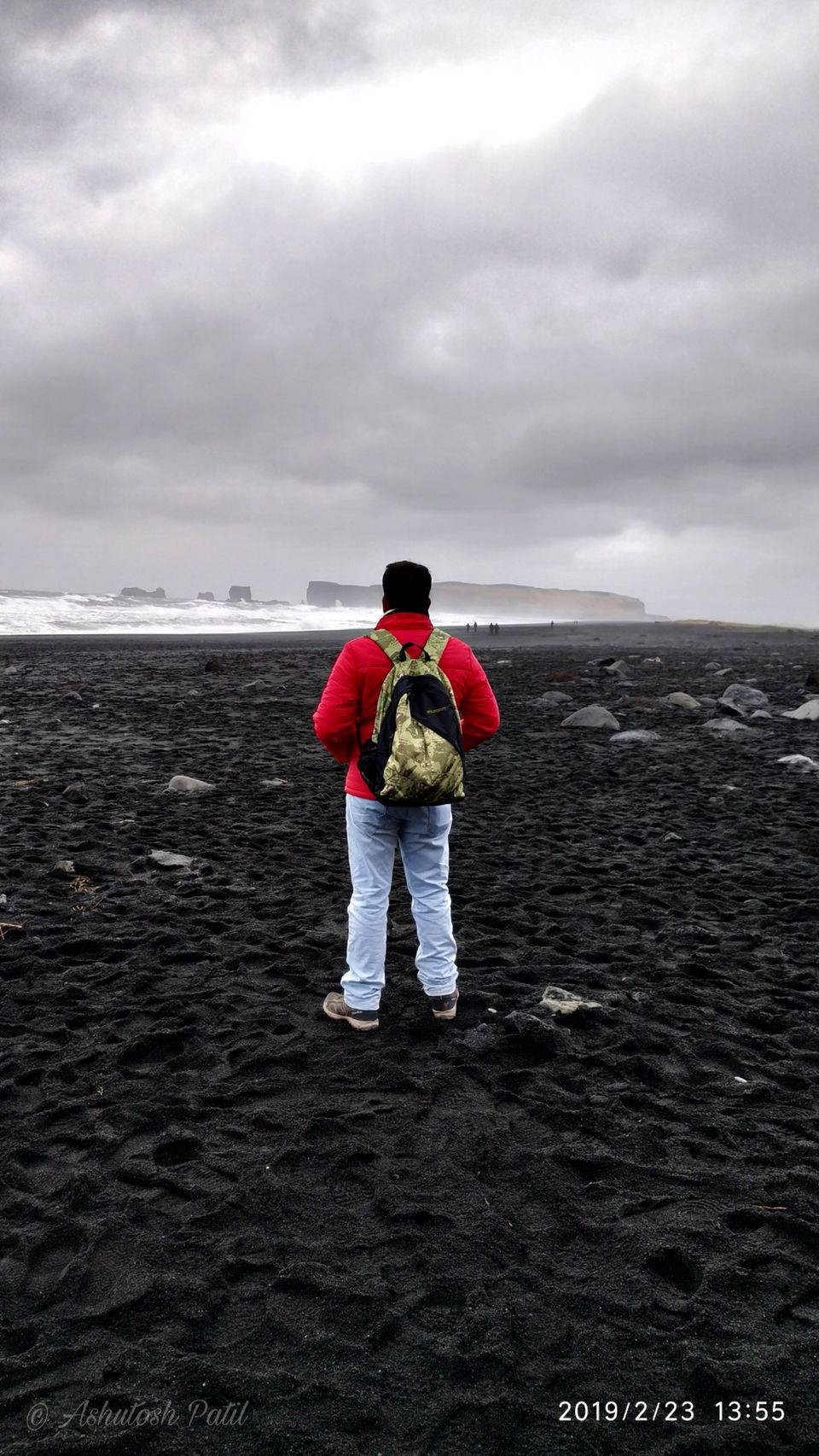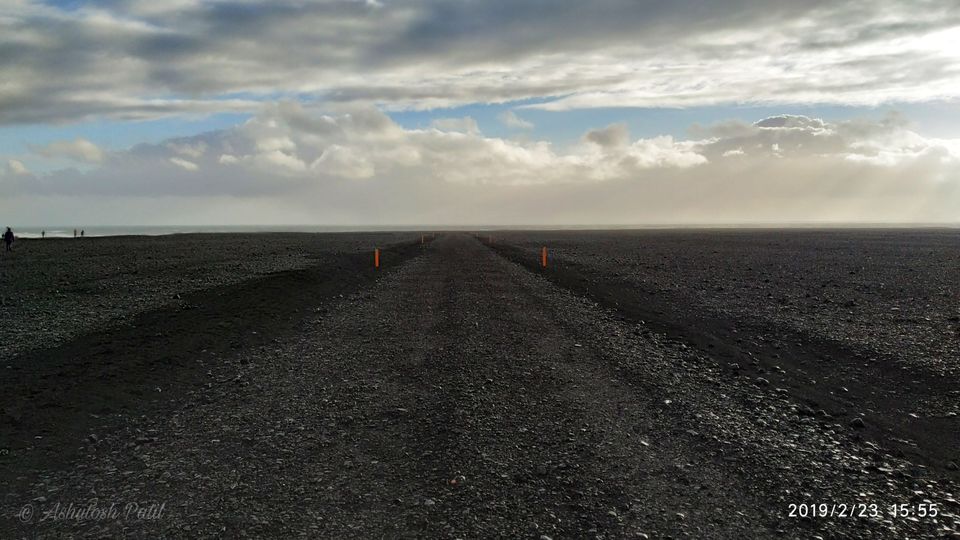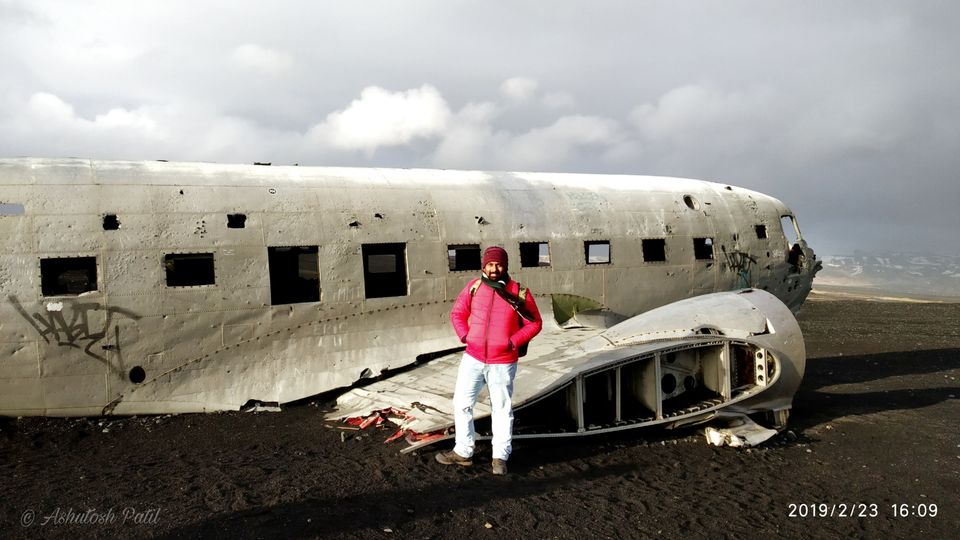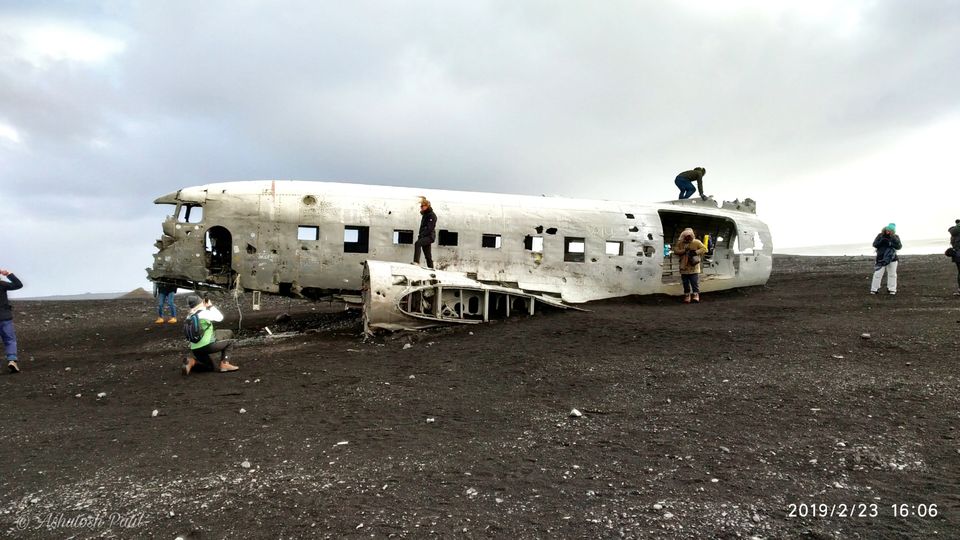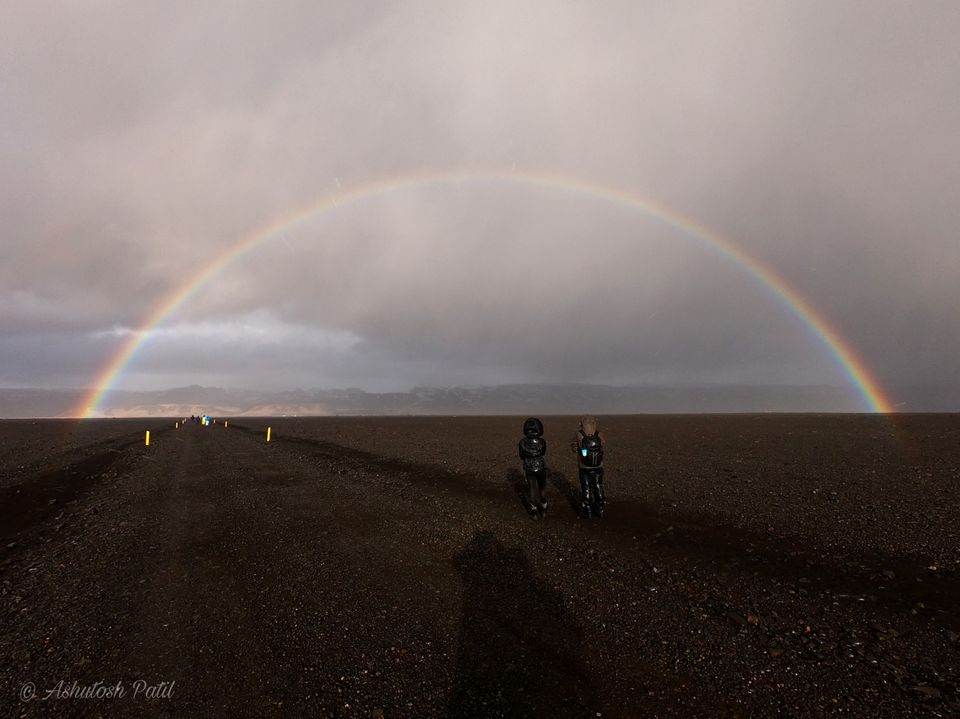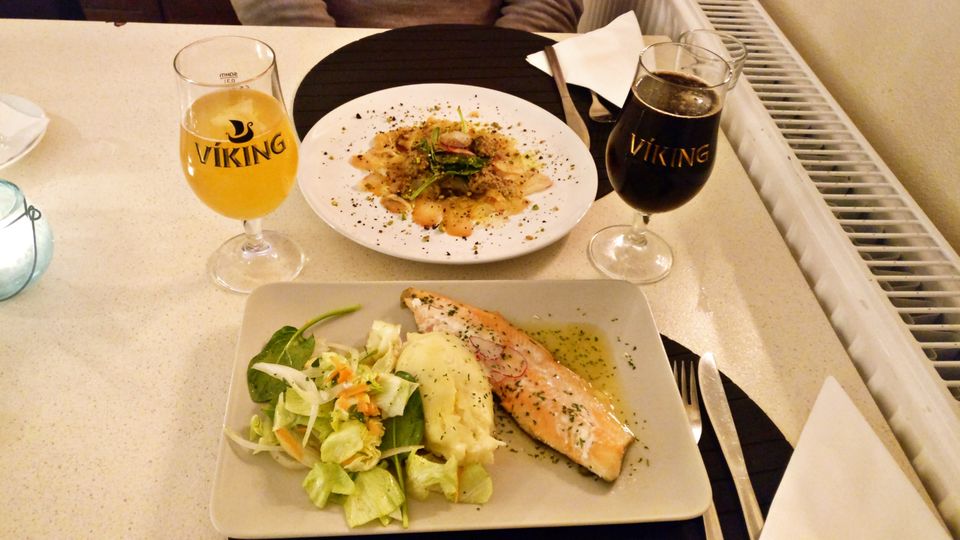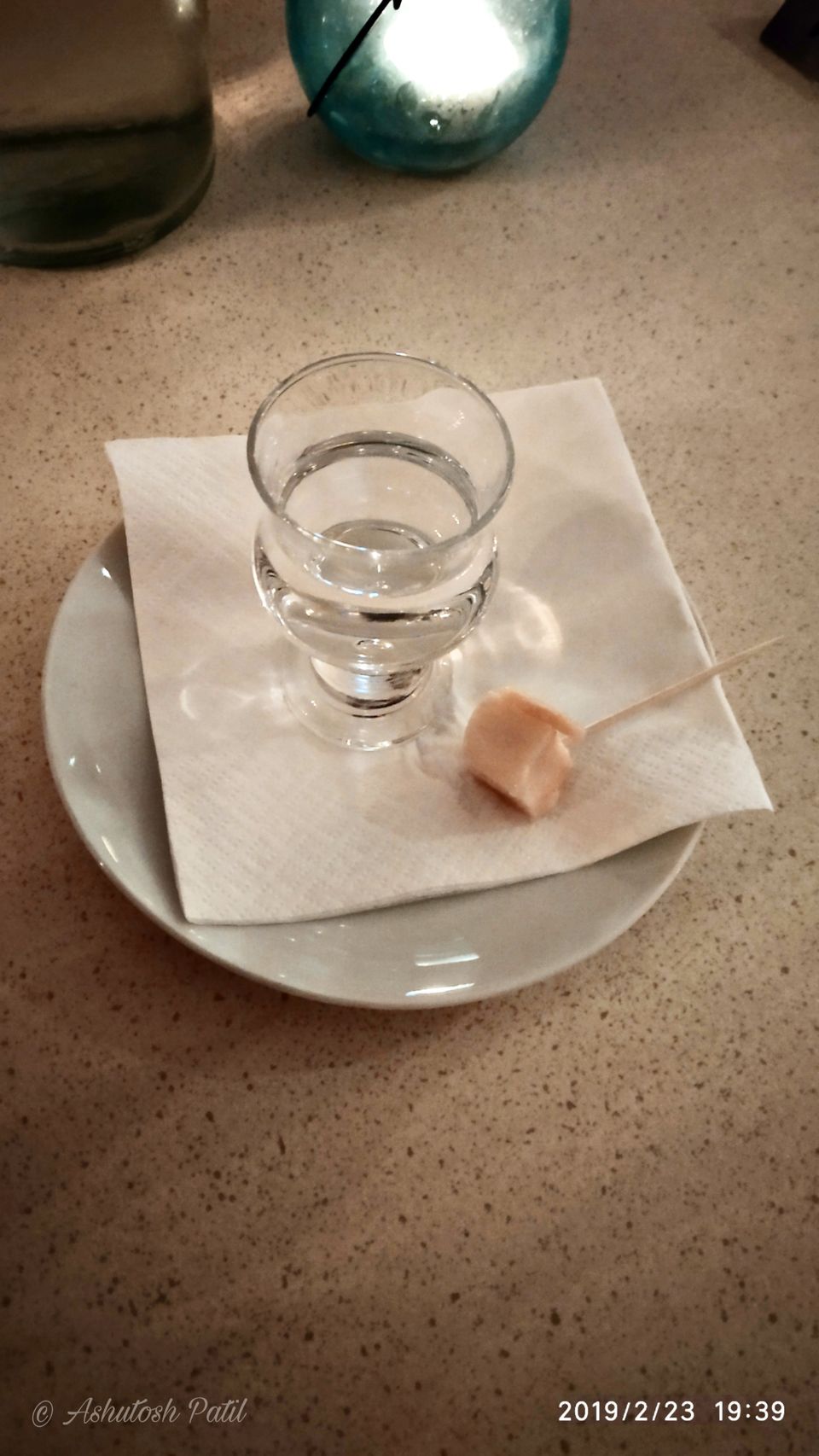 *Transport- Rental car
*Places visited- Reykjavik, Hallgrímskirkja, National museum of Iceland / Þjóðminjasafn Íslands, Icelandic phallological museum
*Driving duration- 1 hrs 30 min / 95 kms approx (apart from intracity driving)
* Food- Hlemmur Mathöll, Lækjarbrekka
Imagine waking up and spending your time in a nice warm hot-tub, in the chilling weather outside, surrounded by some gorgeous scenery, all the while sipping on some wine... That's exactly how our morning here, at Rettarsel, started. We actually lost track of time sitting and relaxing in the hot-tub that we left Rettarsel around 12pm (that was our checkout time, haha).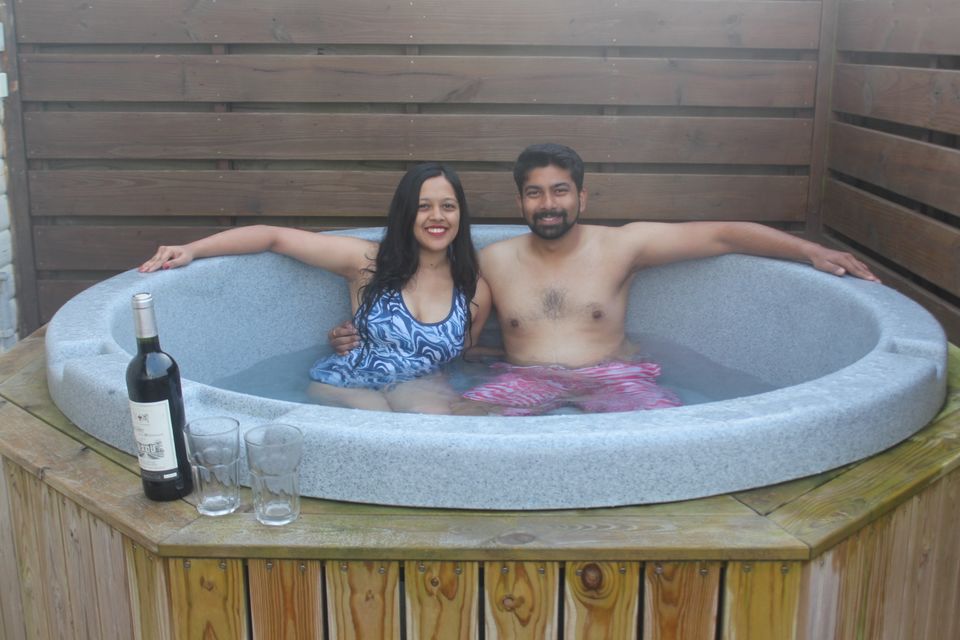 After a breakfast of sandwiches, roulade and skyr, we started out to explore the capital of Iceland- Reykjavik.
Hallgrímskirkja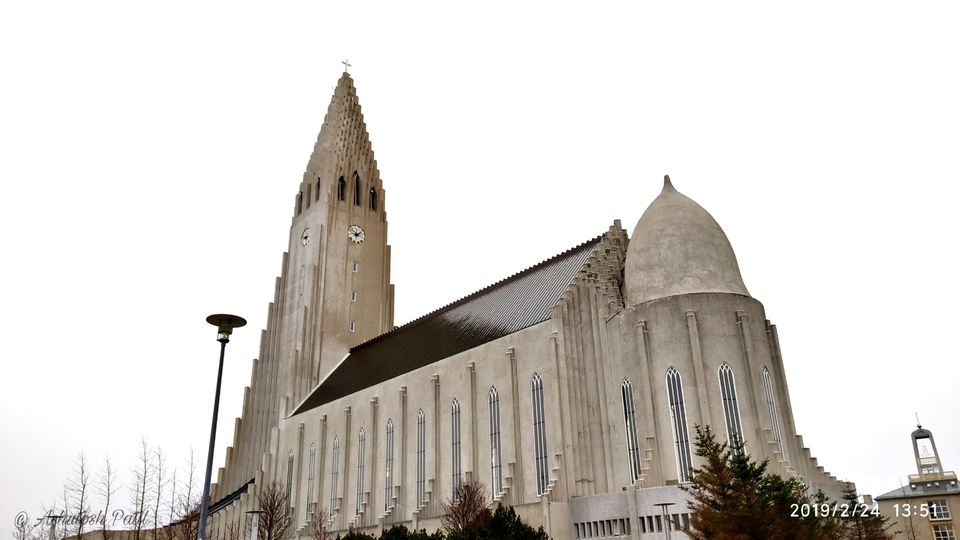 Located in the middle of Reykjavik, Hallgrímskirkja is the largest church in Iceland, and also one of the tallest structures here. It's architecture has been designed to reflect the basalt rock columns found at reynisjfara and Svartifoss and many other places on Iceland. There is an entrance fee that gets you to the top of the tower, which gives you views of the city of Reykjavik on all sides. Entrance to the inside of the church hall is usually restricted to parishners on day of mass. Be sure to click photos of the church from outside, which we weren't able to do that much, because of a strong wind which was literally blowing us away!
National museum of Iceland / Þjóðminjasafn Íslands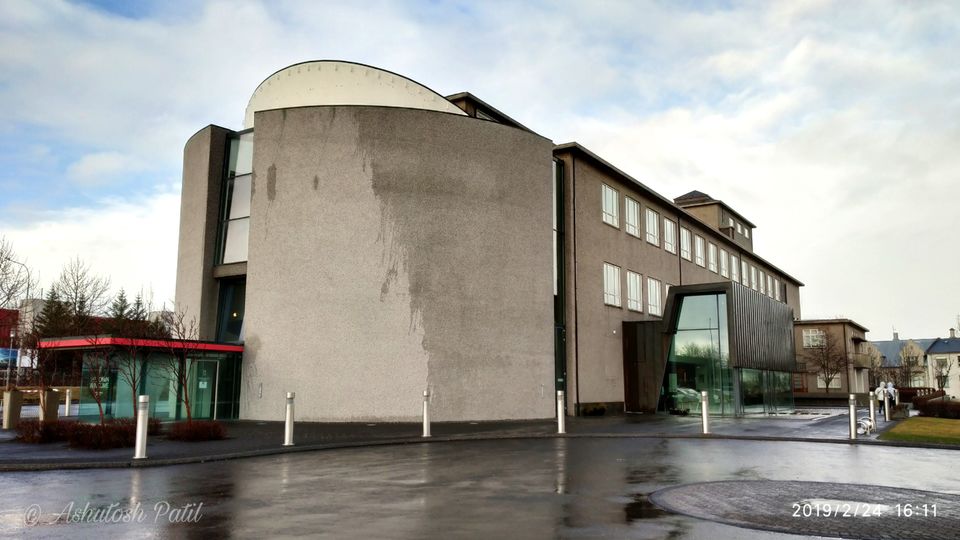 After the church visit, we checked in to our hotel, dropped off the luggage and started on our site seeing spree again. National museum of Iceland, located within the university campus, is something that you should visit if you want to know about the origins of Iceland. Strap in for a journey as the first settlers landed in this unknown land eons ago and what it has become now. Marvel at the antiquities, appreciate the life in the cold though replicas of boats and turf houses and listen to the audio stories as they give a crisp description of what you are seeing right in front of you. There's an entrance fee to go through the museum and there's ample free parking in the university campus on Sundays.
Icelandic phallological museum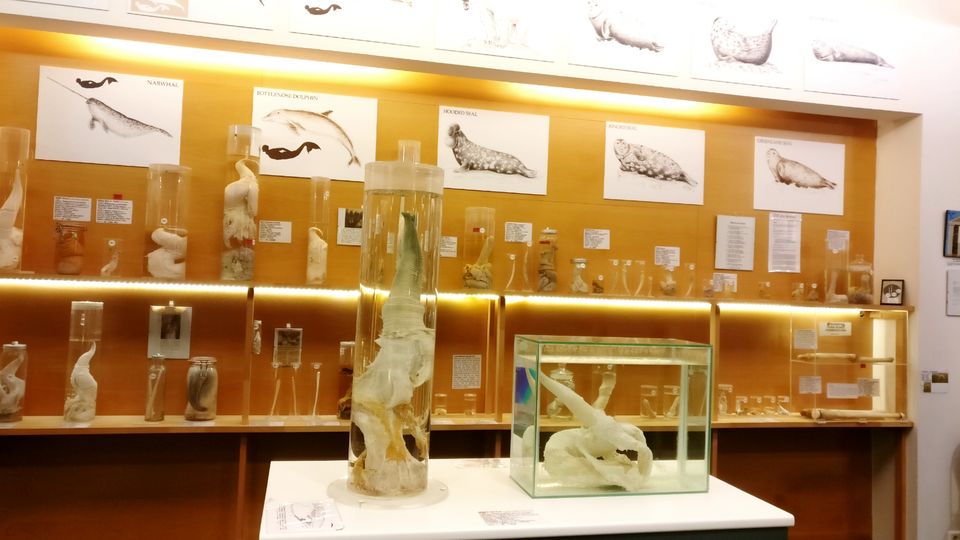 Downright quirky, this place is probably the only one of its kind in the world. Cut to the basics it's a penis museum, house to atleast 200 specimens of phalluses of mammals (that includes whales) found in Iceland. Everything is organised in a systematic alphabetical pattern and they have a folder for more detailed info about the specimens. Topped with other funny trivia and penile collectibles, this is one unique experience.
Right in front of the museum you will find Hlemmur Mathöll or food hall.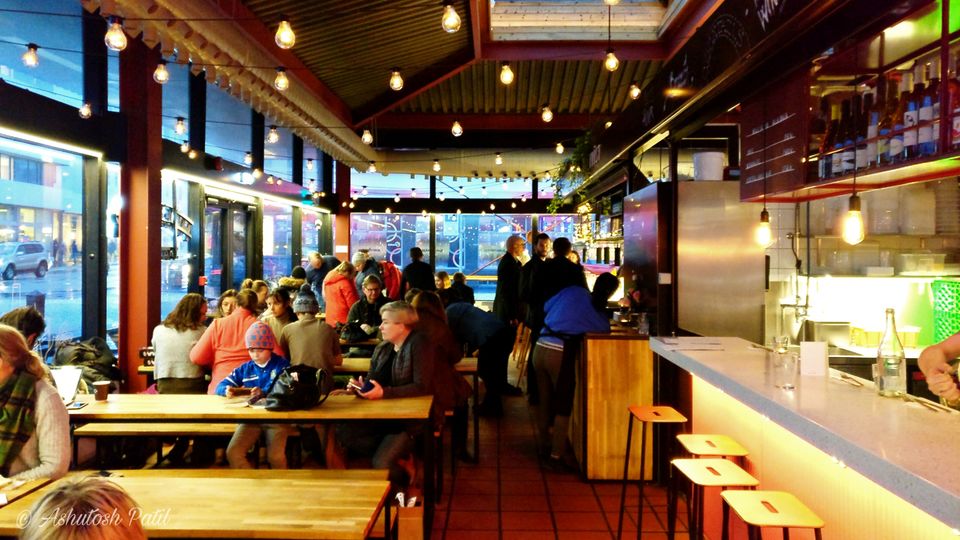 Packed with 20 odd restaurant and a common seating area, the food ranges from traditional Icelandic to other cuisines like thai and chinese. We weren't that hungry we tried one Skalt beer and Icelandic hot dogs (yeah we tried a lot of hot dogs, coz they are the cheapest options to eat and tasty as hell). But this place should definitely be on your list if you are foodie and want to try out new stuff.
Downtown Reykjavik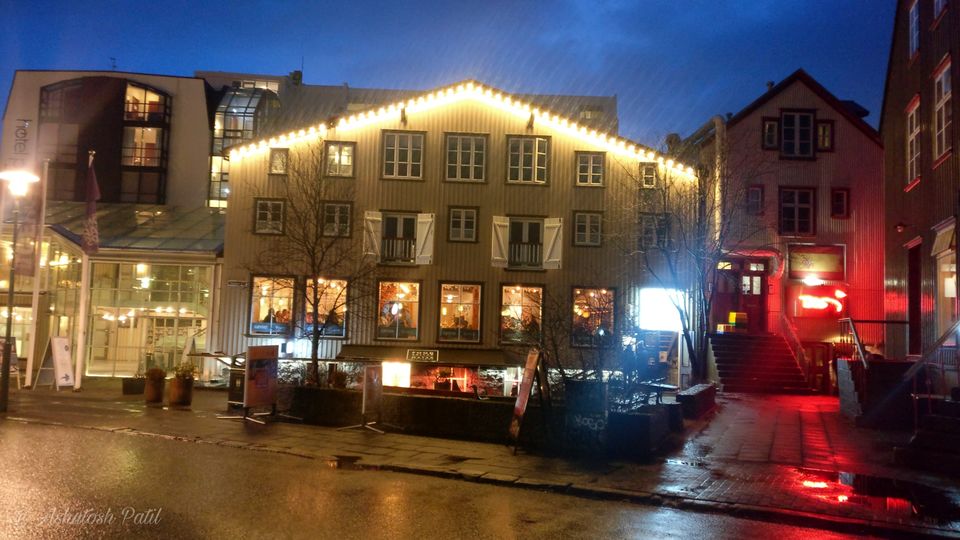 Last part of the day was exploring the nightlife and food scene of Reykjavik. Parking is a pain in downtown, especially on Sundays when it's free, and we actually took almost an hour to find a parking spot all the while just roaming around the car looking for a spot.
Downtown Reykjavik is brightly lit up, with the Christmas all around the year kind of feel. Most of the restaurants and souvenirs shops are located in this place and once you have found your parking spot, navigating this place isn't that hard.
We did some more souvenir shopping from Jolahusid, which was a Christmas store (like Christmas never left this place), and the Puffin store. Afterwards had a tasty dinner at Lækjarbrekka, which is a fine dining restaurant with a cozy candle lit ambience. Beer steamed blue mussels, a must try at this place.
Finally we retired back to our hotel, City park hotel, which was your usual corporate touristy kind of hotel, though we did find the rooms a little too small, but comfortable none the less.
*Hallgrimskirkja - 1800 ISK (for two)
*National museum - 2000 ISK (for two)
*Icelandic phallological museum - 3400 ISK (for two)
*Chocolates - 5000 ISK
*Hlemmur Mathöll - 3700 ISK
*Lækjarbrekka - 7080 ISK
*City park hotel - 141 euros
*Jolahusid & Puffin store - 6300 ISK
#hallgrimskirkja , #reykjavik , #reykjavikcapitaloficeland , #icelandicphallologicalmusuem , #nationalmuseumoficeland , #hlemmurmatholl , #icelandichotdogs , #laekjarbrekka , #downtownreykjavik , #jolahusid , #puffinstore , #beersteamedbluemussels , #cityparkhotel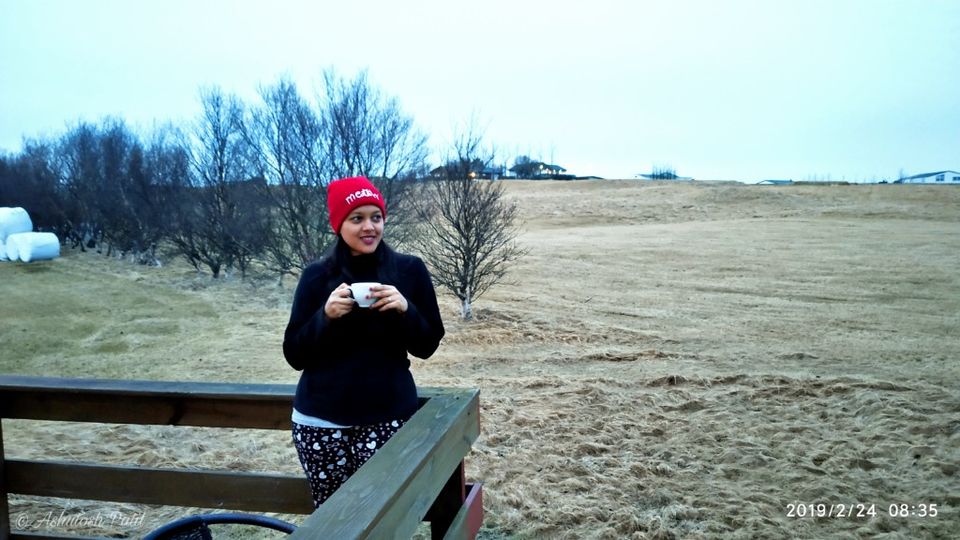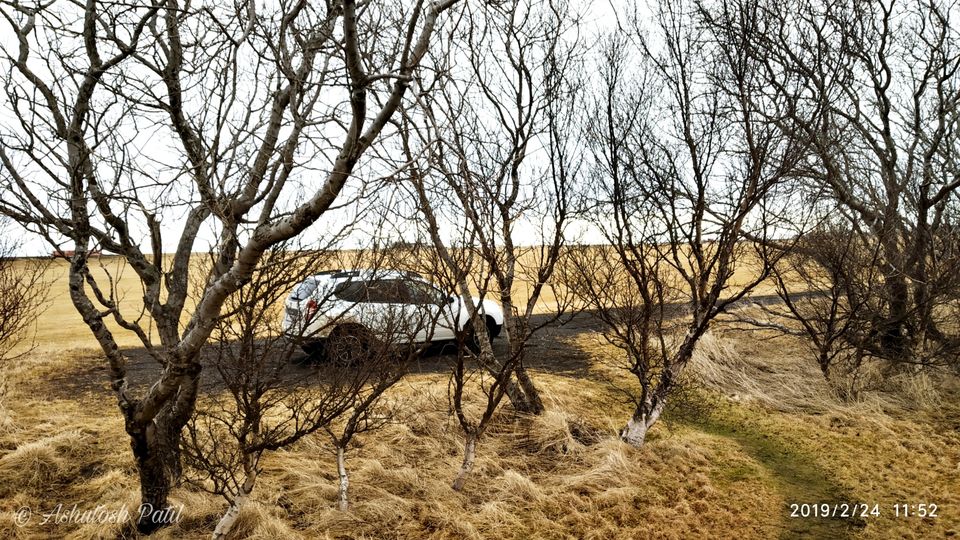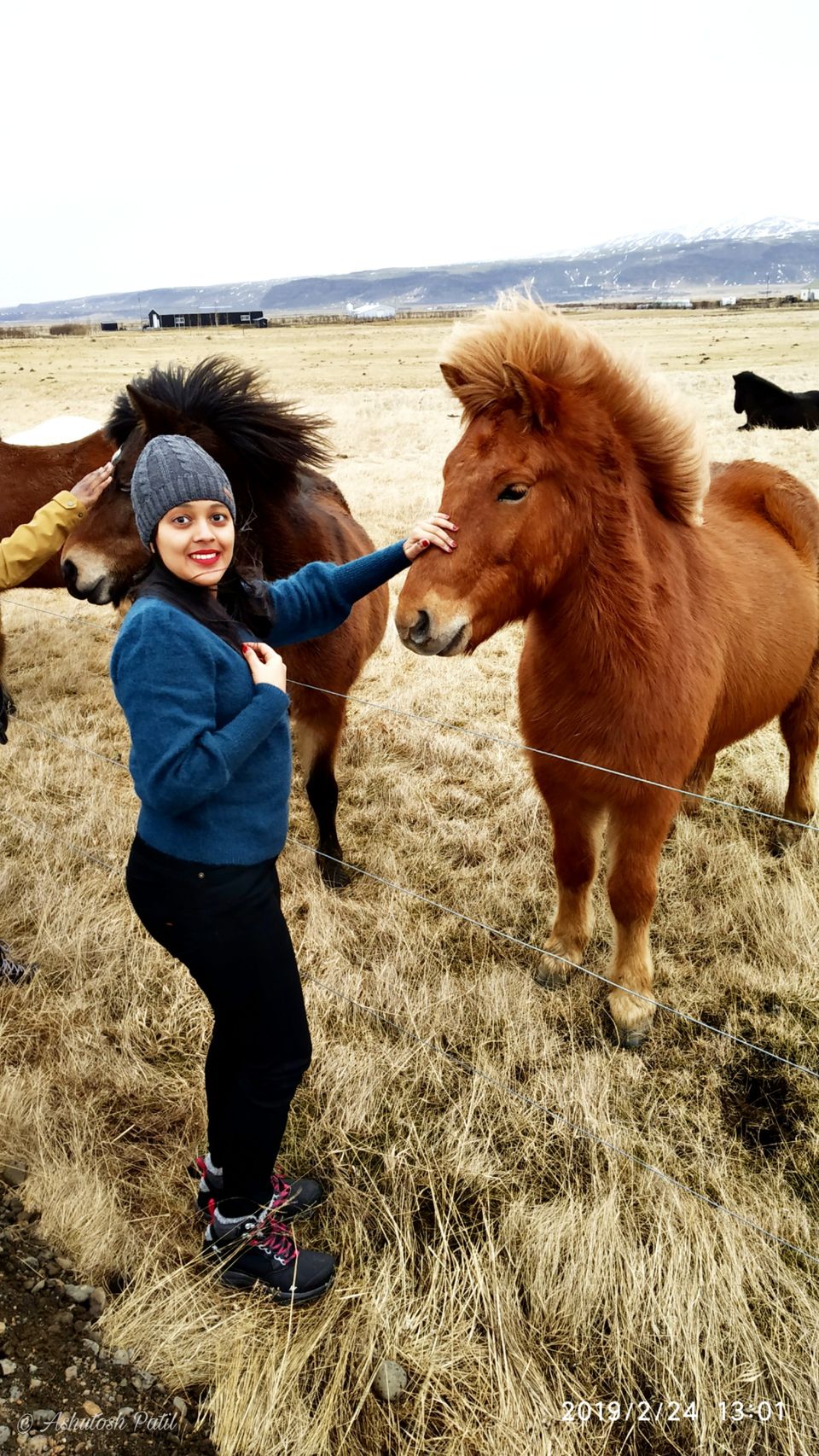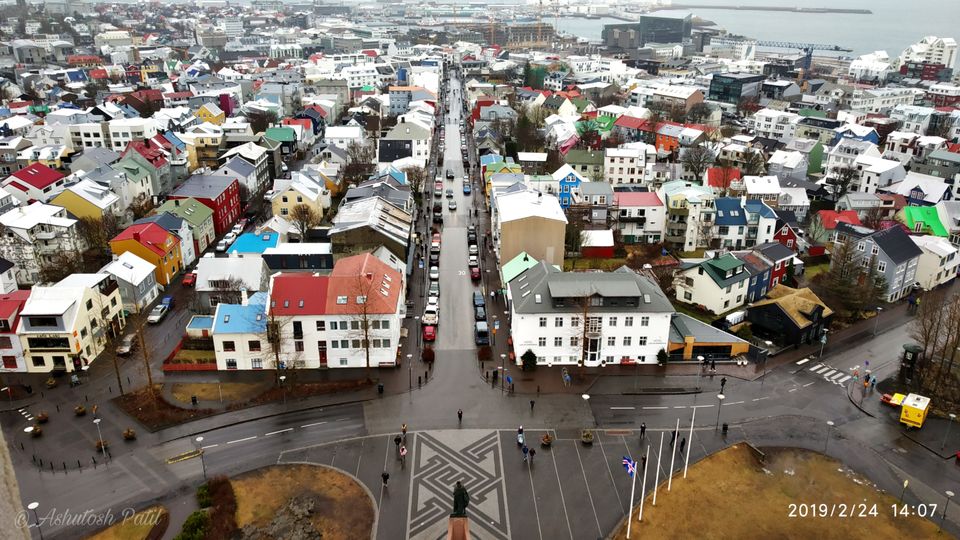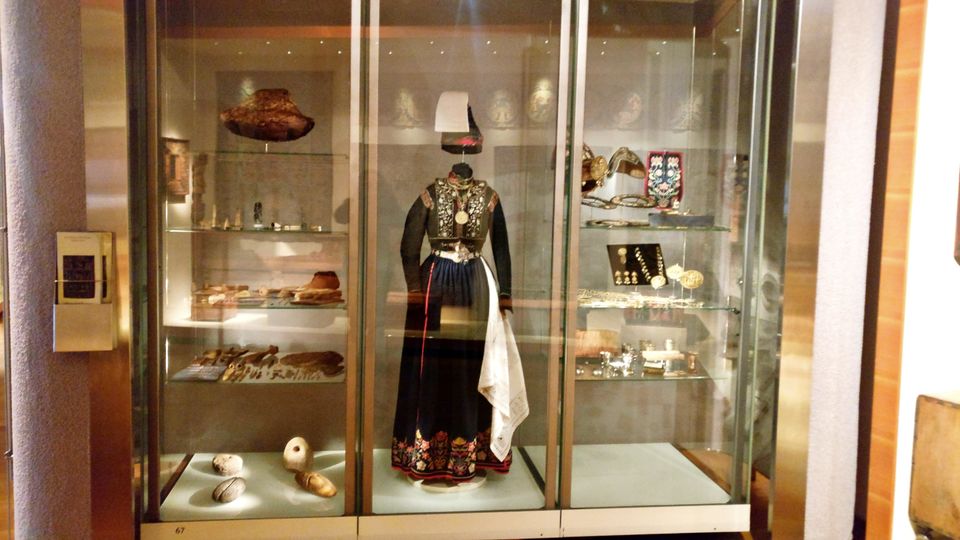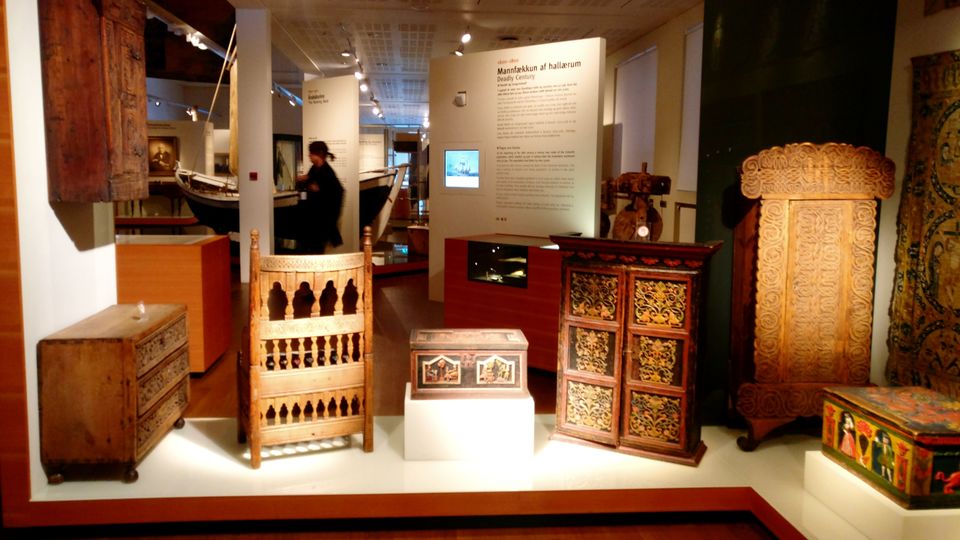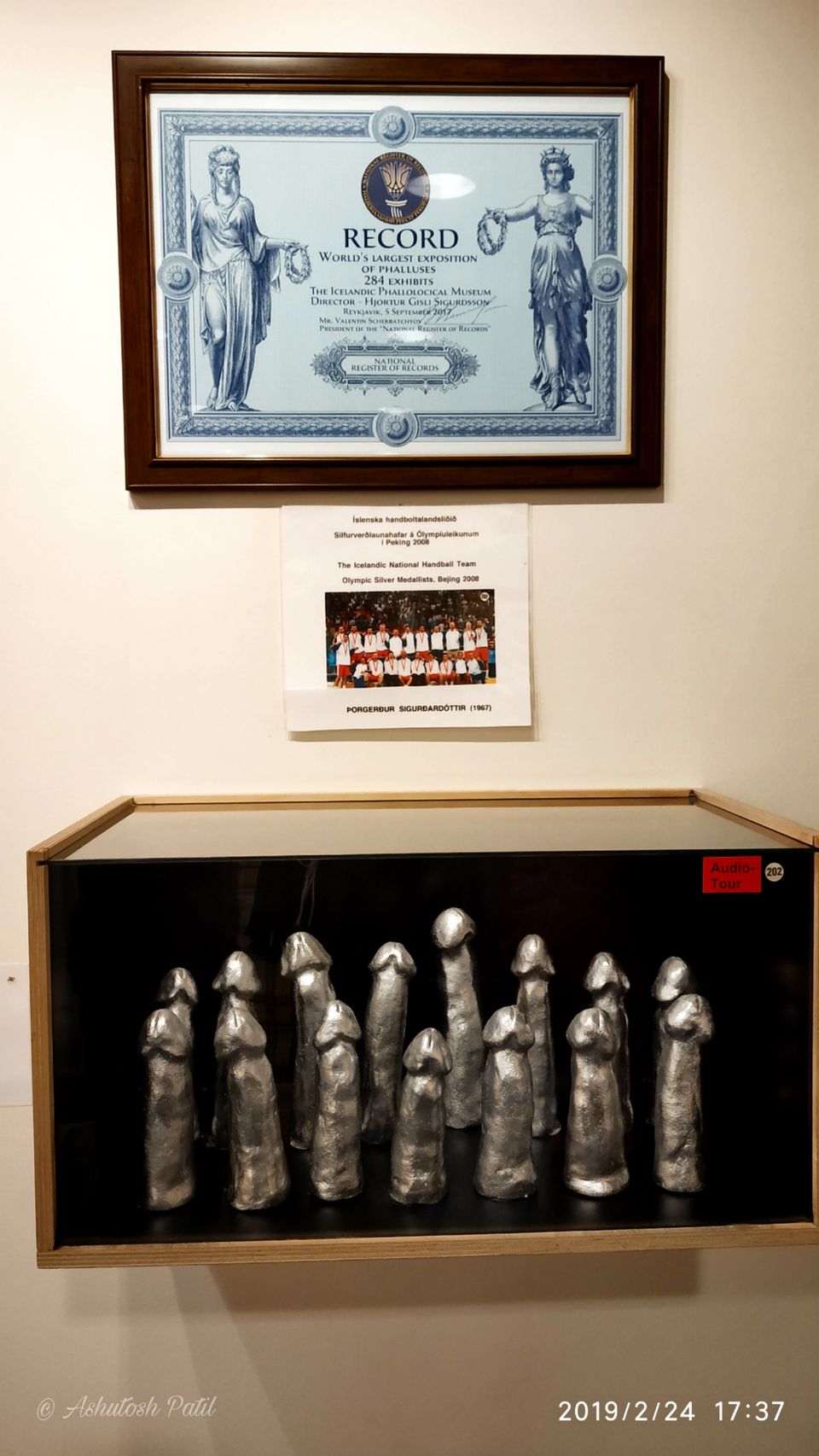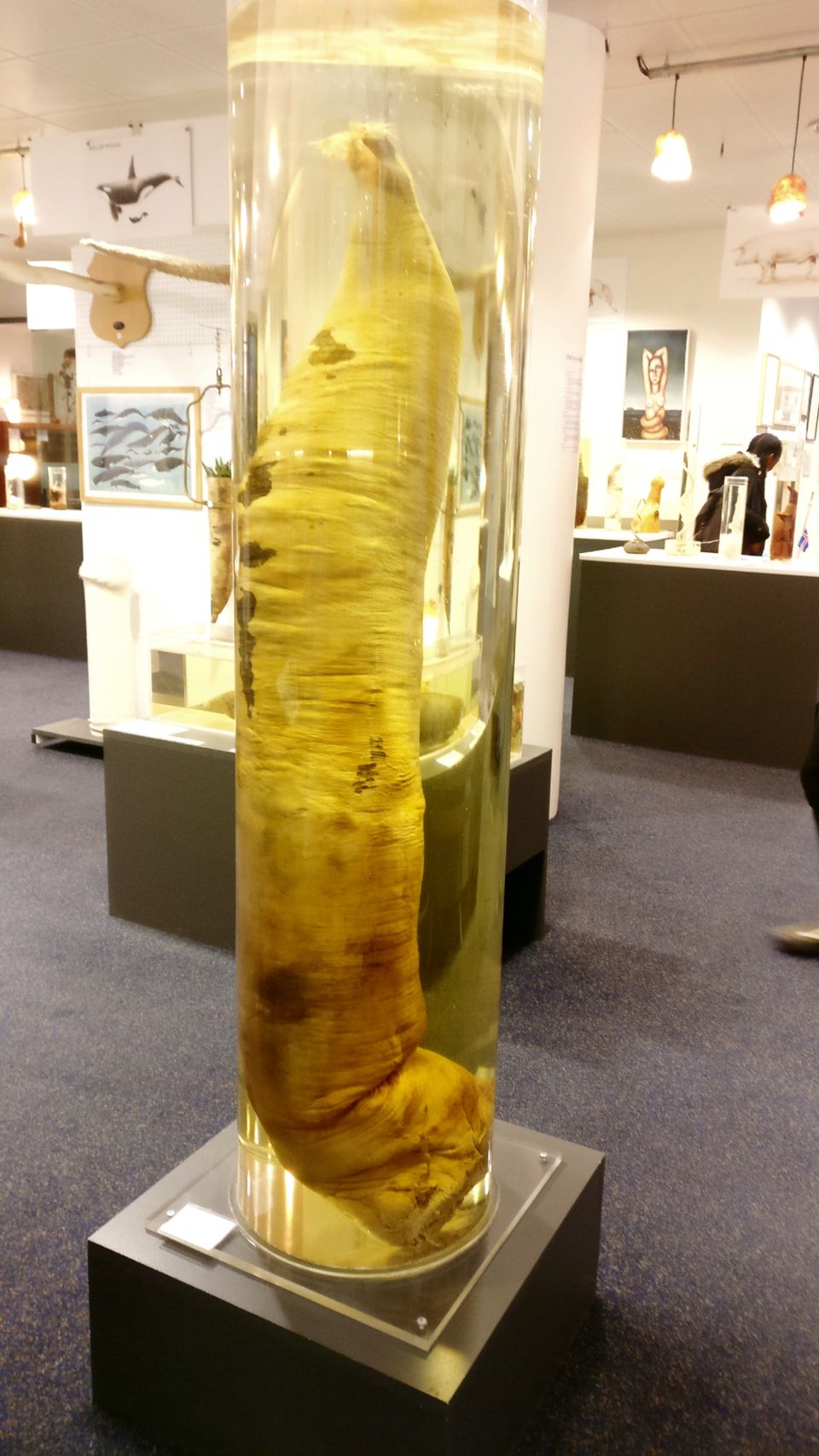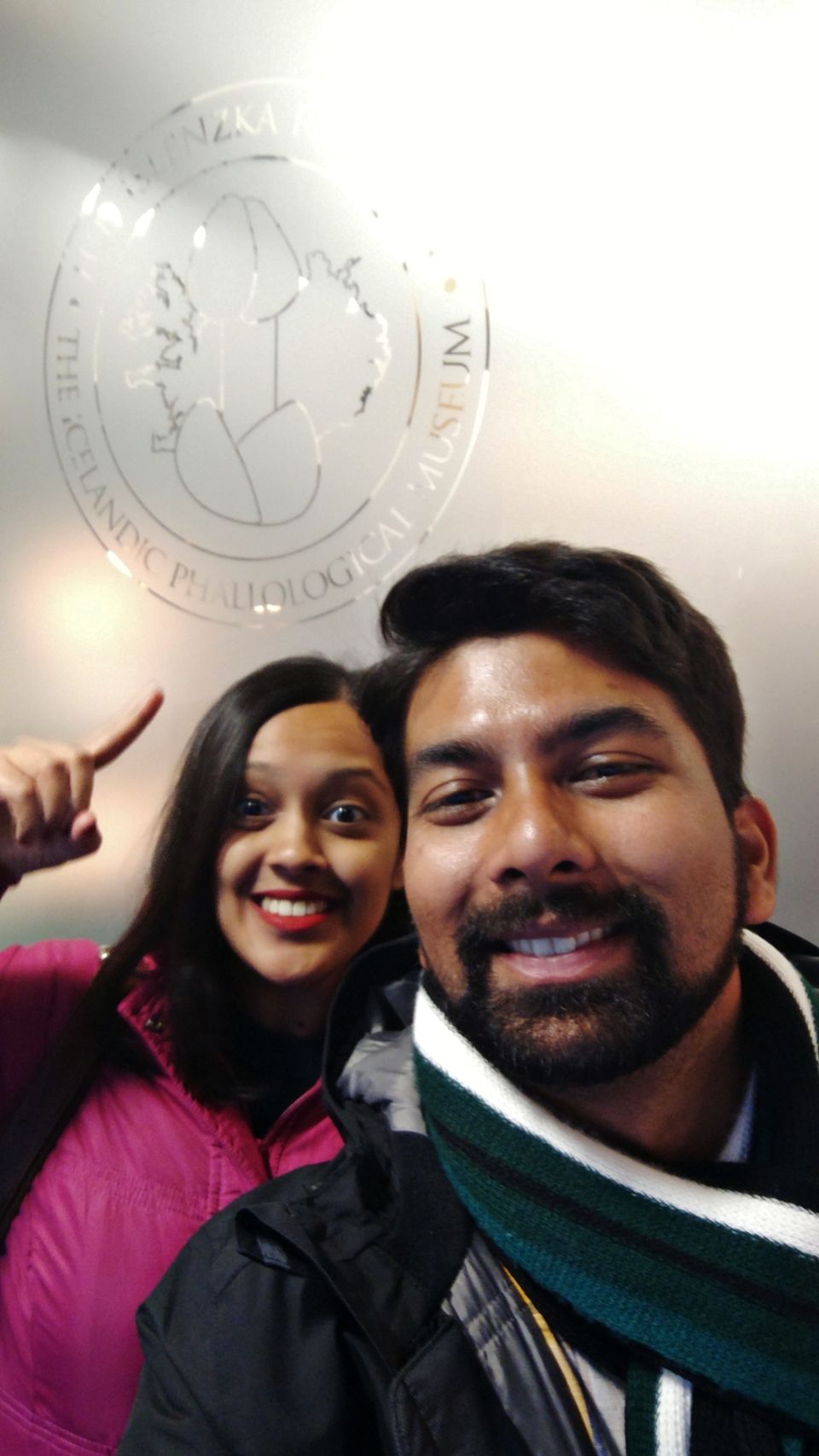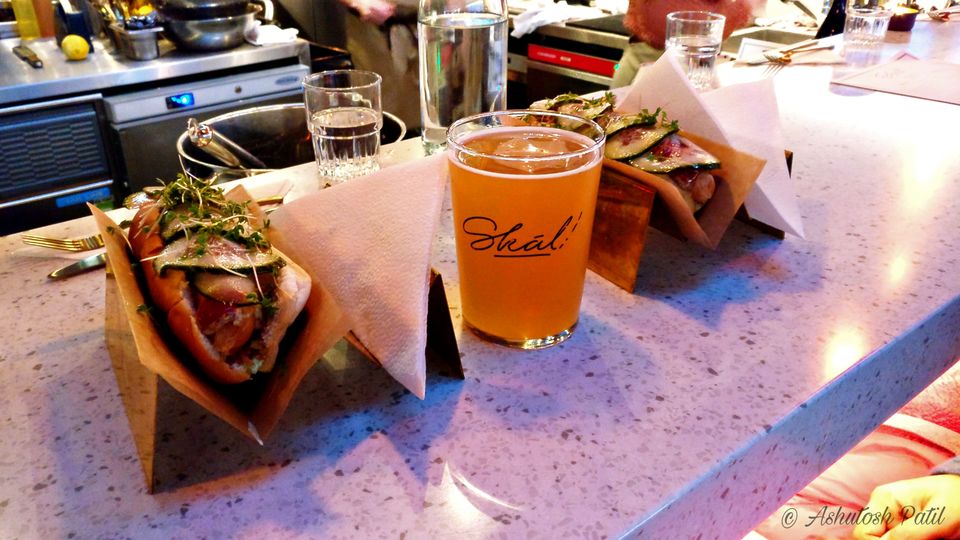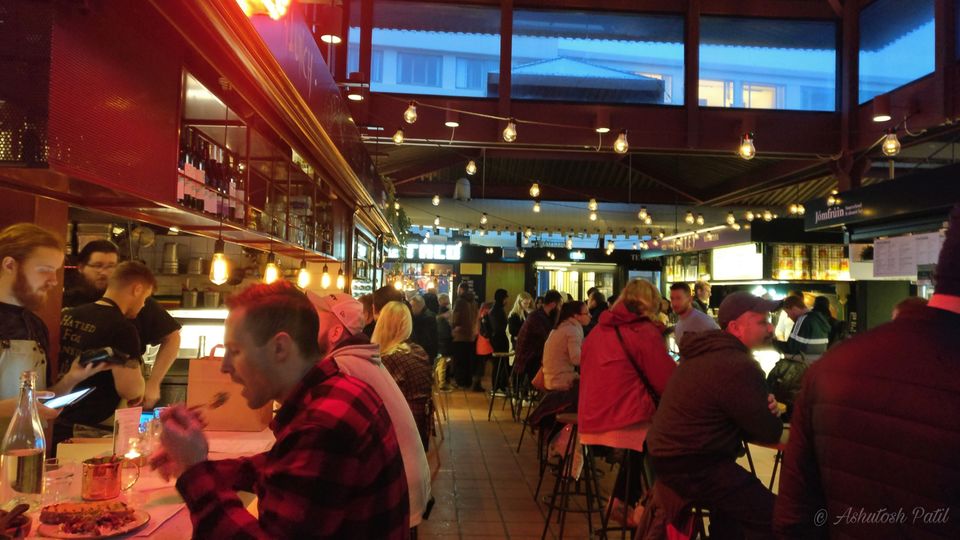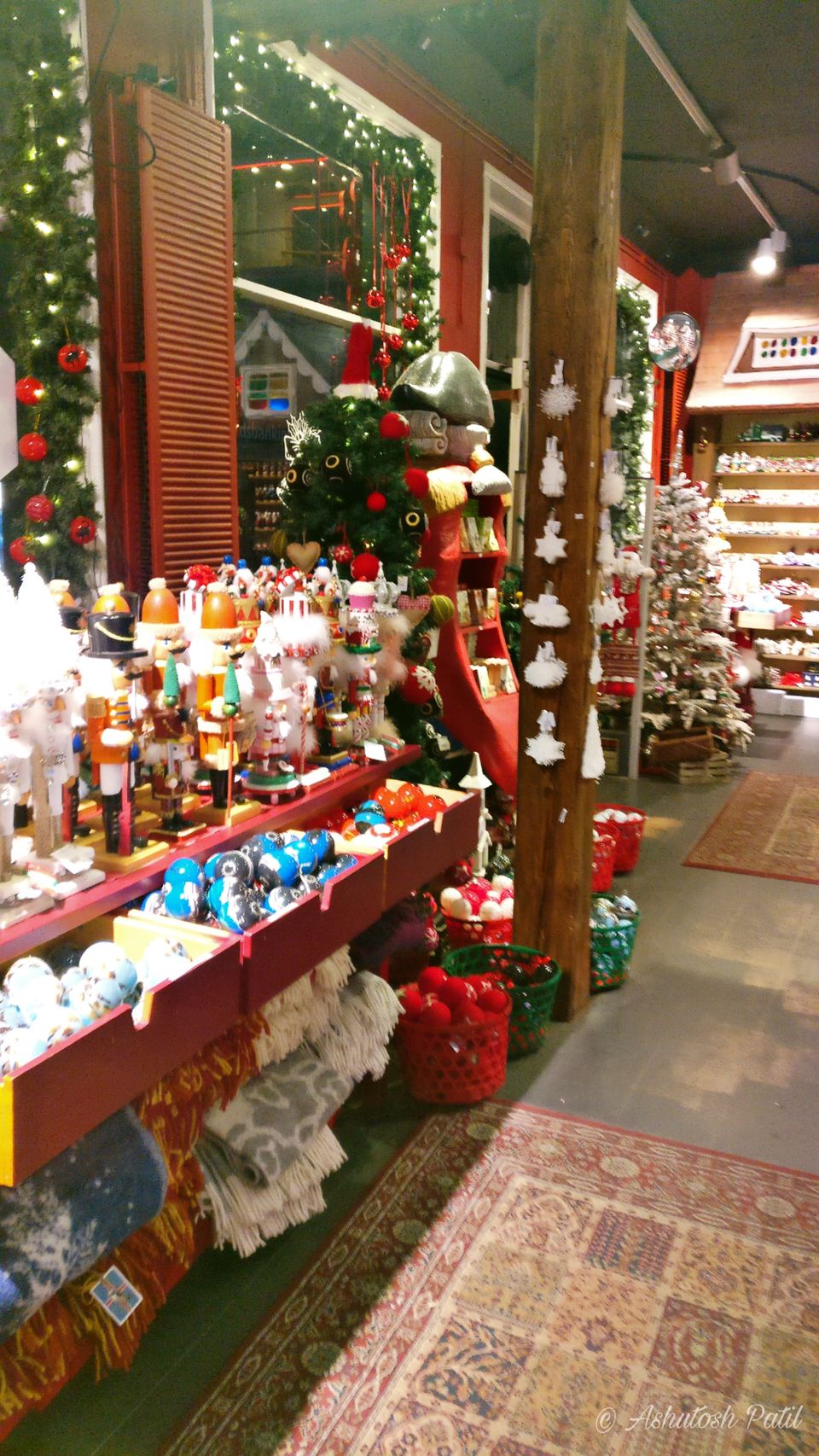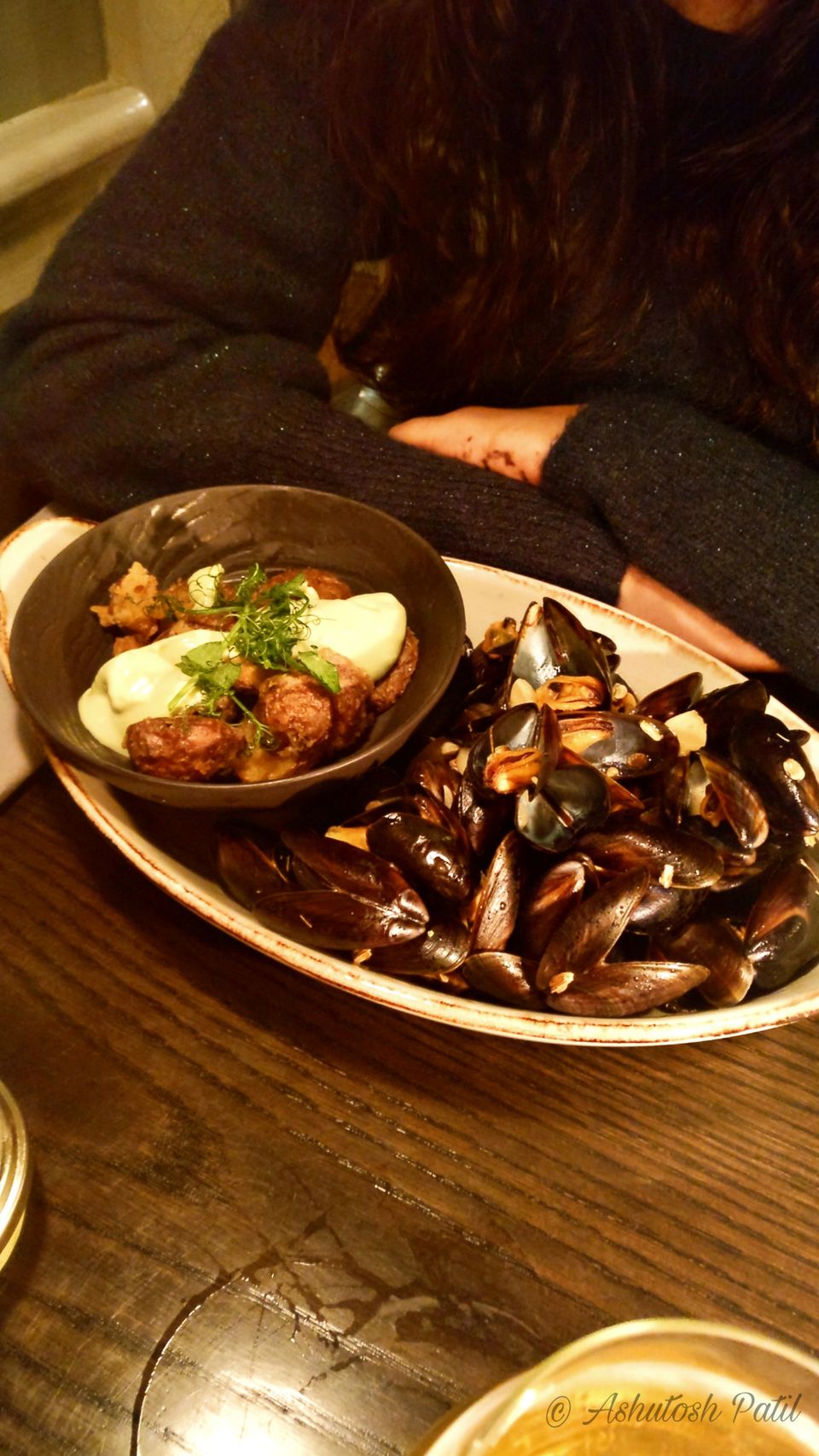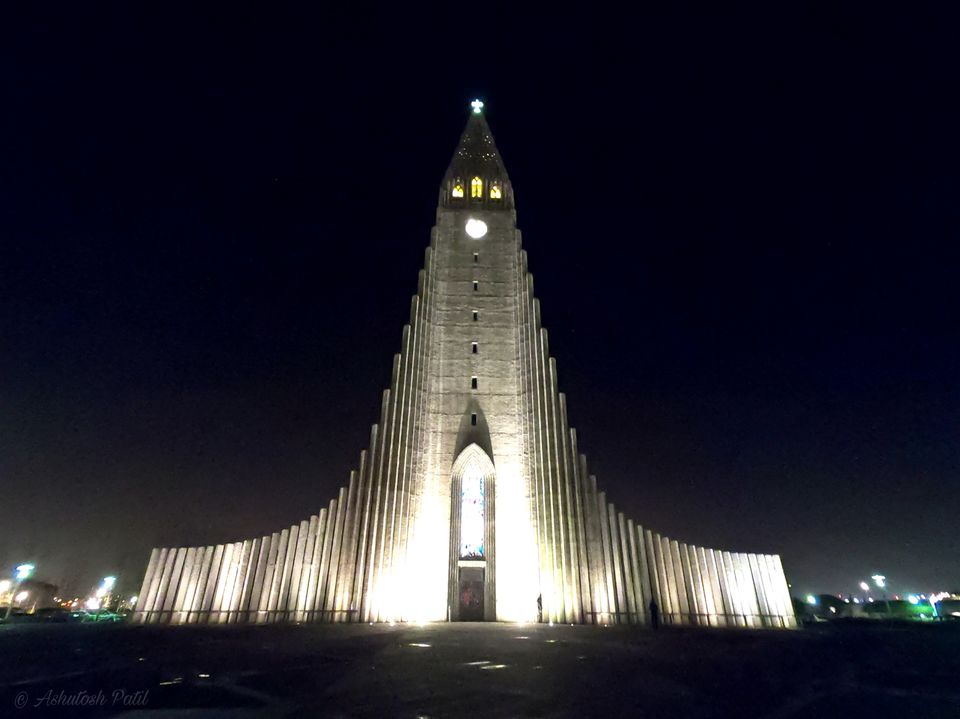 *Transport- Rental car
*Places visited- Mink Viking portrait, Viking world museum, Blue lagoon, Viking village.
*Driving duration- 2 hrs / 130 kms approx
* Food- Pulsuvagninn, Viking village restaurant
Today being the last day of our trip we had everything 'VIKING' planned in our itinerary!
Mink Viking portrait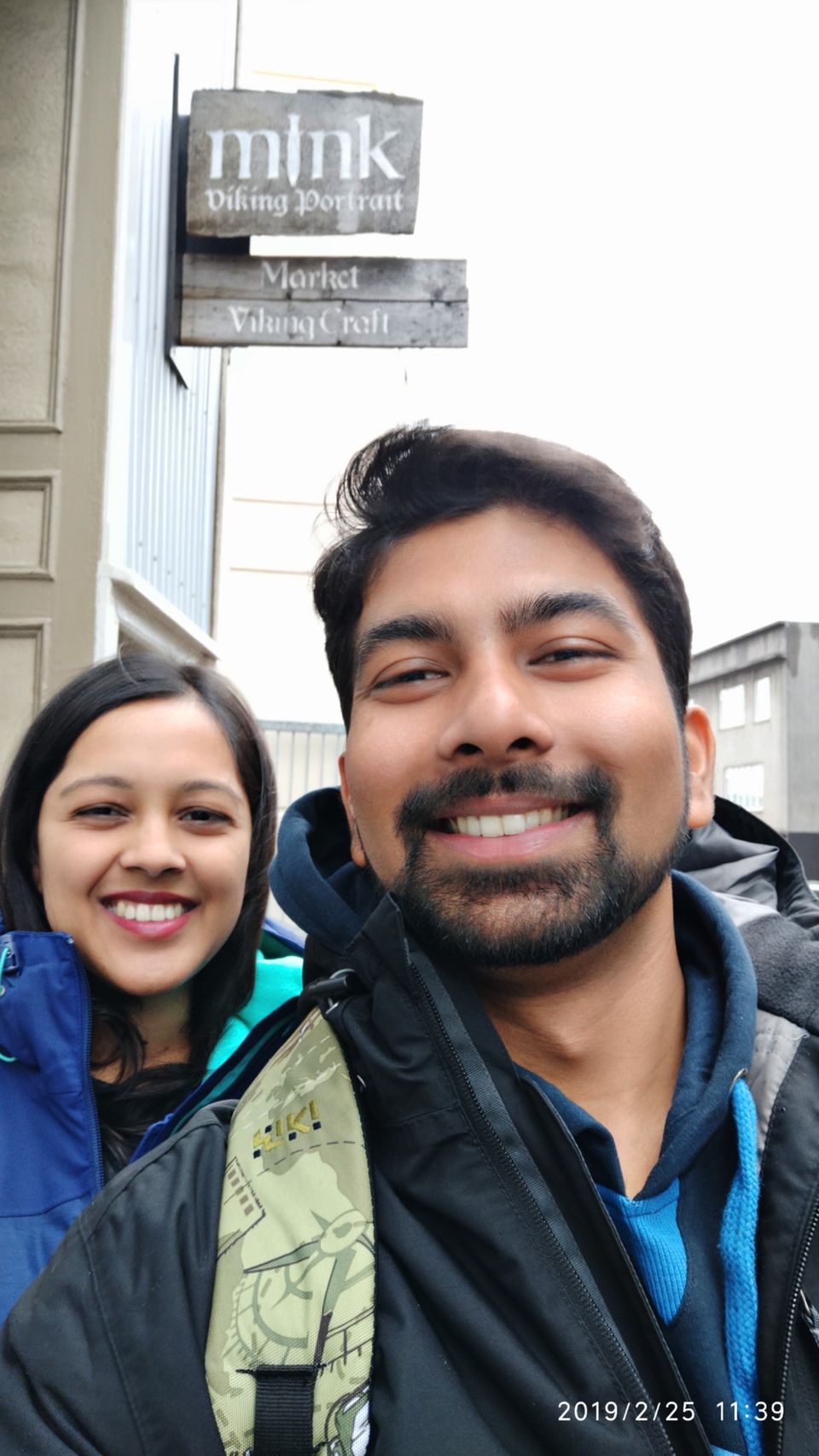 First order of business for the last day of our trip was to get our photos clicked- Viking style. Located in the heart of Reykjavik, this is something offbeat which you can do, to remember this already memorable trip. Choose from a wide range of hand made costumes and accessories, armour and pick your weapon of choice as you get ready to groove the Viking life. Guðmann Þór is a extremely cooperative and knows his art and we had a blast shooting with him. Absolutely loved his work!
Parking is a pain on weekdays, and wherever you park, you gotta pay for parking at the corner of the street, depending on which parking zone you parked in. The machine only accepts credit cards and cash usually.
Viking world museum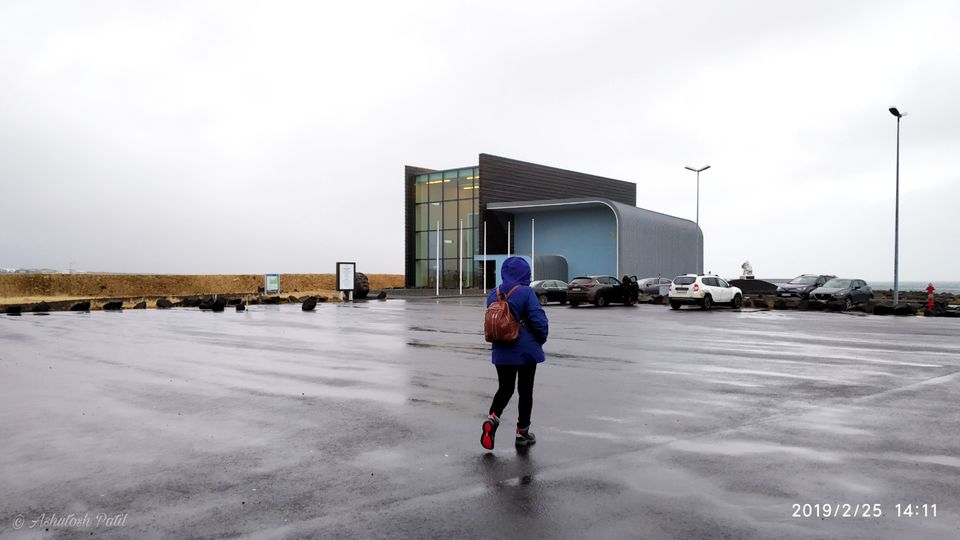 Step into the world of Vikings as they settled in to make Scandinavia their home. This museum is located outside of Reykjavik, as you drive towards Keflavik airport. Home to a real size Viking ship, artifacts from ages ago and other quirky info about Vikings, this place is a must visit for the Viking lore.
Blue lagoon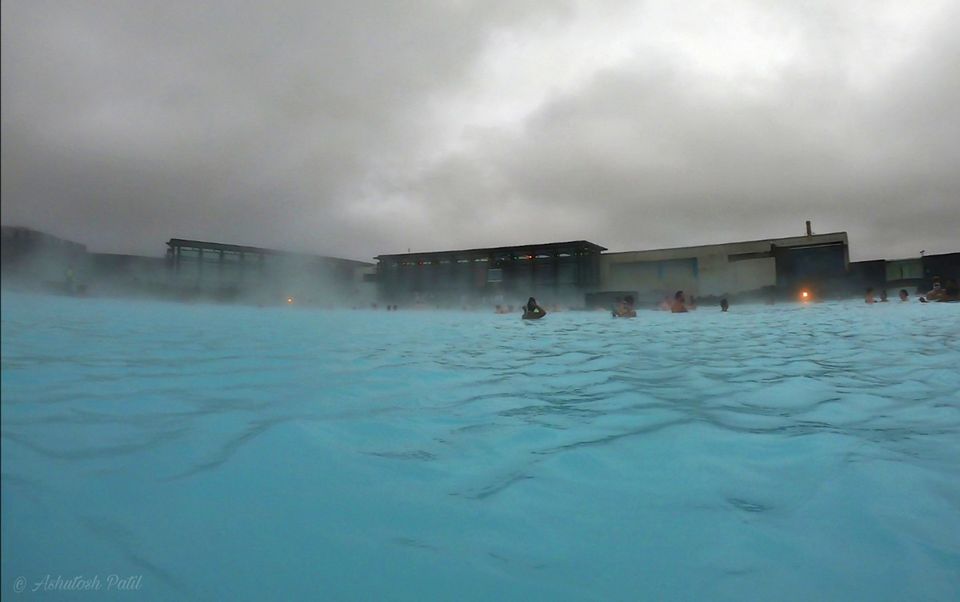 After a quick stop to drop luggage back at our hotel, and a quick hot dog from Pulsuvagninn, we headed out for the most relaxing part of the day- Blue lagoon!
Located in Grindavik, 40 kms from Reykjavik, this is the most visited place in the whole of Iceland. It is a man made geothermal spa located in the lava field near Grindavik, favourable for harnessing geothermal power. The blue lagoon is so blue, due to high content of silica and algae in it, which is also good for your skin!
The comfort package is the cheapest option to experience the blue lagoon, where you get one drink of your choice, one silica mask and one towel. Don't forget to get your Go Pro if you want to click all those pictures of yourself relaxing in the warm blue waters. Evenings and mornings are better times to visit due to less crowds (as per most blog sites) but we were there from 4 - 6.30 pm and it was still pretty crowded.
Viking village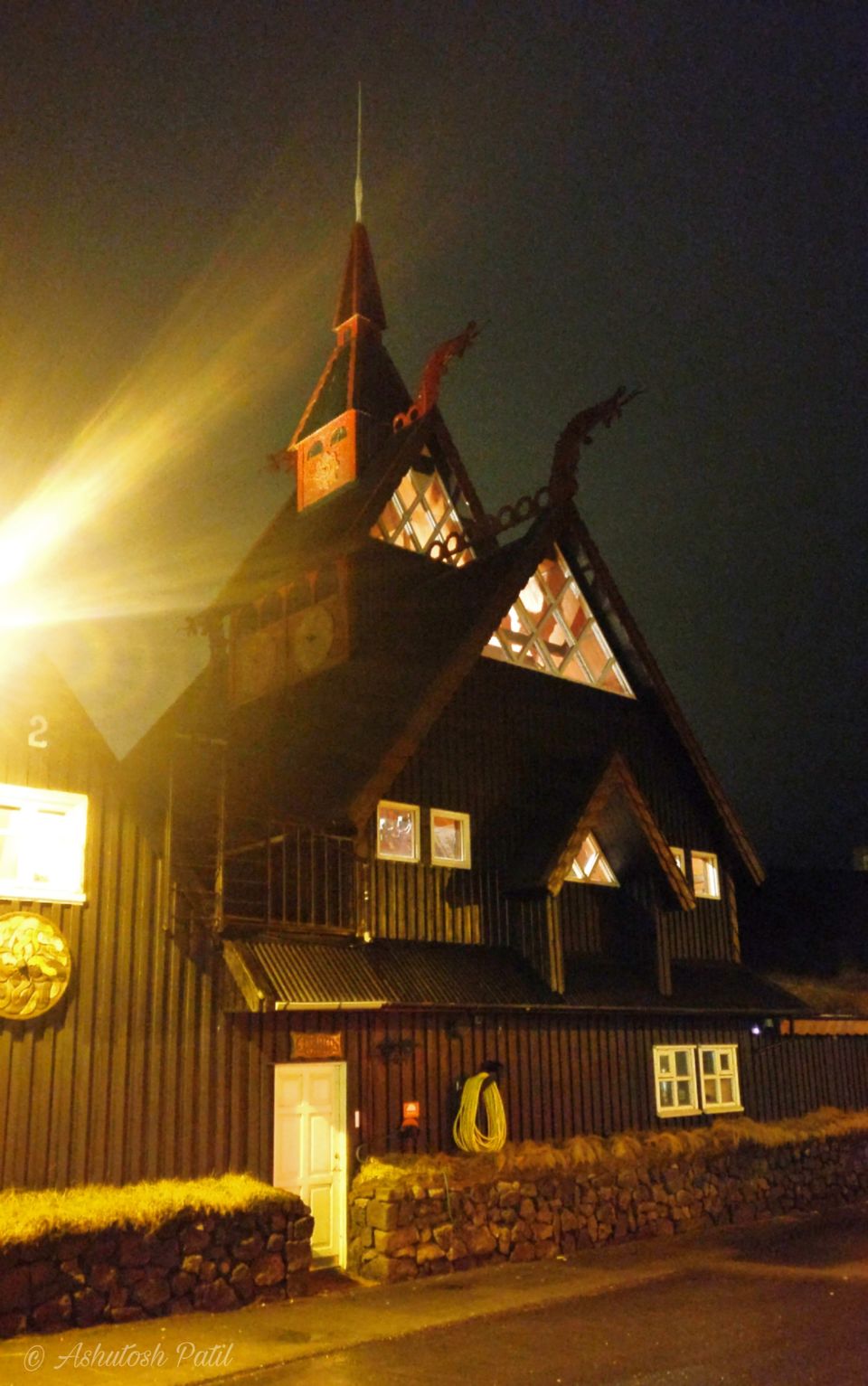 Viking village or Fjorukrain is located at Hafnarfjordur, close to Reykjavik. It is a hotel and restaurant built to reflect the Viking and Nordic traditions. Step into Fjorugardurinn, the restaurant, and you'll find yourself transported to a different era. All wooden interiors, viking artifacts (even a boat, right in the centre), sagas adorning the walls and fur lined tapestry, and a menu called the Viking times, you know you are in the right place to enjoy your dinner- Viking style.
The food is just as scrumptious and mouth watering. We tried the Icelandic meat soup, garlic toasted lobster tails, Minke whale in teriyaki sauce, and the catch of the day in hollandaise sauce , coupled with beer and wine.
After this we retreated to our hotel in Reykjanesbaer, Nupan deluxe, which is a homely and quirky property, with by far the best ambience I have seen here, for a hotel that is. They actually have a whole folder of instructions on how to use the place, some may find it funny, but given the look of this place you know that it's been very effective.
The next morning we had an early flight and had to drop off the car too. It was already time for us to say good bye, though we would never want to!
*Mink Viking portrait - 24000 ISK (6 portraits per head, for two)
*Parking - 400 ISK
*Bonus - 2000 ISK
*Viking world museum -3000 ISK (for two)
*Pulsuvagninn - 900 ISK
*Blue lagoon - 24000 ISK (comfort package for two)
*Shopping at Blue lagoon store - 5000 ISK
*Viking village restaurant - 12700 ISK
*Fuel - 3500 ISK
*Nupan deluxe - 86 euros
#minkvikingportrait , #vikingworldmuseum , #pulsuvaginnin , #bluelagoon , #bluelagoonspaandresorts , #bluelagoonexperience , #vikingvillage , #fjorukrain , #fjorugardurinn , #nupandeluxe