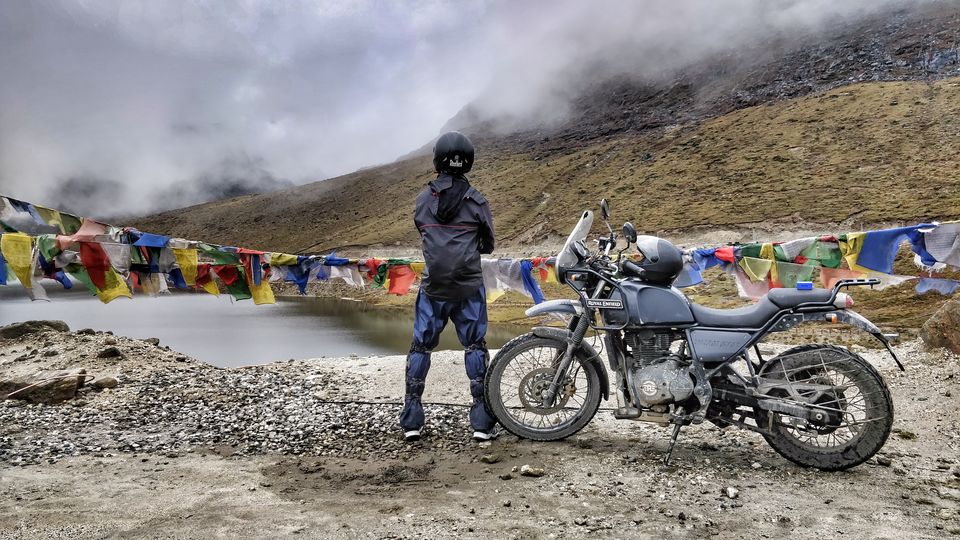 Some places should not be googled, just discovered,
Some adventures should not be scripted, just relished...
Every journey counts, every day counts, every breathe counts and every moment counts. And as I count my steps along the miles, my heart craves for another trip, for another journey to be counted.
A journey to the "Dawn lit Mountains"
A journey to the "Land of the Monks"
A journey to the "Land of warm and ever smiling people"
A journey to TAWANG……
The name Tawang means "Horse Chosen"
Tawang is the name given, but for many it's Shangri-La. The birth place of the Sixth Dalai Lama.
Now this trip was never planned, never thought of and never dreamt of being the one on the cards until one day the travel bug bites me again and asks for a journey, a quest for redemption, a journey to know the existence and purpose of this life and to live it to the fullest.
So finally after doing some research which I always do since being a solo traveller to most of the places, my instincts always tell me to do that. I got in touch with the local agencies to make this trip happen as you require ILP (Inner Line Permits) to enter Arunachal Pradesh (Tawang), so it was best to be in touch with local agencies and get the permits sorted. You can easily get permits by applying online on the mentioned link (https://arunachalilp.com/onlineApp.do). But for me I thought it was best to pre arrange everything as I had less time and more places to explore.
And finally a random Instagram post sets my trip up through a local group named @MYTAWANG. Being a roadrunner this was the perfect match for me, I bet even better than most people would find on Tinder as well????. A biking expedition to Tawang is the highest adrenaline that I would dream of and I would tell you why it was adrenaline. So the day was set and the time had come to Rev the engines ….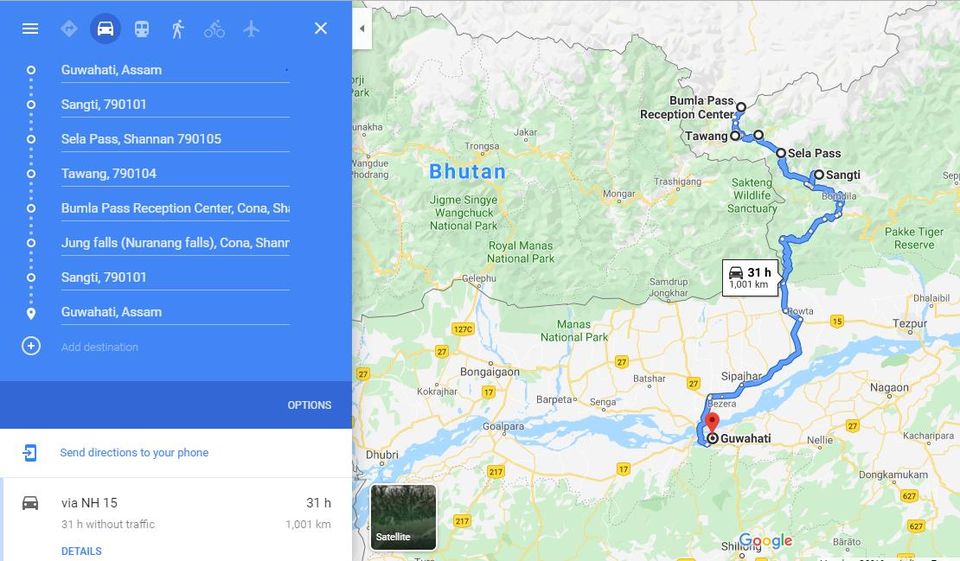 Day 1: (MUMBAI to GUWAHATI) by flight.
Often known as the "Gateway to Northeast" booking flights to and from Guwahati is the best option if you want to explore the seven sisters. As I landed at Guwahati Airport I felt nostalgic where I counted my first solo trip to the beautiful charming state of Meghalaya (https://www.tripoto.com/trip/journey-through-the-abode-of-clouds-5c0d0293eee91). A long journey of more than 6 hours via connecting flight through Delhi, I arrived Guwahati and checked in to hotel. We were briefed about the Biking expedition at dinner table where I meet my group with whom I was going to ride along. The route was set and so were we….
Day 2: (GUWAHTI to SANGTI VALLEY/DIRANG) on bike 350 kms – Elevation gain approx. 8,000 feet
Finally the day arrived, it was time to roar the engines and taste the blood of off roading. An early start which was delayed by one of our motorbikes getting punctured and we get stuck at the hotel before the ride could start. This makes us lose our valuable time as being in the most eastern part of the country; you tend to lose day light way early than the rest of INDIA and who else would know this better as being on my last trip to Meghalaya I had faced lot of problems because of this. So finally after making up for the lost time we run our engines and twist the throttles to the fullest and dash out of Assam via NH13 towards Arunachal Pradesh. A ride of more than 350 kms was waiting to test our patience, limits and calmness on these off roads, cutting through the mountains and valleys, running through rivers and gorges and covered in darkness and greenery with an errie atmosphere but yet astonishingly beautiful. After barely riding a distance of 140 kms from Guwahati, we made a brief halt to admire this beautiful roaring BHAIRABKUND RIVER, flowing with full might and energy and replenishing the surroundings and our tired bodies and minds as well. This river stands as a border between Assam, Bhutan and Arunachal Pradesh.
The lush green mountains covered in the mystic fog and clouds are Bhutan, the place from where I clicked this picture is Assam and on the other side is Arunachal Pradesh where we were headed. Isn't it wonderful how nature has marked its own territorial borders rather than we humans marking it with our egos and pride and claiming the territory as ours which never is ours...
Capturing the beauty of this place in our eyes we got ourselves recharged and headed further to continue our journey towards Sangti Valley.
As we were already running way behind our scheduled arrival time to Sangti, we decided to ride at our own pace enjoying the scenery and feeling the mountains. As I say, you don't just ride through mountains, you don't just ride with mountains, you feel the mountains. The landscape completely changes as you ride from the plains of Assam to the mountains of Arunachal.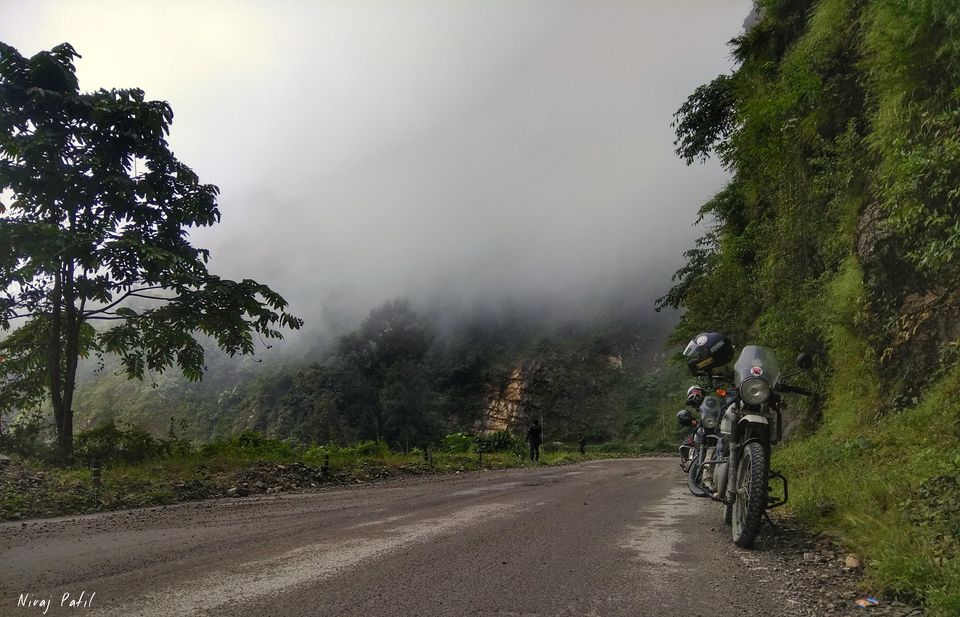 By the time we reached Sangti valley, it was pitch dark and we were riding along the cliff with the roaring Sangti River besides us and the only thing we could hear was the water gushing with full might and our engines roaring with full throttle. My shoes filled with muck and water and my soul and body tired with the exertion due to the bad condition of roads. But as they say, the best views often come after the hardest climb, well I say the best views comes after the toughest rides.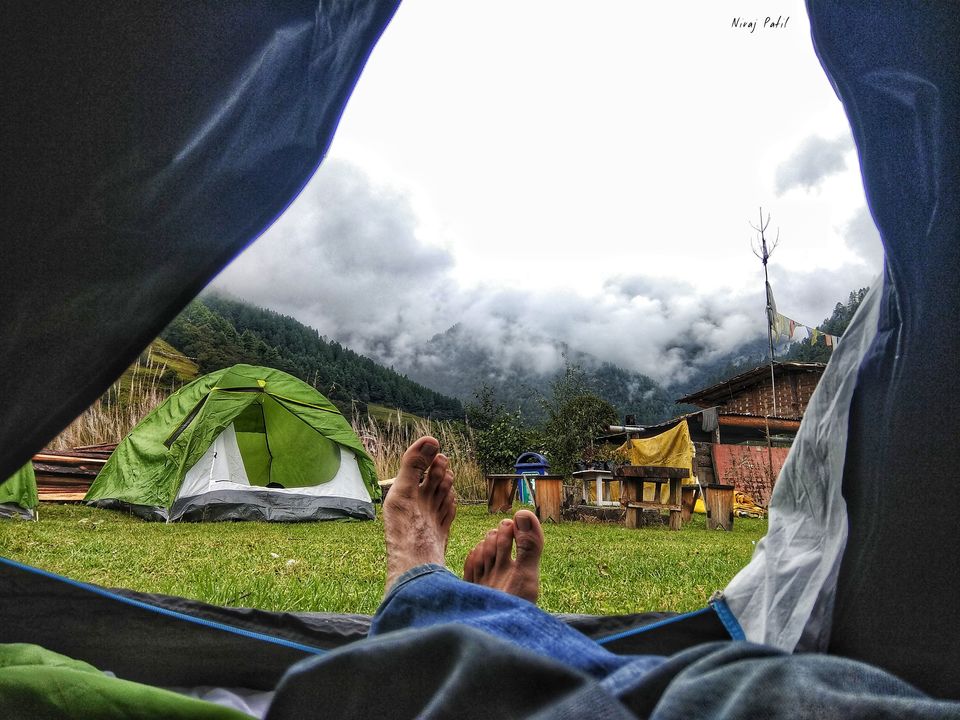 Day 3: Sangti Valley to Tawang via Sela Pass (150 Kms) – Elevation 13,700 feet
Adoring the beauty of Sangti Valley I never really felt like leaving this place. A quaint little campsite nestled in the laps of the wild mountains with the clouds draping them, you never really feel going back.
Getting ourselves ready we prepared ourselves for the ride of our life, the ride to Tawang via Sela Pass (13,700 feet). Pretty much excited to conquer those scaling mountains we rode in full throttle and enjoyed the morning breeze as it kissed us. As we started to gain elevation, the condition of the roads began to worsen. The patch from Sangti Valley up to Baisakhi Military Canteen is really poor and prone to landslides. I bet you find a road on that road where you can ride and I will lose anything for it. The temperatures had already begun to drip down and the roads made it worse for us to make our journey moving. Braving the bitter cold and making way thru the muck filled roads we finally made it to the entry gate of Tawang which was not even half the distance of today's journey.
We made a brief halt to click some pictures at this humongous entry post and started to move further towards Tawang town. The real test had just begun as it had started to rain at Sela Pass and nothing could have been worse than this. We switched into our rain gears and prepared our minds to ride it through the most difficult roads in the North east India. Basically there is no such thing as road at Sela pass, its all mud and mushy until you pave your way out and call it a road. A heaven for Off roaders and a curse for track racers. The temperatures had drastically dropped to around 1 Degree Celsius and I was hardly able to feel my fingers. But the grit of making it through Sela Pass was way much higher than these worse conditions. After riding for half an hour into Sela Pass, hardly able to feel my fingers, we stopped at a local house whose people served us with some Hot Maggie and Yak Tea. This was the best Maggie that I had in my entire life and I guess a lifesaving one. We made ourselves warm with some warmth from the Bukhari (A local chimney with firelogs burning through it to keep the house warm). It is said that at Sela Pass during the winters you can experience winds blowing at over 150 km/hr and people hardly step out of their houses in such conditions. After spending some time at the local house we braved ourselves up to move forward to Tawang.
After riding a distance of around 100 more kilometers we finally made it to the town of TAWANG which was like a dream come true. I had always imagined of this day and conquering those mountains and riding through them and here I was finally !!!
Day 4: Tawang Local excursion (On bike)
Not so normal day, as since past 2 days we were waking up early and riding in those extreme conditions to make it to Tawang alive :p and we had made it. So this day was quite abnormal in the itinerary as it was a lazy start to the day with some local excursions to Chakzam bridge, Jang Falls and local market were on the to do list.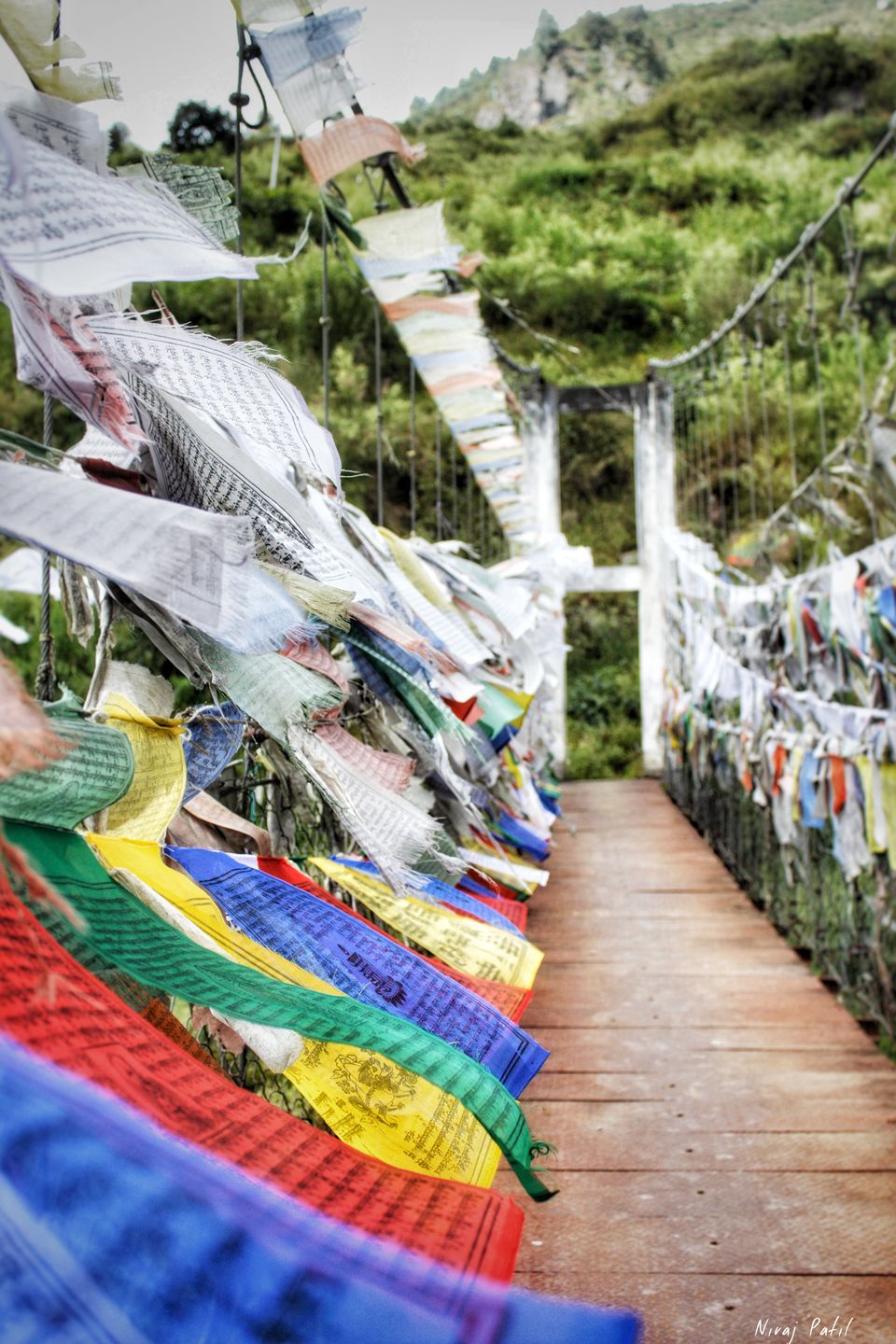 You will never get enough of these bridges, each and every bridge here is draped with these prayer flags which will surely attract you in a way or other and leave you with so many questions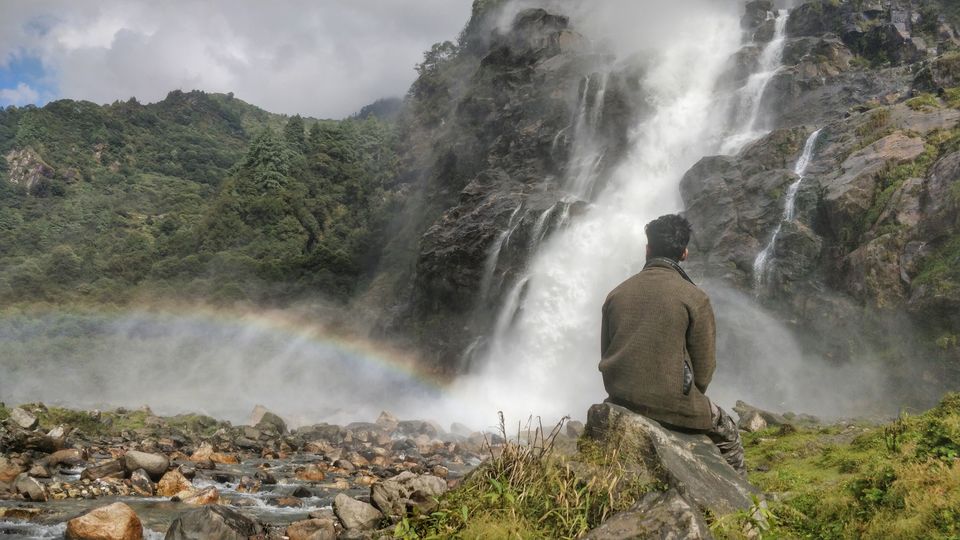 Nuranang Falls, Tawang is the beautiful waterfall hidden in the Himalayan ranges. The waterfalls are some 100 metres high and the view is absolutely spectacular. The waterfall is located about 15 kilometres away from Tawang. The picturesque location and the natural beauty will captivate your senses and put you in great awe. It is suggested that you reach here early in day time to enjoy the spectacular sight. Nuranang Falls are also known as Jang Falls after 1962 Indo-Sino war.
After spending some time at the Jang falls we headed back to the town of Tawang as we had planned to go for the cultural show. Being in the farthest part of India I was truly excited to know the culture of these people as to what do they do for a living and how do they celebrate their festivals. The show consisted of Yak Dance, Lion Dance and some folk dances from the local people which were truly amazing and a perfect ending for today.
Day 5: (Tawang Monastery, Bum La Pass (15,200 ft), Sungester Lake – Madhuri Lake)
A very very early start to my day as I had wanted to make it to Tawang Monastery since I had this desire to experience the morning prayers at the largest Monastery of India. Arunachal Pradesh's tourist gem, the Tawang Monastery Arunachal Pradesh is India's largest monastery, and the world's second largest. Waking up at 3 AM and without wasting much time I made my way to the monastery in pitch black darkness and to my dismay had to wait for another 1 hour as the Monastery opens up at 4 AM. I sat down at the Monastery gates with time running by very slowly until I hear those drums beating which was the wakeup call for the Monks. At last the gates were opened and as I entered the Monastery I saw Monks of all ages, right from the little ones to the aged ones draped in their red robes and making their way to the Prayer Hall. Following them I made my way into the prayer hall and was awestruck by seeing the gigantic statue of Lord Buddha right in front. The 18 feet tall gilded statue of Buddha seated in the lotus position. It is so large that the top of the statue extends to the upper floor.
I was truly blessed to be there at the right time and I am really grateful to what my eyes captured. The Morning prayers, the aura is just so powerful that you just don't feel like leaving from that place. The vibes, the prayer chants and everything just purifies your soul from the core and gives you a kind of rebirth.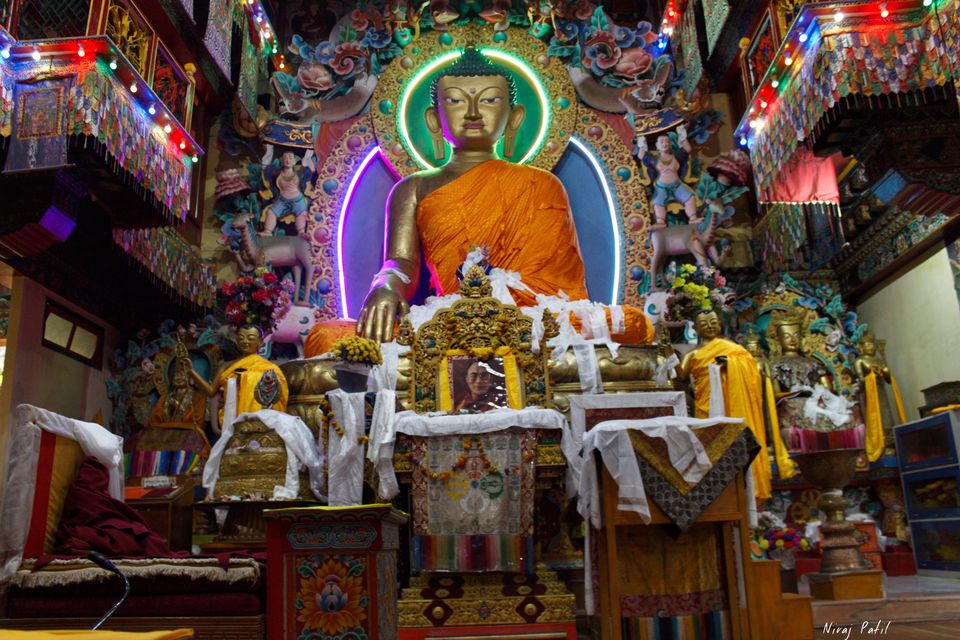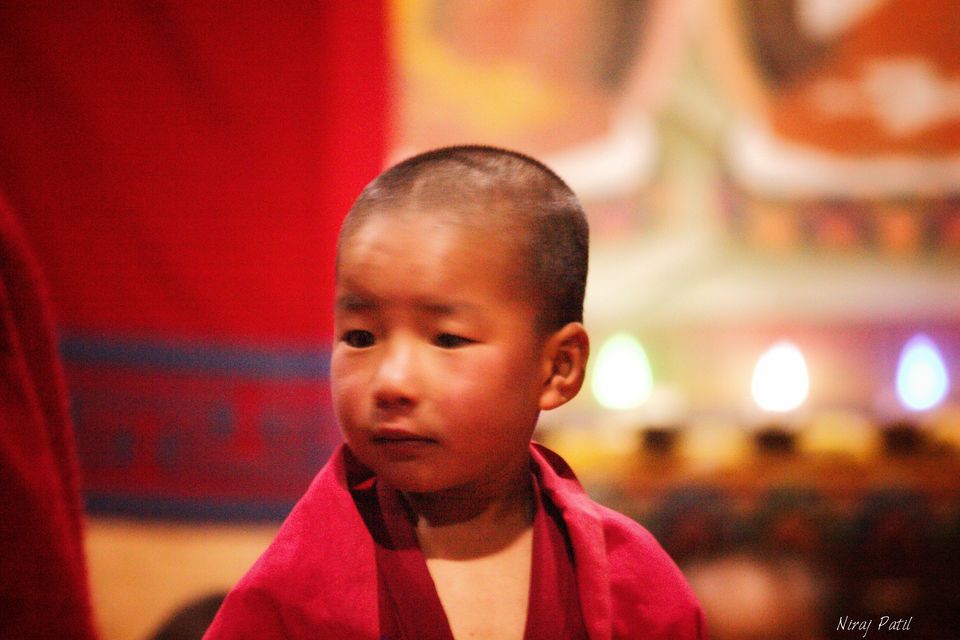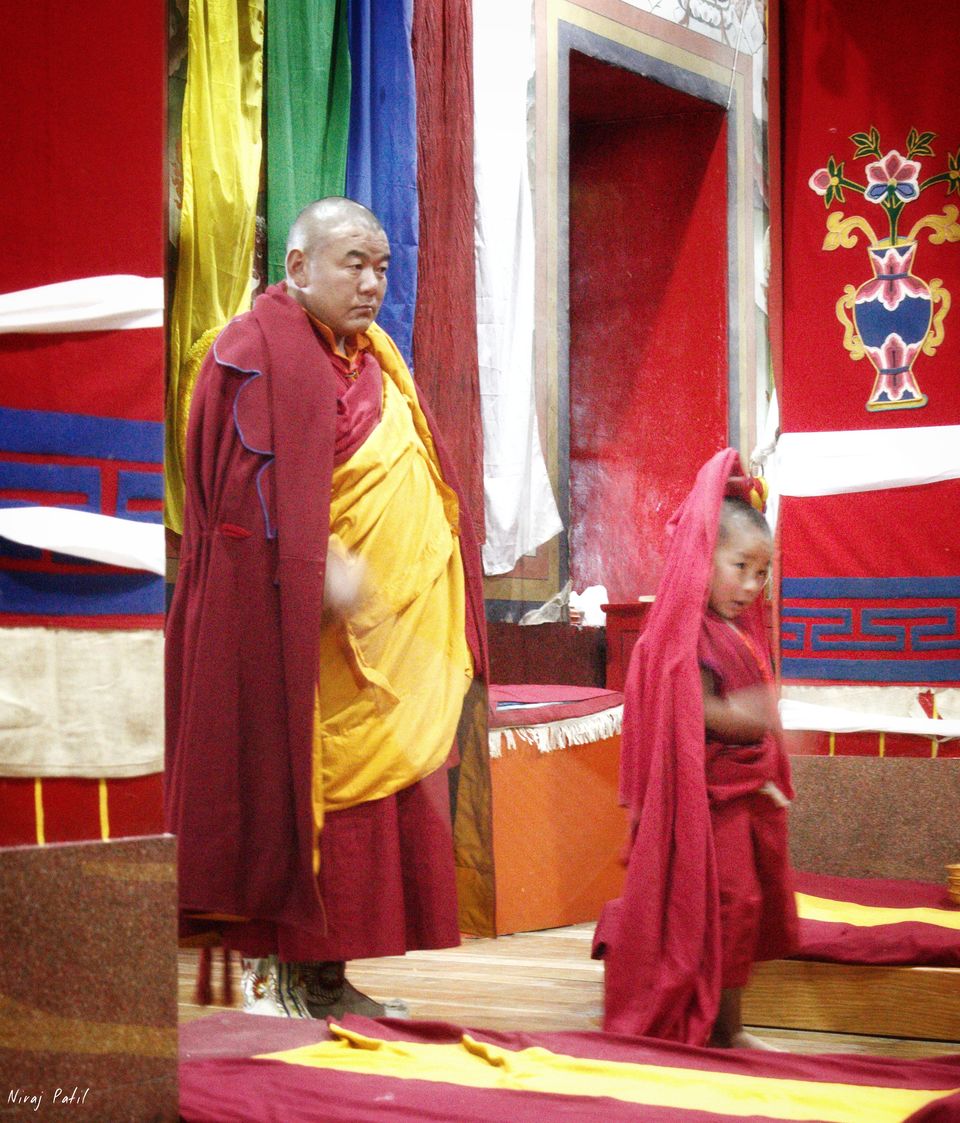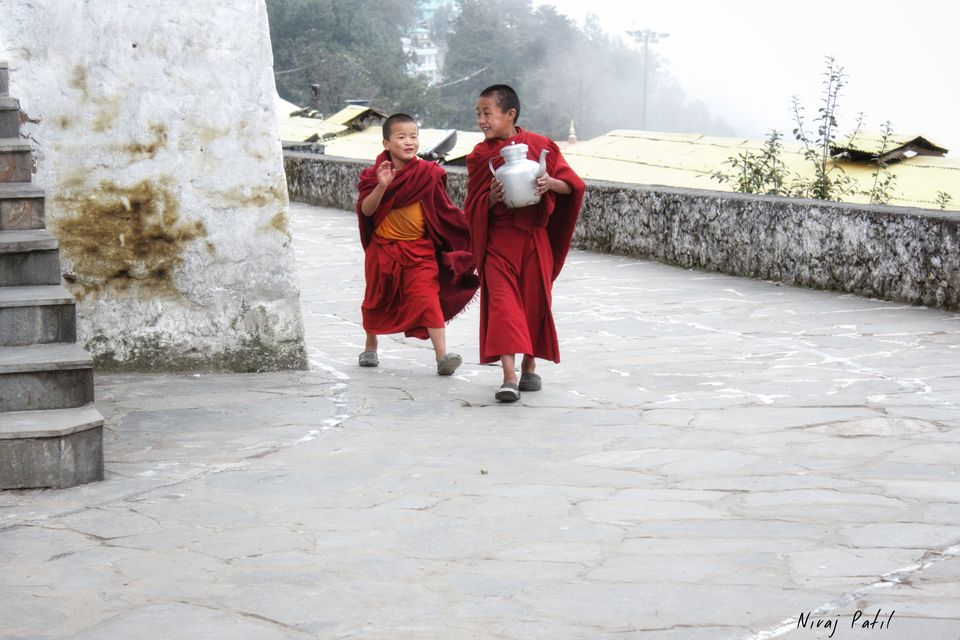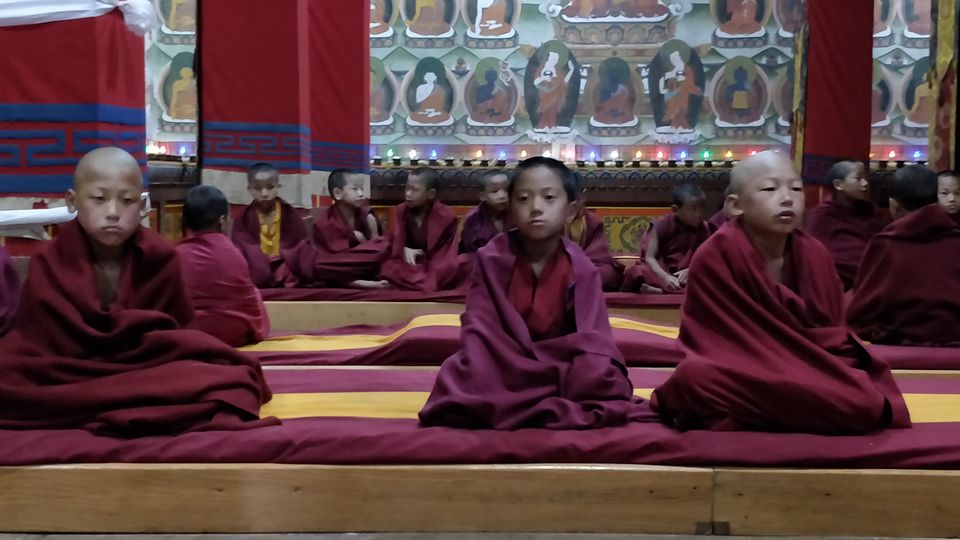 These monks lead a normal life just like us but rather a disciplined one. Their day starts with the Morning prayers which go on for about 2 hours, where they chant the prayers and the whole town of Tawang wakes up with those auspicious prayers. After the prayers are done they head for breakfast and after that their routine starts. There is a library inside this monastery where ancient manuscripts from the Buddhist literature are preserved and are studied by these monks.
Now the legend, as it is said that location of the present Monastery was selected by a horse which belonged to Merag Lama Lodre Gyatso who was on a mission assigned to him by the 5th Dalai Lama to establish a Monastery. After an intense search, when he failed to locate a suitable place, he retired into a cave to offer prayers seeking divine intervention to choose the site. When he came out of the cave, he found his horse missing. He then went in search of the horse and finally found it grazing at the top of a mountain called Tana Mandekhang, which in the past was the palace of King Kala Wangpo. He took this as a divine and auspicious guidance and decided to establish the monastery at that location. Seeking the help of the local people, Mera Lama established the monastery at that location in the latter part of 1681.
After spending some time at the monastery, I decided to head back to the hotel again to go for Bumla Pass which was the highlight of today. Unknown to many, Bum La Pass is the same place where one of the battles of the Sino-Indian War took place in the year 1962. In the past, an old trade route passed through Bum La Pass. The road to the pass has disastrous conditions and only 4 wheel drives are allowed with competent driving skills and hence we booked a local tourist guide with driver who took us over to Bumla Pass. To visit Bumla Pass you require certain permits to be obtained from the Indian Military and the authorities. We got those permits issued in advance through #MYTAWANG team and were lucky enough to save time. Making our way through the beautiful mountains with scenic lakes alongside we finally reached Bumla Pass which sits at an elevation of 15,200 feet. Bum La Pass is also the region from where Dalai Lama escaped Tibet and took refuge in India
Please make a check list before you head for Bumla pass
• Carry altitude sickness medicines if you have any problems related to breathing.
• Sniffing camphor tablets time to time is also a good option.
• Cover yourself properly as winds blow at very high speeds at such heights.
• Keep sipping water from time to time to avoid dehydration.
• Eat foods that are rich in carbs before you leave for Bumla Pass.
After spending some time at Bumla Pass and hearing some stories about the valor and courage of our brave Indian Soldiers, you truly feel the patriotism running through your blood and a sense of pride fills within.
A brief halt for some snacks along the way down, we head for Sangetsar Lake, a beautiful paradise near Tawang. This lake was formed as a result of the earthquake of 1973. The road to the lake starts from Zemithang and has 52 hairpin bends! It has a unique make–there are dead trees in the middle of the lake. Also known as the Madhuri Lake. This lake is originally called Sangetsar Lake, but it was once nicknamed as Madhuri Lake. How so? you may wonder. Well, in the 90s, a song from the Bollywood movie named Koyla starring Shah Rukh Khan and Madhuri Dixit was shot at the lake site. The song became famous and so did the lake, and soon after the lake was also named as Madhuri Lake.
Day 6: (Tawang to Sangti Valley-Dirang) – 150 kms
The time had come to say goodbye to Tawang and head back to Sangti Valley for a final night's stay and to celebrate this epic journey. Making an early start we made our way through Sela Pass again from where we had come to Tawang and this time the rain gods were merciful enough to shed us with their sunlight. We just couldn't be thankful enough for the perfect weather to click pictures and made a good halt of 1 or 2 hours just admiring the beauty of Sela Pass and clicking pictures.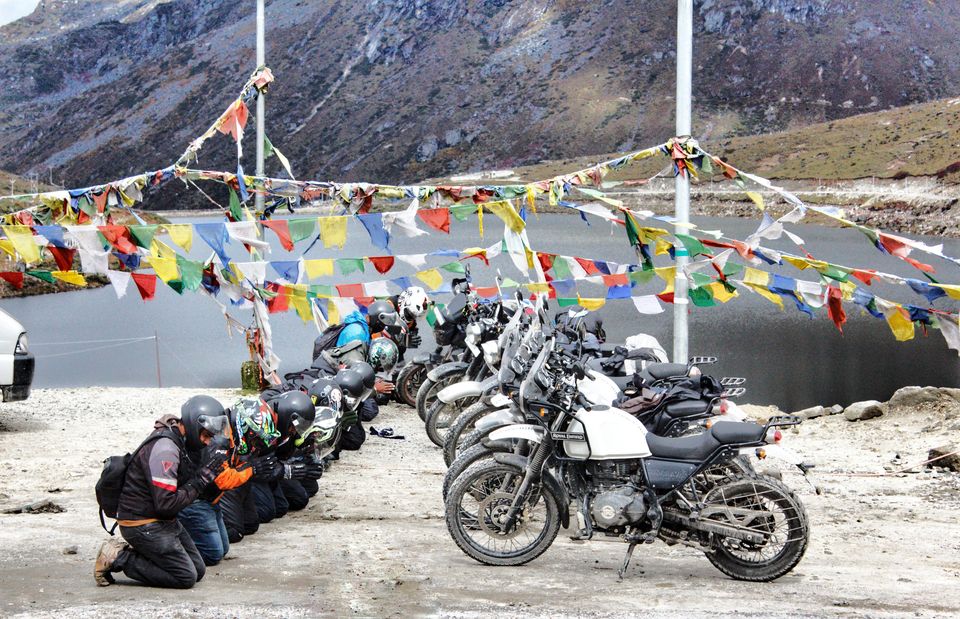 Day 7: (Dirang Monastery stay)
I was truly blessed to have got his chance to spend a night in the monastery. Very few ones are those who could experience this thing and you rarely find an opportunity like this.
To all the place I have been, this one seems to be the one where I truly lost myself in peace, serenity and a free flow of being truly myself. A free state of mind where you just feel grateful and thankful to be alive, to able to breathe and to be able to thank nature for its grandeur. You visit such places once in a lifetime, you experience things like these once in a lifetime where time truly stops. For me this is the place which I am gonna keep in the closet of my heart and will keep cherishing it till my last breathe.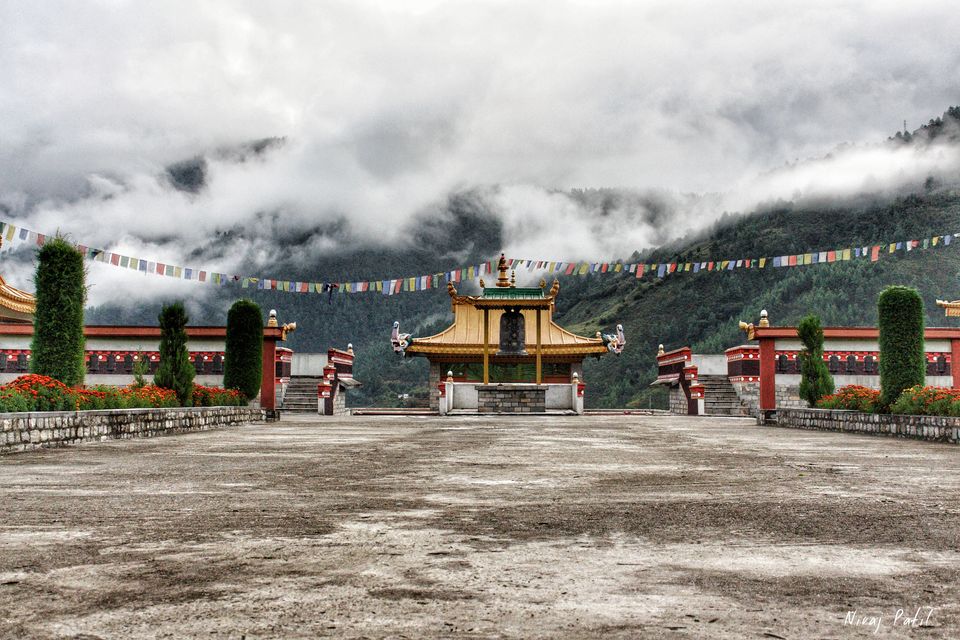 Day 8: Dirang to Guwahati (350 kms)
As the day dawned it was time to say the final good bye to the pretty town of Tawang The final journey back home after these 8 days was finally coming to an end and it felt like it never ended. It felt like a home away from home and truly we were treated as if we were at our own home. Just couldn't convince myself to leave this place. A hidden gem of India, the Northeast India and truly unexplored, this place is a must visit for every adventure lover. I am sure it will leave you with so many answers than you came searching for. A mystical place with so many stories awaits an adventure to be taken…..
So when are you taking this adventure!!!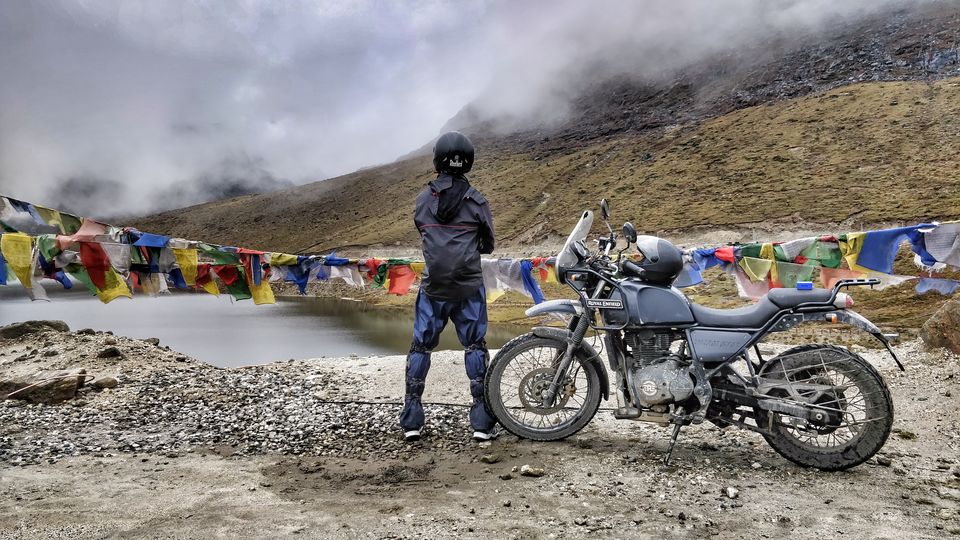 Do drop in your valuable comments and suggestions for the improvisations in my coming blogs….
Also don't forget to watch my first travel video and do drop in your valuable comments and your likes (https://www.youtube.com/watch?v=ESry0n9SYMc)
Till then keep travelling, keep exploring !!!
Frequent searches leading to this page:-
Guwahati to Tawang Bike Trip, 8 Days Guwahati to Tawang Bike Tour, Guwahati to Tawang Bike Trip Itinerary, Motorcycle Tour Of Tawang In Arunachal Pradesh