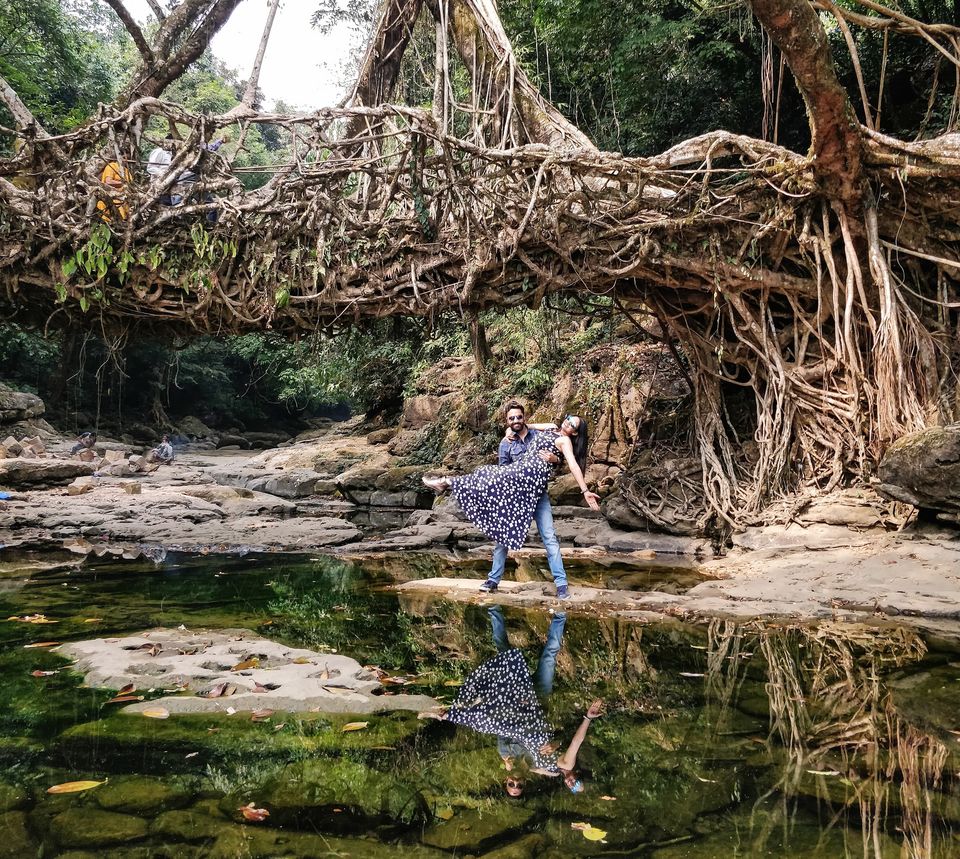 Trip itinerary, conceptualisation and photography by CRAVEL

Topographical Summary:Hills, waterfalls, tea gardens, caves, forests, natural pools, Root Bridges!
An adventure enthusiast's paradise: Treks, spelunking, kayaking, zip-lining!
Titles held : Asia's cleanest village, Highest rainfall in subcontinent, Living root bridges collection!
When a place has so many aces up its sleeve whether it be in respect to variety in contours and natural elements, endless list of adventure activities and boasts of places with a basket of noteworthy accomplishments, it becomes the perfect destination for an all round experience. So ditching the cliched luxury-only destinations that couples usually plan for their honeymoon voyage, we decided on a more comprehensive tour of Meghalaya for our maiden duo trip. We were amazed with the kind of unique and adventurous emprise Meghalaya provided, and at once booked the tickets to begin the journey of our life with a spunky stride!
We landed in Guwahati, collected our vehicle at airport and left for Shillong. Midway we halted at the Umiam lake and had some snacks there: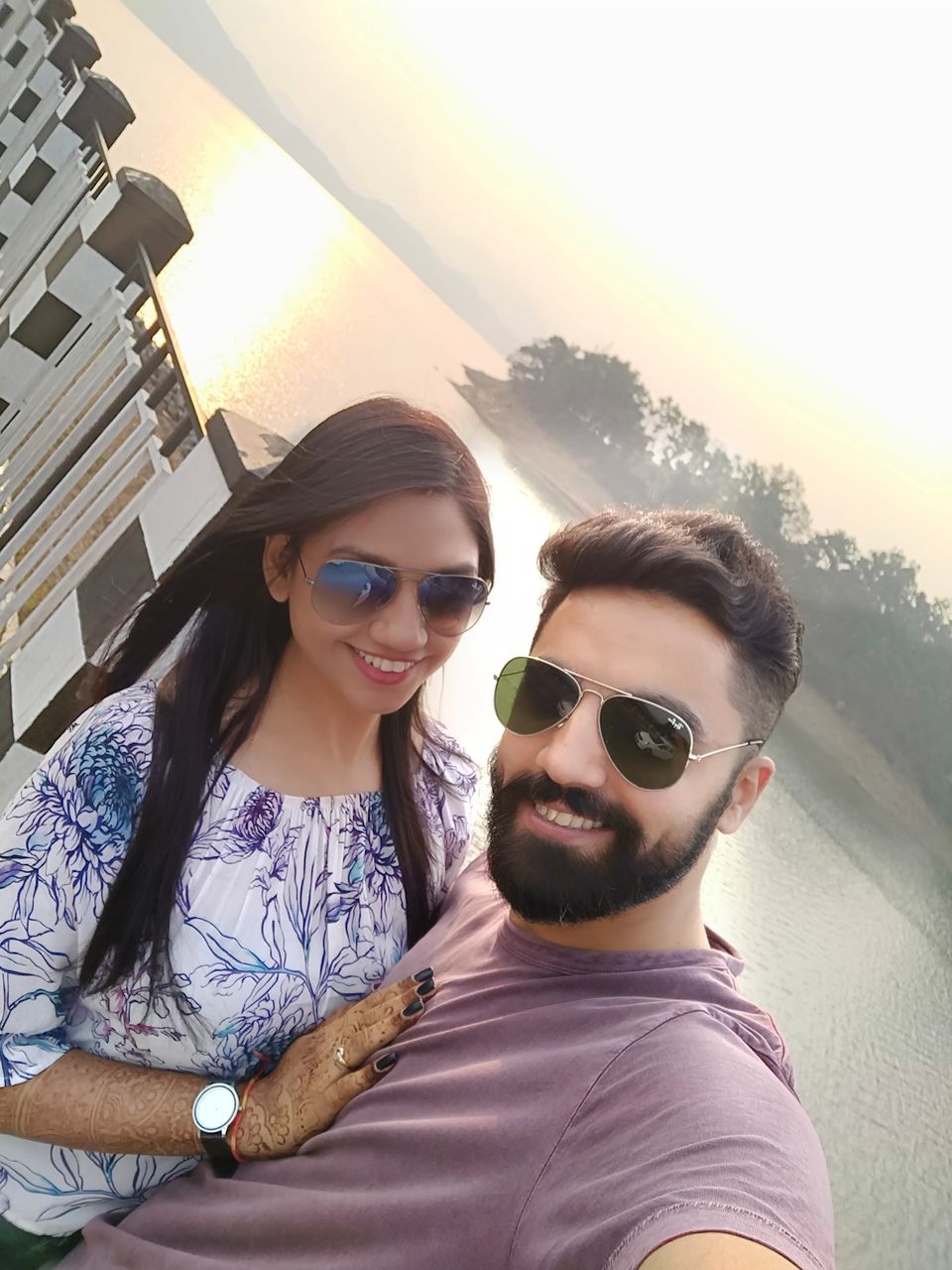 The roads pass through tiny villages and few sections of roads are bad. At last we reached Dawki, where hoards of people were awaiting their turn for a boat ride in river Umngot/Dawki. We wanted to stay at a peaceful offbeat location for the night which seemed difficult to find near to Dawki bridge and having consulted my friends who had been to this place little while back, we moved to Mawlynnong village for night's halt instead after clicking few pics at Dawki: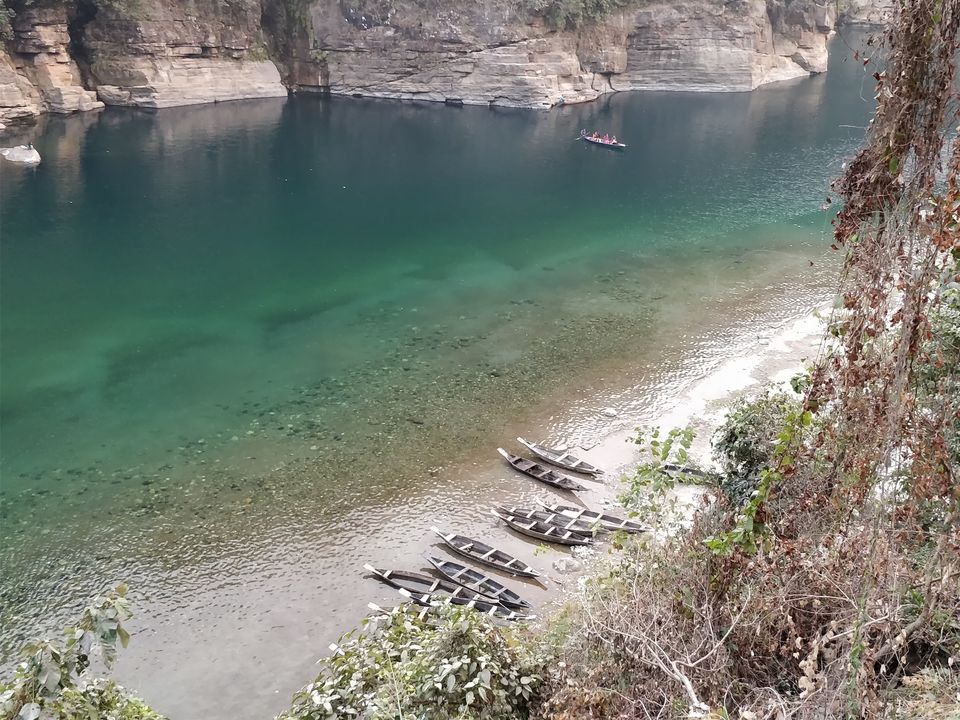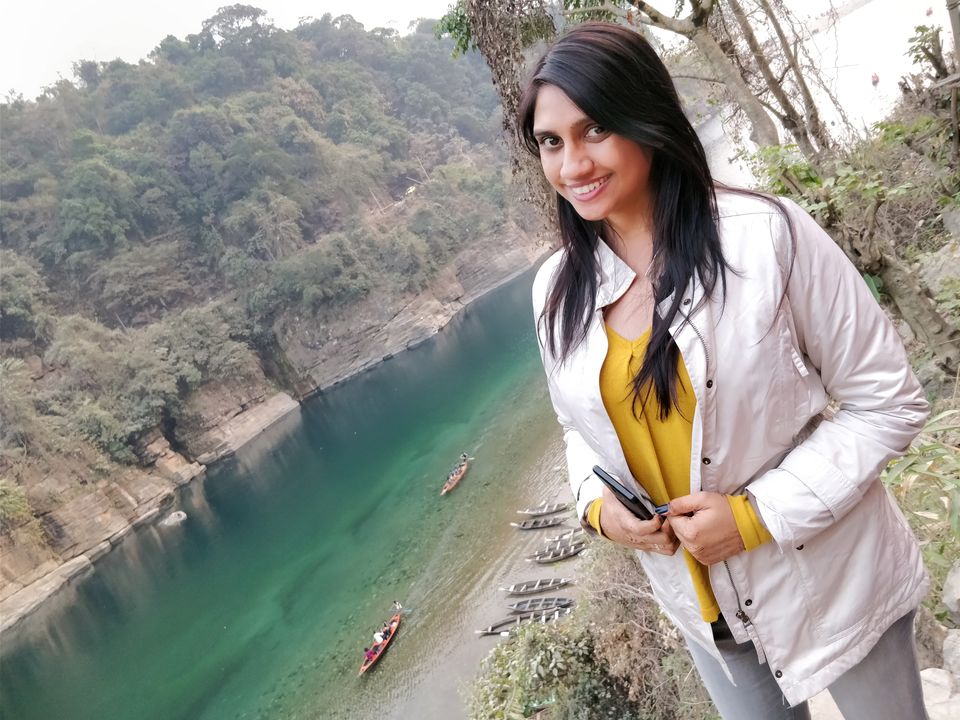 3000 stairs..That did not seem a very big no. until we were standing at the brink of the trek path to Double Roots Bridge, and saw that the step width is almost half of the usual, so it was difficult to place your whole foot at once. What takes toll on your legs is the steep and sideway descent that has to be done carefully to avoid slipping on a continuous infinite staircase down the hill.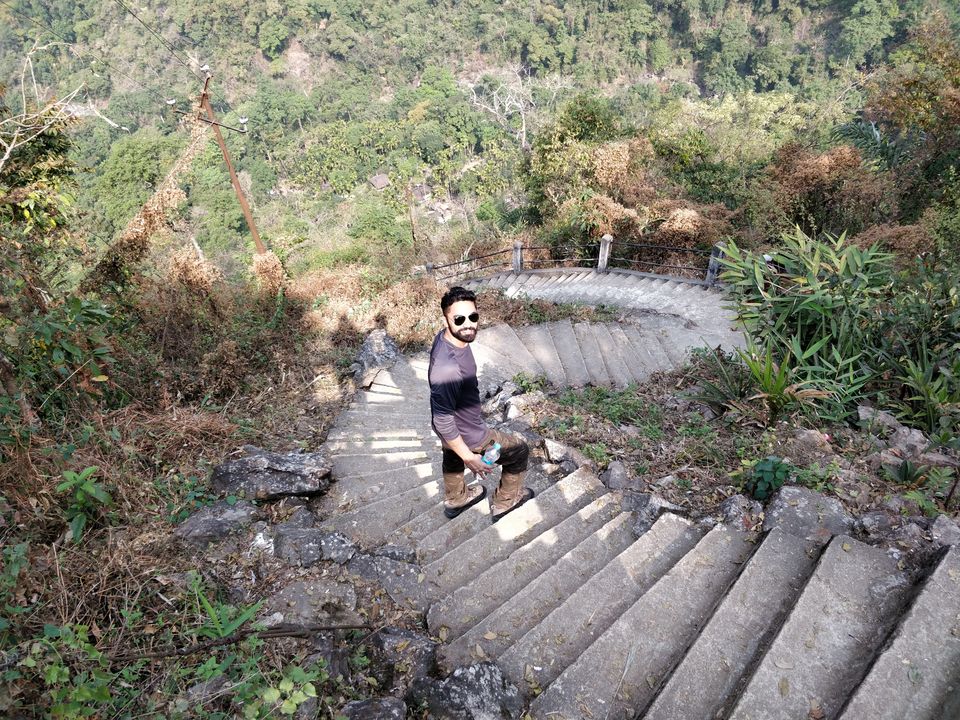 8am we were ready to head to Rainbow falls. Crossing the double root bridge, it is a couple of hours trek ahead of it.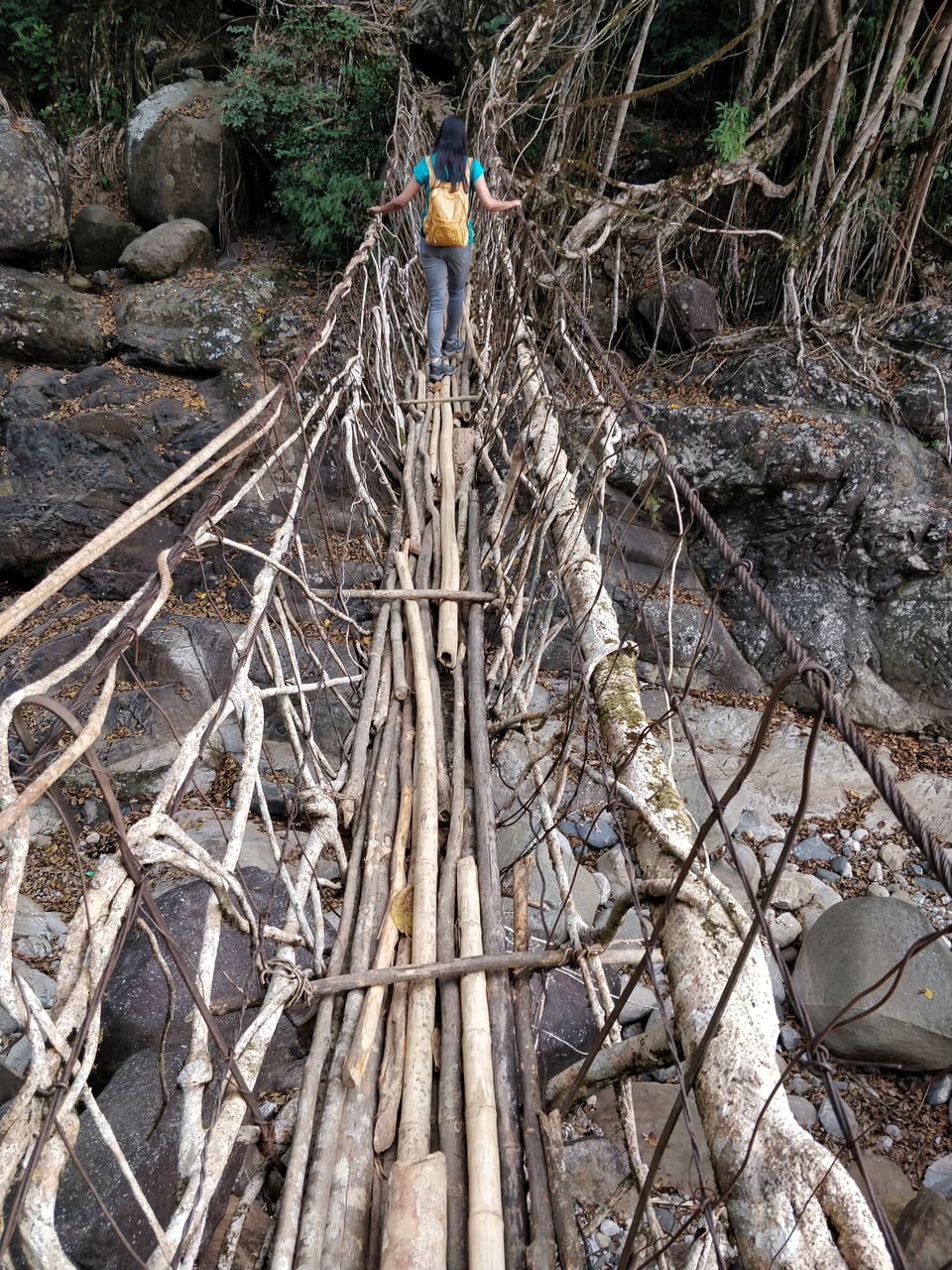 3000 stairs..now that we were familiar with them, even then the climb wasn't any easier!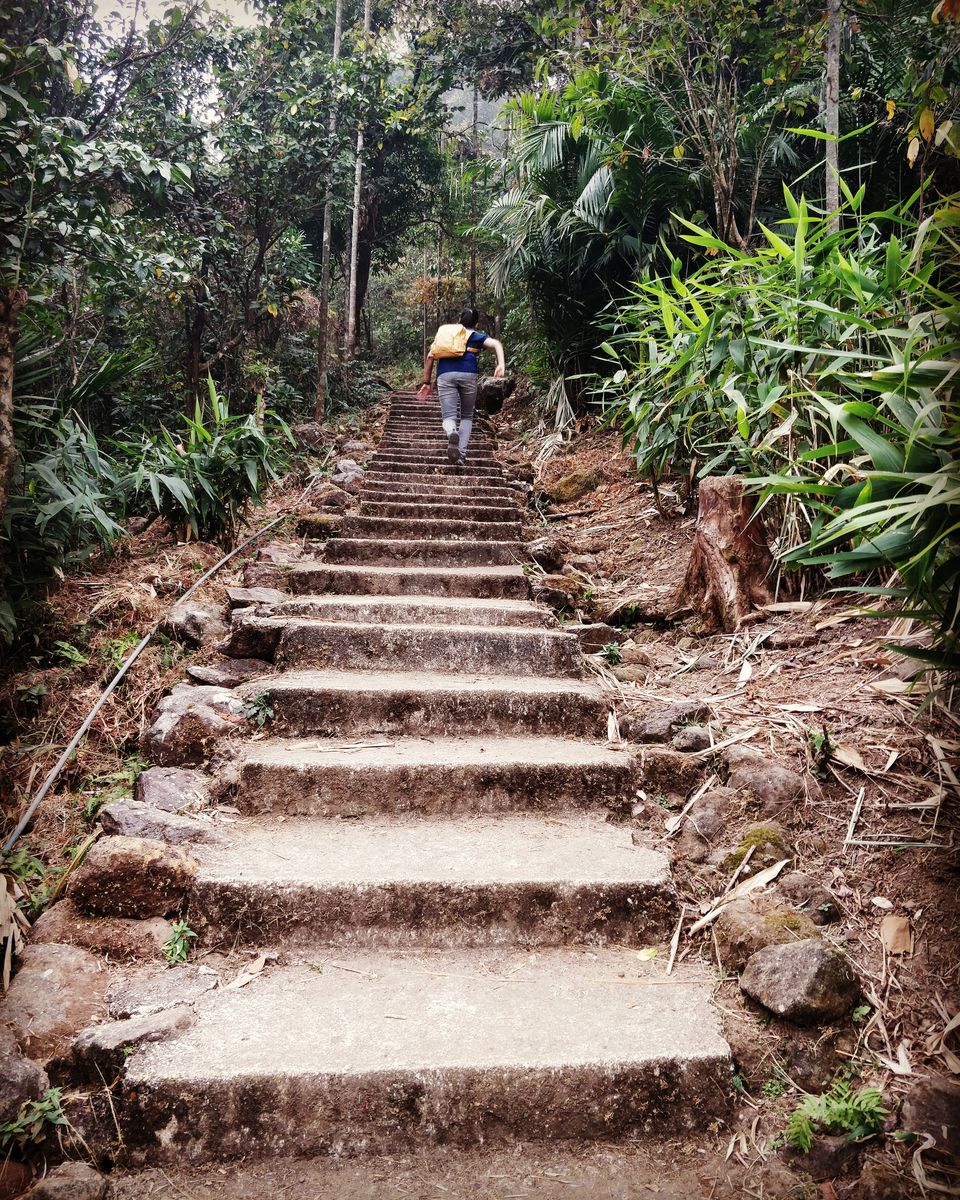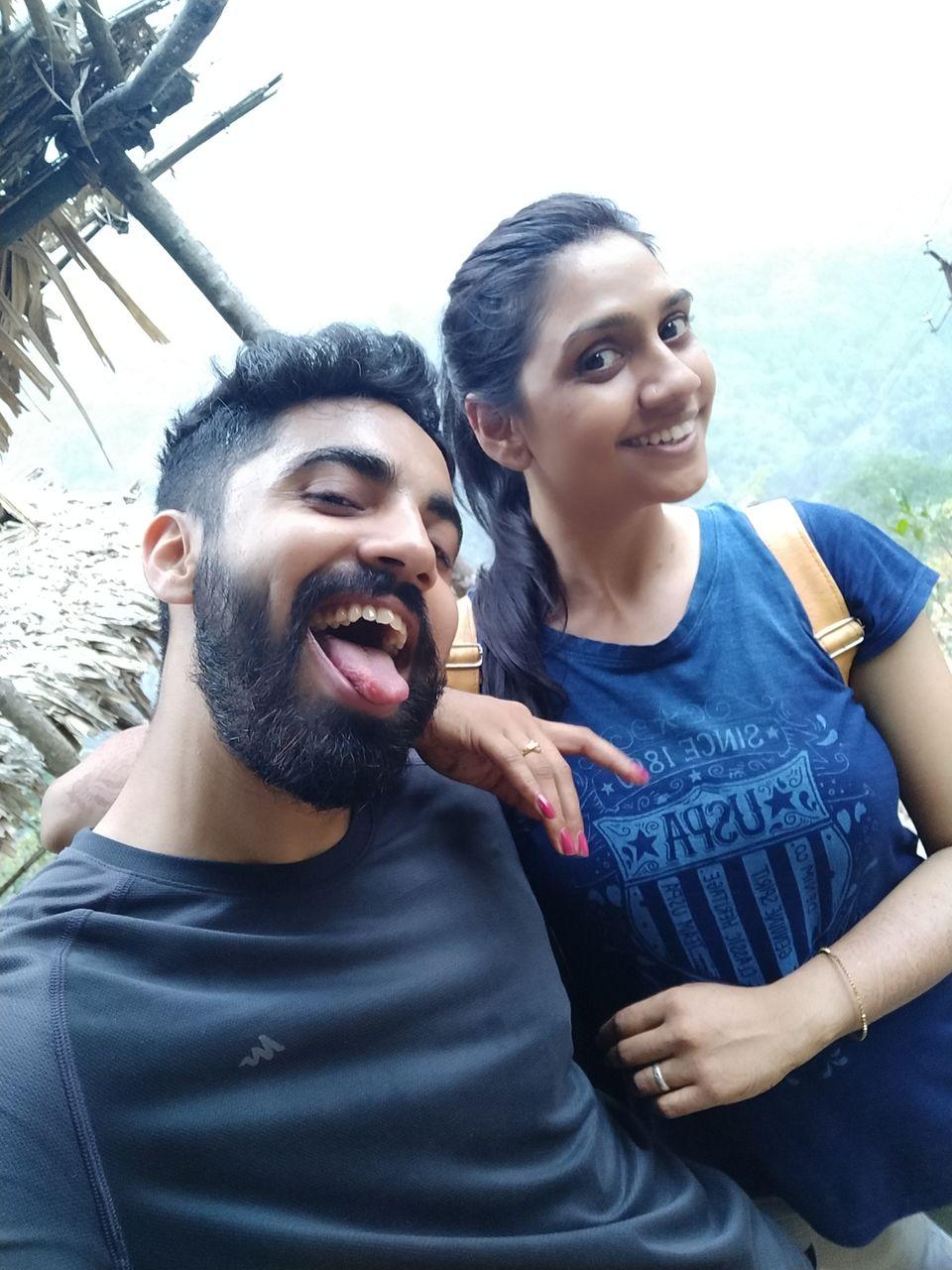 Krangshuri waterfall was our next pitstop. There is a 15 min trek till the waterfall after which you have to pay entry-fee to cross the final few hundred metres: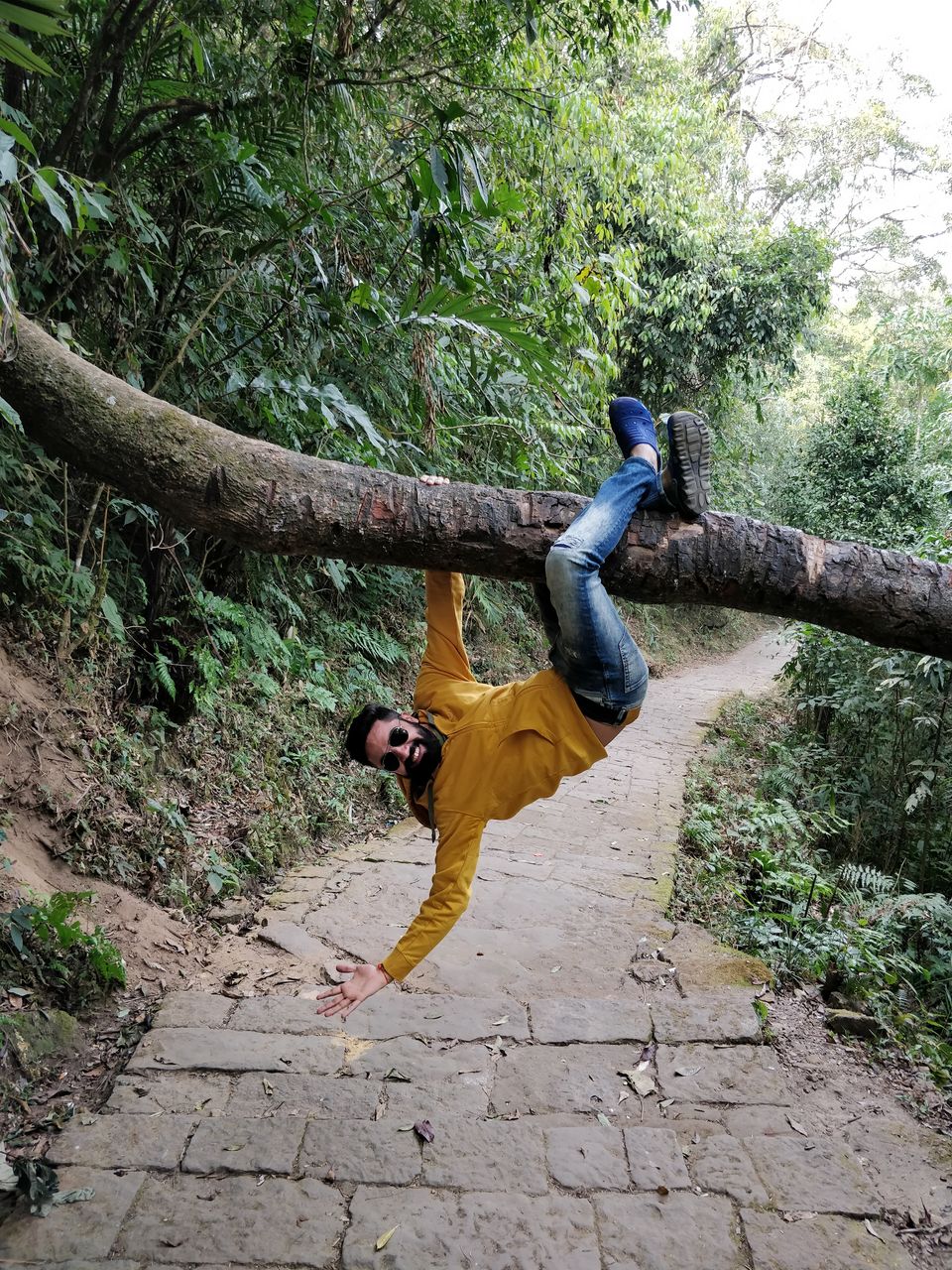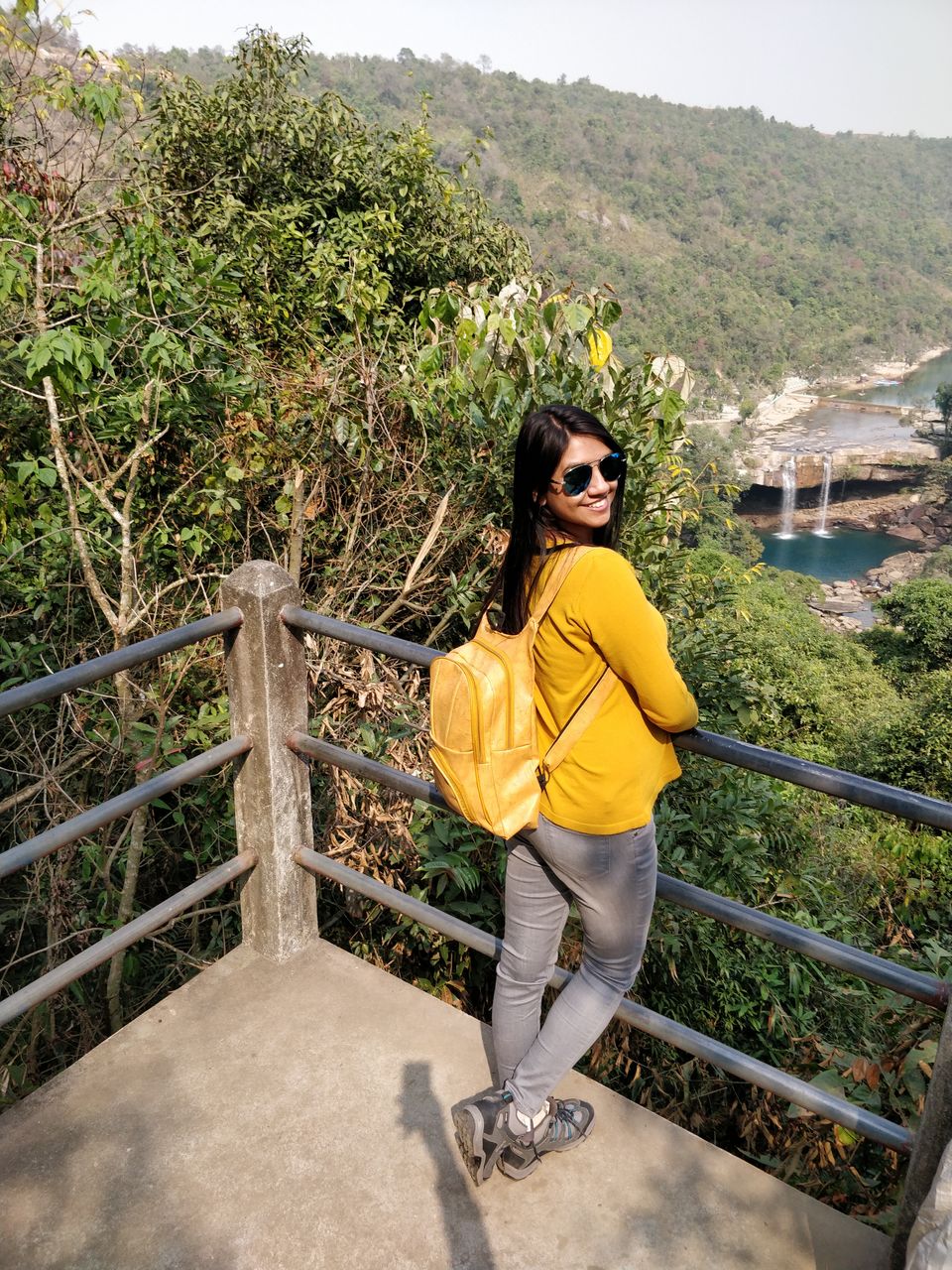 Next we proceeded to our homestay in Shillong. The weather turned chilly as we moved up through the winding roads, but upon reaching our destination, we received such a warm reception by our hosts that all cold and fatigue disappeared and we settled down in our heated rooms at once.
The property is surrounded by acres of tea gardens all around and provides a wholesome vantage point of the whole area being situated at the hill top. Though it was dark till the time we had reached there, the well lit gardens were instigating us to get out from our warm beds and enjoy the views from our huge balcony: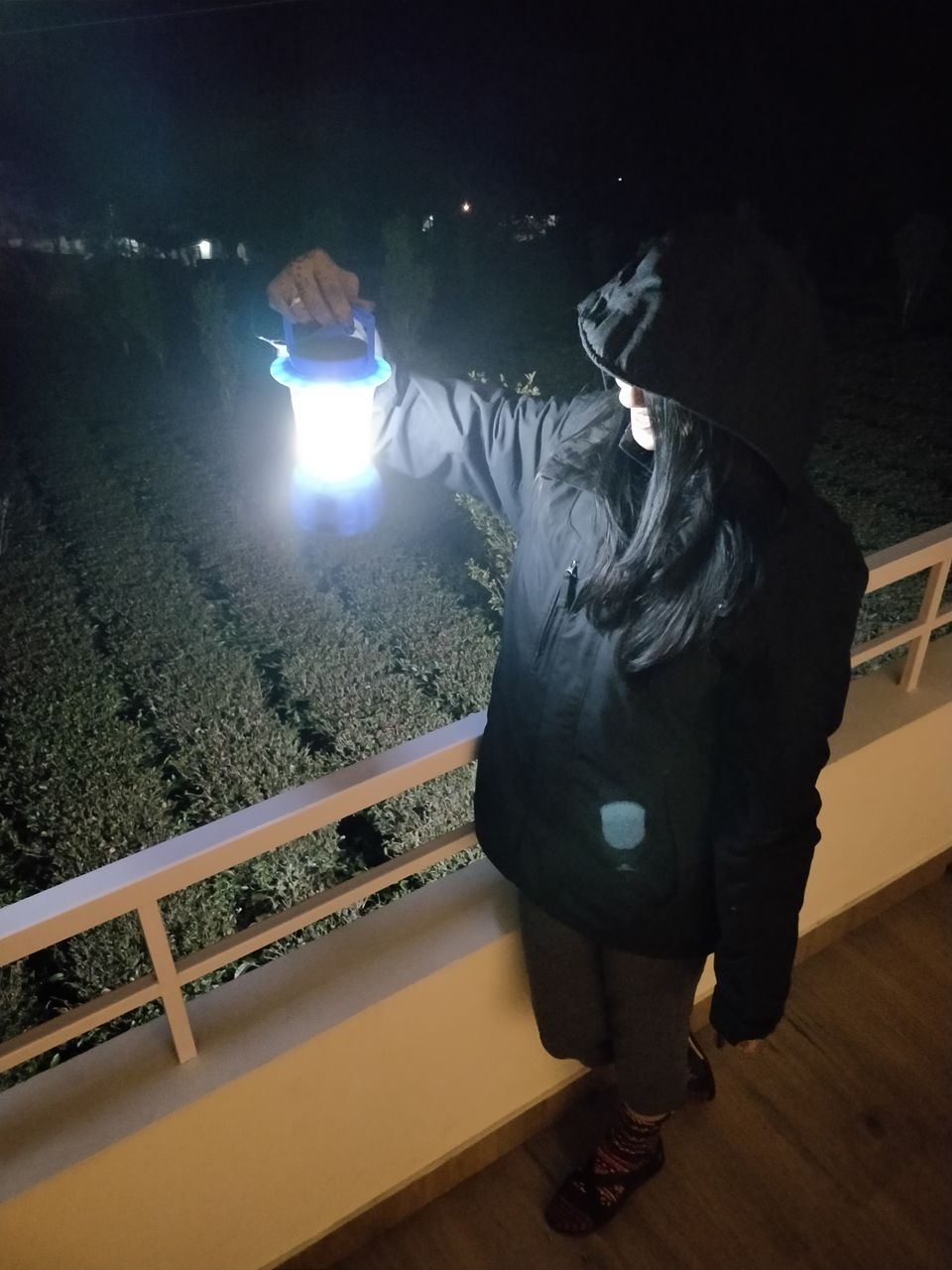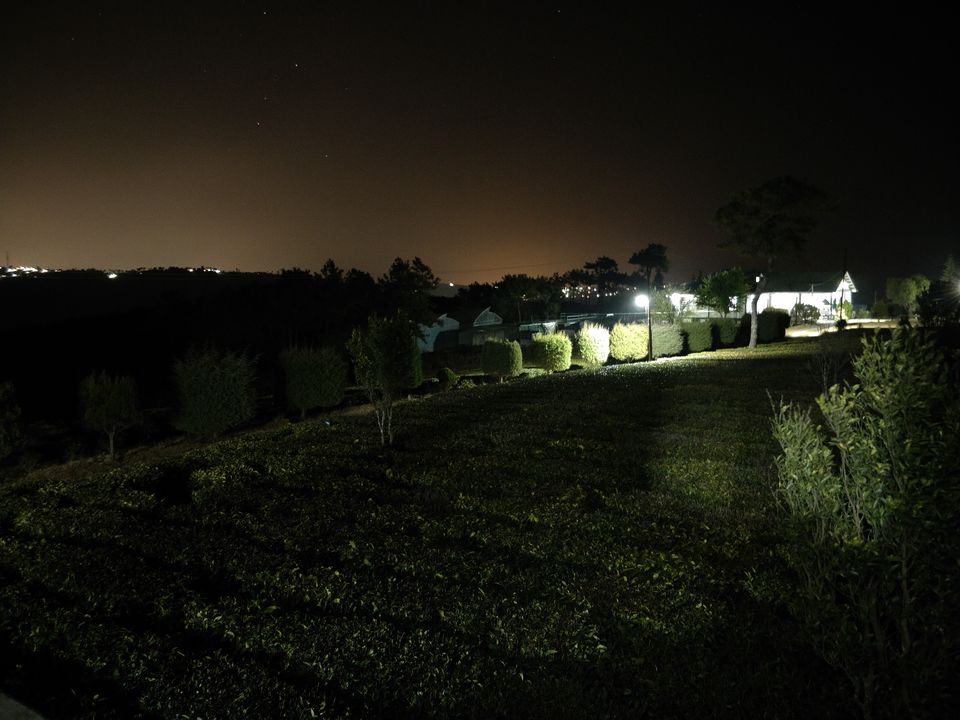 We had sumptuous dinner prepared in-house by our caretaker and went to bed soon thereafter.
Vistas from the balcony were magnificent to say the least with tea estates enwrapping our villa from every direction and tiny tea leaves shining in the soft sun creating an array of green shades!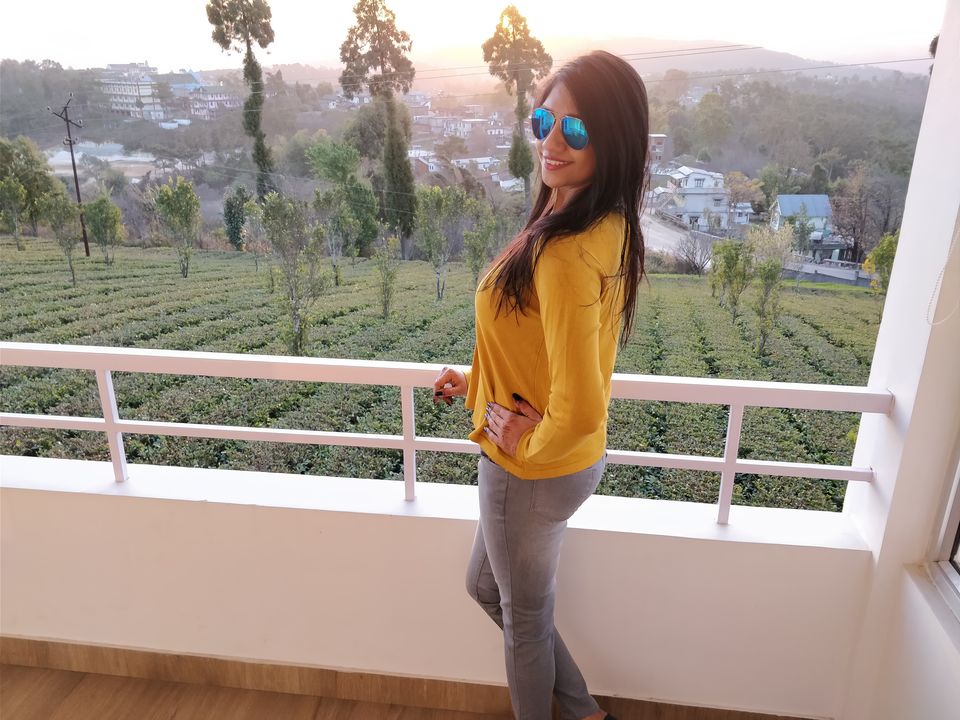 We went down for a walk in the tea gardens and got clicking: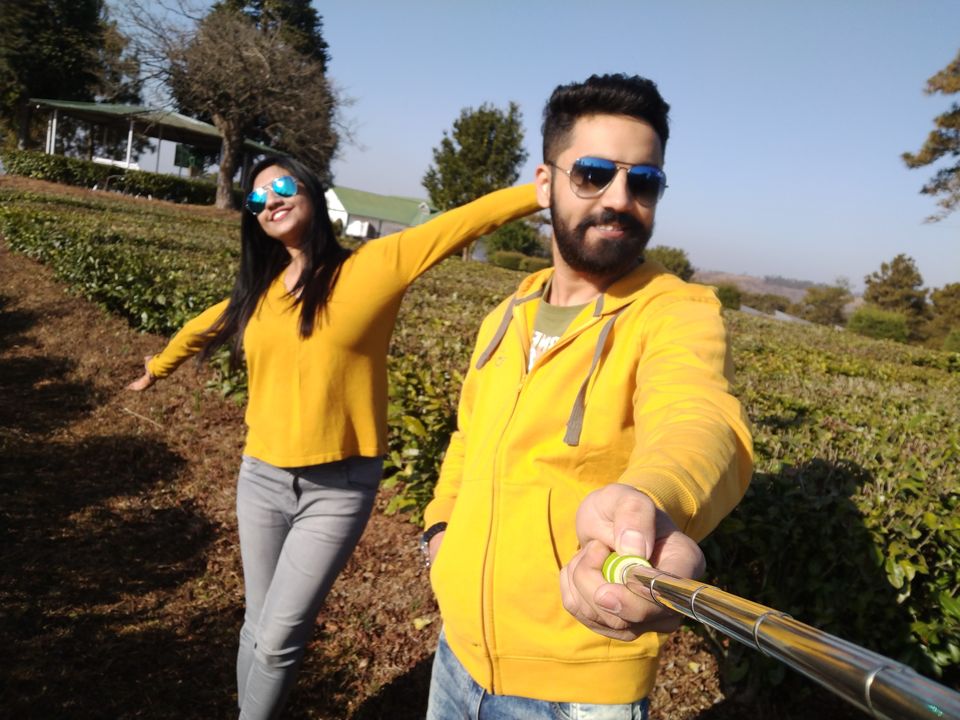 Soon after we were joined by our hosts for the breakfast where they shared their story of this place, how they started producing tea, opening a factory and about the bidding process: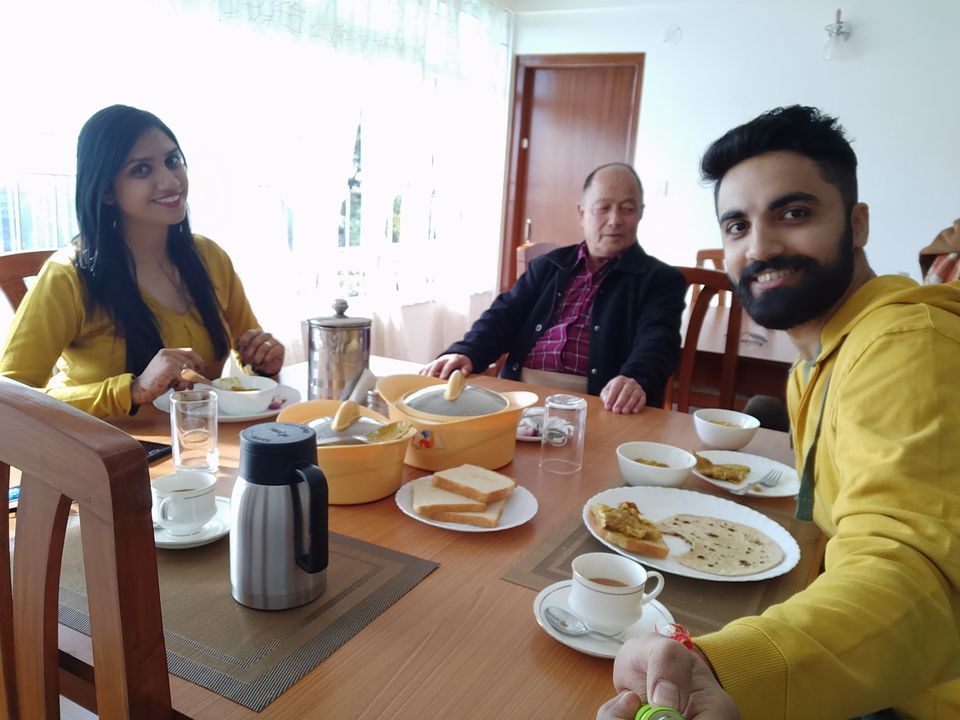 They even took us to their factory and showed around how tea leaves get transformed to the final product which is sold: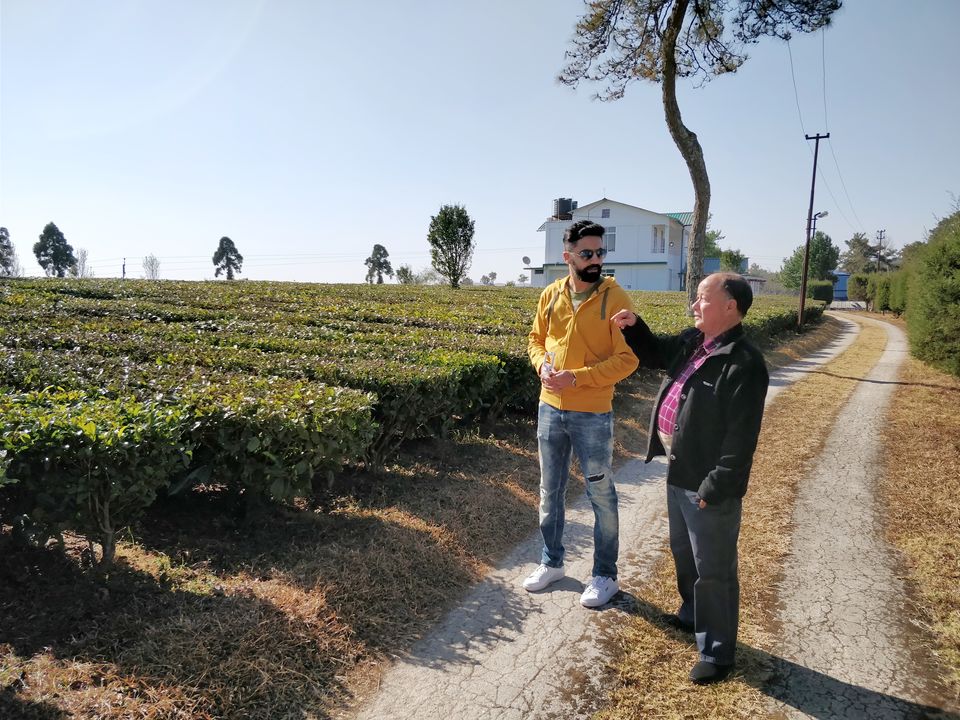 We also played with their pets for sometime before leaving: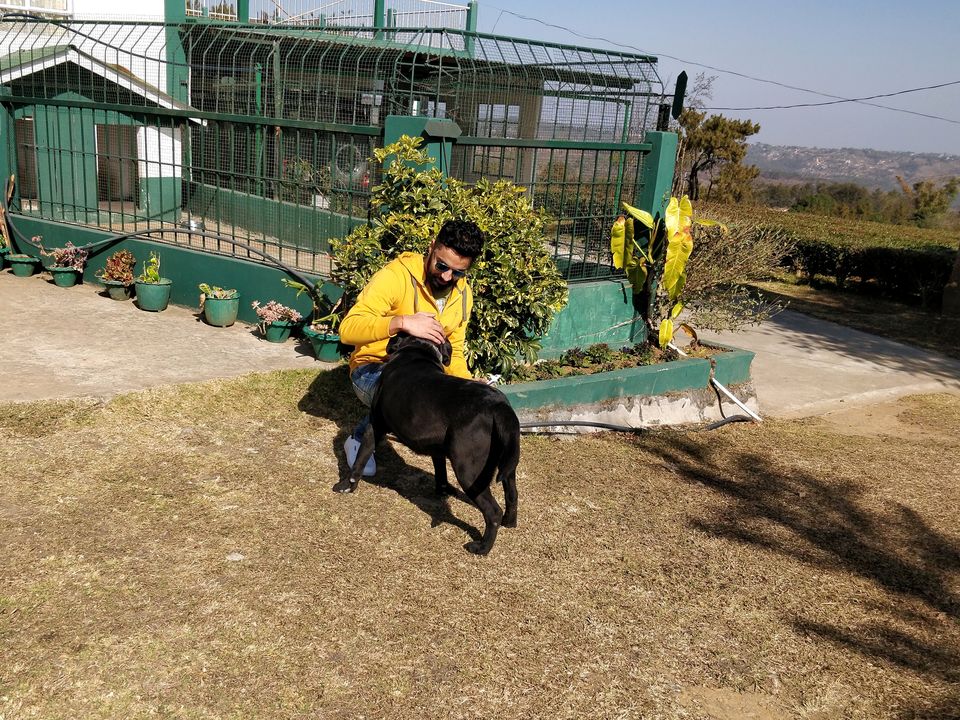 We bid them farewell with a promise to come back and spend more time at such a beautiful place again.
We had forgotten our wallets in the car in excitement of reaching the falls, but the helpful folks at the ticket counter allowed us to enter without paying and told they would send a guy in return with us all the way to top where our car was parked so we do not have to trek again. On reaching the waterfall we were amazed with its purity and color; even though the pictures showed clear turquoise waters, it was nothing compared to the real thing!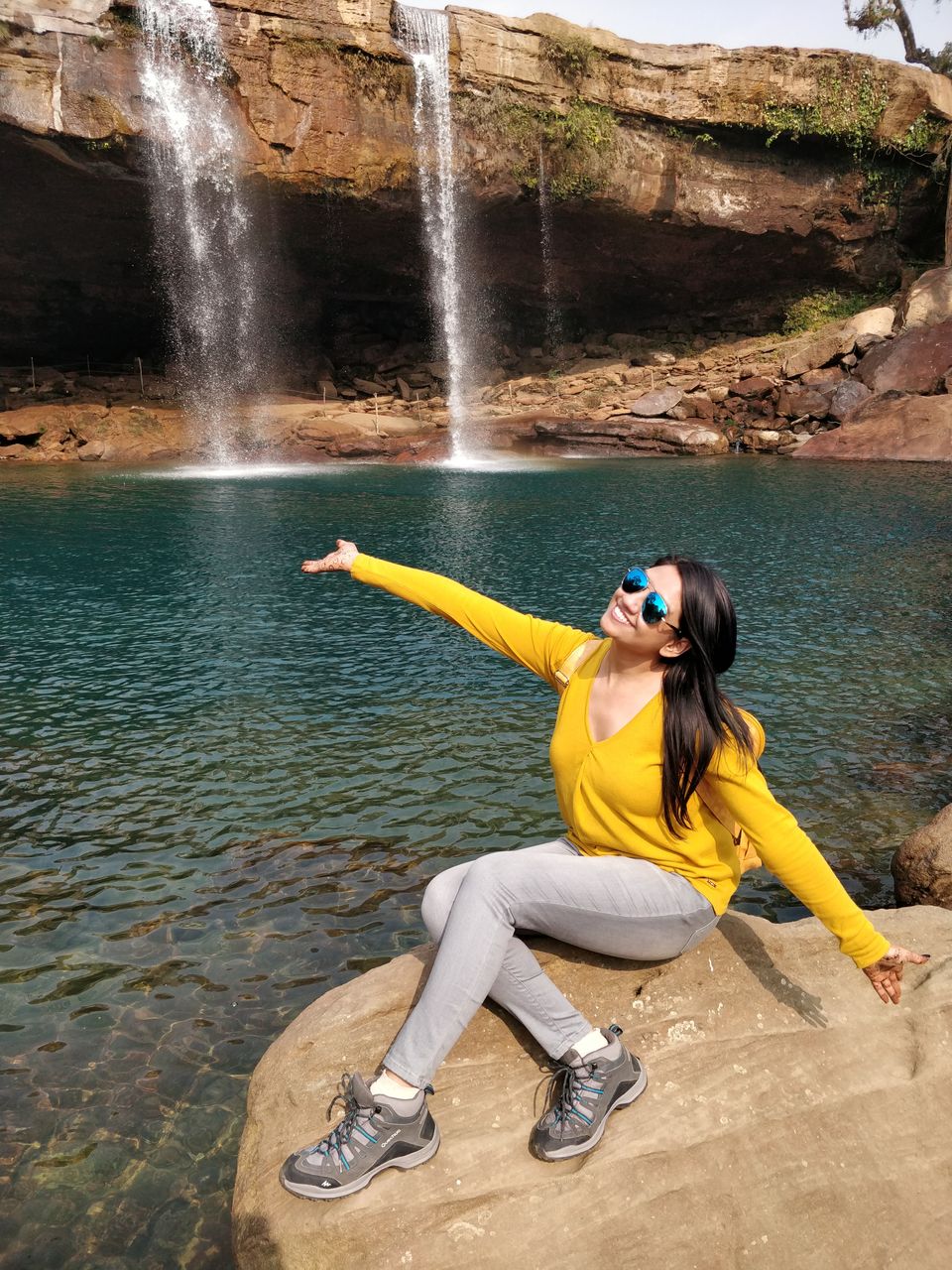 There are changing rooms and provision of renting a life jacket nearby, so we quickly got into our swimwear, slapped on a life jacket and jumped into the icy-cold transparent water. Though wifey doesn't know how to swim, the divine blue waters and presence of life-guard coach convinced her to venture near the deep end of the pool and experience the magical water while being kept afloat by the jacket: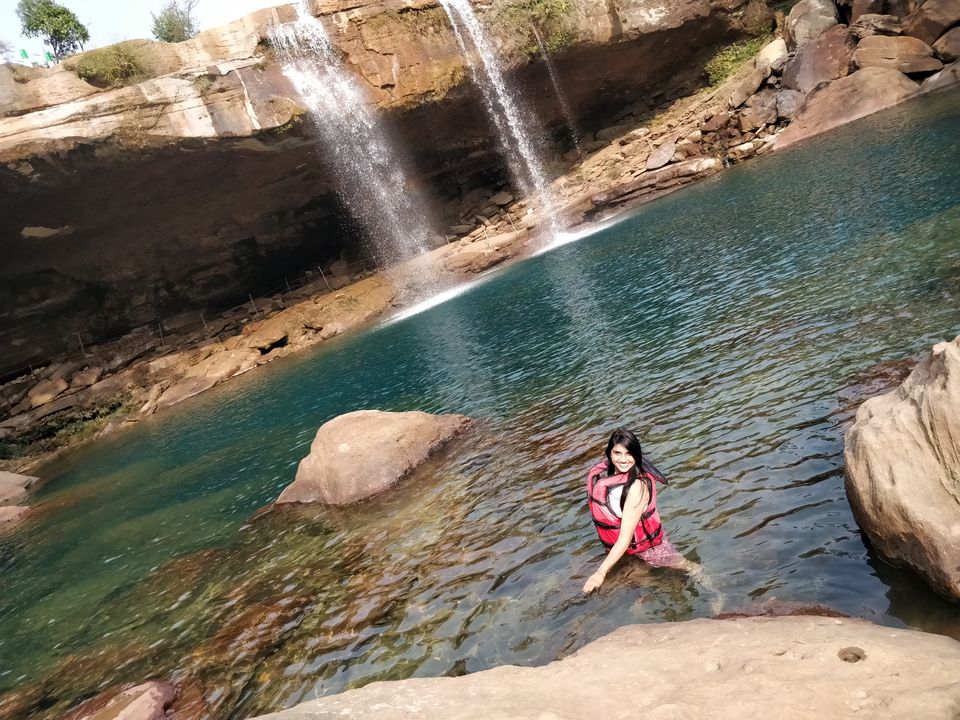 After an hour, we changed into our casual attire and then sat on rocks to take in the warmth of sun and listen to the melody of falling water: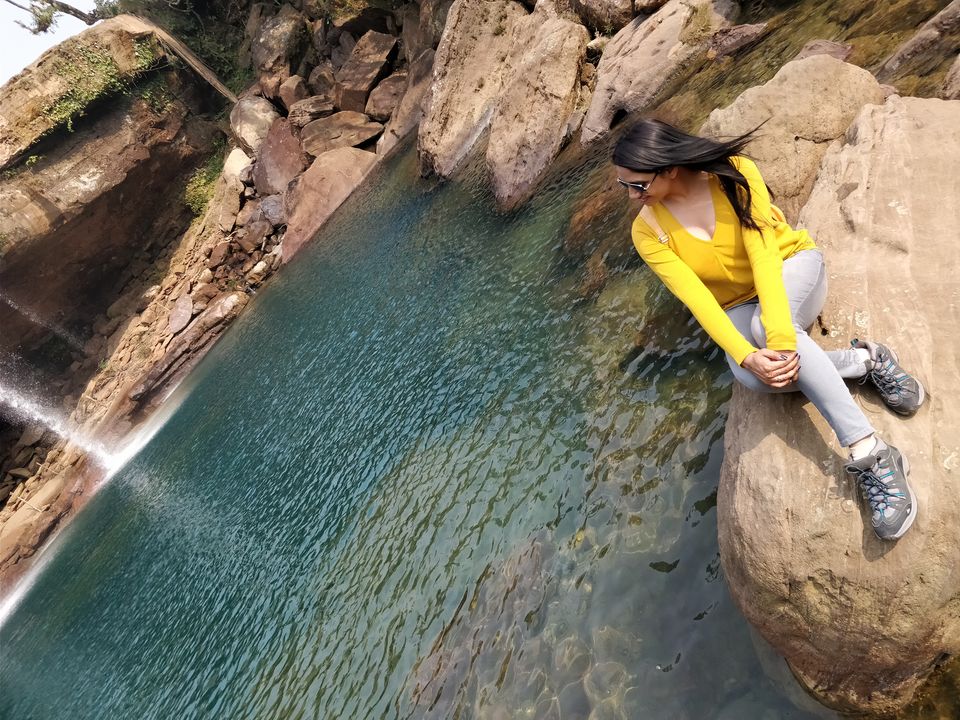 Sun sets early in this part of the country, so we had to hurry up. We reached to where our car was parked, paid the guy for entry fee and life-jacket and then left towards Dawki.
In a hurry to reach Mawlynnong before dark, we took a shortcut turn which goes along border of Bangladesh and is completely deserted.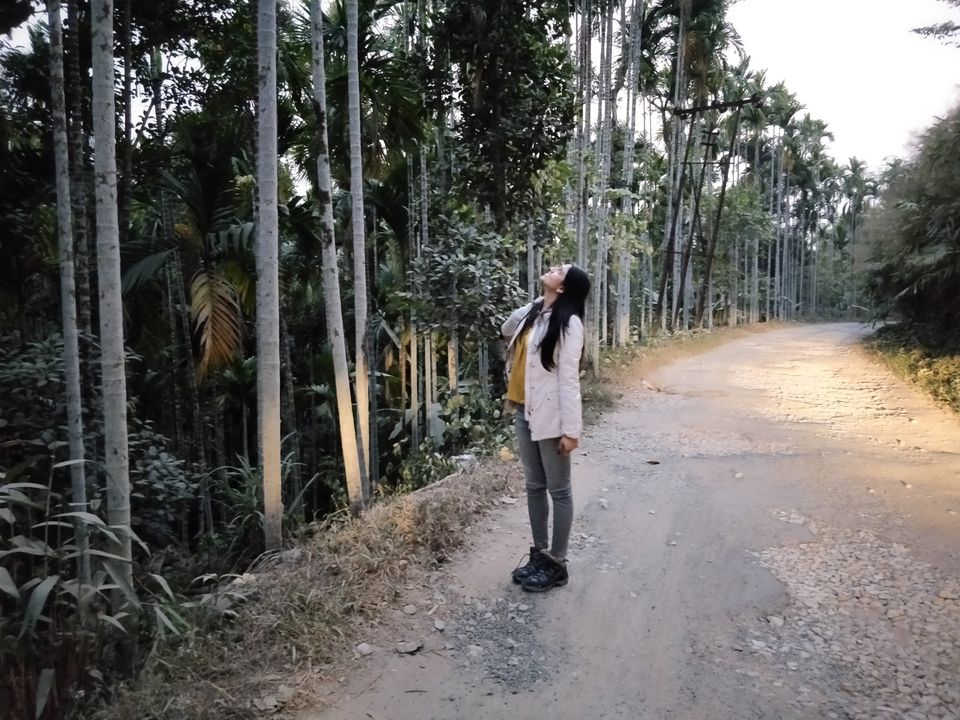 The poor road condition slowed us down considerably and combined with the uncertainty of route and absence of any living creature, we had to drive very cautiously to avoid getting into any trouble. After a while we saw some border roads military personnel who confirmed that the road will indeed take us to village.
After patiently driving for another hour and a half we finally arrived at the village and searched for a place to stay. We selected a bamboo cottage and shifted our luggage to our shelter for the night and went to sleep.
You actually realize the things which you miss leading an urban lifestyle like the birds tweet, fresh air or animals grazing while the shepherd plays a tune on his mouth-organ. Packing these sweet and rare instances in our heart we went back to our hut and started getting ready for visit to Bangladesh Viewpoint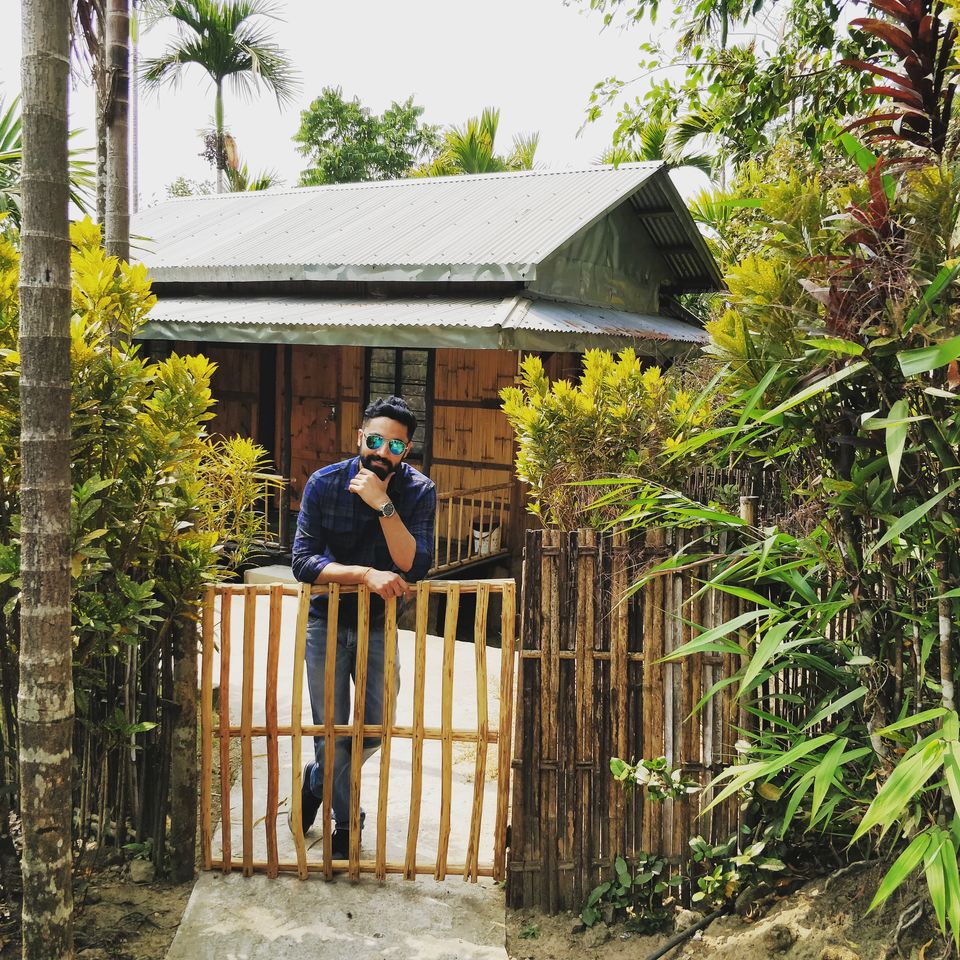 While Mrs. was getting ready, I slipped to a hut nearby to ours, and started interacting with the kids there. Seeing my camera they got excited and started asking questions about it. As soon as I started clicking, they brought their game faces on and I joined their crazy party!
Soon I lost track of time until my wife came along looking for me and told us kids, that playtime was over and it was time to go! :P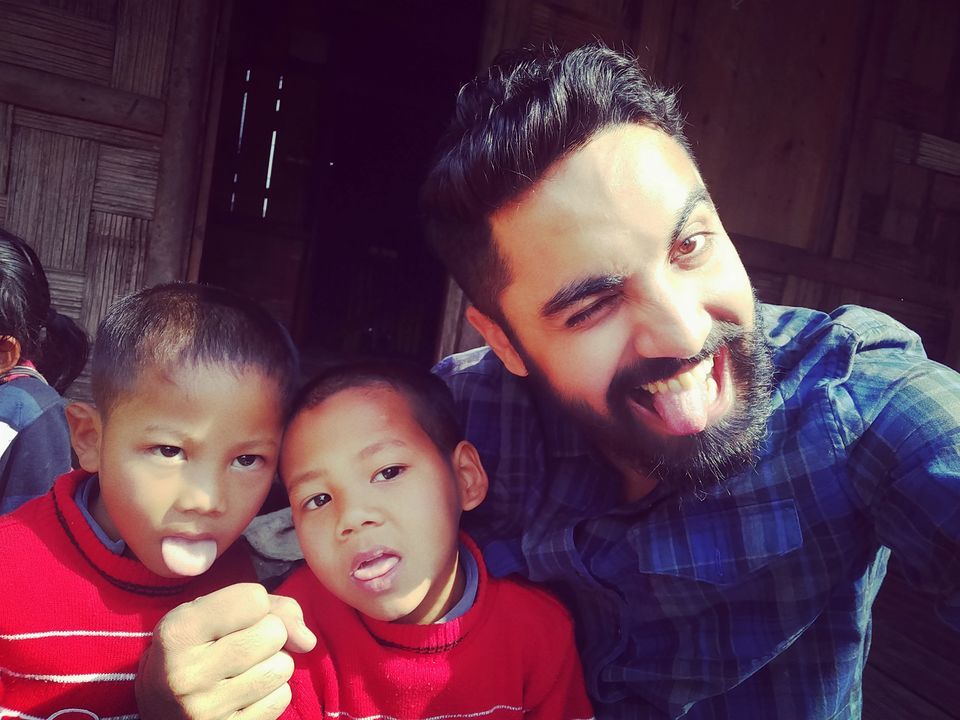 Bangladesh Viewpoint is a 4-level structure created with bamboos which lead up to a platform from where Bangladesh border and beyond can be seen: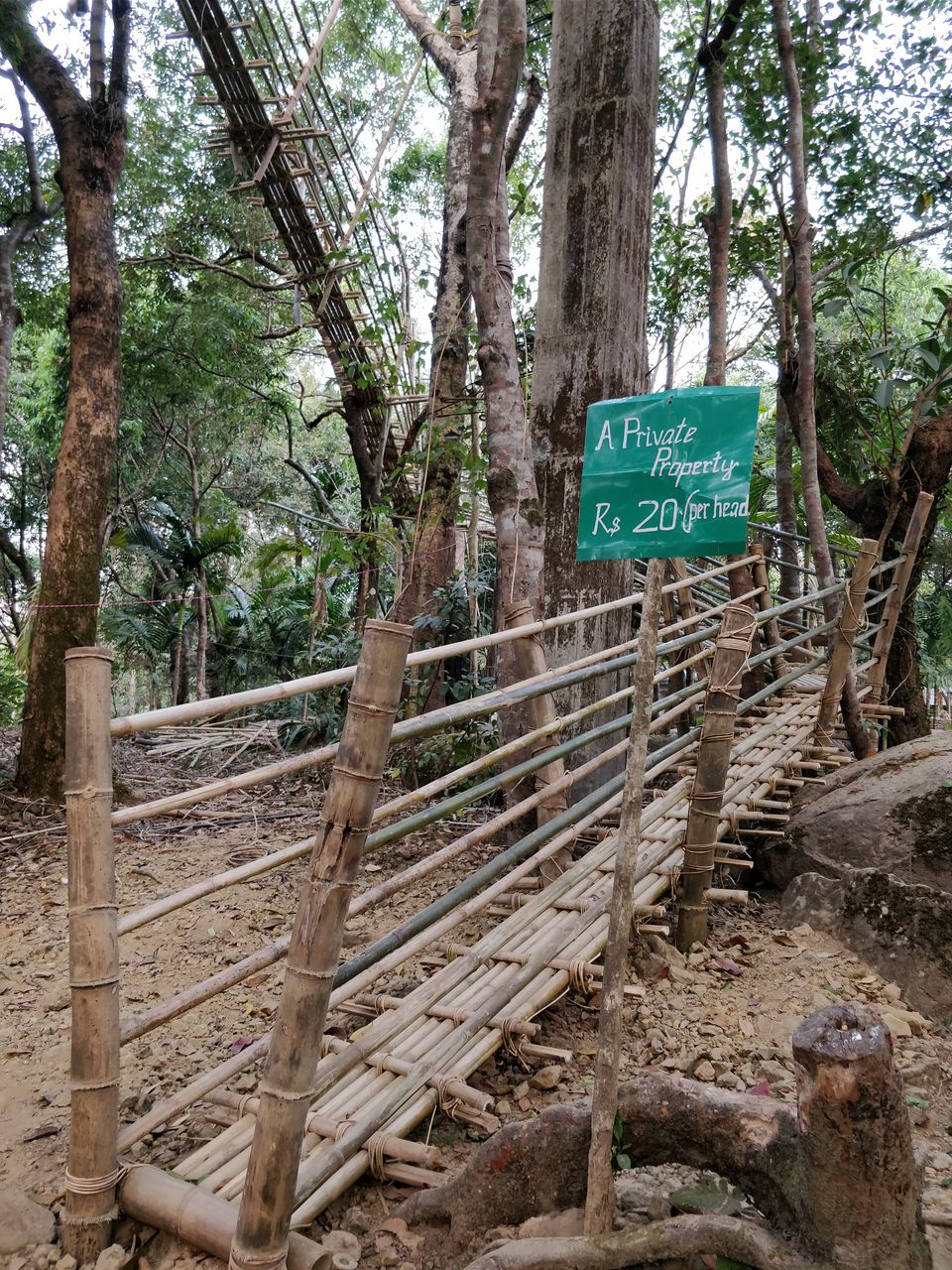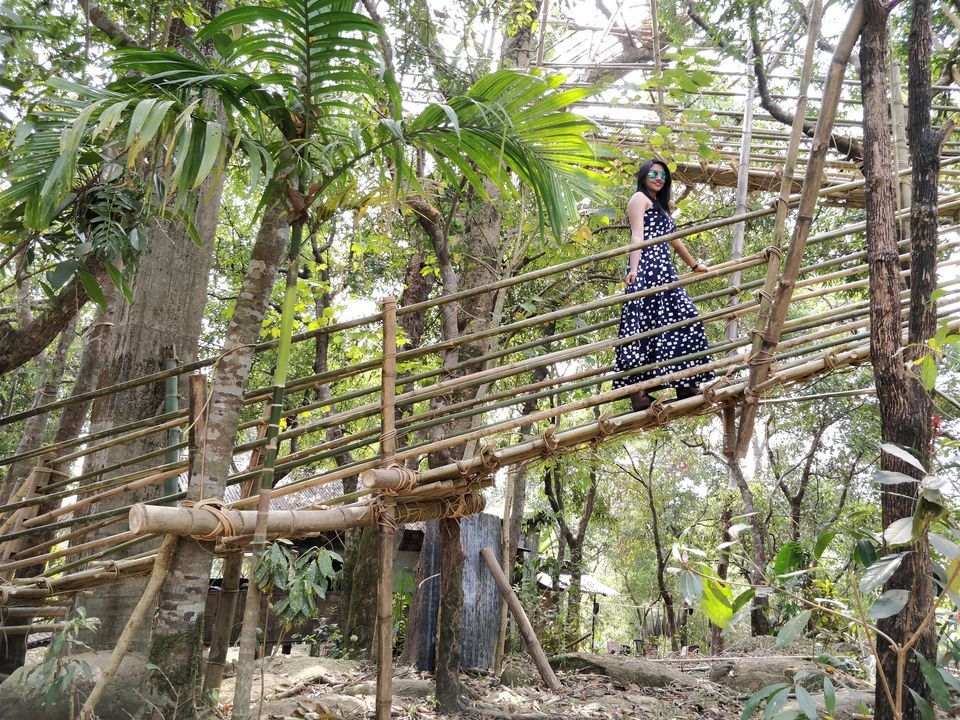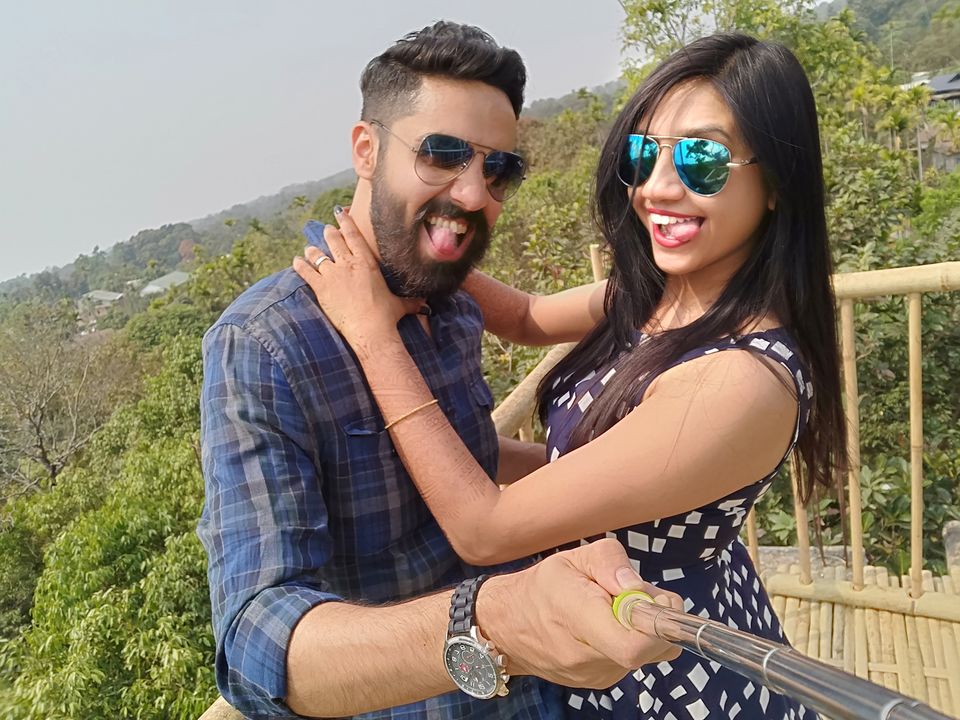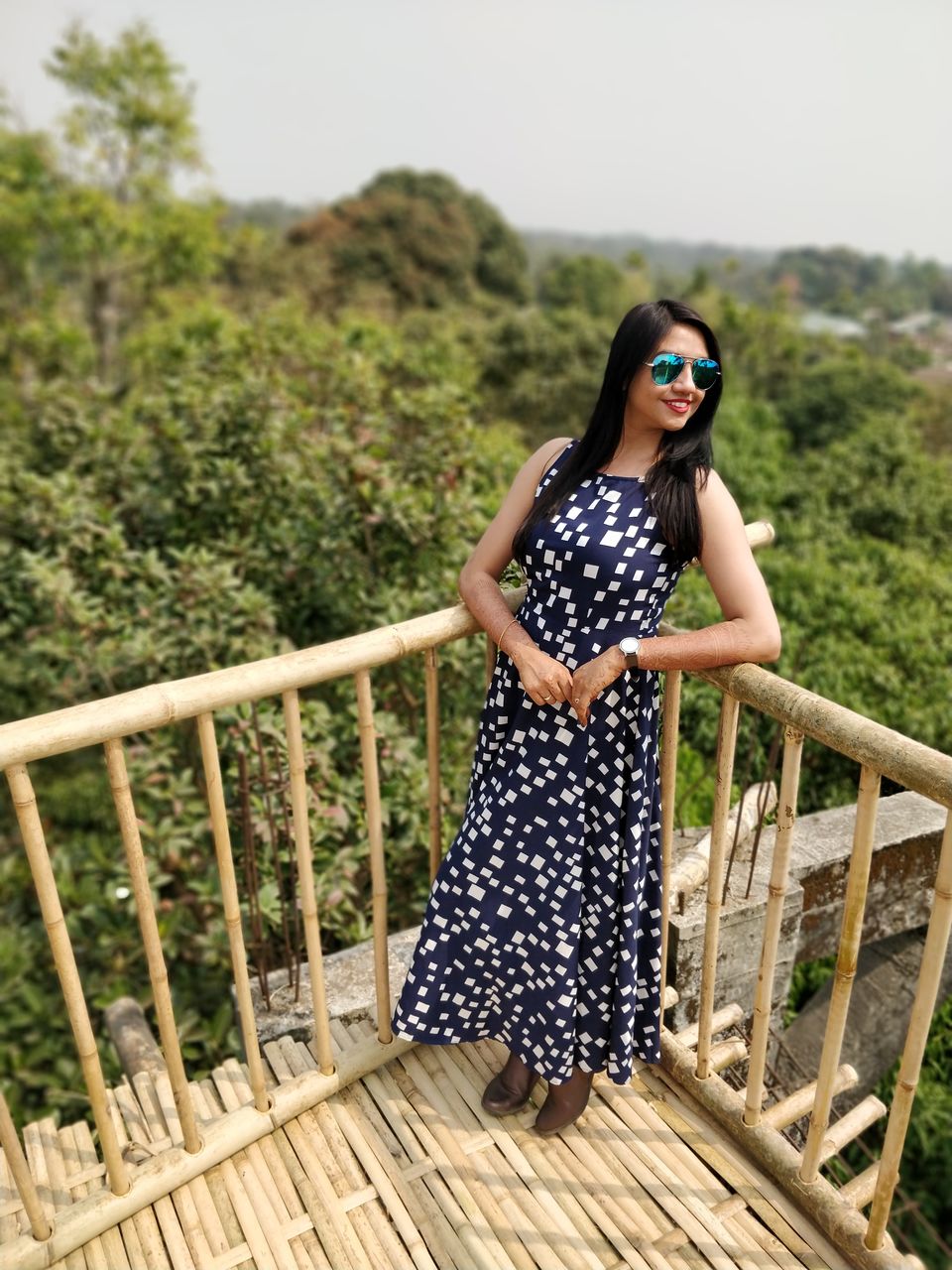 After this we went to cover Single Roots Bridge which can be reached after a 15mins trek from parking:
This was a marvel that the indigenous have cleverly crafted by joining roots of tree to construct a bridge which is useful unlike in dry spell time when we went underneath it to capture the reflective water and bridge: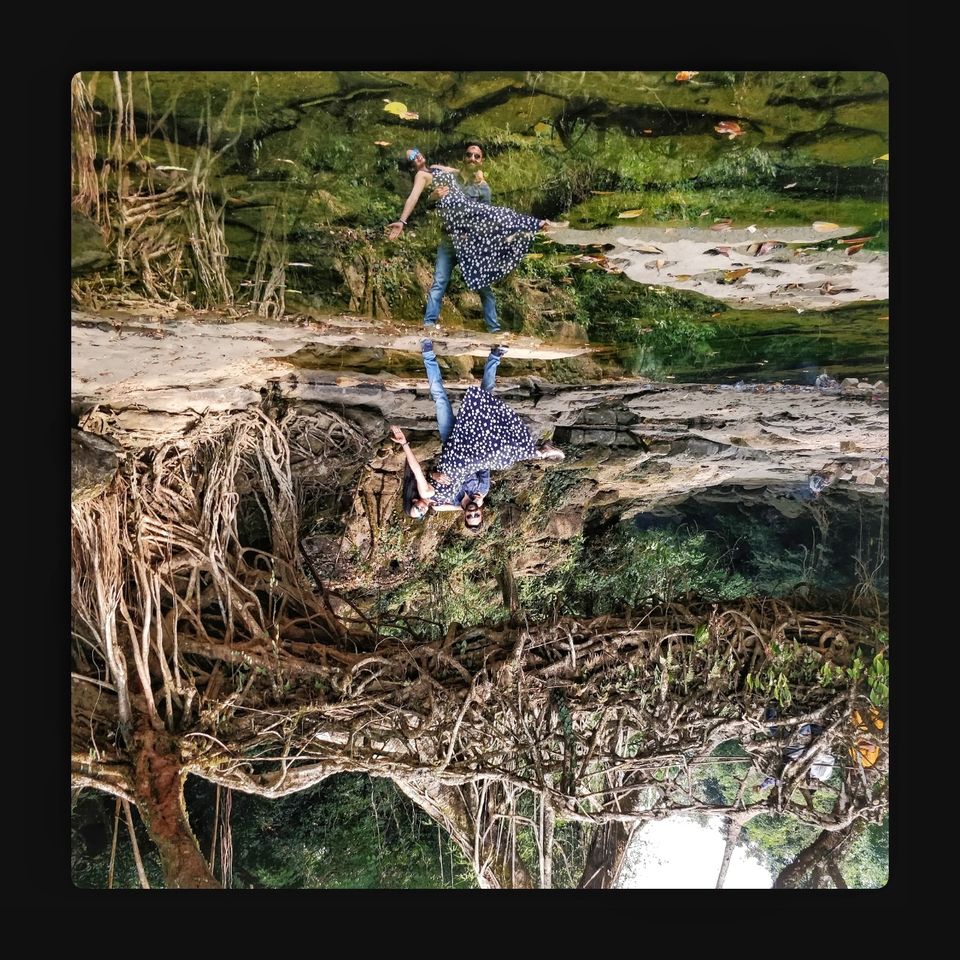 Next we travelled to Nohwet Viewpoint which was another high structure with elevated terrace to provide a panoramic view of adjoining Bangladesh land: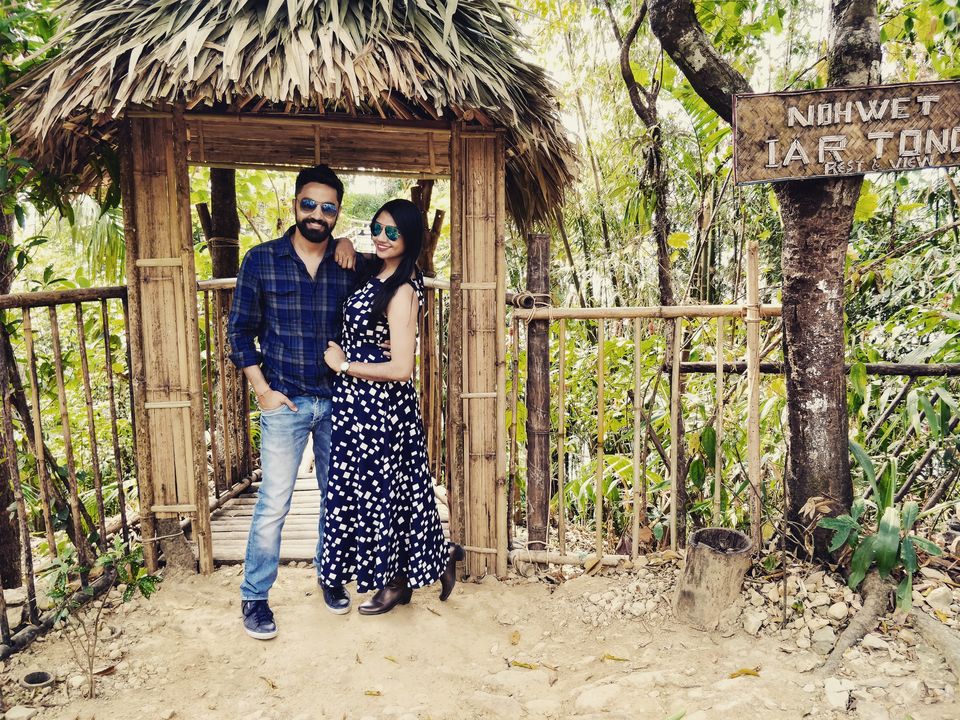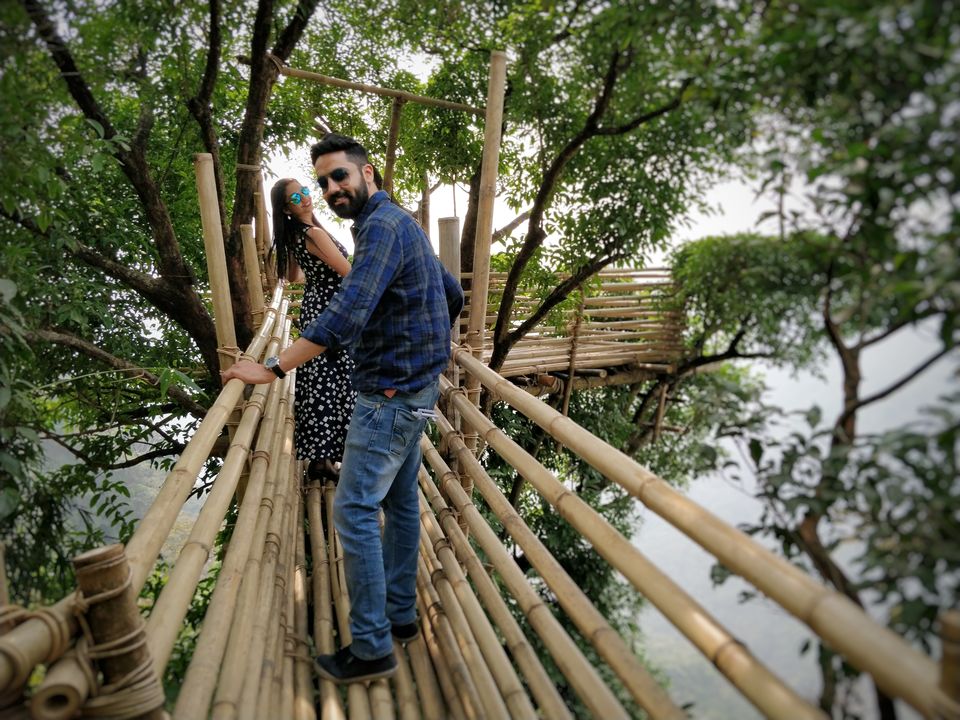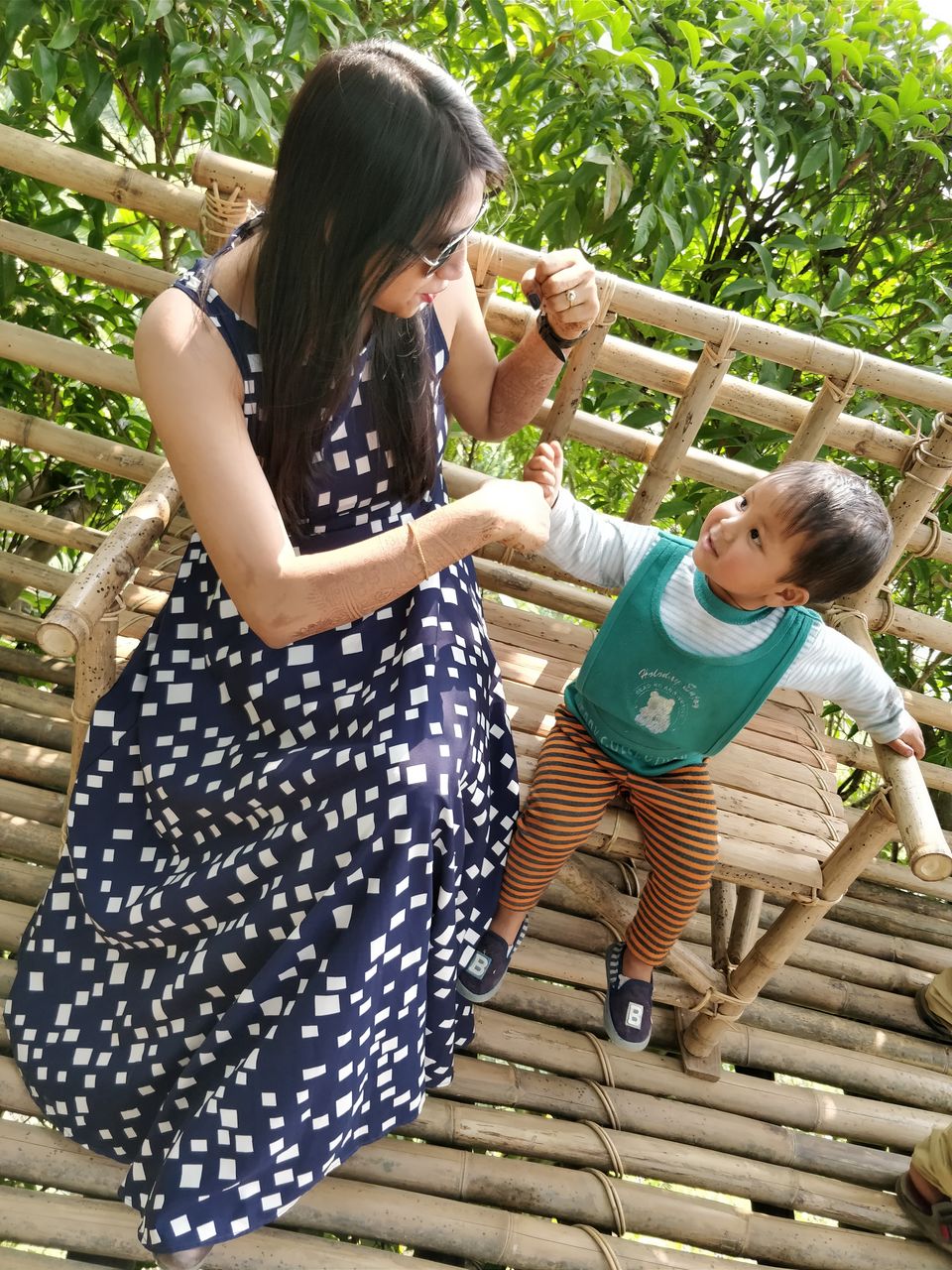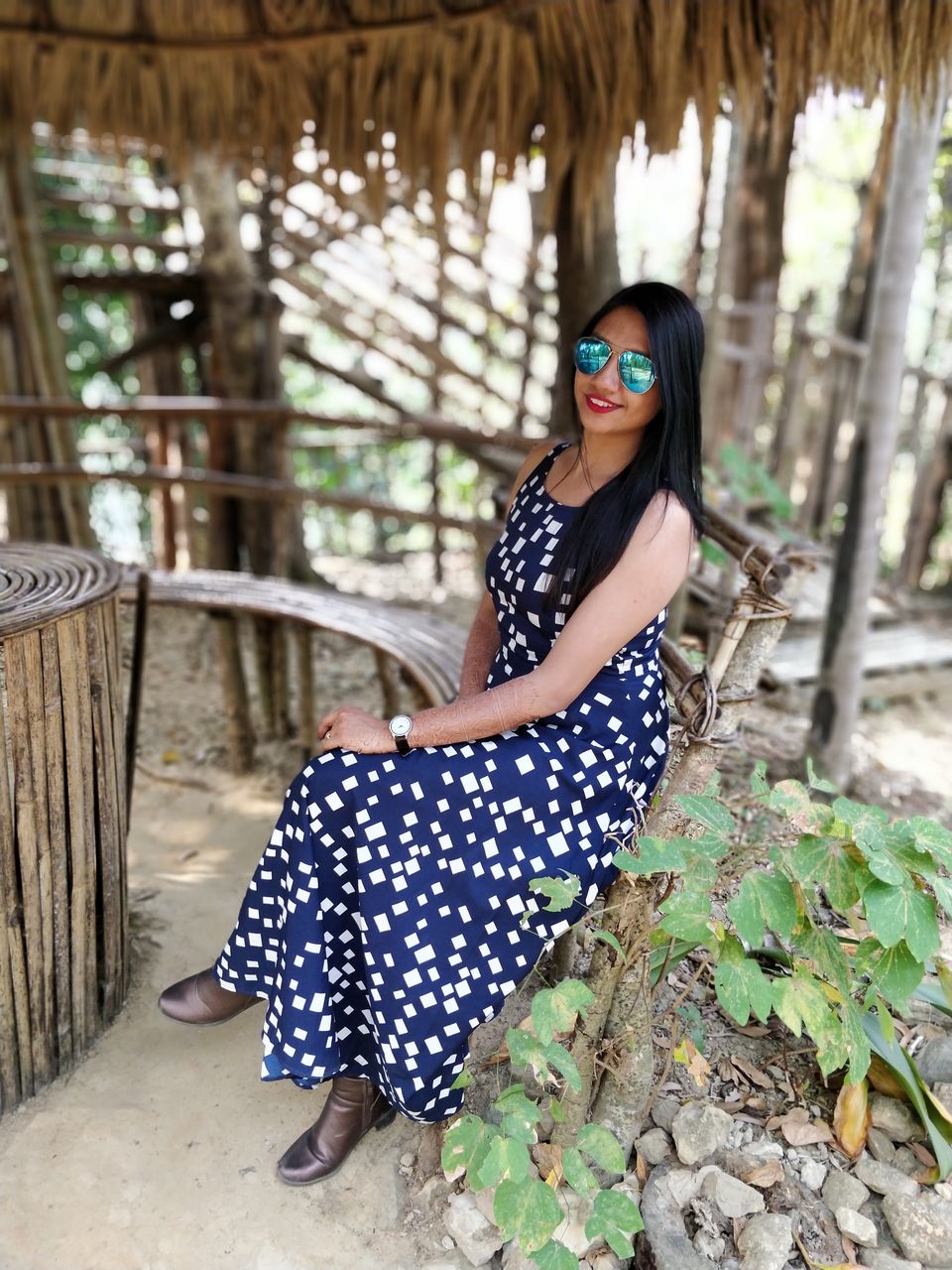 We had lot of time left to reach Cherrapunji, our next halt for the night so we settled to a slow pace. We reached a beautiful place enroute – Café Cherrapunji, where we stopped for lunch. The service and food is commendable, so is the stay if you wish to have a luxurious residence.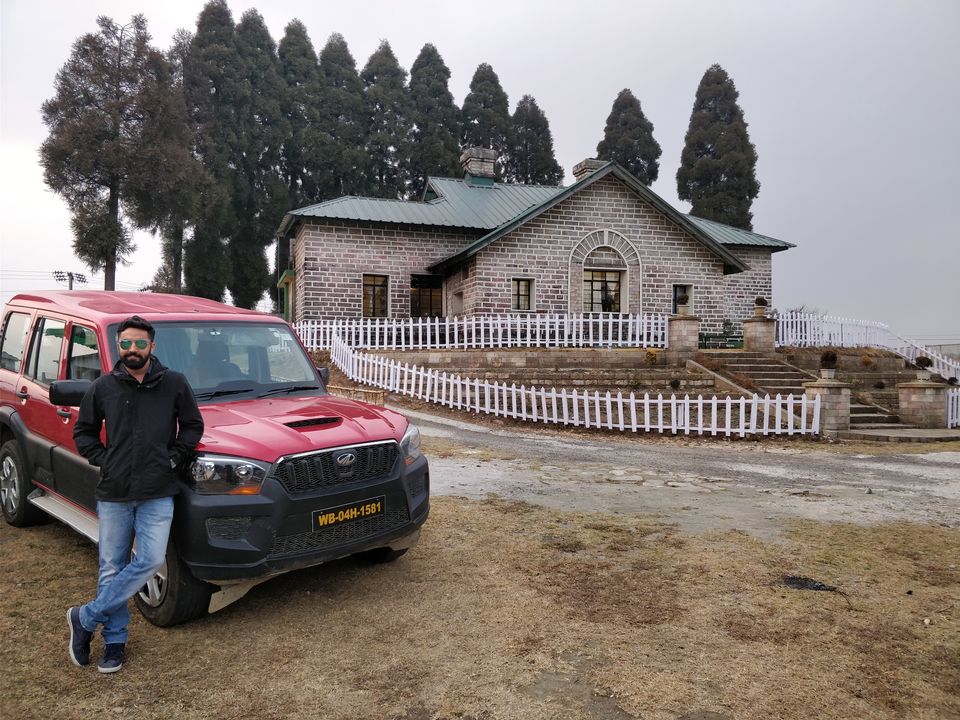 We however being alien to such concept decided on a much economic option located nearer to market area in the city.
So we scampered to Arwah Caves. There is a 2 km offroad section of road after which a trek of about half hour to reach the caves. For trekking you can chose either the well paved walkway or the adventure climb through forest: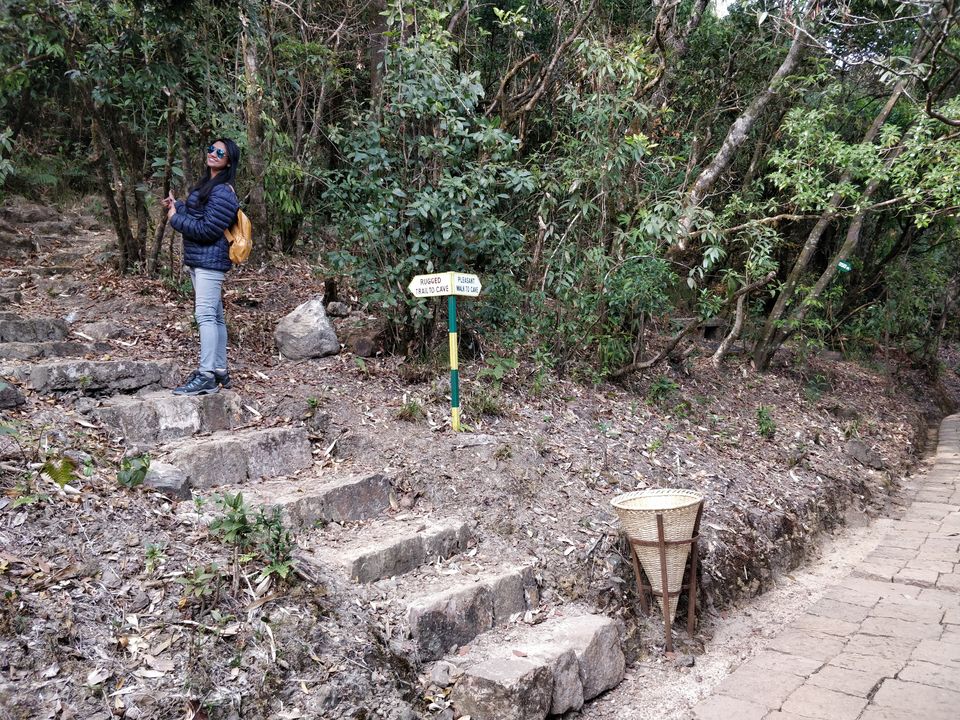 Being docile to our tendency of selecting offbeat trails we obviously selected the longer but more captivating tough route: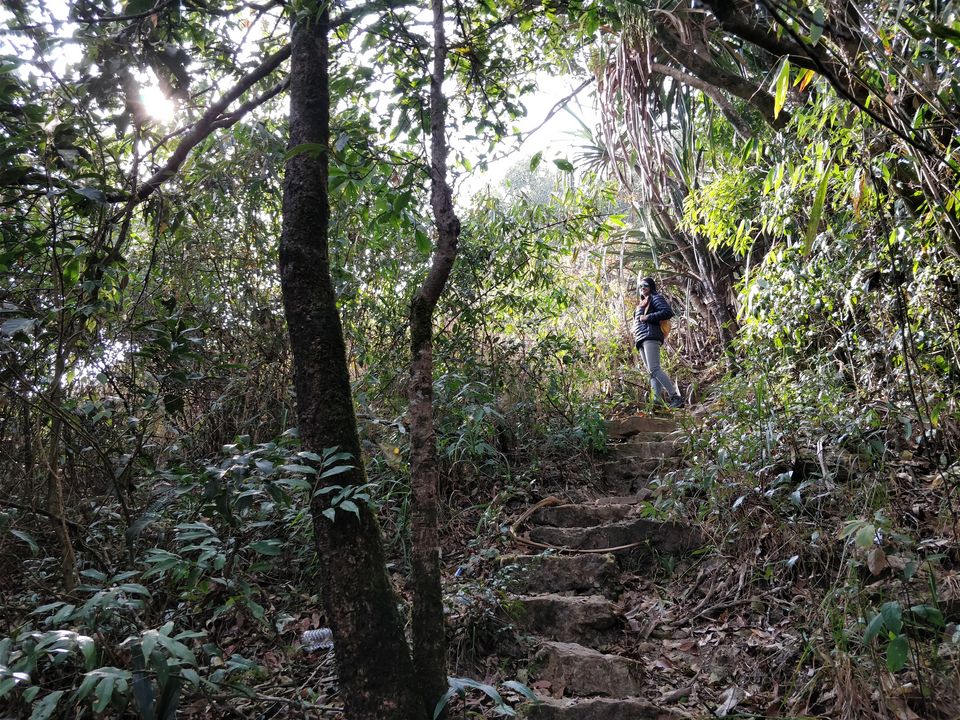 After 30mins or so we reached to the entrance of caves from where we descended into dark dungeons and columns of limestone stalactites.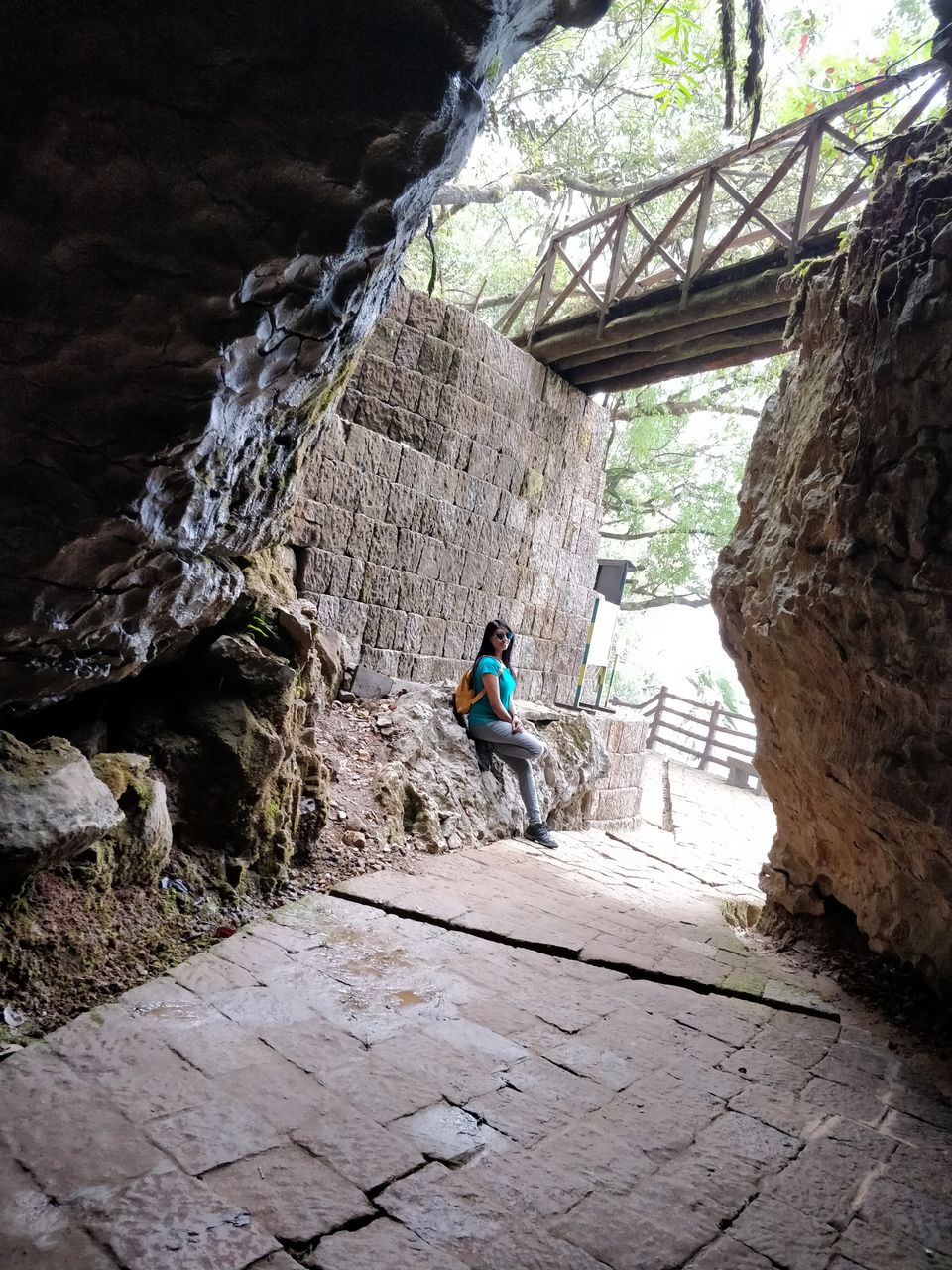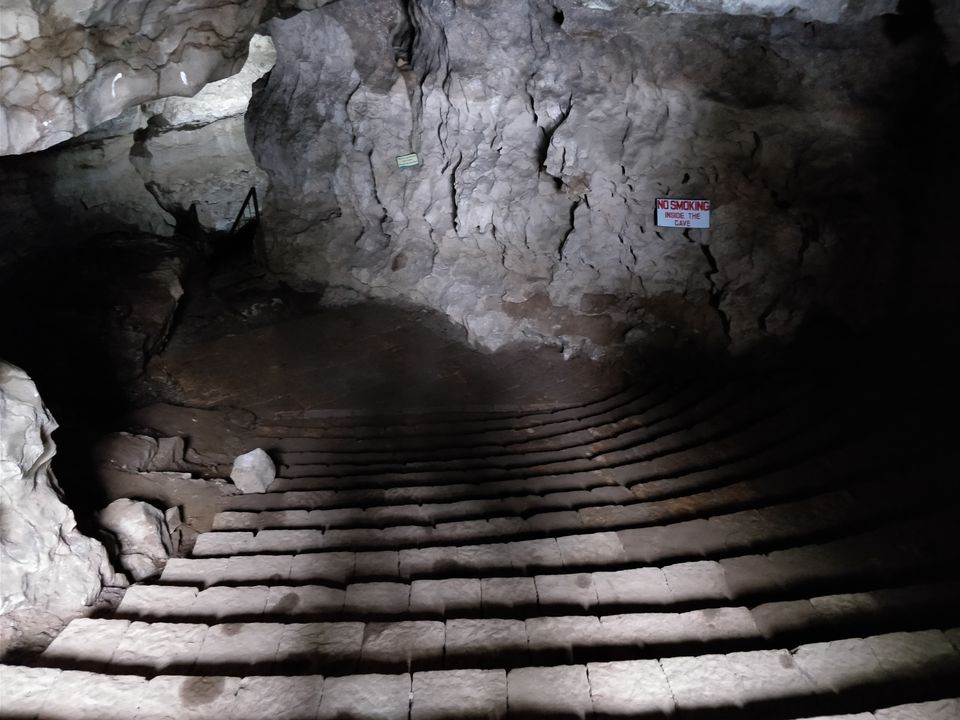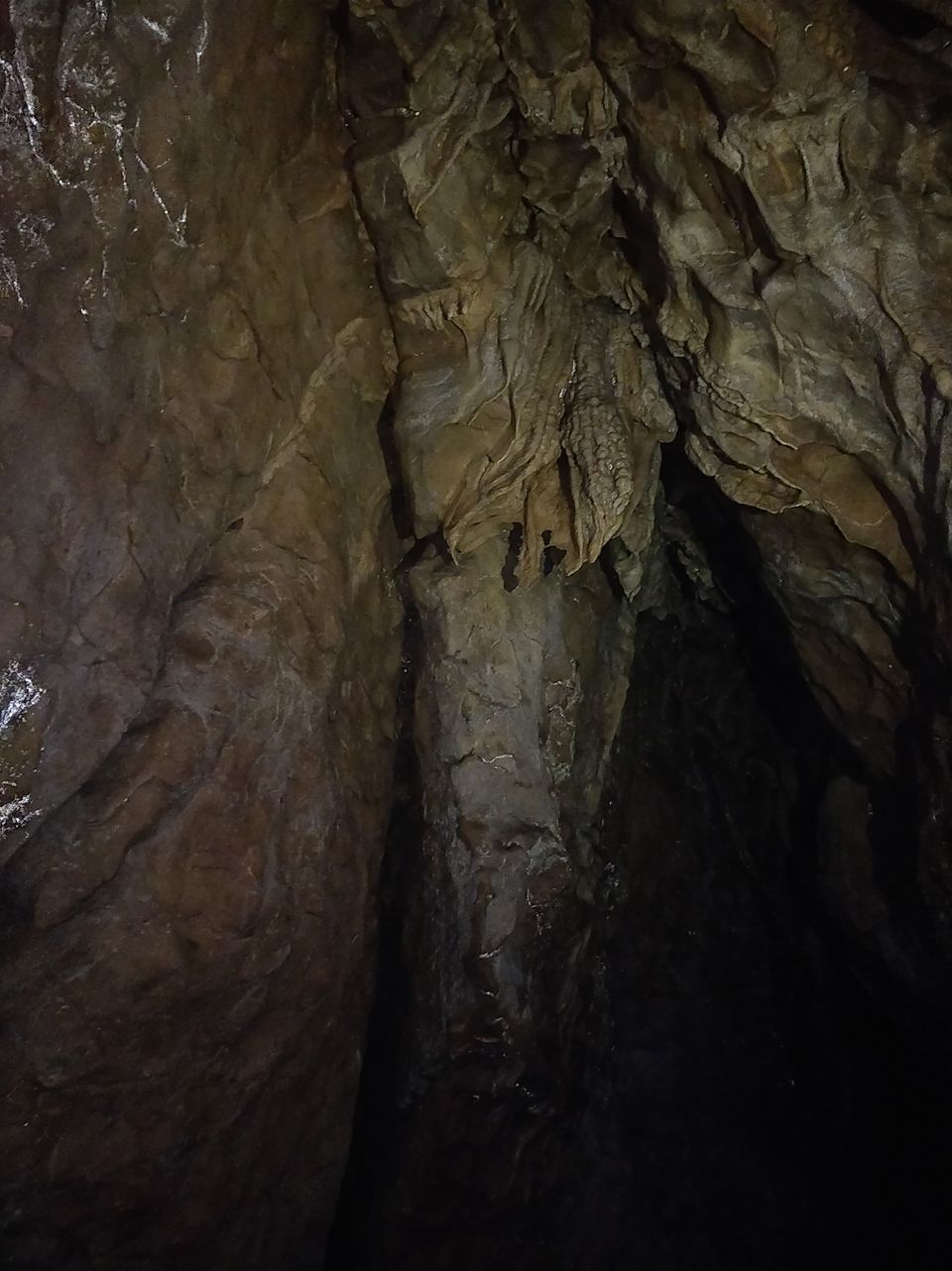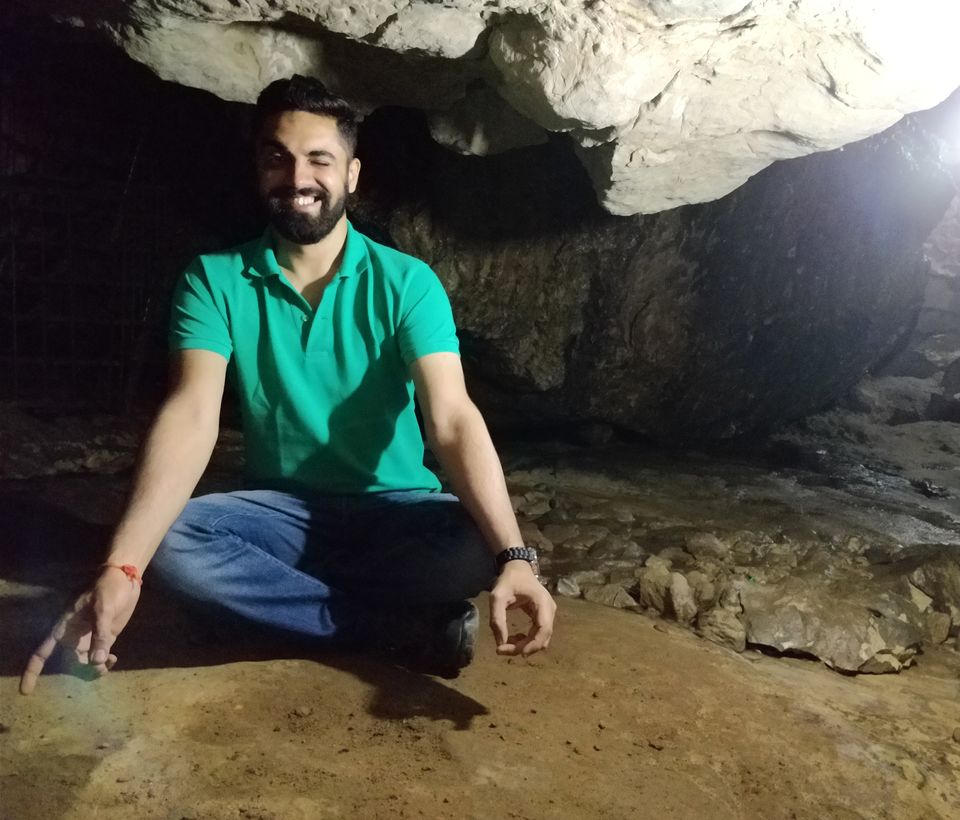 There are a lot of narrow paths here and there to be explored but we have an affinity to open spaces more so moved out to travel back to our car, this time using a walkway for change.
We decided to keep rest of the day for leisure and rest as our most anticipated and arduous trek was to be undertaken the next day, so we went to back to the hotel and relaxed.
We lost count after a while, but till then thankfully the path had turned into a more comfortable and walkable one. We encountered many root bridges and suspension overpasses on the way: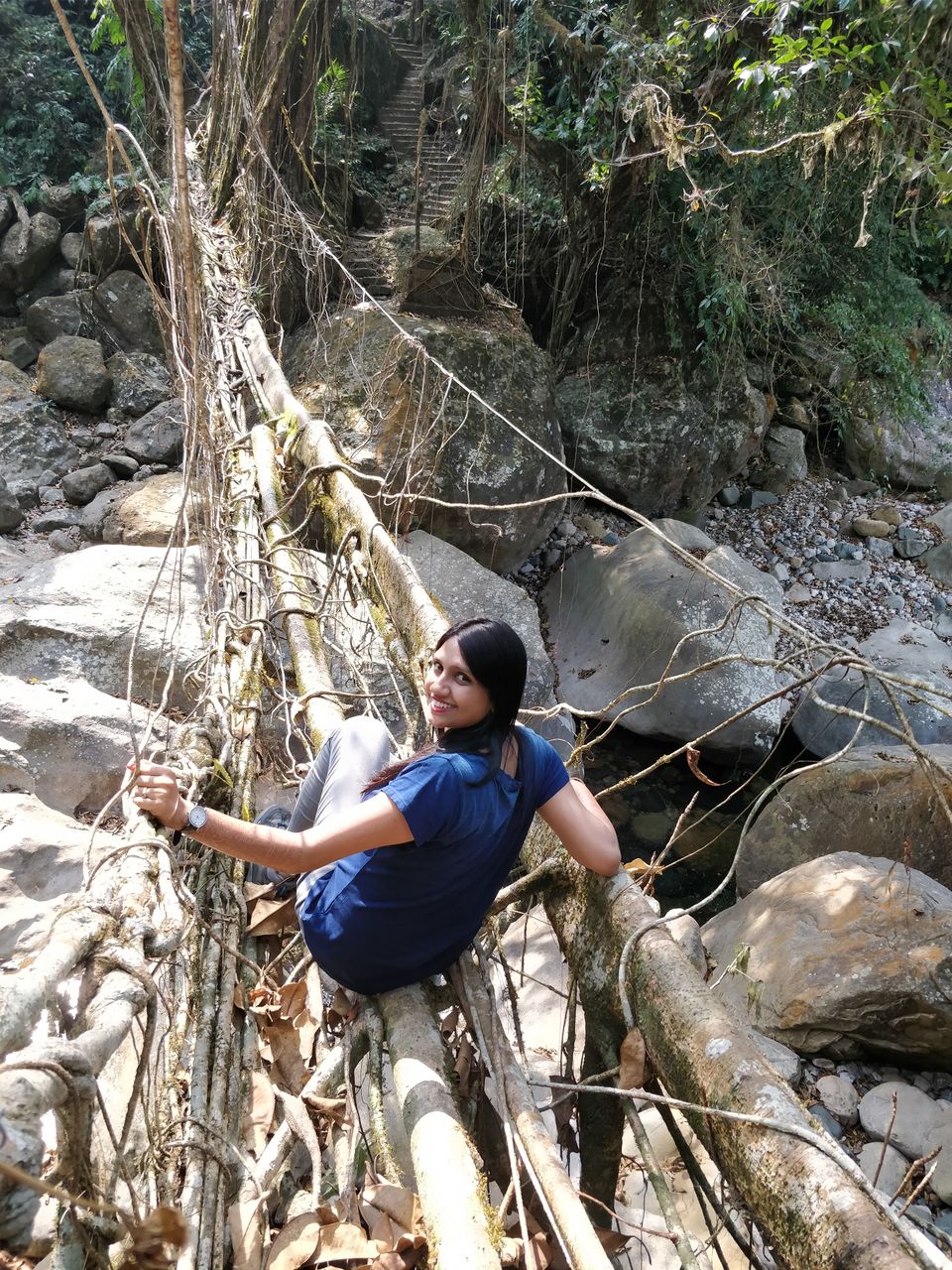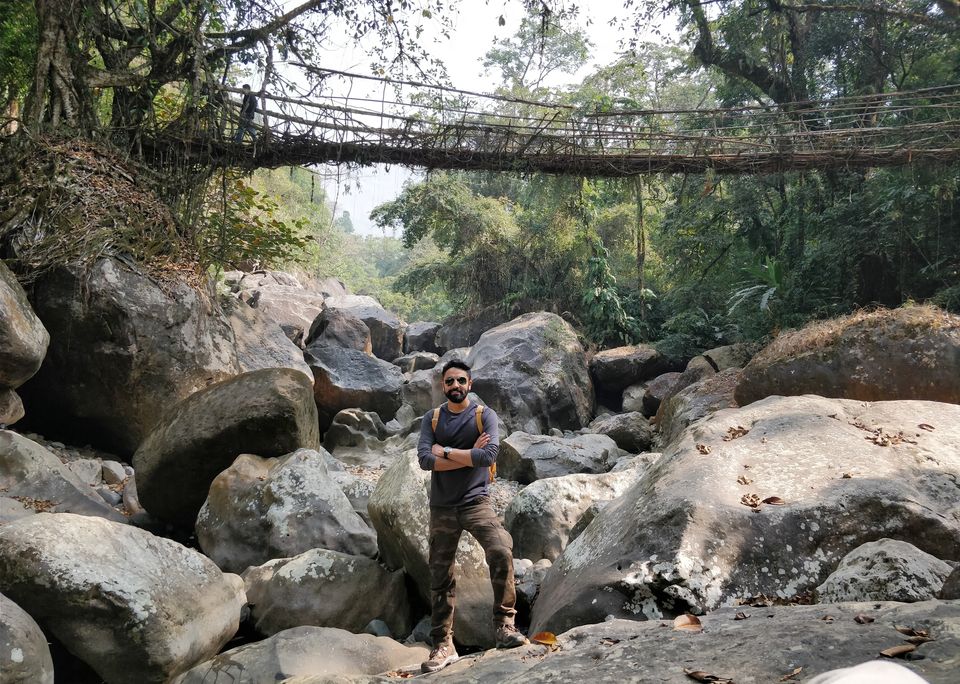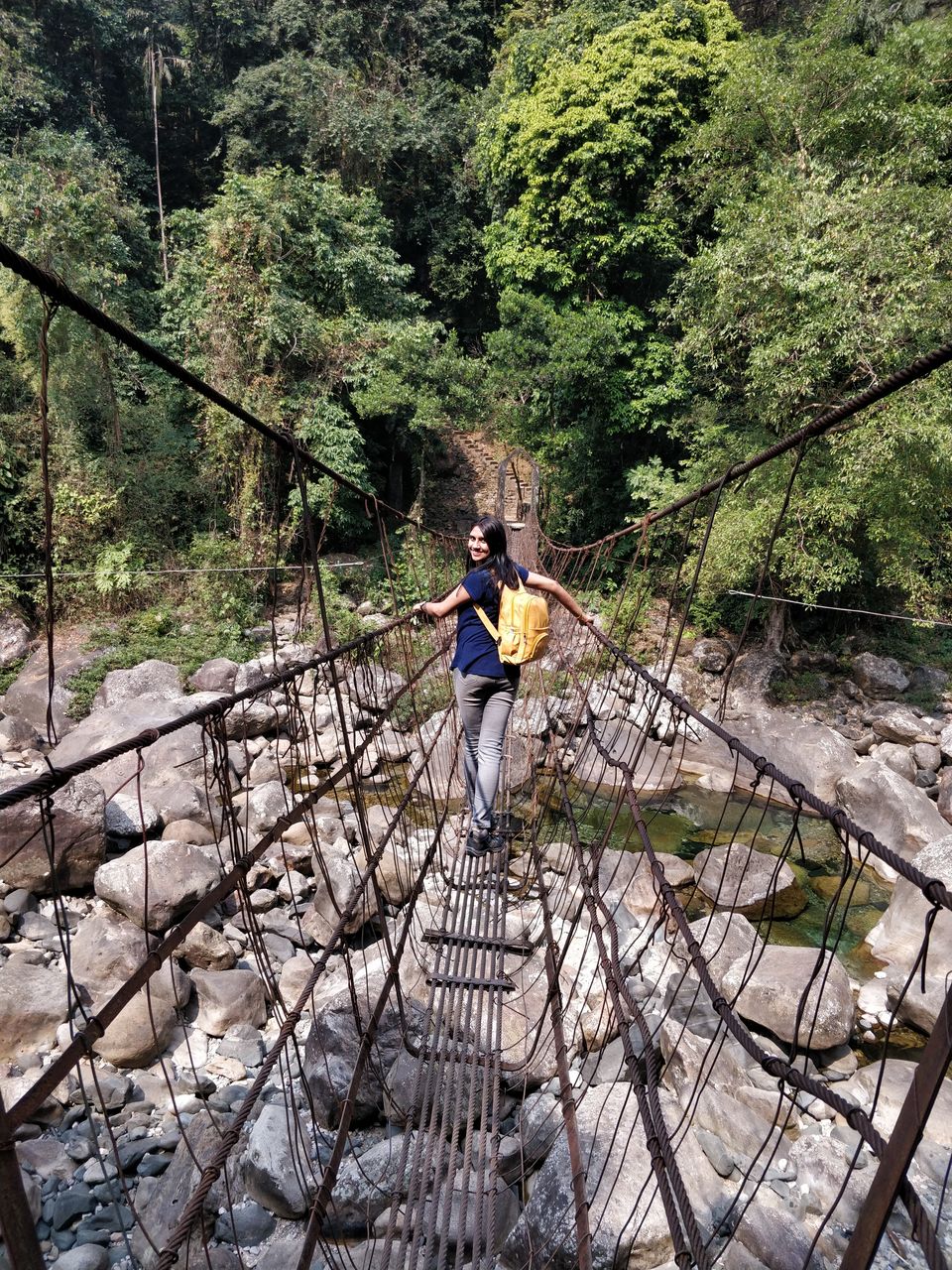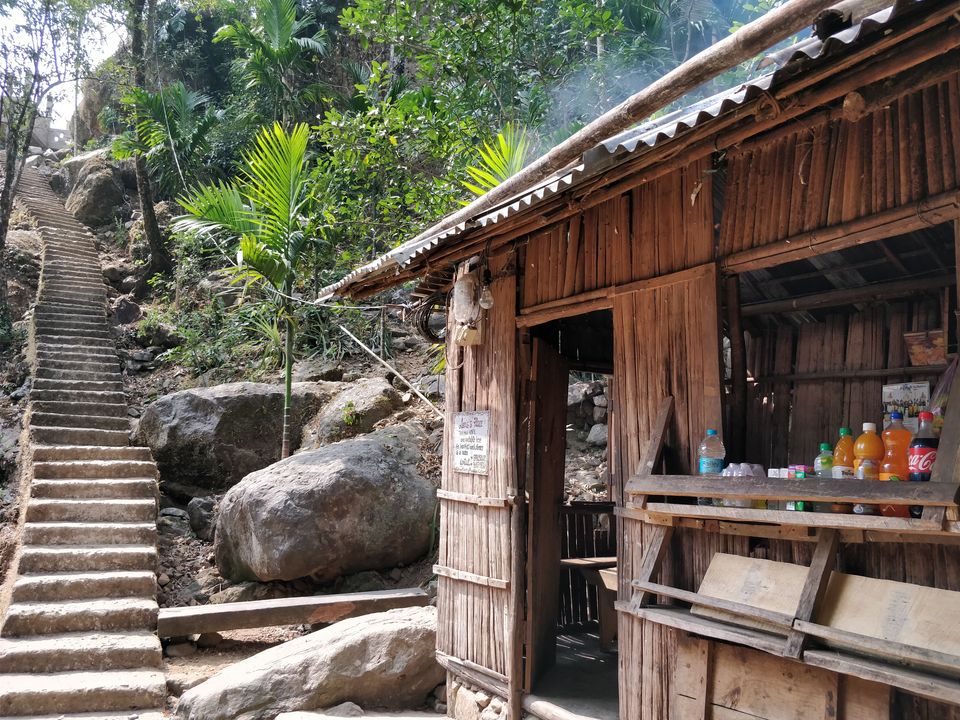 After couple of more hours we finally stood at the Double Decker Roots bridge (DDRB) awed by its brilliant engineering and wonderful design: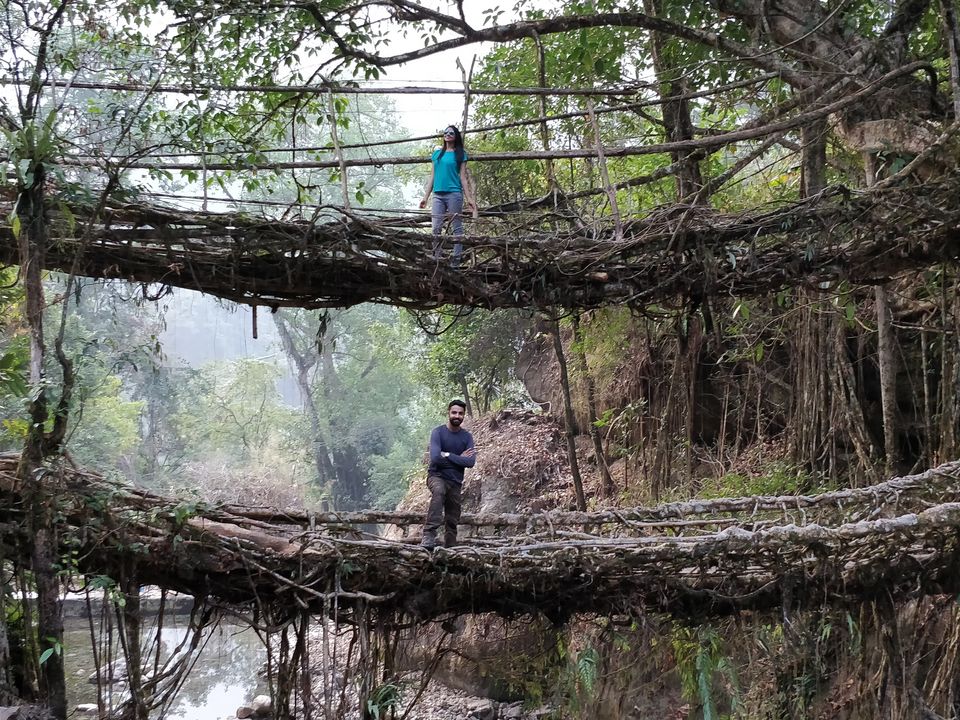 Though we had came to see the Double decker bridge, the lady at ticket counter also suggested to go for Rainbow Falls trek. Tired after a rapid descend we decided to space the treks so that we do not over exert ourselves. Moreover the ambiance and simplicity of the Nongriat village was so alluring that we were willing to spend more time there.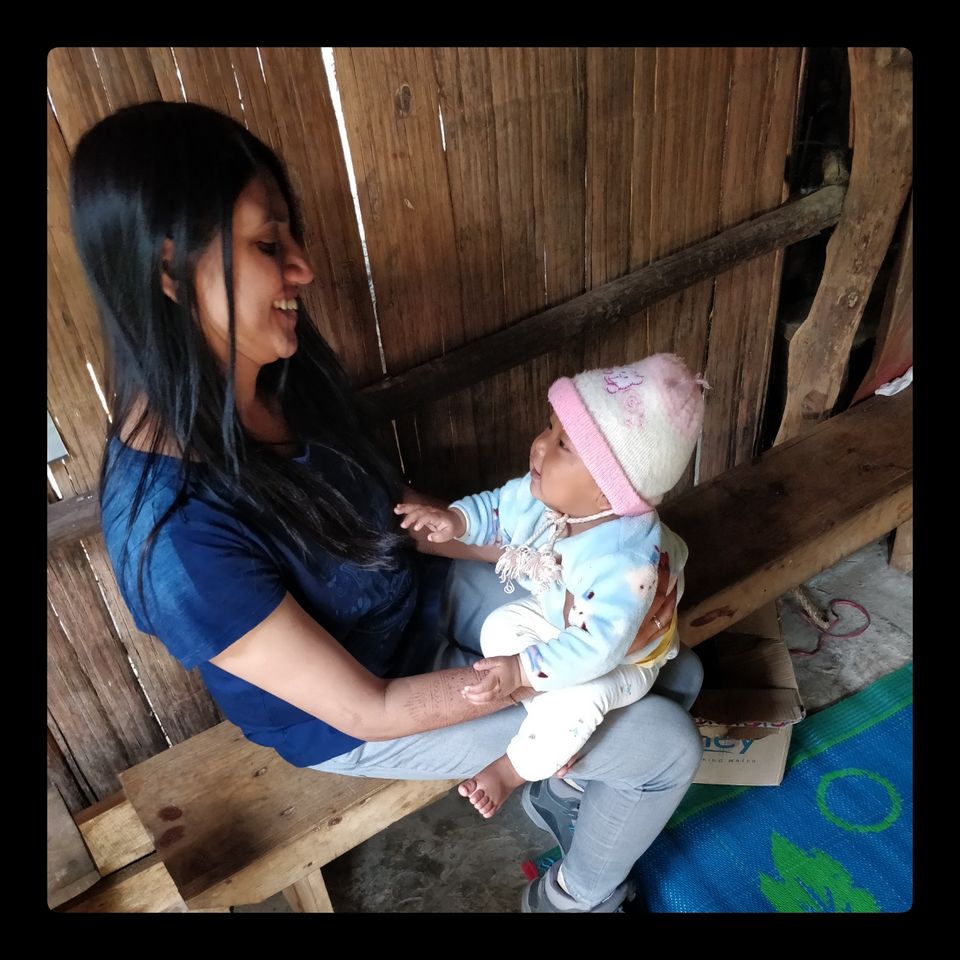 We checked in to a homestay near the bridge, freshened up and left for a water-pool we saw on our way to the bridge. We spent the evening gazing at the brilliant blue water and amazing scenery until sunset: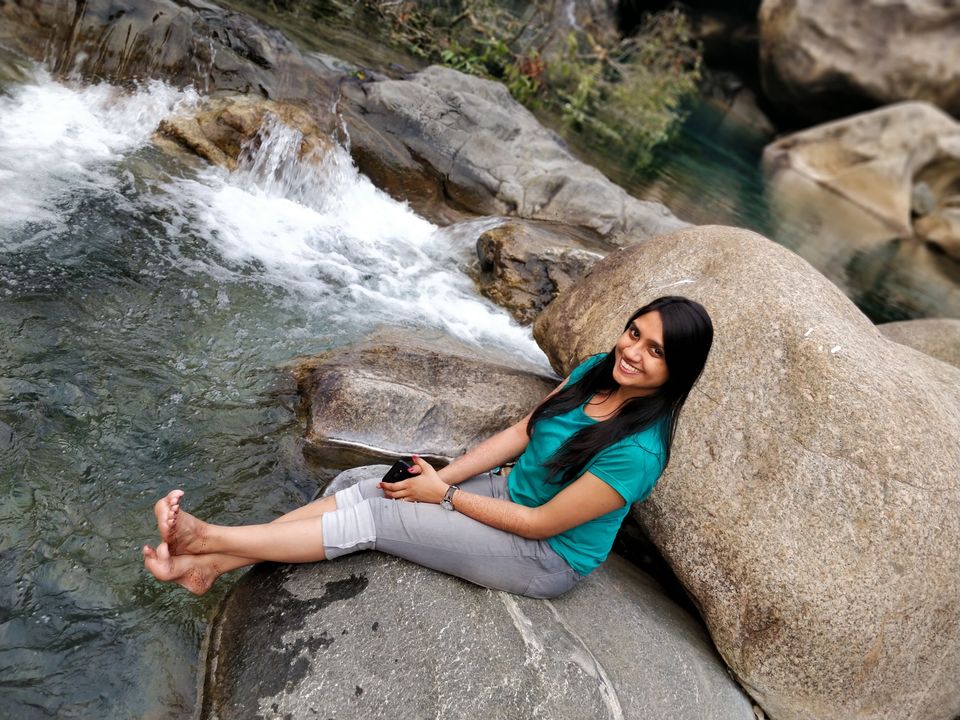 It was only when our growling stomachs got impatient; we were reminded of arranging food. On returning to homestay Mr. Bryon, the host told that dinner would be served shortly. Along with cooking dinner for 20 other people who were staying there, he was singing merrily and also entertaining his 5 kids by putting up shows on his system and reciting poems with them.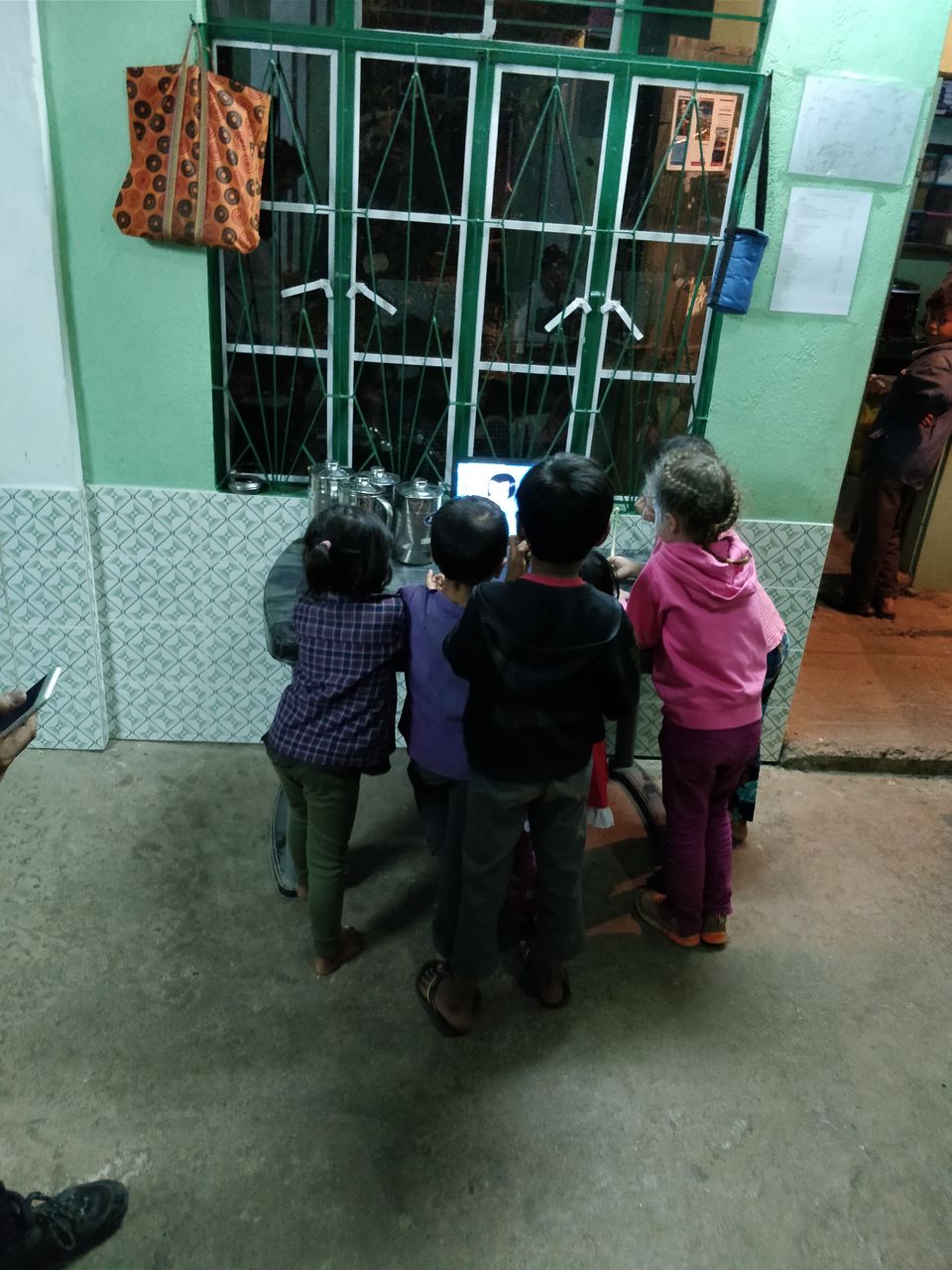 He took care of adhoc snack requests, cleanliness and showing rooms to more guests who were arriving there. It was an absolute joy to see such a jolly guy managing all jobs and more importantly enjoying everything together. His military like discipline bundled with his innocence and happy-go-lucky nature of a 5 year old was commendable and respect-worthy.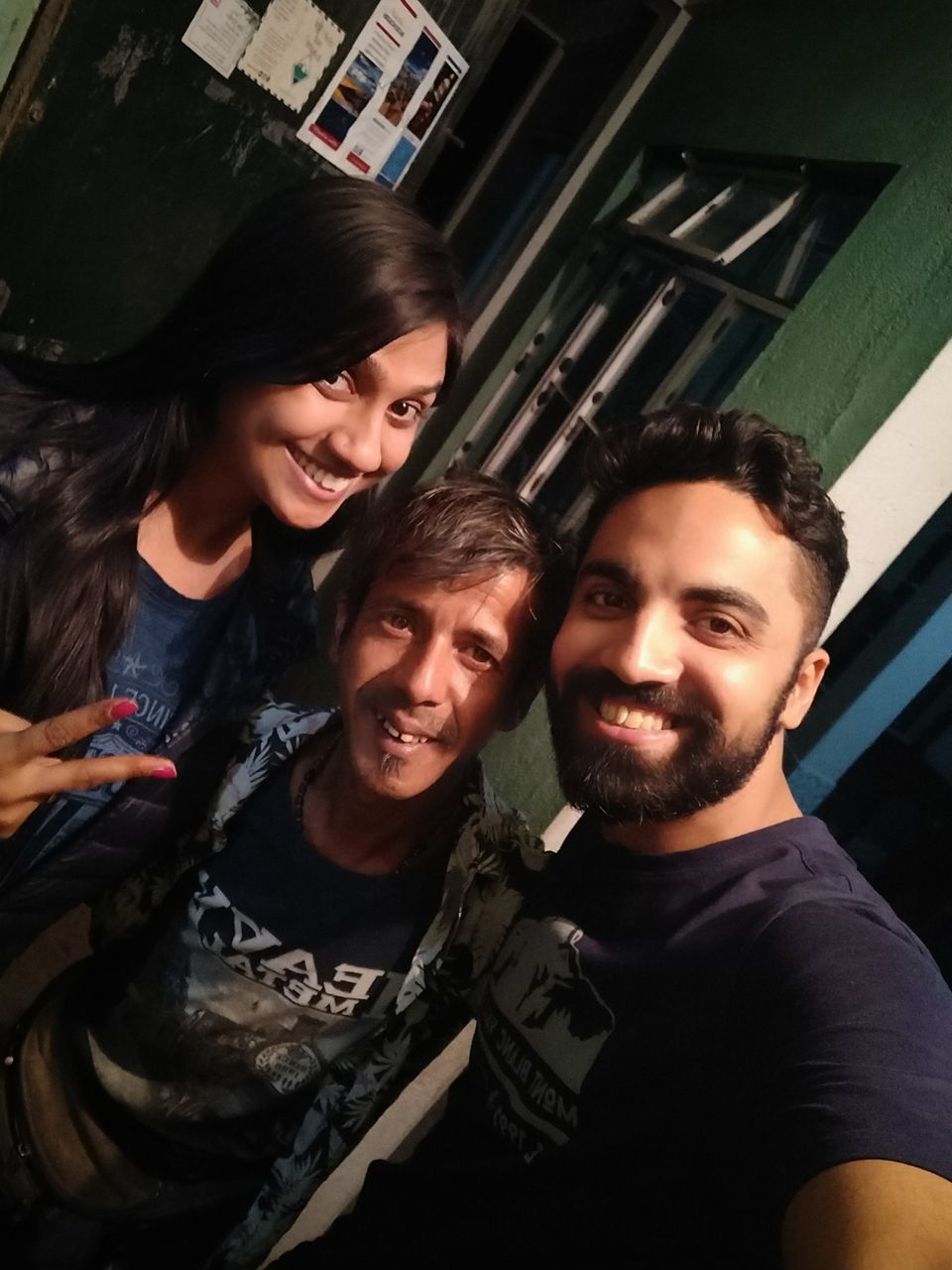 Soon, buffet was spread out and all people staying there came to have dinner in the common hall. There were people of various different nationalities (Australians, Germans, Russians, Americans etc) united together by love for travel. We had interesting conversations listening to their stories, experiences and even excerpts of Mahabarata & Indian spirituality from them.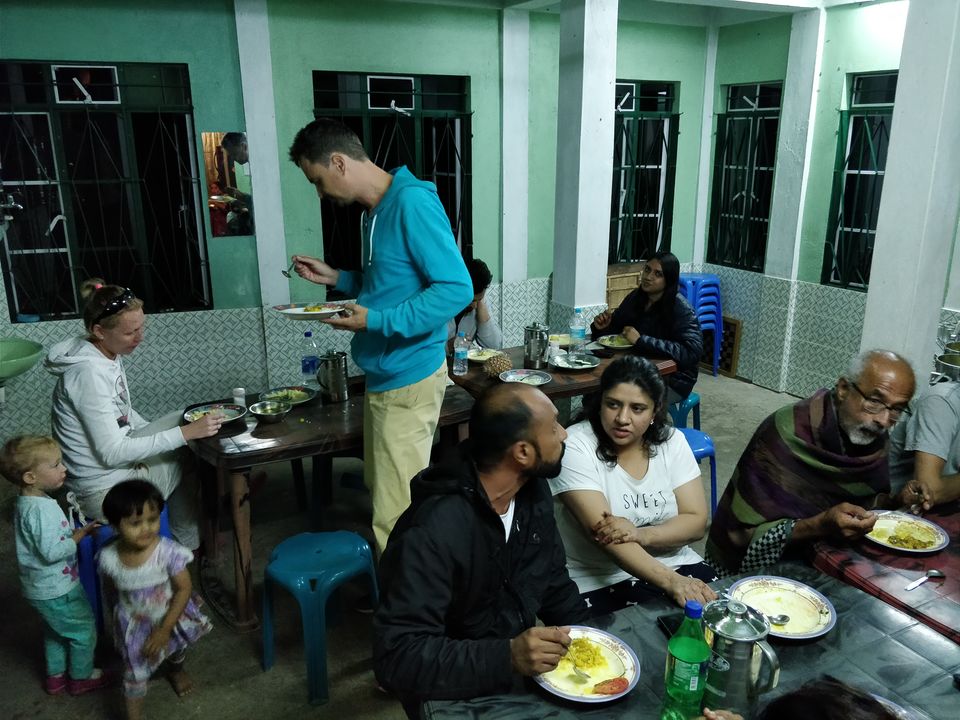 Food was tasty and the company of people was great; what else can a traveler hope for! We retired to our room after wishing everyone goodnight and slept soundly.
We did not want to lose a chance to immerse ourselves in such amazing waters so dived into the pool straightaway.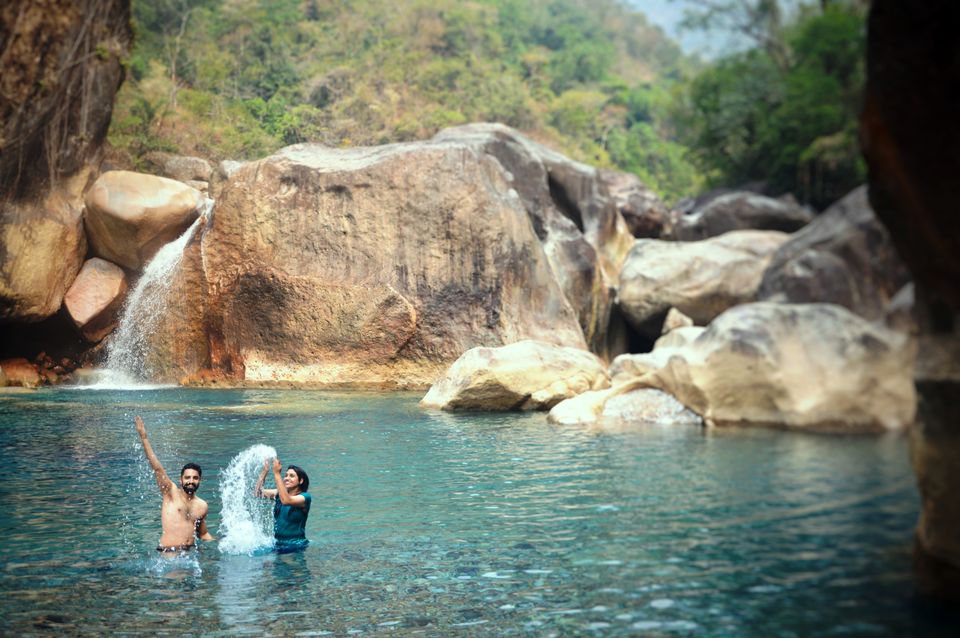 The water was ice cold, but it was so refreshing that we forgot about time and effort of walking through precarious trails up till here altogether.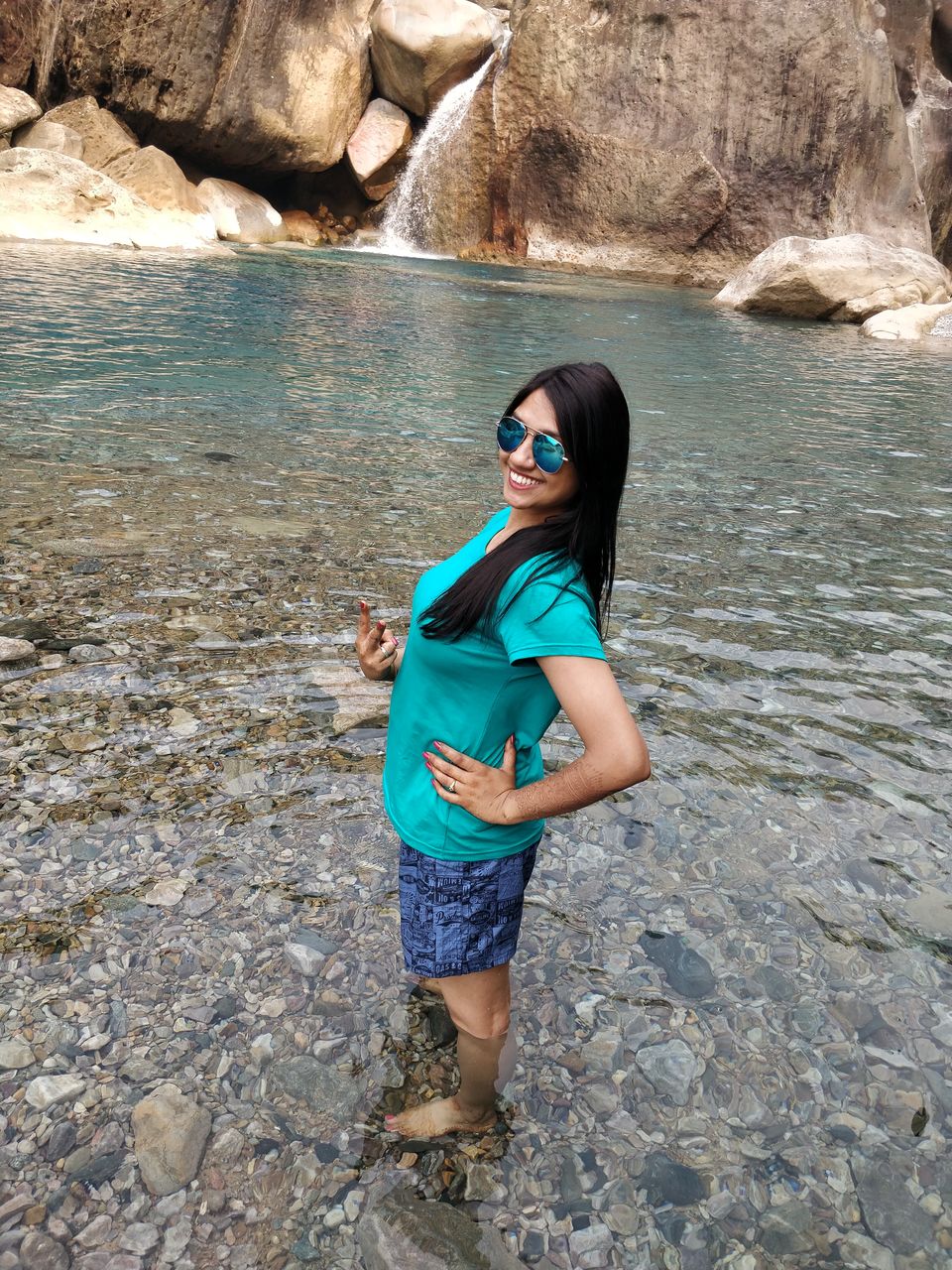 Revitalized with nature's aqua bath, we moved ahead to cover rest of the path until we saw a huge waterfall, atleast 30 storey tall. The grandeur of the fall had us transfixed. Its sheer splendor, the picturesque blue hues of water and the unique topography adjoining it transported us into a different cosmos.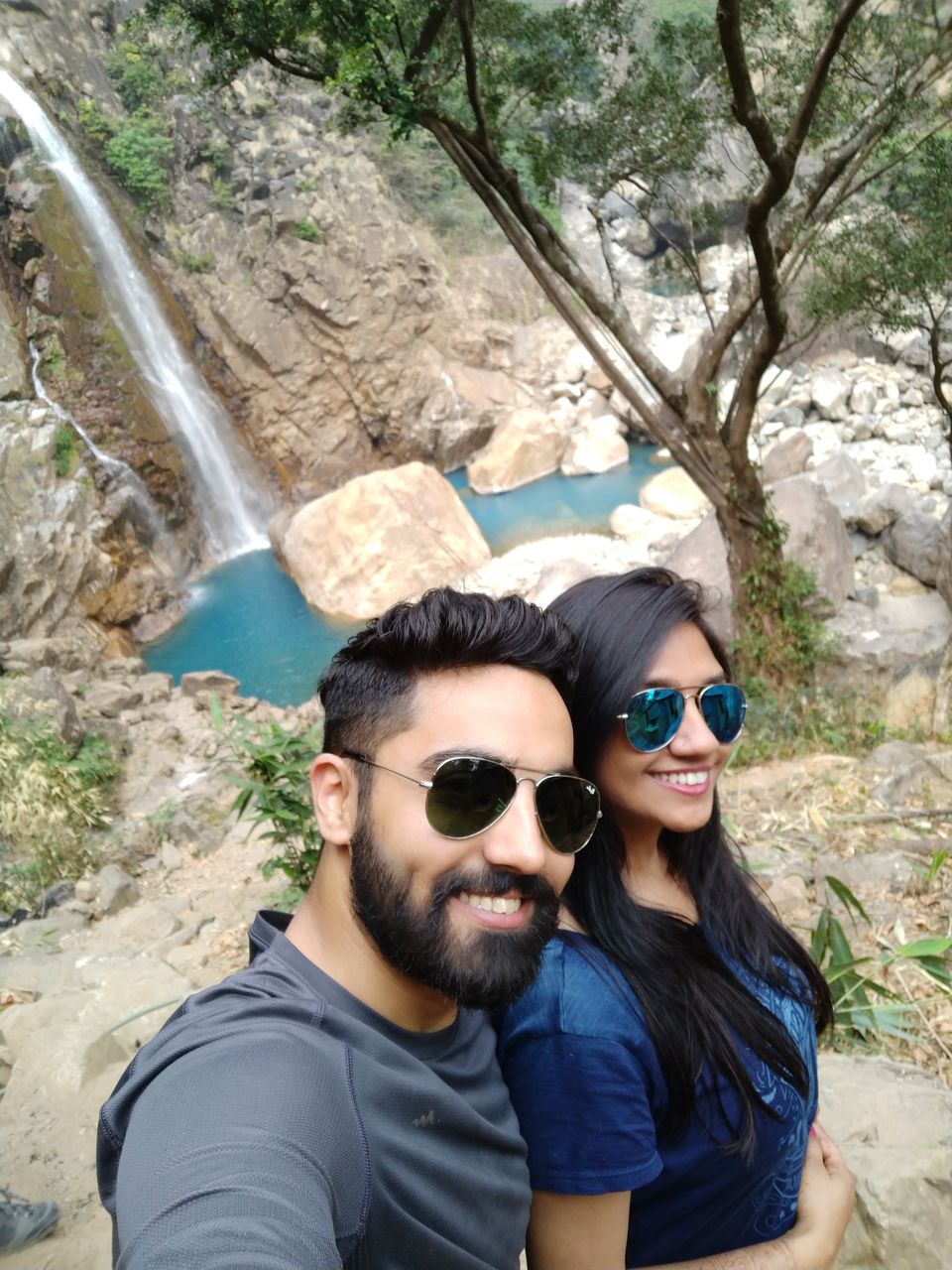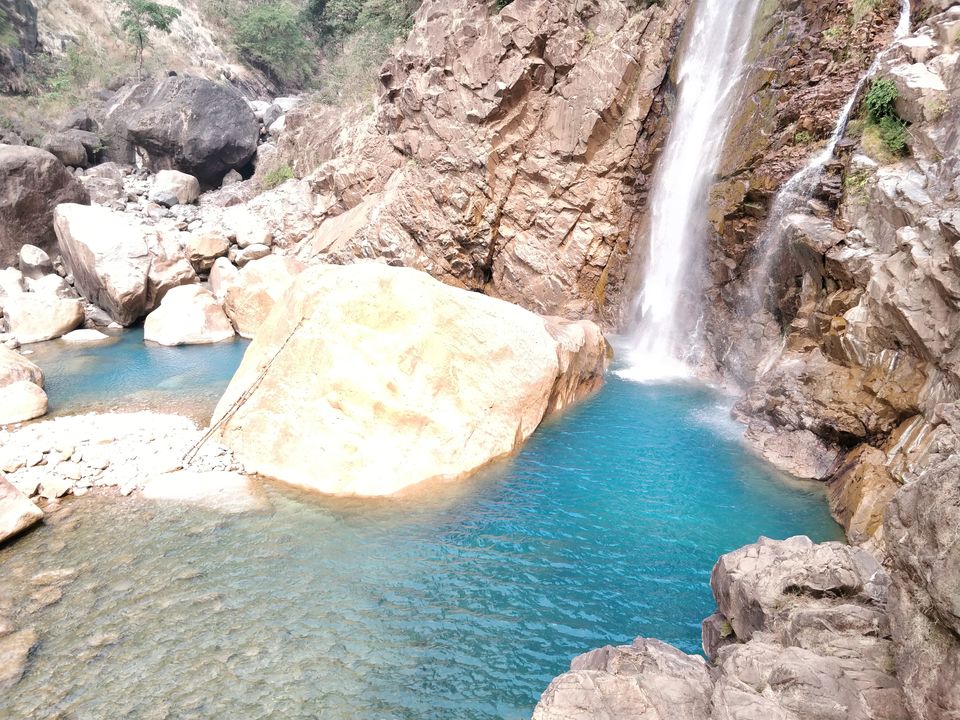 Somehow dodging the enchanting spell of stupefying beauty, we managed to navigate through the rocks and climb up for a closer rendezvous with the falls.
Even at a distance, the gush of fall was strong enough to cover us with fine sprinkle. We lay down on the rock waiting for rainbow to appear when the sun's angle was right.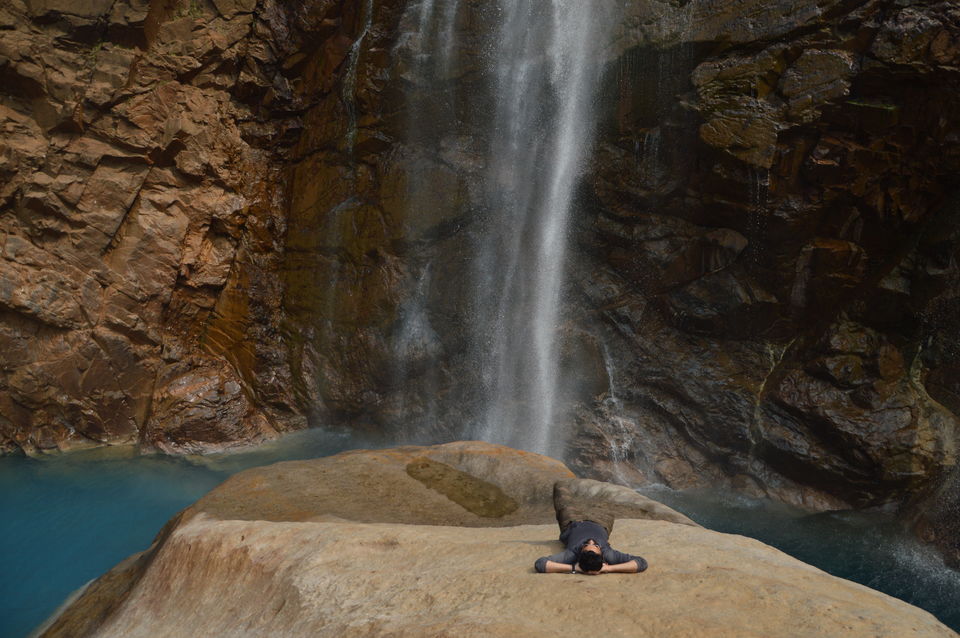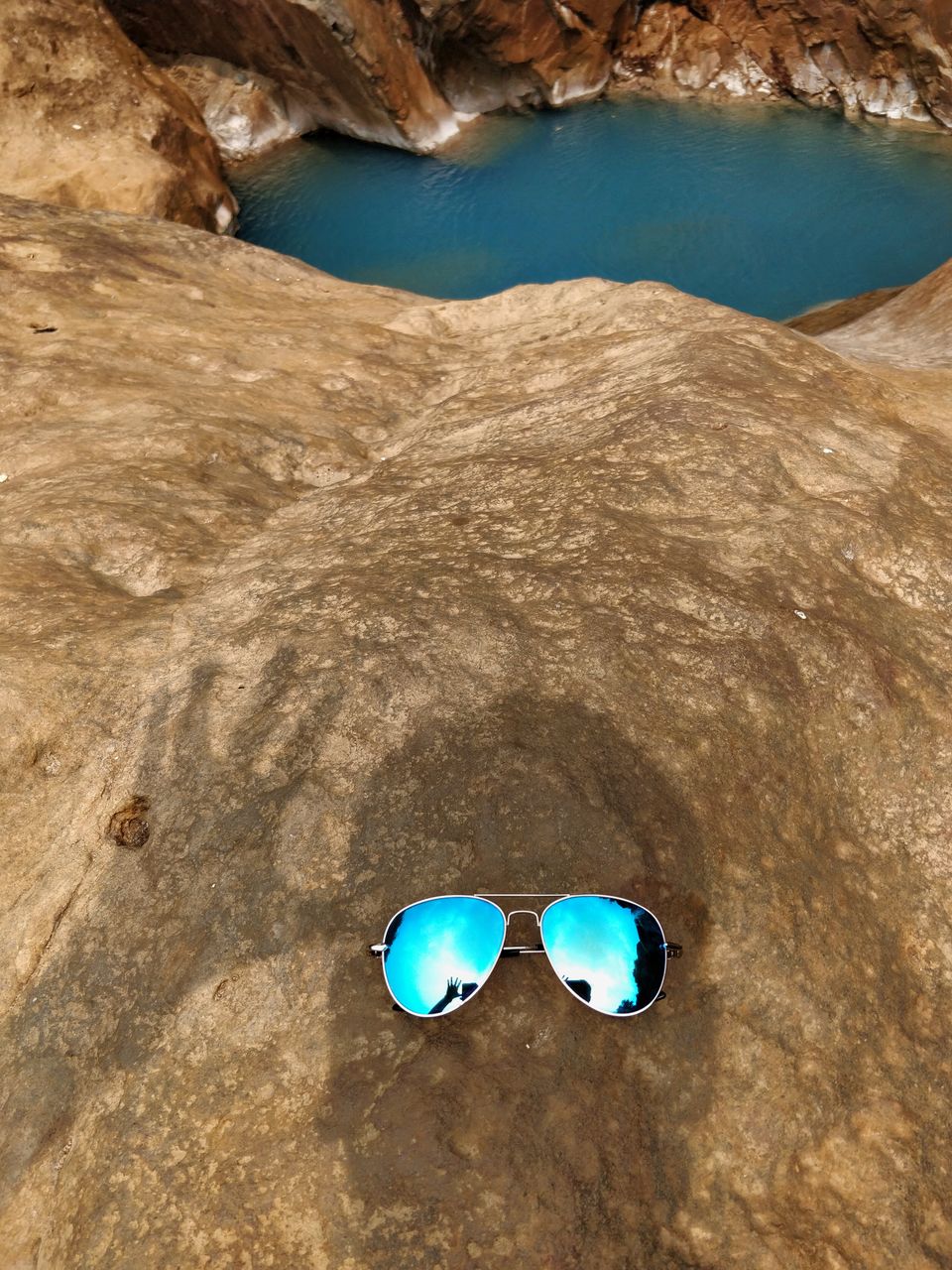 It felt an achievement and honor to be able to witness nature in such pristine form, hidden away from the rest of the word nestled so deep inside the village.
A voice from above woke us up where the snack-hut person was signaling of a rainbow appearance from there. We quickly climbed up to viewpoint and hey presto; a tiny rainbow had miraculously spread across the falling water at the base part gleaming in forefront of blue waters: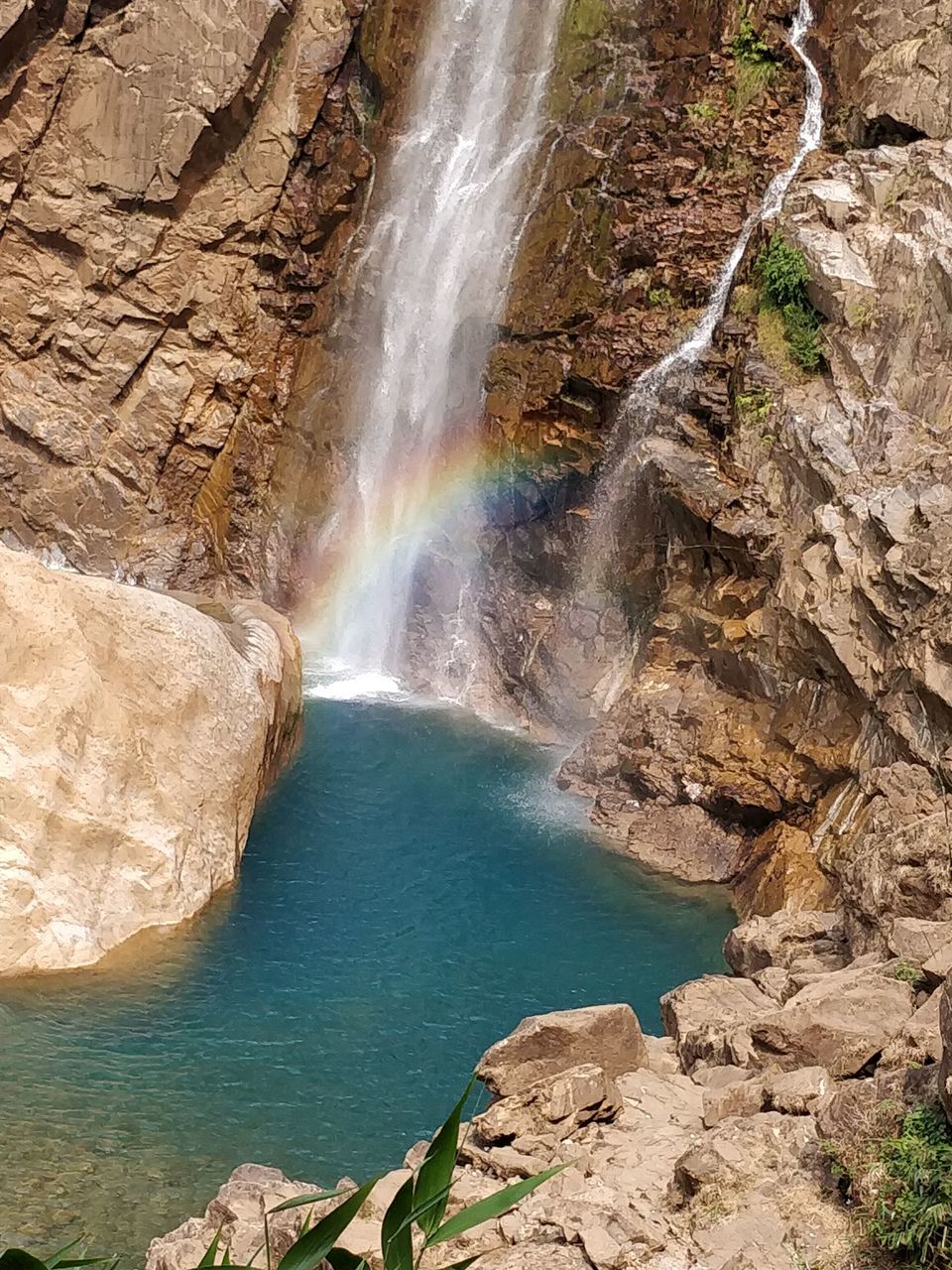 We returned from there after clicking hundreds of pictures but dissatisfied with the scarcity of beauty that was getting captured by lens of camera; only our eyes can justify the exquisiteness of gifts that nature presents to us. We stayed that night again at Mr. Bryon's homestay in village, as we wanted to gather the experience of this idyllic peaceful life as much as possible before leaving Meghalaya next day.
Somehow motivating each other and making a game of checkpoints, we managed to reach the top where our car was parked within 2 hours. We were terribly hungry after such an intense workout in the morning, so we drove to the first restaurant that we saw.
Cherrapunji Holiday Resort located near the Double decker trek turned to be the best find of our journey, especially when it comes down to food! The cuisines were out-of-the-world delicious and we devoured breakfast with a supreme alacrity and contentment.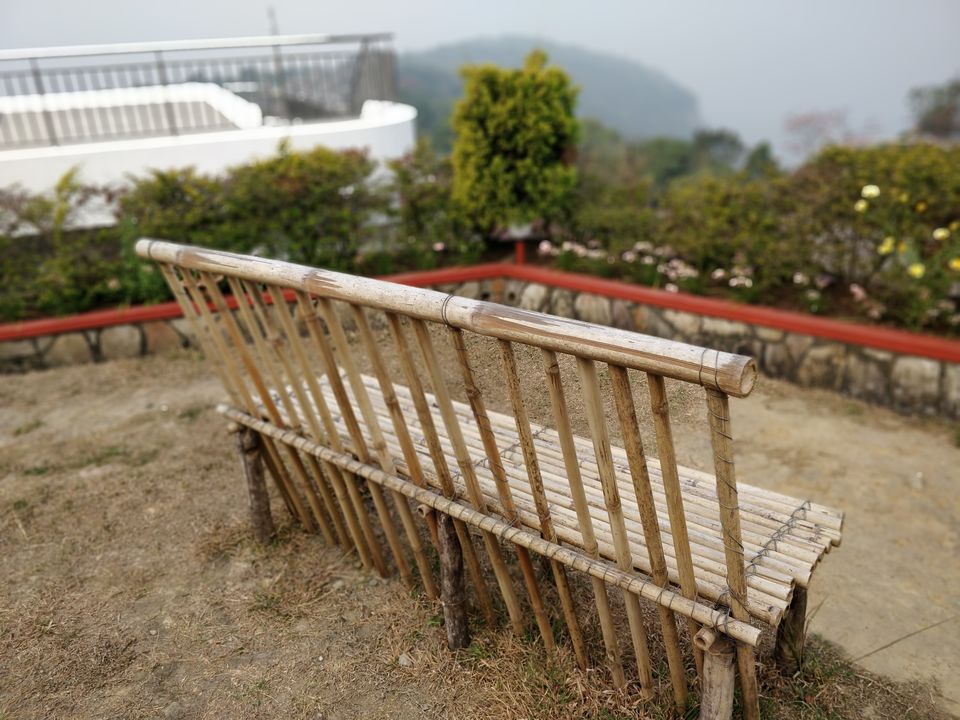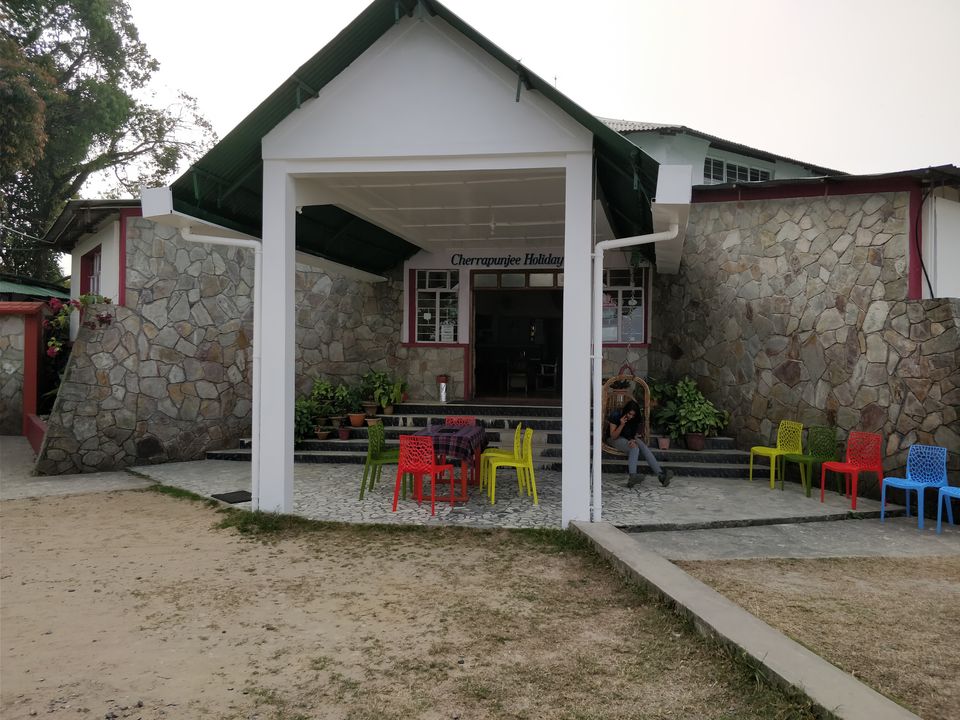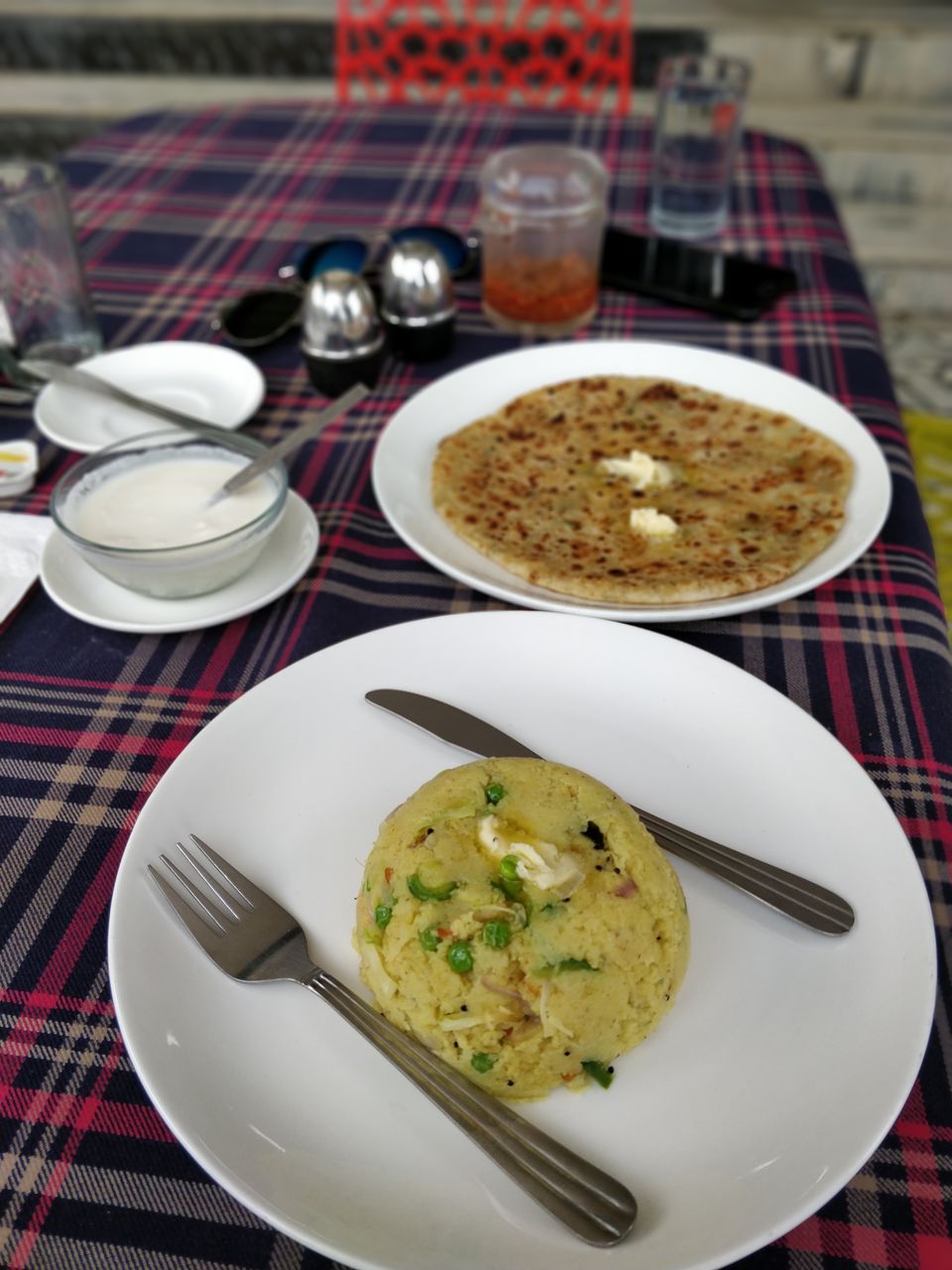 The owner of the place was passing by and was amused to see us dining so passionately, so asked our feedback on services. We conveyed about our journey from double root bridge and how we landed there to be served with fabulous dishes and hospitality. He informed that they were the ones giving the double root bridge trek the popularity it has achieved and also organize many other activities/treks in adjacent areas.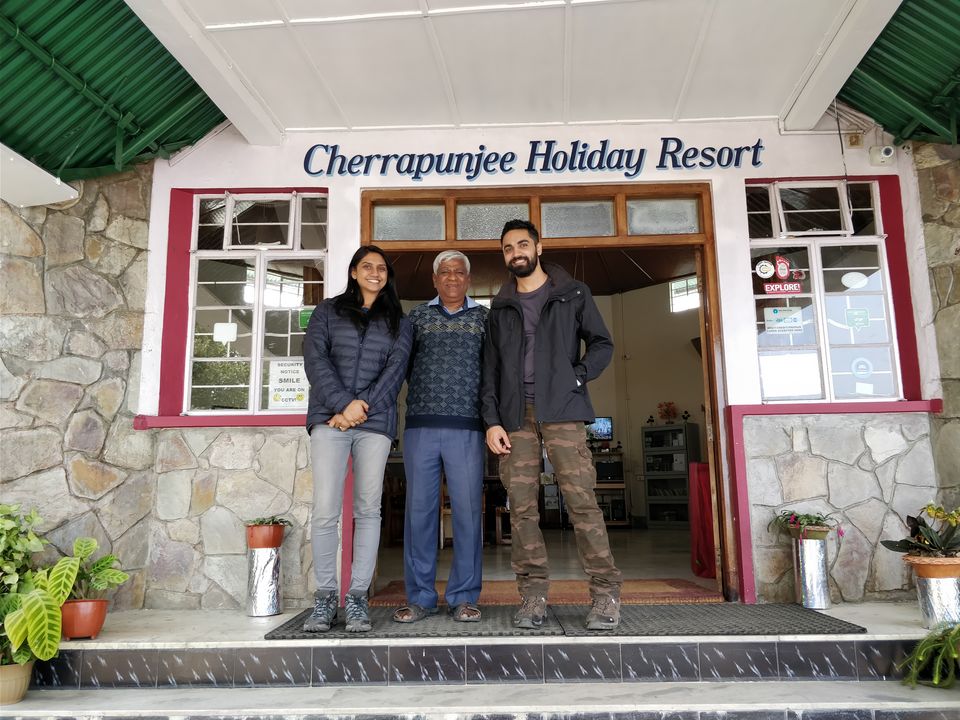 He shared his experiences on numerous rafting, cycling and trekking odysseys while we were jotting down what all we had missed out on this journey for which we will definitely have to be back there sometime in future.
We thanked him for his expert knowledge and cordial hosting, and then left for our return flight with bucket-list of activities & experiences already prepared for our next tour of Meghalaya :)
Trip Courtesy : CRAVEL tours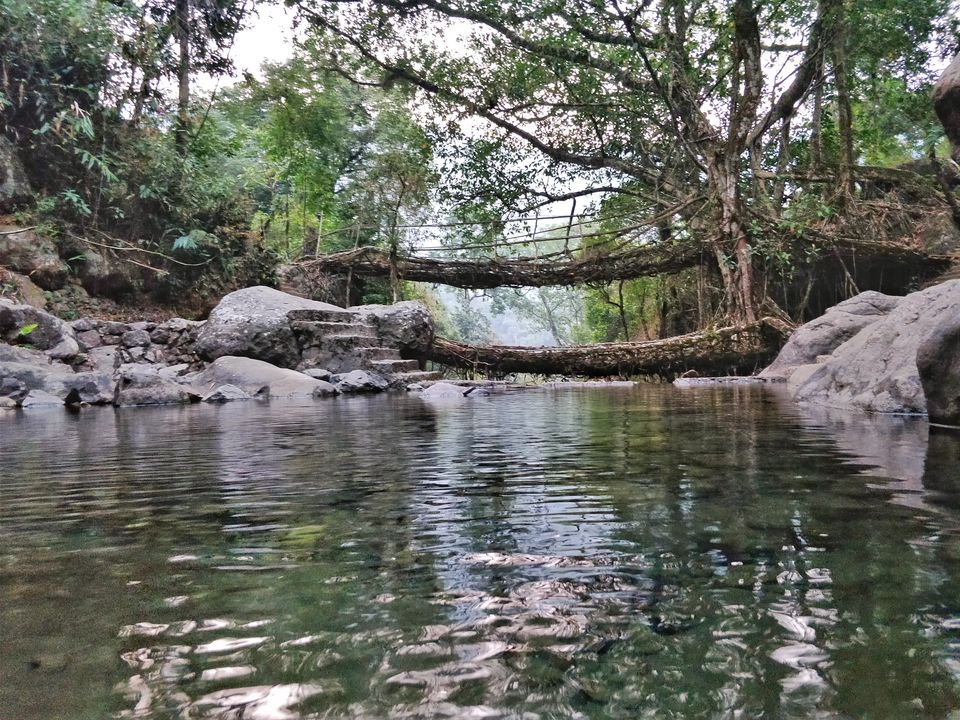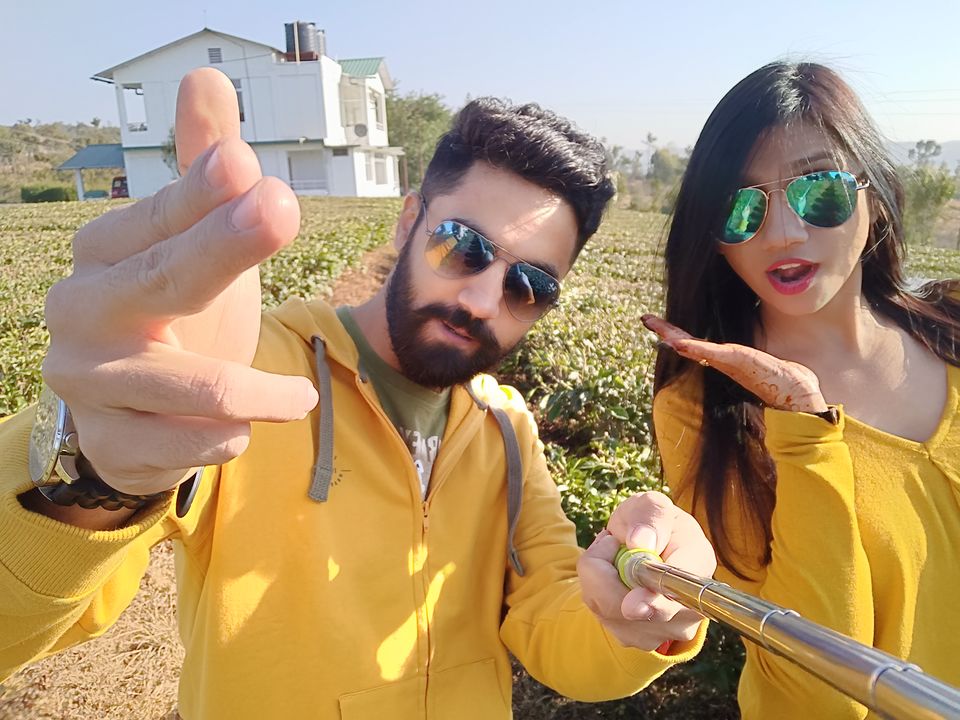 Had we set alarms to wake up, we would have been late! The first light of dawn hit our room at 4:45 am in the morning and the view outside was enough to make us leap from our beds and get ready to begin an early first day of our trip.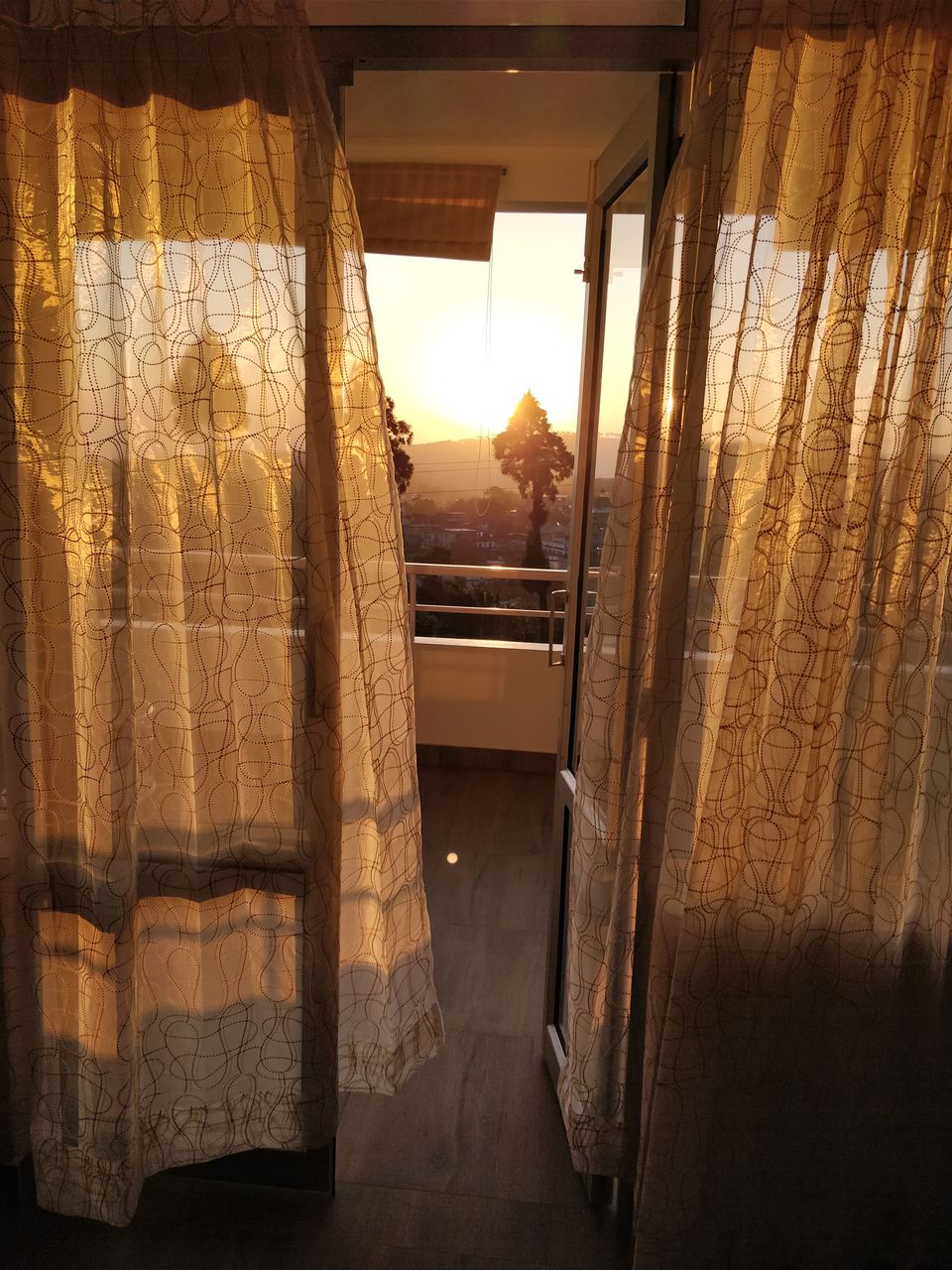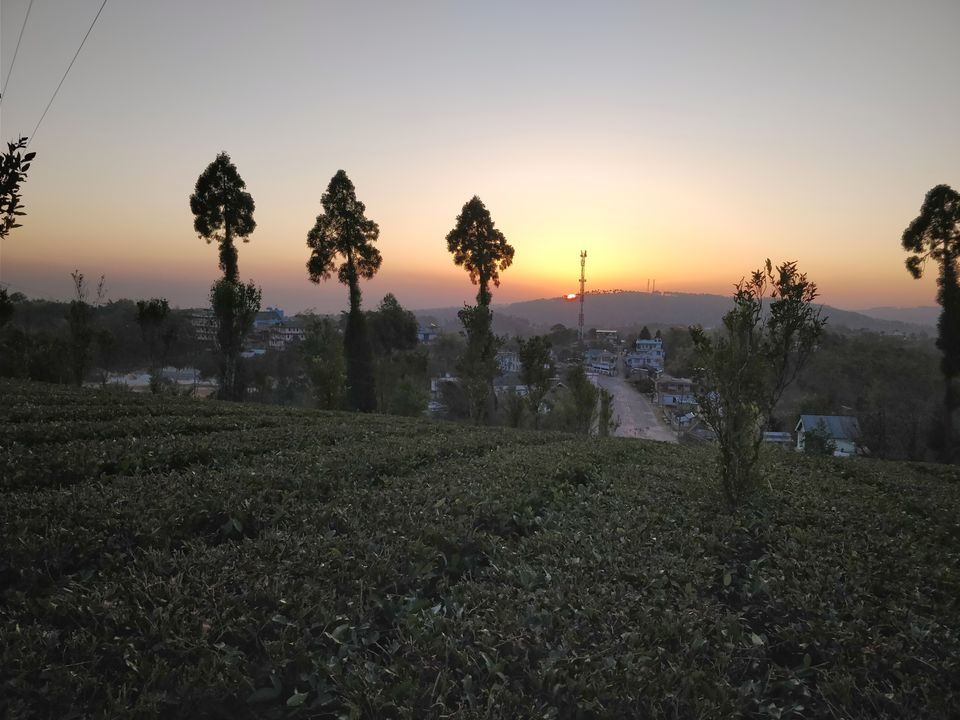 The morning brought a fresh dose of enthusiasm with the hen's clucking at sunrise and localites starting for their jobs early. It's aptly declared the cleanest Asian village as we could see every native conscious of keeping the place squeaky clean, not allowing even fallen leaves to be left scattered on the roads. The village dustbins are made from jute instead of plastic and there's no sign of dump/waste in the open anywhere in the village. We walked through the village and took a path which was leading inside forest for an early morning walk: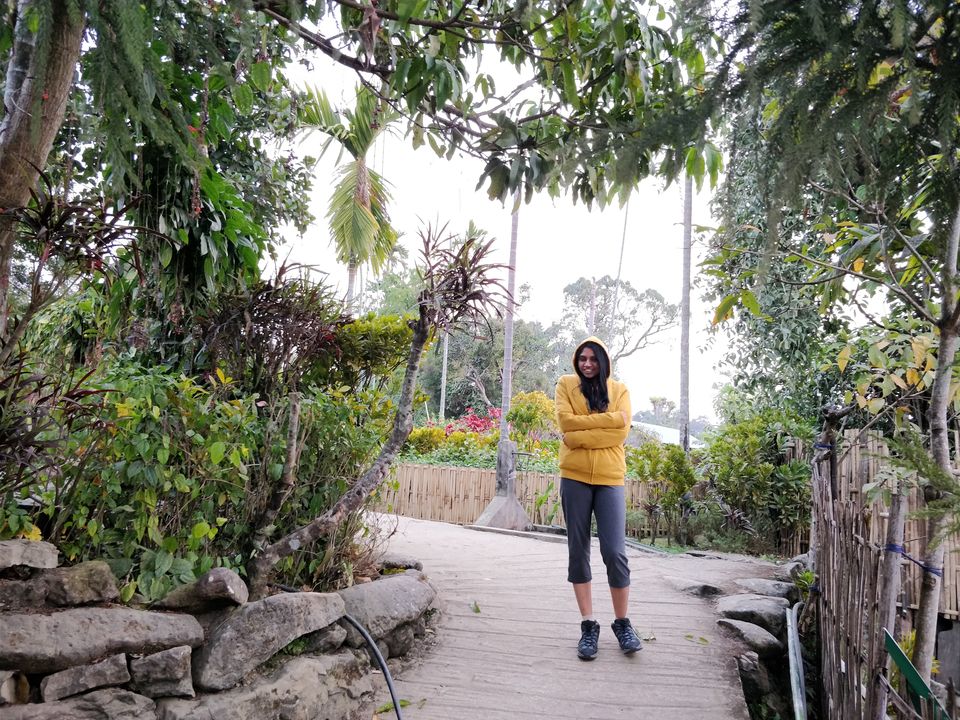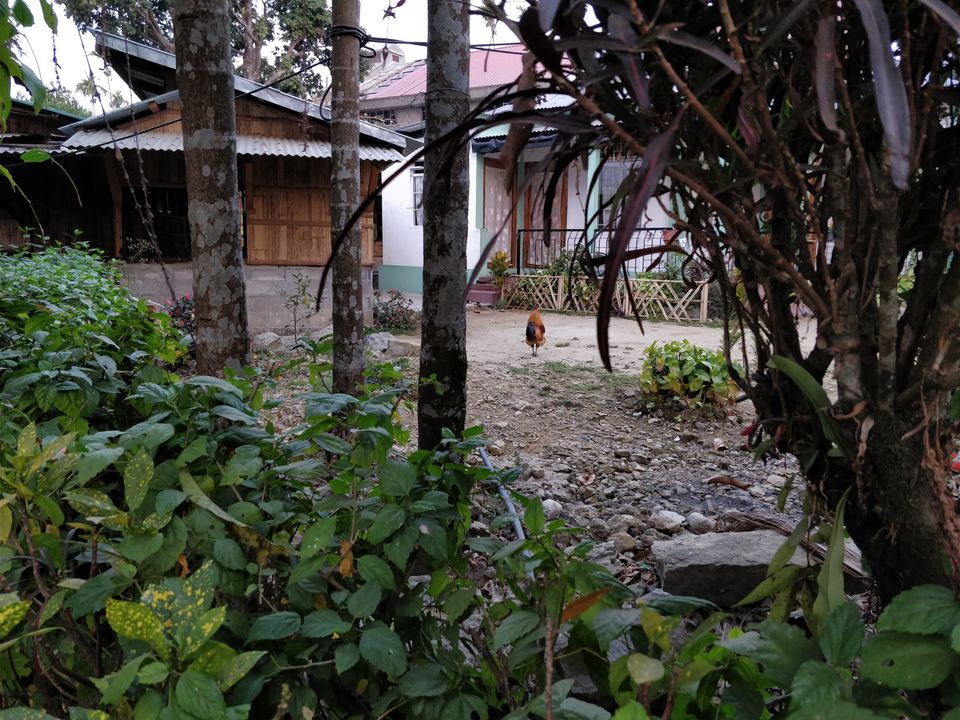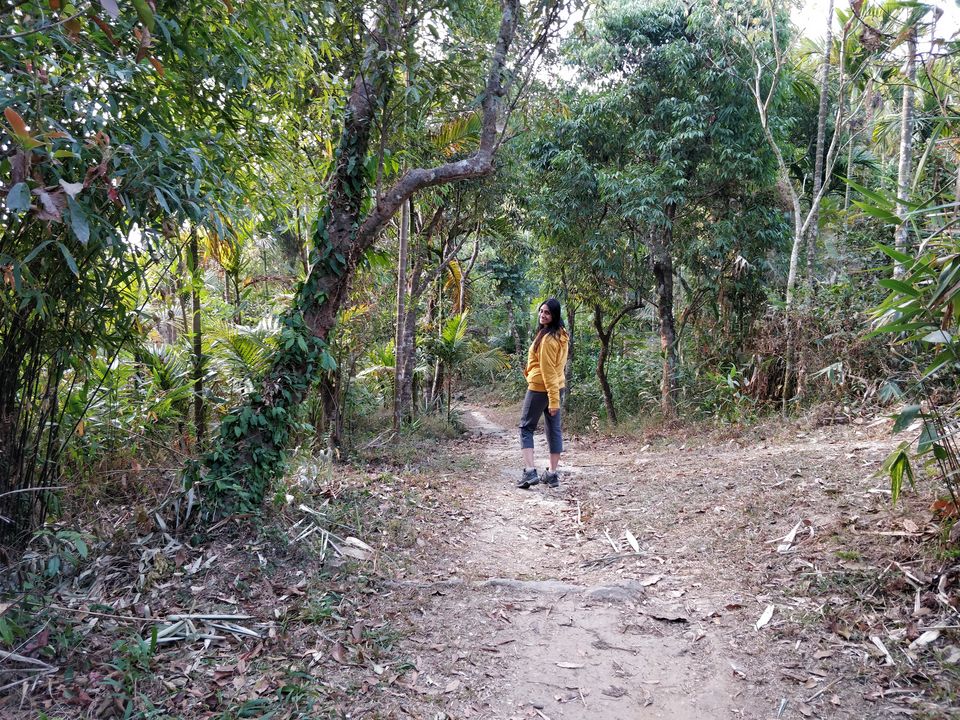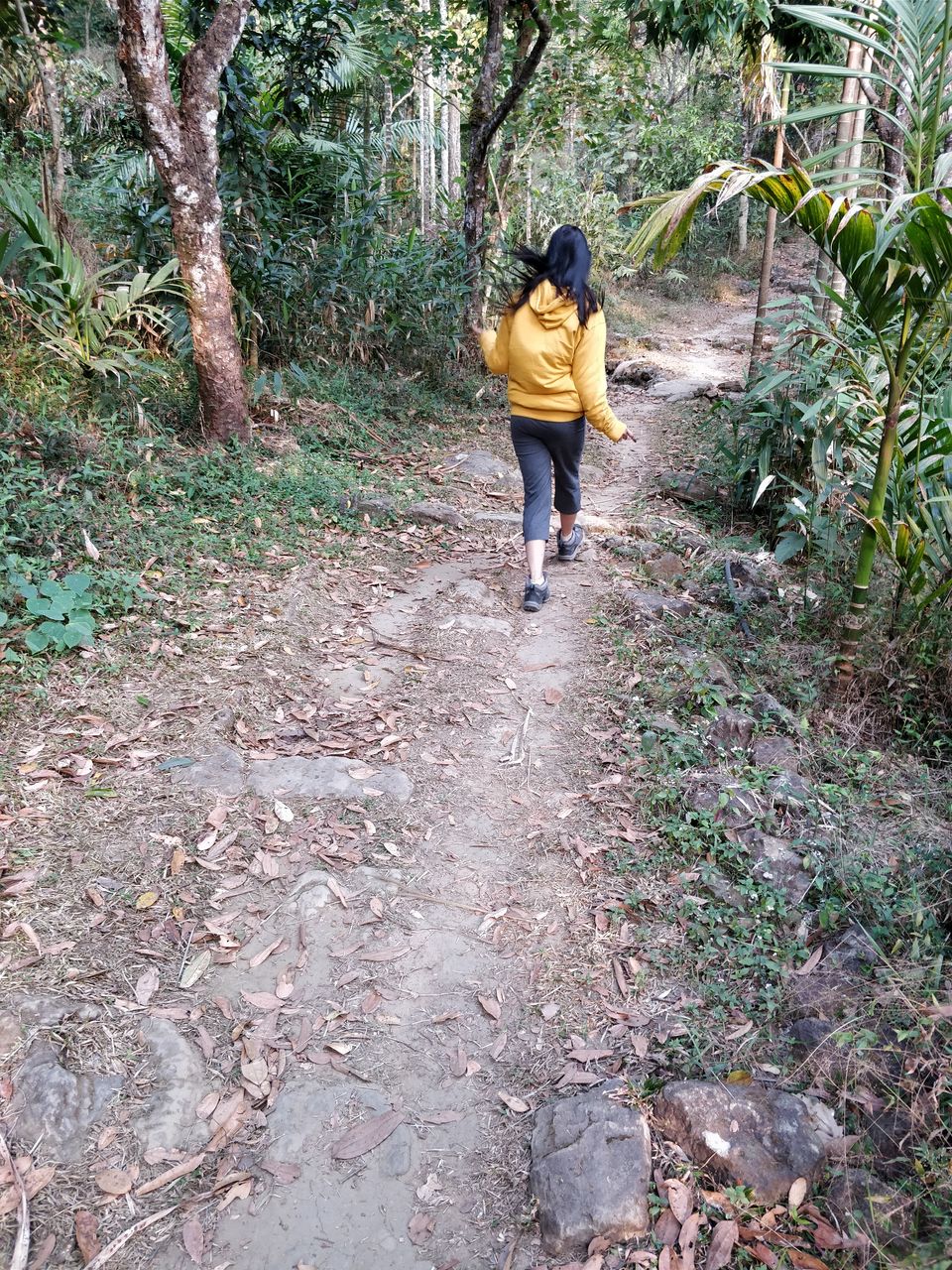 In the places to cover today were the Garden of caves and Arwah caves.
Garden of caves is a good option only after monsoon showers because at the time we went there was hardly any water: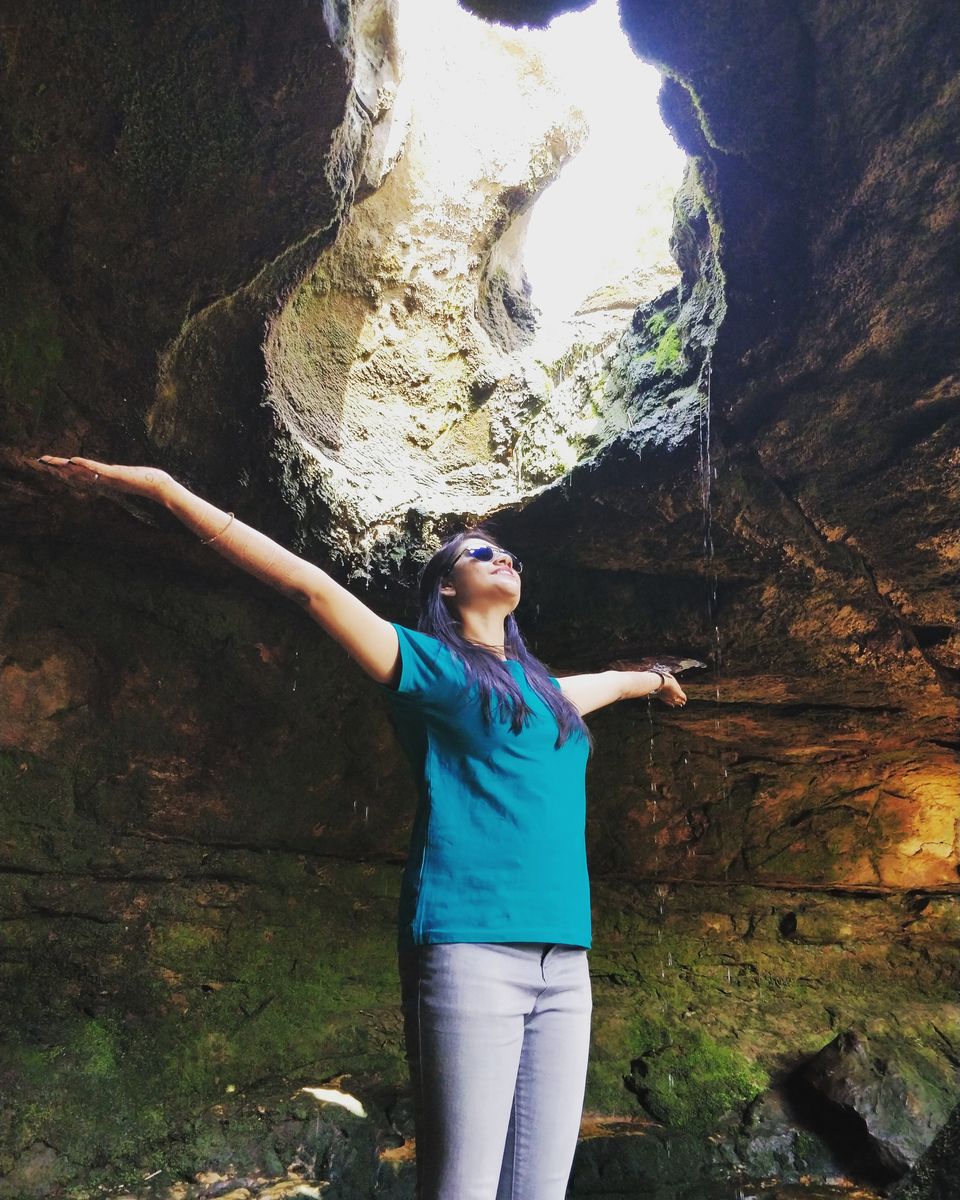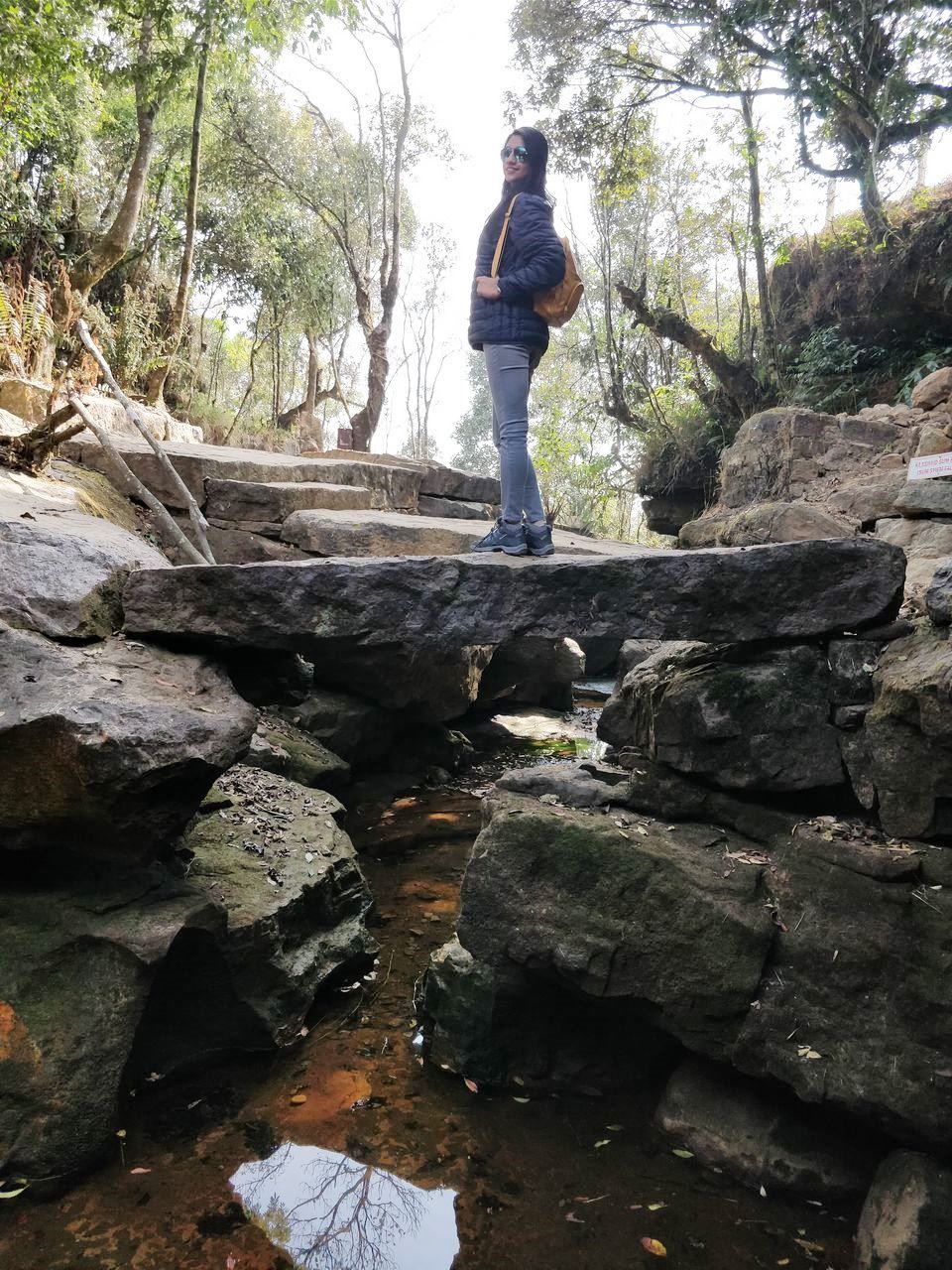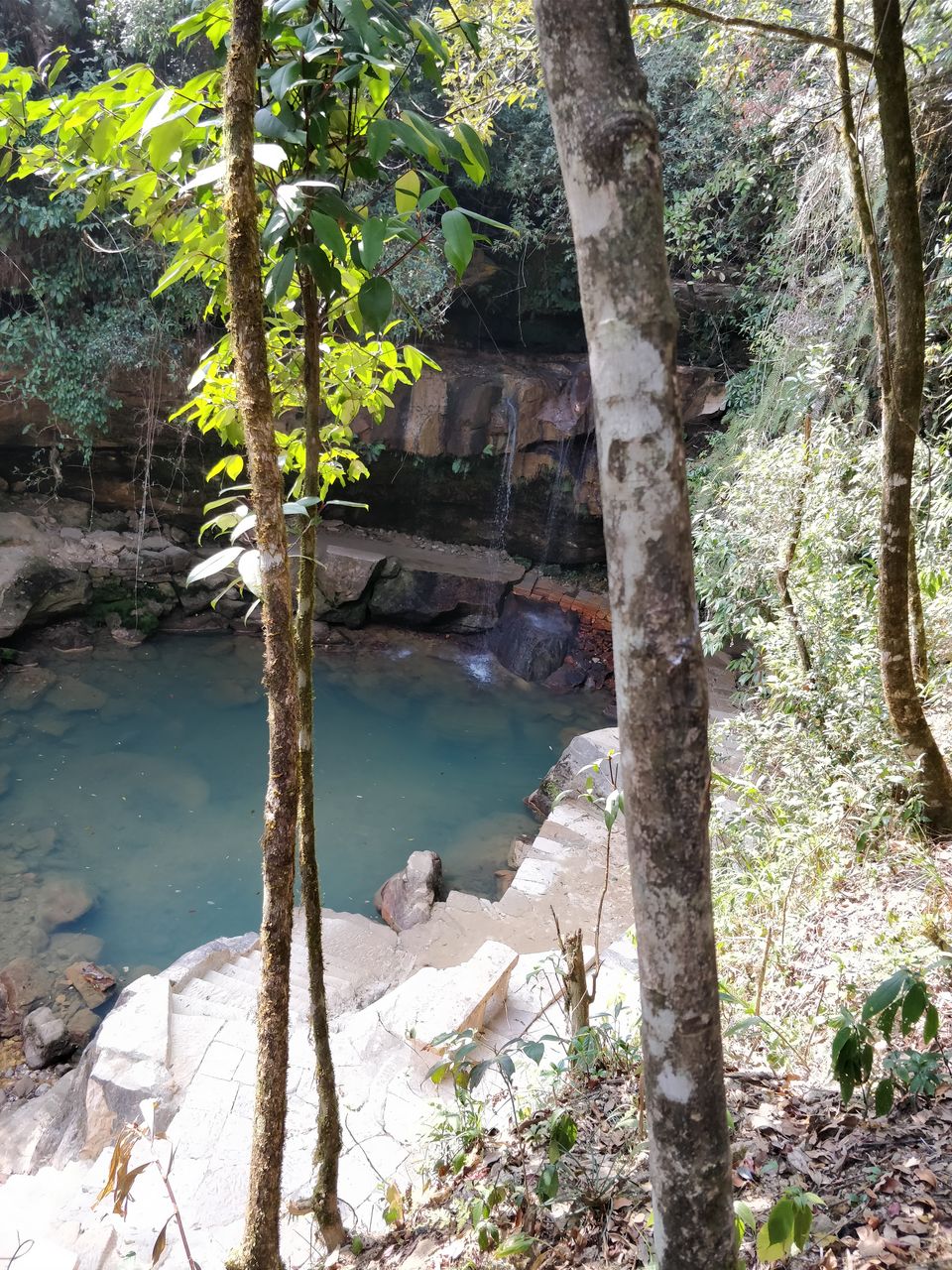 Midway, we encountered a natural pool with clear blue waters and gradual slopes: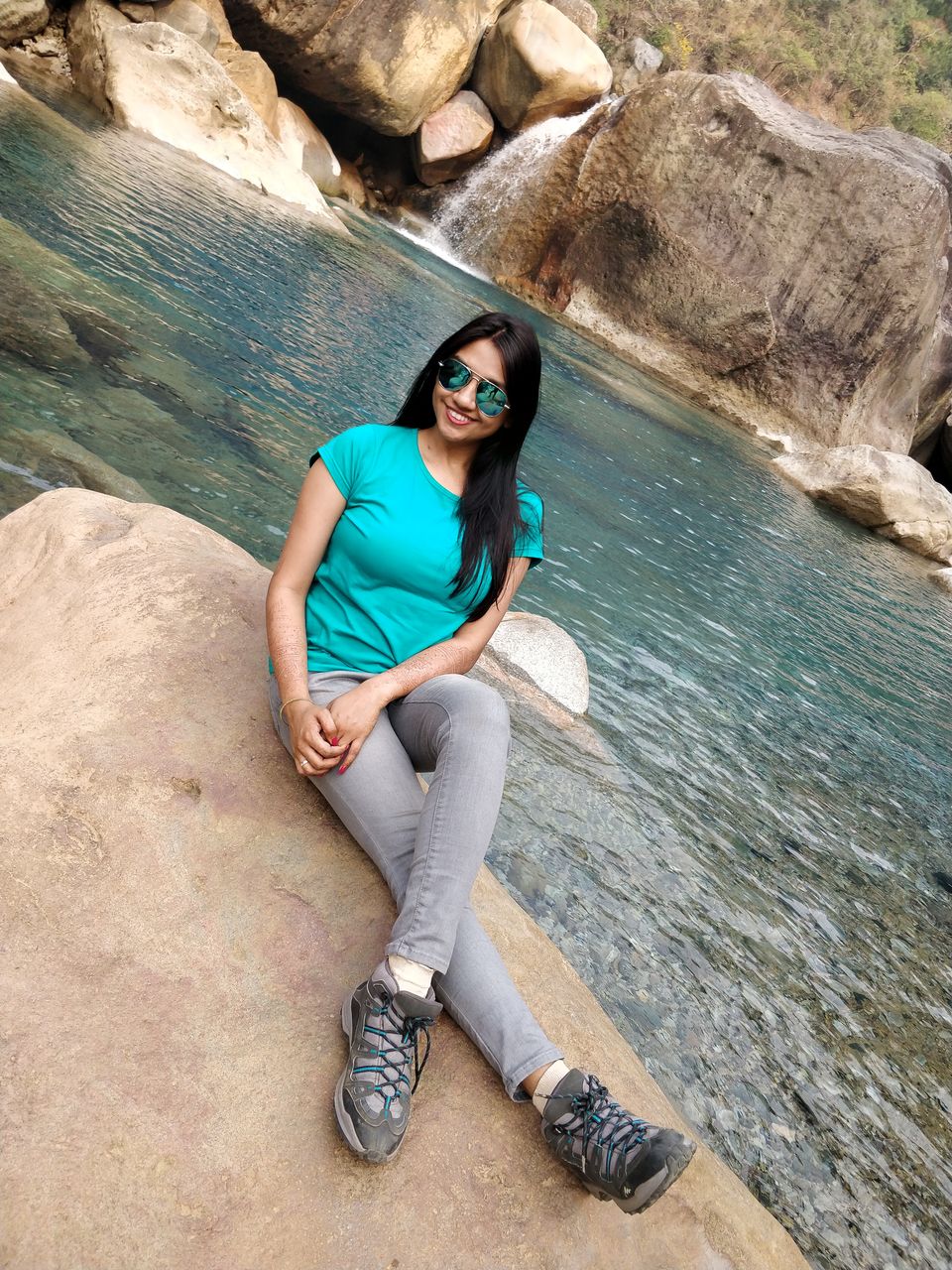 Frequent searches leading to this page:-
shillong honeymoon trip, shillong honeymoon packages, shillong for honeymoon, honeymoon in shillong