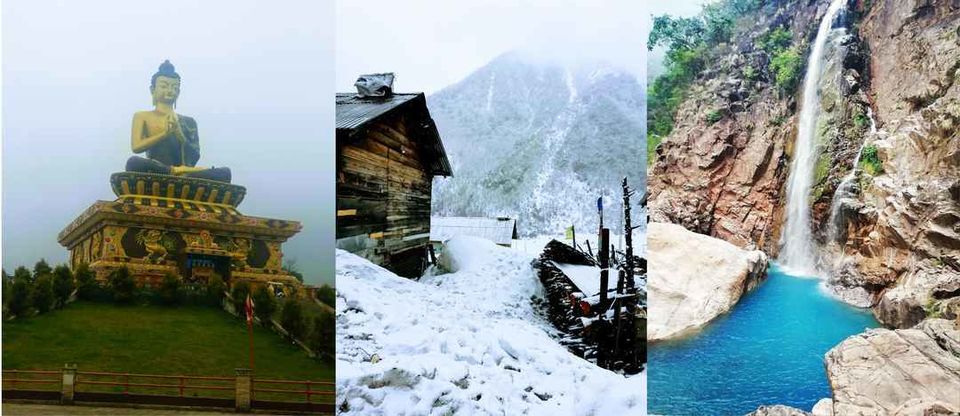 My journey began from Bangalore. You already know it's gonna be one of the best trips when it kickoffs with a surprise. I was expecting to catch up my friends at Bagdogra Airport, but to my amazement, these two fellas came and stood next to me at my boarding gate at Bangalore Airport. Later, I got to know their flight from Pune had a halt at Bangalore. To those starting from Bangalore, there is a direct flight from Bangalore to Bagdogra, extremely early in morning. I couldn't resist and dozed off after boarding the flight.
The sudden jolts of aircraft landing ruptured my dreams only to convert them into a reality. And, here we were at the origin point of this insane journey, Bagdogra Airport. Our driver was running half an hour late, so we decided to have breakfast at the cafe situated at second floor of Airport, serving delicious food. We were about to finish, and I got a call from driver that he has reached.
The trip has now started. We were going through the busy roads of Siliguri to reach our destination for the day, Gangtok. But we decided to make full use of the day and took a detour via Buddha Park in Ravangla. Nothing else could have been a better start to the trip. It was a scenic and tranquil place. That super giant statue of Buddha was mesmerizing. Beautiful foggy weather was a cherry on top. If you have a drone, you will be capturing some lifetime shots here. And I must admit, we had the best food of the trip inside Buddha Park. Though the restaurants here serve only vegetarian food, it will not be a regret to non-veg lovers either. Buy souvenirs here if you want, prices are gonna get expensive as you move forward. Unwillingly, we had to leave this charmer to explore other beautiful destinations lying ahead in the trip. By the time we reached our hotel in Gangtok, it was already 9PM.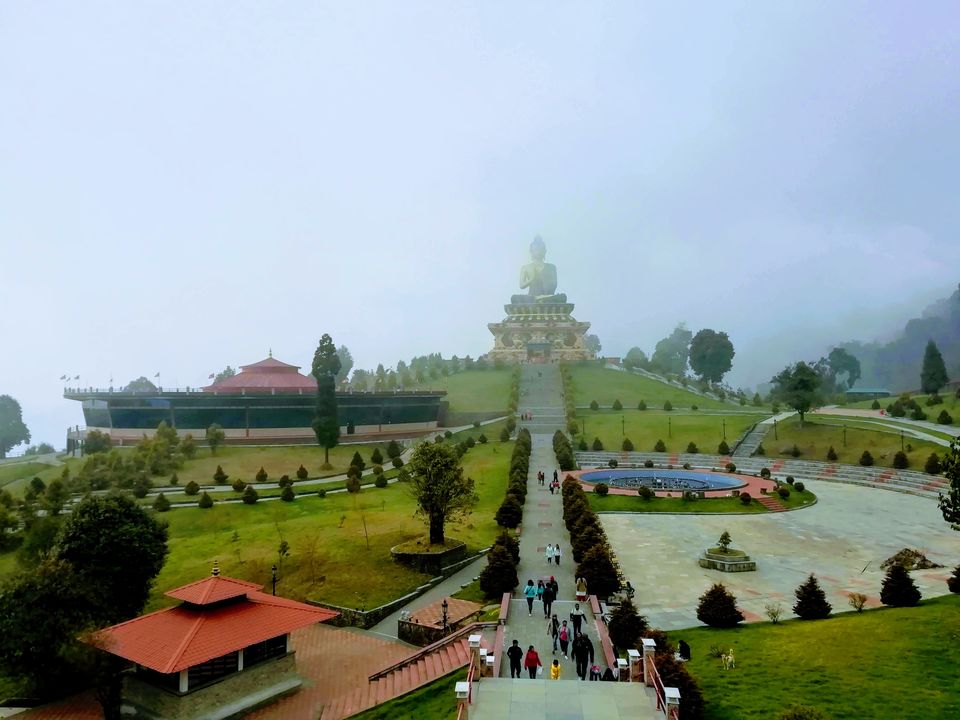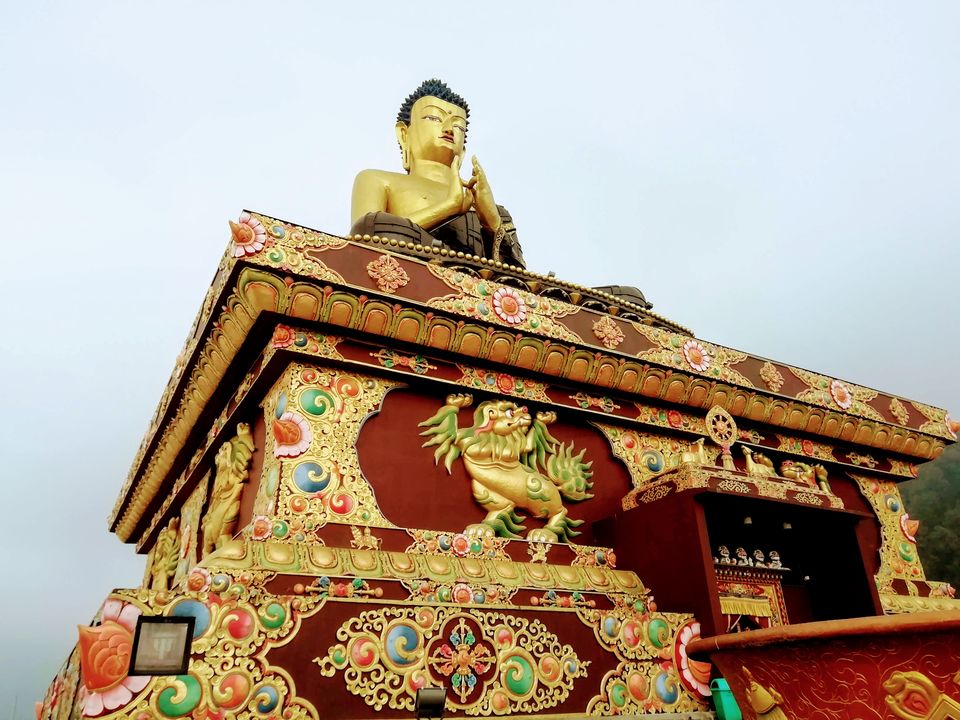 Despite of such a long journey a day before, we were feeling even more energetic this day. Reason, we were about to visit a beautiful and picturesque landscape, Tsomgo/Changu lake. As we reached there, we found it to be overly crowded but the enthralling frozen lake and snow cladded mountains filtered out crowd from our mind. Those fancy Yaks in front of white shiny snow were a treat to the eyes. The boots we rented on the way, helped us track till Zero point to have a closer and superior view of the lake. Next on our list was Asia's highest ropeway with an altitude of 14500ft. It was a satisfying ride with dreamlike views, transferring us to the pinnacle. The top was literally 'breathtaking' with very low oxygen levels. You will only get tea up there, so be prepared with your food stuffs before you hop in that ride. We were relishing Tsomgo lake and wanted to spend more time there, thus decided to ditch Nathula Pass and Baba Mandir from our itinerary.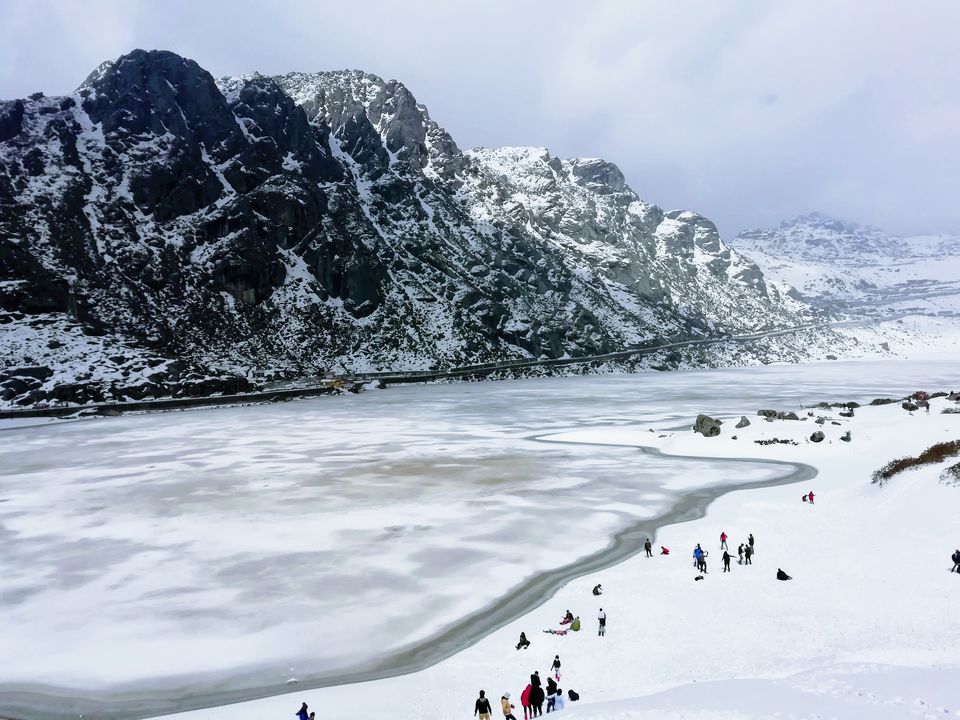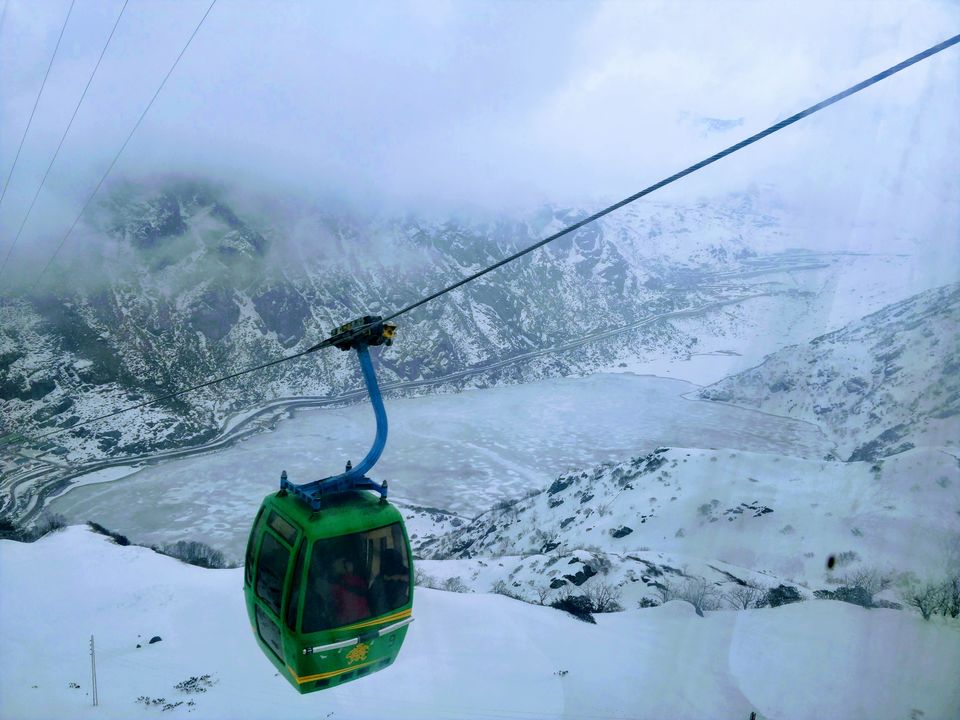 The next day we woke up to the beautiful view of mountains, local kids playing football in the ground ahead of the mountain. Breakfast served by this hotel was indeed delicious. We were to head to Lachen for a night over as there were rare possibilities for stay in Gurudongmar, our next spot. Even the accommodation in Lachen had bare minimum facilities. It was a tiny village and was raining by the time we reached but if you can make it before 5PM, you can visit the monastery in the village. There were few stops on the way to Lachen for sightseeing like Lachen chu & Lachung chu confluence and waterfalls. Don't either expect mobile network (except intermittent BSNL network) or any good food. We had cards with us, one of the most fun games in such situation.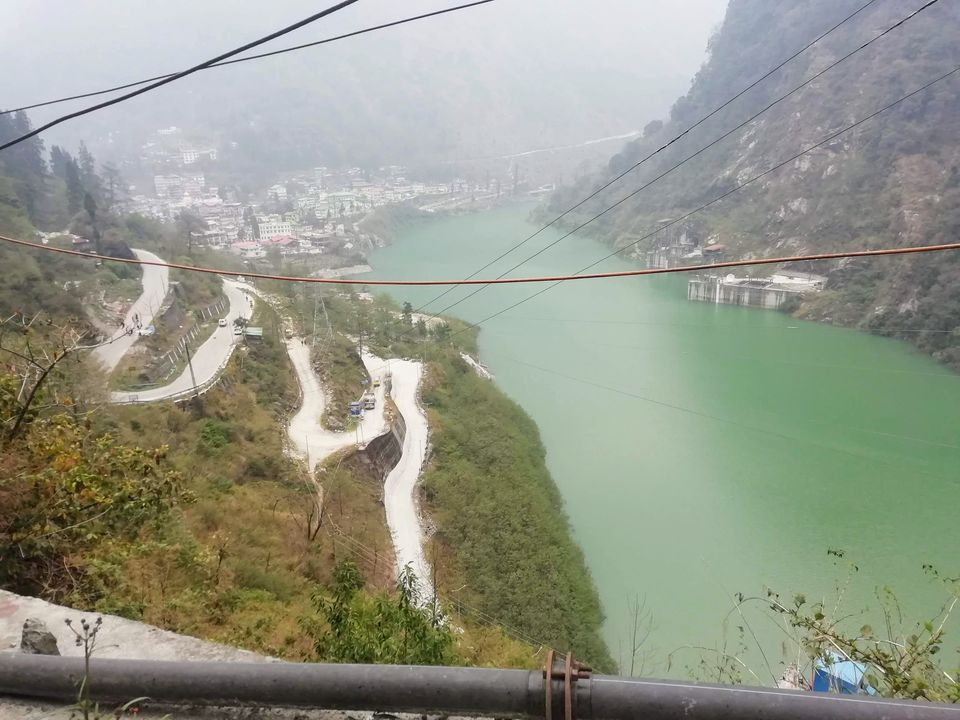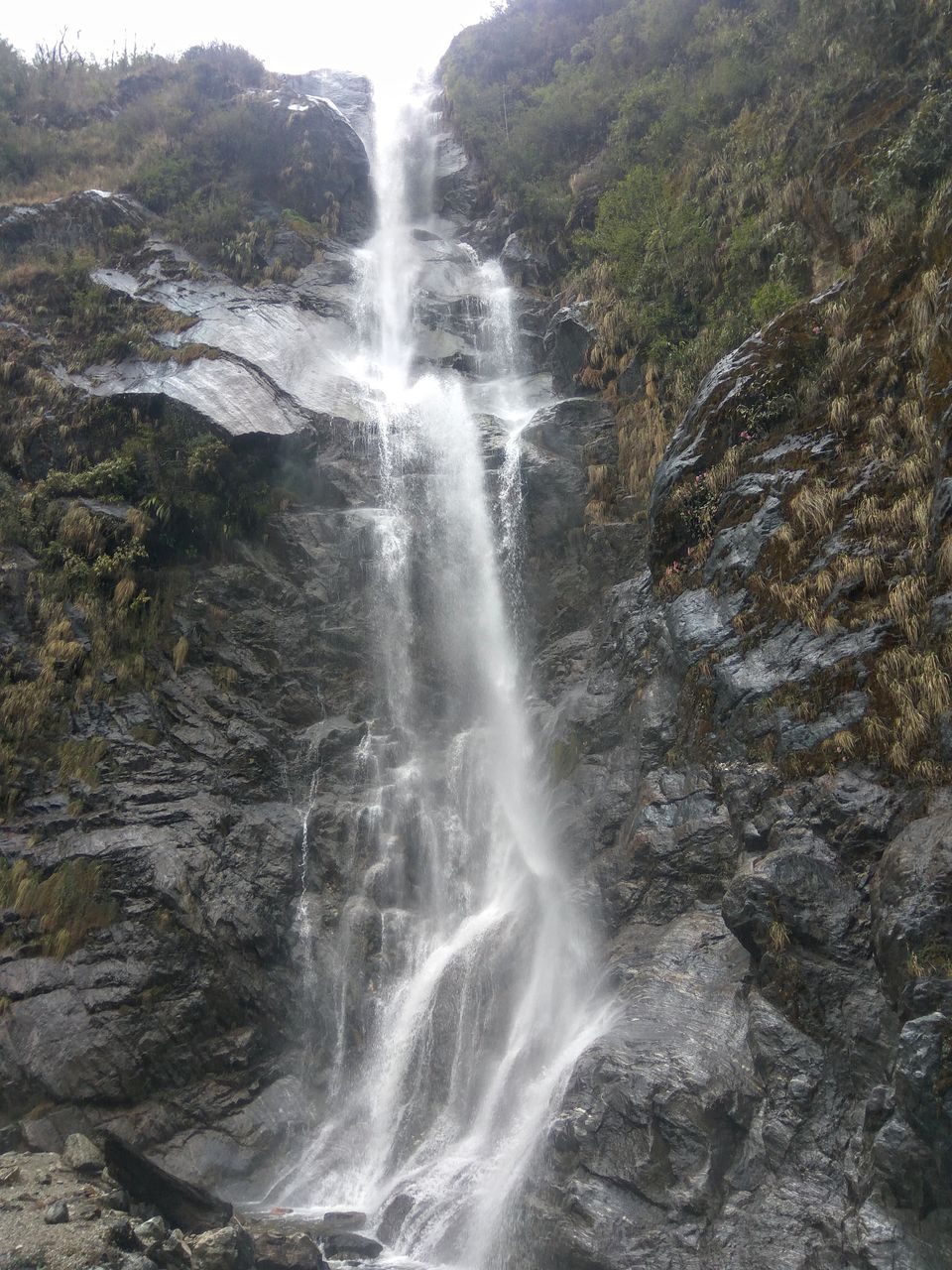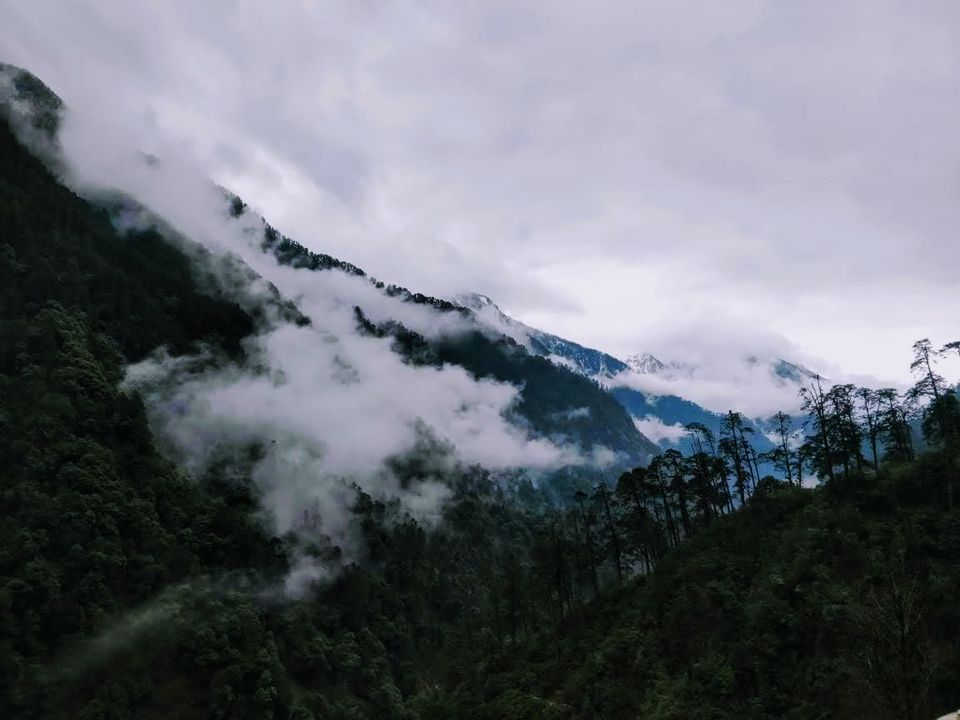 Morning views in Lachen were awestriking, and we could have a closer view of white and green mountains. The intermittent fog multifold the pleasure of clear view of mountains. We started towards Gurugdongmar Lake and found some beautiful bridges with rivers flowing beneath them on our way. Roads were almost patchy. The journey was becoming more fun as it started snowing. There were lot of army camps on this way, making it a completely different experience. The snow fall was so heavy that vehicles were skidding, and we had to return from Thangu, this time for Lachung. Though we couldn't reach Gurudongmar but it was a short beautiful journey and we had fun.
We reached Lachung early evening. It was another small village where we had a night over to continue our journey for Yumthang Valley and Zero Point. There was nothing much to do in the village and was similar to Lachen in terms of accommodation and food; TV also had just handful of channels. Fortunately, this place had Vodafone's 3G network and we had a USB stick with some movies in it. We were able to laze around this way and recharged ourselves for Yumthang next day.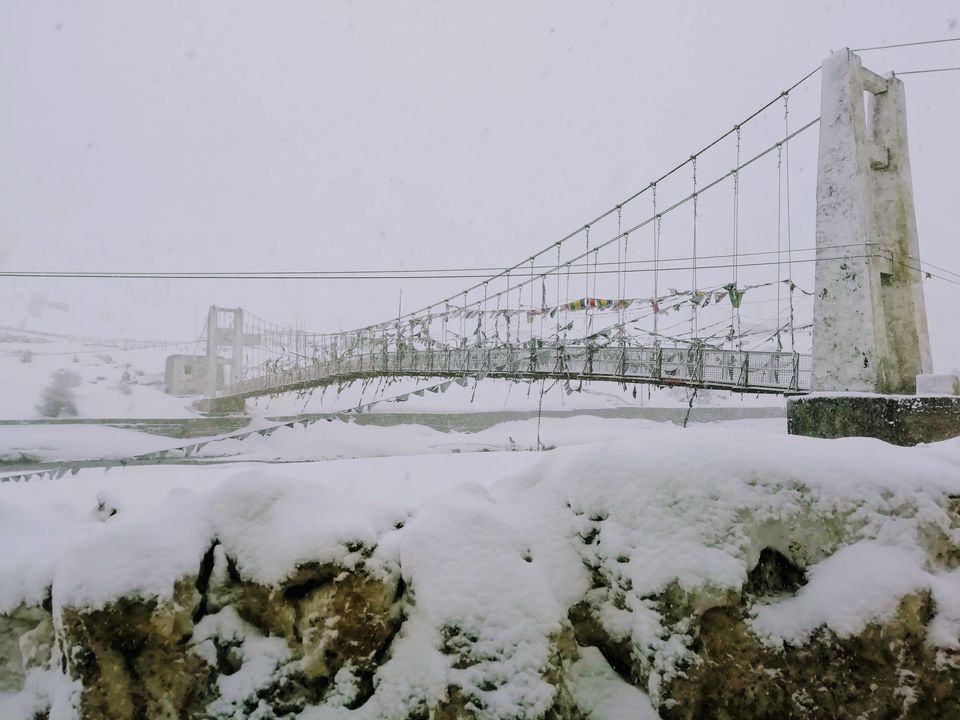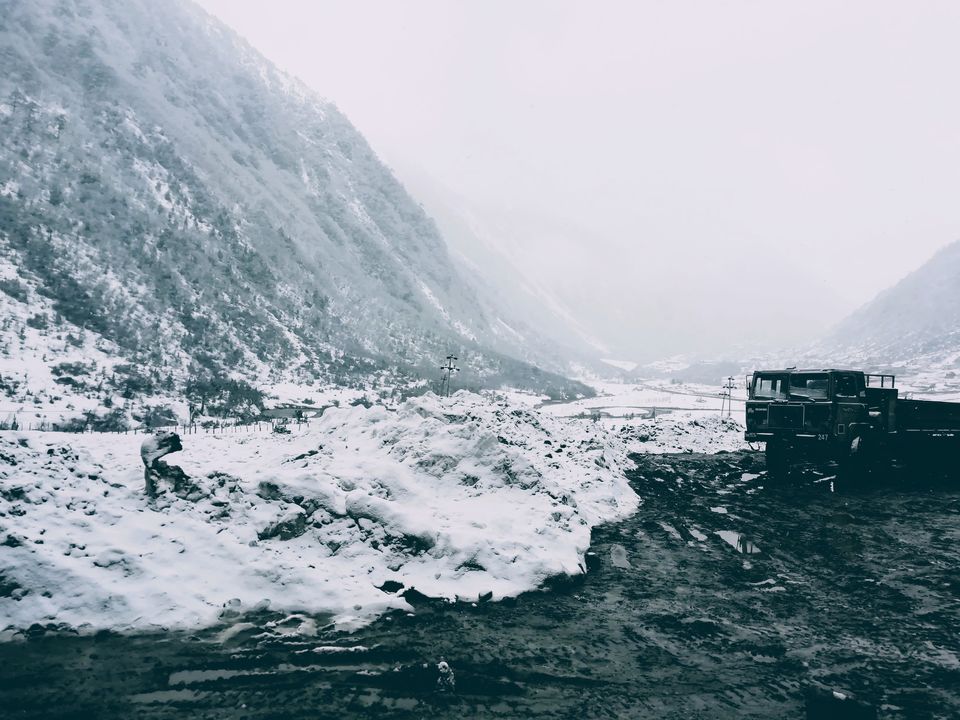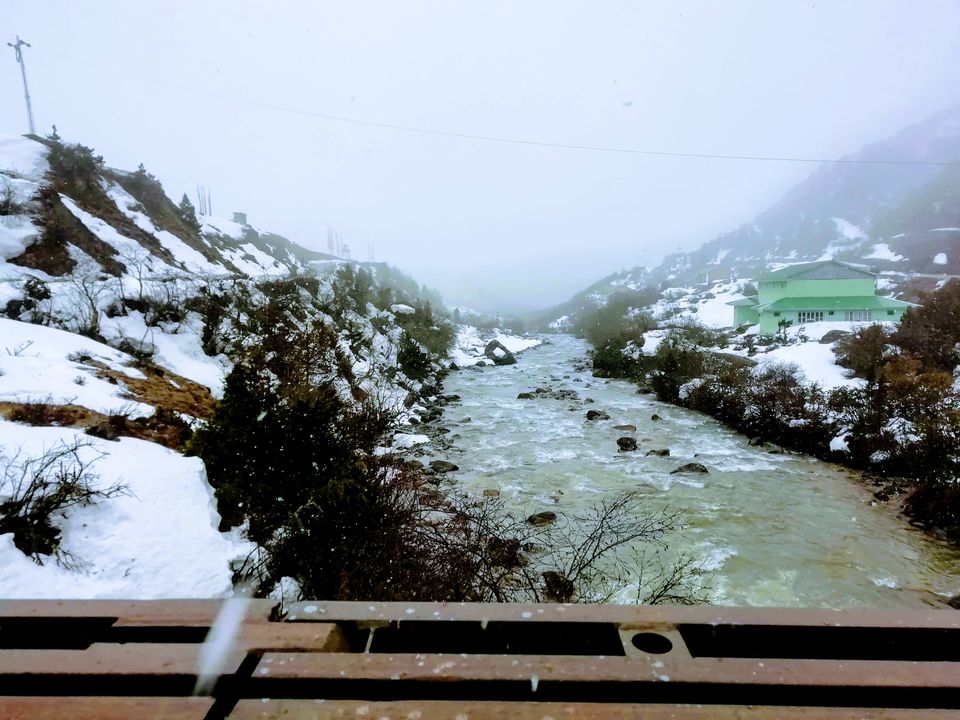 Yumthang was a jam-packed place and we were not allowed to go till Zero point. So instead of squandering our time here, we decided to pay a visit to Mt. Katao, The Switzerland of Sikkim. Hard luck for us, even the roads to Mt. Katao were not in good shape because of ice formation over them. We went as far as it was possible, took a halt and pictures of course, and returned for Gangtok. This was our last day in Sikkim and we were all lost in the memories of this wonderful place; that "Khwabon ke Parindey" kind of feeling throughout the time didn't make us realise when we reached Gangtok. We had some time in our hands on reaching back Gangtok and how could we miss the vivacious MG Road? We were already going to this place for dinner during our early Gangtok days, this time we decided to explore it to the most we could and bought some more souvenirs as well.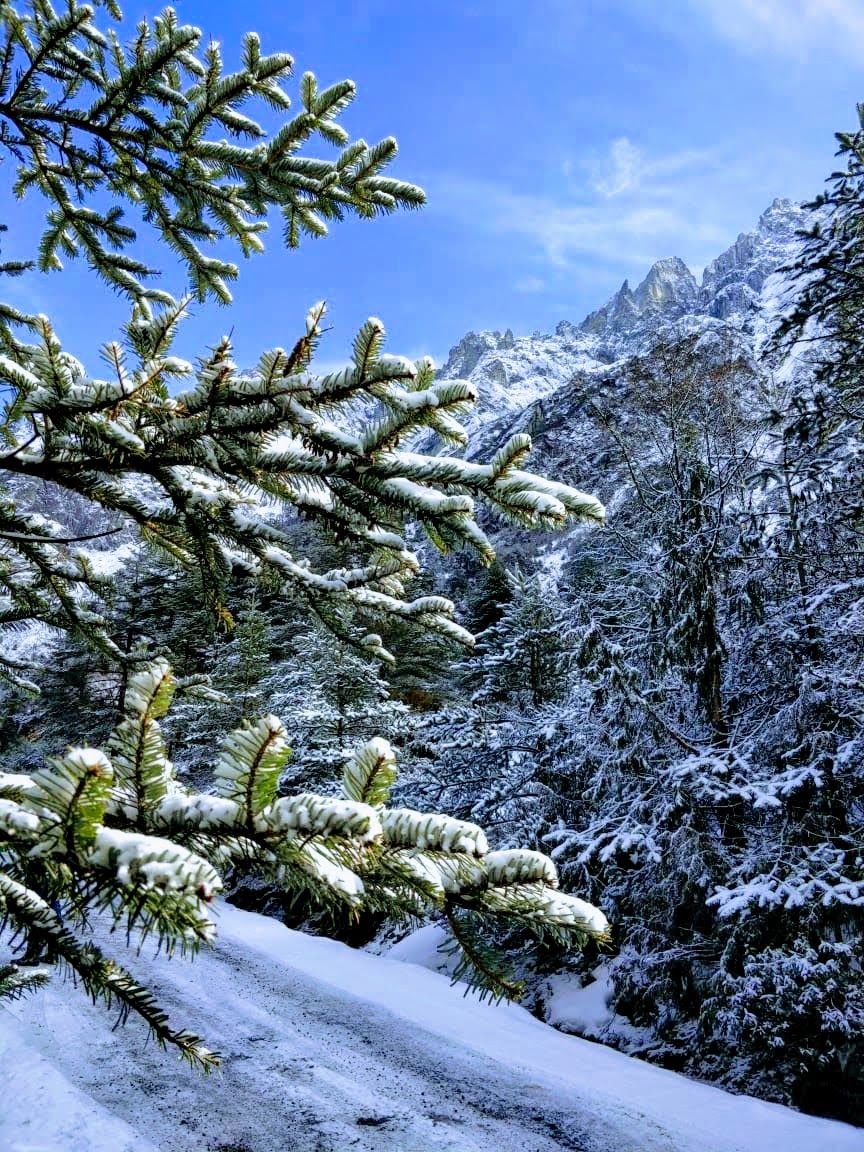 This was a day of transition; Pakyong airport has different vibes (good obviously) and the views from flight here were delightful. Upon landing at Guwahati Airport, we already had our driver waiting outside to take us to Shillong. Moving away from zigzag pathways of Sikkim (yeah, I intentionally didn't use the term 'roads'), it felt a bit awkward initially to be on a straight and smooth road. We stopped by Umiam Lake in outskirts of Shillong on our way. After all the snow and cold in Sikkim, sitting by water in a tropical weather was really very cozy. Next was a short stop at Police Bazar in Shillong for dinner, before we could reach our hotel. This was main market of Shillong, which looked more or less like Commercial Street here in Bangalore.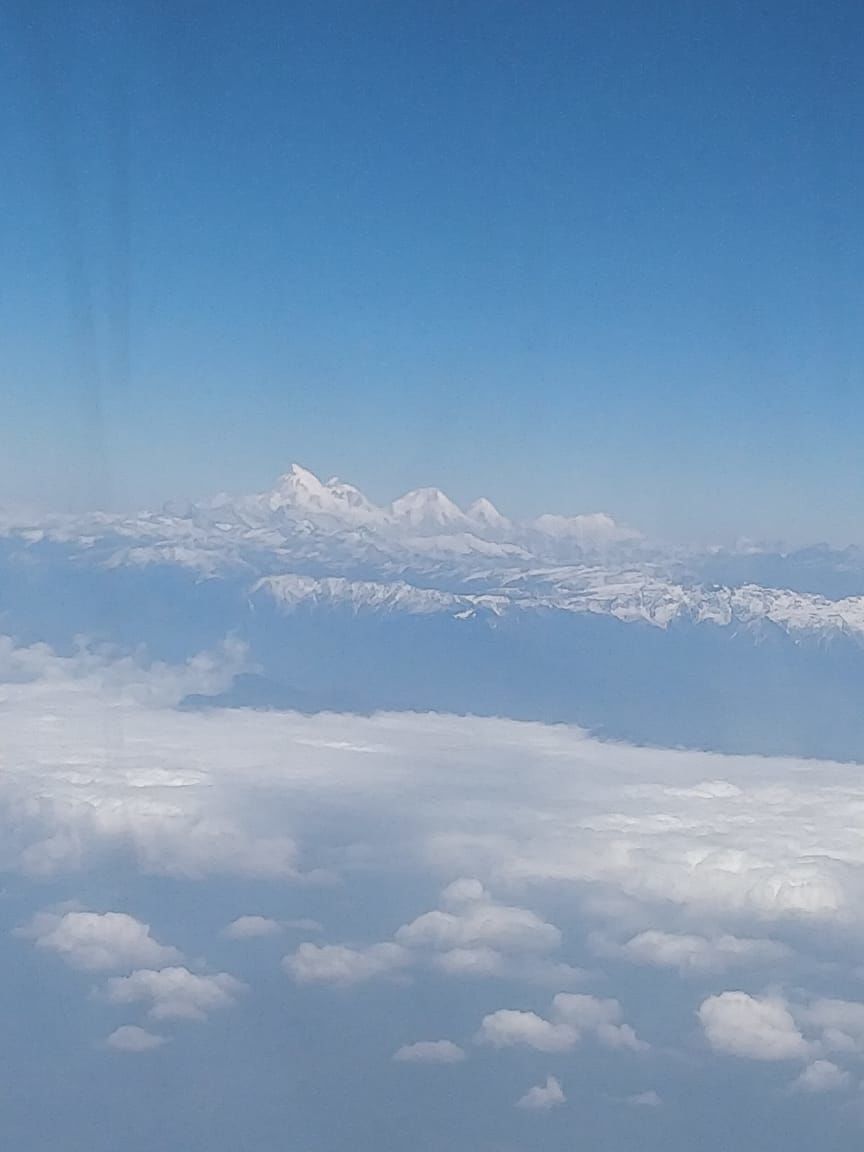 Talking again about food, breakfast in Shillong was also great. With that we kicked off our journey towards Dawki Lake, Mawlynnong and Living Root Bridge. We were hyperexcited about Dawki after watching all those pictures over internet but seemed like it wasn't worth. The lake wasn't transparent, and water was green like every other place. We were told that it changes with weather, not sure which one is preferable to see the lake flaunting her beauty. Still we went for boating by paying 1200rs. While boating we found out that the lake is shared between India and Bangladesh. Though there are no borders, one could clearly see the territories marked as India and Bangladesh. This made us visit Tamabil, actual border between India and Bangladesh. More than border what elevated us were flavoursome Indian Jujube (Ber) sold by street vendors.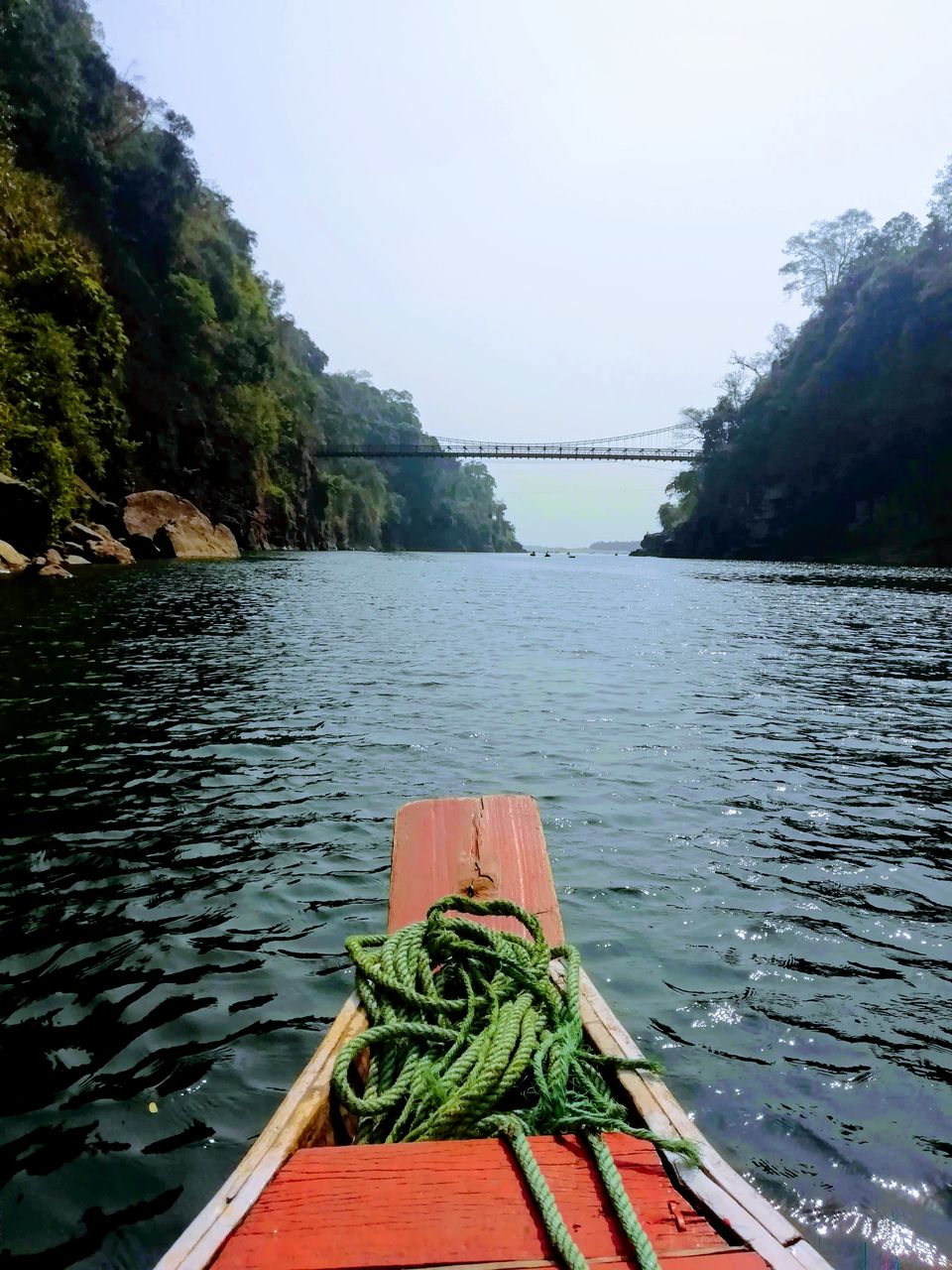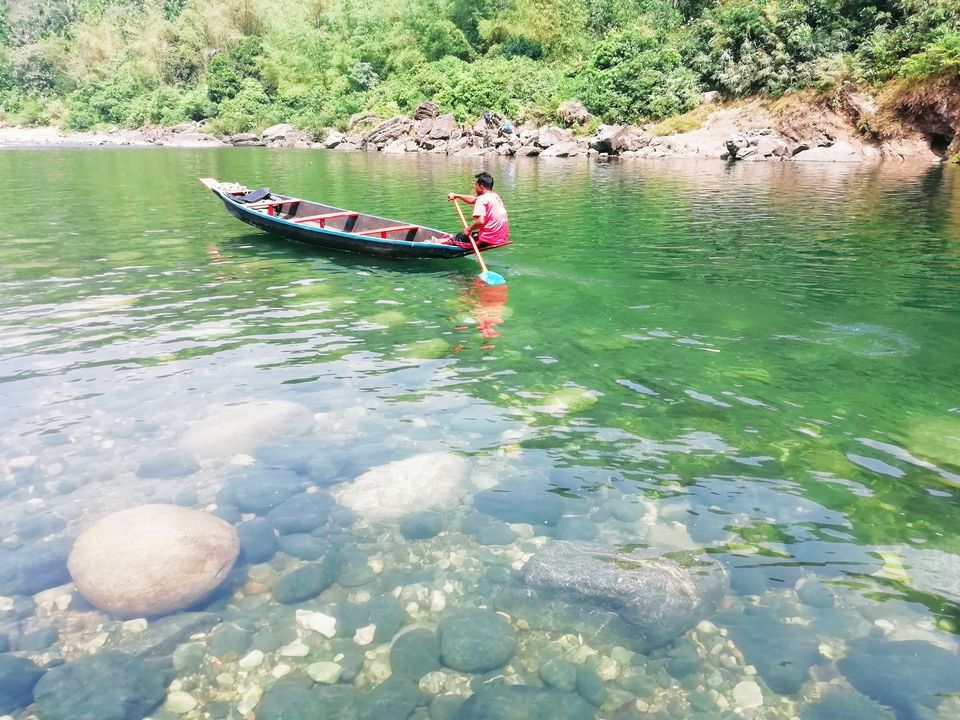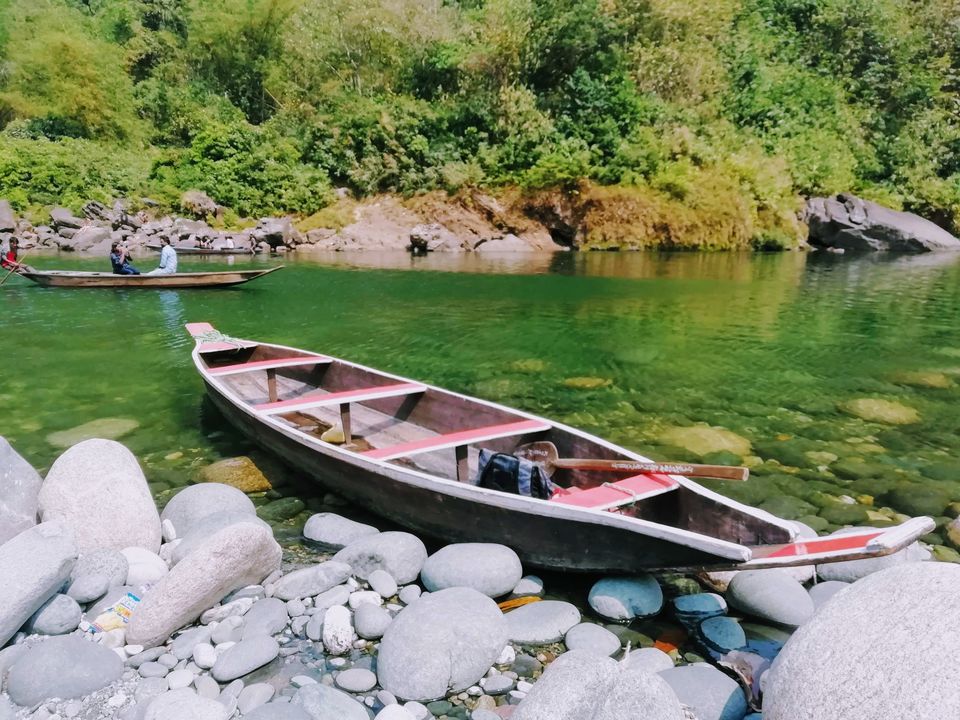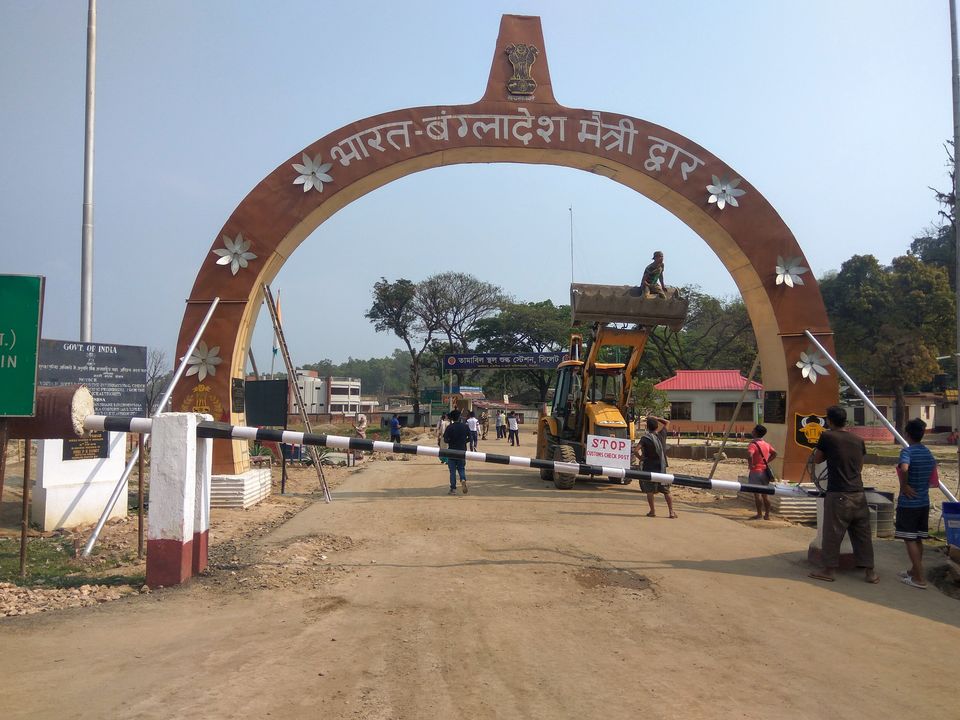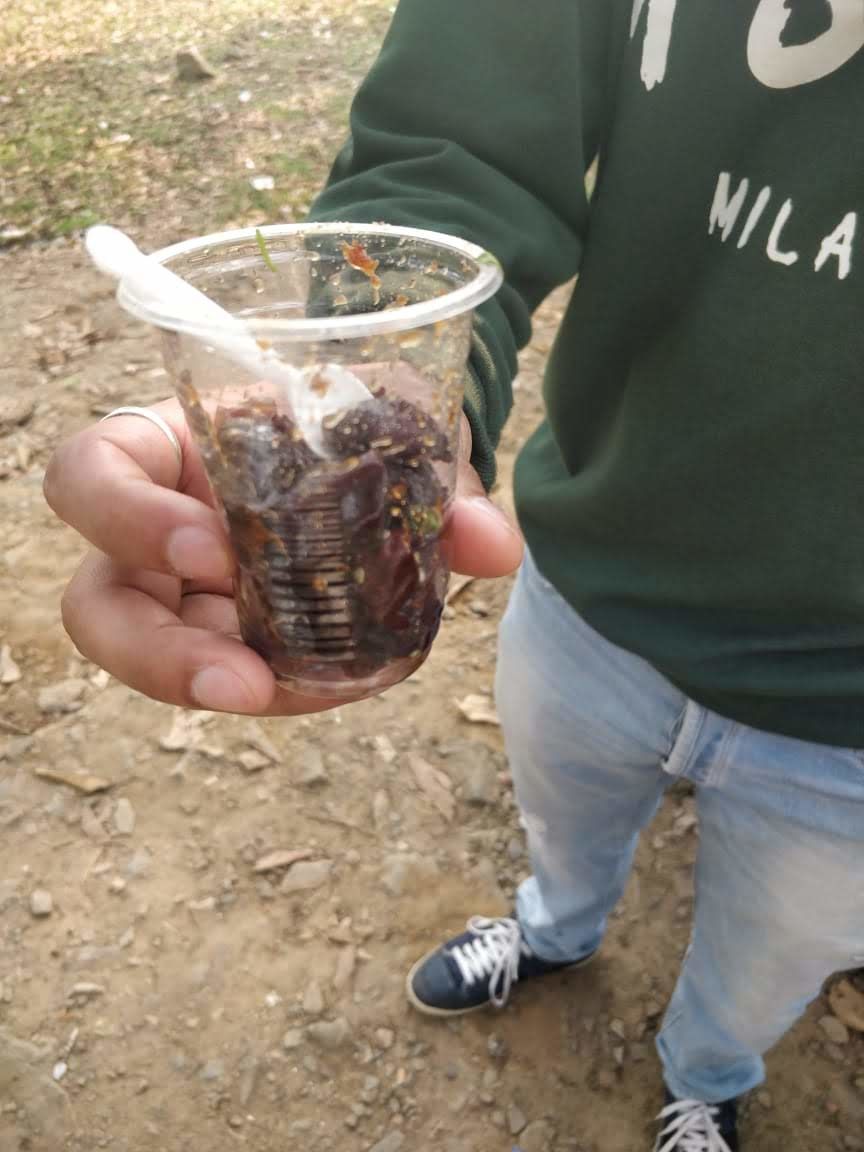 We then headed for Mawlynnong which turned out to be a divine and serene place. We had our lunch here and spent some time seeing the village.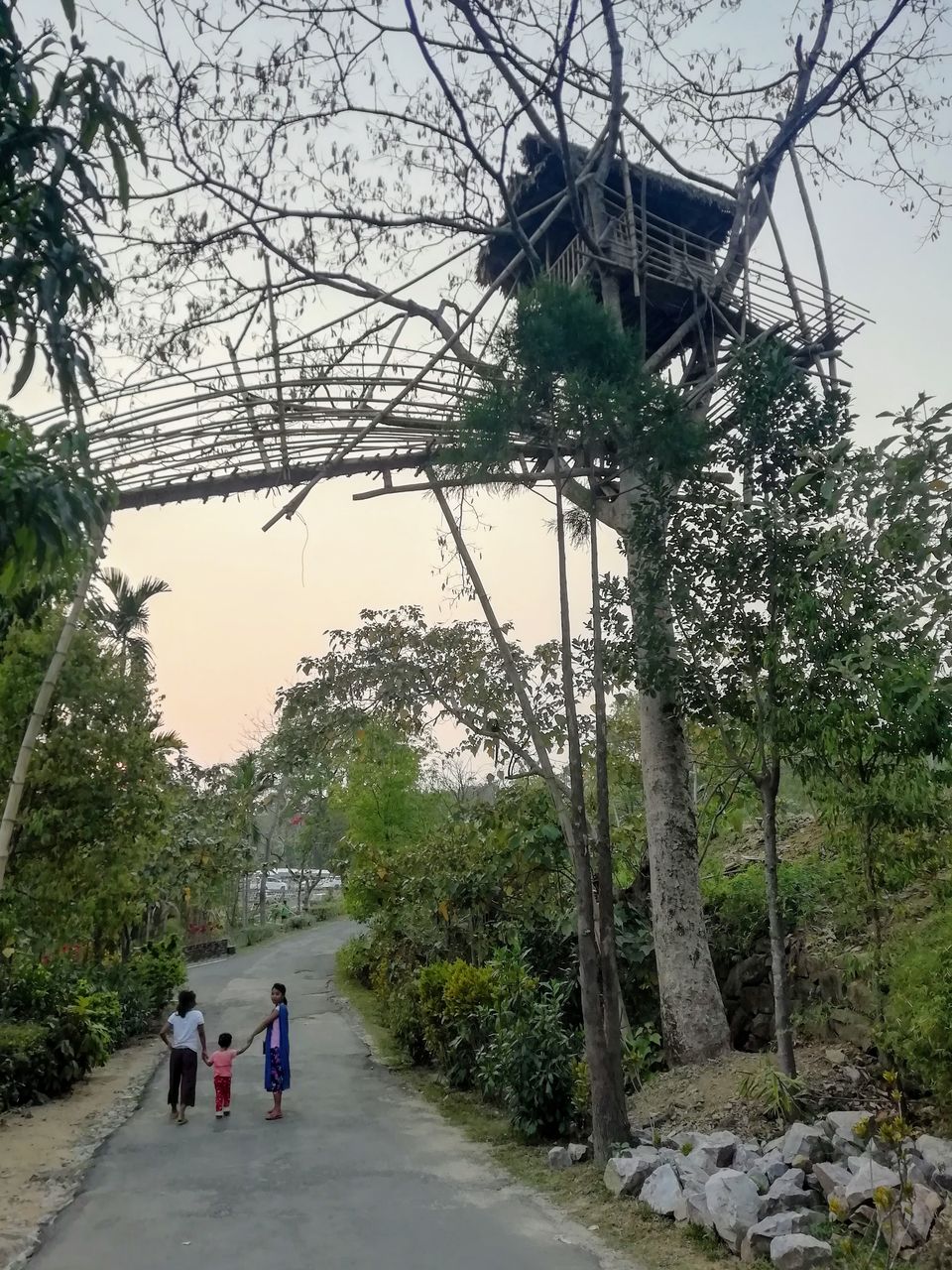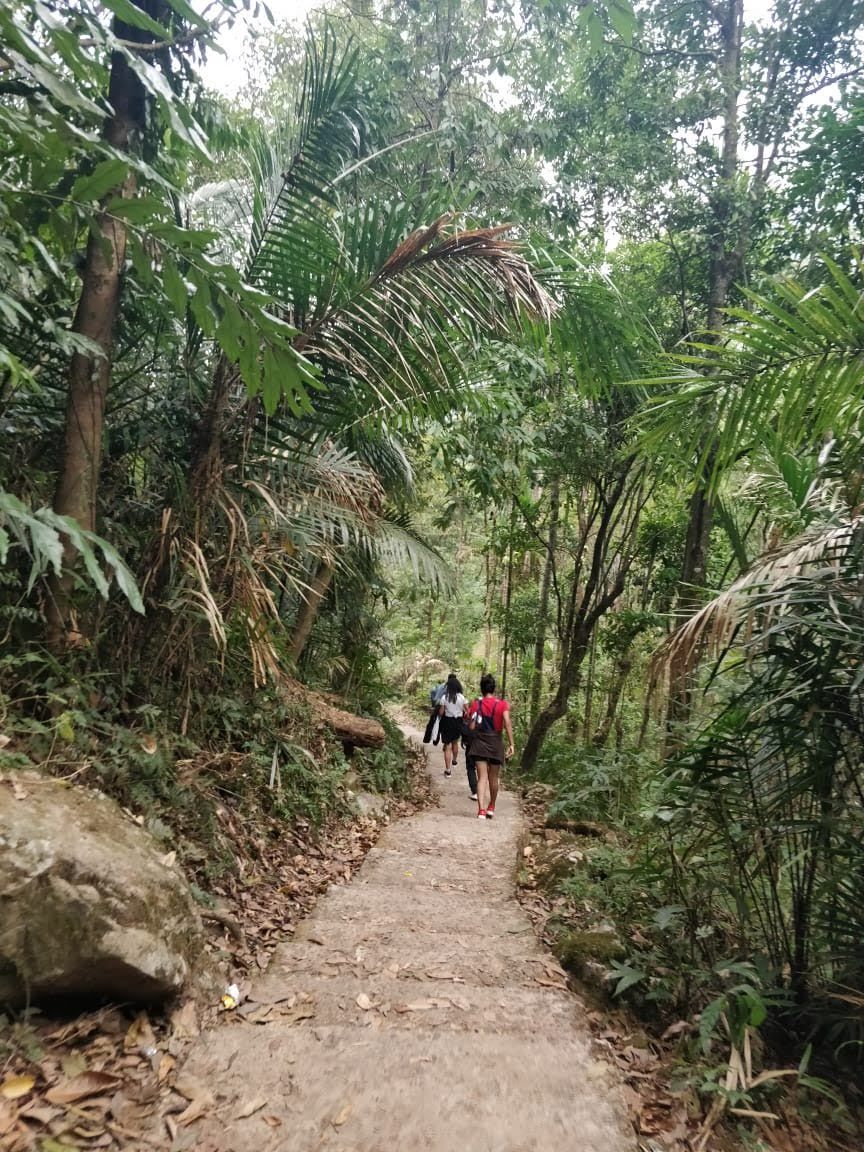 Last sightseeing of the day was Living Root Bridge. We trekked down, all steps, to see the bridge. It was standing strong there gracefully. It is a must visit if you are not planning for Double Decker Bridge, otherwise you can leave it. At the end of this tiring day, we were looking forward to our stay in Cherrapunjee. The resort and staff were surprisingly good; the weather was getting cold and we already had a bonfire setup with crème de la crème coffee and pakoras gearing us up for next day.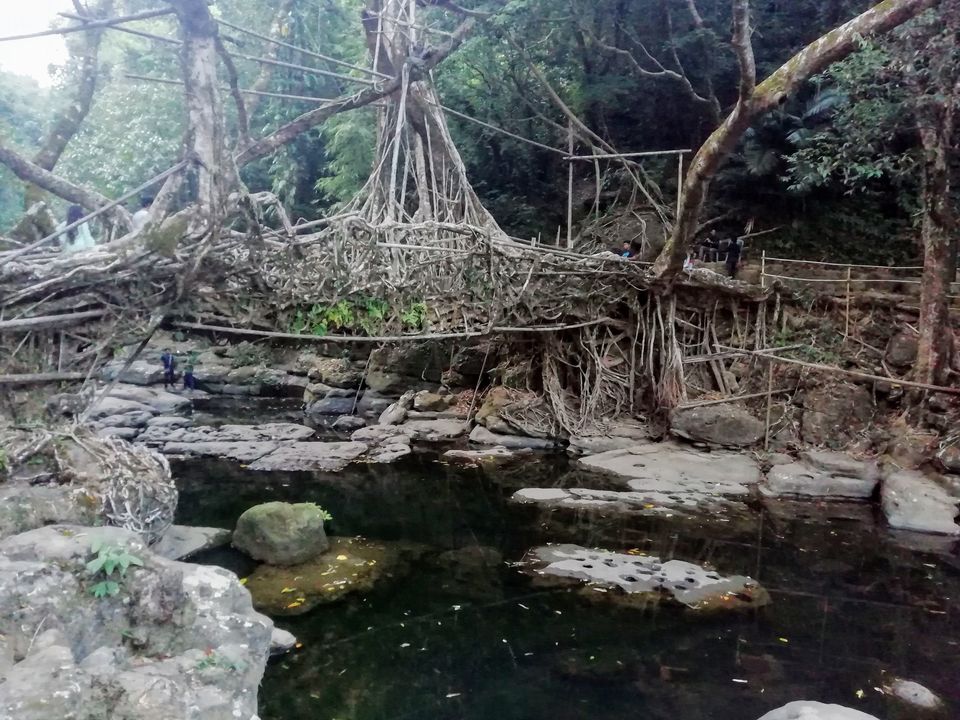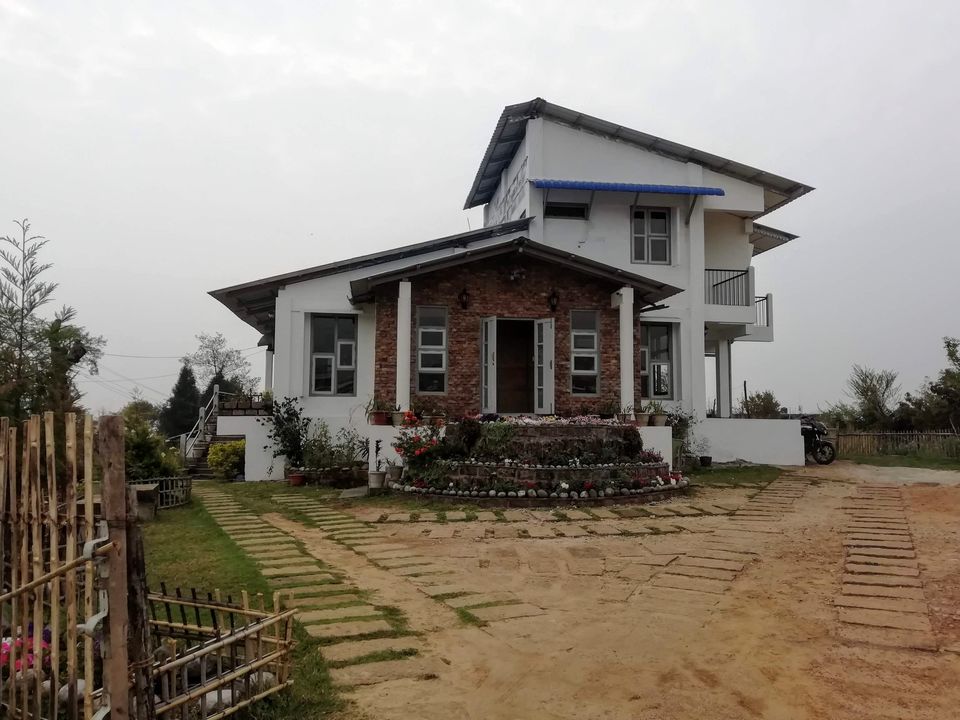 Everything was set for the hardest day of this trip. Had to start early in the morning so that we could finish up the Double Decker Bridge and Rainbow Waterfalls trek in a single day. There were good 3000 unalike steps, just to reach Double Decker alone. The bridge looked as beautiful as it could, surrounded with water both the sides. There were two natural water pools with spa fishes. We sat there for a good amount of time with our bare feet inside the water pool for free fish spa amidst nature. With sudden realization that we had just one day to finish this trek, we ran towards Rainbow Waterfalls. There were many beautiful bridges (not root bridges) we crossed till we reached the waterfall. Our jaws dropped when we saw the astonishing waterfall after such a tough trek. We kept gazing the blue water and rainbow on the waterfall for long; couldn't stop ourselves to capture as many pictures as we could. Now, we wanted to feel that water, have a closer look but it wasn't easy either. As they say, good things take a lot of hard work, we had to actually climb rocks (BIG rocks) to get down there; there was no other way to go down there. Water was crystal clear till 4-5 feet length from land and it was all blue after that. It felt utmost relaxing. I recommend you not to go beyond the clear water as it deepens down exponentially and goes as deep as 60 feet within the length of next 15 feet. Like every other thing, the good day had come to an end. Moreover, it was scary to even imagine that we had to climb all the way back. Somehow, falling and rising, we made it back to the top. It was already dark, and we were now on our way back to Shillong.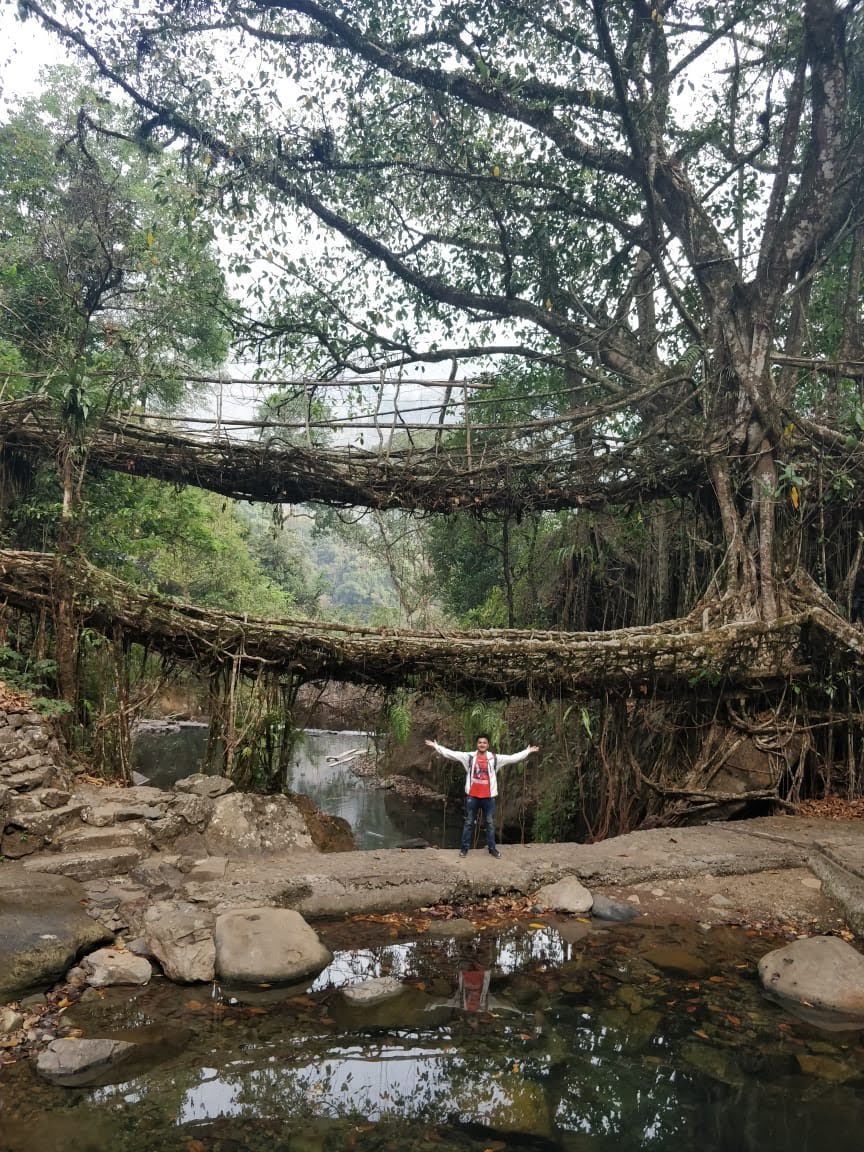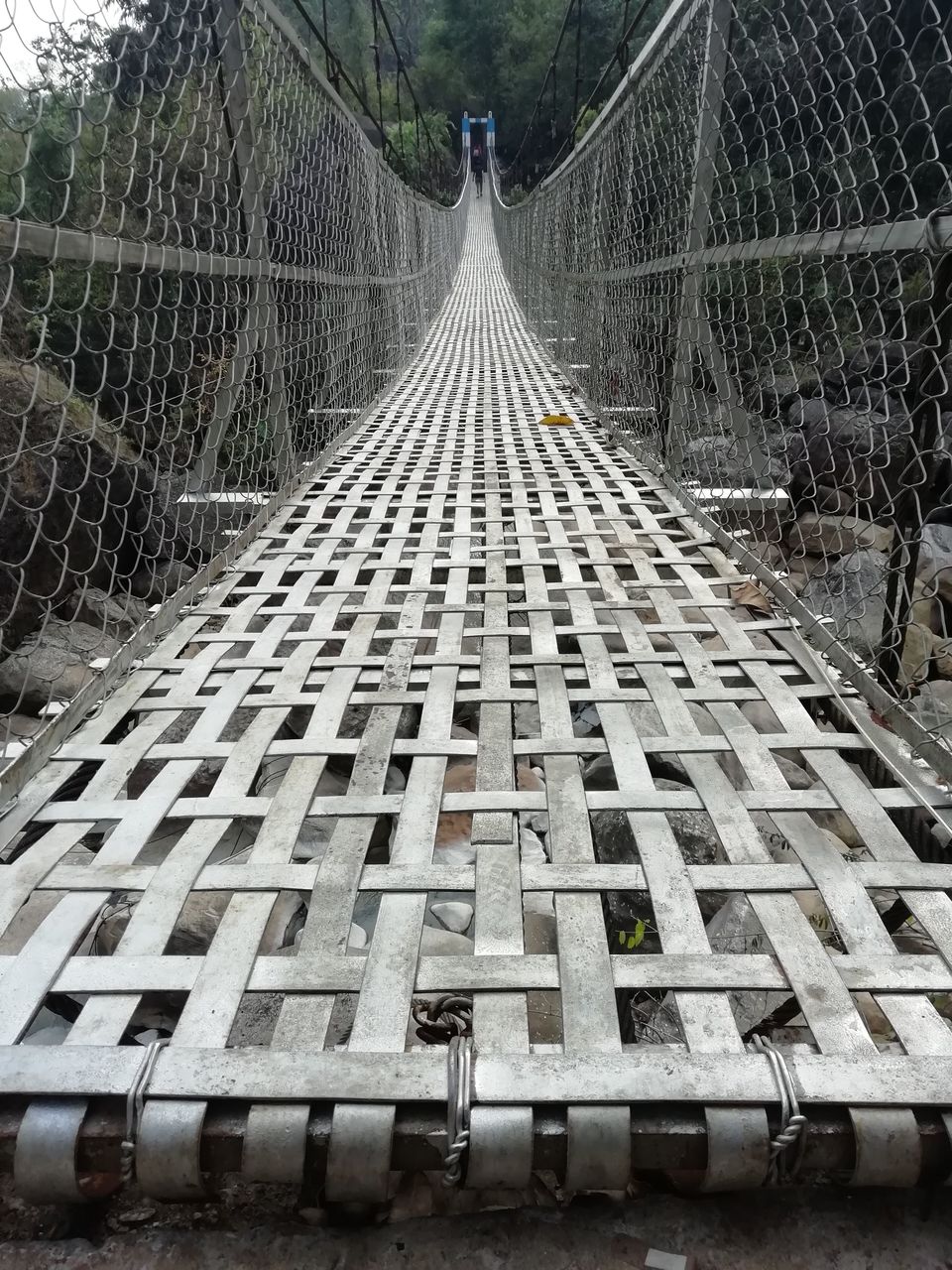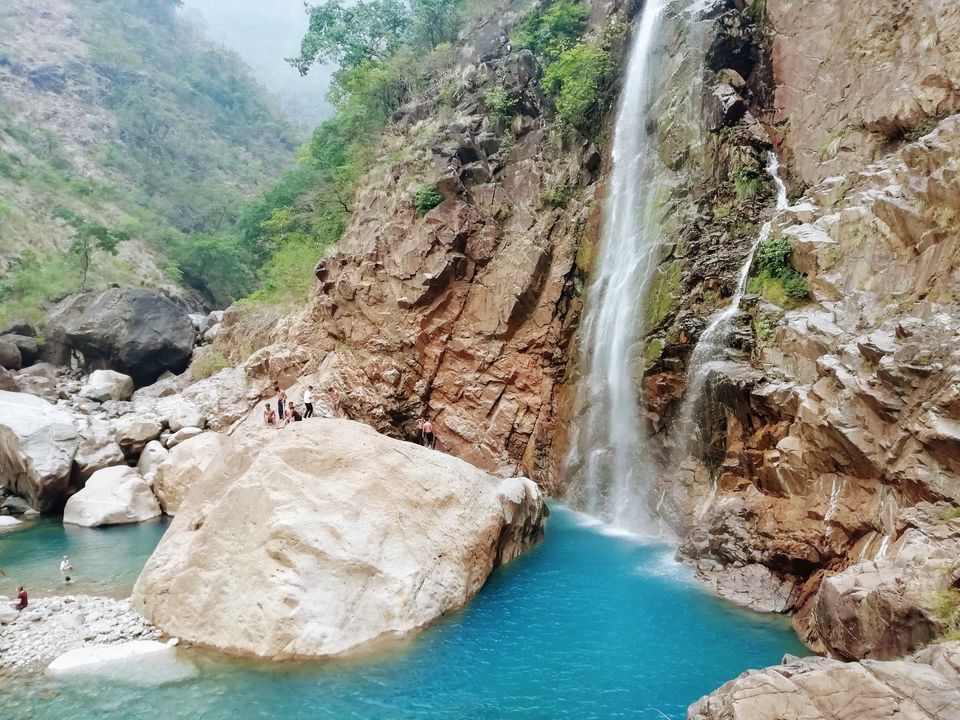 By the end of trip, we got some spiritual and cultural vibes enlightened among us. We skipped Shillong Peak and other local sightseeing to make way for Kamakhya Devi Temple and Assam Cultural Museum. If museums interest you, this was the place. It had a detailed insight about Assamese culture and history.
After that, we went to mark last item of this trip's checklist, the temple. But seemed like the trip didn't want to end. Even after waiting for 5 and half hours in queue and being as close as 10 minutes to get into the sanctuary, we had to jump out of the queue to catch our flight. Unfortunately, we missed it too and took a flight back next day. But hey, as Abhishek Upmanyu said in one of his stand ups, 'Yahi baatein to baad me yaad aayengi'.