When you trek, you become a wiser traveler. Not necessarily the intellectual who is adept with picking up dialects, or the nomad who sleeps out of a backpack or the quick-wit who lands the best bargains! It is common sense, intuition and practicality that get honed and sharpened with trekking. Or so I thought till I decided to visit the Rainbow Falls in Nongriat on a whim. Trekking endows you with maddening impulse and determination. My resolve to visit the Rainbow falls in faraway Nongriat had gotten in intertwined in a similar rollercoaster of adrenaline, fear, anticipation, confusion!
I was in Shillong for work. I had to interview people for a book. I managed to save the last three days to explore the city and spend time in solitude. But that's when a colleague told me about Nongriat.
"It's a tropical paradise on earth. There are flowers, butterflies and clear blue water. You can see right through the blue, into the deep abyss. And there's no one. It's safe."
"And how do I get there from Shillong?"
"Take a shared jeep to Cherrapunjee. The locals call it Sohra. There you stay at By-The-Way Hostel. The owner will guide you to Nongriat."
"Give me his number."
"He doesn't use a phone. Just go."
Common sense was thrown out of the window when I decided to trek in floaters. It was a two day trek and I did not have any booking. Neither did I speak the local language. Intuition told me to take the plunge. My watch read 16:00 hours. The Shillong sun was ready to set and the last jeep would leave for Sohra by 17:00 hours. I had no time. I rushed to the jeep stand.
God, get me the jeep.
Cramped with ten travellers in one jeep my next worry was overnight accommodation at Sohra.
God, get me a decent room.
The jeep dropped me at the hostel. I got an empty room. I ate and slept peacefully. I asked the owner about Rainbow Falls.
"You go to Mawsmai by bus. From there you walk to Nongriat Double Decker Root Bridge. There you stay in guest house. Next day you trek to Rainbow Fall. Carry clothes. You will swim."
"Is it safe?"
"This is not Mumbai. My friend go to Mumbai, he get killed."
I took the bus to Mawsmai. It dropped me on a road with three shops on one side, mountains on the other.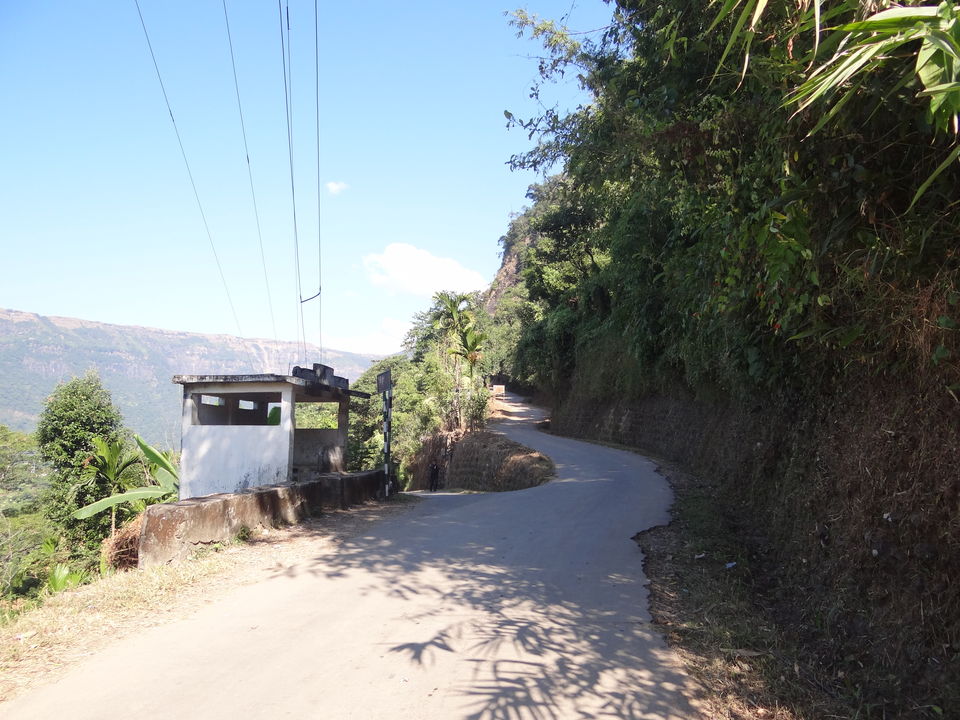 The road split into two. I asked a woman in the shop,
"Nongriat, Nongriat?"
A pre-teen brother and sister approached me. The girl held my hand and smiled.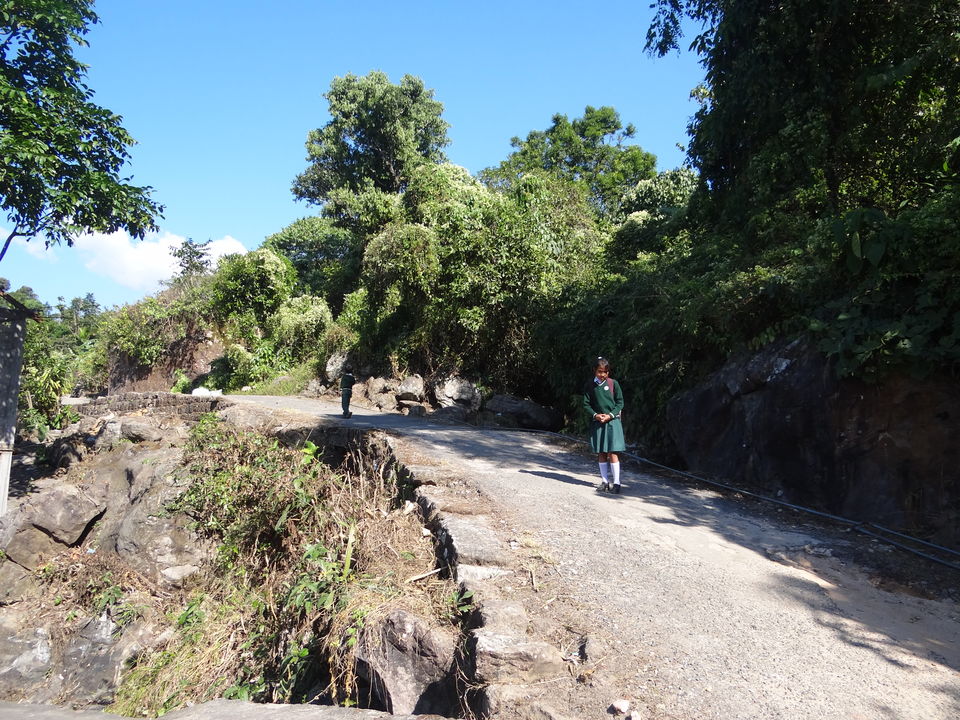 "We go there", she said shyly.
They walked with me till a few houses appeared alongside the road. She told me to go straight. Follow the road. My stomach sunk. Don't leave me, I wanted to plead!
I walked till I reached another village. Small homes nestled in green trees with flowers and butterflies!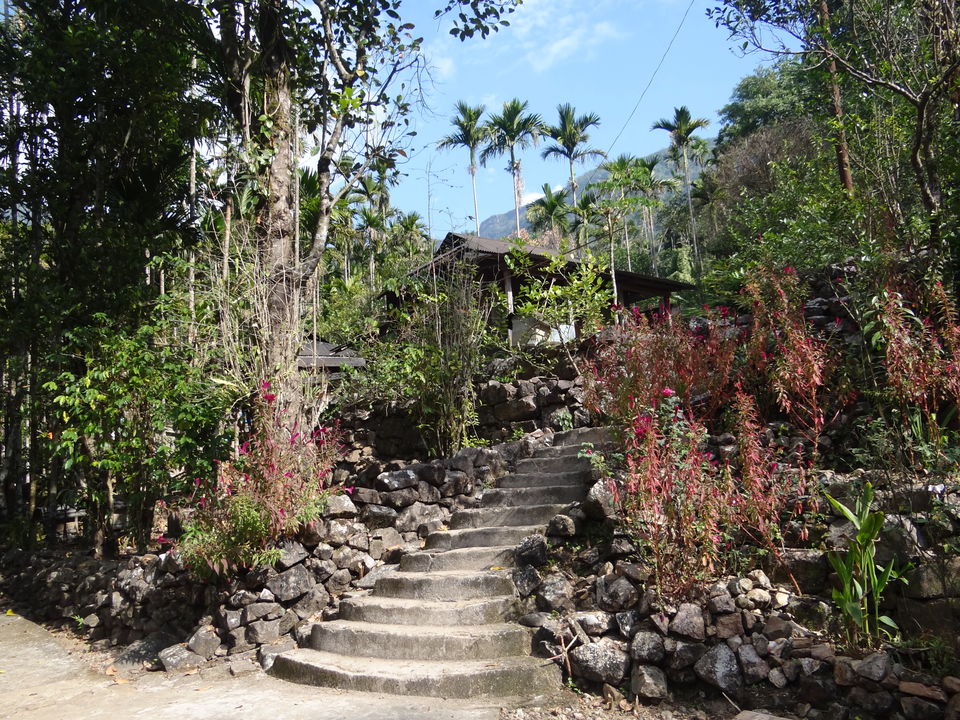 I thought I reached! I asked a lady in a shop for Nongriat Double Decker Root Bridge. She said,
"You go down the steps. Keep going. Three hours from here."
I decided to eat before I set out to walk again. Post pork and rice brunch it was time to do some serious walking. There are three thousand steps that one descends to reach Nongriat. With every step I reminded myself,
"You've gotta climb all the way back on return."
There were a few uphill climbs and some flat roads.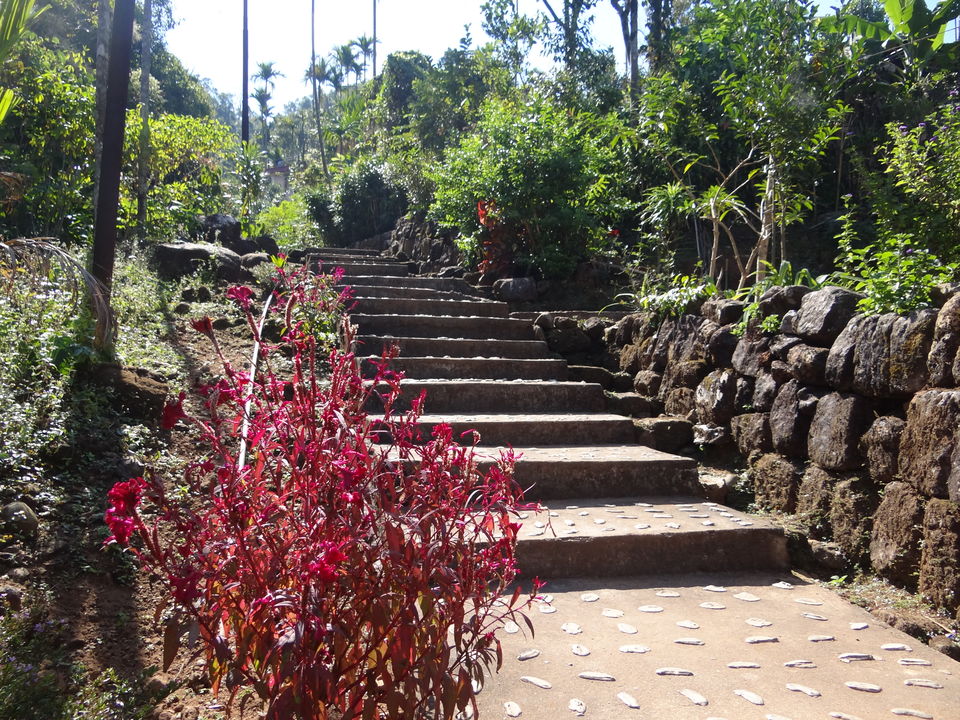 But mostly beautiful landscapes, trees, flowers, dogs and butterflies!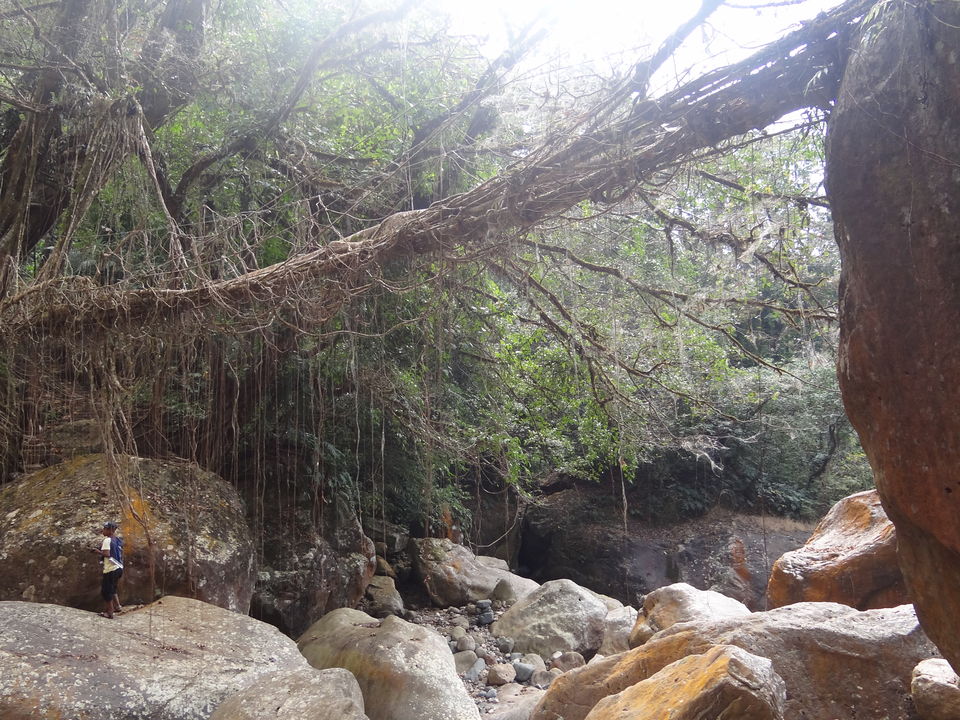 The Long Root bridge is enroute Nongriat. Do not miss it!
The downhill trek curves and sprawls to reveal stunning imagery and some surprises. One such surprise was the cable bridge. It was a thin and long bridge made of steel cable. Some cables had snapped. The bridge trembled as the wind blew.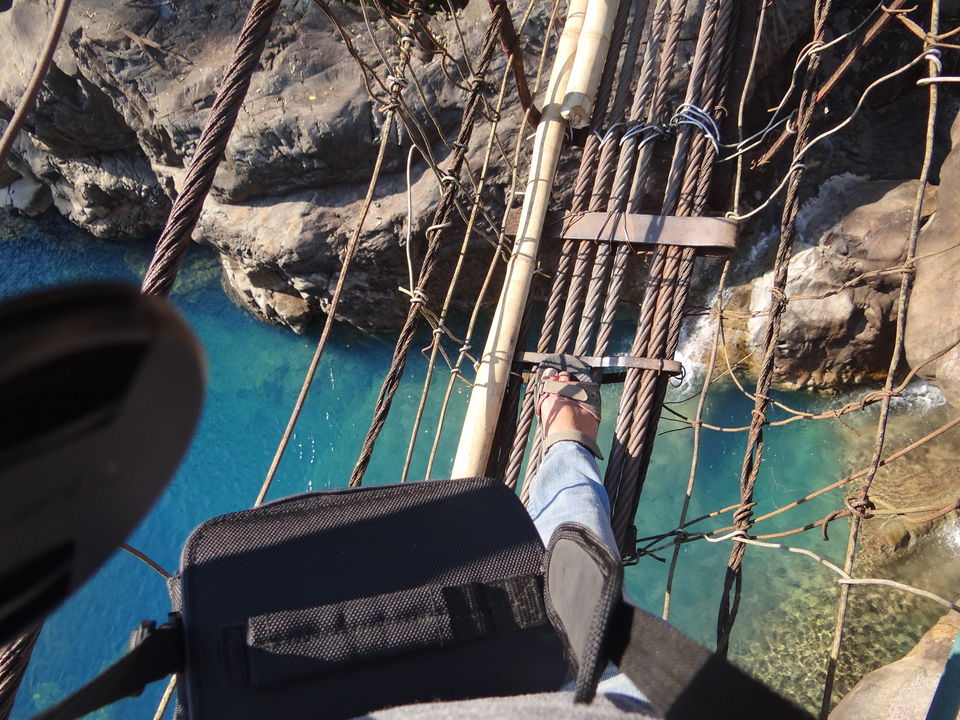 Below were the brightest blue waters I had ever seen in my life! I set foot on the bridge.
"Hmmm. If I fall into the water I may hit the stones but I will not fracture any bones. But how will I climb back up."
I luckily reached the end of the bridge before I could finish that thought! Post half an hour of descends, ascends and a few more cable bridges; I reached the double decker root bridge and my guest house! The owner Byron, had room for me! Next morning I woke up around 5:00 Hours, finished breakfast and geared towards the Rainbow Falls. Byron told me,
"The trail is marked. Follow it. There is a little uphill climbing, but not much."
He packed boiled eggs for me. By this time, my calves were in mild pain owing to the previous day descend in floaters. But I shunned all thoughts of pain, and decided to carry on.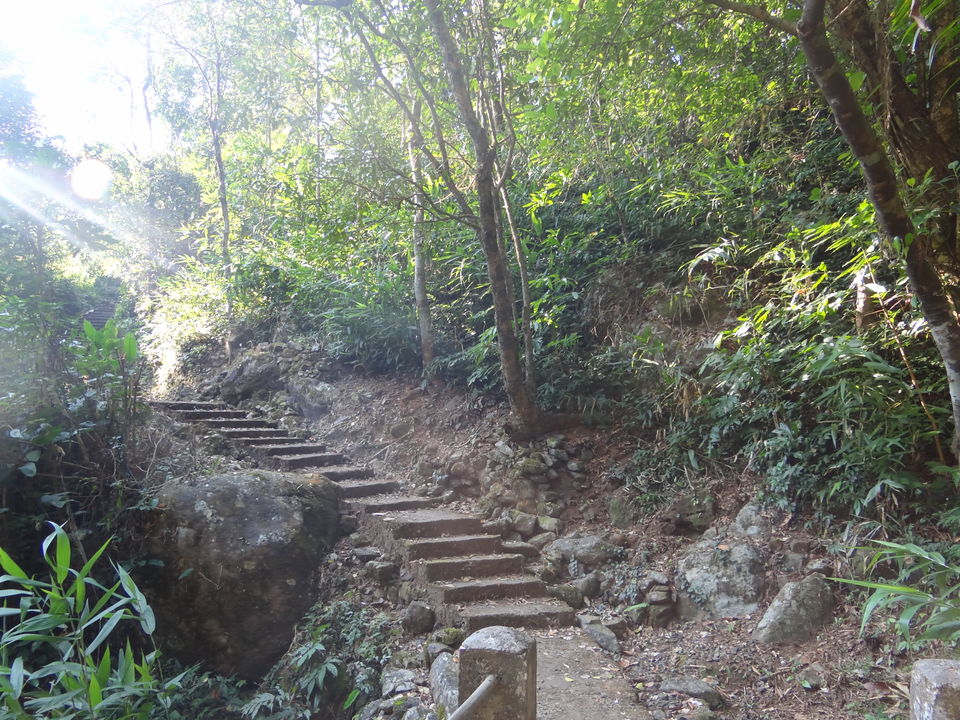 The trail was even prettier than the previous day. You could hear gushing waters, see spiders spin webs and insects. And there was yet another cable bridge. The longest yet flimsiest! I held my breath and walked. But then I saw my reflection against a huge rock.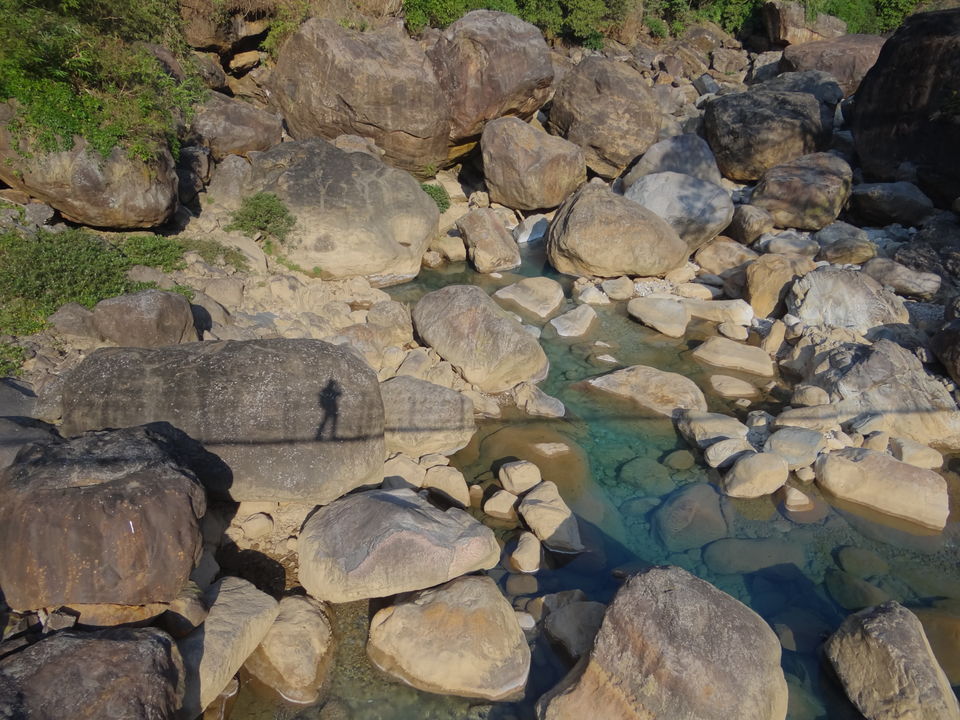 A tiny me, a flimsy bridge and Mighty Mother Nature!
It's not often that you gain such humble yet lofty perspectives on life!
Despite the wavering bridge I clicked away at my reflection.
Here's the thing about the Rainbow falls trek. There are many junctures where you feel like you have reached a dead end. Or you will see no path ahead of you. The trail would turn to nowhere. The trick however, is to keep going. Walk. Look up. Crane your neck and you will see the onward road. I was all by myself. I felt lost and scared at times. On the trail, you pass a huge overhead rock. It was cantilevered onto the trail and looked down on me, casting a cold dark shadow. You hear water falling over the rocks. Its mighty force ready to unleash unannounced! It was scary to pass the rock, so I ran as fast as I could and did not turn back even once! And I walked some more. Some more till I reached a narrow path. Flanked by mountains on one side and a cliff dropping onto a river on the other.
Don't think. Walk. You're there. Just walk!
And before I knew it, I was there! The tree cover got thinner and I saw white water fall from a pinnacle to hit a big boulder of rock. The mighty white gush of water quietened into blue tranquility.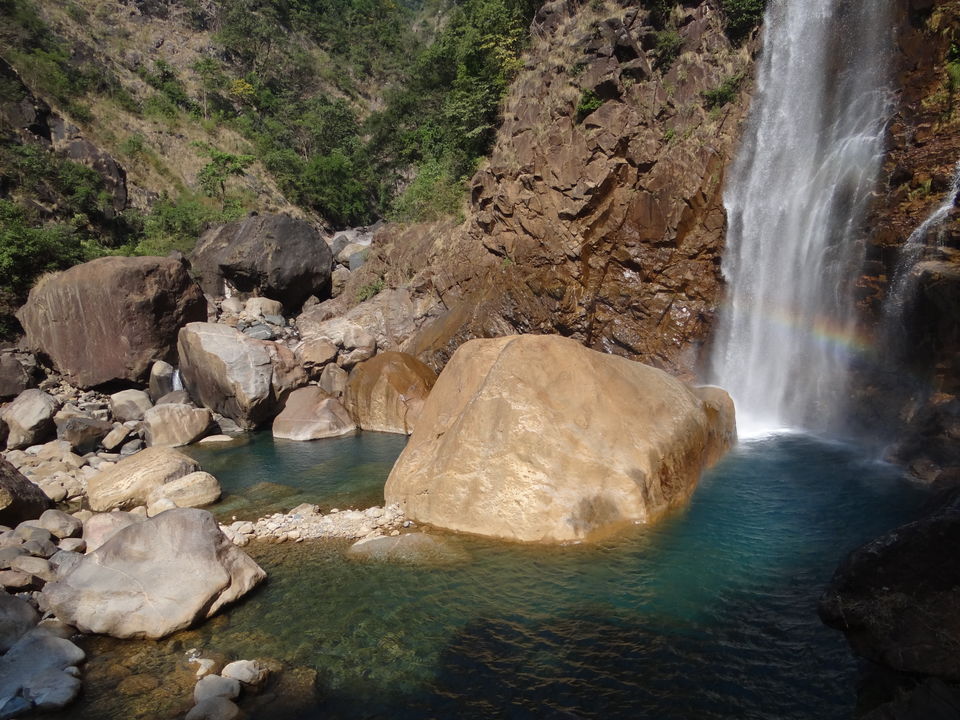 And then it hit me! The Rainbow! It was right there!
I sat there alone for an hour and I was joined by some Spanish men, a Swiss couple and an Indian family. We swam in the water, had lunch, napped and made merry! My muscles ached and groaned the next day. If I could, I would do it all over again. But I learnt my lesson,
Carry those trekking shoes everywhere! They are your truest best-est friends!