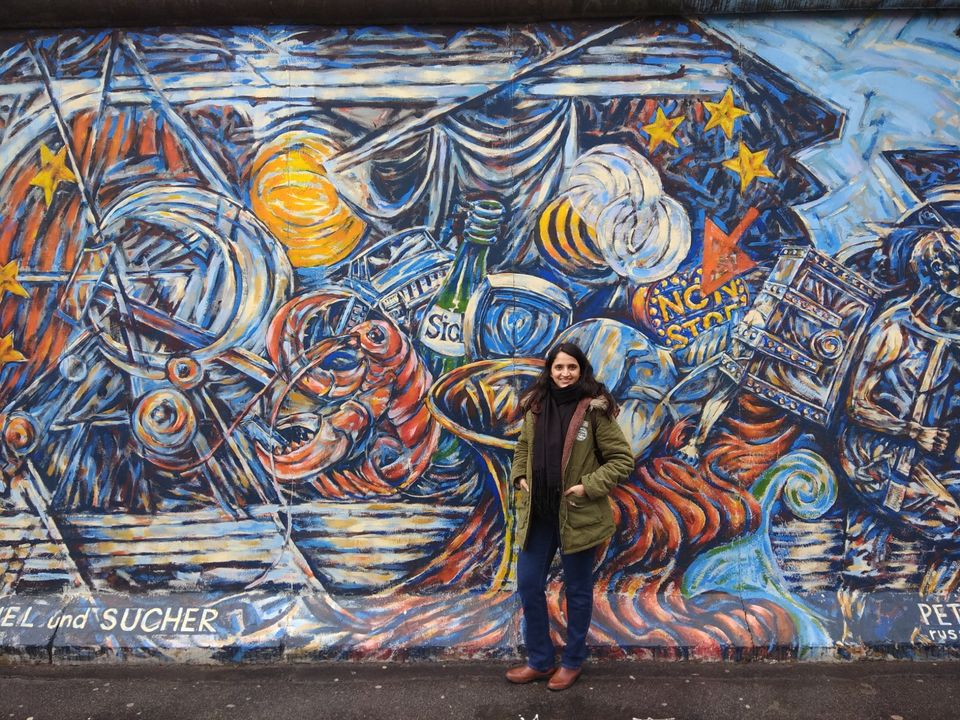 We landed in Munich in the morning and checked into our hostel. Our first stop was Dachau Concentration Camp Memorial. The entrance is free but the audio guides are for €5 each.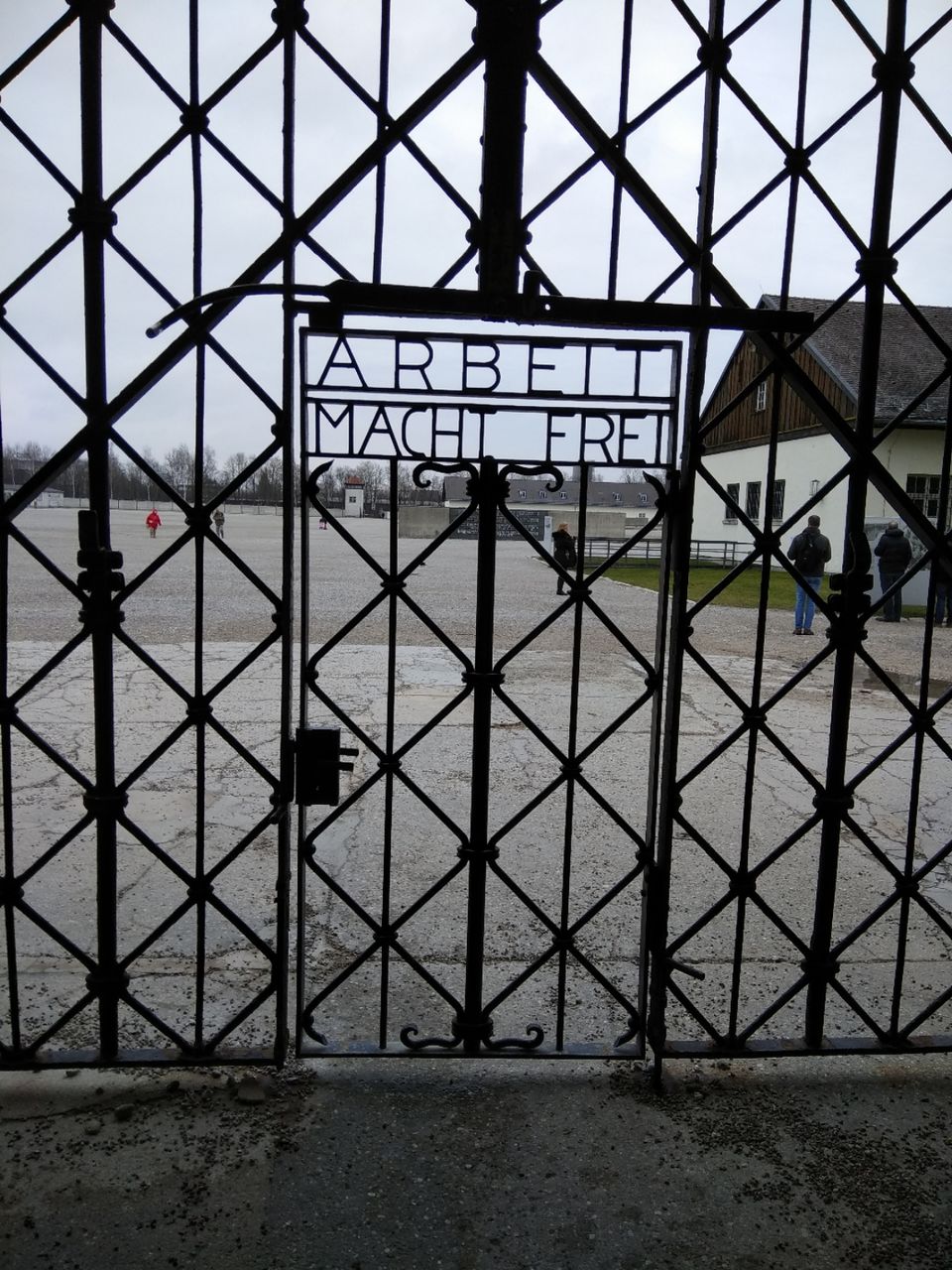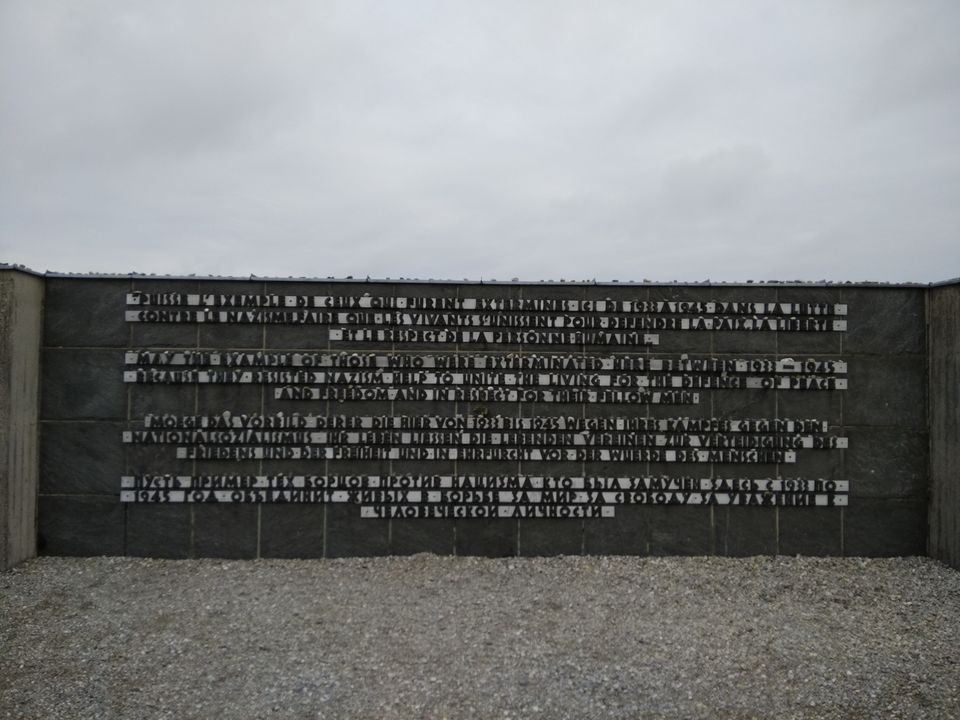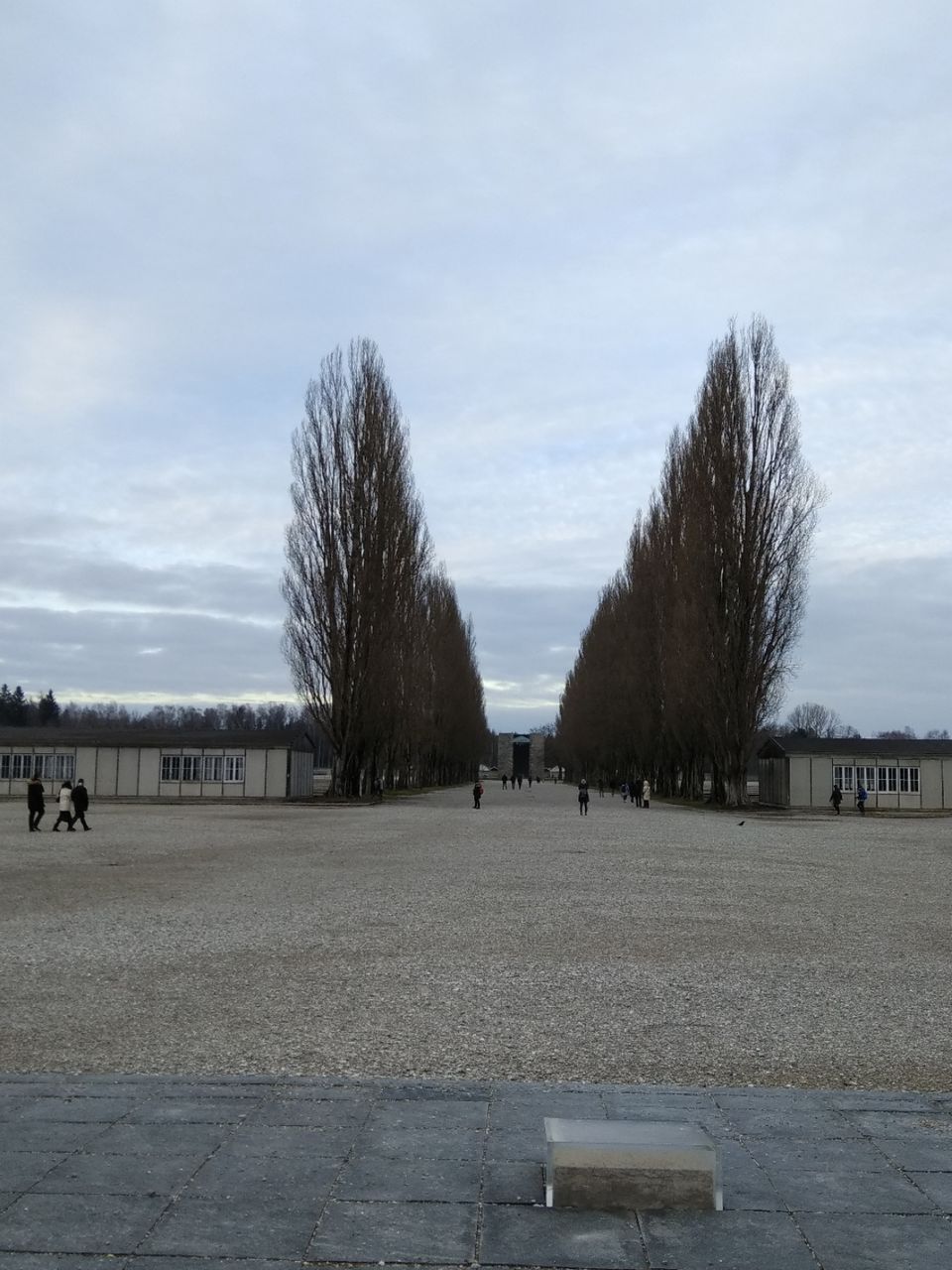 It took us about 3 hrs to go through the entire campsite. Later, we had a late lunch at the cafeteria located at the entrance of the memorial.
Next head to Marienplatz the central square of Munich. This is an area of landmark buildings in Munich. The facade you see overlooking Marienplatz with sculptures of kings and dragons is New Town Hall. Since I was there around Christmas time, I was lucky enough to see the entire area lit with beautiful lights and the Christmas market in the central square.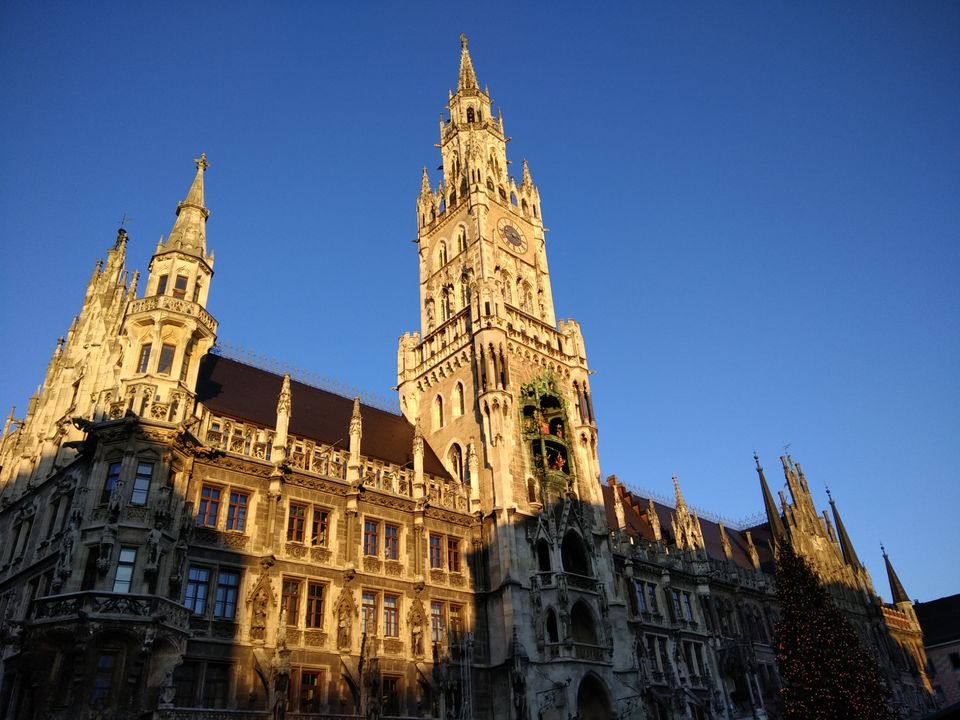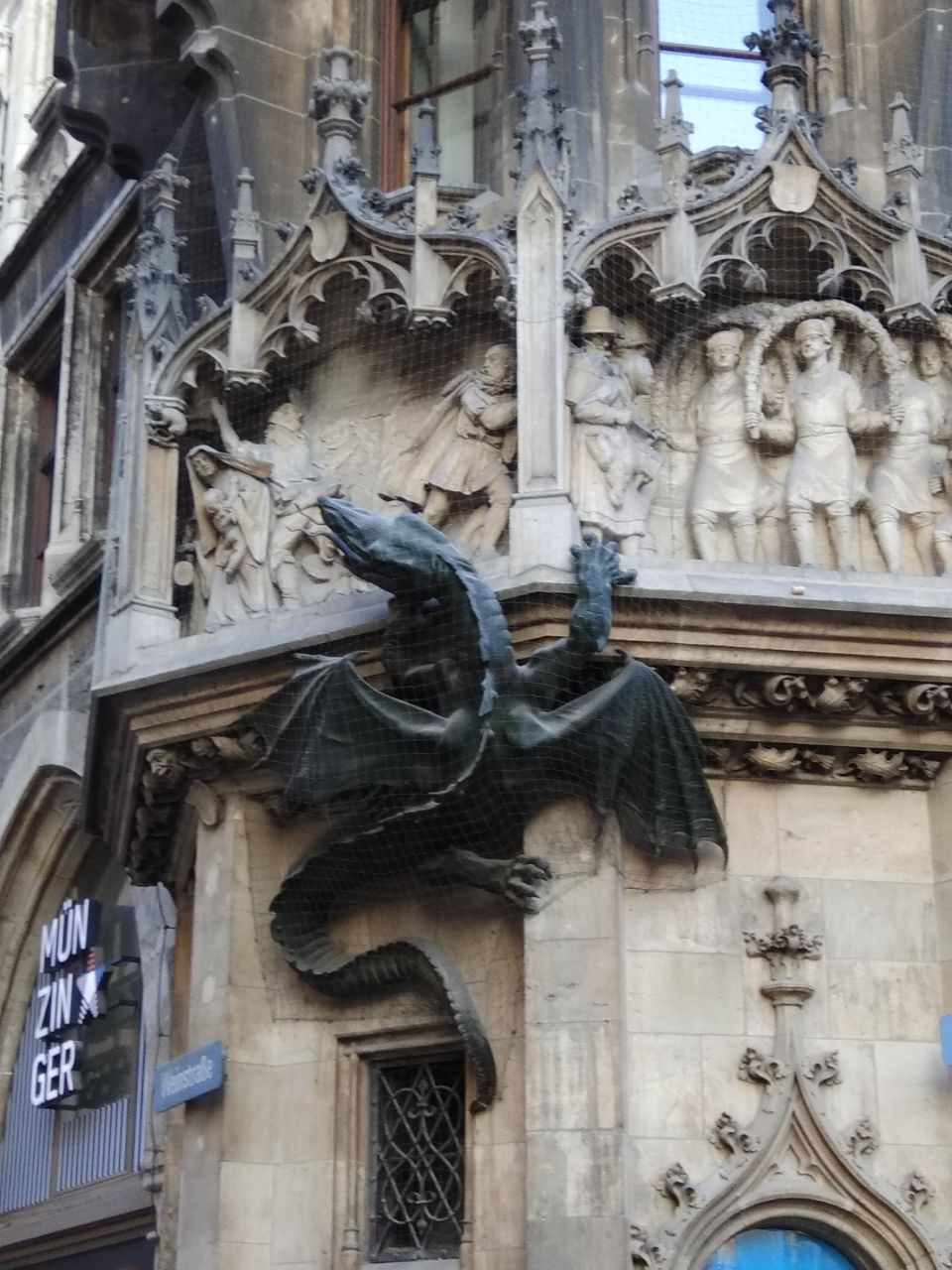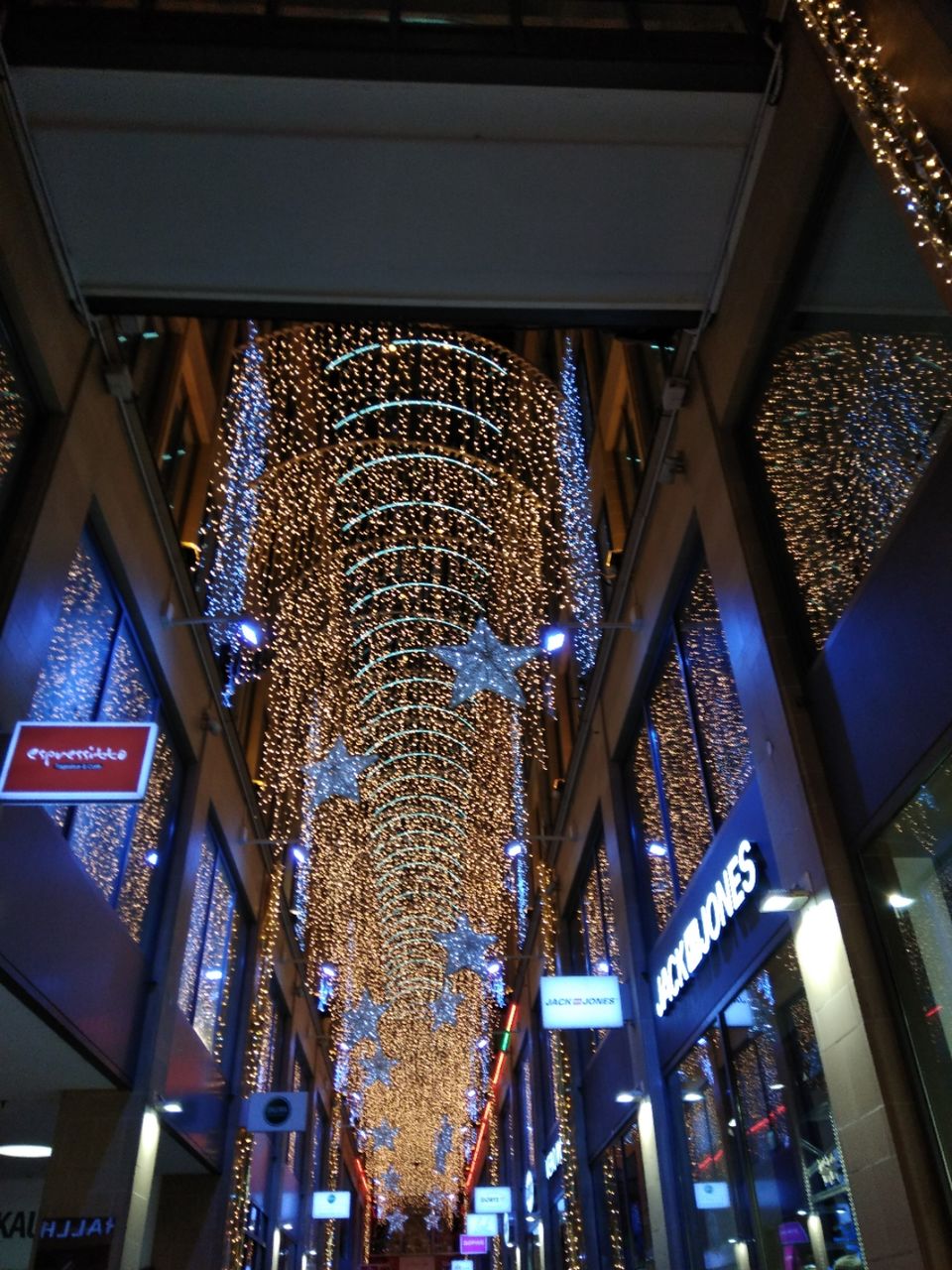 Head to Frauenkirche or The Cathedral Church of Our Lady to see its Gothic architecture and its twin Renaissance domes. There is a mythical footstep in the cathedral know as the Devils footprint. As the story goes, it's said that this Cathedral was actually built with the help of the Devil by telling the Devil that it would be a place of worship for the darkness. Later, when the devil found out that he was lied to, he stomped on the Cathedral floor, forever marking the floor with his footprint. Myth or Fact is for you to decide!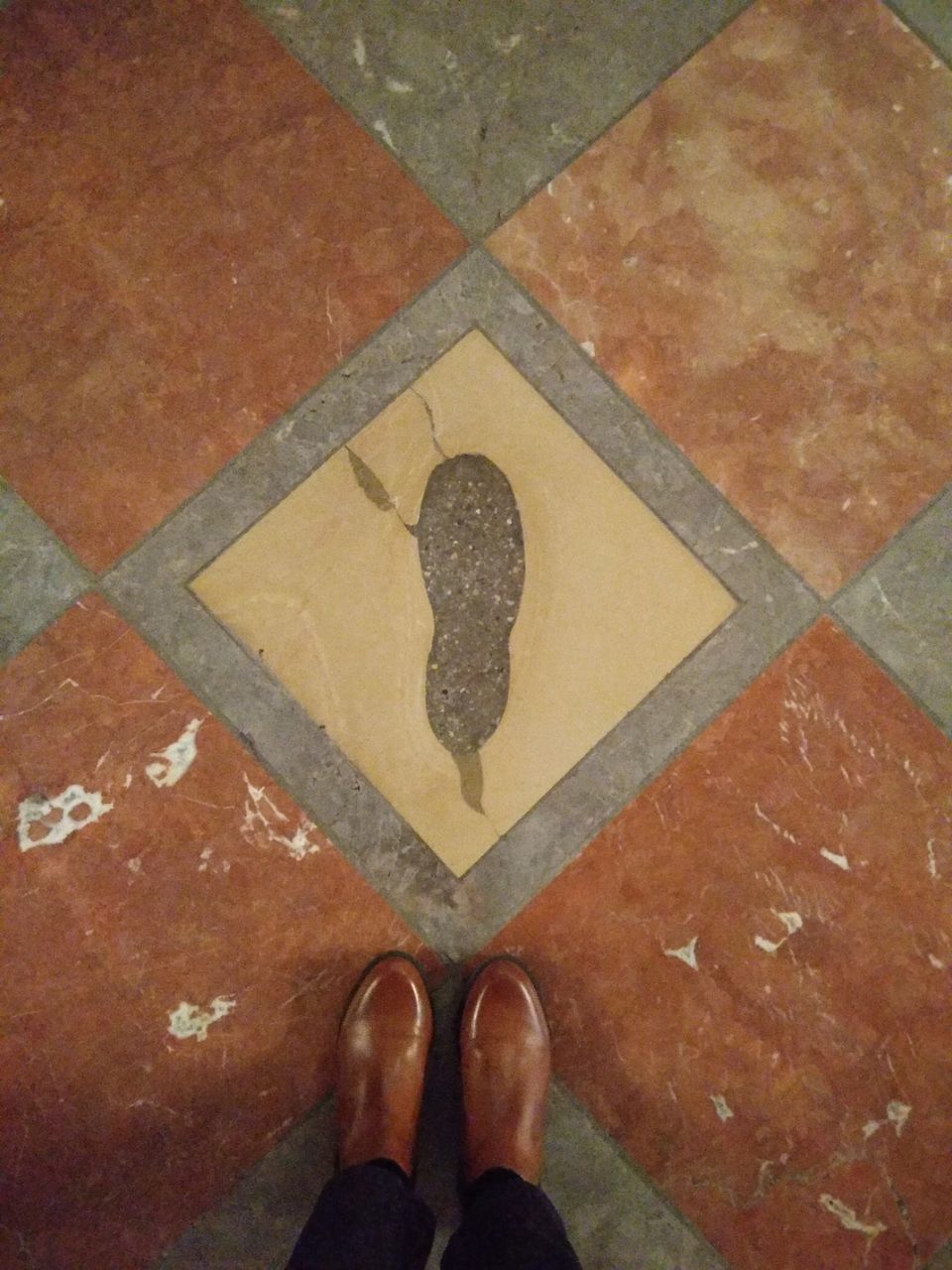 A visit to Germany is incomplete without having a meal at the famed Beer Halls. I would suggest visiting Hofbräuhaus, one of the most famous beer halls in Munich. Enjoy dinner at the beer hall and head back to your hostel for the night.
The next day we started by visiting the Munich Palace Residence which is one of the largest museum complexes in Bavaria. This Palace Residence consists of 3 parts - the Residence Museum itself, the Treasury and the Cuvilliés Theater. It took us about 4 hours to see all three.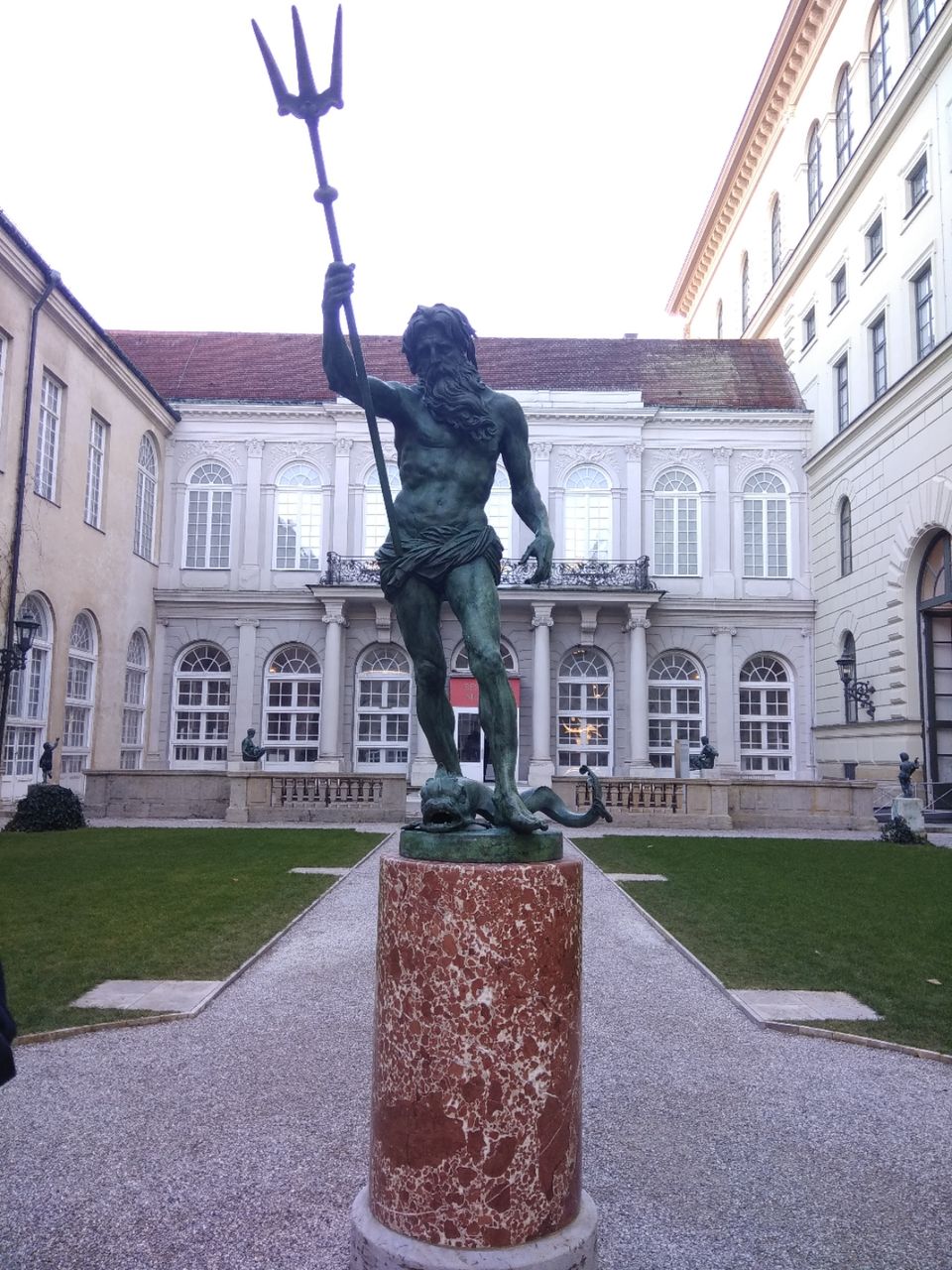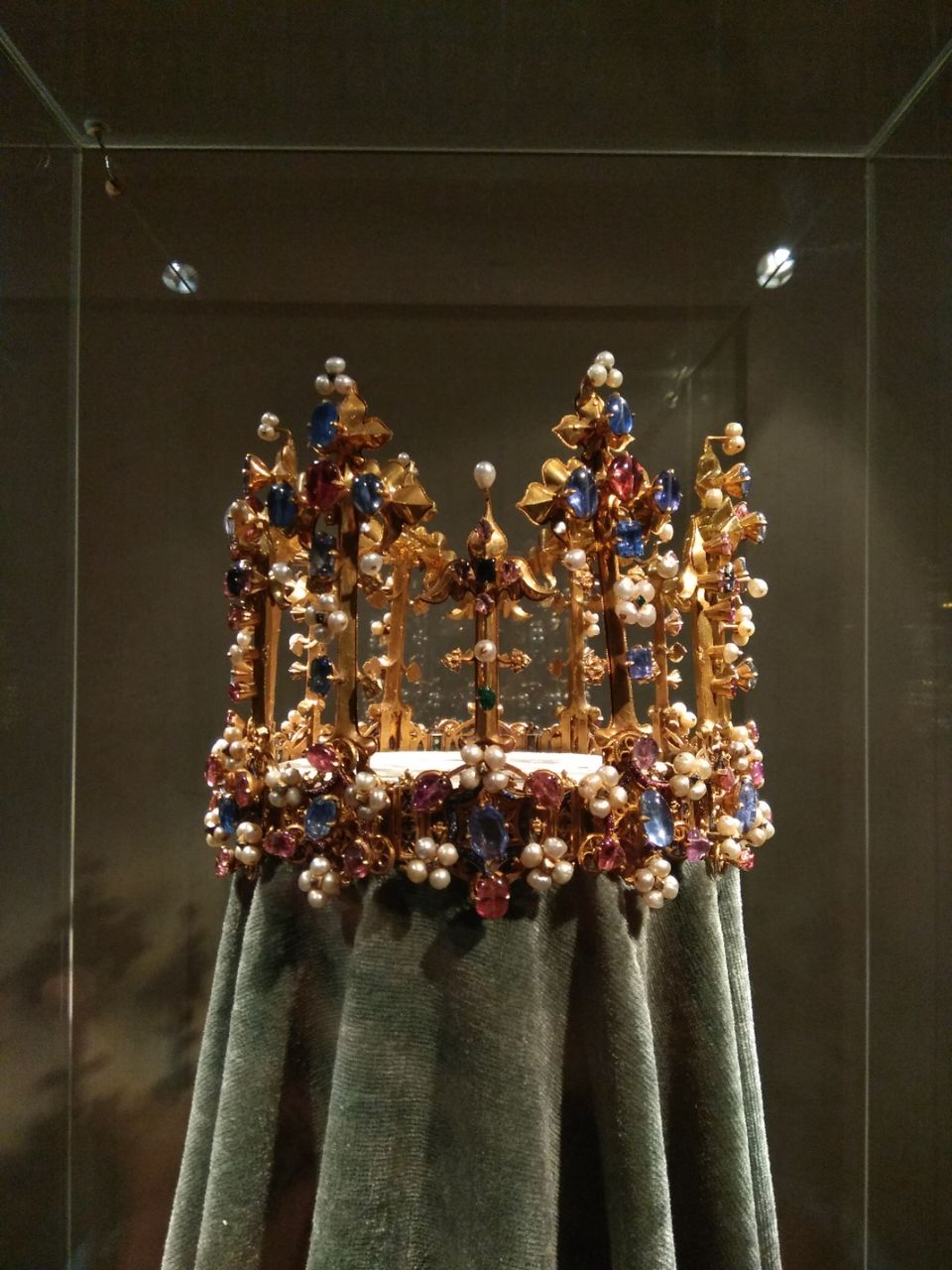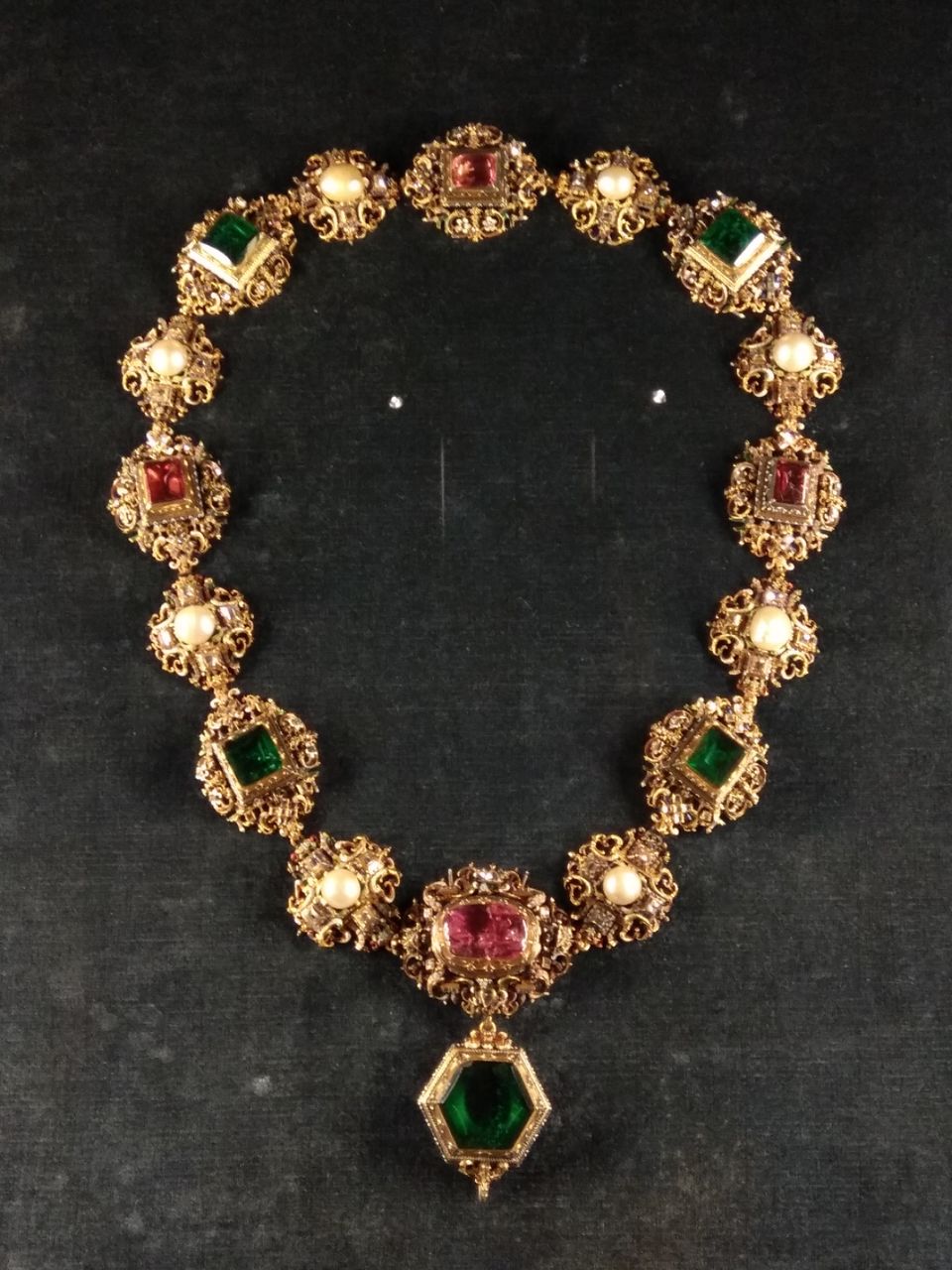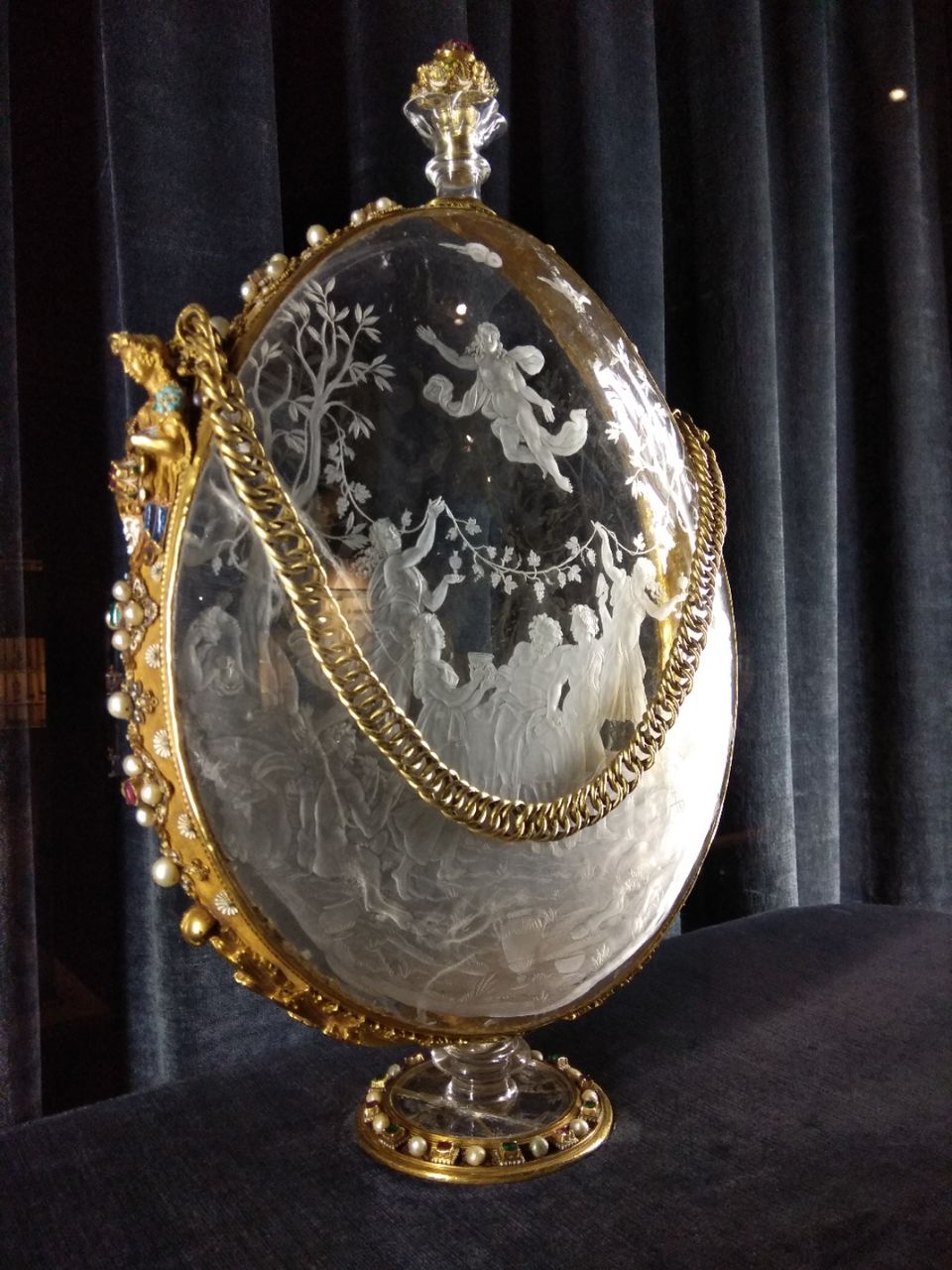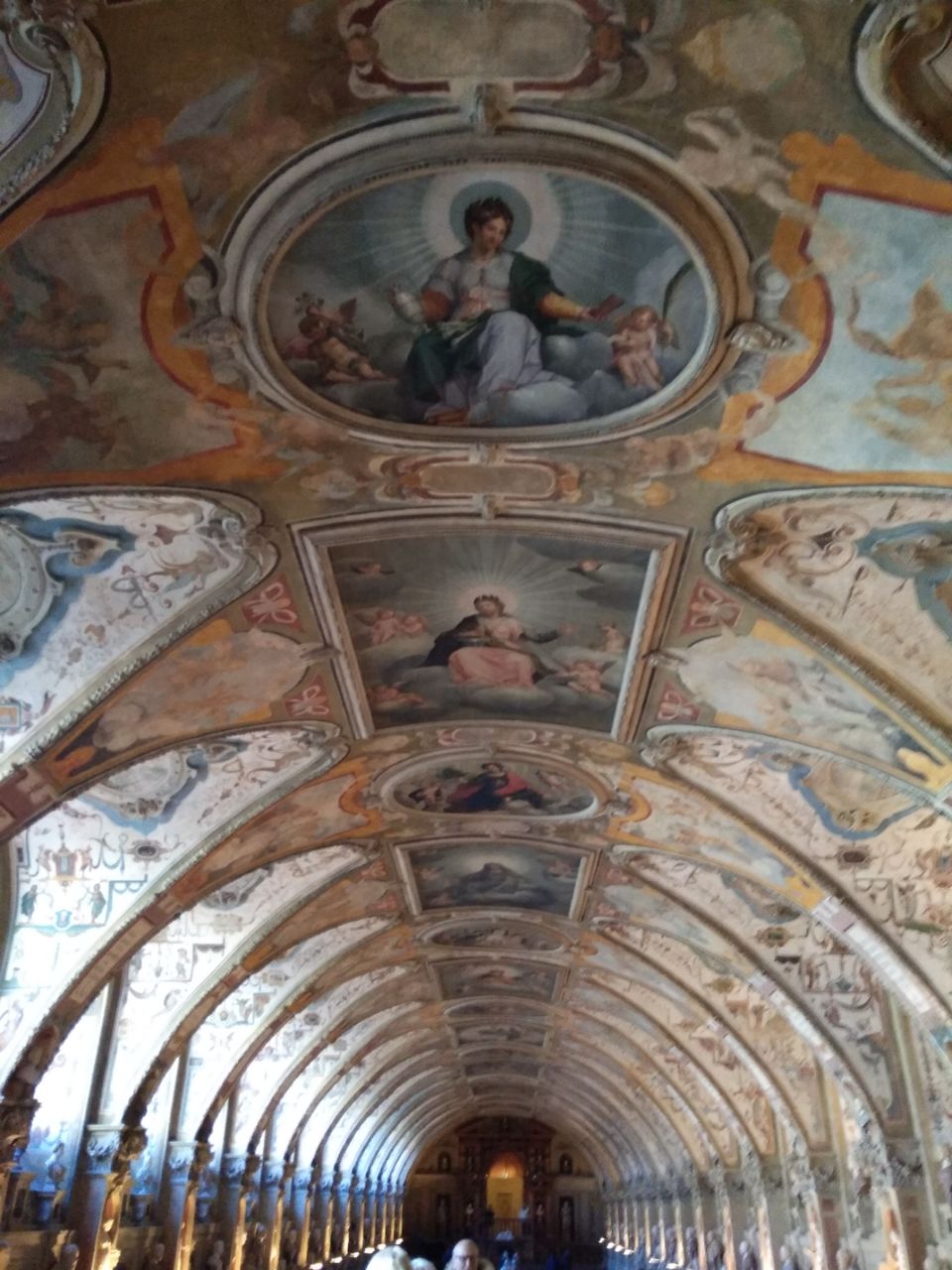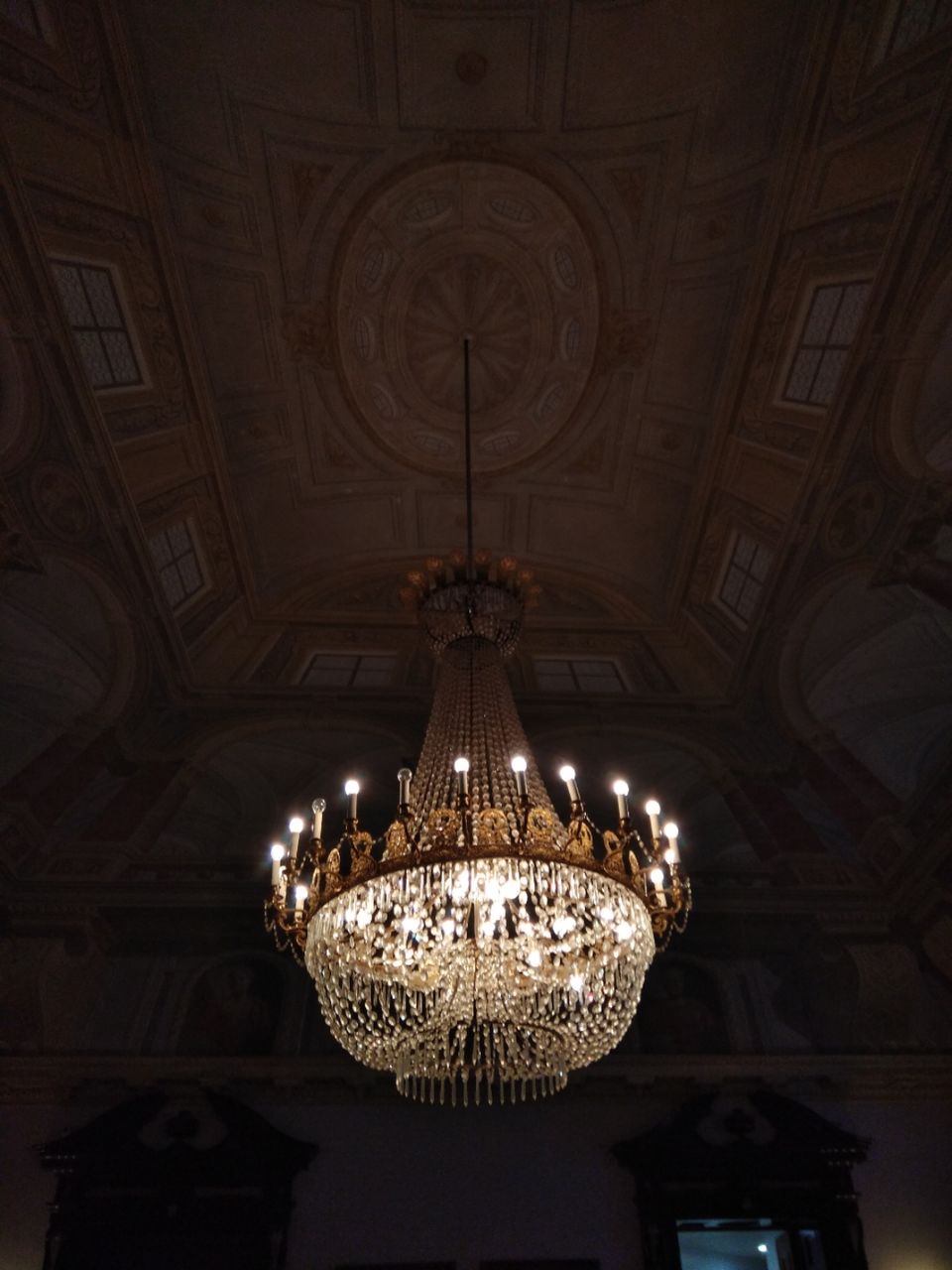 After a quick lunch at one of the local cafes we headed to see the BMW Museum. BMW offers a variety of experiences for auto enthusiasts here. Depending on the amount of time you have you can choose from the guided group tours of BMW welt meaning 'world' (BMW welt building is right opposite the museum) or to just visit the permanent and temporary exhibitions in the museum. A true auto enthusiast can spend days here doing all the tours! For me this really was a unique experience not to be missed!
After we had explored the museum, we had dinner at one of the many restaurants within the BMW complex.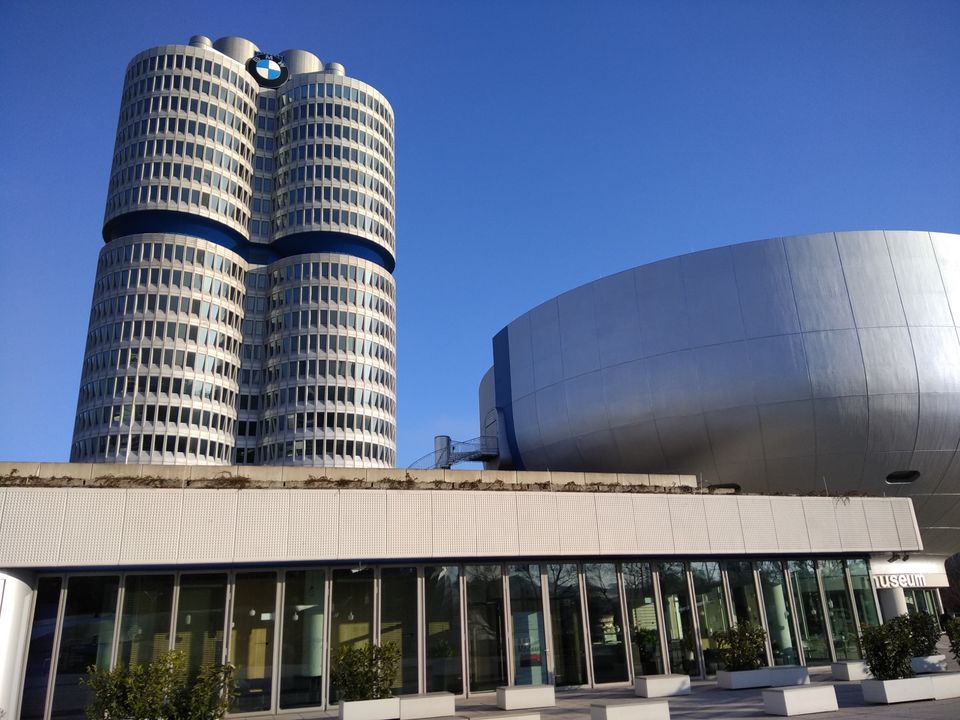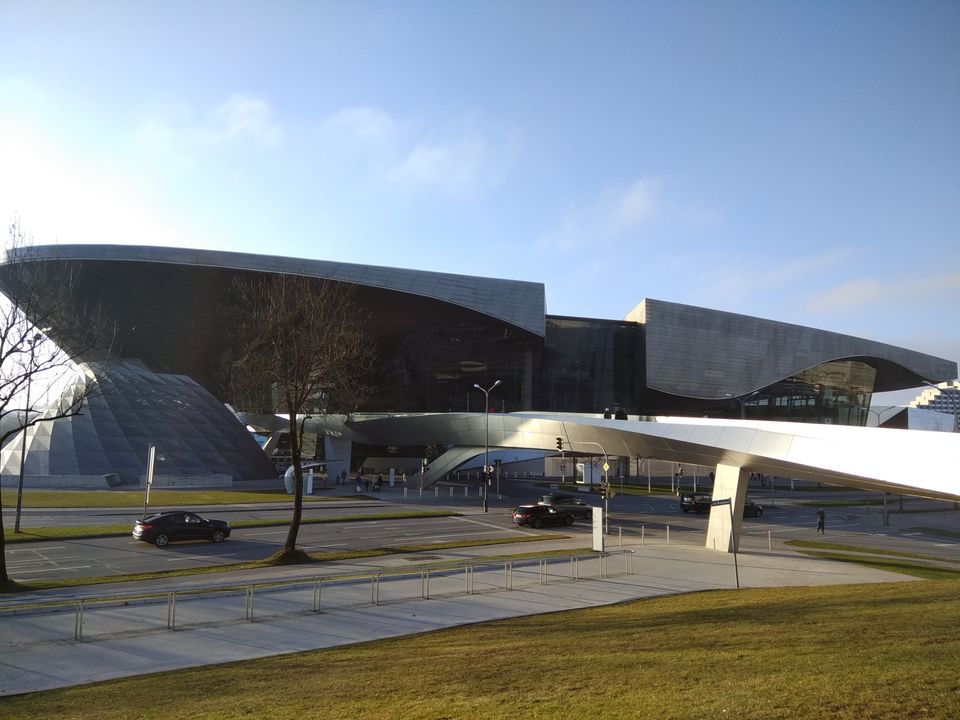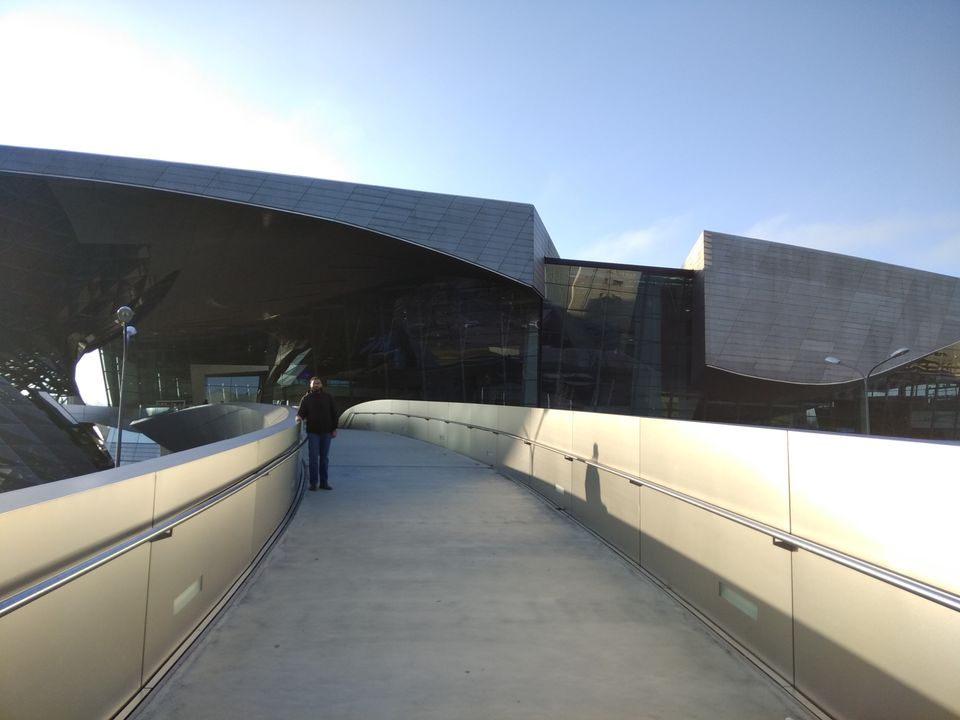 We then left by car for Füssen which is situated near Neuschwanstein Castle. Füssen is a small township about 2 hours drive away from Munich and we spent the night in a lovely BnB in Füssen village.
A 10 min drive away from our BnB in Füssen is Neuschwanstein Castle which is the so called inspiration for the Disney Castle.
I highly recommend booking your tickets in advance as the tickets get sold out very quickly during the peak tourist season or else you will have to stand in a long line for on the spot tickets. There's no guarantee you will get tickets for the same day even if you take the chance of standing in the long line. It's for good reason that this is one of the most visited castles in the world!
This complex is made up of 3 parts- the Neuschwanstein Castle, Hohenschwangau Castle and Bavarian Kings Museum. We decided to do Neuschwanstein Castle and the Museum only and skip Hohenschwangau castle.
Even if you have booked tickets online, you have to reach the ticket office at the bottom of the hill at least 45 minutes before your alloted time slot to collect the actual tickets. This is why it is better to stay the night before either in Füssen or Hohenschwangau so you can make it on time the next day.
After this you can either walk or take the horse driven carriage up the mountain. I personally preferred walking as the road is very well paved, it's not really a trek. You can also enjoy the view as you walk up. Even at a slow pace, you won't take more the 25-30 minutes to reach the top.
Want to explore Europe? Click here to book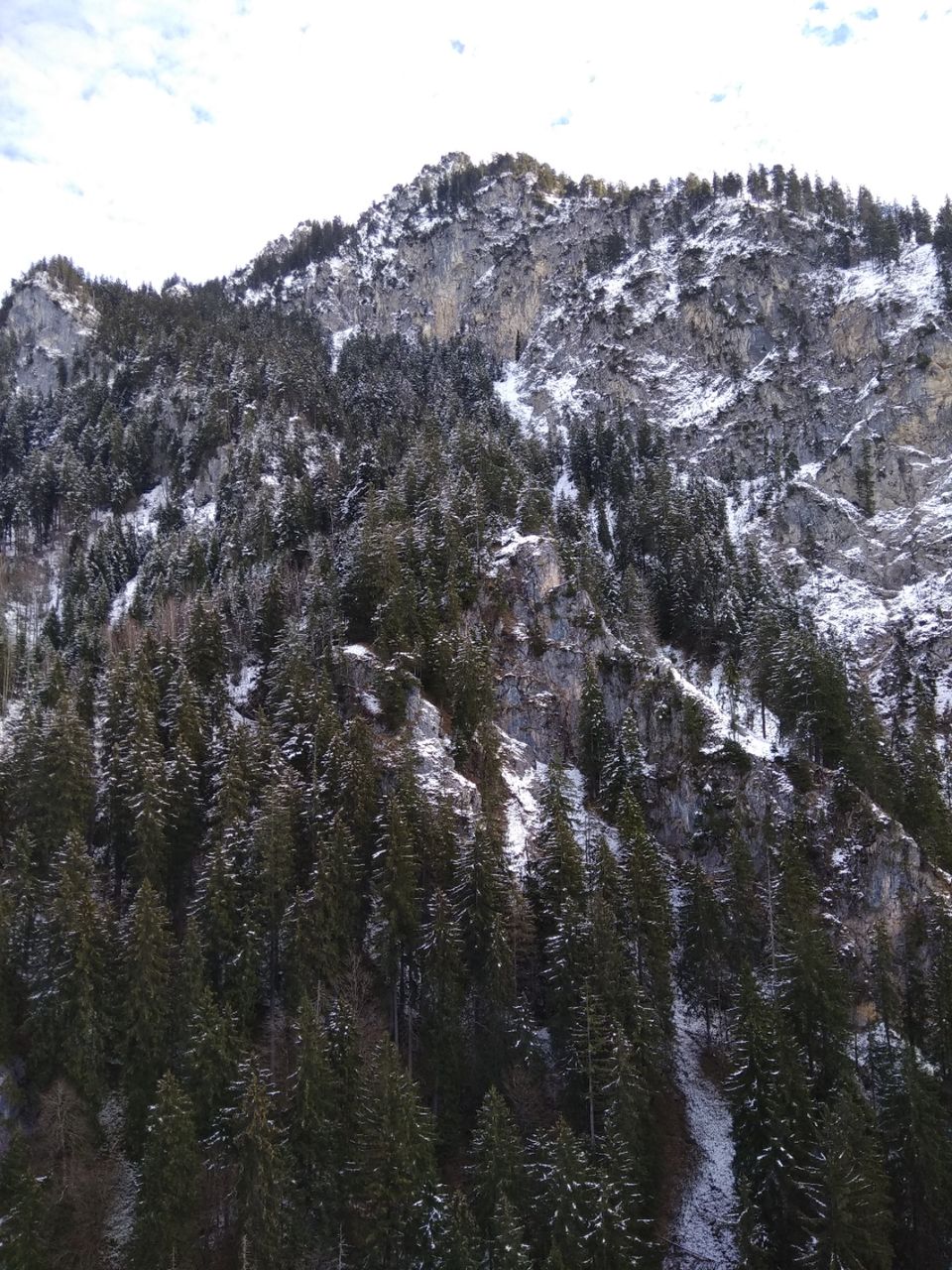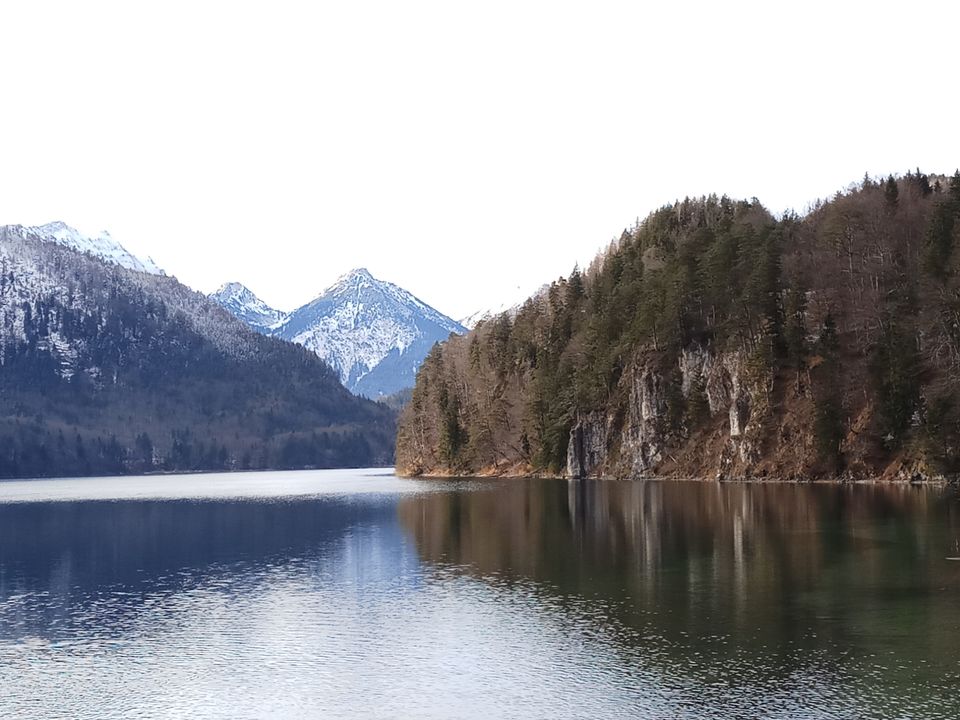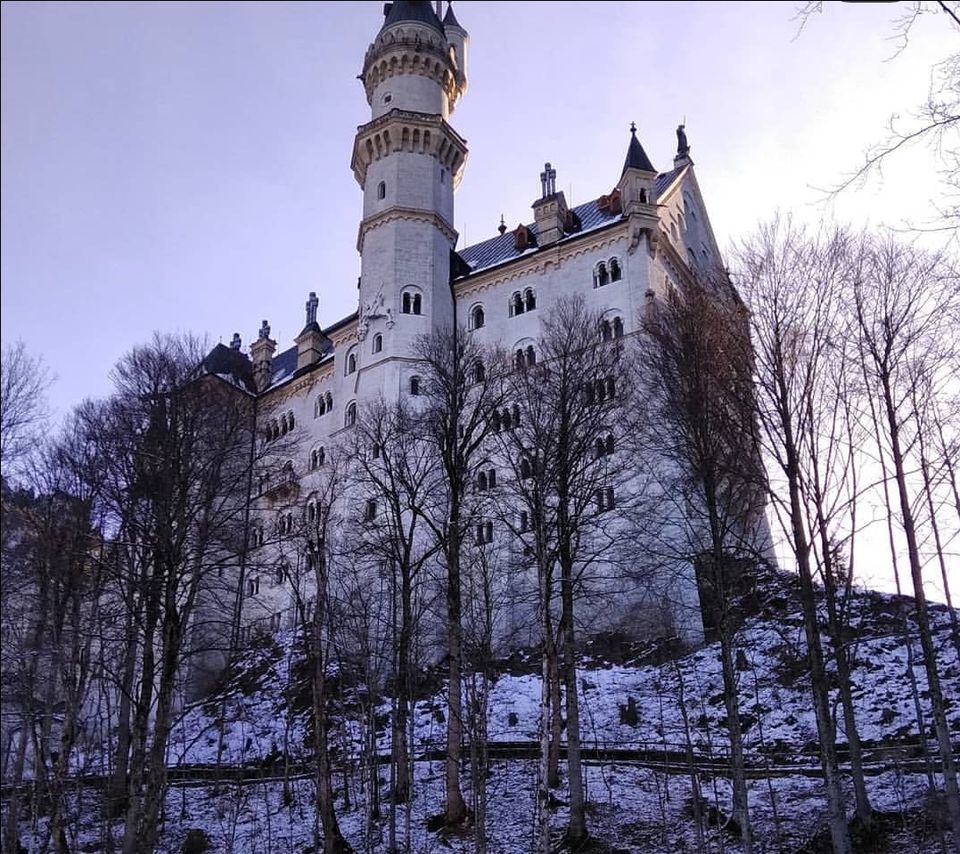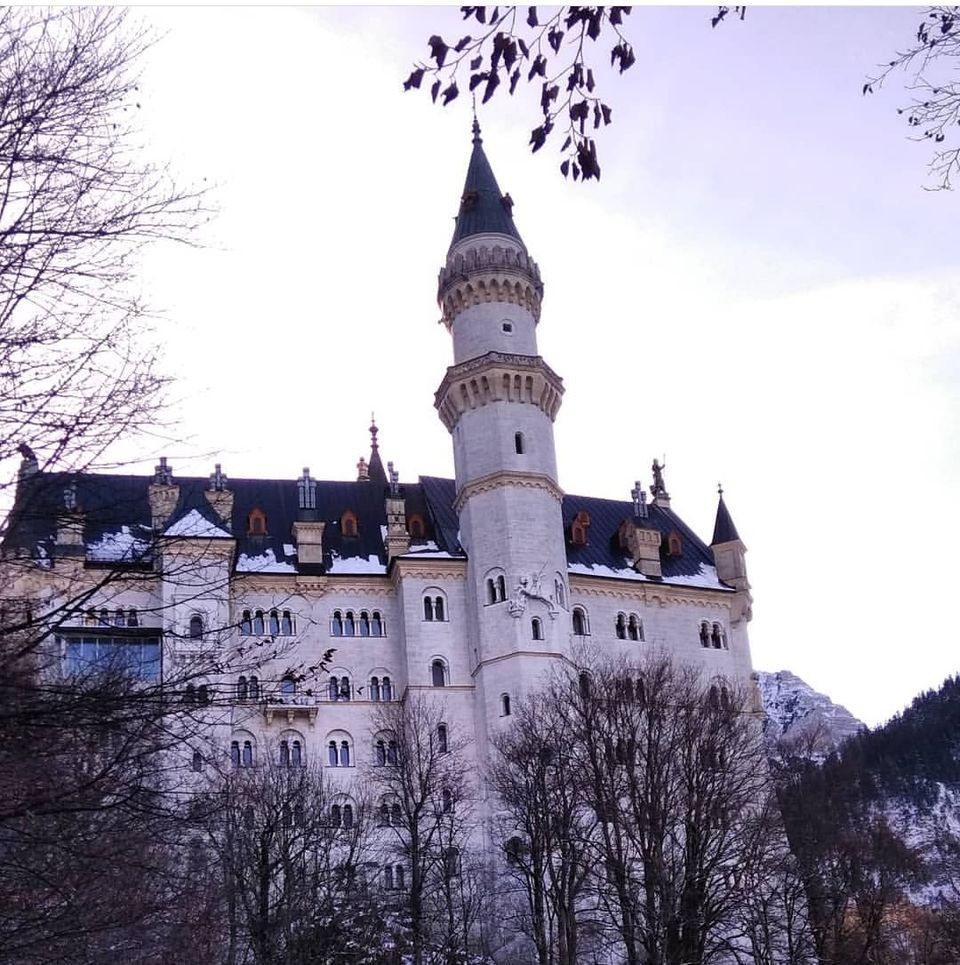 The only way you can visit this castle is with a group tour. The tour itself is only 30-40 minutes. Unfortunately, you can't take any photos inside the castle so you just have to visit the castle to get a look inside!
The museum wasn't very impressive. It was quite similar to the Munich Palace Residence Museum so in my opinion it's ok if you skip the museum.
Aftet this we enjoyed a quick bite by the mountainside and a cup of Glühwein which hot red wine mulled with cinnamon, cloves, cardamom, lemon and orange zest. (There are quite a few restaurants within this complex)
We now leave for Berlin which is a long road trip of about 7 hours. We opted to do this road trip as we wanted to experience the Germany expressways and enjoy the countryside views as we drive. And yes, you do need to get an international driving permit along with your driving license (I speak specifically for Indian drivers) to drive in Germany. We spent the night at a hostel in Berlin.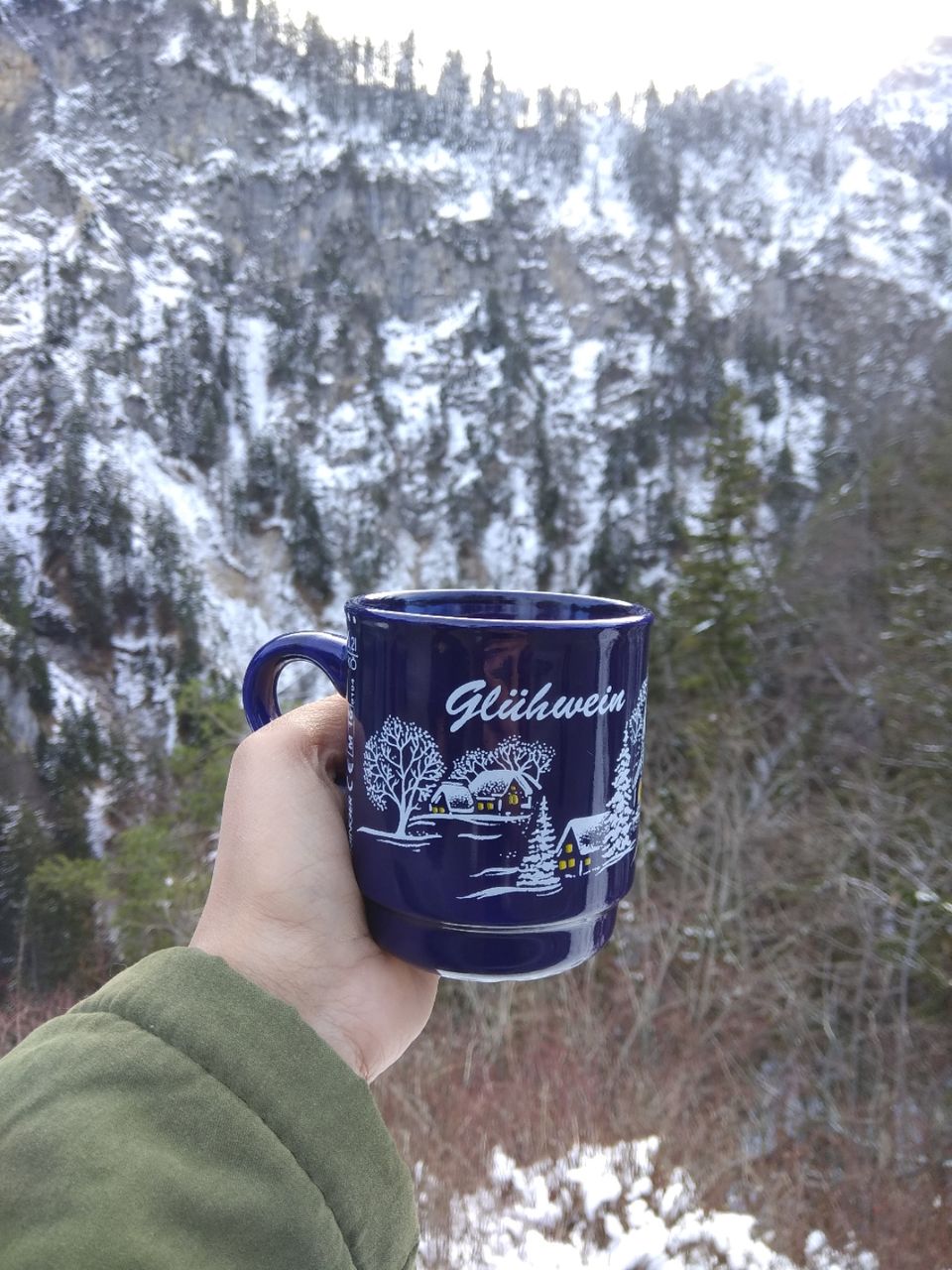 Today we had an early start as we had only one day in Berlin with a lot to cover. Our first stop was the Berlin Wall which is now converted to East Side Gallery.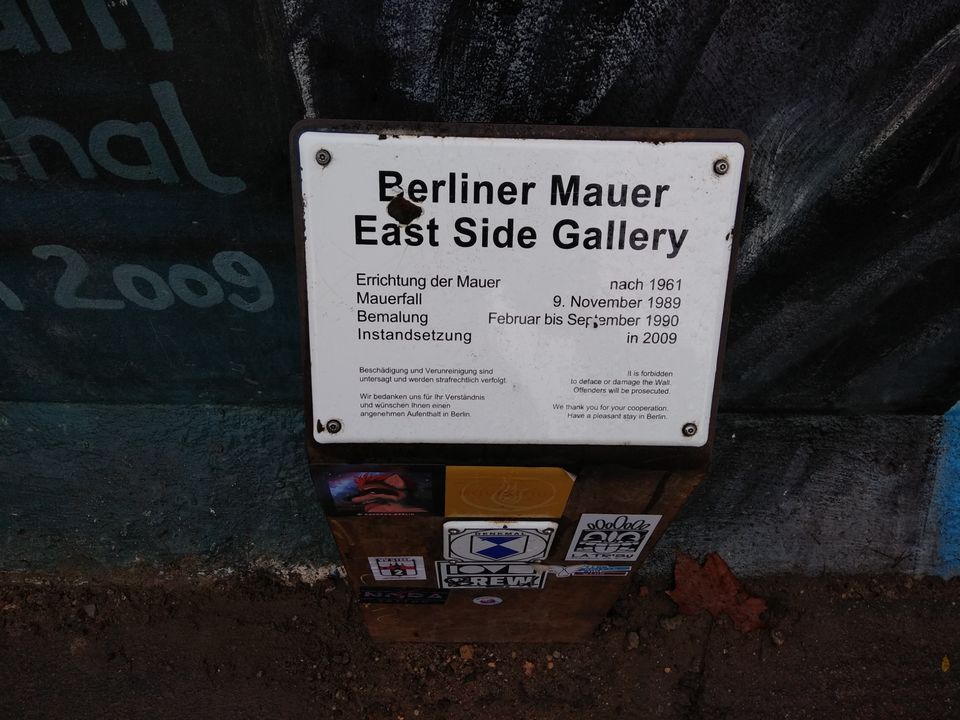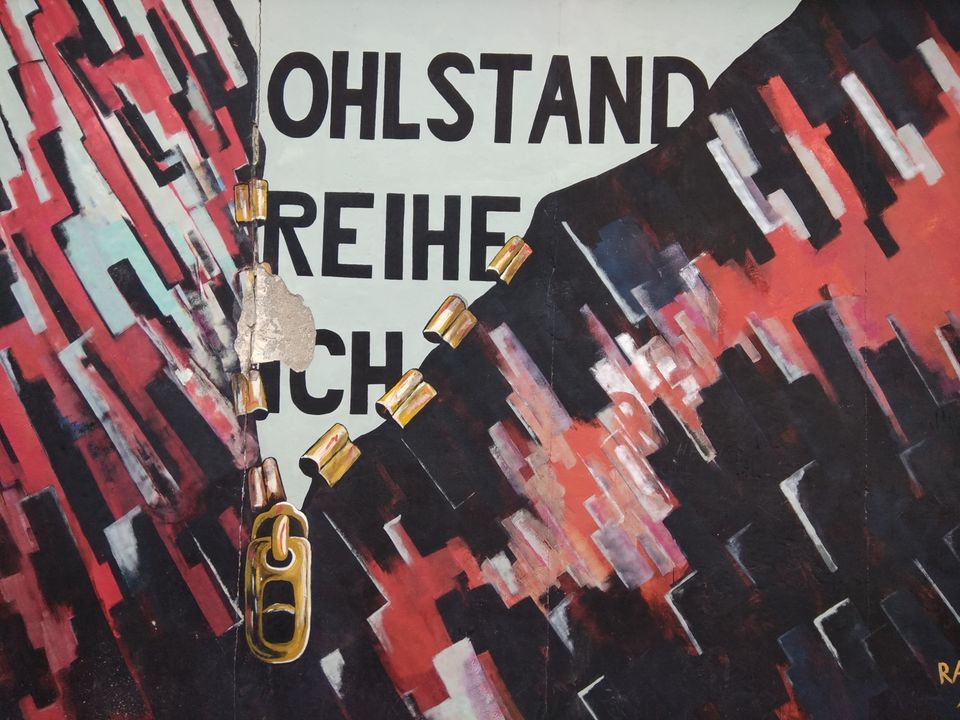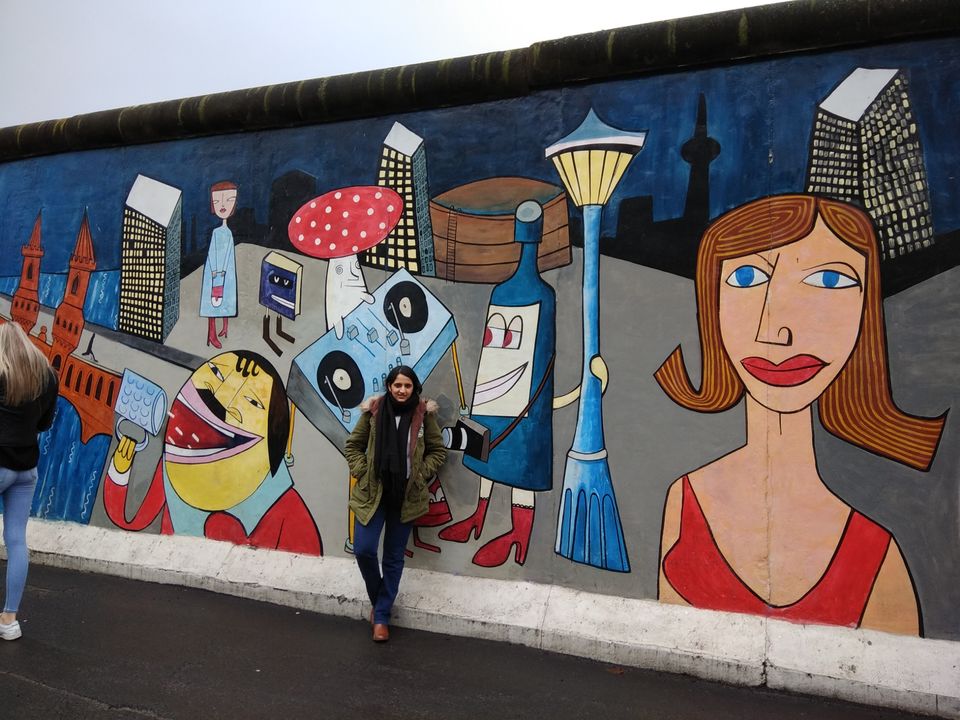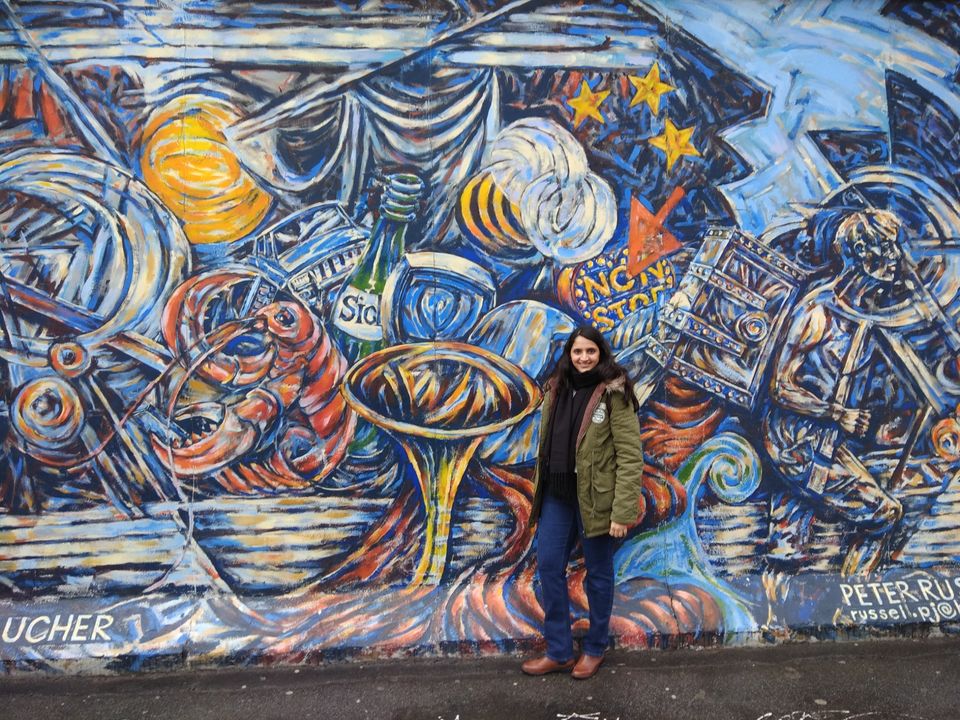 After this head to Checkpoint Charlie. There is also a Museum at Checkpoint Charlie explaining the history of the Berlin Wall. You can also buy a piece of the Berlin Wall from the shop which comes with an authenticity certificate. Whether it's really authentic or not is still questionable but, it does make for a unique token to take back from Berlin.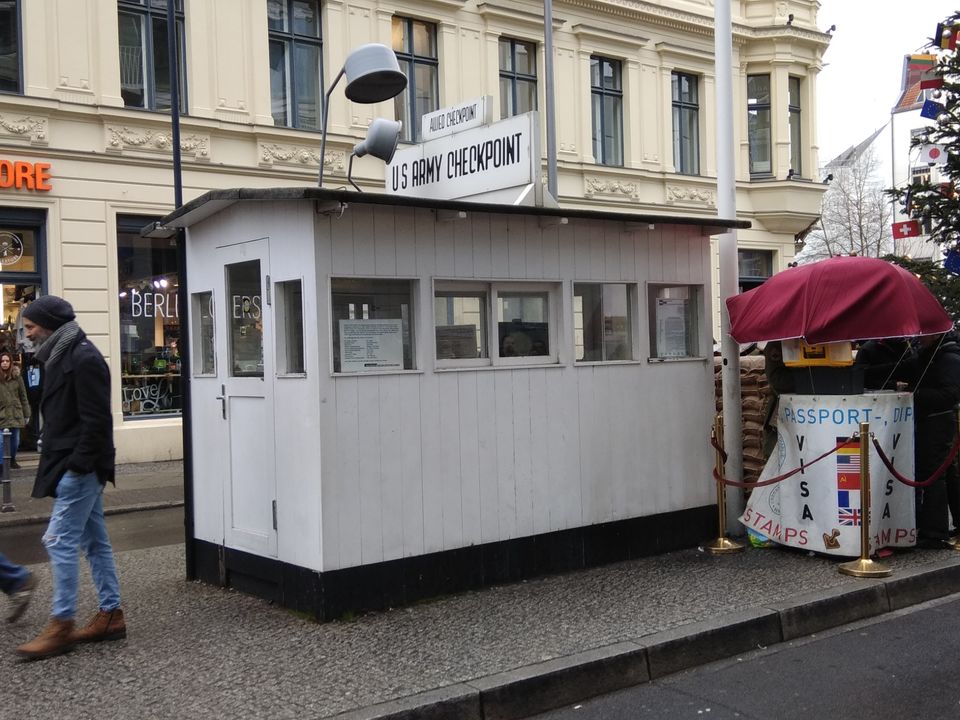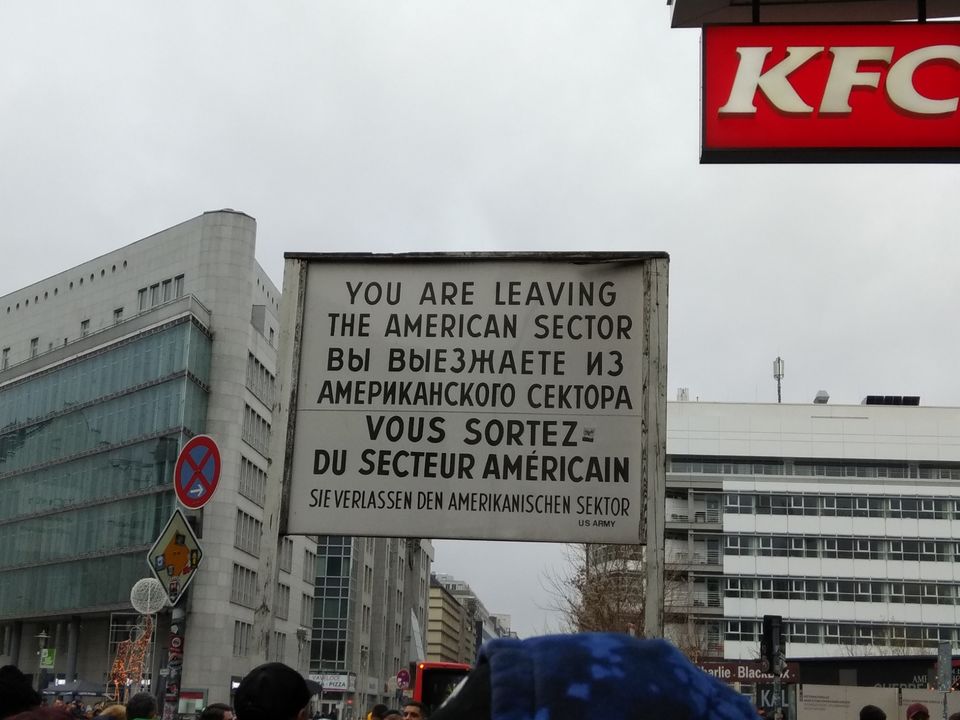 After this head to Brandenburg Gate and the Reichstag Building (German Parliament). The Reichstag Building Dome is open for the public to visit but you must register online in advance. If you have not registered in advance then you can register at the Visitor center near the building. Unfortunately, at the time when I visited Germany, the building was closed for public viewing.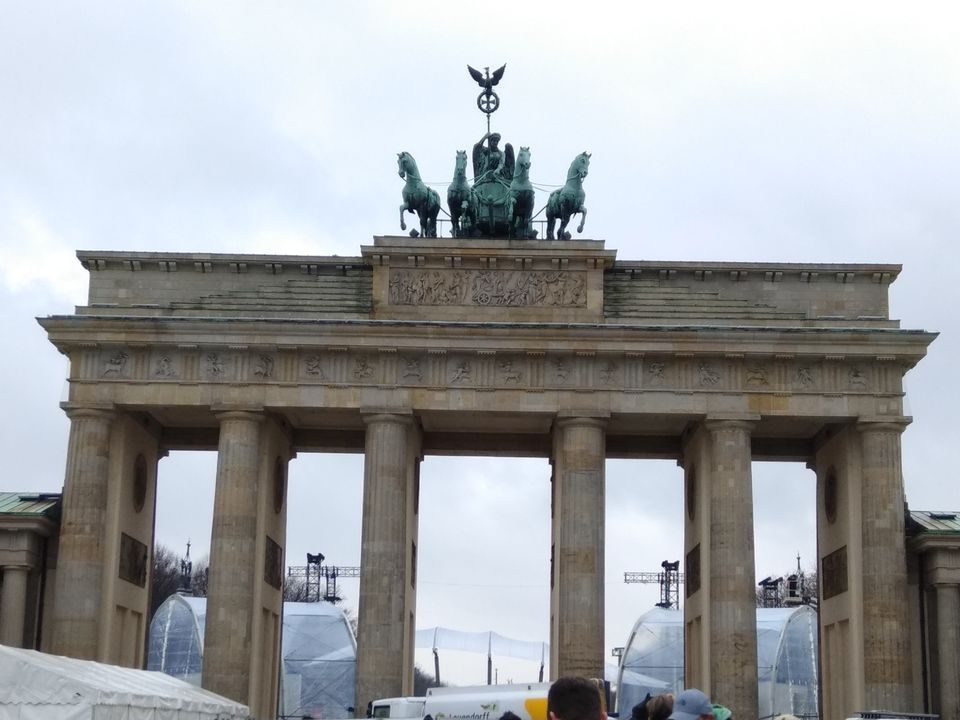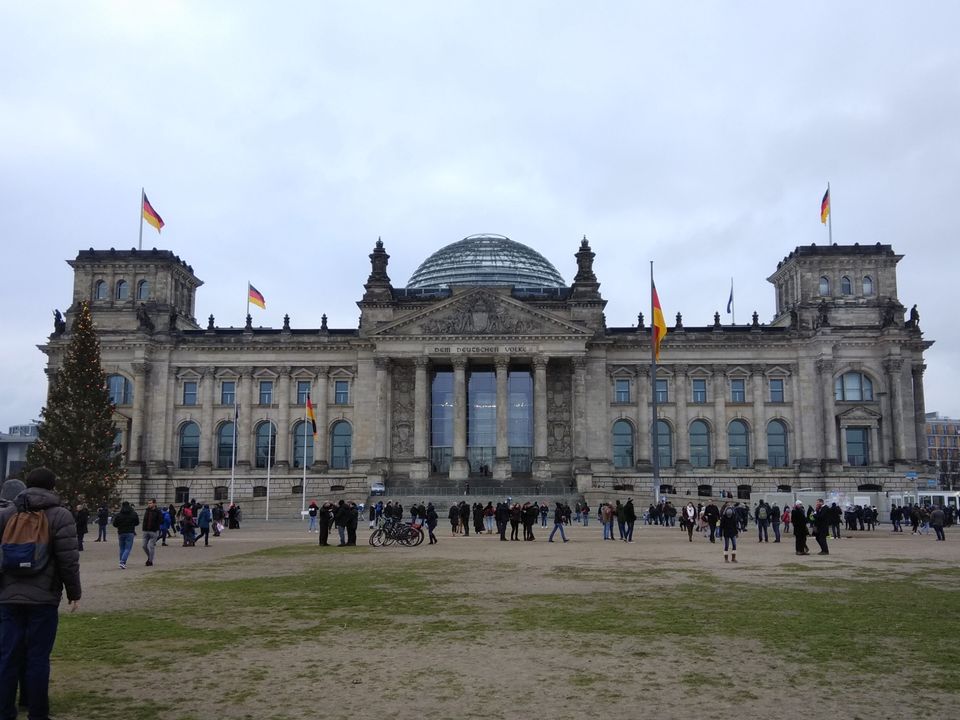 We had a quick lunch in a cafe near the Reichstag Building after which we headed to the Island Museum.
The Island Museum is the name of half of the island located in the Spree River. It is recognised as a UNESCO world heritage site. It consists of the 5 museums in total namely- Pergamon Museum, Bode Museum, Neues Museum, Alte Nationalgalerie, Altes Museum.
The most famous pieces are locates in the Pergamon Museum and the Neues Museum.
The Pergamon Museum houses the Pergamon Altar (after which the museum is named). Unfortunately, this section of the museum is closed for the public until 2019. However other sections of the museum which house the Ishtar Gate, Processional Way from Babylon and the Market Gate of Miletus are open to the public.
The Neues Museum houses the famed Bust of Nefertiti, The Green Head, The Berlin Gold Hat and many more specimens from the stone ages. Unfortunately, you can't click photos of Nefertiti's bust so you will just have to be mesmerized by its beauty when you see it in person.
The Berlin Cathedral is also located on this island right opposite the Museum complex. The Cathedral is open even after the museums close so you can easily visit it after you are done with the museums.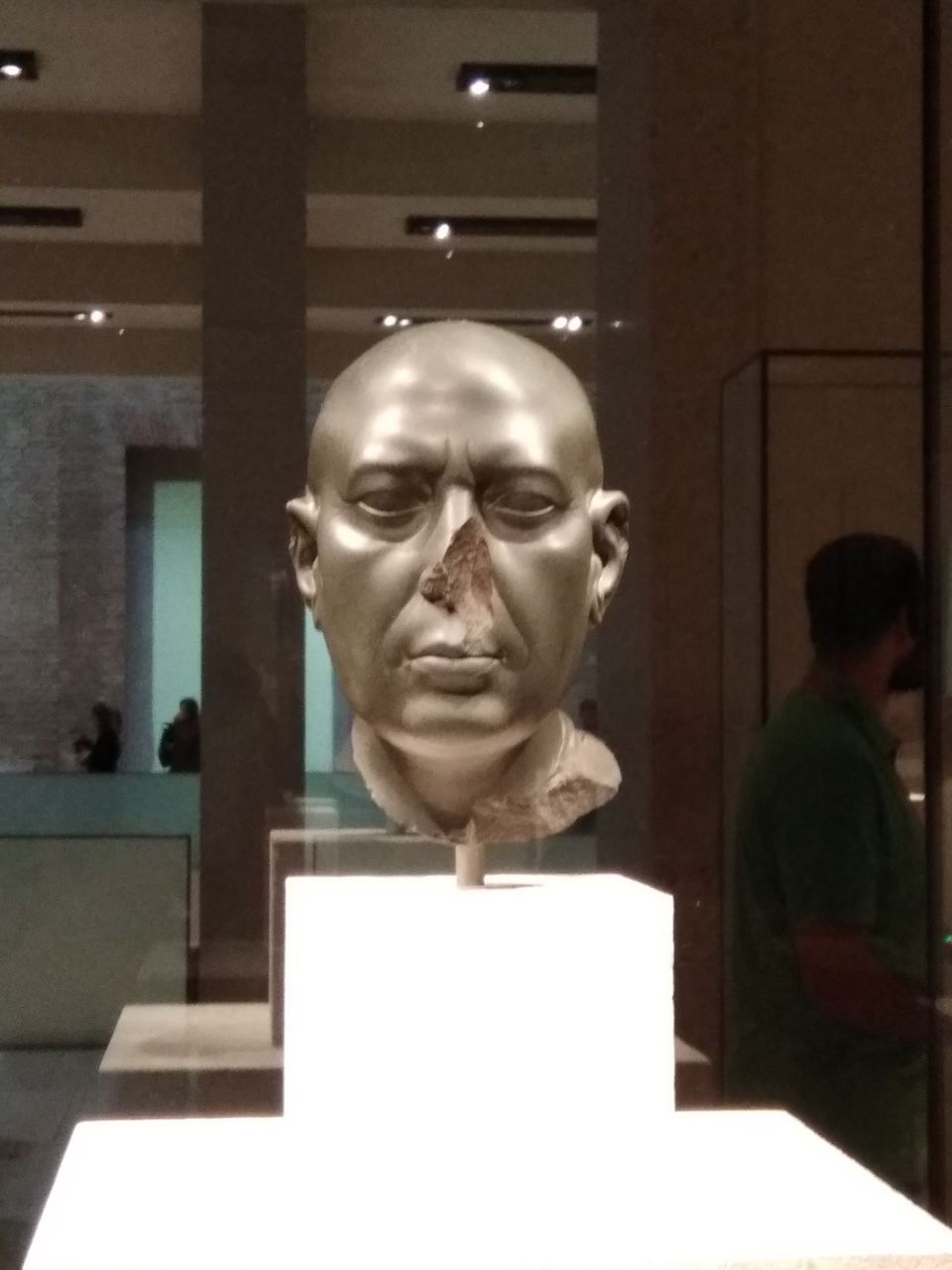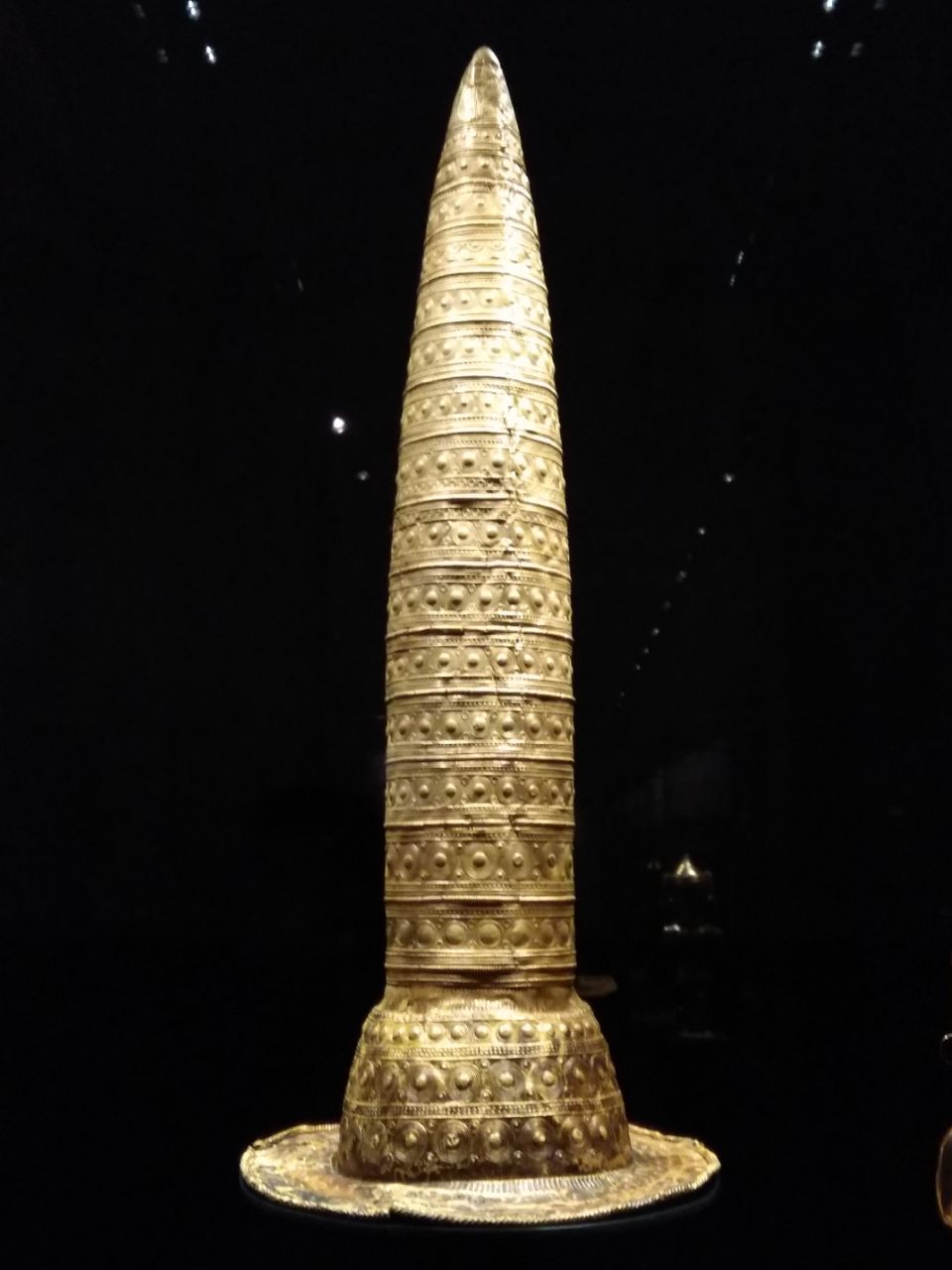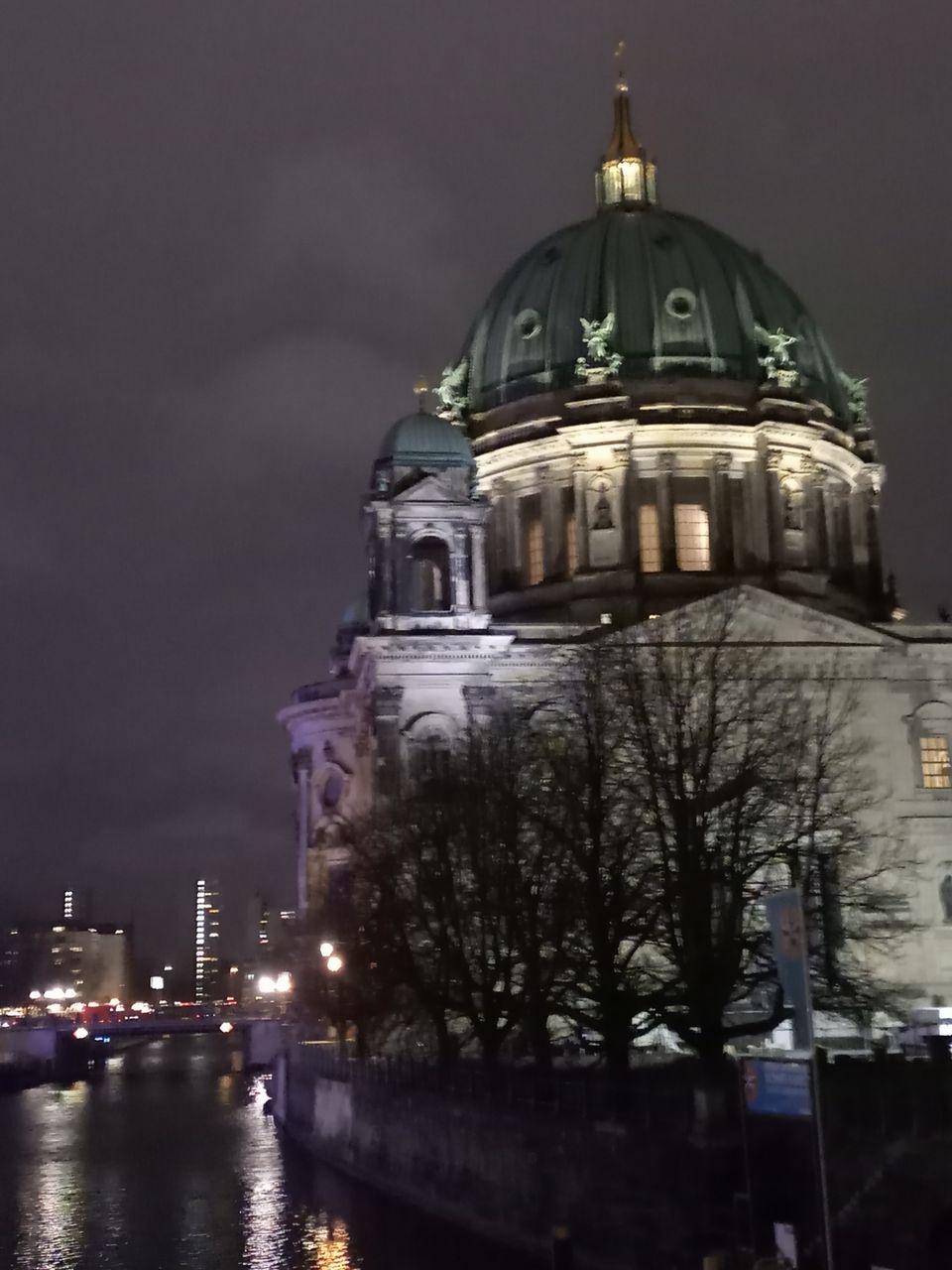 Head to Aachen by the overnight train from Berlin. The journey time is about 7 hours. We chose to stay at Aachen because we had a close friend living there. So we saved on accommodation and we did day trips to nearby places.
After 2 hectic days we needed to catch up on some much needed sleep. Later we headed to Carolus Therme Day Spa where we relaxed in 8 pools of different temperatures along with different types of massages. Priced at just €18 for the whole day (prices vary according to the time you wish to spend inside the spa) for the thermal baths, this places is a steal! The massages are also of great and vary in prices depending on what you choose.
After a day of relaxation, we were ready to travel again. I highly recommend spending a day here!
Today we visited Drielandenpunt which is the border tripoint where the Netherlands, Germany and Belgium meet. This point itself is free to visit. There is an observation tower right opposite this point where you can climb up the stairs and enjoy the view of the forests surrounding this area. There is also a kids park nearby with a huge labyrinth which is a fun activity during the summer months. There are cafes and restaurants nearby to have lunch and make a day trip out of your visit to Drielandenpunt. However, we chose to quickly visit only Drielandenpunt as we had to leave later for Brussels.
How to reach there: We took the bus 350 (to Maastricht) from Aachen Bushof (Aachen central bus station) and got off at Vaals, Busstation Perron B (you basically have to get to Vaals, Busstation from where ever you are in Aachen). In reality, Vaals is a small town in Netherlands, so you are actually going from Germany through Netherlands, to a point on the border. From Vaals, Busstation we took bus 49 which takes you all the way up to Drielandenpunt, but this bus only runs hourly. There are other buses which can drop you at the base and from there it's about half an hour walk up the hill. It takes about one hour to go from Aachen to Drielandenpunt by bus all the way to the top.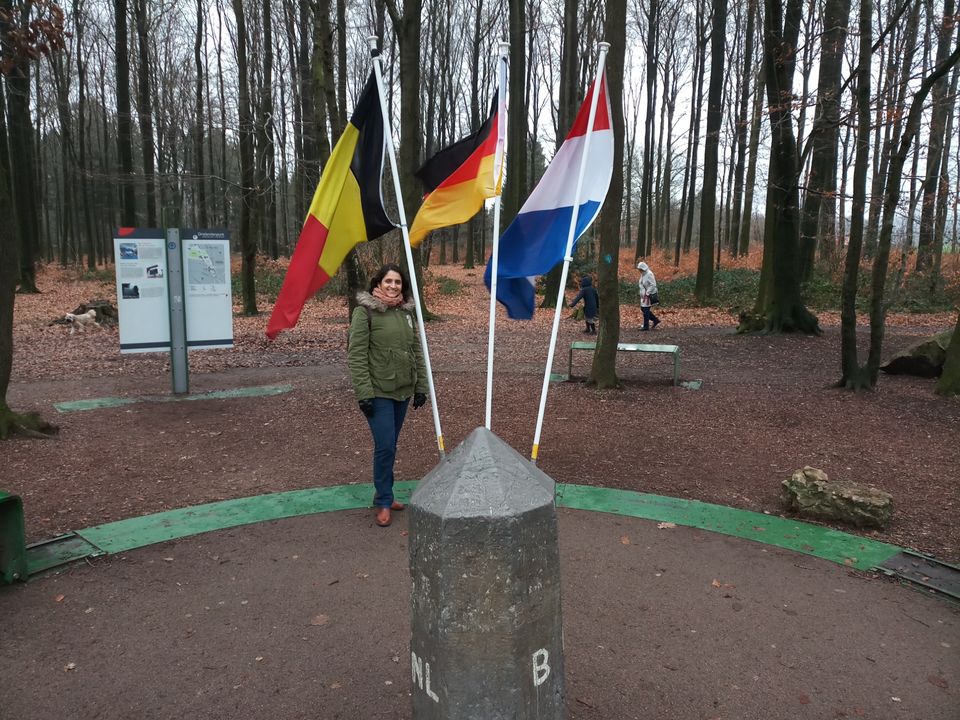 After this short excursion we were on our way to Brussels by train. Aachen to Brussels is 1.5 hours by train.
The first attractions we visited in Brussels was the Atomium and Mini-Europe. Both of these are located right next to each other.
Next we saw the Manneken Pis- the tiny bronze statue of a small boy peeing in a fountain since the early 17th century. I found myself exclaiming, "Is that it?!" because it was much smaller than I anticipated, perched high on the wall peeing into the fountain below.
Next stop was The Grand Place. This is a square containing the Town Hall and Guild Halls which is also a UNESCO World Heritage site. Since I visited around Christmas/New Years time, the buildings were absolutely decked up in lights with a sprawling Christmas market operating in full swing.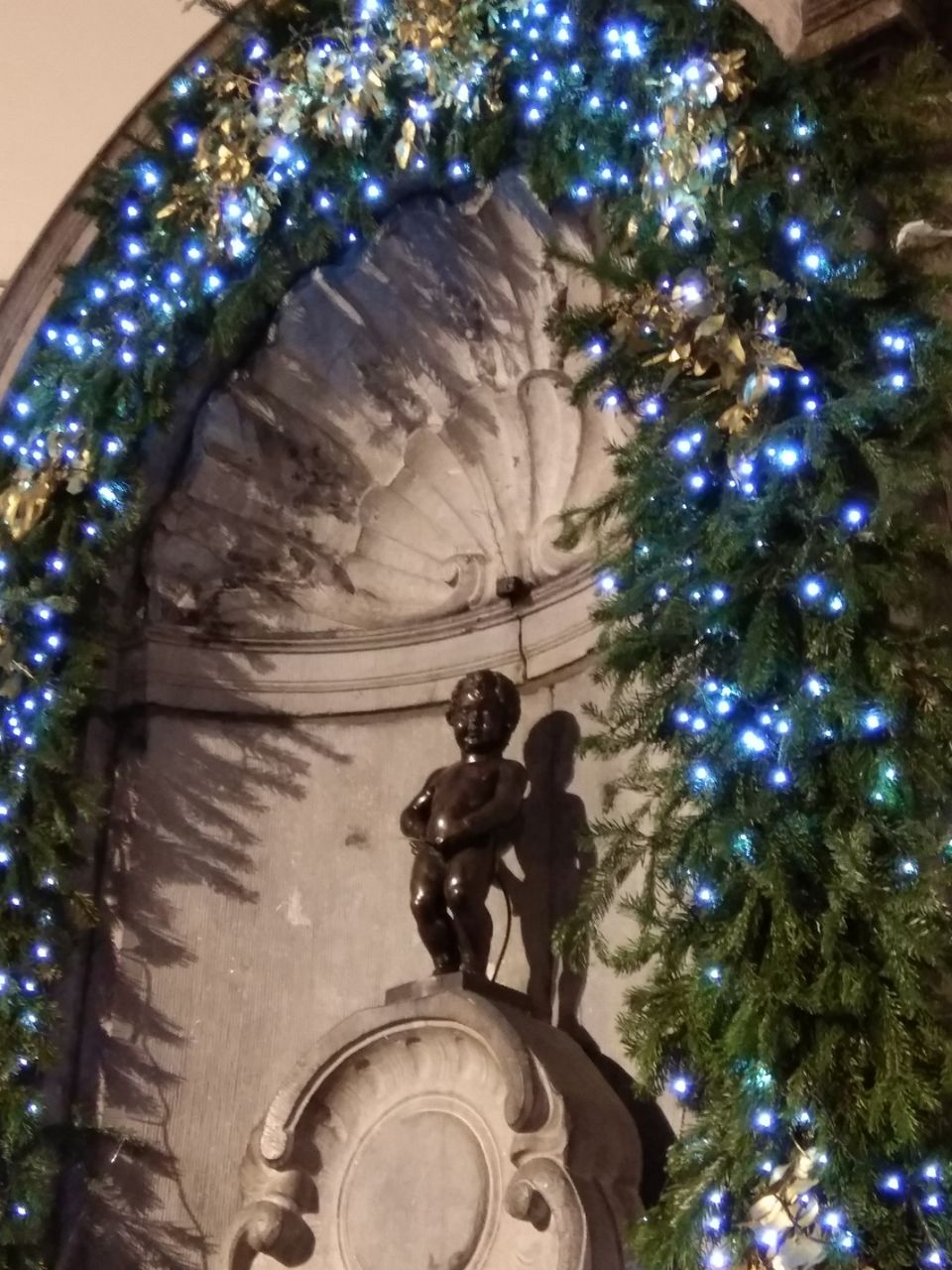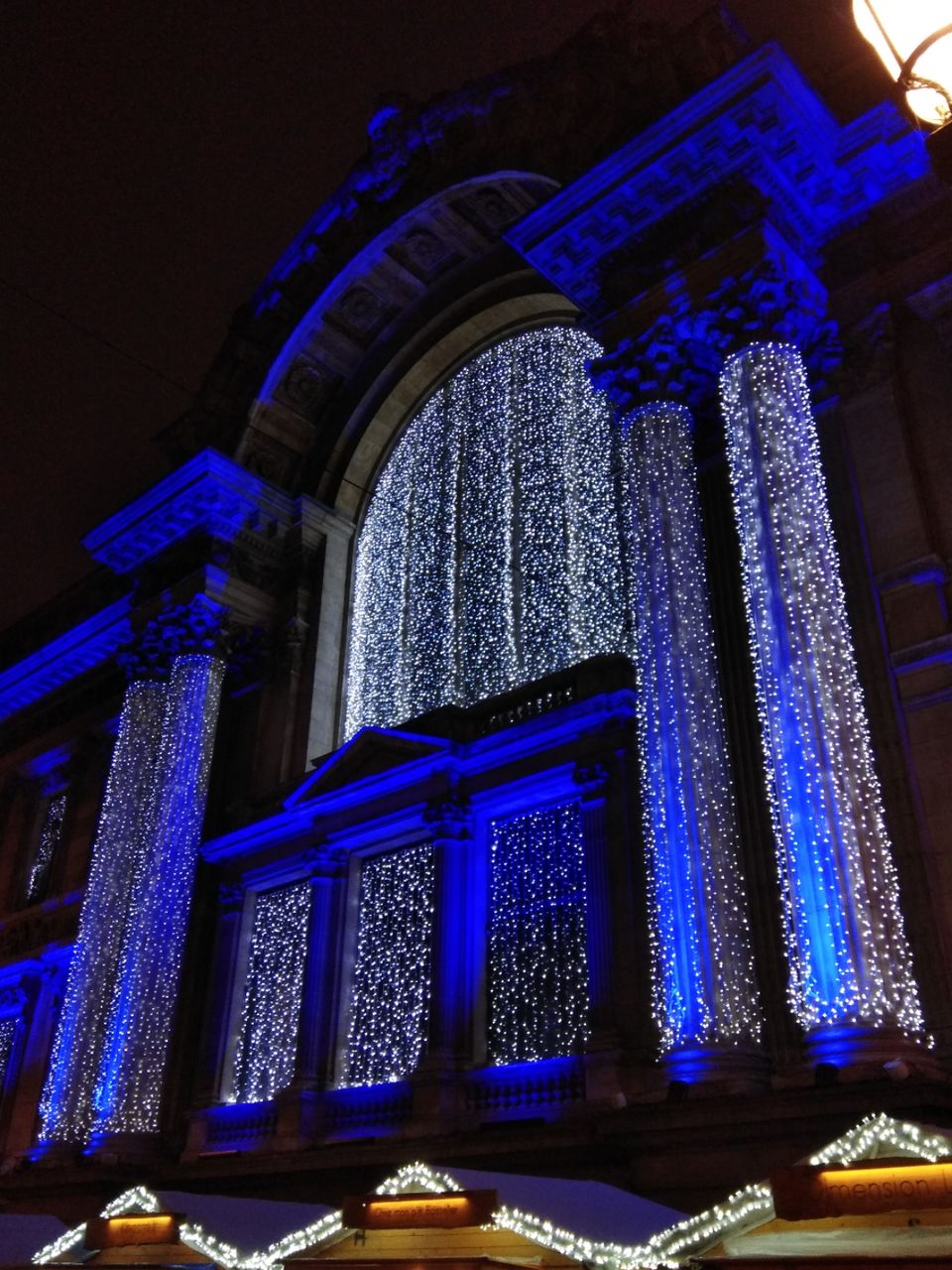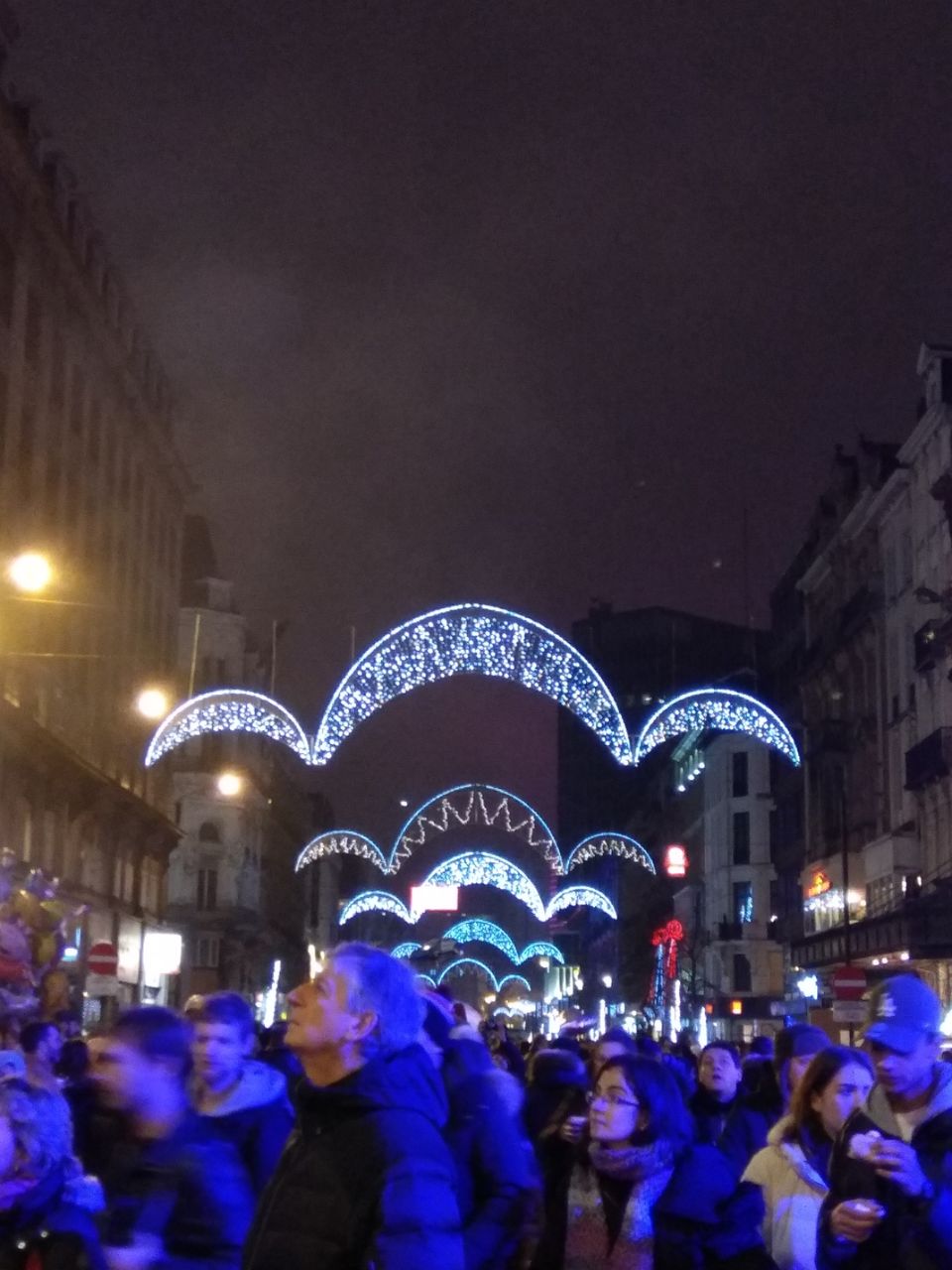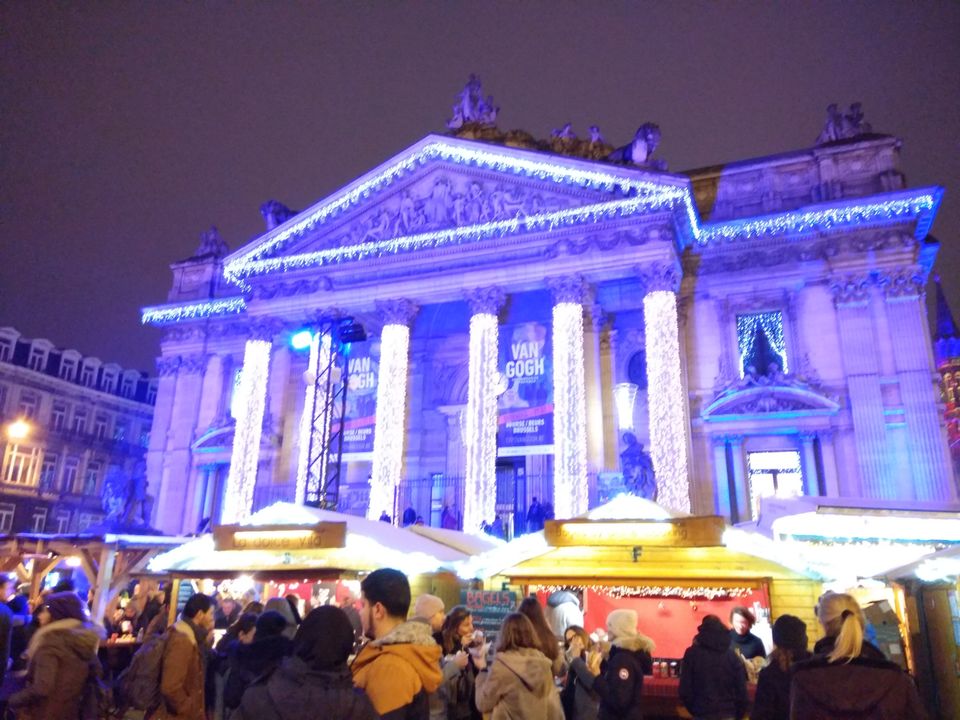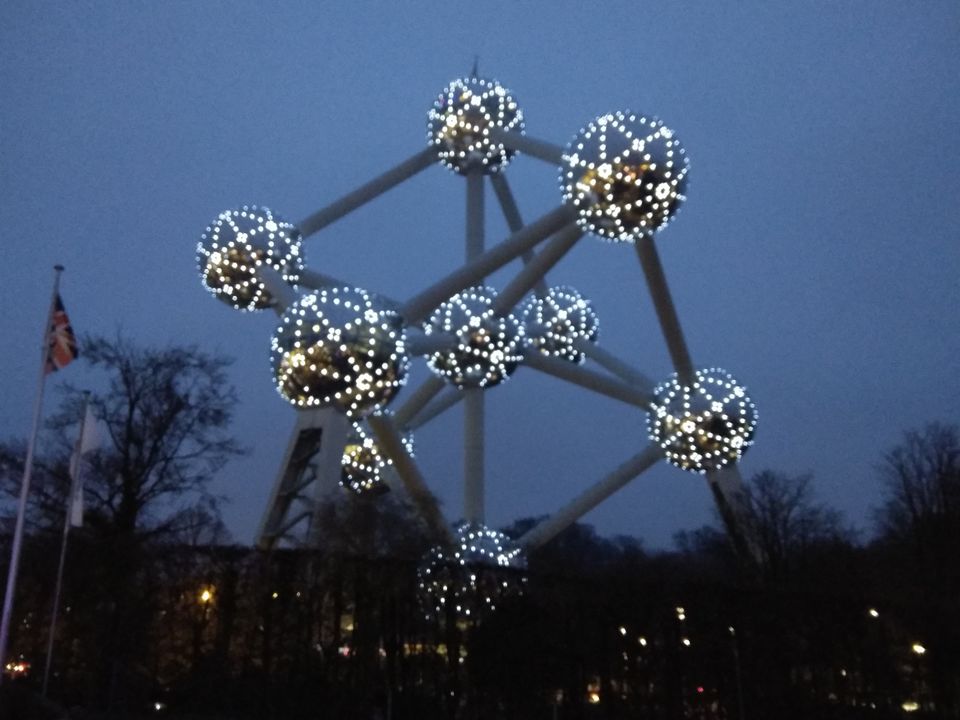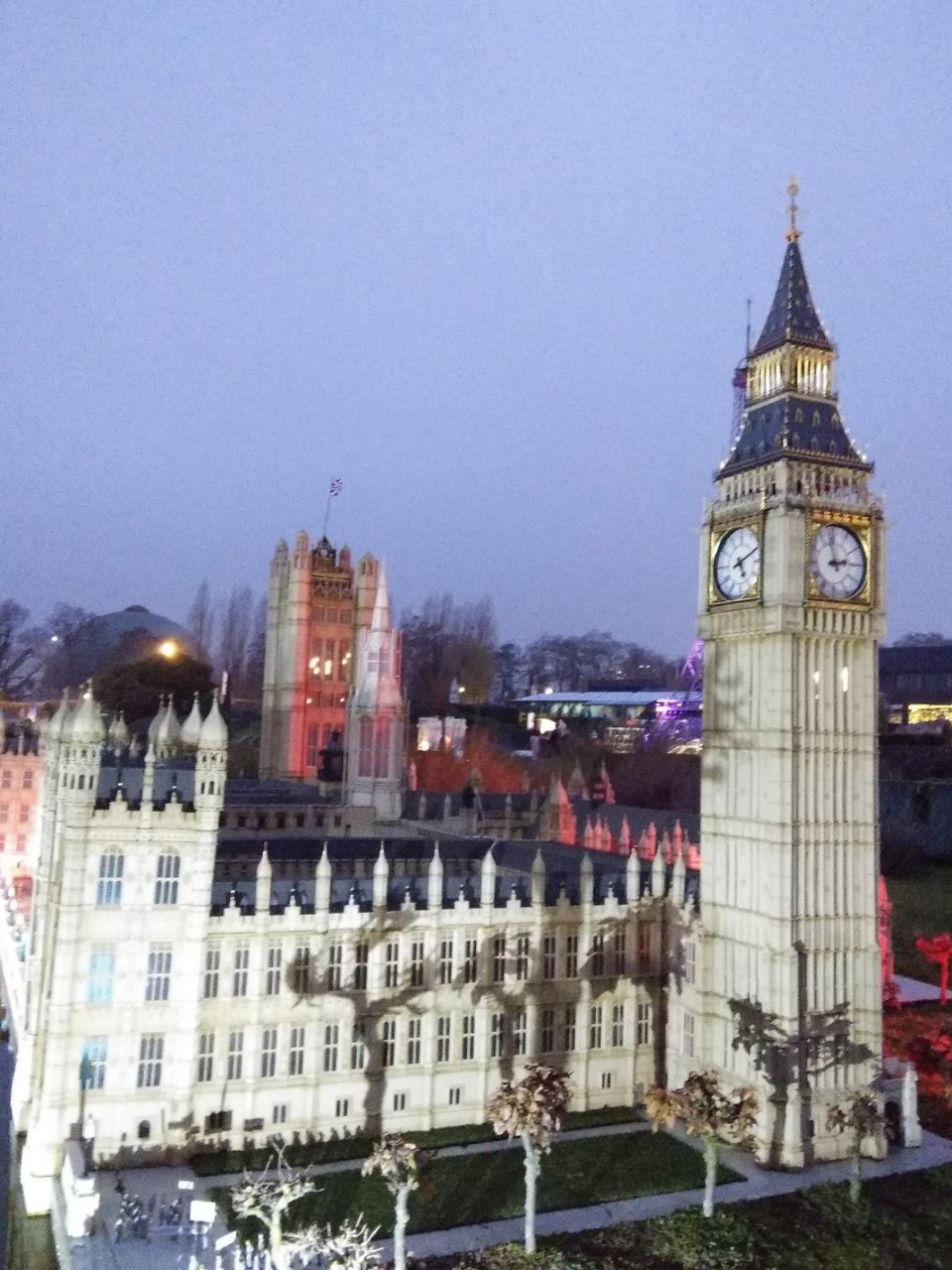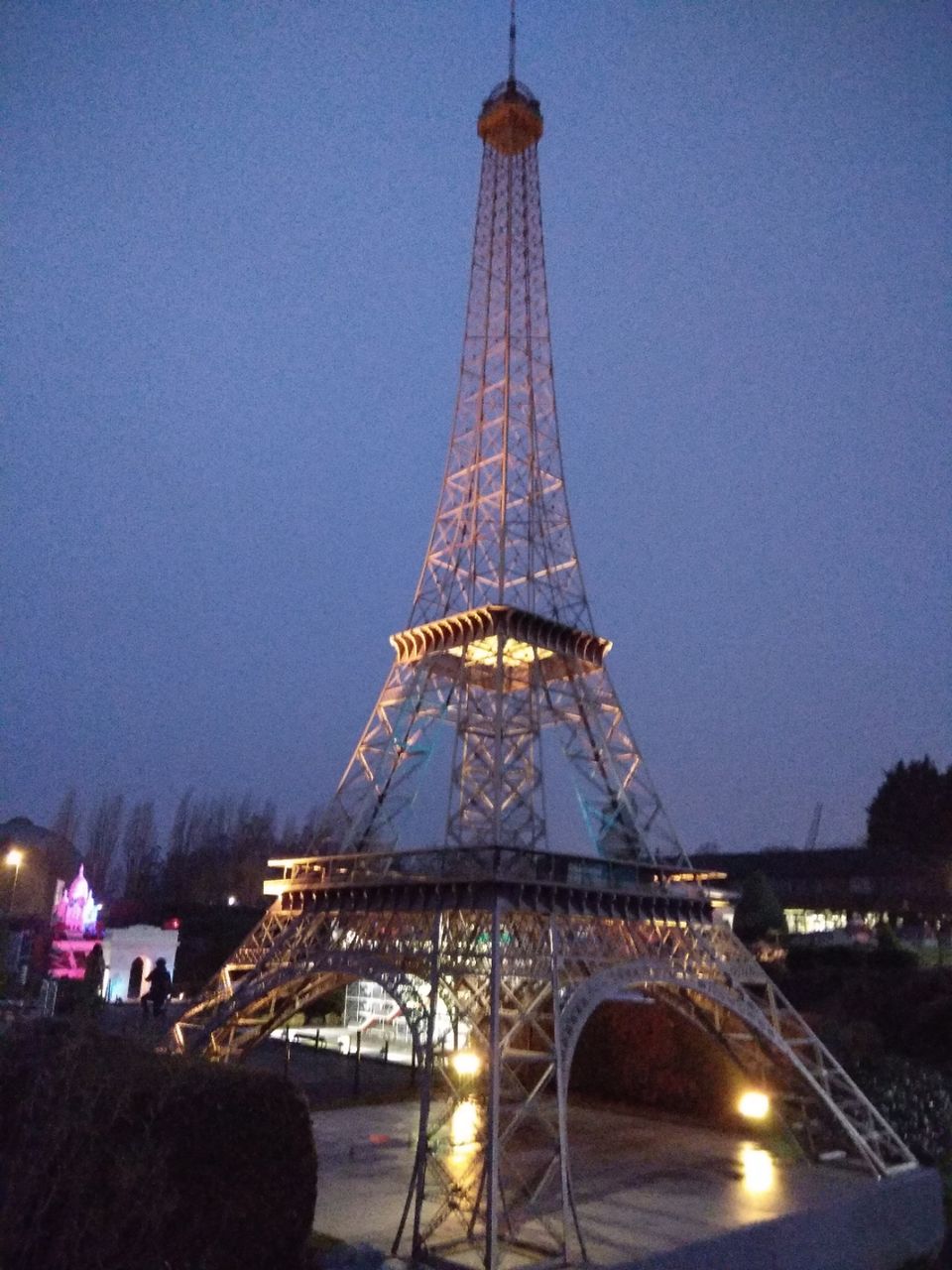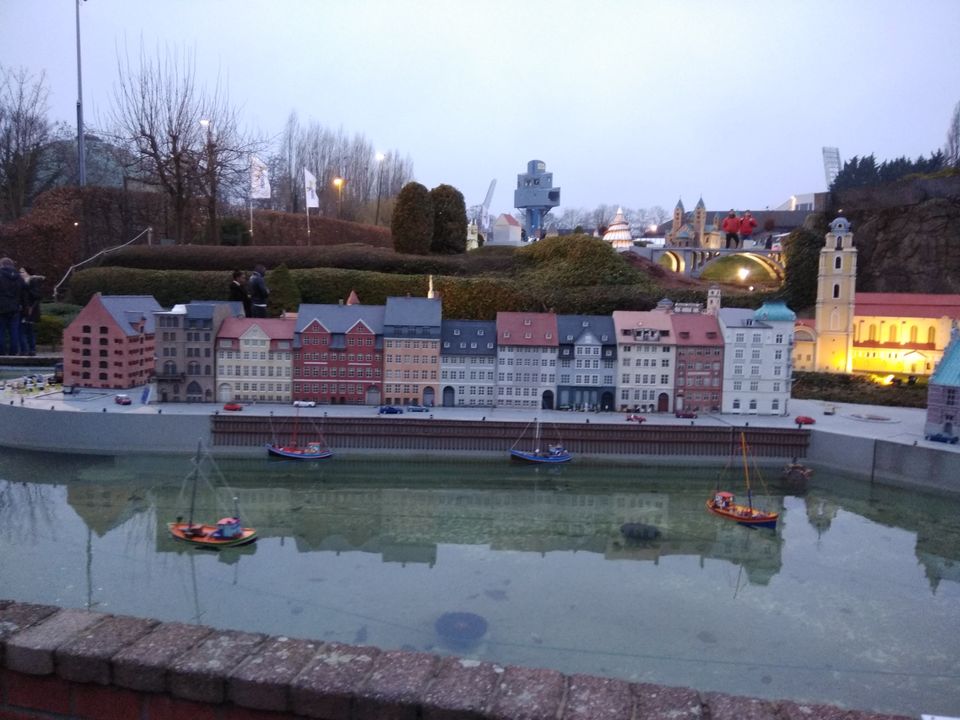 Brussels is a paradise for all things sweet. We ended up buying loads of chocolates and ate waffles loaded with ice cream. Belgian beer is also very famous and there are more than 50 varieties in some cafes!
Wandering around the streets of Brussels, we say many shops selling fries- know as frites here- with a variety of sauces for you to choose from. In the Christmas market, we tried a variety of cheeses, hams, wines and of course chocolates.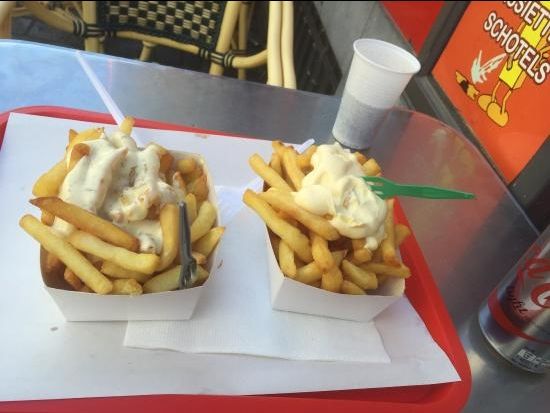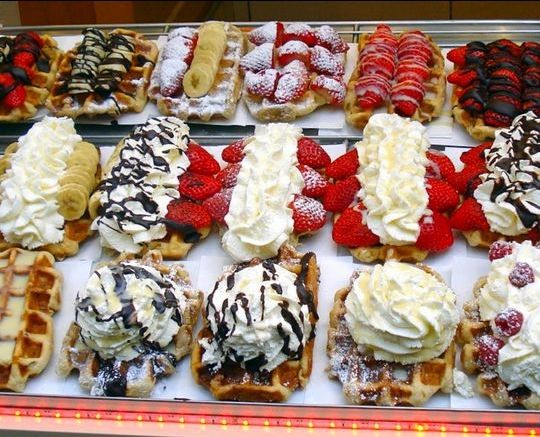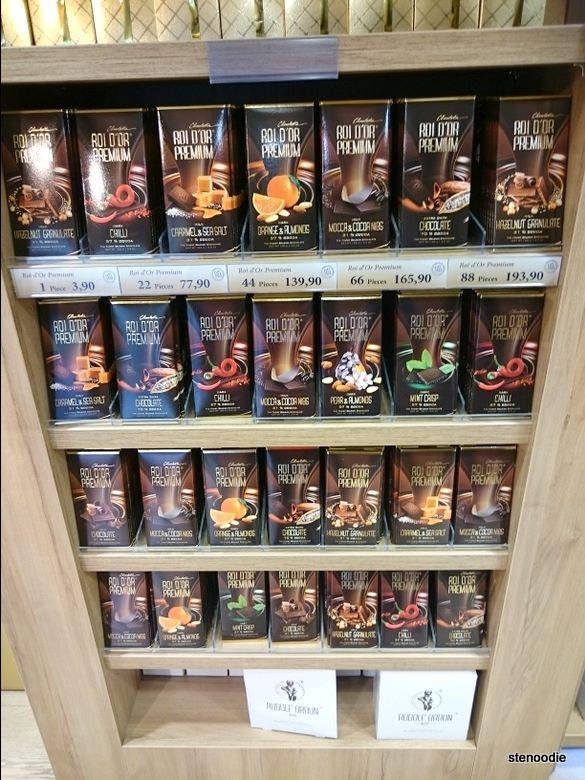 While we were busy gorging on all the delicious food, we lost track of time and we couldn't visit Musée Hergé where you can learn all about our favourite childhood comic book reporter- Tin Tin! But we saw tons of Tin Tin street art all over the city so it wasn't a total loss!
After another exciting day, we were on our way back to Aachen by train.
Next on the agenda is a day trip to Köln. Aachen to Köln is hardly an hours journey by train. Our first stop was the Fischmarkt for a relaxed lunch. The multicoloured buildings are enough to lift your spirits even on a cold winters day. Be sure to try the beer 'kölsch' which is a special beer brewed only in Köln. We then visited Great St. Martin Church which is right next to the Fischmarkt.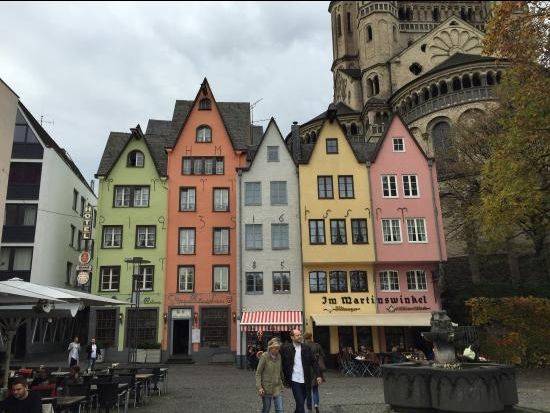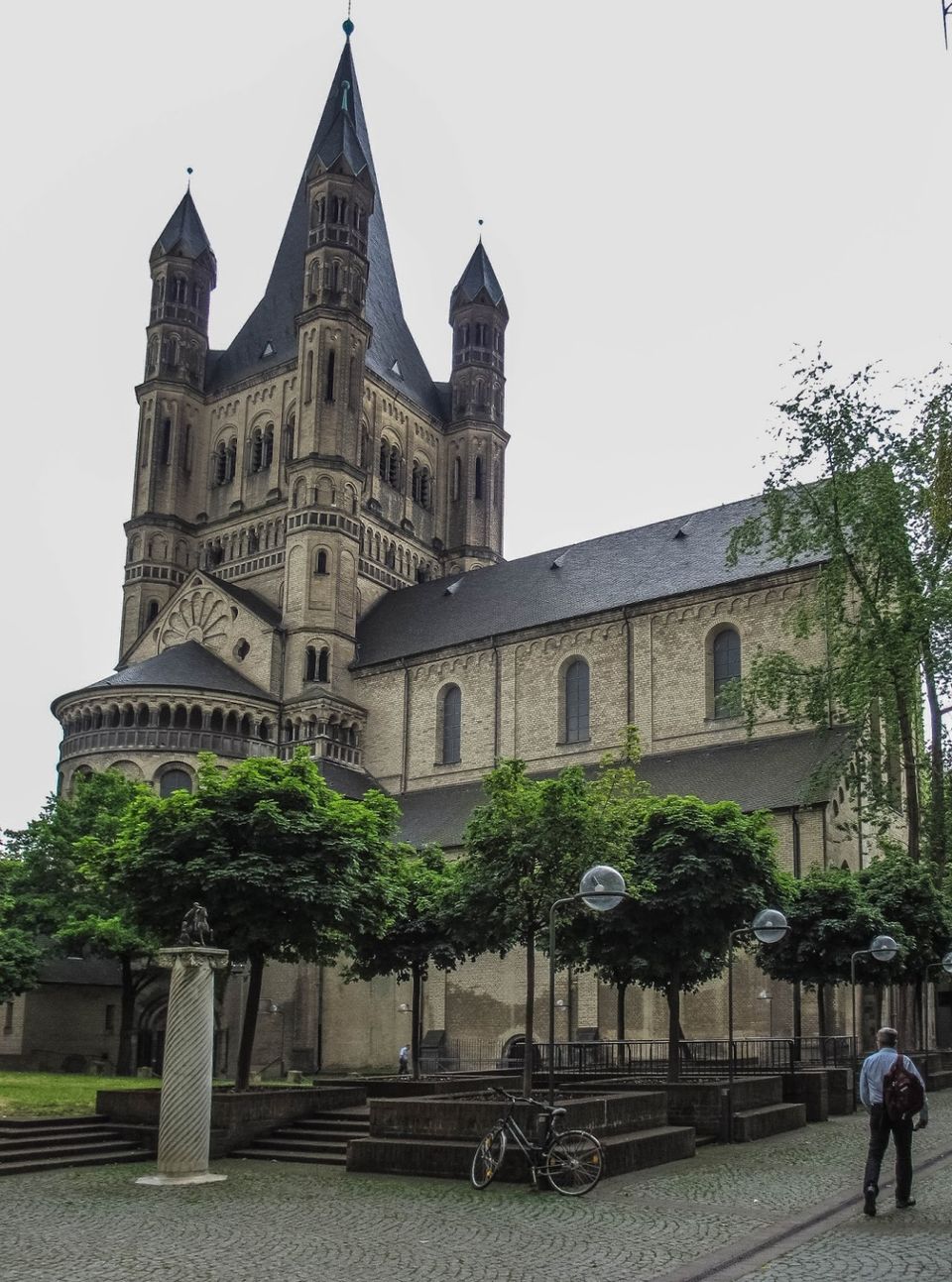 I am a big chocolate enthusiast, so for me the natural next stop was the Lindt Chocolate Museum. We did the group tour which lasts about an hour where they explain the entire chocolate making process right from the coco bean to the final wrapping of the chocolates. You also get a handful of free chocolates!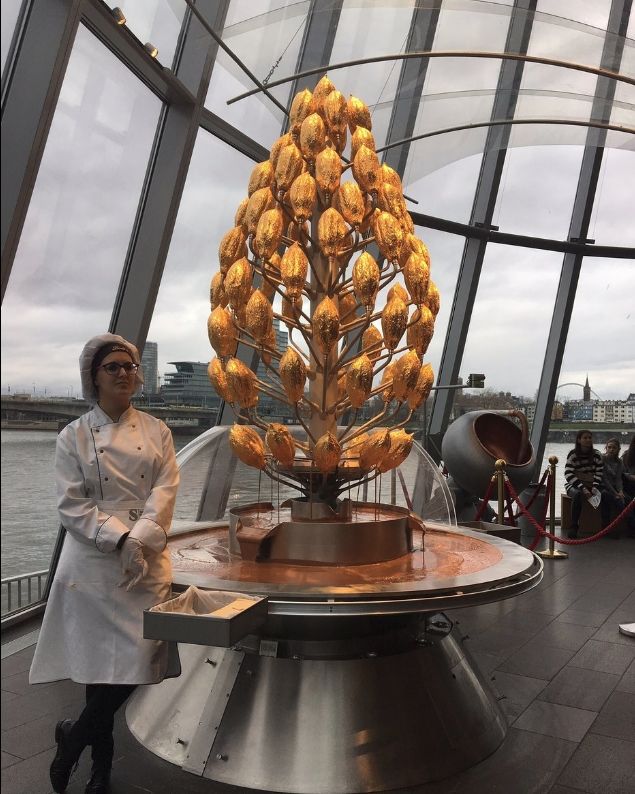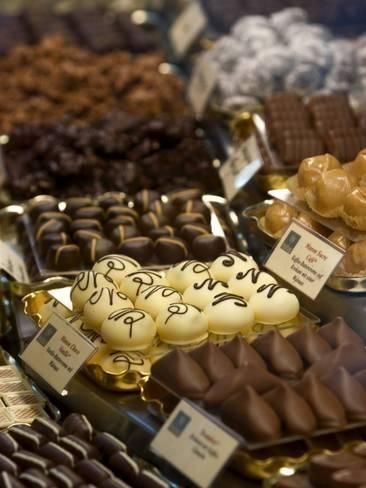 Finally, we made our way to the famous Köln Dom or Cologne Cathedral. I was left completely awestruck looking at this Gothic cathedral. No wonder it's the most visited monument in the whole of Germany. It's sure to give you goosebumps too!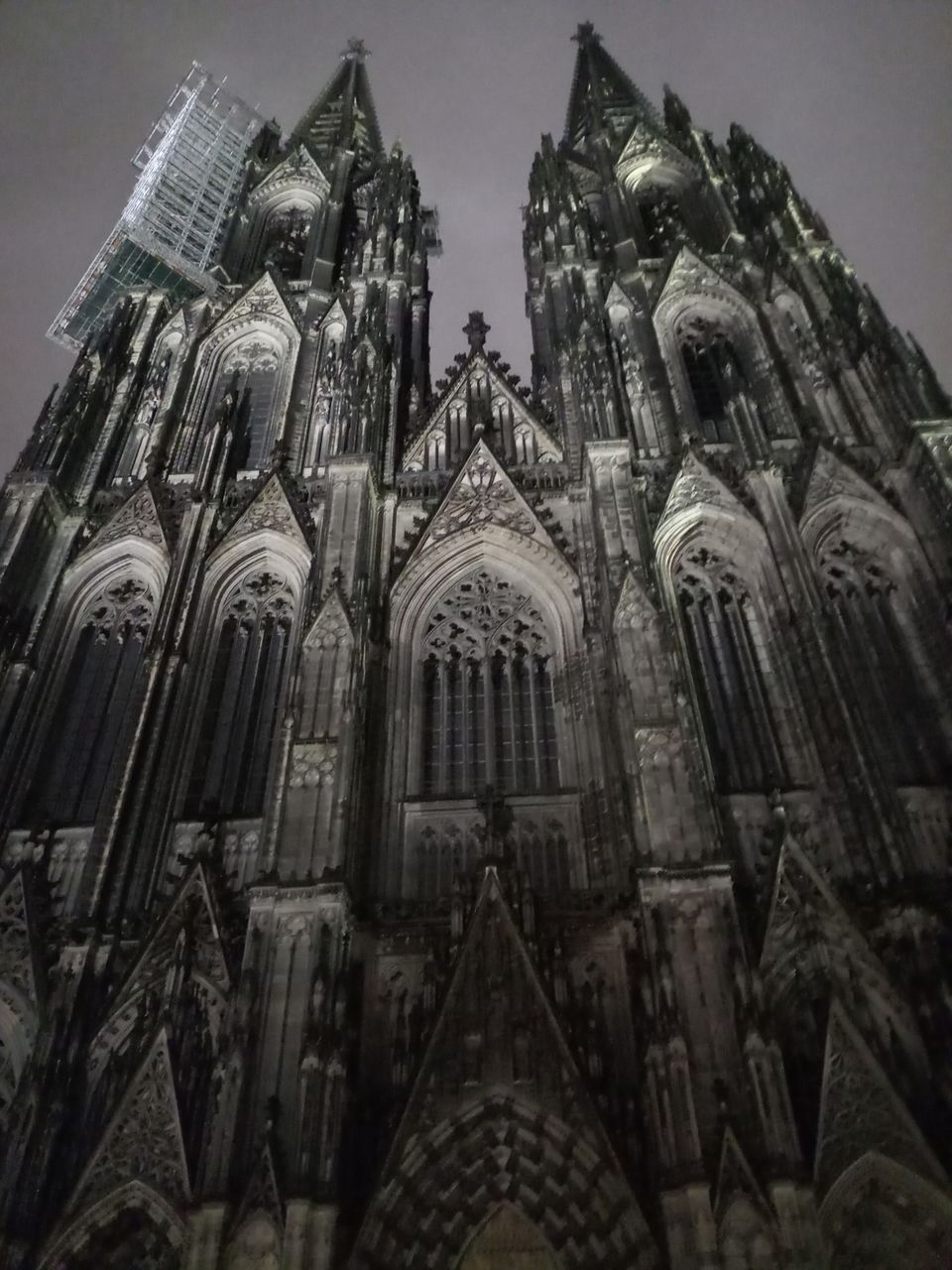 You have the option of climbing up a flight of 500 stairs to get an amazing view of Cologne from 100 meters high. But we decided against it as the sky was completely overcast with intermittent rain when we visited Cologne.
We spent new years eve partying away in Cologne. There are many options in Cologne matching every budget. We decided to bar hop along Zülpicher Street which has many budget friendly options. As midnight approaches come out into the street to enough a magnificent display of fireworks in the sky.
After a night of drinking and dancing we headed back to Aachen by train.
What a way to start off the New Year!! Today we are heading to Paris which is about 3.5 hours from Aachen by train. After checking in to our hotel and a quick lunch, we head towards the Eiffel Tower. I highly recommend booking your tickets in advance as the queues for one the spot bookings were extremely long (probably 4-5 hours before you reach the top easily). Whereas we zipped through the crowd with ease and within an hour we were on our way to the top.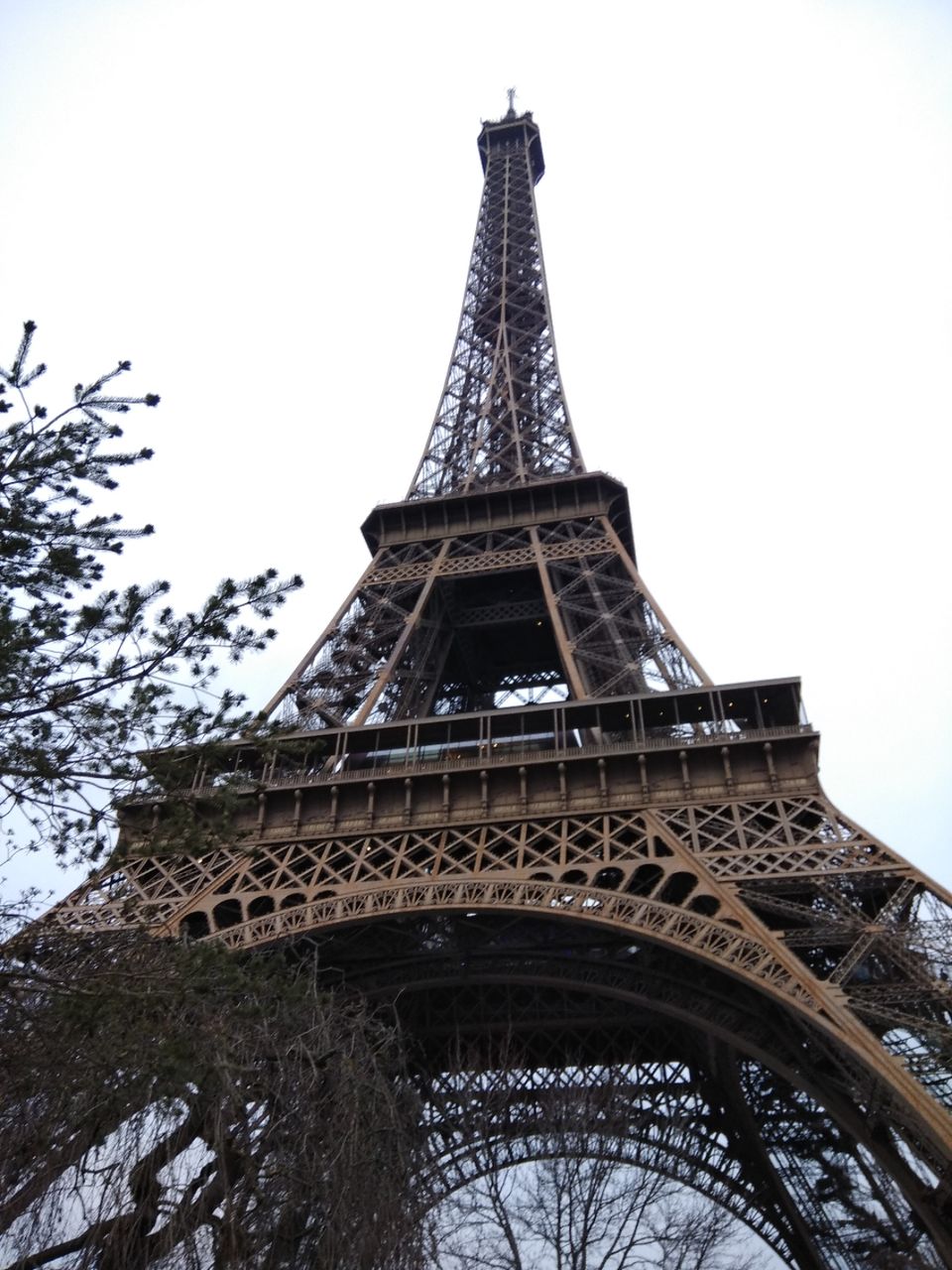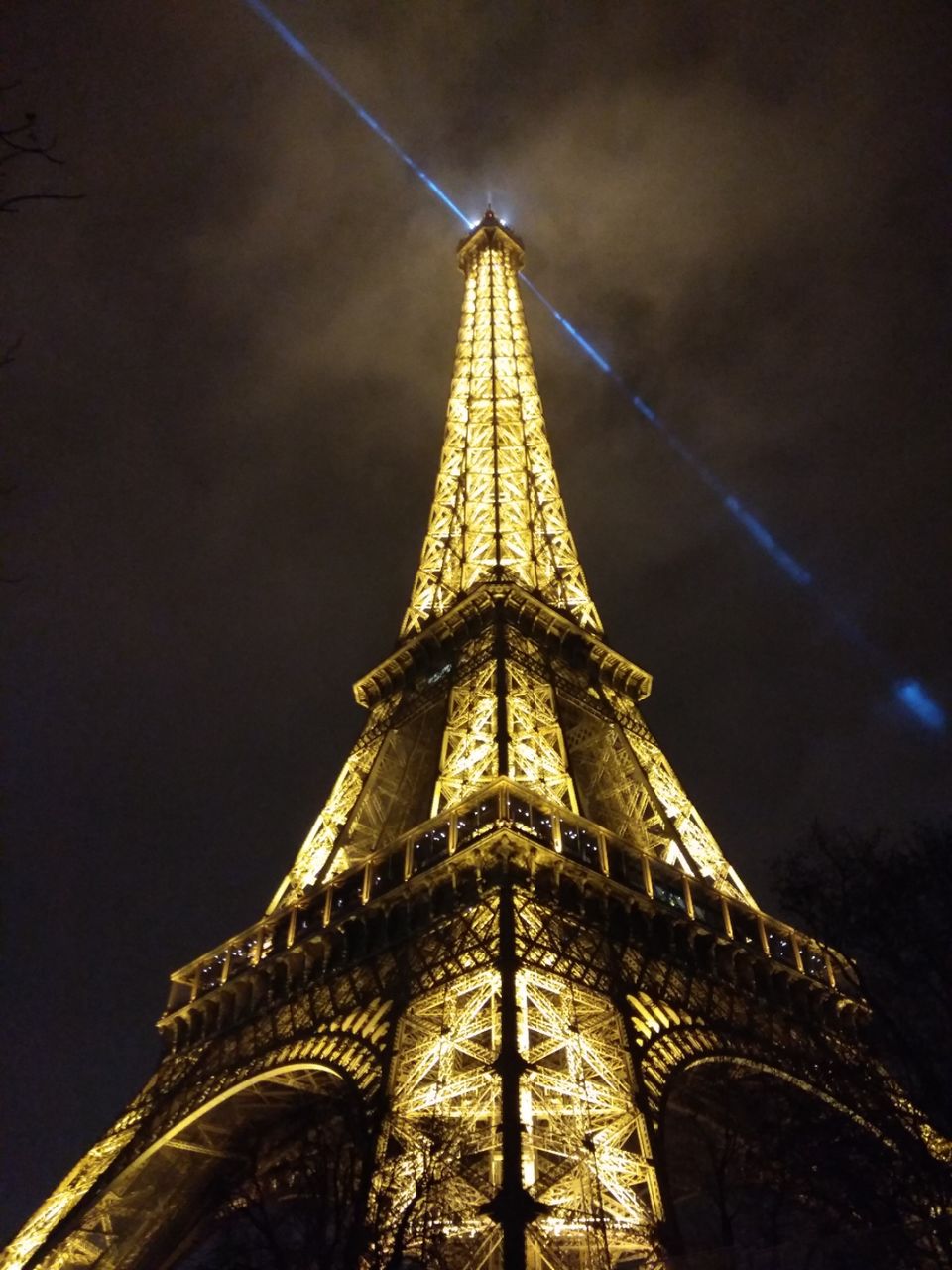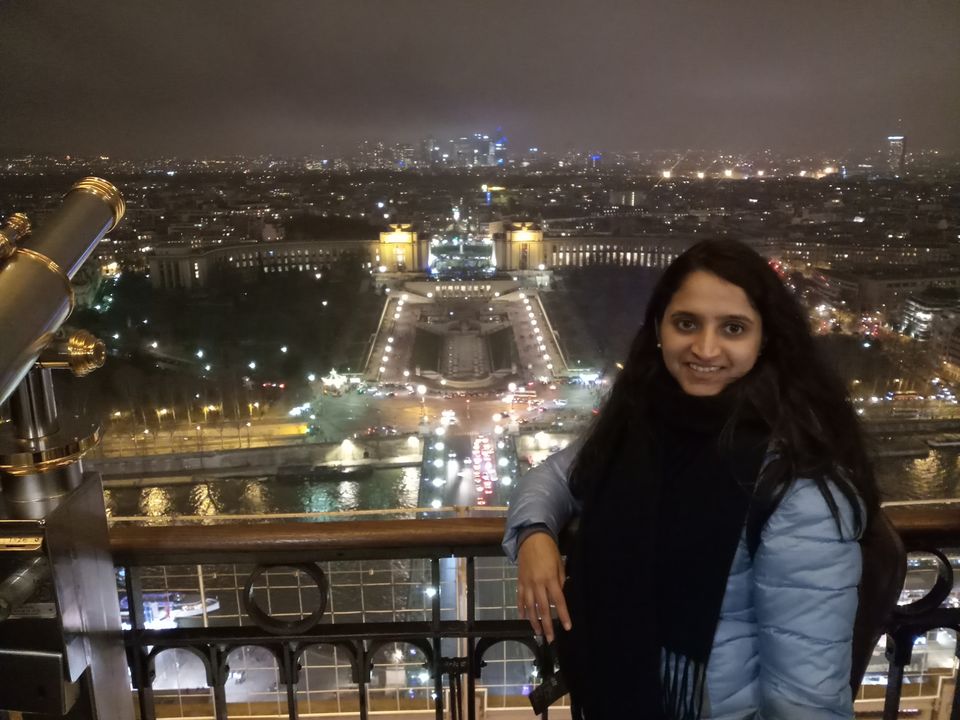 Head to Arc de Triomphe and Champs-Élysées.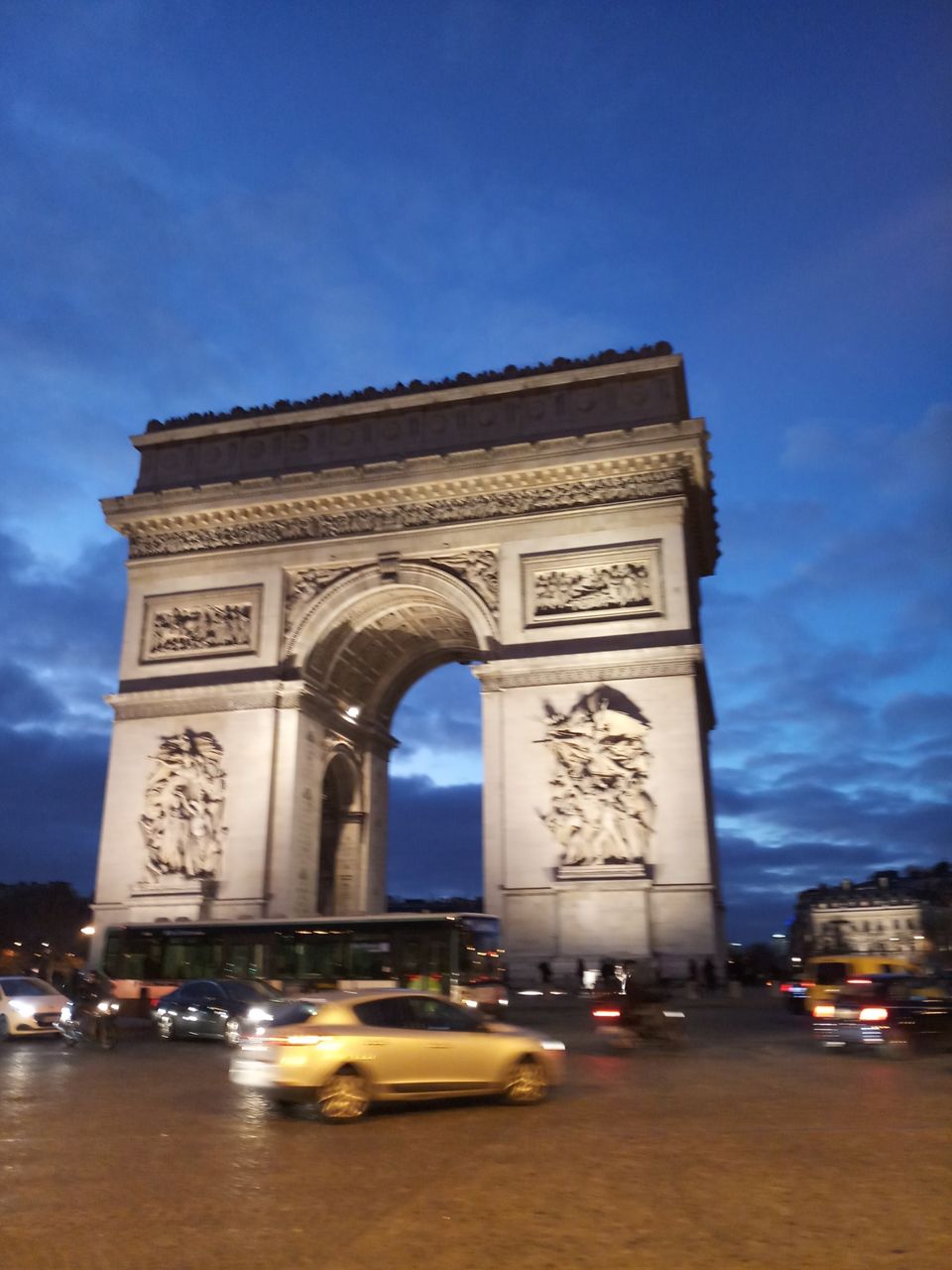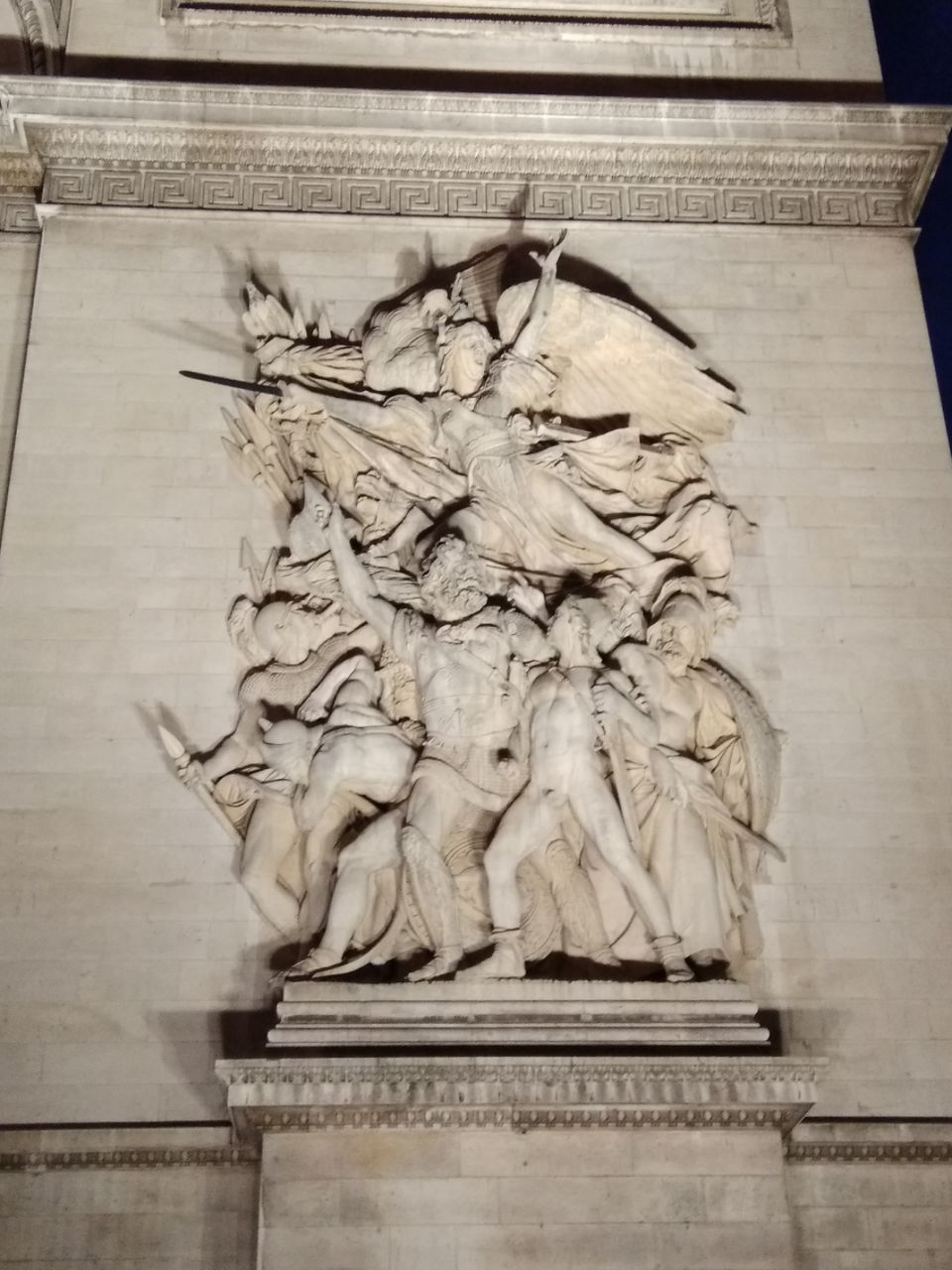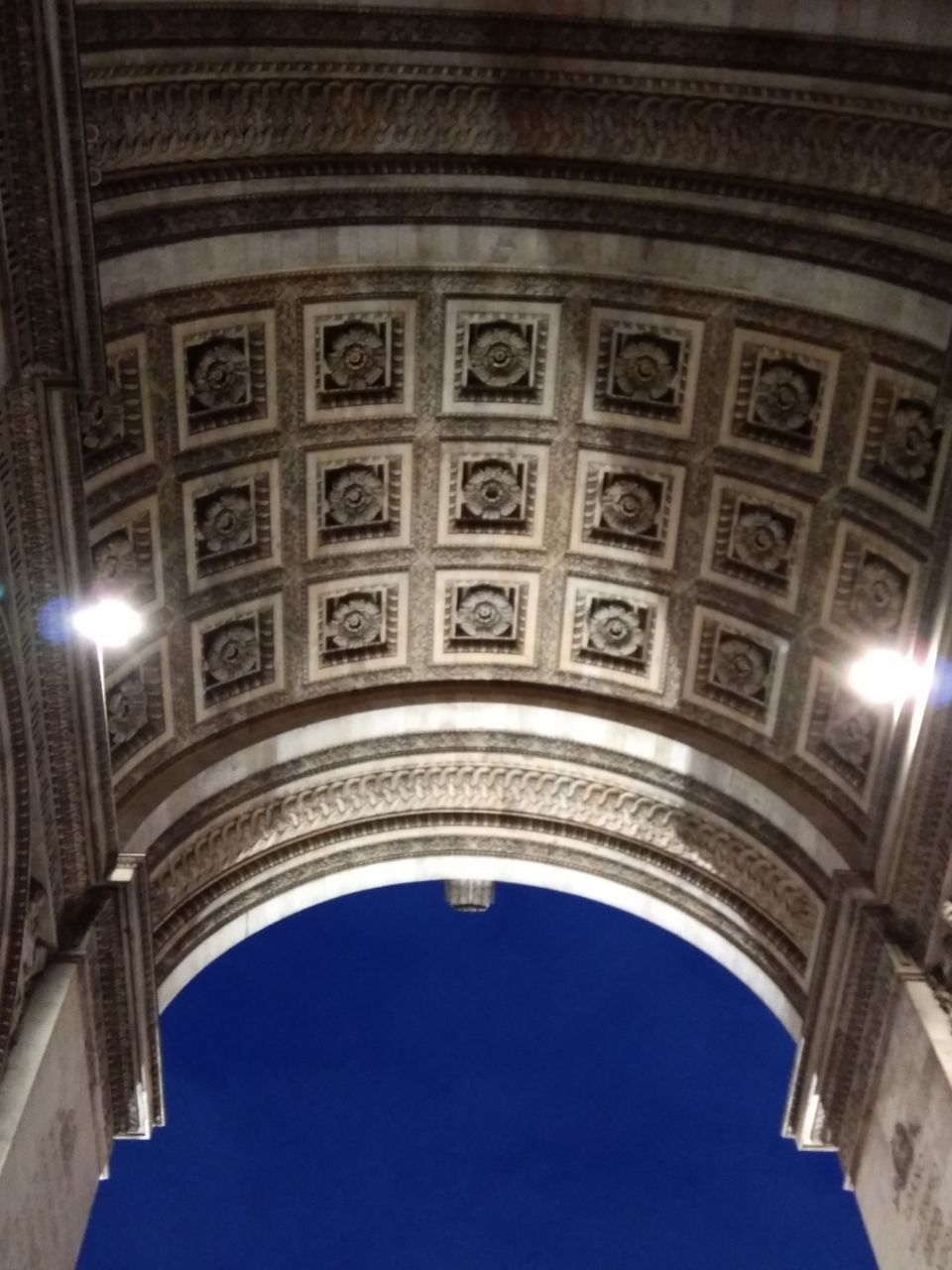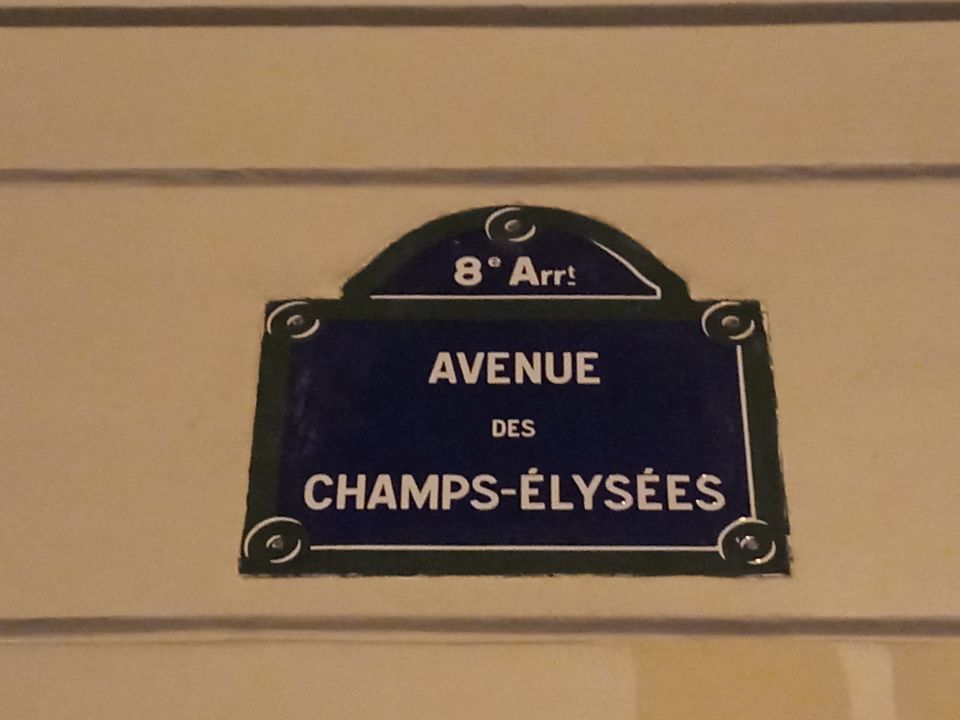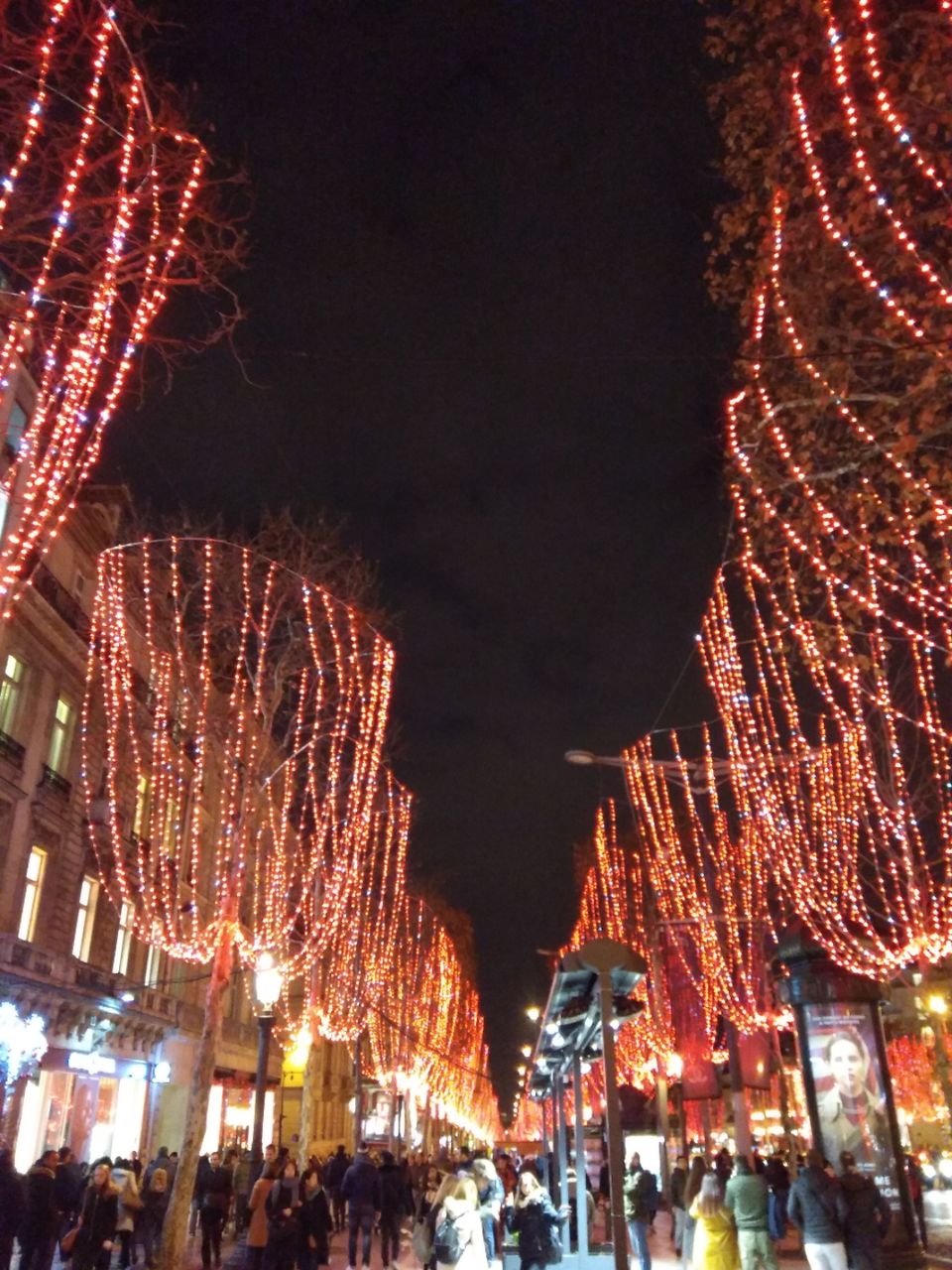 Walk along the 1.9 km long Champs-Élysées and experience the 'City of Blinding Lights' in its full glory. This street is the proverbial shoppers paradise which high end luxury brands as well as fast fashion stores. There's no shortage of cafes and restaurants either. Depending on your taste buds (and budget) , you are spoilt for choice right from fast food options to fine dining restaurants. Be sure to try the macaroons from Laudrée!
After enjoying delicious Parisian delicacies, we head back to our hotel and call it an early night.
After much needed rest, we started our day with a visit to Notre-Dame Cathedral. This is a medieval Cathedral which is widely considered to be one of the finest examples of French Gothic architecture. This Cathedral took almost 200 years to build as you see it today. It went through a lot many changes from time to time as it was being built.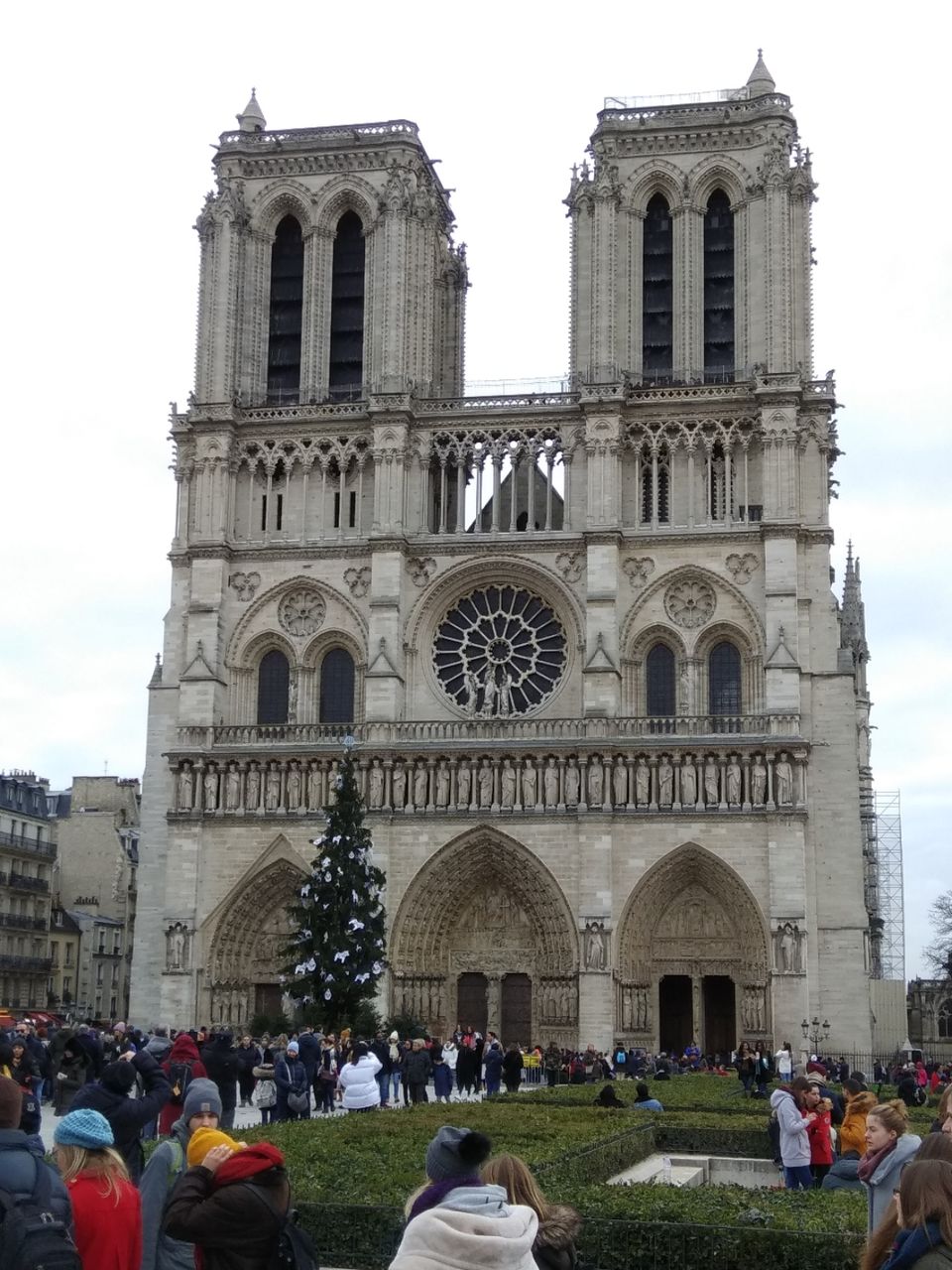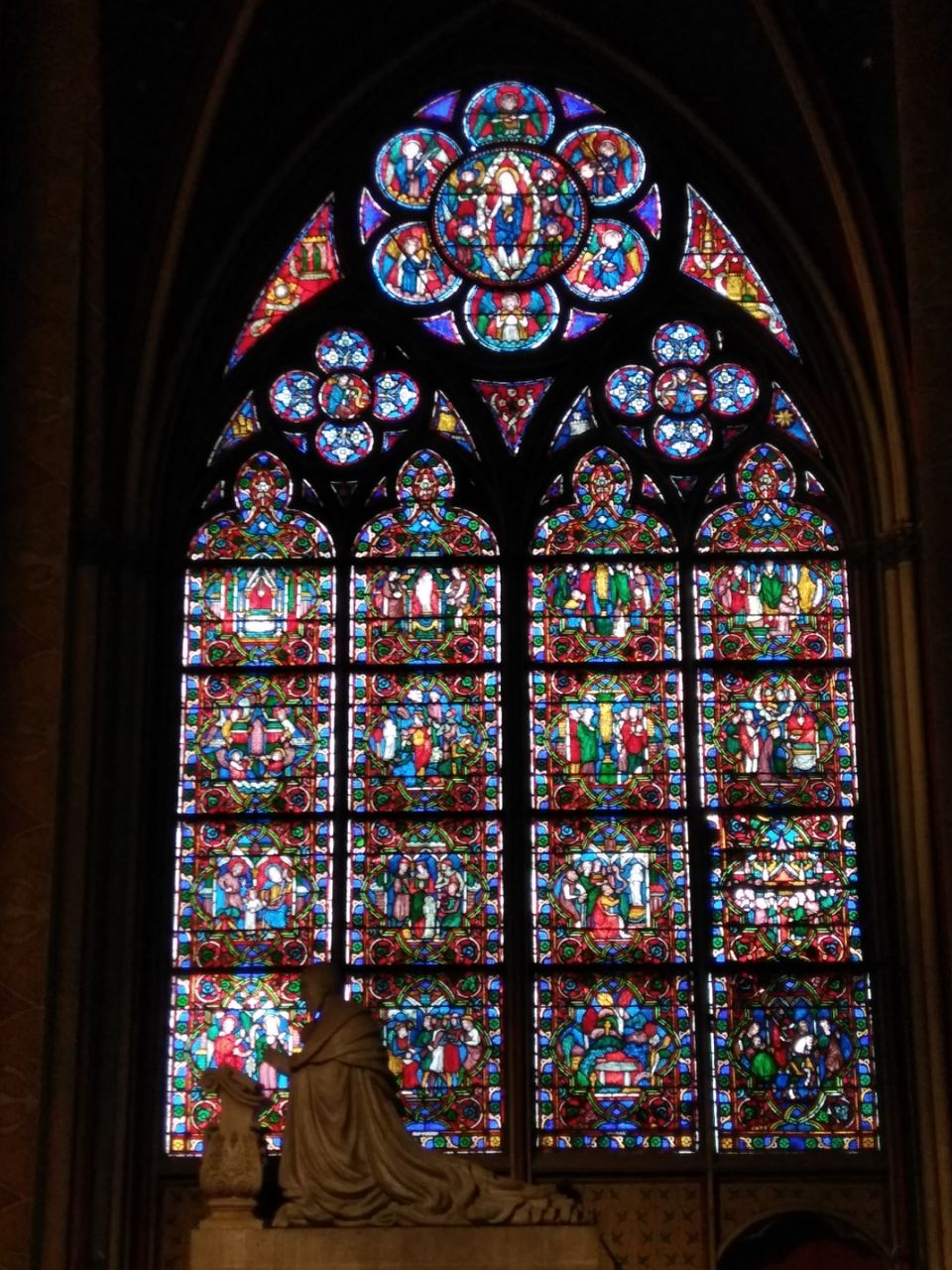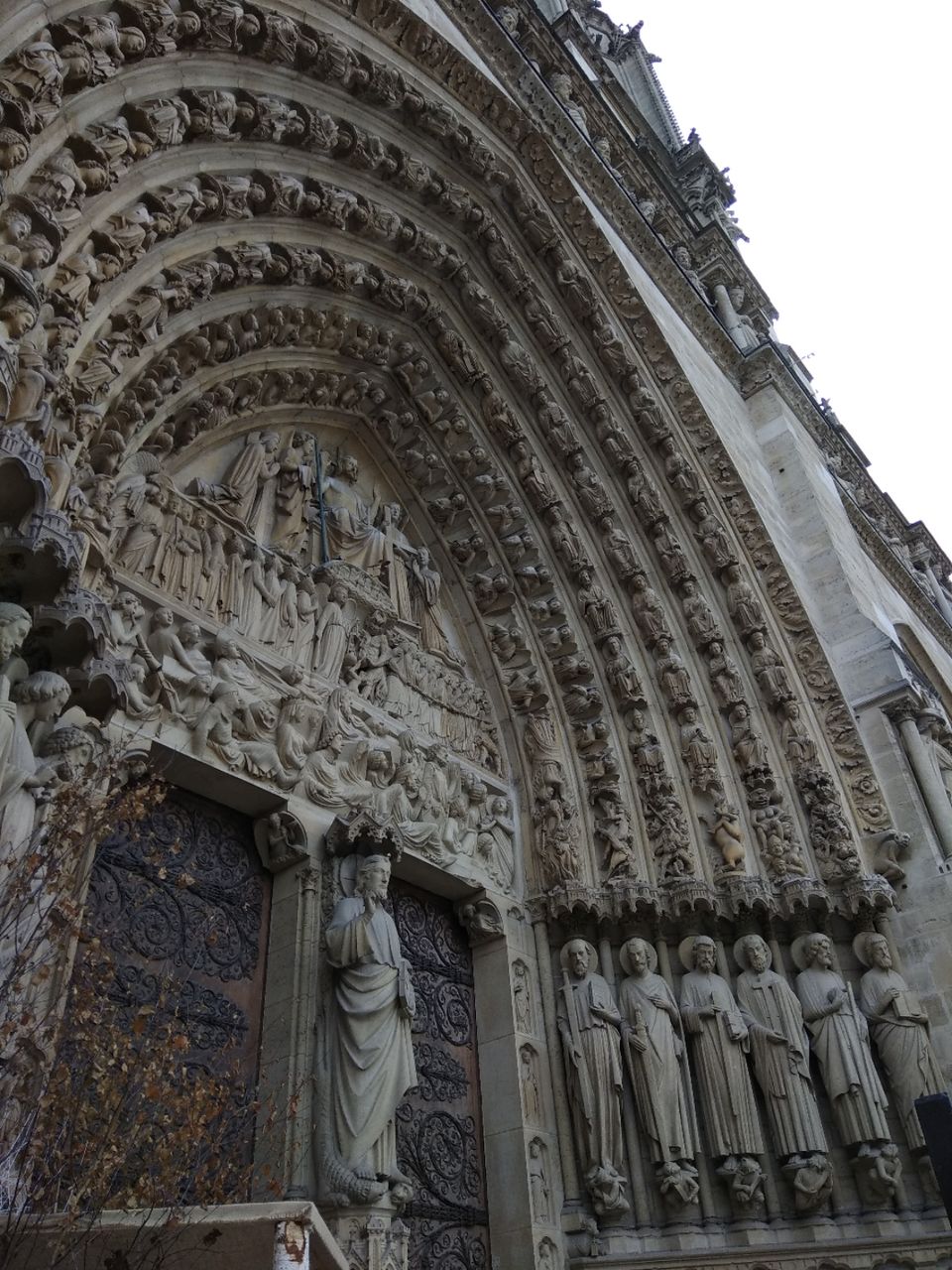 Have you ever wondered what lies below this beautiful city? To find out, head to the Catacombs of Paris. The Catacombs are actually ancient stone mines which now hold the remains of six million people! Again, I recommend booking tickets online as the queue for on the spot entry is extremely long.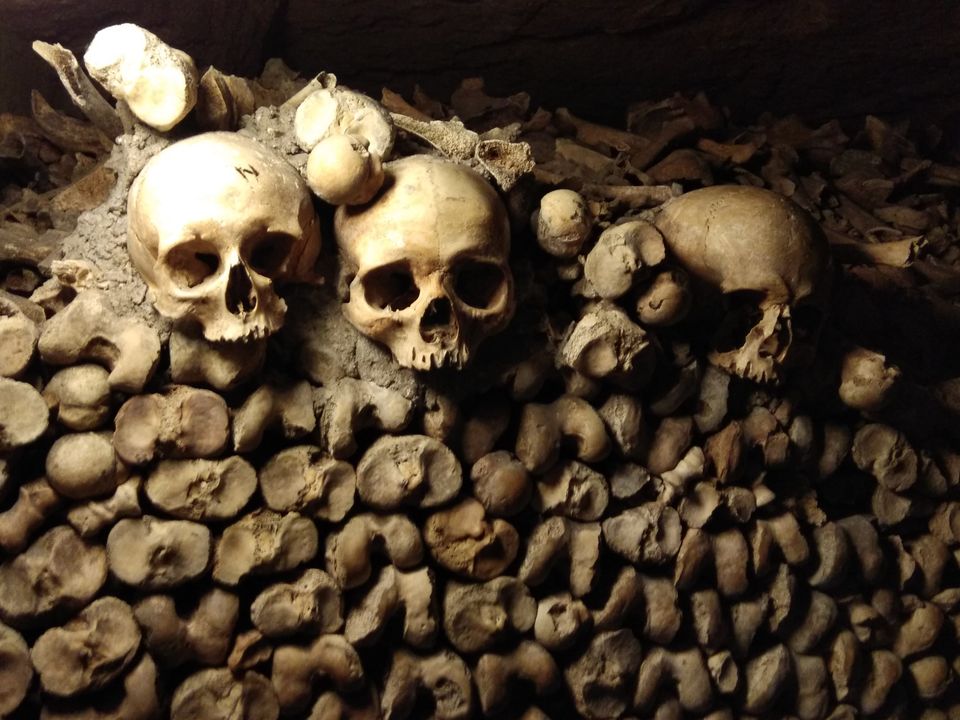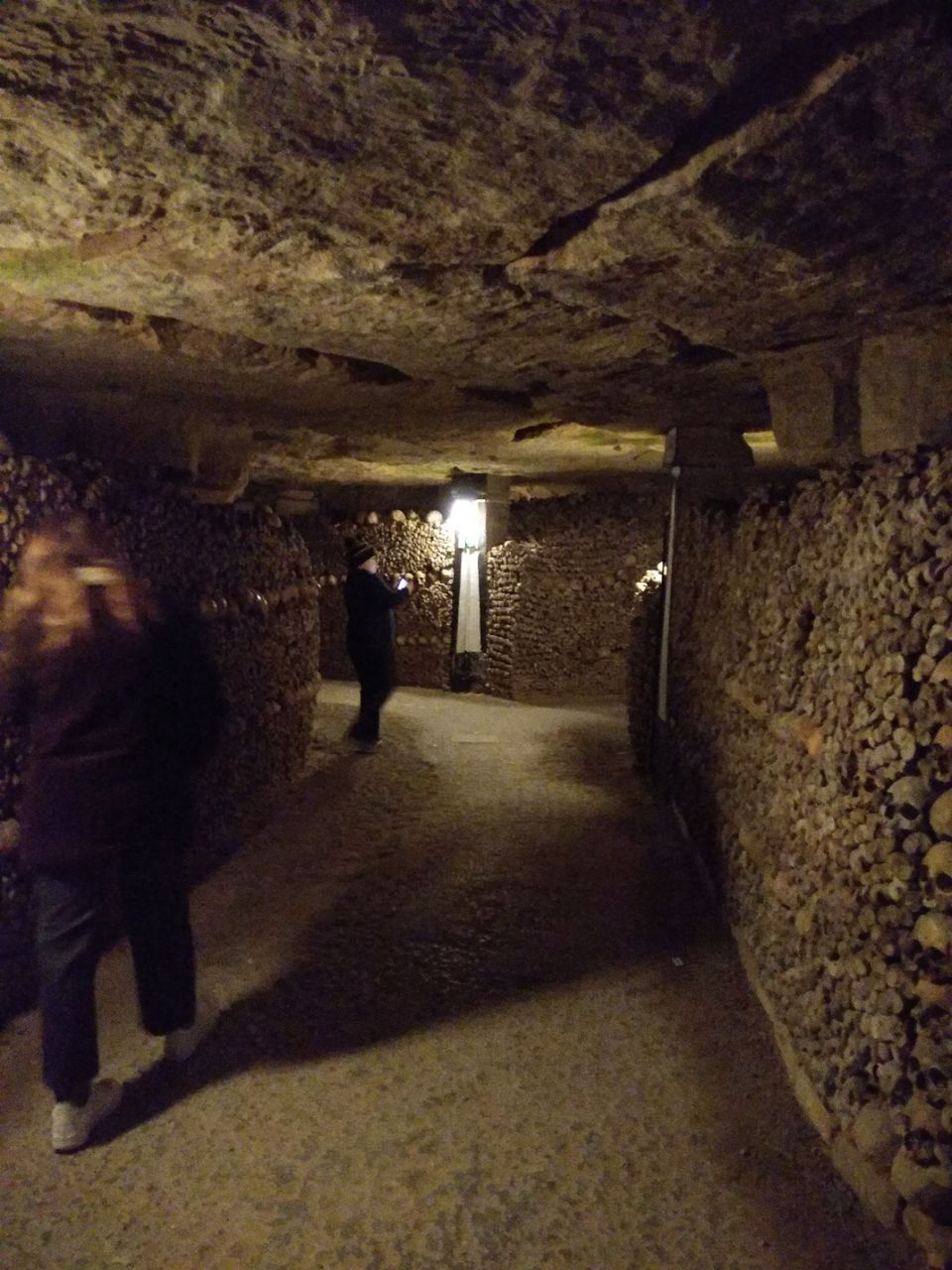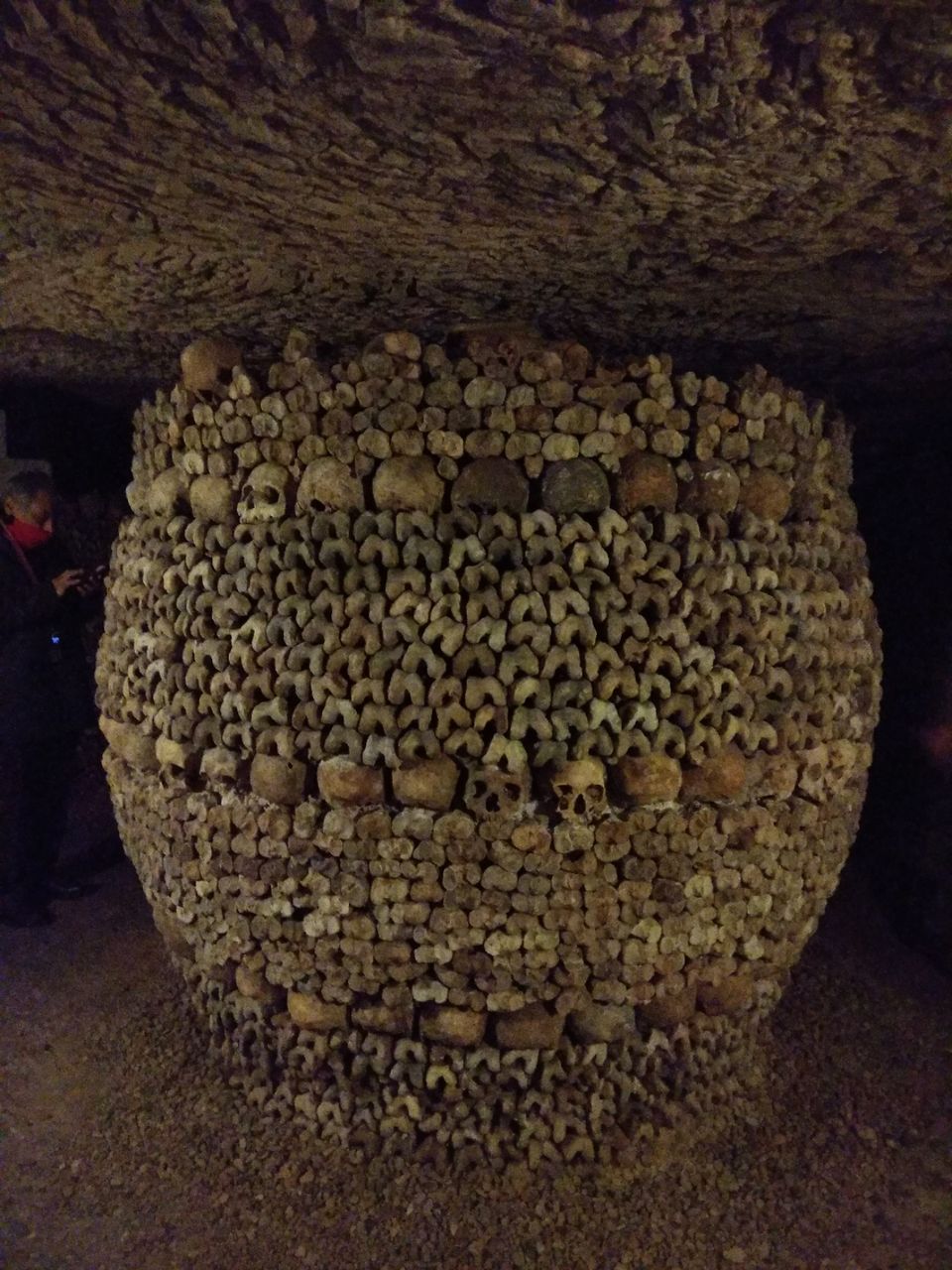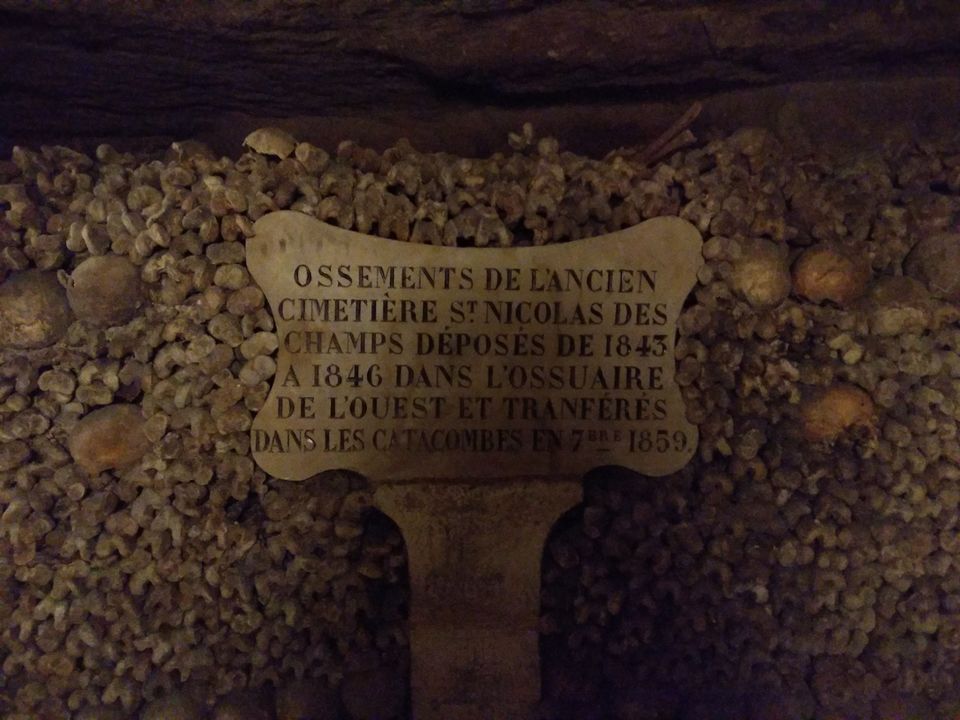 As the evening approaches, head to the Montmartre district in Paris. That's also where Sacré-Coeur or the Basilica of the Sacred Heart of Paris is located.
The charming Montmartre district is located on a hilltop and is a former artists village where the likes of Picasso, Dalí, Matisse once lived. You can still see the artistic spirit here. The streets are lined with artists recreating Montmartre with their brushes.
If you are the adventurous type (and don't mind spending quite a bit) enjoy a show at the iconic Moulin Rouge Cabaret located at the foot of Montmartre. There are also many cafes and restaurants to relax and unwind.
Head to the top of the hill to where the Sacré-Coeur stands. There is a funicular available to take you to the top of the hill (you don't need to buy a ticket if you have a day ticket for all the public transport in Paris). The view of Paris from the hilltop is absolutely fantastic!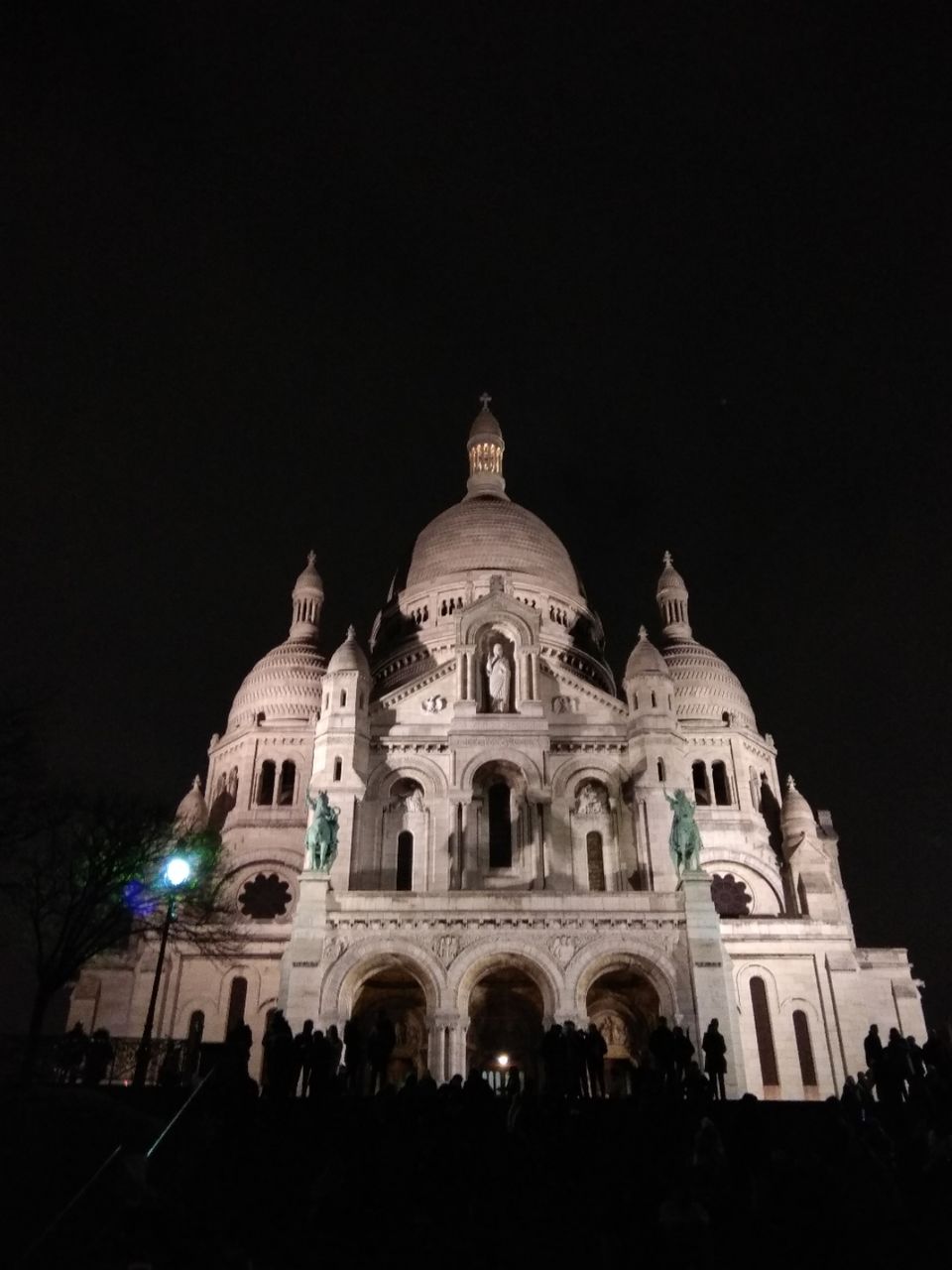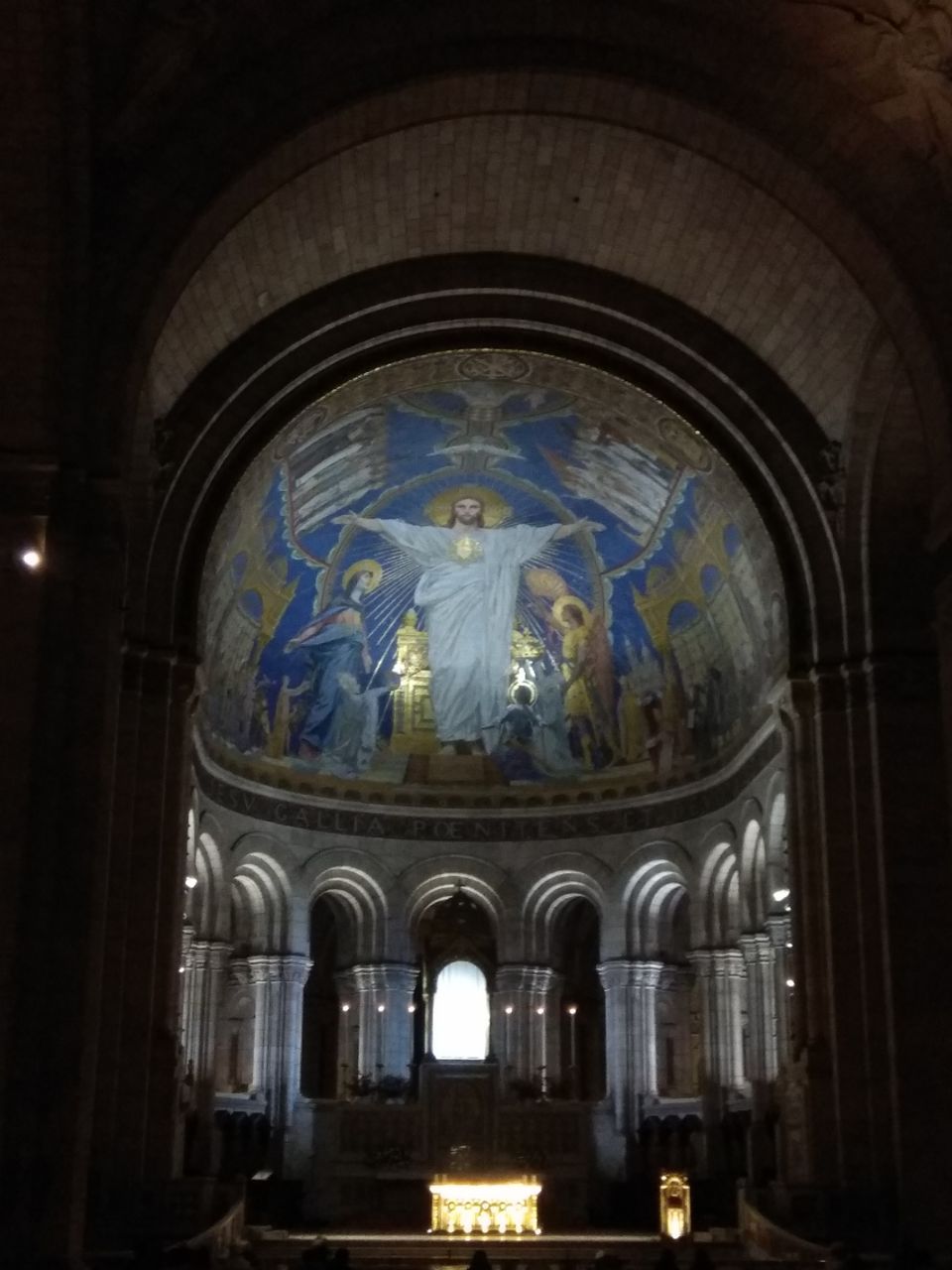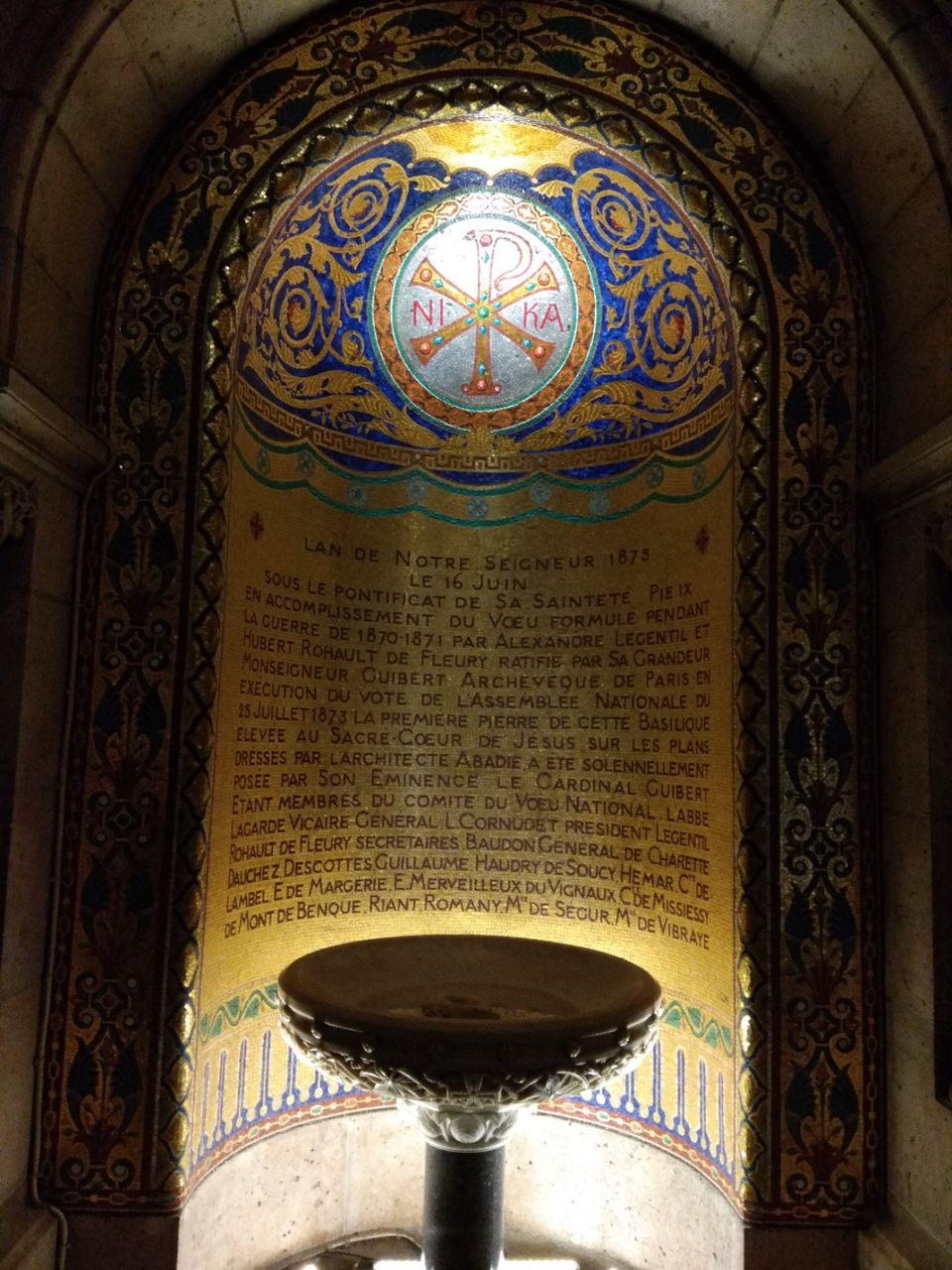 Our last day in Paris was spent in the Louvre Museum. After all it is the most famous museum in the world, the bases for numerous movies and myths. Ideally, it takes 3 days to see the entire Louvre collection. So, we decided that the Louvre deserves at least one day (if not 3) of our undivided attention!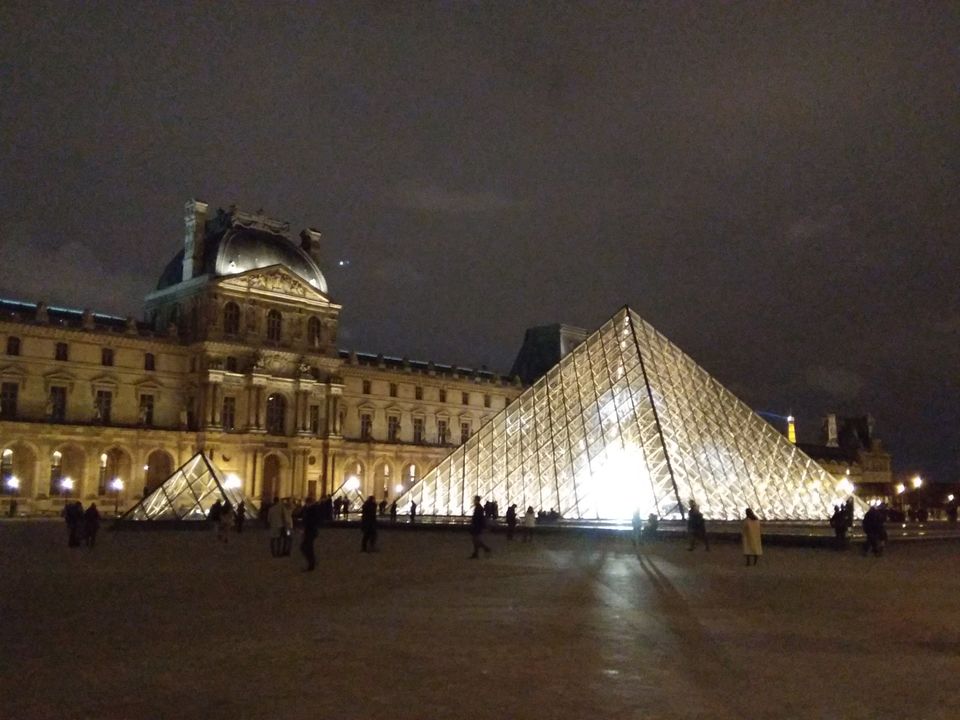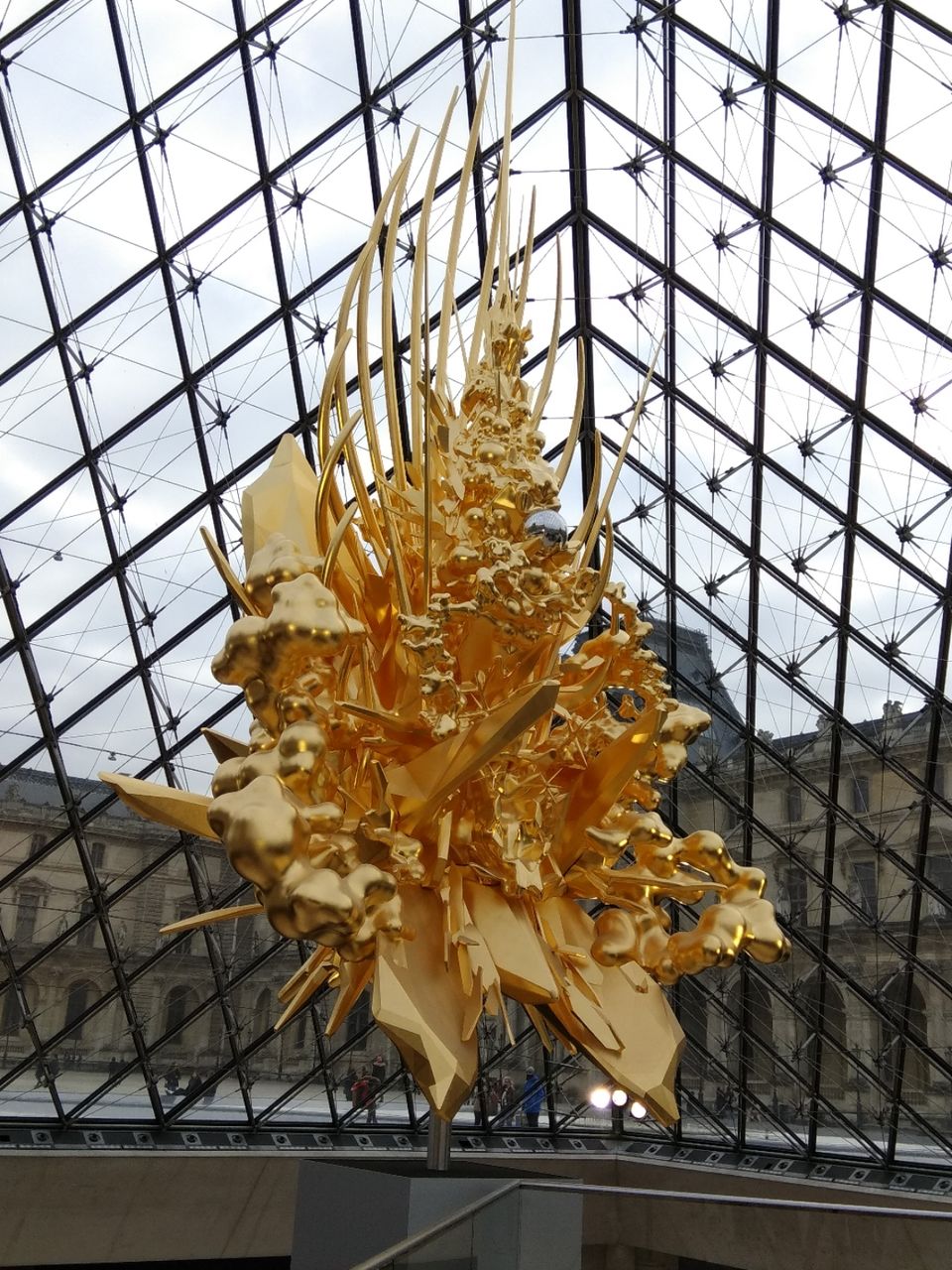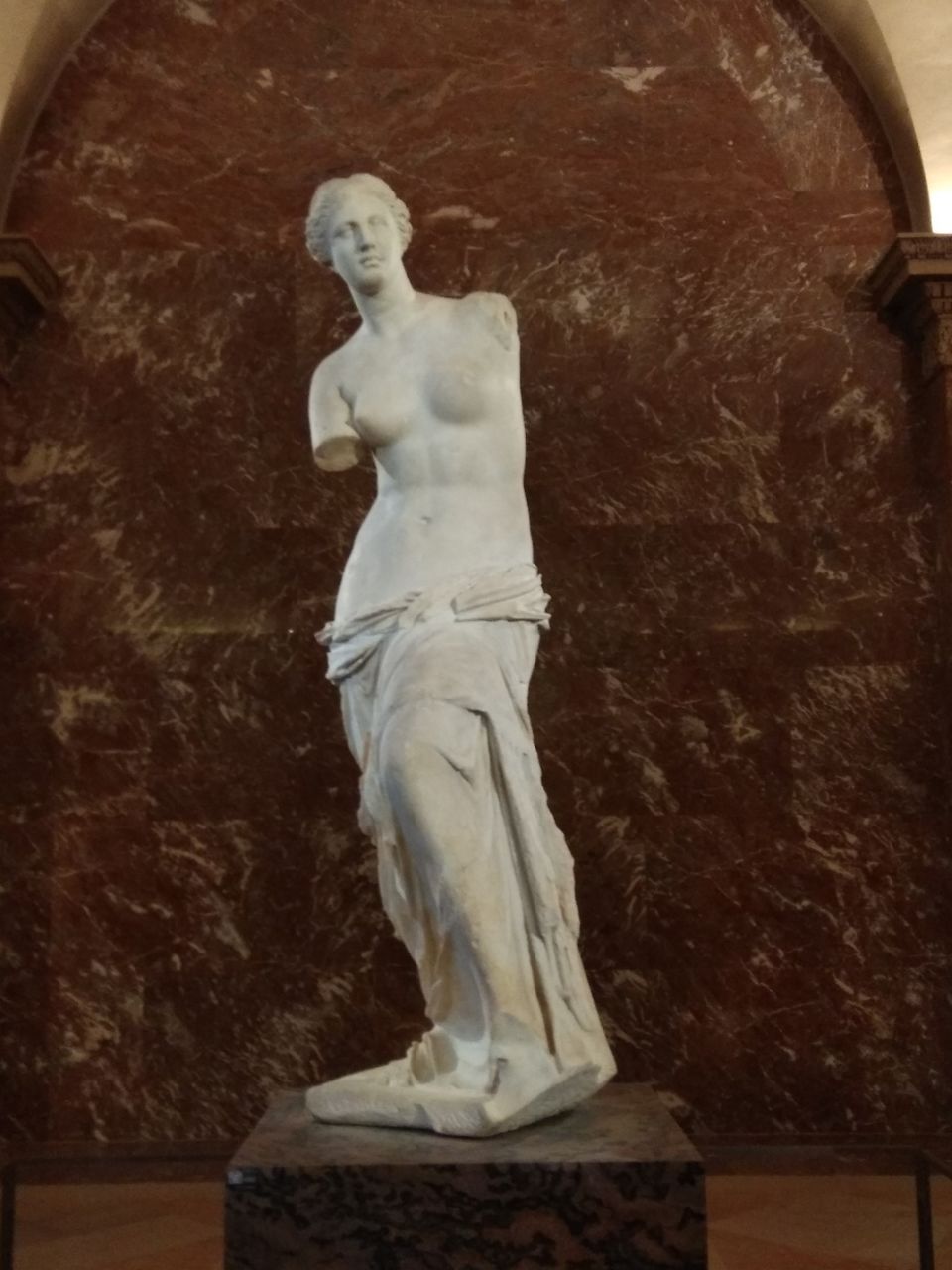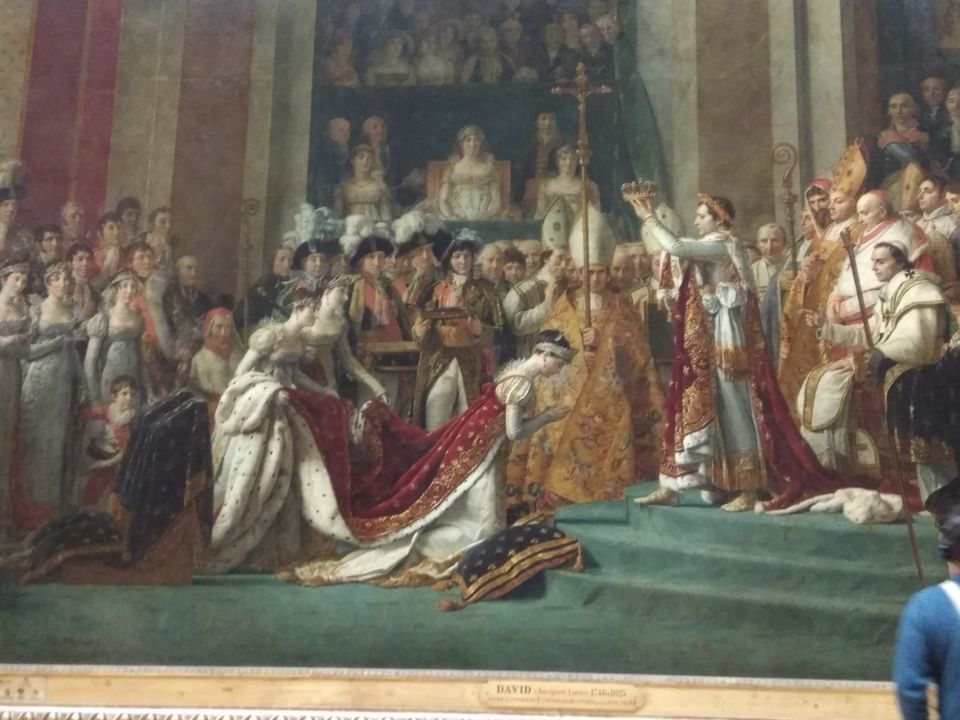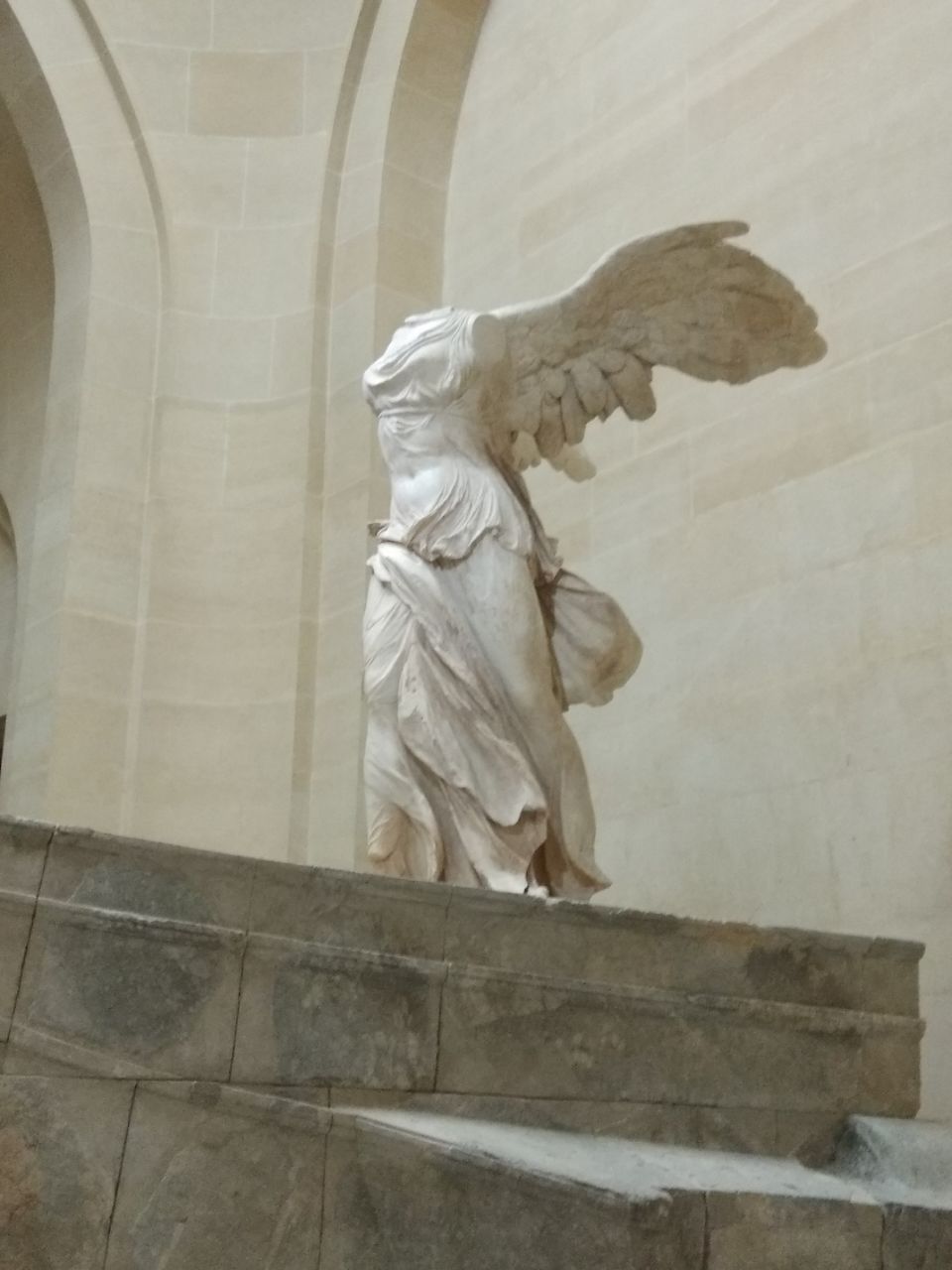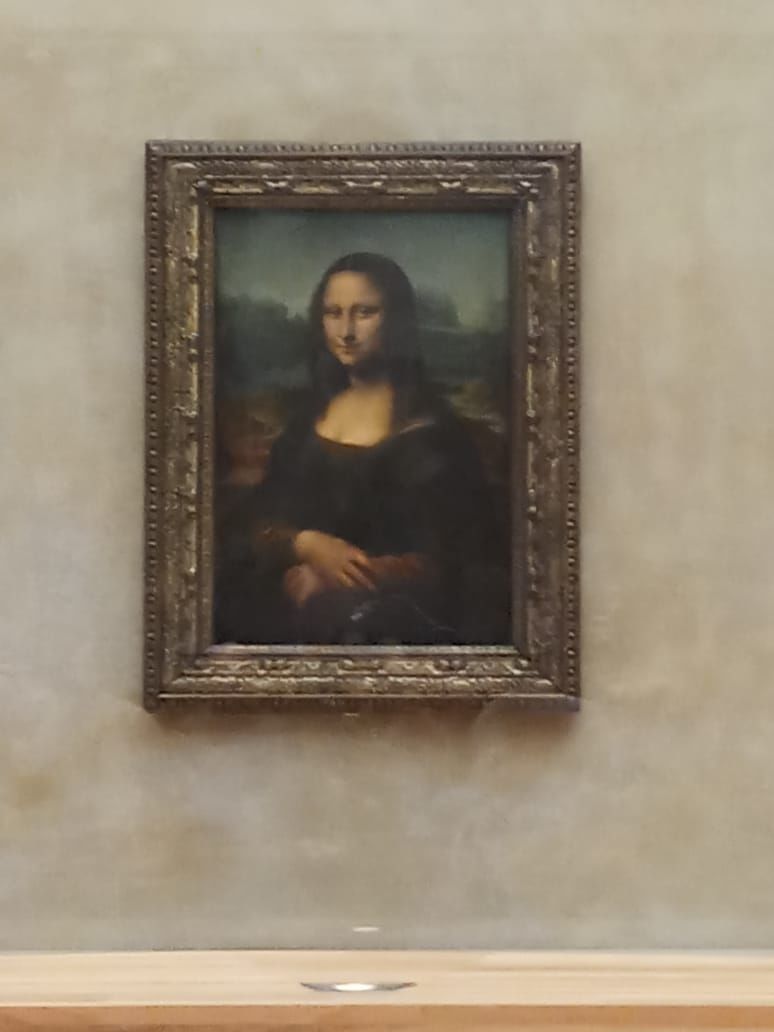 We bid adieu to Paris and make our way to Amsterdam. Amsterdam is about 3.5 hours from Paris by train.
For me, Amsterdam was like love at first sight. People were very helpful, and above all everyone spoke ENGLISH! The stations and trams are squeaky clean. In every tram there is a conductors station towards the end of the tram where you can buy tickets as well as solve your public transport queries. There are bicycle vending machines from where you can rent the bicycle for the whole day and return it there or to another location at the end of the day.
Our first stop was the Heineken Experience which is very close to the central station. So we decided to keep our luggage in the lockers on the station itself, visit the Heineken Experience and then collect our luggage and head to our hotel. There are many eateries on the station itself so after a quick bite we were on our way to the Heineken Experience.
The Heineken Experience is a guided tour of the beer making process. The location where this sort of museum is now located, is actually an old Heineken brewery. It was a fun exercise with a many interactive games. You can also get your name printed on a Heineken beer bottle! (for extra cost of course) But you do get 2 pints of beer free with at the end of the tour! The entire experience takes about 2 hours. (Book your tickets in advance and skip the queue)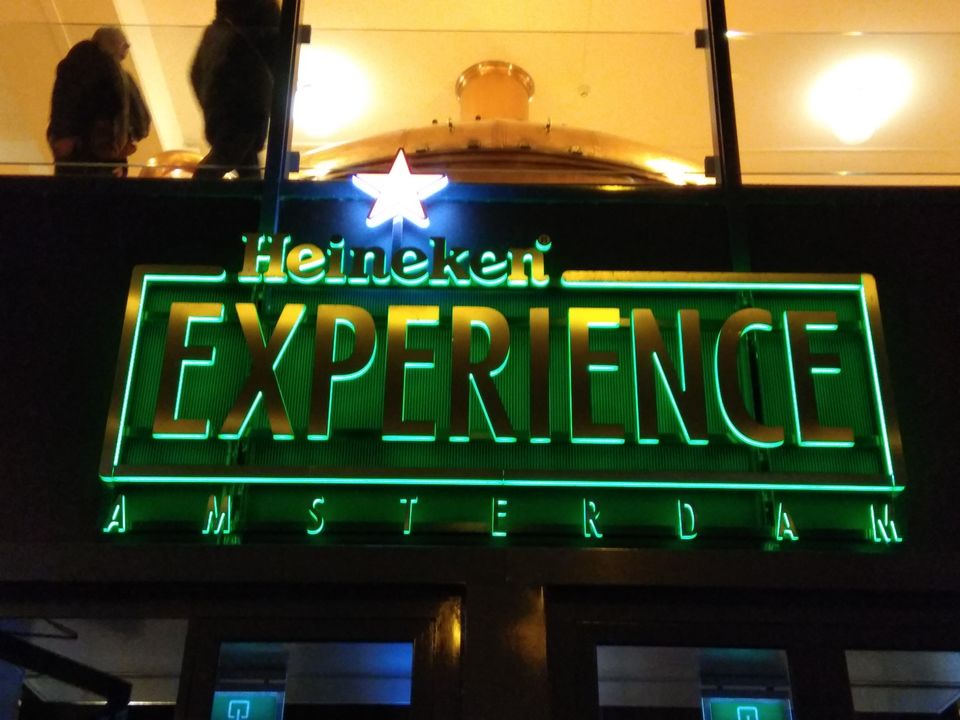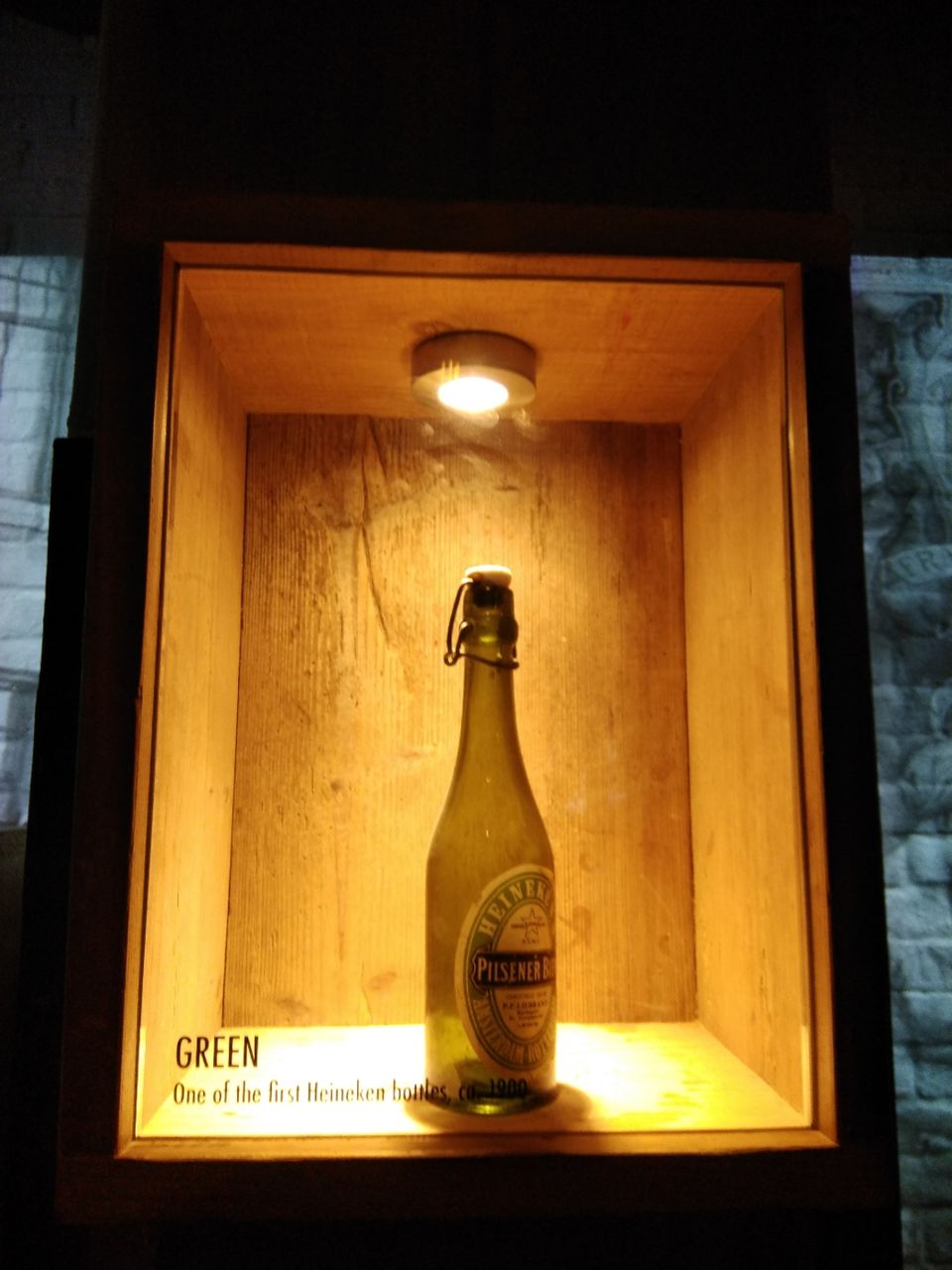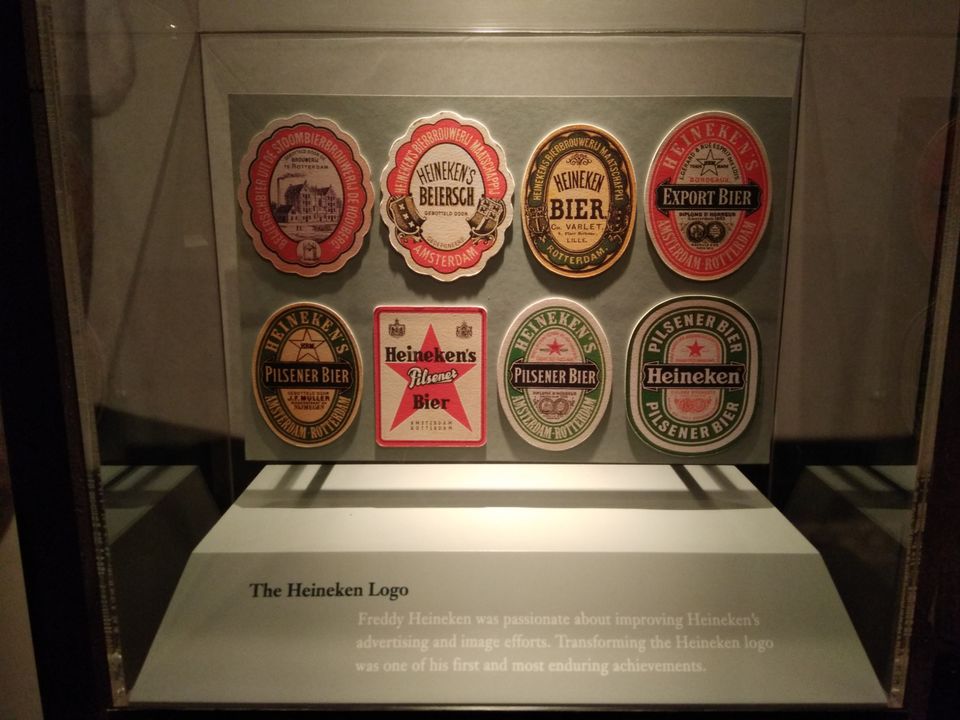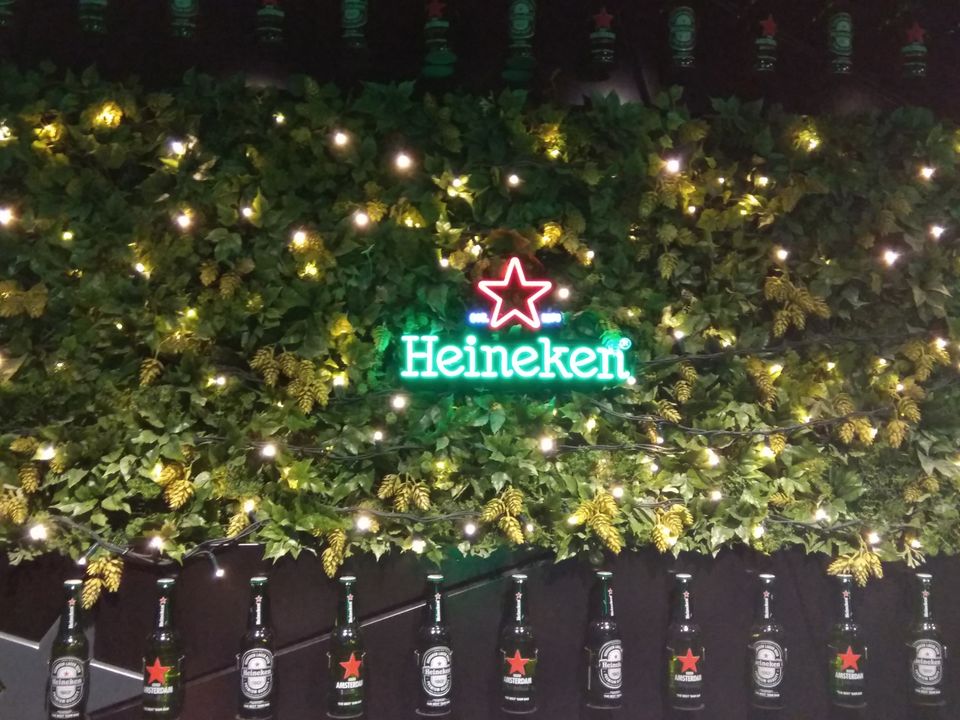 Next we explored The Nine Streets or De Negen Straatjes which are the old cobbled streets that connect the main canals. You can easily explore these little streets with the canals. There are many vintage stores here which sell traditional Dutch food and memorabilia like traditional Dutch cheese, wooden clogs and ceramics with traditional Dutch patterns.
After a tiring day, we collect our luggage from the central station and head to our hotel.
The day started with a visit to the Rijksmuseum. This is one of Amsterdam's oldest and grandest museums housing art by famous Dutch artists like Rembrandt and Van Gogh. The most famous painting at the Rijksmuseum is undoubtedly 'The Night Watch' which has its own room in the museum!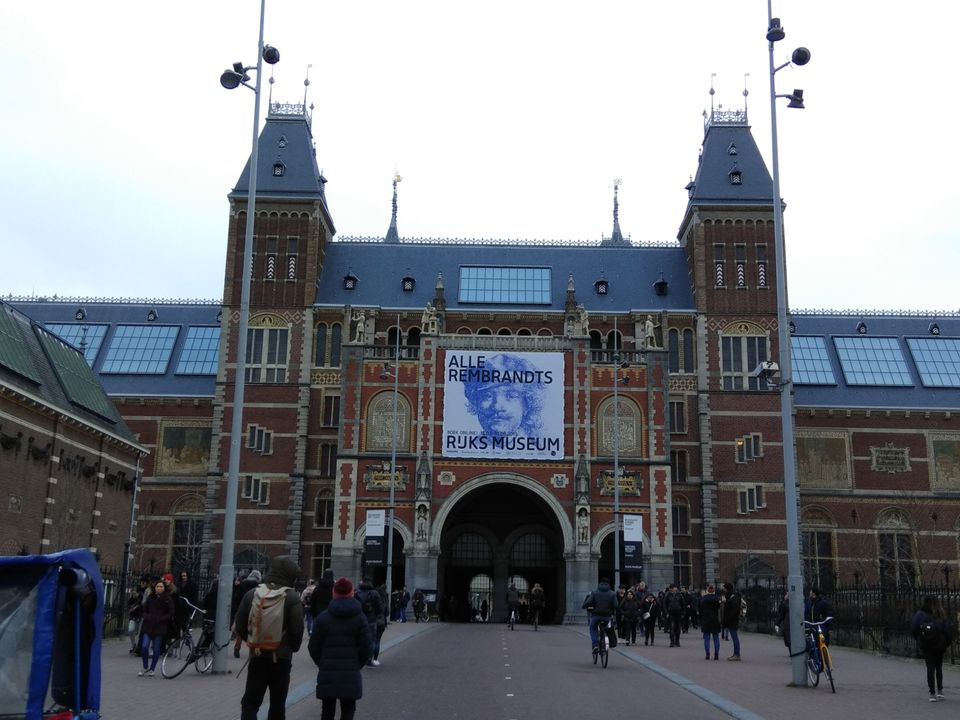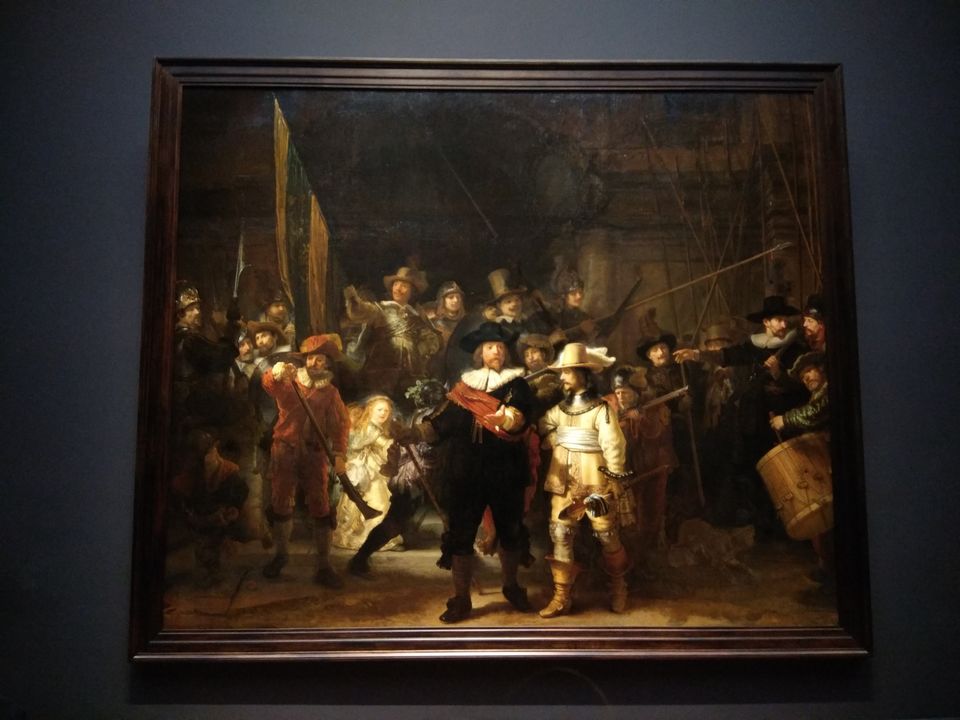 And FYI.. the 'I Amsterdam' sign which was once located outside the museum has been removed! If you really want to take a picture with the sign, it's still there at Schipol Airport.
There are many cafes and restaurants in Museum Square where you can have quick bites like hot dogs and waffles as well as traditional Dutch food.
Next, head to Van Gogh Museum which is 5 mins walking from Rijksmuseum. At the Van Gogh Museum, you get a glimpse into the life of the troubled artists Van Gogh whose works were recognised as true pieces of art only after his death. Here you can see famous pieces by Van Gogh like some of his self portraits, Sunflowers, Irises, The Potato Eaters, Almond Blossoms etc. Unfortunately, we are not allowed to take pictures of these amazing paintings in the museum.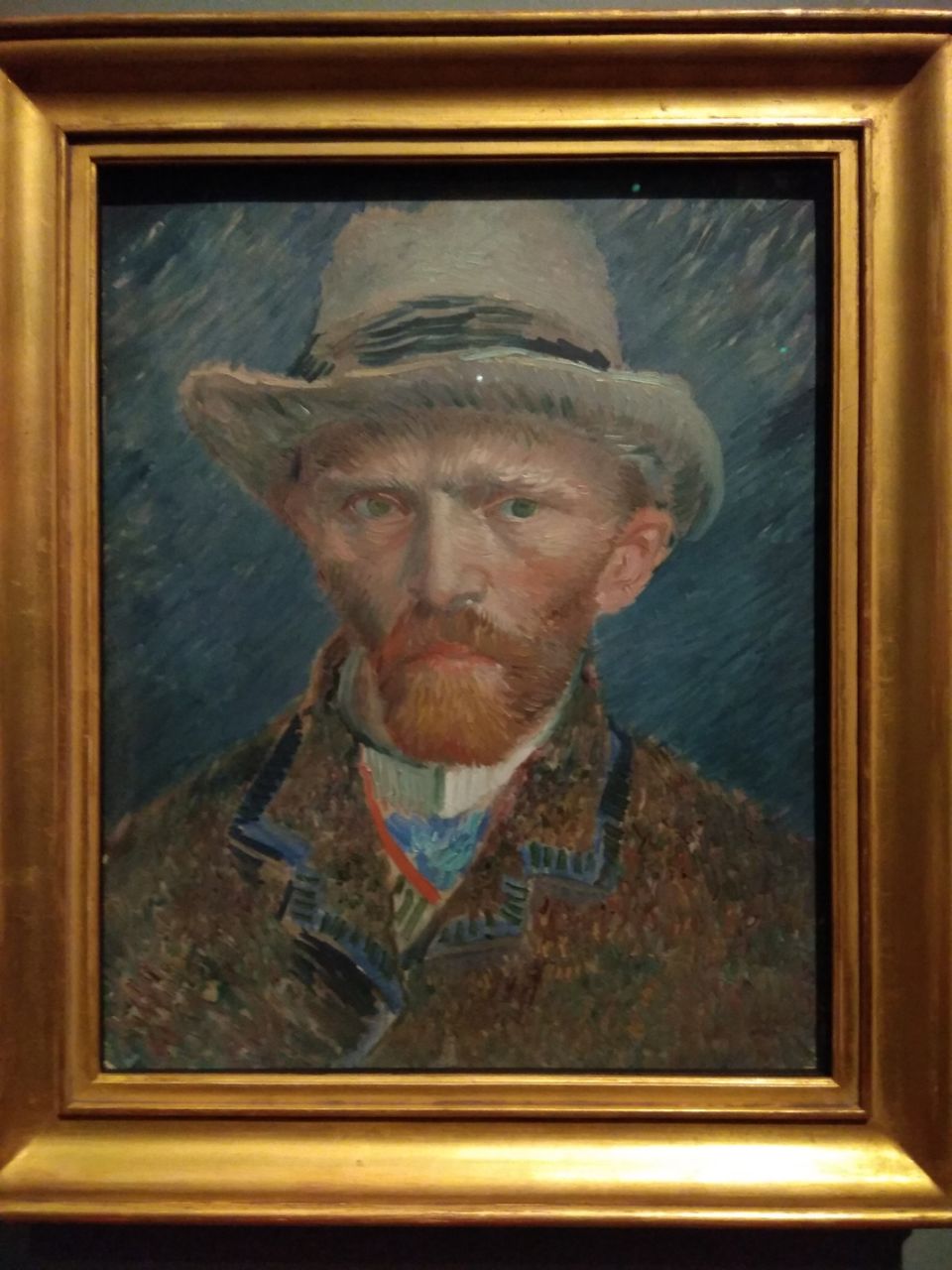 The last stop of the trip was the Red Light District of Amsterdam. I can't really saw that this was my favourite part of the trip but it was a unique experience unlike any other in the world. Our Amsterdam experience would have been incomplete without at least seeing the allure this area holds for millions of people around the world. The Red Light District doesn't just have prostitutes at windows, but also many coffee shops, restaurants and bars. Also, keep in mind that you are not allowed to take photographs of the windows. You will be in for a real trashing from one of the many bouncers if you are caught trying to pull some cheap, underhanded stunts.
Head to Schipol Airport for your return flight home!
Total Cost: ₹1,75,000 per person including flights, stay, transportation, all attraction tickets, meals and a little bit of memorabilia shopping.
My mantra whenever I travel to a new country, is to experience that country to the maximum! So I prefer staying more days in one city than to rush to cover more cities in more countries.
General cost saving tips-
Flight tickets- I booked my flight tickets almost 2 months in advance. My return tickets cost ₹44,000 (Mumbai to Munich, return from Amsterdam to Mumbai... No I'm not kidding.. They really were that cheap)
I flew out on Christmas day which is probably why the tickets were cheaper; like who flies on Christmas day right!? Well, I do if it means getting cheap tickets!
Stay- In most cities we stayed in hostels as they tend to be cheaper. But, sometimes hotels can also be equally cheap and you get the added advantage of a big bed, private bathroom and in some cases breakfast is included in the cost. So check everything!
Transport- In Europe public transport is amazing. You wouldn't need to use a cab, also they are really, really expensive!
Meals- we made sure to have at least one meal which was traditional to the county we were in as traditional meals tend to be more expensive. The rest of the meals were the cheapest possible.
Get travel inspiration from us daily! Save and send a message at 9599147110 on Whatsapp to start.