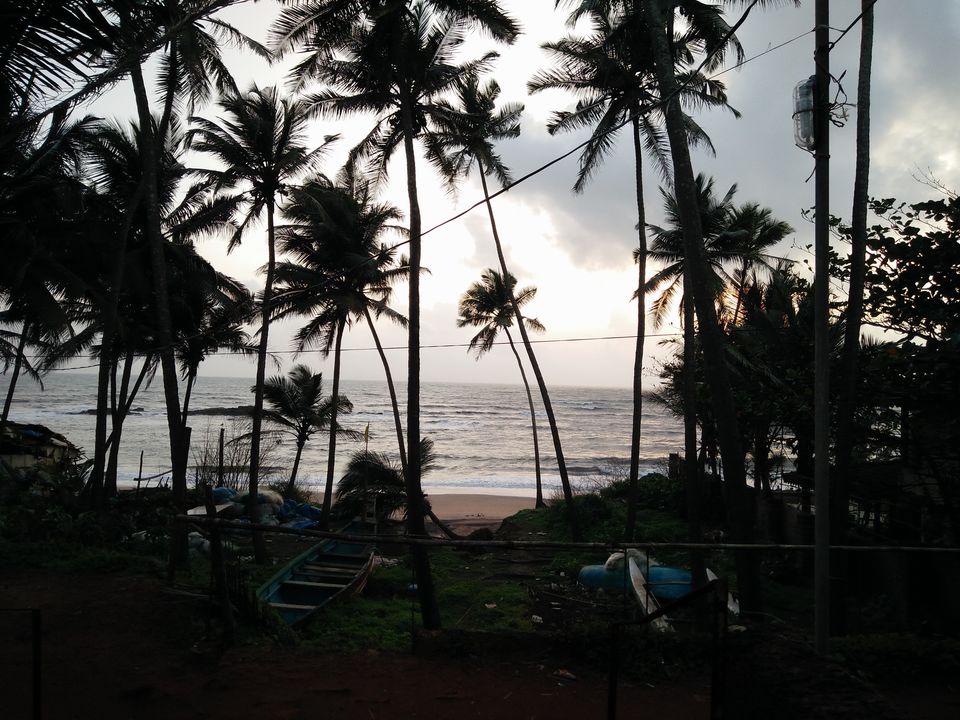 Contrary to popular belief , Goa during monsoons is a terrific idea. I went last September and now that the rainy season is just around the corner ( June - Sept), I'm going to lure you all to Goa during monsoons, because it simply is the best.
I shall enumerate 6 reasons as to why you should go and hopefully by the end of it you will be booking your tickets for a monsoon getaway to Goa.
1) Everything is dirt cheap
From accommodation, to food, to renting bikes,to shopping everything is cheaper during monsoons as it is "off-season". So, if you want a pocket friendly trip to Goa, then monsoons is your best bet. We stayed at Marina beach bay resort near Candolim beach for 4 days and 3 nights and it costed us Rs 1240 per room for 4 days( 2 people can share a room, so Rs 620 per person) . Scooty rentals from October - Feb start from Rs 500 per day, but we got it at Rs 250 per day. There are plenty of scooty/ bike rentals near Mapusa bus stand, so if you plan on staying in North Goa, you can get down at Mapusa and take a scooty from there. Shopping , or in fact haggling in Goa during the season (Oct- Feb) can be quite a task, but off season shopping is reasonable too! They cave in to your prices eventually due to the lack of sales, hence cheap roadside perks for all you street shopping lovers out there.

2) Driving in the rain is magical
Bike rides usually mean getting charred under the sun. But during monsoons, the sun is out, but not so harsh and it is raining almost always. So, for those of you who like bike rides in the rain, this trip can prove to be heavenly. I would advice those travelling at this point to carry windcheaters , umbrellas, raincoats and a helmet for both the rider and pillion to enjoy the drive in the rain.
3)Claims of beach shacks being closed is false
We were skeptical about beach shacks being closed as most internet articles said so. However, from my experience I can assure you that none of the famous places in North Goa are closed during this period. Tito's, Britto's, Curlies, St Anthony's etc are all open. So, don't forgo the trip in the fear of loosing out on good places to eat. They are all open and intact. However, some of the shacks are closed, but how many can you cover anyway?
4) It is peaceful, quite and not crowded
Those who have been to Goa anytime between October to February would know how crowded the roads and beaches get. All the night clubs and restaurants are packed. On the other hand, not many people are enthusiastic about Goa during the monsoons, hence it is less crowded. So, for those who like serene beaches, this is your time to hit Goa. I wouldn't suggest those looking for happening parties to travel to Goa during monsoons as not many happen during this period.
5) The only time you can bike from North Goa to South Goa without being charred
North Goa to South Goa is around 67 km which takes around 2 hours , so travelling this distance in the day during the rest of the year can give you a tan that will probably never wear off. However, we traveled with occasional sprinkles of rain refreshing us constantly which made the drive all the more mesmerizing.
6) You can treat South Goa as your private beach
Most people prefer to go to North Goa due to the famous shacks, parties etc, hence south Goa is all the more deserted. If sparsely populated white beaches , quaint shacks , rocky islands and occasional drizzles to go is your ideal vacation spot, then hunt no more.
7) Brownie visit to Dudhsagar
Those who plan on squeezing in a trip to Dudhsagar during your visit to Goa, I'm sorry but you may have to cancel that out. Dudhsagar falls remain closed during the monsoons due to the increased water levels, hence posing a threat to trekkers.
Also, those looking forward to water sports in Goa maybe in for a disappointment as these are discontinued during the monsoons. But hey, the pros outweigh the cons so head out to Goa this rainy season and watch out for an offbeat trip coming your way !
Here are a few picture to lure you into visiting Goa during the monsoons!